Craving the mouthwatering flavors of General Tso's Chicken but looking for a healthier option for your weeknight dinner? Look no further! This Healthy Weeknight General Tso's Chicken and rice recipe has got you covered. Prepared with wholesome ingredients and bursting with delightful tastes, this dish offers a guilt-free way to satisfy your cravings while still providing a nourishing high protien + satisfying meal for you and your loved ones. Gluten-free + Dairy-free.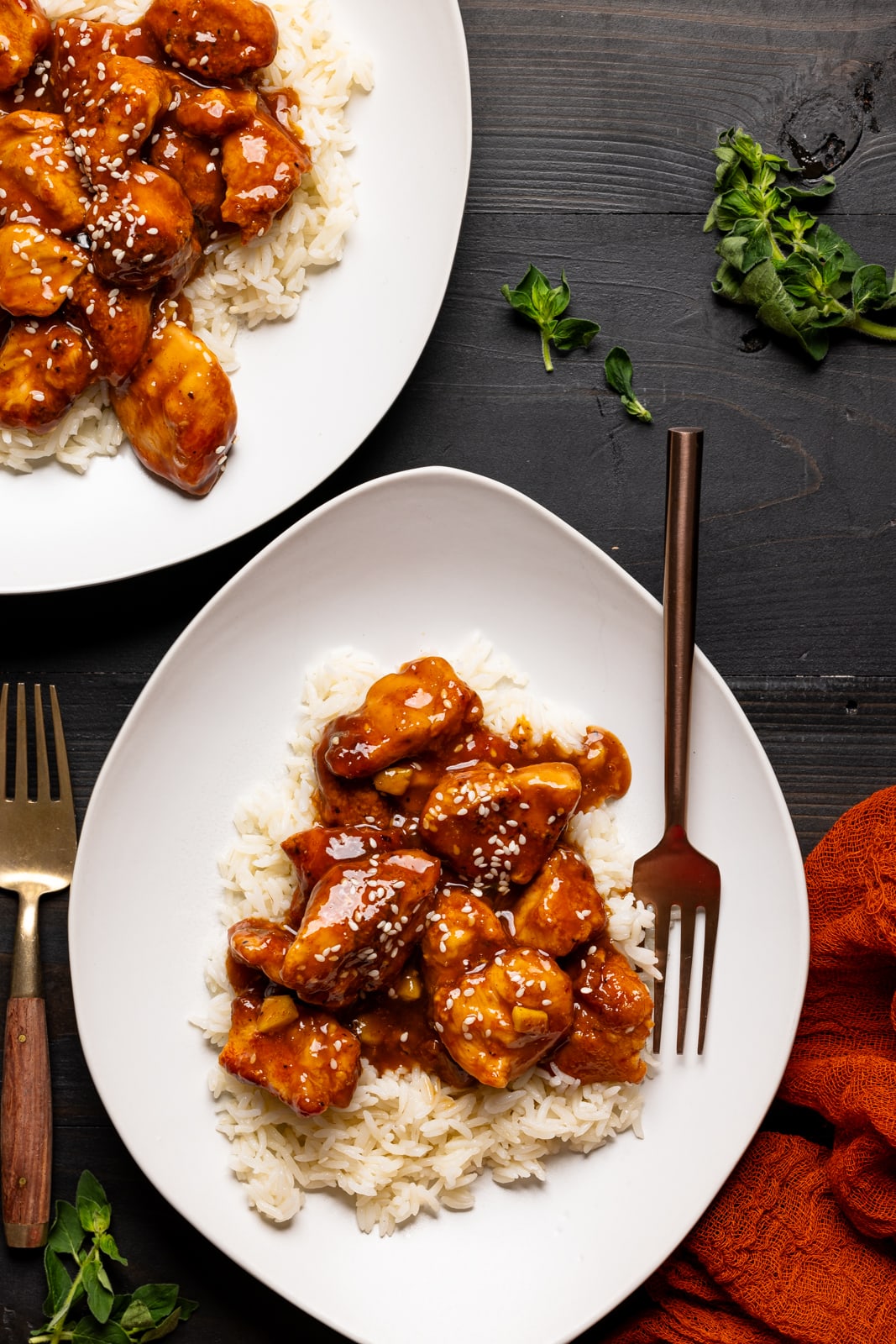 What Makes This Healthy Weeknight General Tso' Chicken So Good?
As someone who absolutely adored General Tso's Chicken with white rice while growing up, I've always cherished the bold and savory flavors of this classic chicken and rice recipe dish. However, as I became more health-conscious, I yearned for a version that could fit into my balanced lifestyle. That's when I set out on a mission to create this Healthy Weeknight General Tso' Chicken recipe, where nostalgia meets nourishment.

I love creating more health-conscious versions of classic recipes like this Weeknight Creamy Chicken Alfredo or this Crispy Oven Fried Chicken. Can y'all tell I love chicken recipes? Now, I can relish the same delightful tastes from my childhood, guilt-free, and enjoy a wholesome weeknight dinner that satisfies both my cravings and my well-being!

Say goodbye to greasy takeout and embrace this homemade version of General Tso's Chicken and rice recipe that packs all the bold flavors you crave, making it the perfect choice for a guilt-free and delicious weeknight dinner that is a surefire crowd pleaser that the whole family will love!
Jump to: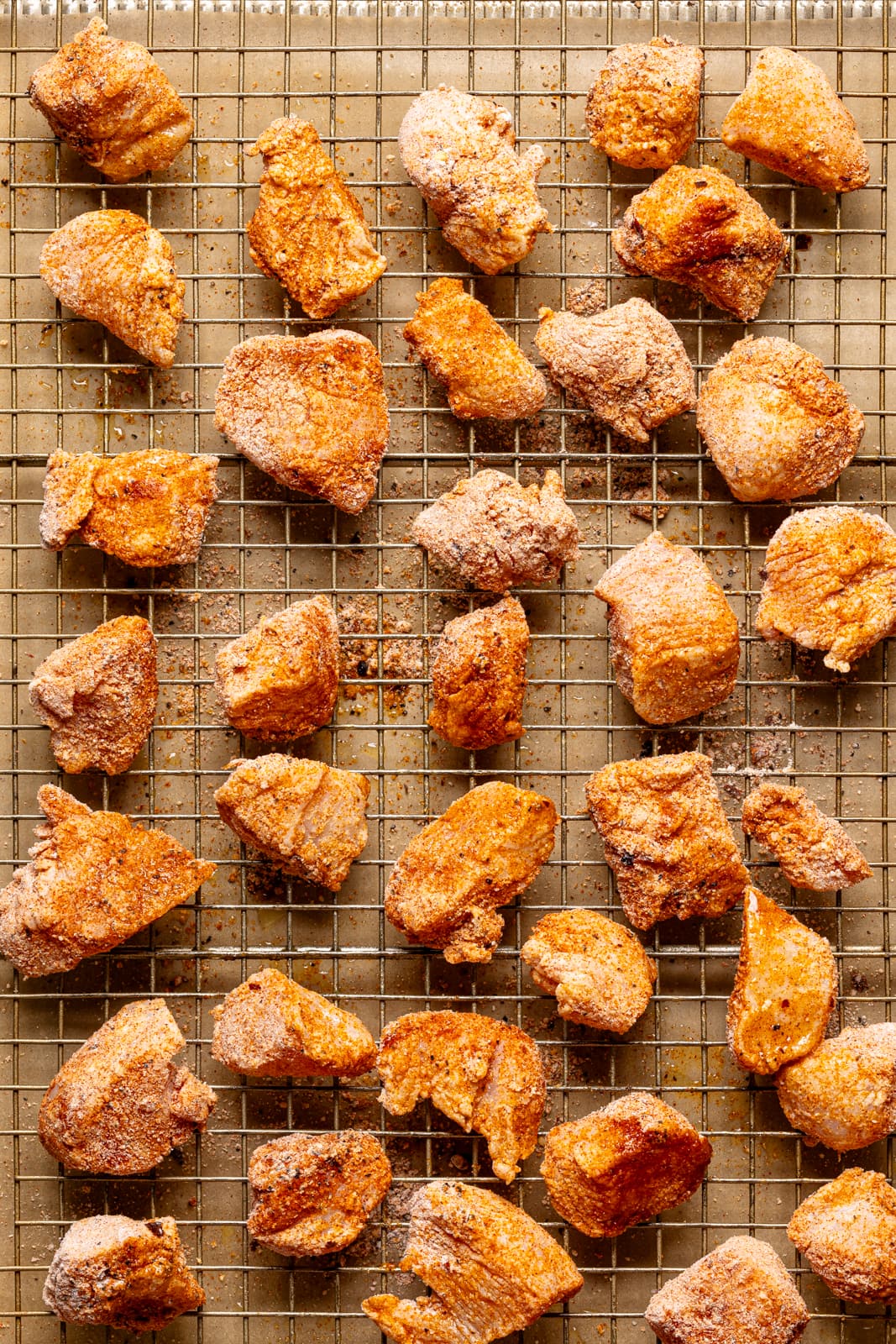 What Is General Tso's Chicken?
General Tso's Chicken is a popular Chinese-American dish known for its sweet, tangy, and slightly spicy flavor profile. It typically consists of deep-fried pieces of chicken that are coated in a flavorful sauce made with soy sauce, vinegar, sugar, ginger, garlic, and red chili peppers.
The dish is believed to have originated in the United States in the 1970s and is named after General Tso, a Qing dynasty military leader. It has since become a beloved favorite in many Chinese restaurants across the country and is often served with steamed rice or fried rice.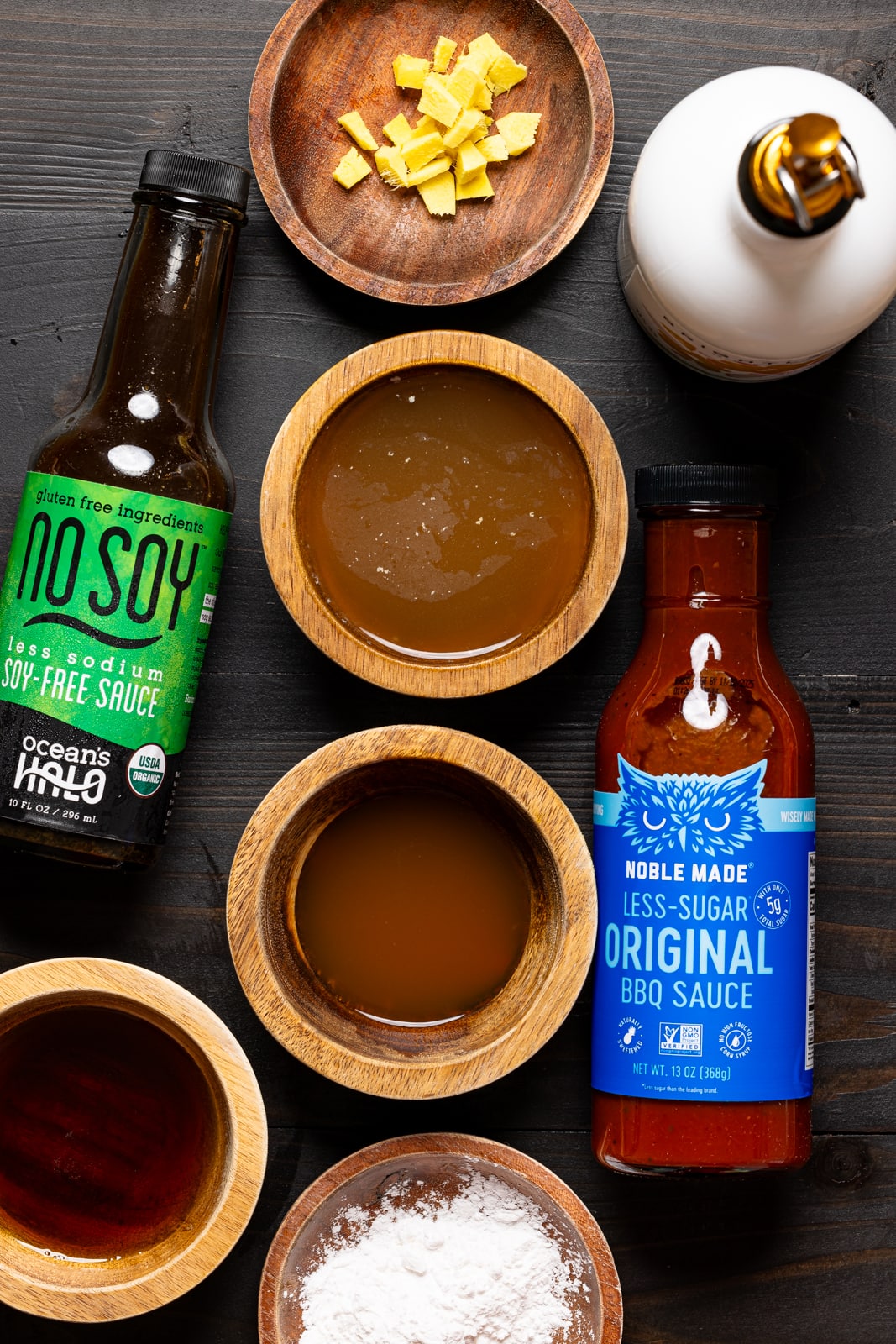 How To Make Healthy General Tso's Chicken?
There are 2 main elements to Healthy General Tso's Chicken-- Baking the chicken chunks + making the sauce, and then finally combining the two!
Ingredients
CHICKEN
Organic Chicken Breasts. The star of the show! Using organic chicken ensures a higher-quality and more natural protein source for your dish.
Arrowroot Starch. Coating the chicken in arrowroot starch results in a crispy and light texture when cooked.
Sea Salt + Black Pepper. Enhances the chicken's overall flavor.
Garlic Powder. Adds a delightful garlicky taste.
Smoked Paprika. Infuses a smoky and slightly sweet essence.
Red Pepper Flakes. For those who love some heat, these flakes bring a spicy kick to the chicken.
SAUCE
Extra Virgin Olive Oil. Provides a rich and fruity base for the sauce, adding depth to the overall taste.
Chicken Stock or Veggie Stock. A flavorful liquid that forms the foundation of the sauce, adding depth and richness to the dish.
Low-Sodium Soy Sauce. Offers a savory and umami flavor to balance the sweetness in the sauce. (use Tamari for GF option)
Rice Vinegar. Provides tangy notes.
Hoisin Sauce. Adds a wonderful blend of sweetness and savory flavors to the sauce, giving it a traditional General Tso's essence.
Garlic and Minced Ginger. These aromatic ingredients infuse the sauce with delightful and zesty notes.
Pure Maple Syrup. A natural sweetener that brings a distinct sweetness to the dish, balancing out the spiciness and tanginess.
Arrowroot Starch + Warm Water. Creating a slurry with arrowroot starch and water helps thicken the sauce to a perfect consistency.
Sesame Seeds. A final touch for garnish, adding a nutty flavor and visual appeal to the dish.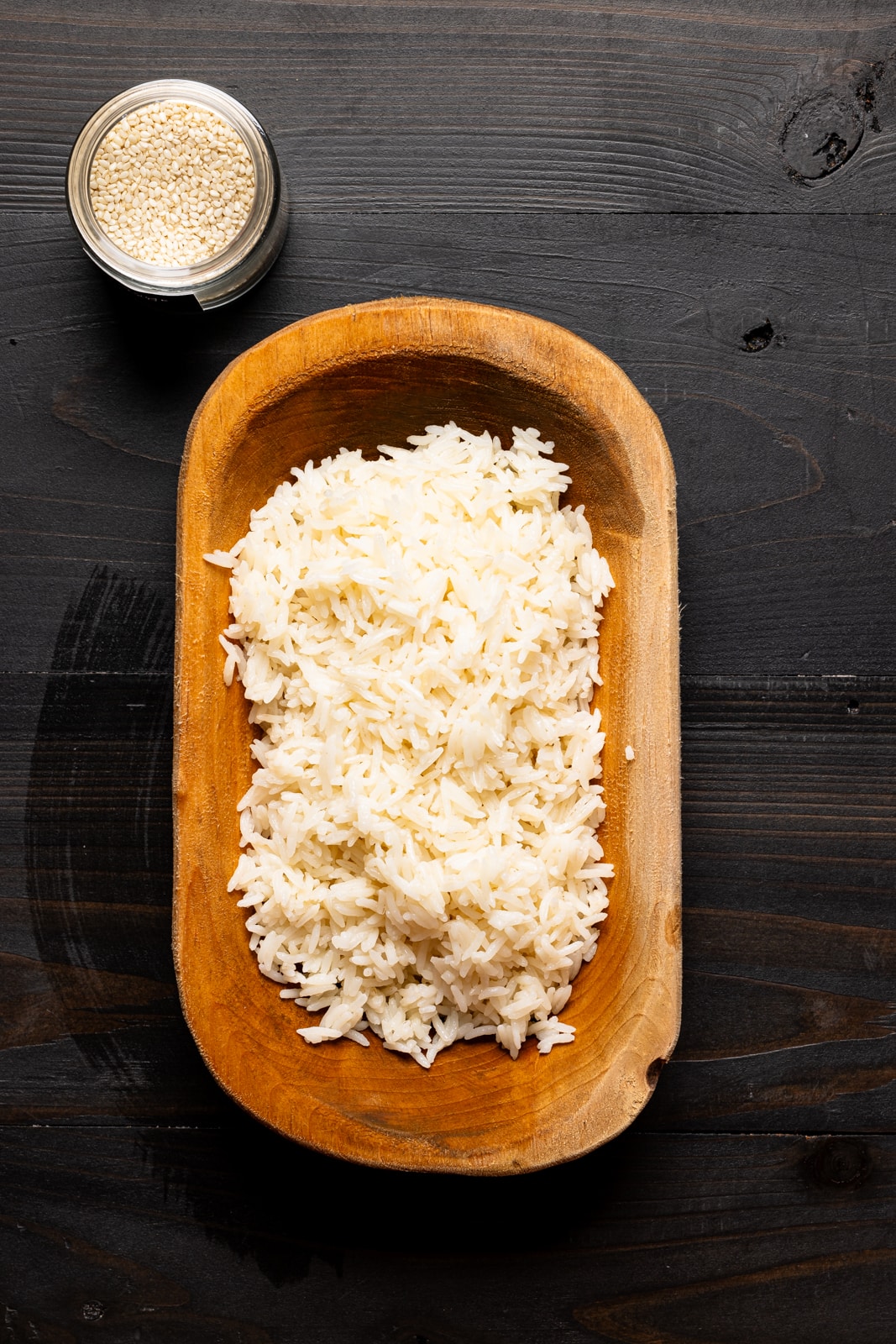 Why You Will LOVE Healthy Weeknight General Tso' Chicken?
Guilt-free comfort food with a spicy kick!
Crowd-pleasing--perfect for gatherings!
Textural bliss, the perfect balance of soft and crunchy.
Explosive savory + sweet flavors in every delicious bite.
A healthier twist on a classic favorite.
Quick + easy recipe for a weeknight dinner!
How to Make Fried Chicken in an Air Fryer?
To make your General Tso' chicken in an air fryer, it's very similar to doing it the oven. The only difference would be the cook time and adding them to a basket versus a baking sheet.
Once you've seasoned, dusted, and coated your chicken, add them to your air fryer basket, spray with cooking oil, and cook them at 360 degrees for 15-20 minutes. NOTE: You might want to spray your basket with cooking oil to ensure that your chicken doesn't stick to it during cooking.
What Makes This Chicken General Tsos Healthier?
Here are the main ways this dish is lighter and healthier than the take-out verison:
The chicken is oven-baked, avoiding deep frying for a healthier preparation.
It features all-white organic meat chicken, a leaner option for a lighter meal.
The sauce is sweetened with a touch of maple syrup for natural sweetness, reducing the use of refined sugar.
Low-sodium soy sauce is used to control the sodium content, making it a mindful choice for those watching their salt intake.
For a lower-carb alternative side dish, you can serve this with cauliflower rice and other veggies, adding more nutrition and deliciousness to your meal.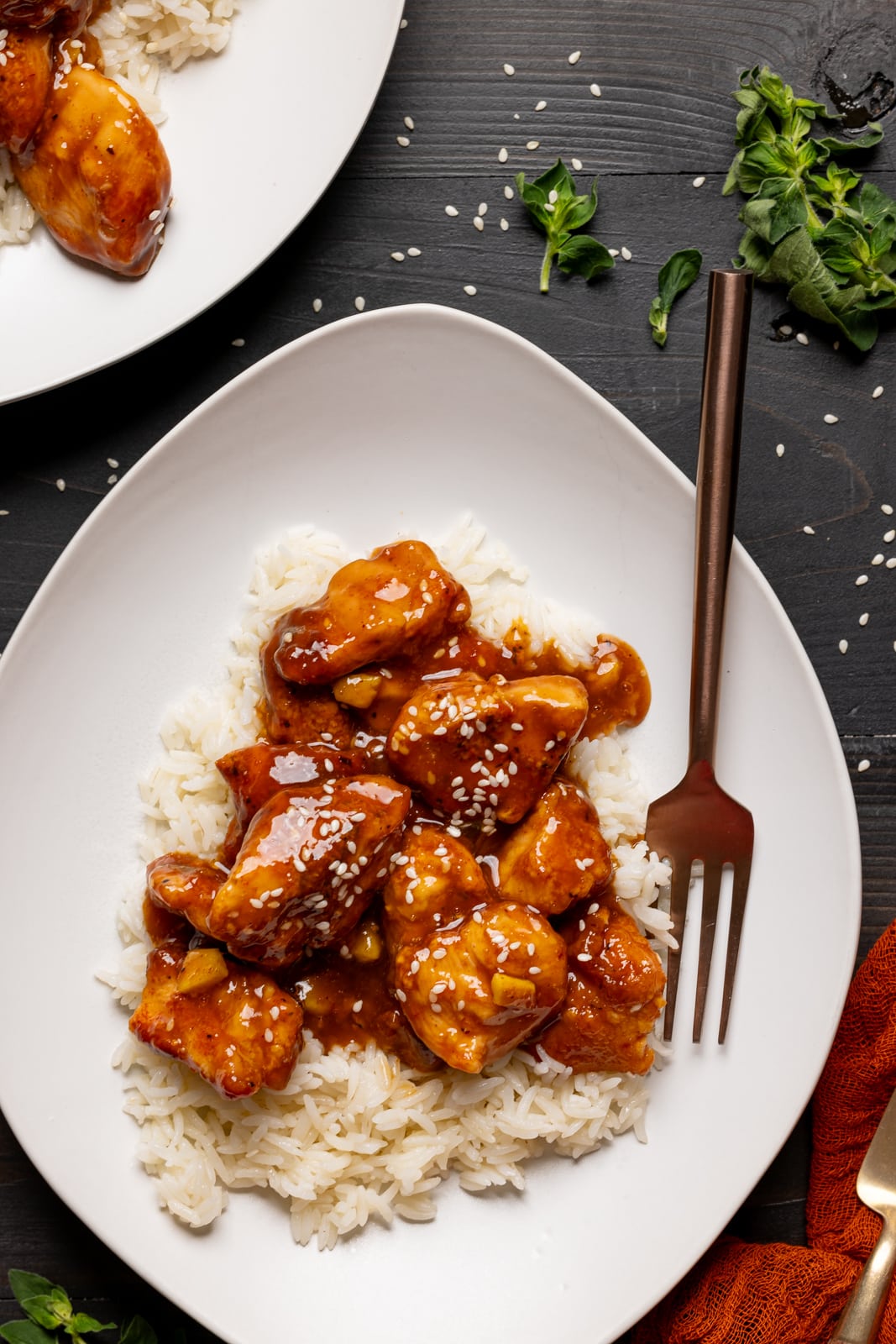 What Can You Serve With This Healthy Chicken General Tsos?
Here are my favorite things to serve with this Healthy Chicken General Tso's
Can I Substitute the Chicken in this Recipe?
You can absolutely substitute the chicken in this recipe for with another meat alternative altogether such as:
Vegan/ Plant-based chicken alternatives like Gardein
Cauliflower
Mushrooms
Tofu
Tempeh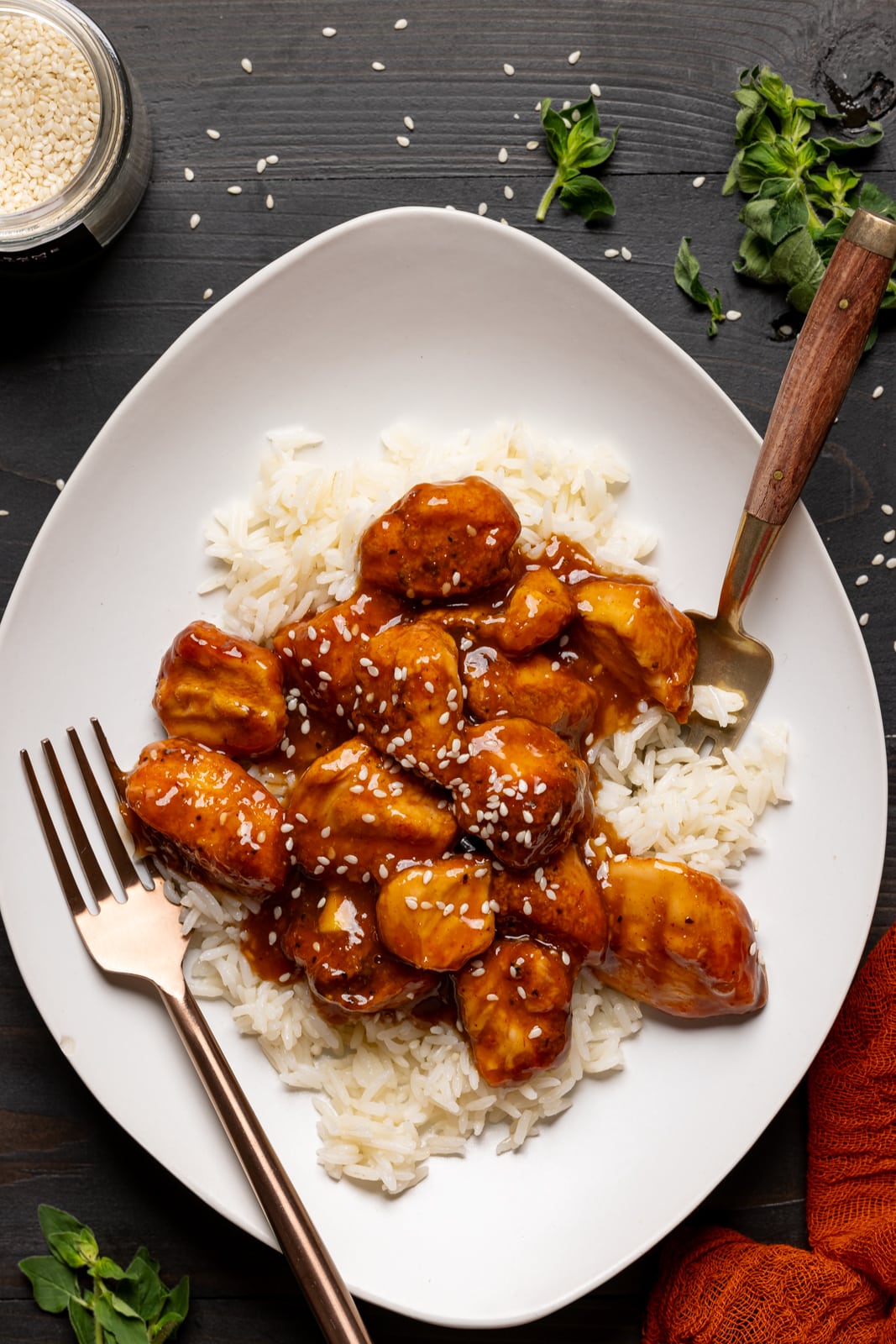 Healthy Weeknight General Tso' Chicken Q + A's
Is this Healthy Weeknight General Tso's Chicken still crispy and flavorful without deep frying?
Absolutely! The chicken is oven baked first to achieve a crispy texture, and then slow-cooked in the sauce, resulting in tender and flavorful bites without the need for deep frying.
Can I use chicken thighs instead of chicken breasts for this recipe?
Yes, you can use chicken thighs if you prefer. While chicken breasts are leaner, chicken thighs will also work well and provide a slightly richer flavor.
Can I make this General Tso's Chicken ahead of time?
While it's best enjoyed fresh, you can prepare the sauce and marinate the chicken in advance to save time on a weeknight. Cook the chicken and warm up the sauce when ready to serve.

Is this chicken recipe suitable for meal prep?
Absolutely! This Healthy Weeknight General Tso's Chicken can be made ahead and stored in the refrigerator for a few days. Simply reheat and serve with your favorite side dish for quick and satisfying meals during the week.
Can I adjust the level of spiciness in the sauce?
Yes, you can control the spiciness by adjusting the amount of red pepper flakes or omitting them altogether for a milder version.
More Delicious Chicken Recipes to Try!
Now that you're loving this General Tso' Chicken recipe, give these other chicken weeknight dinner recipes that your entire family will love a try next:
MADE OUR RECIPE(S)?
If you tried this Healthy Weeknight General Tso' Chicken or any other recipe on my website, please please leave a 🌟 star rating and let me know how you go in the 📝 comments below. I love hearing from you.
CHICKEN:
2

lbs.

organic chicken breasts, cut into 1-inch cubes

½

cup

arrowroot starch

(You can also use cornstarch or flour)

1

teaspoon

sea salt

1

teaspoon

black pepper

1

teaspoon

garlic powder

1

teaspoon

smoked paprika

½

teaspoon

red pepper flakes

(Omit for less spicy flavor)
SAUCE:
1-2

Tbsps

Extra virgin olive oil

½

cup

chicken stock

(You can also use water or veggie stock instead)

5

Tbsps

soy sauce, low-sodium

(I love using a soy-free vegan version as well; You can also sub with tamari sauce for GF-friendly option)

3

Tbsps

rice vinegar

(You can also sub with apple cider vinegar)

2

Tbsps

Hoison sauce

(See Notes for sub options!)

2

garlic cloves, minced

2

Tbsps

minced ginger

4

Tbsps

pure maple syrup

(See Notes!)

1 ½

Tbsps

arrowroot starch + 2 Tbsps warm water

Sesame seeds, for garnish
BAKE THE CHICKEN:
Preheat your oven to 400 degrees Fahrenheit and line your baking sheet with parchment paper with a wire rack for the best results. NOTE: Doing this step is a MUST to prevent sticking.

In a bowl, add the chicken pieces along with 1 teaspoon of each: salt, black pepper, smoked paprika, garlic powder, and red pepper flakes, stirring everything together until chicken are coated.

In a plate or bowl, add the arrowroot or cornstarch.

Now, toss each piece of chicken into the arrowroot (shaking off any excess) and then lay each coated chicken side by side onto the prepared baking sheet (about an inch apart). Repeat until all chicken are coated.

Bake for 30-35 minutes or until golden brown and "crunchy" looking. NOTE: If not crispy enough, turn on broil and bake for another 5-10 minutes.
TO MAKE THE SAUCE:
In a medium skillet (10-inch) or wok over medium-high heat, add the olive oil. Add the minced garlic and ginger, sautéing until fragrant, about 1-2 minutes. Add the maple syrup, rice vinegar, soy sauce, hoison sauce, and chicken stock and whisk everything together until it begins to boil. Reduce heat to low-medium and let everything simmer for another 2-3 minutes or so, stirring occasionally.

In a bowl or cup, mix together the arrowroot and water, until combined and "milk-like" in consistency. Add in the arrowroot mixture into the sauce, stirring until it begins to thicken.

Add in the crispy chicken pieces and toss them until coated. Garnish with sesame seeds.

Remove from heat and serve immediately with your favorite side of rice or noodles.

Bon Appetit!
STORAGE: Any leftovers can be kept in a tightly sealed container and refrigerated for up to 3-4 days. Reheat over the stovetop or microwave until heated through when ready to serve.
GLUTEN-FREE OPTION: To make this dish GF, just ensure that all sauce ingredients (including using Tamari sauce instead of soy sauce) are GF-friendly and the best alternative to cornstarch is arrowroot starch or Gf flour. 
SWEETENER: You can always substitute maple syrup with honey, organic brown sugar, or Agave.
HOISON SAUCE: If you don't have Hoison sauce, you can always substitute with the following: BBQ sauce, soy sauce, oyster sauce, chili sauce, teriyaki sauce, or sweet and sour sauce.
Calories:
190
kcal
|
Carbohydrates:
35
g
|
Protein:
4
g
|
Fat:
4
g
|
Saturated Fat:
1
g
|
Polyunsaturated Fat:
1
g
|
Monounsaturated Fat:
3
g
|
Cholesterol:
1
mg
|
Sodium:
1889
mg
|
Potassium:
179
mg
|
Fiber:
1
g
|
Sugar:
13
g
|
Vitamin A:
324
IU
|
Vitamin C:
1
mg
|
Calcium:
44
mg
|
Iron:
1
mg