This Easy Skillet Vegan Stuffing is a great vegan alternative to traditional Thanksgiving stuffing without compromising flavor. Complete your holiday table with this recipe which comes loaded with a blend of cubed rustic bread, onion, celery, apples, garlic, cranberries, pecans, and herbs. This vegan stuffing is perfect for all eaters. Super easy to make. Made in just one skillet. Make ahead option.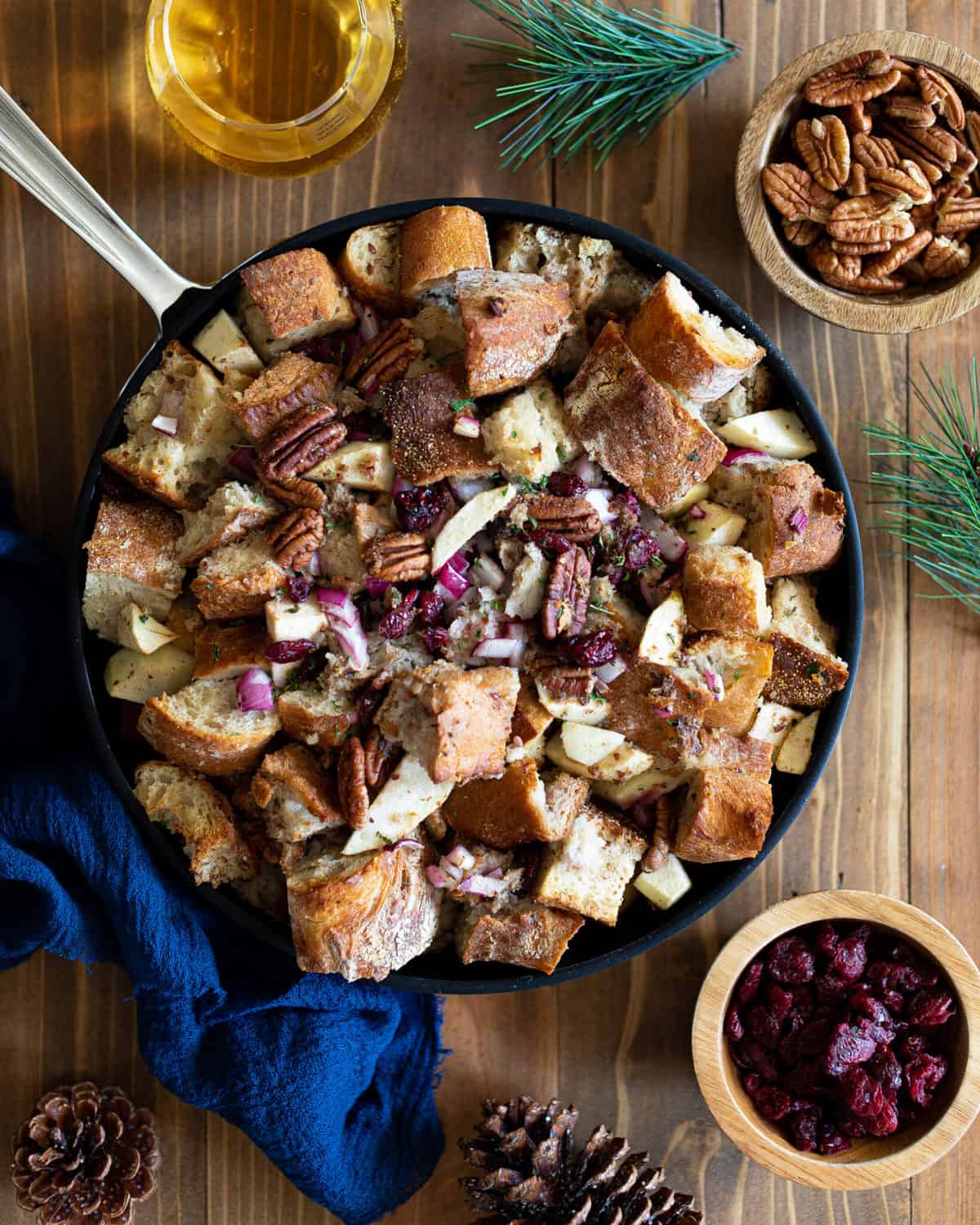 Easy Skillet Vegan Stuffing—-FINALLY here! I know. If you've seen the recipes from last year's Thanksgiving, then you know that I made this amazing Vegan Wild Rice Stuffing, which is a great option and stems away from the traditional versions of stuffing.
However, I know that many of you have been wanting a traditional-style stuffing, so HERE IT IS.
But can I be honest for a sec? OK. So, I've never been a real fan of Thanksgiving stuffing. I know. I KNOW. Don't all boo at once. Haha. It's funny because I'm such a huge picky eater (Yes, as an adult) of textures and I just don't like the "soggy" feeling of stuffing. Am I seriously the only one?
After seeing this Epicurious' skillet stuffing, I figured that I might actually give it a try myself.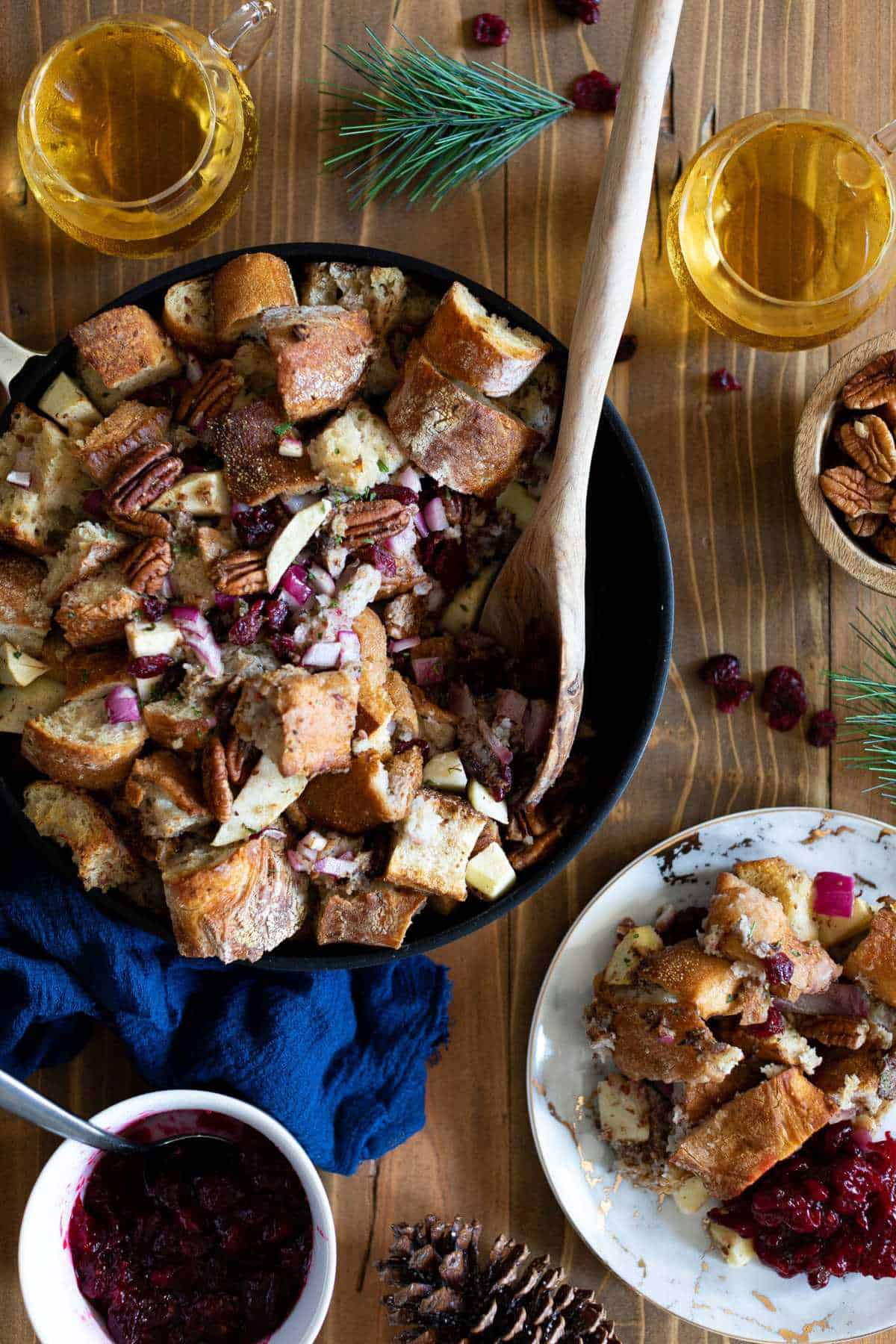 The best thing about this stuffing is that it's soft and tender, but has a bit of crunch to it from the rustic bread and pecans. Actually, I'm in love with the crispy rustic pieces of bread in this dish.
Besides the texture, the taste of this stuffing is dynamite. I literally wanted to embody that warm, Fall feeling that comfort foods often bring around this time, therefore, using apples, pecans, cranberries, and herbs + spices together definitely achieved this.
5 REASONS WHY YOU'LL LOVE THIS RECIPE.
It's absolutely delicious—-crunchy + soft!
Super easy to make and quick (plus, no crazy clean-up! Can we say–Everything in one skillet?)
Loaded with savory flavors!
Comes entirely dairy-free + vegan.
Perfect for Thanksgiving and anytime of the year!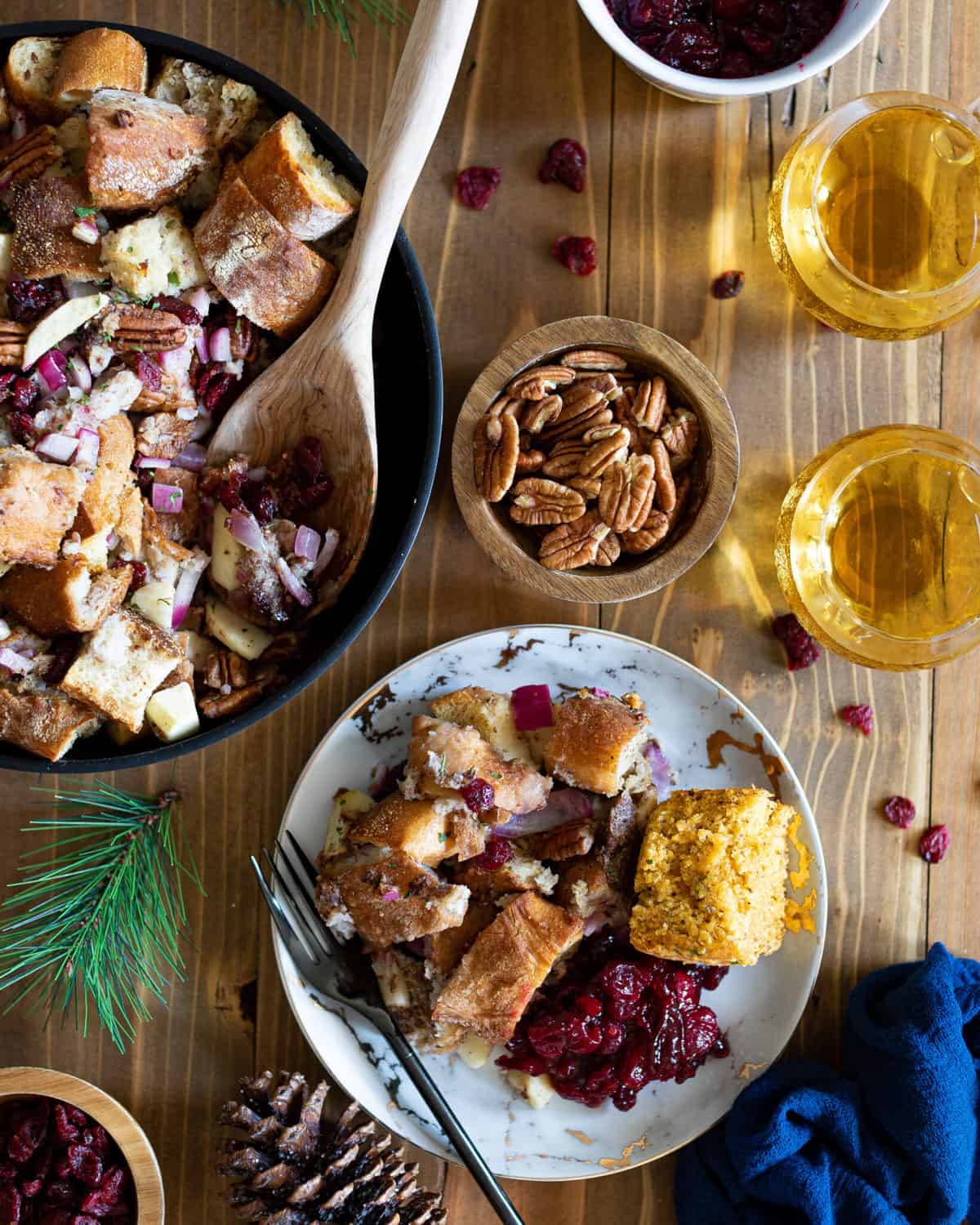 What You'll Need For This Recipe?
Pecans – The epitome of nutty flavor. The perfect addition
Herbs – Always love adding an earthy feel to my savory dishes
Apple Cider — Adds such a beautiful apple flavor to everything. Such the epitome of Fall
Vegetable Broth – Helps to add extra flavor and creaminess
Apples — The absolute star of this dish; I tend to mix Gala Apples with Granny Apples for a nice ying-yang of flavor
Rustic Bread – Give such a nice softness and texture to this stuffing. You can use regular white bread, sourdough bread, rye, multi-grain, or even brioche bread
Celery – A great addition to this stuffing. Very traditional
Onion – Adds such great flavor. Red, white, or yellow onions can be used
Cranberries – The perfect bit of tartness needed for this dish
Garlic – Can use actual garlic cloves or powder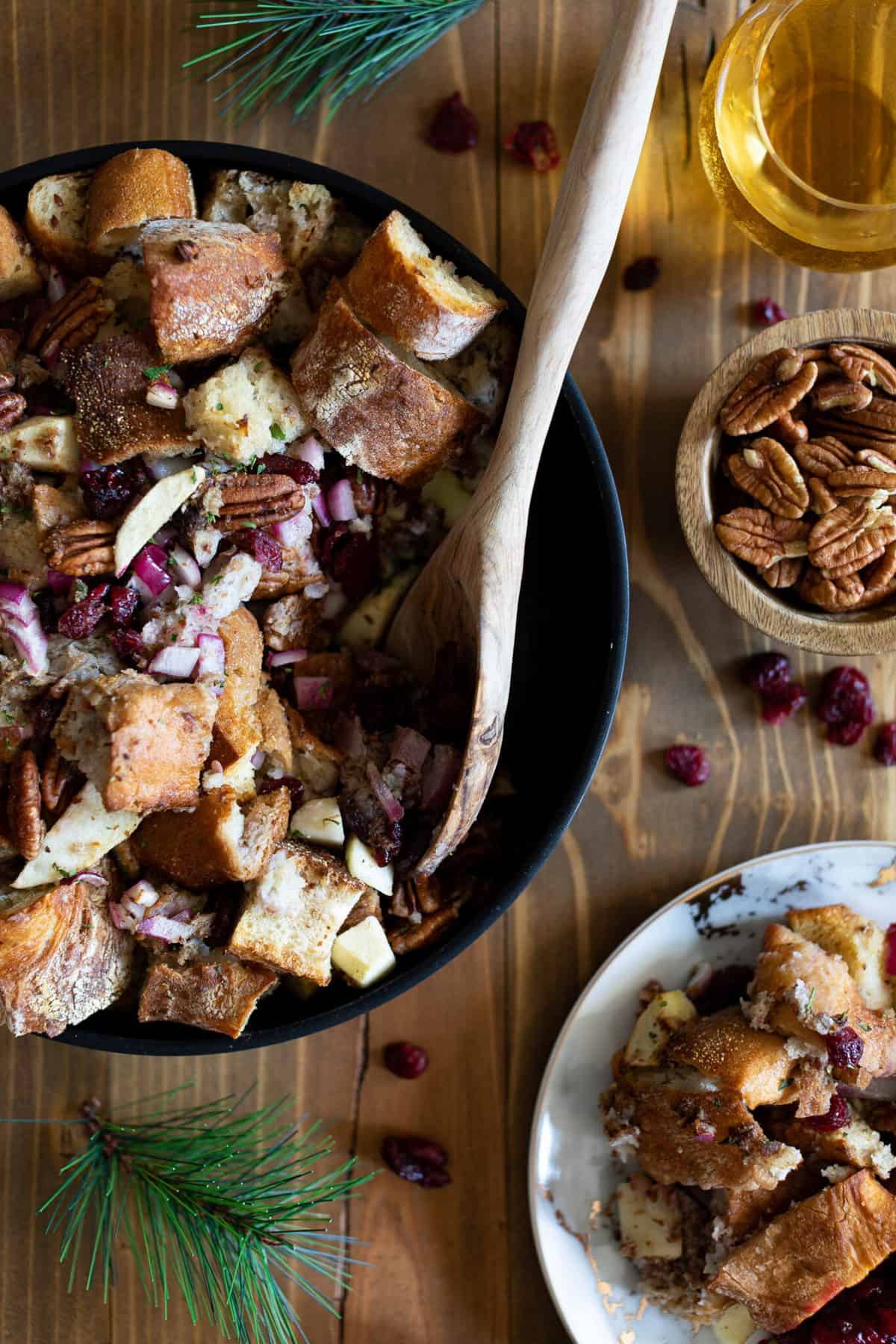 FAVORITE COMFORTING + SAVORY VEGAN OPTIONS.
This One Pot Creamy Vegan Tuscan Kale Pasta recipe is a delicious weeknight meal option for the entire family. Packed with bold, savory flavors, this recipe is the perfect vegan and dairy-free option that is made with a creamy based made from cashews and filled with a nice velvety texture from the kale and tomatoes.
This Vegan Sweet Potato Pasta w/ Kale + Spinach is the perfect way to enjoy a good plate of creamy pasta much like the classic Alfredo version, without the dairy and cheese and of course with the amazing texture of Pappardelle noddles. This recipe is easy to make, light, bursting with 'cheesy flavor' from the use of nutritional yeast, dairy-free, and so healthy!
This One-Pot Cajun Pumpkin Alfredo Pasta is the perfect way to enjoy a good plate of creamy pasta much like the classic Alfredo version, but without the dairy and cheese (all Vegan), completely loaded with pumpkin flavor married with cajun seasonings, and of course with the amazing texture of Pappardelle noddles.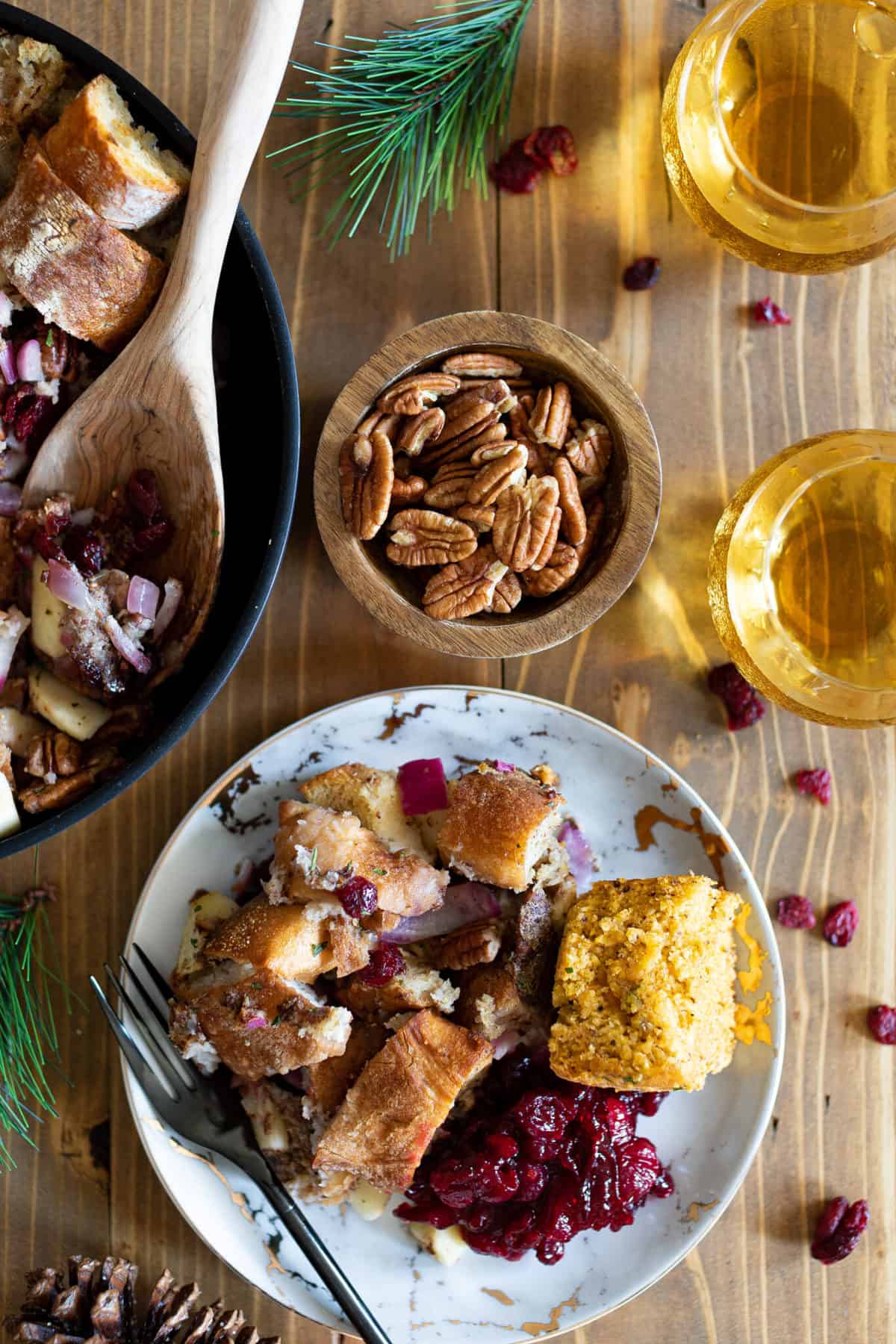 This Vegan Sweet Potato Maple Herb Cornbread recipe is the perfect skillet cornbread that you'll ever taste! This cornbread is the ultimate fluffy, crumbly, and airy side dish that fits right in with your other Thanksgiving dishes. Unlike traditional cornbread, this version boasts of delicious sweet potato, maple, and herb flavors, all of which creates a sweet + savory taste that will leave you wanting another slice.
When it comes to this Easy Vegan Pumpkin Mac + Cheese recipe, it is by far more than a fork full of goodness! Super creamy, light, tender, and loaded with pumpkin + cajun flavors, this 'Mac + Cheese" is made from gluten-free macaroni, savory seasonings, pumpkin puree, and cashews. Completely vegan and gluten-free and perfect for your Thanksgiving menu or as a Fall comfort food.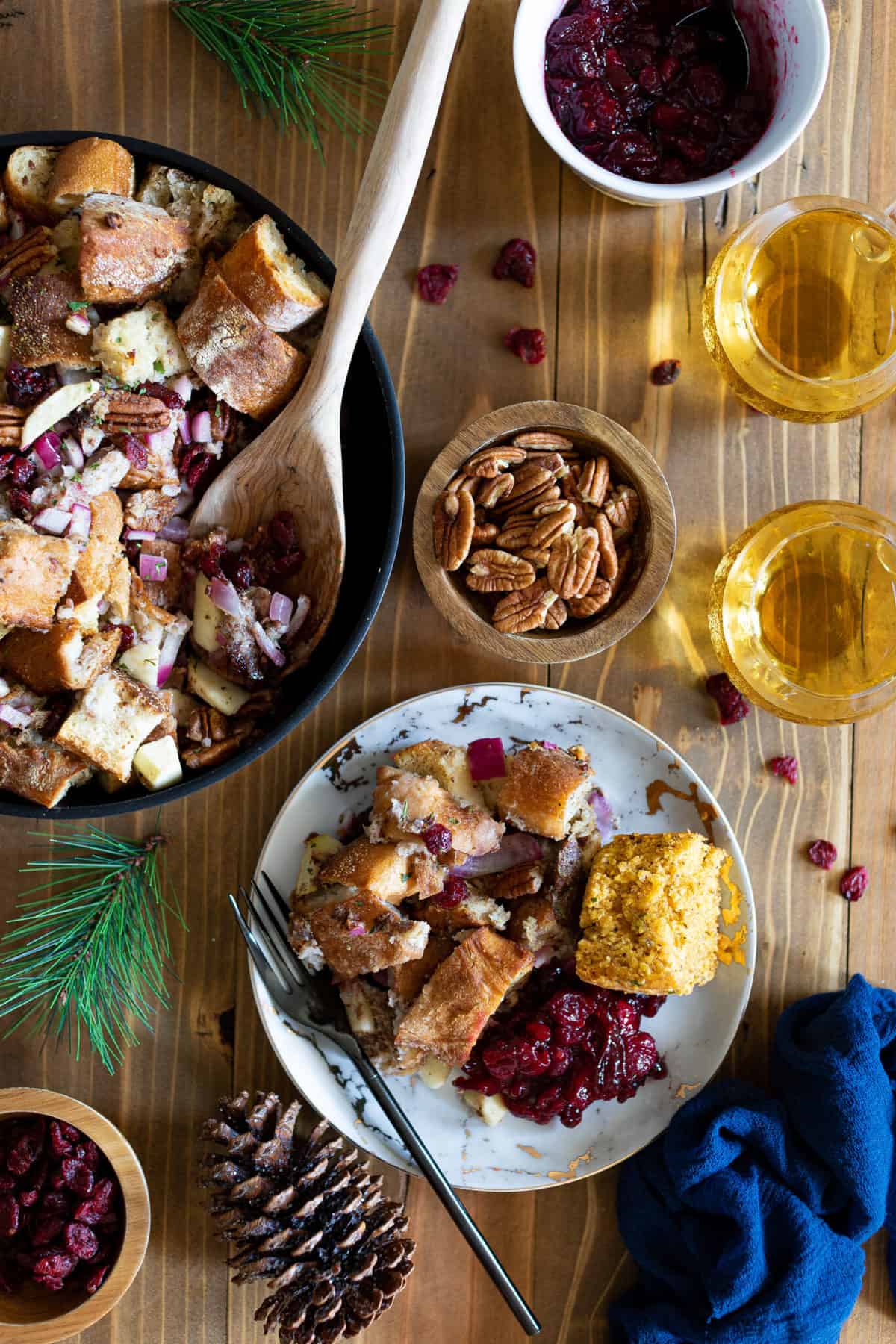 1

medium

rustic loaf, cubed

(That's about 10 cups!; See Notes!)

1

red onion, diced

5

garlic cloves, minced

2

celery stalks, chopped

1

tsp

sea salt + black pepper

1

tsp

dried thyme

1/2

tsp

dried rosemary

1

tsp

dried parsley

1/2

cup

apple cider, store-bought or homemade

(See Notes!)

1/2

cup

dried cranberries

1

medium

Granny Smith apple, peeled + roughly diced

4

Tbsps

vegan butter

(I use Earth Balance; See Notes!)

1 1/2

cups

organic vegetable broth

(I use Pacific Foods)
Preheat oven to 400 degrees Fahrenheit and grease your cast iron skillet and line the bottom with parchment paper. Set aside.

Add your cubed bread to a baking sheet and bake in the oven for 5-10 minutes, until crispy and golden brown.

In the meantime, in a medium frying pan or skillet over medium-high heat, add butter and let it melt. Once melted, add onion, celery, and garlic and sauté until translucent and fragrant, about 5-6 minutes.

Season veggies with herbs + spices, stirring everything together well and then remove from heat.

In a large bowl, add the cubed bread, sautéed veggies, sliced apples, cranberries, toasted pecans, apple cider, and vegetable broth and stir everything together using a wooden spoon until well combined. NOTE: Be sure to slowly pour veggie broth in until everything is wet and not overly drenched to where there is 'excessive liquid' that isn't soaked into the bread.

Pour everything into your prepared cast iron skillet, spreading it all out evenly and cover with foil paper.

Bake for 30 minutes covered before removing the foil and continue baking until everything is set and the tops are golden brown. NOTE: Using a sharp knife, test the centers to see if it comes out "mostly clean".

Remove the stuffing from the oven and let cool slightly, about 10 minutes before slicing or scooping it out to serve.

Bon Appetit!
STORAGE: Place all leftovers in an airtight container in the refrigerator for up to 4 days. Reheat in the oven when ready to serve again.
BREAD: For this stuffing you can use any type of rustic bread: regular white bread, sourdough bread, rye, multi-grain, or even brioche bread for a nice twist.
APPLE CIDER: You can choose to use store-bought apple cider or our easy homemade recipe here.
OIL: You can feel free to use Extra Virgin Olive oil instead of vegan butter, if preferred.
MAKE AHEAD: If you're thinking about making this the day before, that's absolutely fine. Simple prep everything and add it all to a large bowl (up to Step 5) and cover it well using plastic wrap. Add it to the refrigerator and let it chill for up to 2 days. On the day of making, let it sit at room temperature for 30 minutes before adding it to your skillet and baking.
Easy Skillet Vegan Stuffing.