Brioche is such a special bread. At its best, it's light, fluffy, airy, buttery, rich and so delicious smeared with a generous pat of softened, salted butter. And now, despite being known for its buttery flavor, you can make homemade brioche that's just as delectable as the real thing without any dairy, eggs, or real butter. If you love brioche but need to skip the milk products, this vegan version is made for you!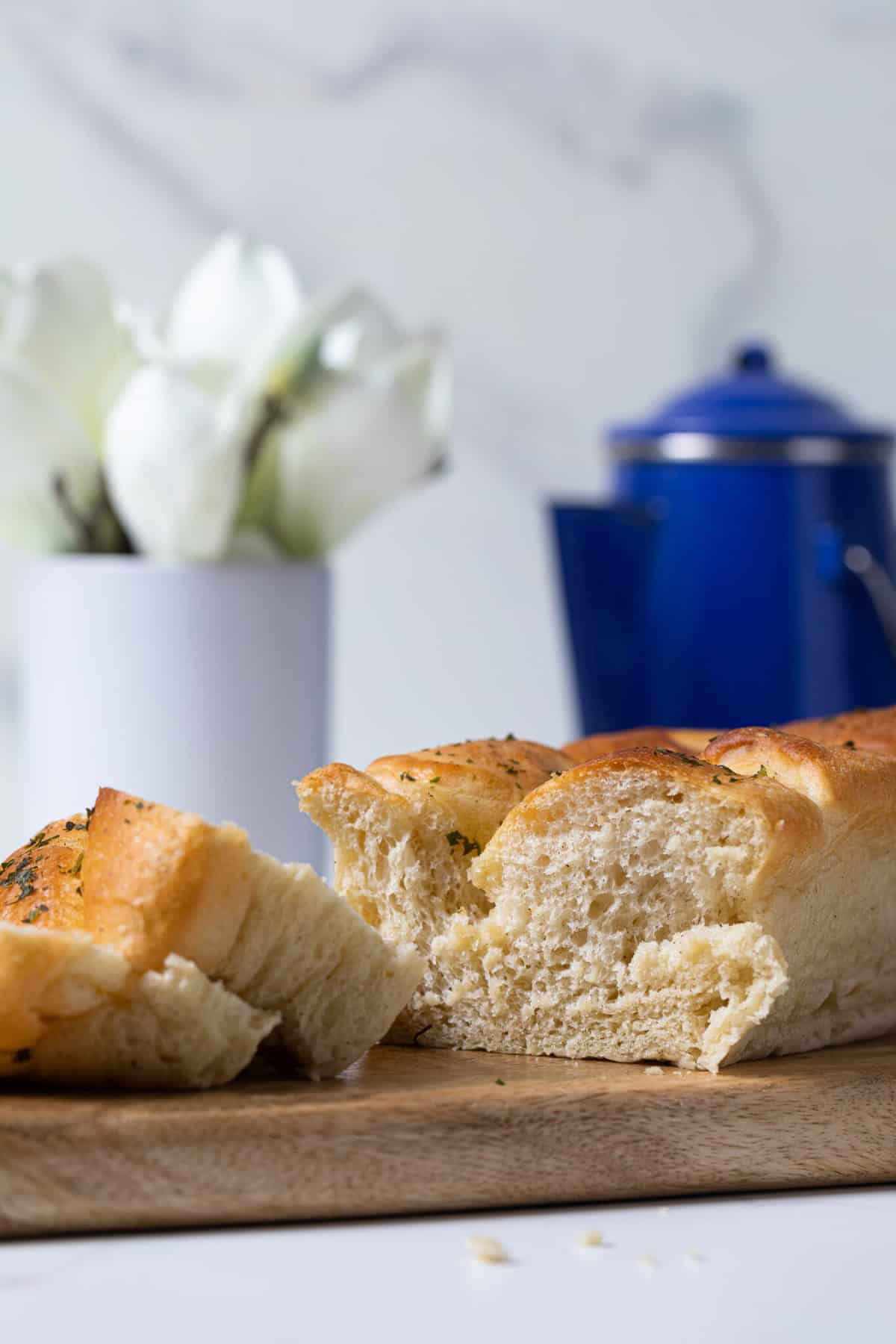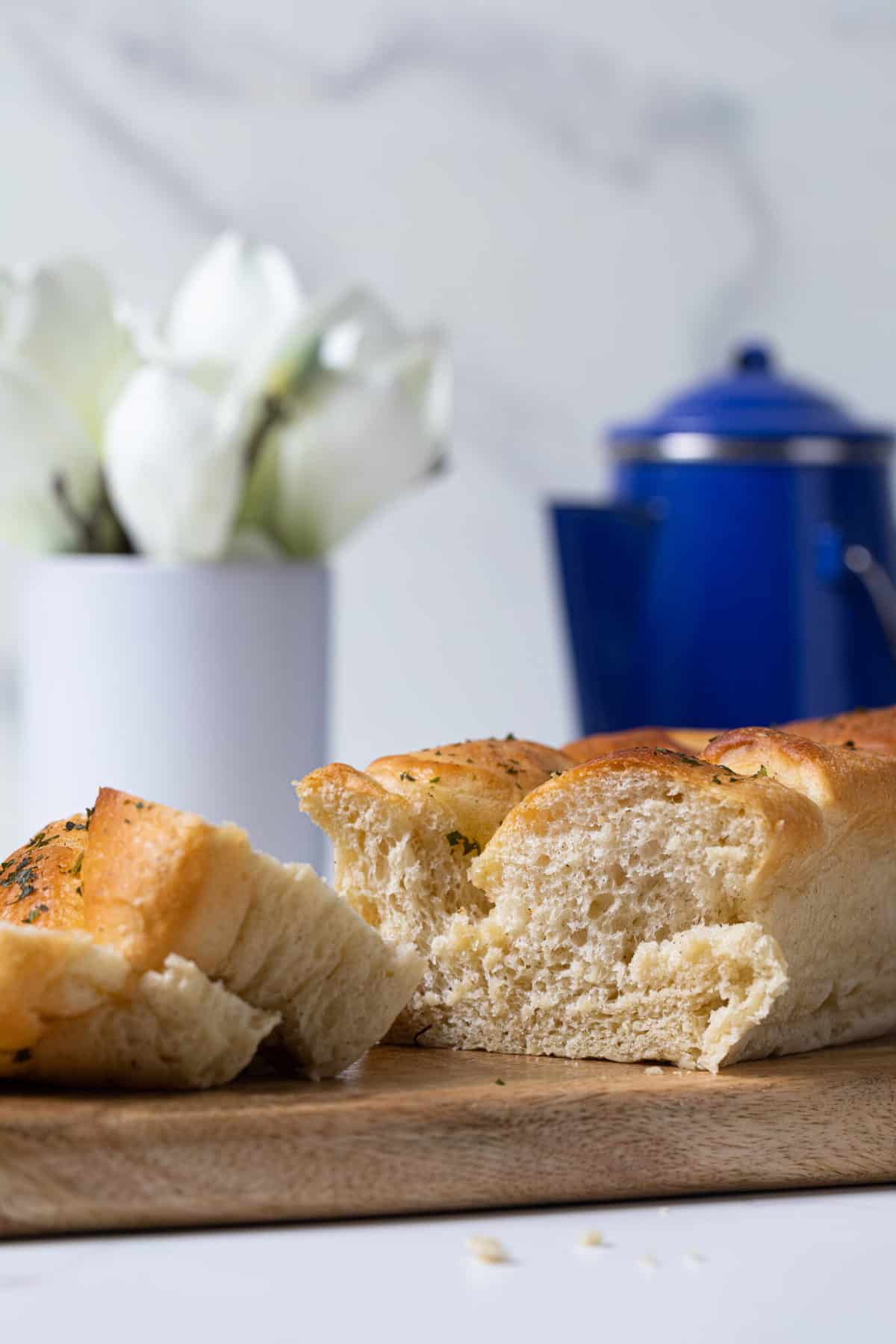 If you've gotten into sourdough bread baking, or just love baking your own bread these days more than usual, then this is also a fun project. There's no sourdough starter, so it's a super easy recipe for non-bread bakers too. In fact, this easy vegan brioche bread recipe only requires 20 minutes of hands-on work. The rest of the time is for the yeast to activate and help your loaf rise to its airiest, fluffiest potential.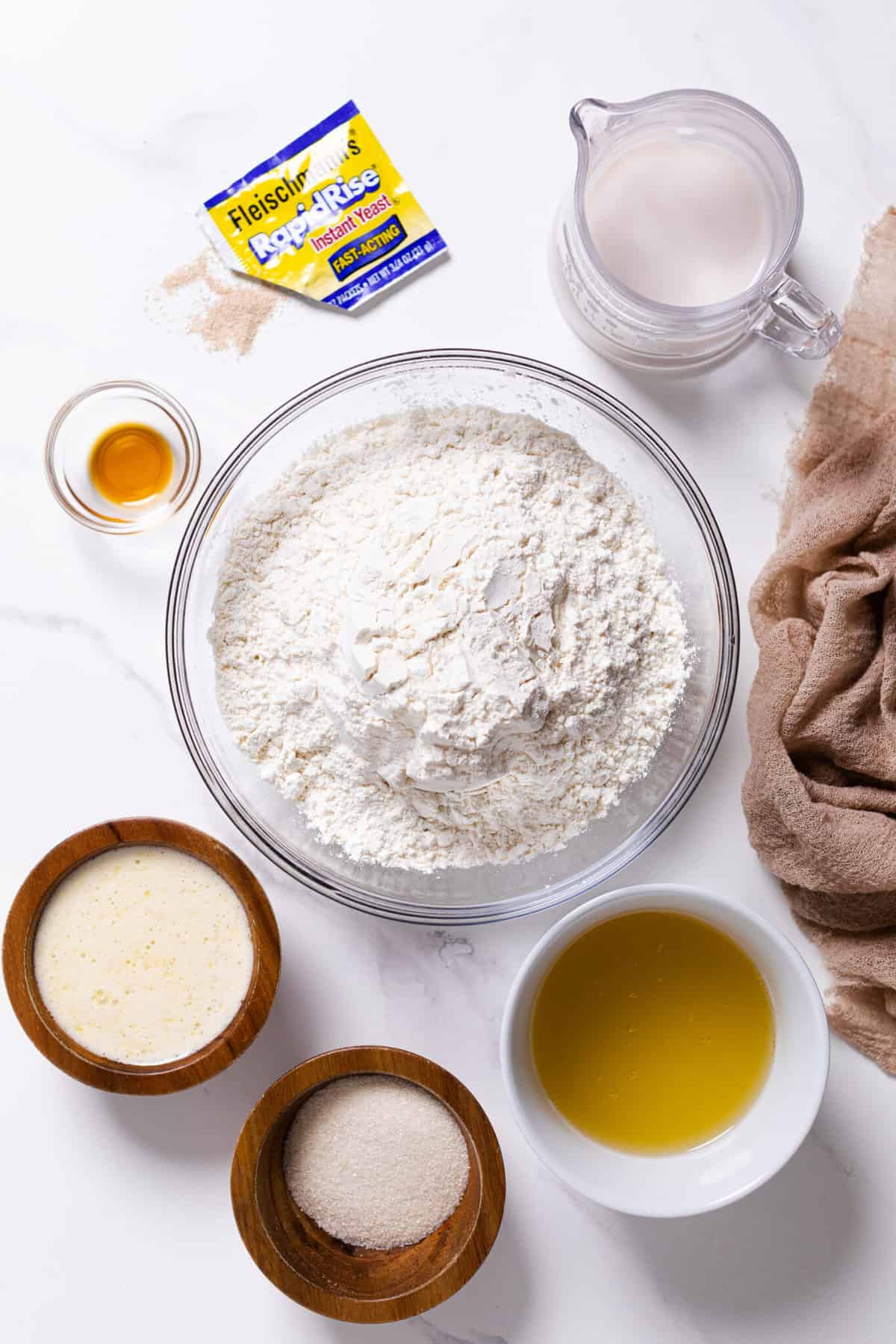 How to Make Vegan Brioche Bread without Butter
Ready to get baking? The first thing to do is assemble your ingredients!
Ingredients
Here's what you need to make dairy-free brioche today:
Organic artisan bread flour. Bread flour has a higher protein (gluten) content than regular flour. This helps to give your brioche more of a structure and chewy, but soft texture. If you don't have bread flour, however, you can still make the recipe with regular all-purpose flour. Either way, I recommend using King Arthur organic flour.
Instant yeast. You'll need just one packet of yeast for this recipe. If you have a larger bag of instant yeast, measure out 2 ¼ teaspoons. Make sure you're not using active dry yeast, though, which requires activation before you can start using it.
Cane sugar. This feeds the yeast so they activate and produce the gasses that will help your brioche rise. It also adds just a *hint* of sweetness to the bread. Use organic sugar if possible.
Sea salt. It's important to add salt both for flavor and texutre. Salt helps tenderize the gluten strands in your bread for a softer, chewier texture.
Vegan butter. You can also use an equal amount of extra virgin olive oil if you prefer that flavor in your brioche.
Aquafaba. This is the secret must-have ingredient to make the fluffiest and highest brioche without dairy. All it is is the liquid you drain out of a can of chickpeas! So next time you're making a simple chickpea salad for lunch, save the liquid and put it to good use! You'll be amazed by what this unique ingredient can do, especially in vegan baking recipes.
Almond milk. Feel free to use different plant-based milk if you prefer. I recommend using unflavored, unsweetened milk.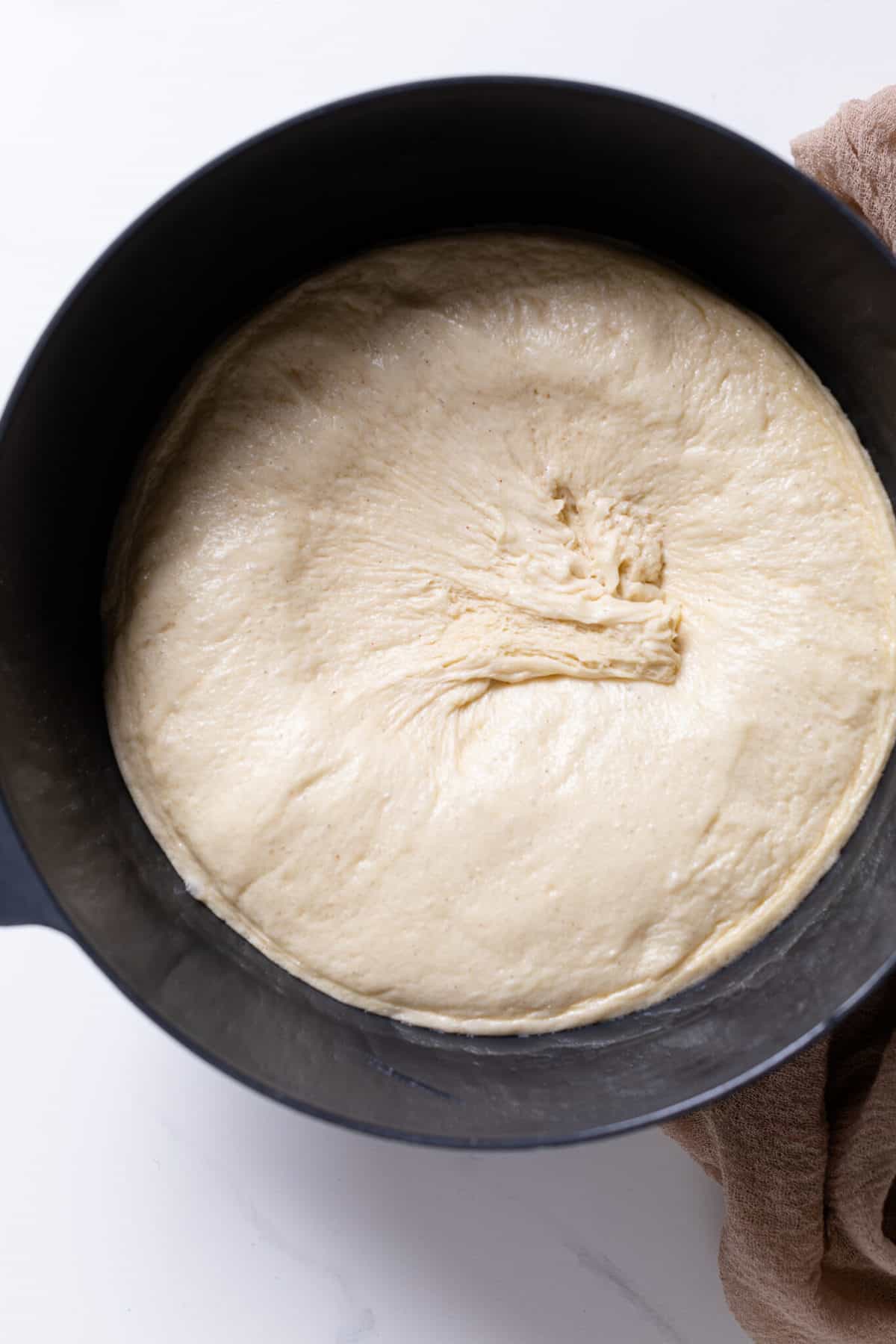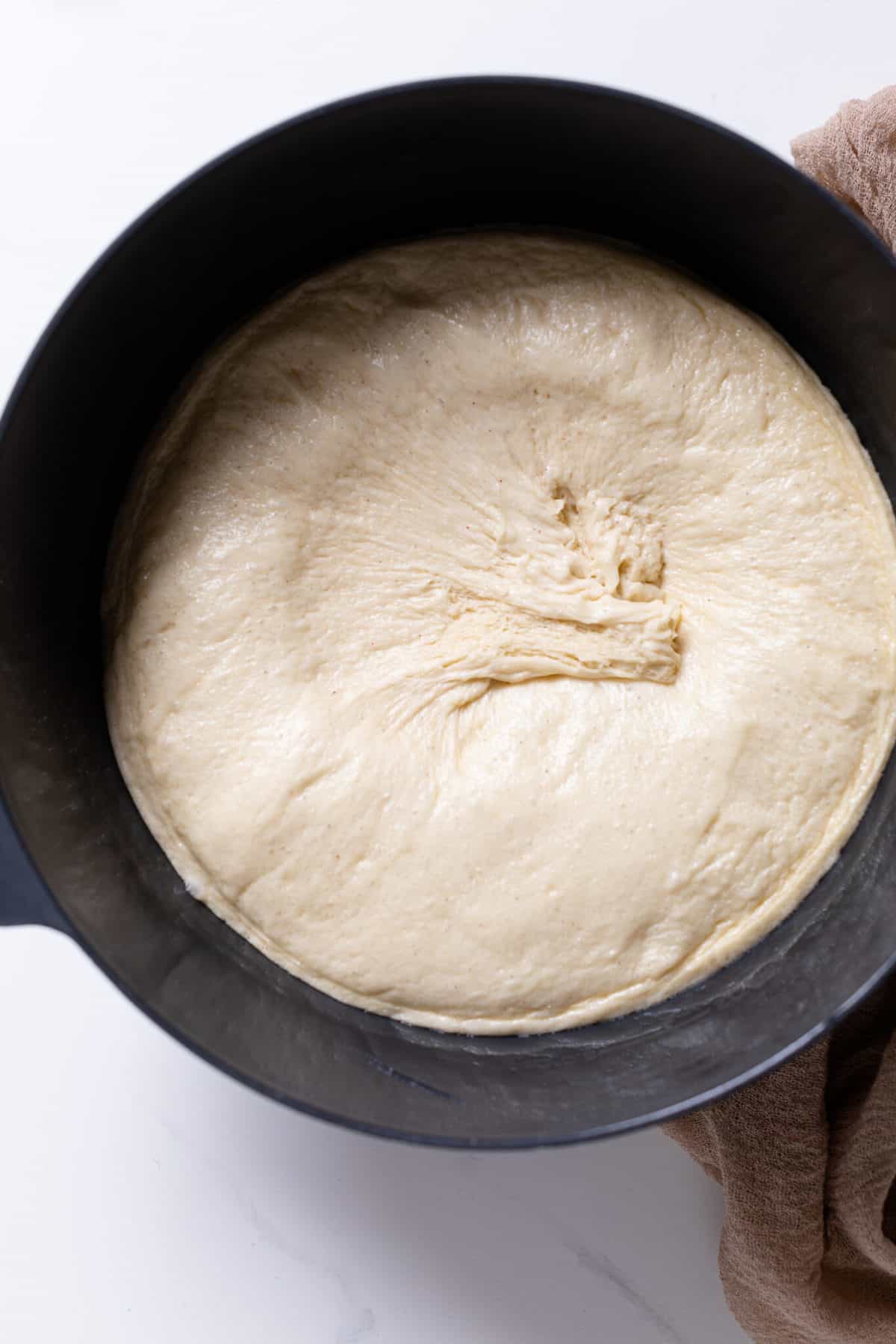 Steps to Make Vegan Brioche
If you've made bread before, this recipe will probably look familiar to you. And if this is your first time, enjoy it! This is a simple and fun recipe that's perfect for beginners.
First, you'll combine the wet ingredients in a stand mixer. Then add the dry ingredients and knead the dough for a good 10 to 15 minutes. You'll know the dough is kneaded enough when it is shiny, supple, smooth, and bounces back when poked.
At this point, you're ready for your first rise. Place the dough in a greased bowl, cover it, and let it rest for at least an hour. The dough should double in size during this time. If you're in a cold house, try to put the dough somewhere warm, like a turned-off oven.
Next, you can place the bowl in the fridge. Now the dough will ferment overnight (or for at least 4 hours) in the cold. This period helps the yeast activate and develops the flavor of the buttery dough.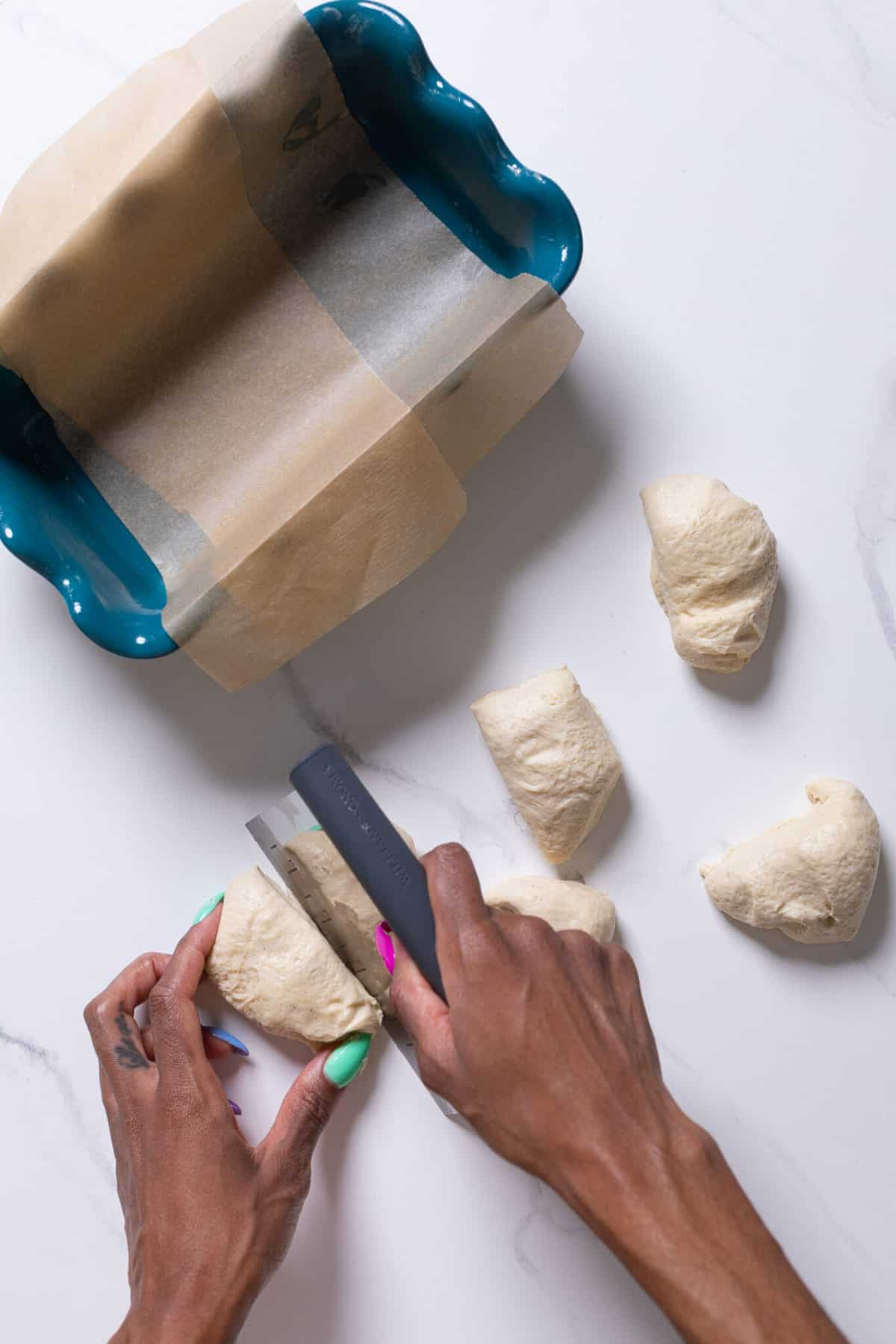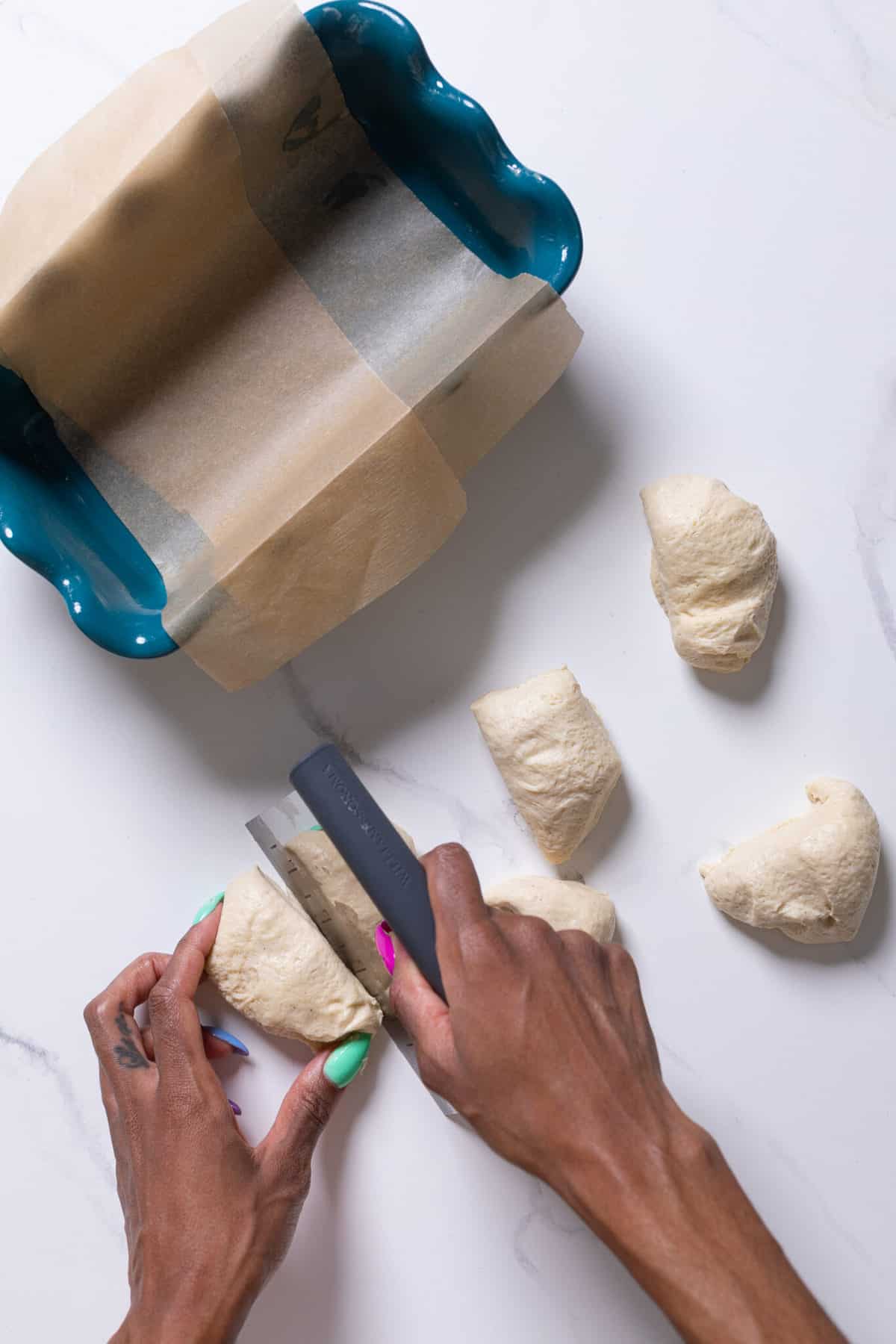 Shaping and Baking
After the second cold rise, you can shape the dough and prepare it for baking. Cut the dough into 6 even pieces and roll each one into a smooth ball. I like to use a bench scraper to cut the dough.
Place the balls inside a well-greased loaf pan. They should be touching each other. Now let the dough rise for a third and final time in the pan for another hour or two at room temperature while you preheat the oven to 350°F.
After rising, pop the loaf pan into the hot oven and bake for 30 to 35 minutes. The brioche is done when the top is golden brown and the center is firm and fully cooked. You can test with the toothpick test if you're unsure.
Finally comes the hard part: waiting for the bread to cool before slicing!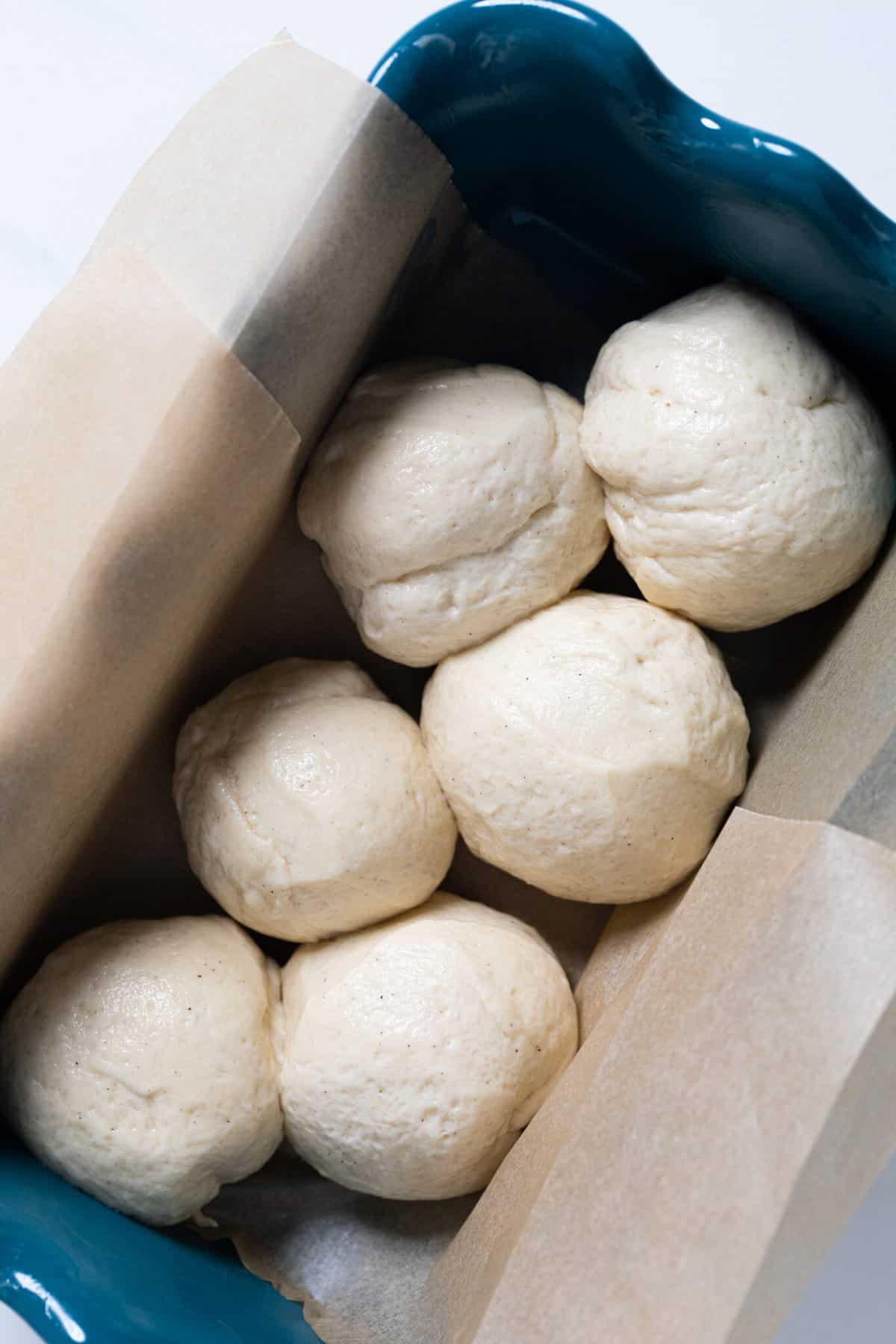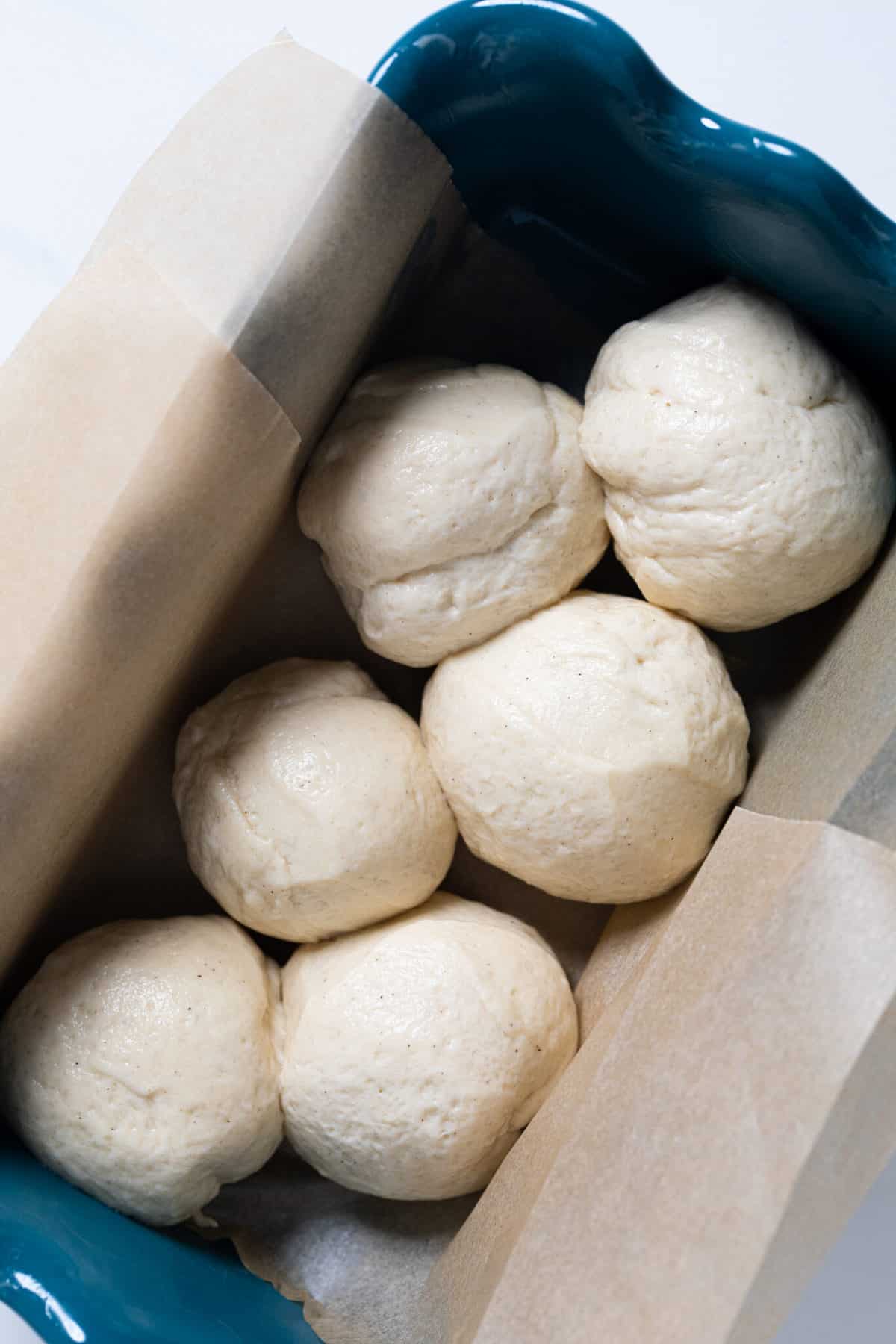 Storage Suggestions
If you somehow resist devouring this fluffy brioche hot out of the oven, you can store fully cooled leftovers in an airtight container on the counter for up to 5 days.
For longer storage, wrap the loaf tightly in plastic wrap and store in the freezer for up to 2 months. Let the loaf thaw at room temperature before slicing and serving. You can also gently reheat it in the oven wrapped in aluminum foil.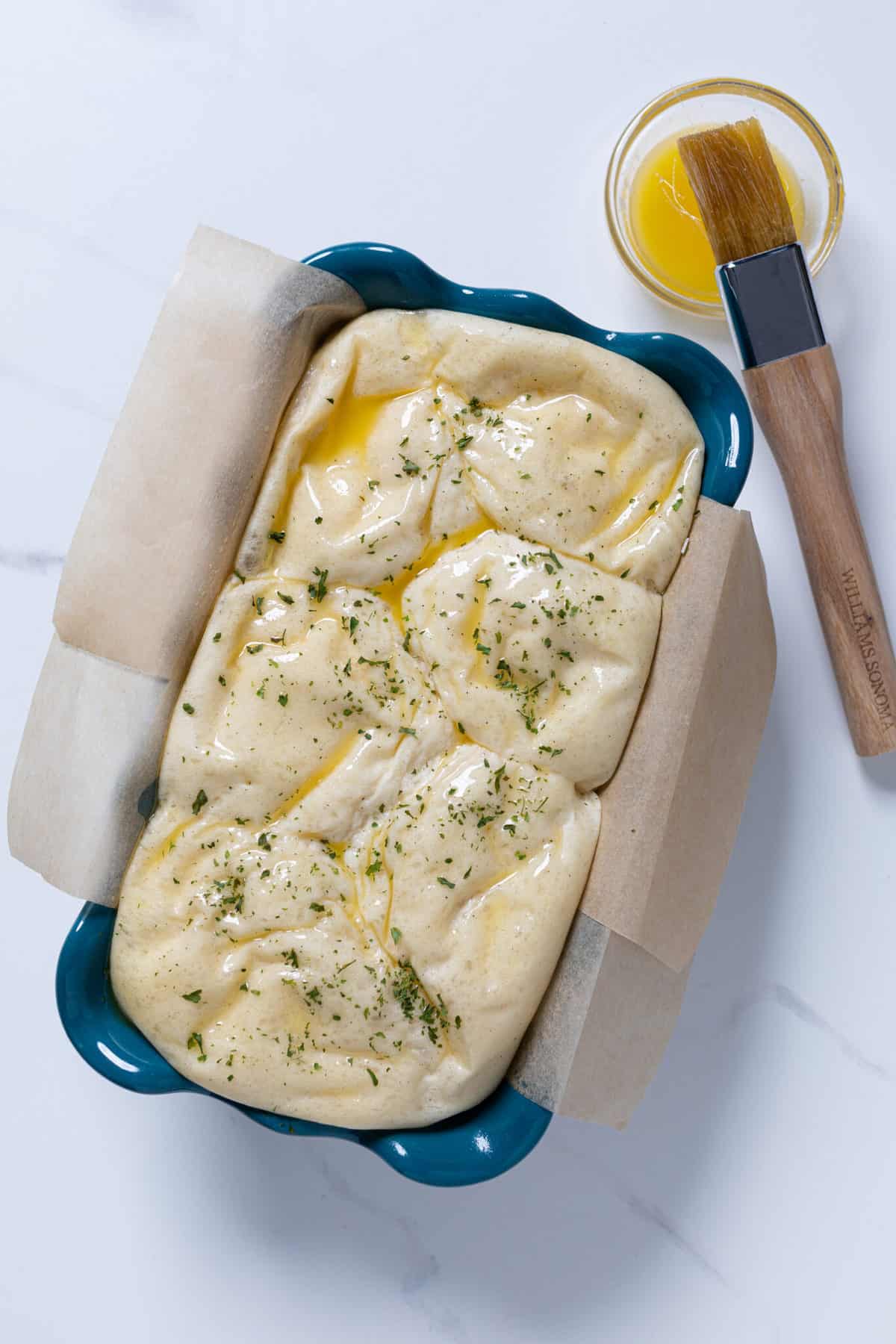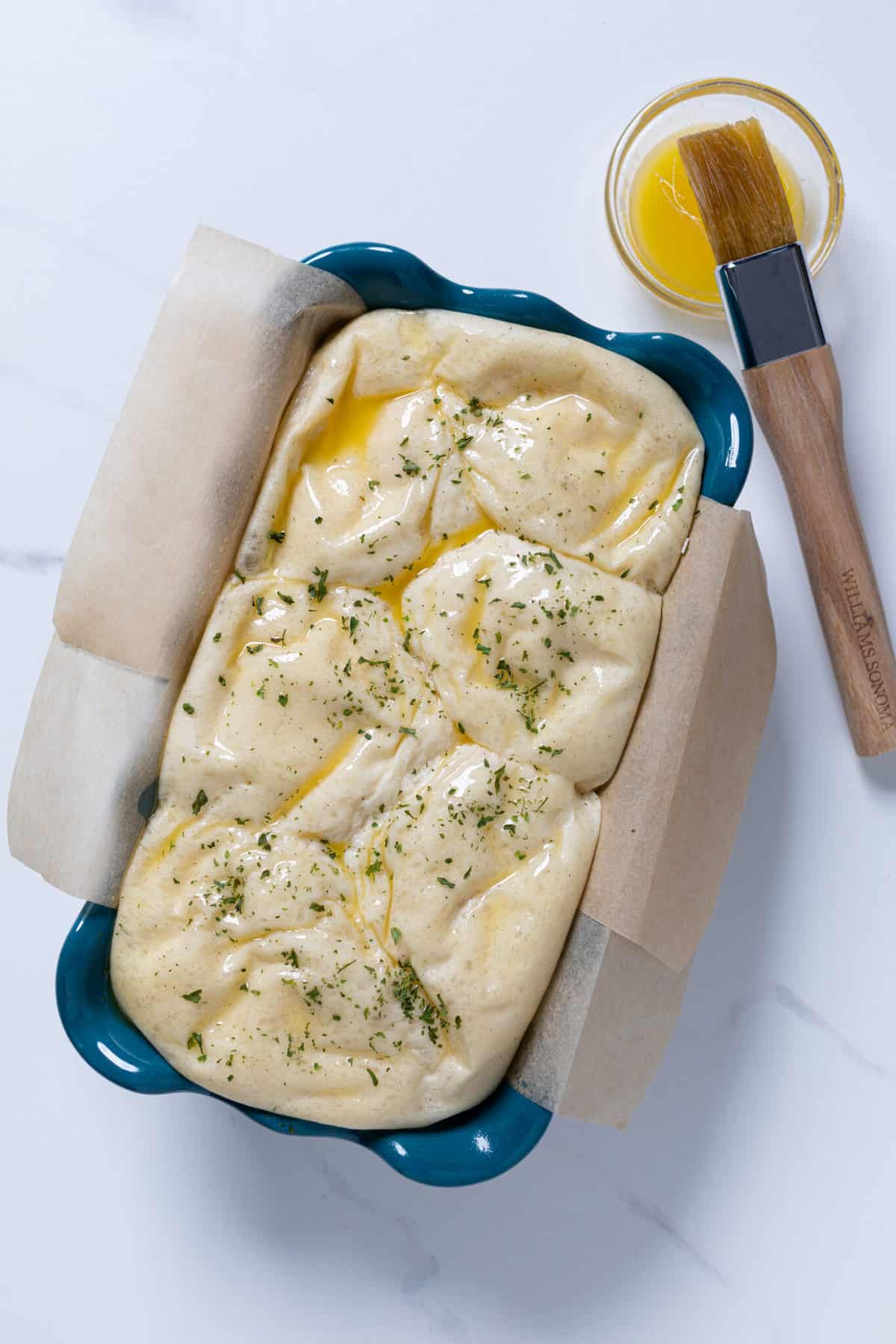 Serving Suggestions
Serve your buttery vegan brioche bread with any of your favorite toppings. A smear of vegan butter or dunk in extra virgin olive oil is always a treat. Or you can add this to your side dish repertoire and serve it alongside saucy Vegan Bolognese Pasta or Easy Flavorful Rigatoni Meatball Soup to sop up all of the delicious flavors. For breakfast, you can also toast slices and enjoy with fried eggs or a tofu scramble.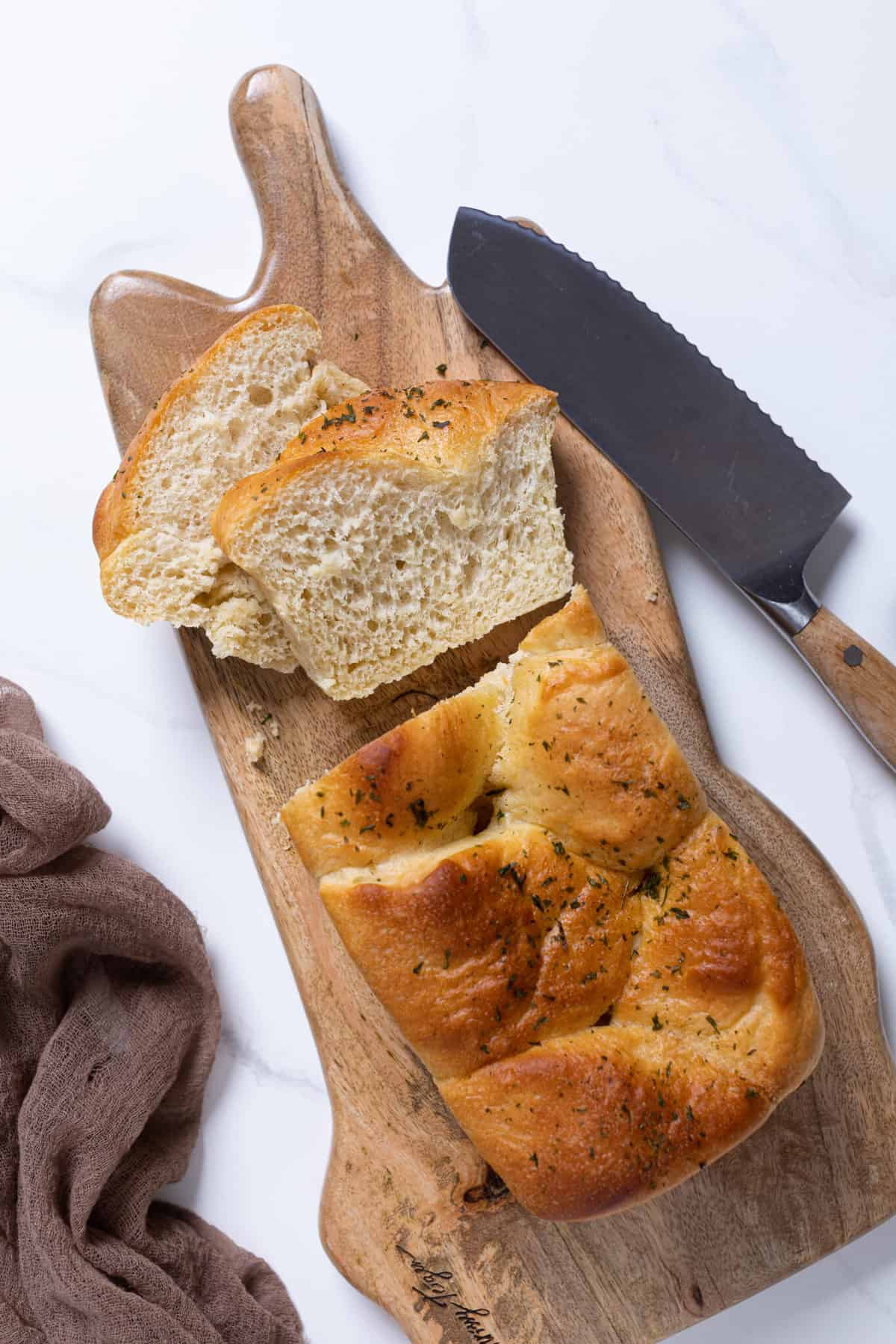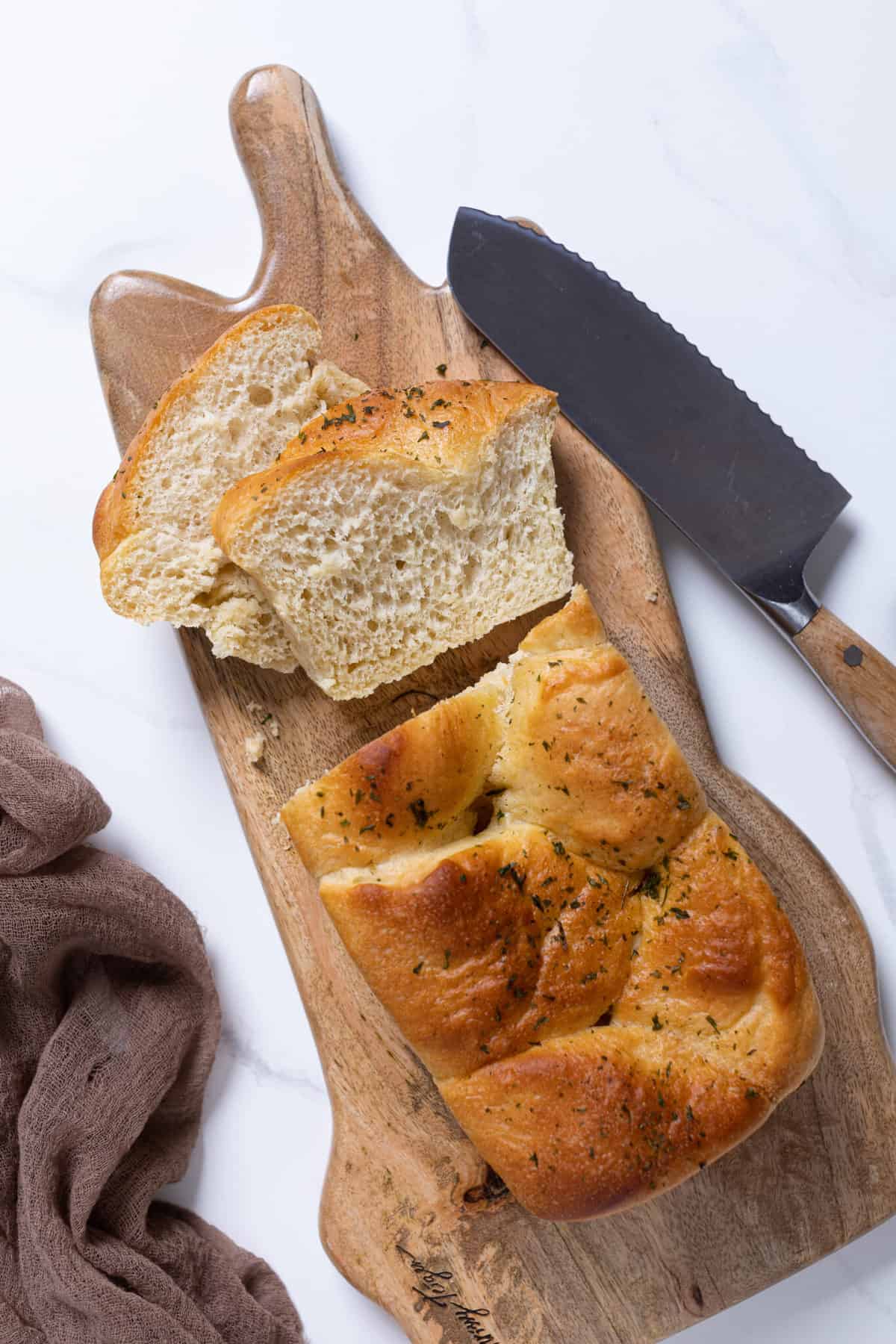 Do I Need a Stand Mixer to Make Bread Dough?
While you don't absolutely need a stand mixer to make this brioche dough, it certainly comes in handy. If you don't have one, simply mix the ingredients together in a mixing bowl with a wooden spoon. then transfer the dough to a lightly floured work surface and knead the dough by hand until it's smooth and shiny.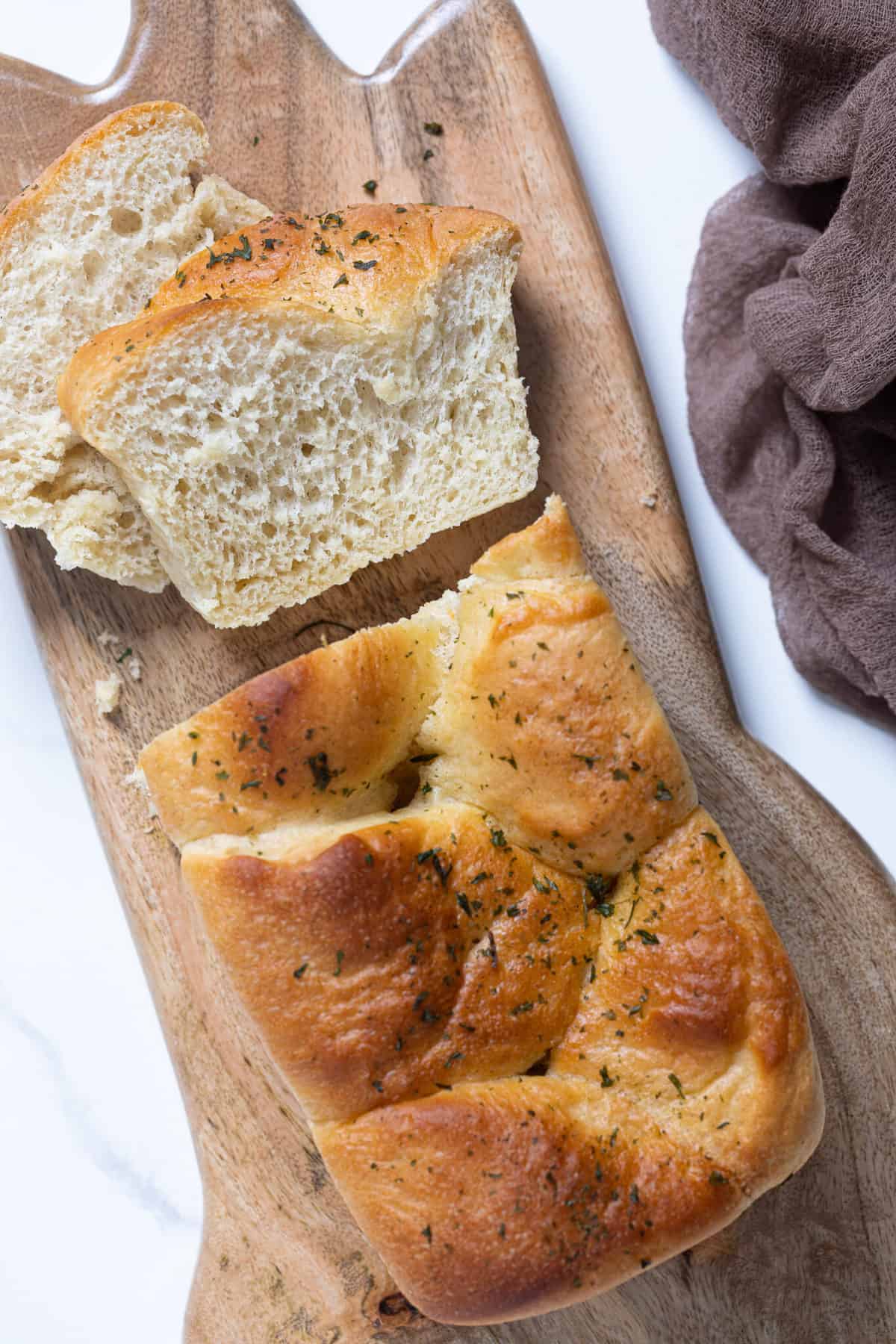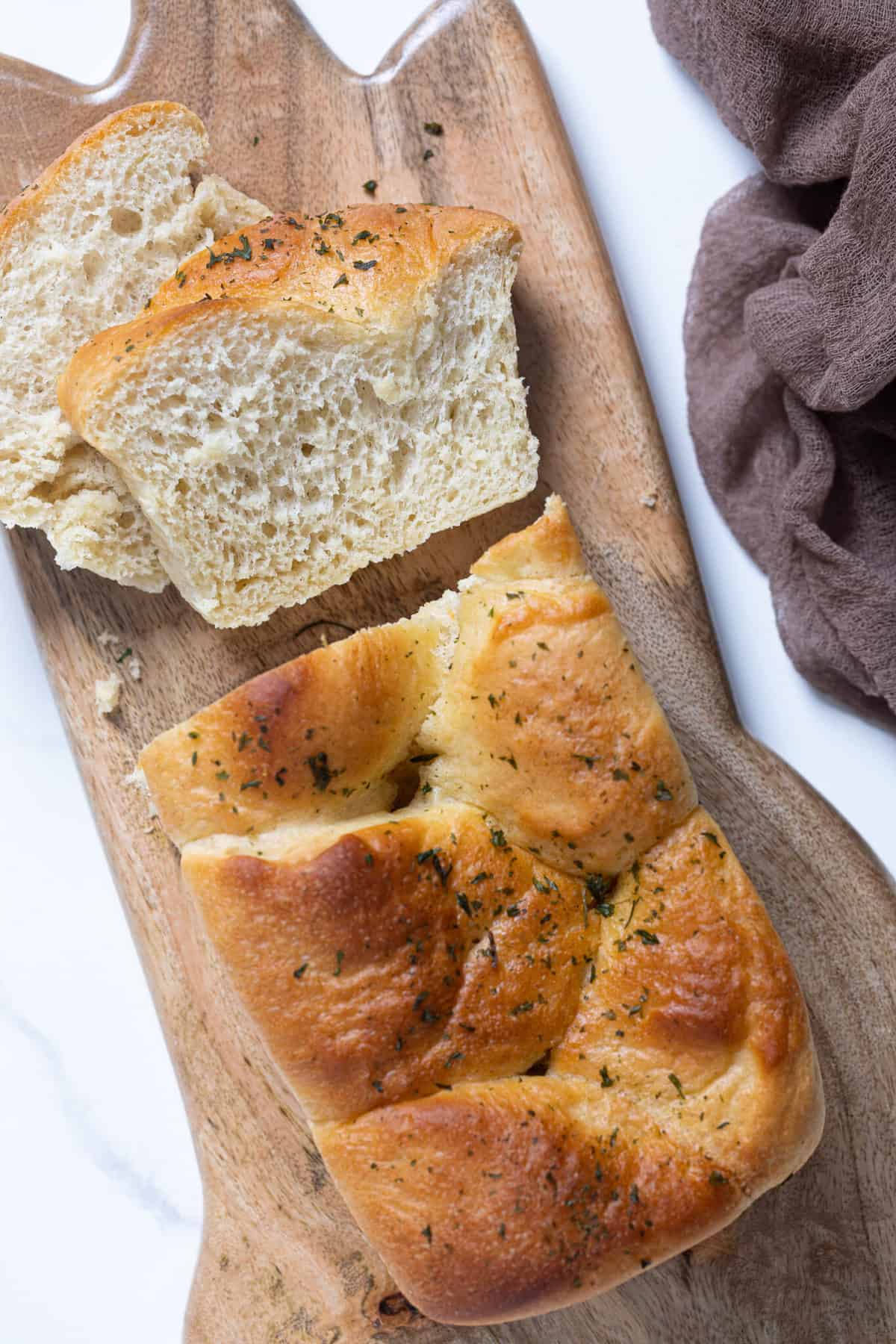 More Easy Vegan Baking Recipes
Now that you're on a dairy-free baking kick, give these recipes a try next: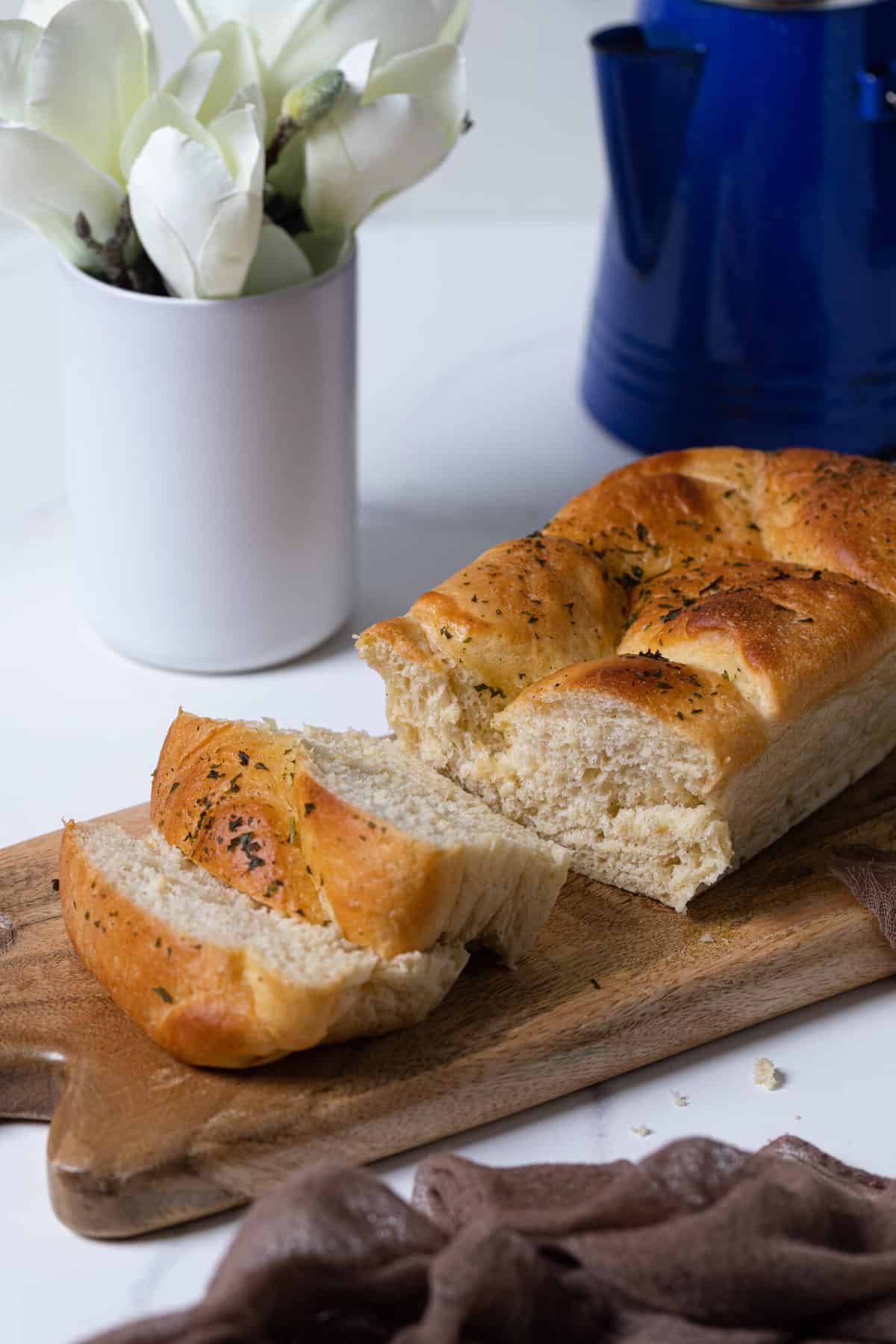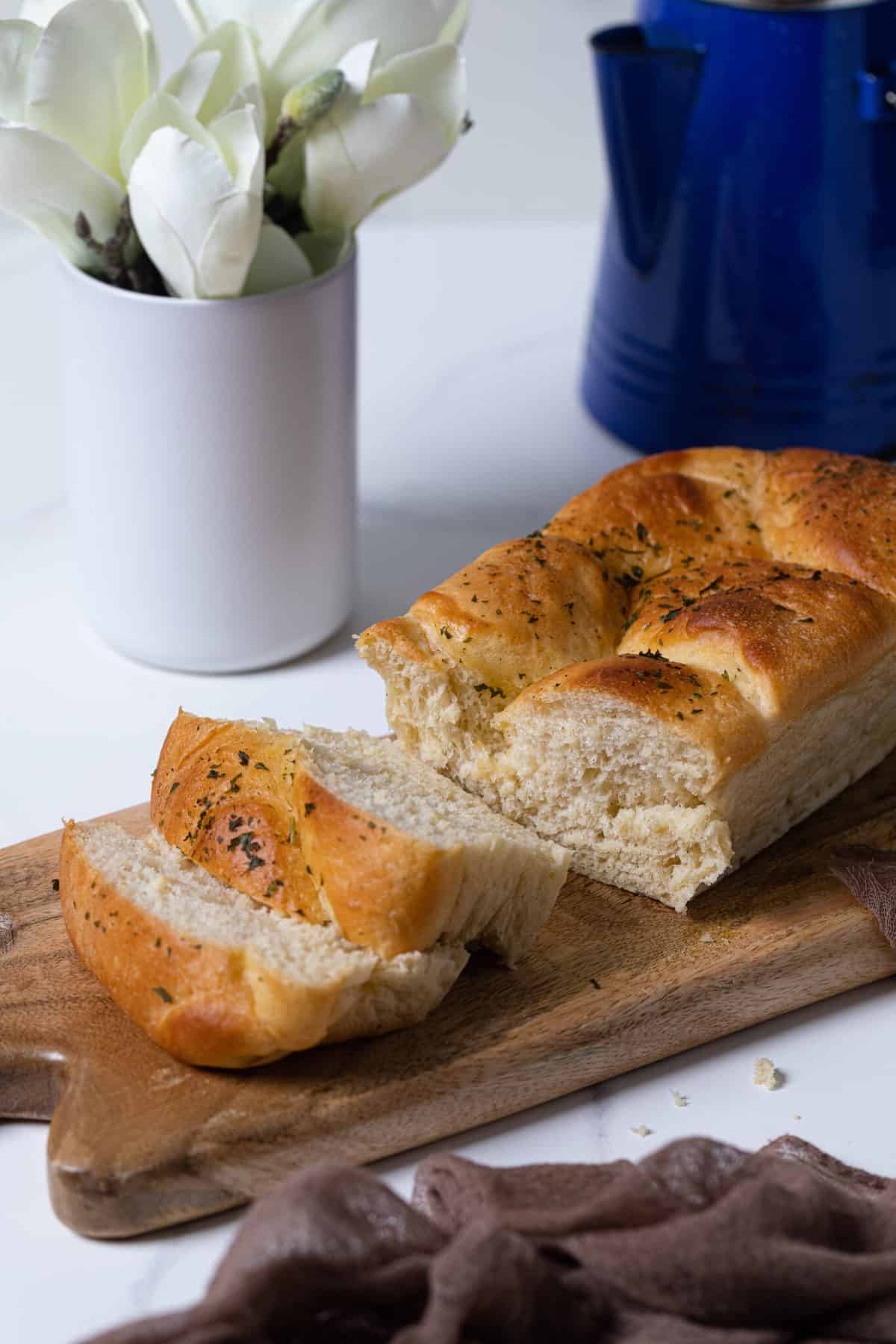 MADE OUR RECIPE(S)?
If you make this Vegan Brioche Bread or any other recipe from us, be sure to tag us on Instagram at #Orchidsandsweettea so that we can share the love, rate, comment below, + share!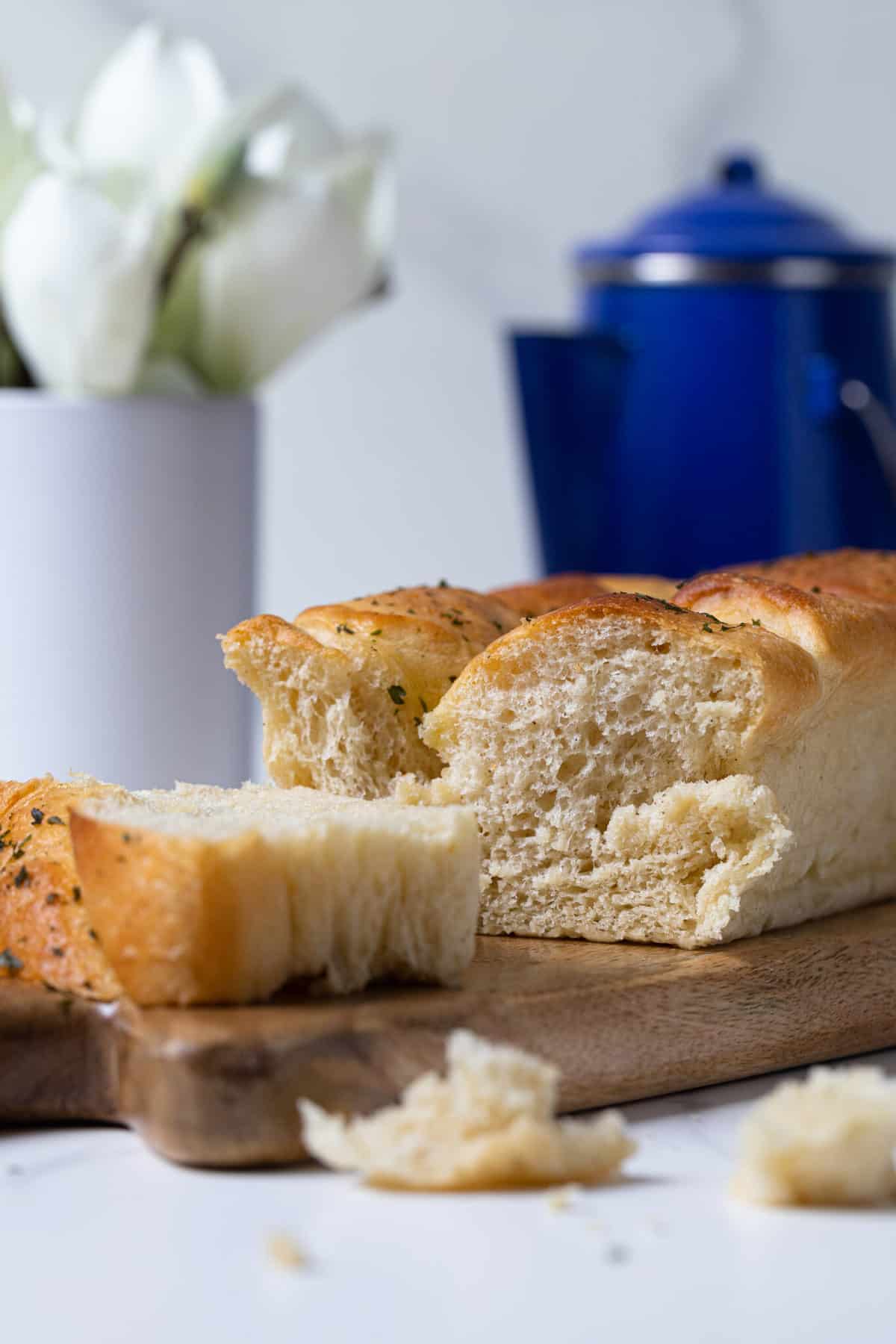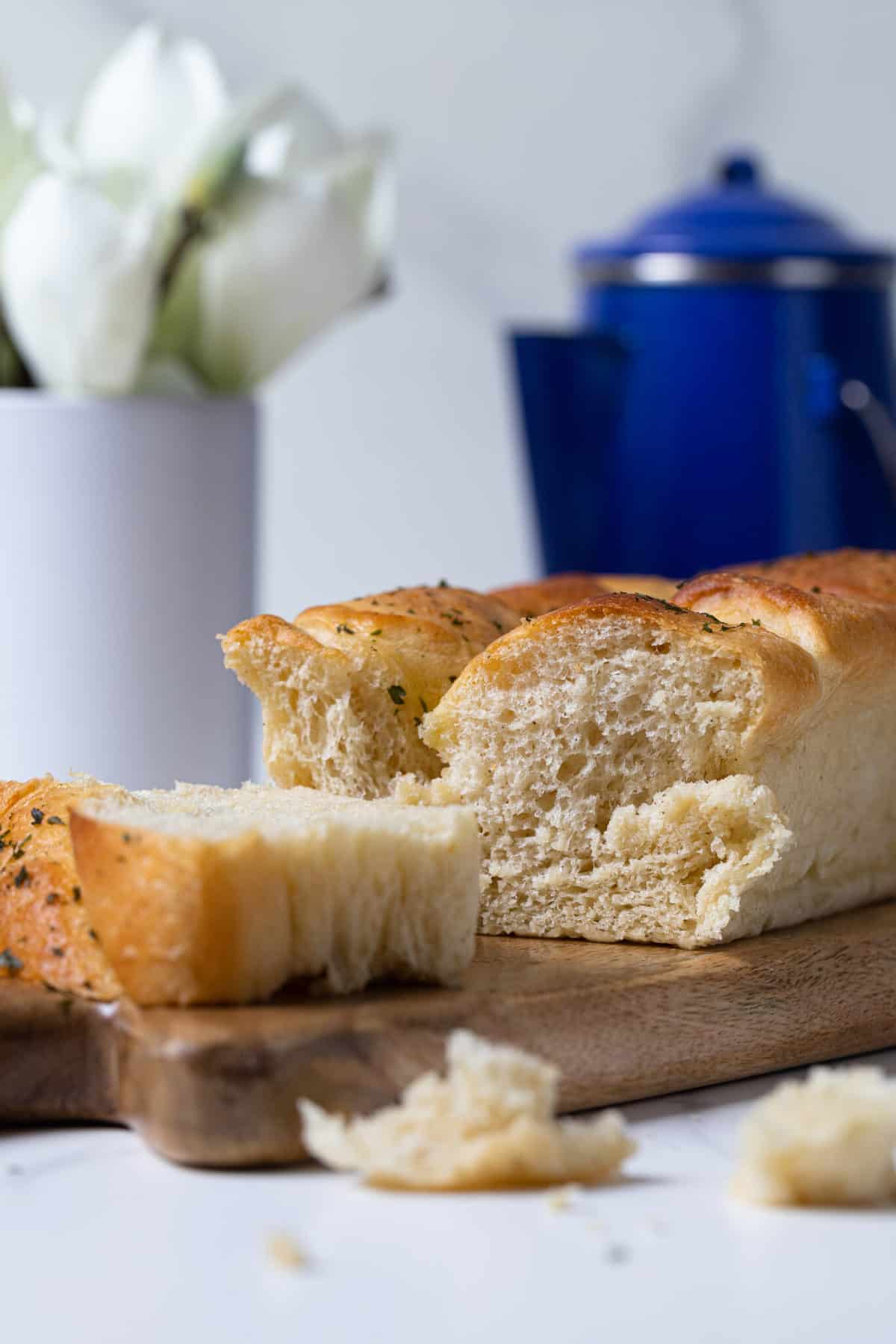 3 ½

cups

organic Artisan bread flour

(Plus, more if needed!; See Notes!)

1

packet

Instant rise yeast

(That's 2 ¼ tsps!)

¼

cup

organic cane sugar

1

teaspoon

sea salt

½

cup

vegan butter, melted + 1 tablespoon for brushing!

(See Notes!)

¾

cup

aquafaba

(This is the liquid from a can of chickpea!)

½

cup

Almond milk

(You can use your fave plant-based milk!)
In the bowl of an electric stand mixer with a whisk attachment, add in the milk, melted butter, sugar, and aquafaba, whisking them together on medium-speed until combined.

Add in the yeast, salt, and flour, mixing them together until just combined before switching the mixer attachment to the dough hook and mixing on high speed, kneading the dough completely. The dough should begin to look shiny and elastic-like----about 10-15minutes or so into the mixing process. If the dough is still too sticky and sticks easily to the bowl, add in additional flour as the bread continues to knead, about ⅓ cup at a time until it no longer sticks.

Lightly grease a large bowl with olive oil and once the dough is fully kneaded, remove it from the mixer and add it to the prepared bowl, lightly moving it around so that it is coated with the oil. Cover the bowl and let the bread rise at room temperature for 1 hour. It should be doubled in size after the 1-hour mark.

After the initial rise, place the bowl with the dough inside of the refrigerator and let it chill overnight (or a minimum of 4 hours).

Once fully chilled, remove the dough from the refrigerator and cut it into 6 even pieces, rolling each piece into a ball.

Prep a standard loaf pan (8 ½ x 4 ½ x 2 ½) by greasing it lightly with oil or butter and lining it with parchment so that additional parchment hangs over the sides for easy pickup.

Prepare a standard size loaf pan (8 ½ x 4 ½ x 2 ½) by greasing it lightly with melted butter and lining it with parchment so that additional parchment hangs over the sides for easy pickup.

Add the dough balls into the prepared pan, slightly offsetting each one to create a non-straight lineup. Let the dough balls rise again for another 1-2 hours until doubled in size.

Preheat the oven to 350°F once you're about 10 minutes away from the rising time being complete. It's important for the bread to be placed into a well heated oven to ensure that it bakes well and rises correctly.

Brush the tops of the bread with 1 tablespoon of melted vegan butter and bake for 30-35minutes, or until the tops are golden brown and the center is baked through, coming out clean once tested with a toothpick or butter knife.

Remove the bread from the oven and let it cool for 15-20 minutes before gently lifting it out of the pan by holding the parchment on the sides and cooling it completely onto a cooling rack.

To serve, lightly sprinkle ground dried parsley (optional) and slice. Leftover bread can be stored in an air-tight container, foil, or plastic wrap for 3-5 days at room temperature. To freeze, store any leftovers tightly wrapped in foil paper and then placed in a freezer-friendly ziplock bag for up to 2 months.

Bon Appetit!
FLOUR: If you don't have Artisan bread flour, feel free to use All-purpose flour as a substitute. BUTTER: Instead of butter, you can substitute with the exact measurement of extra virgin olive oil. STORAGE: Once baked and fully cooled, leftover bread can be stored in an air-tight container, foil, or plastic wrap for 3-5 days. To freeze, store leftovers wrapped in foil paper and then added in a freezer-friendly ziplock bag for up to 2 months.
Calories:
1273
kcal
|
Carbohydrates:
186
g
|
Protein:
28
g
|
Fat:
47
g
|
Saturated Fat:
9
g
|
Polyunsaturated Fat:
15
g
|
Monounsaturated Fat:
21
g
|
Trans Fat:
8
g
|
Sodium:
1597
mg
|
Potassium:
271
mg
|
Fiber:
6
g
|
Sugar:
26
g
|
Vitamin A:
4
IU
|
Vitamin C:
0.01
mg
|
Calcium:
111
mg
|
Iron:
2
mg