Make this delicious homemade Easy Pumpkin Pie Iced Latte with a literal slice of pumpkin pie, plant-based milk, vanilla, warm pumpkin spice, and freshly-brewed coffee for a creamy and satisfying morning drink that feels more like "dessert for breakfast". Added coconut whipped cream and crushed pumpkin spice cookies create a beautiful velvety feel + crunch for the final round of sips. Can be served hot or cold. Entirely dairy-free + vegan.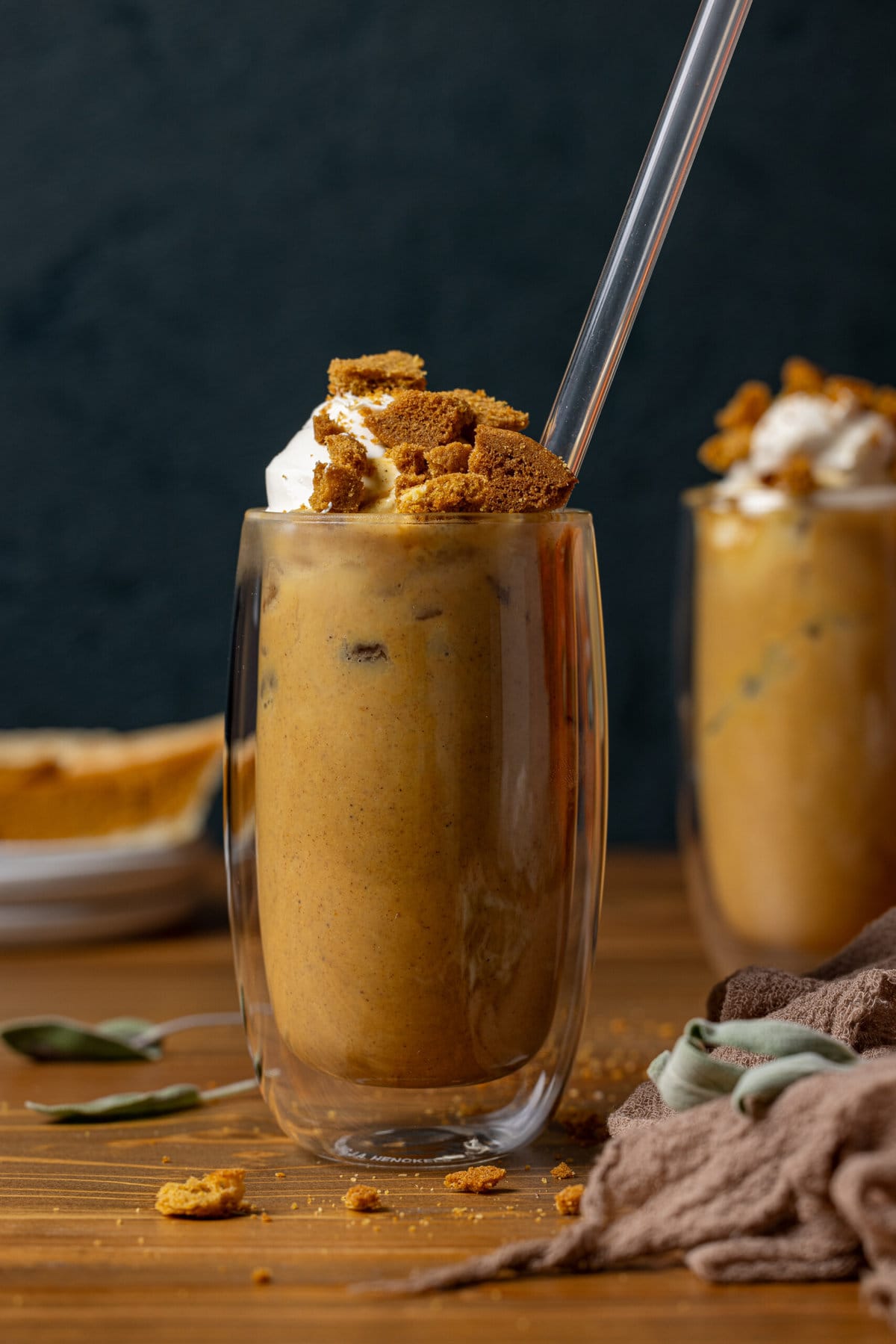 If you're a lover of pumpkin spice during this time of the year, then I totally understand! There's just something incredible about the warming spices blended together with the earthy sweet flavors of pumpkin ----- the cousin to winter squash. When it comes to lattes, I've been on a real journey with no longer purchasing them and instead making them at home. And this Easy Pumpkin Pie Iced Latte is one for the books and will truly have you hooked in every sip!
While I've enjoyed the classic PSL like my Dairy-Free Pumpkin Spice Latte, this version definitely adds a delicious element that's so unfathomable to describe. Regardless of whether you chose to use a good store-bought pumpkin pie (I love getting mine from Whole Foods) or you choose to use my Vegan Pumpkin Pie recipe, you can't go wrong! Of course, you're sure to love this Caramel Biscoff Cookie Butter Iced Latte, Starbucks Copycat Apple Crisp Oatmilk Latte, Brown Butter Maple Cookie Latte, and Iced Caramel Latte [with Coffee Ice Cubes], Dairy-free Iced Mocha Latte, and Iced Vanilla Sweet Cream Latte [Starbucks Copycat] which is so easy to re-create at home in the mornings.
You're going to love this creamy pumpkin pie latte drink because you can use your favorite plant-based milk whether it's oat milk, although you can definitely use almond milk or cashew milk----which all are dynamite! It's made with freshly-brewed coffee for an extra caffeine kick and includes a sweet homemade or store-bought generous slice of pumpkin pie you can use to flavor your morning brew all week long without any need for an additional sweetener unless you choose.
Jump to:
Why You'll Love This Easy Pumpkin Pie Iced Latte
First and foremost, the flavors in this simple and easy Fall drink is enough to convince anyone, however, here are a few more reasons why you'll love this recipe:
It's better than Starbucks. I do love a good PSL which I've made that is as close to Starbuck's version as I could, but this pumpkin pie version is EVERYTHING --- with the exception of adding personal preferences that you might have! i.e. cold brew (pre-made) or actual espresso shots, etc.
It's super fun to make! I literally love the creation of this latte because you'll just need a blender after you brew your coffee.
You save money! This by far is one of my biggest reasons for making my own coffee at home (minus the last point to come). You definitely save more money purchasing the ingredients and making your own servings at home.
It's healthier. Most of all, this is my biggest plus! I love when I am able to know what ingredients I use whenever making drinks, cooking, or baking. Making my own lattes and coffee at home has definitely allowed me to switch to healthier, organic ingredients which is a win, win!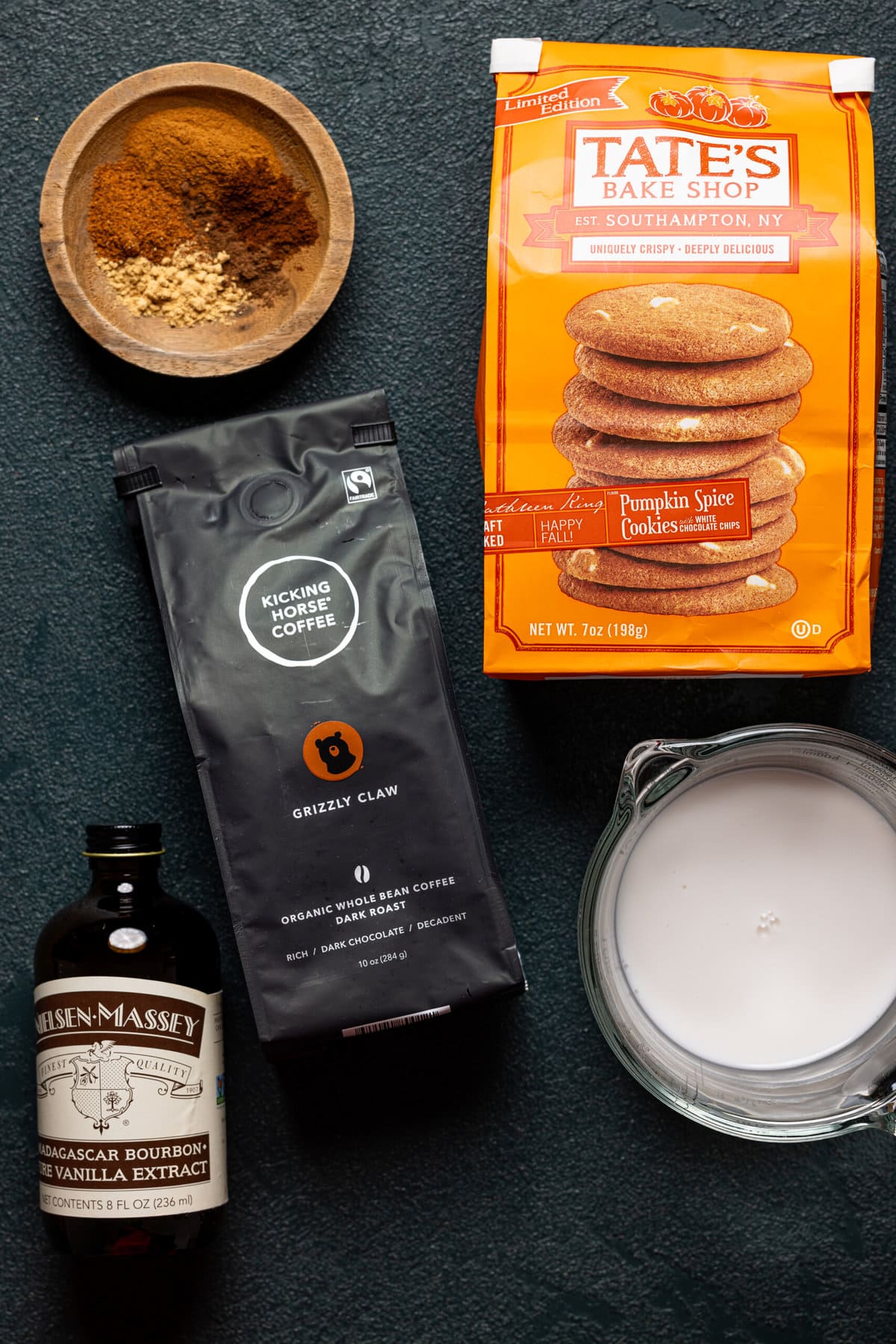 How to Make Pumpkin Pie Iced Latte
To make this Pumpkin Pie Iced Latte, you'll basically blend all of the ingredients (except the ice) together. This creates a nice, smooth texture and you wouldn't even be able to tell that an actual slice of pie was used. Then assemble the remaining ingredients, stir a bit, top with your favorite garnish, and wallah! You've got yourself a delicious latte.
The general rule of thumb for this latte is a specific ratio of each ingredient, which consists of coffee, slice of pie, and toppings.
The Ingredients
The main component in this simple homemade Pumpkin Pie Iced Latte recipe is the creamy pumpkin flavor and the coffee. To make your drink, you'll use:
Coffee. For a sweeter, milder taste than espresso or strong coffee, you can use cold brew. However, I love the smoothness from a great quality medium roast coffee like Kicking Horse Coffee or Peet's.
Pumpkin pie. Literally add a generous slice of pie to the mix. However, if you don't have pie, you can use 100% organic pumpkin puree in the can, NOT pie filling. There's a difference!
Pumpkin spice blend. For a nice rich pumpkin and spice flavor. Simply mix together cinnamon, nutmeg, ginger, and ground cloves.
Pumpkin spice cookies. These cookies add such a nice crunch and bite at the end of every sip in this latte. Definitely a touch of added pumpkin + warm spice flavors that marries together well!
Caramel sauce. This is the final touch to this dairy-free latte and can be store-bought or homemade as long as it's vegan-friendly. Trust me, it doesn't make things too sweet at all.
Vanilla. Creates a nice addition of flavor.
Crushed or whole ice. The best highlight of this drink to keep things cold. Crush your ice or use a nice ice cub tray. I also talk about using my caramel coffee ice cubes.
Maple syrup. This adds extra sweetness to the entire drink and works so well with the pumpkin flavor. You can also use date syrup, brown sugar, or cane sugar.
Coconut whipped cream. For a nice smoothness after every sip, I like to top with coconut whipped cream. Make your own or use a store-bought version like So Delicious Dairy-Free.
How to Make Pumpkin Spice Blend
One of the essential elements of this dairy-free pumpkin pie latte is the actual pumpkin spice blend. It is very simple to make, plus, you can make a larger batch and save some for baking!
To make homemade Pumpkin Spice, combine these spices:
Cinnamon
Nutmeg
Ground ginger
Ground cloves
Ground allspice (totally optional)
That's it! This delicious blend is perfect for lattes, cookies, cakes, pies, pudding, or all things pumpkin.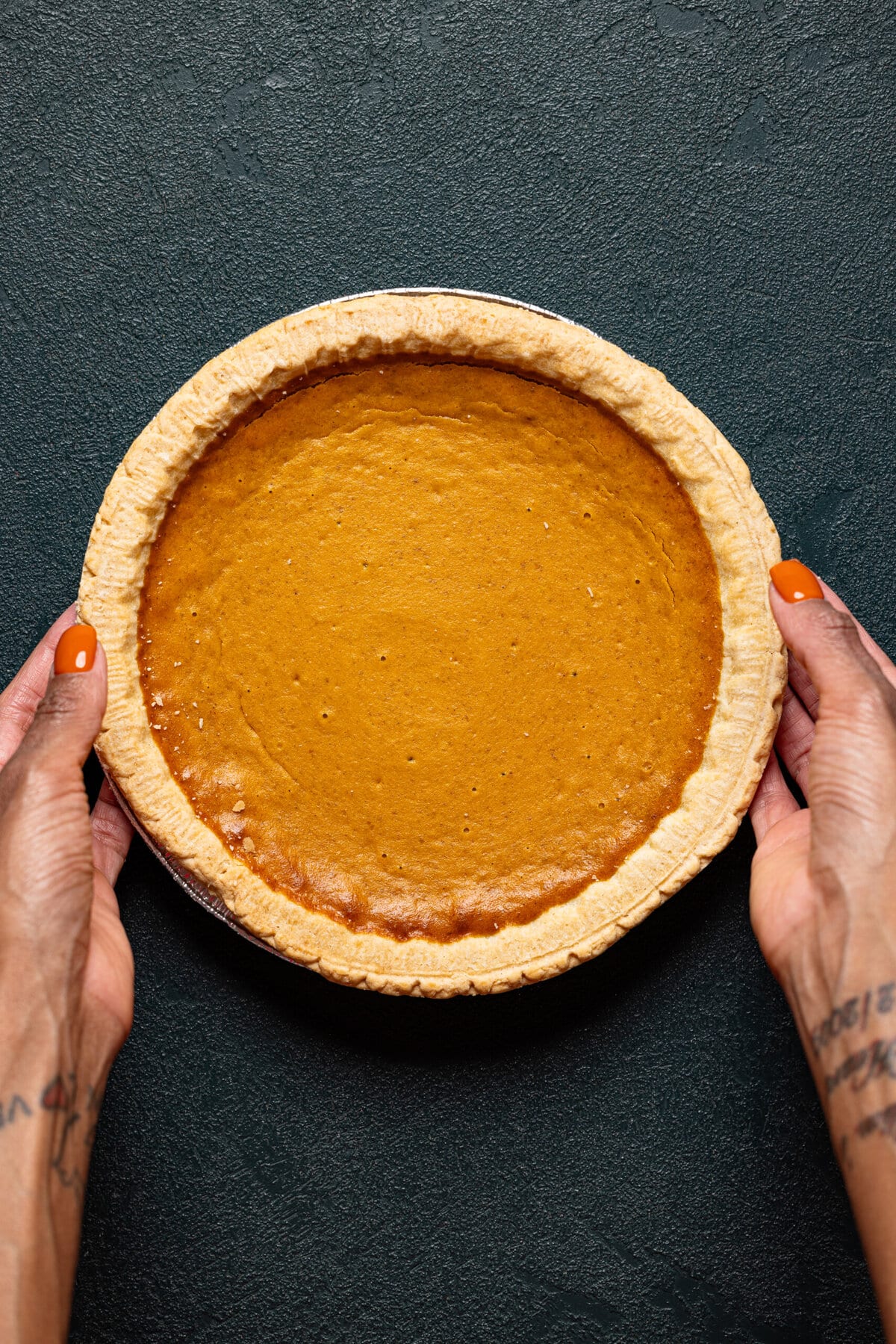 What Ice Cube Trays Work Best
Honestly, I'm a big believer in using whichever type of ice cube tray molds you'd prefer. I chose to use these "crescent moon" shaped molds (which are standard ice trays), however, I also love using square cubes and any fun shapes for a more festive feel.
Personally, Amazon has some amazing options and you can also purchase ice cube molds as large retailers such as Target, Walmart, etc. Of course, depending on the size and shape, you'll get a different amount of ice cubes per batch, so keep that in mind!
Caramel Coffee Ice Cubes: The Perfect Way to Avoid Waste
Making coffee throughout the week can sometimes mean that you won't always use up your coffee, especially when making coffee from ground coffee beans. Yes---you can add leftover coffee in other ways (i.e. baking, making a mocktail, etc.), why not just freeze them and re-create a new latte each day? Haha.
Plus, it's really simple to make, so there's that. To learn how to make the caramel coffee ice cubes, see my Iced Caramel Latte [with Coffee Ice Cubes] recipe!
Homemade Vegan Caramel Sauce
To make your own creamy and sweet vegan caramel sauce is an all-purpose recipe to use on anything from baked desserts to smoothies to mocktails to this latte.
Here's what you need to make it:
Brown sugar. Use organic sugar every time!
Vegan butter. You can use regular vegan butter or buttery sticks.
Coconut milk. Use canned full-fat coconut milk for the best results and creaminess.
How to Prepare Caramel Sauce for this Latte?
Here's a step-by-step guide to preparing your vegan caramel sauce:
Get a medium-sized skillet and toss in some brown sugar.
Keep the heat about medium-high and stir the sugar constantly using a rubber spatula or a basting brush.
Add vegan butter slice and continue to stir until the mixture has melted.
Once the mixture is bubbly, add coconut milk to the skillet.
Keep stirring until the sauce thickens.
Remove the pan from heat and allow it to cool.
You've now got your dairy-free, healthier, and delectable caramel sauce ready. You can use it in your latte and as a drizzle on top!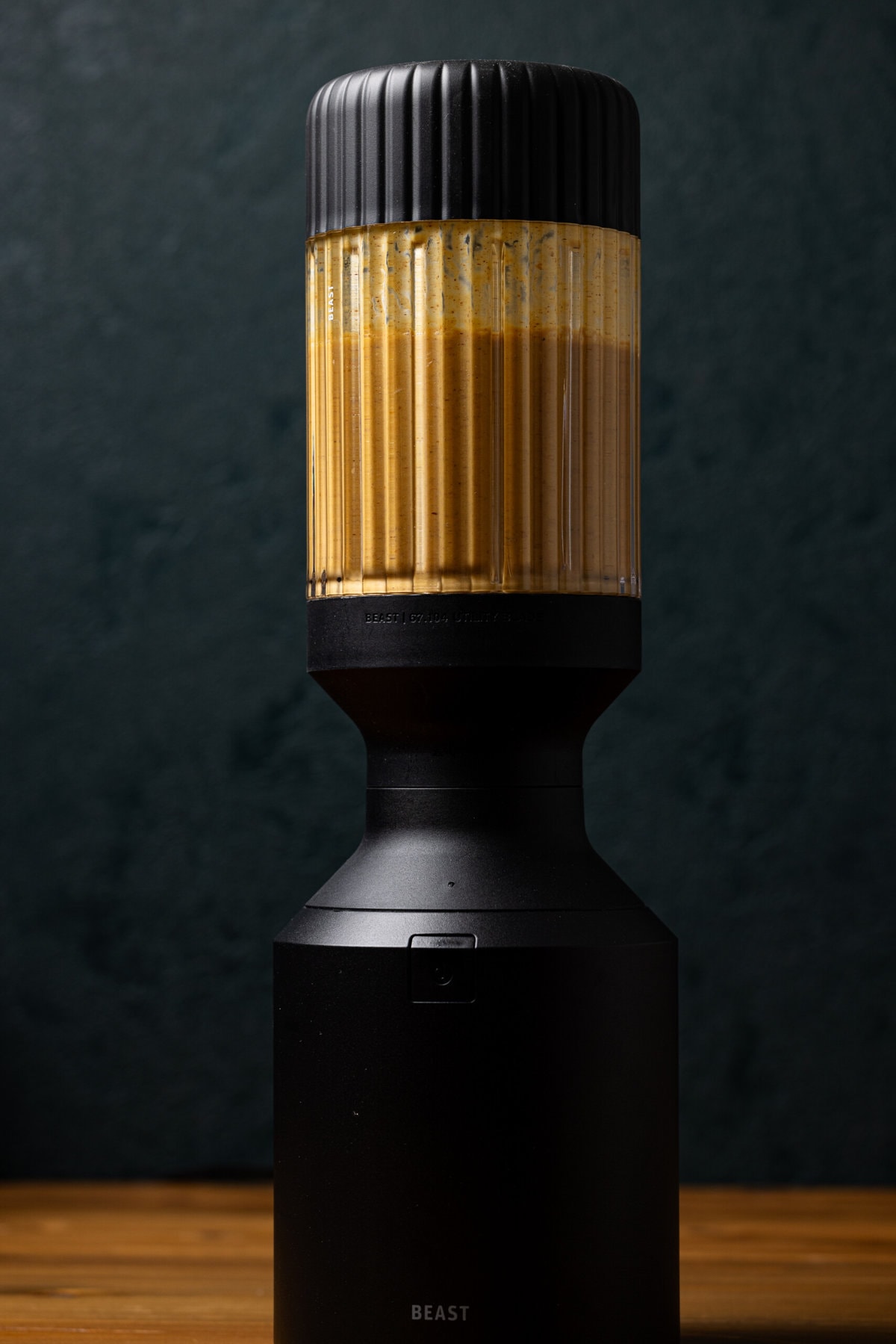 What Dairy-Free Milks Work Best in this Iced Latte?
Absolutely! Everything in this Pumpkin Pie Iced Latte is completely delish as is, but if you'd like to switch things up with the type of plant-based milk that you use-----that's totally fine! The world of plant-based milk is constantly expanding, it's hard to keep up! From the classics like cashew milk, sesame milk, soy milk, and almond milk, we now have delicious options like oat milk and even potato and quinoa milk.
Toppings for Pumpkin Pie Latte
To serve up decadent, cold lattes that come rich in pumpkin pie + pumpkin spice flavors, have fun with toppings like:
Coconut whipped cream. It's quick and easy to make this with a chilled can of coconut cream, but there are also plenty of store-bought options.
Ground nutmeg or cinnamon as a sprinkle
Whole cinnamon sticks
A drizzle of maple syrup or caramel sauce
Crushed pumpkin spice cookies
Common Q + A's for this Easy Pumpkin Pie Iced Latte
Can I serve this latte hot or cold?
Yes! You can definitely switch things up by serving this pumpkin pie latte hot or cold whenever you chose to. To serve hot, simply warm the latte mixture after blending in a saucepan over medium-low heat and allow it to warm through. Pour the latte in a mug and top with your favorite toppings and enjoy. Wallah!
Can I use a different sweetener or adjust?
Absolutely! You can adjust the amount of maple syrup needed or substitute with vegan caramel sauce, depending on how sweet or unsweet you'd like for your latte to be. Feel free to use date syrup, honey (if vegan isn't required), organic brown sugar or cane sugar instead, if desired. 
How many lattes does this recipe make?
As is, this recipe makes only 1 latte. To make additional lattes, simply double or triple ingredients, depending on need.
Can I make this latte without caffeine?
Absolutely! Although I often make this pumpkin pie latte with some sort of coffee----cold brew, espresso, etc. You can definitely steep black tea bags as the base of this drink for a nice latte feel as well! About 2-3 tea bags should work for this.
Do I have to use a pumpkin pie? Can I use pumpkin puree?
Not at all! Again, for this easy latte you can use a store-bought pie or make it from scratch using my Vegan Pumpkin Pie recipe! Of course, if you don't have a pie on hand, you can definitely use 4 Tablespoons of pumpkin puree instead.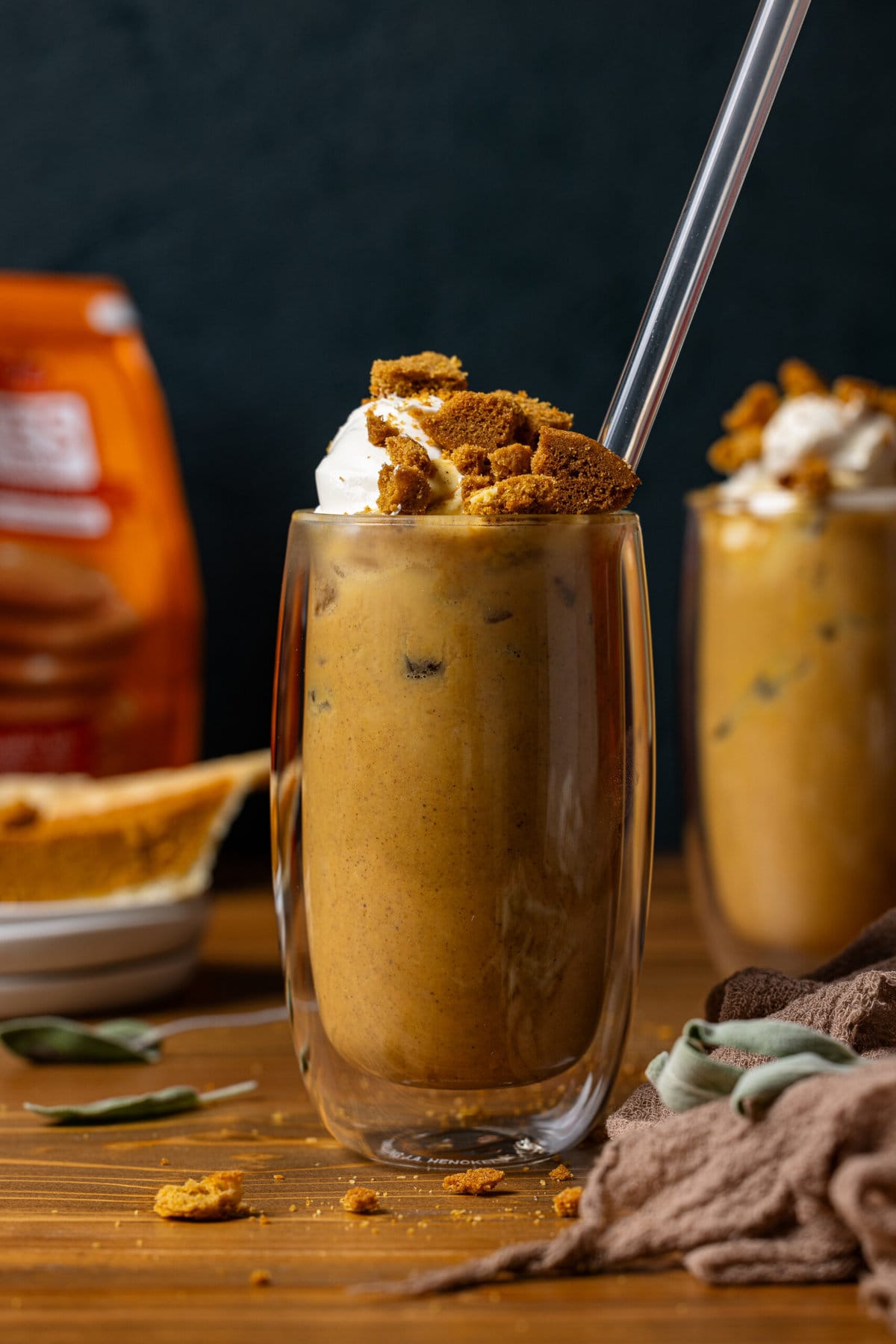 More Delicious Pumpkin Recipes
Now that you've fallen in love with the pumpkin + spice flavors in this recipe, put them to good use with these other great family-friendly pumpkin recipes:
MADE OUR RECIPE(S)?
If you tried this Easy Pumpkin Pie Iced Latte recipe or any other recipe on my website, please please leave a 🌟 star rating and let me know how you go in the 📝 comments below. I love hearing from you.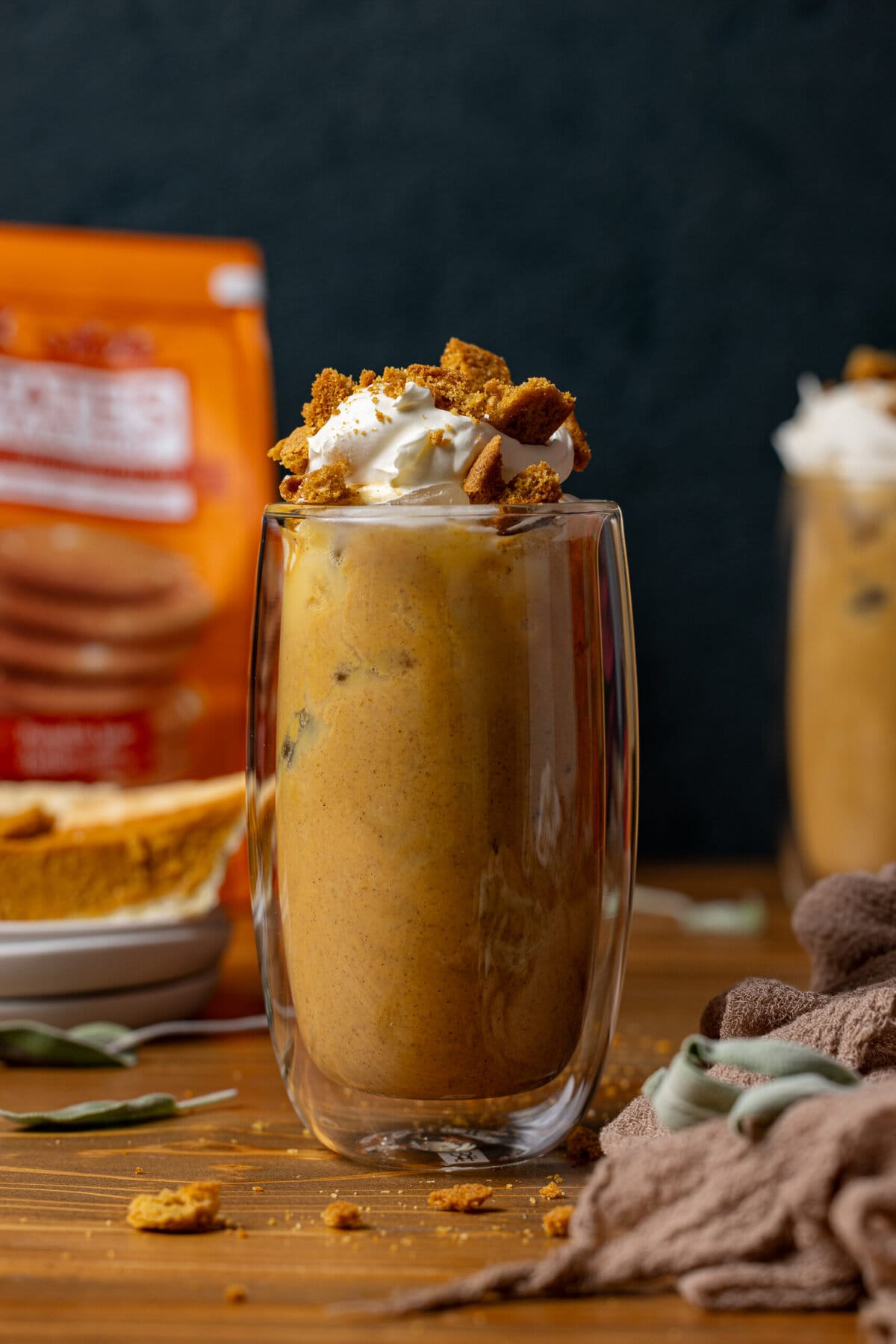 LATTE:
2

ounces

freshly-brewed coffee, cooled 

1

thick slices

vegan pumpkin pie, store-bought or homemade

(See FAQ for substitute; You can also make my Vegan Pumpkin Pie)

1

cup

Your favorite plant-based milk

(I love using Almond or Oat milk)

2

Tbsps

pure maple syrup

1

teaspoon

vanilla extract

1

teaspoon

Homemade pumpkin spice blend

Crushed ice
OPTIONAL TOPPINGS:
Coconut whipped cream

Crushed pumpkin spice cookies

(I love Tate's Bakes; Use a vegan-friendly cookie for this latte if needed)

Vegan caramel sauce, store-bought or homemade

(See Post for homemade)
BLEND EVERYTHING TOGETHER:
Add the slice of pumpkin pie, milk, coffee, maple syrup, vanilla, and pumpkin spice into a high-powdered blender and blend until mixture becomes creamy and smooth.
ASSEMBLE LATTE:
Grab a good latte glass and add the crushed ice and pour the blended latte atop ice until mostly filled. Top with coconut whipped cream, crushed pumpkin spice cookies, and/or vegan caramel drizzle, if desired.

Sip and Enjoy!
WHAT PLANT-BASED MILKS ARE GOOD FOR THIS RECIPE? My go-to plant-based brand for Oat milk or plant-based milk when using store-bought is Ripple Foods. However, you can always use your fave or one of the following: Almond, coconut milk, homemade oat milk (froths/foams VERY WELL), sesame milk, homemade cashew milk, flax milk, potato milk, quinoa milk, etc.
SWEETENER: You can adjust the amount of maple syrup needed or substitute with vegan caramel sauce, depending on how sweet or unsweet you'd like for your latte to be. Feel free to use date syrup, honey (if vegan isn't required), organic brown sugar or cane sugar instead, if desired. 
SERVING: To make additional lattes, simply double or triple ingredients, depending on need.
Calories:
132
kcal
|
Carbohydrates:
30
g
|
Protein:
0.2
g
|
Fat:
0.4
g
|
Saturated Fat:
0.3
g
|
Polyunsaturated Fat:
0.02
g
|
Monounsaturated Fat:
0.03
g
|
Sodium:
5
mg
|
Potassium:
117
mg
|
Fiber:
1
g
|
Sugar:
25
g
|
Vitamin A:
7
IU
|
Vitamin C:
0.1
mg
|
Calcium:
68
mg
|
Iron:
0.4
mg