Indulge in the cozy charm of fall with this Pumpkin Spice Overnight Oats recipe-- A quick 5-minute prep that lets your fridge work its magic overnight. These oats are all about that luscious creaminess, thanks to the hearty, thick-cut oats + canned pumpkin. Plus, they're generously infused with warming spices, the earthy crunch of pecans, and a subtle hint of fragrant vanilla, reminiscent of your beloved pumpkin spice latte. The perfect healthy plant-based breakfast. Vegan + Gluten-free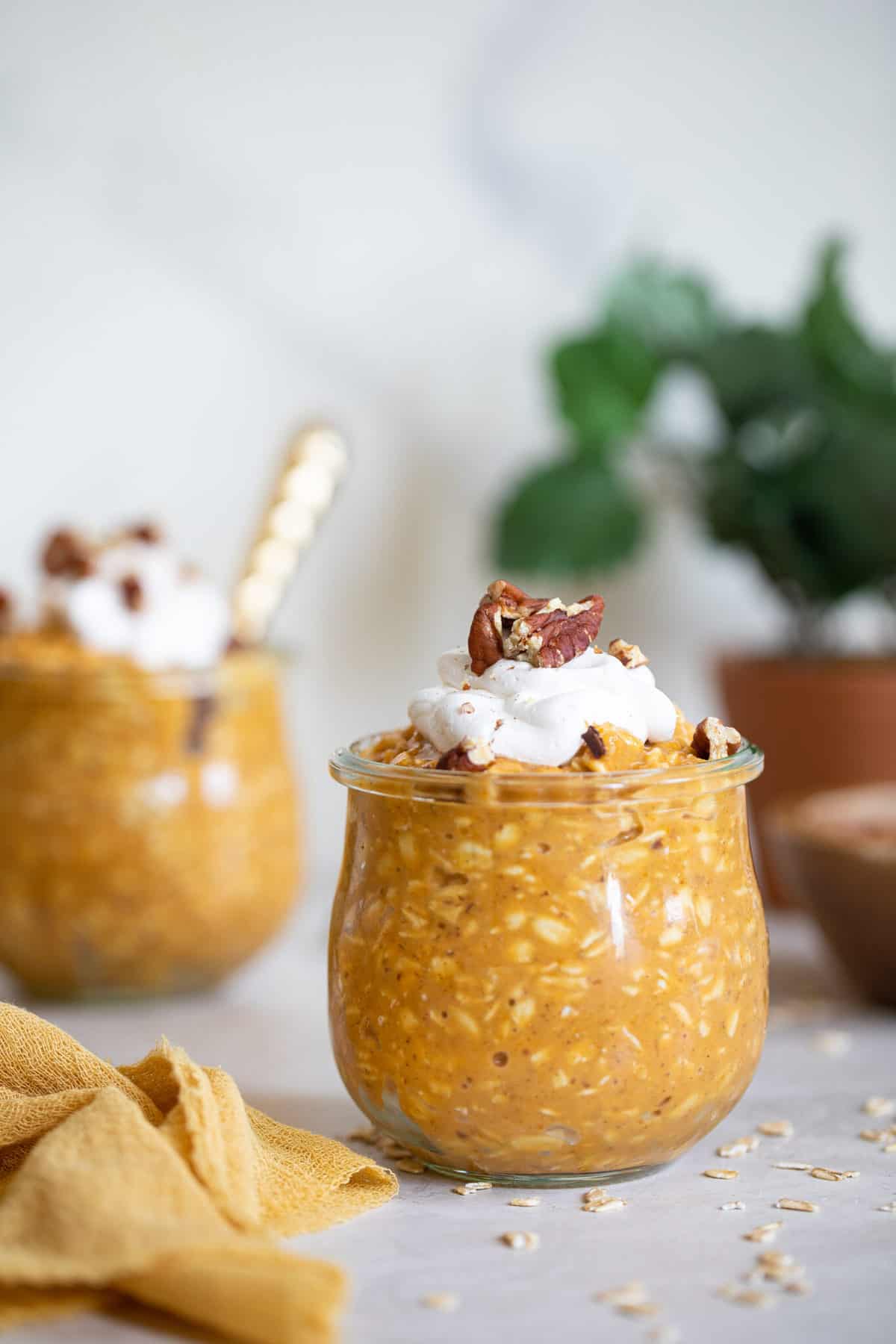 Why Pumpkin Spice Overnight Oats?
I've been enjoying overnight oats in a jar for as long as I can remember. They're the ultimate hassle-free breakfast – just whip them up the night before, and you're all set for a busy weekday or a quick on-the-go meal. Fall is just around the corner, and you know what that means – it's pumpkin season! I couldn't resist the temptation to whip up a Pumpkin Spice Overnight Oats recipe. It's kind of like eating a healthy breakfast version of pumpkin pie!
If you're as big a fan of overnight oats + all things Fall as I am, then I definitely recommend trying these recipes next-- Vanilla Overnight Oats + Maple Spiced Pears, Apple Pie Overnight Oats, and my personal favorite Sweet Potato Pie Overnight Oats.
This overnight oats recipe ticks all the boxes: It's vegan + gluten-free, and incredibly simple to prepare + perfect for prepping ahead. All the while being healthy, oh-so-satisfying & filling! Plus, with the convenience of canned pumpkin, you can savor this breakfast treat any time of the year.
Jump to: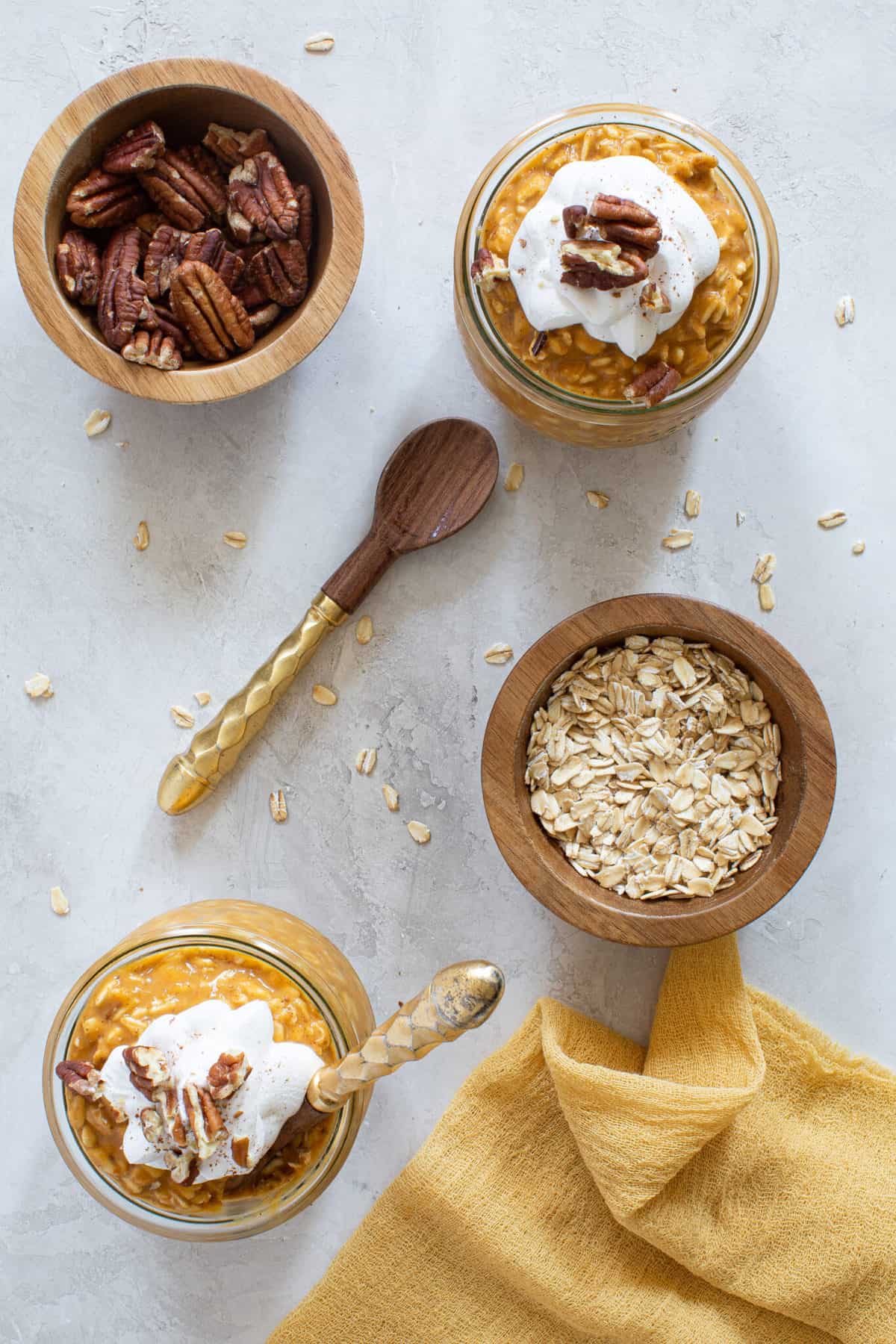 What Are Overnight Oats?
Overnight oats are the easiest way to make oatmeal! Essentially, it's cold oatmeal, but what makes it special is just how delicious and convenient it is. You mix rolled oats with milk in this case we use dairy-free milk, add your favorite flavors like fruits or nuts, and let it sit in the fridge overnight. By morning, you've got a creamy, chilled oatmeal that's ready to eat. It's like magic in a jar! Plus soaking oats can make them easier to digest because it begins to break down the starches, making them gentler on your stomach!
What You'll Need For Pumpkin Spice Overnight Oats?
Thick Cut GF Oats – Healthy + full of fiber
Almond Milk – Makes things nice + creamy; Sub with your fave plant-based milk
Pumpkin – The epitome Fall flavor. Rich + Savory subtle flavors
Vanilla – A great addition of flavor and marries everything together
Agave – A light sweetener; sub w/ maple syrup
Pecans – Always love adding nuts for delicious nuttiness
Spices: Cinnamon, Nutmeg, Ginger, Cloves, All spice – the best combo of Fall flavors (creates Pumpkin Spice blend)
CocoWhip – A light coconut-y topping option for a nice balance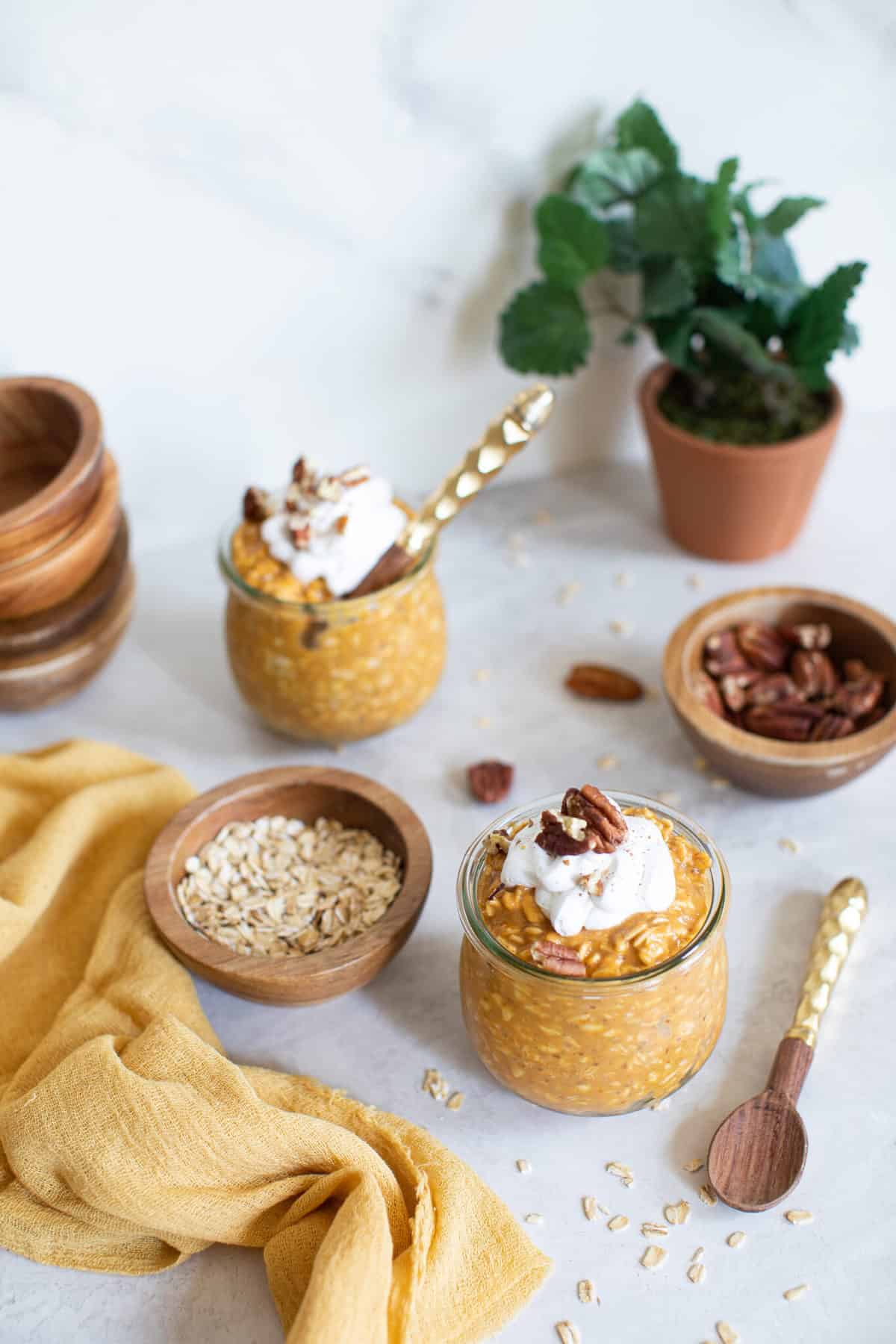 Tips to Making the Perfect Overnight Oats
Here are some tips to help you make the perfect batch of Pumpkin Spice Overnight Oats -
Soak The Night Before
Always aim to make your oats the night before so that it has enough time to fully soak and marry all the great flavors.
Mix Well
Give your mixture a good stir to ensure all the oats are coated and any flavorings are well distributed.
Texture Control
If your oats turn out too thick in the morning, you can stir in a little more milk to achieve your desired consistency.
Choose the Right Oats
Organic rolled oats (old-fashioned oats) work best for overnight oats. Avoid steel-cut oats or instant oats, as they may not absorb the liquid properly.
Remember, the beauty of overnight oats lies in their versatility, so feel free to tailor them to your taste and dietary preferences.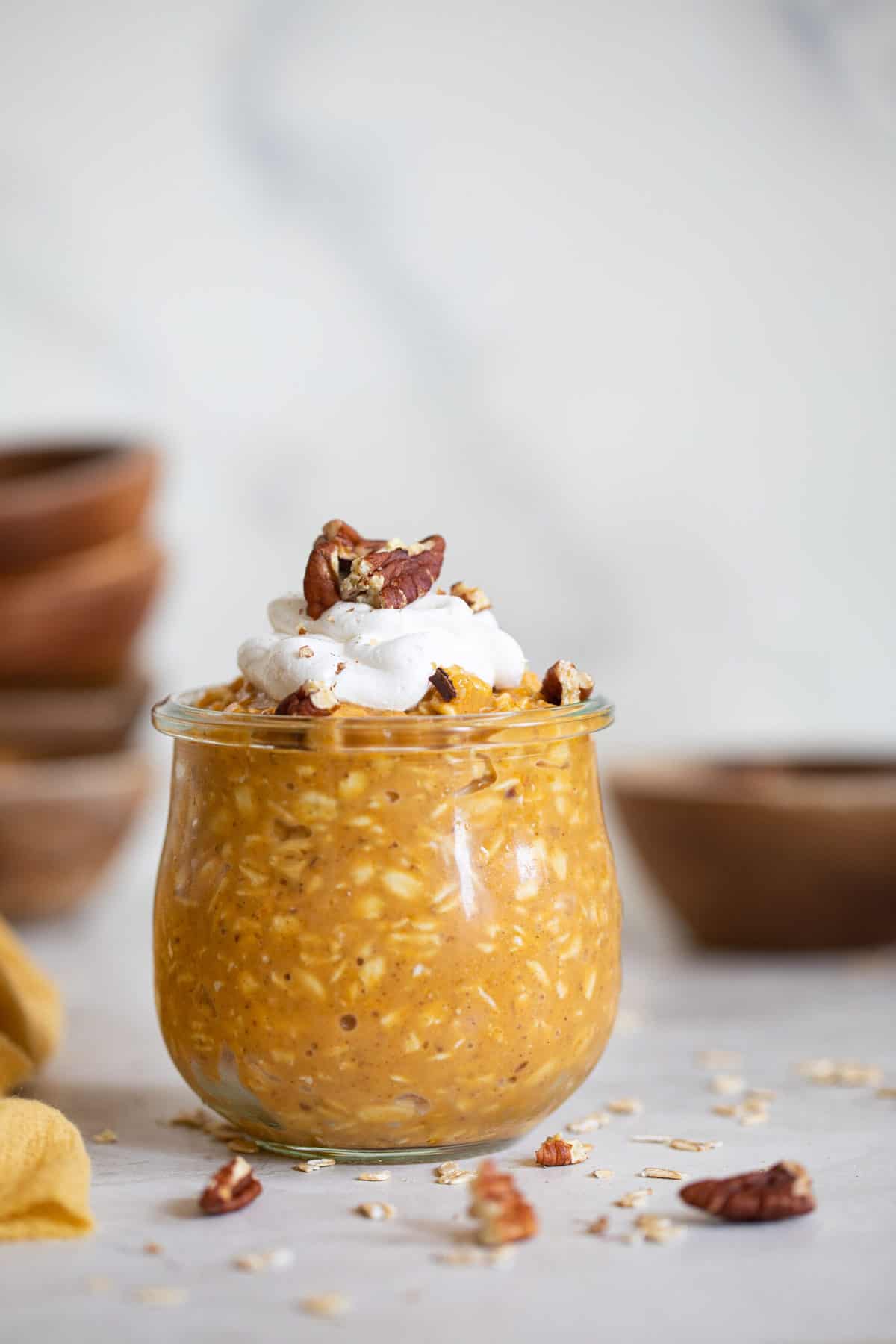 What Kind Of Pumpkin Should I Use?
When it comes to the pumpkin flavor, I use the canned pumpkin specifically for pumpkin puree, NOT pumpkin pie filling (I use the organic version from Libby's). Simply open the canned pumpkin, scoop out the required amount, mix it together well with the spices, heat everything in a saucepan together, let it cool, and wallah!
What Kind of Milk to Use For Pumpkin Spice Overnight Oats
When it comes to vegan milk options, there are so many possibilities. From soy milk to nut milk to the newest trend, potato milk, you can find a delicious plant-based option you love. And what makes these milks even better? You can make them from scratch at home! All of these dairy-free milk recipes will work for this creamy pumpkin spice overnight oats recipe:
If you're curious about the wide world of dairy-free milk options, start with this guide to The Best Milk Alternatives for Your Entire Household.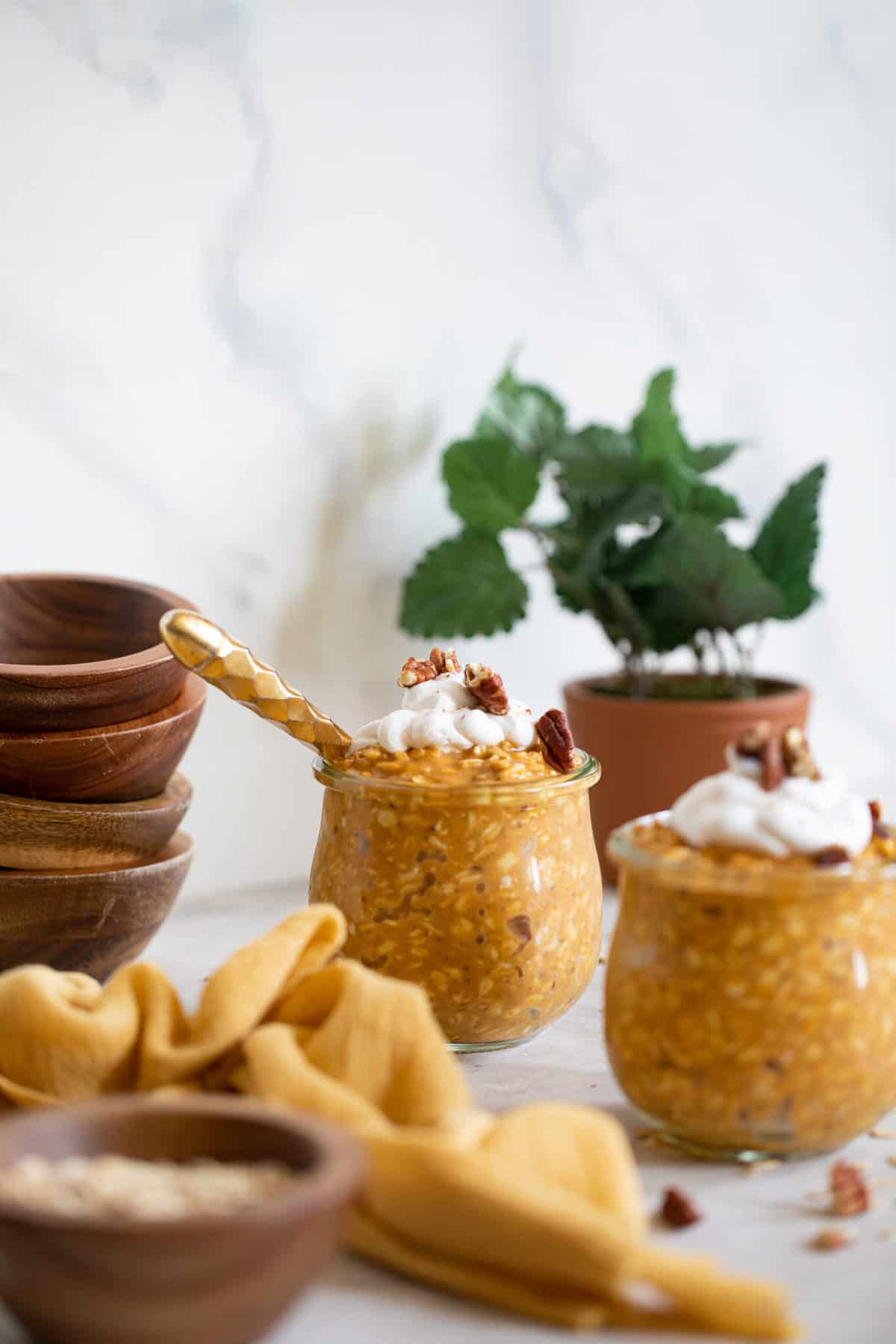 Why You Will LOVE Pumpkin Spice Overnight Oats
Super creamy + completely dairy-free!
The perfect balance of sweetness
Comforting + cozy fall flavors
Full of healthy fiber
Easy + perfect for meal prepping!
A totally nutritious + delicious versatile breakfast!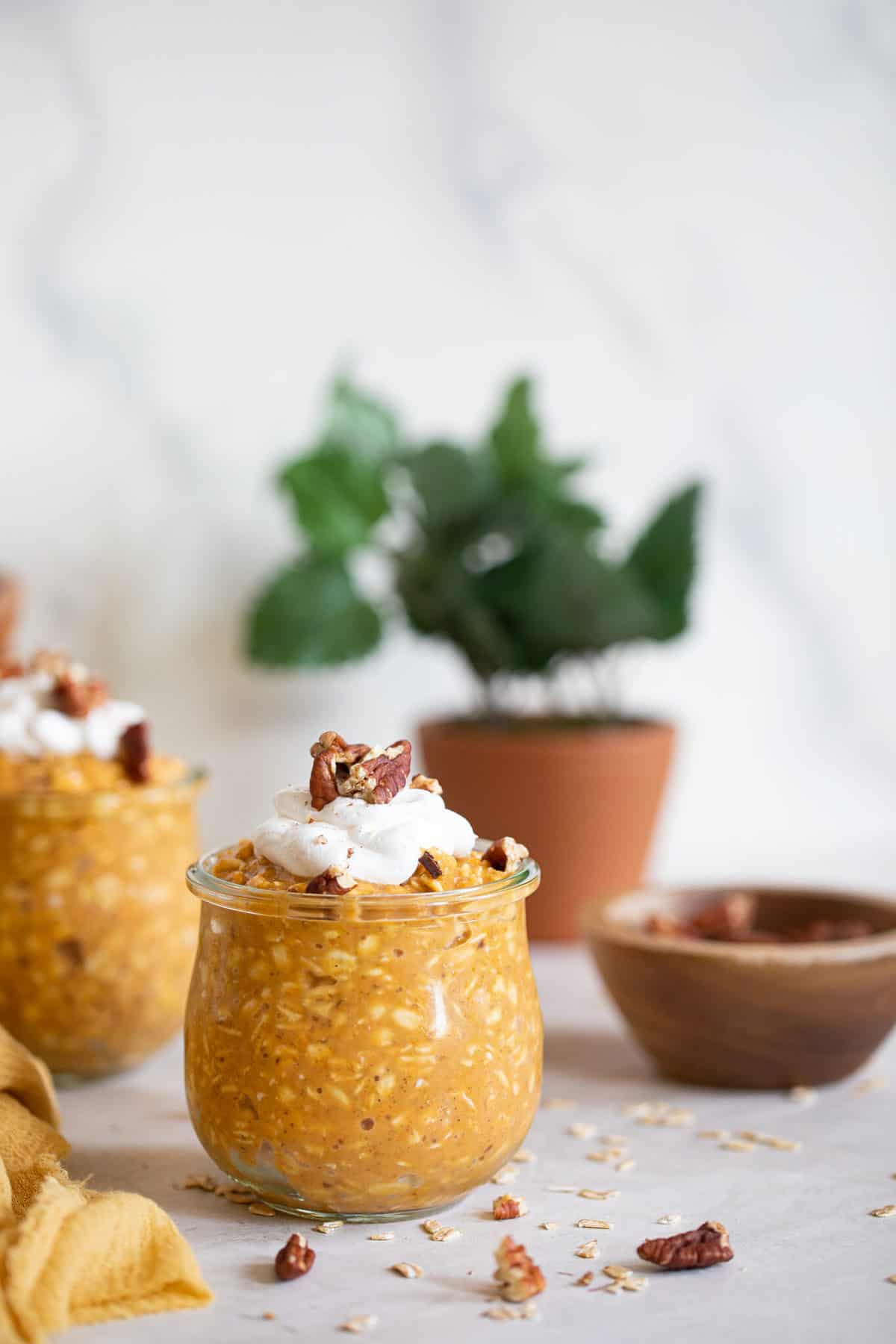 Can I Eat Overnight Oats Hot?
That's totally up to you! You can have these overnight oats hot, lukewarm, or cold! Whatever floats your oat boat! If you warm it up, keep in mind it will thicken up a bit so add a little extra of your favorite plant-based milk if you like the texture a little less thick. My fave plant-based milk to use is my Homemade Creamy Cashew Milk, and this Creamy Vanilla Sesame Milk.
Benefits of Oats!?
If you aren't familiar, oats are super nutritious! They include a great source of carbs, fiber (the soluble kind!), protein, and fat. In addition, they are loaded with important vitamins, minerals, and antioxidants.
Other great benefits:
They can help to lower cholesterol.
Improves Blood Sugar levels.
May help with losing weight.
Great alternative for skincare.
Helps to relieve constipation.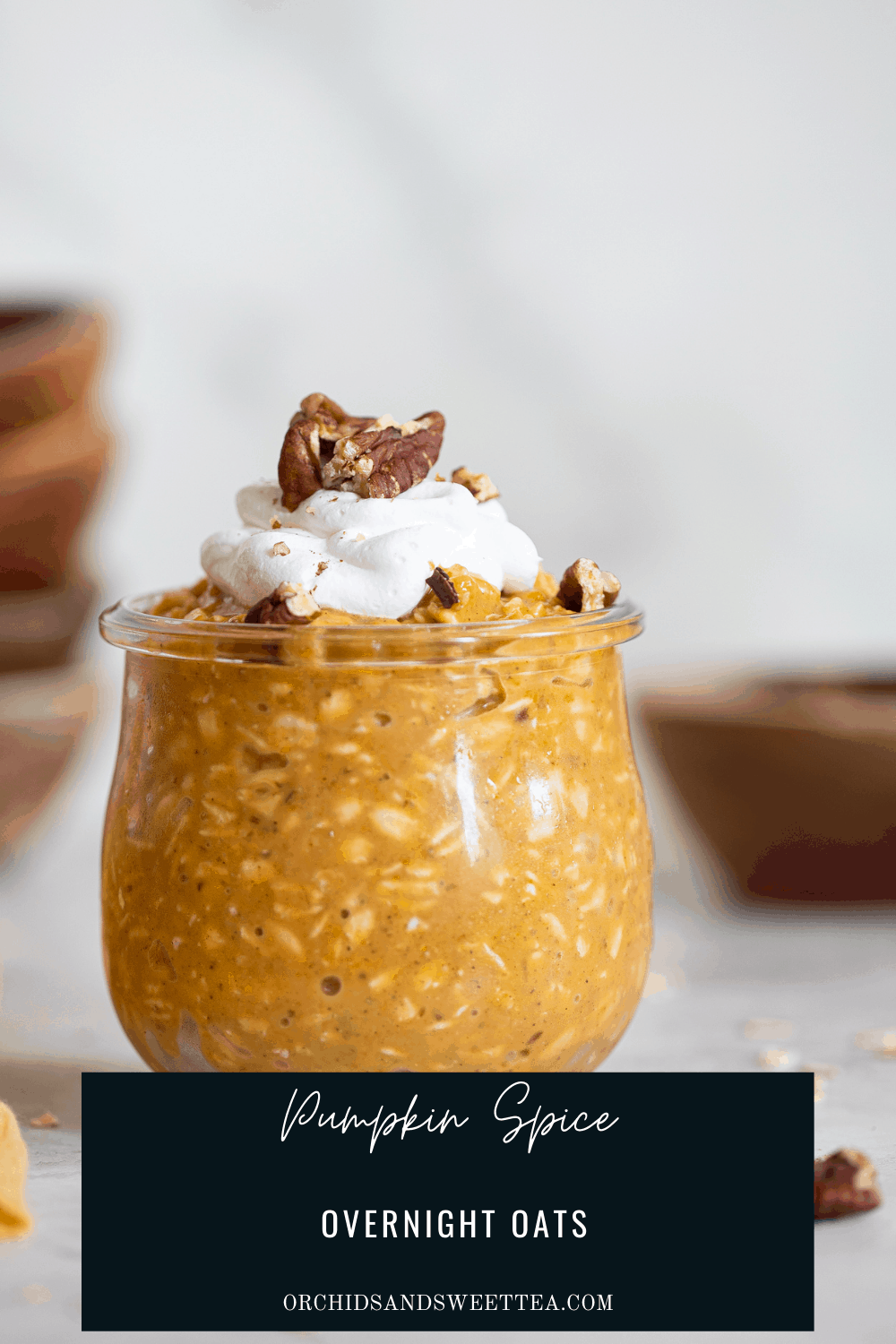 Pumpkin Spice Overnight Oats Q + A's
Can I add fresh pumpkin instead of canned pumpkin?
Certainly! You can use fresh pumpkin puree if you have it on hand. Just make sure it's cooked and pureed before adding it to the oats. But I do love the ease of canned pumpkin and that it can be easily found all year round!
Can I make larger batches?
Absolutely! You can easily scale up the recipe to make a larger batch of Pumpkin Spice Overnight Oats. Simply adjust the ingredient quantities accordingly, maintaining the same ratios. This is perfect for meal prepping. If you have kids, it's great to make overnight oats in lidded mason jars so the kiddos can grab breakfast and a spoon on their way to school.
How long does it keep?
Can be stored in the refrigerator for up to 5 days.
Can I change up the flavors?
Of course! Feel free to change up the flavors and ingredients day-to-day based on what you have in the house. Label the tops of the jars, so you know which flavor you are eating on a given day. Check out more of my overnight oat recipes for inspiration!
Obsessed with Pumpkin? Try These Delicious Recipes Next
MADE OUR RECIPE(S)?
If you tried this Pumpkin Spice Overnight Oats or any other recipe on my website, please please leave a 🌟 star rating and let me know how you go in the 📝 comments below. I love hearing from you.
OVERNIGHT OATS:
1

cup

organic rolled oats, GF-friendly if needed

¼

cup

organic 100% pumpkin puree

(From the can, NOT pumpkin pie filling!)

1

cup

Almond milk

(You can use your fave plant-based milk)

¼

cup

pure maple syrup

(See Notes!)

2

tsps

vanilla extract

1

tablespoon

flaxseed meal

(You can also use chia seeds instead if desired)

1-2

teaspoon

pumpkin pie spice

(See Notes for homemade blend)
OPTIONAL TOPPINGS:
Your fave chopped nuts, toasted

(I love using pecans)

Coconut whipped cream

Sprinkles of pumpkin spice or cinnamon

Vegan caramel sauce, drizzled

Pure maple syrup, drizzled
WARM TOGETHER THE MILK + PUMPKIN PUREE:
In a medium saucepan on medium-high heat, add the milk and bring to a boil for 1-2 minutes. Remove the milk from heat and add in pumpkin puree and pumpkin spice, whisking together until combined. Let cool completely!
TO MAKE THE OVERNIGHT OATS:
Add all ingredients (including cooled pumpkin mixture) to a medium bowl, stirring with a spatula or wooden spoon until well combined.

Tightly cover bowl with plastic wrap and refrigerate overnight (or at least 8 hours).
ASSEMBLE:
To serve (hot or cold), add oats to a bowl or mason jar and top it with your favorite toasted nuts, coconut whipped cream, maple syrup, or caramel sauce, atop.

Bon Appetit!
STORAGE: Can be stored in the refrigerator for up to 5 days. Perfect for meal prep for the week!
PUMPKIN SPICE BLEND (HOMEMADE): Mix together 1 tablespoon cinnamon, 1 teaspoon nutmeg, 1 teaspoon ground ginger, + ¼ teaspoon ground cloves. Add a ½ teaspoon of all spice for extra flavor.
TOASTED NUTS: Add chopped pecans/walnuts to a baking sheet and toasting them in the oven (400 degrees Fahrenheit) for 5-10 minutes, tossing them halfway to avoid browning on one side.
SWEETENER: Instead of maple syrup, you can sub with organic brown sugar, cane sugar, or coconut sugar (which can be added to pumpkin mixture on the stovetop and whisked until dissolved).
SERVING SIZE: This recipe makes one serving of overnight oats, however, to make more---simply double or triple ingredients. 
Calories:
170
kcal
|
Carbohydrates:
32
g
|
Protein:
2
g
|
Fat:
3
g
|
Saturated Fat:
0.2
g
|
Polyunsaturated Fat:
2
g
|
Monounsaturated Fat:
1
g
|
Sodium:
170
mg
|
Potassium:
195
mg
|
Fiber:
2
g
|
Sugar:
26
g
|
Vitamin A:
4769
IU
|
Vitamin C:
2
mg
|
Calcium:
218
mg
|
Iron:
1
mg