Craving a warm and comforting slice or two of freshly-made bagels? Look no further than this irresistible Homemade Pumpkin Oat Bagels recipe! These bagels are the perfect combination of savory and sweet and such a great soft, chewy texture that compliments any topping you choose. And the best part? They're easy to make! Simply make the dough, let it rise to perfection, cook them in a quick bath, rise slightly again, bake them until golden brown, and wallah. Complete bagel magic! Perfect for a lazy weekend morning or make ahead Fall crisp morning during the week! These homemade bagels are sure to be a hit. All dairy-free. Vegan + Gluten-Free options.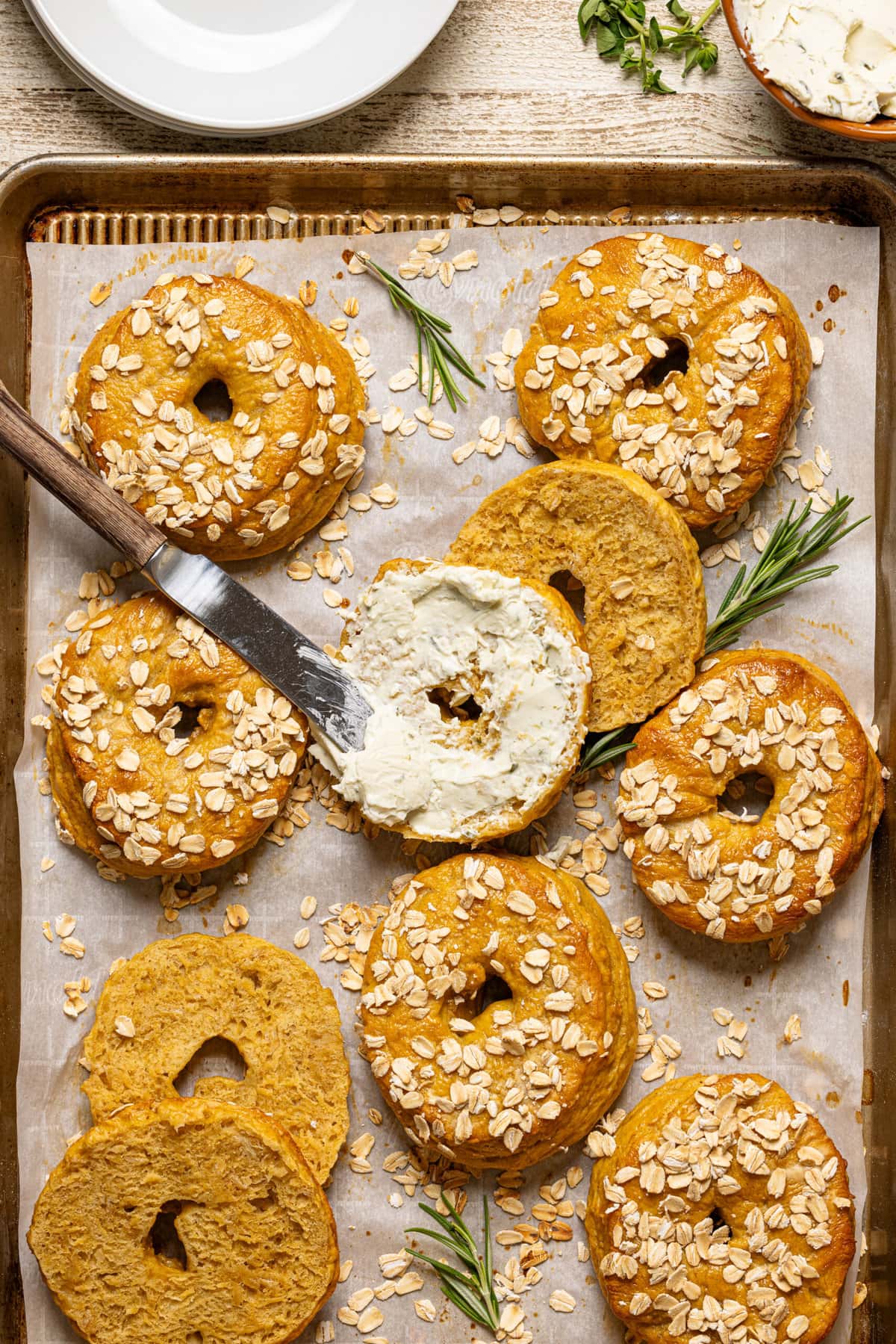 I seriously am excited to share these homemade bagels with ya'll. This is the first of many bagel recipes that will be on the site and I promise that once you make your own bagels, you'll never go back! Haha. Much like cinnamon rolls, these bagels are easily tossed together in a dough using yeast, flour, oats, sugar, pumpkin puree, and a few other ingredients. Then you allow it to rise once and then for a second time, do a slight water bath for a quick cook (this also helps them to golden nicely while baking), then bake them, and wallah. You'd be surprised at how easy these Homemade Pumpkin Oat Bagels are to make!
If baking is your jam and you enjoy yeast-based treats, then I definitely recommend you trying these Homemade Classic Cinnamon Rolls, Vegan Chai Latte Cinnamon Rolls, and Southern-Style Carrot Cake Cinnamon Rolls or this Homemade Honey Oat Bread. Get your pumpkin spice + pie fix with this extremely delicious Easy Pumpkin Pie Iced Latte!
What I absolutely love about this pumpkin bagel recipe is how effortless it is to prepare once you get through the steps. The fact that they're baked, which makes them a healthier choice, and their speedy turnaround time is a definite bonus. Plus, they're incredibly versatile, catering to a dairy-free, vegan + gluten-free option, AND can be enjoyed at any time of day, be it breakfast, brunch, or dessert. Truly a win in my opinion.
Jump to:
Why You'll Love these Homemade Pumpkin Bagels.
They're super easy to make.
Bake time is about 30 minutes total.
They're completely dairy-free with a vegan + gluten-free option. Entirely kid-friendly!
Super soft + chewy for the perfect texture.
Makes for the perfect breakfast, brunch, or whatever.
Perfect Fall vibes---thanks to the pumpkin + spices that elevate the savoriness.
Did I mention, they're just TOO good to pass up?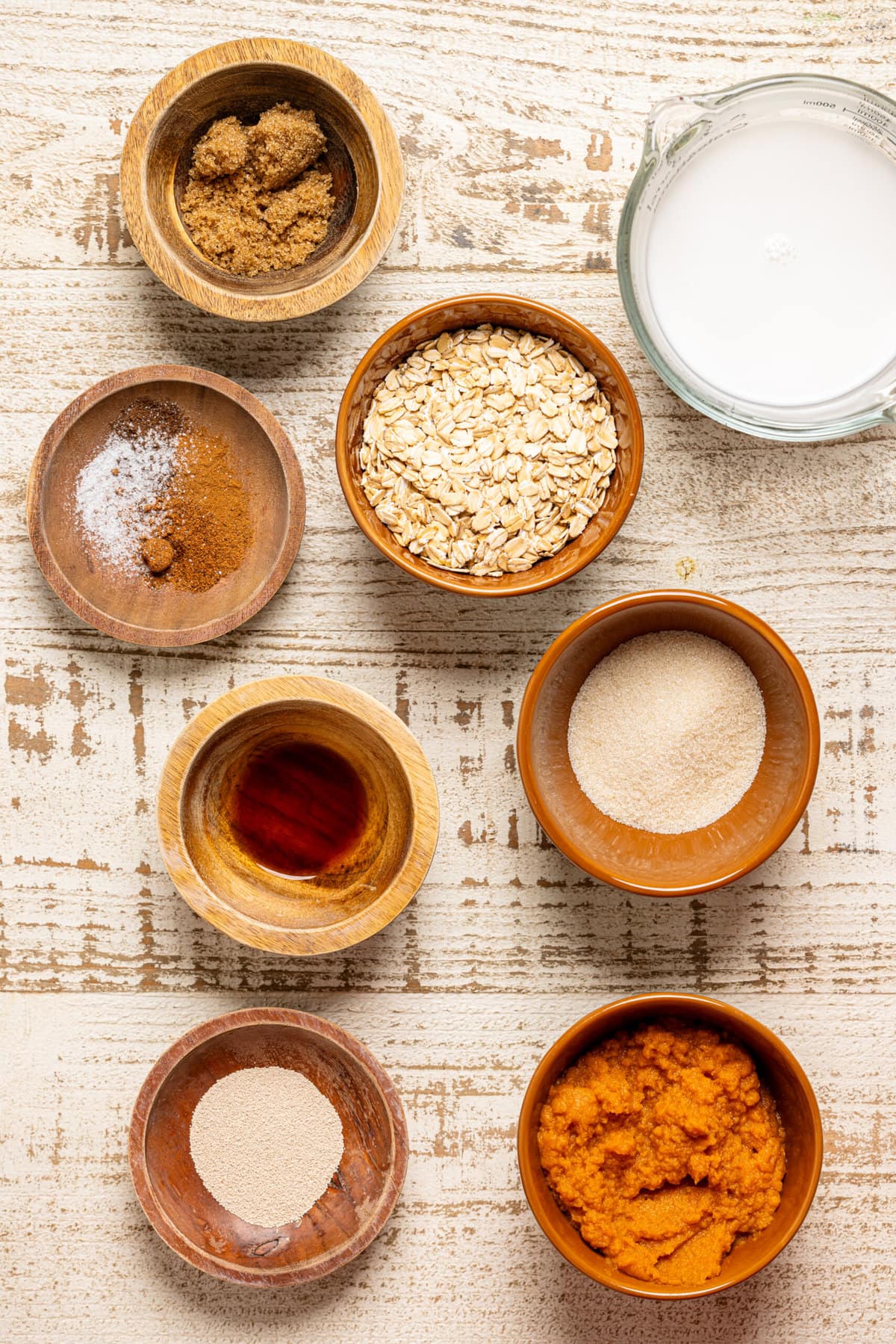 How to Make Homemade Pumpkin Oat Bagels
The first thing to do is assemble your ingredients! Like many rising dough recipes, you always start with adding your ingredients together in a stand mixer (or bowl if kneading by hand) and mixing until combined. Then you knead the dough vigorously for about 15-20 minutes to ensure that it becomes elastic-like in texture with a shine.
Then you add the dough to a greased bowl, cover and let it rise for the first hour. Once risen, remove it unto a lightly floured surface, roll it out to an inch thickness, cut into doughnut shapes (for greater ease), cook bagels briefly in a water bath, transfer them unto baking sheet, brush the tops with egg wash + sprinkle with oats, and let them rise for a second time. Once risen again, bake, slice, and serve!
The Ingredients
Here's what you need for the soft, chewy pumpkin oat dough:
All-purpose flour. I use organic flour with my bread flour for the best texture---balance of soft + chewy. You can choose to only use bread flour if preferred. Both flours are from Bob's Red Mill.
Organic artisan bread flour. Bread flour has a higher protein (gluten) content than regular flour. This helps to give your bagels more of a structure and chewy, but soft texture. If you don't have bread flour, however, you can still make the recipe with regular all-purpose flour. Either way, I recommend using Bob's Red Mill or King Arthur organic flour.
Rolled oats. This is by far the star of this recipe. I love using thick-cut rolled oats, however, old fashioned or regular rolled oats do just fine.
Instant yeast. You'll need just one packet of yeast for this recipe. If you have a larger bag of instant yeast, measure out 2 ¼ teaspoons. Make sure you're not using active dry yeast, though, which requires activation before you can start using it.
Milk. You can totally use regular milk (if no diet restriction is necessary) or plant-based milk. Choose unsweetened. Feel free to use a different plant-based milk if you like. I recommend making easy homemade almond milk (my recipe doesn't require soaking!)
Pumpkin. I use 100% organic pumpkin puree in the can, NOT pie filling. There's a difference! See further below for homemade puree option.
Spice blend. For a nice rich pumpkin and spice flavor. Simply mix together cinnamon, nutmeg, and allspice.
Brown sugar. This feeds the yeast so they activate and produce the gasses that will help your bagels rise. It also adds just a *hint* of sweetness to the bagels. Use organic sugar if possible.
Cane sugar. This adds a hint of sweetness to the bagels, but not much! Always use organic!
Sea salt. It's important to add salt both for flavor and texture. Salt helps tenderize the gluten strands in your bagels for a softer, chewier texture.
WARM water. This is important to help activate the yeast at the beginning.
Vanilla extract. The pure vanilla is the best flavor.
Water + maple syrup. These are used for the bath to cook the bagels prior to baking. This helps with the caramelization and slight crisp that you'll need them to have on their outsides. You can also use barley malt syrup instead of maple.
Can I Knead By Hand Instead of Using a Mixer?
Absolutely! Usually, I make my yeast doughs via my electric stand-mixer which has the appropriate attachments for the kneading process, however, with these bageIs, I have had the pleasure of doing this all by hand and it wasn't difficult.
It just requires a bit more arm work, that's all! Plus, there's nothing that a light drizzle of flour can't help, right?! You'll basically follow all steps for making the dough in a large bowl and once it begins to come together and can form a ball, then you'll begin working the dough in a front-to-back and folding motion a few times until you begin to feel the dough "soften" and become elastic-like. It took me about 5-6 minutes or so total. Not bad!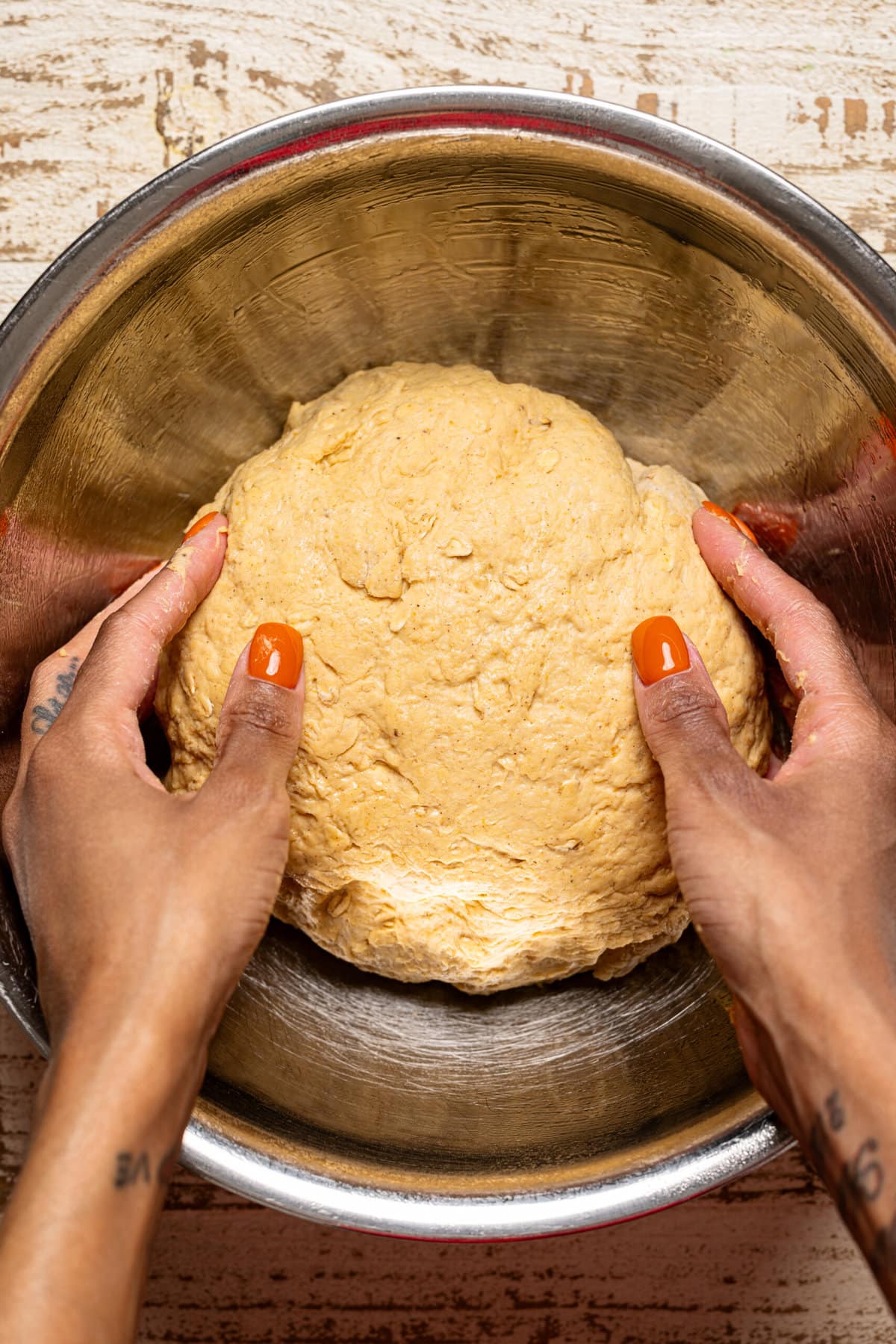 Tips for Making the Best Homemade Bagels from Scratch
Due to many delicious attempts at perfecting this recipe, I have come across some very helpful, tried + true tips that will ensure a perfectly baked homemade bagels with the most amazing texture and flavor. Here are the tricks that get the job done:
NEVER OVERHEAT THE MILK.
It is so important that your milk is WARM, but NOT hot! It should be warm to the touch. If you find that you forgot to remove your milk so that it's room temperature, you can simply warm is slightly over the stovetop. If it has overheated, allow it to cool before adding the yeast.
Be sure to let it cool to a warm temperature before adding it in. Milk that is too hot will kill the yeast and you won't get the big, fluffy rise in the dough, which affects the texture of the bagels once baked. We want these bagels to be soft + chewy and that's only possible when the yeast is bloomed properly, not dense bagels.
DO NOT WORRY ABOUT OVER-MIXING
I know it sounds weird, but hear me out. With cakes and cookies, you never want to overwork a dough because working develops the gluten in the flour. Gluten development leads to a chewy, unpleasant texture in cakes and cookies, making them dense and heavy.
Because bagels use a yeast dough, it is required to develop the gluten in the dough. The yeast brings elasticity that lightens and fluffs the dough, much like bread dough. When making these bagels, keep on mixing even after you think you've mixed enough! The kneading process is super important for the perfection of these bagels!
RISE THE DOUGH OVERNIGHT IF POSSIBLE
While I developed this recipe as a quick-bake bagel after two proofing sessions, more flavor develops in the dough if you allow it to rise overnight. The dough has more time to rise, leading to a more developed, yeast-bread flavor.
USE A BREAD FLOUR MIX (MY SECRET)
After much trial and error, I have found that a mix of bread flour and all-purpose flour makes the perfect combination for bagels. While many recipes use only bread flour (which you can), I found that the bread flour gives a thicker, dense feel while the all-purpose flour creates a tender, soft feel which ultimately results in a combination of both in texture that I think is perfect for these bagels.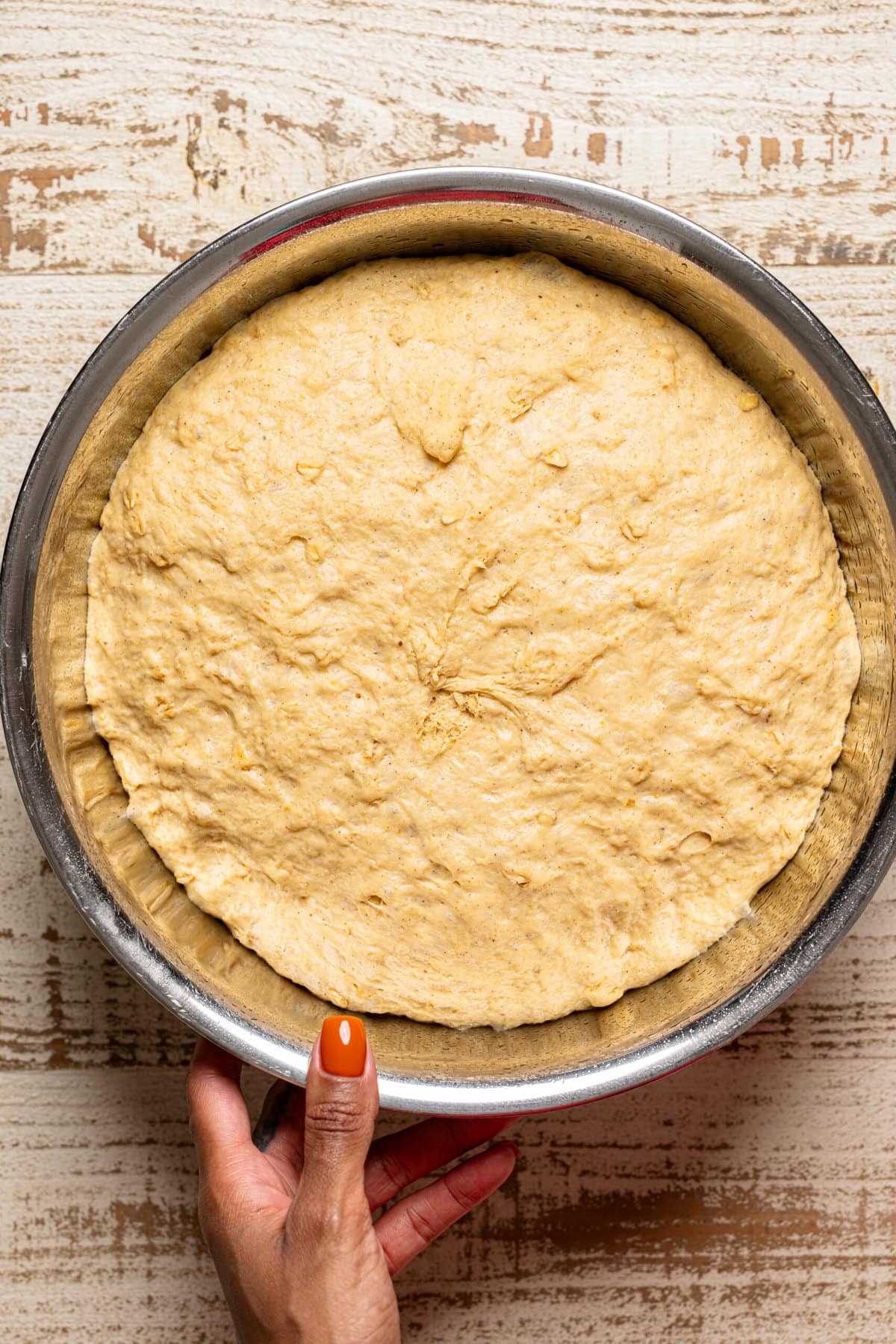 Why Add Organic Artisan Bread Flour?
As I've mentioned previously, I love adding Bob's Red Mill Organic Bread Flour to my bagels as a secret ingredient because it creates such chewy bagels that are just like traditional ones!
This bread flour is made with premium high-protein flour milled from America's highest quality wheat. While using all-purpose flour can achieve soft bagels, there's just something special about the bagels when this type of flour mixes in. I don't know how to explain it, but mixing in this bread type allows for the bagels to be thicker, airy, chewy, soft, and just GOOD!
In general, this bread flour is perfect for baguettes, pizza crust, dinner rolls, no-knead breads, and more.
Rapid (Instant) Rise Yeast vs. Active Dry Yeast
If you're not using the Rapid Rise Yeast for this recipe, please know that the rise time will be twice as long (about 3 hours) since regular Active Yeast doesn't work as quickly.
Shaping the Bagels
OK, so while I take a shortcut by using a doughnut cutter for these bagels, you can definitely achieve the more traditional look in just a few short steps. Shaping bagels is easier than it looks. Just poke your finger through the center of the ball of dough (after cutting large dough ball into about 8 pieces), then use 2 fingers to widen the hole to about 1.5 – 2 inches and wallah! Truth be told, the bagels don't need to be perfect. Promise!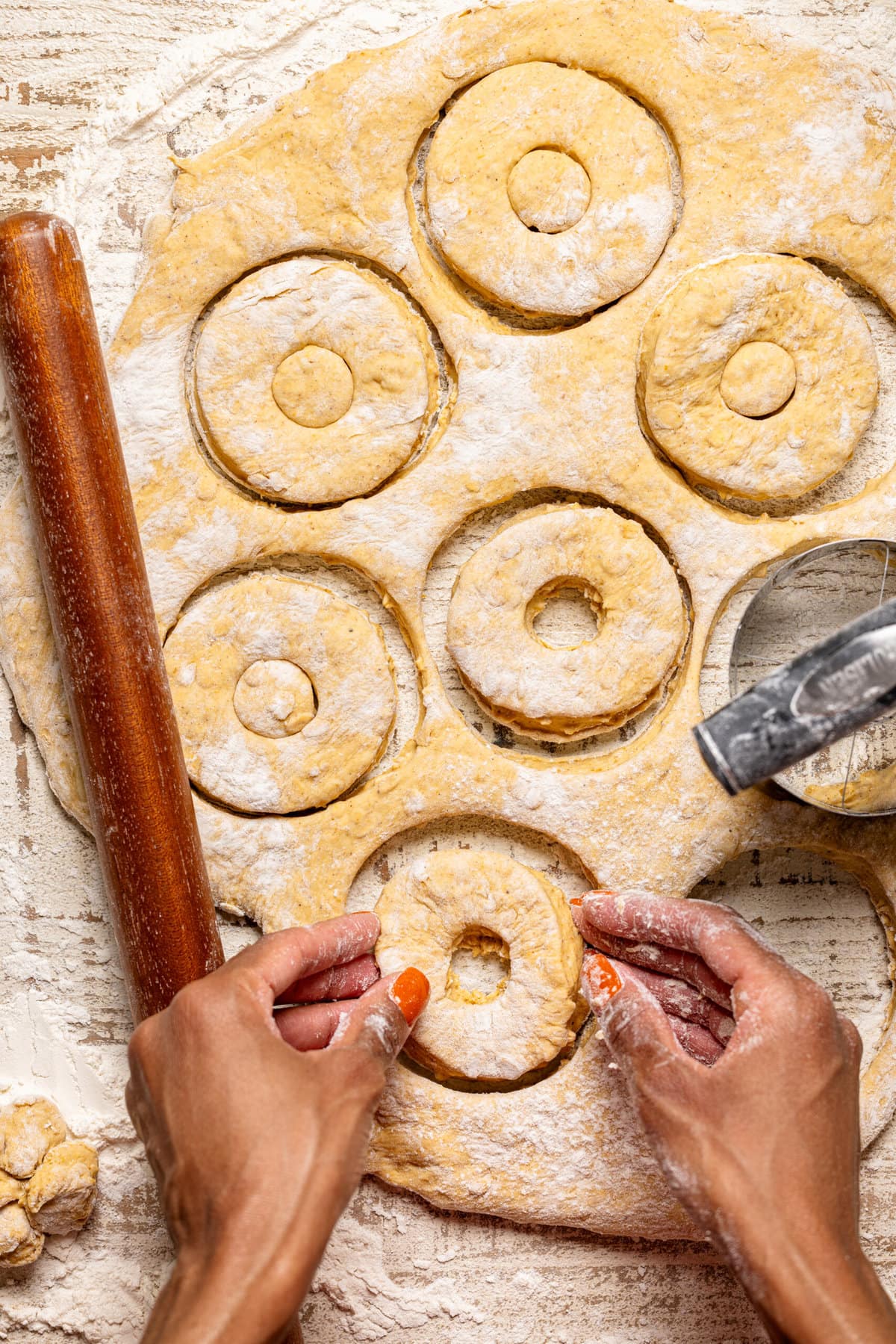 EQUIPMENT FOR BAGELS
When it comes to making these homemade bagels, you'll only need a few pieces of equipment: Spider Skimmer, Doughnut Cutter, and a few others.
The easiest way to cook your bagels in a water bath can be in a deep dutch oven or a medium-sized french oven pot. Whichever you choose, it doesn't matter because either can get the job done.
The last piece of equipment you'll need is a wire cooling rack. Ensure your bagels are fully cooled before serving them.
How to Make Your Own Pumpkin Puree
If you're thinking about making your own pumpkin puree instead of using a store-bought canned version, then you'll be happy to know that it is rather simple:
Step 1: Cut your pumpkins in half and scoop out the seeds. Be sure to save the seeds for another time because you can definitely use those!
Step 2: Feel free to cube the pumpkins into medium-large chunks and then place them unto a baking sheet lined with parchment paper. NOTE: ensure that the skin of pumpkin are peeled off at this point.
Step 3: Always season your pumpkin pieces (pinch of salt and cinnamon in this case for the recipe) and lightly grease with olive oil until coated.
Step 4: Roast in the oven at 375 degrees Fahrenheit for about 40-45 minutes or until the edges are golden and they become super tender once tested with a fork or knife.
Step 5: Using a food processor or blender, puree your pumpkin along with water or veggie stock, until smooth. You can either use this immediately in whatever pumpkin recipe you'd like, store it in the freezer for later use.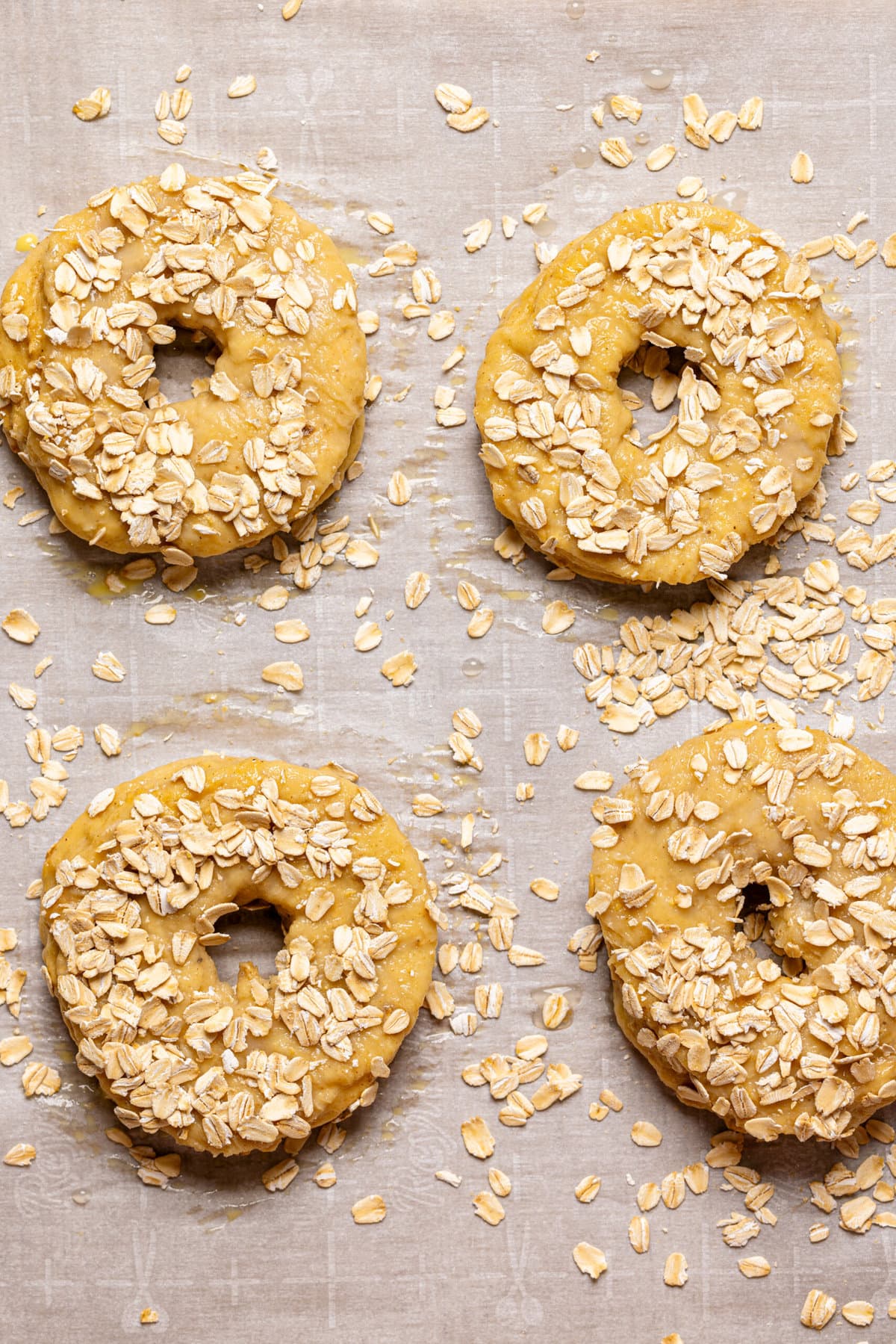 Bagel Water Bath
One important step to making bagels is that they must cook for 1 minute on each side in a pot of boiling water. Why you ask?
Reason 1: Cooking the bagels in boiling water gives the bagels they're beautiful shine after baking. Believe it or not, the shine is actually a result of the dough's starches gelatinizing which creates a crisp, shiny coating.
Reason 2: Cooking the bagels in boiling water helps to cook the outer layer of the dough, which guarantees they'll hold their shape in the oven while baking.
Add honey (if not diet restricted), maple, or barley malt syrup to the water bath because the sugar adds extra caramelization and crisp. Brushing the boiled bagels with egg wash does the same----which is why you shouldn't skip either step!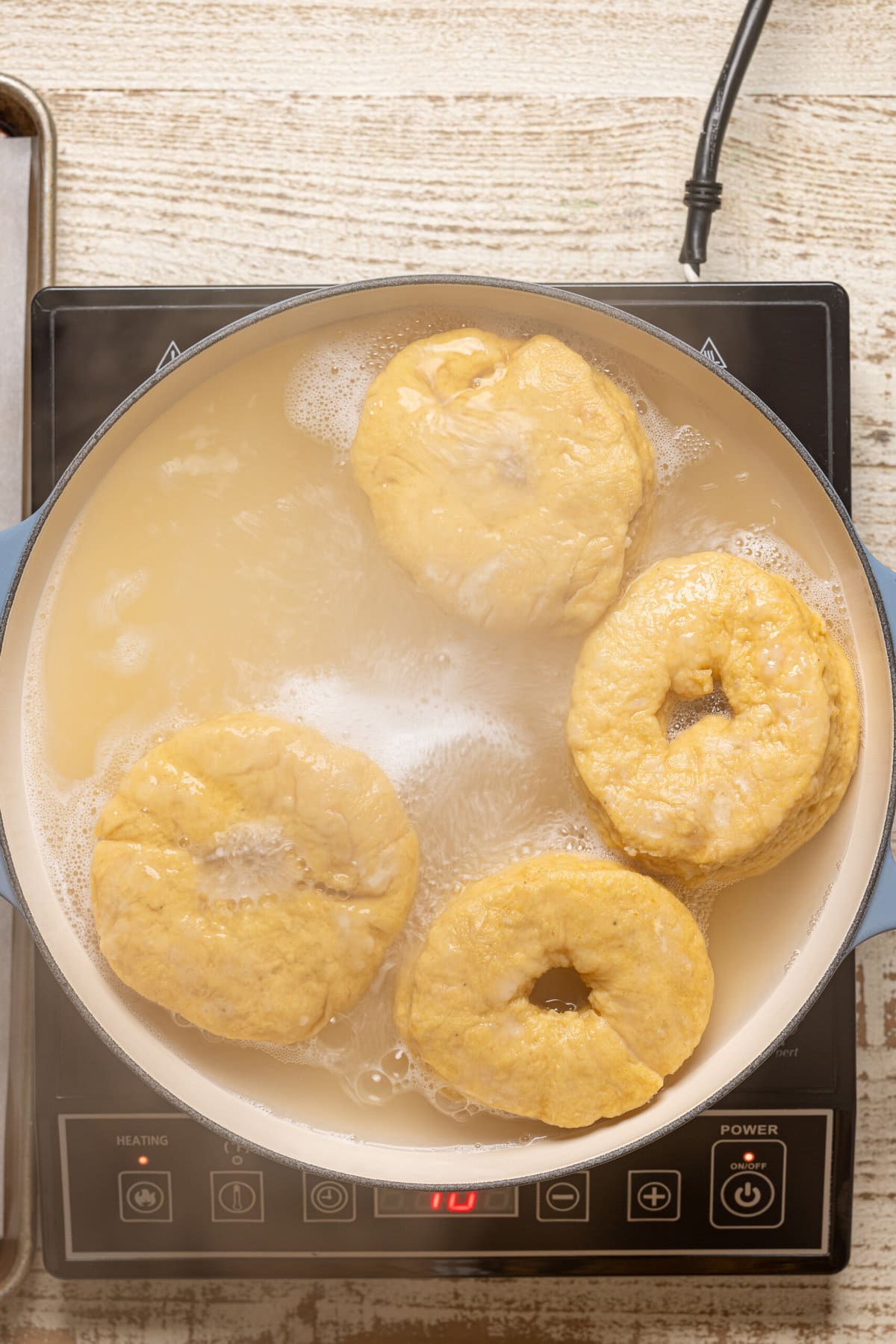 Best Barley Malt Syrup Substitutes in Bagels
So, whether you choose to use barley malt syrup in your water bath or something else, here's a list of best substitutes so that your bagels still come out perfectly crisp and golden from the caramelization required:
Honey
Corn syrup
Brown rice syrup
Molasses
Agave
Brown sugar
Maple syrup
Date syrup
Health Benefits of Oats
Oats are another superfood that's great to start your day with. Rolled oats, like the ones used in this recipe, are a healthy source of complex carbs, fiber (the soluble kind!), protein, and fat. In addition, they are loaded with important vitamins, minerals, and antioxidants.
Other great benefits of oats, according to studies:
They can help lower cholesterol.
Helps regulate blood sugar levels to avoid crashes and spikes
May help with losing weight.
Helps to relieve constipation.
Can I Use Another Plant-Based Milk for these Bagels?
Yes, you can use any dairy-free milk you like to make this homemade bagel recipe. Here are some easy recipes to make your own milk that's cheaper and so easy!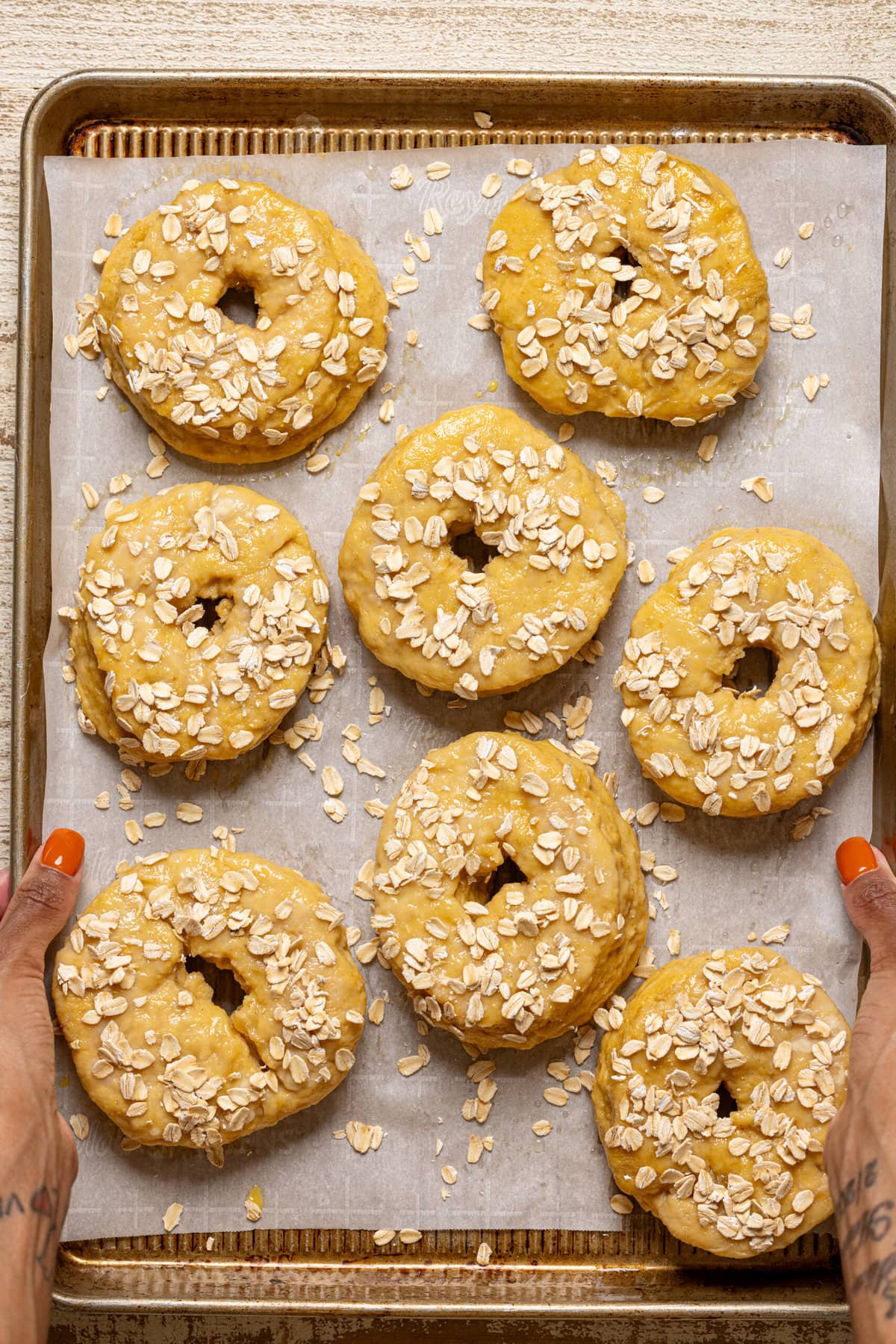 The Best Egg Wash Alternatives
As you may know, using an 'egg wash' is important when it comes to your baked goods that require a nice golden finish and with these bagels, it's no different. Of course, if you can't use regular beaten eggs as egg wash or just don't want to in the moment, no worries! Here are great alternatives:
Aquafaba (liquid from canned chickpeas) ---- just lightly brush some unto your bagels for a nice golden look.
Almond milk (or whatever milk used) + maple syrup --- believe it or not, but mixing the two together works just like regular egg wash would.
Melted unsalted vegan butter ---- just a light brush of melted butter goes a long way!
Common Q + A's for these Homemade Pumpkin Oat Bagels
How long do homemade bagels last?
Homemade bagels can be kept fresh at room temperature when tightly wrapped or sealed for a few days (2-3 days). Fresh for up to 1 week in the Refrigerator. Baked rolls can be frozen up to 3 months. 
Can I freeze these bagels for longer?
Absolutely! To freeze, simply add cooled bagels to parchment paper, wrapping them individually and then to a freezer-safe ziplock or container before adding them to your freezer. NOTE: Be sure to label with the current date so that you can keep track of their freshness.
Do I need to use both flours?
Nope! If you don't have bread flour, you can always just use all-purpose flour (or vice versa) entirely instead, however, bread flour gives it more a denser "bagel texture". Bob Red Mill's + King Arthur's Flour has a great option for both flours!
How many bagels does this recipe make?
This recipe makes 8 standard size bagels. For a larger batch, simple double ingredients. 
Can I make these bagels vegan?
Yes! To make these bagels vegan, simply use a vegan 'egg' wash instead. See post above for options!
Can I make these bagels gluten-free?
Yup! To make these bagels GF, I recommend using a GF Flour Blend (Bob's Red Mills has a great version!). NOTE: If the batter is too 'thin + runny', simply add additional GF flour, ¼ cup at a time.
Can I use something else besides maple syrup for the water bath?
Of course! You can always substitute the maple syrup with traditional barley malt syrup or one of the following best substitutes:
Honey
Corn syrup
Brown rice syrup
Molasses
Agave
Brown sugar
Date syrup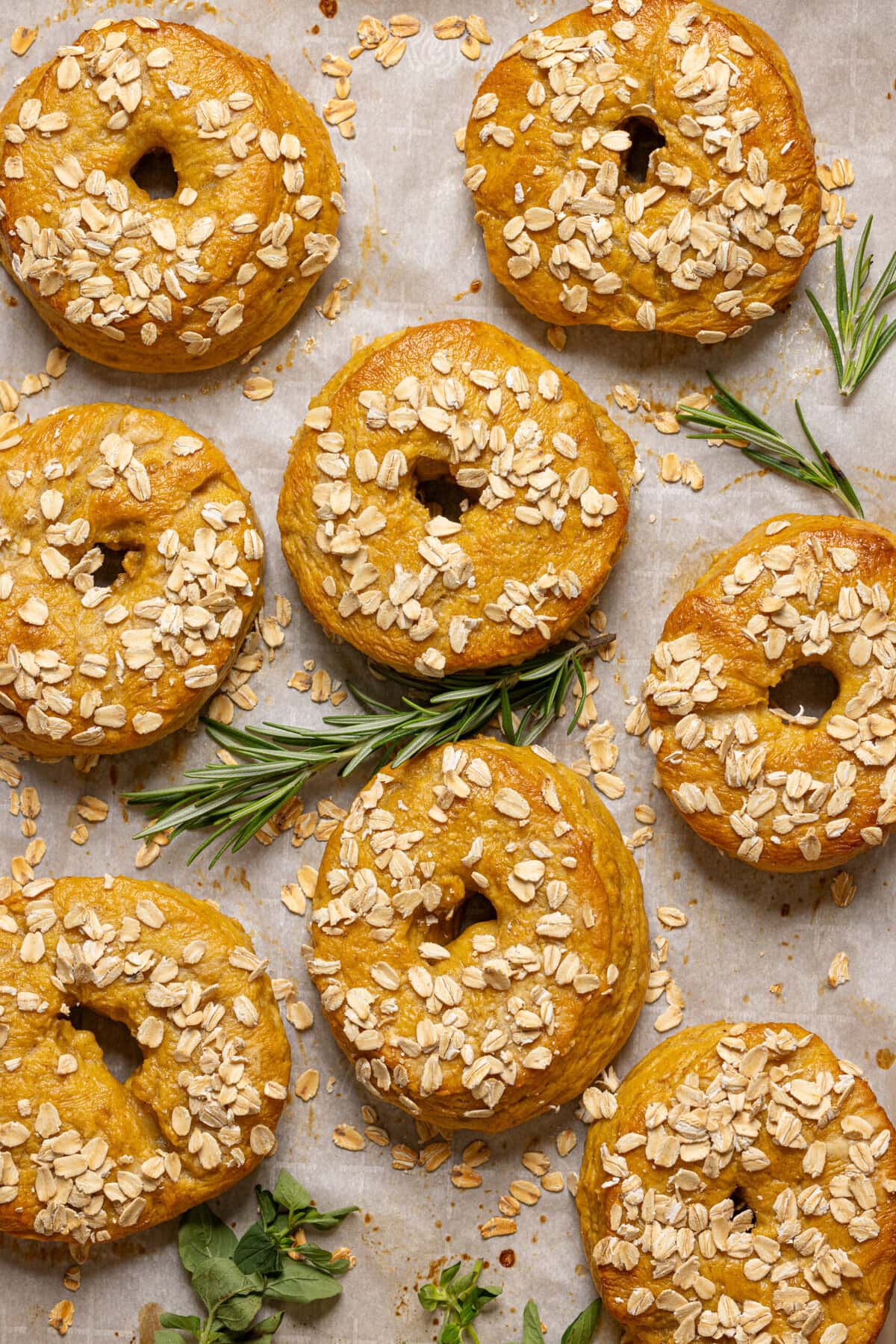 More Easy Breakfast + Brunch Recipes to Try Next!
Now that you're on a dairy-free baking kick with this homemade pumpkin oat bagel recipe, give these breakfast + brunch recipes that your entire family will love a try next:
MADE OUR RECIPE(S)?
If you tried this Homemade Pumpkin Oat Bagels recipe or any other recipe on my website, please please leave a 🌟 star rating and let me know how you go in the 📝 comments below. I love hearing from you.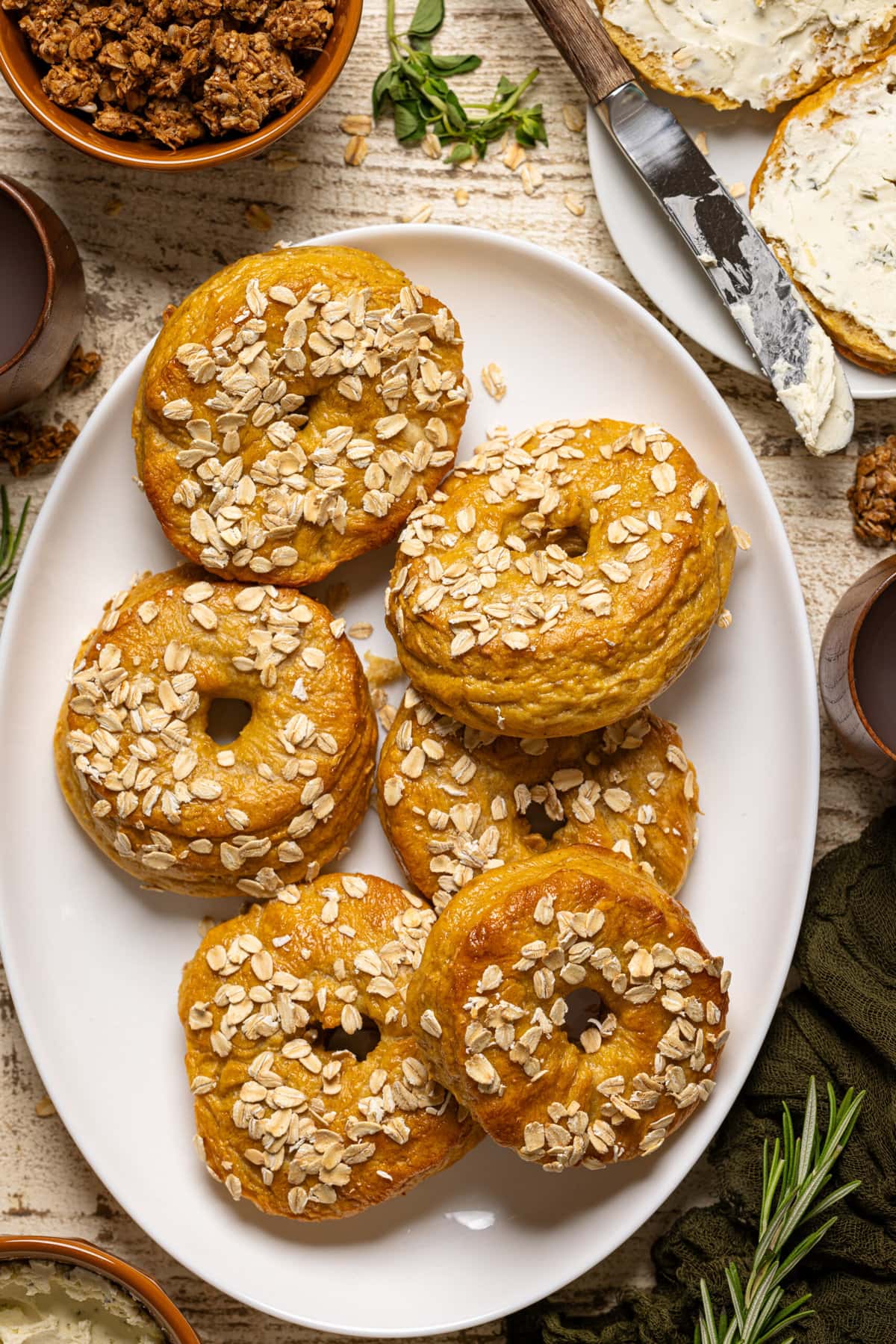 Total Time:
2

hours
10

minutes
BAGELS:
2 ¼

cups

organic all-purpose flour

2 ½

cups

bread flour, organic

1

cup

organic rolled oats

1

packet

rapid rise yeast

1 ½

cups

unsweetened Almond milk, at room temp.

(You can use whole milk or any plant-based milk of your choice)

3

Tbsps

organic cane sugar

1

tablespoon

organic brown sugar

¼

cup

warm water

¾

cup

organic pumpkin puree, room temp.

(NOT Pie filling!; See POST for homemade option)

1

teaspoon

vanilla extract

1

teaspoon

sea salt

1

teaspoon

Homemade pumpkin spice blend
TO MAKE THE DOUGH:
Combine yeast and 1 tablespoon brown sugar in the bowl of an electric mixer and slowly pour in warm water while stirring frequently. Allow 10 minutes for the mixture to sit and for the yeast to activate.

Add in the room temperature milk to the yeast mixture and whisk until well combined. Add in the pumpkin puree and vanilla, whisking to incorporate.

In a large bowl, whisk together the all-purpose flour, bread flour, oats, cane sugar, pumpkin spice and sea salt and add them to the wet ingredients and mix on low-speed until well combined and everything begins to form into a dough-like consistency, about 2-3 minutes.

Change "Mixer head" to kneading accessory and knead dough for 5-10 minutes on high speed until dough ball becomes smooth and elastic and dough springs back when lightly pressed together with 2 fingers. NOTE: If dough is still too sticky, add 1 tablespoon of flour at a time until texture is achieved!

Lightly grease a large bowl with a small amount of olive oil and place the dough ball in the bowl, tossing it around until coated. Cover with plastic wrap (or a towel) and let sit for 1 hour, allowing the dough to rise and double in size. 
ROLL + CUT DOUGH:
Preheat the oven to 400 degrees Fahrenheit and line a baking sheet with parchment paper. NOTE: Be sure to change your oven rack to the middle for best results when baking.

Add a bit of flour to a surface and place the risen dough onto it, lightly adding a bit of flour to the top. Using a rolling-pin, roll out the dough into a rectangular shape----approximately 9″x14 and ½-inch thick. NOTE: Try not to make the dough too thin or else your doughnuts will be thin and a little hardened once fried.

For the easiest method: using a donut cutter (about 3.5 inches), cut out circular shape and place them unto a flat surface with parchment paper to avoid them from sticking to surface or each other. Repeat until all bagels are cut out.
ADD BAGELS TO WATER BATH:
In a large pot, add the water and maple syrup (stirring together) over medium-heat and bring to a boil. Once boiling, reduce the heat to medium-low and add 3-4 bagels at a time (as long as it fits without touching), and let them sit for 1 minute before flipping on their opposite sides for another 1 minute. Using a skimmer, transfer the cooked bagel from the water bath unto the prepared baking sheet. Repeat until all bagels are cooked and transferred to baking sheet.
BRUSH BAGELS + DO A SECOND RISE:
To make the egg wash, whisk together the egg + milk in a bowl. Brush the tops of cooked bagels with egg wash and sprinkle with a bit of oats until covered.

Let the bagels rise again for another 15-20 minutes or so, until they increase a bit more in size.
BAKE THE BAGELS:
Once the rolls have increases again in size, bake them for approximately 20 minutes in the preheated oven. NOTE: Be sure to check on them after about 15 minutes to ensure that they aren't getting too brown too fast. Then transfer the rack to the bottom and bake for another 8-10 minutes.

Once done, remove from oven and allow bagels to cool on the baking sheet for 20 minutes before transferring them to a cooling rack to cool completely.

To serve, slice and toast your bagels, and add your favorite topping(s), and enjoy!

Bon Appetit!
STORAGE: Homemade bagels can be kept fresh at room temperature when tightly wrapped or sealed for a few days (2-3 days). Fresh for up to 1 week in the Refrigerator. Baked rolls can be frozen up to 3 months. To freeze, simply add cooled bagels to parchment paper, wrapping them individually and then to a freezer-safe ziplock or container before adding them to your freezer. NOTE: Be sure to label with the current date so that you can keep track of their freshness. 
FLOUR: If you don't have bread flour, you can always just use all-purpose flour (or vice versa) entirely instead, however, bread flour gives it more a denser "bagel texture". Bob Red Mill's has a great option for both flours!
SERVING SIZE: This recipe makes 8 standard size bagels. For a larger batch, simple double ingredients. 
VEGAN OPTION: To make these bagels vegan, simply use a vegan 'egg' wash instead. 
GLUTEN-FREE OPTION: To make these bagels GF, I recommend using a GF Flour Blend (Bob's Red Mills has a great version!). NOTE: If the batter is too 'thin + runny', simply add additional GF flour, ¼ cup at a time.
Calories:
236
kcal
|
Carbohydrates:
48
g
|
Protein:
6
g
|
Fat:
2
g
|
Saturated Fat:
0.4
g
|
Polyunsaturated Fat:
1
g
|
Monounsaturated Fat:
1
g
|
Trans Fat:
0.003
g
|
Cholesterol:
23
mg
|
Sodium:
378
mg
|
Potassium:
120
mg
|
Fiber:
3
g
|
Sugar:
13
g
|
Vitamin A:
35
IU
|
Vitamin C:
0.02
mg
|
Calcium:
95
mg
|
Iron:
2
mg