This is a delicious and easy recipe for an Iced Chai Tea Latte with brewed black tea, warming chai spices, and almond milk for a healthy vegan spin.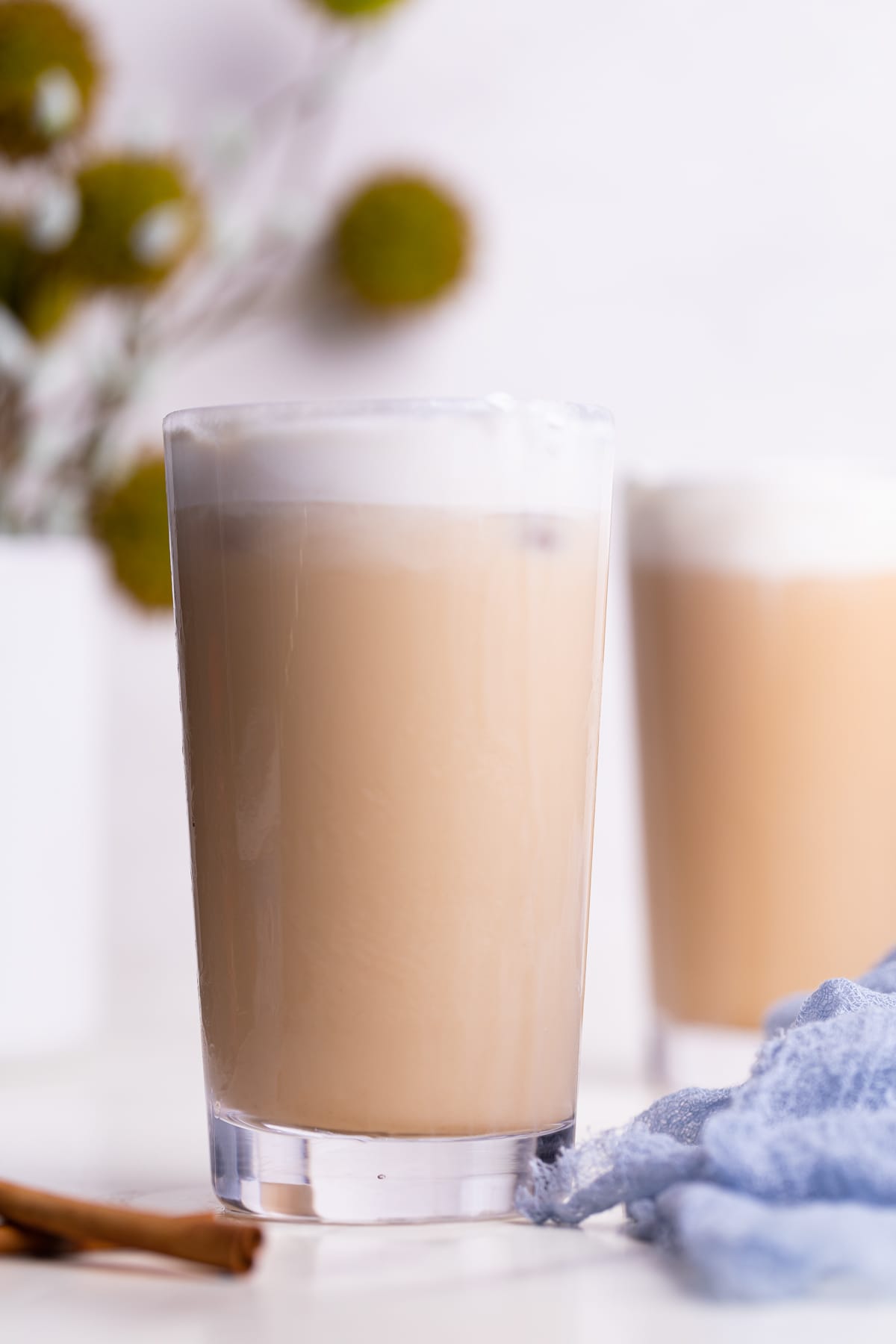 It's no secret that I love anything flavored with chai. From Chai Cream Cheese Frosting for carrot cake to Spiced Chai Cheesecake to Chai Latte Chia Pudding, I can't get enough! So I thought it was about time I gave you all a recipe or a true classic: iced chai tea lattes. These vegan lattes are creamy, foamy and full of warming spiced flavor.
If you're cutting out coffee or want a lower-caffeine drink to sip in the morning, you'll want to try this tea ASAP. And while you're at it, make a big batch and keep it in the fridge to pour over ice all week long.
How to Make Ice Chai Tea Lattes
once you see how easy it is to make your own tea lattes at home, you'll never have to go back to the coffee shop again. You'll save money for sure. But your drinks will also taste just how you like them. It's a win-win.
This tea latte recipe comes together in a saucepan on the stove. It's full of classic chai spices, a bit of sweetener and black tea. You can serve it up hot from the saucepan if you like, or pour it over ice for a refreshing summertime tea.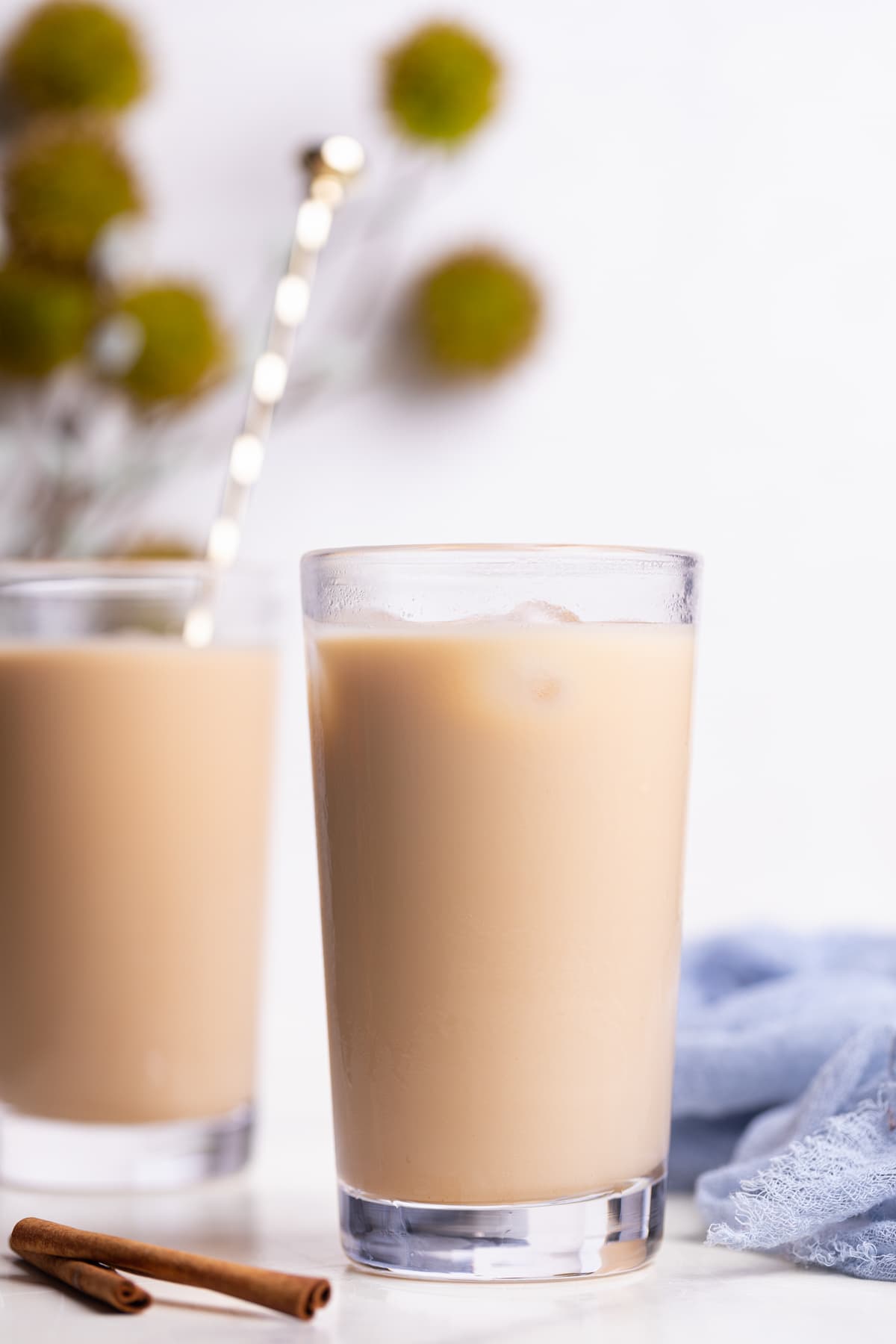 Ingredient Notes
Chances are, you already have most, if not all, of the ingredients you need to make this chai tea latte recipe.
Black tea bags. You can use any plain black tea you like. Caffeine-free will also work if you avoid caffeine.
Agave syrup. Feel free to use a different sweetener if you like. Honey (or vegan honey), maple syrup or another healthy sugar alternative will work.
Chai spices. This latte is all about the spice blend, which includes cinnamon, nutmeg, ginger, allspice, cardamom, cloves, and black pepper.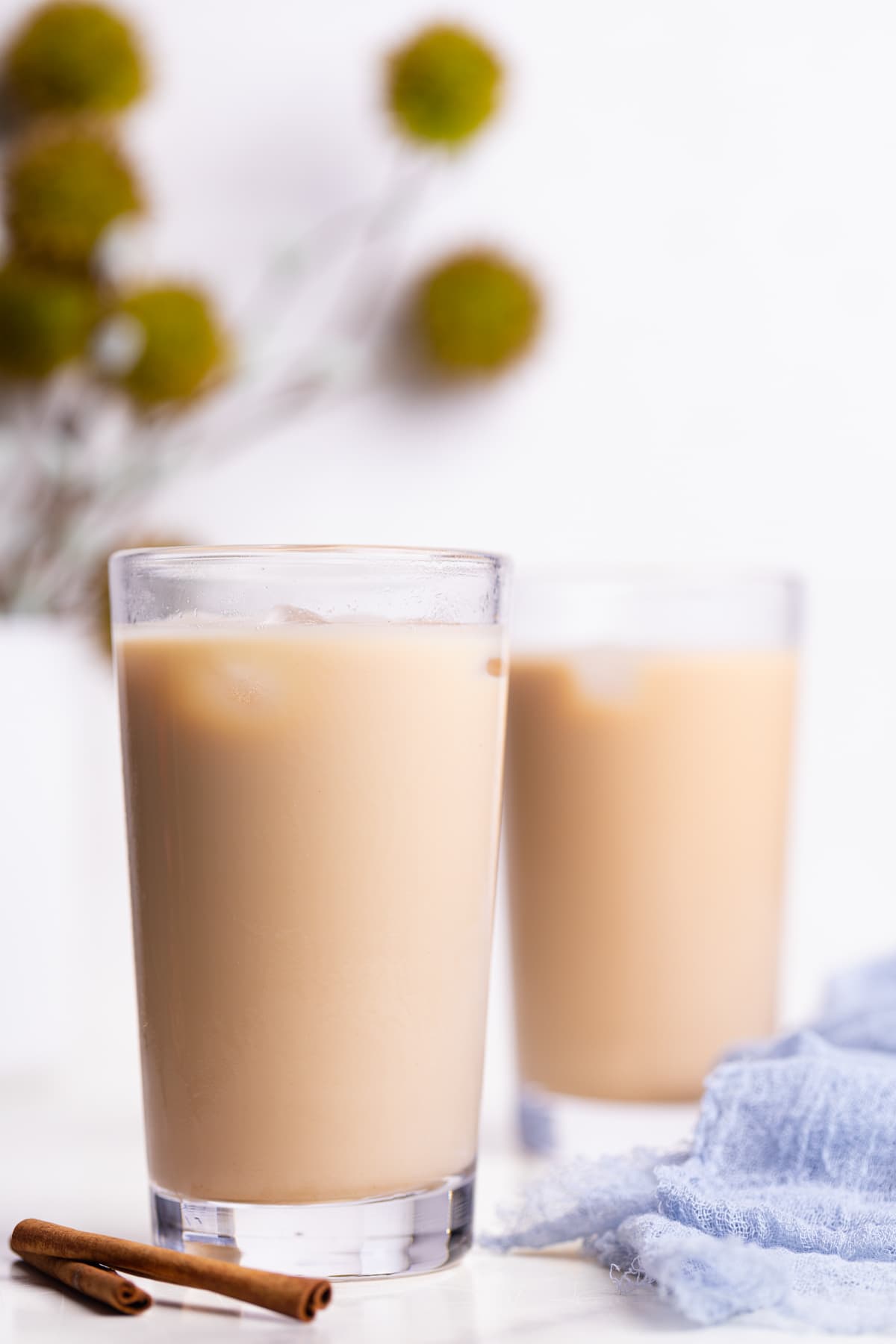 Serving Iced Chai Lattes
To really treat yourself, top your homemade chai lattes with coconut whipped cream and an extra dusting of chai spice.
Does Chai Tea Have Caffeine?
Yes, this recipe has some caffeine. Black tea contains about 47 milligrams of caffeine per 8-ounce cup. Compared to coffee, which has 95 milligrams of caffeine per 8-ounce cup. If you use chai tea bags for this recipe, you'll have about 26 milligrams of caffeine per cup. To cut the caffeine out of this recipe altogether, simply use decaffeinated black or chai tea.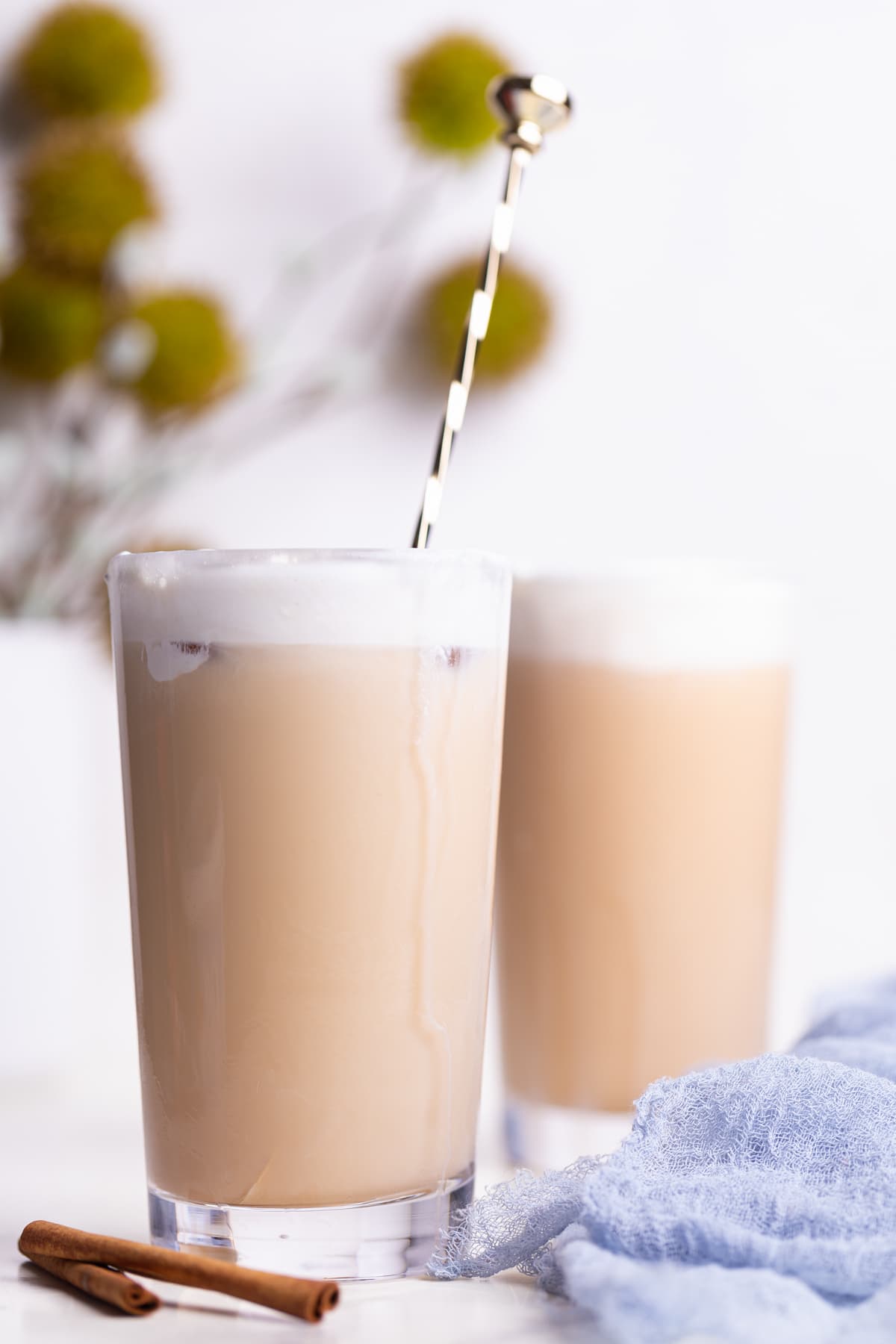 More Tea Recipes to Try
MADE OUR RECIPE(S)?
If you make this Iced Chai Tea Latte or any other recipe from us, be sure to tag us on Instagram at #Orchidsandsweettea so that we can share the love!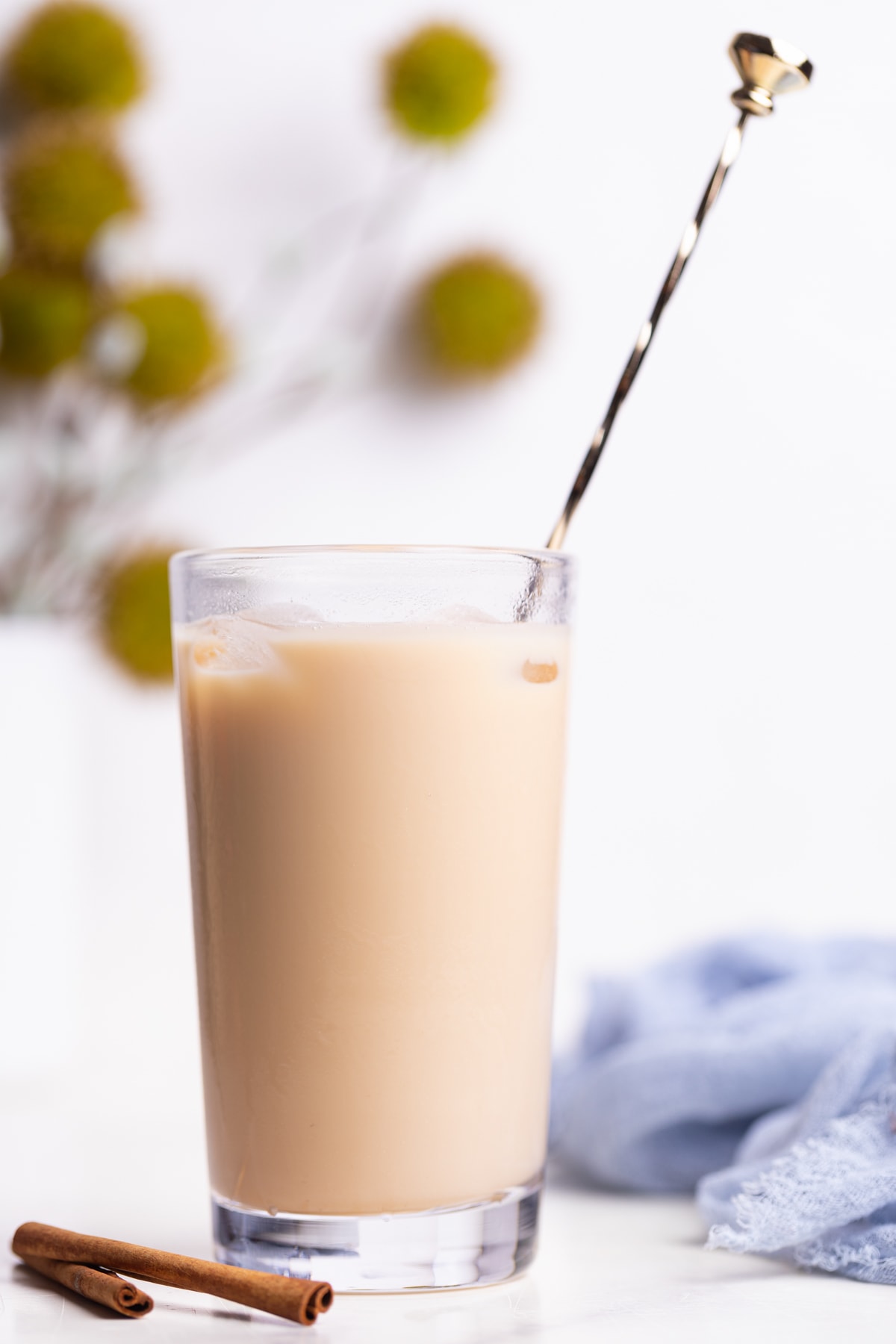 Optional Topping:
Coconut Whipped Cream

sprinkle of

Chai Spice
In a medium saucepan on medium-high heat, add the water and bring to a boil for 1-2 minutes. Remove the water from heat and add the tea bags and let them steep for 5-6 minutes.

Once fully steeped, remove tea bags and whisk in 1 Tbsp chai tea spices and Agave until well combined. Let cool for 10 minutes or so.

To serve, fill ice into 16-ounce prepared glass(es) and pour in the milk (evenly divided), followed by the chai tea mixture. Stir completely until the mixture become a light color and top with coconut whipped cream, if desired.

Sip and enjoy!
SWEETENER: You can always use maple syrup, Vegan honey, or organic brown sugar as a substitute for Agave. For vegan honey—-Bee Free Honee, click link.
WHAT PLANT-BASED MILKS ARE GOOD FOR THIS RECIPE? My go-to plant-based milk is Almond milk from Califia Farms. However, you can always use your fave or one of the following: coconut milk, oat milk (froths/foams VERY WELL), flax milk, etc.
TEA BAG: You can also use a chai tea bag blend instead if preferred.
Iced Chai Tea Latte.