Treat yourself to a delightful breakfast experience with our Apple Pie Hawaiian Sweet Roll French Toast--- This recipe combines the goodness of soft fluffy Hawaiian rolls, sweet Gala apples, and a medley of warming spices, all kissed with a touch of vanilla. The perfect balance of fluffiness and crispiness in every bite. It's a slice of morning comfort that brings the warming flavors of apple pie to your breakfast table in the most indulgent way! Gluten-free + Vegan Option.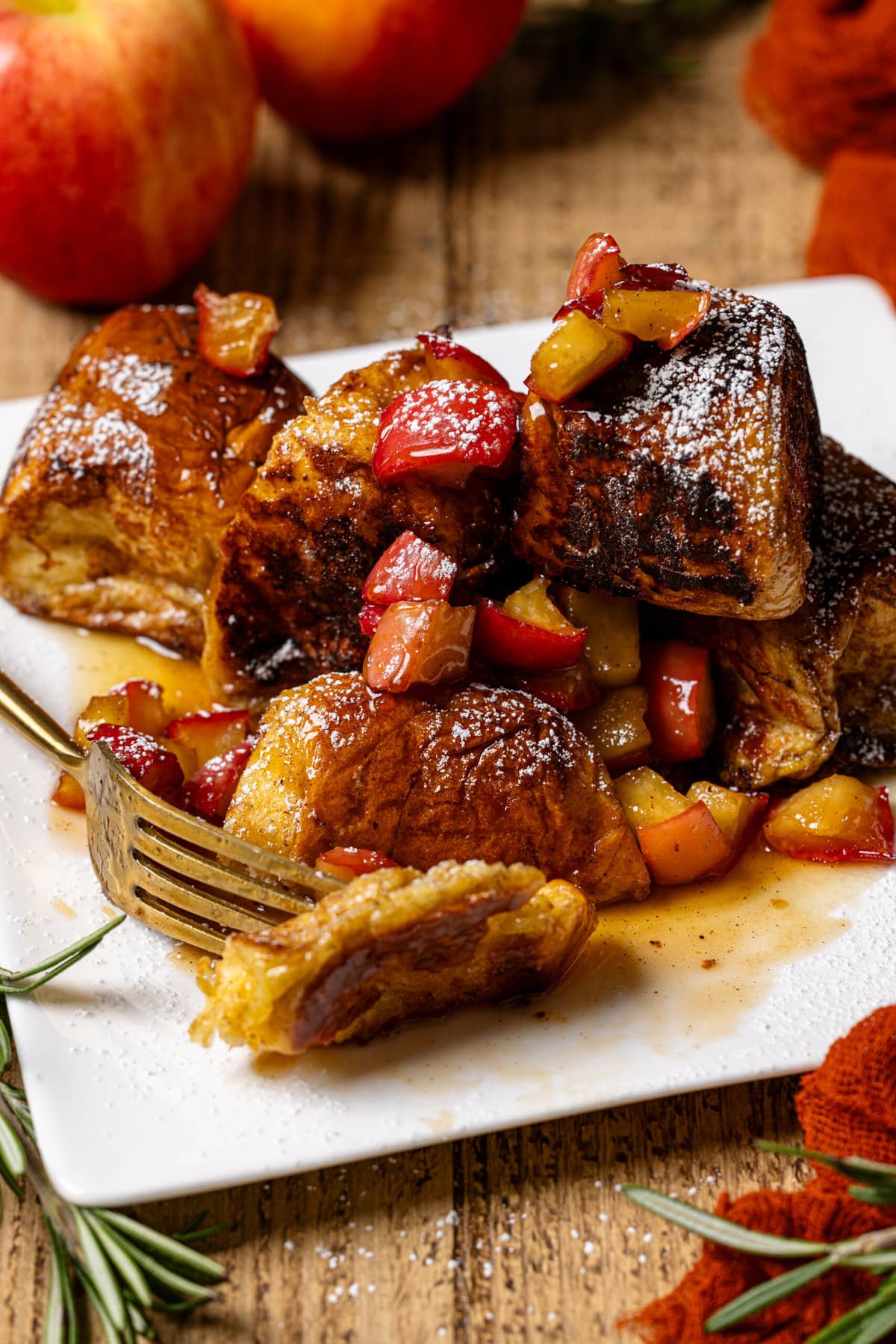 This Apple Pie Hawaiian Roll French Toast Is Seriously Delicious!
When it comes to breakfast or brunch, I'm a hardcore French toast fan, even though pancakes and waffles give it a run for its money. There's just something about French toast that makes it a standout. I'm excited to introduce you to this Apple Pie Hawaiian Roll French Toast [A great inspiration from IHop's original version a few years ago which are now making a major comeback]---It's like a slice of apple pie for breakfast – who doesn't love that idea, right?
And if, like me, you can't get enough of French toast, don't miss my other delightful creations, like Balsamic Strawberry Brioche French Toast, the oh-so-good Caramelized Apple French Toast, the berry-filled Strawberry French Toast Trifle, and the guilt-free Dairy-Free Blueberry French Toast. They're all here to satisfy your breakfast cravings in the most delicious way! Plus, this Maple Pecan Sweet Potato French Toast Casserole is an indulgent breakfast + brunch delight that captures the essence of festive flavors in every bite!
The best part? It's a breeze to prepare, making it the ideal choice for a cozy breakfast on those chilly mornings when you're craving something extra special. It's a big hit with the little ones, too! My kid absolutely loves getting in on the action when we're making it.
Jump to: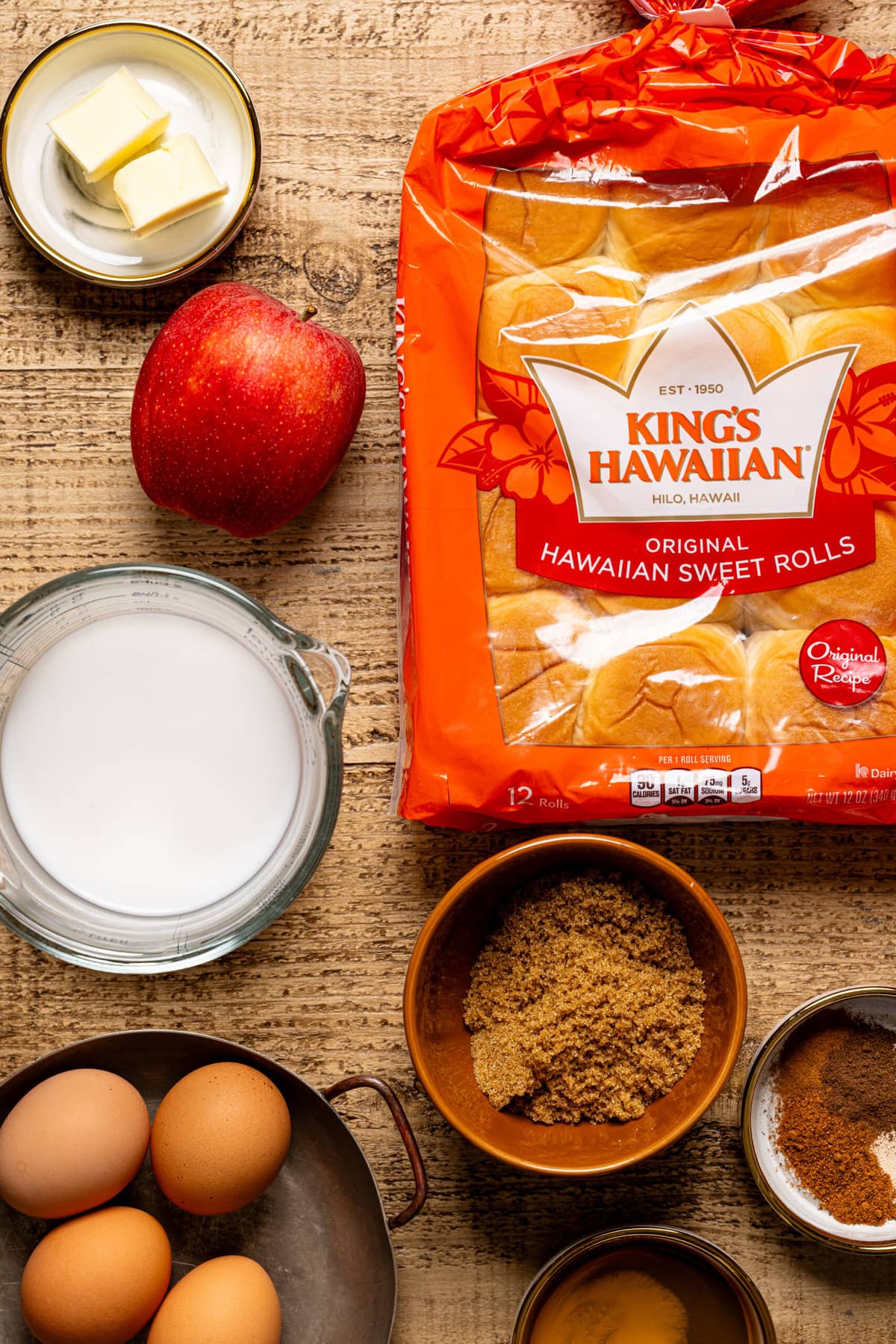 How to Make Apple Pie Hawaiian Roll French Toast
The key to the best French toast is to use fluffy bread, in this case, I used Hawaiian rolls but you can also bread use like brioche or challah-- bonus points if it's a day old and a bit stale. Haha. It soaks up the eggy custard even better this way. Now, if you know me personally, then you know that I enjoy a good breakfast if I do get around to eating it.
During the week on most days, I tend to grab something quick since I often have work. However, the weekends are my faves because I get a chance to whip together something intricate! This apple pie french toast is no different.
Ingredients
Here's what you'll need:
King's Hawaiian Sweet Rolls. You can also use organic sweet rolls, brioche bread, challah or ciabatta bread or any other rustic bread.
Almond milk. Creates the custard-like mixture that soaks into the rolls, adding moisture and a touch of nutty flavor. Try my homemade almond milk!
Organic eggs. Bind the ingredients together and give the French toast its classic texture.
Vanilla extract. Enhances the overall flavor profile with a warm and aromatic essence.
Pure maple syrup. Adds sweetness and a delightful maple flavor to the French toast.
Spices. Ground cinnamon, nutmeg + allspice. The perfect warming spices!
Unsalted butter. Use for cooking the French toast and sautéing the apples, adds a rich, buttery taste.
Gala apples. Cubed into chunks.
Organic brown sugar. Sweetens and caramelizes the apples for a rich, sticky glaze.
Sea salt - Balances the sweetness.
Topping Ideas for Apple Pie French Toast
You can make this dish as simple or as decadent as you like. Here are some tasty toppings for your apple pie french toast:
Coconut or regular whipped cream (store-bought or homemade)
Drizzle of maple syrup or honey
Dollop of vegan or regular yogurt
Sprinkle of cinnamon and other warming spices
Toasted nuts (pumpkin, walnuts, etc)
Praline topping
Dusting of powdered sugar
Caramel sauce
Ice cream (A very indulgent but delicious option) Try my No-churn Vanilla Ice cream!
SHOP MY FAVORITE TOOLS FOR COOKING, ESPECIALLY FOR THIS FRENCH TOAST!
Here, I've curated a list of cooking + baking essentials that I use to achieve my favorite baked goods or cooked meals, especially with this Apple Pie Hawaiian Roll French Toast. Everything from my fave baking sheet, skillet, food processor, high-powered blender, cooking utensils, and more. SEE THEM HERE!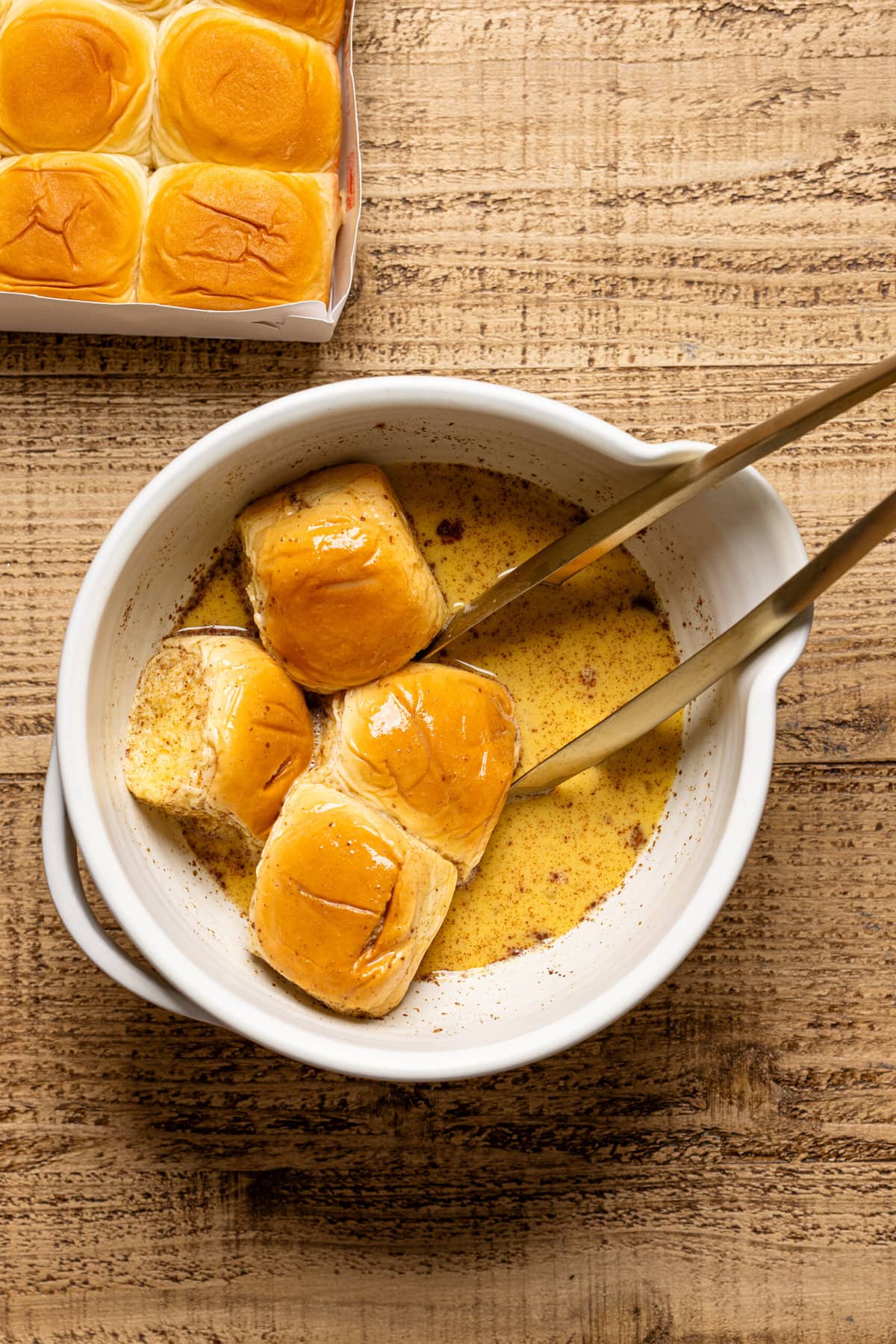 What is the Best Bread to Use for French Toast?
For the best french toast, it's definitely all about the type of bread used. Traditionally, any bread (including regular sliced breads) can be used, but the following options truly make for the perfect bite + results in my opinion and it's always best to purchase an entire loaf and use slightly old bread:
Hawaiian Sweet Rolls (My personal favorite)
Brioche-- Learn to make your own if you're feeling extra fancy!
French baguette
Challah
Sourdough (Best for getting french toast with structure)
Tips For Making the Best French Toast
When it comes to making the perfect French Toast, I wasn't always a master at it. To be honest, I often ruined my toast pretty badly because it would stick to the pan and become this mush. Haha. Now that I've practiced a TON, I was able to learn a few tricks along the way which hopefully can help you when making this Apple Pie Hawaiian Roll French Toast recipe:
TIP 1: THE BREAD QUALITY MATTERS.
One of my first mistakes was thinking that I could use any type of bread when it came to french toast. However, I was wrong. For the best, fluffy french toast, using the correct bread matters A LOT!
Personally, I've found that the following breads work perfectly: Hawaiian sweet rolls, brioche, challah, french bread, etc. Basically, you want a bread that produces a dense crumb and that can hold up well in the custard.
TIP 2: INGREDIENTS AT ROOM TEMP IS KING!
Yup. You definitely want to make sure that all of your ingredients (whether using eggs or not) are at room temperature and not cold. This ensures that your melted butter doesn't become grainy or hardened in the process and that the custard is smooth, which helps your french toast to cook nicely and remain smooth.
TIP 3: SOAK IT REAL GOOD!
The other important tip is to ensure that your bread slices are soaked nicely within the custard. This is why using quality bread every time matters. Getting a good soaked bread makes everything perfectly fried and less sticky for the frying mess!
TIP 4: ALWAYS USE A NON-STICK PAN + DON'T SKIP BUTTER.
Yup. You read that right. To make my french toast perfect, especially vegan ones, I often fry them on a high-quality non-stick pan or griddle which creates an easy flip and slide right off the pan situation. In addition, always ensure that you use butter in between frying and remember----just a little goes a long way!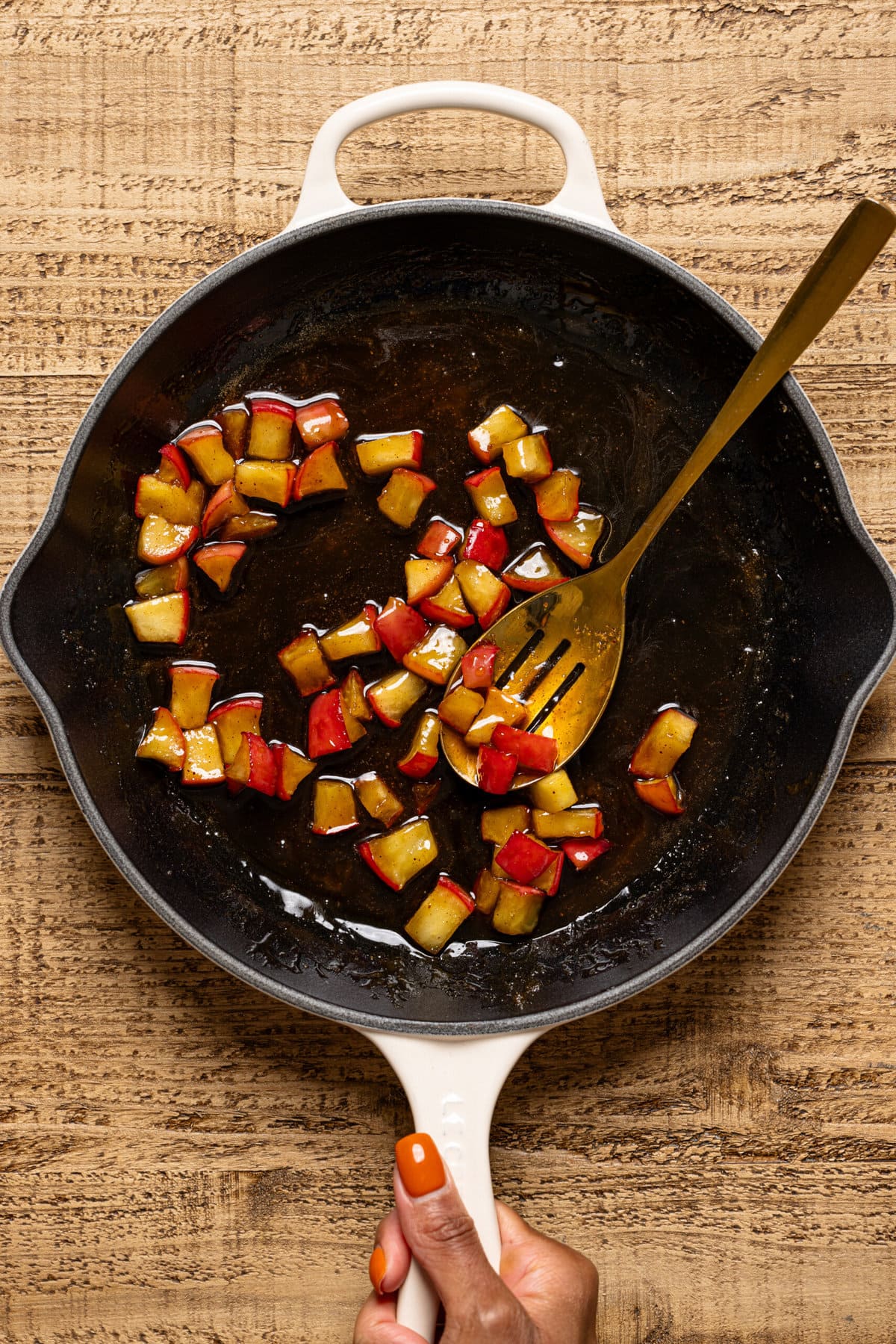 What to Expect with this Apple Pie Hawaiian Roll French Toast?
A nice thickness.
Velvety texture. Soft. Tender.
Perfect balance between fluffiness + crispiness!
A rich combination of flavor for the entire family.
Warm.
Filling.
And just absolutely wholesome and perfect for the Fall + Winter weather.
How to Dry Bread for French Toast Hack
OK, so if you're in a hurry or just feel for french toast, but your bead isn't day old or stale just yet, no worries! There's a hack that works that'll get you the results you need in the knick of time:
Quick option: Lay your slices of bread onto a baking sheet and bake in the oven at 300 degrees for 5-10 minutes until it "drys out".
Overnight option: Lay your slices of bread on a baking sheet or wire cooling rack overnight. Air will quickly dry out the surface of the bread.
How To Make French Toast Not Soggy!
When it comes to frying your french toast, like I said---the soaking process is obviously important. However, that can sometimes mean that your french toast comes out soggy, which is a major No, No! But don't worry. The trick to avoiding soggy french toast is in two things: the type of bread used (really thin bread isn't your friend) + a nice slow cook! Yup----cooking it over a medium-low heat instead of high-heat ensures that the outside doesn't become golden + brown before the insides can cook through properly. So, keep things lower in setting and let it take it's time to cook through.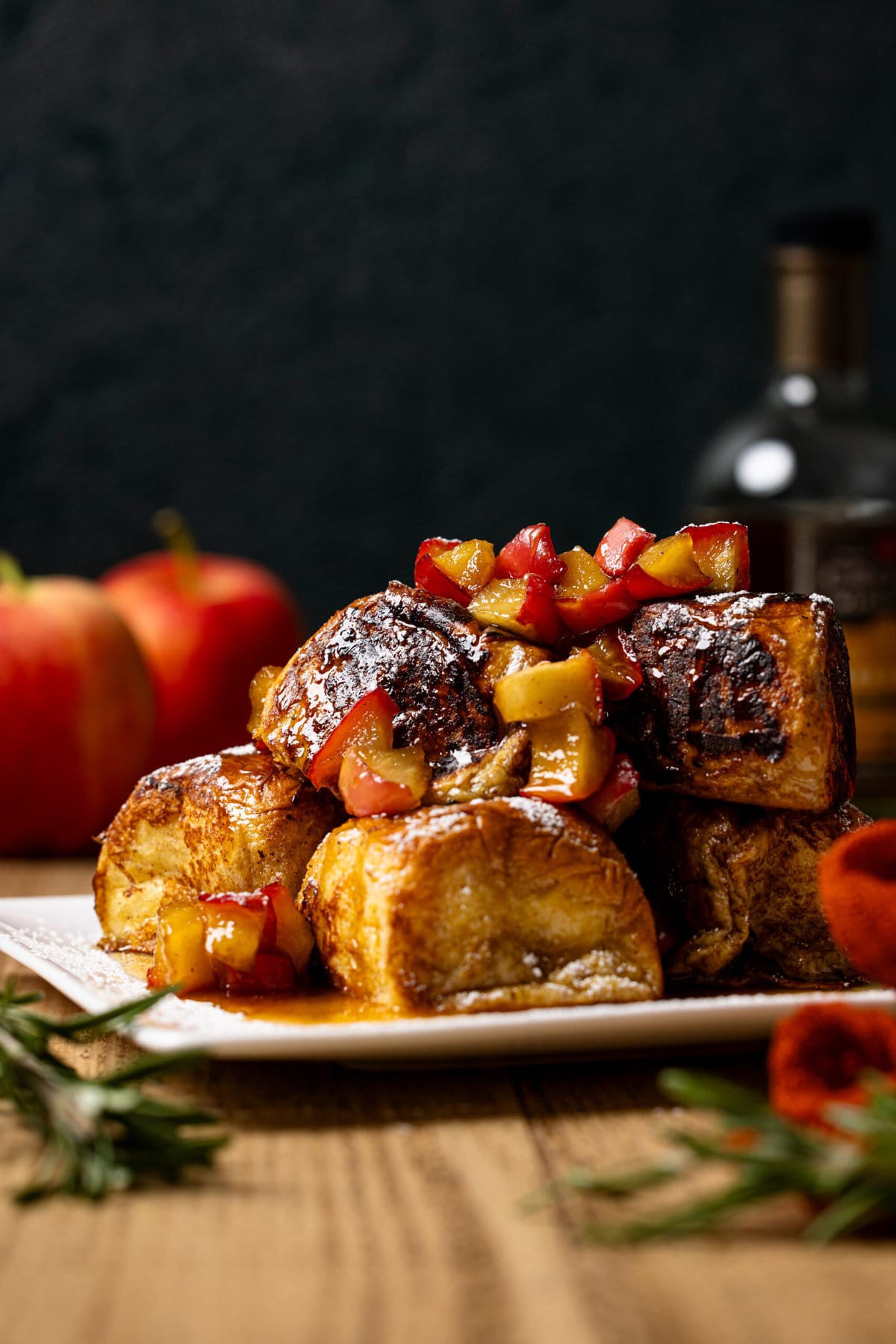 Why You Will Totally LOVE This Apple Pie Hawaiian Roll French Toast
The PERFECT quick + cozy morning treat!
A fusion of flavors-- Apple pie + French toast is a dreamy combo!
A breakfast that everyone will adore.
Kid-friendly-- Perfect for pleasing the little ones.
Fully customizable with your choice of toppings.
Ideal for celebrating the flavors of fall!
What is the Ratio of Eggs to Milk in French Toast?
Making the perfect french toast is all about the egg to milk ratio, believe it or not! In order to come out with a richly tender french toast, the best rule of thumb is ¼ cup of mil to 1 egg per two slice. Of course, things won't fall apart if you don't follow this, but it'll surely increase your chances of the best results. Another trick-----to avoid the "scrambled egg" taste, use only the egg yolks instead of the entire egg. Wallah!
Baked vs. Pan-Fried French Toast
Both baked and pan-fried French toast recipes are delicious, however, I prefer the one that takes less active cooking time, especially on the weekends where I'm extremely laid back.
Instead of frying your French toast in butter over the stove, try a baked version. It's easier to whip together, makes less mess (yes, to tossing everything together in one dish), makes a pretty decent batch for the entire family, and is basically "set it + forget it" vibes (hello, oven).
Can I Use Other Types of Milk?
Absolutely! If you'd like to switch things up with the type of plant-based milk that you use—–that's totally fine! The world of plant-based milk is constantly expanding. You can always use your fave or one of the following: Almond, coconut milk, homemade oat milk (froths/foams VERY WELL), homemade cashew milk, flax milk, potato milk, quinoa milk, etc.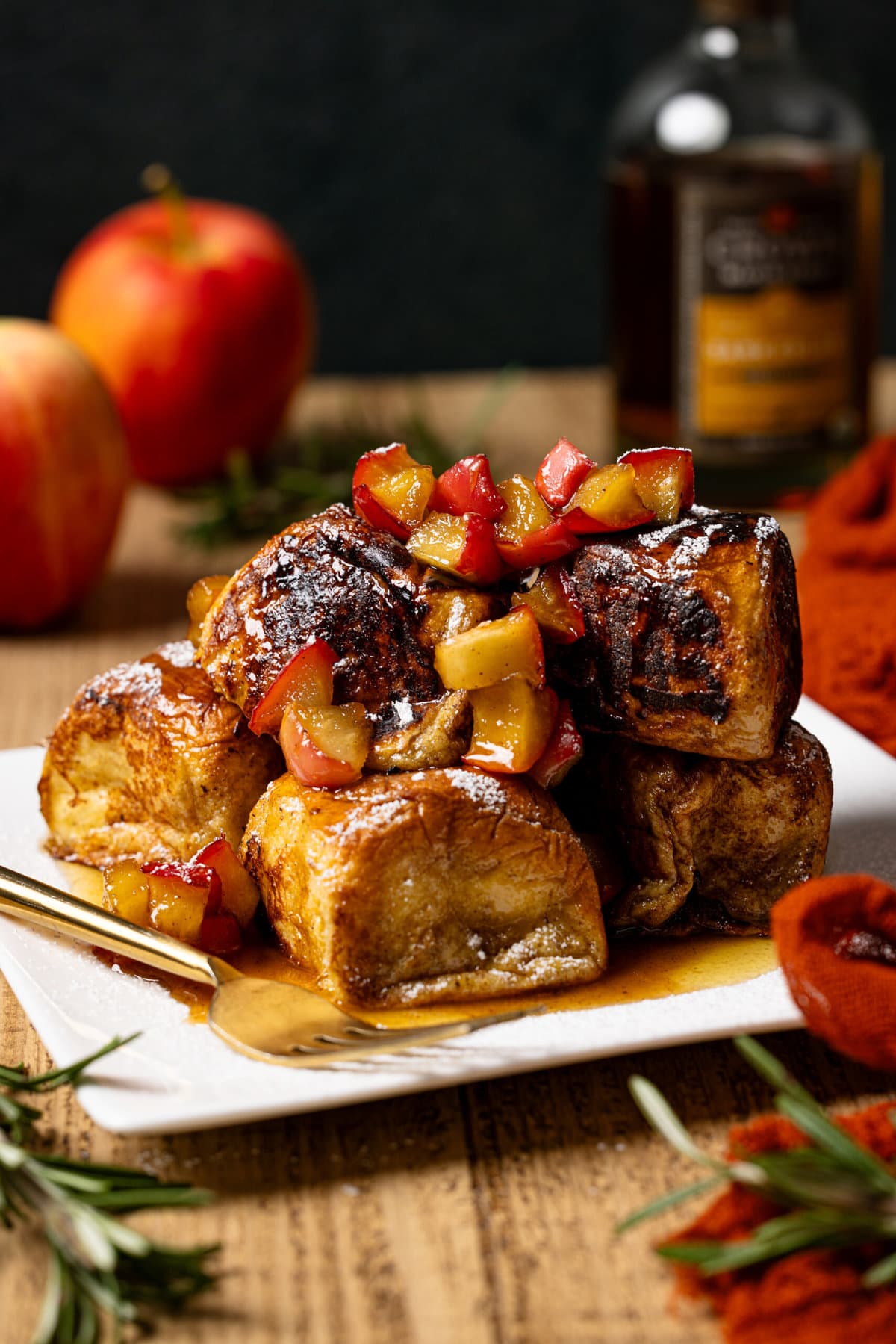 Apple Pie Hawaiian Sweet Roll French Toast Recipe Q + A's
What's the best way to store leftovers?
Store any leftover French toast in an airtight container in the refrigerator. Reheat in pan or oven before serving.
Can I make This french roast recipe Gluten-free?
Yes of course! To make gluten-free french toast, simply use your favorite gluten-free bread (remember, the fluffier, the better).
Can I make this apple french toast recipe vegan?
Absolutely! For a vegan version, follow these swaps: Use vegan challah or ciabatta bread (regular brioche and challah loaves have eggs, butter and milk in them) Use a vegan egg substitute, like Just Eggs or chia eggs. Cook the French toast in vegan butter! Use vegan toppings!
Can I customize the spices to suit my taste?
Absolutely! Feel free to adjust the spice levels to match your preferences, whether you want more cinnamon, nutmeg, or allspice.
Love Breakfast? Try These Delicious Recipes Next!
If you are a breakfast/brunch lover and enjoyed this Apple Pie Hawaiian Roll French Toast recipe be sure to try out these delicous recipes too!
MADE OUR RECIPE(S)?
If you tried this Apple Pie Hawaiian Roll French Toast recipe or any other recipe on my website, please please leave a 🌟 star rating and let me know how you go in the 📝 comments below. And don't forget to tag @orchidsnsweettea_ onInstagramand hashtag it #orchidsandsweettea! I love hearing from you!
FRENCH TOAST:
12

King's Hawaiian Sweet Rolls

(You can use organic sweet rolls as well)

1

cup

Almond milk, at room temp.

4

large

organic eggs, at room temp.

1

teaspoon

vanilla extrac

3

Tbsps

pure maple syrup

1

teaspoon

ground cinnamon

½

teaspoon

ground nutmeg

¼

teaspoon

ground allspice

Unsalted butter, for cooking
OPTIONAL TOPPINGS:
Powdered sugar, sifted

Pure maple syrup

Caramel sauce
TO MAKE THE FRENCH TOAST:
Whisk together all the ingredients (except for the bread and butter) into a large bowl and set aside so that everything marries together and activates, about 5 minutes.

Preheat griddle or large skillet over medium-high heat and add 1 tablespoon of butter, melting it.

Dip 1 Hawaiian roll into the batter, soaking it in for a few seconds on each side. Place slice unto the heated griddle, cooking on each side for about 3-4 minutes until golden brown. Repeat until all french toast have been made. Set aside.
TO MAKE THE SAUTED APPLES:
In a medium skillet over medium-high heat, add the butter and heat until melted. Add the brown sugar, cinnamon and sea salt and stir until combined and everything begins to bubble a bit, about 2-3 minutes.

Add the diced apples and toss until well coated and cook for 5-6 minutes, until tender and the sauce has thickened. Remove from heat.
TO SERVE:
To serve—stack french toast atop each other, spoon a generous amount of sautéed apples, followed by sifted powdered sugar, and/or drizzle with maple syrup, if desired.

Bon Appetit!
BREAD: Instead of Hawaiian Sweet Rolls, you can also use organic sweet rolls, brioche bread,  challah or ciabatta bread or any other rustic bread. In most cases, day old bread works best!
WHAT PLANT-BASED MILKS ARE GOOD FOR THIS RECIPE? You can always use your fave or one of the following: Almond, coconut milk, homemade oat milk (froths/foams VERY WELL), homemade cashew milk, flax milk, potato milk, quinoa milk, etc.
VEGAN BRIOCHE: To make your own vegan brioche bread, see my latest recipe.
Calories:
282
kcal
|
Carbohydrates:
39
g
|
Protein:
7
g
|
Fat:
11
g
|
Saturated Fat:
5
g
|
Polyunsaturated Fat:
2
g
|
Monounsaturated Fat:
4
g
|
Trans Fat:
0.3
g
|
Cholesterol:
201
mg
|
Sodium:
162
mg
|
Potassium:
149
mg
|
Fiber:
1
g
|
Sugar:
36
g
|
Vitamin A:
449
IU
|
Vitamin C:
0.1
mg
|
Calcium:
155
mg
|
Iron:
1
mg