These Maple Brown Butter Banana Waffles are the best easiest fluffy waffles for the entire family. Filled with bold banana, maple, brown butter flavors + warm spices; these waffles will be on everyone's top list of must-creates and comes naturally sweetened, soft, thick and airy. The perfect vegetarian breakfast or brunch dish with the perfect taste for your mornings! Egg-free and Oil-free. Gluten-free option.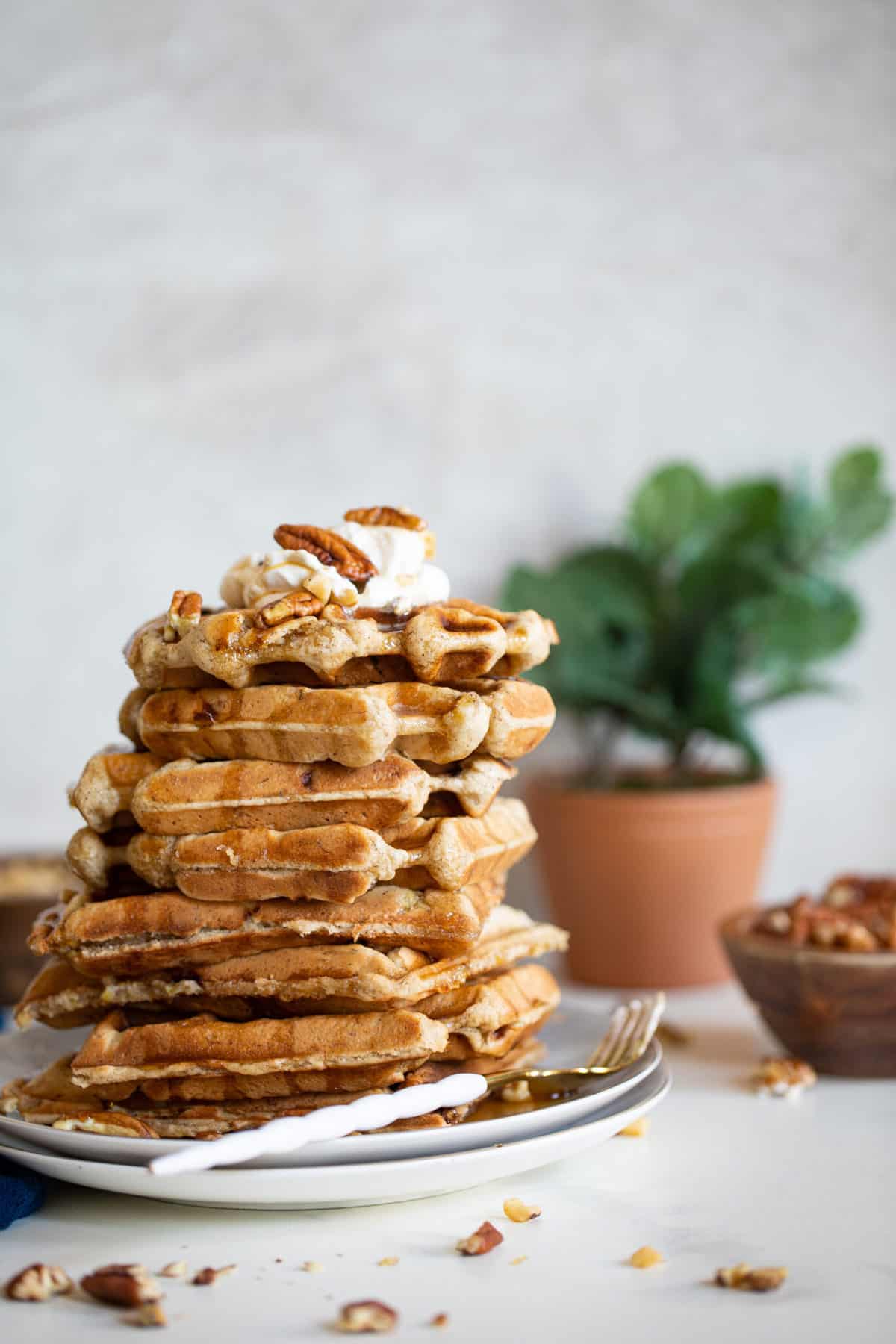 Best Maple Brown Butter Banana Waffles. Although breakfast isn't the part of my day that gets a ton of love (except for weekends), I really enjoy making elaborate dishes like this one.
Honestly, on a regular day, eating a Vegan Grain Bagel + large Chai from Starbucks is my thing. Literally, the same thing on most days. Haha.
Unfortunately, due to always being busy and having so much to tackle within each day, making something complicated for breakfast never seems like a viable option. Who else can relate?
That's why I create easy breakfast options on Orchids + Sweet Tea for those busy mornings, but also these types of dishes that might require a bit more effort or time. It's a balance, right?
In Need of Easy, Quick Breakfast Ideas?
Maple Cinnamon Oatmeal + Caramelized Oranges — the epitome of Fall in a bowl. This oatmeal is creamy, loaded with warm spices + maple flavor, and will surely keep you full all morning! Plus, it's made in no time (10-15 minutes to be exact!) and it's all vegan and gluten-free. Overnight option available.
This Healthy Greek Yogurt Breakfast Bowl recipe is an easy way to kick start your day and keep your taste buds satisfied. This breakfast bowl is the epitome of nourishing your body while keeping you full throughout the morning.
Pumpkin Spice Overnight Oats—-Vegan, Gluten-free, and only takes 5 minutes to whip together while you allow the refrigerator do the rest overnight. This recipe boasts of it's creaminess, thickness from the thickly cut oats used, and generous Fall flavors which reminds you of the traditional pumpkin spice latte.
This Easy Veggie Breakfast Frittata is the epitome of a savory, tender vegetable-laden vegetarian option to kick start your mornings. Light and bouncy, loaded with mozzarella cheese, and infused with kale, onions, and tomatoes.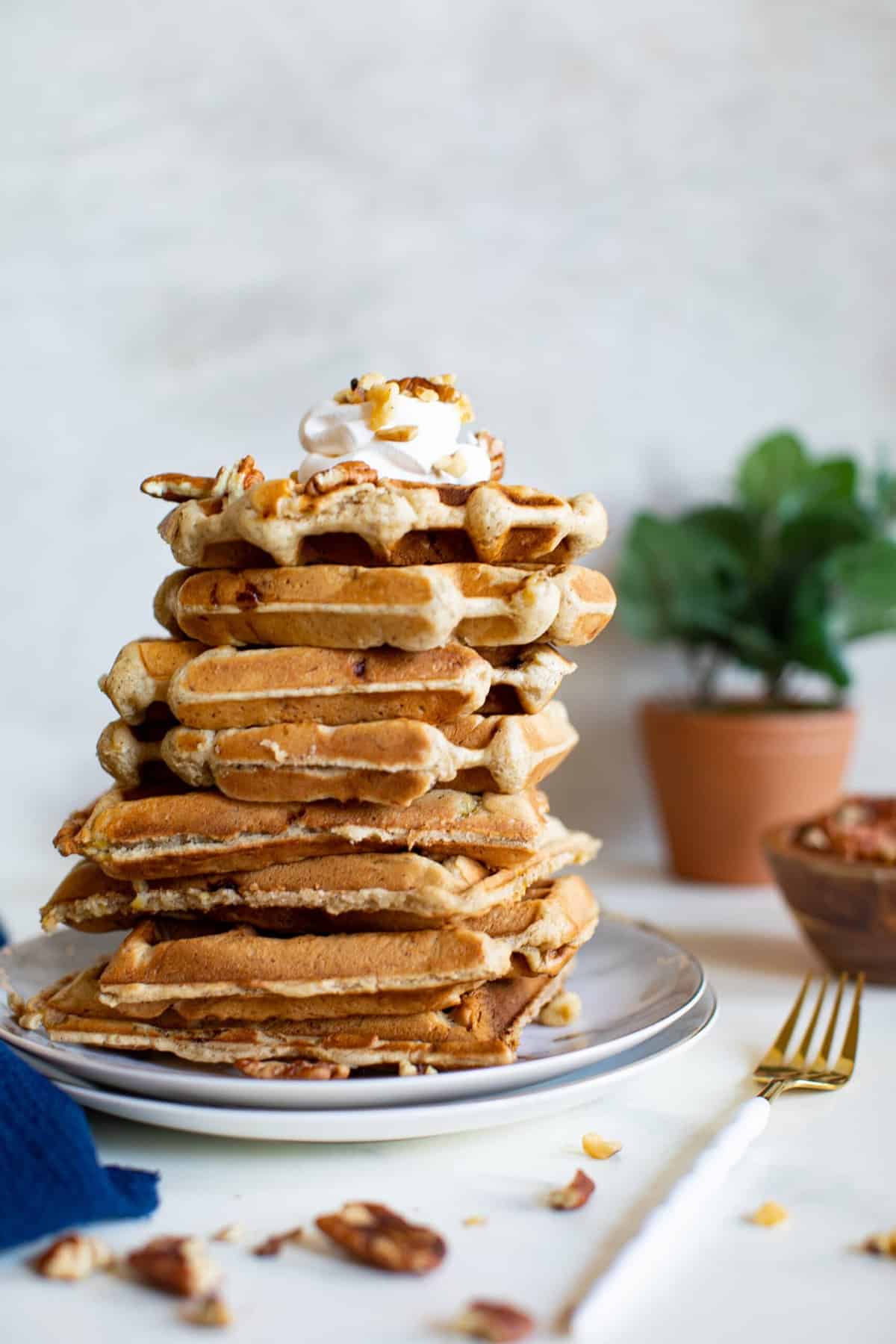 Why Maple + Banana + Brown Butter Waffles?
OK, so I know that you might be thinking that these waffles are super bold in flavor and YOU'RE SO RIGHT. I'm such a lover of banana flavored sweet treats and obviously bananas work well with maple. Don't believe me? Have you tried my Banana Cupcakes + Maple Buttercream? They are definitely a fan fave!
But back to these flavors. In all honesty, I haven't dabbled with brown butter much on Orchids + Sweet Tea, however, I'm such a fan because it's a Southern classic that is undeniably delish. Besides, it also brings on a lot of comfort and has such a bold flavor that brings forth other bold flavors in a genius way. So, why not add them all together with the addition of warm spices to create the ultimate comfort food dish, right? Exactly.
These waffles almost remind you of a delicious Banana Bread with a nice remix.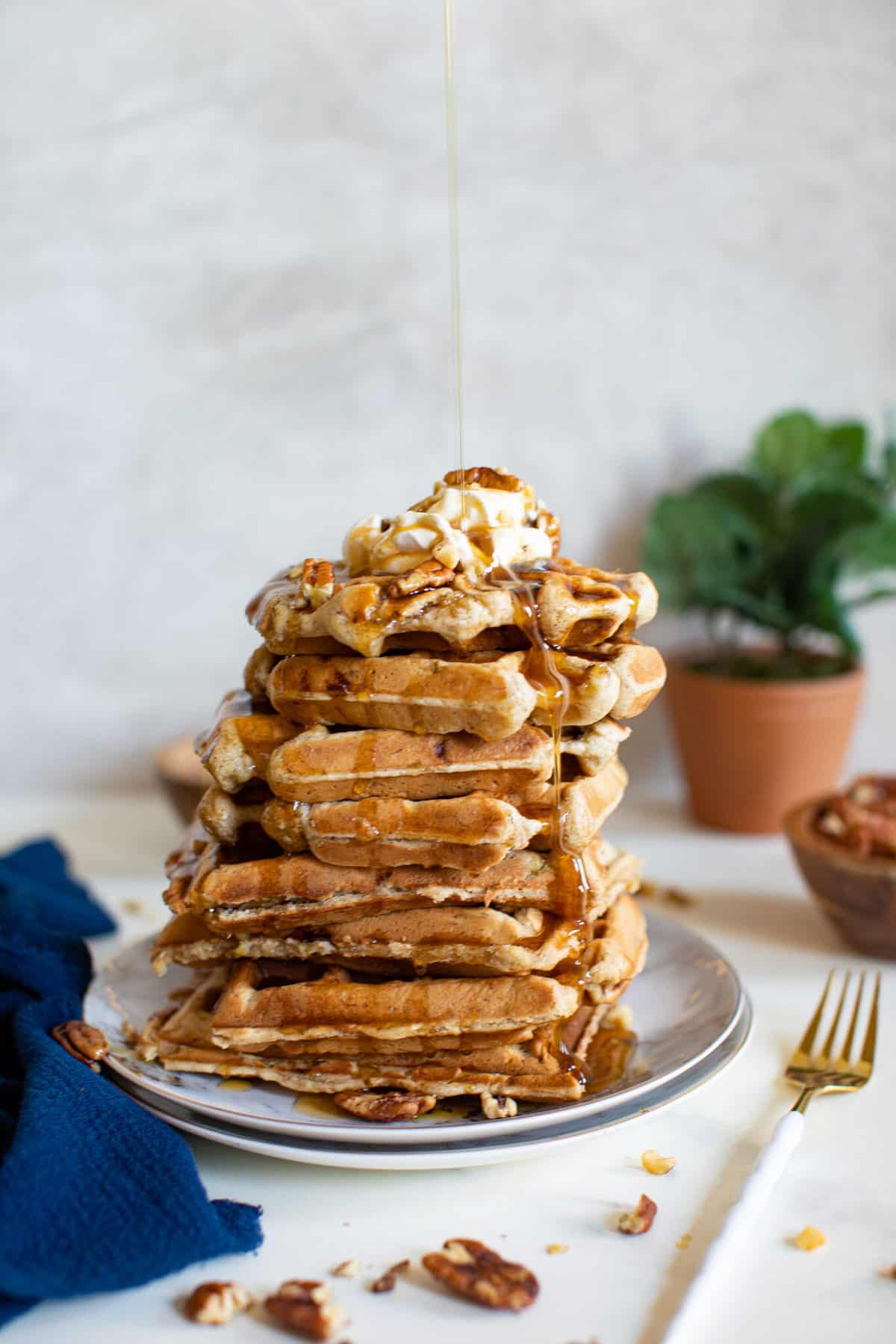 HEALTH BENEFITS OF BANANA?
Whelp, did you know that Bananas are the most consumed fruit in the world? Yup. That's right. We all eat them. And we eat them A LOT! But, the most important part of it all is that Bananas come with great health benefits.
They are high in Potassium and Fiber.
They help to prevent against asthma, cancer, high blood pressure, diabetes, heart disease, and more. When it comes to digestive issues, bananas, like apple sauce are often the go-to for treating certain upsets, including diarrhea. It's actually apart of the BRAT diet.
Lastly, Bananas actually contain a type of amino acid that that plays a role in preserving memory and boosting your mood, according to specific studies. That's right. Bananas are well rounded in their benefits for our health.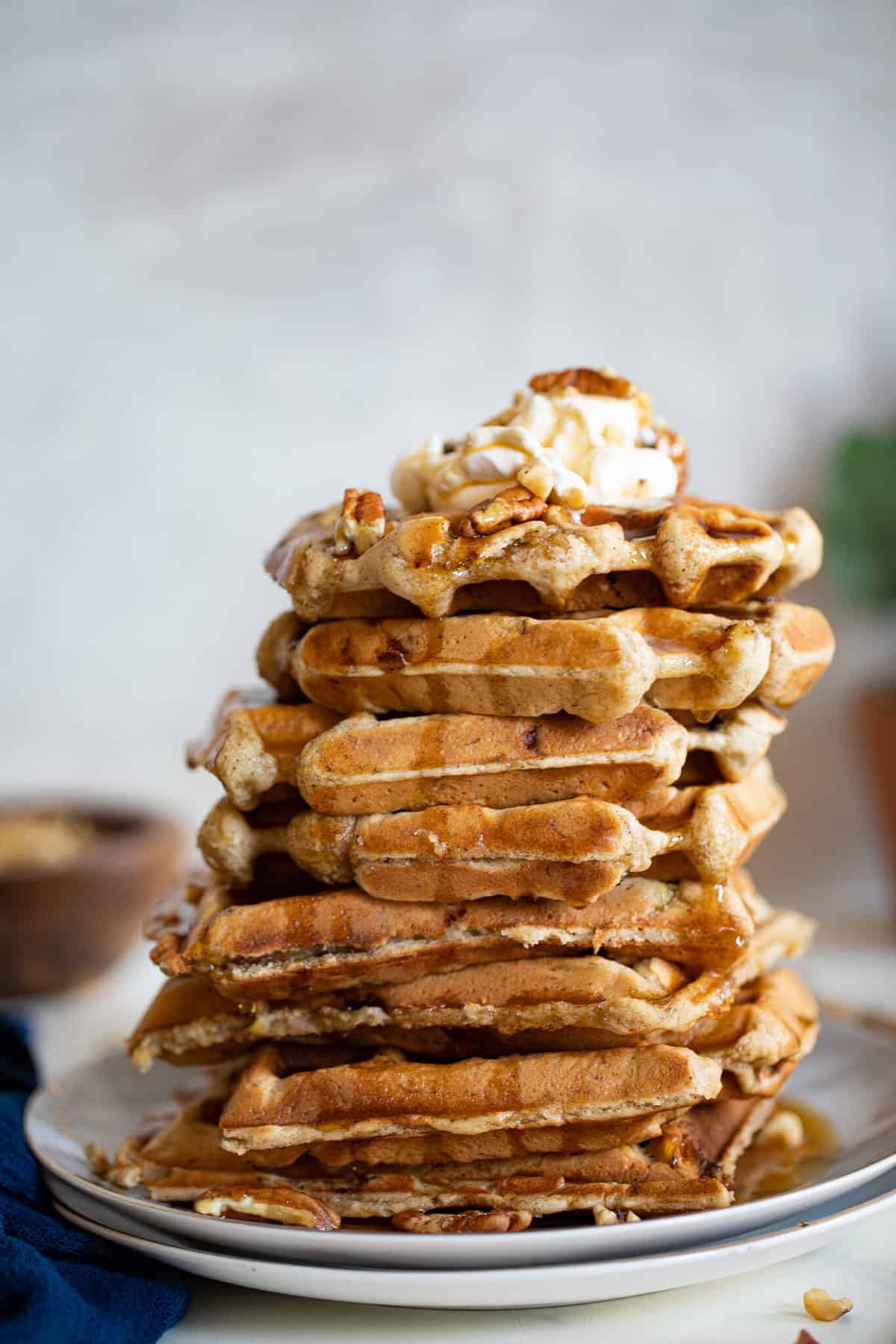 What You'll Need For These Waffles?
Flour – Creates a nice airy, fluffiness to waffles, BUT can be substituted with GF flour if needed
Baking Soda + Baking Powder — Very important leaveners
Almond Milk – Makes things nice + soft; Sub with your fave plant-based milk
Unsalted Butter — The important element for the browned flavor. The full fat in unsalted butter creates a nice smoky flavor when melted and simmered
Vanilla – A great addition of flavor and marries everything together
Maple – A natural sweetener with bold sweet flavor
Spices: Cinnamon, Nutmeg, All spice – the best combo of Fall flavors that also brings a lot of comfort
ACV — Mixed in with the milk to act as an acid agent for the leaveners to activate
Banana — Such a comforting, bold flavor and added sweetness to these waffles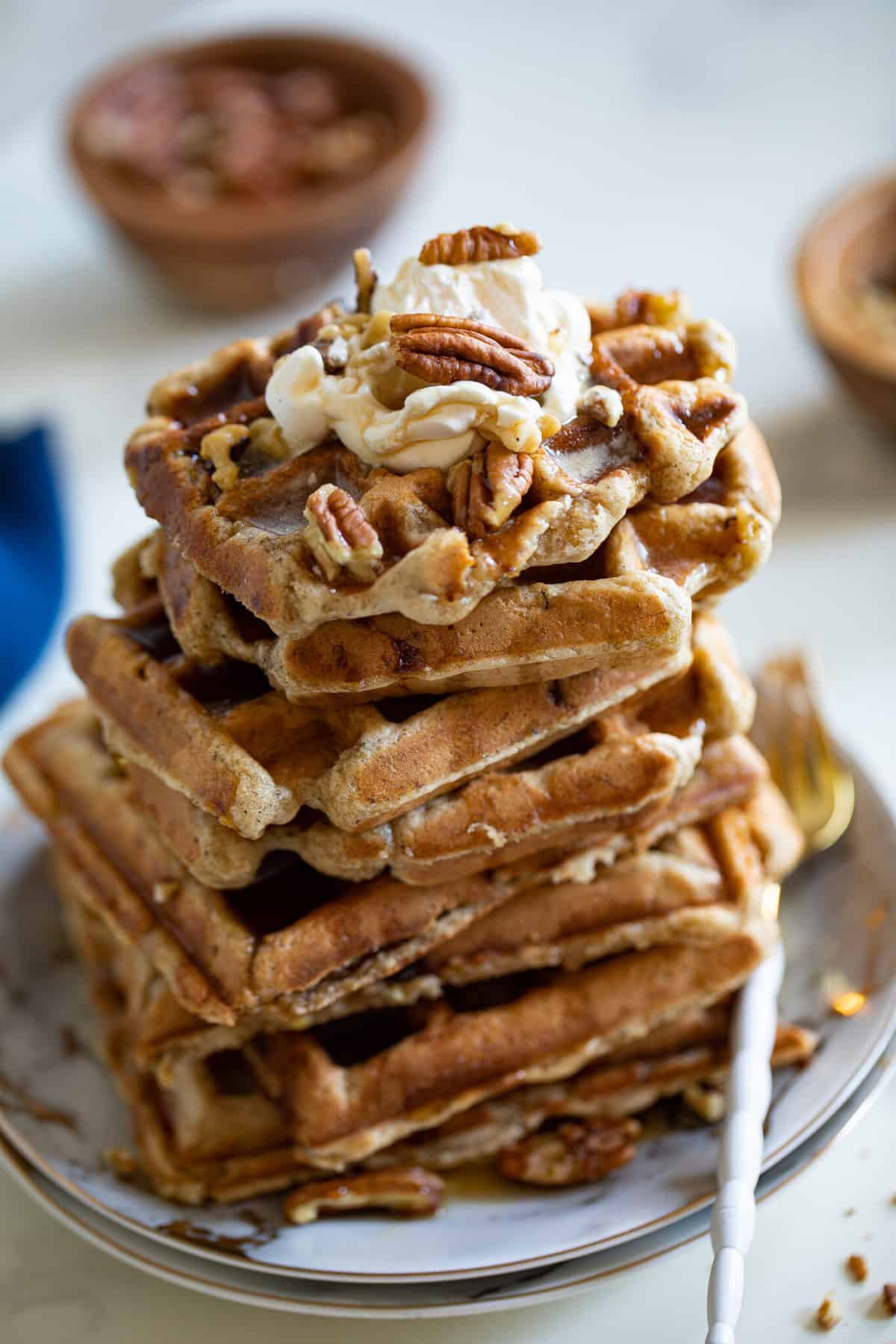 LOOKING FOR A HEALTHIER SWEETENER OPTION?
The Best Healthy Sugar Alternatives + Substitutes list is all about finding better ways to enjoy your favorite sweets without compromising your healthy lifestyle. For those who follow a vegetarian and/or vegan lifestyle, this lists offers a few great ideas to incorporate healthy sweeteners into your diet.
WHAT YOU'LL LOVE MOST ABOUT THIS RECIPE?
Super easy to make.
Totally egg-free + oil-free. GF option available!
Whipped together in under 30 minutes—TOTAL!
Sweetness is adjustable based on tastebud preferences.
Everything made in ONE BOWL. Yup. How can it get any easier?
Delicious Fall flavors in every bite but also can be enjoyed during any season.
Did I mention that—THIS RECIPE IS AMAZING?!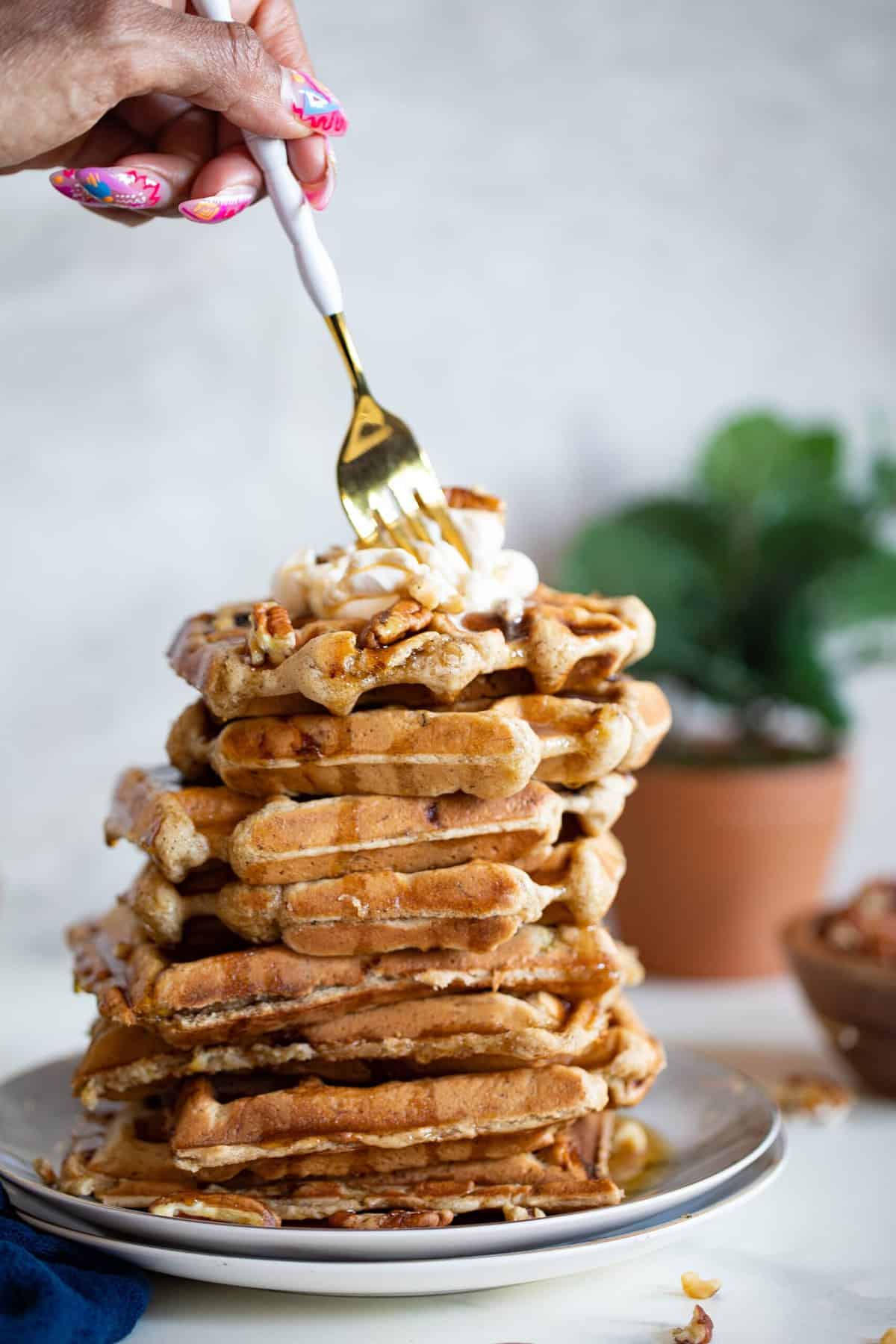 2

medium

bananas, fully mashed

3

cups

organic all-purpose flour 

(I use Bob's Red Mill; See Notes for GF option!)

2

Tbsps

baking powder

¼

teaspoon

baking soda

¼

teaspoon

sea salt

1

tablespoon

ground cinnamon

1

teaspoon

ground nutmeg

½

teaspoon

allspice

¾

cup

Almond milk + 1 Tbsp

(You can use your fave plant-based milk)

1

tablespoon

apple cider vinegar

3

tablespoon

pure maple syrup

1

tablespoon

vanilla extract

4

Tbsps

unsalted butter
Make the Brown Butter:
Using a saucepan on medium-high heat, melt the butter, stirring occasionally and letting it cook for 3-4 minutes, until dark bits begin to form and the entire butter becomes fragrant and darker.

Once done, remove from heat and let cool for a few minutes before refrigerating it so that it is MOSTLY cooled, about 10 minutes.
For the Waffles:
Preheat your waffle maker to desired setting–medium-high heat worked for me! 

In a measuring cup, add the milk and ACV together, stirring to combine and letting them sit for 5 minutes.

In a large bowl, whisk together the flour, spices, baking soda, baking powder, and sea salt. Create a well in the middle.

Add the milk-ACV mixture, brown butter, vanilla, mashed bananas, and maple syrup in the well of the dry ingredients and stir together well (using a rubber spatula) until fully incorporated and batter looks smooth. Now, let the batter sit for 2-3 minutes while it slightly thickens and rises, which means that the ingredients have activated. **NOTE: the batter should be pourable but not 'runny' at all. It should slightly stick when whisk is lifted up, as a test.**

Next, spoon batter into your waffle maker (¼ cup approximately) and cook according to your waffle iron's instructions. 

Once each waffle completes, add to a baking sheet and place them in the oven on the lowest setting (to keep them warm). Repeat until all waffles are made.

To serve–stack waffles (whole or cut), add toppings, and drizzle with maple syrup, if desired.

Bon Appetit!
MILK: You can use any non-dairy milk for this recipe. I love using Califia Farm's Oats + Roasted Almonds Milk, however, you can use Soy, regular Almond, Macadamia, Coconut, etc.
STORAGE: Leftovers can be tightly sealed in a zip loc bag (once fully cooled) and either refrigerated for a few days or frozen.To serve, reheat waffles in the oven on 400 degrees for a few minutes until warmed through.
FREEZE WAFFLES: To store waffles for longer periods, simply add them unto a baking sheet lined with parchment paper and place in the freezer for 2 hours. Once fully frozen, remove and store them in a zip loc and freeze for up to 3 months.
GLUTEN-FREE VERSION: To make these cupcakes GF, I recommend using a GF Flour Blend (Bob's Red Mills has a great version!). **NOTE: If the batter mixture is too 'thin + runny', simply add additional GF flour, ¼ cup at a time.**
REGULAR WAFFLES: For standard waffles (Non-Belgian style), this recipe will make more than 6 waffles. 
Calories:
563
kcal
|
Carbohydrates:
99
g
|
Protein:
11
g
|
Fat:
13
g
|
Saturated Fat:
8
g
|
Polyunsaturated Fat:
1
g
|
Monounsaturated Fat:
3
g
|
Trans Fat:
0.5
g
|
Cholesterol:
30
mg
|
Sodium:
917
mg
|
Potassium:
370
mg
|
Fiber:
5
g
|
Sugar:
17
g
|
Vitamin A:
397
IU
|
Vitamin C:
5
mg
|
Calcium:
469
mg
|
Iron:
5
mg
Best Maple Brown Butter Banana Waffles.