These days, breakfast needs to count! I've been loving these Fluffy Cinnamon Vegan Belgian Waffles because they're made using healthy ingredients and they use zero animal products. Cinnamon and a touch of maple in the batter make for the perfect sweet brunch, topped with juicy berries.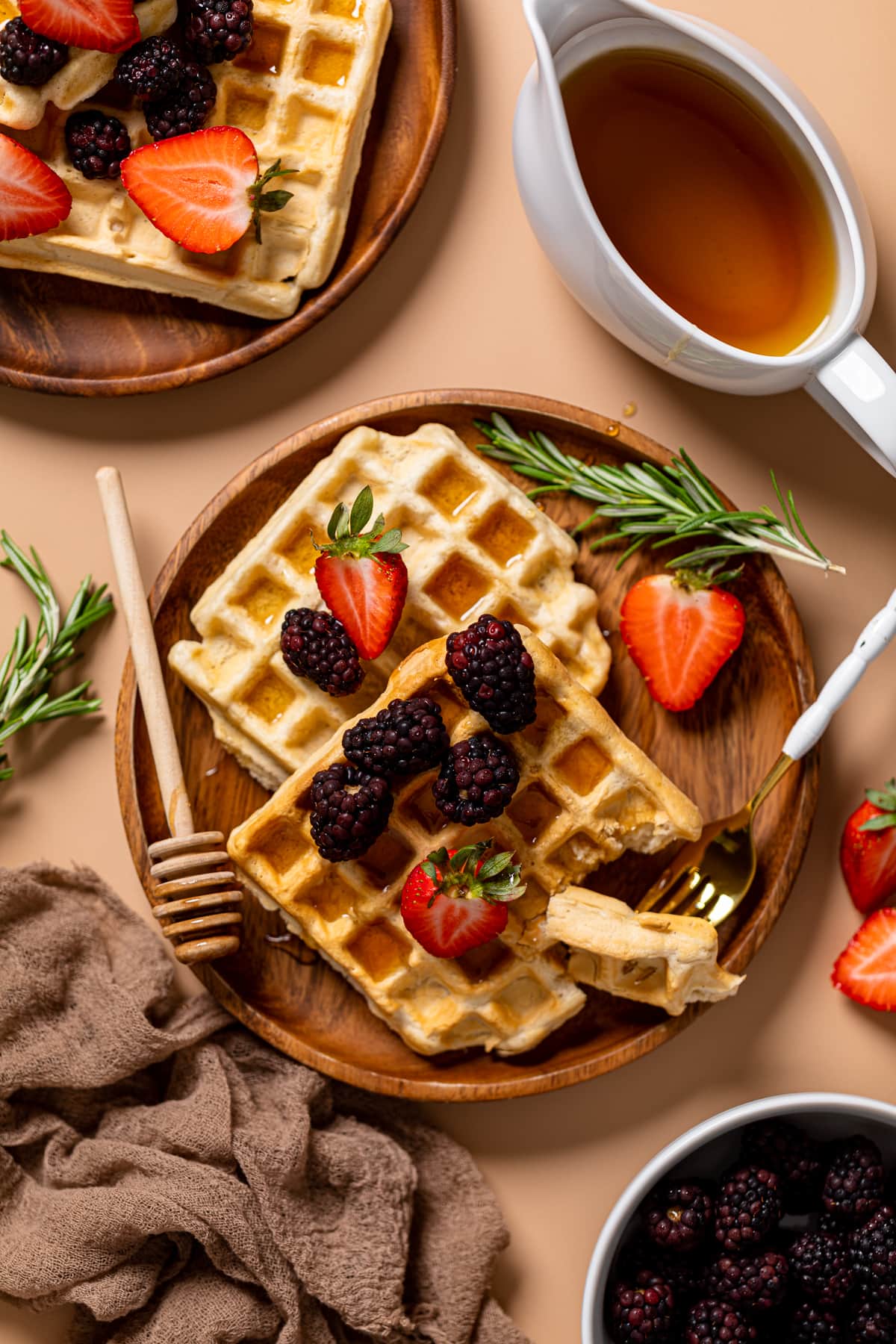 Out of all of the brunch foods out there, I'm always wanting waffles. The peaks and valleys for butter and syrup to hide in waffles are unlike any other food. These easy and scrumptious Fluffy Cinnamon Vegan Belgian Waffles are some of the best waffles I've ever had. The flavors are elevated with cinnamon, lemon juice, and pure maple syrup right inside the waffle batter, resulting in the airiest, most decadent waffles ever.
A good waffle iron is a necessity for waffles at home. Any make and model is fine, however, you can also find true Belgian waffle makers. The shape helps to create a thick and fluffy waffle with a golden, crisp exterior. This texture is super important when it comes to these round Belgian waffles. No matter the waffle iron you have, this vegan waffle batter will cook up some thick, luscious waffles.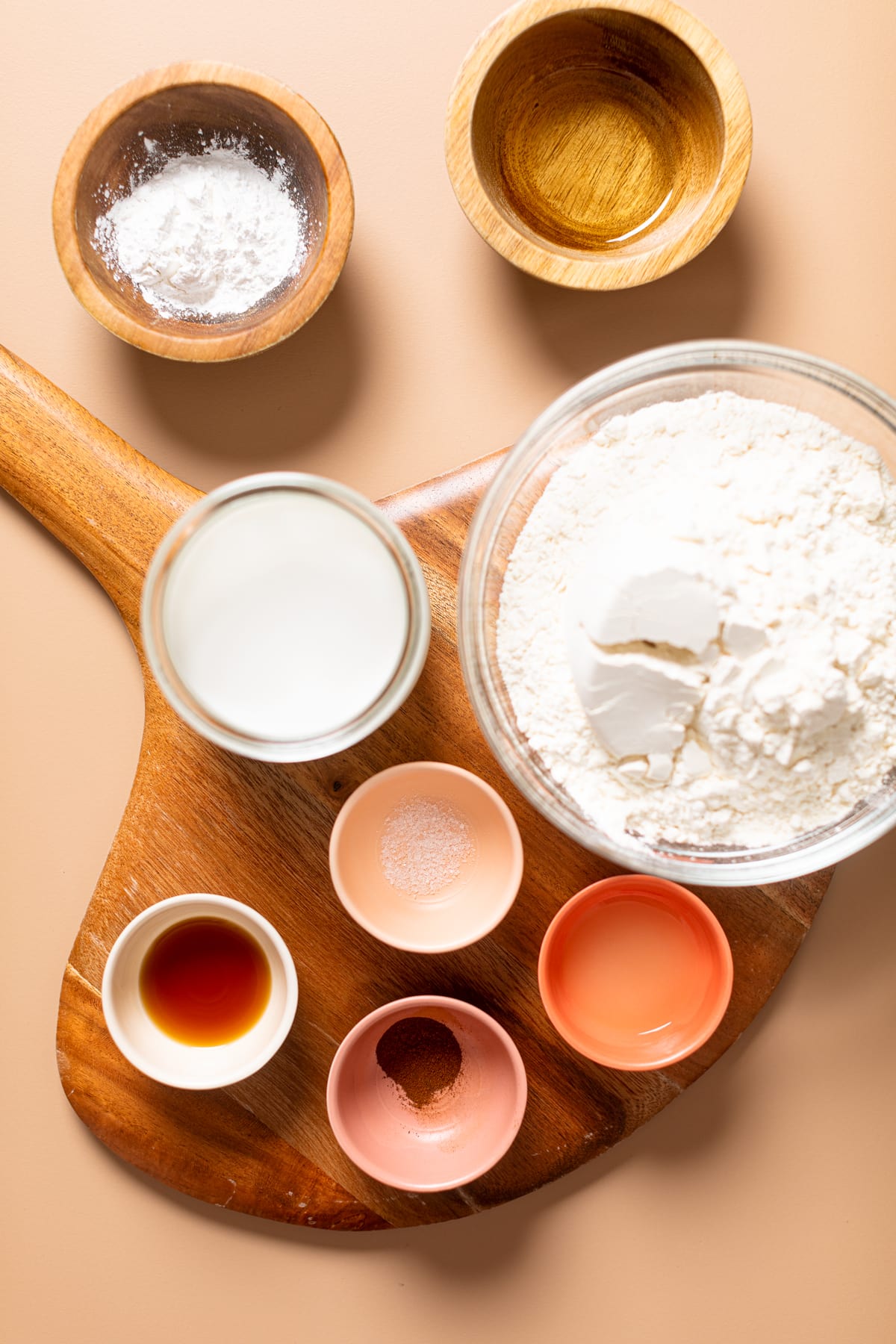 To understand what makes Fluffy Cinnamon Vegan Belgian Waffles so incredible, we will need to examine what makes a Belgian waffle different from a traditional waffle. All Belgian waffles are waffles, but not all waffles are Belgian. 

Belgian Waffles vs. Traditional Waffles
Waffles of any variety are excellent eats. If you ever catch me at a hotel breakfast bar, I am almost always located near the waffle maker. I will pump out waffle after waffle for my family and me. Once, I even had a fellow hotel guest ask if I could make him one of my golden waffles because I made them look so good. In short, waffles are the best breakfast food in any brunch setting.
There are quite a few differences between Belgian waffles and traditional waffles. Belgian waffles tend to have the following characteristics:
Thick
Fluffy
Golden
Round
Crisp
Cake-like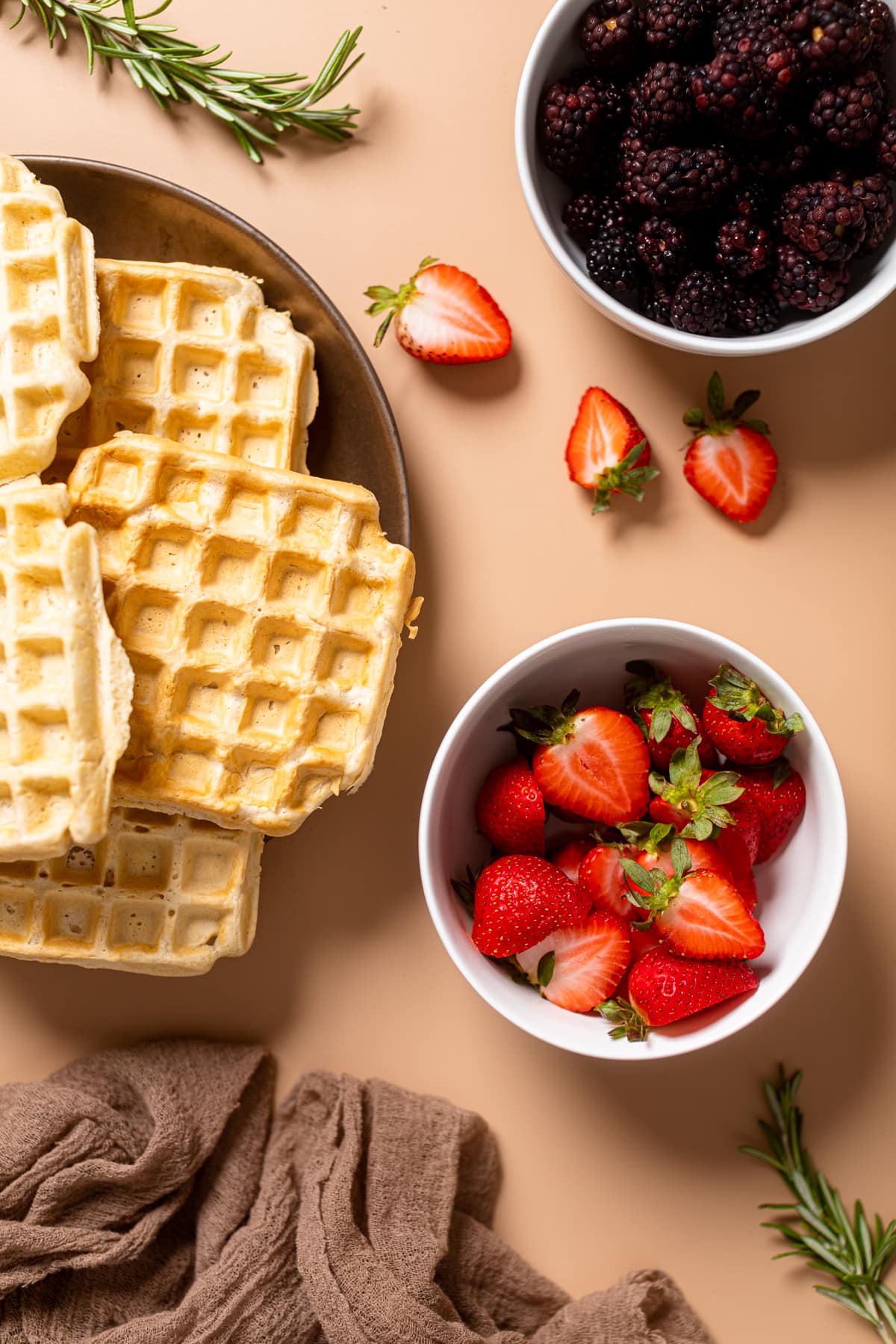 Belgian waffles are almost always thicker and fluffier than a regular waffle. That is the main difference. It often has to do with the thick and fluffy waffle batter, however, the size and shape of your waffle iron also make a big difference. Also, some recipes from Belgium are leavened with yeast for an even fluffier waffle.
Traditional waffles are thinner and crisper. They are leavened with baking soda/powder only. These waffles tend to look like this:
Crunchy
Square or round
Thin
Small
Less fluffy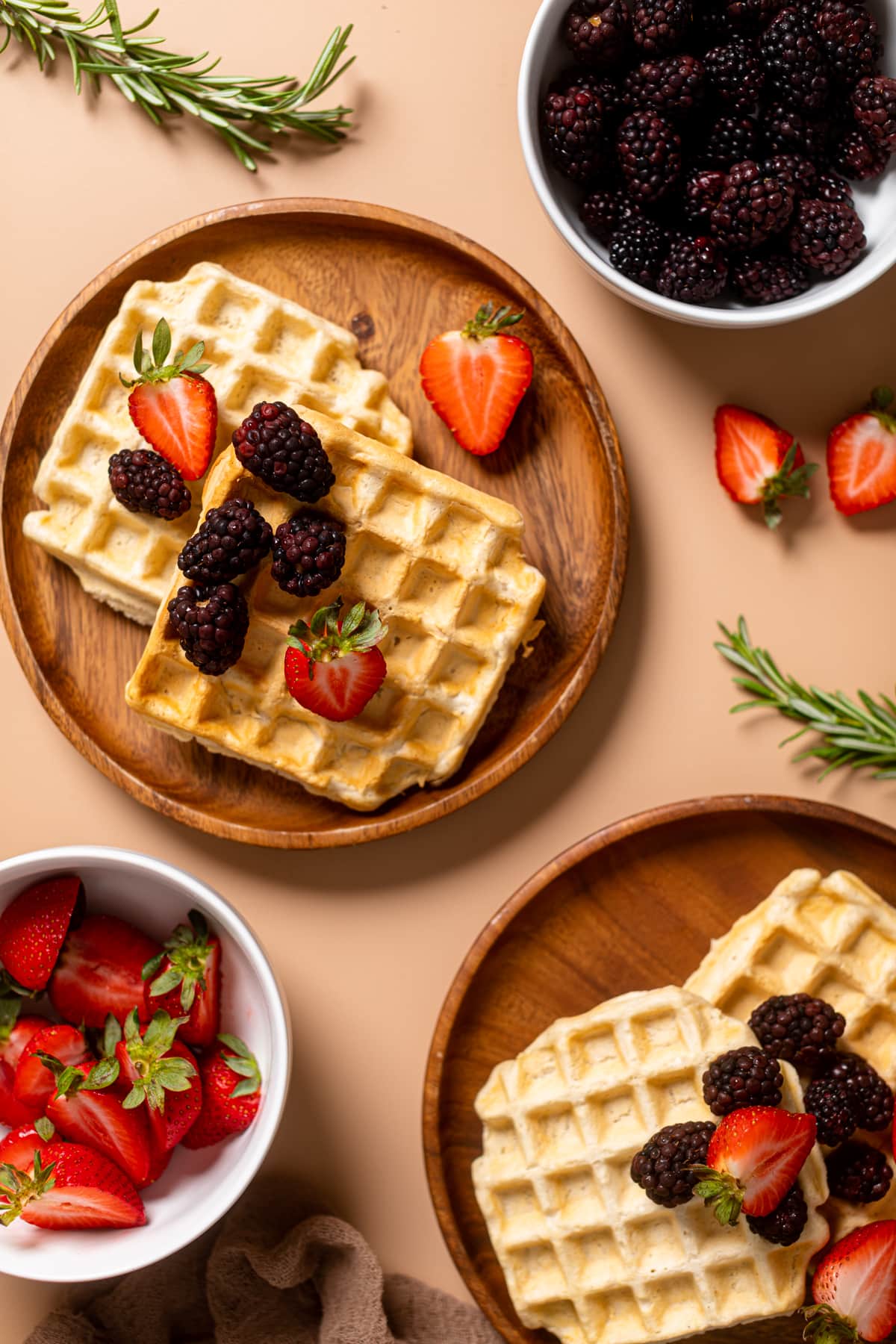 This Fluffy Cinnamon Vegan Belgian Waffle batter can be used on any waffle iron you have. It will consistently turn out amazing waffles, but it is best-suited for a Belgian waffle iron for maximum fluffiness. 

Ingredients in Fluffy Cinnamon Vegan Belgian Waffles
3

cups

organic all-purpose flour

2

tablespoons baking powder

2

teaspoons ground cinnamon

¼

teaspoon sea salt

2

cups

almond milk

⅓

cup

pure maple syrup

2

tablespoons lemon juice

 

1

tablespoon vanilla extract

3

tablespoons vegetable oil

 

How to Make Fluffy Cinnamon Vegan Belgian Waffles
Begin by preheating the waffle iron to medium-high. Your preheat temperature may fluctuate depending on your waffle iron.
Whisk together the flour, baking powder, cinnamon, and sea salt in a bowl. Set it aside.
Next, make a well in the center of the dry ingredients. Add the almond milk, maple syrup, lemon juice, and vanilla extract into the center. Stir together using a spatula until mixed well. 
Set it aside to rise for a few minutes, which means the ingredients have activated.
Spoon ¼ cup of batter into a preheated, greased iron as per your waffle iron's instructions. Cook until golden brown and fluffy inside.
To serve, stack waffles and top with fresh berries and more maple syrup.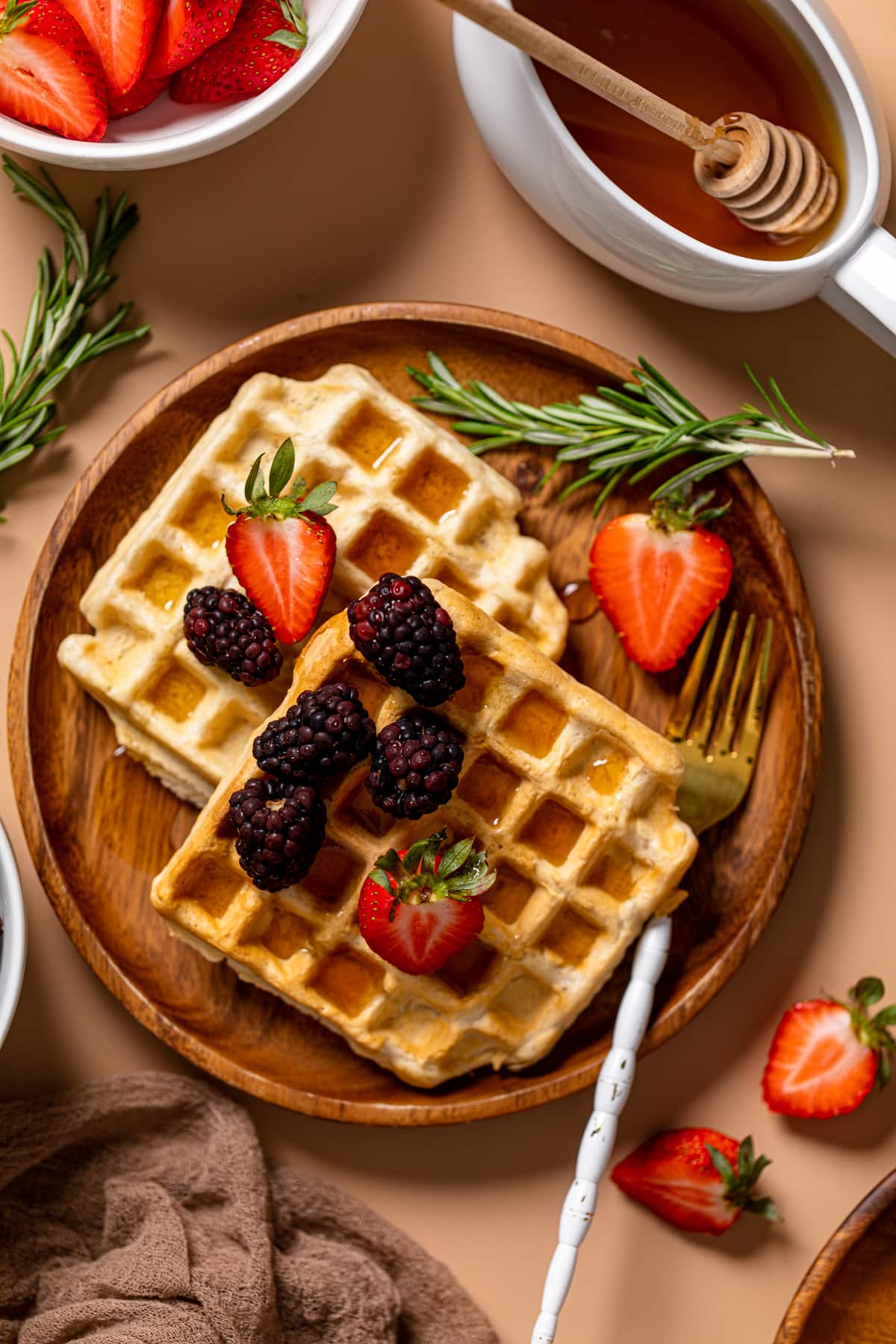 More Recipes You'll Love!
If you love these Fluffy Cinnamon Vegan Belgian Waffles, you will also love these tasty waffle recipes!
The Best Vegan Orange Belgian Waffles
Sweet + Spicy Cauliflower Bites + Maple Pecan Waffles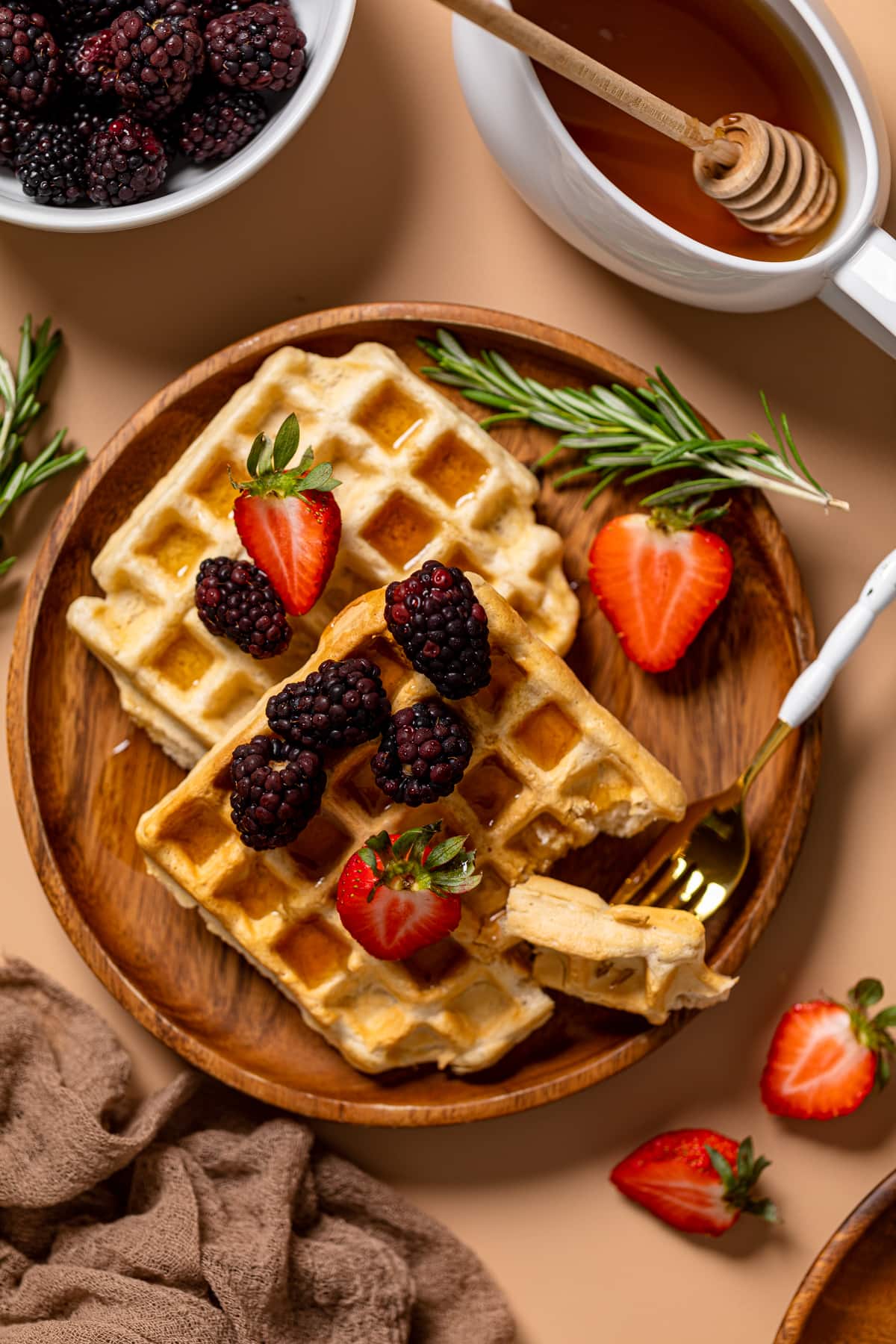 WAFFLES:
3

cups

organic all-purpose flour

2

Tbsps

baking powder

¼

teaspoon

baking soda

2

tsps

ground cinnamon

¼

teaspoon

sea salt

2

cups

Almond milk

(You can use your fave plant-based milk!)

⅓

cup

pure maple syrup

1

tablespoon

apple cider vinegar

(See Notes!)

1

teaspoon

vanilla extract

3

Tbsps

coconut oil, melted 

(See Notes!)
OPTIONAL TOPPINGS:
handful of

Fresh berries

(I love using blueberries, strawberries, blackberries, etc.)

Coconut whipped cream

Pure maples syrup, for drizzle

Granola
TO MAKE THE WAFFLES:
Preheat the waffle maker to desired setting–medium-high heat worked for me! 

In a measuring cup, add the milk and ACV together, stirring to combine and letting them sit for 5 minutes.

In a large bowl, whisk together the flour, baking powder, baking soda, cinnamon, and sea salt. Create a well in the middle.

Add the milk-ACV mixture, coconut oil, and vanilla in the well of the dry ingredients and stir together well (using a rubber spatula) until fully incorporated and batter looks smooth.

Now, let the batter sit for 2-3 minutes while it slightly thickens and rises, which means that the ingredients have activated. NOTE: the batter should be pourable but not 'runny' at all. It should slightly stick when whisk is lifted up, as a test for thickness. NOTE: DO NOT OVER-MIX!

Next, spoon batter into your waffle maker (½ cup approximately) and cook according to your waffle iron's instructions. 

Once each waffle completes, add to a baking sheet and place them in the oven on the lowest setting (to keep them warm). Repeat until all waffles are made.

To serve–stack waffles (whole or cut), add toppings (fresh raspberries, coconut whipped cream), and drizzle with maple syrup, if desired.

Bon Appetit!
STORAGE: Leftovers can be tightly sealed in a zip loc bag (once fully cooled) and either refrigerated for a few days or frozen.To serve, reheat waffles in the oven on 400 degrees for a few minutes until warmed through.
FREEZE WAFFLES: To store waffles for longer periods, simply add them unto a baking sheet lined with parchment paper and place in the freezer for 2 hours. Once fully frozen, remove and store them in a zip loc and freeze for up to 3 months.
STANDARD WAFFLES (NON-BELGIAN): This recipe will make more than 6-8 waffles for this recipe.
GLUTEN-FREE VERSION: To make these cupcakes GF, I recommend using a GF Flour Blend (Bob's Red Mills has a great version!). **NOTE: If the batter mixture is too 'thin + runny', simply add additional GF flour, ¼ cup at a time.**
ACV SUBSTITUTE: If preferred, you can feel free to use lemon juice instead of apple cider vinegar. For substitution, use the same measurements.
OILS: You can always substitute coconut oil with vegetable oil or melted vegan butter. 
Calories:
352
kcal
|
Carbohydrates:
62
g
|
Protein:
7
g
|
Fat:
9
g
|
Saturated Fat:
6
g
|
Polyunsaturated Fat:
1
g
|
Monounsaturated Fat:
1
g
|
Sodium:
678
mg
|
Potassium:
114
mg
|
Fiber:
2
g
|
Sugar:
11
g
|
Vitamin A:
3
IU
|
Vitamin C:
0.02
mg
|
Calcium:
371
mg
|
Iron:
3
mg
Fluffy Cinnamon Vegan Belgian Waffles.