Make this delicious homemade Caramel Biscoff Cookie Butter Iced Latte with decadent caramel sauce, Biscoff spread, plant-based milk and freshly-brewed coffee for a creamy and satisfying morning drink that feels more like "dessert for breakfast". Added crushed Biscoff cookies create a beautiful crunch for the final round of sips. Entirely dairy-free + vegan.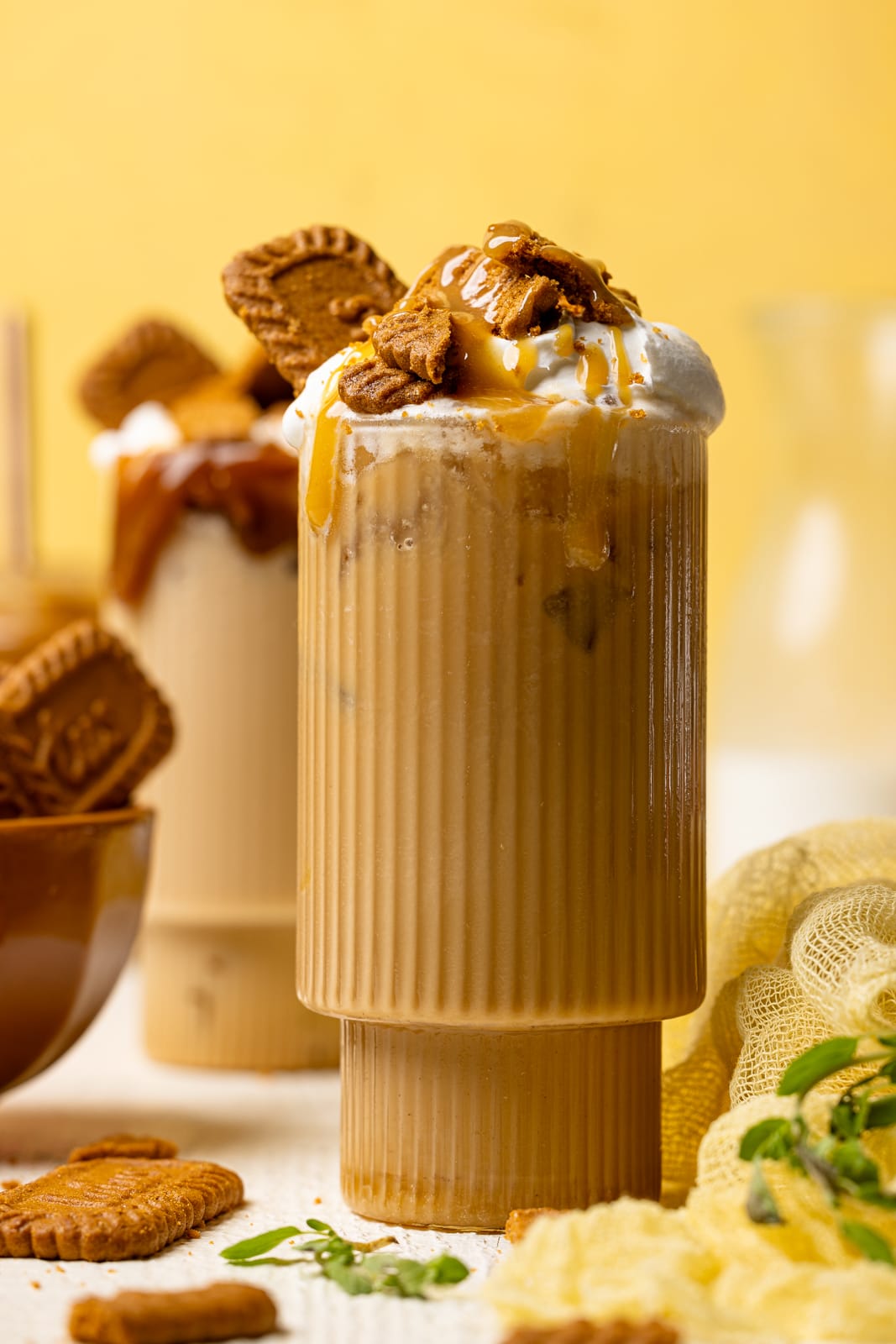 Disclaimer: This post contains affiliate links via Amazon for products that I wholeheartedly love and receive commission from.
Have you ever had Biscoff cookies before? This childhood favorite has certainly been pretty trendy these days and for good reason. Upon trying them for the first time, it's easy to eat an entire sleeve of them. Much like Oreos, these Lotus Biscoff cookies are something that pull you in for a real indulging moment. The best part is that these are the cookies used to make the infamous cookie butter (aka Biscoff spread) which I chose to use in this Caramel Biscoff Cookie Butter Iced Latte!
You know, the spread that is made of crushed cookies, similar to peanut butter. This stuff is seriously good, ya'll and I know that this cookie butter latte will be one for the books! Lately, making my own lattes have been a game-changer and has certainly helped me save money from my daily coffee orders. So, if you're looking to enjoy your coffee moments in the morning, want to be in control of the ingredients + flavor combos, or just want to save money----you should check out these other incredible lattes: Starbucks Copycat Iced Sugar Cookie Latte, Iced Vanilla Sweet Cream Latte [Starbucks Copycat], Brown Butter Maple Cookie Latte, and Starbucks Copycat Iced Brown Sugar Shaken Espresso. Plus, these Bakery-Style Biscoff Cookie Butter Cookies are the perfect sweet to indulge in right after dinner or as a pick-me-up in the mornings with your favorite cup of coffee or tea or as a slam dunk in your favorite glass of milk
You're going to love this creamy cookie latte drink because you can use your favorite plant-based milk whether it's oat milk, although you can definitely use almond milk or cashew milk----which all are dynamite! It's made with freshly-brewed coffee for an extra caffeine kick and has a sweet homemade dairy-free caramel sauce you can use to flavor your morning brew all week long without any need for an additional sweetener.
Is Biscoff Good in Coffee?
Of course! In all honesty, Biscoff + Coffee is absolutely the best thing ever created! Trust me!
What Are Biscoff Lotus Cookies?
In case you haven't tried these Biscoff cookies before, I wanted to go a bit more into what they are. Basically, they are the original caramelized biscuits that are crunchy and pairs perfectly with tea, coffee, and/or milk. They are made using Belgian brown sugar which gives them that "caramel-like" taste and includes a mix of spices like cinnamon, nutmeg, ginger, allspice, and cloves.
Jump to:
What Flavor Are Biscoff Lotus Cookies?
Basically, Biscoff cookies give you more of a caramel flavor, which is a great addition to this recipe.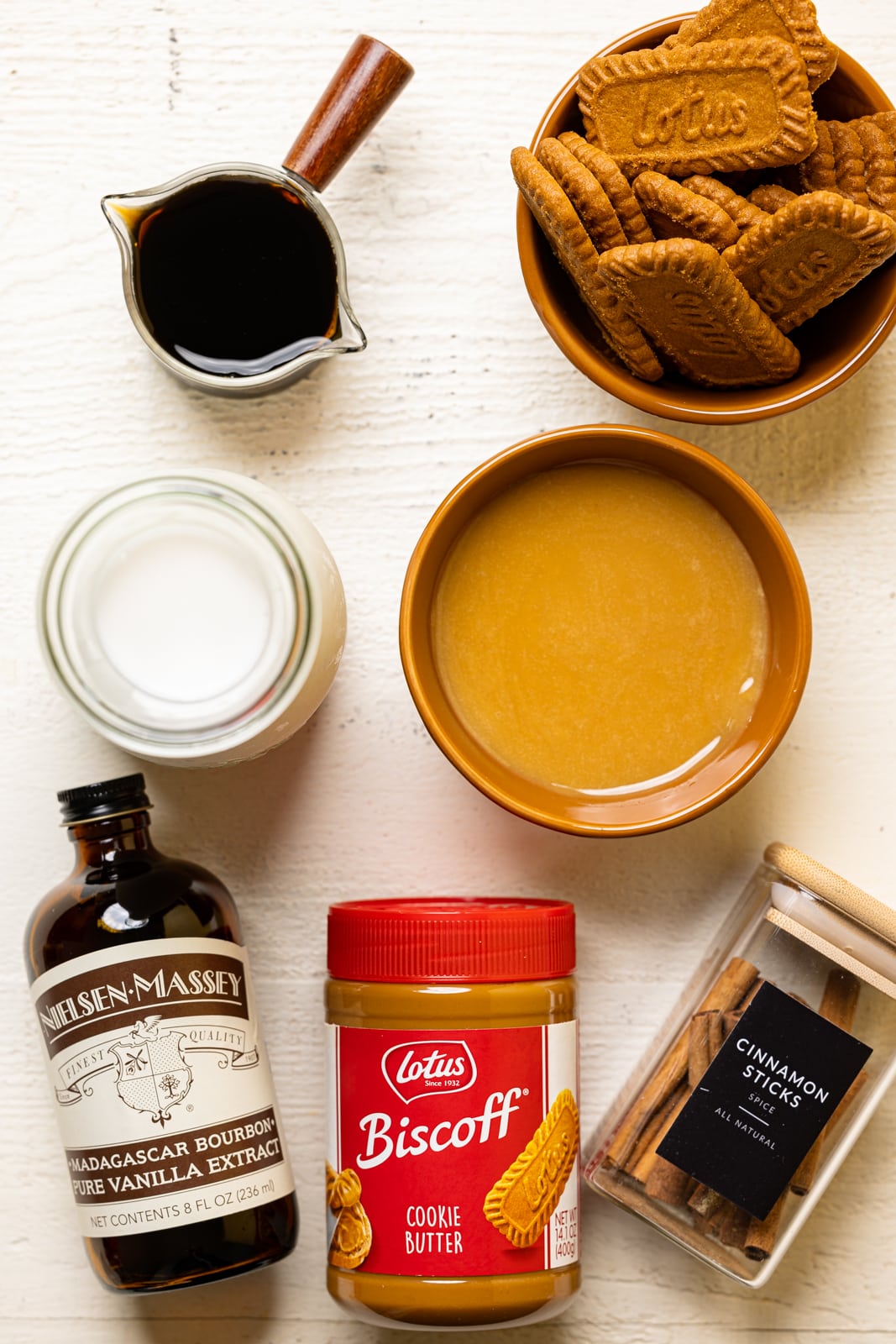 How to Make Biscoff Cookie Butter Iced Latte
To make this Caramel Biscoff Cookie Butter Iced Latte, you'll first whip together the "cookie butter milk" by blending the Biscoff cookie butter along with the milk, vanilla, and cinnamon. This creates a nice, smooth mixture so that your cookie butter doesn't harden or become extremely lumpy. Then assemble the remaining ingredients, stir a bit, top with your favorite garnish, and wallah! You've got yourself a delicious latte.
The general rule of thumb for this latte is a specific ratio of each ingredient, which consists of coffee, cookie butter "milk", and caramel sauce.
Caramel Biscoff Cookie Butter Iced Latte Ingredients
The two components in this simple homemade latte are the caramel sauce, the cookie butter "milk", and the coffee. Here's what you need to make the Biscoff cookie butter "milk":
Plant-based milk. Make your own plant-based milk like oat milk, almond milk, quinoa milk, sesame milk, coconut milk, etc.! Or use store-bought plant-based milk.
Biscoff Cookie Butter. The best highlight in the latte once blended together with the milk to avoid "lumping" or hardening while mixing.
Vanilla. To balance the richness of coffee and add the great taste to this latte. You can use vanilla paste (I love Nielsen Massey) for a richer flavor.
Cinnamon. Just a pinch of cinnamon creates a warm feel to this latte. It also helps to amplify the caramel flavors.
To make your lattes, you'll use:
Coffee. For a sweeter, milder taste than espresso or strong coffee, you can use cold brew. However, I love the smoothness from a great quality medium roast coffee like Kicking Horse Coffee or Peet's.
Crushed ice. The best highlight of this drink to keep things cold. Crush your ice or use a nice ice cub tray. I also talk about using my caramel coffee ice cubes.
Caramel sauce. This is the final touch to this dairy-free latte and can be store-bought or homemade as long as it's vegan-friendly. Trust me, it doesn't make things too sweet at all.
Biscoff cookies. These cookies add such a nice crunch and bite at the end of every sip in this latte. Definitely a touch of brown sugar flavor that marries together well!
Coconut whipped cream. You can use regular dairy whipped cream if you aren't concerned with it being dairy-free.
Why You'll Love This Cookie Butter Latte
Creamy dairy-free goodness to be a pick me up in the mornings
Rich, indulgent coffee flavor
Perfect balance of sweetness and nuttiness
Easy to make at home
Aromatic and toasty aroma
Entirely dairy-free and vegan, which works for everyone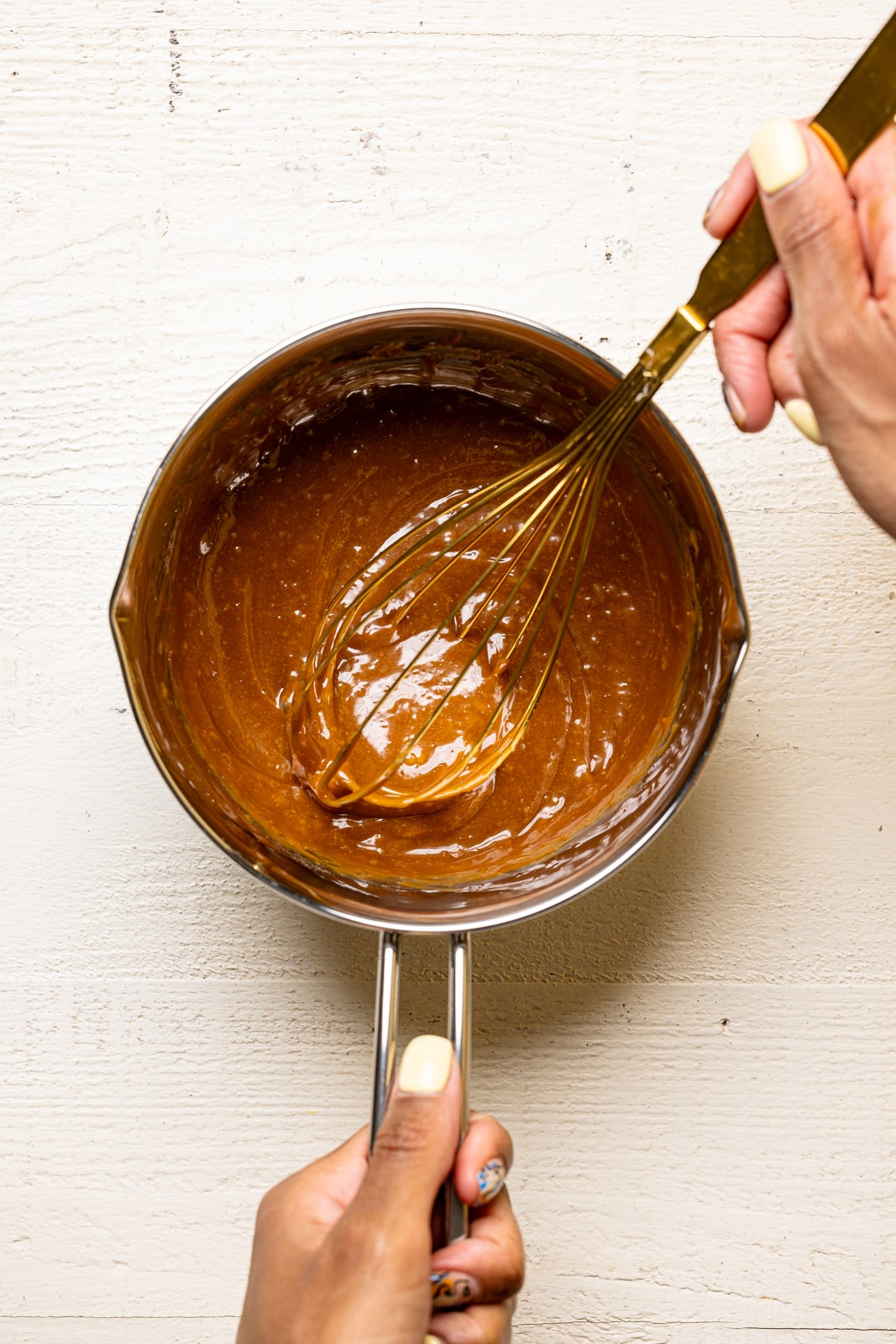 Homemade Vegan Caramel Sauce
To make your own creamy and sweet vegan caramel sauce is an all-purpose recipe to use on anything from baked desserts to smoothies to mocktails to this latte.
Here's what you need to make it:
Brown sugar. Use organic sugar every time!
Vegan butter. You can use regular vegan butter or buttery sticks.
Coconut milk. Use canned full-fat coconut milk for the best results and creaminess.
How to Prepare Caramel Sauce for this Latte?
Here's a step-by-step guide to preparing your vegan caramel sauce:
Get a medium-sized skillet and toss in some brown sugar.
Keep the heat about medium-high and stir the sugar constantly using a rubber spatula or a basting brush.
Add vegan butter slice and continue to stir until the mixture has melted.
Once the mixture is bubbly, add coconut milk to the skillet.
Keep stirring until the sauce thickens.
Remove the pan from heat and allow it to cool.
You've now got your dairy-free, healthier, and delectable caramel sauce ready. You can use it in your latte and as a drizzle on top!
What Ice Cube Trays Work Best
Honestly, I'm a big believer in using whichever type of ice cube tray molds you'd prefer. I chose to use these "crescent moon" shaped molds (which are standard ice trays), however, I also love using square cubes and any fun shapes for a more festive feel.
Personally, Amazon has some amazing options and you can also purchase ice cube molds as large retailers such as Target, Walmart, etc. Of course, depending on the size and shape, you'll get a different amount of ice cubes per batch, so keep that in mind!
What Dairy-Free Milks Work Best in this Iced Latte?
Absolutely! Everything in this Caramel Biscoff Cookie Butter Iced Latte is completely delish as is, but if you'd like to switch things up with the type of plant-based milk that you use-----that's totally fine! The world of plant-based milk is constantly expanding, it's hard to keep up! From the classics like cashew milk, sesame milk, soy milk, and almond milk, we now have delicious options like oat milk and even potato and quinoa milk.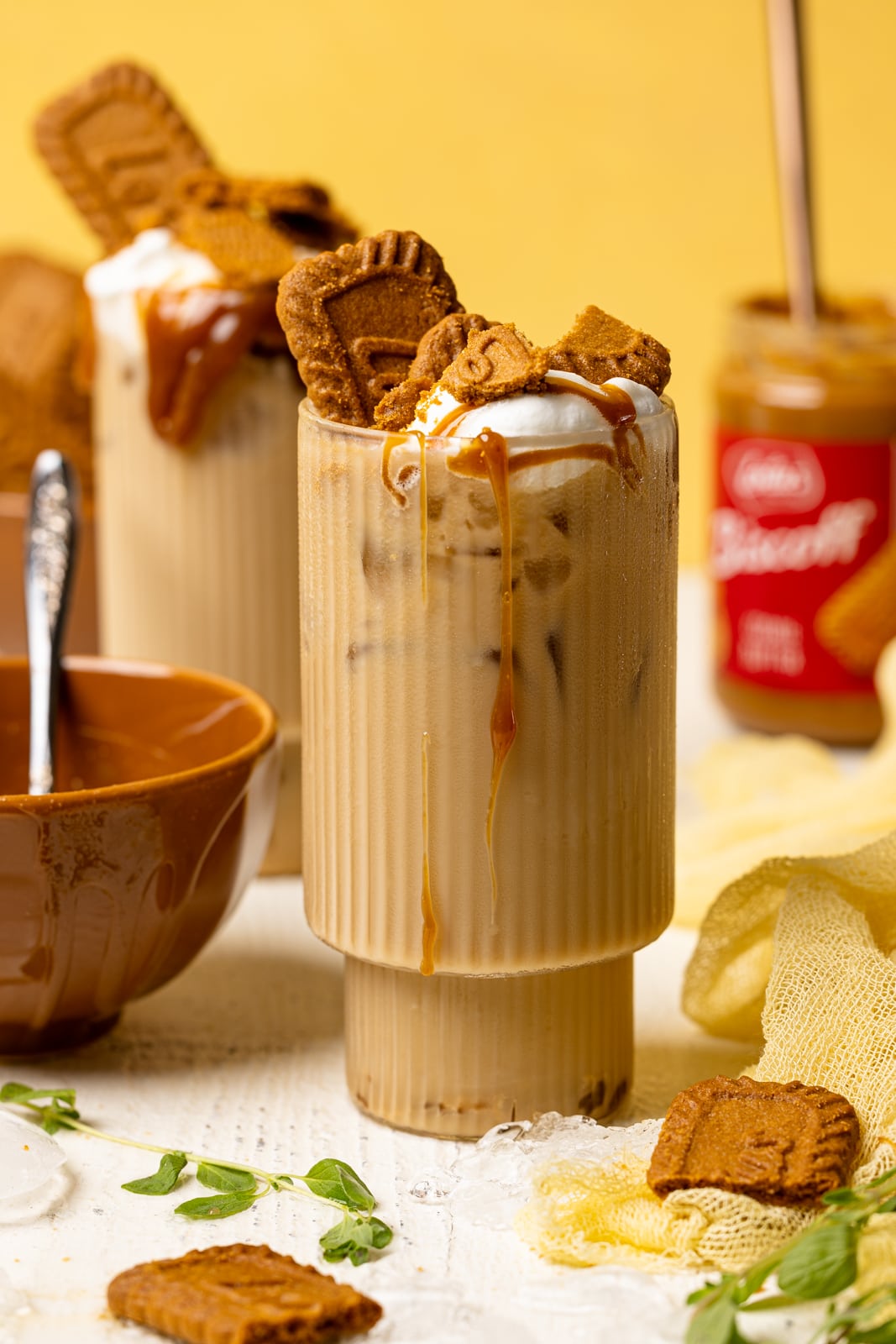 Caramel Coffee Ice Cubes: The Perfect Way to Avoid Waste
Making coffee throughout the week can sometimes mean that you won't always use up your coffee, especially when making coffee from ground coffee beans. Yes---you can add leftover coffee in other ways (i.e. baking, making a mocktail, etc.), why not just freeze them and re-create a new latte each day? Haha.
Plus, it's really simple to make, so there's that. To learn how to make the caramel coffee ice cubes, see my Iced Caramel Latte [with Coffee Ice Cubes] recipe!
How to Best Soften Biscoff Cookie Butter?
For this biscoff latte recipe, it's always best to soften your Biscoff cookie butter to ensure that it's smooth once blended in with the milk, although not softening it doesn't make this recipe any less good. Haha.
To best soften or melt the cookie butter, spoon the needed amount in a microwave-safe bowl and microwave on low for 20-30 seconds until you're able to pour or drizzle it in for an easier blend.
Toppings for Biscoff Latte
To serve up decadent, cold lattes that come rich in Biscoff cookie flavor, have fun with toppings like:
Coconut whipped cream. It's quick and easy to make this with a chilled can of coconut cream, but there are also plenty of store-bought options.
Ground nutmeg or cinnamon
Whole cinnamon sticks
A drizzle of maple syrup or caramel sauce
Crushed Lotus Biscoff cookies
Drizzle of Biscoff cookie butter, softened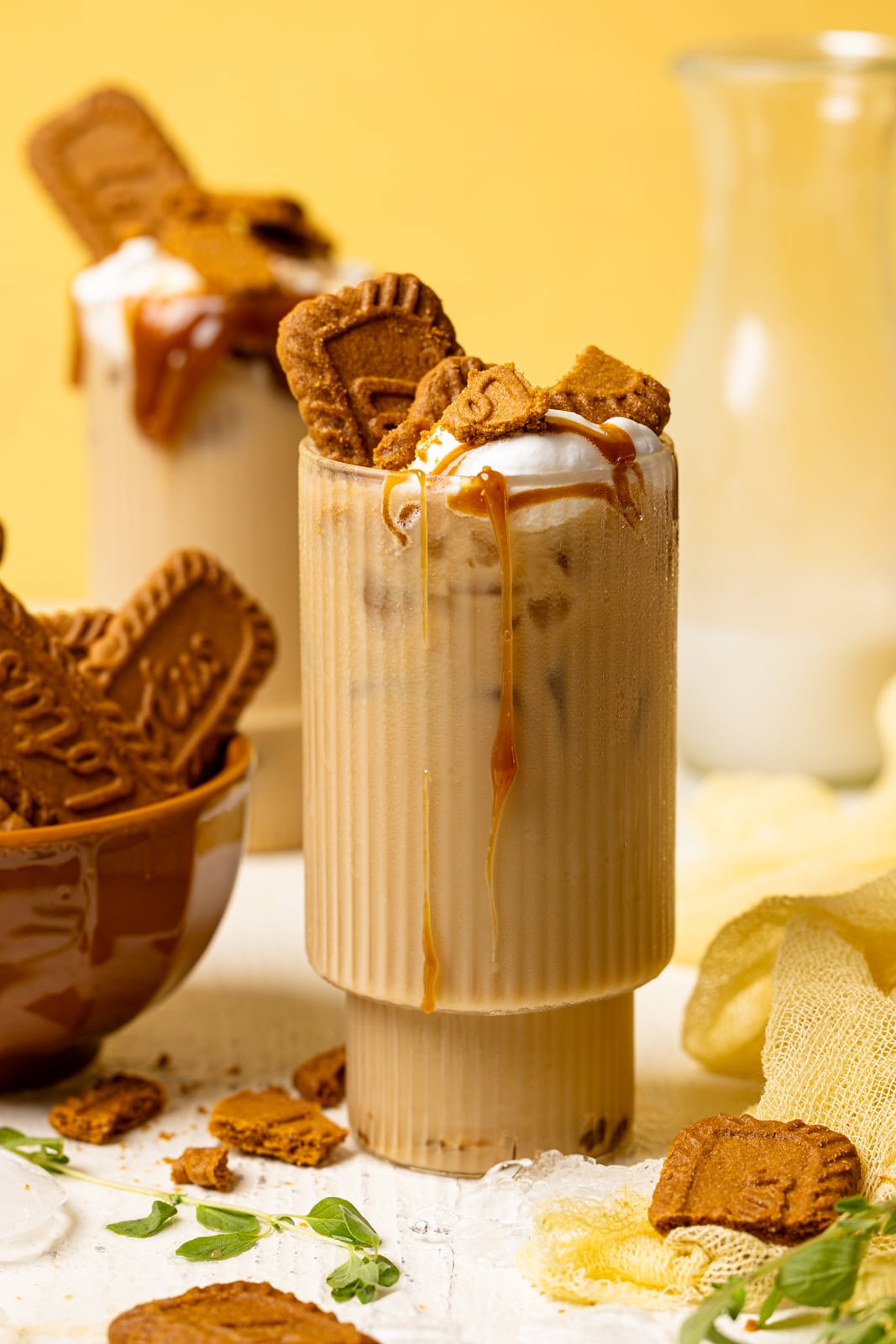 Common Q + A's for this Latte!
How Many Servings is this Caramel Biscoff Cookie Butter Iced Latte?
This latte is for one serving. To make additional lattes, simply double or triple ingredients, depending on need.
Can I Serve this Biscofff Latte Hot or Cold?
Absolutely! You can definitely switch things up by serving this Caramel Biscoff Cookie Butter Latte hot or cold whenever you chose to. To serve hot, simply add the milk, Biscoff cookie butter, vanilla, and cinnamon in a saucepan over medium-high heat along with your brewed coffee and stir in the caramel sauce. Once done, pour everything in your fave mug and top with your toppings of choice!
What is inside Biscoff?
According to the Lotus website, Biscoff contains the following ingredients: Wheat flour, Sugar, Vegetable oils (contains one or more of soybean oil, sunflower oil, canola oil, palm oil), Brown sugar syrup, Sodium bicarbonate (leavening), Soy flour, Salt, Cinnamon. Does not contain nuts.
Is Biscoff just peanut butter?
Not at all! While Biscoff spread is similar to a peanut butter-like spread, it's actually made entirely from the actual Biscoff cookie.
Are Biscoff vegan?
The great news----Biscoff spread is also vegan! The spread is made of the biscuits with added oils and stabilizers in and no additional animal products.
Should Biscoff spread be refrigerated?
Not at all! You should store your cookie butter spread at room temperature in a cool place.
How do you melt Biscoff spread?
You can melt Lotus Biscoff Cookie Spread in a saucepan on the stovetop over low heat, or in a bowl set over a pot of simmering water. Either way, the spread will become smooth and melted enough that's perfect for drizzling, dipping, or spreading. NOTE: Just be sure to stir frequently so that the spread doesn't burn or stick to the pan when melting. And remember, that once it cools, it'll return to it's original consistency.
Can I Make this Biscoff Latte Ahead of Time?
Absolutely! If you want to drink this chilled caramel Biscoff cookie butter iced latte every morning, it's helpful to have the caramel sauce prepped and ready to go. Once you make and cool the caramel sauce fully, you can store it in an airtight container or glass jar in the fridge for up to two weeks.
When you're ready to serve, stir the homemade caramel sauce into your homemade Biscoff cookie butter milk, freshly-brewed coffee, and add your favorite toppings. Sip and enjoy!
Incredible Biscoff + Caramel-infused Recipes to Try!
Now that you're on a dairy-free Biscoff kick with this Biscoff latte recipe, give these recipes that your entire family will love a try next:
MADE OUR RECIPE(S)?
If you tried this Caramel Biscoff Cookie Butter Iced Latte recipe or any other recipe on my website, please please leave a 🌟 star rating and let me know how you go in the 📝 comments below. I love hearing from you.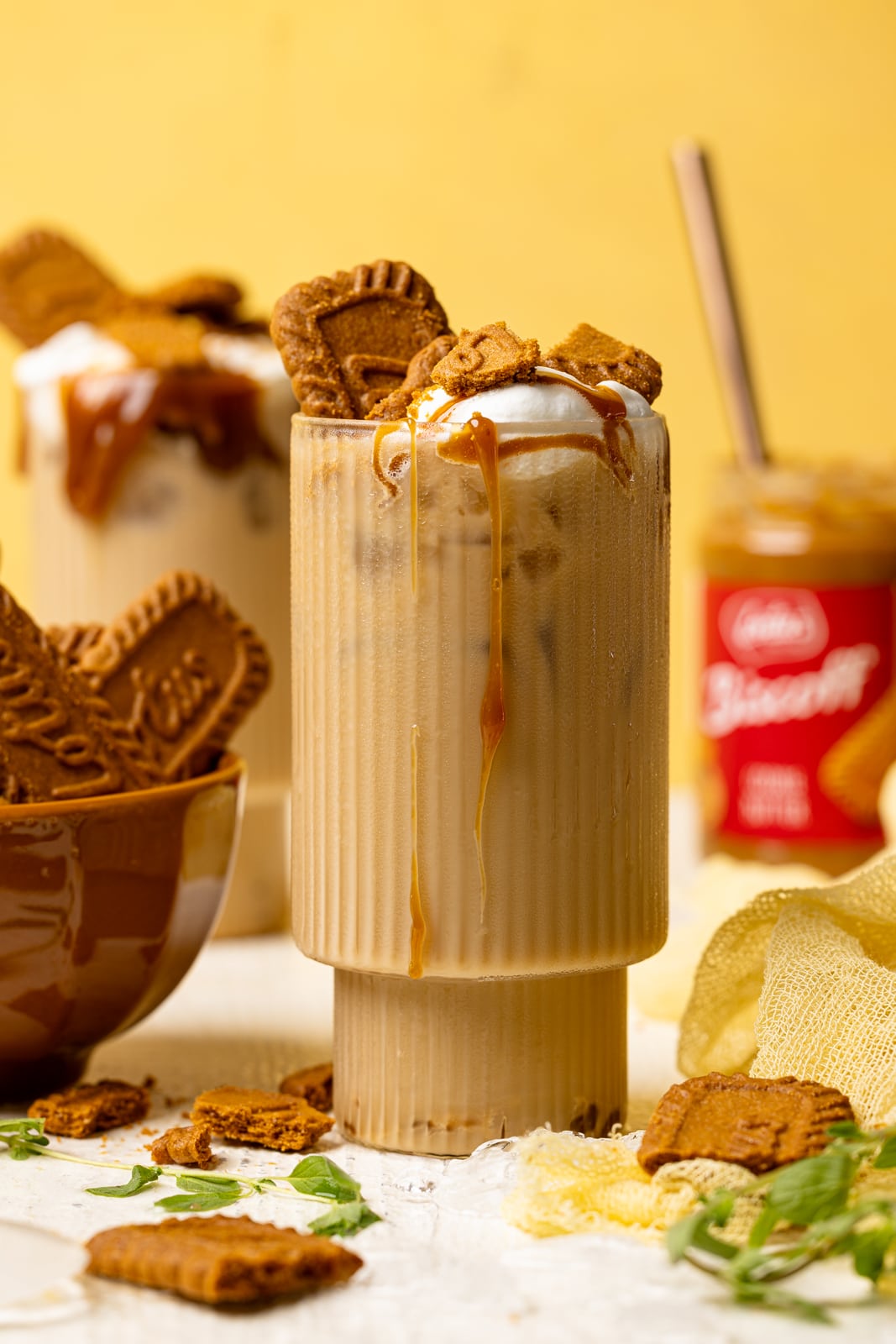 BISCOFF COOKIE BUTTER "MILK":
LATTE:
2

ounces

freshly-brewed coffee, cooled 

(You can use decaf or caffeinated)

3-4

Tbsps

vegan caramel sauce

(See post for how to make homemade)

Biscoff cookie butter "milk"

Crushed ice cubes
TO MAKE THE BISCOFF COOKIE BUTTER "MILK":
Add the milk, Biscoff cookie butter, vanilla, and cinnamon into a high-powdered blender and blend until mixture becomes creamy and smooth.
MAKE THE LATTE:
Assemble the latte: Grab a good latte glass and add the crushed ice, Biscoff cookie butter milk mixture, cooled brewed coffee, followed by the caramel sauce. Do a quick stir and top with coconut whipped cream, crushed Biscoff cookies, and caramel drizzle, if desired.

Sip and Enjoy!
WHAT PLANT-BASED MILKS ARE GOOD FOR THIS RECIPE? My go-to plant-based brand for Oat milk or plant-based milk when using store-bought is Ripple Foods. However, you can always use your fave or one of the following: Almond, coconut milk, homemade oat milk (froths/foams VERY WELL), sesame milk, homemade cashew milk, flax milk, potato milk, quinoa milk, etc.
SWEETENER: You can adjust the amount of sweetener (caramel sauce) depending on how sweet or unsweet you'd like for your latte to be. Feel free to use organic brown sugar or cane sugar for your syrup, if desired. 
SERVING: To make additional lattes, simply double or triple ingredients, depending on need.
Calories:
141
kcal
|
Carbohydrates:
35
g
|
Protein:
1
g
|
Sodium:
205
mg
|
Potassium:
46
mg
|
Sugar:
35
g
|
Vitamin A:
54
IU
|
Vitamin C:
0.3
mg
|
Calcium:
30
mg