Make this delicious homemade Caramel Biscoff Cookie Butter Iced Latte with a homemade caramel sauce, Biscoff cookie butter, oat milk and cold brew coffee for a creamy and satisfying morning drink. Added crushed Biscoff cookies to create a beautiful crunch for the final round of sips. Dairy-free option available.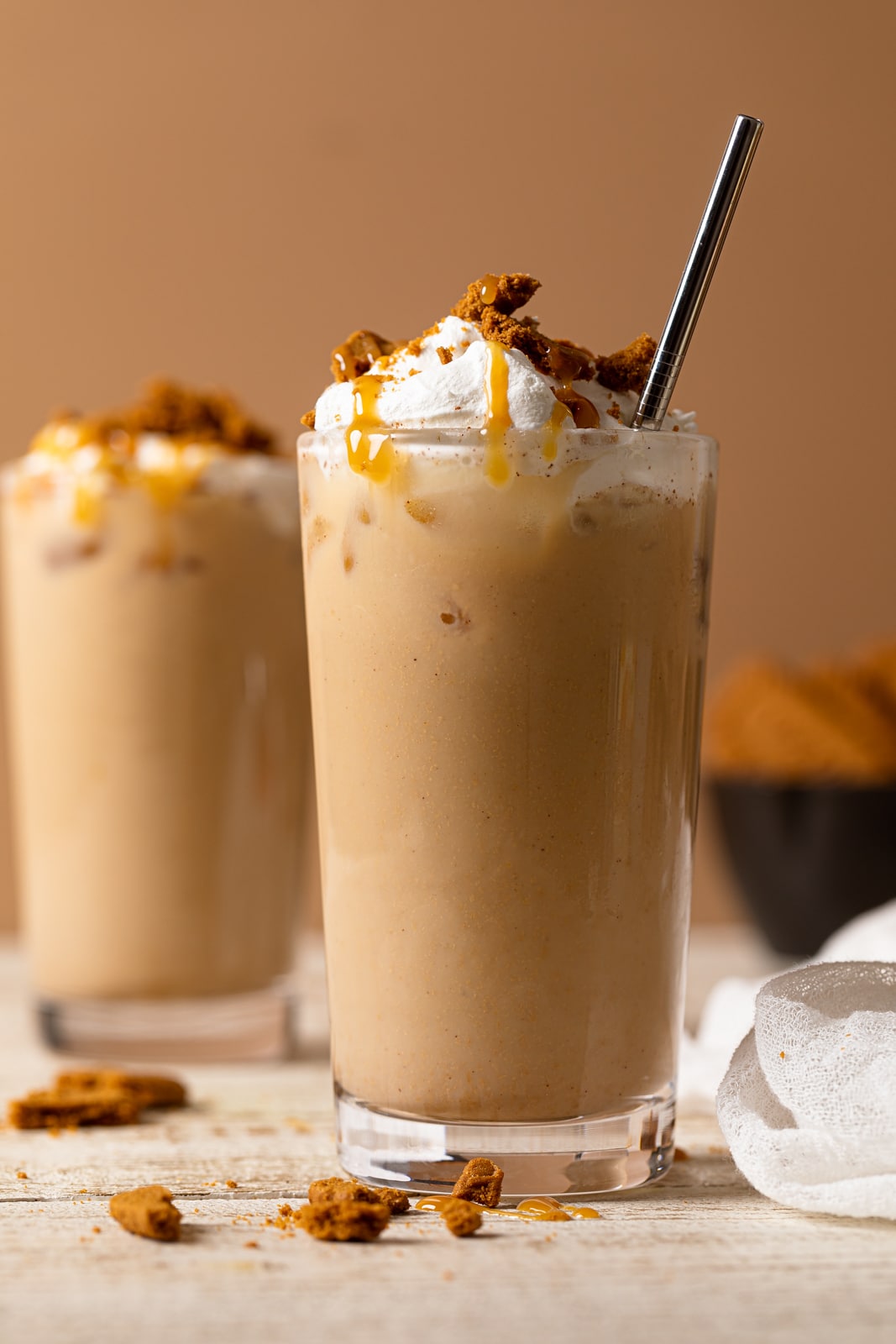 Have you ever had Biscoff cookies before? This childhood favorite has certainly been pretty trendy these days and for good reason.
Upon trying them for the first time, it's easy to eat an entire sleeve of them.
The best part is these are the cookies used to make the infamous cookie butter which I chose to use in this latte! You know, the spread that is made of crushed cookies, similar to peanut butter. This stuff is seriously good, ya'll and I know that this latte will be one for the books!
You're going to love this creamy latte drink that include oat milk, although you can definitely use almond milk or cashew milk----which all are dynamite! It's made with cold brew for an extra caffeine kick and has a sweet homemade caramel sauce you can use to flavor your morning brew all week long without any need for an additional sweetener.
What Are Biscoff Lotus Cookies?
In case you haven't tried these Biscoff cookies before, I wanted to go a bit more into what they are. Basically, they are the original caramelized biscuits that are crunchy and pairs perfectly with tea, coffee, and/or milk. They are made using Belgian brown sugar which gives them that "caramel-like" taste and includes a mix of spices like cinnamon, nutmeg, ginger, allspice, and cloves.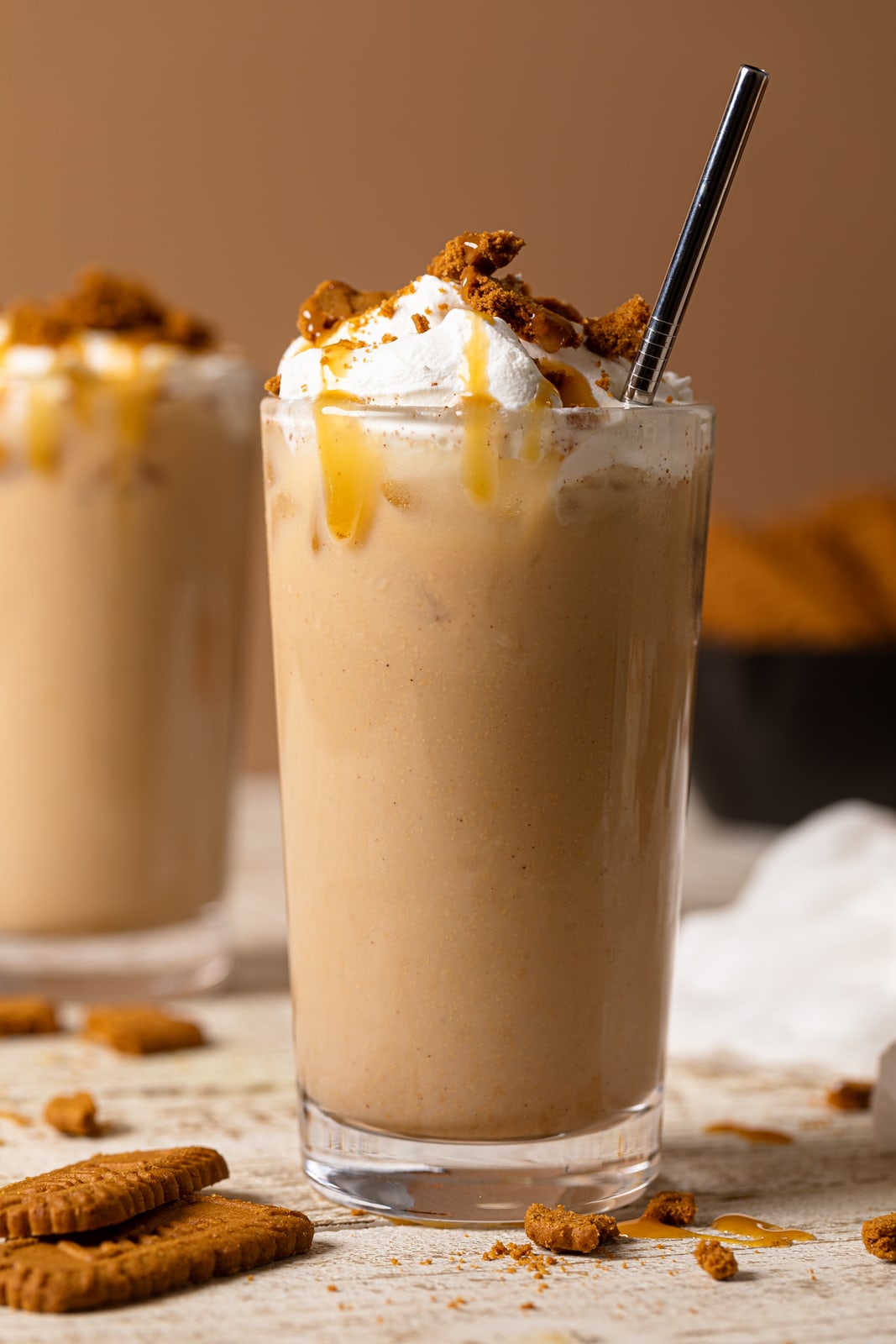 Caramel Biscoff Cookie Butter Iced Latte Ingredients
The two components in this simple homemade latte are the homemade caramel sauce and the coffee. Here's what you need to make the sauce:
Brown sugar. I use organic to make sure it's vegan.
Unsalted butter. I love using the brand Land O'Lakes.
Heavy cream. I love keeping it organic.
Sea salt. This creates a nice balance with the sweet and helps to heighten the flavor.
To make your lattes, you'll use:
Cold brew. You can also use chilled brewed coffee.
Oat milk. Make your own! Or use store-bought oat milk.
Whipped cream. This is also easy to make with a chilled heavy cream.
Biscoff Cookie Butter. The best highlight in this drink. Adds nice creaminess.
Caramel sauce. This is the highlight of the entire drink and can be store-bought or homemade.
Crushed Biscoff cookies. These crushed cookies adds such a nice crunch and bite towards your final sips.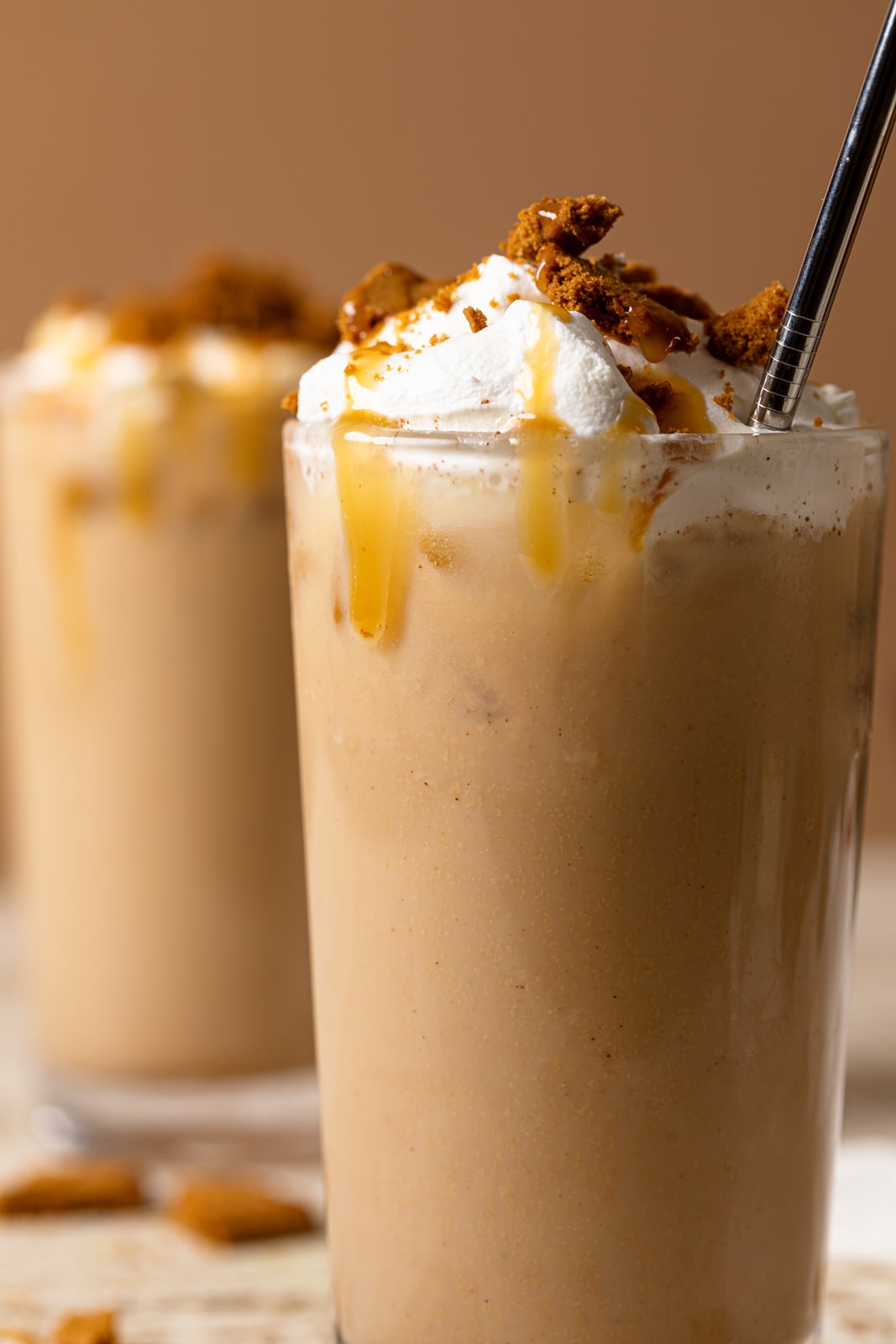 Make-Ahead Tips
If you want to drink this chilled caramel Biscoff cookie butter iced latte every morning, it's helpful to have the caramel sauce prepped and ready to go. Once you make and cool the caramel sauce fully, you can store it in an airtight container or glass jar in the fridge for up to two weeks.
When you're ready to serve, stir the homemade caramel sauce into your oat milk and add your favorite toppings. Enjoy!
More Caramel Recipes to Indulge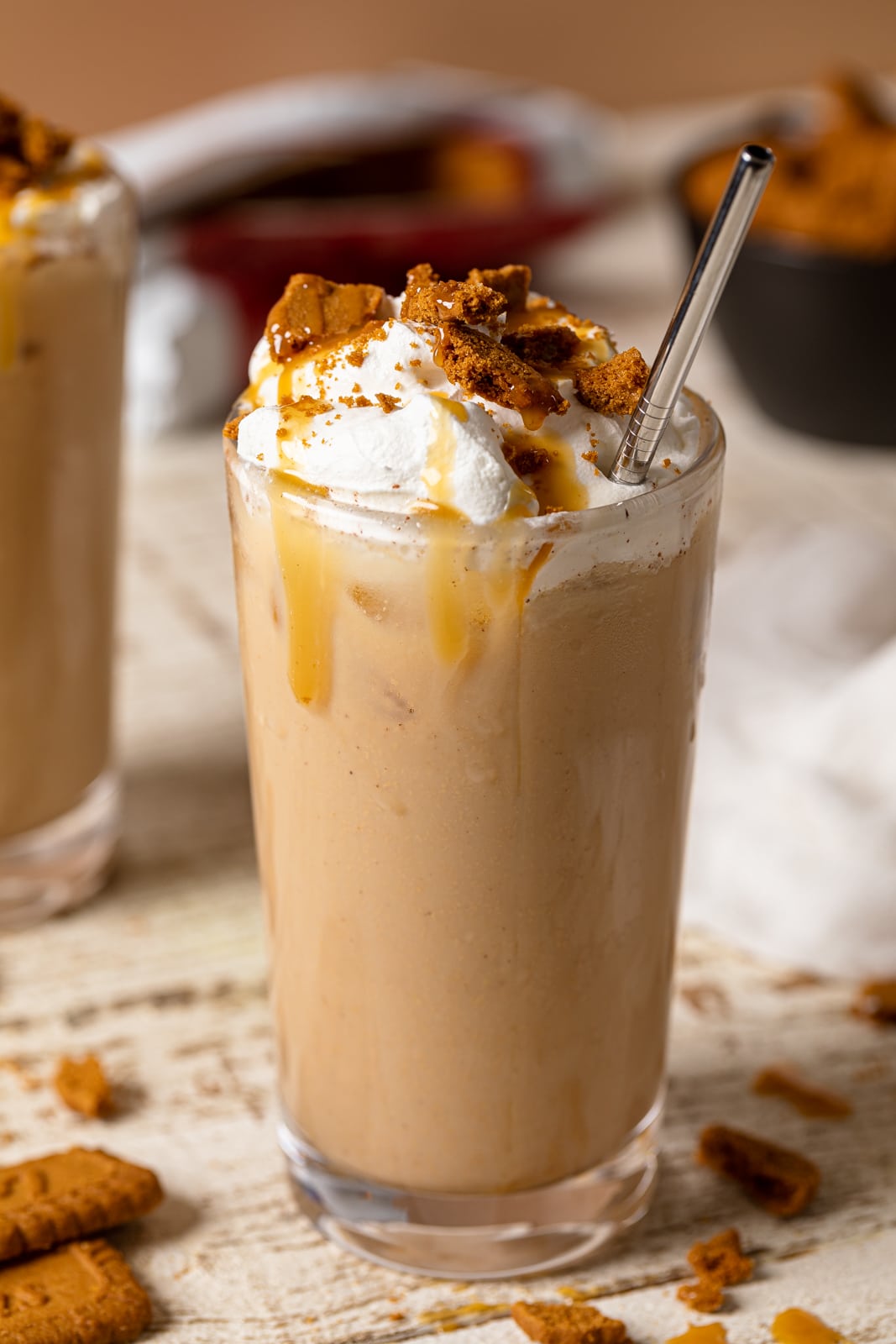 More Homemade Latte Recipes to Try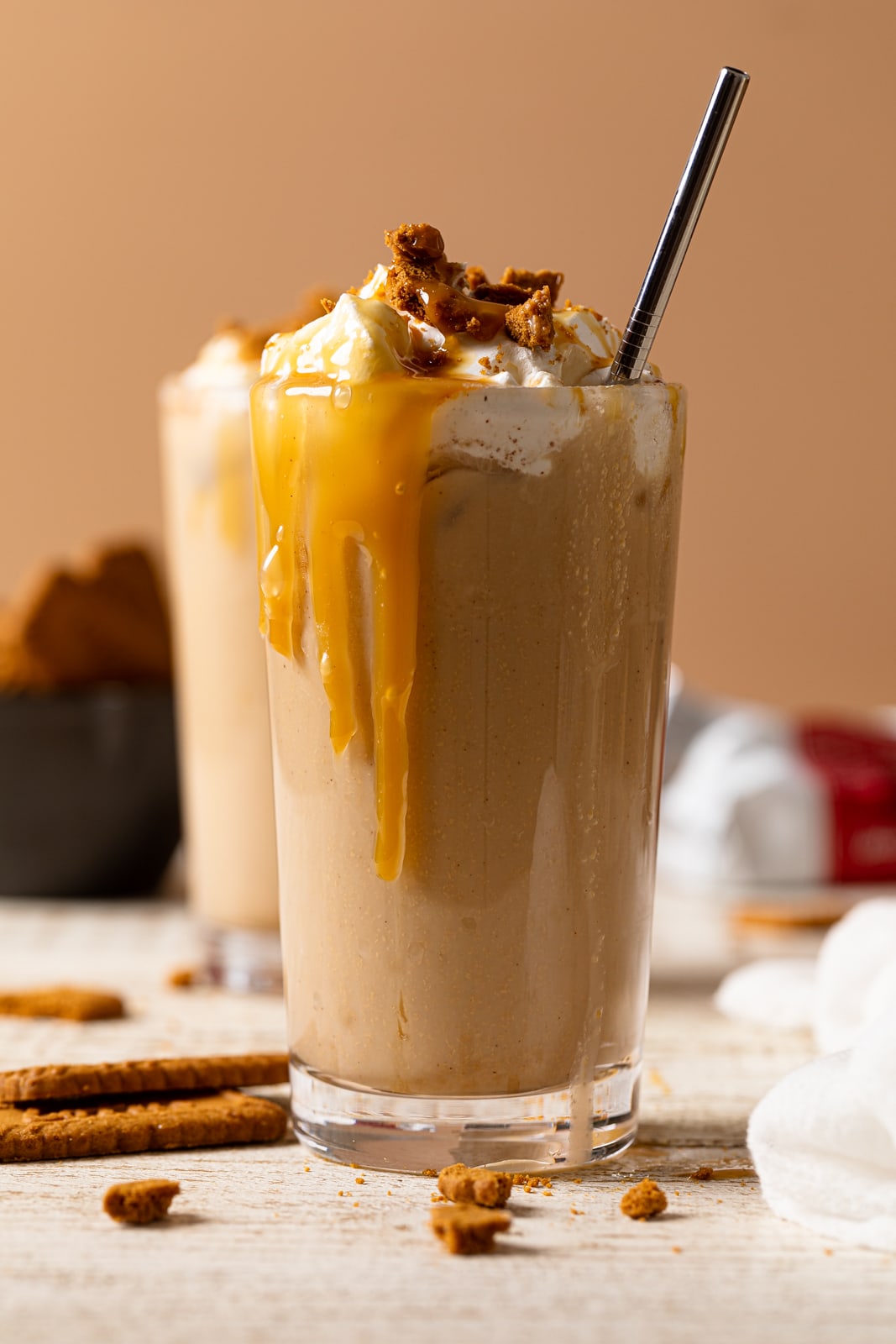 MADE OUR RECIPE(S)?
If you make this Caramel Biscoff Cookie Butter Iced Latte, tag @orchidsnsweettea_ on Instagram and hashtag it #orchidsandsweettea!
HOMEMADE CARAMEL SAUCE:
1

cup

organic brown sugar

6

Tbsps

unsalted butter, cut into cubes

½

cup

organic heavy whipping cream

¼

teaspoon

sea salt
LATTE:
½

cup

cold brew

1 ½

cups

oat milk, homemade or store-bought

3

Tbsps

Biscoff cookie butter, softened

3

Tbsps

caramel sauce

(Save a bit for the drizzle!)

1

teaspoon

vanilla extract

Pinch of

ground cinnamon

Ice cubes

Whipped cream

Crushed Biscoff cookies
HOMEMADE CARAMEL SAUCE:
Heat the brown sugar in a medium skillet over medium-high heat and stir constantly using a rubber spatula until clumps are formed. Add butter and continue to stir until everything has melted and become a dark 'amber-like' color. Continue to stir consistently until fully melted and bubbly, about 2-3 minutes.

Now, slowly whisk in the heavy cream and continue stirring until well incorporated and sauce has fully thickened. Remove from heat, stir in the salt and allow to cool slightly before using. Set aside.
MAKE THE LATTE:
To serve, fill ice into a 12 or 16-ounce glass and pour in the milk followed by the cold brew, vanilla, 3 Tbsps caramel sauce, 3 Tbsps Biscoff cookie butter, cinnamon, stirring them together until the mixture becomes a light color. Top with whipped cream, drizzles of caramel sauce, and crushed cookies, if desired.

Sip and enjoy!
WHAT PLANT-BASED MILKS ARE GOOD FOR THIS RECIPE? My go-to plant-based brand for oat milk when using store-bought is the Forager Project. However, you can always use your fave or one of the following: Almond, coconut milk, homemade oat milk (froths/foams VERY WELL), homemade cashew milk, flax milk, potato milk, etc.
STORAGE (CARAMEL SAUCE): Leftover caramel sauce can be stored in a tightly sealed mason jar for up to two weeks. When ready to use, simply reheat sauce in the microwave at 15 second intervals until softened and at room temp.
HOMEMADE WHIPPED CREAM: In the bowl of an electric mixer on medium-high speed, whip the organic heavy cream (2 cups), using the whisk attachment for 4-5 minutes, until fluffy peaks begin to form. **NOTE: When it begins to thicken after the first 2-3 minutes, gradually add in 1 tablespoon vanilla extract and a pinch of sea salt.*
DAIRY-FREE OPTION: To make this latte entirely dairy-free, just substitute with vegan caramel sauce, and the whipped cream with coconut whipped cream.
Calories:
471
kcal
|
Carbohydrates:
60
g
|
Protein:
9
g
|
Fat:
21
g
|
Saturated Fat:
4
g
|
Monounsaturated Fat:
0.02
g
|
Sodium:
173
mg
|
Potassium:
241
mg
|
Fiber:
3
g
|
Sugar:
43
g
|
Vitamin A:
738
IU
|
Calcium:
520
mg
|
Iron:
3
mg
Caramel Biscoff Cookie Butter Iced Latte.