This Ultra Creamy Homemade Oat Milk is the perfect plant-based milk option and is sure to become the newest craze in your household. Completely versatile and enjoyed in anything that requires milk, this recipe is one that will be the staple for everyone involved. Simply soak your oats for a few minutes, drain, rinse, blend, and strain. Completely Gluten-Free, Nut-free, and Vegan!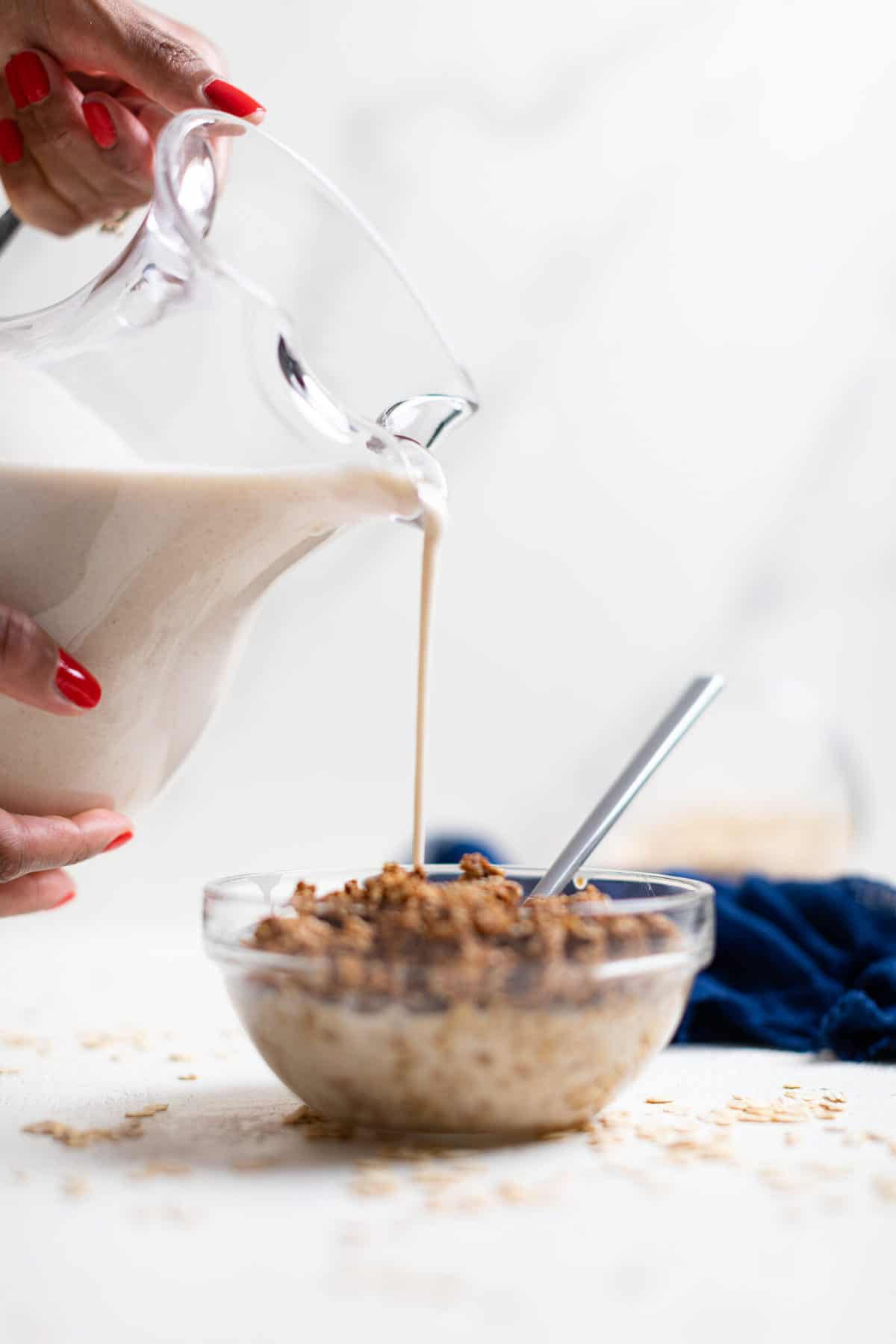 This Ultra Creamy Homemade Oat Milk is definitely a recipe that has become a staple for me these days. Lately, I've noticed a major trend of homemade milks and I actually can admit that I've never attempted to make my own!
Honestly, I think that this is mostly due to the fact that I have 2 main brands that are my go-to when it comes to plant-based milks—Califia Farms and So Delicious and they're amazing, so why make my own, right? Haha. Whelp. I've since given into the trend and I must say that I'm glad I did.
Making my own Oat Milk was such an experience, although the steps are minimal and the ingredients are literally only a handful and the process is SUPER EASY. However, the perfecting of it takes a few tries since the slightest offset can create a completely different outcome when it comes to texture—think ooey gooey milk instead of creamy. I know.
What You'll Need For This Homemade Oat Milk
GF rolled oats
Filtered water
Agave
Dates
Vanilla extract
Sea salt
Ground Cinnamon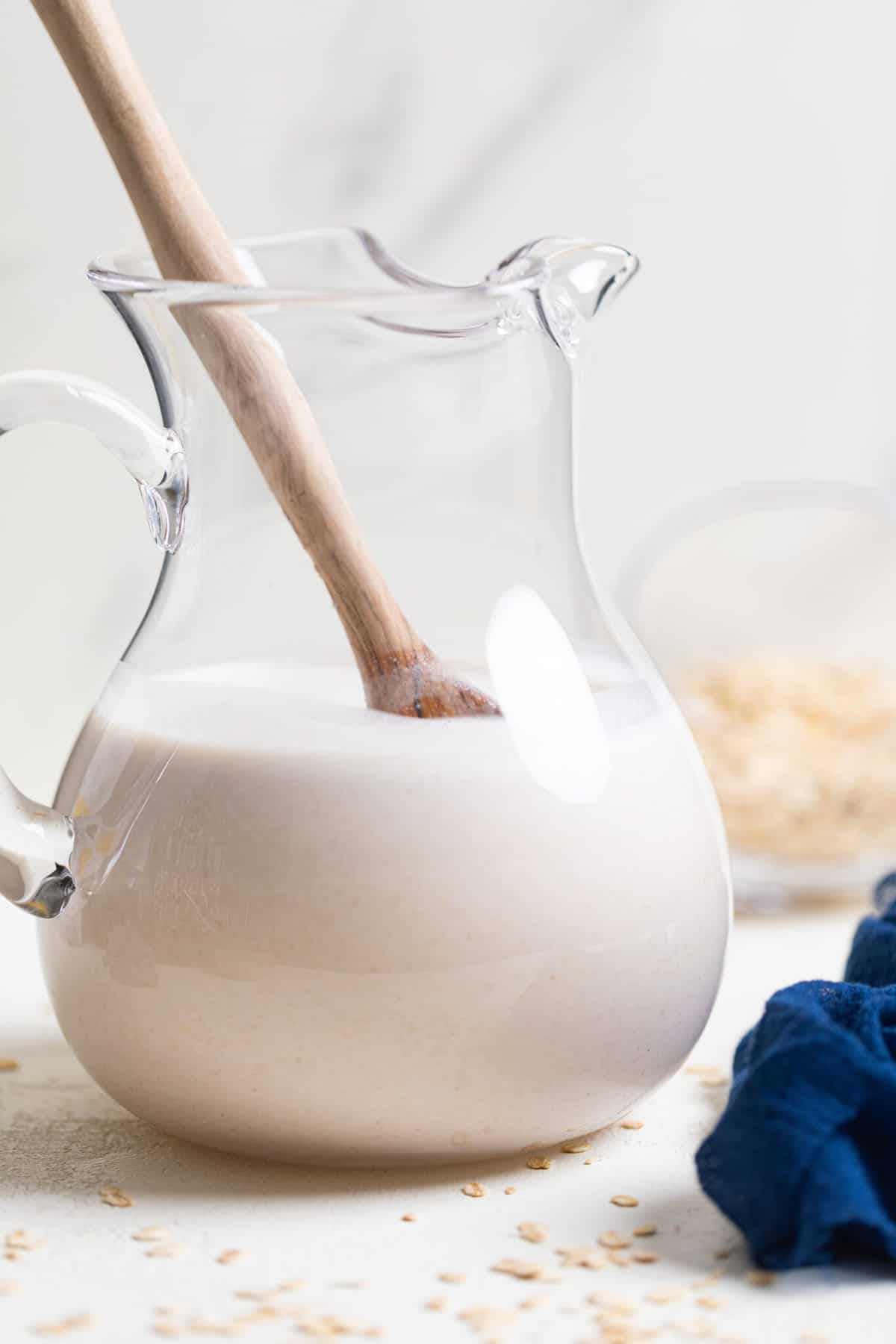 Why Oat Milk? Health Benefits of Oats!?
If you aren't familiar, oats are super nutritious! They include a great source of carbs, fiber (the soluble kind!), protein, and fat. In addition, they are loaded with important vitamins, minerals, and antioxidant.
Other great benefits:
They can help to lower cholesterol.
Improves Blood Sugar levels.
May help with losing weight.
Great alternative for skincare.
Helps to relieve constipation.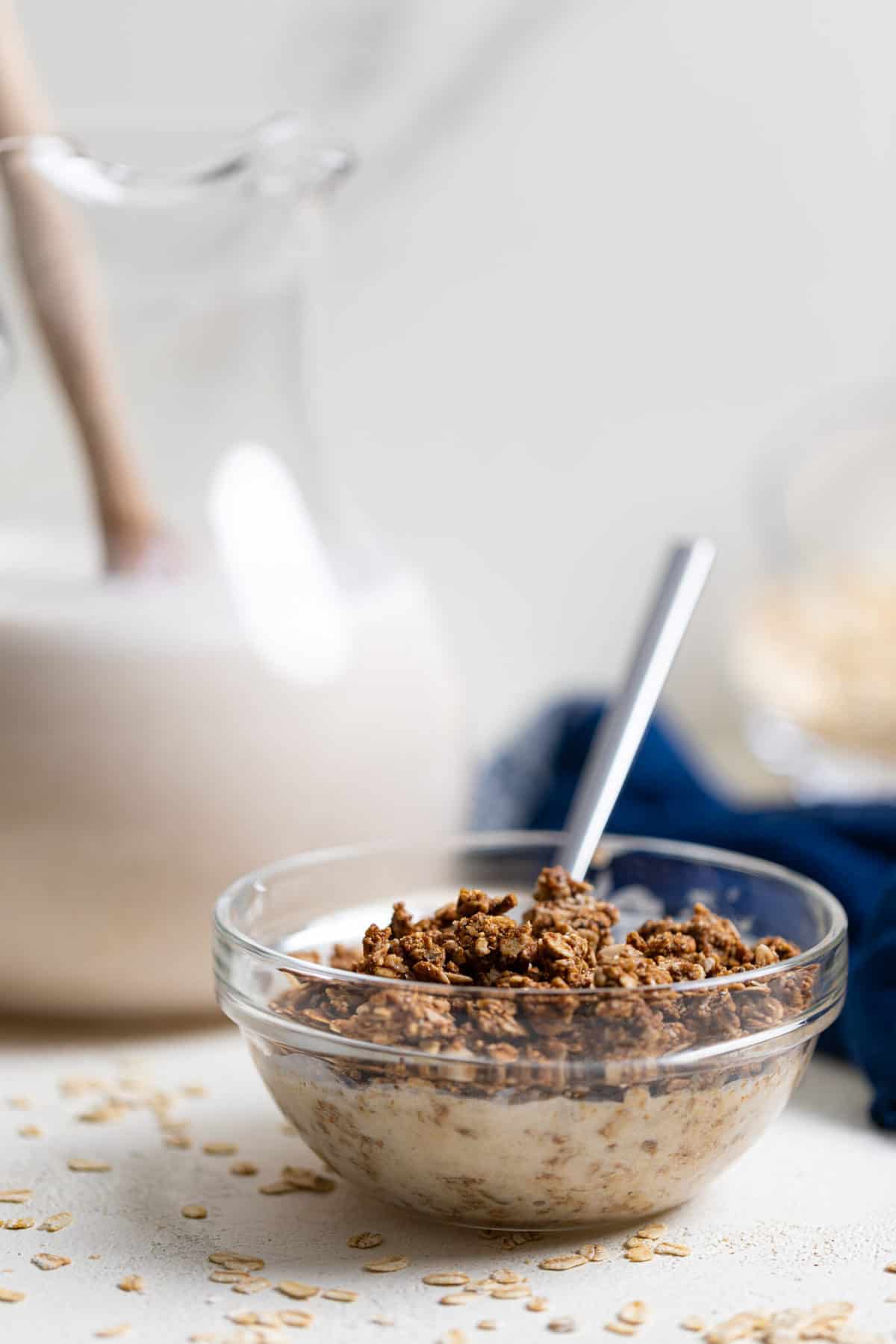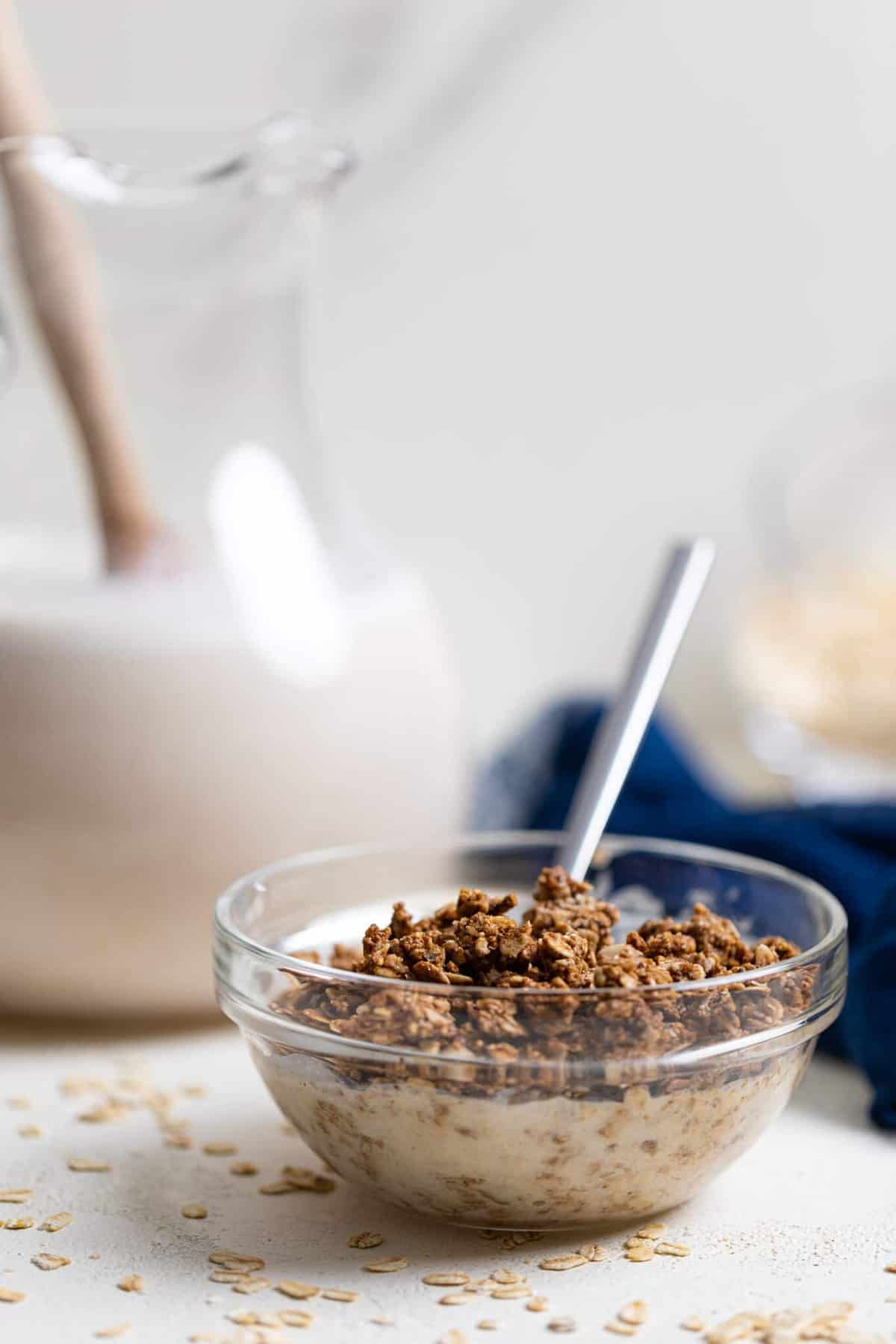 Common Q+A's About Oat Milk
Are there other great alternative plant-based milk that doesn't include nuts?
Of course! If you have an allergy to nuts, then you are able to enjoy other plant-based milks such as almond milk, soy milk, rice milk, flax milk, and more.
How long does Oat milk last for?
When properly stored in the refrigerator, oat milk lasts for up to 1 week, at best. Usually, I like to consume my batch within the first 2-3 days. The great thing is that making a new batch isn't hard at all.
Is Homemade Oat milk better than Store-bought?
Of course, it depends on your preference and time. However, making anything homemade gives you more control in the ingredients used. Store-bought oat milk might be filled with added sugars, thickeners, and salts, which aren't that good for you, depending on the brand.
Can I omit dates if I don't like them or are allergic?
Absolutely! Dates are a great sweetener option, however, if you aren't a fan of their taste or might be allergic to them, you can simply adjust the amount of Agave used as a replacer.
Do I need to strain my oat milk?
Yup! To ensure that your oats blends to an incredibly smooth consistency along with your other ingredients, it's super important that you let your oats soak in fresh water for 15-20 minutes.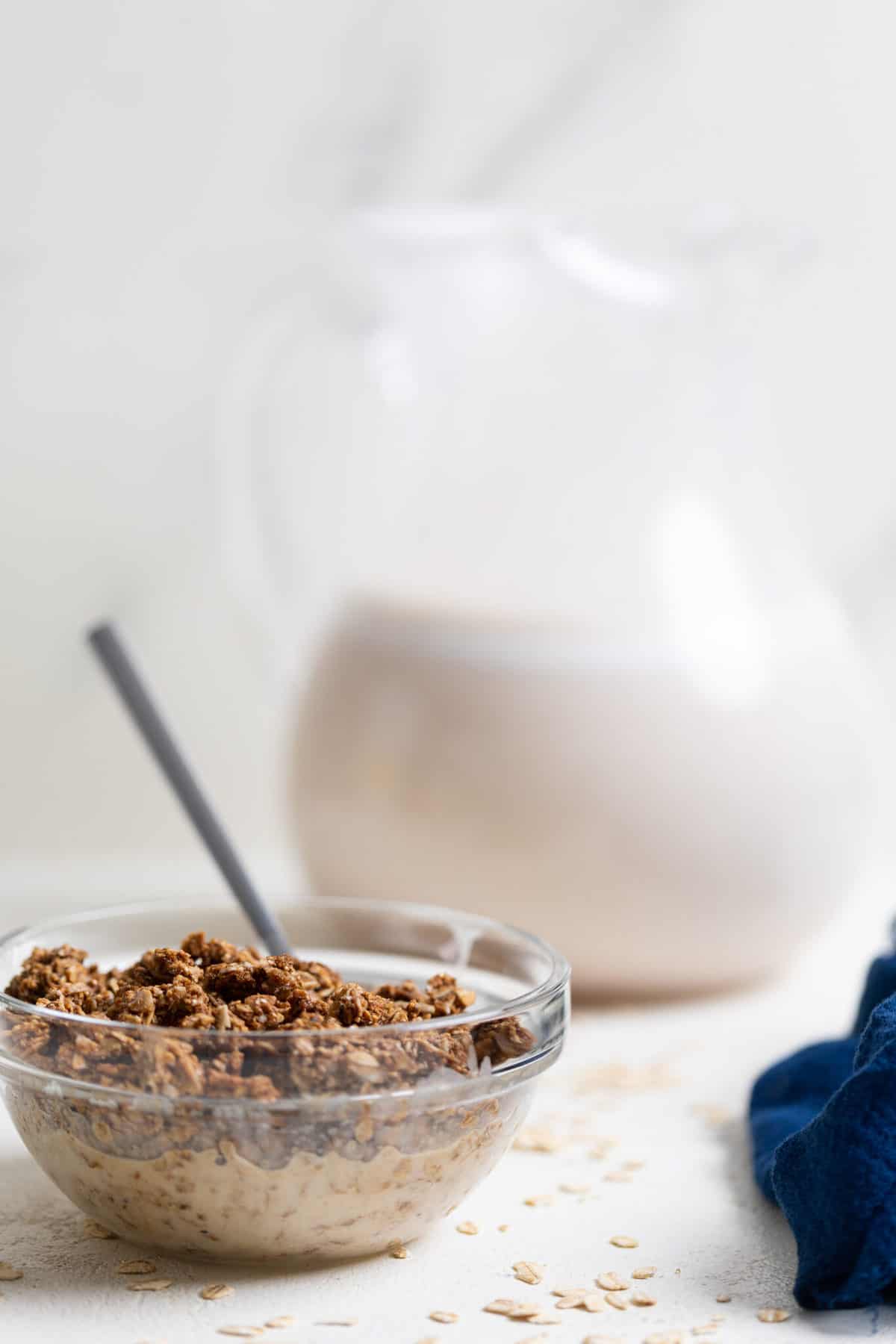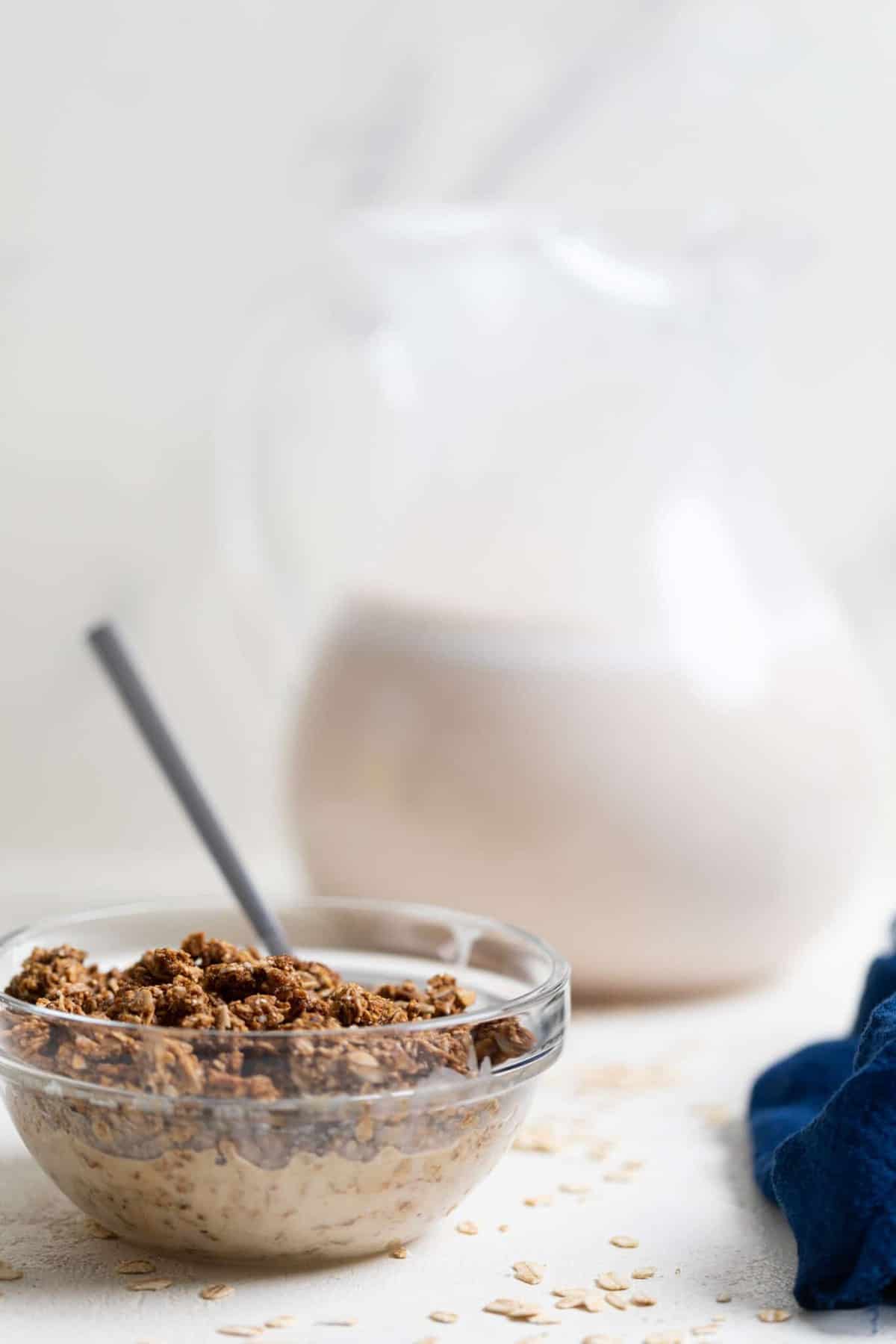 What's the Craze with Oat Milk, Anyway? Is it Healthier?
When it comes to most plant-based milks, there is always some form of controversy! The most popular—Almond Milk has now gotten a lot of bad rap for not being as healthy as we thought (that's a whole other topic!), therefore, Oat Milk as the newest trend has become the New It!
While I still use Almond Milk (pretty heavily in my recipe, I must add!), Oat Milk is definitely a great option for those who are allergic or intolerant to dairy and even gluten (ensuring that you purchase the GF version of your oats).
Oat Milk also has a great source of fiber (obviously from the oats) and B Vitamins, and other great minerals. Lastly, they are great at providing energy since they are higher in carbohydrates.
Need Help with Transitioning to a Plant-based Diet?
Lately, I've been asked for advice on keeping things interesting, especially when eating a plant-based or vegan diet. While I'm not a total Herbivore, my family and I make a commitment to eating most things that are Vegan. To start, I'd recommend reading our latest article, How to Best Transition into a Plant-Based or Vegan Diet, which best explains how to keep your focus and continue on with eating healthy.
MADE OUR RECIPE(S)?
If you make this Ultra Creamy Homemade Oat Milk, tag @orchidsnsweettea_ on Instagram and hashtag it #orchidsandsweettea!
1

cup

Rolled oats, gluten-free 

(You can also use a non-GF version!)

5

cups

filtered water, divided

2

pitted

medjool dates

(See Notes!)

1-2

Tbsps

Agave

(Adjust amount based on preference!)

1

tsp

vanilla extract

1/2

tsp

ground cinnamon

pinch of

sea salt
In a large bowl, add dry rolled oats along with 2 cups of fresh water and soak for 15-20 minutes. Once oats have swollen and softened, drain out water, rinse with more fresh water, and drain again and set aside. **NOTE: Be sure to discard all drained water.**

Next, add all ingredients (including soaked oats) to a high-powered blender and blend on medium-high speed for about 30-45 SECONDS. **NOTE: Do not over-blend; Adjust sweetness as needed.**

Once done, slowly strain (using a cheesecloth) milk into a pitcher, squeezing the oatmeal pulp to ensure that all milk is extracted. **NOTE: You may have to repeat this process until all oat milk has been fully strained by re-pouring milk on top of pulp to extract more milk, if needed.**

Refrigerate milk (best if tightly sealed/covered) for up to 1 week. Stir before serving.

Sip and Enjoy!
STORAGE: When properly stored in the refrigerator, oat milk lasts for up to 1 week, at best. Usually, I like to consume my batch within the first 2-3 days.
REMAINING OAT PULP: You can always repurpose leftover 'oat pulp' by covering it in the refrigerator and using it in overnight oats, smoothies, etc.
SERVING: To make less milk, cut ingredient measurements in half. To make more, simply double or triple the measurement of ingredients, depending on your desired amount. 
SWEETENER: If dates aren't desired, you can use additional Agave, pure maple syrup, or date syrup, instead if preferred.
USES: Oat milk's creamy consistency makes it perfect in lattes, cappuccinos, smoothies, creamy soups, and baked goods. Can also be used as regular milk for cereal, etc.
Ultra Creamy Homemade Oat Milk.