These Homemade Vegan Oat Milk Chocolate Bars are the epitome of an easy dessert or snack option that is just as crisp on the outside and a melt-in-your-mouth velvety texture on the inside---as regular chocolate bars. Only a few ingredients required, entirely dairy-free, and all vegan.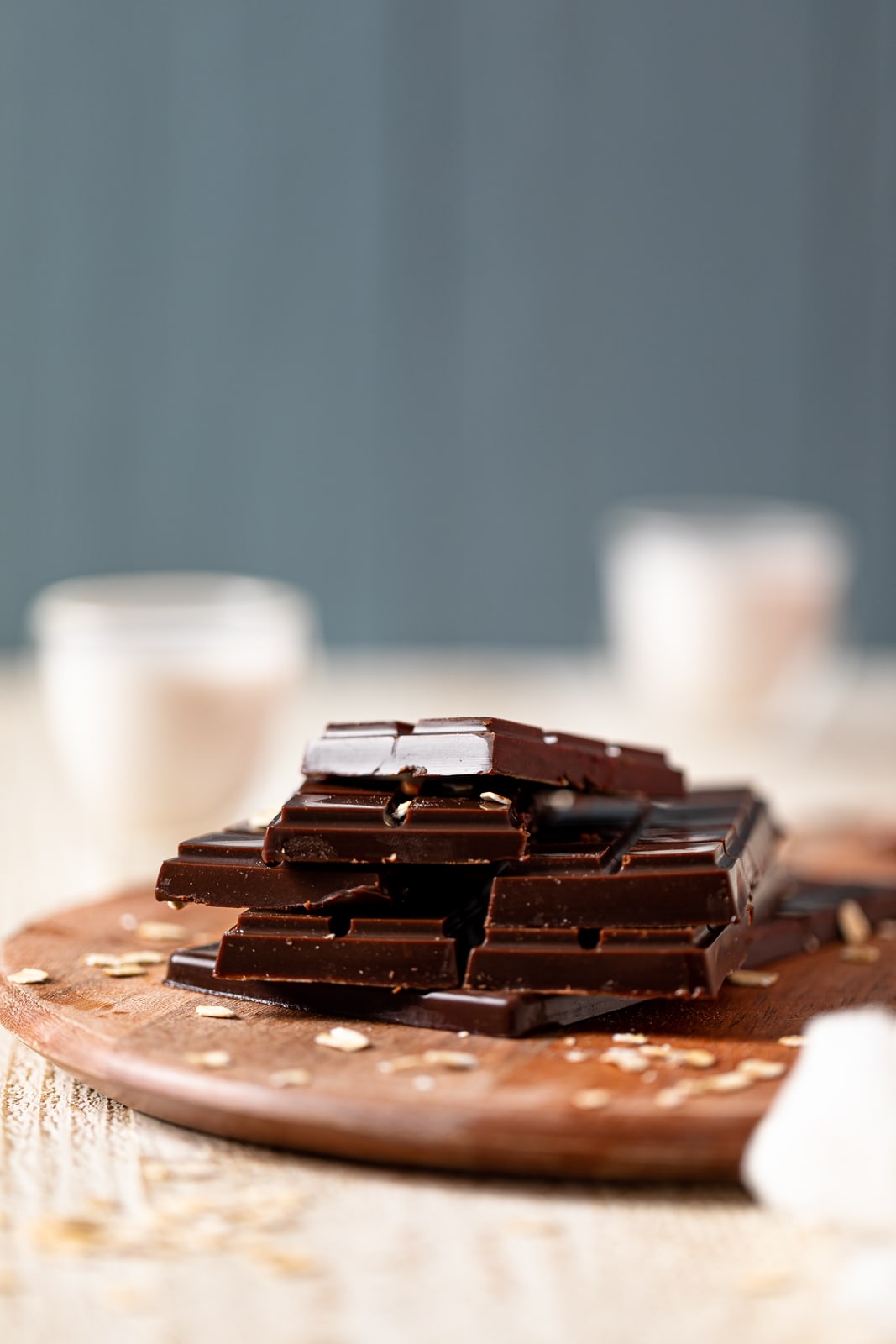 I can't tell you how amazing homemade chocolate bars are! Prior to attempting to make them on my own, I often felt like this was such an impossible task, but it's not. The homemade vegan chocolate bars literally only require a handful of ingredients and the process is so simple.
Plus, I love that you can easily add these homemade chocolate bars by chopping them up and sprinkling them in your favorite chocolate incorporated recipe like these Espresso Rye Pecan Chocolate Chip Cookies or Chocolate Oreo Vegan Skillet Brownie.
One of the best part about these chocolate bars is the addition of oat milk. For many, oat milk is a staple when it comes to dairy-free milk and I thoroughly enjoy by an organic store-bought version, but also enjoy making homemade oat milk which is such an easy process as well.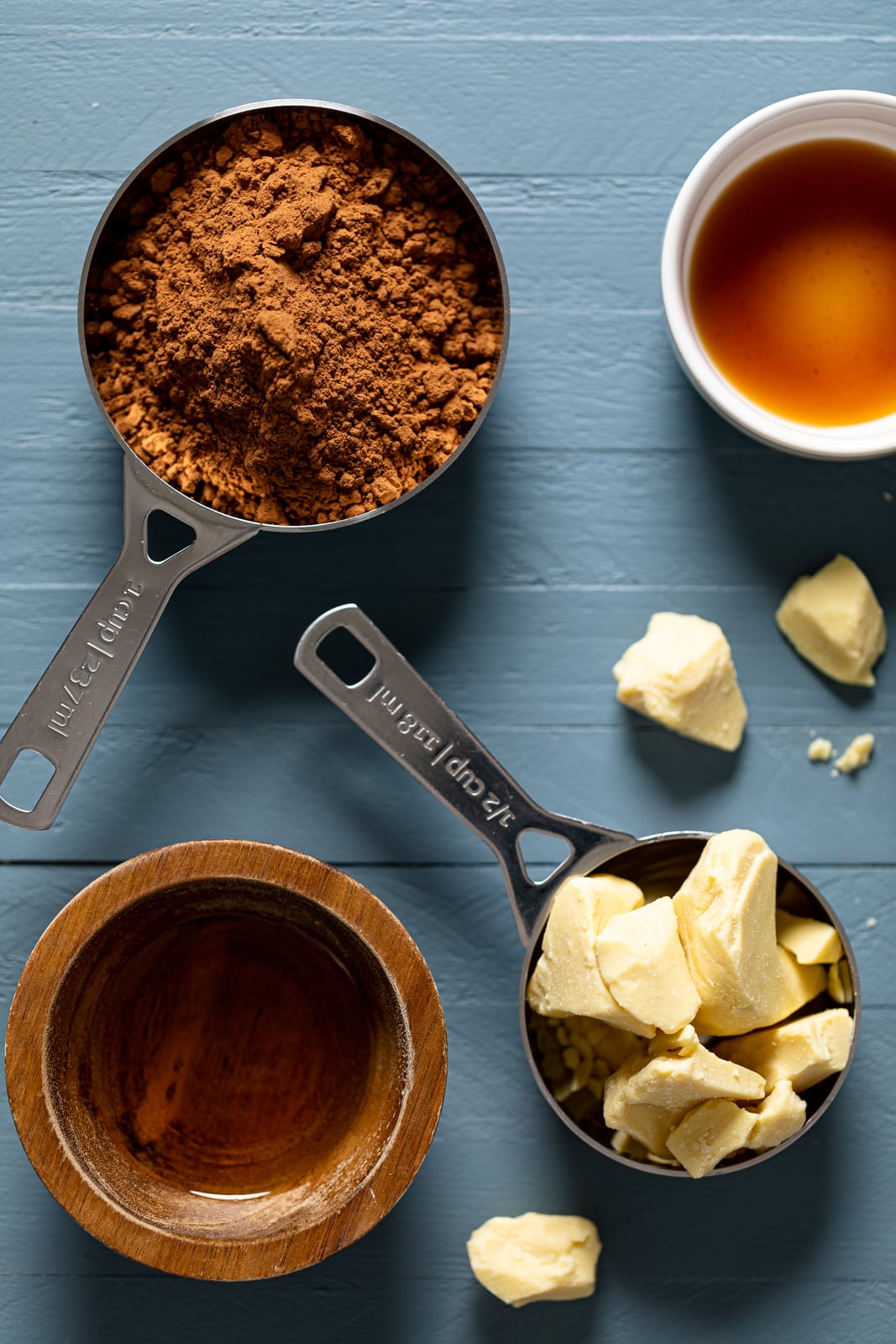 Ingredients for Homemade Vegan Oat Milk Chocolate Bars
Some of the ingredients for these homemade chocolate bars are typical pantry staples, except for maybe one (hello, cacao butter). Here's what you need:
Cacao butter. This is easy to find at most big grocery stores or online. I love using Navitas Organics.
Cocoa or Cacao powder. I use organic cocoa or cacao powder.
Oat milk. You can purchase an organic store-bought version like The Forager Project or make this homemade.
Agave syrup
Vanilla extract
Vegan Butter. I use melted butter here, but you can also sub with coconut oil.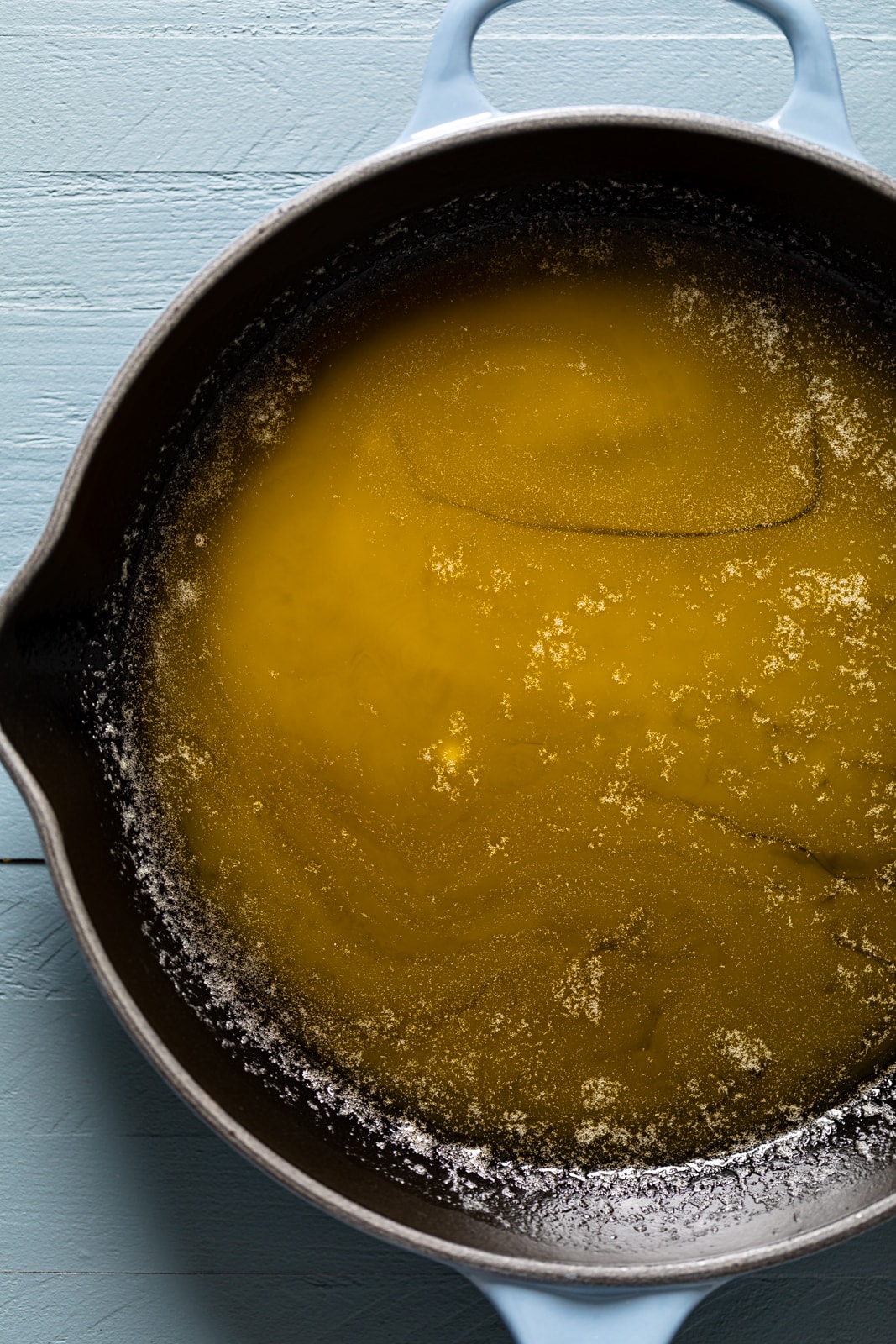 Oat Milk Chocolate is the New Trend
I recently read via Hello Magazine that oat milk chocolate will be a trend for 2022 which I honestly didn't see coming. Apparently, this had a lot to do to with people's desire to find more plant-based alternatives, especially when it comes to chocolate. Definitely makes sense.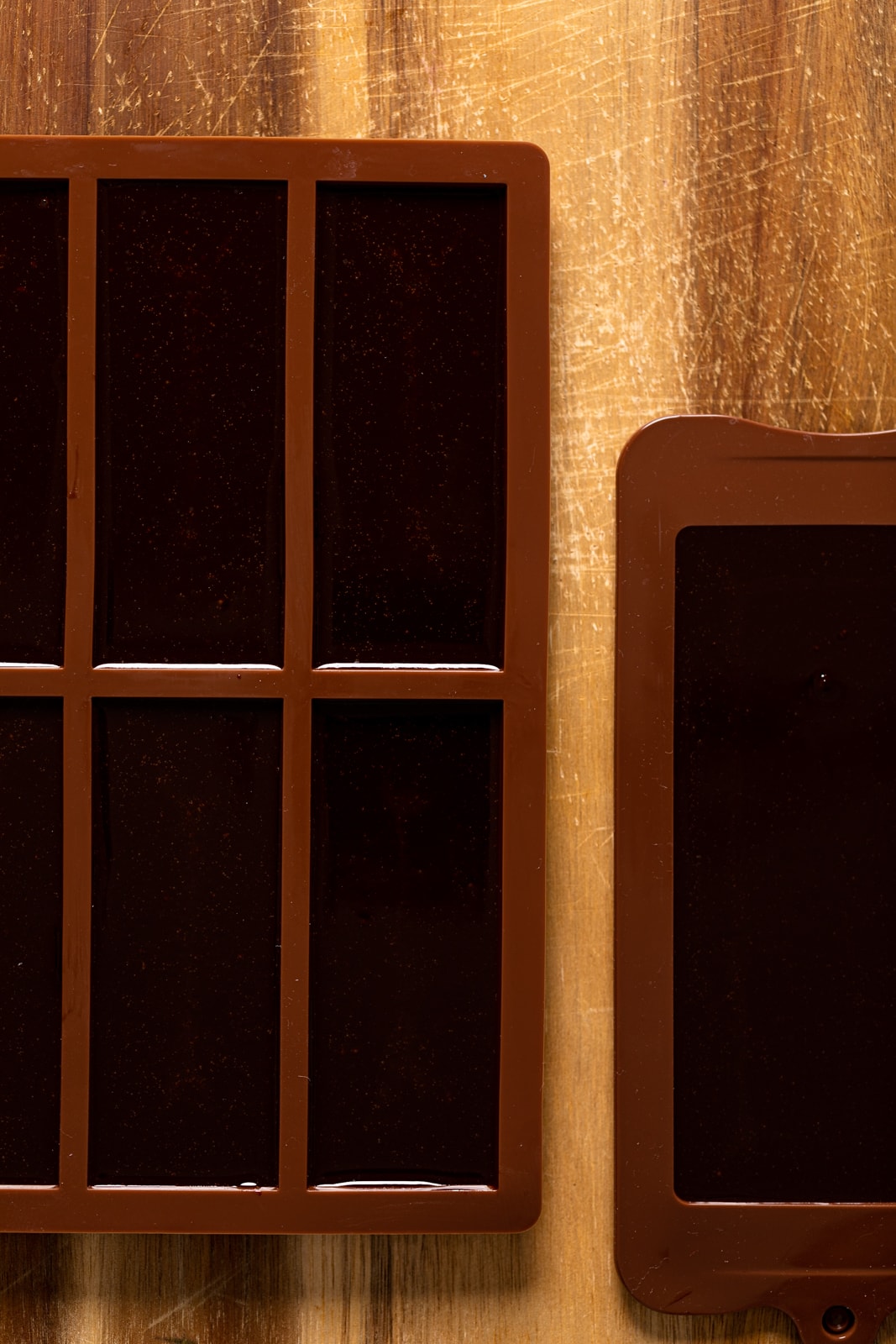 Why Oat Milk? Health Benefits of Oats!?
If you aren't familiar, oats are super nutritious! They include a great source of carbs, fiber (the soluble kind!), protein, and fat. In addition, they are loaded with important vitamins, minerals, and antioxidant.
Other great benefits:
They can help to lower cholesterol.
Improves Blood Sugar levels.
May help with losing weight.
Great alternative for skincare.
Helps to relieve constipation.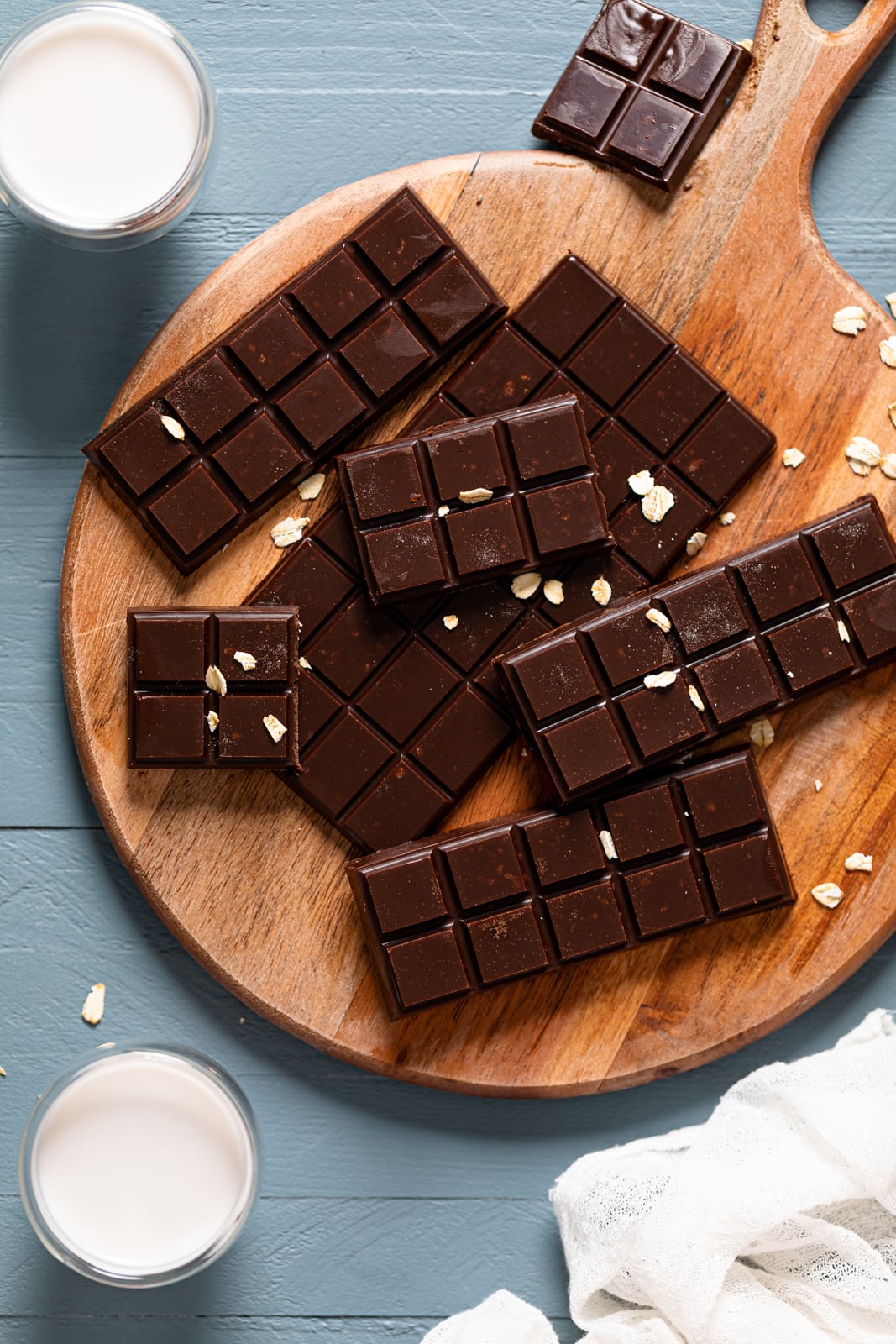 8 Reasons Why You Should Be Eating Chocolate for Your Health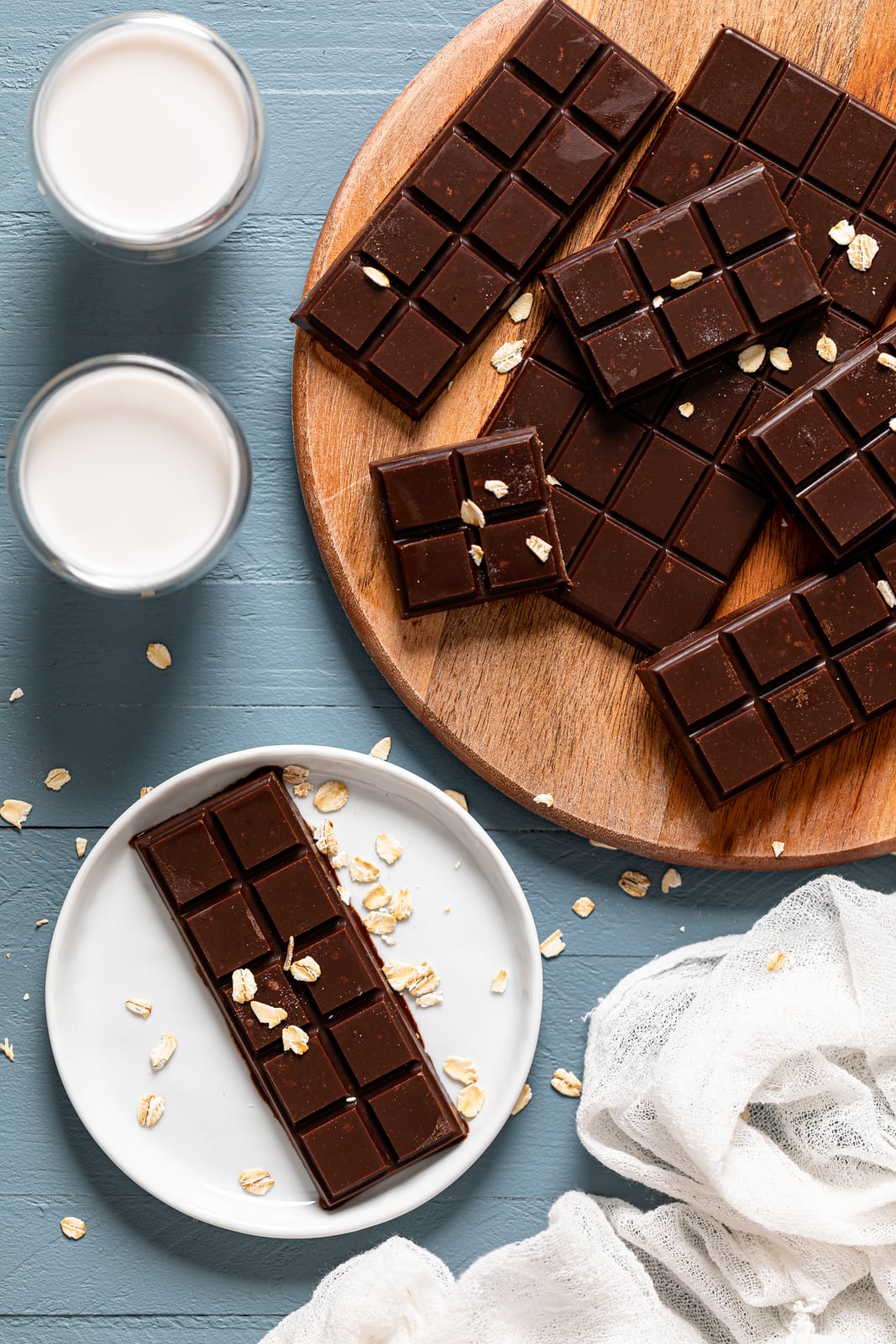 Common FAQs About Making Homemade Vegan Chocolate Bars
What's the difference between using cacao vs. cocoa powder?
Generally speaking, using either one is fine for these bars! Again, I use organic versions of both, therefore, the difference might be slight in the taste when it comes to using either one. Also, cacao powder tends to be more expensive, but I love purchasing mine from Navitas Organics.
In technical terms---Chocolate is actually made from Cacao beans (or seeds). It's said that companies who use the term 'Cacao' are referring to the beans, pods, or ground up version of the beans. However, the term Cocoa is often referred to as the powdered version of it all (which is formed after the fat is pressed out of the bean).
What if I Don't Want to Use Vegan Butter?
That's totally fine! You can substitute the melted vegan butter with coconut oil. In all actuality, you only need a small amount of either ingredient because you'll be melting the cacao butter, which creates an oil base.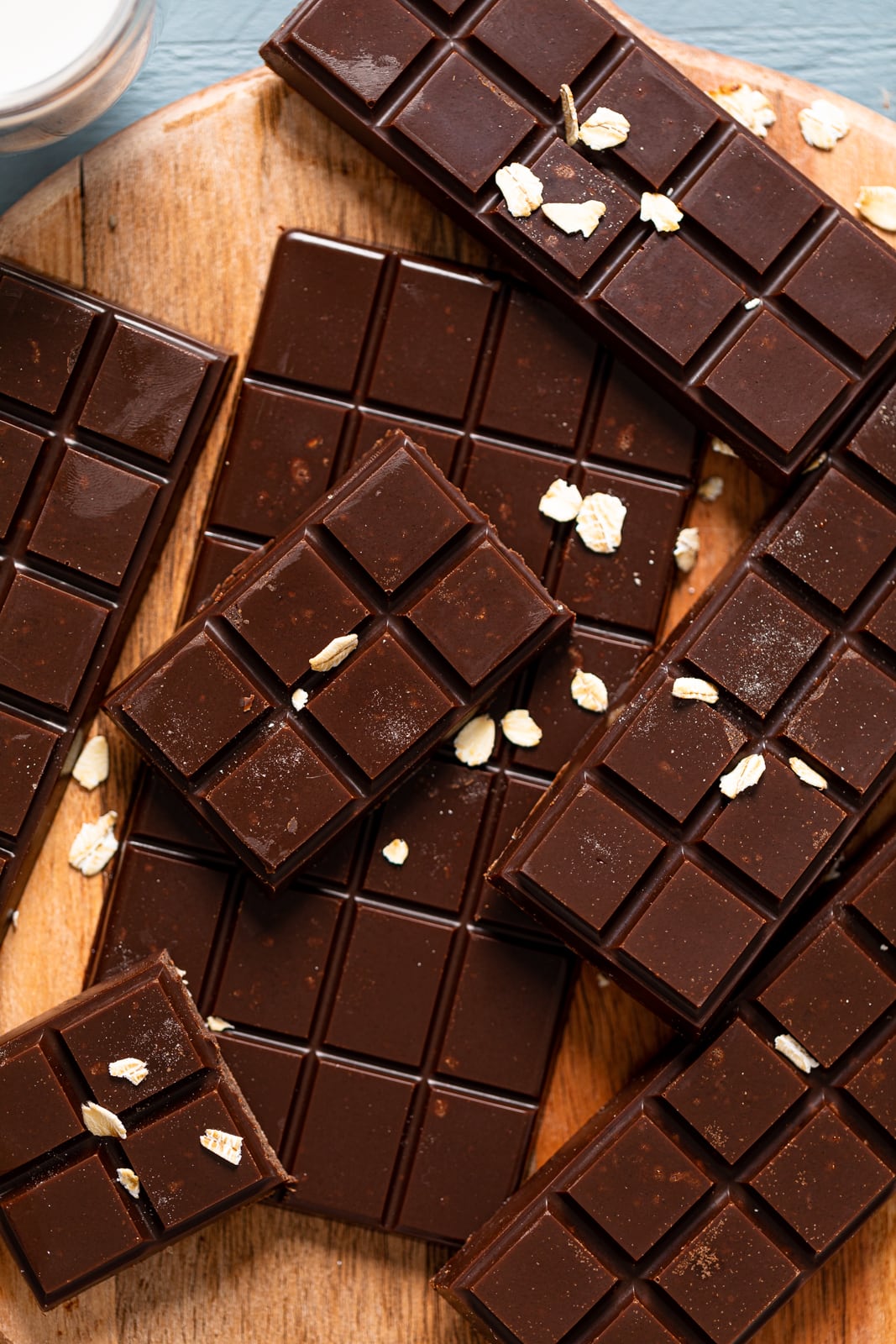 What's the Best Sweetener to Use?
My go-to is usually Agave syrup or maple syrup, which are natural sweeteners----and they work for these chocolate bars also. However, you can feel free to use stevia or date syrup as a great substitute.
Can I Add Other Ingredients to these Chocolate Bars?
Absolutely! I'm a big believer in personalizing any recipe to meet and satisfy your taste buds and these chocolate bars are no different. I love creating a nice twist on these bars by adding additional ingredients like chopped nuts, cacao nibs, caramel sauce, peanut butter cups (chopped), pistachios, crushed Oreos, you name it!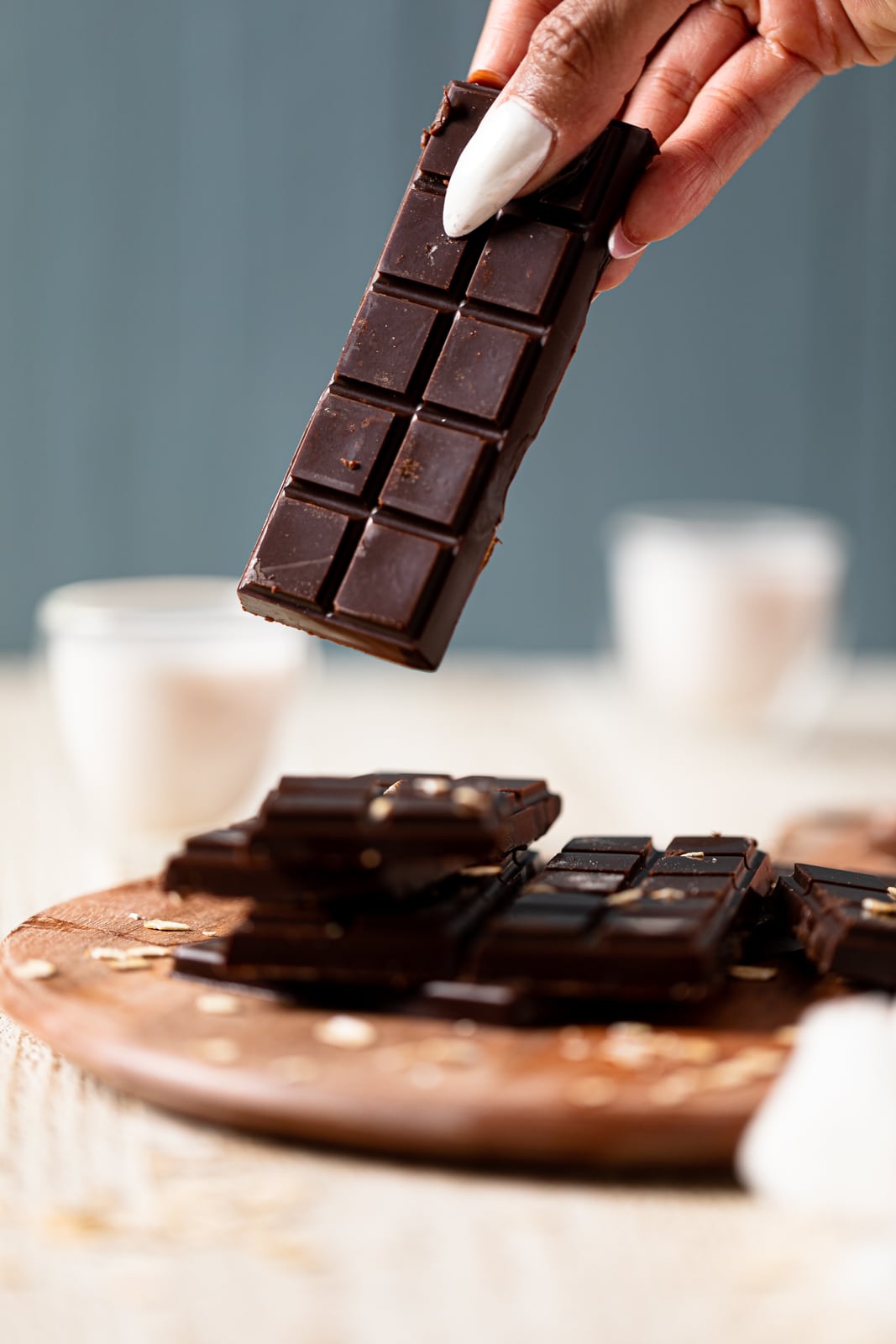 What's the Best Chocolate Molds to Use?
Honestly, there is a variation of chocolate molds to chose from and it depends on the shape and depth of the chocolate bars that you want. Personally, I love having the original chocolate "ridges" as a traditional bar, so I purchased these silicone chocolate molds via Amazon and they're so affordable!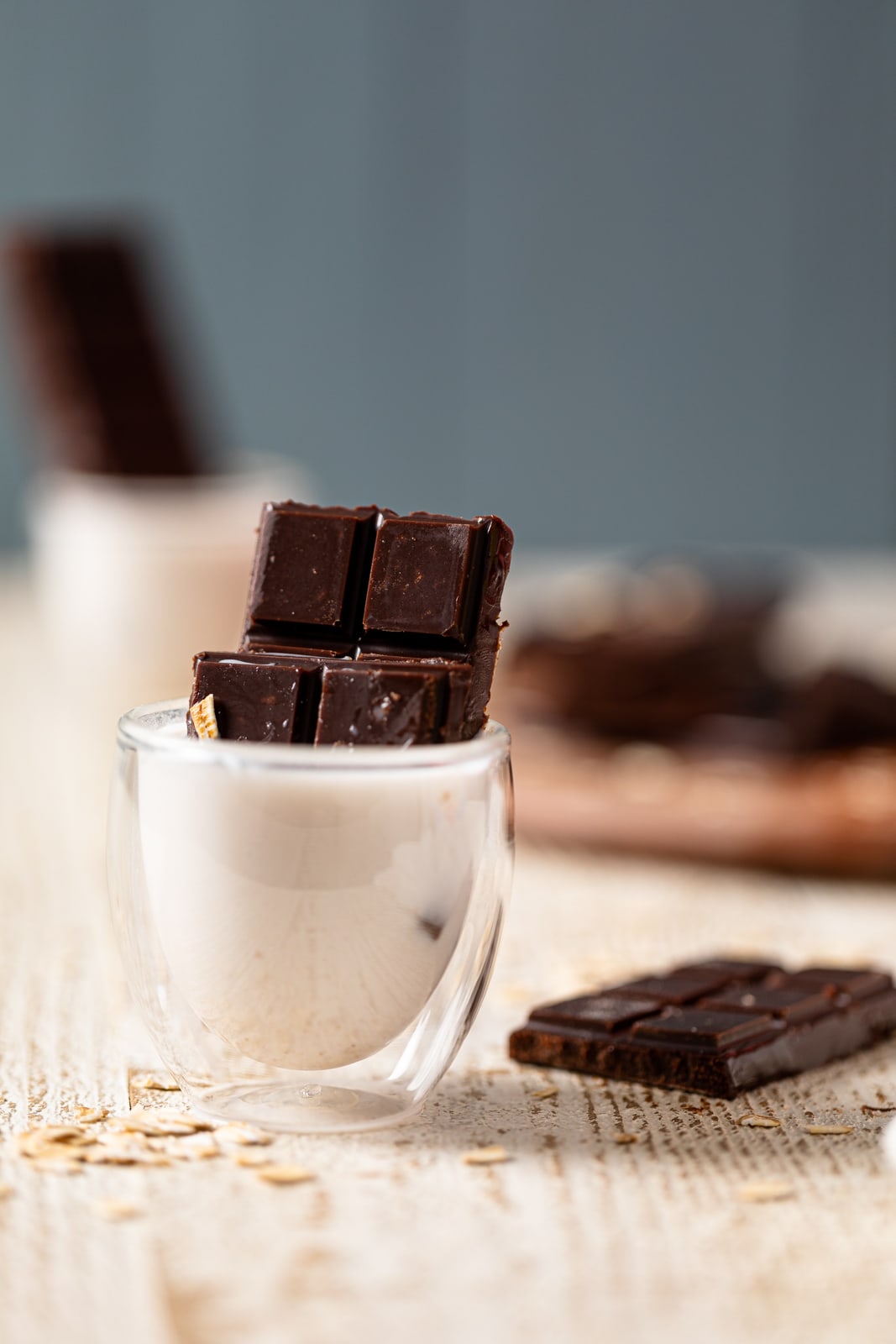 More Must-Try Chocolate Related Recipes
MADE OUR RECIPE(S)?
If you make these Homemade Vegan Oat Milk Chocolate Bars, be sure to tag me on Instagram @orchidsandsweettea!
OPTIONAL TOPPINGS:
Cacao nibs

Chopped nuts

(You can use pecans, walnuts, almonds, pistachios, pine nuts, etc.)

Vegan caramel sauce
MELT THE CACAO BUTTER:
In a saucepan over medium-high heat, add the chopped cacao butter and let it melt fully, stirring occasionally. Whisk in the cocoa powder and melted butter until combined and smooth. Remove from heat and let everything cool completely.

Once cooled, in a bowl, add the melted chocolate mixture along with the Agave, vanilla, oat milk, and salt, mixing until combined and smooth.
ASSEMBLY:
Using chocolate molds, pour the chocolate mixture into each cavity, filling them until practically full. NOTE: If using any chopped toppings, I would only fill molds at the ¾ mark and then top with toppings.

Carefully transfer everything to the freezer for about 1 hour or until chocolate bars are completely set. NOTE: It helps if you add the mold atop a baking sheet or large cutting board to ensure that they don't tilt while in the freezer.

Remove the chocolate bars from their molds, cut (if preferred) and enjoy!
STORAGE: Once properly stored in an air-tight container or tightly sealed ziplock bag, leftovers can last for 2-3 weeks or frozen for longer. When ready to serve, allow bars to sit at room temperature for a few minutes before eating.
SWEETENER: If you choose to opt out of Agave, you can always substitute with coconut sugar or pure maple syrup as well.
TOPPINGS: See post for great topping options for these chocolate bars!
Calories:
153
kcal
|
Carbohydrates:
17
g
|
Protein:
3
g
|
Fat:
10
g
|
Saturated Fat:
5
g
|
Polyunsaturated Fat:
1
g
|
Monounsaturated Fat:
3
g
|
Trans Fat:
0.4
g
|
Cholesterol:
1
mg
|
Sodium:
118
mg
|
Potassium:
213
mg
|
Fiber:
4
g
|
Sugar:
10
g
|
Vitamin A:
19
IU
|
Vitamin C:
1
mg
|
Calcium:
28
mg
|
Iron:
2
mg
Homemade Vegan Oat Milk Chocolate Bars.