This Lemon Blueberry Olive Oil Cake is dense, moist, and fluffy. It's also well balanced between tart and sweet flavors as zesty lemon and olive oil is paired with sweet hints of blueberries. A definite crowd-pleasing treat for the entire family on any occasion. Vegan option available.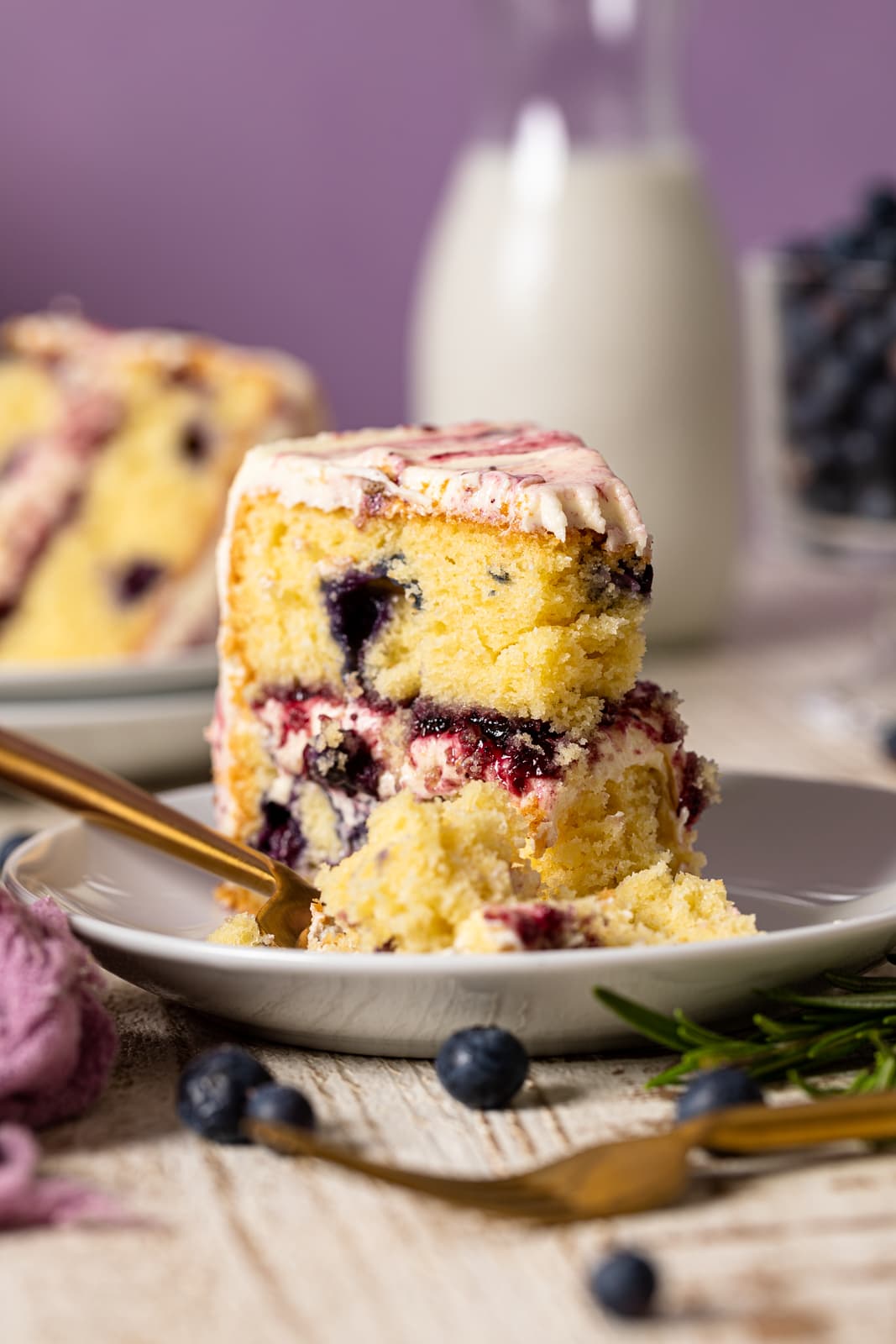 There's not much to say about this Lemon Blueberry Olive Oil Cake. It's absolutely incredible, moist, fluffy, soft, and so pillowy. Just all the things. More importantly, I love anything blueberry and lemon—-they're just magic together.
Let's talk about the olive oil in this cake however. If you haven't tried my Grapefruit Olive Oil Cake with Raspberry Compote then you're truly missing out. I understand the craze over adding olive oil to your cake because it really does add great moisture and fat to the batter which creates a nice fluffy cake. It's that simple.
How to Make Lemon Blueberry Olive Oil Cake
This cake as I've mentioned before is super easy to whip together and doesn't require anything special when it comes to ingredients. All you need to whip up this simple Lemon Blueberry Olive Oil Cake batter is:
All-purpose flour. I use organic flour from Bob's Red Mill.
Baking powder for leavening.
Cane sugar. I use organic sugar.
Lemon zest adds a strong citrus flavor.
Butter. I recommend unsalted butter for baking.
Olive oil. Choose a nice high-quality oil because you will be able to taste it in the cake!
Eggs. These should be at room temperature so they mix evenly into the batter.
Lemon juice. You can squeeze this from juicy, lemons or use an extract.
Buttermilk. You can use dairy-free or regular!
Blueberries. You can use fresh or frozen blueberries.
Cake Flour vs. All-Purpose Flour.
When it comes to the main ingredient of this entire recipe—-the flour, I enjoy using Bob's Red Mill Unbleached White All-Purpose Flour, which is ideal for all kinds of baking, including this one.
However, I do occasionally use Super-Fine Cake Flour which adds a nice airiness and fluffiness to your cakes as well.
Can I Make this Cake Gluten-Free?
If you would love to make this cake gluten-free, then substituting all-purpose flour with Bob's Red Mill 1-to-1 Baking Flour is the easiest option. It's a special blend of gluten-free flours, starches, and xanthan gum, which makes these donuts just as soft, fluffy, and airy as the original! They also have a great All-purpose GF flour that works great as well.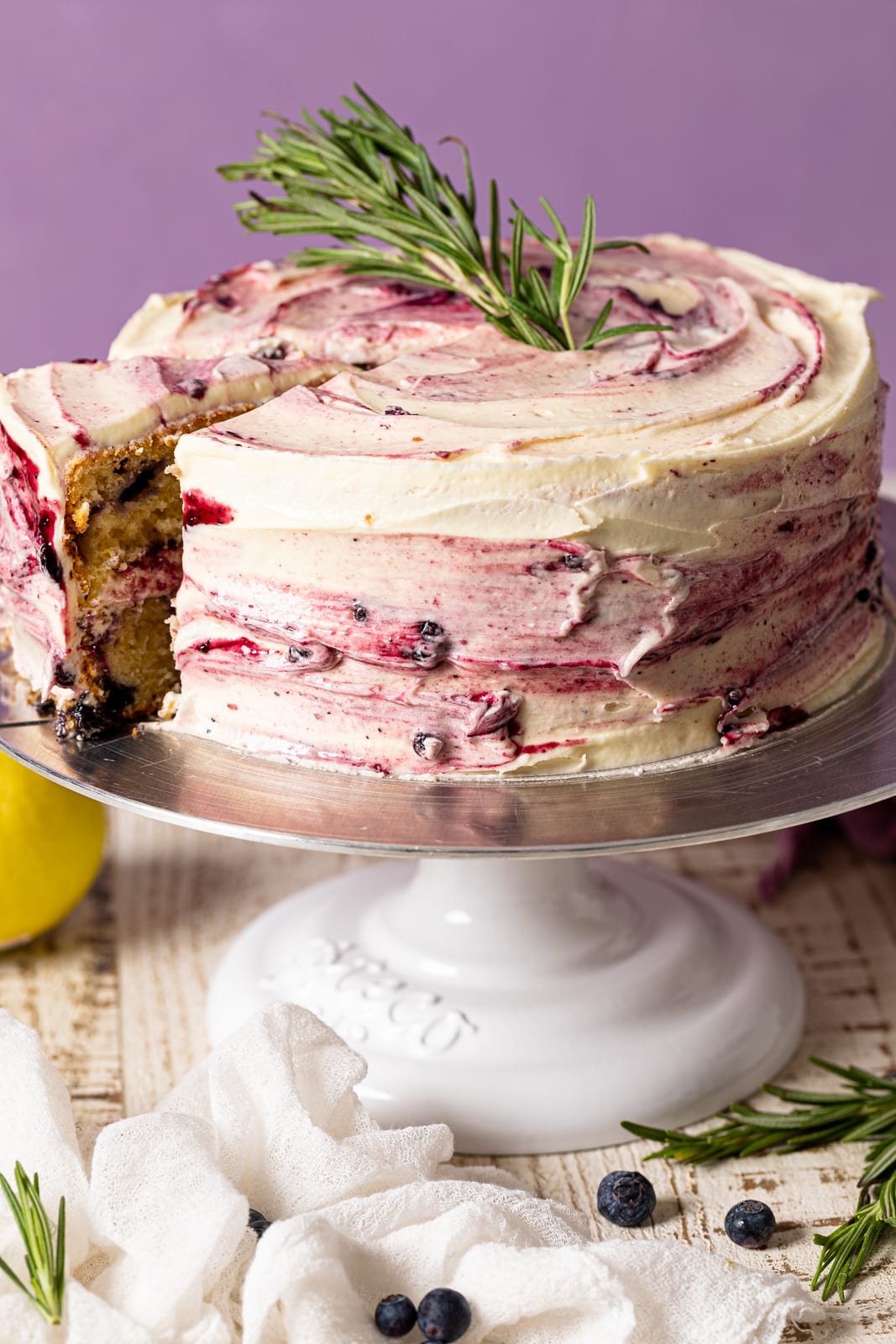 Can I Make this Lemon Blueberry Olive Oil Cake Vegan?
Yes! To make this cake dairy-free and egg-free, substitute the butter for vegan butter. Omit the eggs and use apple cider vinegar or 'flax eggs' as an alternative. To decorate your vegan lemon blueberry olive oil cake, use the vanilla buttercream recipe here.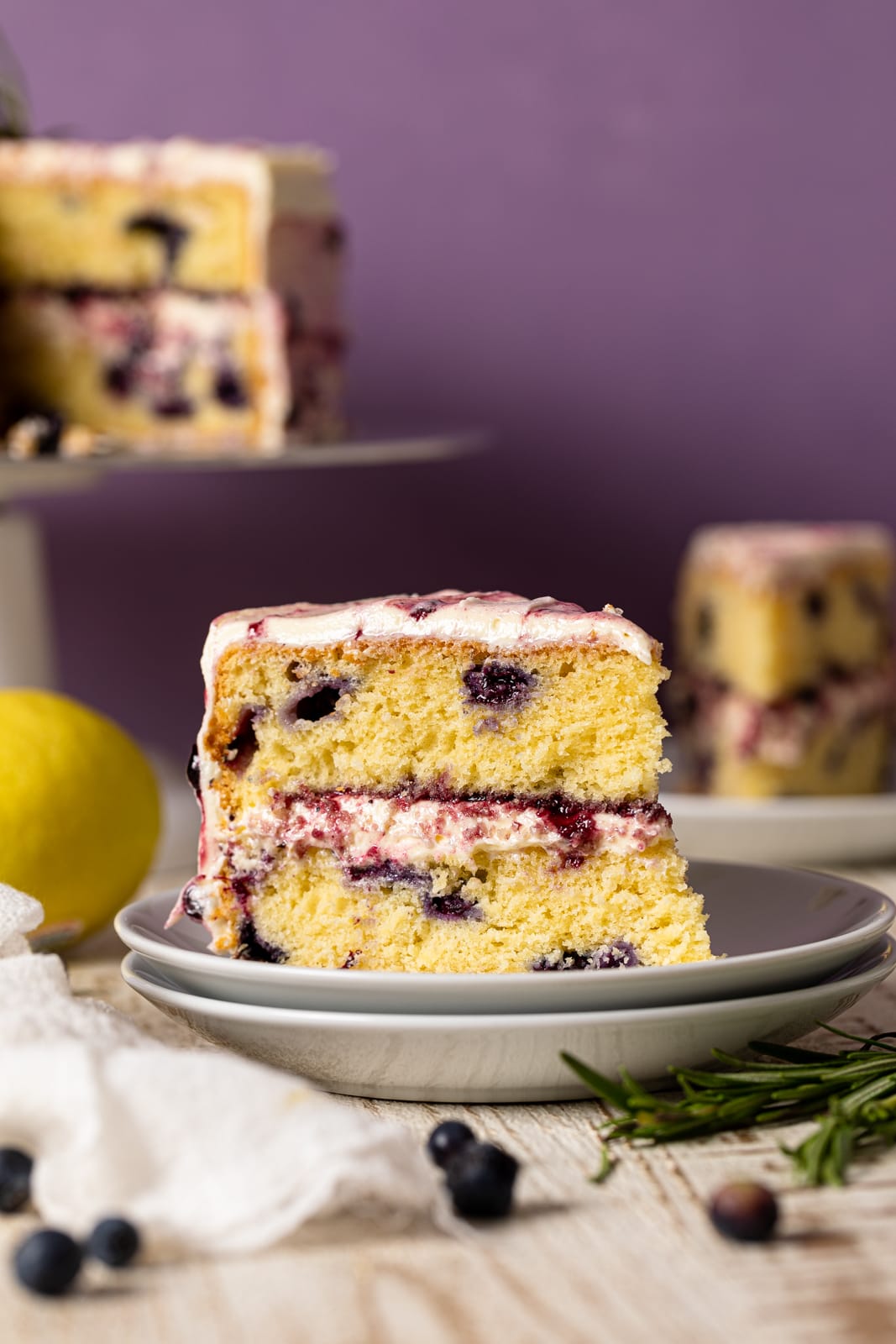 Fresh vs. Frozen Blueberries
I like using frozen blueberries for baking projects like this cake. The flavor is more concentrated, plus they're more affordable.
However, note that if you're using frozen blueberries, lightly toss them in 1 tablespoon of flour or arrowroot starch before adding them to the batter. This helps absorb excess water and prevents the berries from sinking to the bottom of the cake batter.
Assembling the Cake
Before you frost your cake, you'll need to trim it. Use a long serrated knife (or cake slicer) to slice the thin crust layer off the top of each cake to make a flat surface.
Next, place the first cake layer on a cake stand and evenly cover the top with buttercream. Now, place the with second layer on top and evenly cover the top with buttercream. You can add more layers if you like too!
Once your cake is fully stacked, spread the remaining vanilla buttercream over the cake and down the sides.
Tip: Make things a bit easier by spreading a very thin layer of buttercream over the cake and chilling it for 30 minutes before adding the remaining buttercream.
Once fully frosted, garnish your masterpiece with bits of cake crumble from any discarded cake, flowers, blueberries, etc. as desired. Slice and enjoy!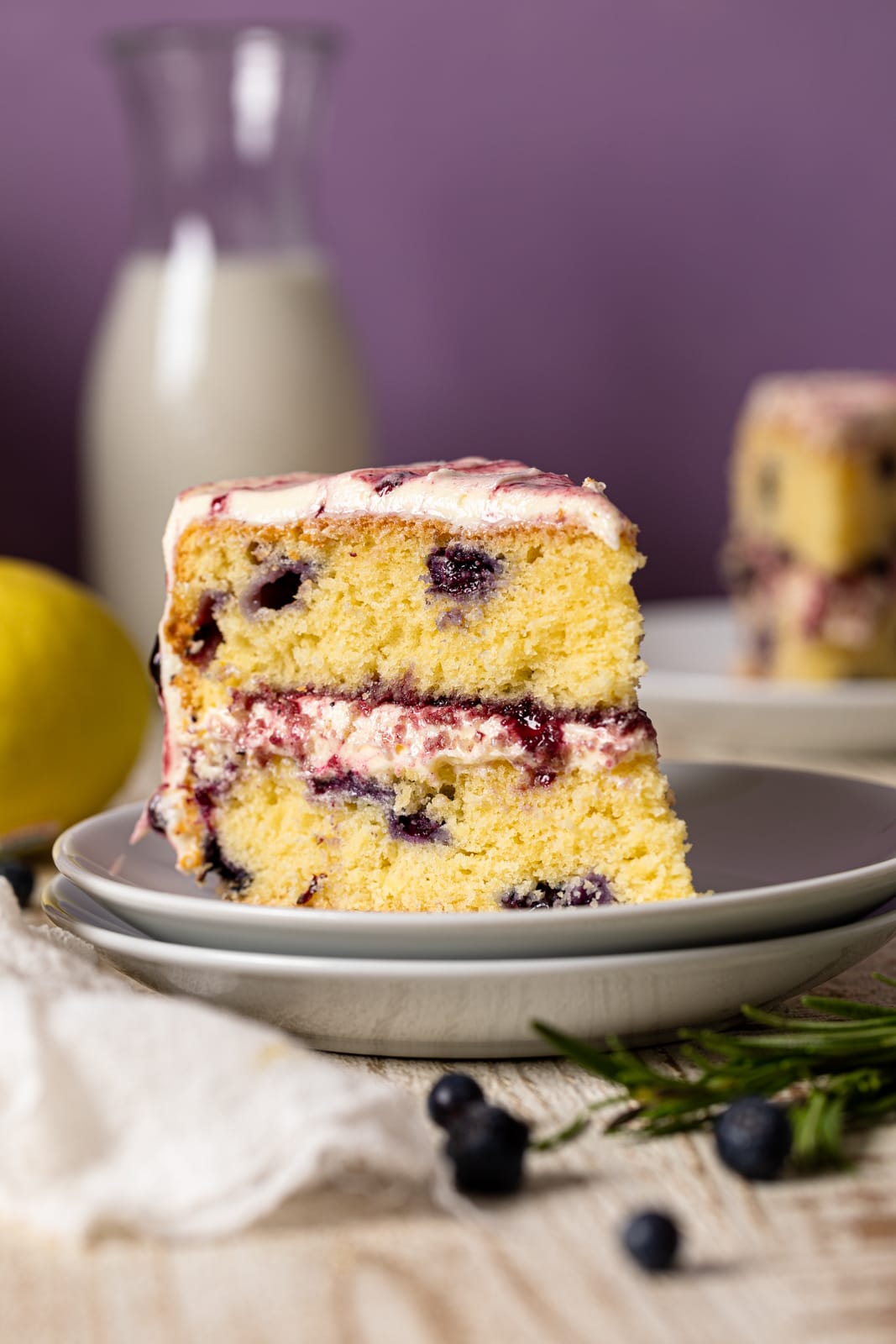 How to Store Lemon Blueberry Olive Oil Cake
Store leftover cake in an airtight container in the fridge for up to five days. Or freeze the cake for up to 3 months. To serve, defrost the cake for a few hours on the counter.
Can I Make Lemon Blueberry Olive Oil Cupcakes?
Sure! To turn this cake recipe into individual cupcakes, simply divide the batter between about 30 cupcake wells. Bake for 18 to 20 minutes, until the centers are set.
COMMON FAQs ABOUT THIS CAKE.
WHY ARE THE INGREDIENTS AT ROOM TEMPERATURE?
When it comes to ingredients, especially in baking, it's always best to have cold ingredients at room temperature to ensure that the mixing process is more seamless and even. Please note that microwaving your butter last minute if you forget to leave it out at room temperature isn't recommended. Microwaving often changes the consistency of the butter which doesn't create a nice 'creaminess' when mixed.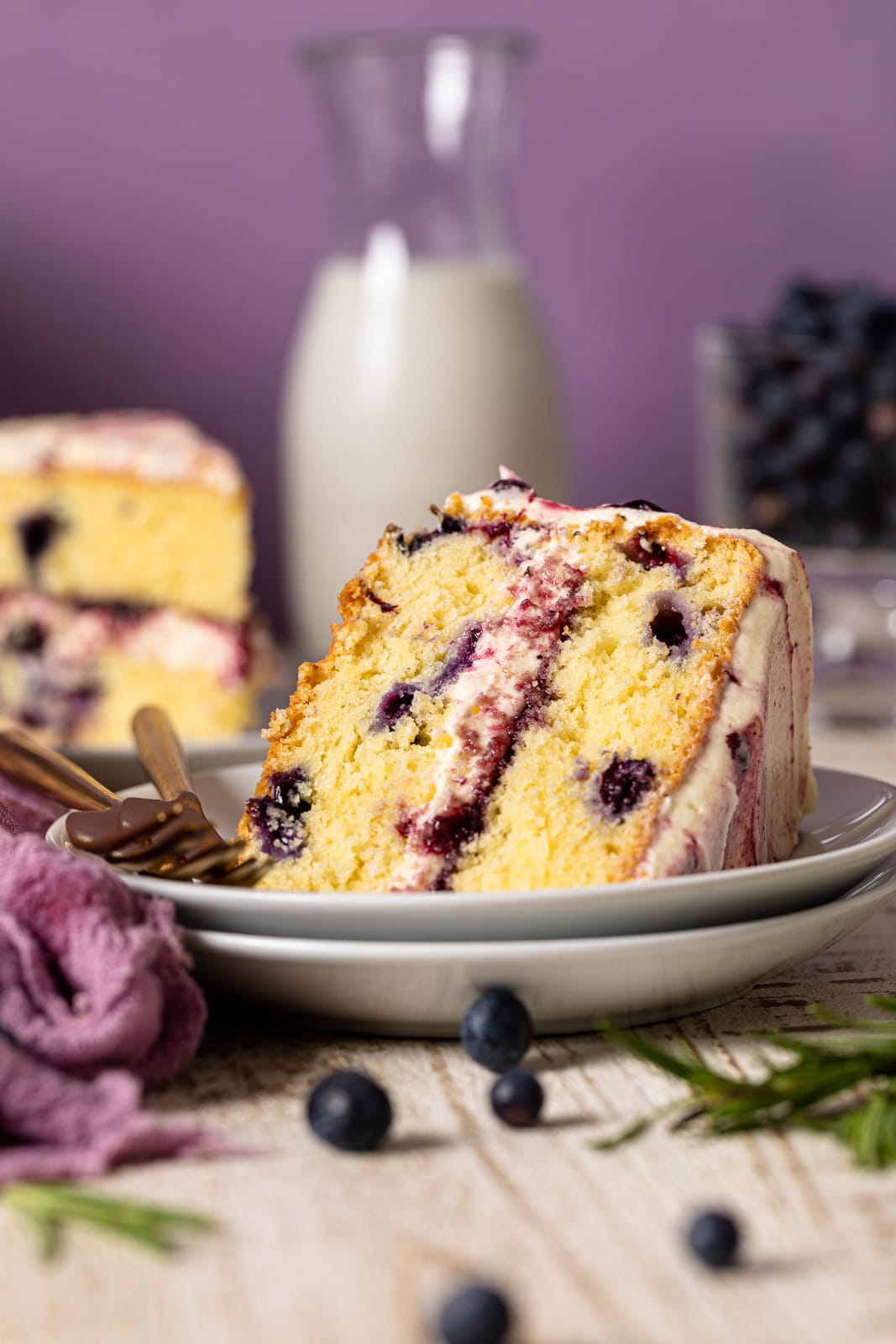 CAN THIS CAKE BE MADE AHEAD?
Absolutely! You can always bake this cake the night or day before and let it cool, tightly wrap, and refrigerate until ready to use. The frosting/buttercream can also be made prior and tightly wrapped and stored in the fridge as well. When ready to serve, let cake sit at room temperature for 30 minutes to an hour, frost, and enjoy!
More Delicious Sweet Recipes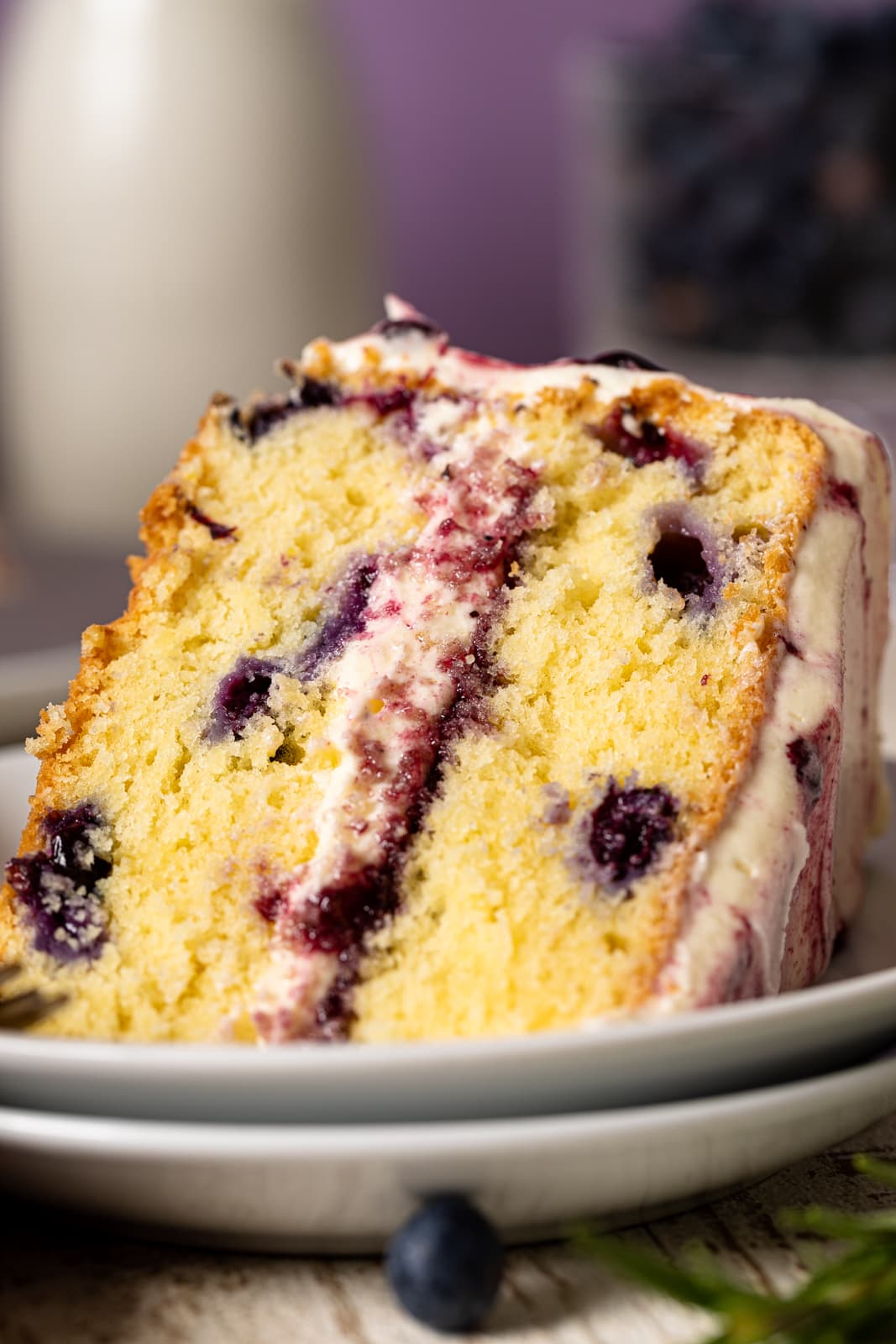 MADE OUR RECIPE(S)?
If you choose to make this Lemon Blueberry Olive Oil Cake recipe or any other recipe from us, be sure to tag us on Instagram at #Orchidsandsweettea so that we can share the love!
CAKE:
4

cups

organic all-purpose flour

2 1/2

tsps

baking powder

1 1/2

cups

organic cane sugar

1

Tbsp

lemon zest

1/2

tsp

sea salt

3/4

cup

unsalted butter, softened at room temp.

4

large

organic eggs, room temp.

2

tsps

freshly-squeezed lemon juice

1/2

cup

Extra virgin olive oil

1 1/2

cups

"Buttermilk"

(I use Almond milk + 1 tsp lemon juice)

2

cups

fresh blueberries

(If using frozen blueberries, See Notes!)
FILLING:
1/2

cup

blueberry preserves or jam

1

tsp

freshly-squeezed lemon juice
VANILLA BUTTERCREAM:
5

cups

organic powdered sugar, sifted

1

cup

unsalted butter, softened at room temp.

1

tsp

vanilla extract

1-2

Tbsps

Almond milk
MAKE THE CAKE:
Begin by preheating your oven to 350 degrees Fahrenheit. Lightly grease (with butter) AND line with parchment paper the bottoms of TWO 9-inch or 8-inch cake pans (for thicker layers) or THREE 6-inch cake pans.

In a bowl, whisk together the milk and lemon juice and set aside for 5-10 minutes until everything "activates" to create the dairy-free "buttermilk".

In a large bowl, whisk together the flour, baking powder, lemon zest, and salt until combined.

In a bowl, add the butter and sugar, beating them together using a hand-mixer (on high-speed), until pale and fluffy, about 2-3 minutes.

Add the eggs (one at a time) followed by the freshly-squeezed lemon juice and olive oil, mixing until combined. On low-speed, add in the dry ingredients followed by the buttermilk and continue to mix until combined and the batter is smooth, about 3-4 minutes. NOTE: The batter should be thick, yet slowly run off the whisk once lifted. Fold in the blueberries.

Divide the batter evenly into each of the cake pans and bake for 30-35 minutes, or until a toothpick or butter knife comes out clean when tested in the centers.

Remove cakes from the oven and let them rest in the pan for 10 minutes or so before removing the cakes and placing them onto a cooling rack to fully cool. NOTE: Let them cool for at least 1-2 hours in a cool place.
MAKE THE BLUEBERRY FILLING:
In a bowl, add the strawberry preserves/jam and lemon juice, mixing until combined and easily mixable. Set aside.
MAKE THE BUTTERCREAM FROSTING:
Simply beat the butter in the bowl of an electric mixer (or using a hand-mixer) on medium-high speed, until smooth and pale. Add in the powdered sugar, vanilla, and milk, continuing to mix on medium-speed until you reach the desired consistency----smooth and fluffy. NOTE: Add more milk (1 Tbsp at a time if too thick) or powdered sugar (for more thickness).
ASSEMBLY:
Place the first cake layer on your cake stand and evenly cover the top with buttercream and a few spoonfuls of blueberry filling. Now, top with 2nd layer and add more buttercream atop that layer, spreading it over the tops and sides of cake, evenly and thinly. NOTE: If making a 3-layer, be sure to repeat step 1 of assembly once again before getting to the final layer.

Once fully frosted, add small little designs of the buttercream using a piping bag + tip around the sides and top of cake. Feel free to add a spoonful of blueberry preserves/jam to the tops and side of cake and using a spatula, glide it across the cake for a nice "infuse" in buttercream. Chill for 5 minutes to ensure that buttercream sets. NOTE: For a fancy moment or occasion, add florals atop cake for a Spring vibe!

When ready to serve, remove from the refrigerator. Slice and enjoy!

Bon Appetit!
STORAGE: Keep cake leftovers stored for up to 4-5 days in the fridge. Keep it in an airtight container to keep the cake from drying out. You can also freeze the cake tightly wrapped in plastic wrap for up to 3 months. Before serving, defrost the cake on the counter.
FLOUR: You can also use cake flour in place of all-purpose flour for a fluffier texture. 
BLUEBERRIES: If using frozen blueberries, be sure to lightly toss them in 1Tbsp of flour or arrowroot starch before adding them to batter. This reduces any excess water from the blueberries and allows bread to cook thoroughly.
LEMON BLUEBERRY CUPCAKES: This recipe yields about 30 cupcakes. Simply bake for 18-20 minutes instead, until centers come out clean.
DAIRY BUTTERMILK: Add 1 cup of organic heavy cream + 1 Tbsp lemon juice and let sit for 10 minutes, until it thickens.
VEGAN OPTION: To make this cake entirely dairy-free + vegan, simply omit the unsalted butter and eggs and use vegan butter instead and add 1 Tbsp apple cider vinegar to milk instead of lemon juice. Ensure that all ingredients are vegan-friendly, including blueberry preserves/jam.
Lemon Blueberry Olive Oil Cake.