These Vegan Lemon Poppy Seed Donuts are anything but boring! They are super fluffy, soft, moist, and are a delicious sweet treat that comes loaded with lemony flavor married together with a slight nutty flavor from the poppy seeds and baked to perfection. Gluten-Free option.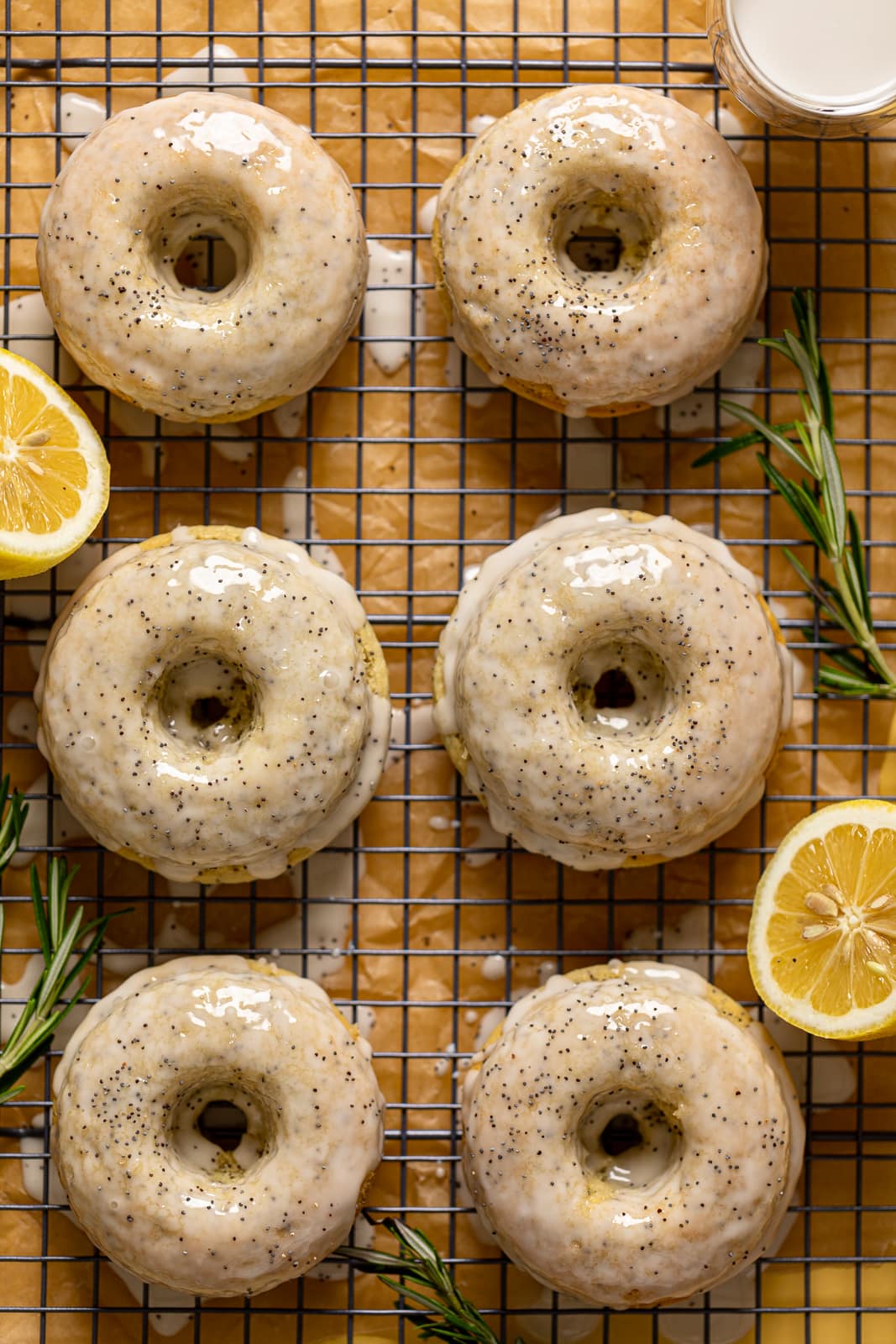 Spring baking cannot exist with these Vegan Lemon Poppy Seed Donuts. This past week has been a SUPER busy one for me and although I'm tired, I know that the weekend means new things to do so there's not much time for a full fledge day of rest! But a girl is surviving! Haha.
More importantly, I'm excited for new recipes in May and I must admit that upcoming recipes will be so amazing! I plan on testing out a lot of new flavors, textures, and styles, which of course can feel intimidating at first BUT exciting all at the same time.
If you've been an avid follower of Orchids + Sweet Tea, then you'll know that these donuts aren't my first attempt at making these little circle bites! These Vegan Vanilla Donuts with Sprinkles are actually one of my faves from last year---which I remade and revamped as well like these!
If you're looking for another healthy version of doughnuts/donuts, then look no further----these Healthy Blueberry Vegan Donuts with Blueberry Glaze are EVERYTHING! Easily whip them together in under 30 minutes!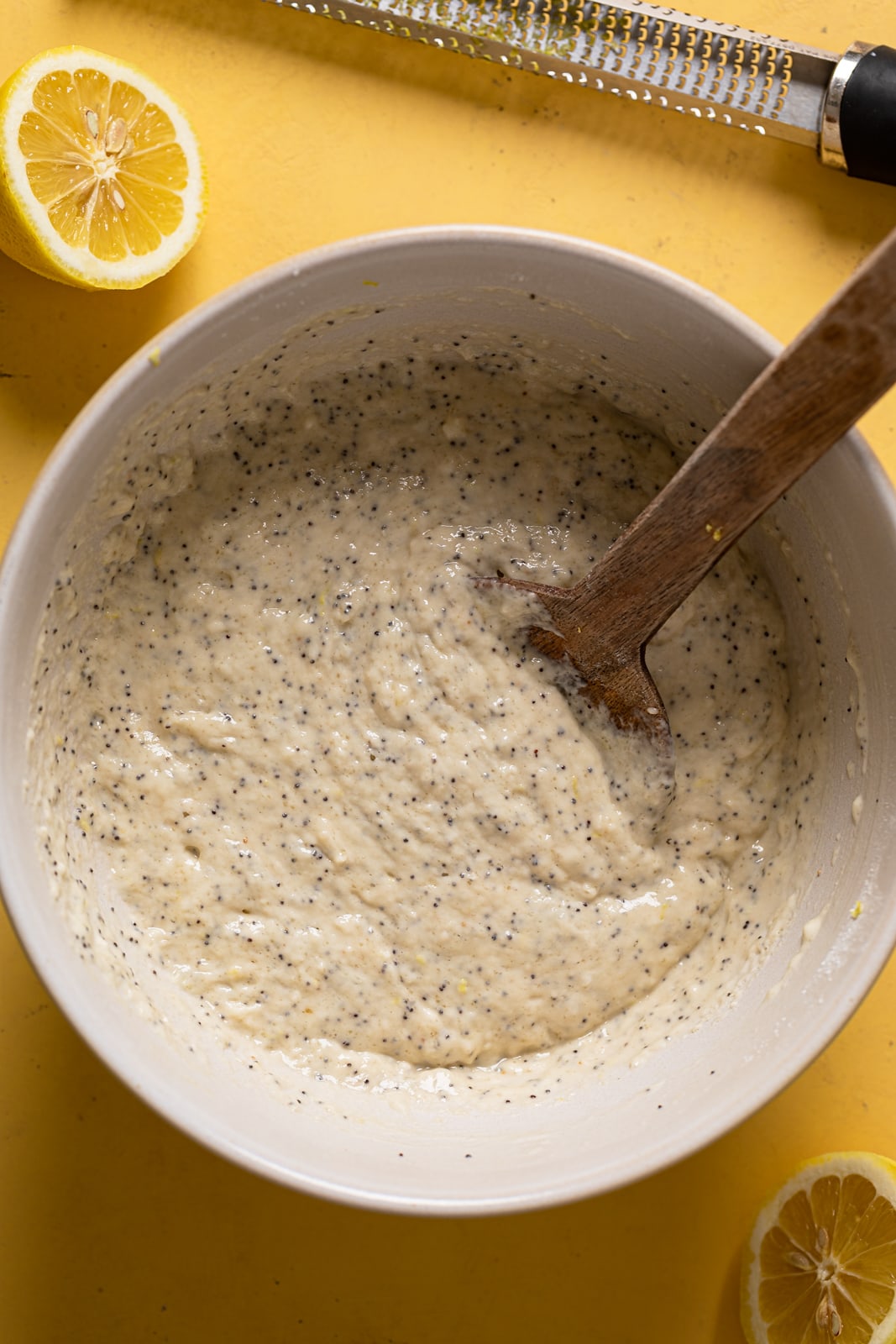 Ingredients for Vegan Lemon Poppy Seed Donuts
here's what you need to make these dairy-free donuts:
Flour. I use organic all-purpose from Bob's Red Mill.
Baking powder. To help your pancakes become light and fluffy. 
Lemon zest and juice for real lemon flavor. 
Cane sugar. You can ensure that this is vegan-friendly by it being certified organic.
Vegan butter. You can also use coconut oil or vegetable oil if preferred.
Poppy seeds. These are usually sold in the spice or baking aisle of the grocery store. 
Almond milk. Feel free to use a different plant-based milk if you like. I recommend making easy homemade almond milk (my recipe doesn't require soaking!)
OK, back to poppy seeds! Did you know that poppy seeds are packed with benefits nutritionally? Yup.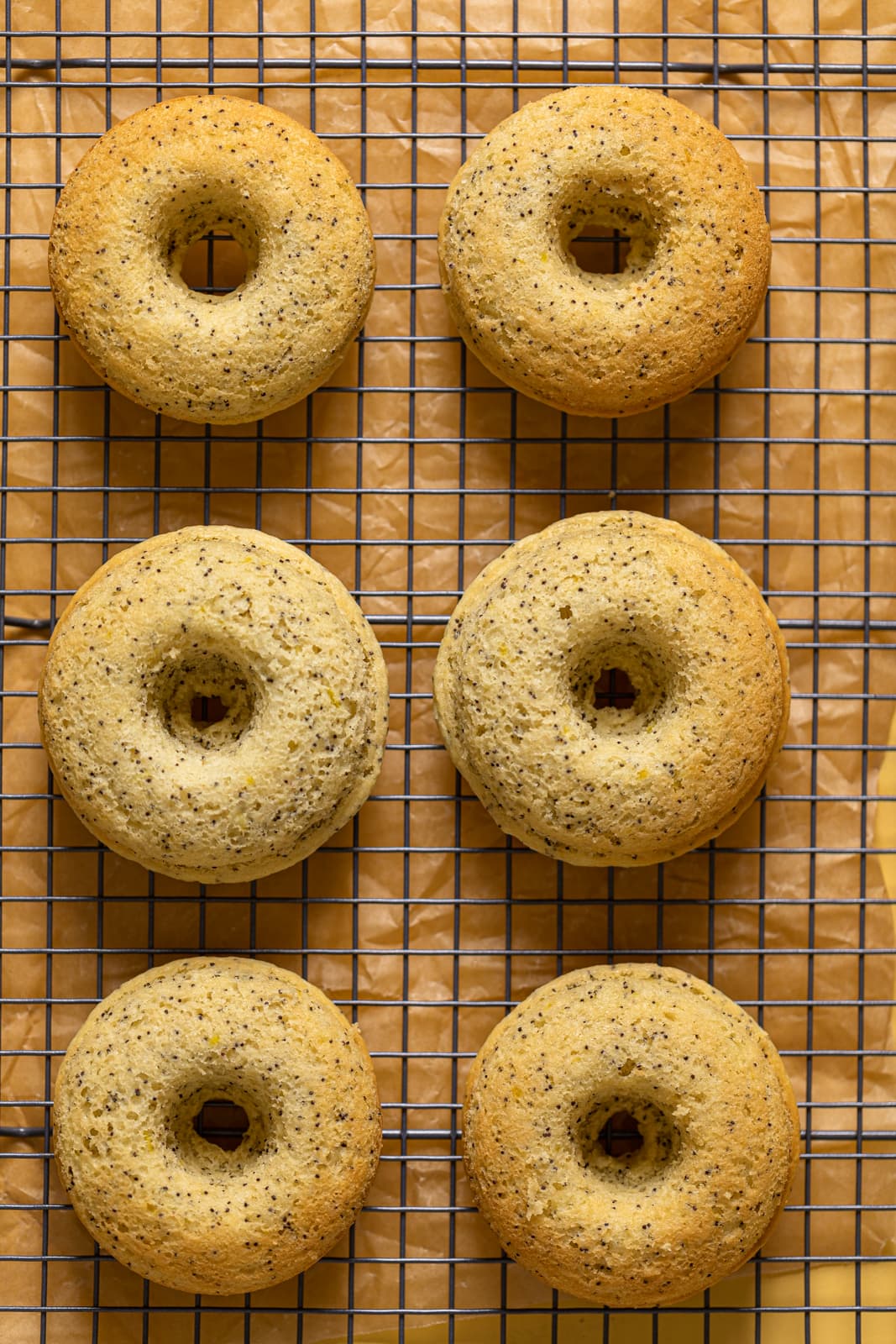 WHY POPPY SEEDS?!
I've recently read that poppy seeds offer pretty impressive nutritional value and while they are super small seeds, they have super big benefits. Some include:
Aiding in the prevention of heart disorders. (Think---Omega-6 fatty acids which protect the heart!)
Supports Bone Health.
Prevents Constipation + other Digestive issues (Contains high amounts of Fiber!)
Enhances Brain Function.
Assists in Red Blood Cell production.
Helps with Insomnia. (Promotes relaxation and helps to deal with symptoms of sleeplessness!)
EQUIPMENT
The only unique piece of equipment you need to make homemade donuts is a donut pan. If you're a donut fan, I highly recommend adding one to your kitchen toolbox. You'll never have to go out for donuts again, and you can always customize the ingredients, flavors, and decorations of your breakfast pastries!
The easiest way to fill a donut pan without a major mess is to pipe the batter into the rings. You don't need a special pastry bag, however. A simple gallon-sized Ziploc bg will do the trick. Simply fill the bag with your batter (work in batches to avoid over-filling the bag), then snip off one corner. Aim for a ¾-inch hole to pipe the batter cleanly into the donut rings in the pan. 
The last piece of equipment you'll need is a wire cooling rack. Ensure your donuts are fully cooled before glazing them. Waiting for these treats to cool is the hardest part of the whole recipe!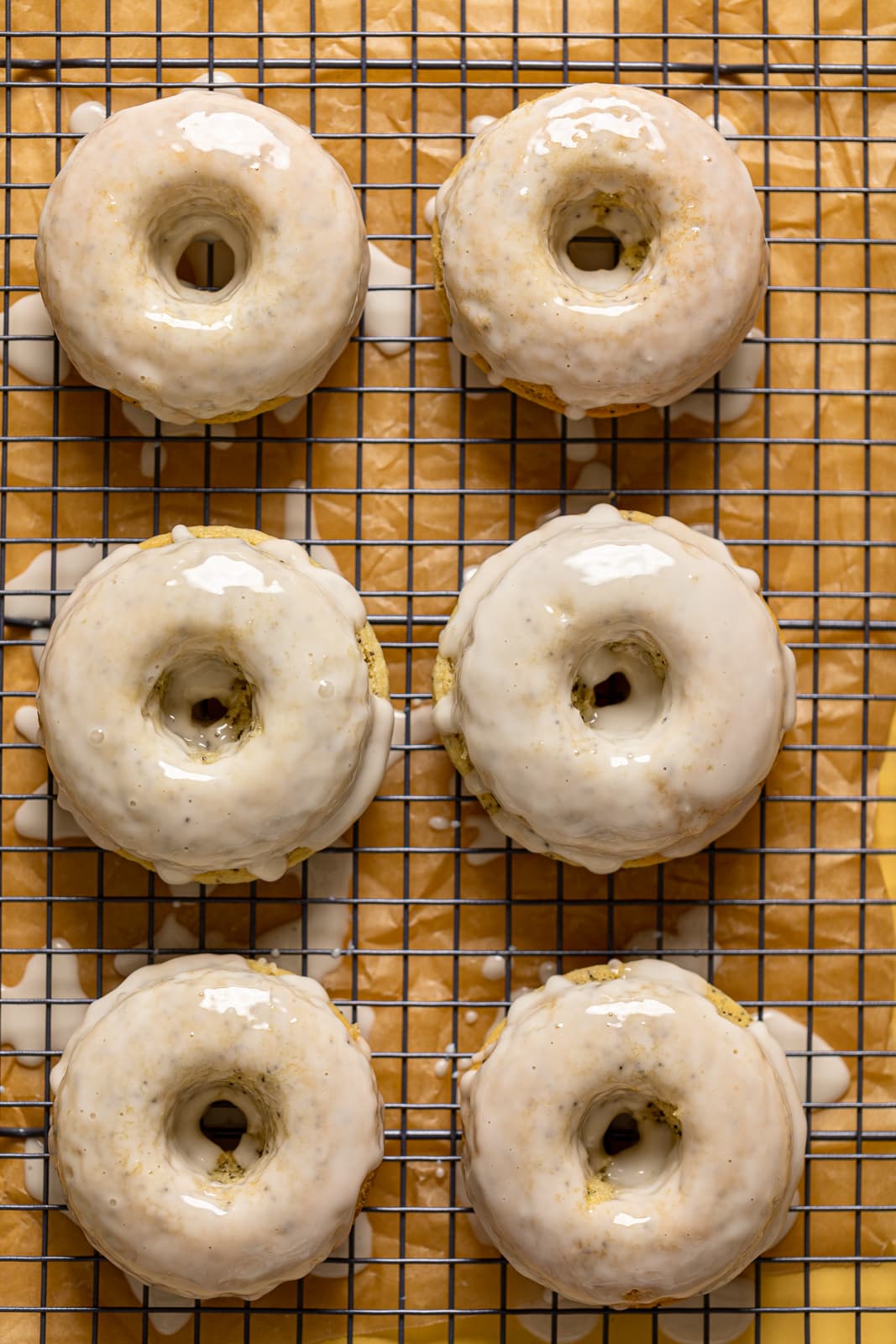 Can I Make Gluten-Free and Vegan Lemon Poppy Seed Donuts?
Absolutely! If you'd like to make this recipe gluten-free, simply swap the flour with your favorite gluten-free all-purpose flour blend. I like Bob's Red Mill. If the batter is too runny, add more flour, ¼ cup at a time, until you have a thick and fluffy batter. 
What Kind of Plant-Based Milk is Best?
You can use any vegan milk you like for these donuts! I recommend making your own because it's cheaper and very easy. Here are some of the most popular recipes for dairy-free milk on my site: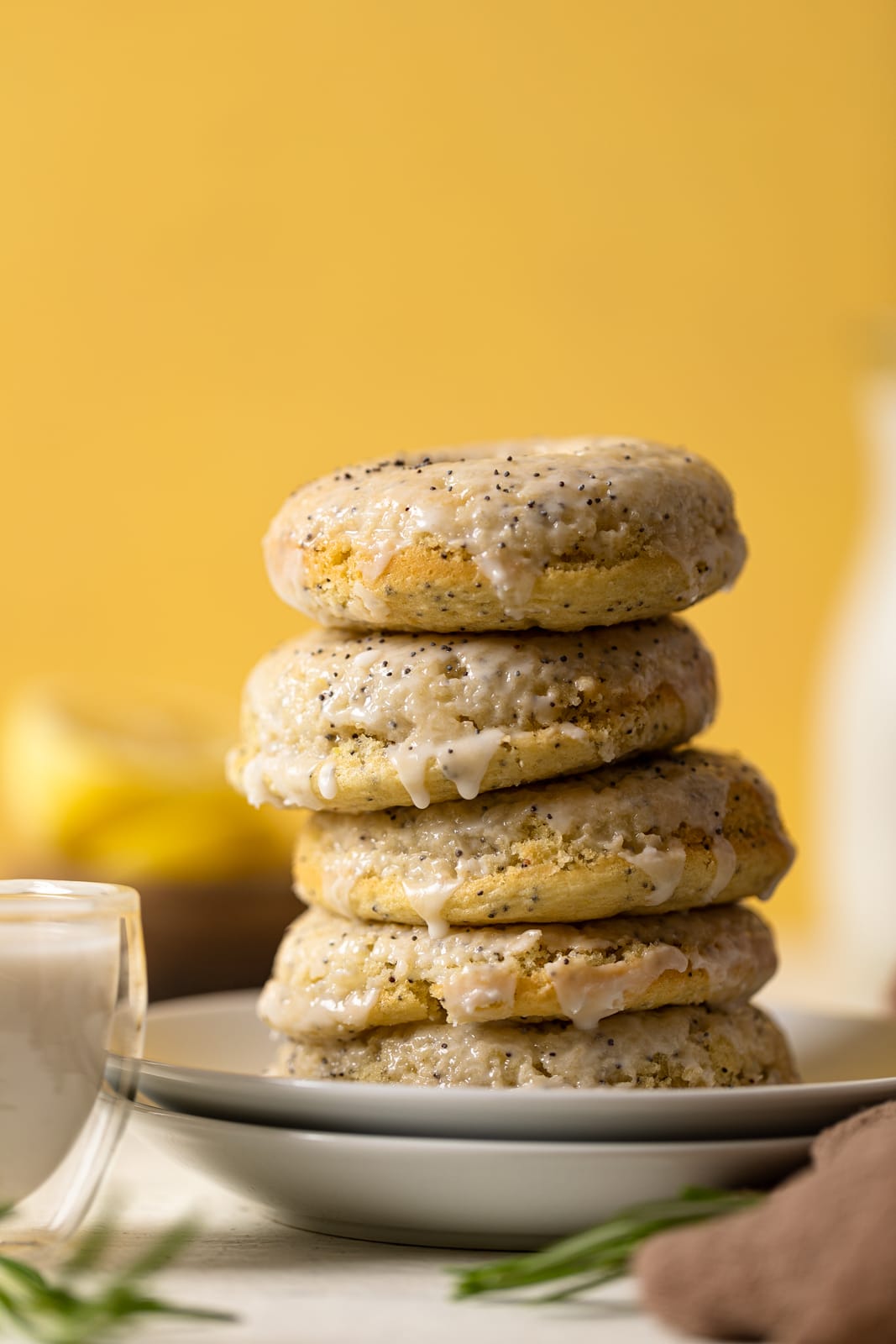 Do Homemade Donuts Need to be Fried?
No! While many of the donuts you buy at places like Dunkin Donuts are deep-fried to get their golden crust and flaky layers, these vegan lemon poppy seed donuts are cooked fully in the oven.
This makes them a much lighter option with little oil. In fact, this entire recipe only has three tablespoons of vegan butter to ensure your donuts stay moist and tender. There are no grease stains left behind by these homemade treats! 
Serving & Storing Suggestions
Who doesn't like to start their day with a homemade donut? These are a perfect weekend breakfast treat, especially for special occasions like a birthday. Serve them with these easy Vegan Chai Tea Latte with Turmeric in the winter, or with refreshing Lemon Blackberry Mint Tea in warmer months. 
These are also a great treat for Easter morning. The colorful light yellow and pops of black from the poppy seed always remind me of springtime. 
The donuts are best enjoyed the day they're made. If you have leftovers, however, you can store them in an airtight container at room temperature for up to four days.
For longer storage, freeze the donuts in an airtight container for up to three months. To serve, defrost the donuts on the counter for several hours. You can also freeze the baked, undecorated donuts and add the glaze just before serving.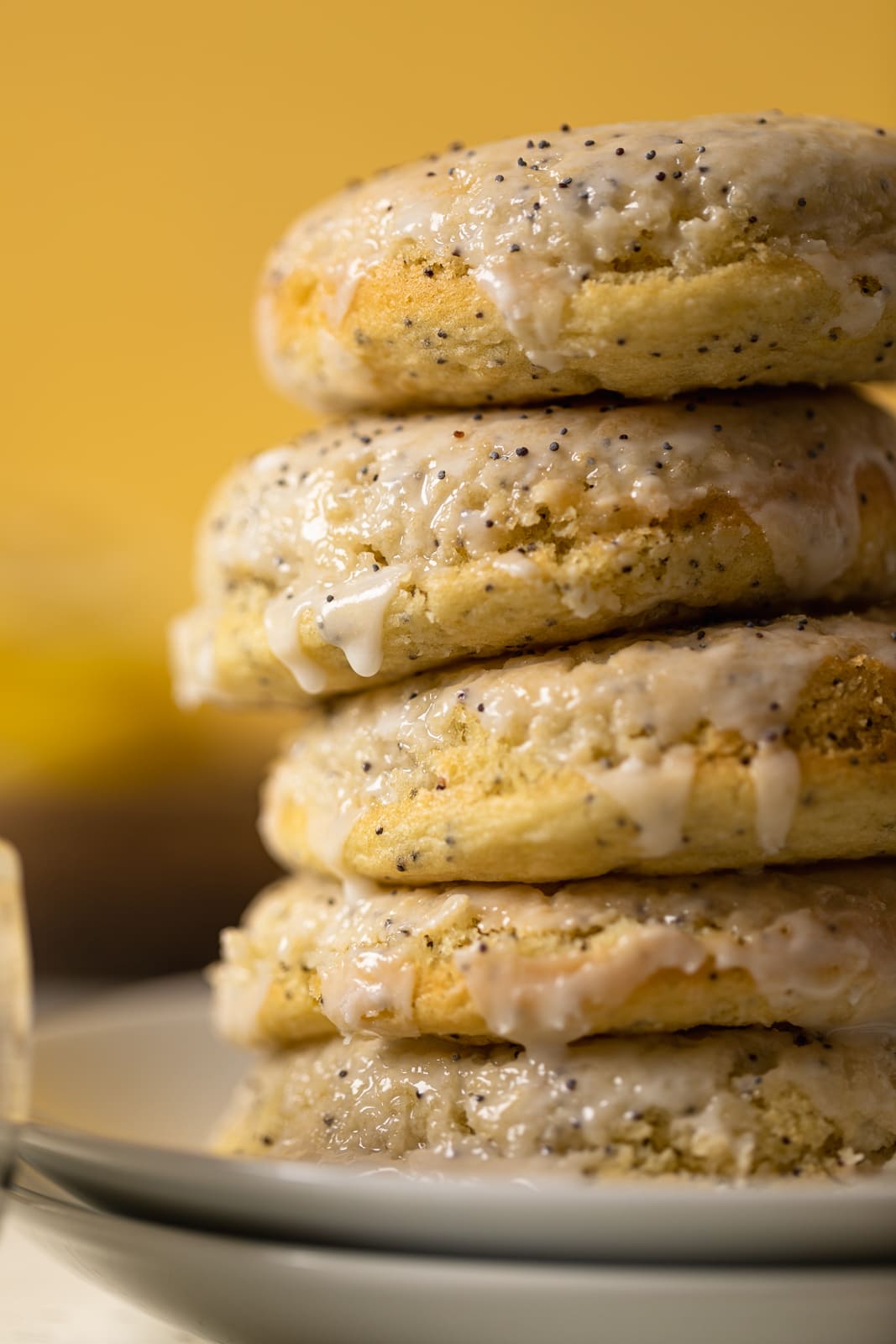 DONUTS:
1 ½

cups

organic all-purpose flour

½

cup

organic cane sugar

2

tsps

baking powder

1

teaspoon

lemon zest

¼

teaspoon

baking soda

¼

teaspoon

sea salt

2

Tbsps

poppy seeds

1

cup

Almond milk

(You can use your fave plant-based milk)

1

tablespoon

freshly-squeezed lemon juice

3

Tbsps

vegan butter, melted

(See Notes!)
LEMON GLAZE:
2

cups

organic powdered sugar, sifted

1

teaspoon

freshly-squeezed lemon juice

1-2

Tbsps

Almond milk

(You can use your fave plant-based milk)
FOR THE DONUTS:
Preheat oven to 375 degrees Fahrenheit and spray your donut baking pans that has 6-wells.

In a bowl, add the milk + lemon juice, whisking together well and letting it sit aside for 5-6 minutes until "activated" and the milk thickens a bit. This creates the "buttermilk".

In a separate bowl, add the flour, baking powder, baking soda, sugar, lemon zest, and sea salt. Finally, stir in the buttermilk and melted butter, until combined and batter is thick and smooth, about 1-2 minutes. Fold in the poppy seeds.

Spoon the batter into a piping bag and pipe batter it into prepared donut pan wells, filling them about ¾ of the way.

Bake for 10-13 minutes or until toothpick inserted into donuts comes out clean.

Remove from oven and allow to cool for 5 minutes before releasing the donuts from their pan and unto a cooling rack to cool completely.
TO MAKE THE LEMON GLAZE:
Whisk together the powdered sugar, Almond milk, and lemon juice until smooth and consistency is met. NOTE: For a thicker glaze, add additional powered sugar (1 tablespoon at a time) until consistency is met. For a desired thinner glaze, add additional milk (1 tablespoon at a time) until consistency is met.

Once fully cooled, dip each donut into the prepared Lemon Glaze and set them back onto cooling rack so that glaze hardens a bit. Top with a few sprinkles of poppy seeds for garnish, if desired. Repeat until all donuts are glazed and sprinkled.

Bon Appetit!
STORAGE: Can be stored in a tightly sealed container and best if placed in the refrigerator for up to 3 days for ultimate freshness.
FREEZE (LONGER STORAGE): For longer storage, freeze the donuts in an airtight container for up to three months. To serve, defrost the donuts on the counter for several hours. You can also freeze the baked, undecorated donuts and add the glaze just before serving. 
GLUTEN-FREE VERSION: To make these donuts GF, I recommend using a GF Flour Blend (Bob's Red Mills has a great version!). NOTE: If the batter is too 'thin + runny', simply add additional GF flour, ¼ cup at a time.
SWEETENER: If you choose to opt out of pure cane sugar, you can always substitute with coconut sugar, Agave, or pure maple syrup instead. For liquid sweeteners, just adjust the amount of milk used by reducing it by 2 Tbsps to start.
FLOUR: If you want your donuts to be more of a 'cakey' texture, substitute 1 cup of All-purpose flour with Super-Fine Cake Flour. 
OIL: Instead of melted vegan butter,  you can use melted coconut oil or vegetable oil, if preferred.
Calories:
271
kcal
|
Carbohydrates:
85
g
|
Protein:
5
g
|
Fat:
10
g
|
Saturated Fat:
1
g
|
Polyunsaturated Fat:
4
g
|
Monounsaturated Fat:
4
g
|
Trans Fat:
1
g
|
Sodium:
390
mg
|
Potassium:
104
mg
|
Fiber:
3
g
|
Sugar:
17
g
|
Vitamin A:
1
IU
|
Vitamin C:
2
mg
|
Calcium:
257
mg
|
Iron:
2
mg