When it comes to this Sparkling Lemon Blackberry Mint Iced Tea recipe, it's all about the bold mint flavors paired with the bit of tartness from the lemon and slight sweetness from the blackberries. Naturally sweetened, this iced tea serves great as a detox or a boost in digestion with a refreshing element, can be served hot or cold, and is easy to make, and perfect for any day or season, especially during the summer months. Vegan option.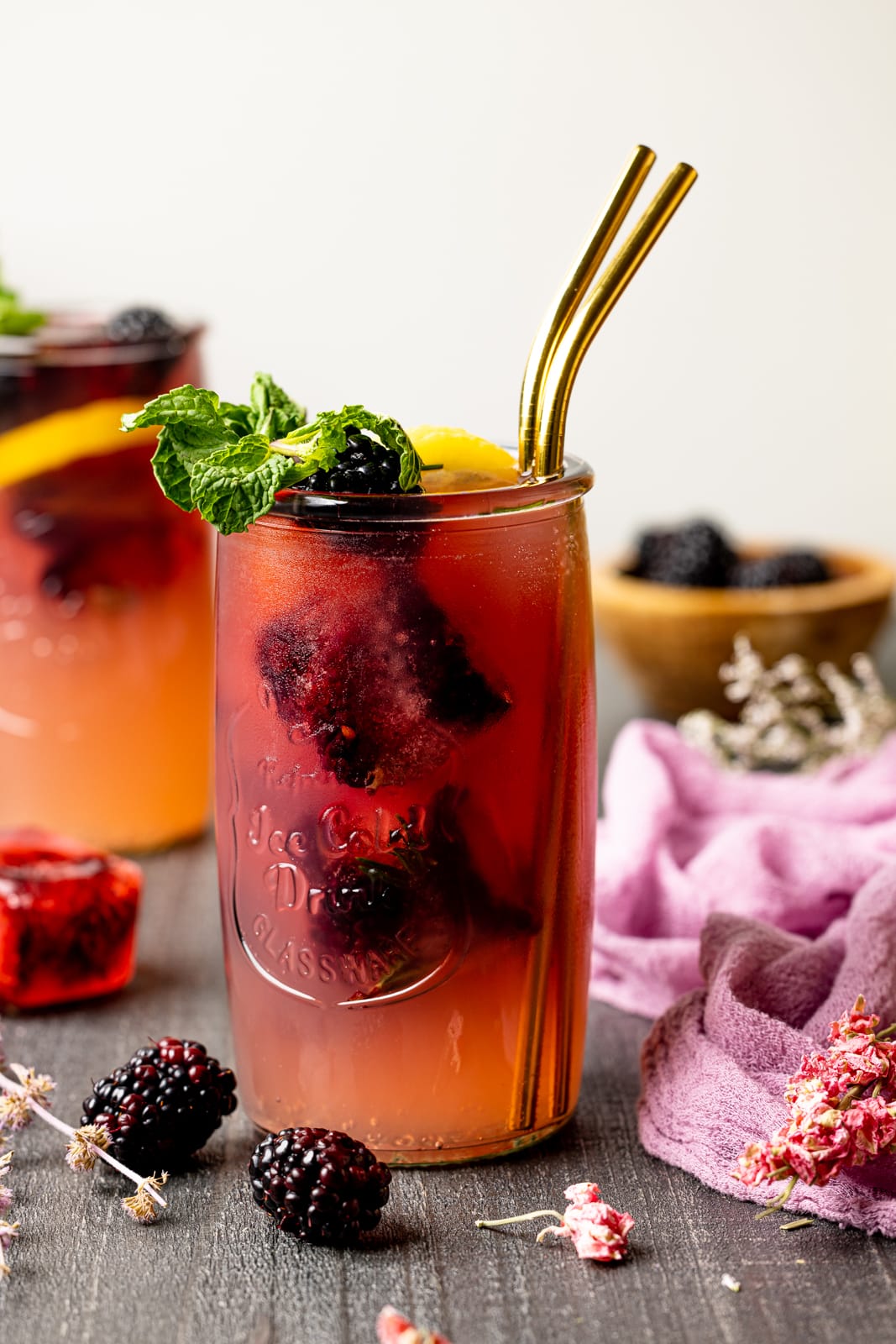 Disclaimer: This post contains affiliate links via Amazon for products that I wholeheartedly love and receive commission from.
I'm so excited to be sharing this Sparkling Lemon Blackberry Mint Iced Tea right now because it's such the perfect drink for the sunnier months, but can be enjoyed during the cooler months when made hot as a tea. Personally, I love bold flavors and this iced tea is truly one for the books! Growing up in the South, I LOVED sweet tea because there's something so refreshing about a large cup of perfectly sweet juice with a ton of ice. Therefore, I enjoy trying new flavors and keeping the same concept----plenty of ice, balanced with sweetness, and incredible garnish that adds additional flavor.
Whether it's a steaming mug of Roasted Dandelion Strawberry Tea in the winter or a glass of refreshing Southern Peach Iced Tea or Southern Strawberry Iced Sweet Tea when the weather is hot, I'm a total tea person so any of these work!
Now that berries are in season and as sweet as ever, I wanted to combine one my favorite berries with my favorite drink! Overall, this blackberry lemon mint iced tea is a bit tart, a bit sweet, and a bit refreshing. It's the perfect balance for a sophisticated and detox-friendly afternoon pick-me-up for the entirely family----kids and adults-a-like. And it's the best drink to enjoy regardless of the season---whether Spring, Summer, Fall, or Winter.
This iced tea in particular is awesome because it's super easy to make, conveniently can be used as a 'meal prep' (when made in batches), requires only one pot, immune-boosting, and can be enjoyed either hot or cold.
Jump to:
Health Benefits of Lemon Blackberry Mint Iced Tea
Together, the ingredients in this homemade Lemon Blackberry Mint Iced Tea have some amazing health benefits, including:
Helps to support heart health.
May boost brainpower.
Rich in Vitamin C and other antioxidants. Helps to flush out toxins in the body.
Helps with digestion.
Can help to prevent kidney stones.
Has anti-inflammatory properties.
Among many other benefits.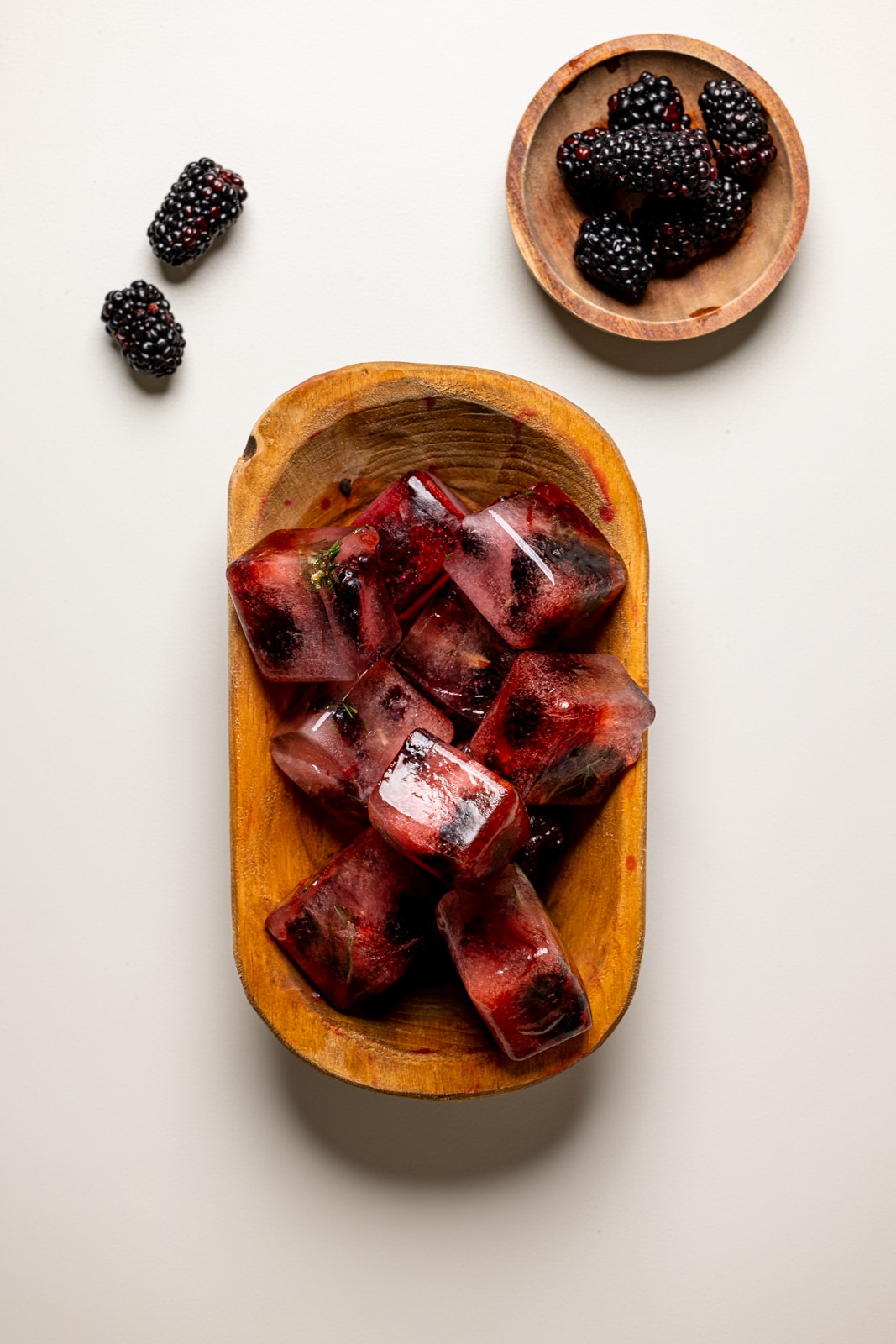 How to Make Sparkling Lemon Blackberry Mint Iced Tea
The first thing you need to make for these tasty iced teas are the blackberry-rosemary ice cubes. You literally add halved blackberries + rosemary sprig pieces in your favorite ice cube tray, top with the lemon-water mixture, set it and forget it for a minimum of 3-4 hours (or overnight) until ice cubes are formed.
Then, you whip together the lemon mint tea, let it cool, and assemble. Serve and enjoy!
Ingredients For Iced Tea
Blackberries. You'll need fresh blackberries for both the ice cubes and iced tea as garnish. In a pinch, you can use strawberries or another berry, if desired.
Lemons. A little sour and tangy for the tastebuds in the best way. Plus, you'll get amazing benefits such as improved digestion, rich amounts of Vitamin C + antioxidants, and a host of other things.
Mint. Adds a level of freshness and also aides in digestion. Also, adds sweetness without the need for sugar.
Honey. The golden god of sweeteners. You can also substitute with maple syrup, organic cane sugar, brown sugar, or another reduced sweetener.
Filtered Water. You can buy or use it wherever you drink from!
Soda. Hello, Bubbles! This is optional and you can enjoy the iced tea without the fizz. You'll need an organic lemon soda or feel free to substitute with sparkling water, etc.
Festive/Pretty Ice Cubes. Freeze blackberries, mint, rosemary sprigs, or edible flowers into your ice cubes for a fun and pretty touch. It's an easy way to elevate your drink game.
What is a Detox?
By dictionary definition, Detox is the psychological or medicinal removal of toxic substances from the human body. Therefore, detoxes like this one helps your body to reset and get rid of toxins (which can be built up by many factors internally and externally) so that we can feel rejuvenated, improve our health, and help with weight loss.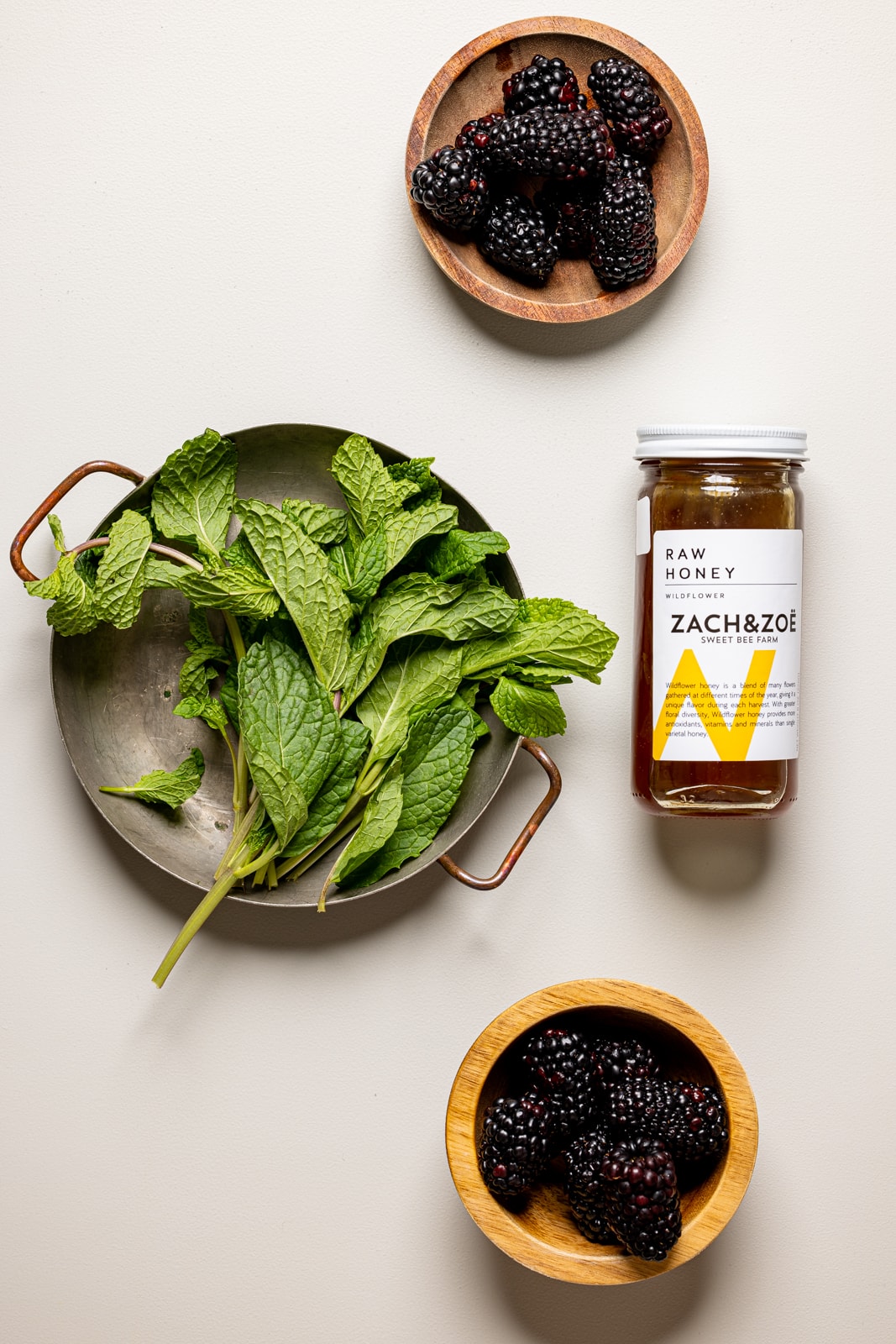 How to Make Clear Ice Cubes without a a Clear Ice Cube Mold
One of the greatest phenomenons when it comes to ice cubes has been seeing super clear ice cubes from those clear ice cube systems or molds and wanting to try it, but not necessarily wanting to have a huge contraption in my freezer. Haha. Anyone else feel my pain? Whelp, no need to worry----I've done my research and tested it out a bit and have found some solutions to help those of us who don't have any fancy system to making clear ice cubes. Here are a few ways:
Tip #1: It's best to use water that is distilled or super filtered to avoid gasses and dissolved oxygen, which are the two things that cause our ice to "fog up" when frozen.
Tip #2: Boil your water and freeze your water hot. Again, much to my previous point, this removes any dissolved oxygen or gasses. Just be sure to carefully pour the hot water into your ice cube tray or mold-----preferably one made from materials that naturally insulates like silicone. Also, ensure that your tray lays FLAT while freezing.
Tip #3: Slow freeze your ice cubes. This should be done for about 24 hours, which allows any impurities to be forced out of the ice---resulting in much clearer ice.
POWERFUL TEAS YOU NEED TO TRY!
If you're like me, I am constantly walking around all day with a teacup in my hand. As much as I love my coffee, the variety of flavors and health benefits of tea make it my go-to choice throughout the day. This list of Powerful Teas You Need to Try will give you so many ideas for your tea habit!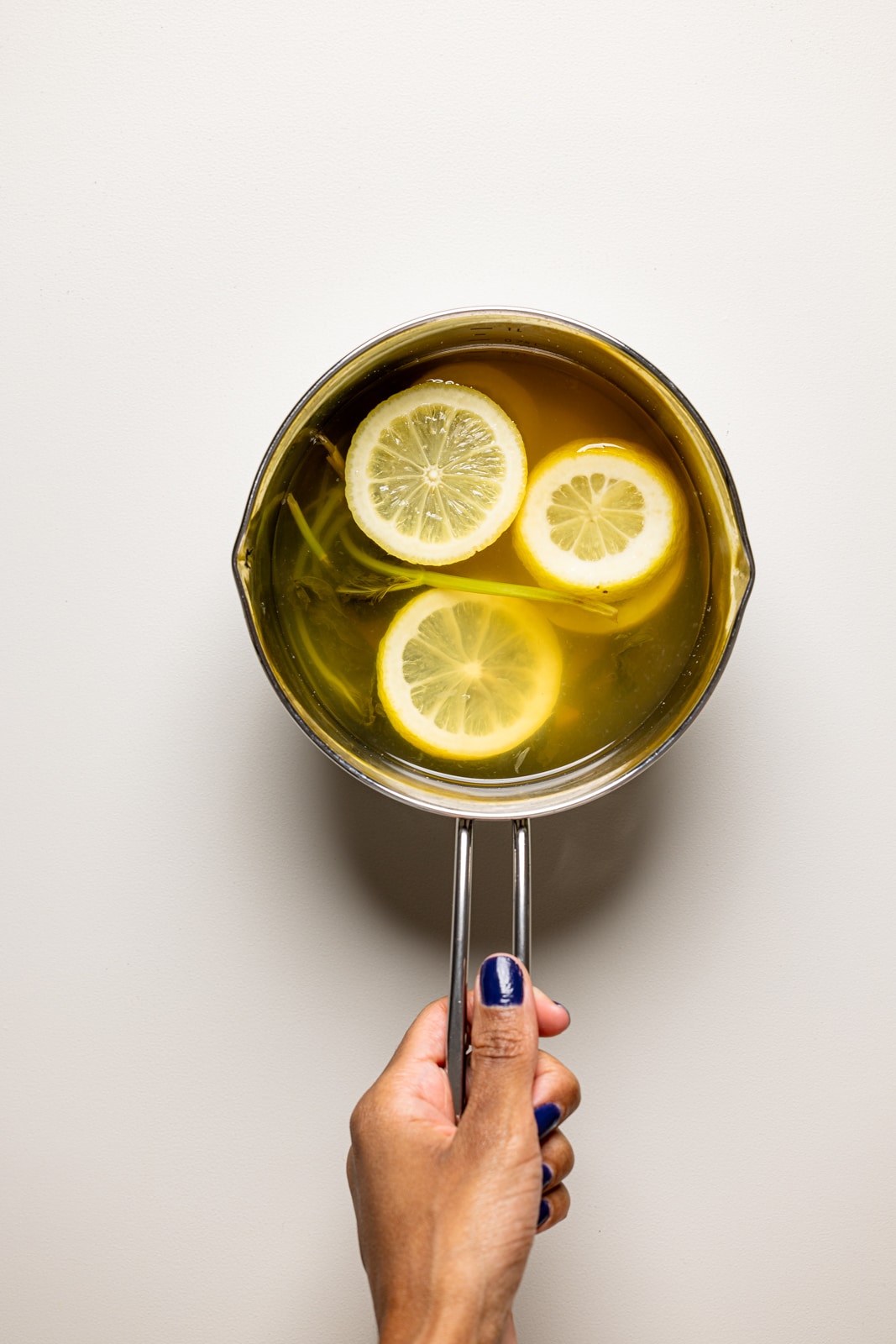 So Why Blackberries?
OK, so I know what you must be thinking. Why would I add Blackberries to this whole concoction? Whelp, not only are Blackberries a fruit that I feel get no love, BUT they are also very beneficial to our bodies! While this recipe only has a hint of blackberry flavor---you can definitely enhance it by adding them in with the other ingredients during the brewing process.
Awesome Benefits of Blackberries:
They come packed with Vitamin C + Vitamin K!
Vitamin C as we know helps with our skin (regeneration + all), heal wounds, absorbs iron better, shorten the common cold, and a host of other things. However, Vitamin K prevents our bodies from "bleeding out" when we get a cut (blood clotting). In addition, it helps with our bone metabolism.
If you aren't too familiar, Manganese is a mineral that also helps with bone health and our overall immune system.
Helps Support Oral Health!
Yes, you've read right. Studies have shown that Blackberries (and their extract) have antibacterial and anti-inflammatory properties which fight against common oral bacterias, therefore making them great for overall oral health.
Not only does fiber help you to regularly have a bowel movement, but it also helps to reduce cholesterol, control blood sugar levels, lose weight, and nourishes good gut bacteria.
Common Q + A's for Iced Tea
How long does this iced tea last?
Keep any leftovers in the refrigerator, tightly covered in your pitcher or in a sealed mason jar (for smaller leftover amounts). Best if consumed within a few days.
How many servings does this recipe make?
This recipe makes 2 servings. To make additional servings of iced tea, simply double or triple ingredients, depending on need.
Can I use another sweetener besides raw honey?
Absolutely! While this recipe is made with honey, you can always use organic cane sugar, brown sugar, maple syrup, allulose, and stevia, instead.
Can I make this iced tea ahead of time?
Absolutely! Simply make your lemon mint tea mixture and store in a pitcher the day before, cover it tightly with plastic wrap, and refrigerate overnight. The best part about making these ahead of time is that they'll be completely chilled once ready to serve. Also, the ice cubes will be made in advance and ready to add to your assembled iced tea!
Can I make this tea hot instead of cold?
Yes! You can always drink this lemon blackberry mint iced tea hot as an actual tea whenever you choose to. Just warm things up in a saucepan over the stove top when serving for greater ease. If not, you can always keep things chilled as per the instructions of this recipe.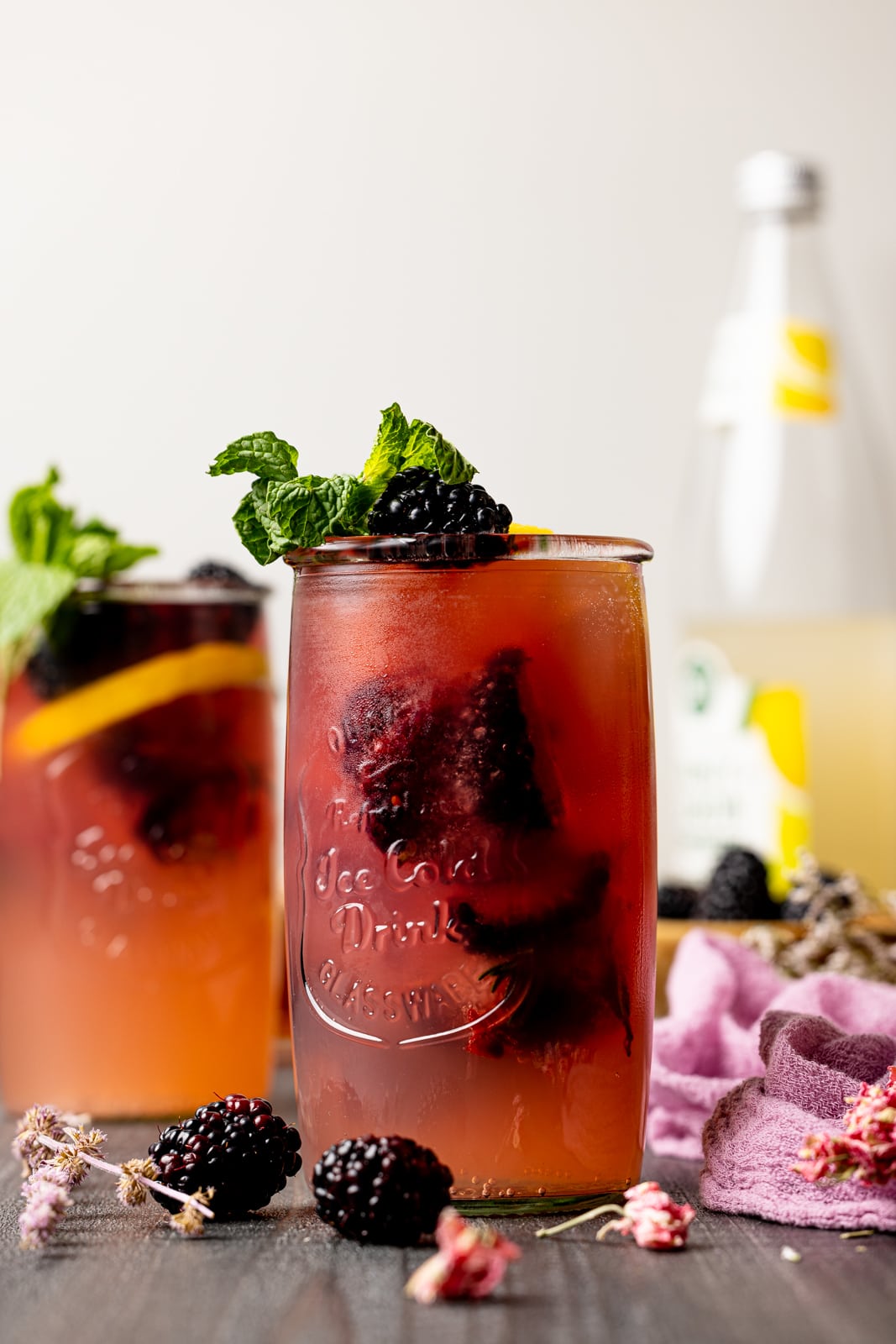 Sweetener Options? Vegan-friendly?
Absolutely! I like to add a bit of natural sweetener to most things that I drink, including this Sparkling Lemon Blackberry Mint Iced Tea. Maple syrup is a great option because it's vegan and has antioxidants, much like honey which adds additional nutrients. However, you can try any healthy sweetener substitutions you like.
In fact, this post about The Best Healthy Sugar Alternatives + Substitutes is a great place to start!
More Refreshing Drinks Recipes to Try!
Now that you're on a delicious drink kick with this iced tea recipe, give these other refreshing recipes that your entire family will love a try next:
MADE OUR RECIPE(S)?
If you tried this Sparkling Lemon Blackberry Mint Iced Tea recipe or any other recipe on my website, please please leave a 🌟 star rating and let me know how you go in the 📝 comments below. I love hearing from you.
BLACKBERRY ROSEMARY ICE CUBES:
2

cups

filtered water

(For clearer ice, it's best to use purified water; See Posts for more!)

1

cup

fresh blackberries, halved

½

lemon, freshly squeezed

(optional)

handful of

fresh rosemary sprigs, cut into pieces
ICED TEAS:
Blackberry rosemary ice cubes

2

cups

lemon mint tea

1-2

lemons, freshly-squeezed

(optional)

1

cup

fresh blackberries, for garnish

fresh mint leaves, for garnish

organic lemon soda, for topping

(You can also use sparkling water)
TO MAKE THE BLACKBERRY ROSEMARY ICE CUBES:
In a bowl, mix together the filtered water and freshly-squeezed lemon juice.

In your favorite ice tray----add the halved blackberries and chopped rosemary sprigs into each cavity and carefully cover them with the lemon-water mixture, filling them until all completely full. Repeat until all ice cube cavities are filled. Add the tray(s) to the freezer and freeze for 3-4 hours (or overnight) until ice is formed.
TO MAKE THE LEMON MINT TEA:
In a saucepan over medium-high heat, add together all ingredients (stirring them to combine) and bring to a boil, about 1-2 minutes.

Reduce the heat to low and simmer for another 5 minutes or so. Remove from heat and let it cool completely. Discard of lemon slices and mint leaves.
TO MAKE THE SPARKLING ICED TEAS:
In a bowl or pitcher, add the cooled lemon mint tea, lemon juice, blackberries and lemon slices. Stir together to combine.

Assemble the iced tea(s): For each iced tea, fill a good glass (11 oz. or so) with a few blackberry rosemary ice cubes and pour half the amount of the lemon mint tea mixture and top with lemon soda until glass(es) is ¾ filled. Add fresh blackberries, lemon slices, and fresh mint leaves, if desired.

Sip and Enjoy!
STORAGE: Keep any leftovers in the refrigerator, tightly covered in your pitcher or in a sealed mason jar (for smaller leftover amounts). Best if consumed within a few days.
SERVING SIZE: To make additional servings of iced tea, simply double or triple ingredients, depending on need.
SWEETENER: While this recipe is made with honey, you can always use organic cane sugar, brown sugar, maple syrup,  allulose, and stevia, instead.
Calories:
281
kcal
|
Carbohydrates:
77
g
|
Protein:
1
g
|
Fat:
0.2
g
|
Saturated Fat:
0.03
g
|
Polyunsaturated Fat:
0.1
g
|
Monounsaturated Fat:
0.01
g
|
Sodium:
41
mg
|
Potassium:
156
mg
|
Fiber:
2
g
|
Sugar:
72
g
|
Vitamin A:
18
IU
|
Vitamin C:
43
mg
|
Calcium:
47
mg
|
Iron:
1
mg