Get ready to quench your thirst with the ultimate drink of the season - The Citrus Honey Mint Mocktail! With a tantalizing blend of fresh mint, oranges, and lime, this mocktail is the perfect addition to your summer mocktail menu. Plus, it's an easy mocktail that can be made in a jiffy.
This is a totally alcohol-free drink, so everyone, including the kids, can indulge in this deliciousness. The hint of lime and mint gives it a refreshing taste that's perfect for energizing yourself on a hot summer day. Vegan option.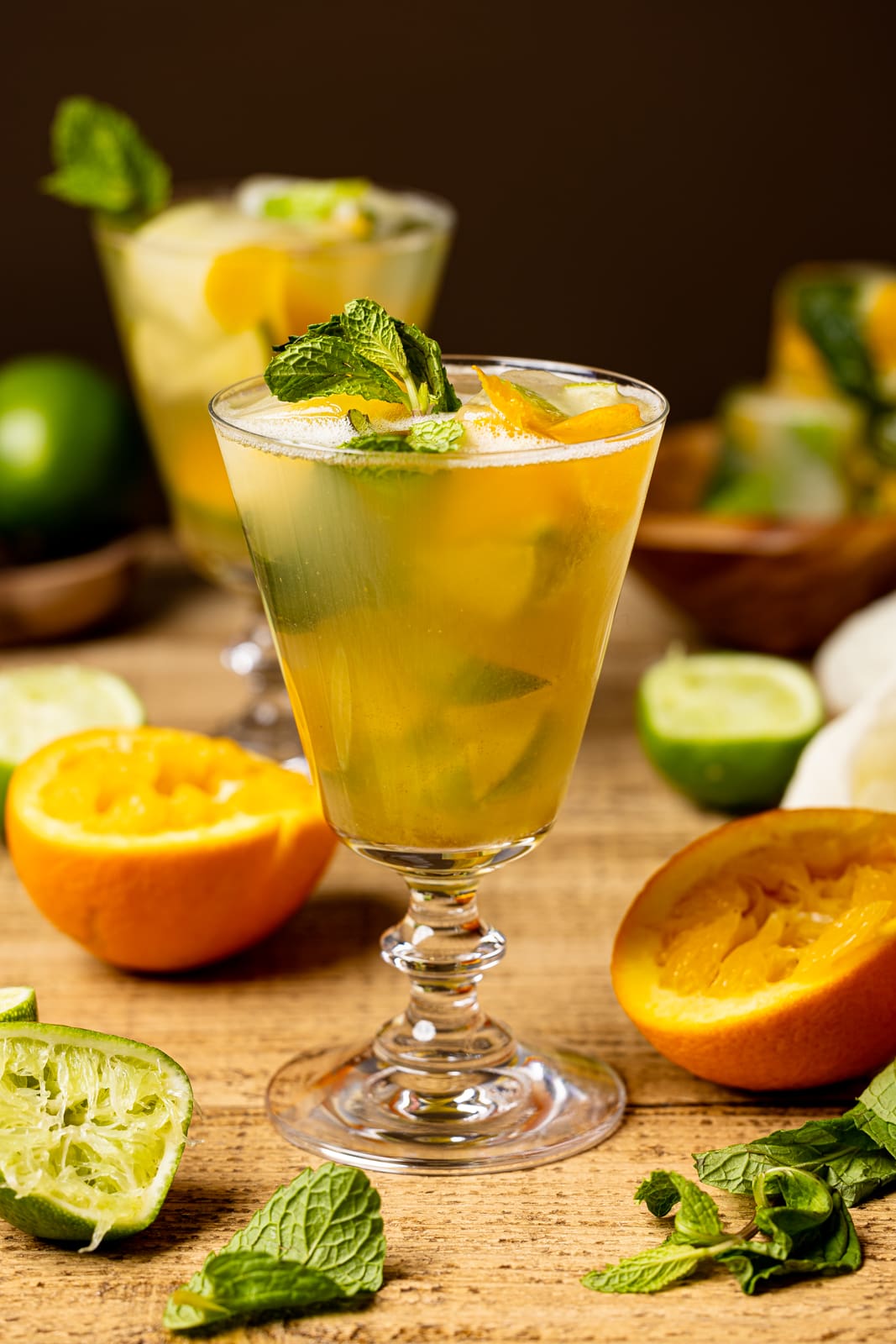 Why Citrus Honey Mint Mocktail?
This Citrus Honey Mint Mocktail is EVERYTHING! Who knew that experimenting with flavors could result in such a delicious drink? Perfect for summertime, this orange mocktail is sure to keep your thirsty kids and friends refreshed and energized. And if you're planning a mocktail menu for a party or event, this easy and vegan mocktail is a must-have on the list.
With its tangy and minty taste, this alcohol-free drink is the perfect addition to your summer mocktail lineup. Whether you're hosting a baby shower or just want to relax on a lazy afternoon, this citrus mocktail is an easy and delicious way to keep cool. Love citrus? Try these Citrus Ginger Turmeric Ice Cubes
Jump to:
What is A Mocktail?
So if you're sitting here thinking, what is a mocktail? Let me explain. A mocktail is like a party in a glass, minus the hangover. It's a delicious and refreshing drink that's packed with all the flavor and complexity of a traditional cocktail but without any of alcohol.
Whether you're a designated driver, a health-conscious human, or just someone who wants to enjoy a delicious drink without the buzz, mocktails are the perfect solution.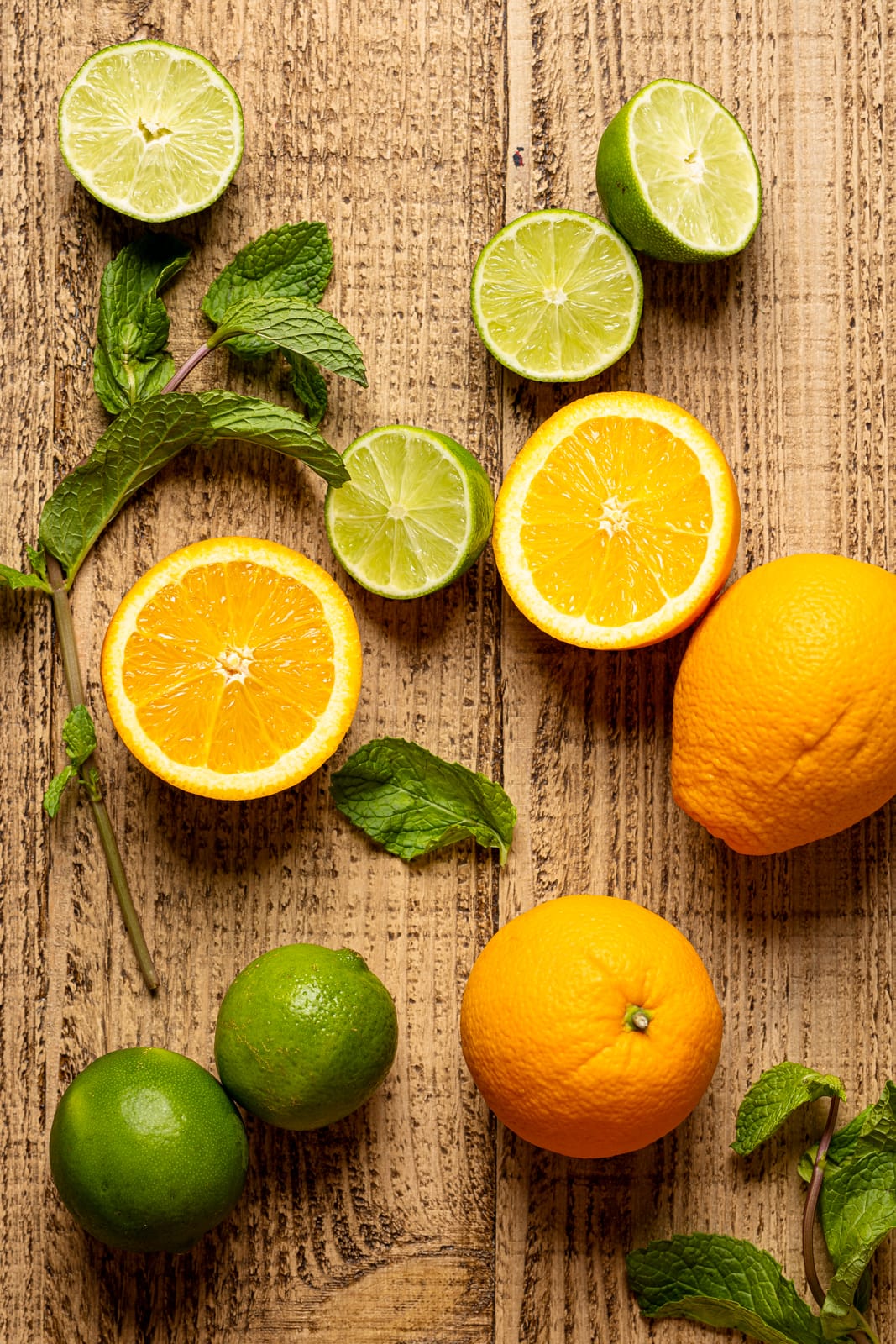 Ingredients For Citrus Honey Mint Mocktail
Oranges. Cirtus-y deliciousness. The star of the show.
Limes. A little sour and tangy for the tastebuds in the best way.
Mint. Adds a level of freshness.
Honey. The golden god of sweeteners.
Filtered Water. You can buy or use it wherever you drink from!
Soda. Hello, Bubbles!
Mocktail Garnish Ideas
Want to make your Citrus Honey Mint Mocktail look extra special? Here are some easy and pretty garnishes to try-
Fresh Orange + Lime Slices. Thin slices or wedges of fresh citrus add a burst of color to your mocktail. Mix things up by using different types of oranges for a fun twist, like bold red and pink blood oranges.
Dried Citrus. Dried orange or lemon/lime slices make for a beautiful and tasty garnish, and you can even infuse your mocktail with their flavor by soaking them in the drink for a little while.
Orange Zest. Fancy things up with big curls of orange zest created with a vegetable peeler or a citrus zester. It's an easy way to make your mocktail look extra elegant.
Fresh Ginger. A slice or two of fresh ginger is the perfect complement. It's fresh, it's spicy, and it's so good.
Fresh Mint. Add a sprig of mint for a refreshing twist.
Pomegranate Arils. These little gems are like a party in a glass. Adds a pop of bright color to your mocktail.
Pretty Ice Cubes. Freeze cranberries, pomegranate, citrus, mint, or edible flowers into your ice cubes for a fun and pretty touch. It's an easy way to elevate your mocktail game.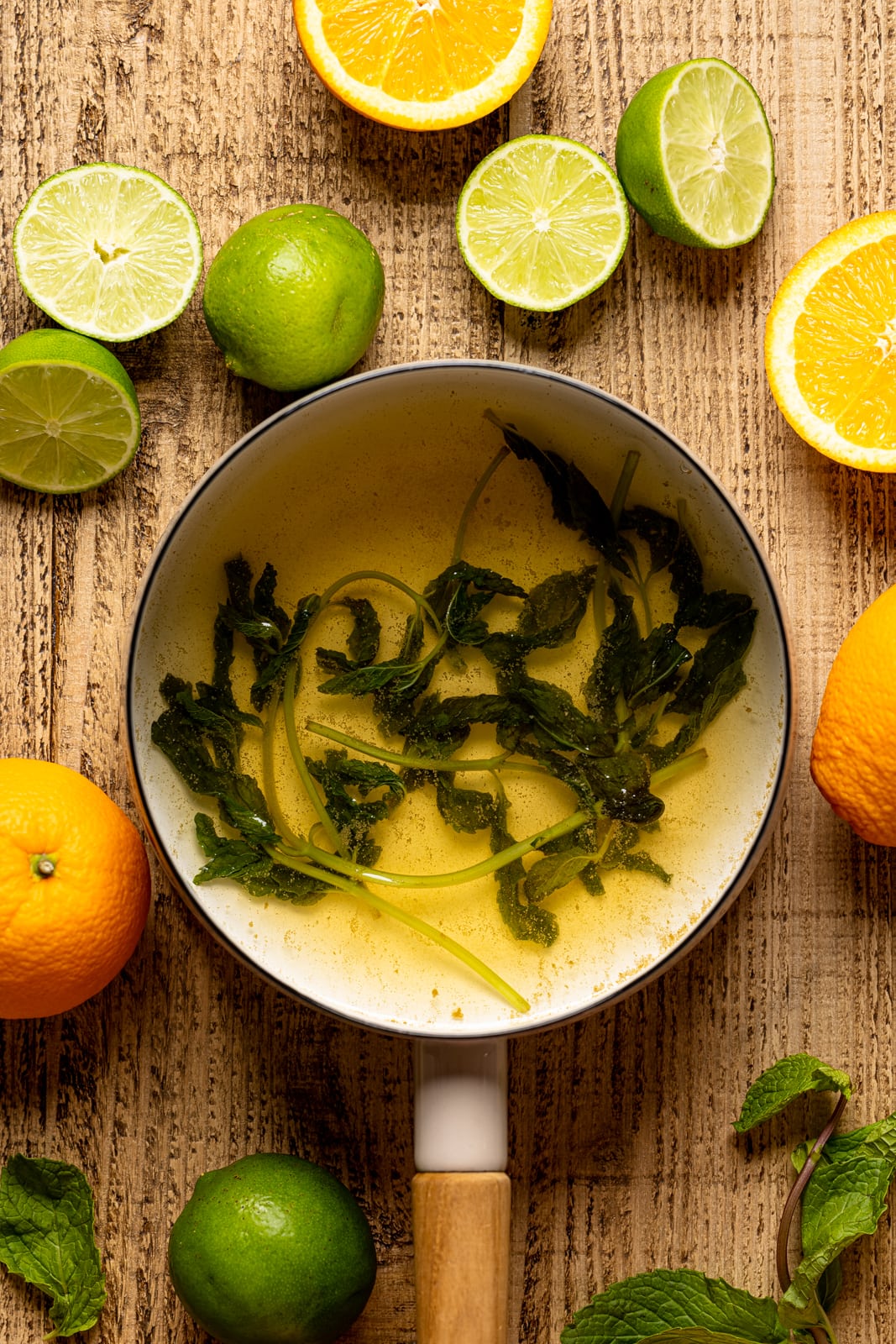 Citrus Honey Mint Mocktail Q + A's
How Can I Make This Citrus Honey Mint Mocktail Vegan?
If you're vegan and want to avoid the honey, opt for a Vegan Honey like Bee Free Honey, or you can use Agave or Coconut nectar.
Can I Make This Summer Mocktail Ahead Of Time?
Absolutely! Simply make your mocktail mixture in a pitcher the day before, cover it tightly with plastic wrap, and refrigerate overnight. The best part about making these ahead of time is that they'll be completely chilled once ready to serve. Also, the ice cubes will be made in advance and ready to add to your assembled mocktails!
How Can I Make A Big Batch Of This Mocktail?
This recipe makes two mocktails. To make additional mocktails, simply double or triple ingredients, depending on need.
Can I Add Alcohol?
Of course! If you'd like to serve this as a cocktail, you can add your favorite alcohol to the mixture. The best types of alcohols (just about 1 ounce or so) that work great with this Citrus Honey Mint flavor combo is:
Gin
Rum
Champagne
Tequila
Whiskey
Vodka
How Long Does The Honey Mint Syrup Last?

If you keep this honey mint syrup in the fridge, it will last a month! Keep it handy and add it to all your fave drinks!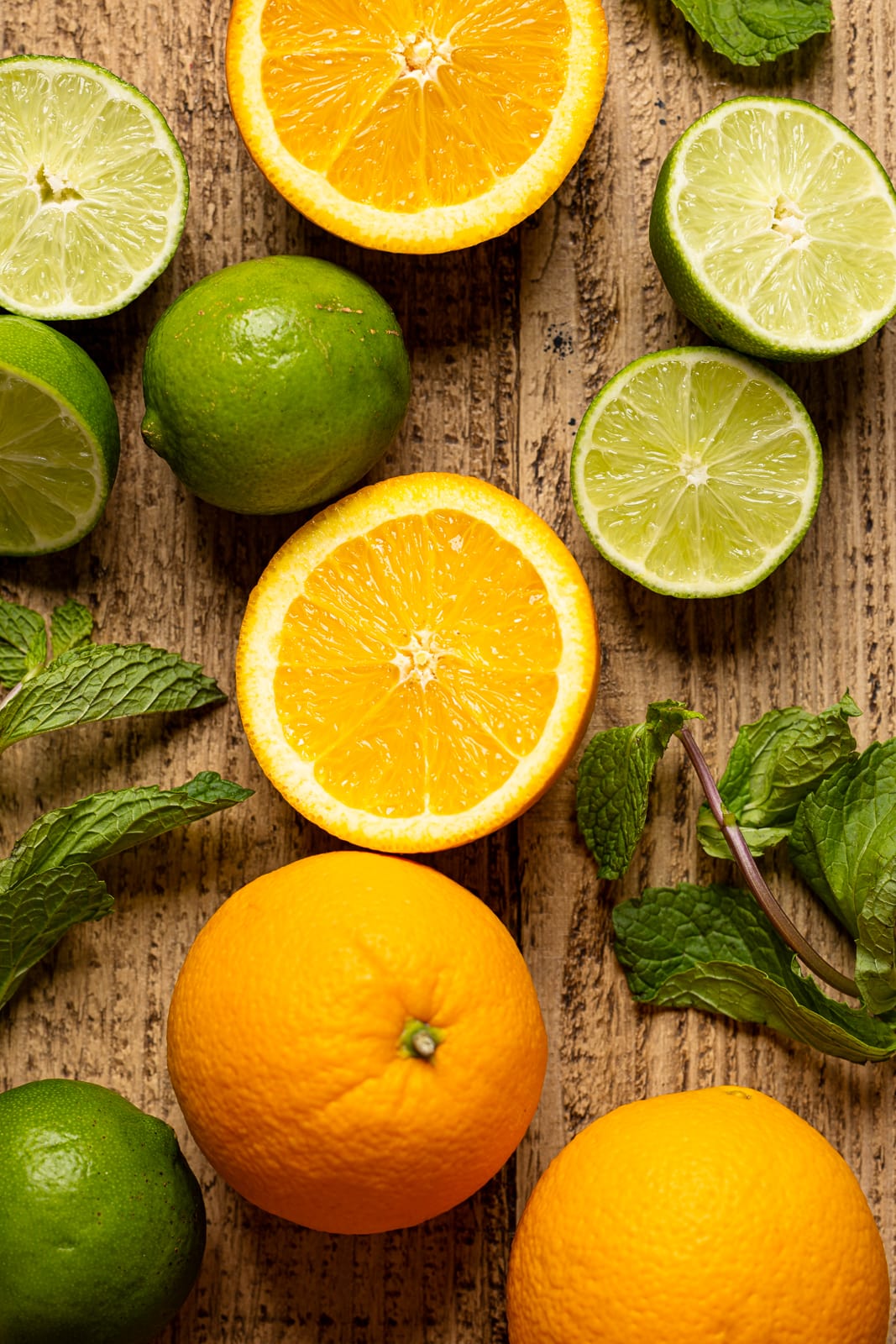 How to Make Clear Ice Cubes without a Clear Ice Cube Mold
One of the greatest phenomenons when it comes to ice cubes has been seeing super clear ice cubes from those clear ice cube systems or molds and wanting to try it, but not necessarily wanting to have a huge contraption in my freezer. Haha. Anyone else feel my pain? Whelp, no need to worry----I've done my research and tested it out a bit and have found some solutions to help those of us who don't have any fancy system to making clear ice cubes. Here are a few ways:
Tip #1: It's best to use water that is distilled or super filtered to avoid gasses and dissolved oxygen, which are the two things that cause our ice to "fog up" when frozen.
Tip #2: Boil your water and freeze your water hot. Again, much to my previous point, this removes any dissolved oxygen or gasses. Just be sure to carefully pour the hot water into your ice cube tray or mold-----preferably one made from materials that naturally insulates like silicone. Also, ensure that your tray lays FLAT while freezing.
Tip #3: Slow freeze your ice cubes. This should be done for about 24 hours, which allows any impurities to be forced out of the ice---resulting in much clearer ice.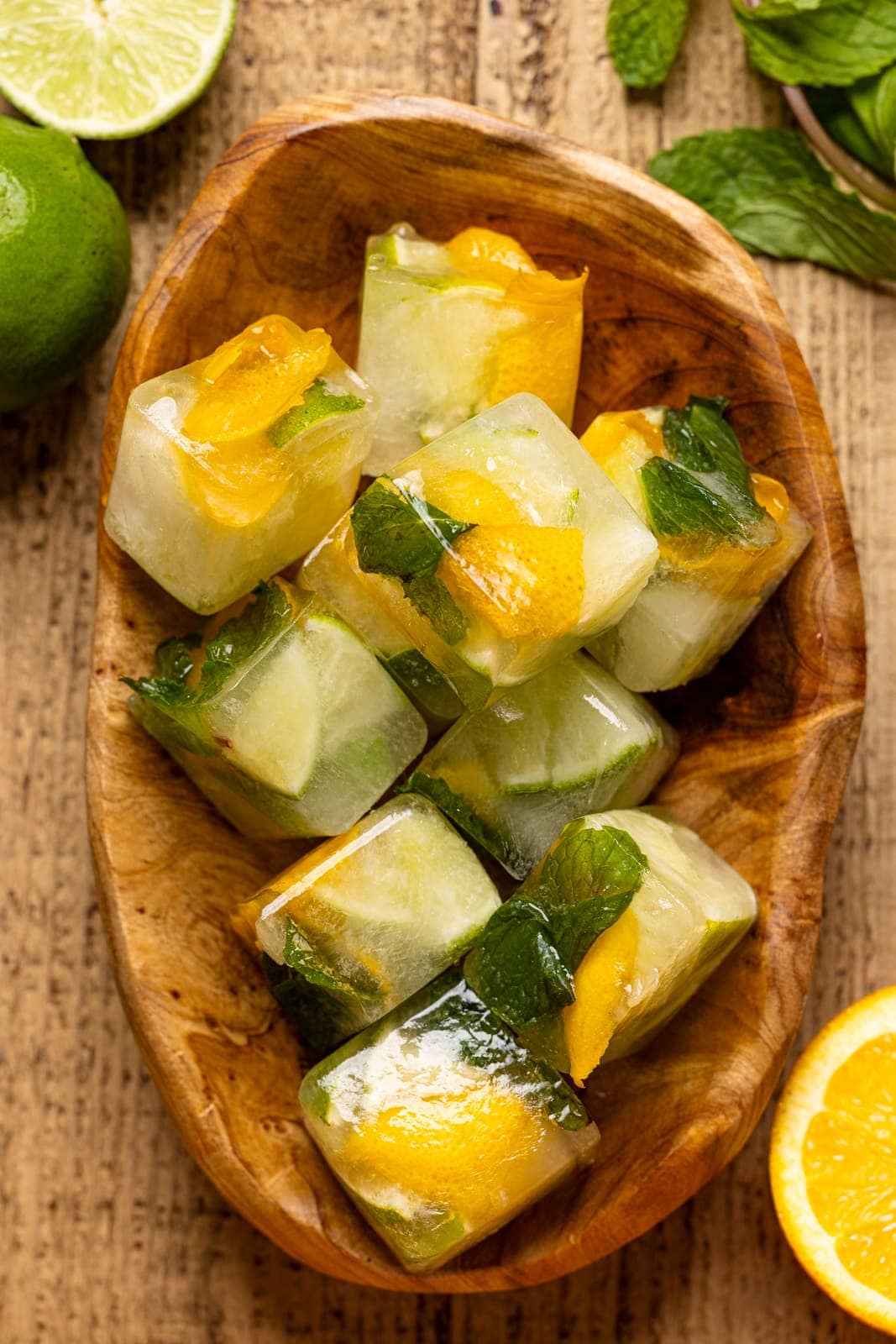 What You'll Love About This Citrus Honey Mint Mocktail
It's super easy to make.
Refreshing, delicious, + beautifully sweetened.
Only uses a handful of ingredients.
Perfect addition to your home mocktail menu
Healthy—-awesome benefits with digestion, immune support, antioxidants, etc.
All NATURAL—including the sweetener!
Bursting with a nice mix of sweet and tart!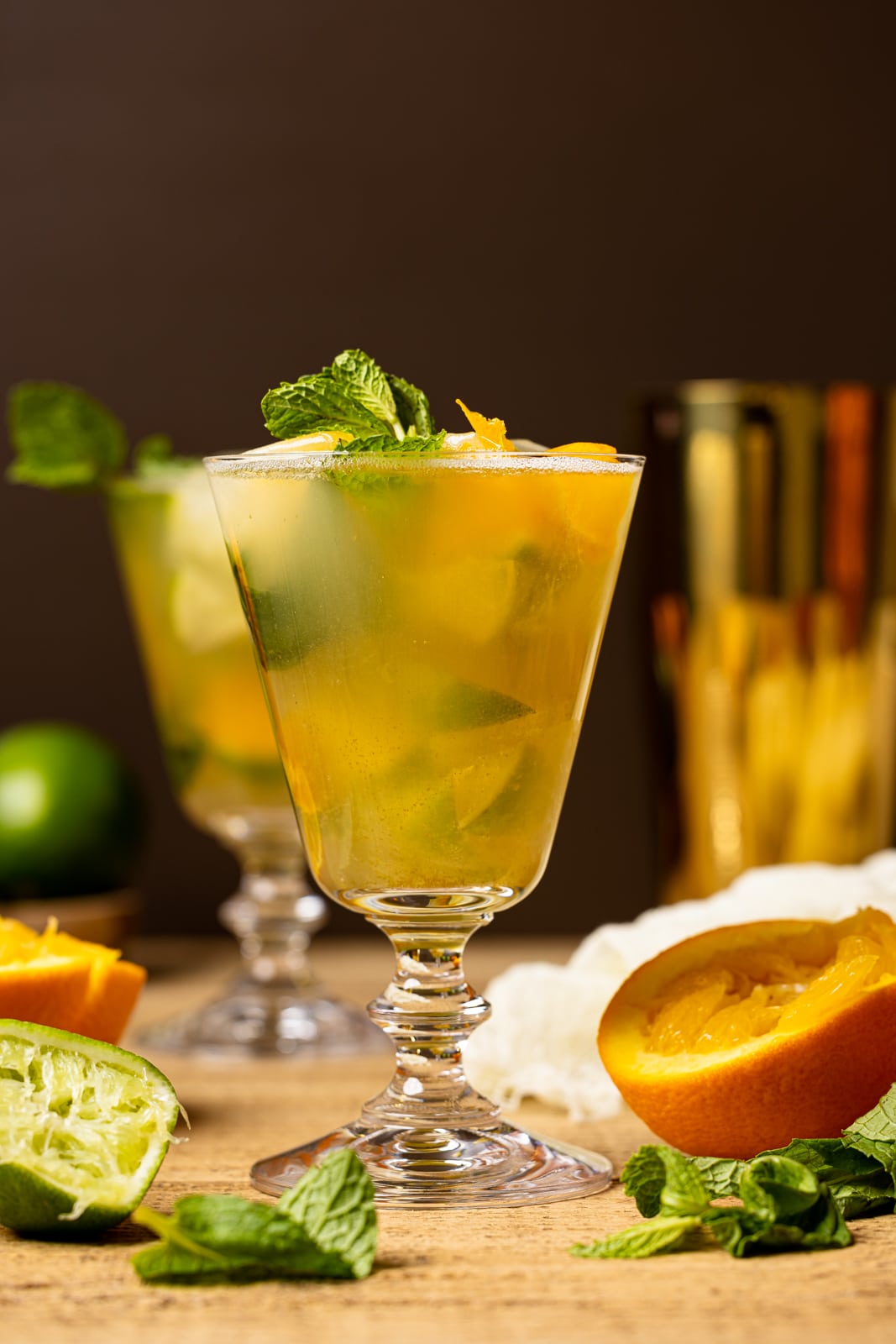 Mocktail Lovin'
This Citrus Honey Mint Mocktail drink is amazing, ya'll. I've made it a mission to build my summer mocktail menu on Orchids + Sweet Tea, and since my drinks never contain alcohol, it's been a bit intimidating. Haha.
There are just so many other alcoholic drinks all over the internet that I've wondered whether you would care about a silly ole' mocktail, but you guys have been loving them, especially my latest Mango Lemonade Kombucha Mocktail and this Coconut Mojito Mocktail with Green Tea
If you're into the Honey flavor of things, then this Fancy Hot Honey Lemon Mocktail is definitely the way to go as well.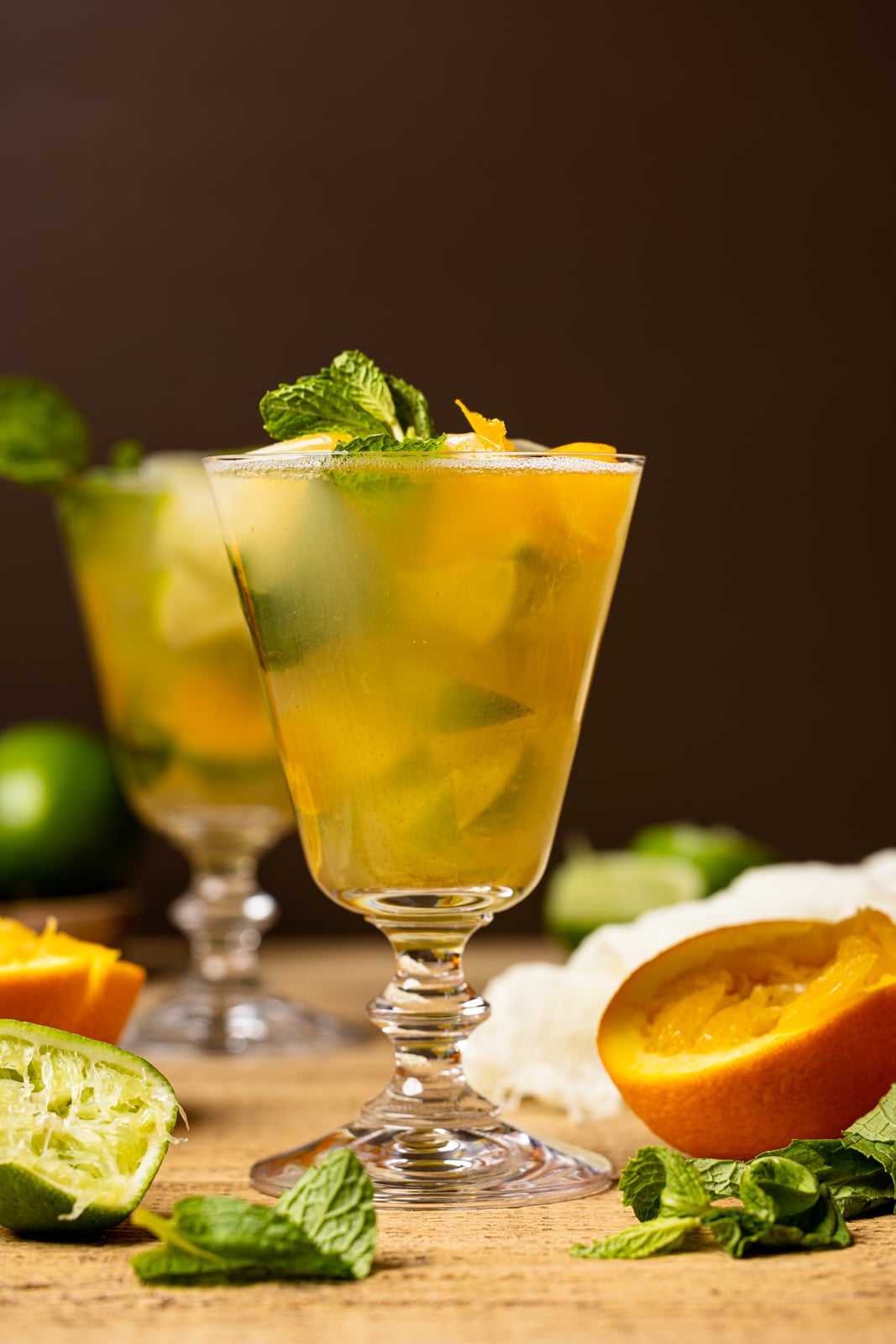 Are Mocktails Healthy?
Mocktails can be healthy, depending on the ingredients used. Fresh juices, herbal teas, and natural sweeteners like honey can provide vitamins, minerals, and antioxidants. However, mocktails made with high-calorie syrups, sodas, and artificial flavors can be less healthy. Y'all know my mocktail menu for Orchirds & Sweet Tea I like to keep it natural and healthy. Ok, most of the time... Exceptions like this Southern Strawberry Iced Sweet Tea have a little sugar.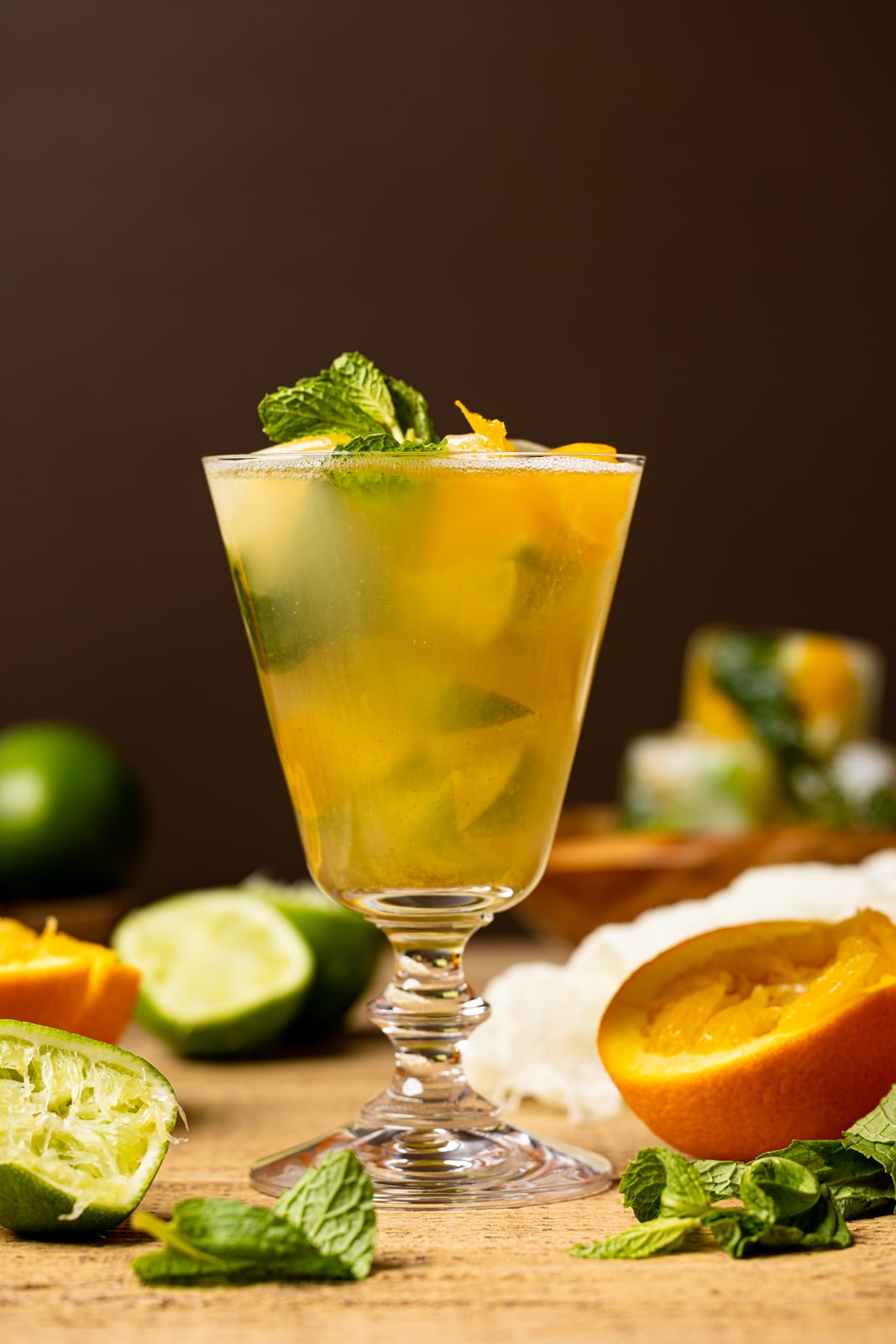 More Fun Mocktails To Try
Ready to take your mocktail game to the next level? Get ready to shake things up and have some fun with these other homemade summery sips!
MADE OUR RECIPE(S)?
If you choose to make this Citrus Honey Mint Mocktail recipe or any other recipe from us, be sure to tag us on Instagram at #Orchidsandsweettea so that we can share the love!
CITRUS LIME ICE CUBES:
2

cups

filtered water

2

limes, cut into small pieces

1

organic orange, freshly-squeezed
MOCKTAILS:
2

organic oranges, freshly-squeezed

4

limes, freshly-squeezed

1 ½

cups

simple honey mint syrup

premium lemon soda or ginger beer, for topping

Citrus Lime ice cubes
OPTIONAL GARNISH:
Fresh mint leaves

Lime wedges
TO MAKE THE CITRUS LIME ICE CUBES:
In a bowl, mix together the filtered water and freshly-squeezed orange juice.

In your favorite ice tray----add the lime pieces to each cavity and carefully cover them with the orange-water mixture, filling them until all completely full. Repeat until all ice cube cavities are filled. Add the tray(s) to the freezer and freeze for 3-4 hours (or overnight) until ice is formed.
TO MAKE THE SIMPLE HONEY MINT SYURP:
In a saucepan over medium-high heat, add together all ingredients (stirring them to combine) and bring to a boil, about 1-2 minutes.

Reduce the heat to low and simmer for another 5 minutes or so. Remove from heat and let it cool completely. Discard the mint leaves.
TO MAKE THE MOCKTAILS:
In a bowl or cocktail shaker, add the orange juice, lime juice and cooled honey mint simple syrup. Stir or shake (if using a cocktail shaker) together to combine.

Assemble the mocktail(s): For each mocktail, fill a good cocktail glass (11 oz. or so) with a few citrus lime ice cubes and pour half the amount of the mocktail mixture and top with lemon soda or ginger beer until glass(es) is ¾ filled. Add lime wedges inside your mocktail and fresh mint leaves, if desired. NOTE: To be a bit fancy, you can add sugar to the rims of the glasses.

Sip and Enjoy!
SERVING SIZE: This recipe makes two mocktails. To make additional mocktails, simply double or triple ingredients, depending on need.
ALCOHOL: If you'd like to spruce things up with alcohol, feel free to add 1 ounce of rum, vodka, etc.
RIM(S): To make things more fancy, I love to add sea salt or cane sugar to the rim of my glass(es). To do this, you'll simply need to wet the rims a bit with a lime wedge and then turned facing down, slightly moving it around in the sugar or salt until covered.
VEGAN OPTION: You can always substitute the honey in the simple syrup with maple syrup, organic cane sugar, or coconut sugar.
Calories:
555
kcal
|
Carbohydrates:
154
g
|
Protein:
1
g
|
Fat:
0.3
g
|
Saturated Fat:
0.03
g
|
Polyunsaturated Fat:
0.1
g
|
Monounsaturated Fat:
0.03
g
|
Sodium:
33
mg
|
Potassium:
225
mg
|
Fiber:
4
g
|
Sugar:
141
g
|
Vitamin A:
67
IU
|
Vitamin C:
40
mg
|
Calcium:
69
mg
|
Iron:
2
mg