This fashionable refreshment, Jamaican Rum Punch Mocktail is the perfect alcohol-free version of a true party staple. Boasting of height notes of citrus, tropical, and spices, this mocktail is a must have drink for the warmer days ahead. Super easy to make, all organic ingredients, and can be spruced up with actual rum for any special occasion.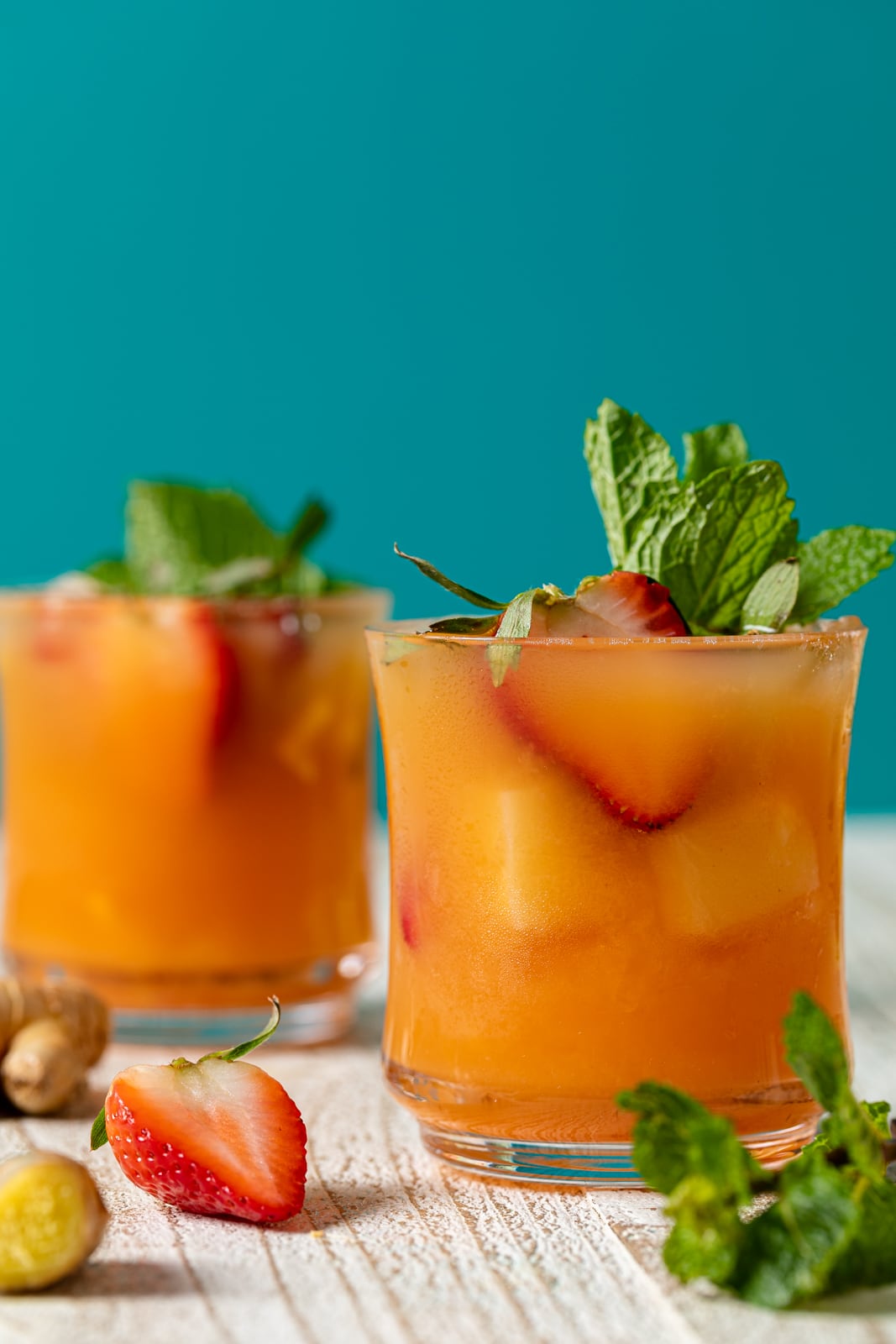 This Jamaican Rum Punch Mocktail is an authentic version of a true Jamaican staple that is served during most parties and events. While it's traditional counterpart comes infused in rum and highly notes of fruity flavors, this mocktail is completely alcohol-free and marries both fruity and citrusy flavors together so well. Absolutely refreshing!
Lately, I've been loving the fact that many of you have been enjoying my Jamaican inspired recipes, which has truly been fun. For one, these Spicy Jamaican Beef Patties and Vegan Jamaican Power Bowl are my top faves that you've clearly been loving too. Of course, I have a ton of other Jamaican recipes on the site and you can simply search through our recipe index for more ideas.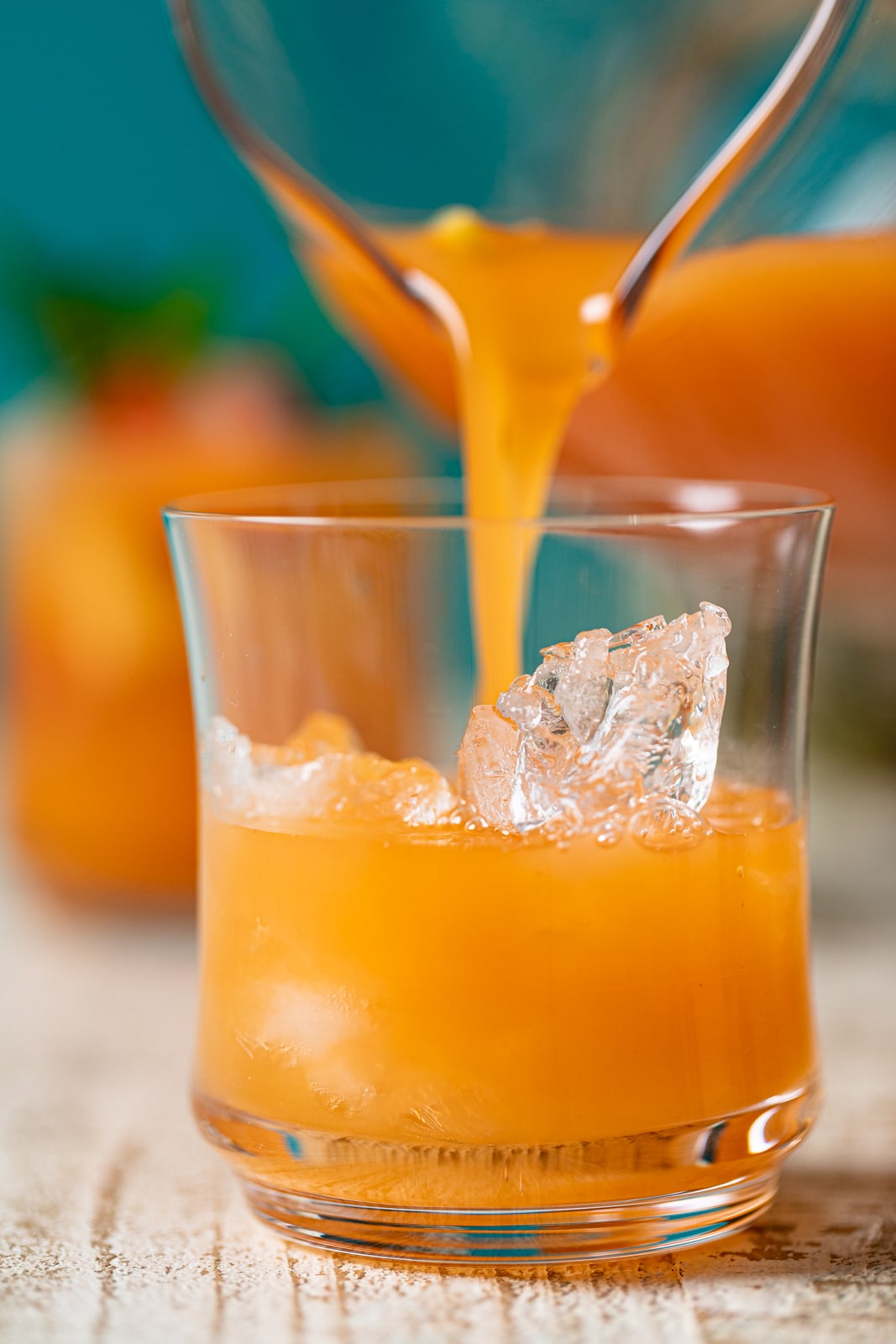 How to Make Jamaican Rum Punch Mocktail
Making these rum punch mocktails is a simple matter of creating a simple strawberry syrup and pairing it with citrus and tropical flavors for a deep flavor profile. You'll need a medium saucepan, a pitcher or bowl and long spoon for stirring everything together with in addition to a few simple ingredients.
INGREDIENTS
Here's what to get out to start making these Jamaican rum punch mocktails:
Ginger. I recommend always adding freshly minced ginger root to the actual mocktail and for an extra spicy flavor, top your mocktails with authentic ginger beer.
Fresh mint leaves. This herb has a unique flavor and a beautiful look and feel. Its leaves are full of sweet, lingering cool flavors that pair perfectly with citrus and tropical flavors.
Fresh orange juice. Choose your favorite orange citrus fruit. I like to use navel oranges, but smaller mandarin or tangerines are a great twist also.
Fresh lemon + lime juices. This stronger citrus flavor adds a bright and sunny flavor to really make your mocktail come alive.
Strawberry syrup. You can also use traditional Grenadine or Fruit punch syrup if preferred. I like making my own simple syrup with fresh fruit.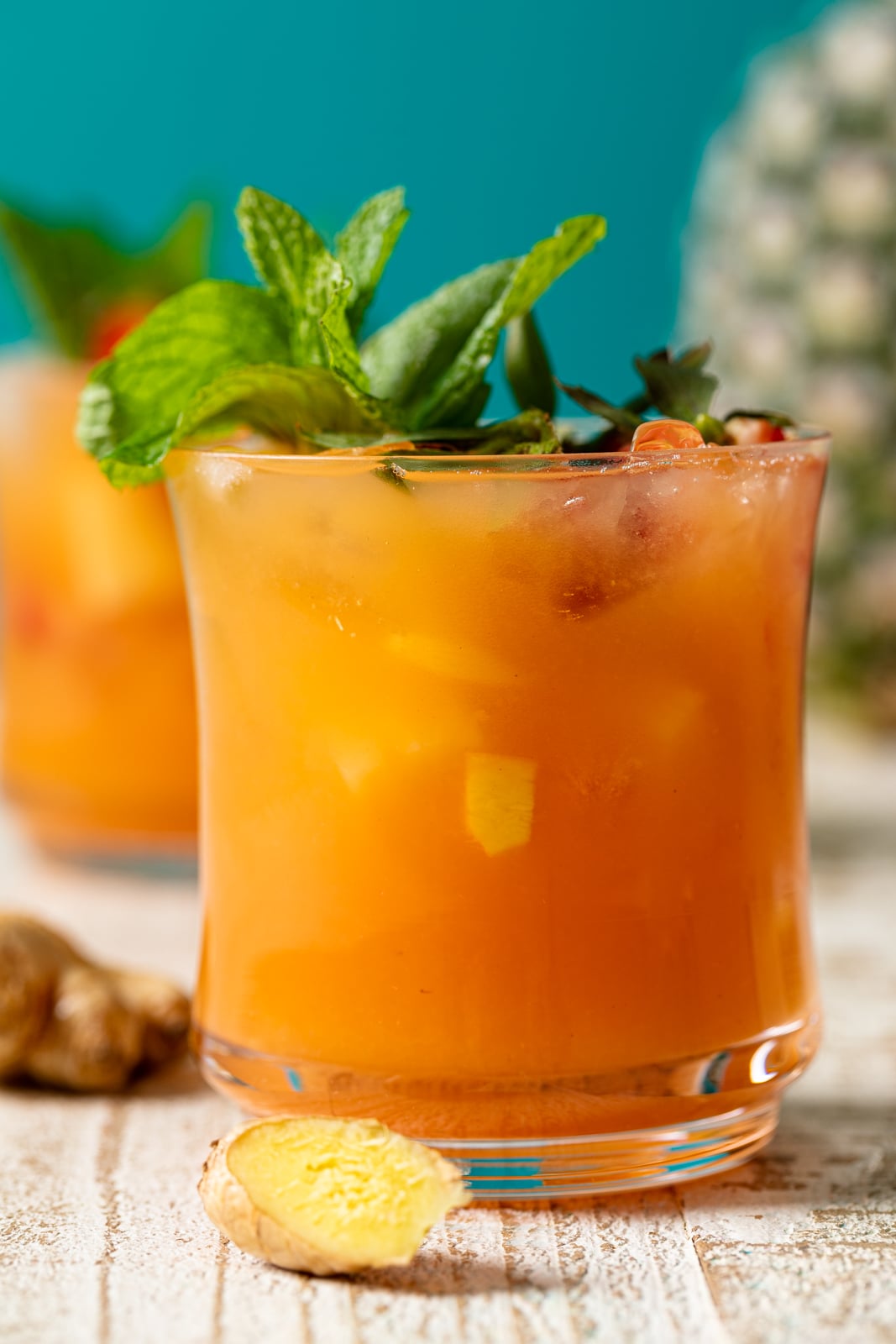 Authentic Jamaican Rum Punch Recipe with Wray & Nephew
If you decide to make these mocktails more on the traditional side with actual rum, then purchasing the Wray & Nephew branded rum is imperative. This creates the authentic formula for any Jamaican rum punch.
Wray & Nephew is an award-winning high strength white rum that is a major staple in the Jamaican culture. I remember seeing my parents and family members only consume this type of rum so it's been around for a LONG time.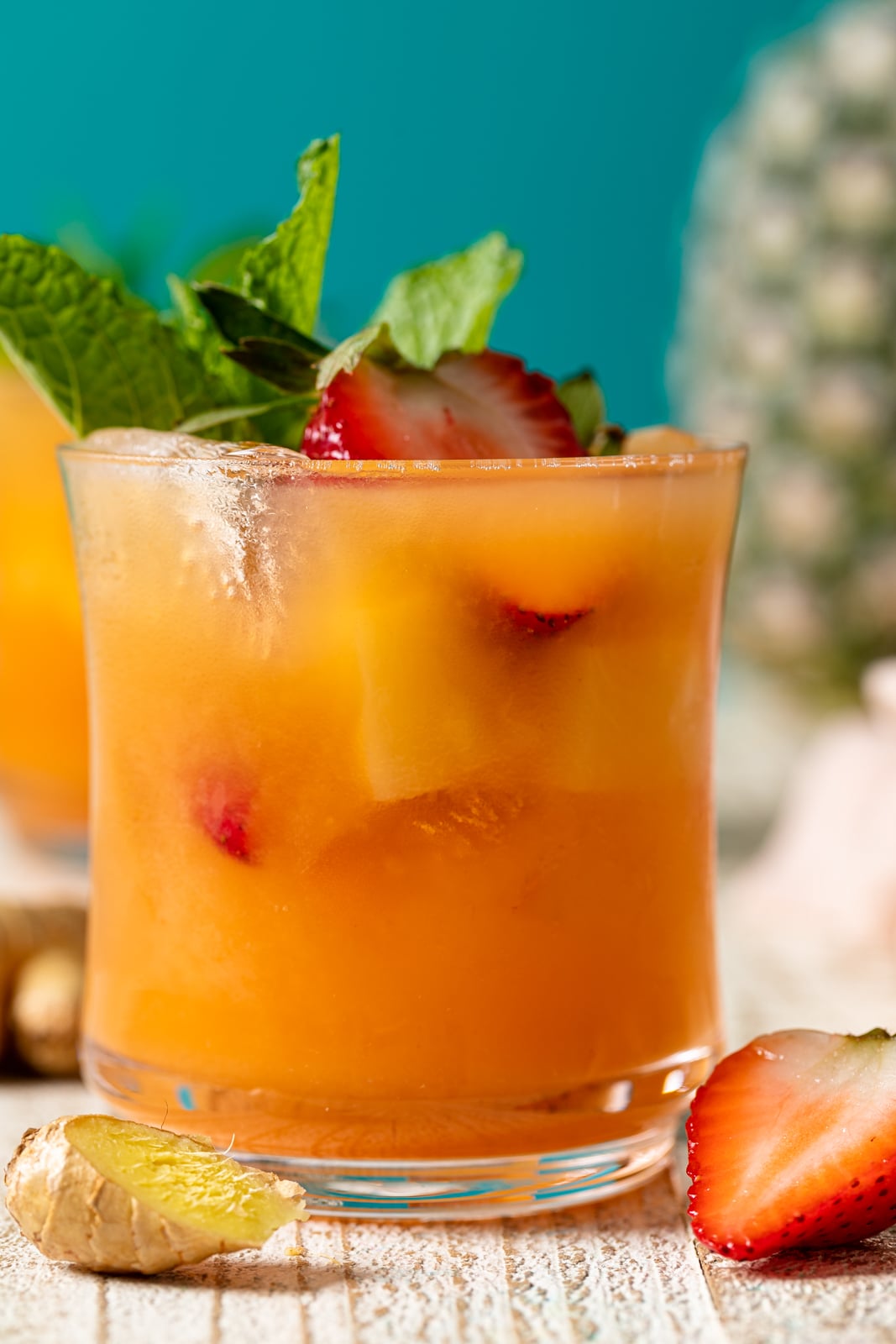 Jamaican Rum Punch Mocktail with Pimento
I've always made any Jamaican inspired dish or drink with the typical trio ingredients that are a must: allspice (a.k.a. pimento), ginger, and garlic, depending on the dish.
For this Rum punch mocktail, I chose to focus on ginger, but to add extra flavor and more authenticity, feel free to add pimento seeds (or ground allspice if preferred) along with a few pinches of cinnamon.
The spices will surely create a greater highlight of flavor with this drink. Besides, it's always best to let the drink sit for a few hours in the refrigerator before serving so that everything takes some time to infuse and marry together.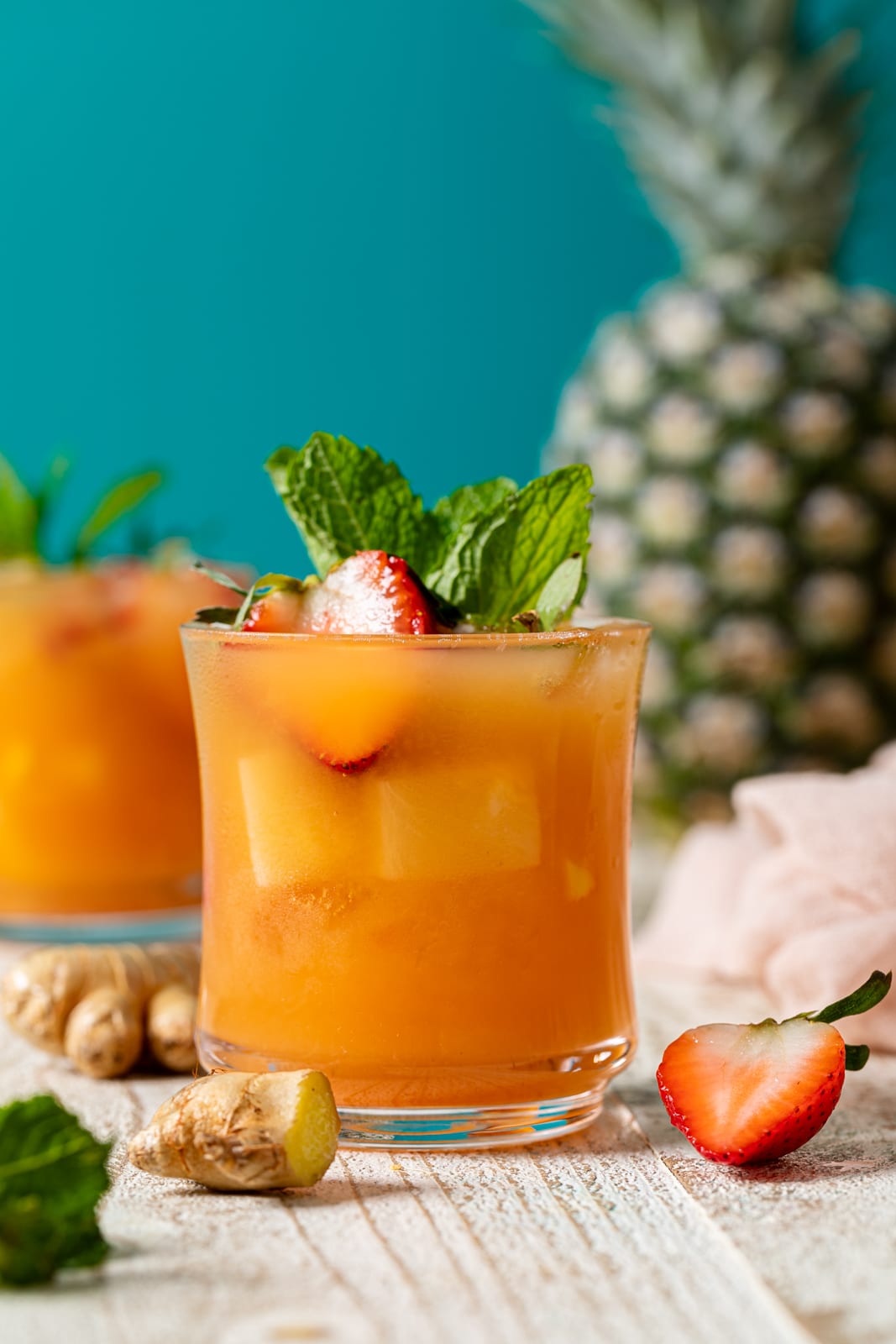 How Else to Use Strawberry Syrup
If you have a jar of homemade simple strawberry syrup in your fridge (from a large batch), there are dozens of delicious and easy ways to use it. Here are some of my favorite ideas:
Stir it into brewed black or green tea for a sweet pick-me-up.
Add it to a chilled smoothie for a unique sweetener to replace agave, honey or maple syrup.
Use it in place of another liquid sweetener in baking or pancake recipes.
Drizzle a bit over your morning yogurt or oatmeal.
Create another fruit-based mocktail and add it there.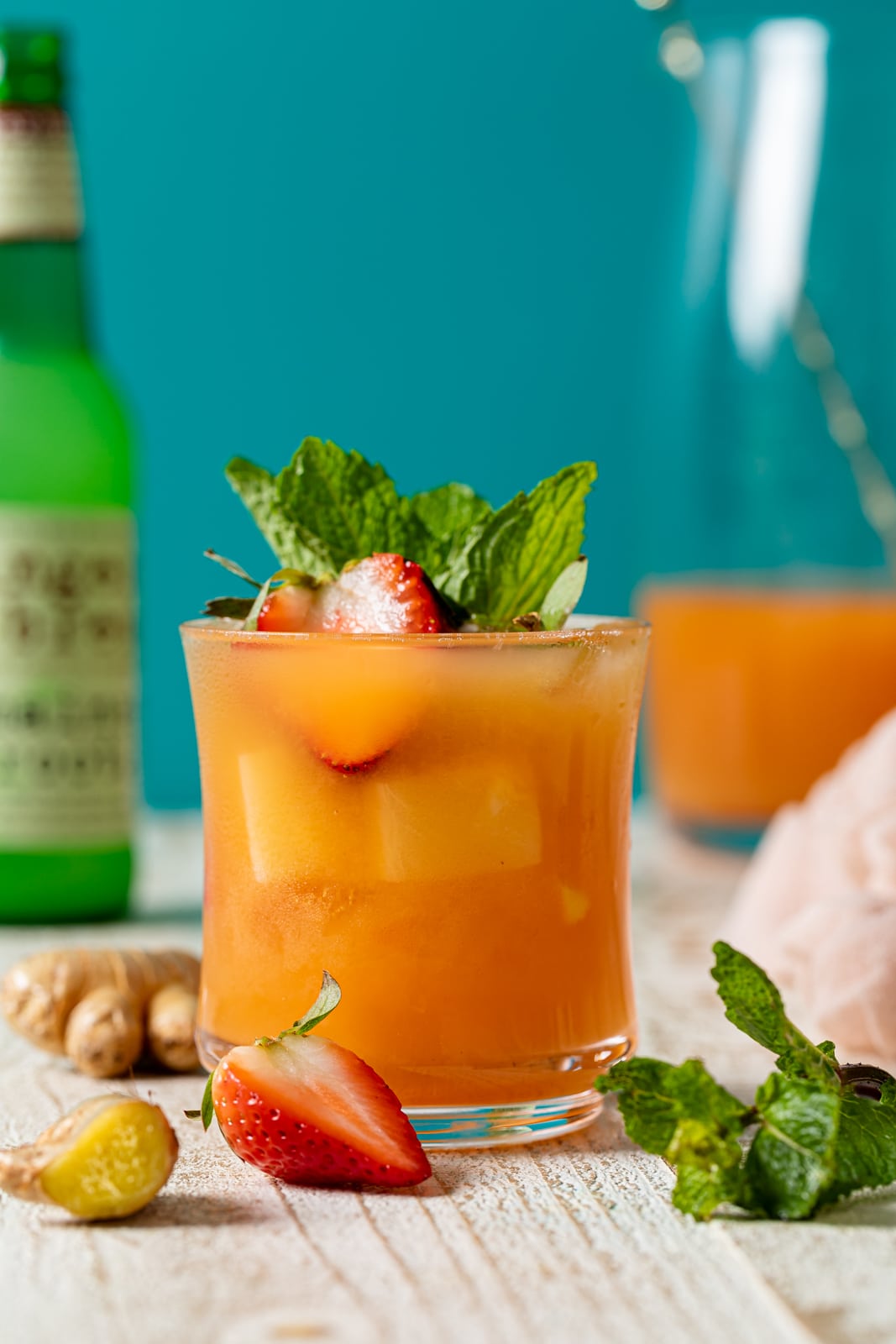 Storage Suggestions
You can store leftover punch in a tightly sealed pitcher (using plastic wrap) or mason jar and refrigerated for up to 1 week. Stir when ready to serve again.
JAMAICAN HERBS THAT YOU SHOULD ALWAYS KEEP ON HAND + REMEDIES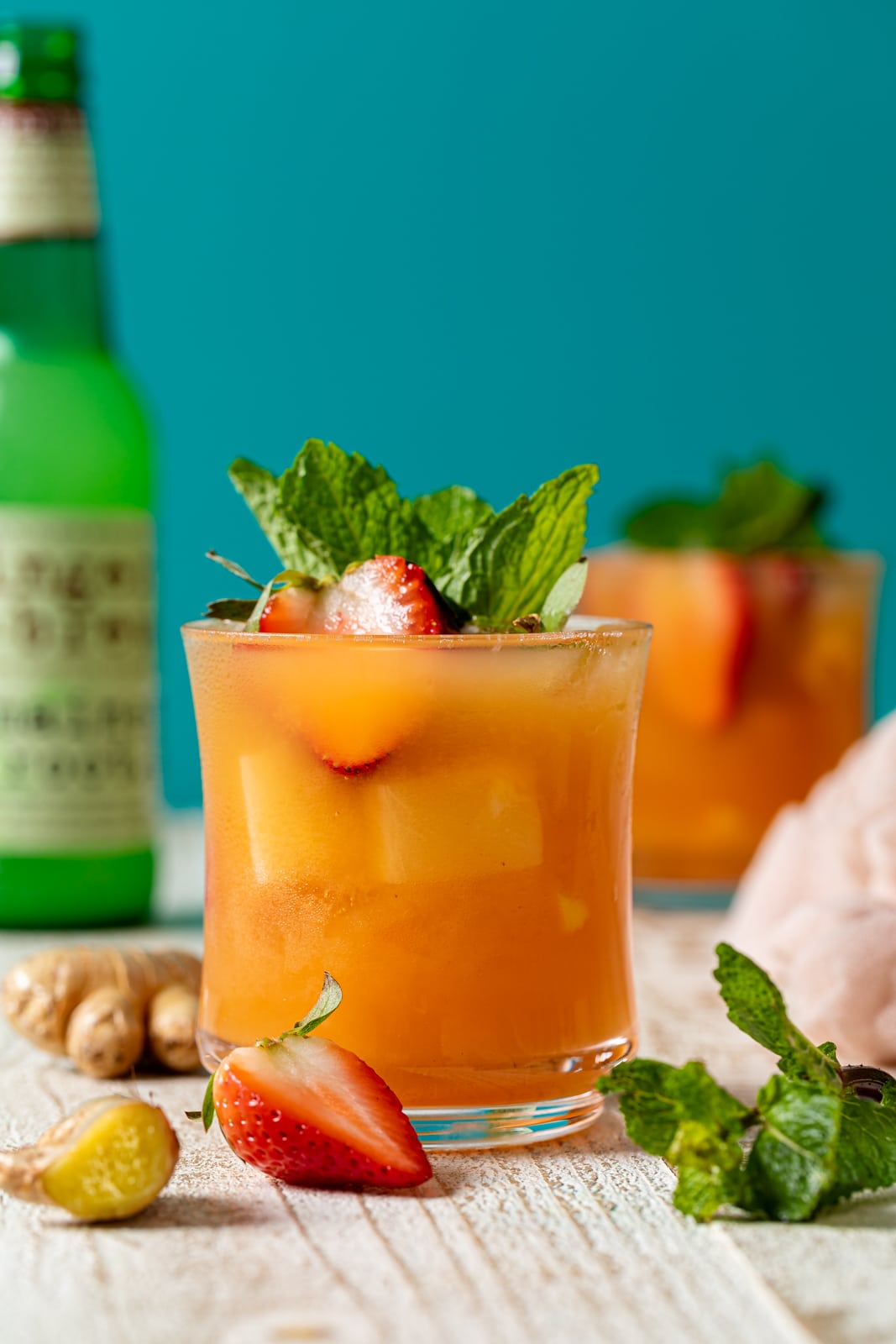 More Refreshing Mocktail Recipes
Looking for more colorful and fruity non-alcoholic drink recipes? Give these a try next:
MADE OUR RECIPE(S)?
Made this Jamaican Rum Punch Mocktail? Tag @orchidsnsweettea_ on Instagram and hashtag it #orchidsandsweettea!
SIMPLE STRAWBERRY SYRUP:
1

cup

sliced strawberries, stems removed

1

cup

filtered water

¼

cup

organic cane sugar

1

teaspoon

freshly-squeezed lemon juice
MOCKTAIL:
2

cups

organic pineapple juice

1 ½

cups

freshly-squeezed orange juice

(That's about 5-6 navel oranges)

1

cup

organic mango juice

Simple strawberry syrup

2

Tbsps

freshly-squeezed lemon juice

2

Tbsps

freshly-squeezed lime juice

1-2

tsps

minced ginger

Ginger beer, for topping
GARNISH:
Sliced strawberries

Fresh mint leaves

Pineapple chunks

Cherries, optional

(See Notes!)
MAKE THE SIMPLE STRAWBERRY SYRUP:
In a saucepan over medium-high heat, add together all ingredients, stirring to combine and bring to a boil, about 1-2 minutes. Reduce the heat to low and simmer for another 3-4 minutes. Remove from heat and let cool.
MAKE THE MOCKTAIL:
In a pitcher, add the pineapple juice, orange juice, mango juice, cooled strawberry syrup, lemon juice, lime juice, and minced ginger, mixing everything together until combined.

To Assemble Mocktails: Add crushed ice to a glass, fill ½ of the glass with the punch mixture, followed by the sliced strawberries, pineapple chunks, cherries (if using), and fresh mint leaves, if desired. Top with ginger beer. Repeat for every serving and enjoy!

Sip and Enjoy!
STORAGE: Leftover punch can be stored in a tightly sealed pitcher or mason jar and refrigerated for up to 1 week. Stir when ready to serve again.
SIMPLE SYRUP: Traditionally, Jamaican rum punch includes Grenadine or Fruit Punch syrup, however, I made a simple strawberry version. Feel free to use whichever you prefer.
CHERRIES: Usually with this drink, maraschino cherries are used for garnish. For a healthier twist, feel free to use fresh red cherries, if desired.
RUM: This is a mocktail, however, you can feel free to add rum for an extra kick or spruce up!
Calories:
182
kcal
|
Carbohydrates:
47
g
|
Protein:
1
g
|
Fat:
0.4
g
|
Saturated Fat:
0.05
g
|
Polyunsaturated Fat:
0.1
g
|
Monounsaturated Fat:
0.1
g
|
Sodium:
10
mg
|
Potassium:
378
mg
|
Fiber:
1
g
|
Sugar:
40
g
|
Vitamin A:
630
IU
|
Vitamin C:
73
mg
|
Calcium:
40
mg
|
Iron:
1
mg
Jamaican Rum Punch Mocktail.