This Pear Ginger Lemon + Thyme Non-Alcoholic Drink recipe is the perfect balance between tart and sweet. Made with a delicious easy spiced pear + thyme simple syrup as the base along with fresh lemon juice and topped with ginger beer plus a final touch of garnished pear slices, lemon wedges, and thyme sprigs. This homemade drink will leave you feeling refreshed on any given day or for any occasion minus the need for alcohol. A true family staple! All vegan ingredients.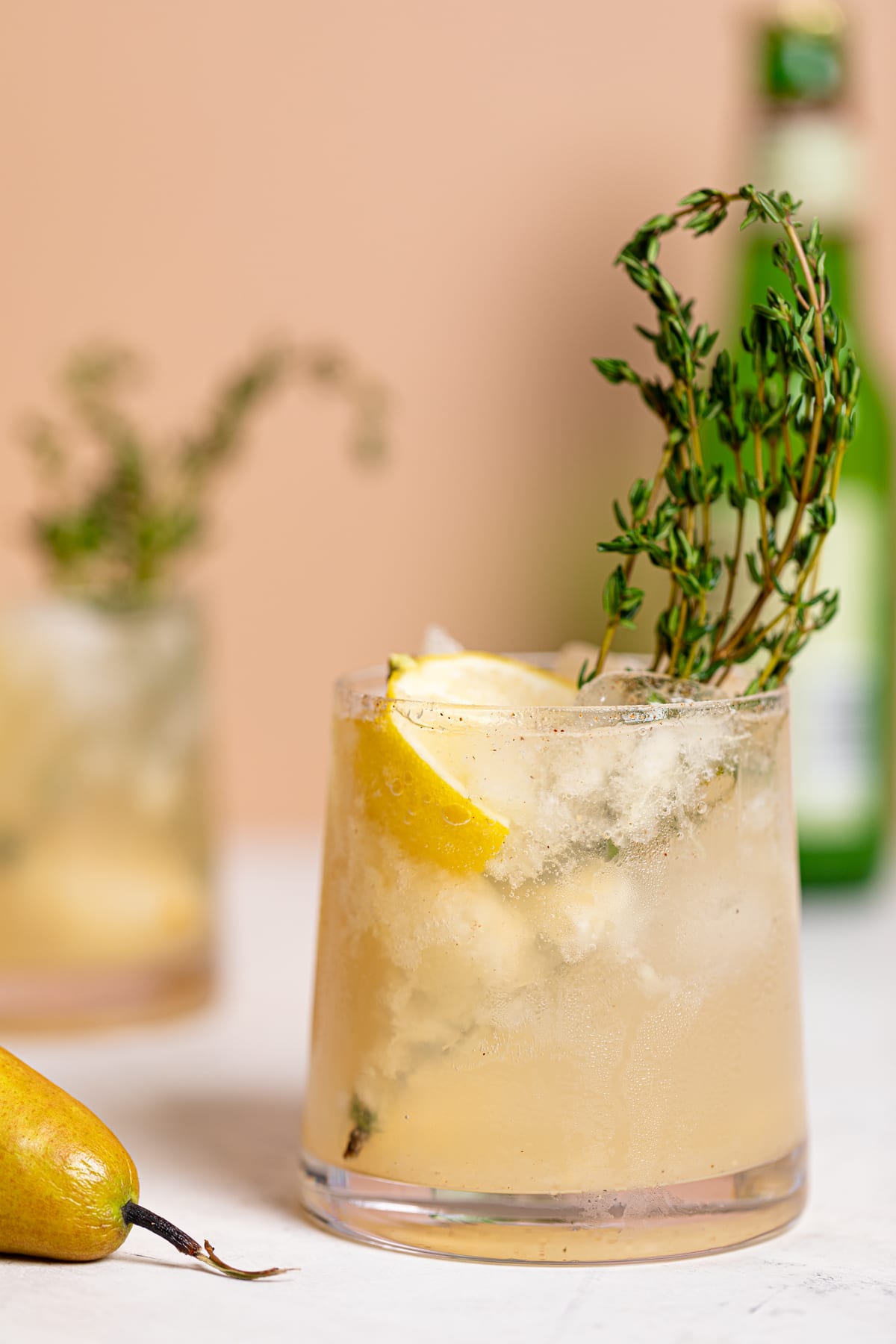 When it comes to drink recipes, I'm always looking for fun, delicious ways to spruce things up especially with family-friendly ones that are alcohol-free. This Pear Ginger Lemon + Thyme Non-Alcoholic Drink recipe one for the books and surely will leave you feeling all kinds of refreshed, no matter the season. The best part about mocktails or non-alcoholic drinks is that you can create a frizz-like feel or leave things simpler without it depending on the preferences of everyone in your household. 
Growing up, juice was always one of my favorite things and while I've spent practically all of my adult life not drinking any form of alcohol, I can admit that I haven't felt deprived at all. This is where fancy mocktails come in, especially in social settings where you don't want to feel left out. Just a handful of the right ingredients and a good glass or two----and wallah. You have the perfect non-alcoholic drink with all the feels. If you're in need of some inspiration, you should try this Refreshing Green Goddess Mocktail Recipe, Festive Thanksgiving Punch Mocktail for the holidays, and Espresso Martini without Kahlua [Mocktail] for an extra bit of fancy! All in all, you won't be disappointed by the range of flavors and feels of each drink. And this particular drink is a great pear recipe to add to your list for the cooler or warmer weather. 
What is A Mocktail?
So if you're sitting here thinking, what is a mocktail? Let me explain. A mocktail is like a party in a glass, minus the hangover. It's a delicious and refreshing drink that's packed with all the flavor and complexity of a traditional cocktail but without any of alcohol.
Whether you're a designated driver, a health-conscious human, or just someone who wants to enjoy a delicious drink without the buzz, mocktails are the perfect solution.
Are Mocktails Healthy?
Mocktails can be healthy, depending on the ingredients used. Fresh juices, herbal teas, and natural sweeteners like honey can provide vitamins, minerals, and antioxidants. However, mocktails made with high-calorie syrups, sodas, and artificial flavors can be less healthy. Y'all know my mocktail menu for Orchirds & Sweet Tea I like to keep it natural and healthy. Even in this pear recipe, you'll enjoy the natural sweetener option.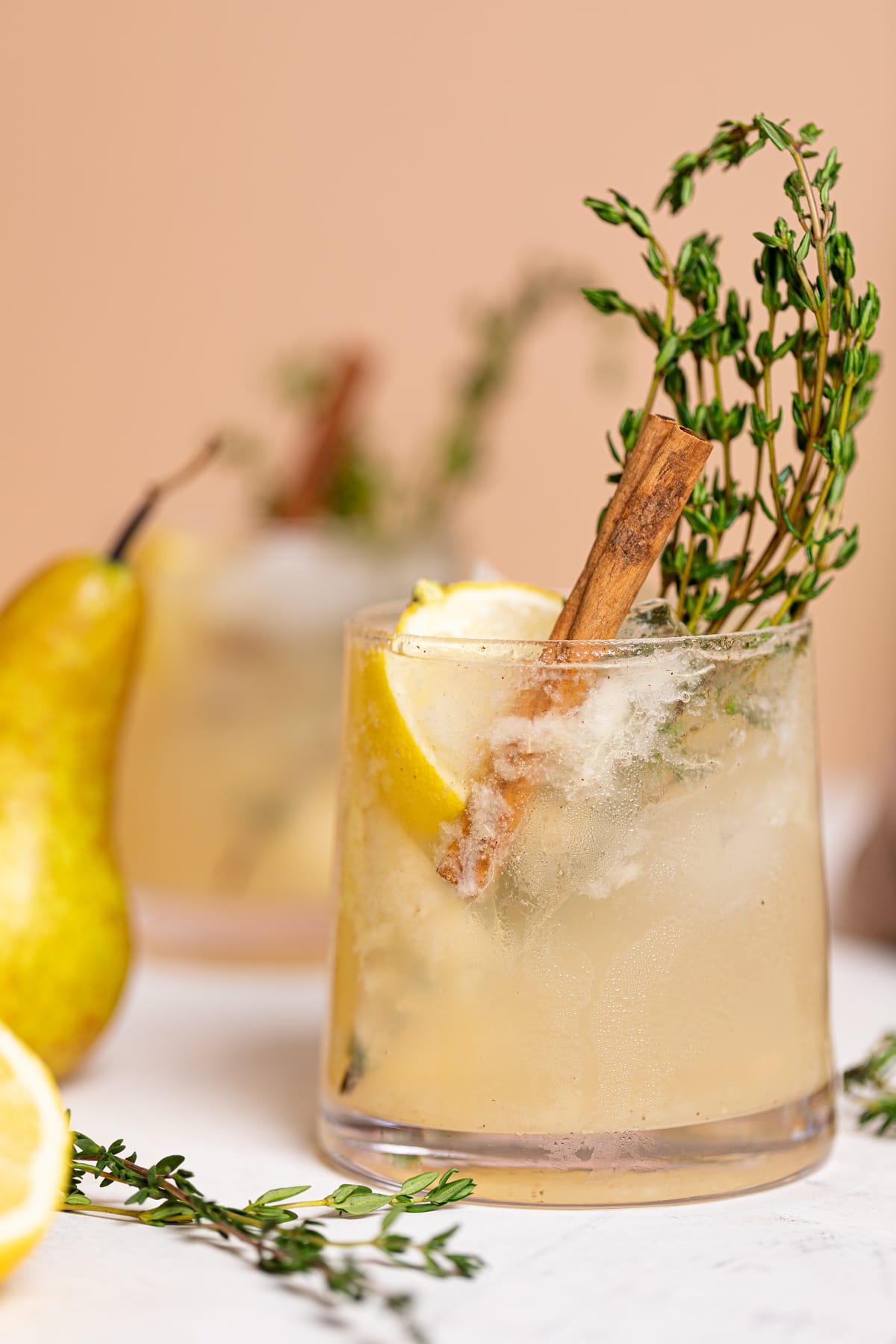 Ingredients For Pear Ginger Lemon + Thyme Non-Alcoholic Drink
Pears. Beautiful touch of warmth. These can be roasted to perfection if preferred or boiled in the simple syrup mixture as in this recipe. I like to use Bartlett pears, however, you can use your favorite type.
Lemons. A little sour and tangy for the tastebuds in the best way.
Thyme. Adds a level of sharp, earthy, and somewhat minty flavors to this drink.
Maple syrup. A great natural sweetener, however you can always use Honey (the golden god of sweeteners), organic cane sugar, or Agave, if desired.
Filtered Water. You can buy or use it wherever you drink from!
Warm spices. The addition of cinnamon, nutmeg, + allspice really brings a warmth to this drink and ties really great with the pear flavor. 
Soda. Hello, Bubbles! I love adding premium ginger beer to tie in the flavors, however, you can use sparkling water or lemon soda as well.
Mocktail Garnish Ideas
Want to make your Pear Ginger Lemon + Thyme Non-Alcoholic Drink look extra special? Here are some easy and pretty garnishes to try-
Halved pears + Lemon Slices. Thin slices or wedges of fresh lemon add a burst of color to your mocktail. Whether you roasted the halved pears or use them fresh, they'll add an extra sweetness and warmth to the drink as a garnish.
Dried Citrus. Dried lemon slices make for a beautiful and tasty garnish, and you can even infuse your mocktail with their flavor by soaking them in the drink for a little while.
Fresh Ginger. A slice or two of fresh ginger is the perfect complement. It's fresh, it's spicy, and it's so good.
Fresh Thyme sprigs. Add a sprig of thyme for a refreshing twist.
Pomegranate Arils. These little gems are like a party in a glass. Adds a pop of bright color to your mocktail.
Pretty Ice Cubes. Freeze cranberries, pomegranate, lemon, mint, or edible flowers into your ice cubes for a fun and pretty touch. It's an easy way to elevate your mocktail game.
Best Types of Pears for this Recipe
Even though this Pear Ginger Lemon + Thyme Non-Alcoholic Drink is based on using Bartlett pears, you can also switch things up and add a slightly new flare in their flavor profile by adding any of the following pears for a bit more sweetness or tartness:
Anjou --- They are squatty with a round bell shape, short neck, and thick stem. One of the most popular pears in the United States because of their long shelf life and versatility, they are basic, all-purpose pears, great for snacking, cooking, or baking.
Bosc --- They are oblong with an elegant elongated neck and long curved stem. Also, considered juicy but crunchy and retain their flavor and shape when cooked or baked.

 

Forelle --- They are green and yellow with hints of pink. Also, they are considered to be very sweet, with a flesh that is slightly firmer than most other pears.
Concorde --- They are juicy, with a vanilla-like flavor and smooth texture, these pears are crisp right after harvest and soften as they ripen. In addition, they hold both shape and flavor as they are naturally slow to oxidize after being cut.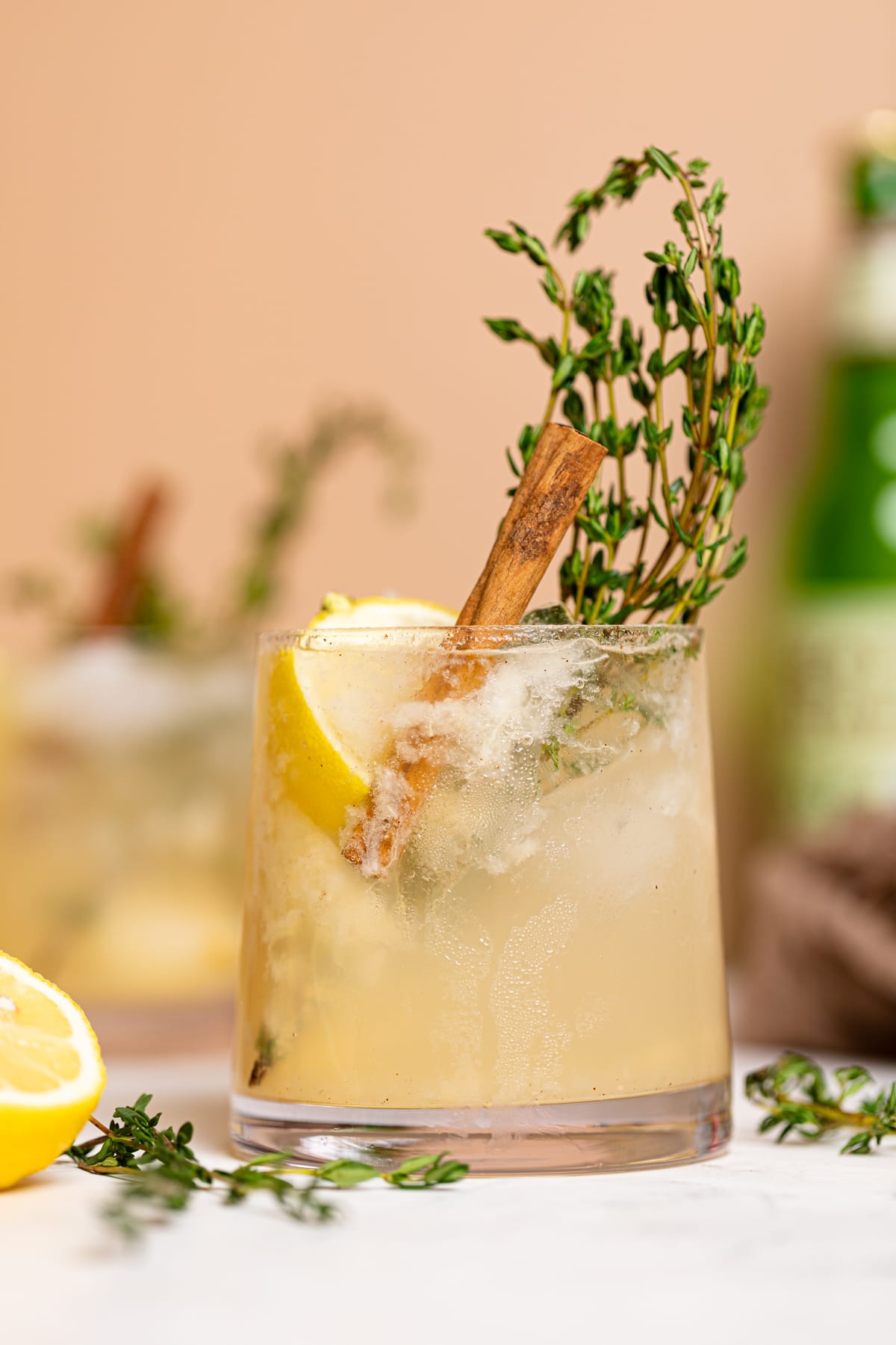 Health Benefits of Combining Lemon + Ginger Together
IMPROVES COGNITIVE FUNCTION:
Yes, I know. I wasn't aware of this either, however, lemon and ginger combined does wonders to our brains. Overall, they are great at soothing specific nerves and improving our mood. As a result, it allows us to think more clearly, and the antioxidant properties eliminates oxidative stress and helps to lower our chances of Alzheimers and dementia.
IMPROVES SKIN CARE:
When it comes to antioxidants and certain vitamins, we know that this obviously helps with skincare. However, when it comes to lemon and ginger combined, specifically, you are able to drink them together to improve your skin health or apply them topically to your irritated skin for healing. Also, because of their antibacterial and antiviral properties, you can use both ingredients to prevent any infection of the skin.
HELPS WITH THE HEALTH OF YOUR HAIR:
While each ingredient has been used individually to help your overall hair health, combining them actually boosts your vitamin A and C, which helps to promote hair growth. They both also help to reduce dry skin and dandruff naturally, so this is a great alternative to using specific products that may be overall harmful and not entirely natural.
HELPS TO RELIEVE PAIN:
When it comes to ginger specifically, which has it's anti-inflammatory properties, it can also act as an pain reliever and helps your body recover from body pain, menstrual cramps, surgeries, and other illnesses. So the next time you find yourself contemplating on whether to take another pain killer, try using ginger (tea specifically) as a natural home remedy.
CONTROLS DIABETES:
Ginger specifically, have been linked to keeping your blood sugar levels at bay, which is good for anyone who suffers from Diabetes. However, research shows that lemon also plays a great role in helping to control Diabetes as well. The soluble fiber and Vitamin C in lemon helps to reduce your blood sugar levels, as well as blood pressure and cholesterol.
How to Make Clear Ice Cubes without a Clear Ice Cube Mold
One of the greatest phenomenons when it comes to ice cubes has been seeing super clear ice cubes from those clear ice cube systems or molds and wanting to try it, but not necessarily wanting to have a huge contraption in my freezer. Haha. Anyone else feel my pain? Whelp, no need to worry----I've done my research and tested it out a bit and have found some solutions to help those of us who don't have any fancy system to making clear ice cubes. Here are a few ways:
Tip #1: It's best to use water that is distilled or super filtered to avoid gasses and dissolved oxygen, which are the two things that cause our ice to "fog up" when frozen.
Tip #2: Boil your water and freeze your water hot. Again, much to my previous point, this removes any dissolved oxygen or gasses. Just be sure to carefully pour the hot water into your ice cube tray or mold-----preferably one made from materials that naturally insulates like silicone. Also, ensure that your tray lays FLAT while freezing.
Tip #3: Slow freeze your ice cubes. This should be done for about 24 hours, which allows any impurities to be forced out of the ice---resulting in much clearer ice.
Adding Alcohol to this Drink
If some people at your party want to make a more traditional drink with alcohol, it's easy to do. Just add an ounce of vodka, rum, tequila, or your favorite alcohol to each glass.
More Great Spice-filled Recipes To Try
Ready to take your spice game to the next level? Get ready to shake things up and have some fun with these delicious warm + cozy recipes:
MADE OUR RECIPE(S)?
If you choose to make this Pear Ginger Lemon + Thyme Non-Alcoholic Drink recipe or any other recipe from us, be sure to tag us on Instagram at #Orchidsandsweettea so that we can share the love!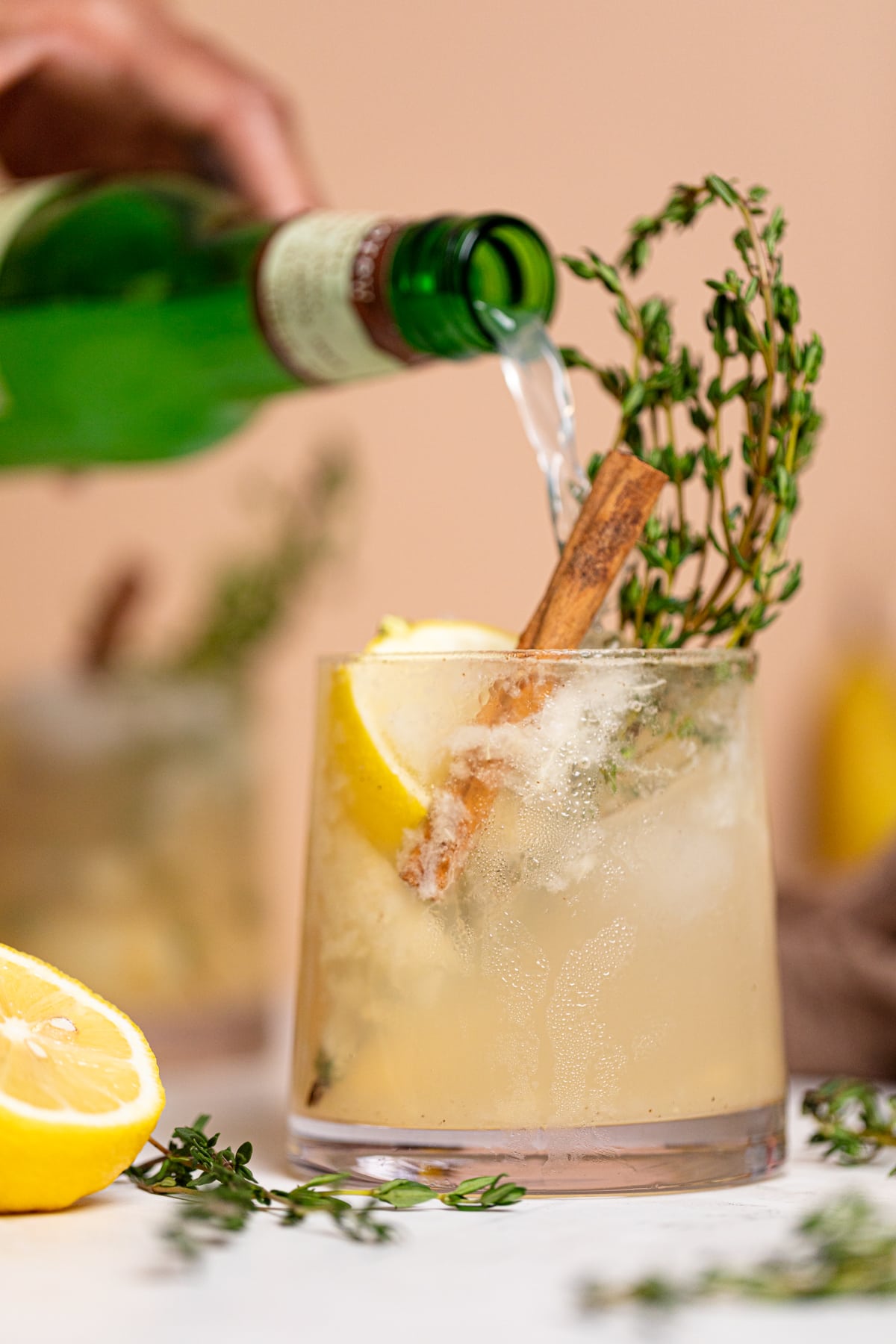 SPICED PEAR + THYME SIMPLE SYRUP:
DRINKS:
Crushed ice

1 ½

cups

Spiced pear + thyme simple syrup

2

lemons, freshly-squeezed

organic ginger beer, for topping

(See Notes!)
OPTIONAL GARNISHES:
Lemond slices

Bartlett pears, halved

Fresh thyme sprigs
TO MAKE THE SPICED PEAR + THYME SIMPLE SYURP:
In a saucepan over medium-high heat, add together all ingredients (stirring them to combine) and bring to a boil, about 1-2 minutes.

Reduce the heat to low and simmer for another 5 minutes or so. Remove from heat and let it cool completely. Discard the pears and thyme sprigs.
TO MAKE THE DRINKS:
In a bowl or cocktail shaker, add the lemon juice and cooled spiced pear + thyme simple syrup. Stir or shake (if using a cocktail shaker) together to combine.

Assemble the drink(s): For each drink, fill a good cocktail glass (11 oz. or so) with crushed ice and pour half the amount of the mocktail/drink mixture and top with ginger beer until glass(es) is ¾ filled. Add sliced lemons, halved pears, and fresh thyme sprigs, if desired. NOTE: To be a bit fancy, you can add sugar to the rims of the glasses.

Sip and Enjoy!
NO FIZZ: If you'd prefer not having a fizz for your mocktail, you can easily make a simple syrup with ginger roots. Add a 2-3 medium ginger roots (peeled + chopped) to boiling water (about 4 cups) along with the pears and 2-3 thyme sprigs. Reduce the heat to simmer for 10-15 minutes. Remove from heat and cover with a lid so that everything infuses. Add in 1 cup of organic cane sugar, whisking until dissolved. Remove ginger, pear, and thyme----continue with recipe.
SWEETENER: You can always use raw honey or Agave instead of maple syrup, if you aren't restricted to a vegan diet. 
RIM(S): To make things more fancy, I love to add sea salt or cane sugar to the rim of my glass(es). To do this, you'll simply need to wet the rims a bit with a lime wedge and then turned facing down, slightly moving it around in the sugar or salt until covered.
ALCOHOL:If you'd like to spruce things up with alcohol, feel free to add 1 ounce of rum, vodka, etc.
SERVING SIZE: This recipe makes two mocktails. To make additional mocktails, simply double or triple ingredients, depending on need.
Calories:
581
kcal
|
Carbohydrates:
146
g
|
Protein:
2
g
|
Fat:
1
g
|
Saturated Fat:
0.1
g
|
Polyunsaturated Fat:
0.1
g
|
Monounsaturated Fat:
0.02
g
|
Sodium:
30
mg
|
Potassium:
695
mg
|
Fiber:
9
g
|
Sugar:
117
g
|
Vitamin A:
76
IU
|
Vitamin C:
65
mg
|
Calcium:
233
mg
|
Iron:
1
mg