I love making my own juices once in a while, especially extremely powerful ones like this Carrot Ginger Citrus Turmeric Juice. Thanks to turmeric, ginger, and black pepper, this fresh carrot juice is jam-packed with superfood powers. 
I'm a big believer in our bodies needing a nice boost or rest from time to time and this Carrot Ginger Citrus Turmeric Juice is a great healthy drink option for the entire family. If you're an avid juice maker, then I recommend trying this Cleansing Sugar Detox Juice and Homemade Blood Orange Juice also!
And when that time comes for me, maybe after a big holiday or a rich series of meal, this sunny drink is exactly what I'm craving. The combination of carrots + ginger + oranges + lemons + turmeric is AMAZING, ya'll. Trust me!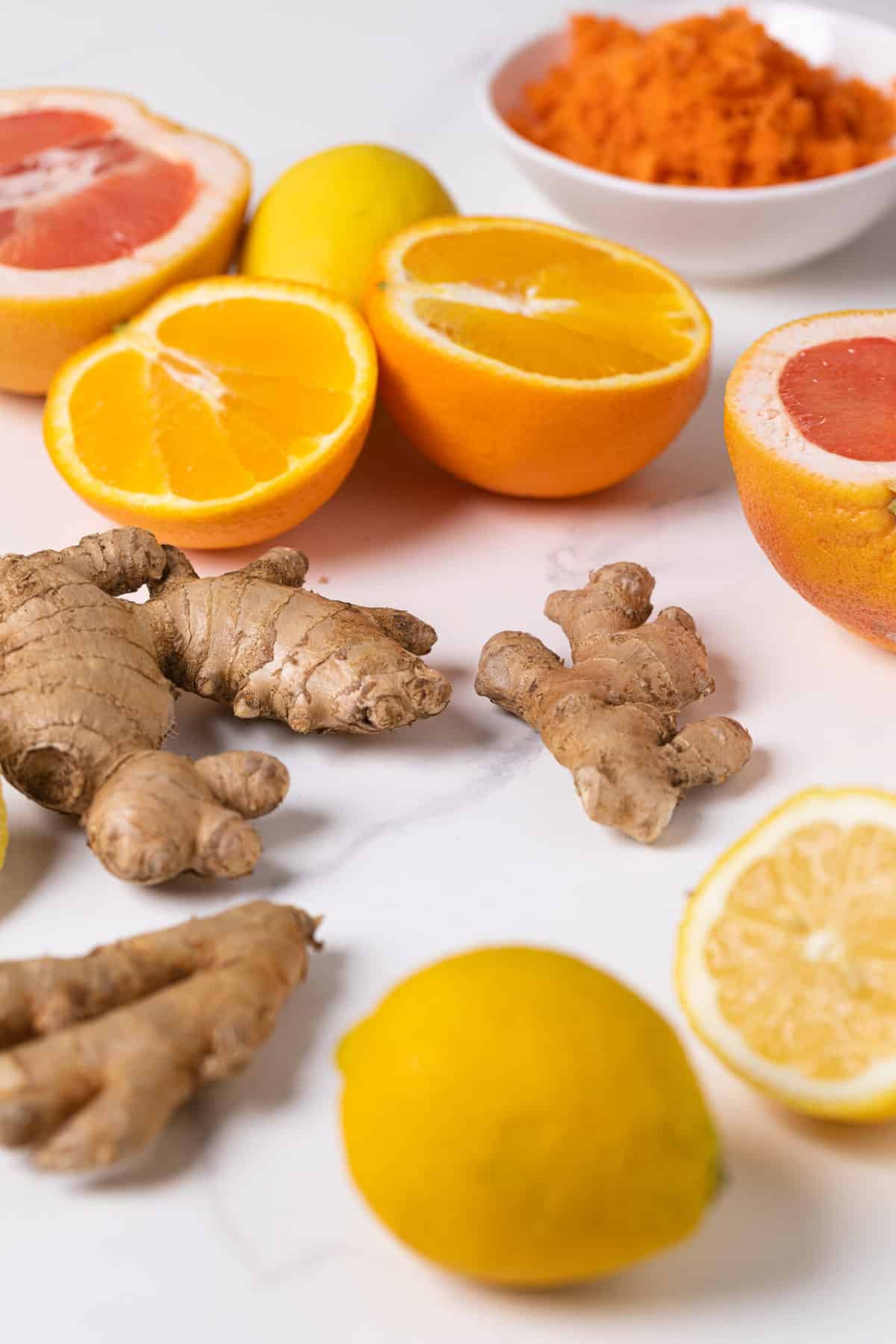 Health Benefits of Carrot, Turmeric Ginger Juice
Together, the ingredients in this homemade juice have some amazing health benefits, including:
Powerful plant-based antioxidants that fight disease-causing free radicals in the body
An immense system boost from vitamin C
Stimulating your metabolism for faster digestion and a healthy gut
Can treat nausea and indigestion
Improves cognitive function and memory
Helps hydrate and clear up skin
The Best Natural Remedies to Fight Allergies
If you're sipping fresh juices like this to ease your allergy symptoms, you're in the right place. I've compiled the best Natural Remedies for Fighting Allergies.  These remedies will give you part or full relief during allergy season.
If you've ever had to suffer through uncomfortable allergy symptoms (or had a loved one who has), then you'll know just how dire it is to get a boost in your body's response to fighting such miserable symptoms away.
I've also compiled 10 Naturally Effective Ways to Fight a Cold/Flu if you're feeling under the weather.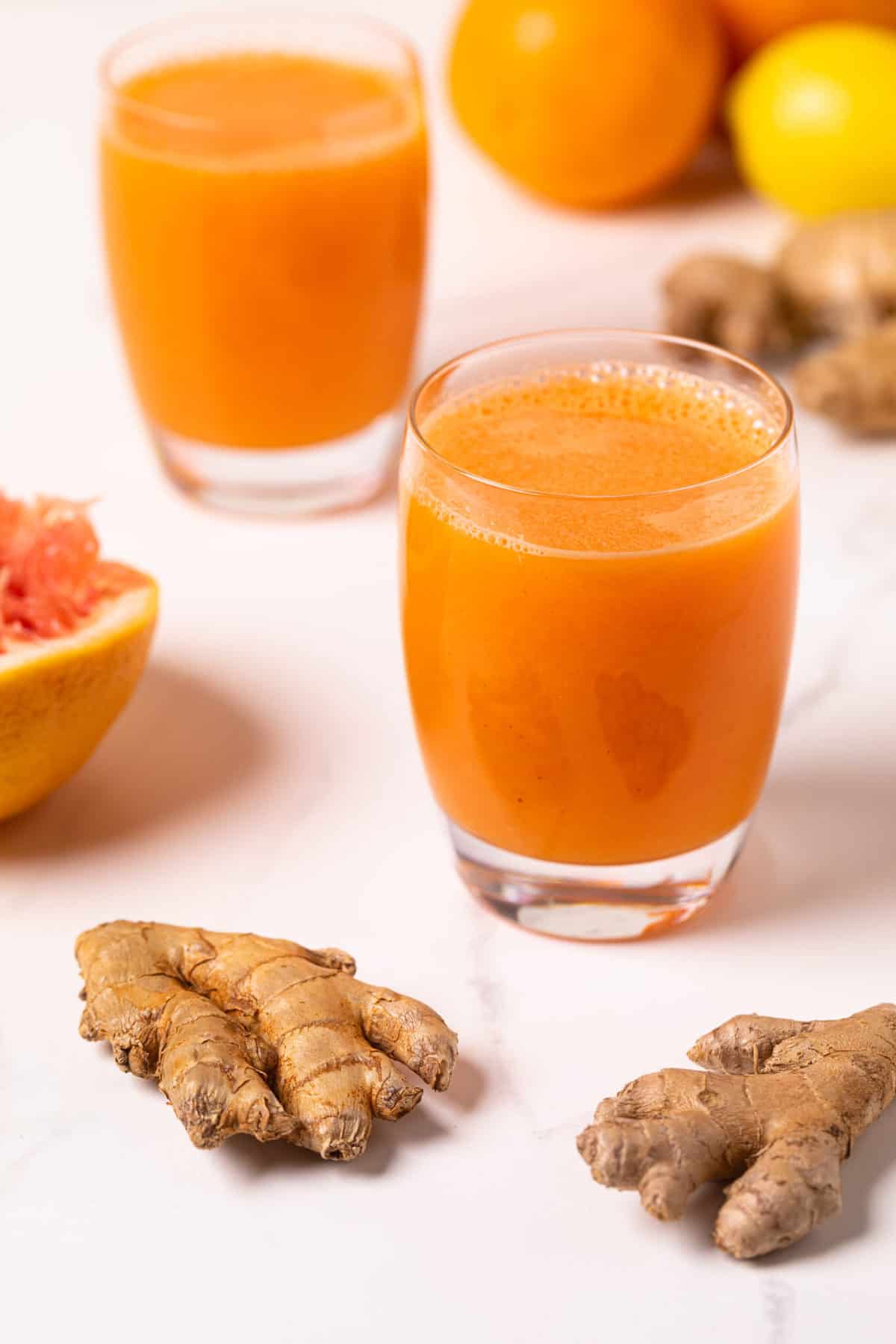 How to Make Fresh Carrot Ginger Turmeric Juice
Now that you know how good this refreshing juice is for you, let's get to making it! 
Ingredients
This simple recipe has only plant-based, fresh ingredients:
Ginger root. Peeling ginger is easy! You can even do it with a teaspoon. The peel is thin and soft, it scrapes right off. 
Carrots. Peel your carrots before juicing them to remove the bitter-tasting skin. 
Orange. You can use any kind of orange you like. I love the taste of navel oranges in my fresh-pressed juice. 
Grapefruit. This adds extra vitamin Can a nice bitter flavor note. 
Lemon. Lemon juice is hydrating and full of good-for-you compounds. 
Agave. You can swap agave for maple syrup or honey if you like. Of course, honey will make the drink no longer vegan. feel free to use more or less sweetener depending on your preferences. 
Turmeric. Powdered turmeric is highly concentrated and backed with anti-inflammatory compounds.
Black pepper. This is the secret ingredient to get the most bang for your buck. The healthy compounds in turmeric are better absorbed when you eat them with black pepper!
Tip: Store ginger in the freezer for months of freshness! Let it defrost for 10 minutes on the counter before using it for juices or other recipes.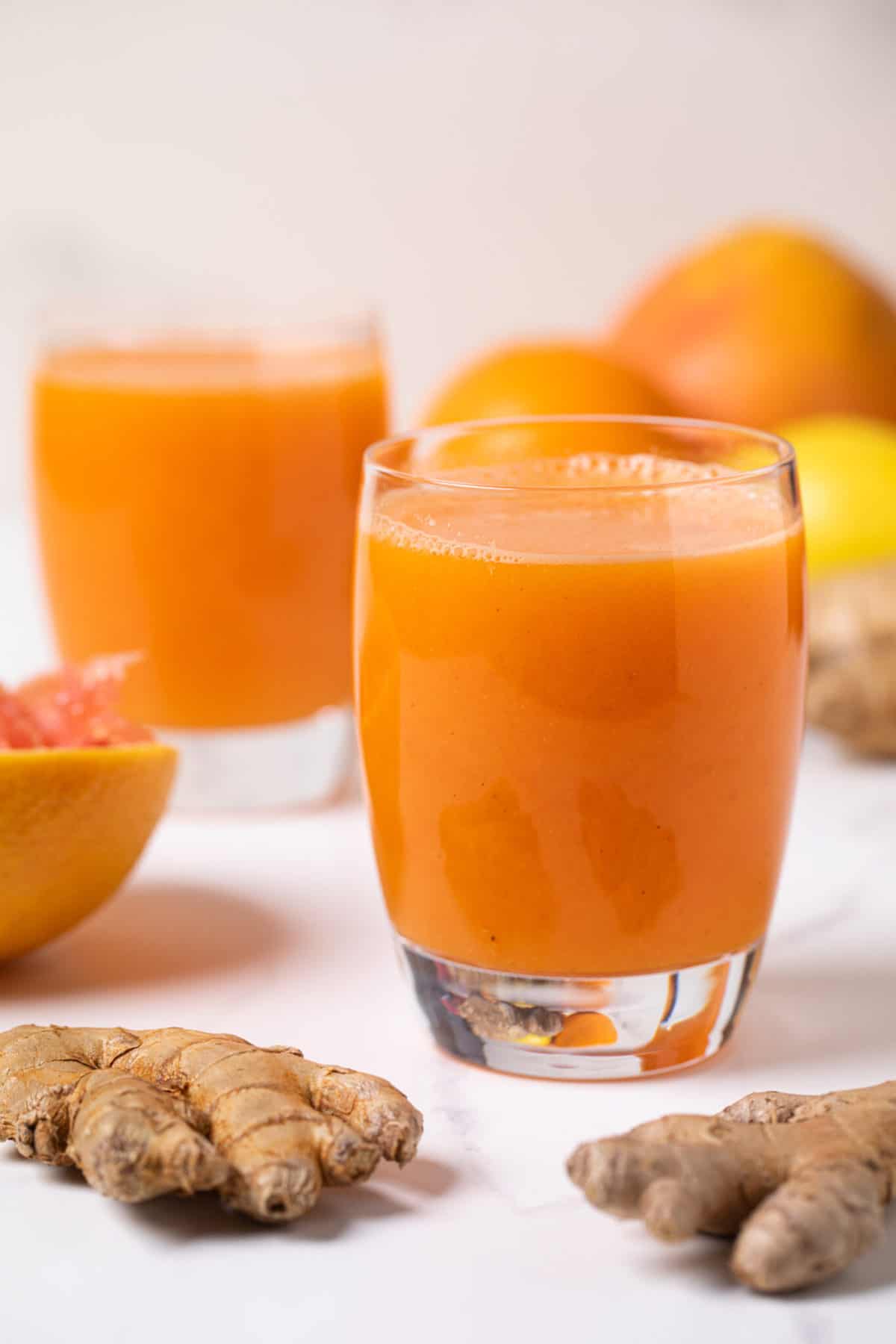 Health Benefits of Carrot Juice
Did you know that carrots are super beneficial? They are great sources of beta-carotene, fiber, vitamin-K, potassium, and antioxidants.
Studies also suggest that consuming carrots regularly may help reduce cholesterol. Plus, the stories are true, they also help improve eye health! That's thanks to all of the beta-carotene in the bright orange veggies. 
Carrots also help to lower blood sugar levels thanks to plant fiber. This also feeds the good bacteria in your gut, which aides better digestion and is tied to a healthy immune system.
Why Add Turmeric to Juice?
Believe me, adding turmeric to this drink doesn't change a thing in terms of compromising its taste. In fact, the slightly earthy flavor of this vibrant spice is delicious!
Turmeric has a compound called curcumin, which is a powerful source of anti-inflammatory antioxidents. However, the best way that our bodies can absorb all of these benefits is when we consume turmeric with black pepper. The compound in black pepper piperine is what helps us absorb curcumin, You can't taste the pepper much in this drink, but you get all of the health benefits. 
In addition, piperine on its own can help relieve nausea and headaches and improve digestion.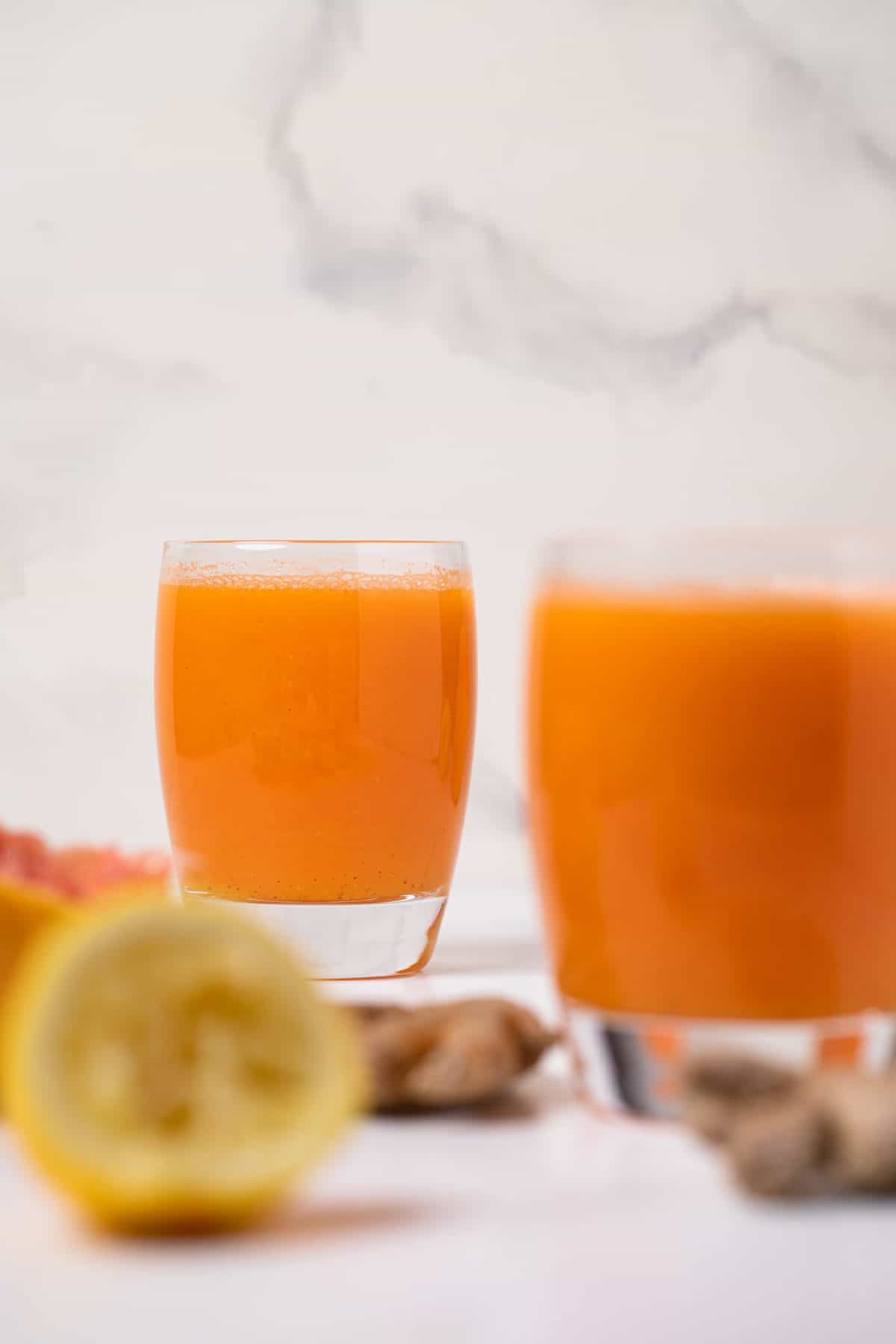 Sweeteners
 I like to add a bit of natural sweetener to my juice. Agave is a great option because it's vegan and low glycemic so it won't cause a blood sugar spike (and crash). However, you can try any healthy sweetener substitutions you like. 
In fact, this post about The Best Healthy Sugar Alternatives + Substitutes is a great place to start! For example, you can use a ripe banana to sweeten your carrot ginger juice. This is one of my favorite sweeteners to use because of its health benefits and the fact that once it's really ripened—no sugar is needed.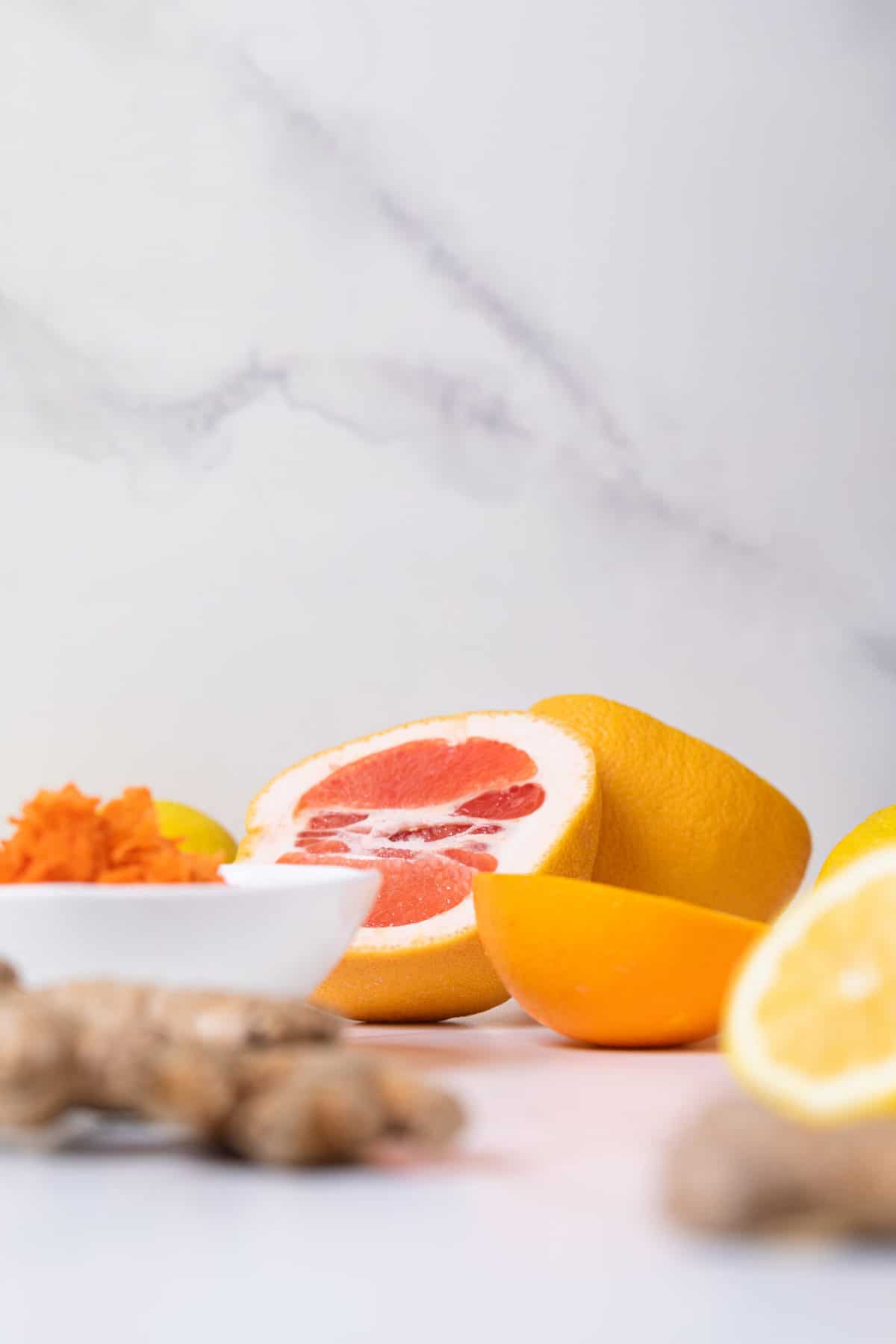 WHAT YOU'LL LOVE MOST ABOUT CARROT GINGER TURMERIC JUICE:
It's super easy to make.
Not too sweet, with a perfect hint of spice.
All vegan ingredients, gluten-free and NATURALLY sweetened.
All you need is a blender.
Immune Boosting along with other great benefits.
Can I Make Juice in a Blender?
Yes! There's no need to buy a fancy juicer to make this refreshing and healthy drink! I make my fresh juices right in my high-speed blender. If you like a smoother texture, simply strain the mixture after blending. Or, if you like the texture, you can leave the pulp in the juice and sip away.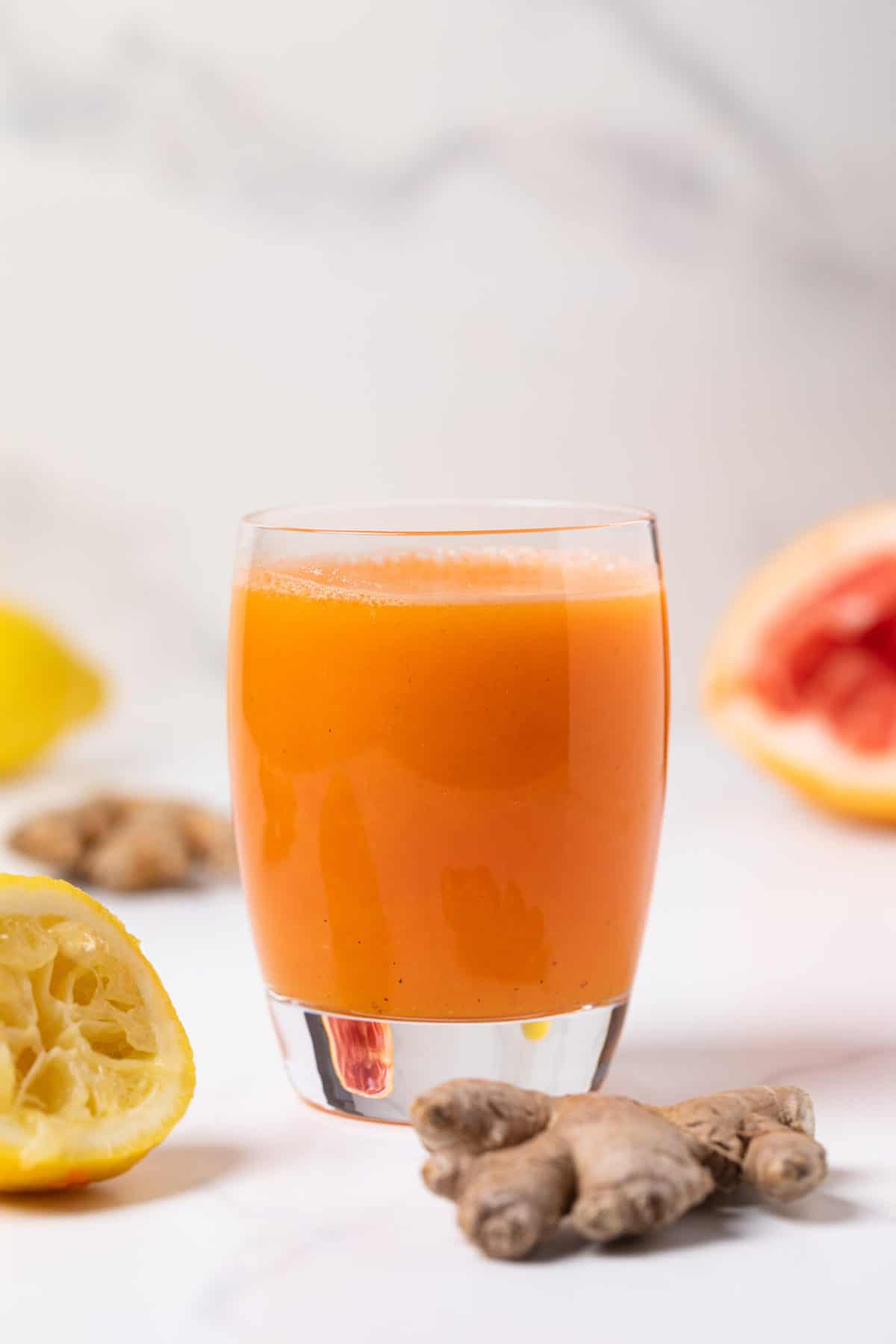 FIVE SURPRISING BENEFITS OF LEMON + GINGER TOGETHER:
IMPROVES COGNITIVE FUNCTION:
Yes, I know. I wasn't aware of this either, however, lemon and ginger combined do wonders to our brains. Overall, they are great at soothing specific nerves and improving our mood.
As a result, it allows us to think more clearly, and the antioxidant properties eliminate oxidative stress and help to lower our chances of Alzheimer's and dementia.
IMPROVES SKIN CARE:
When it comes to antioxidants and certain vitamins, we know that this obviously helps with skincare.
However, when it comes to lemon and ginger combined, specifically, you are able to drink them together to improve your skin health or apply them topically to your irritated skin for healing.
Also, because of their antibacterial and antiviral properties, you can use both ingredients to prevent any infection of the skin.
HELPS WITH THE HEALTH OF YOUR HAIR:
While each ingredient has been used individually to help your overall hair health, combining them actually boosts your vitamin A and C, which helps to promote hair growth.
They both also help to reduce dry skin and dandruff naturally, so this is a great alternative to using specific products that may be overall harmful and not entirely natural.
HELPS TO RELIEVE PAIN:
When it comes to ginger specifically, which has its anti-inflammatory properties, it can also act as a pain reliever and helps your body recover from body pain, menstrual cramps, surgeries, and other illnesses.
So the next time you find yourself contemplating on whether to take another pain killer, try using ginger (tea specifically) as a natural home remedy.
CAN HELP CONTROL DIABETES:
Ginger specifically has been linked to keeping your blood sugar levels at bay, which is good for anyone who suffers from diabetes.
However, research shows that lemon also plays a great role in helping to control Diabetes as well. The soluble fiber and Vitamin C in lemon help to reduce your blood sugar levels, as well as blood pressure and cholesterol.
More Superfood Recipes
This 5-Ingredient Turmeric 'Wake Up' Smoothie recipe is a delicious and simple way to enjoy a quick, easy breakfast while gaining awesome health benefits from the turmeric, flaxseeds, and peaches. Boasting a hint of sweetness and spice, his smoothie is the perfect meal option for the entire family. Ready in 1, 2, 3!
Pineapple Ginger Turmeric Lemonade is another refreshing and healthy homemade drink recipe with powerful health benefits thanks to ginger and lemon, the powerhouse duo. 
Vegan Chai Tea Latte with Turmeric is a warmer and comforting turmeric recipe for chillier weather. 
MADE OUR RECIPE(S)?
If you choose to make this Carrot Ginger Citrus Turmeric Juice or any other recipe from us, be sure to tag us on Instagram at #Orchidsandsweettea so that we can share the love, rate, comment below, + share!
JUICE:
5

cups

water

2

cups

peeled + chopped ginger root

2

carrots, peeled + chopped

1

medium

navel orange, peeled + chopped

1

medium

grapefruit, peeled + chopped

1

freshly-squeezed lemon

½

cup

Agave syrup

(See Notes!)

2

tsps

turmeric powder

½

teaspoon

black pepper
TO MAKE THE JUICE:
Add all ingredients into a high-powered blender and blend on high speed until smooth and almost slightly 'foamy', about 2-3 minutes.

Add in the sweetener (Agave) and blend for another 30 seconds.

Once done, slowly pour + strain juice into a pitcher, squeezing the pulp against the strainer to ensure that all juices are extracted. NOTE: If preferred, you can skip this step and leave pulp in.

To serve—add juice to prepared glass(es) and garnish, if desired. NOTE: If preferred, you can let the juice chill in the refrigerator for 1-2 hours before serving as well.

Sip and enjoy!
Calories:
192
kcal
|
Carbohydrates:
47
g
|
Protein:
2
g
|
Fat:
1
g
|
Saturated Fat:
0.2
g
|
Polyunsaturated Fat:
0.2
g
|
Monounsaturated Fat:
0.1
g
|
Sodium:
44
mg
|
Potassium:
508
mg
|
Fiber:
5
g
|
Sugar:
29
g
|
Vitamin A:
5925
IU
|
Vitamin C:
64
mg
|
Calcium:
66
mg
|
Iron:
1
mg