When it comes to this Apple Cranberry Ginger Lemon Detox Juice, it's all about the spicy ginger paired with the tart lemon, apple and cranberry flavors. An easy way to detox or keep a healthy regimen. All Vegan ingredients.
The weekend is finally upon us and I can't believe that the first week in September is actually over. Time is flying by so fast and before you know it, it'll be Christmas. Haha. I know---I'm not trying to speed things up, but it's so true. Since the Fall season is the next big thing, I'm so excited to share this Apple Cranberry Ginger Lemon Detox Juice with ya'll.
My previous detox drink---this Cucumber Ginger Lemon Detox Juice has gotten so much rave! Much like my previous detox juice, this newest version boasts the same simplicity, ease, and wave of flavors---all in one glass.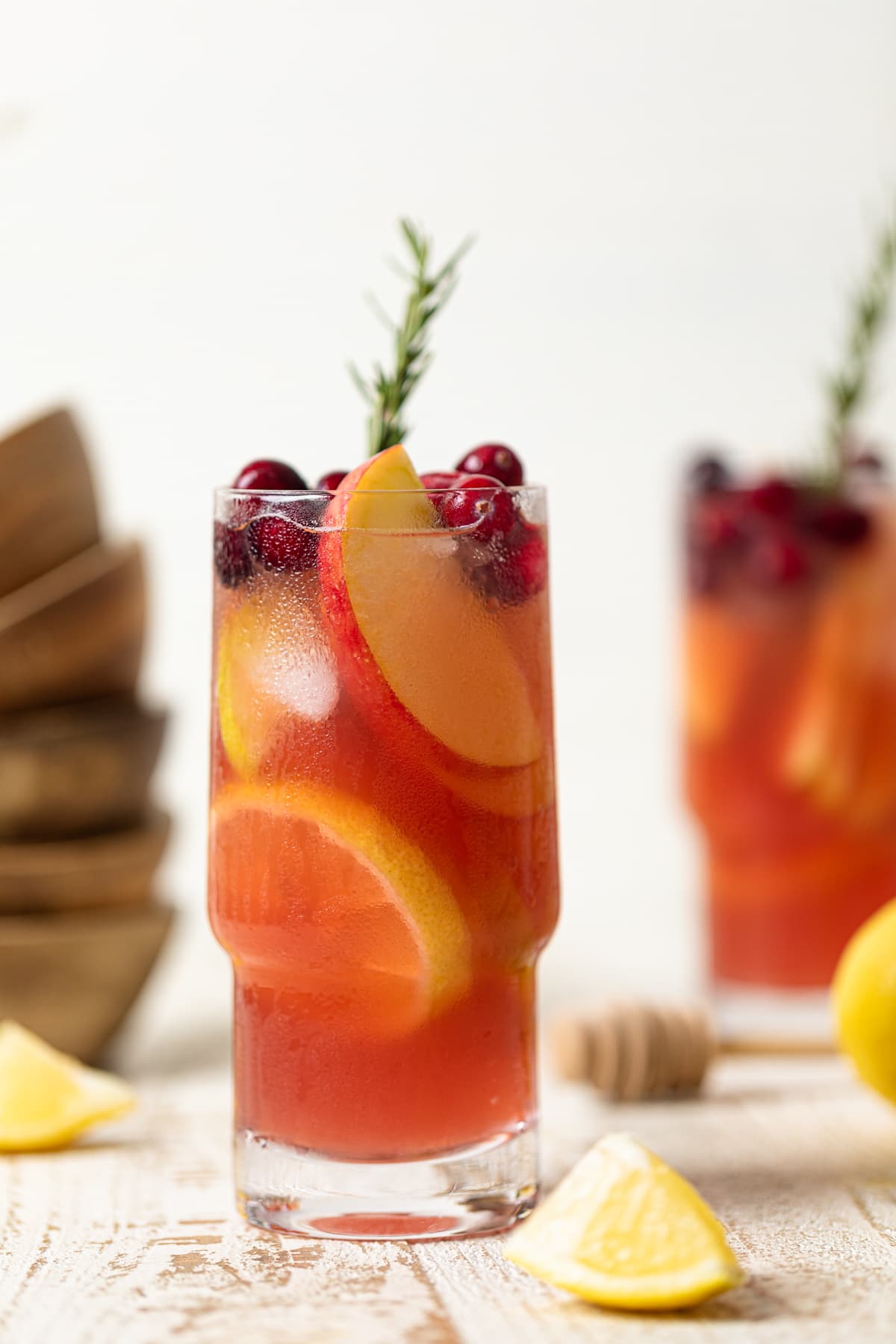 If you've been an avid reader of Orchids + Sweet Tea then you've seen our Natural Homemade Lemon Ginger Ale recipe. This homemade drink is so refreshing and is great for your health! More importantly, lemon and ginger together does wonders as well!
Hand in hand, both ingredients have amazing antioxidant and immune-boosting effects, stimulate your metabolism, treats nausea and indigestion, improves cognitive function, excellent aides in skincare, promotes weight loss, relieves pain, and a few other amazing benefits. I'll dig a bit deeper below.
This Healthy Pineapple Strawberry + Turmeric Smoothie recipe is a delicious and simple way to enjoy a quick, easy breakfast while gaining awesome health benefits from these superfoods. Boasting of tropical flavor with a hint of spice from the turmeric-black pepper combo, this smoothie is the perfect meal option for the entire family.
Not too long ago, we made this Healthy Cashew Date Morning Shake which is phenomenal! It includes bold flavors of dates and vanilla and is beautifully textured to create a smooth drinking experience from the cashews and oats. Since it's debut, we've gotten a ton of rave over this one!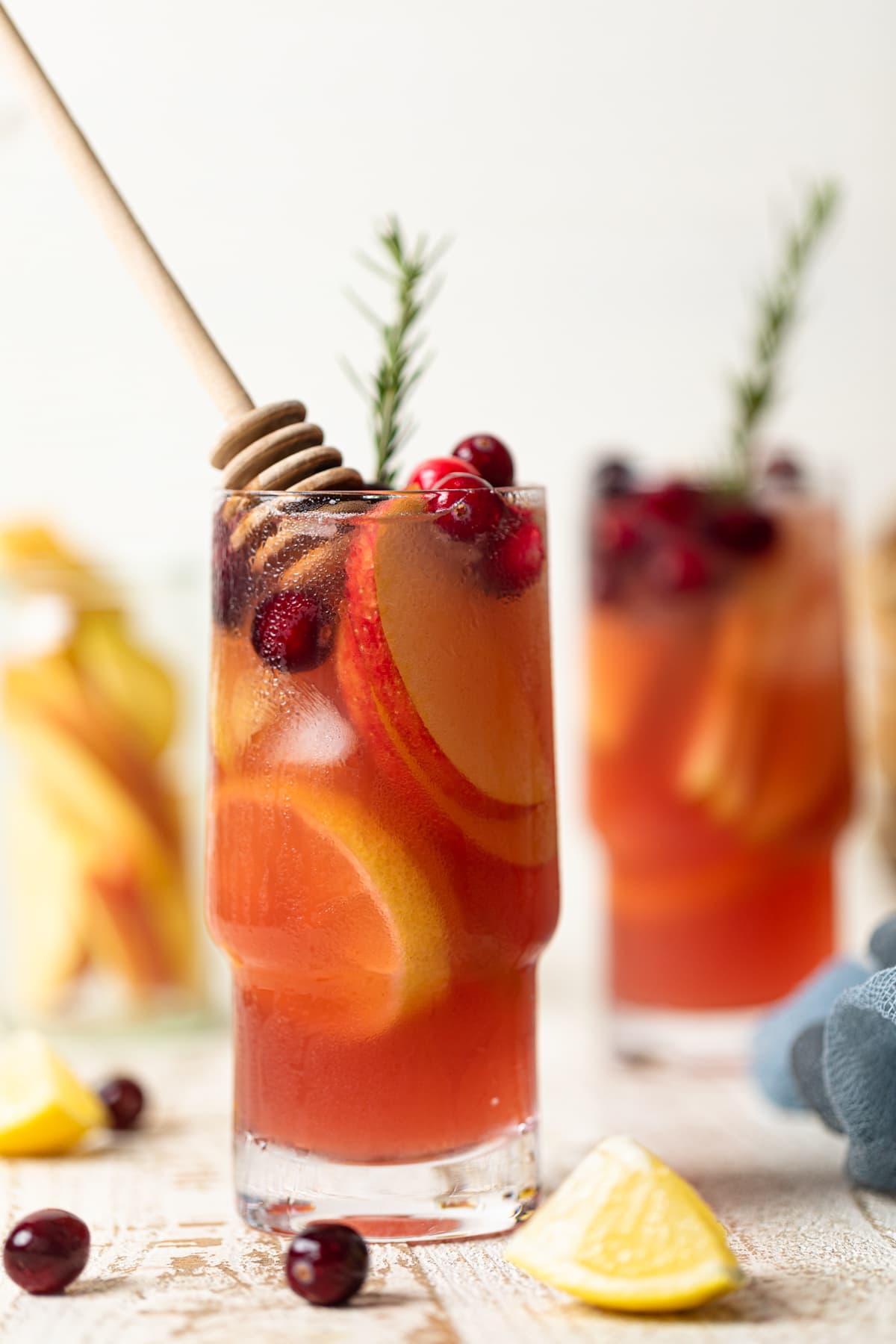 In case you aren't aware—dates are a high-powered nutrient ingredient and is actually very healthy for you, despite it's taste. As I've mentioned in my previous post on The Best Healthy Sugar Alternatives + Substitutes, dates are a great source of antioxidants and fiber, in addition to providing brain health, promoting natural labor (for pregnant women), bone health, and blood sugar control. Yup. So, dates are worth consuming!
Are you a tea lover through rain or shine? If so, then this Lemon Blackberry Mint Tea is a must try! Naturally sweetened, this tea serves great as a detox or a boost in digestion, can be served hot or cold, and is easy to make, and perfect for any day or season, especially during the cold weather months.
When it came to the ingredients in this detox juice, I chose to combine the apples, cranberries, lemon, and ginger.
For one----individually, each ingredient possesses amazing health benefits. And secondly---they really taste great together!
What You'll Enjoy Most About This Drink:
It's super easy to make.
Only uses a handful of ingredients.
Oh so Healthy----awesome benefits with digestion, immune support, antioxidants, etc.
All NATURAL---including the sweetener!
Full of flavor.
A nice 'Fall feel' in a glass.
Before we dig into this recipe, let's talk a bit about the health benefits.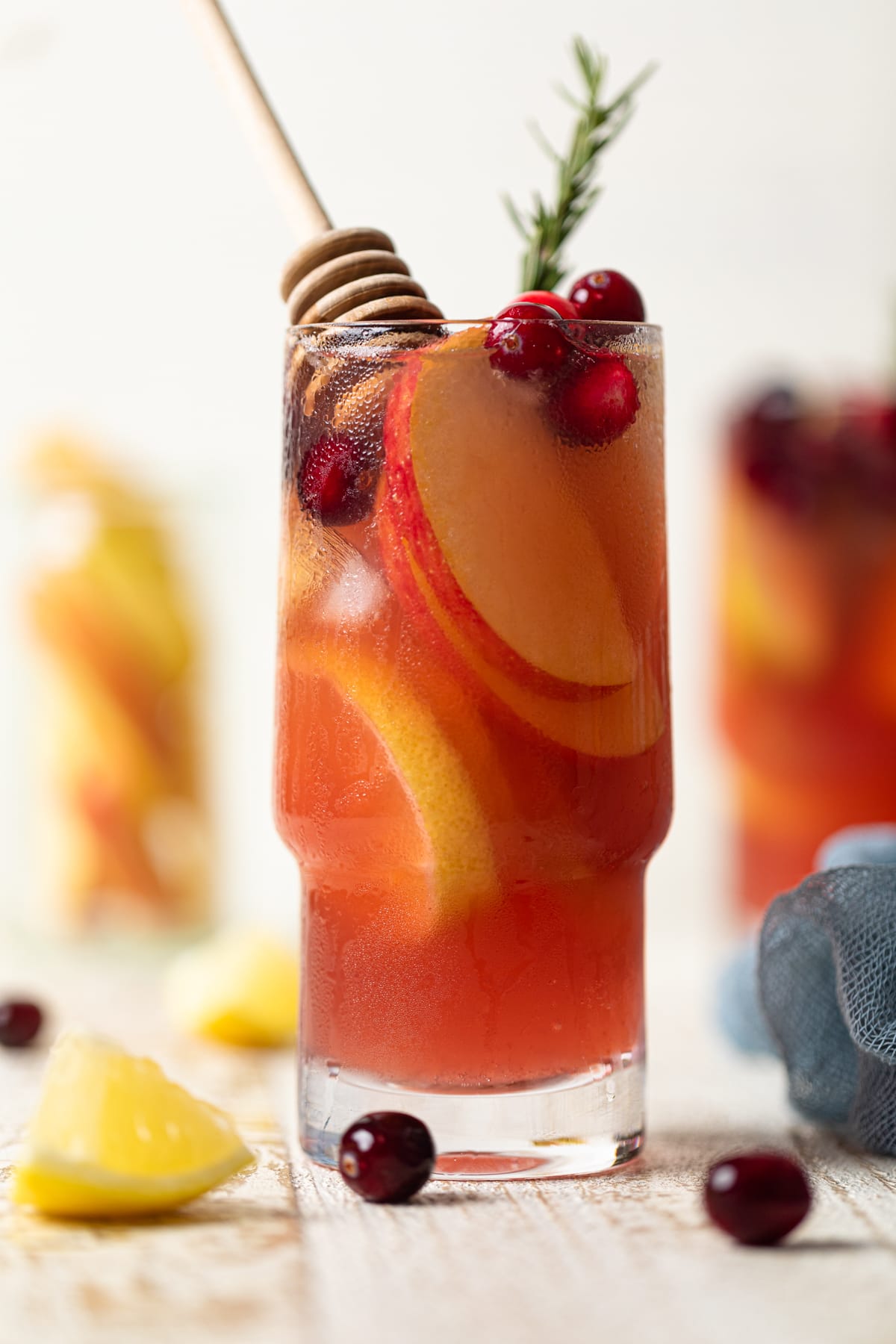 Five Surprising Benefits of Lemon + Ginger Together:
IMPROVES COGNITIVE FUNCTION:
Yes, I know. I wasn't aware of this either, however, lemon and ginger combined does wonders to our brains. Overall, they are great at soothing specific nerves and improving our mood. As a result, it allows us to think more clearly, and the antioxidant properties eliminates oxidative stress and helps to lower our chances of Alzheimers and dementia.
When it comes to antioxidants and certain vitamins, we know that this obviously helps with skincare. However, when it comes to lemon and ginger combined, specifically, you are able to drink them together to improve your skin health or apply them topically to your irritated skin for healing. Also, because of their antibacterial and antiviral properties, you can use both ingredients to prevent any infection of the skin.
HELPS WITH THE HEALTH OF YOUR HAIR:
While each ingredient has been used individually to help your overall hair health, combining them actually boosts your vitamin A and C, which helps to promote hair growth. They both also help to reduce dry skin and dandruff naturally, so this is a great alternative to using specific products that may be overall harmful and not entirely natural.
When it comes to ginger specifically, which has it's anti-inflammatory properties, it can also act as an pain reliever and helps your body recover from body pain, menstrual cramps, surgeries, and other illnesses. So the next time you find yourself contemplating on whether to take another pain killer, try using ginger (tea specifically) as a natural home remedy.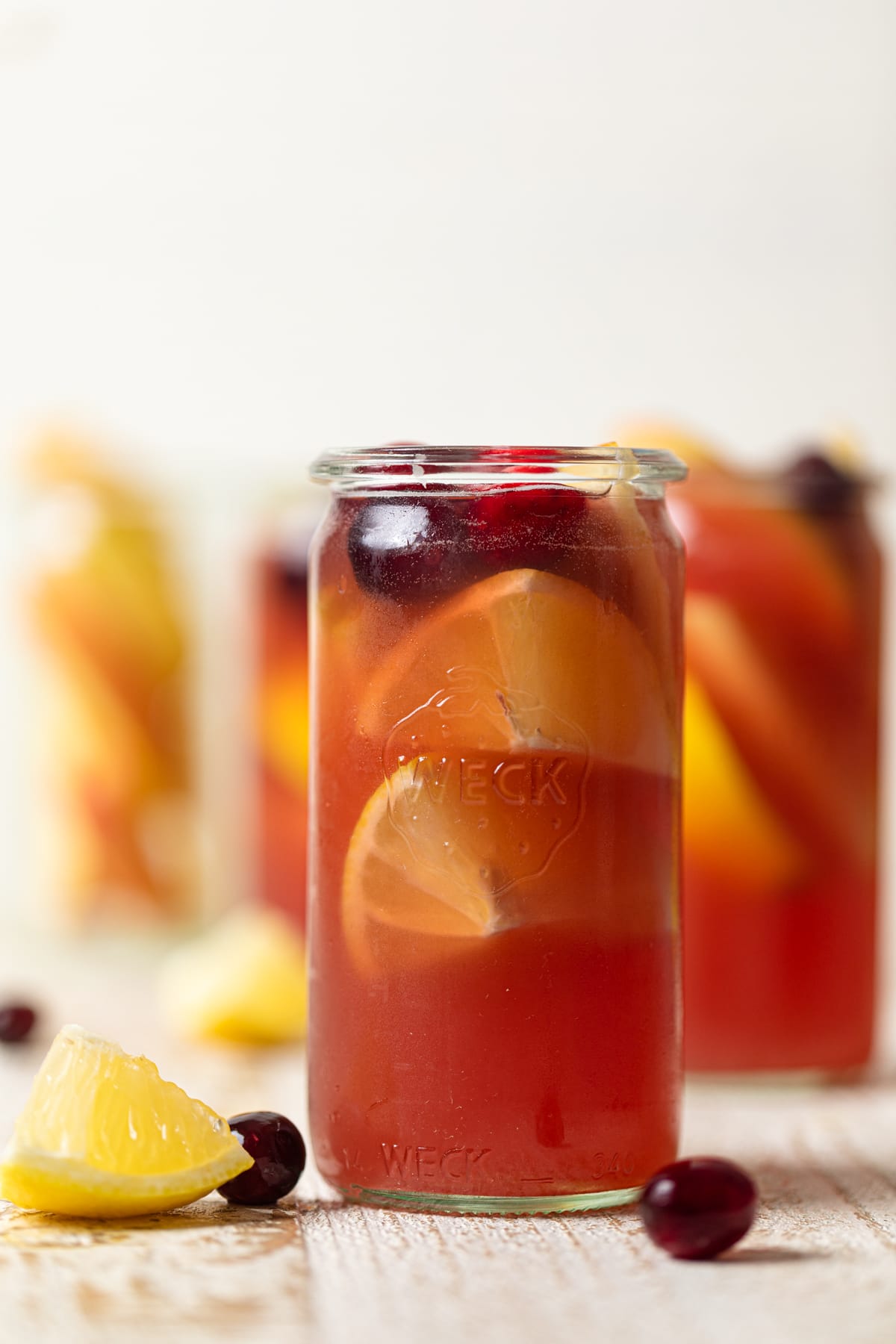 Ginger specifically, have been linked to keeping your blood sugar levels at bay, which is good for anyone who suffers from Diabetes. However, research shows that lemon also plays a great role in helping to control Diabetes as well. The soluble fiber and Vitamin C in lemon helps to reduce your blood sugar levels, as well as blood pressure and cholesterol.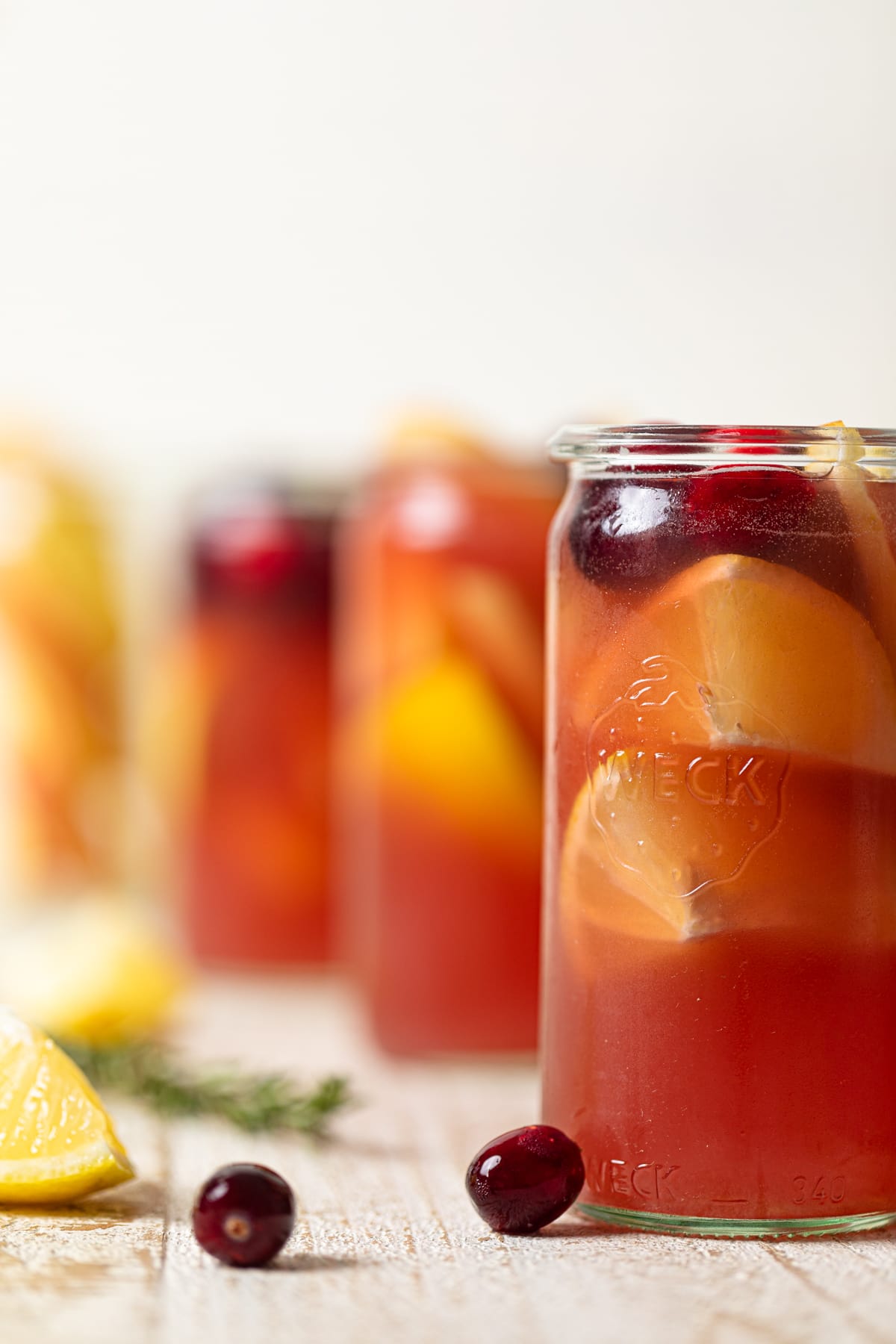 Why Apples?
Whelp, in case you weren't aware---Apples have a few great benefits when it comes to your health. Yup. That good saying, "One Apple a day keeps the Doctor away" is a fact. Haha.
In fact, Apples actually help to improve Neurological health, helps to prevent dementia, reduces your risk for stroke, lowers bad cholesterol, reduces your risk of diabetes, helps to ward off breast cancer, and helps to fight obesity.
When it comes to daily nutrition, Apples contain all the important stuff---Vitamin C, B-Complex Vitamins, Fiber, Calcium, Potassium, and Phytonutrients (which helps to protect our bodies from free radicals).
Are Cranberries Good for You?
Did you know that Cranberries are actually related to Blueberries? Yup.
However, unlike their relatives, Cranberries are rarely eaten raw because of their sharp + sour taste.
The good thing is that Cranberries are rich in a lot of nutrients!
Did you know that Cranberries were mostly composed on Carbs and Fiber? Yup. The Carbs are mostly simple sugars (which means that they only have 1 or 2 molecular structures).
When it comes to Fiber, Cranberries have a good dose of Fiber, which is the reason why eating an excess amount of Cranberries can cause digestive symptoms such as diarrhea.
Cranberries come jam-packed with Vitamin C, Manganese (essential for growth, metabolism, and antioxidant function), Vitamin E, Vitamin K1, and Copper.
In addition, Cranberries contain good amounts of plant compounds and are great at preventing the following:
Urinary Tract Infection
Stomach Cancer + Ulcers
Heart Disease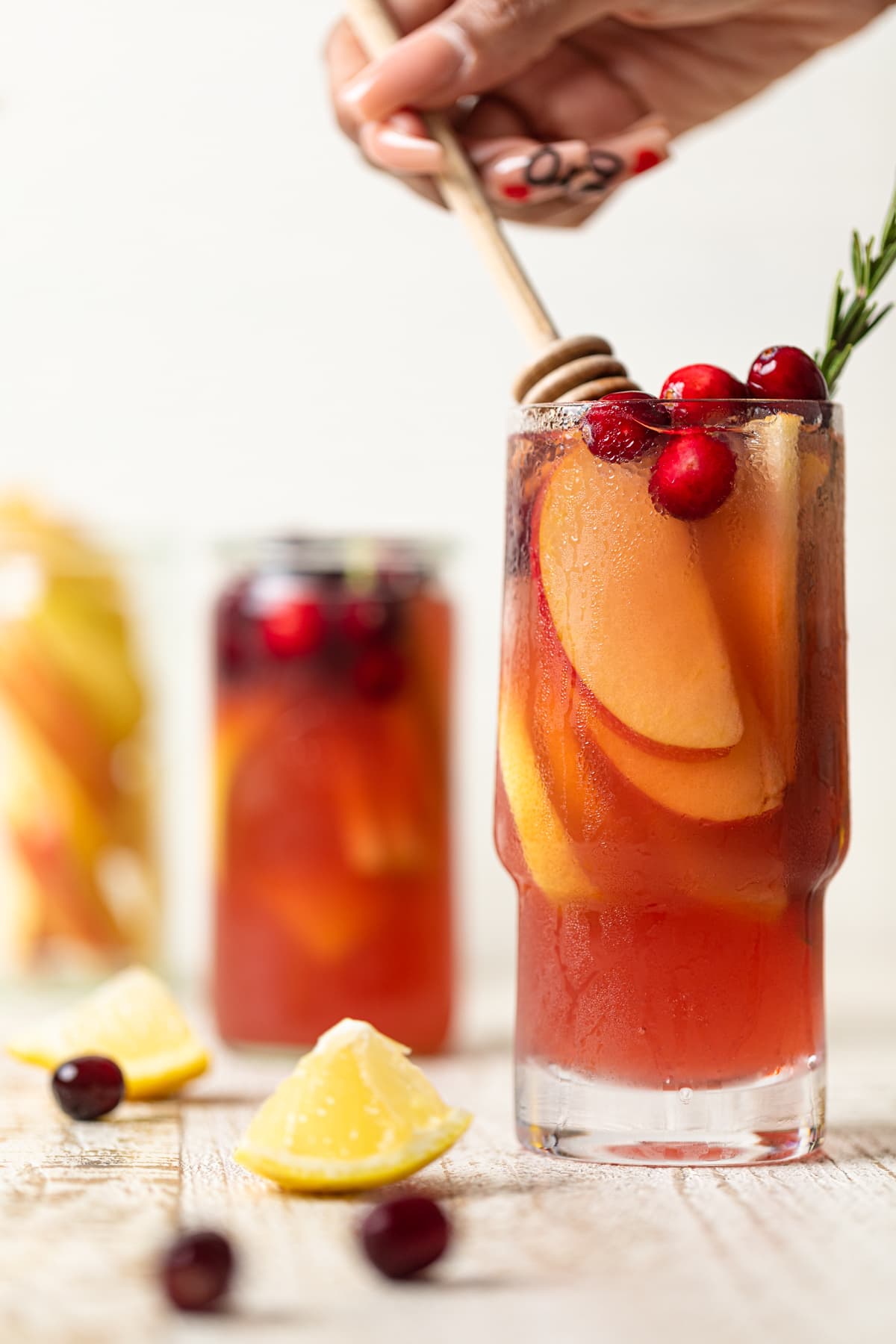 MADE OUR RECIPE(S)?
If you choose to make this Apple Cranberry Ginger Lemon Detox Juice or any other recipe from us, be sure to tag us on Instagram at #Orchidsandsweettea so that we can share the love, rate, comment below, + share!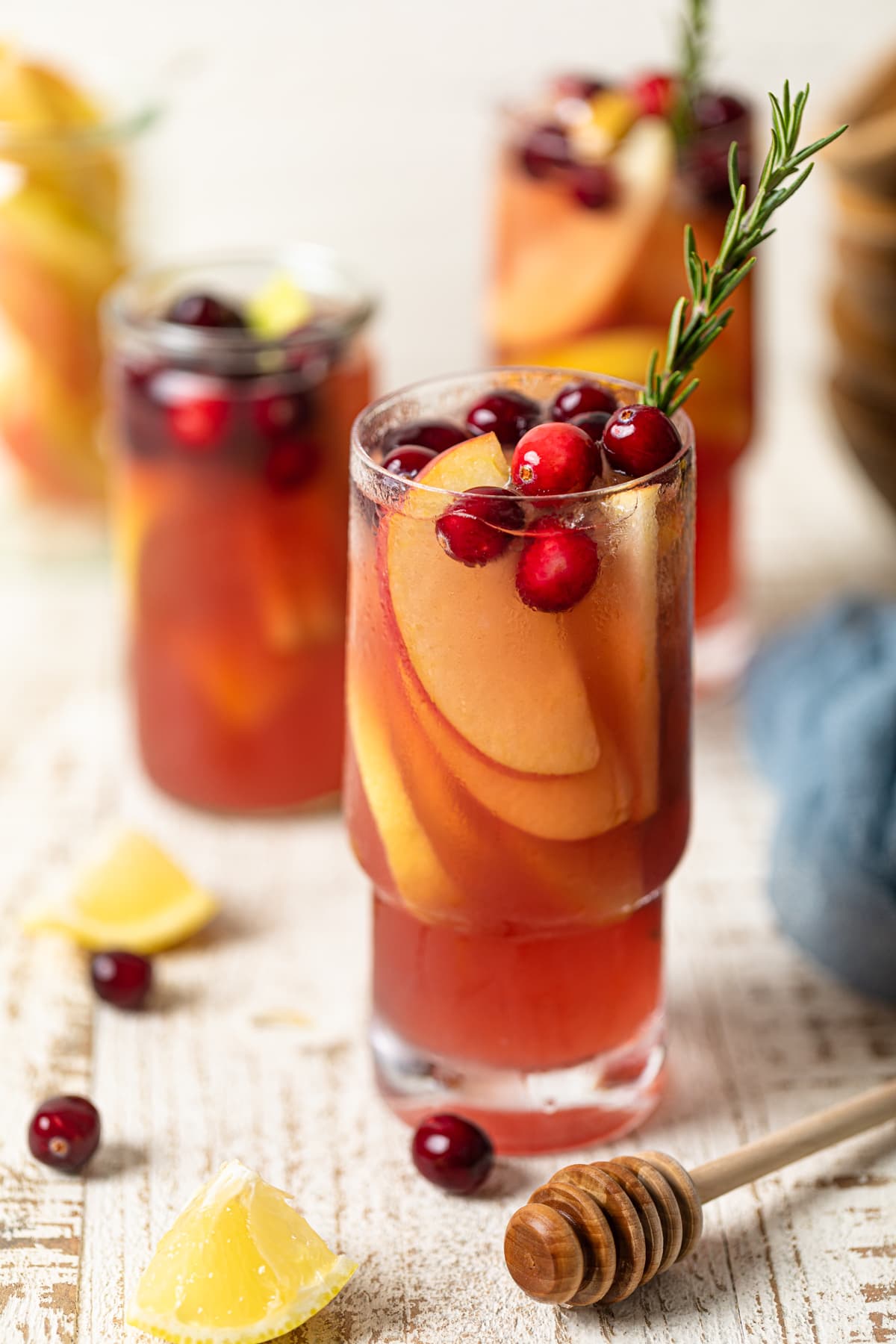 JUICE:
6

cups

filtered water

1

lb.

ginger root, peeled + chopped

2

lemons, rfeshly-squeezed

3

medium

Granny Smith apples, sliced w/ skin on

1

cup

organic cranberry juice, unsweetened

½

cup

Agave or Honey

(See Notes!)
GARNISH:
Slices of Grann Smith apples

Lemon slices

Fresh whole cranberries

Fresh rosemary sprigs, optional
BOIL THE INGREDIENTS:
In a pot over medium-high heat, add the water and let it boil. Once boiling, add chopped ginger roots and sliced apples, for about 2-3 minutes, before reducing the heat and allowing it to simmer for another 5 minutes. Remove from heat and cover the pot with a top and let the mixture cool completely.

Once cooled, add in the freshly-squeezed lemon juice and Agave, stirring together until combined.
ASSEMBLY:
In a pitcher, pour in the cooled mixture and add in the cranberry juice, stirring everything together until combined.

Add fresh apple slices, lemon slices, and whole cranberries to pitcher with juice to keep things potent and for added flavor.

Cover the pitcher with plastic wrap and refrigerate until ready to use.
STORAGE: Keep any leftovers in the refrigerator, tightly covered in your pitcher or in a sealed mason jar for easy meal prep throughout the week. Best if consumed within a few days.
SWEETENER: If you choose to opt out of Agave, you can always substitute with pure maple syrup or Honey (for extra antioxidants)  as well.
DRINK (HOT): This drink can also be consumed warm if preferred. Simply re-heat juice in a small pot for 2-3 minutes and add to your favorite mug and enjoy!
SWEETNESS: Add more sweetener or Agave for more sweetness if needed, 1 tablespoon at a time.
Calories:
194
kcal
|
Carbohydrates:
48
g
|
Protein:
2
g
|
Fat:
1
g
|
Saturated Fat:
0.2
g
|
Polyunsaturated Fat:
0.2
g
|
Monounsaturated Fat:
0.1
g
|
Sodium:
25
mg
|
Potassium:
494
mg
|
Fiber:
5
g
|
Sugar:
29
g
|
Vitamin A:
76
IU
|
Vitamin C:
34
mg
|
Calcium:
38
mg
|
Iron:
1
mg