This popular refreshment, Loaded Hibiscus Mocktail is the perfect alcohol-free version of a true summer staple. Boasting of height notes of fruity, tropical, and floral flavors, this mocktail is a must have drink for the warmer days ahead. Super easy to make, all organic ingredients, and can be spruced up with actual alcohol or splashes of cranberry juice for any special occasion.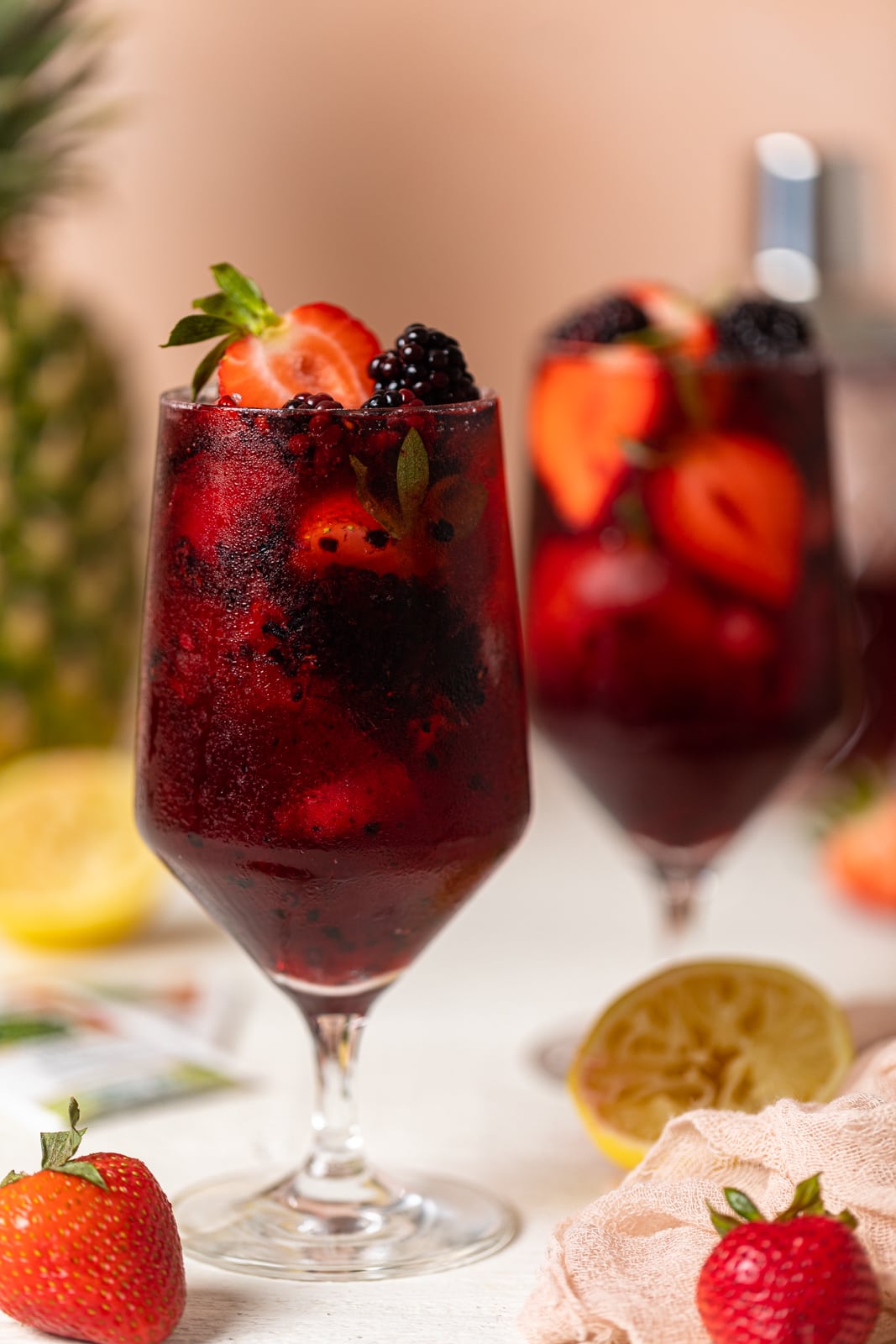 Disclaimer: This post contains affiliate links via Amazon for products that I wholeheartedly love.
I honestly can't help but be excited whenever it comes to sharing a mocktail. I've grown to love experimenting with mocktails because it really gives me a cutting-edge way to be creative for an alcohol-free drink that tastes and looks just as beautiful as a traditional cocktail.
As you may already know, I don't drink alcohol, therefore mastering mocktails is personal to me and comes in complete authenticity into how I actually enjoy a good drink.
My main inspiration for this Loaded Hibiscus Mocktail is definitely my craze for Starbuck's Very Hibiscus Refresher, which is by far one of my faves!
Plus, this hibiscus mocktail is super easy to make, requires just one bowl, comes whipped together in under 15 minutes, and is the perfect balance between fruit + floral. Such a fun, family-friendly drink—but you can also add a bit of vodka or other alcohol for an adult-friendly drink.
What is Hibiscus? Any Health Benefits?
In a nutshell, hibiscus is a dried part of the hibiscus plant and is deep red in color. Similar to cranberry, hibiscus has a sweet + tart taste and offers many health benefits. In the Jamaican culture, hibiscus is often used in sorrel, which is a staple drink that I grew up drinking a ton, especially during the holidays.
As for health benefits, hibiscus helps with the following:
Lowering blood pressure
Creates a healthy cholesterol balance
Weight loss
Hormonal balance (in women)
Among other benefits
When it comes to purchasing hibiscus, you can totally get it in the form of single tea bags, ready-to-drink tea, looser flower petals, liquid extract, and encapsulated powder.
SHOP MY FAVORITE DRINKWARE ITEMS AND ACCESSORIES!
Here, I've curated a list of drinkware and mocktail essentials that I use to achieve my favorite drinking experiences, especially with these loaded hibiscus mocktails. Everything from my fave glassware, cocktail shakers, ice cubes trays, and more. SEE THEM HERE!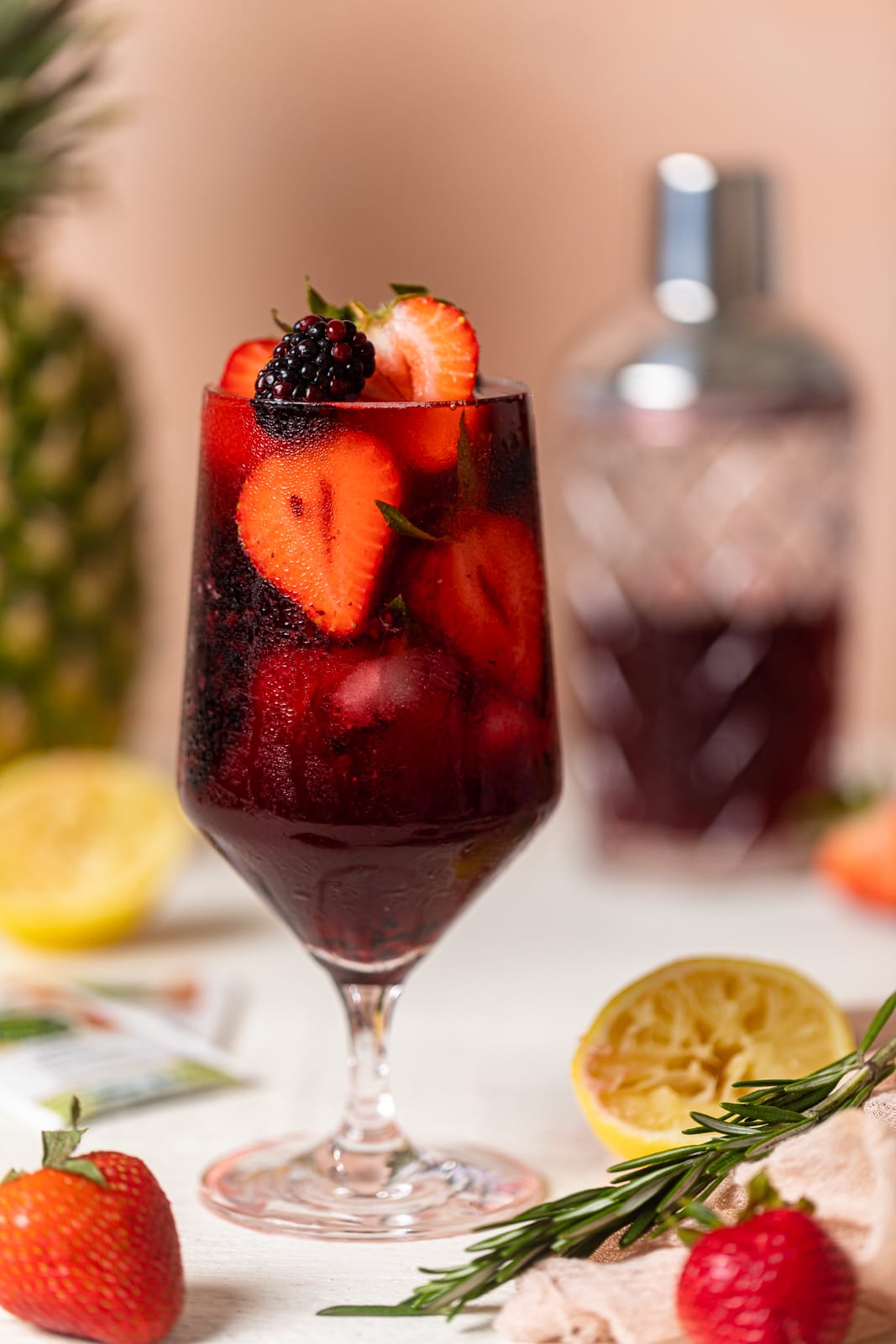 Ingredients for Loaded Hibiscus Mocktail
Here's what you need for these Loaded Hibiscus Mocktail:
Hibiscus. I like to use the organic tea bags from Traditional Medicinals. However, you can also use the actual dried hibiscus.
Lemon juice. I freshly-squeeze a lemon. Lime juice will also work.
Rosemary sprigs. You could also use mint or basil for an herby touch.
Honey. You could also sweeten the mocktails with Agave or maple syrup if you prefer.
Lemon soda. This is what makes for a nice fizz and I usually use organic soda. You can also use sparkling water or a probiotic soda like Olipop.
Fresh berries. To compliment the floral tones of the hibiscus, fresh blackberries and strawberries are the best!
How to Make Loaded Hibiscus Mocktail
The first step in this tea-infused mocktail is to make the hibiscus tea. Simply brew your favorite hibiscus tea for a few minutes in hot water. Then place the tea in the fridge to cool completely. Then you add in the sweetener followed by the lemon juice and it's assembly time.
Making the Mocktails
Next, when your tea is fully cooled and sweetened, assemble the loaded hibiscus mocktails.
Then pour over glasses of crushed ice, add your favorite garnishes (fresh berries + rosemary sprigs), and enjoy!
Can I serve these Loaded Hibiscus Mocktails Hot?
Certainly! If you prefer a warm tea loaded hibiscus mocktail, simply skip cooling the tea. Combine everything in the saucepan, and divide between mugs to serve. You can add a slice (or two) of lemons and add in the fresh berries, if you'd like.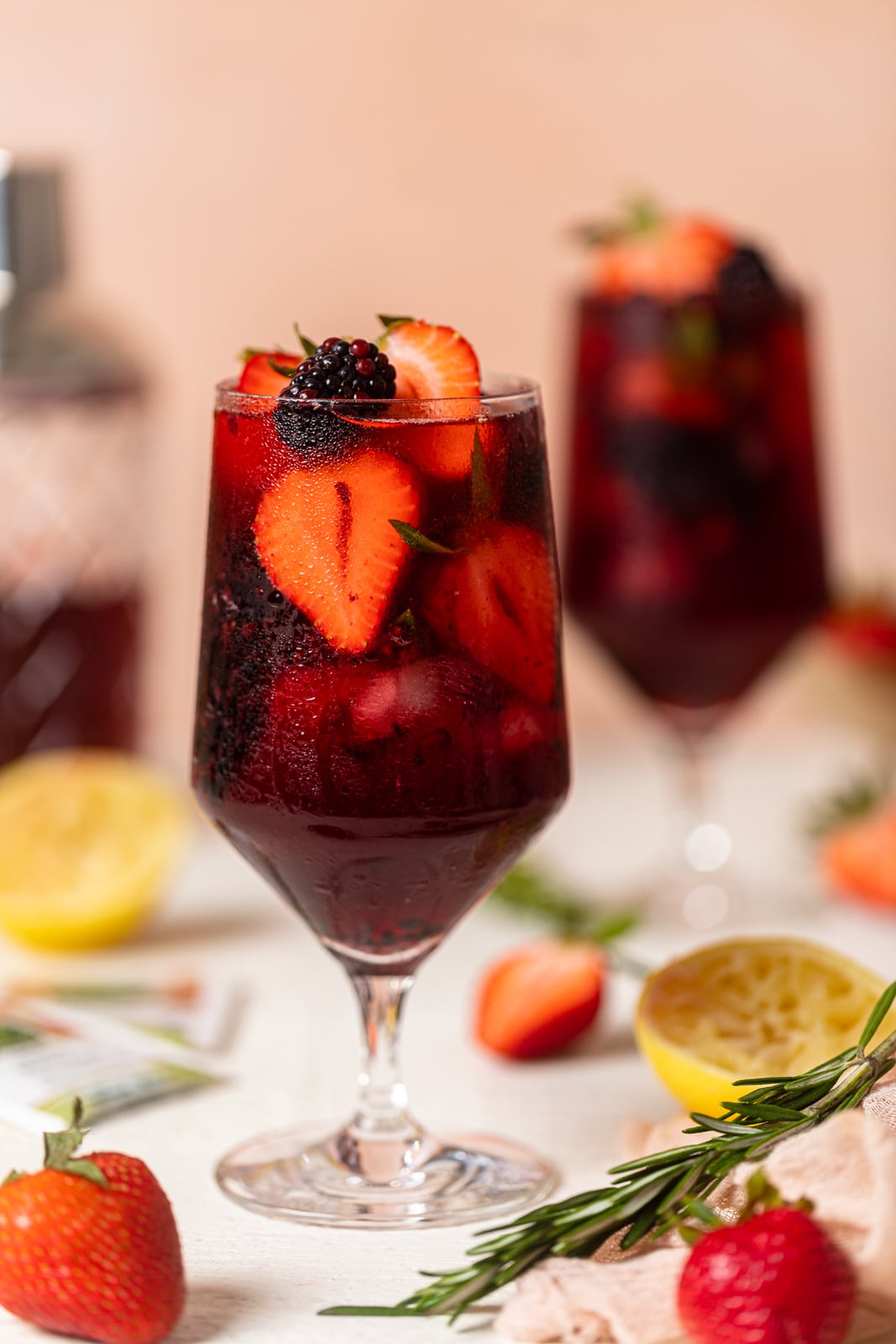 Adding Alcohol
If you'd like to serve this as a cocktail, you can add your favorite alcohol to the mixture. The best types of alcohols (just about 1 ounce or so) that work great with this hibiscus flavor is:
Gin
Rum
Champagne
Tequila
Whiskey
Vodka
Mint Ice Cubes: The Perfect Way to Avoid Waste
Making these loaded hibiscus mocktails can be even tastier with the addition of mint ice cubes as additional garnish, especially when it comes to fresh mint leaves that you might have lying around unused. Yes—instead of letting your fresh mint leaves get spoiled, why not just freeze them and re-create a new drink infused with fresh mint each day? Right? Haha.
Plus, it's really simple to make, so there's that.
Here's what you need for the Mint ice cubes:
Fresh mint leaves. You can just mince these to make them easier to stuff in each ice cube tray cavity.
Agave or Honey. Adds a hint of sweetness. You can also use maple syrup.
Water.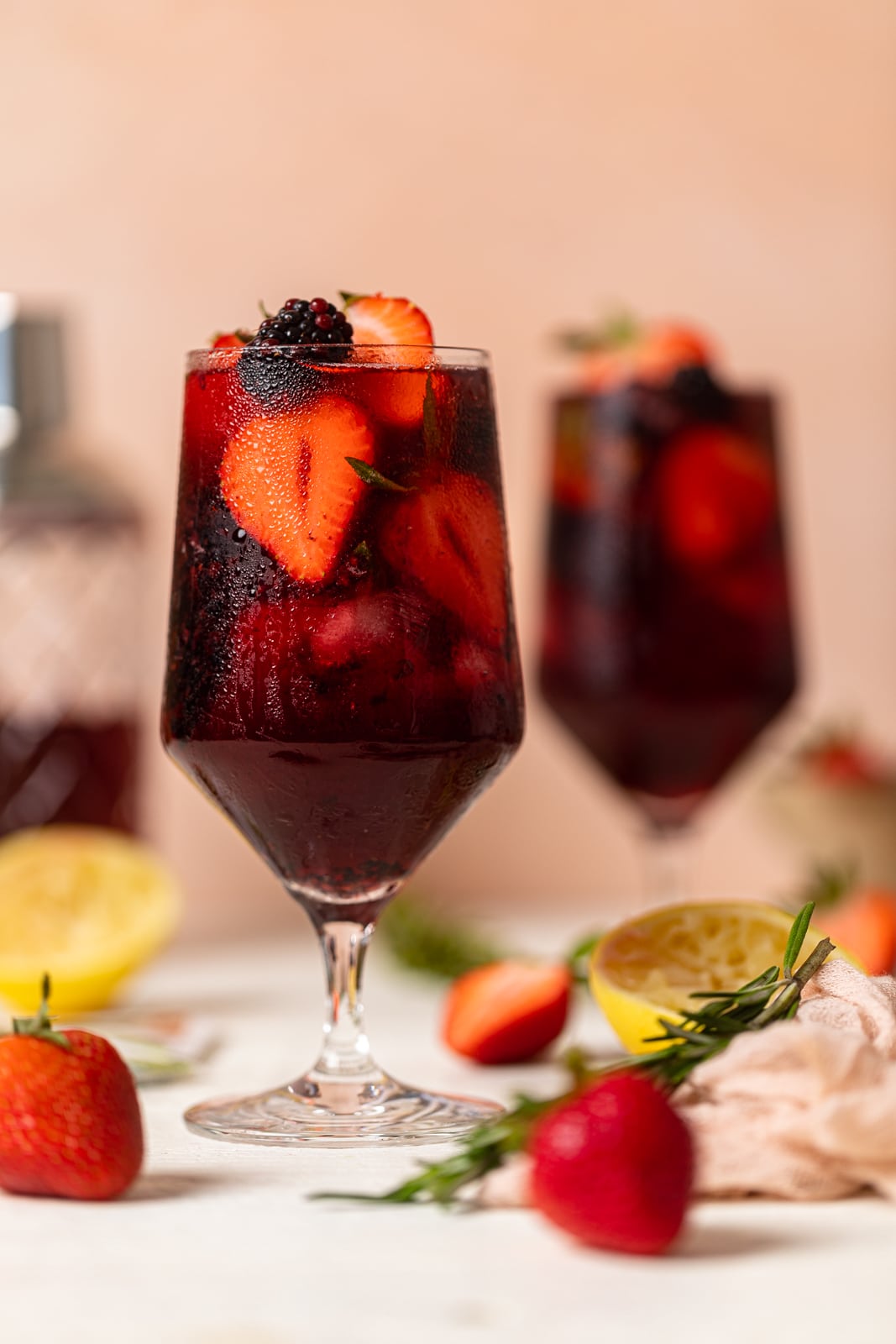 More Summer Mocktail Recipes to Try!
If you love these Loaded Hibiscus Mocktails, then here are a few summer mocktails to try ASAP:
MADE OUR RECIPE(S)?
If you make these Loaded Hibiscus Mocktails, be sure to tag me on Instagram @orchidsandsweettea!
HIBISCUS TEA:
2

cups

filtered water

2-3

hibiscus tea bags

½

cup

raw honey

(See Notes!)
MOCKTAILS:
1

cup

fresh blackberries

1

cup

fresh sliced strawberries

1

lemon, freshly-squeezed

lemon soda, for topping

crushed iced

rosemary sprigs, optional
TO MAKE THE HIBISCUS TEA:
In a saucepan over medium-high heat, add the water and bring to a boil for 1-2 minutes. Remove the water from heat and add the tea bags and let them steep for 5-6 minutes. Once fully steeped, remove tea bags and let cool completely. Stir in the honey.
TO MAKE THE MOCKTAILS:
In a bowl, add the hibiscus tea and lemon juice, stirring together until combined. Add in a handful of blackberries (about ½ cup) and mull everything together until blackberries are fully broken down.

ASSEMBLY: Add crushed ice to glass(es), Add the hibiscus mocktail mixture (along with mulled blackberries) until ½ filled followed by lemon soda, fresh blackberries, and strawberries. For additional garnish, add fresh rosemary sprigs, if desired. Repeat for every serving. 

Sip and Enjoy!
SWEETENER: Instead of honey, you can substitute with Agave, pure maple syrup or organic cane sugar as a syrup (add to boiled hibiscus tea over the stove top).
Calories:
327
kcal
|
Carbohydrates:
87
g
|
Protein:
2
g
|
Fat:
1
g
|
Saturated Fat:
0.04
g
|
Polyunsaturated Fat:
0.4
g
|
Monounsaturated Fat:
0.1
g
|
Sodium:
18
mg
|
Potassium:
345
mg
|
Fiber:
7
g
|
Sugar:
78
g
|
Vitamin A:
175
IU
|
Vitamin C:
87
mg
|
Calcium:
59
mg
|
Iron:
1
mg
Loaded Hibiscus Mocktail.