This Pineapple Chia Seed Tropical Mocktail has a herby finish from fresh basil (or mint) and just the right amount of sweetness and fruity punch from the pineapple. Plus, there is a health benefit to drinking chia seeds so this mocktail is sure to be the next big thing during the warmer months.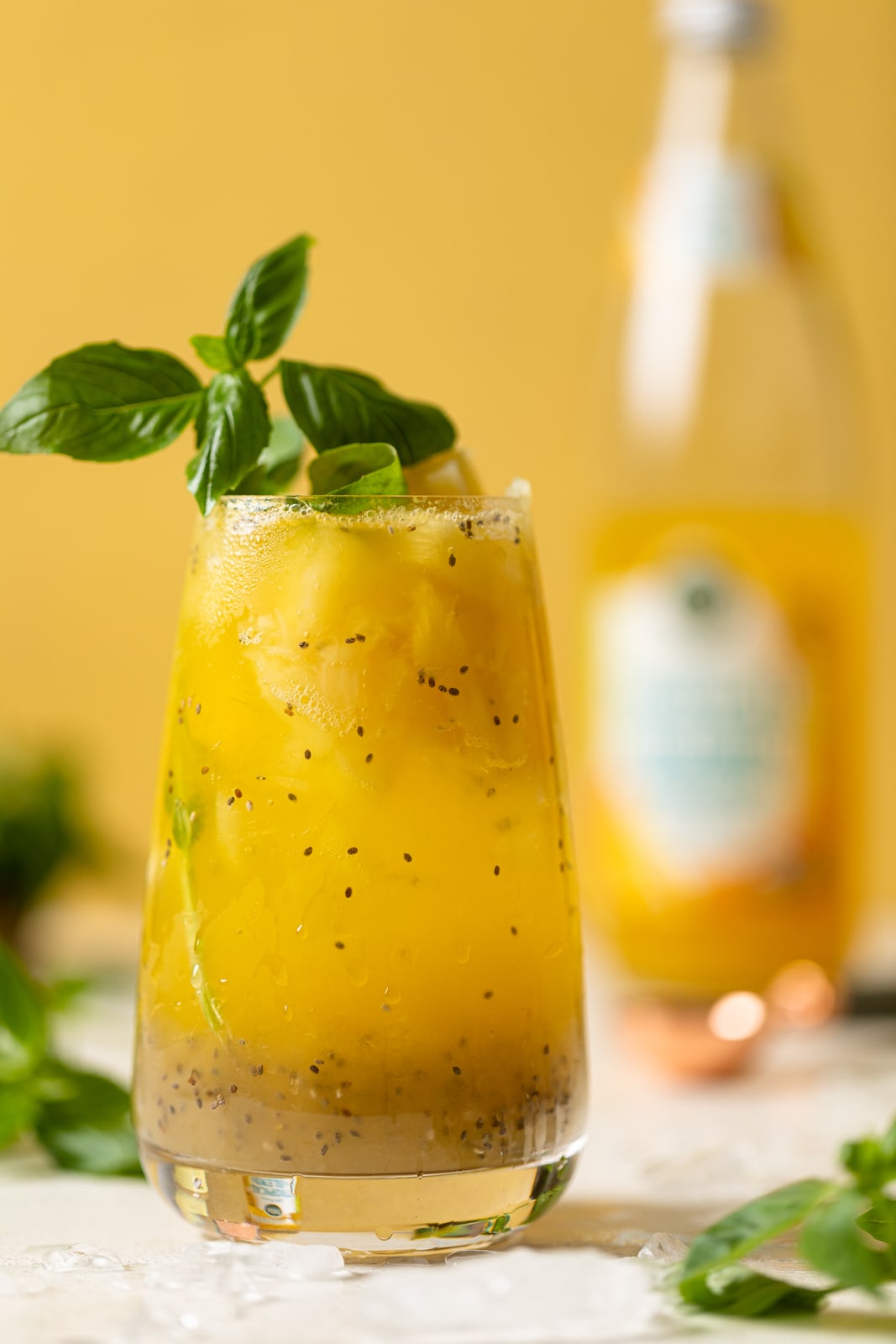 Mocktails have become such a trend these days and I couldn't be more excited because they're all I drink. Which means that I get to be my complete self when experimenting with amazing flavors. Yay!
If I'm honest, this Pineapple Chia Seed Tropical Mocktail happened in error because my original idea was to create a version of the Starbucks Pineapple Paradise drink. I tried it recently and I'm completely OBSESSED!
In the midst of making this mocktail, I definitely forgot to add the passionfruit and instead ended up adding chia seeds in for a "passionfruit-like" look. Well, lo and behold, everything worked together like magic and I decided to keep this idea. It's SO good!
The best part about this Pineapple Chia Seed Tropical Mocktail is that it uses a minimal amount of ingredients, tastes refreshing, is the perfect balance between sweet and tart, and makes for a great family drink.
How to Make Pineapple Chia Seed Tropical Mocktail
The first thing you need to make for these tasty drinks is prepping the pineapple chunks. You can either drain a store-bought can of this or cut an actual fresh pineapple into chunks.
Then, you mull together the pineapples and lemon juice and mix in the remaining ingredients before assembling.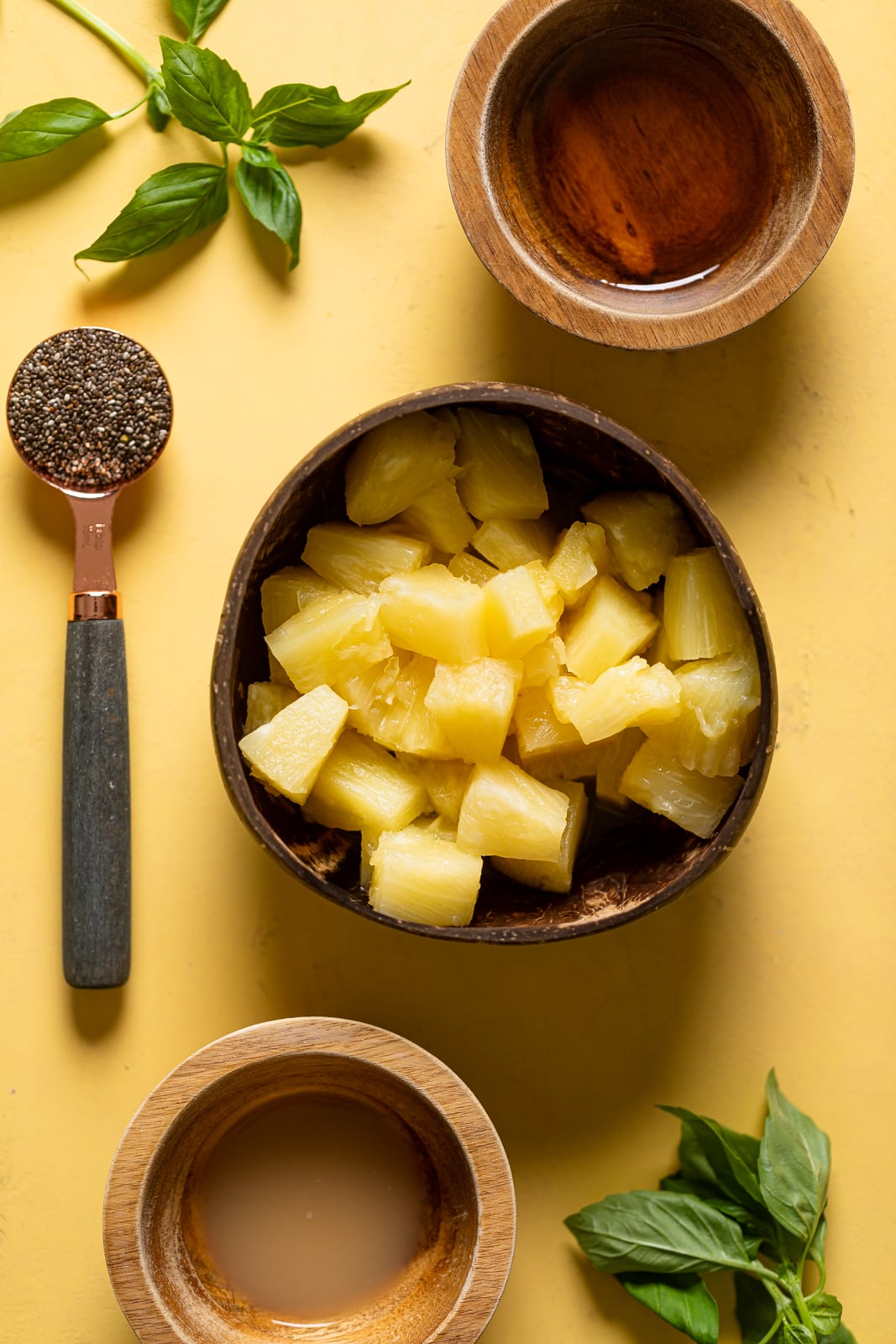 Ingredients in Pineapple Chia Seed Tropical Mocktail
To assemble the Pineapple Chia Seed Tropical Mocktail drinks, you'll need:
Pineapple juice. Again, I like to purchase organic unsweetened pineapple juice.
Pineapple chunks. I like to purchase canned organic pineapple mostly, however, you can slice an actual pineapple into chunks.
Agave syrup. You can use maple syrup or organic cane sugar to make a simple syrup, if preferred.
Lemon juice. For more tart flavor to cut through some of the sweetness of the pineapple.
Coconut water. You can use freshly strained coconut water or organic store-bought coconut water if you aren't able to get the exact flavor of pineapple juice form Knudsen W. Top with a lemon soda or ginger beer to finish off the drinks with some bubbles, if desired.
Chia seeds. There are a ton of health benefits to adding chia seeds to your foods or drinks. Definitely adds a nice crunch to these mocktails.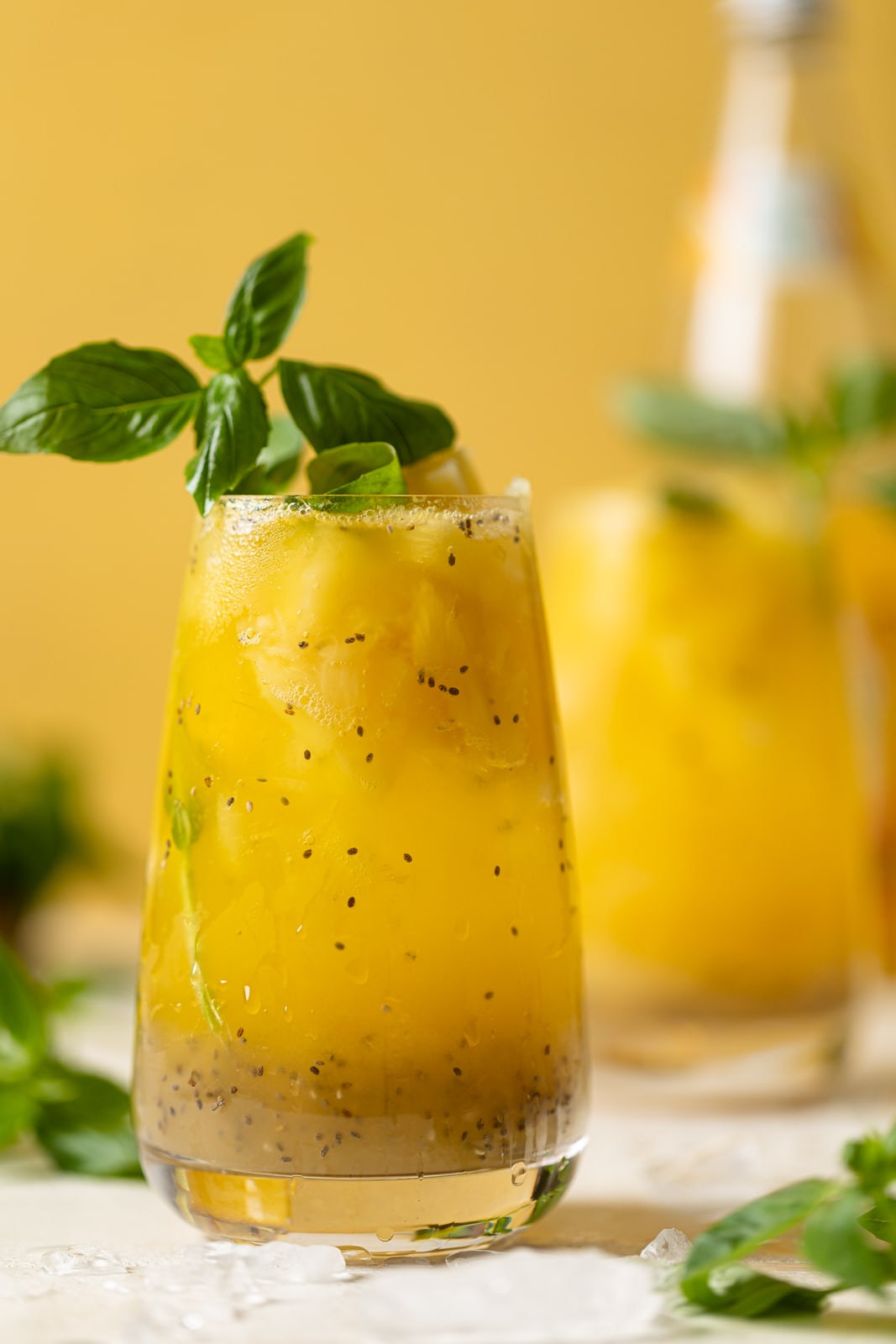 Can I Add Alcohol?
If you're serving someone who wants to turn these pineapple mocktails into a cocktail, it's easy. Simply add a shot of rum, vodka or gin per serving. Stir well and enjoy!
Mint Ice Cubes: The Perfect Way to Avoid Waste
Making these pineapple chia seed tropical mocktails can be even tastier with the addition of mint ice cubes as additional garnish, especially when it comes to fresh mint leaves that you might have lying around unused. Yes—instead of letting your fresh mint leaves get spoiled, why not just freeze them and re-create a new drink infused with fresh mint each day? Right? Haha.
Plus, it's really simple to make, so there's that.
Here's what you need for the Mint ice cubes:
Fresh mint leaves. You can just mince these to make them easier to stuff in each ice cube tray cavity.
Agave or Honey. Adds a hint of sweetness. You can also use maple syrup.
Water.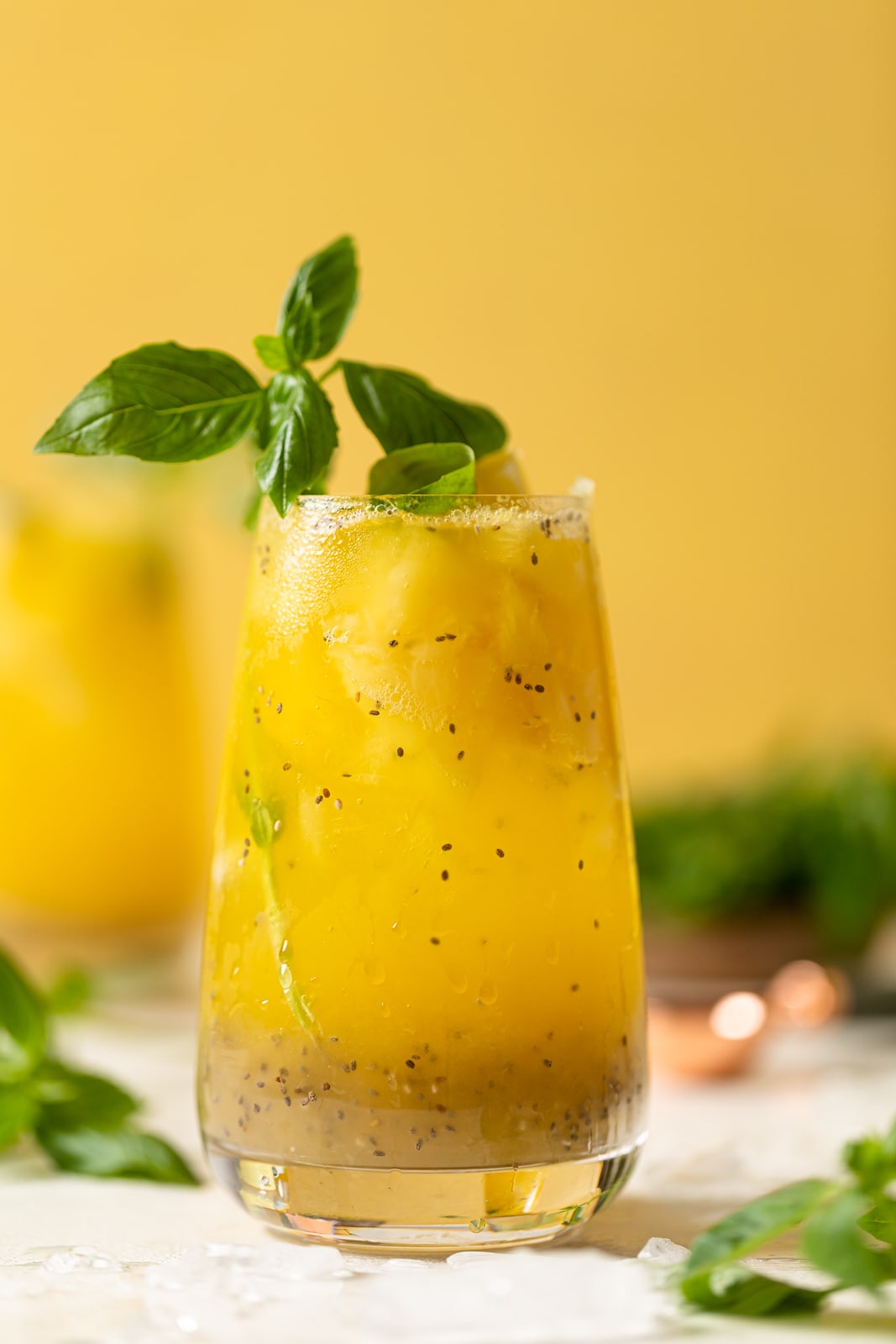 Chia Seed Health Benefits
Perhaps the best health benefit of chia seeds is how rich they are in omega-3 fatty acids. These are the healthy fats that our bodies need but do not produce on their own. Omega-3s help to reduce inflammation and may fight free radicals, reducing the risk of chronic disease.
In addition, chia seeds can be added to almost anything. Add them in other mocktails like this one. Sprinkle them on your sandwich, add some to your morning smoothie, or scoop a tablespoon into your cereal. No matter how you eat them, chia seeds are extremely beneficial to your diet!
Benefits of Chia Seeds + Why You Should Be Using Them
Benefits of Chia Seeds + Why You Should Be Using Them—–Convinced yet? Here are some of the top health benefits of chia seeds according to science. I've also added some of my favorite recipes to incorporate chia seeds into your everyday meals.
Garnishes for Pineapple Chia Seed Tropical Mocktail
I'm all about big, edible garnishes in my pineapple mocktails. Here's what I like to add to glasses:
Fresh pineapple chunks. If you prefer a nice pronounced pineapple flavor, I would grill or char them.
Tropical soda. You can always use lemon soda instead as well.
Fresh basil leaves. You could also use mint or thyme sprigs for an added herby touch.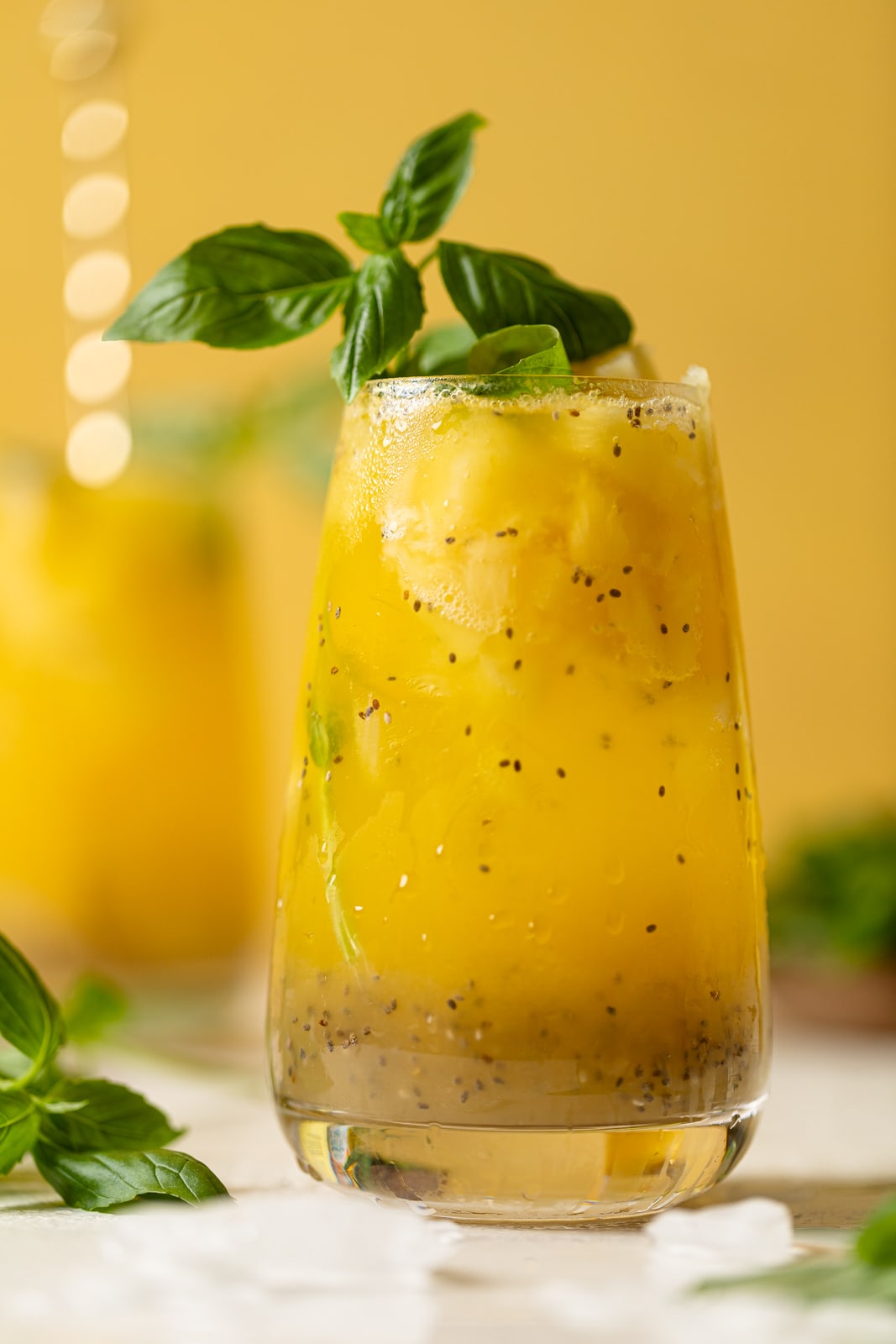 My Fave Fruity Mocktail Recipes
MADE OUR RECIPE(S)?
If you make this Pineapple Chia Seed Tropical Mocktail, be sure to tag me on Instagram @orchidsandsweettea!
MOCKTAILS:
1

cup

organic pineapple juice w/ coconut

(I use Knudsen W for this specific flavor, however, you can use pineapple juice.)

½

cup

pineapple chunks

1

tablespoon

freshly-squeezed lemon juice

2

Tbsps

Agave syrup

1

teaspoon

chia seeds

Tropical soda, for topping

(Lemon soda also works!)
GARNISH:
Crushed ice

Pineapple chunks

Mint or Basil leaves
TO MAKE THE MOCKTAILS:
In a bowl, add the pineapple chunks and lemon juice, mulling (crushing) everything together until the pineapples are fully broken down. Add in the Agave, pineapple juice, and chia seeds and stir until combined.

ASSEMBLY: Add the crushed ice cubes to glass(es), Add the mocktail mixture until ½ filled followed by the tropical soda. For additional garnish, add pineapple chunks and fresh mint or basil leave(s), if desired. Repeat for every serving. 

Sip and Enjoy!
SERVING: To make additional mocktails, simply double or triple ingredients, depending on need.
Calories:
175
kcal
|
Carbohydrates:
42
g
|
Protein:
1
g
|
Fat:
1
g
|
Saturated Fat:
0.1
g
|
Polyunsaturated Fat:
1
g
|
Monounsaturated Fat:
0.1
g
|
Trans Fat:
0.01
g
|
Sodium:
4
mg
|
Potassium:
243
mg
|
Fiber:
2
g
|
Sugar:
35
g
|
Vitamin A:
37
IU
|
Vitamin C:
24
mg
|
Calcium:
38
mg
|
Iron:
1
mg
Pineapple Chia Seed Tropical Mocktail.