Enjoy this Iced Vanilla Sweet Cream Latte [Starbucks Copycat] as a delicious coffee latte that comes rich in vanilla + coffee flavors and is incredibly smooth from the homemade sweet cream. Similar to Starbuck's Vanilla Sweet Cream Cold Brew, this latte offers the same delicate float of velvety-ness throughout the cup-------the perfect treat for your mornings! Serve hot or cold. Dairy-free option.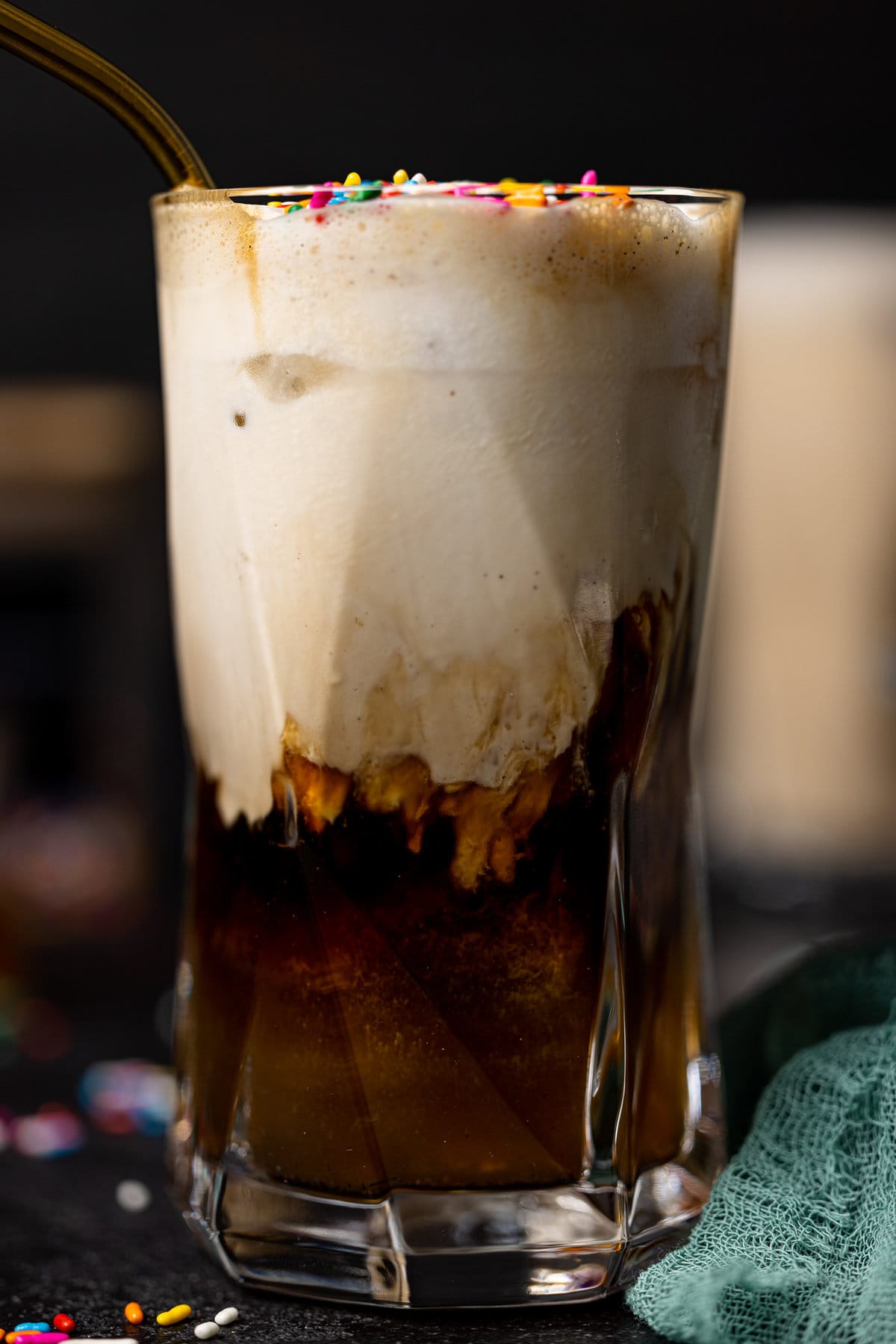 Disclaimer: This post contains affiliate links via Amazon for products that I wholeheartedly love.
When it comes to homemade lattes, I'm such a huge and avid maker these days! While getting a convenient cup of latte at Starbucks is nice on rare occasions, I've fallen completely in love with making my own, especially since getting my Breville coffee maker. You definitely taste the difference between freshly-brewed coffee and store-bought chilled cold brew drinks when making your lattes and I totally recommend investing in a good coffee maker if you're a coffee drinker---even if it's just on some days. This Iced Vanilla Sweet Cream Latte [Starbucks Copycat] is something that I tested our recently because my husband enjoys the sweet cream atop his macchiatos at Starbucks and I couldn't be happier that I tried making it myself. SO good!
I know that people enjoy hot lattes (which I do on occasion), however, iced lattes are forever my jam and if you're into them like I am, then I highly recommend trying my Starbucks Copycat Iced Sugar Cookie Latte.
Plus, I have a few add-ons that would make this even next level like my homemade caramel coffee ice cubes, which I talk about more below. Be sure to watch all recipes via IG Reels for a nice visual.
However, if you're cutting out coffee or want a lower-caffeine drink to sip in the morning, you'll want to try my Iced Chai Tea Latte recipe ASAP. And while you're at it, make a big batch and keep it in the fridge to pour over ice all week long.
Why You'll Love This Iced Vanilla Sweet Cream Latte
First and foremost, the flavors in this simple and easy Iced Vanilla Sweet Cream Latte is enough to convince anyone, however, here are a few more reasons why you'll love this recipe:
It's Very Similar to Starbucks. I tried to make this Iced Vanilla Sweet Cream Latte as close to Starbuck's Vanilla Sweet Cream Cold Brew version as I could with the exception of adding personal preferences that you might have! i.e. actual espresso shots instead of cold brew, sweetener for syrup, etc.
It's super fun to make! I literally love the process of brewing my coffee and then assembling everything together.
You save money! This by far is one of my biggest reasons for making my own coffee at home (minus the last point to come). You definitely save more money purchasing the ingredients and making your own servings at home.
It's healthier. Most of all, this is my biggest plus! I love when I am able to know what ingredients I use whenever making drinks, cooking, or baking. Making my own lattes and coffee at home has definitely allowed me to switch to healthier, organic ingredients which is a win, win!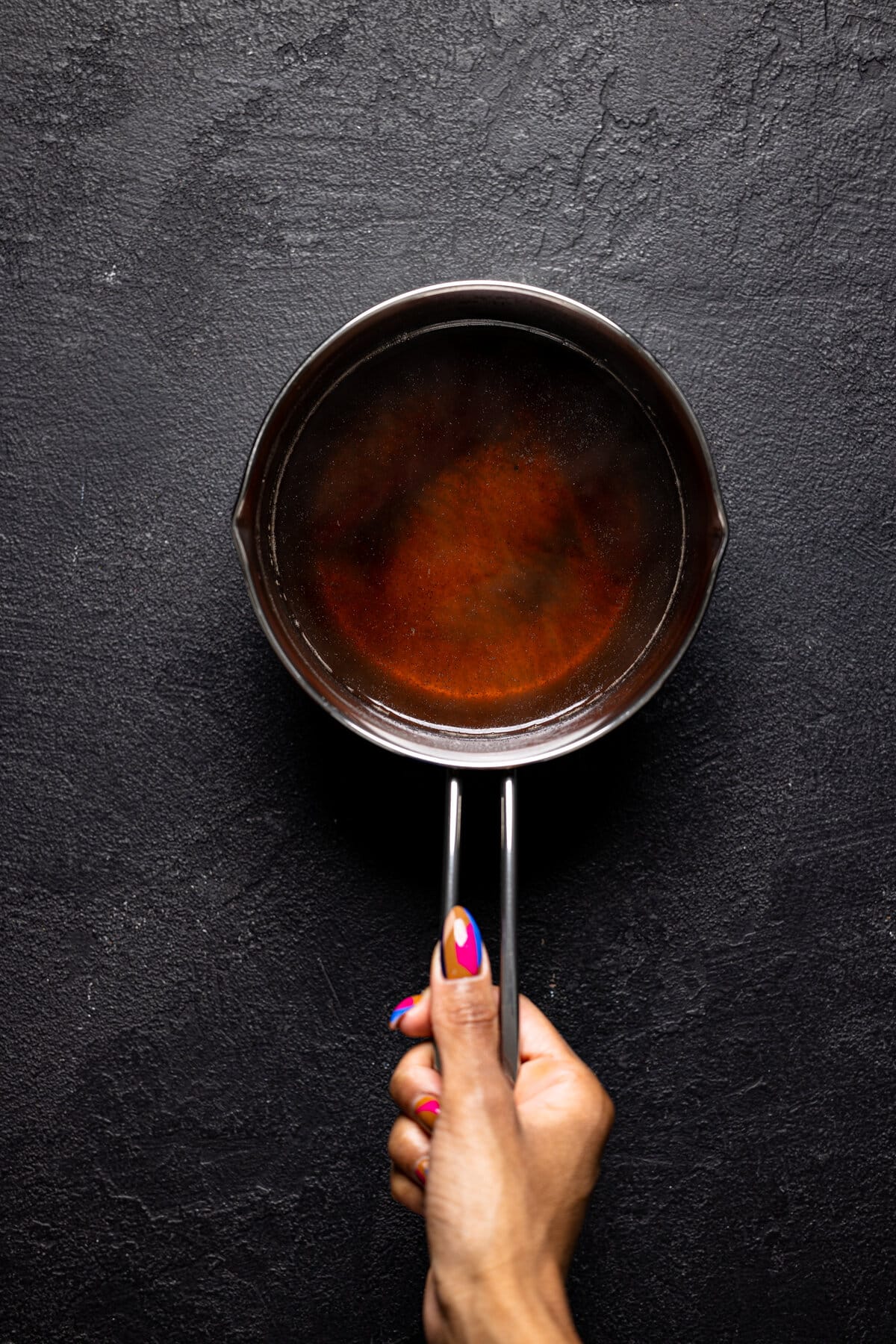 Starbucks Cold Brew with Vanilla Sweet Cream
If you aren't familiar with one of Starbuck's popular lattes, then here's a breakdown. Starbucks created it's delicious nitro cold-brewed coffee by topping it off with a sweet cream flavored with vanilla. It's a rich and cream iced coffee drink that you'll have on repeat constantly!
As for the sweet cream itself, it's so easy to make! Simply make the vanilla syrup, mix it together with milk (best to use 2% milk like Starbucks does, but I use plant-based milk) and cream and wallah! Then you'll brew your coffee (cold brew or espresso) and add the sweet cream to that! The perfect combo!
Tips for Serving + Storing Starbucks Vanilla Sweet Cream
There are several options to switching things up slightly with your homemade Starbucks Vanilla Sweet Cream that include:
Substitute heavy cream and milk with half & half, if that's your preference or what you have on hand!
Add whipped cream to your sweet cream for an even more velvety texture and sweet taste.
Store leftover vanilla sweet cream in a tightly sealed mason jar in the refrigerator for 3-4 days. Perfect for an easy make ahead option throughout the week for your coffee!
What Other Dairy-Free Milks Can I Use?
Absolutely! Everything in this Iced Vanilla Sweet Cream Latte [Starbucks Copycat] is completely delish as is, but if you'd like to switch things up with the type of plant-based milk that you use-----that's totally fine! The world of plant-based milk is constantly expanding, it's hard to keep up! From the classics like cashew milk, sesame milk, soy milk, and almond milk, we now have delicious options like oat milk and even potato and quinoa milk.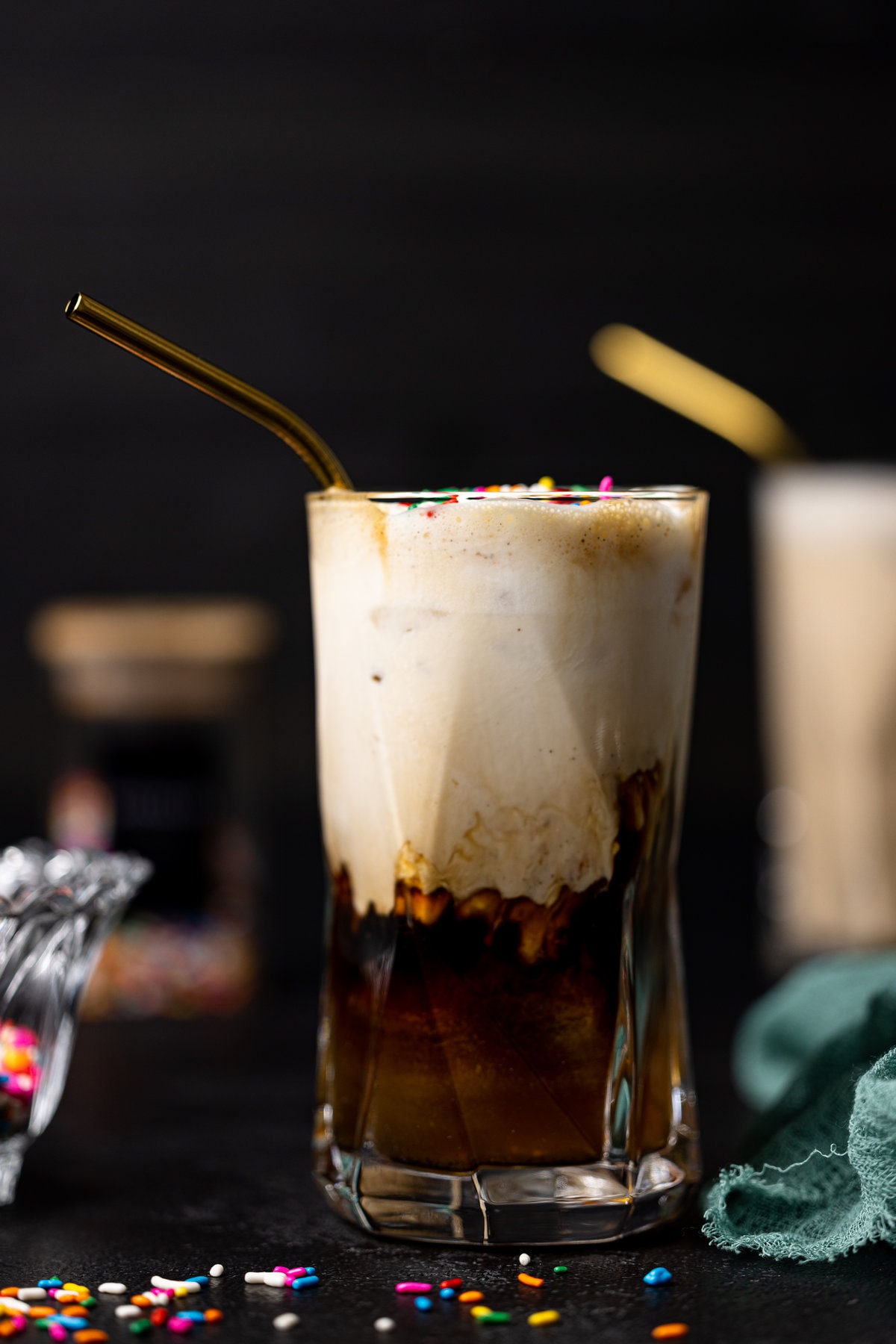 How to Make Iced Vanilla Sweet Cream Latte [Starbucks Copycat]
To make this latte, you'll first whip together the vanilla syrup by boiling everything over the stovetop, shake together your vanilla sweet cream ingredients and then assemble the remaining ingredients, stir a bit, and wallah! You've got yourself a delicious latte.
The general rule of thumb for this latte is a specific ratio of each ingredient, which consists of coffee, vanilla syrup, and vanilla sweet cream.
INGREDIENTS
Coffee. For a sweeter, milder taste than espresso or strong coffee, you can use cold brew. However, I love the smoothness from a great quality medium roast coffee like Kicking Horse Coffee or Peet's.
Almond milk. Adds a nice smoothness to drink. You can 

make your own

or also use coconut, oat, or cashew milk or your fave plant-based milk. You can also use 2% milk if desired, especially for vanilla sweet cream.
Maple syrup. The best sweetener that I enjoy using. I like to use pure maple syrup that's premium and organic. Feel free to use organic brown sugar or cane sugar also.
Vanilla. to balance the richness of coffee and add the great taste to this latte. You can use vanilla paste (I love Nielsen Massey) for a richer flavor.
Crushed ice. The best highlight of this drink to keep things cold. Crush your ice or use a nice ice cub tray. I also talk about using my caramel coffee ice cubes!
Water. For boiling and creating of the vanilla syrup.
Heavy cream. I recommend organic–always! Of course, you can always sub half & half for the heavy cream + milk in your vanilla sweet cream. For a dairy-free option, sub with dairy-free half & half or full-fat coconut cream/milk (chilled).
Cinnamon sticks. I love adding extra spice like cinnamon to my homemade syrups for a warming feel.
Festive sprinkles (because why not?)
Garnishes and Serving Iced Vanilla Sweet Cream Latte
This Iced Vanilla Sweet Cream Latte is sure to be a show-stopper, therefore, understanding how to best spruce them up for a special occasion is important. Before serving, you can dress them up even more with festive toppings like:
Whipped cream. You can use regular dairy whipped cream if you aren't concerned with it being dairy-free. Otherwise, coconut whipped cream is awesome!
Cinnamon stick. A stick of two of cinnamon adds a nice kick of flavor and makes for a simple garnish.
Rainbow sprinkles. These add a fun touch to your latte, plus I love the little crunch with every sip.
Caramel sauce. Another great switch up because caramel tastes amazing on almost everything. You can make your own vegan caramel sauce too!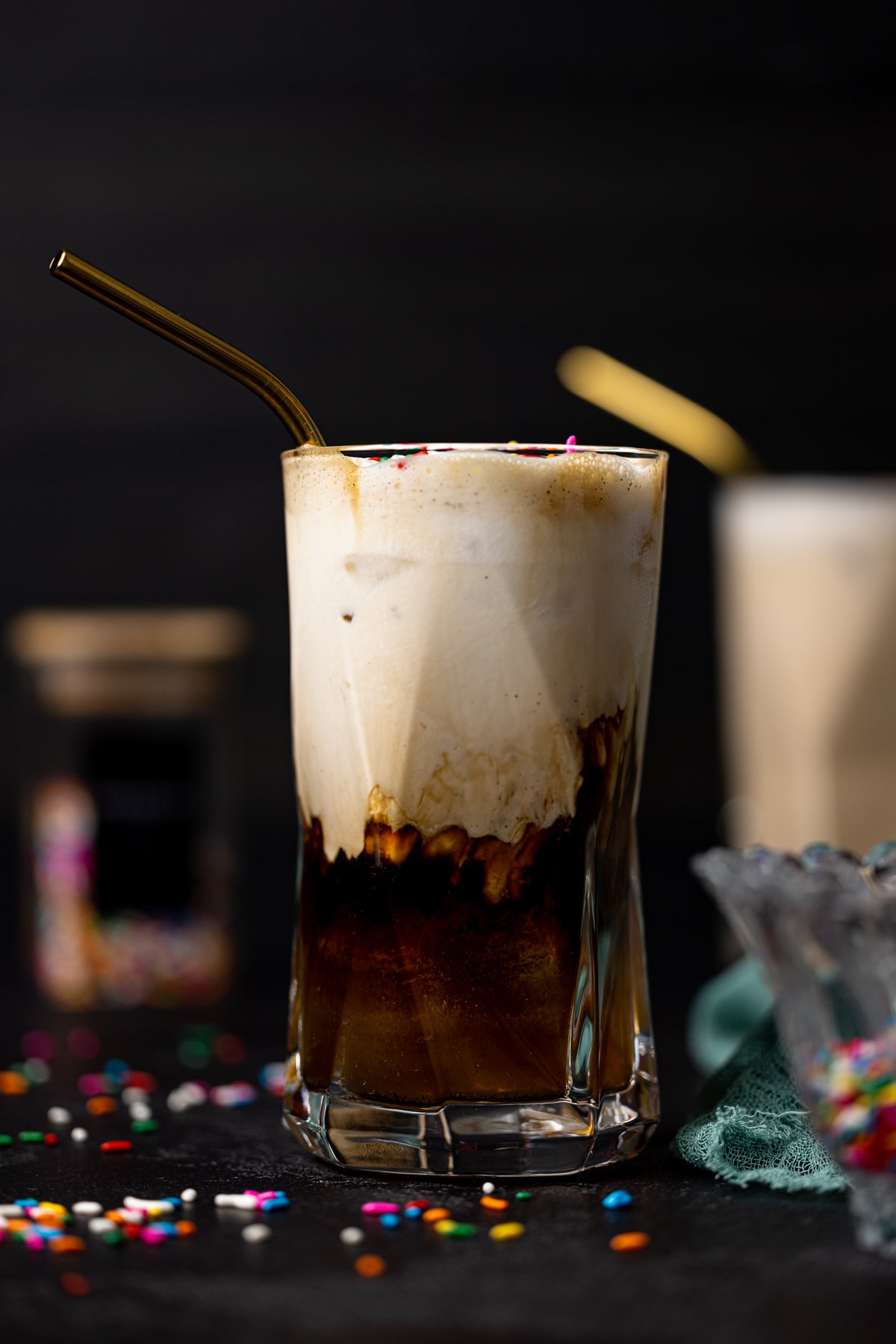 SHOP MY FAVORITE TOOLS FOR COOKING, ESPECIALLY FOR THIS LATTE!
Here, I've curated a list of cooking + baking essentials that I use to achieve my favorite baked goods or cooked meals, especially with this Iced Vanilla Sweet Cream Latte [Starbucks Copycat]. Everything from my fave baking sheet, dutch ovens, high-powered blender, mixing bowls, and more. SEE THEM HERE!
Caramel Coffee Ice Cubes: The Perfect Way to Avoid Waste
Making coffee throughout the week can sometimes mean that you won't always use up your coffee, especially when making coffee from ground coffee beans. Yes---you can add leftover coffee in other ways (i.e. baking, making a mocktail, etc.), why not just freeze them and re-create a new latte each day? Haha.
Plus, it's really simple to make, so there's that.
Making Your Latte Runs Simple and Fast
As I've mentioned, making these coffee ice cubes are for sure the easiest and fastest way to keep your latte/coffee runs smooth during the week. Simply make a large batch of these, add them to a glass in the mornings, pour your milk, and add an additional sweetener (if you please), and wallah. DONE!
How to Make Caramel Coffee Ice Cubes Latte
The caramel coffee ice cubes are super easy to make and only require a handful of ingredients. Here's what you need to make them:
Freshly brewed coffee. You can also use chilled brewed coffee or espresso.
Water. Filtered of course!
Vanilla. Adds nice additional flavor.
Caramel sauce. This is the highlight of the entire ice cube and can be store-bought or homemade.
Maple syrup. A great natural sweetener. Feel free to use honey or totally omit, if preferred.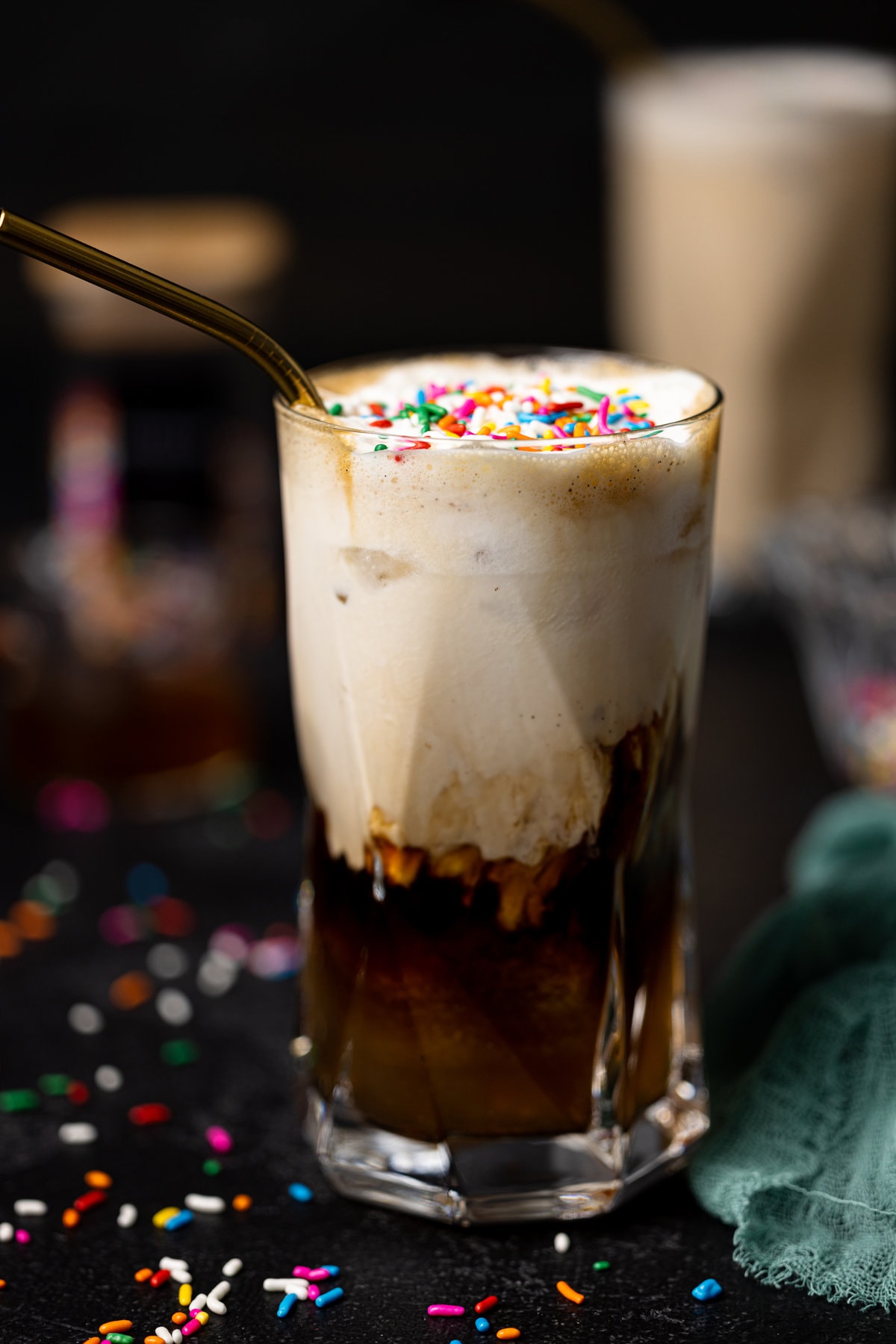 Need A Pick-Me-Up without Coffee?
I decided to do a bit of research and I found a few great healthy alternatives to coffee. Now, you'll be surprised to know that these options give you the same added boost that you need along with some other additional benefits, so be sure to give them a try when you get a chance.
How Many Servings is this Iced Vanilla Sweet Cream Latte [Starbucks Copycat]?
This latte is for one serving. To make additional lattes, simply double or triple ingredients, depending on need.
Can I Make this Latte Dairy-Free?
Yes and yes! To make this Iced Vanilla Sweet Cream Latte [Starbucks Copycat] entirely dairy-free, simple substitute the heavy cream with a high-quality dairy-free half & half like Ripple Foods. You can also use a creamer from So Delicious Dairy-free or Califia Farms. In addition, you can use full-fat canned coconut cream/milk that has been chilled. Lastly, ensure that you use plant-based milk as well as coconut whipped cream, if desired.
Can I Serve this Vanilla Sweet Cream Latte Hot or Cold?
Absolutely! You can definitely switch things up by serving this Iced Vanilla Sweet Cream Latte [Starbucks Copycat] hot or cold whenever you chose to. To serve hot, simply keep the vanilla syrup mixture and brewed coffee warm/hot, but you'll need to take out the amount of vanilla syrup needed for sweet cream so that it cools.
 Then, simply make your vanilla sweet cream and pour your coffee + vanilla syrup in a mug and top with vanilla sweet cream as well as whipped cream and rainbow sprinkles, if desired.
Other Latte + Coffee Recipes You'll Love
If you are a fan of my Iced Vanilla Sweet Cream Latte [Starbucks Copycat], you will also love these other delicious latte options also!
MADE OUR RECIPE(S)?
If you make this Iced Vanilla Sweet Cream Latte [Starbucks Copycat], be sure to Tag @orchidsnsweettea_ on Instagram and hashtag it #orchidsandsweettea!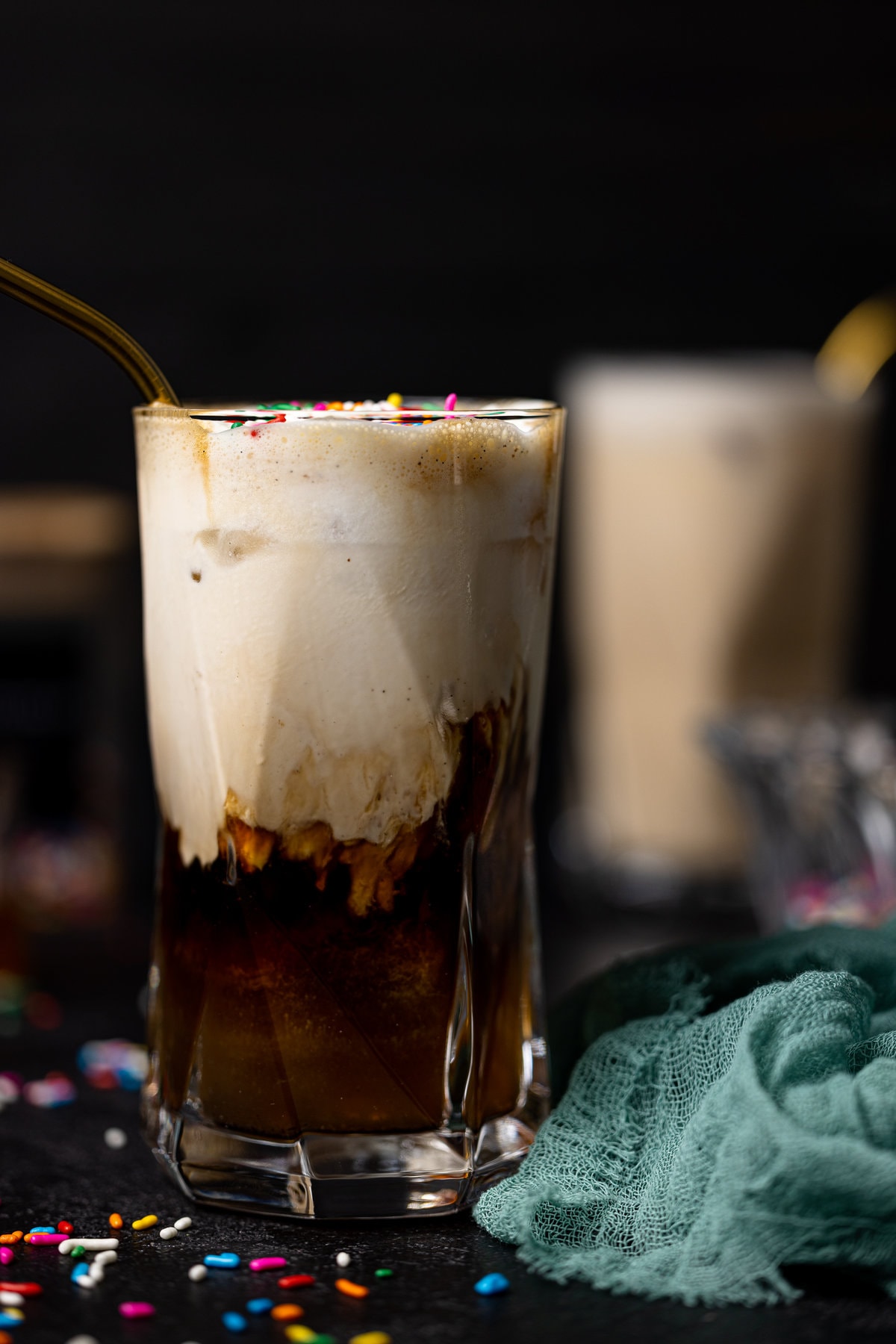 VANILLA SWEET CREAM:
½

cup

organic heavy cream

¼

cup

Almond milk, unsweetened

(You can use your fave plant-based milk)

6

Tbsps

homemade vanilla syrup, cooled
LATTE:
2

ounces

freshly-brewed coffee, cooled 

(You can use decaf or caffeinated)

1

cup

homemade vanilla syrup

1

cup

vanilla sweet cream

Crushed ice
OPTIONAL TOPPINGS:
Whipped cream

Rainbow sprinkles
TO MAKE THE VANILLA SYRUP:
In a medium saucepan on medium-high heat, add the water, vanilla, cinnamon sticks, and maple syrup and bring to a boil for 1-2 minutes. Reduce heat to low and simmer for another 2-3 minutes. Remove from heat. Let cool completely.
TO MAKE THE VANILLA SWEET CREAM:
Add a mason jar (with a lid) to the freezer for 5-10 minutes prior to using. Once chilled, add the heavy cream, milk, and cooled vanilla syrup, tightly seal and shake vigorously for 3-4 minutes or until the mixture becomes thickened and "velvety" in texture. NOTE: This shouldn't look like whipped cream, but more like a foamy, velvety texture. Keep refrigerated until ready to use.
TO MAKE THE LATTE:
Assemble the latte: Grab a good latte glass and add the crushed ice, vanilla syrup, cooled brewed coffee, followed by the vanilla sweet cream. Do a slight stir and top with whipped cream and/or rainbow sprinkles, if desired.

Sip and Enjoy!
WHAT PLANT-BASED MILKS ARE GOOD FOR THIS RECIPE? My go-to plant-based brand for Oat milk or plant-based milk when using store-bought is Ripple Foods. However, you can always use your fave or one of the following: Almond, coconut milk, homemade oat milk (froths/foams VERY WELL), sesame milk, homemade cashew milk, flax milk, potato milk, quinoa milk, etc.
SWEETENER: You can adjust the amount of sweetener depending on how sweet or unsweet you'd like for your latte to be. Feel free to use organic brown sugar or cane sugar for your syrup, if desired. 
SERVING: To make additional lattes, simply double or triple ingredients, depending on need.
DAIRY-FREE OPTION: See post for dairy-free option info!
Calories:
865
kcal
|
Carbohydrates:
118
g
|
Protein:
4
g
|
Fat:
44
g
|
Saturated Fat:
27
g
|
Polyunsaturated Fat:
2
g
|
Monounsaturated Fat:
11
g
|
Cholesterol:
134
mg
|
Sodium:
140
mg
|
Potassium:
505
mg
|
Fiber:
4
g
|
Sugar:
100
g
|
Vitamin A:
1770
IU
|
Vitamin C:
1
mg
|
Calcium:
406
mg
|
Iron:
1
mg
Iced Vanilla Sweet Cream Latte [Starbucks Copycat].