This Iced Dalgona Coffee (Whipped Coffee) Vanilla Latte is the epitome of never having boring lattes ever again! This whipped coffee (aka Dalgona Coffee) is an incredibly delicious way to spruce up your morning coffee runs. Make this latte (whether hot or cold) with just a handful of ingredients in just 5 minutes! All dairy-free and vegan ingredients.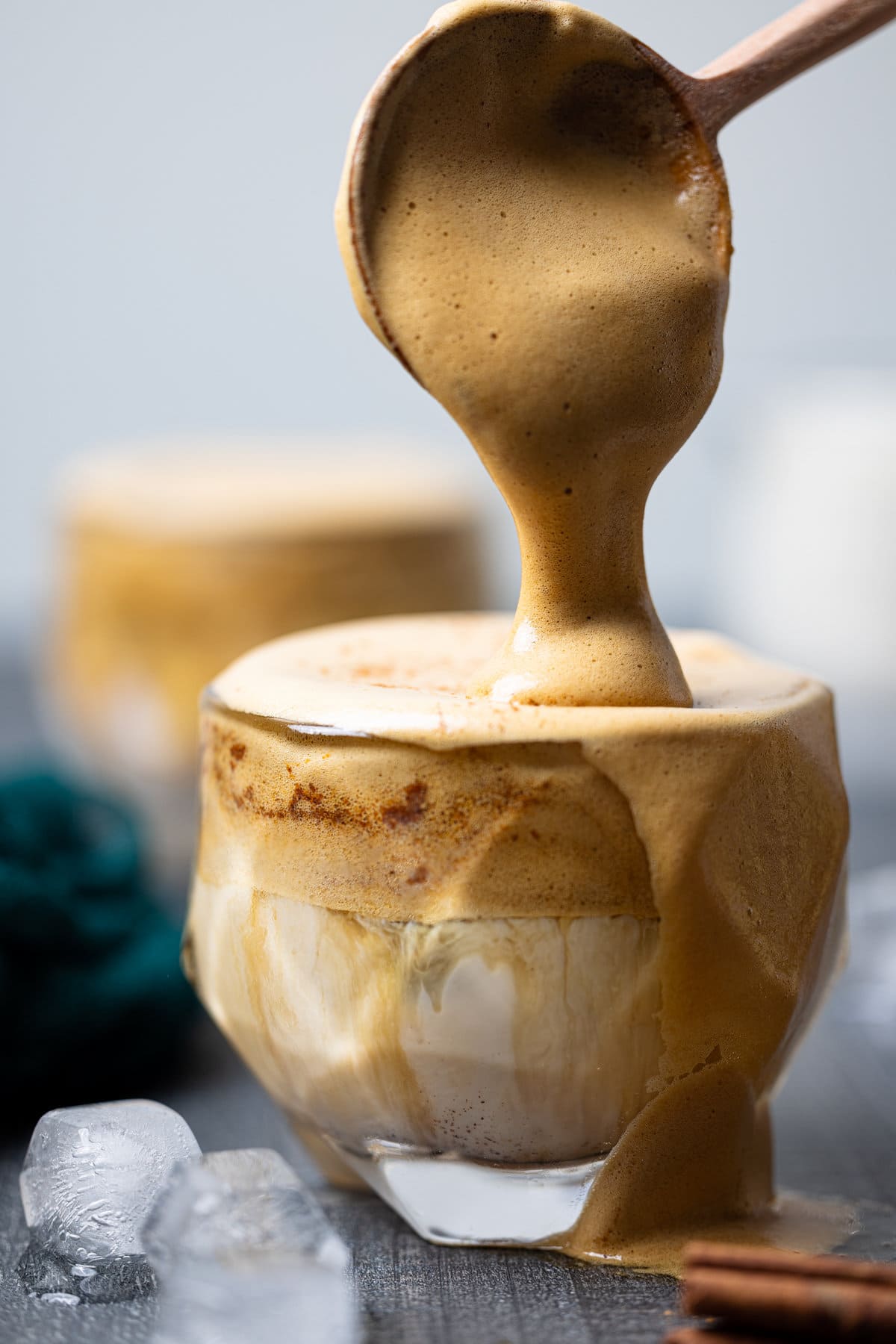 Disclaimer: This post contains affiliate links via Amazon for products that I wholeheartedly love.
Like many other lattes that I've made at home, this Iced Dalgona Coffee Vanilla Latte has become another favorite added to my list. If you haven't gotten into the whipped coffee (aka Dalgona Coffee) craze, then you're totally missing out because it's just SO GOOD!
When attempting this, I've tried my hand at a few methods and by far it's been easier when using a mixer of some sort (i.e. hand-mixer or standmixer). While I've thoroughly enjoyed caramel flavored lattes ----YES to this Peanut Butter Caramel Iced Latte (it's in my top faves), this version of latte has been a refreshing way to enjoy coffee in the mornings.
Before making my own lattes at home, I was an avid Starbucks drinker—hello Frappuccinos. However, I can attest to how amazing it is to make your own coffee at home, especially when you get a chance to create so many delicious flavors from simple ingredients.
What is Dalgona Coffee?
Basically, Dalgona coffee is a whipped version of coffee (also known as "whipped coffee" or "beaten coffee") that's made from three ingredients: coffee, sugar, and water. It originated via TikTok a few years ago (about 2020) and has now become a popular way of drinking coffee, even within local and commercial coffee shops like Starbucks.
While you can use a regular whisk and do this by hand (it'll take around 8-10 minutes), it's definitely a lot faster AND easier when done using an electric mixer of some sort to create the coveted custard-like texture.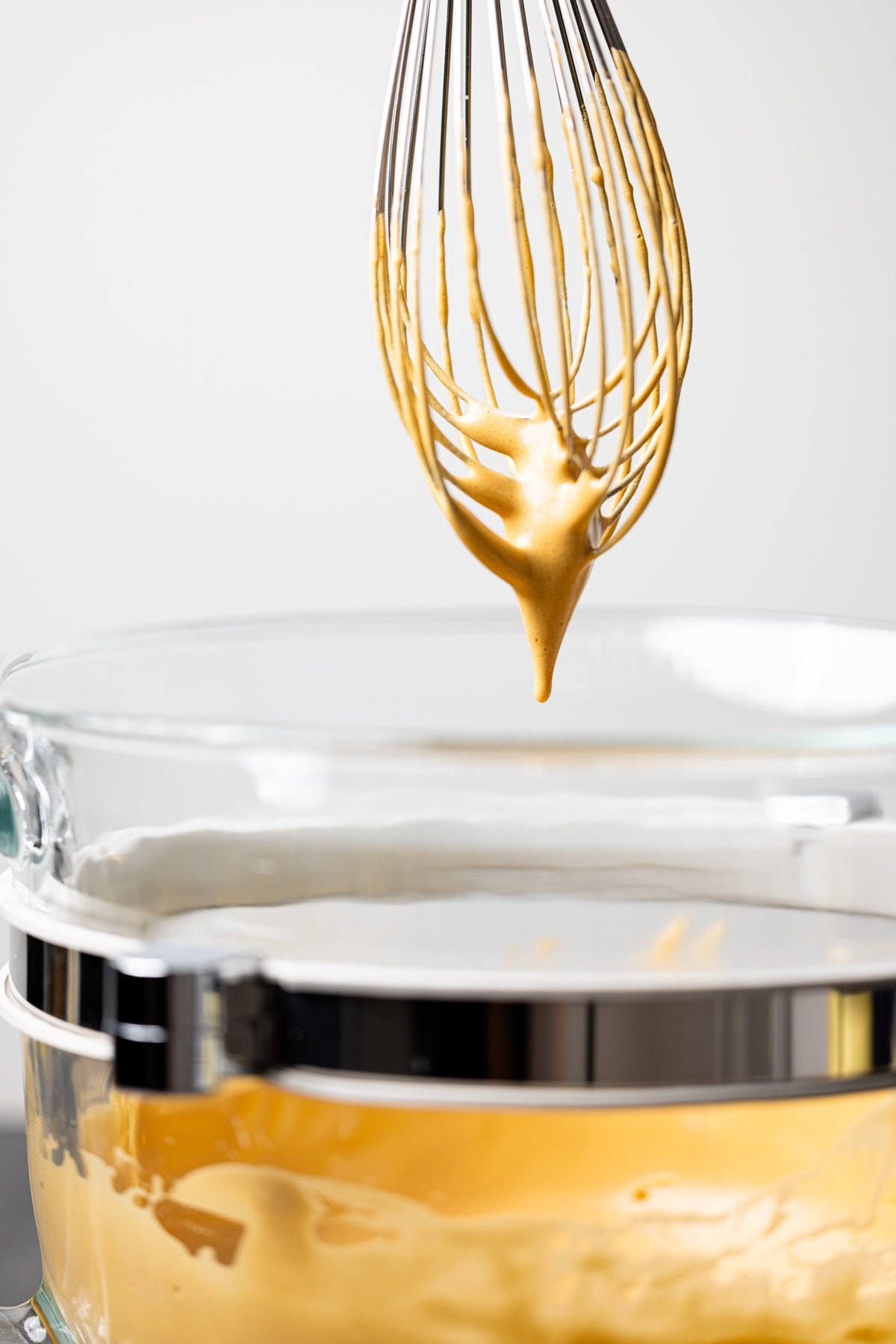 How to Make Iced Dalgona Coffee Vanilla Latte
To make this latte, you'll first whip together the dalgona coffee and then assemble the remaining ingredients, stir a bit, and wallah! You've got yourself a delicious latte.
The general rule of thumb for whipped coffee is 1:1:1, which consists of coffee, sugar, and water. Beat until peaks form when lifting your whisk, as you will find the thicker you whip it, the less bitter it tastes. Remember, the coffee will dilute once it's mixed through your milk. 
INGREDIENTS
Coffee. You can use instant coffee or instant espresso powder for the best results.
Almond milk. Make your own! Or use store-bought Almond milk. You can also use other plant-based milk options.
Vanilla. Creates a nice addition of flavor.
Crushed ice. The best highlight of this drink to keep things cold. Crush your ice or use a nice ice cub tray.
Maple syrup. This adds extra sweetness to the entire drink and works so well with the brown sugar.
Brown sugar. I use organic to make sure it's vegan.
Water. For boiling and creating of the dalgona coffee.
Can I Use Other Types of Milk?
Absolutely! If you'd like to switch things up with the type of plant-based milk that you use—–that's totally fine! The world of plant-based milk is constantly expanding. From the classics like coconut milk, cashew milk, soy milk and almond milk, we now have delicious options like oat milk, and even potato and quinoa milk.
SHOP MY FAVORITE DRINKWARE ITEMS AND ACCESSORIES!
Here, I've curated a list of drinkware and mocktail essentials that I use to achieve my favorite drinking experiences, especially with this Iced Dalgona Coffee Vanilla Latte. Everything from my fave glassware, cocktail shakers, ice cube trays, and more. SEE THEM HERE!
Common FAQs for Dalgona Coffee
Here are a few FAQs that you might wonder about when making dalgona coffee:
What is the best sugar to make whipped coffee?
When it comes to using sugar, it's best to use some kind of granulated sugar-----like cane sugar, brown sugar, raw sugar, coconut sugar, etc. You can also use honey and Agave with great results.
Do I have to use a mixer? If I don't have one, what else can I use?
As I've tasted before, it's best to use an electric mixer of some sort (i.e. hand-mixer or standmixer) for a quicker whip time and ease, however, if you don't have a mixer---that's totally fine! You can either whip your coffee by hand using a regular whisk OR you can use a hand frother.
If whisking by hand, it takes about 8-15 minutes, depending on how thick you want it. For the most perfect whip-----be sure to whip with a zig-zag motion and take a short break in between if you need to.
What kind of coffee should I use? Can I Make it without Instant Coffee?
I've found that instant coffee tends to work best whenever making whipped coffee. I like to use instant espresso powder by Delallo and just added a tiny bit more sugar so that it's not bitter. However, feel free to use instant coffee as well.
Believe it or not, you can also use freshly brewed coffee, but it needs to be strong so that it whips perfectly. Just know that there isn't a need for hot water if using brewed coffee since it should be hot.
Can I Make Whipped Coffee without Sugar?
Absolutely! While your coffee might be a bit more bitter and it won't last as long, you can definitely opt out of sugar. Just know that without sugar, it won't be as airy or fluffy.
Why is my Dalgona Coffee Not Fluffy?
I've found that if you're whipping your coffee and it's not fluffy or fluffy enough, then you're probably not using enough sugar. Try adding a bit more sugar and seeing if things change for the better!
How to Best Store Dalgona Coffee?
Once refrigerated, leftover dalgona coffee can last for up to a few hours with no problem. Just store it in an airtight container for up to 1 week when making large batched to use throughout the week!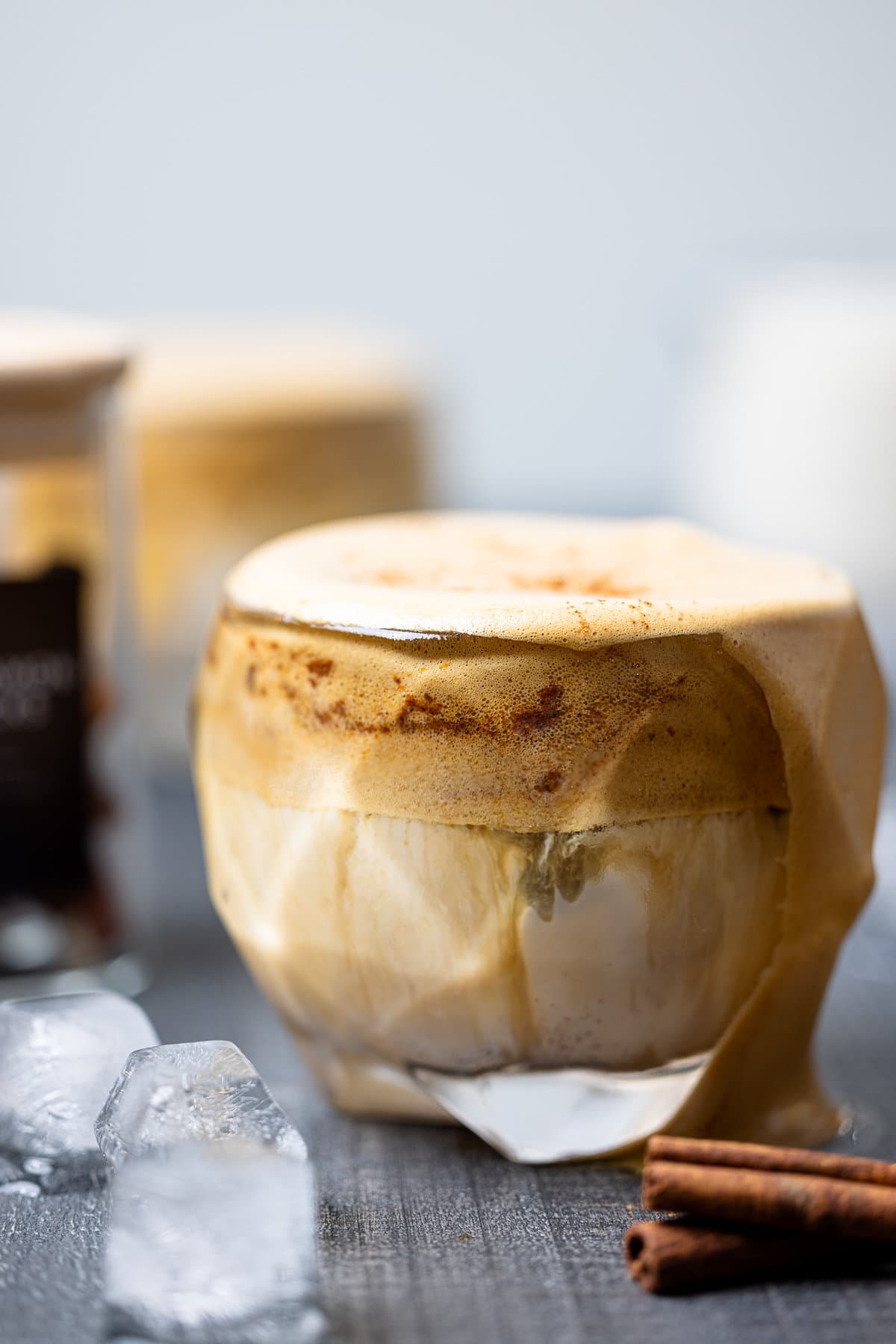 Awesome Ingredients to Add to your Dalgona Coffee
If you're thinking of adding additional ingredients to your whipped coffee for an extra punch of flavor or a nice twist, these work perfectly and should be added before beating your coffee (only about 2 tsps or 1 Tbsp):
Caramel syrup
Vanilla extract
Cocoa powder
Powdered creamer
Cream-based liquor (like Bailey's)
Can I Serve this Hot or Cold?
Yes! You can definitely switch things up by serving this Dairy-Free Iced Pumpkin Spice Latte hot or cold whenever you chose to. To serve hot, simply warm the homemade pumpkin creamer.
Then add the milk to a saucepan over medium-low heat and allow it to warm through. Pour the milk in a mug and top with the warm pumpkin creamer, stir, add dollops of coconut whipped cream, and enjoy!
Caramel Coffee Ice Cubes: The Perfect Way to Avoid Waste
Making coffee throughout the week can sometimes mean that you won't always use up your coffee, especially when making coffee from ground coffee beans. Yes—you can add leftover coffee in other ways (i.e. baking, making a mocktail, etc.), why not just freeze them and re-create a new latte each day? Haha.
Plus, it's really simple to make, so there's that. Therefore, if you're like me and you're a homemade latte lover, then use these Caramel Coffee Ice Cubes for any flavored latte, including in this Iced Dalgona Coffee (Whipped Coffee) Vanilla Latte.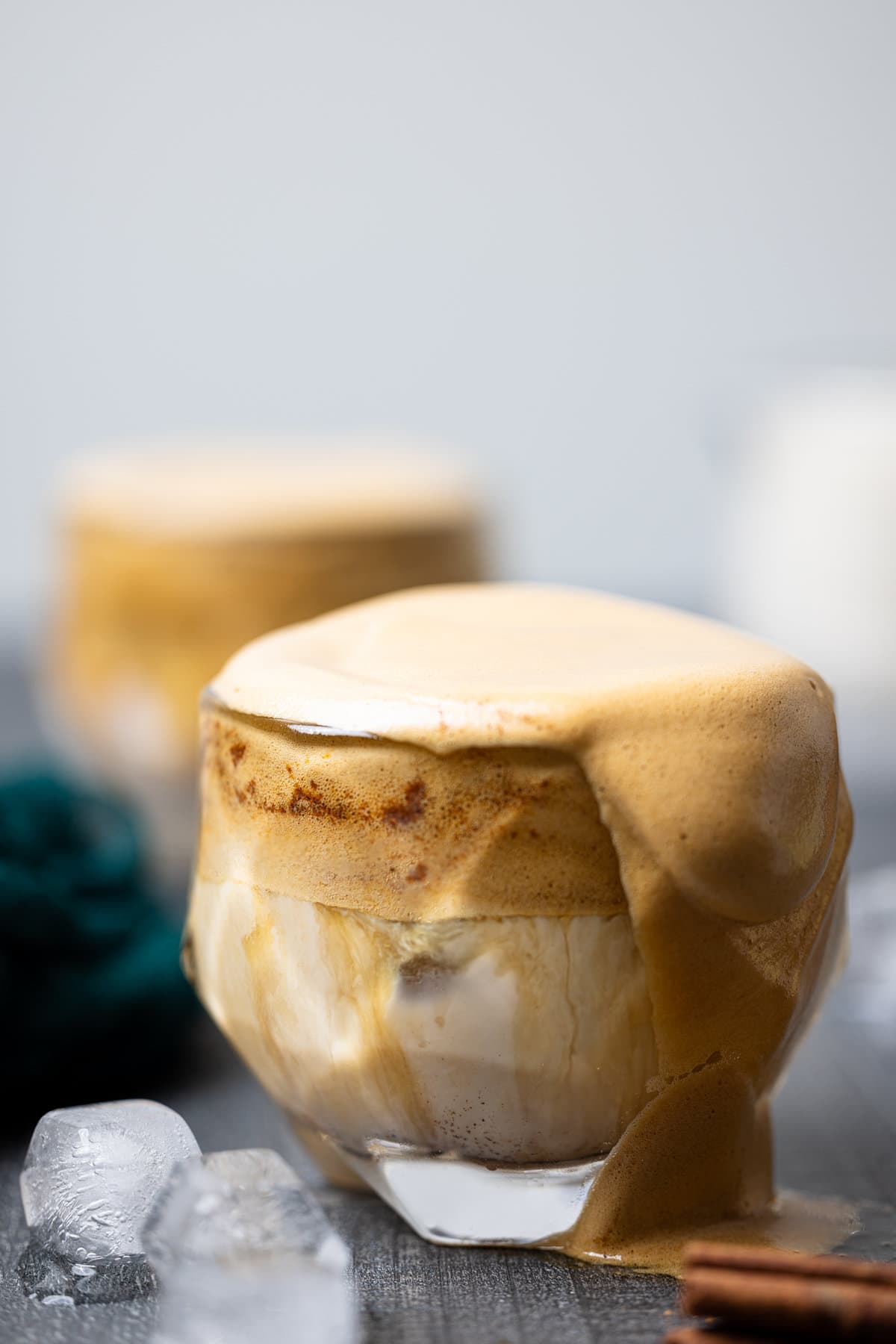 More Homemade Latte Recipes to Try
MADE OUR RECIPE(S)?
If you make this Iced Dalgona Coffee (Whipped Coffee) Vanilla Latte, tag @orchidsnsweettea_ on Instagram and hashtag it #orchidsandsweettea!
DALGONA COFFEE:
2

Tbsps

instant espresso powder

2

Tbsps

organic brown sugar

2

Tbsps

hot water

½

teaspoon

vanilla extract
LATTE:
1 ½

cups

Almond milk, homemade or store-bought

1

teaspoon

vanilla

Pinch of

ground cinnamon, optional

Crushed ice
TO MAKE THE DALGONA COFFEE:
In a bowl, add the coffee, brown sugar, vanilla, and hot water, and whisk on high-speed using a hand-mixer or stand-mixer, about 2-3 minutes.

If needed, scrape down the sides and continue to whisk until everything is full whipped.
TO MAKE THE LATTE:
To serve, fill crushed ice into a 12 or 16-ounce glass and pour the Almond milk followed by the vanilla, stirring it together. Add a few dollops of whipped Dalgona coffee to top things off. Garnish with a pinch of cinnamon, if desired.

Sip and enjoy!
WHAT PLANT-BASED MILKS ARE GOOD FOR THIS RECIPE? You can always use your fave or one of the following: Almond, coconut milk, homemade oat milk (froths/foams VERY WELL), homemade cashew milk, flax milk, potato milk, quinoa milk, etc.
SWEETENER (DALGONA COFFEE): You can adjust the amount of sweetener in your Dalgona coffee depending on how sweet or unsweet you'd like for it to be.
Iced Dalgona Coffee (Whipped Coffee) Vanilla Latte.