This Jamaican Me Happy Mocktail has a tropical + sweet finish from the infusion of passionfruit, watermelon and strawberry flavors and just the right amount of tartness and fizz married together with hints of lemon. This mocktail is sure to be the next big thing during the warmer months and it's the perfect rendition of the famous Seagram's wine cooler flavor! All vegan and gluten-free ingredients.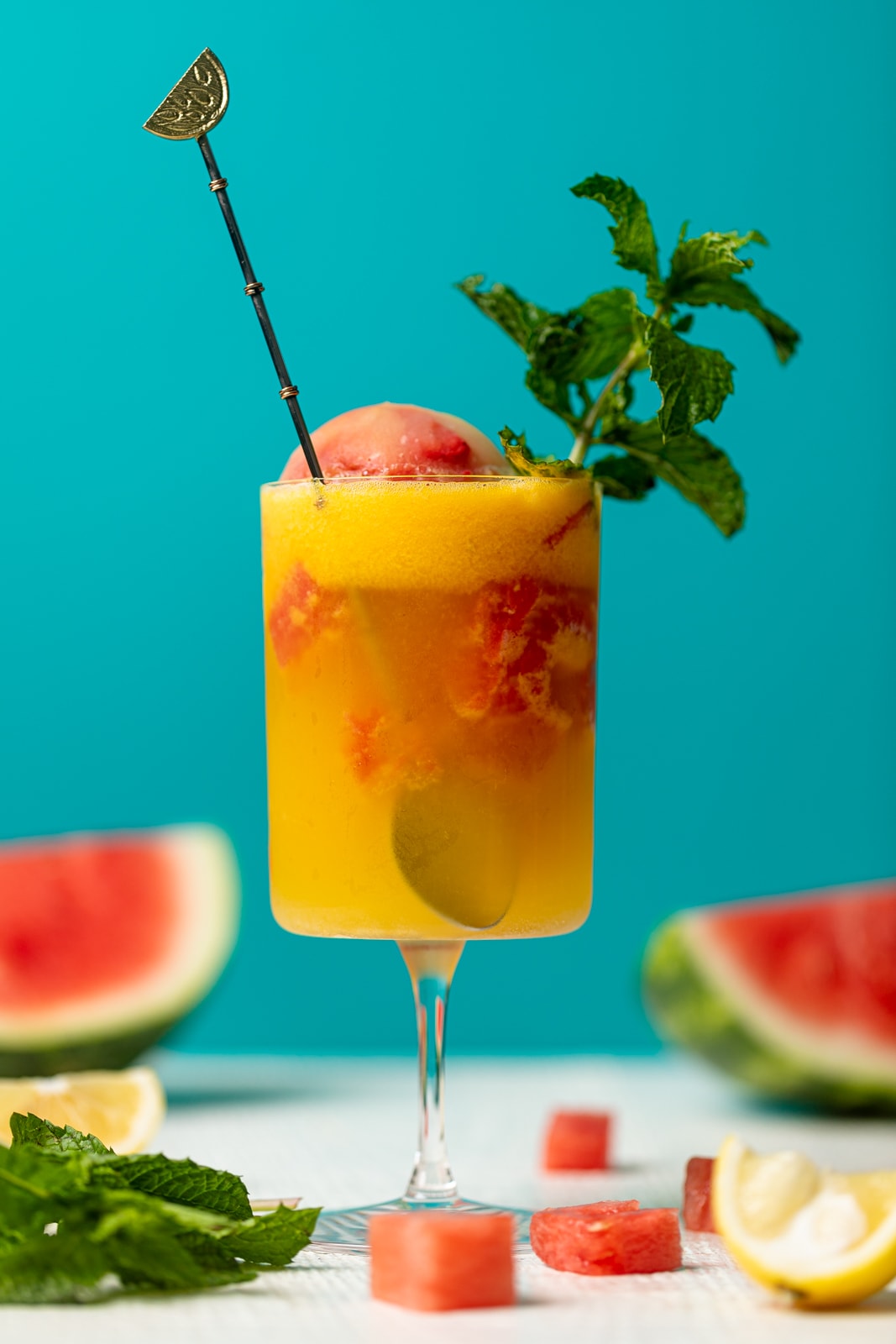 Disclaimer: This post contains affiliate links via Amazon for products that I wholeheartedly love.
I couldn't be happier to share this Jamaican Me Happy Mocktail with you because it's one that I've been ecstatic to try. Apparently, Seagram's has a great rendition of this flavor as a wine cooler and since I don't drink alcohol, I thought that it would be awesome to create a virgin version of this high coveted flavor.
Plus, I LOVE strawberries and watermelon and lemon so this combo couldn't hurt. Haha.
When it comes to sharing Jamaican-inspired recipes, I'm the most thrilled because there are so many childhood faves that I know that many of you will enjoy too. Recently, I shared an updated version of my Creamy Jamaican Cornmeal Porridge and so many of you were obsessed with it because you also had fond memories of having this exact porridge or something similar.
There's just something about being able to share similar life experiences when it comes to making a particular dish that I love in the world of food blogging.
How to Make Jamaican Me Happy Mocktail
OK, back to this mocktail-----it's so refreshing and these homemade ice cubes definitely add the best touch! Of course, you can use your favorite ice cube tray to make small or large ice cubes like these.
The first step in this tropical-infused mocktail is to make the ice cubes. Simply mix together the pineapple or lemon juice and minced strawberries and pour them in your favorite ice cube trays and let them freeze for a minimum of 4 hours. Then you blend together the passionfruit bites, Agave, and water to create a liquid base. Of course, you can also use passionfruit juice if you have it on hand.
Finally, you assemble the mocktails, garnish, and wallah!
Plus, this Jamaican Me Happy mocktail is super easy to make, requires just one bowl and a blender, comes whipped together in under 10 minutes, and is the perfect balance between fruity + tart. Such a fun, family-friendly drink—but you can also add a bit of vodka or other alcohol for an adult-friendly drink.
SHOP MY FAVORITE DRINKWARE ITEMS AND ACCESSORIES!
Here, I've curated a list of drinkware and mocktail essentials that I use to achieve my favorite drinking experiences, especially with this Jamaican Me Happy mocktail and homemade ice cubes. Everything from my fave glassware, cocktail shakers, ice cube trays, and more. SEE THEM HERE!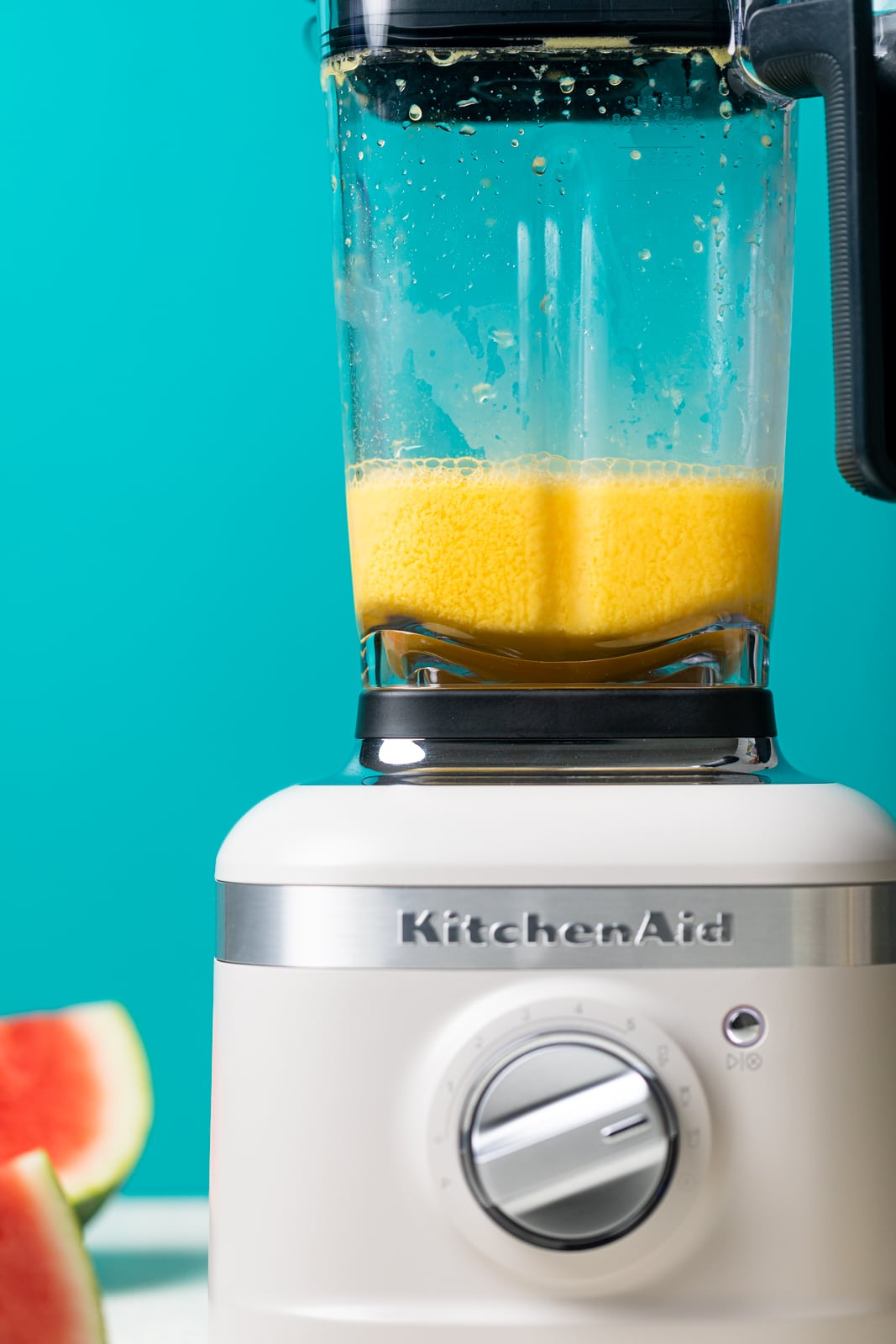 Ingredients for Jamaican Me Happy Mocktail
Here's what you need for these Jamaican Me Happy Mocktails:
Passionfruit. I used frozen passionfruit bites that I purchased at Whole Foods, however, you can also use passionfruit juice or another similar flavor like guava (the original flavor in Seagram's drink) or pineapple.
Watermelon. Choose seedless if you can! Cubed makes it easier to add to your glass and mull.
Lemon juice. I freshly-squeeze a lemon.
Strawberries. To compliment the tropical tones of this mocktail, fresh strawberries are the best!
Agave. You could also sweeten the mocktails with honey, maple syrup, or a simple syrup, if you prefer.
Lemon soda. This is what makes for a nice fizz and I usually use organic soda. You can also use sparkling water or a probiotic soda like Olipop.
Fresh mint leaves. You can also use fresh basil leaves or rosemary sprigs.
Pineapple Strawberry Ice Cubes: Spruce Things Up
Making any kind of drink throughout the week can sometimes mean that you might want to switch things up a bit for a different taste or fancier feel, especially when it comes to pineapple or lemon juice and strawberries that you might have lying around unused. Yes—instead of letting your fresh strawberries get spoiled, why not just freeze them and re-create a new drink infused with fresh strawberries each day? Right? Haha.
Plus, it's really simple to make, so there's that.
Here's what you need for the pineapple strawberry ice cubes:
Fresh strawberries. You can just mince these strawberries to make them easier to stuff in each ice cube tray cavity.
Pineapple juice. This adds a nice sweetness to the entire drink, however, you can also use water along with a sweetener (about 2-3 Tbsps) or lemon juice as a substitute.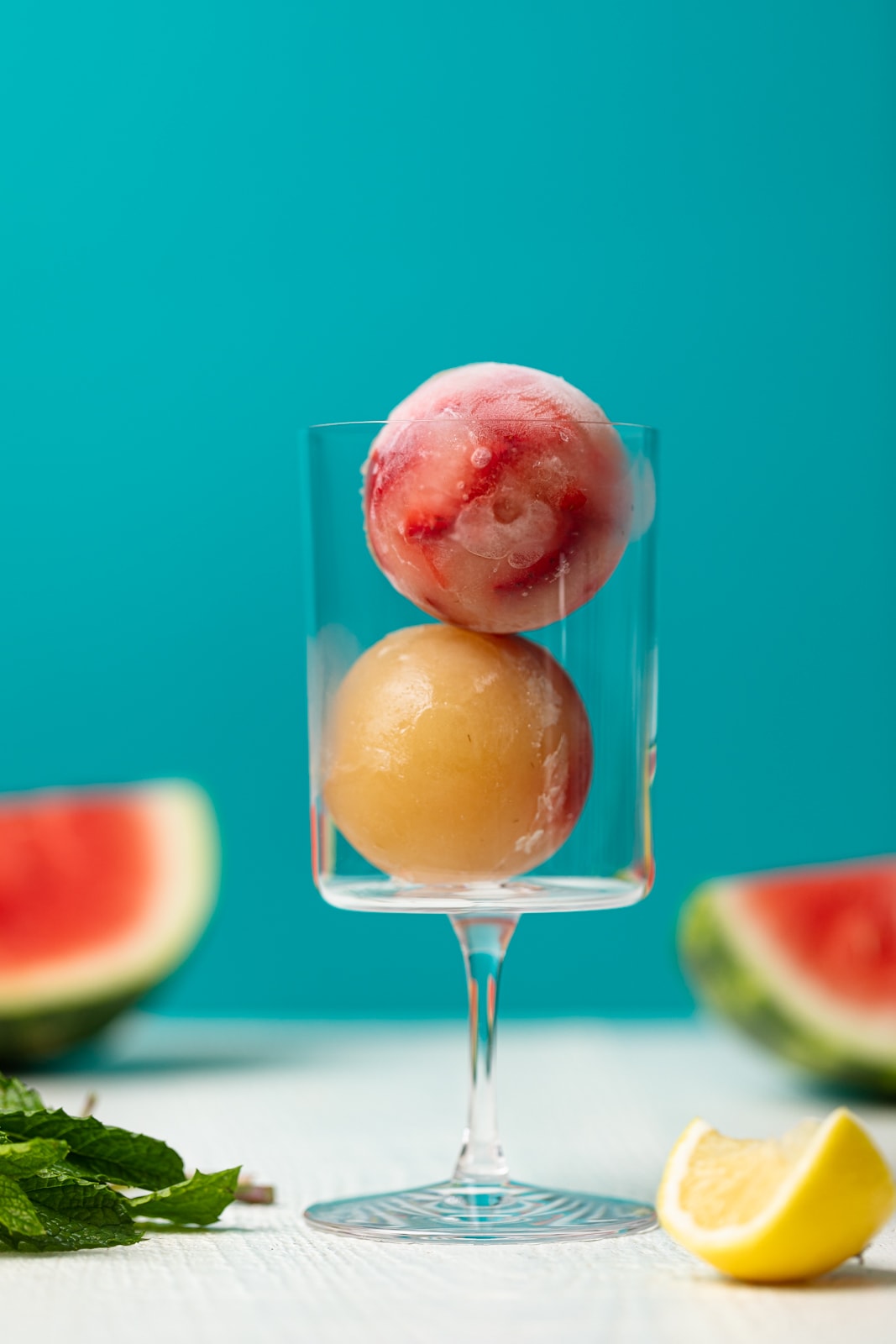 The Best Way to Pick a Watermelon
If you're not too familiar with picking the best watermelon, I've got you covered! For one, the best place to purchase a "full proof" already ripe watermelon is at the Farmer's Market. I say this because they only sell watermelons that are fully ripe and are very knowledgable about the produce they sell.
On the other hand, if you're at the grocery store and with no help, here's what you need to know about picking the best watermelon:
A good watermelon will feel heavy for it's size, so be sure to pick it up.
Hit the watermelon to hear how it sounds. A fully ripe watermelon will have more of a "deep hallow" sound due to the juices and ripeness, whereas a not so ripe watermelon will sound more "dull".
Look for a yellow spot on the watermelon which usually get's becomes "cream-like yellow" once it's fully ripe.
How to Cut a Watermelon
Whether you've decided to cut a watermelon into wedges for a nice snack or into cubes for a recipe or longer storage, it's super easy to do both. For this Spicy Watermelon Mojito Mocktail recipe, I chose to cube my watermelon, which makes things a lot easier to assemble.
HOW TO CUT A WATERMELON INTO WEDGES
Here's the easiest way to cut a watermelon into wedges:
Trim off one of the ends so that it has one short, flat surface.
Now, slice the watermelon in half by standing it up on it's flat side and slicing down through the center. This should split it in half lengthwise.
Place the other half of the watermelon cut side-down and slice it in half length-wise followed by slicing each half crosswise into 1-inch wedges.
Repeat until all watermelon has been cut.
HOW TO CUT A WATERMELON INTO CUBES
Here's the easiest way to cut a watermelon into cubes:
Start by trimming off both ends which will produce two short, flat sides.
Then remove the rind by placing your knife between the red and white parts of the watermelon and trimming off the rind. Work your way around the entire watermelon.
Then cube the watermelon by placing the flesh on the long-side-down and and cutting it crosswise into 1-inch cubes.Repeat until all watermelon has been cubed.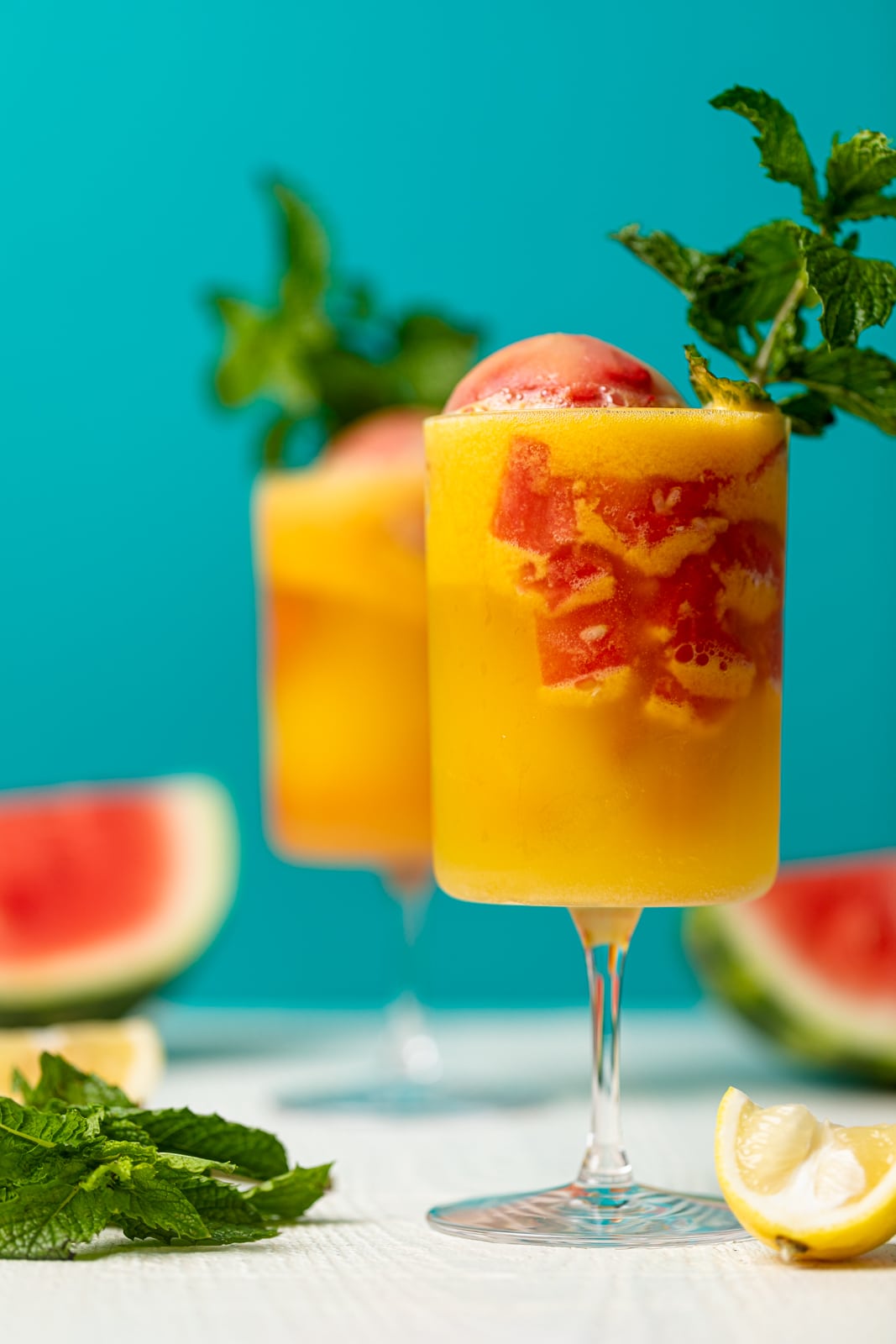 Adding Alcohol to this Jamaican Me Happy Mocktail
If you'd like to serve this as a cocktail, you can add your favorite alcohol to the mixture. The best types of alcohols (just about 1 ounce or so) that work great with this topical + fruity flavor is:
Gin
Rum
Champagne
Tequila
Whiskey
Vodka
Tips for a Successful Jamaican Me Happy Mocktail
Here are my best tips for making this Jamaican Me Happy Mocktail:
To keep things closest to Seagram's original wine cooler flavor, be sure to use Guava juice if you have it on hand!
Use a large bowl to mash or muddle the fruit. This gives you enough space to avoid splashing. You want to fully break down the watermelon.
Use a seedless watermelon if you can find one. Otherwise, you'll want to remove all seeds before mashing the melon.
Serve this Jamaican Me Happy Mocktail in tall glasses whether you're using small or large ice cubes, especially if you're planning on adding extra garnish like sliced strawberries, etc.
You can blend the watermelon with the passionfruit and water for a smoother texture for this mocktail if you don't want mulled watermelon pieces.
How to Sweeten Jamaican Me Happy Mocktail
For a simple sweetener, just use agave syrup. It's vegan! Or, if you prefer to use maple syrup or a simple syrup—–do so! Totally up to you.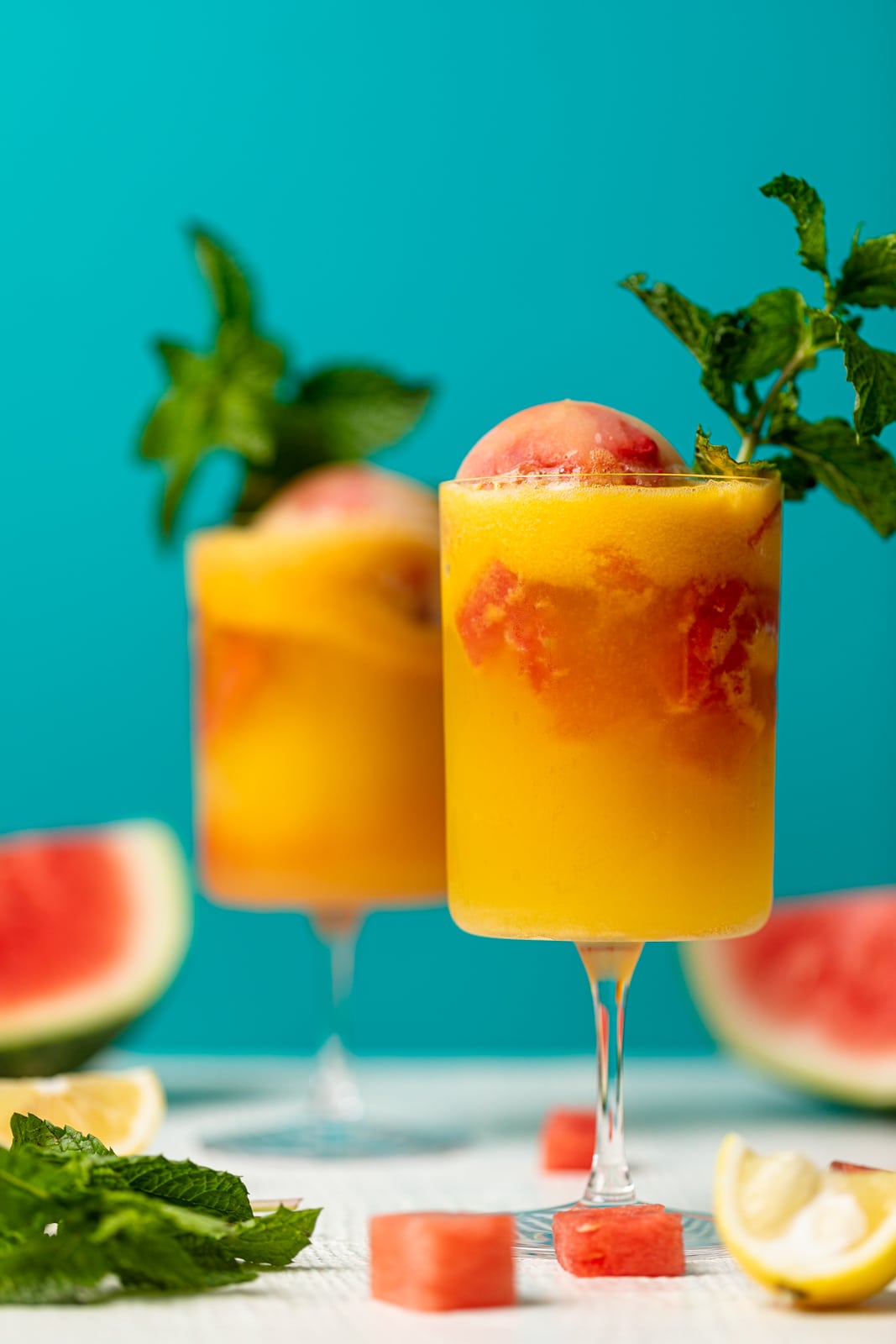 More Refreshing Mocktail Recipes
Looking for more colorful and fruity non-alcoholic drink recipes? Give these a try next:
MADE OUR RECIPE(S)?
Made this Jamaican Me Happy Mocktail? Tag @orchidsnsweettea_ on Instagram and hashtag it #orchidsandsweettea!
PINEAPPLE STRAWBERRY ICE CUBES:
1

cup

strawberries, de-stemmed + minced

2

cups

pineapple juice, organic

(You can also use lemon juice instead as well)
MOCKTAILS:
2

cups

cubed watermelon

⅓

cup

frozen passionfruit bites

(You can also use ½ cup passionfruit juice)

1

cup

filtered water

½

cup

Agave syrup

(See Notes!)

1

lemon, freshly-squeezed

Lemon soda, for topping

Sliced strawberries, optional

Fresh mint leaves
TO MAKE THE ICE CUBES:
In a bowl, add the pineapple juice and minced strawberries, stirring everything together until combined. In your favorite ice tray----carefully pour the mixture into each cavity, filling them completely full. Repeat until all ice cube cavities are filled. Add the tray(s) to the freezer and freeze for 3-4 hours (or overnight) until ice is formed.
BLEND TOGETHER THE PASSIONFRUIT:
If using frozen passionfruit bites, add them to a high-powered blender along with the water, freshly-squeeze lemon juice, and Agave and blend on high-speed until smooth, about 2-3 minutes.
TO MAKE THE MOCKTAILS:
In a bowl, add the cubed watermelon, mulling (crushing) them until they are fully broken down. NOTE: You can also add the cubed watermelon to the passionfruit mixture and blend it together for a smoother texture.

ASSEMBLY: Add the prepared ice cubes to a glass(es) then add spoonfuls of the mulled watermelon (if using), followed by the mocktail mixture until ½ filled and top with lemon soda. For additional garnish, add the fresh mint leave(s) and sliced strawberries, if desired. Repeat for every serving. 

Sip and Enjoy!
SERVING: To make additional mocktails, simply double or triple ingredients, depending on need. SWEETENER: Instead of Agave syrup, you can substitute with pure maple syrup or organic cane sugar as a syrup (sugar + ½ cup water boiled over the stove top).
Calories:
411
kcal
|
Carbohydrates:
103
g
|
Protein:
3
g
|
Fat:
1
g
|
Saturated Fat:
0.1
g
|
Polyunsaturated Fat:
0.4
g
|
Monounsaturated Fat:
0.1
g
|
Sodium:
20
mg
|
Potassium:
836
mg
|
Fiber:
4
g
|
Sugar:
84
g
|
Vitamin A:
1340
IU
|
Vitamin C:
135
mg
|
Calcium:
73
mg
|
Iron:
2
mg
Jamaican Me Happy Mocktail.