This Sparkling Cranberry Orange Ginger Mocktail recipe is the perfect Christmas drink for the entire family. Made with a ginger base and infused with orange, cranberries, + pomegranate seeds and topped with ginger beer for a good 'bubbly', this homemade mocktail will leave you feeling joyous on any given day, especially during the Holiday season. So easy to make and shake together in just a few short minutes. Easy, Vegan & Dairy-free!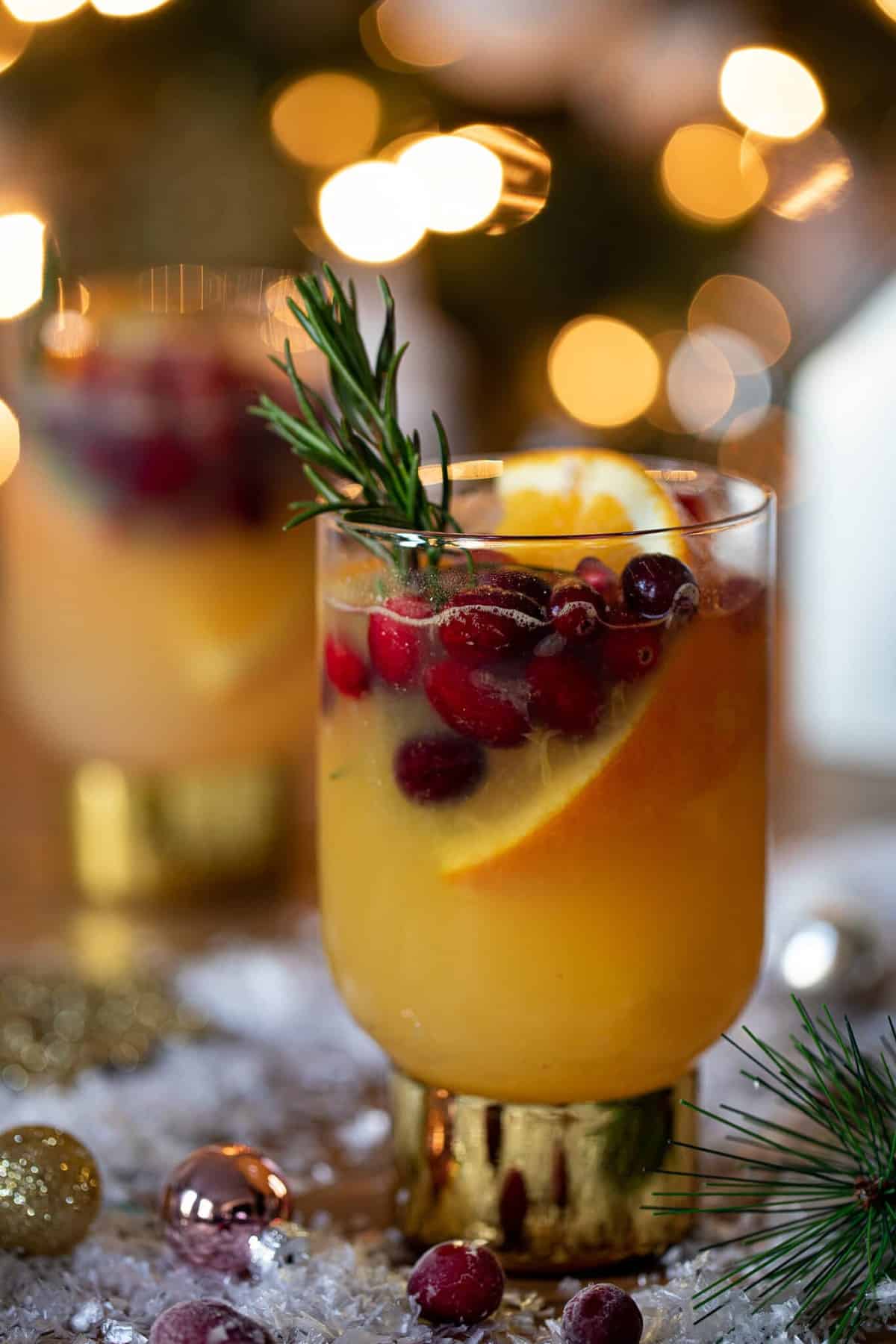 Sparkling Cranberry Orange Ginger Mocktail----another drink recipe to add to Orchids + Sweet Tea's archives, and I'm so excited. Honestly, I truly enjoy making drinks the most because they are super easy to make, and I get a chance to experiment with an array of flavors!
When it comes to the Holidays, I'm so excited to make things that are bursting with flavor and a great reminder of holiday cheer, especially since we're officially in the countdown to Christmas. Can you believe it? I know. Insane. This mocktail is a winner in my house; even the kiddies love it, and I love that we can enjoy this pretty drink together.
Love Festive Mocktails? Try These Next!
Spiced Maple Citrus Pear Mocktail - The greatest mocktail ever has arrived! Your next holiday bash needs this Mocktail, made with roasted fruit, maple, and tons of citrus. Perfect for any non-drinkers at your soiree!
Apple Cider Mocktail - This is a simple, delicious mocktail that comes rich in bold apple cider flavor and entirely jam-packed with warm, cozy spices. Made with an easy homemade apple syrup, freshly-squeezed orange juice, lemon juice, and topped with your favorite bubbly, this mocktail is the best addition to any holiday table or weekend cheers! All vegan ingredients.
Ultimate Holiday Mocktail - This recipe is perfectly sweet and spiced, thanks to fresh orange, cinnamon, and rosemary. The perfect festive drink for your Christmas or New Year's party.
Blueberry Lavender Chamomile Mocktail - This mocktail is perfectly balanced between earthy tea and bright, sweet fruit. It's a delicious and kid-friendly alcohol-free drink for any time.
Why Cranberry + Orange + Ginger?
OK, back to this drink. In case you haven't noticed, I love incorporating ginger in my drinks, whether it be a mocktail, tea, or juice. Honestly, it's because ginger has such great health benefits and aids in great digestion. Plus, it tastes really good to me. Haha.
During the Holiday season, I feel like cranberry + orange is the combo of the times. If I'm honest, both taste super amazing together. Plus, one compliments the other when it comes to marrying sweet and tart together. All in all, I wanted to create a festive Holiday mocktail, and I felt that incorporating both orange + cranberries would help to achieve that.
Why Fresh Cranberries?
I'm sure you've noticed that cranberry juice is an essential ingredient in ALOT of mocktail recipes. But for this recipe, I have opted for fresh cranberries instead. I find that you won't get that real authentic taste if you use cranberry juice instead of fresh cranberries. These little berries give an element of tartness and freshness that take this holiday mocktail to a whole other level.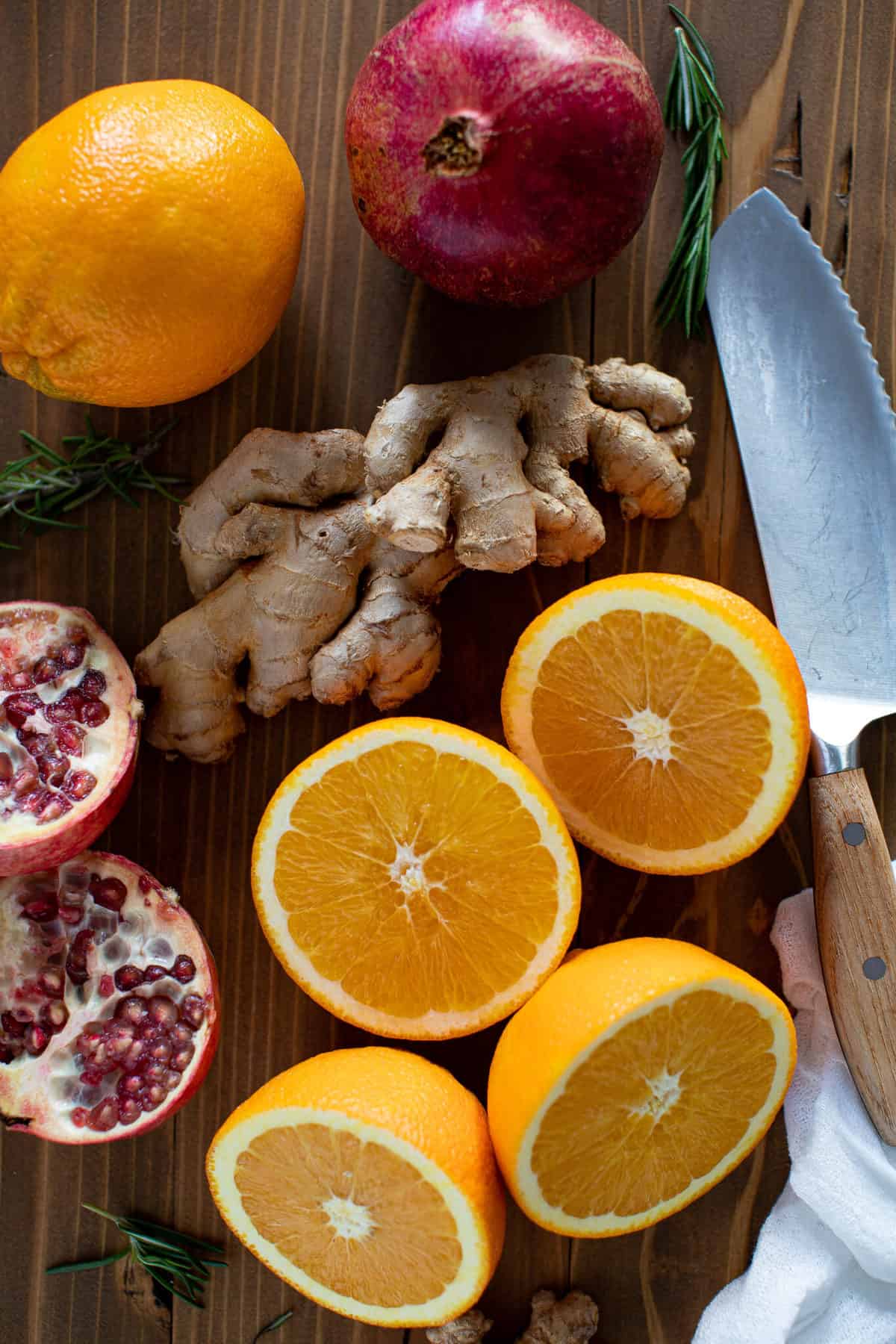 What You'll Enjoy Most About These Mocktails.
It's super easy to make.
Refreshing, delicious, + a nice festive, Holiday feel.
Only uses a handful of ingredients.
Oh so Healthy—-awesome benefits with digestion, immune support, antioxidants, etc.
All NATURAL + naturally sweetened.
Bursting with a nice mix of sweet + tart.
Ideal for serving at holiday gatherings
Why Serve Mocktails Around The Holidays?
Mocktails can be just as tasty as alcoholic drinks, but that's not the only reason to make them for the holidays. Serving something other than a boring old soda or water to sober friends, the kiddies, or designated drivers is sure to get everyone in the joyful holiday spirit. And trust me, your guests will be totally wowed by the variety of crisp and complex flavors in this bad boy!
Sparkling Cranberry Orange Ginger Mocktail Q + A's
CAN I MAKE THIS AHEAD OF TIME?
Absolutely! Simply make part of the mocktail (minus the ginger beer) in a medium pitcher the day before, cover with plastic wrap, and refrigerate overnight. The best part about making these ahead of time is that they'll be completely chilled once ready to serve.
WHAT OTHER INGREDIENTS CAN I ADD?
Honestly, you can choose to substitute oranges with mandarins, tangerines, or blood orange as opposed to using oranges. In addition, you can add herbs such as basil, mint, or rosemary to add an extra earthy flavor. Of course, you can always add strawberries to the mix for a nice twist as well.
WHAT IS A MOCKTAIL EXACTLY, ANYWAY?
A mocktail is just a fun and generally delicious mixed drink that doesn't contain any alcohol in it. So all our non-drinking friends and underage kiddos can still enjoy a festive drink without the side effects!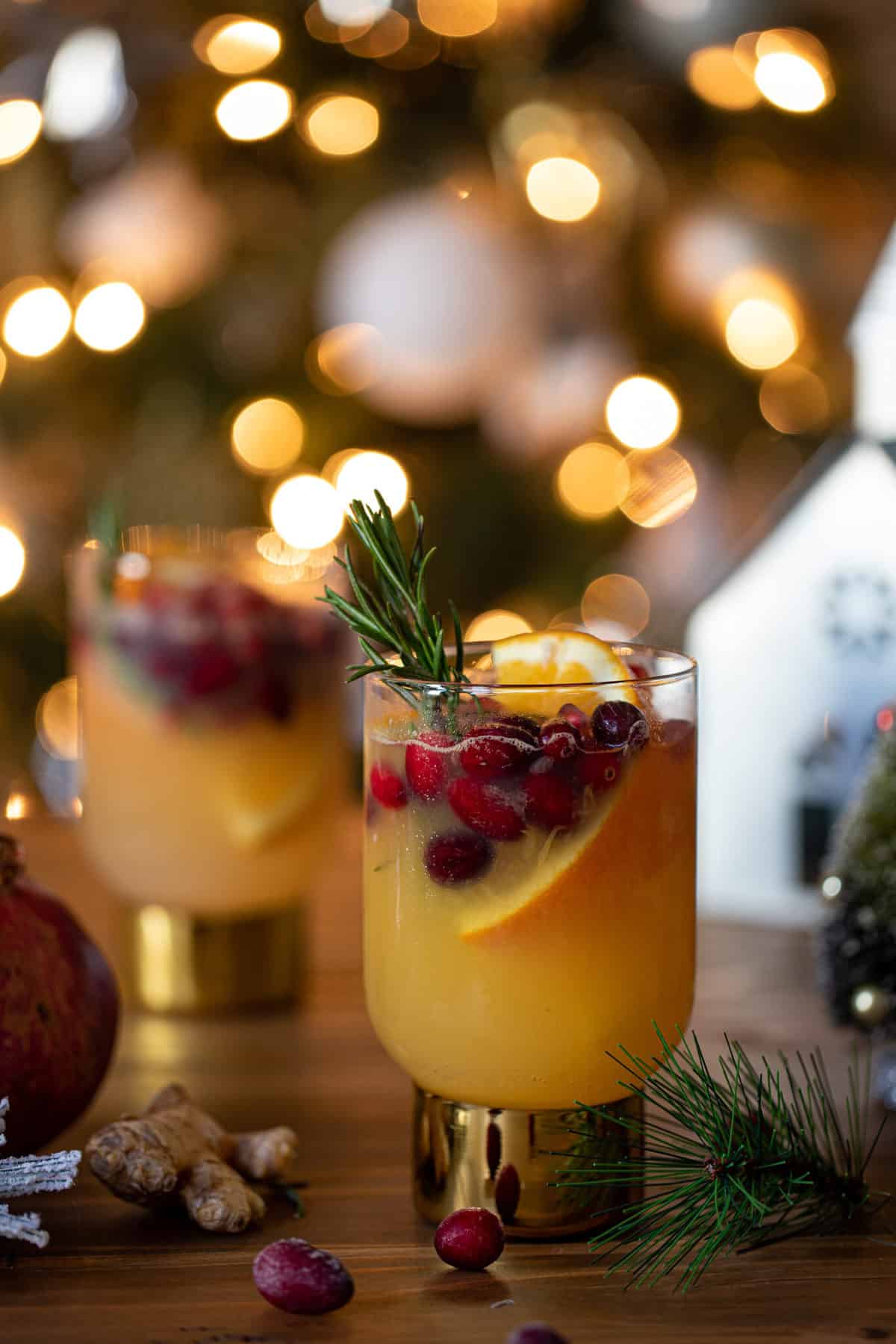 HOW LONG DO THESE LAST?
For optimal freshness, these mocktails (made without ginger beer) will last 3-5 days once covered and refrigerated.
HOW TO MAKE A CRANBERRY MOCKTAIL PITCHER
Double, triple, or even quadruple the recipe and simply serve in a pitcher or punch bowl. Add plenty of extra cranberries, orange slices, and pomegranates to get fancy to wow guests.
CAN I TURN THESE INTO A COCKTAIL?
Of course! You can always add 1 cup of your favorite alcoholic beverage to these drinks to make them a nice cocktail.
Are Cranberries Good for You?
Did you know that Cranberries are actually related to Blueberries? Yup. However, unlike their relatives, Cranberries are rarely eaten raw because of their sharp + sour taste.
The good thing is that Cranberries are rich in a lot of nutrients!
Did you know that Cranberries were mostly composed on Carbs and Fiber? Yup. The Carbs are mostly simple sugars (which means that they only have 1 or 2 molecular structures).
When it comes to Fiber, Cranberries have a good dose of Fiber, which is the reason why eating an excess amount of Cranberries can cause digestive symptoms such as diarrhea.
Cranberries come jam-packed with Vitamin C, Manganese (essential for growth, metabolism, and antioxidant function), Vitamin E, Vitamin K1, and Copper.
Why Pomegranate Seeds?
OK, so when it comes to adding in these pomegranate seeds, it's definitely a no-brainer that these seeds are GORG! I mean, what can they not make look pretty? Haha.
More importantly, while they do make things pretty and festive, pomegranate seeds offer an amazing amount of benefits. The great thing about them is that you can either enjoy pomegranate seeds in their raw form as a nice snack or processed into pomegranate juice. Either way, the health benefits include:
Great source of fiber, protein, Vitamin C, Vitamin K, Folate, + Potassium
Extremely potent with antioxidants
Anti-Inflammatory effects
May help to Lower Blood Pressure
May help to fight Joint Pain
May help to lower your risk of Heart Disease + more!
SHOP MY FAVORITE DRINKWARE ITEMS AND ACCESSORIES!
Here, I've curated a list of drinkware and mocktail essentials that I use to achieve my favorite drinking experiences, especially with these loaded hibiscus mocktails. Everything from my fave glassware, cocktail shakers, ice cubes trays, and more. SEE THEM HERE!
More Holiday Mocktail Recipes to Try
MADE OUR RECIPE(S)?
If you tried this Sparkling Cranberry Orange Ginger Mocktail recipe or any other recipe on my website, please please leave a 🌟 star rating and let me know how you go in the 📝 comments below. I love hearing from you.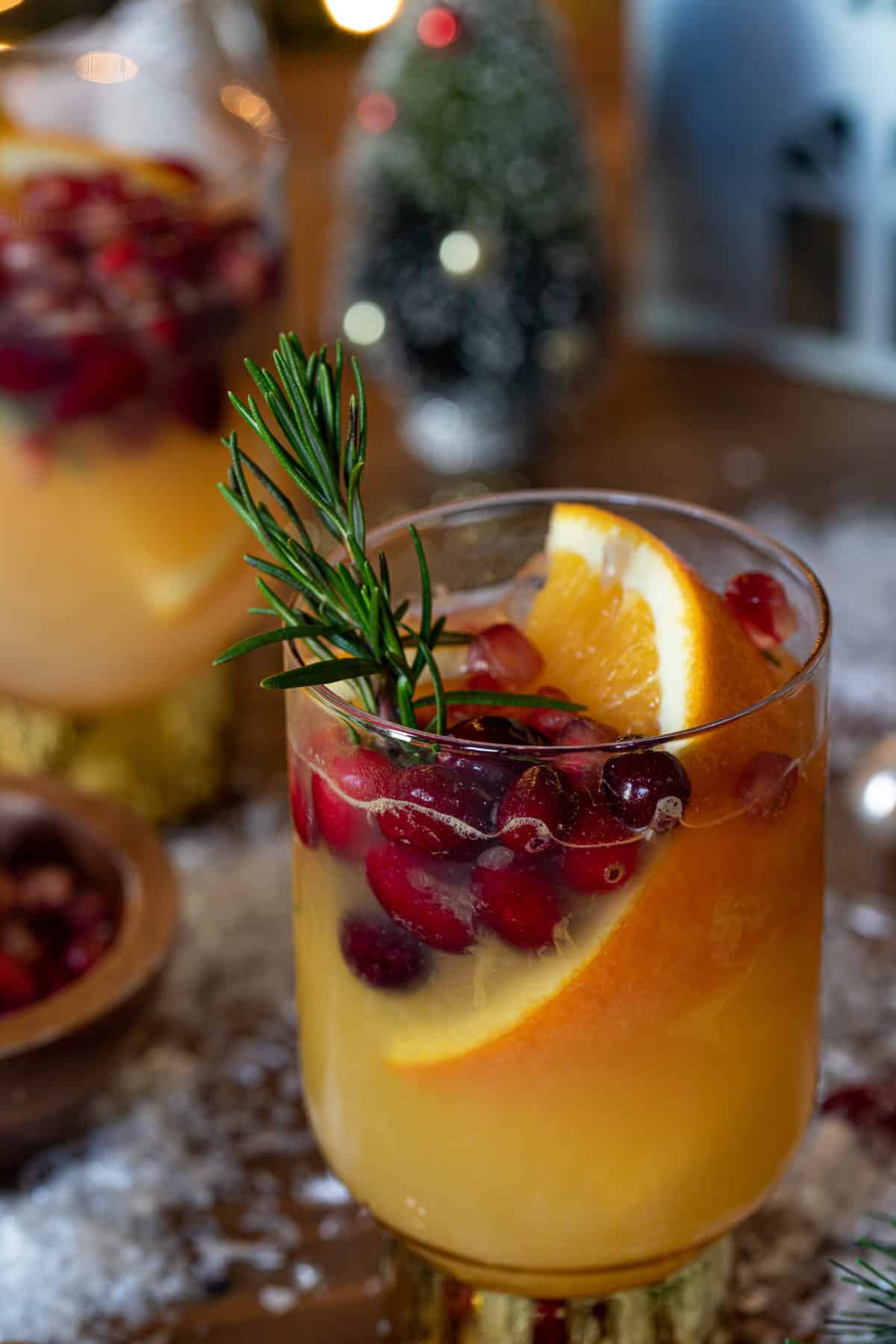 Total Time:
2

hours
55

minutes
GINGER 'SYRUP':
4

cups

fresh water

2

medium

ginger roots, peeled + chopped

½

cup

Agave or pure maple syrup

(See Notes!)
MOCKTAILS:
1

cup

fresh squeezed orange juice

1

cup

fresh or frozen cranberries

ginger beer, for topping

Crushed ice
OPTIONAL GARNISH:
Fresh rosemary leaves

Orange slices

Pomegranate arils
TO MAKE THE GINGER SYRUP:
In a medium pot over medium-high heat, add water and let it begin to boil. Once boiling, add chopped ginger root and boil for 20 minutes. After 10-15 minutes, turn off the heat, whisk in Agave and cover ginger mixture to steep for about 25-30 minutes to ensure that flavors are fully potent.
TO MAKE THE MOCKTAIL:
In the meantime, in a pitcher, add your freshly squeezed orange juice, along with steeped ginger mixture, stirring everything together until well combined. Add mixture to the refrigerator to chill for a minimum of 2 hours.
ASSMEBLY:
To serve—add an ice cube or two into prepared glass(es), followed by chilled juice mixture and ginger beer, stirring together slightly. Add in cranberries, orange slices, and pomegranate seeds and let sit for 2-3 minutes for everything to infuse together in flavor. Garnish with fresh rosemary, if desired.

Sip and enjoy!
STORAGE: Keep any leftovers (without ginger beer) in the refrigerator, tightly covered in your pitcher or in a sealed mason jar. Best if consumed within a few days.
SWEETENER: Add more maple syrup or Agave for more sweetness if needed, 1 tablespoon at a time. You can also use organic cane sugar, if desired. 
Calories:
255
kcal
|
Carbohydrates:
62
g
|
Protein:
1
g
|
Fat:
1
g
|
Saturated Fat:
0.05
g
|
Polyunsaturated Fat:
0.1
g
|
Monounsaturated Fat:
0.1
g
|
Sodium:
29
mg
|
Potassium:
319
mg
|
Fiber:
2
g
|
Sugar:
50
g
|
Vitamin A:
278
IU
|
Vitamin C:
79
mg
|
Calcium:
34
mg
|
Iron:
0.5
mg