This Sparkling Cranberry Orange Ginger Mocktail recipe is the perfect Christmas drink for the entire family. Made with a ginger base and infused with orange, cranberries, + pomegranate seeds and topped with ginger beer for a good 'bubbly', these homemade mocktails will leave you feeling joyous on any given day, especially during the Holiday season. So easy to make and shaken together in just a few short minutes.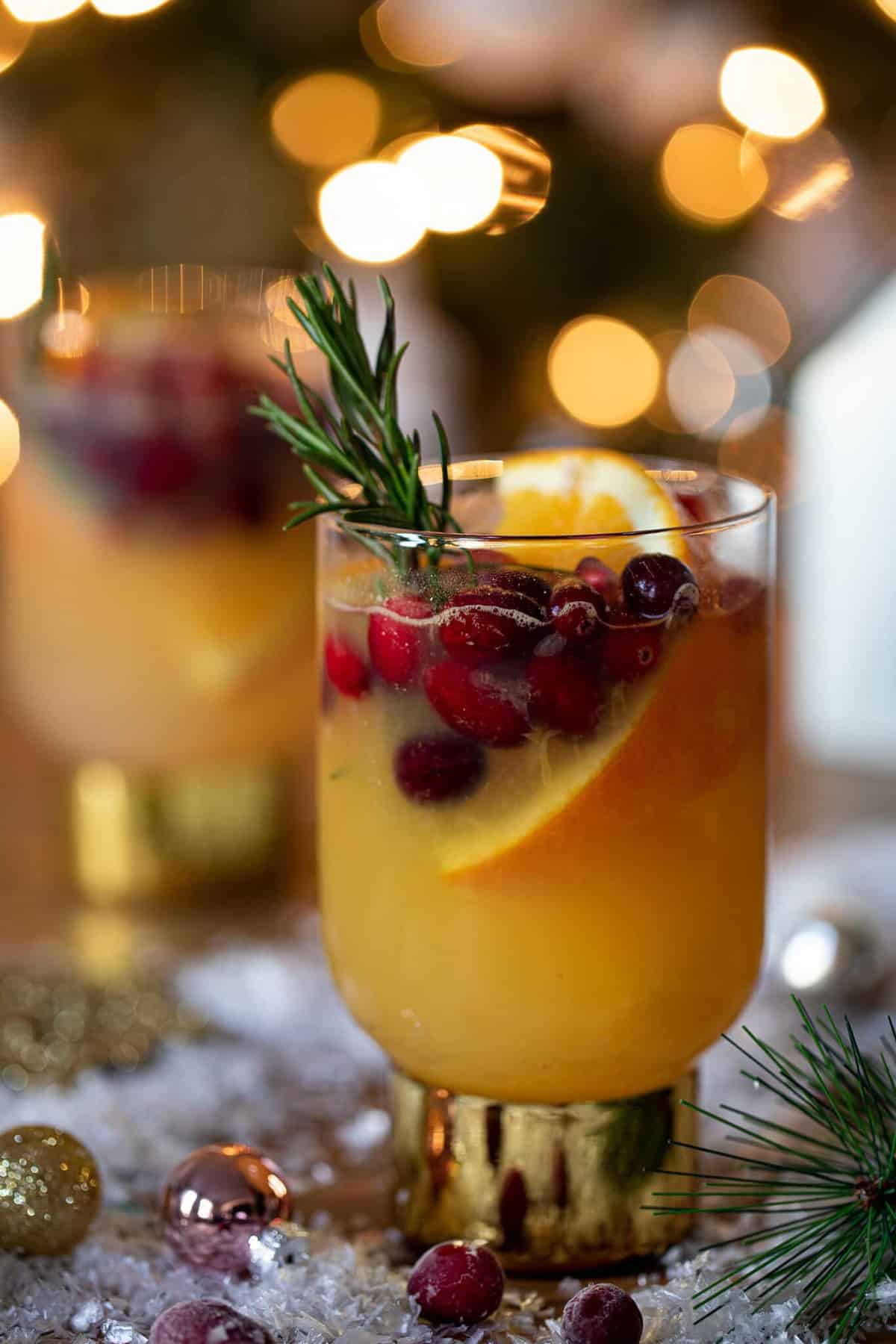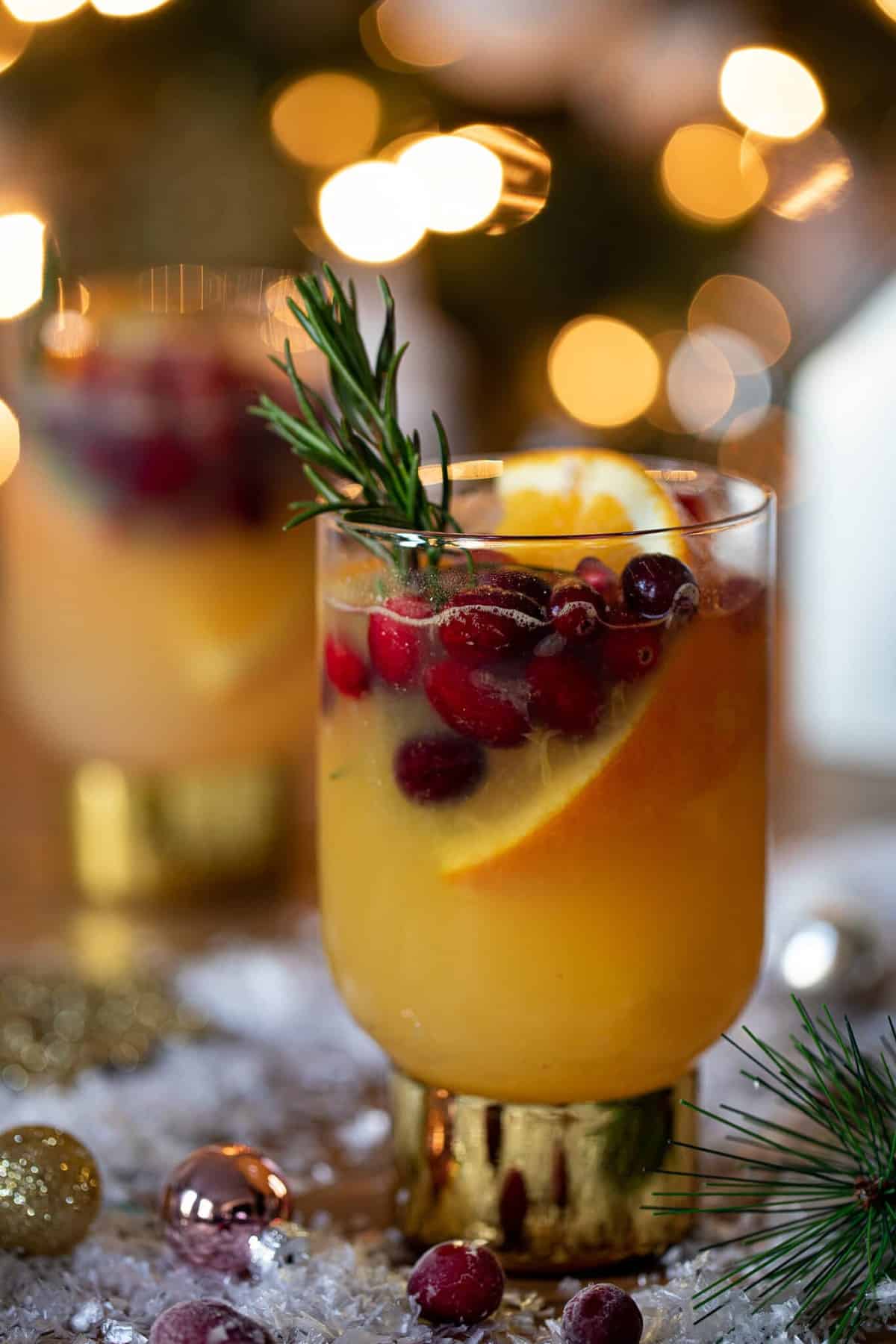 Sparkling Cranberry Orange Ginger Mocktail—-another drink recipe to add to Orchids + Sweet Tea's archives and I'm so excited. Honestly, I truly enjoy making drinks the most because they are super easy to make and I get a chance to experiment with an array of flavors!
When it comes to the Holidays, I'm so excited to make things that are bursting with flavor and a great reminder of holiday cheer, especially since we're officially in the countdown to Christmas. Can you believe it? I know. Insane.
Despite the fact that 2020 has been a tumultuous year, I'm truly still so grateful for all that I've learned on this journey, especially with this blog. As I reflect on everything, I'm so humbled and honored to have so many of you stick around and follow along my Food + Lifestyle journey as I've transitioned, transformed, and developed my craft. With YOU, Orchids + Sweet Tea is nothing. So, THANK YOU greatly!
Why Cranberry + Orange + Ginger?
OK, back to this drink. In case you haven't noticed, I love incorporating ginger in my drinks, whether it be a mocktail, tea, or juice. Honestly, it's because ginger has such great health benefits and aides in great digestion. Plus, it taste really good to me. Haha.
During the Holiday season, I feel like cranberry + orange is the combo of the times. If I'm honest, both taste super amazing together, therefore, I can see why. Plus, one compliments the other when it comes to marrying sweet and tart together. All in all, I wanted to create a festive Holiday mocktail and I felt that incorporating both orange + cranberries would help to achieve that.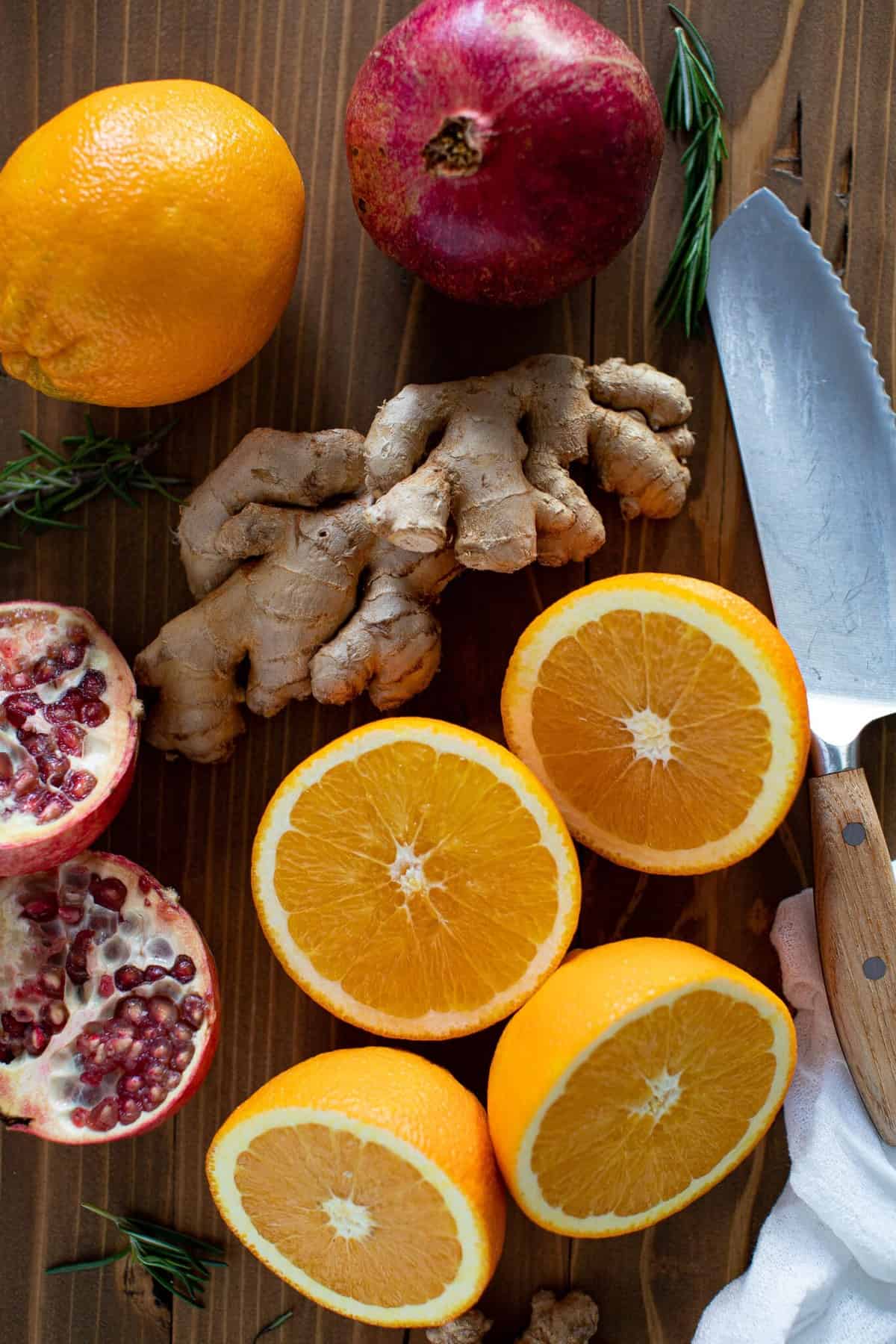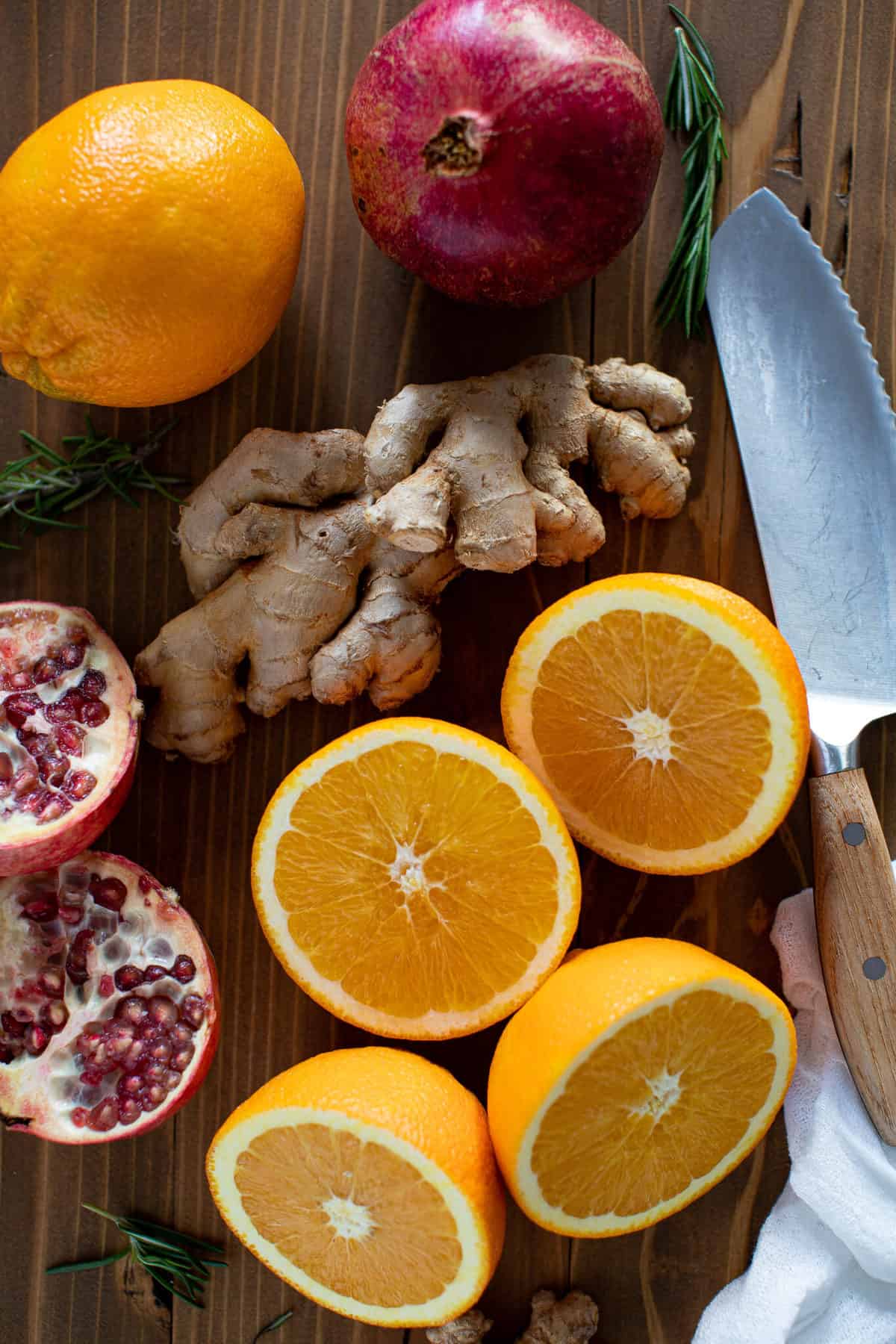 What You'll Enjoy Most About These Mocktails.
It's super easy to make.
Refreshing, delicious, + a nice festive, Holiday feel.
Only uses a handful of ingredients.
Oh so Healthy—-awesome benefits with digestion, immune support, antioxidants, etc.
All NATURAL + naturally sweetened.
Bursting with a nice mix of sweet + tart.
Common Q + A's About These Mocktails.
CAN I MAKE THIS AHEAD OF TIME?
Absolutely! Simply make part of the mocktail (minus the ginger beer) in a medium pitcher the day before, cover with plastic wrap, and refrigerate overnight. The best part about making these ahead of time is that they'll be completely chilled once ready to serve.
WHAT OTHER INGREDIENTS CAN I ADD?
Honestly, you can choose to substitute oranges with mandarins, tangerines, or blood orange as opposed to using oranges. In addition, you can add herbs such as basil, mint, or rosemary to add an extra earthy flavor. Of course, you can always add strawberries to the mix for a nice twist as well.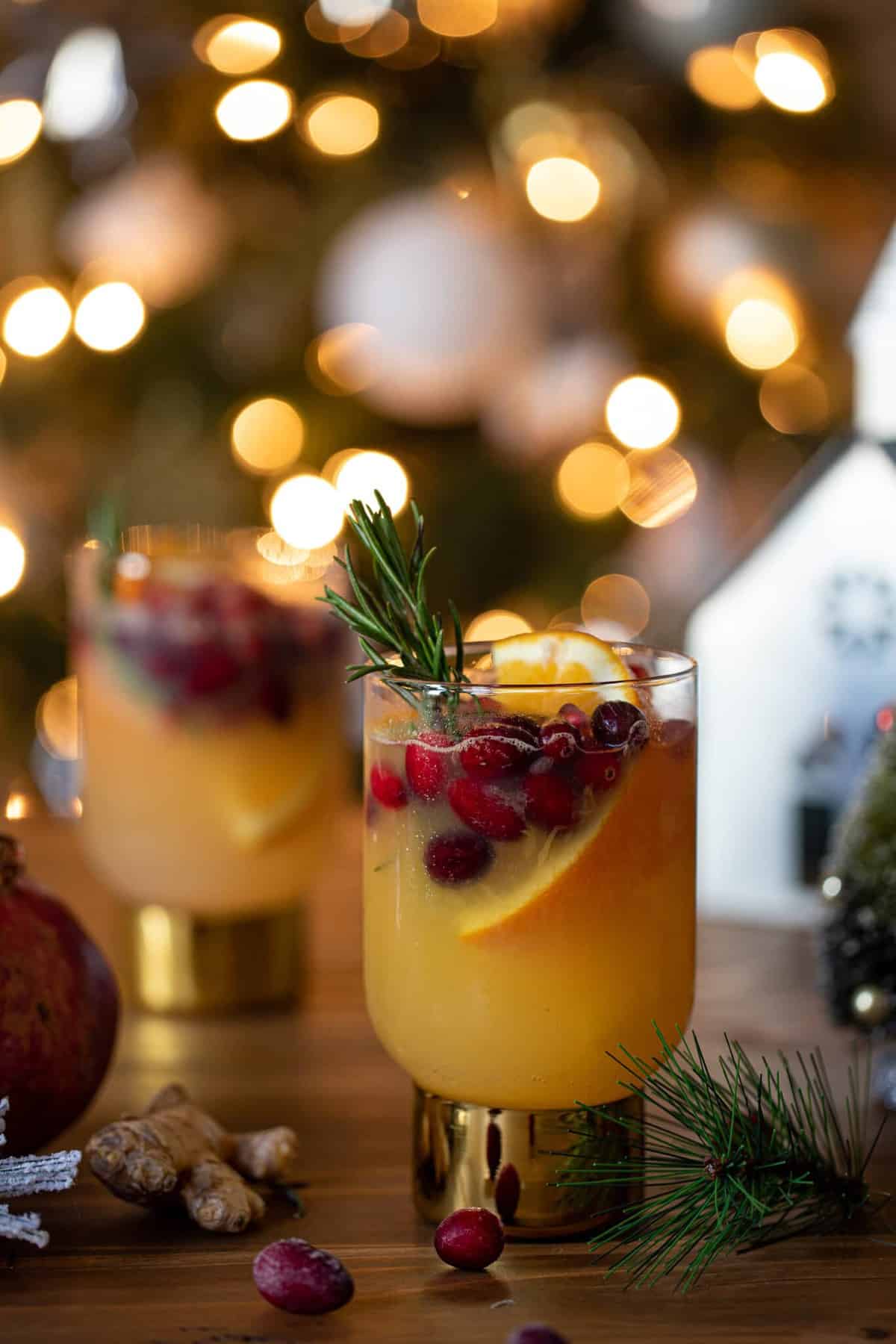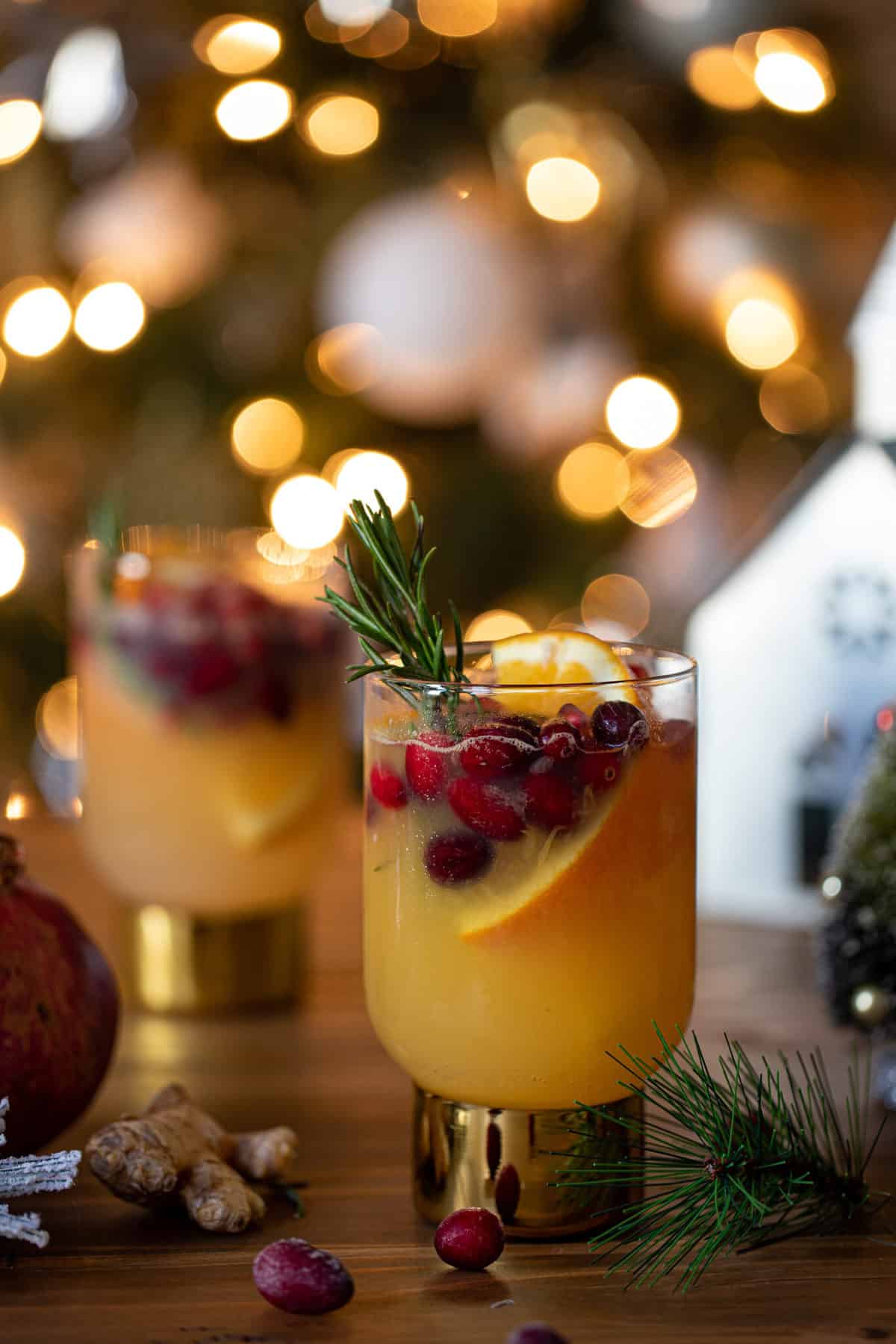 HOW LONG DO THESE LAST?
For optimal freshness, these mocktails (made without ginger beer) will last 3-5 days once covered and refrigerated.
CAN I TURN THESE INTO A COCKTAIL?
Of course! You can always add 1 cup of your favorite alcoholic beverage to these drinks to make them a nice cocktail.
Looking for Other Citrus-flavored Drinks?
For a warmer citrus quench of your thirst—this Lemon Blackberry Mint Tea is EVERYTHING! It's all about the bold mint flavors paired with the bit of tartness from the lemon and slight sweetness from the blackberries.
This Homemade Slow Cooker Apple Cider is the epitome of the sweet smelling Fall season. It's super easy to make (just set it and forget it!), requires only a handful of ingredients, warm and comforting. Bold apple flavor, a hint of citrus, warm spices, and naturally sweetened (if preferred). Can be enjoyed hot or cold. All vegan and gluten-free.
This Pineapple Jalapeño Lime Mocktail recipe is the perfect balance between spicy and sweet for the Holidays. Made with a ginger beer base and infused with orange, lime, pineapple, and jalapeños, these homemade mocktails will leave you feeling refreshed on any given day, especially during the Holidays. So easy to make and shaken together in a few short minutes.
This Citrus Honey Lime Mint Mocktail is the drink for the summer! Made with fresh mint, oranges, lime, and a simple honey-mint syrup, this mocktail is a refreshing addition for the entire family. Spruce it up with your favorite alcohol beverage and create a classic mojito. Quick and easy to make. Vegan option available.
Are Cranberries Good for You?
Did you know that Cranberries are actually related to Blueberries? Yup. However, unlike their relatives, Cranberries are rarely eaten raw because of their sharp + sour taste.
The good thing is that Cranberries are rich in a lot of nutrients!
Did you know that Cranberries were mostly composed on Carbs and Fiber? Yup. The Carbs are mostly simple sugars (which means that they only have 1 or 2 molecular structures).
When it comes to Fiber, Cranberries have a good dose of Fiber, which is the reason why eating an excess amount of Cranberries can cause digestive symptoms such as diarrhea.
Cranberries come jam-packed with Vitamin C, Manganese (essential for growth, metabolism, and antioxidant function), Vitamin E, Vitamin K1, and Copper.
Why Pomegranate Seeds?
OK, so when it comes to adding in these pomegranate seeds, it's definitely a no brainer that these seeds are GORG! I mean, what can they not make look pretty? Haha.
More importantly, while they do make things pretty and festive, pomegranate seeds offer an amazing amount of benefits. The great thing about them is that you can either enjoy pomegranate seeds in their raw form as a nice snack or processed into pomegranate juice. Either way, the health benefits include:
Great source of fiber, protein, Vitamin C, Vitamin K, Folate, + Potassium
Extremely potent with antioxidants
Anti-Inflammatory effects
May help to Lower Blood Pressure
May help to fight Joint Pain
May help to lower your risk of Heart Disease + more!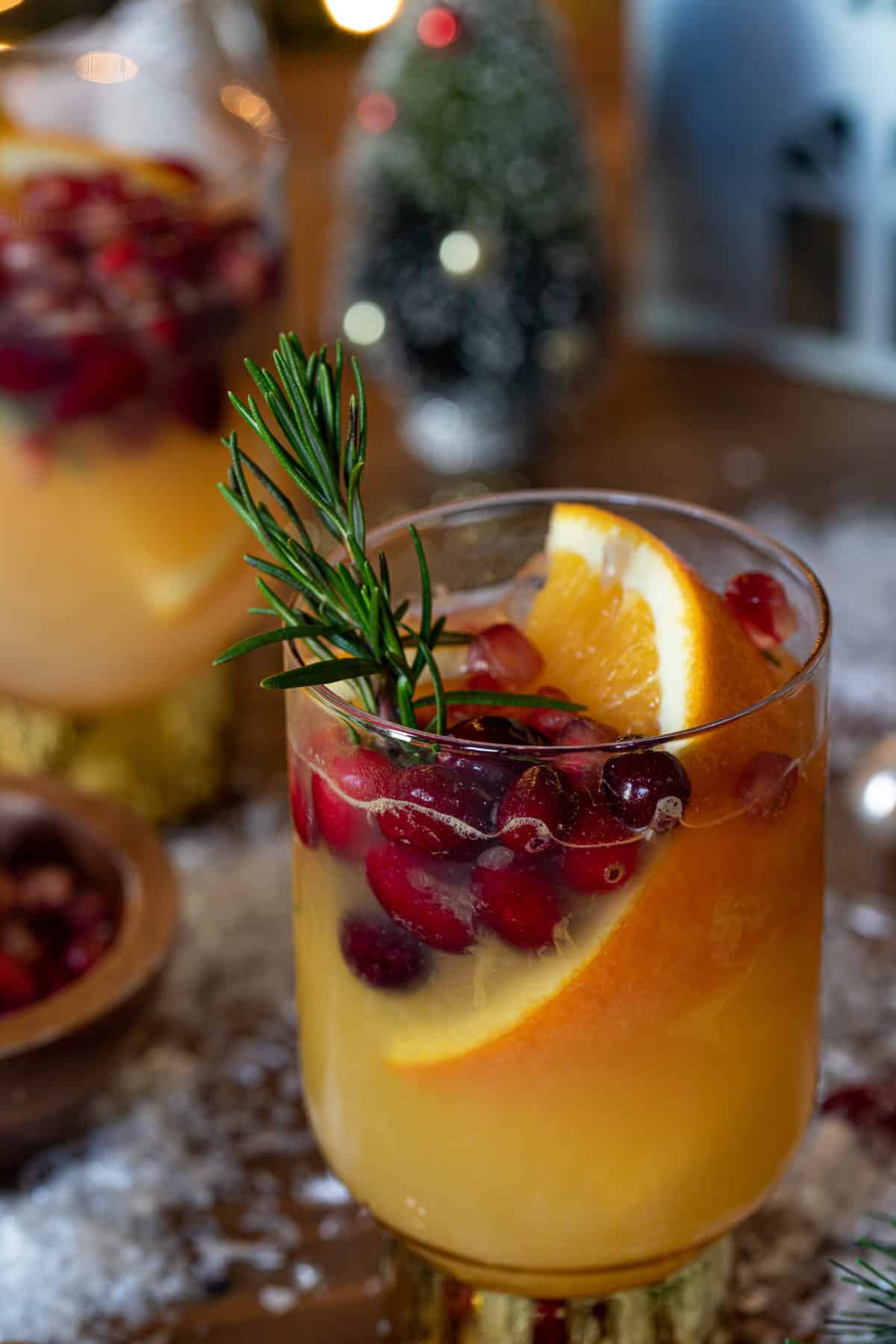 Mocktails:
1

cup

fresh squeezed orange juice

1

cup

fresh or frozen cranberries

pomegranate arils, for topping

ginger beer, for topping

fresh rosemary leaves, for garnish

orange slices, for garnish
In a medium pot over medium-high heat, add water and let it begin to boil. Once boiling, add chopped ginger root and boil for 20 minutes. After 10-15 minutes, turn off the heat, whisk in Agave and cover ginger mixture to steep for about 25-30 minutes to ensure that flavors are fully potent.

In the meantime, in a pitcher, add your freshly squeezed orange juice, along with steeped ginger mixture, stirring everything together until well combined. Add mixture to the refrigerator to chill for a minimum of 2 hours.

To serve—add an ice cube or two into prepared glass(es), followed by chilled juice mixture and ginger beer, stirring together slightly. Add in cranberries, orange slices, and pomegranate seeds and let sit for 2-3 minutes for everything to infuse together in flavor. Garnish with fresh rosemary, if desired.

Sip and enjoy!
STORAGE: Keep any leftovers (without ginger beer) in the refrigerator, tightly covered in your pitcher or in a sealed mason jar. Best if consumed within a few days.
SWEETENER: Add more maple syrup or Agave for more sweetness if needed, 1 Tbsp at a time.
Sparkling Cranberry Orange Ginger Mocktail.