Once you learn how to make homemade hot chocolate, nothing else will do. And, after you try my Caramel Hot Chocolate recipe, you'll wonder how you ever had the packaged stuff. Which, by the way, has so much added sugar, and none of the health benefits of dark chocolate. All dairy-free.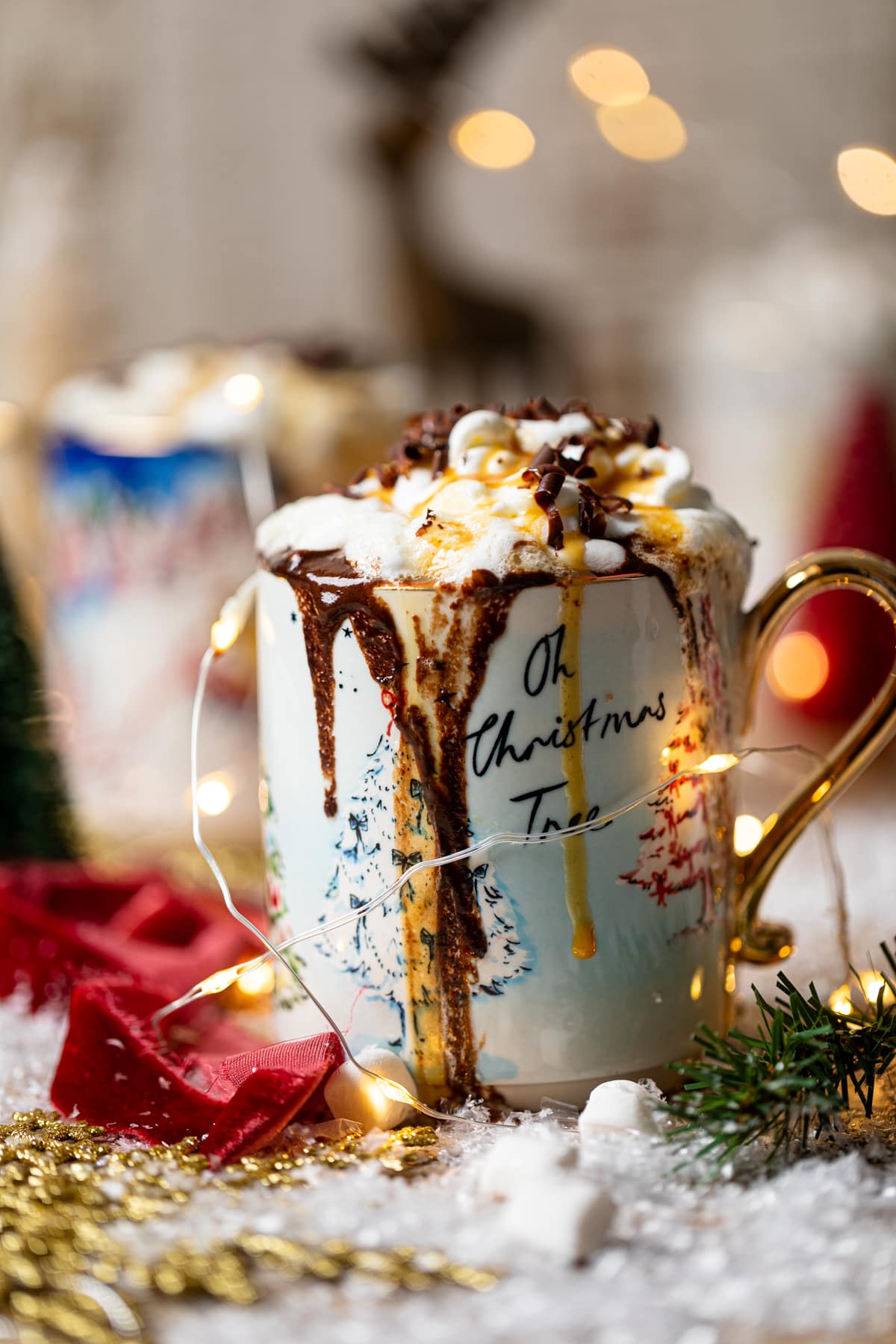 Okay, let's talk about what makes this easy creamy, caramel hot chocolate recipe so amazing! You're not going to believe it, but my Creamy Homemade Caramel Hot Chocolate has three types of chocolate. That's right, I use semi-sweet chocolate, dark chocolate and organic cocoa powder for a rich, decadent blend of pure chocolatey goodness! It's literally layer upon layer of chocolate. Yum!
The ingredients for this recipe come together so easily. First, we heat oat milk and coconut cream, then we add the cocoa powder, and finally we melt in the chocolate bar pieces. For a finishing touch, my vegan caramel hot chocolate recipe is sweetened with maple syrup, salted vegan caramel sauce, and vanilla. Adding a pinch of cinnamon for some warm holiday spice makes for one of the best warm Christmas drinks I've ever had! Plus, if you're a lover of chocolate, then you'll love this Vegan Chocolate Cake, Homemade Vegan Oat Milk Chocolate Bars, and Big Brown Butter Chocolate Chip Cookies. Oh and this Vegan Caramel Eggnog Mocktail is truly a new staple to enjoy during the holidays also!
If you have ten minutes, you can have creamy homemade caramel hot chocolate. It's such a special treat for those cold, snowy days.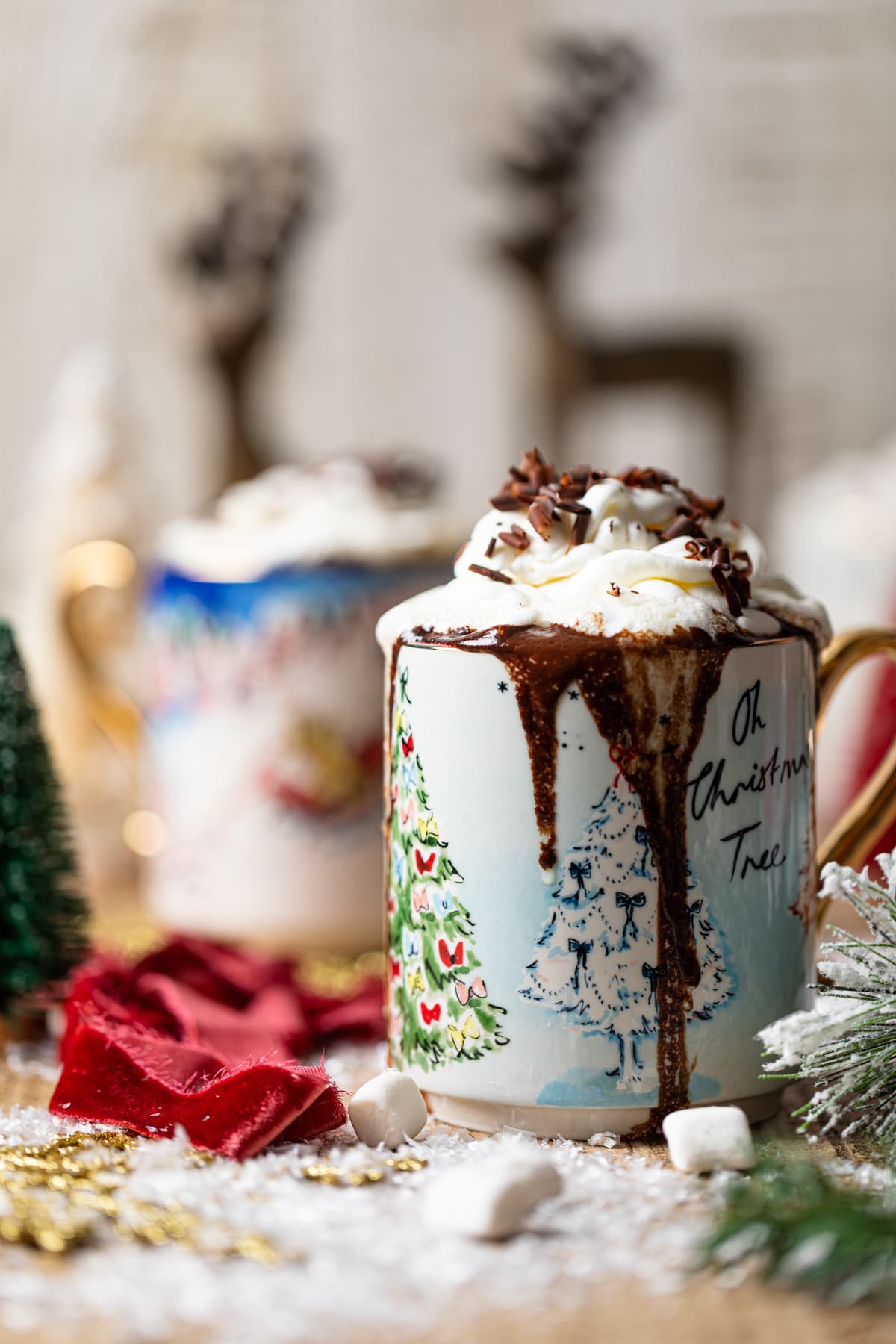 What kind of chocolate to use in hot chocolate?
When you buy your chocolate bars, you'll notice that chocolate comes in a ton of different types. Dark chocolate, for example, can be as high as 80% dark chocolate, or as low as 65%.
Bon Appetit does a great job of breaking down the differences between the many types of chocolate out there. For this vegan hot chocolate recipe, the only chocolate you'll want to avoid is milk chocolate. Because, you guessed it. Milk chocolate contains milk!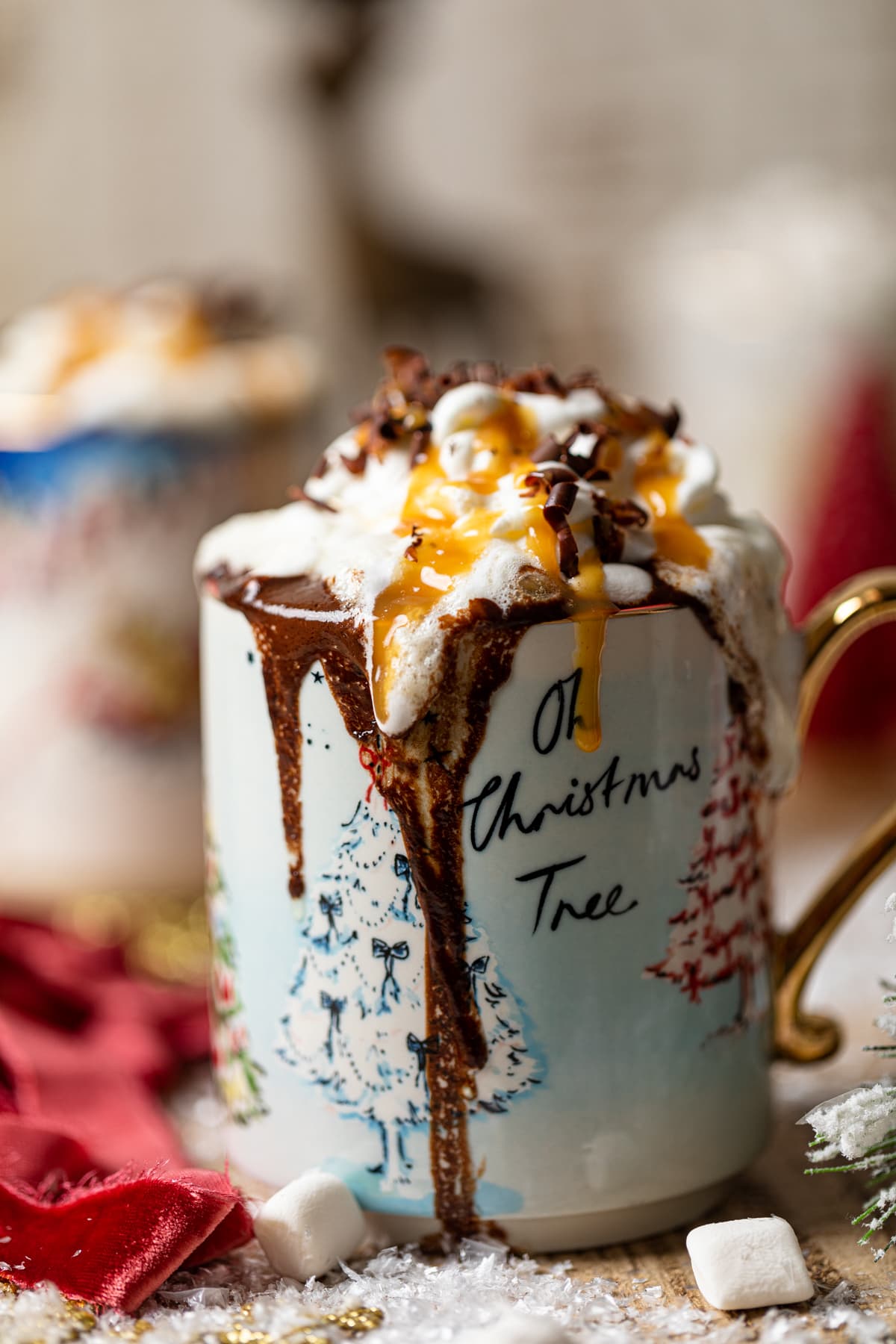 Hot Chocolate Topping Ideas
Homemade hot chocolate is so customizable. When it comes to hot chocolate topping ideas, try:
Vegan marshmallows

Chocolate chips or shaved chocolate pieces

Almond or coconut milk whipped cream

Vegan caramel sauce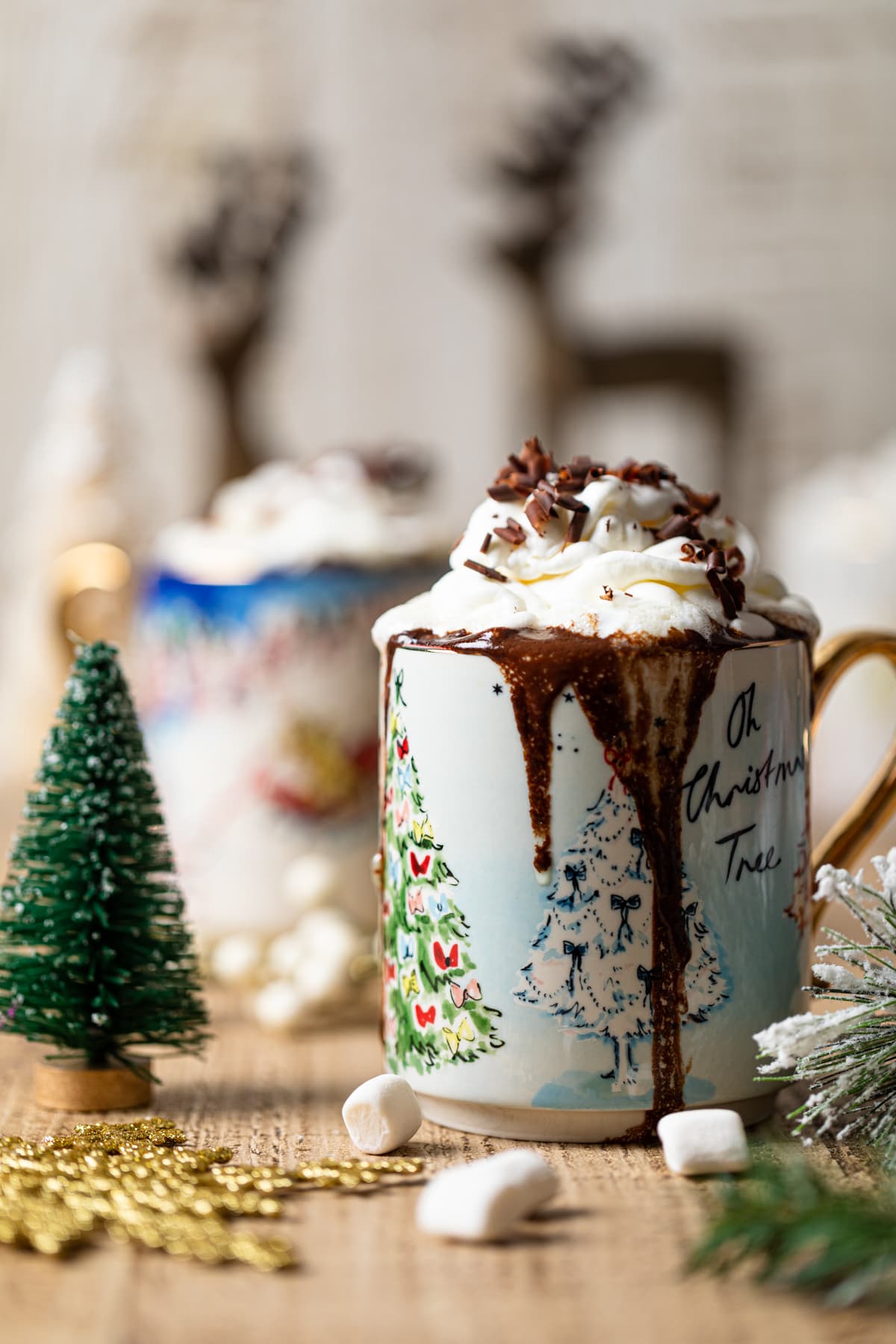 How to Prepare Caramel Sauce for Hot Chocolate?
Here's a step-by-step guide to preparing your vegan caramel sauce:
Get a medium-sized skillet and toss in some brown sugar.
Keep the heat about medium-high and stir the sugar constantly using a rubber spatula or a basting brush.
Add vegan butter slice and continue to stir until the mixture has melted.
Once the mixture is bubbly, add coconut milk to the skillet.
Keep stirring until the sauce thickens.
Remove the pan from heat and allow it to cool.
You've now got your dairy-free, healthier, and delectable caramel sauce ready. Make sure to prepare it in excess so you can make your Caramel Hot Chocolate on the go later on!
Best Ways to Use Homemade Caramel Sauce
When it comes to using this vegan caramel sauce (or any leftovers), I've gathered a list of ways that you can best use it:
Drizzle creamy caramel over oat milk, almond or coconut ice cream.
Add a dollop to vegan brownies (yum!).
You can even add homemade caramel sauce to your favorite desserts like vegan cheesecake, cake, cupcakes, etc.
Also, add a bit of sweetness to your 

coffee/latte

, chia pudding, overnight oats, or french toast for a morning kick!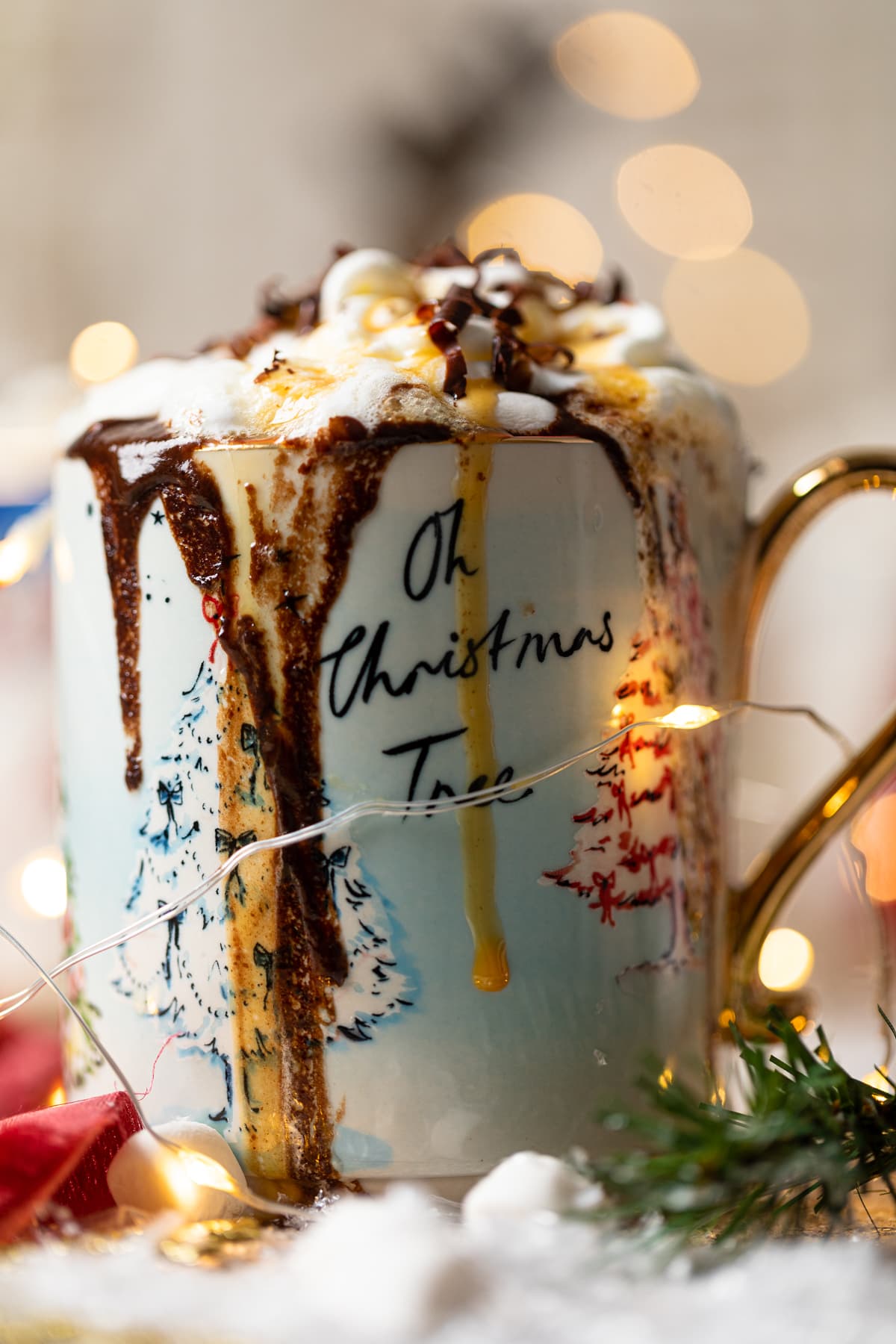 What to Serve with Homemade Caramel Hot Chocolate
While salted caramel hot chocolate is great on it's own, pairing this rich, delicious drink with some extra sweet treats is pretty heavenly! If you're enjoying my Creamy Homemade Caramel Hot Chocolate around the holidays, try serving it with Soft and Chewy Christmas Gingerbread Cookies, Soft Oversized Crinkled Sprinkle Sugar Cookies, or Vegan Brownie Cookie Dough Cake.
You could also try my Homemade S'more Ice Cream with the hot chocolate. The way hot and cold flavors and textures go together is delightful!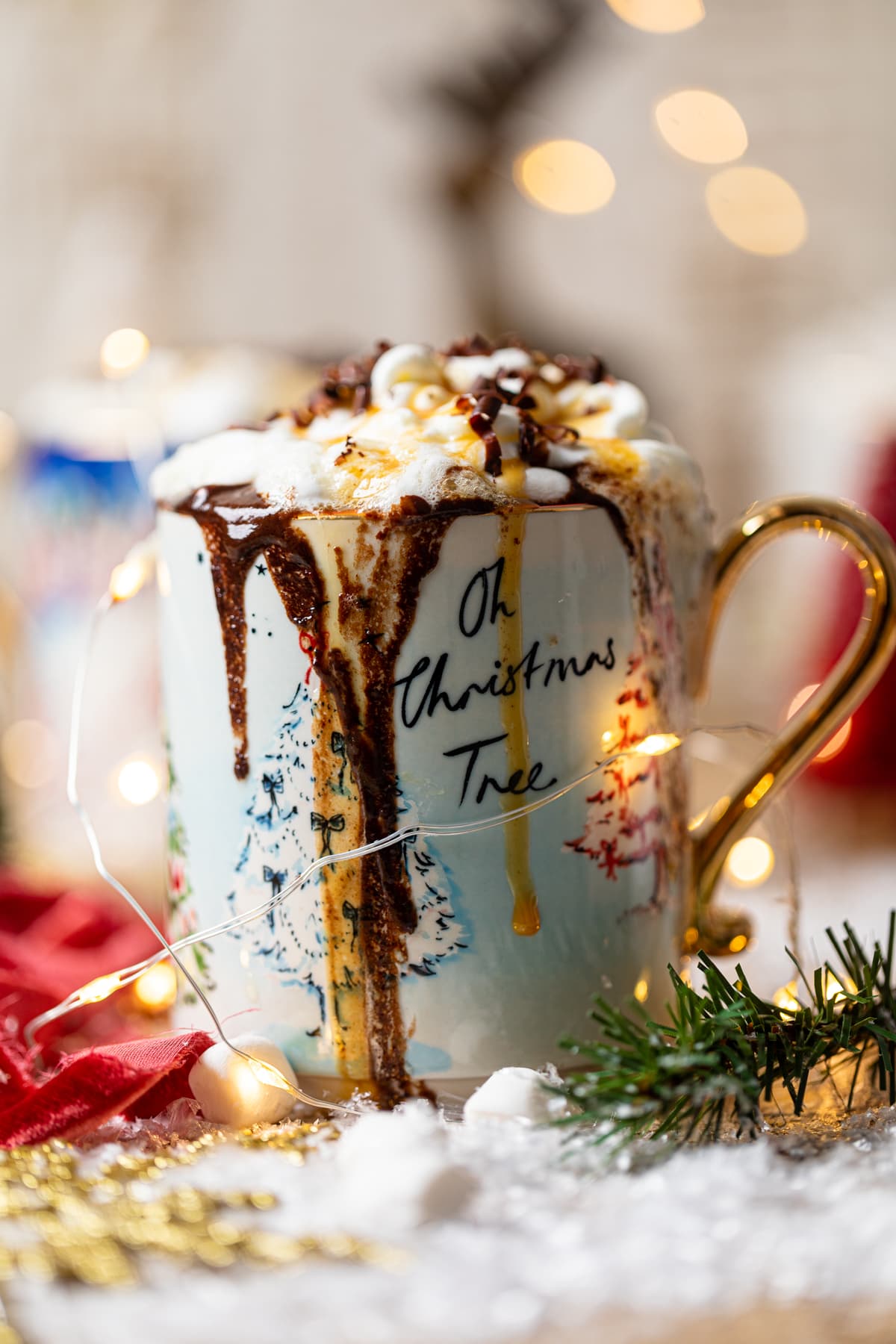 MADE OUR RECIPE(S)?
If you make this Creamy Homemade Caramel Hot Chocolate, tag @orchidsnsweettea_ on Instagram and hashtag it #orchidsandsweettea
HOT COCOA:
2

cups

Oat milk

(You can use your favorite plant-based milk!)

1

(14 oz.) can

full-fat coconut milk/cream

1

cup

dark chocolate bar, chopped

(Ensure that it's dairy-free, of course!)

1 ½

cups

semi-sweet chocolate bar, chopped

(Ensure that it's dairy-free, of course!)

2

Tbsps

organic cocoa powder

2

Tbsps

pure maple syrup

¼

cup

vegan caramel sauce

1

teaspoon

vanilla extract

pinch of

ground cinnamon
HOMEMADE VEGAN CARAMEL SAUCE:
1

cup

organic brown sugar

6

Tbsps

vegan butter

½

cup

full-fat coconut milk

pinch of

sea salt
OPTIONAL TOPPINGS:
Vegan marshmallows

Coconut whipped cream

Semi-sweet chocolate bar shavings

(Ensure that it's dairy-free, of course!)

Vegan Caramel Sauce, drizzle
TO MAKE HOMEMADE VEGAN CARAMEL SAUCE:
Heat the brown sugar in a medium skillet over medium-high heat and stir constantly using a rubber spatula until clumps are formed. Add vegan butter and continue to stir until everything has melted and become a dark 'amber-like' color. Continue to stir consistently until fully melted and bubbly, about 2-3 minutes.

Now, slowly whisk in the coconut milk and continue stirring until well incorporated and sauce has fully thickened. Remove from heat and allow to cool slightly before using. Set aside.
TO MAKE THE HOT COCOA:
In a saucepan over medium-high heat, add the milk and coconut cream and bring to a boil for 1-2 minutes, whisking to combine.

Add the cocoa powder and continue to whisk until fully incorporated and smooth. Turn the heat to low and add chopped chocolates, vanilla, caramel sauce, maple syrup, and spices. Continue to whisk until completely smooth and mixture becomes thickened. NOTE: If hot chocolate isn't sweet enough, you can add an additional 1 tablespoon of maple syrup.

To serve, pour hot chocolate in prepared mug(s) and top with marshmallows or coconut whipped cream and sprinkle with chocolate shavings and a caramel sauce drizzle, if desired.

Sip and enjoy!
SWEETENER: You can always use Agave, maple syrup, Vegan honey, or organic brown sugar as a sweetener, For vegan honey—-Bee Free Honee, click link.
STORAGE: Best when consumed once prepared. If there is leftovers, simply store in an airtight container in the refrigerator for up to 2 days.
CHOCOLATE: If preferred, you can always use dairy-free chocolate baking chips instead of chocolate bars. However, for best results----chocolate bars are what I recommend.
MAKE AHEAD: Simply make your hot chocolate a day in advance and follow storage instructions. To reheat, simply add hot chocolate to a medium saucepan and heat over the stove top for about 3-4 minutes, whisking consistently.
OTHER SPICES: To really spruce things up, you can always choose to mix and match the following spices: instant espresso powder, allspice, cayenne pepper, or turmeric.
Calories:
1187
kcal
|
Carbohydrates:
138
g
|
Protein:
11
g
|
Fat:
68
g
|
Saturated Fat:
34
g
|
Polyunsaturated Fat:
7
g
|
Monounsaturated Fat:
22
g
|
Trans Fat:
3
g
|
Cholesterol:
5
mg
|
Sodium:
278
mg
|
Potassium:
955
mg
|
Fiber:
12
g
|
Sugar:
112
g
|
Vitamin A:
309
IU
|
Vitamin C:
0.4
mg
|
Calcium:
318
mg
|
Iron:
12
mg