Vegan Blueberry Blackberry Jam Muffins are fully loaded with plenty of fresh berries and drizzled with a sweet blueberry glaze. The perfect sweet treat for breakfast, brunch, or a celebration.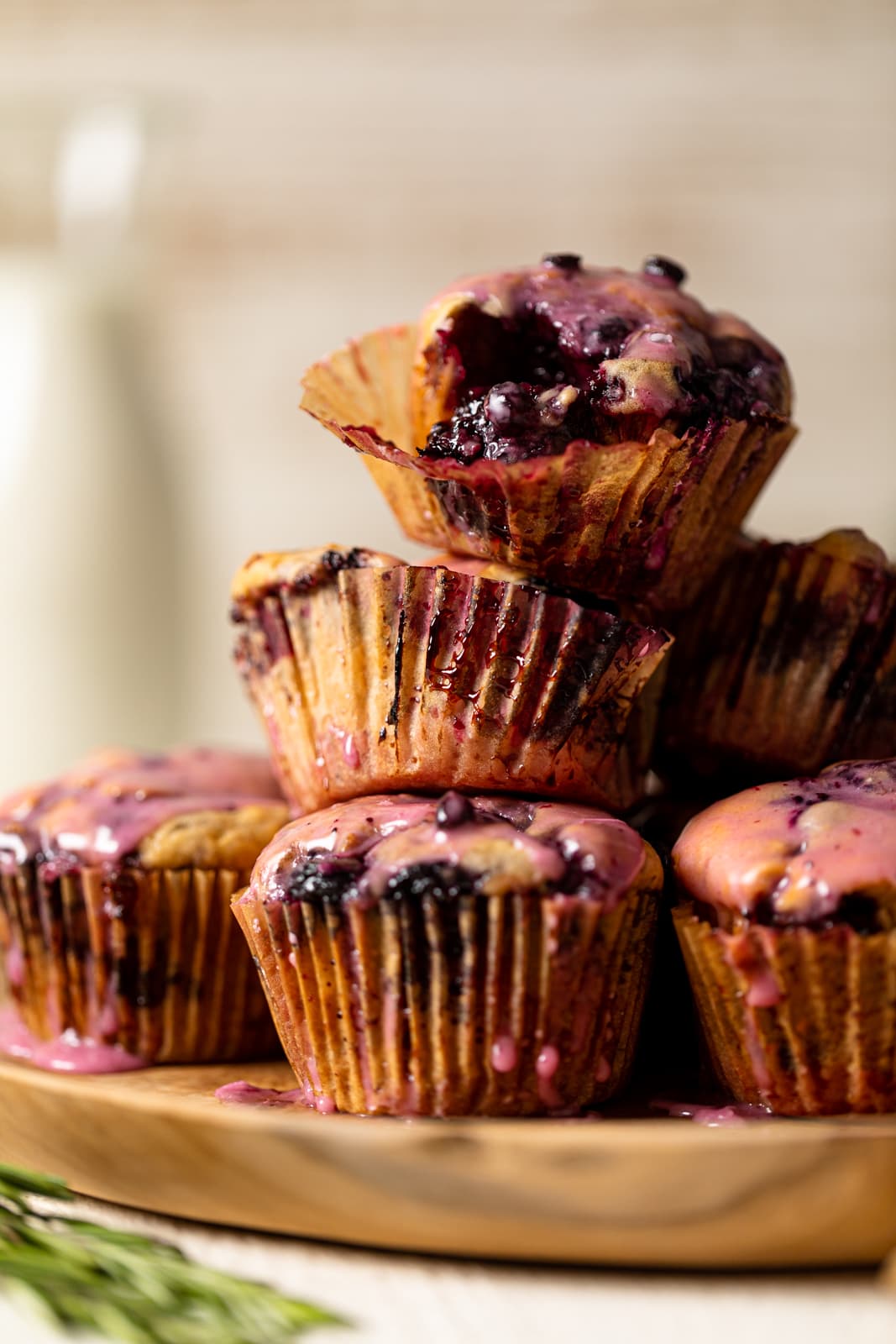 Disclaimer: This post contains affiliate links via Amazon for products that I wholeheartedly love and receive commission from.
I love starting my day with a healthy breakfast like Vegan Breakfast Parfait with Blueberries & Granola or Vegan Superfood Breakfast Cookies. But sometimes you just crave something sweet in the morning. When that happens, these Blueberry Blackberry Jam Muffins are my go-to. They're dairy-free and egg-free, so they're also great to bring to a pot luck where there might be guests with food allergies. Plus, they're fast and easy to make!
When it comes to these vegan blueberry muffins, I love their perfect size which is the standard, but you can totally switch things up by turning them into mini ones or a jumbo size and really made for a nice satisfying grab and go situation in the mornings or evenings as a dessert. Muffins aren't usually my go-to, but these blueberry muffins are one that I can easily put on my top list.
Plus, these are so kid-friendly and they make for such a great Back-to-school treat.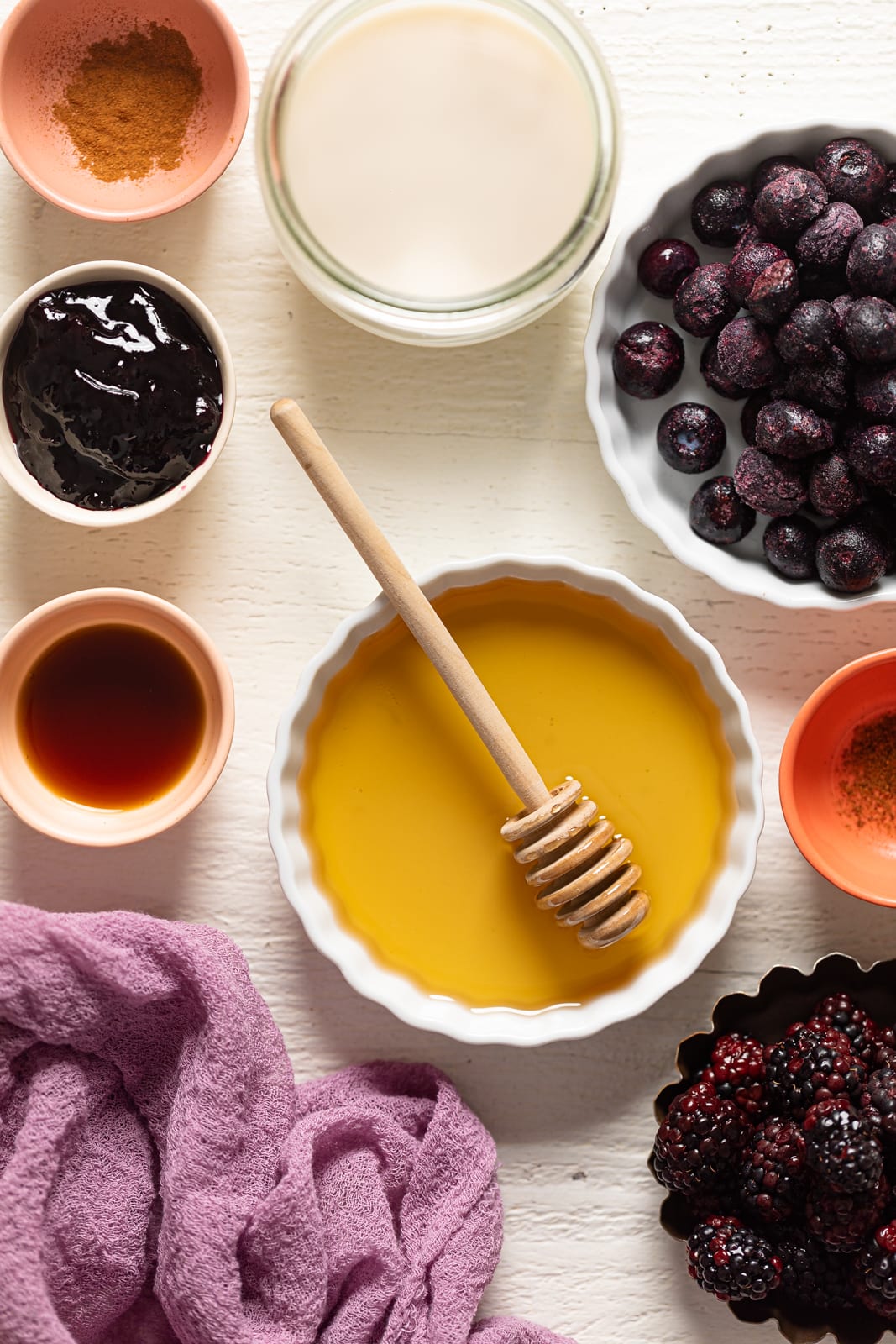 How to Make Vegan Blueberry Muffins
These muffins as I've mentioned before are super easy to whip together and doesn't require anything special when it comes to ingredients. Simply mix together all ingredients in a bowl, line your cupcake or muffin tin with parchment cups, pour half the batter in each cavity, spoon with jam, and cover the tops with more batter. Then you'll bake everything to perfection and whip together a velvety glaze to top things off. Wallah!
Ingredients for Vegan Blackberry Jam Muffins
The ingredients for these healthy dairy- and egg-free muffins are easy to find. Here's what you need to make the muffins:
Flour. I use organic all-purpose flour from Bob's Red Mill.
Brown sugar. Choose organic to ensure it's vegan.
Baking powder and soda
Spices. These are flavored with cinnamon and ground nutmeg
Fresh berries. I love the mixture of blueberries and blackberries.
Blueberry preserves. You can use homemade or any store-bought preserves you love.
Vanilla extract.
Almond milk. Any kind f milk will work. If want to have the freshest tasting milk, make your own almond milk with this recipe.
Apple cider vinegar. This makes dairy-free buttermilk for a bit of tang in your muffins.
Maple syrup. You can use a different sweetener if you prefer, such as coconut sugar, Agave syrup, organic cane sugar, or honey if you're not vegan.
Vegan butter. I like Earth Balance Vegan Buttery Sticks for baking.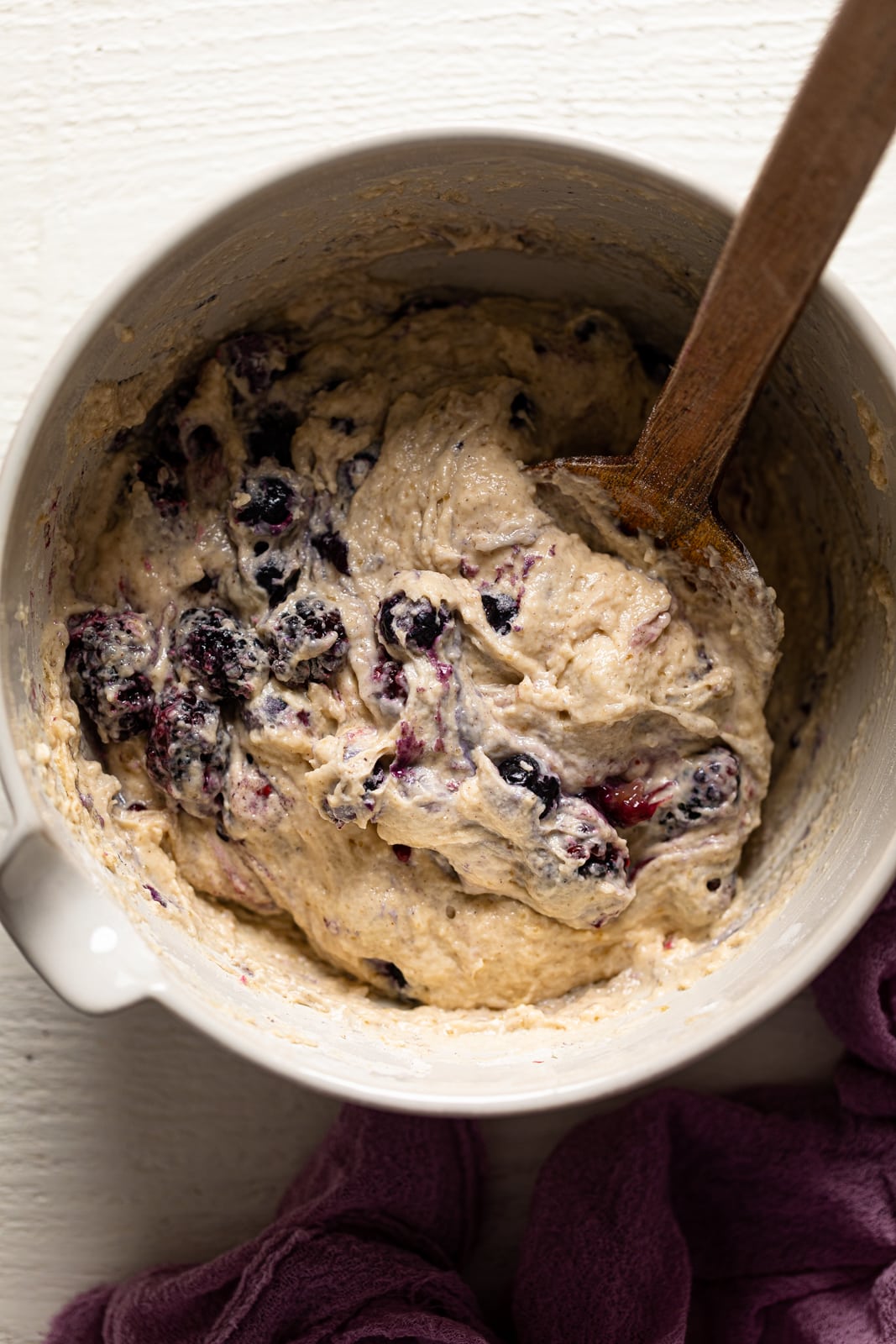 Glaze for Blueberry Blackberry Jam Muffins
These pretty berry jam muffins are topped with a three-ingredient glaze made with:
Powdered sugar. Granulated sugar will give your glaze a gritty texture that's not what you want.
Blueberry preserves. If you prefer blackberry or another fruit, feel free to use a different kind of preserves.
Lemon juice. To add a nice amount of peppy brightness to the glaze.
Roasted Blueberries
Add extra, bold blueberry flavor to your muffins by roasting them instead of using fresh or frozen:
Blueberries. Again, fresh works best for the best roasting results.
Olive oil. Helps the blueberries to wilt and roast nicely.
Brown sugar. I like organic sugar.
Lemon zest. To add some citrus flavor and help to bring out the juices out of the blueberries.
To see the actual measurements, check out my Vegan Roasted Blueberry Muffins recipe!
How to Roast the Blueberries
Preheat the oven to 400 degrees Fahrenheit and line a baking sheet with parchment paper.
Add the blueberries unto the baking sheet (in a single layer) and drizzle with olive oil and sprinkle with brown sugar and lemon zest. Bake for 10-15 minutes or until blueberries are wilted, and the juices are bubbling. Remove from oven and let it cool completely.
Will Frozen Berries Work?
Yes, you can make these jam muffins with fresh or frozen berries. If you use frozen berries, you'll want to dust them in a layer of cornstarch or flour to help absorb some of the liquid frozen berries release.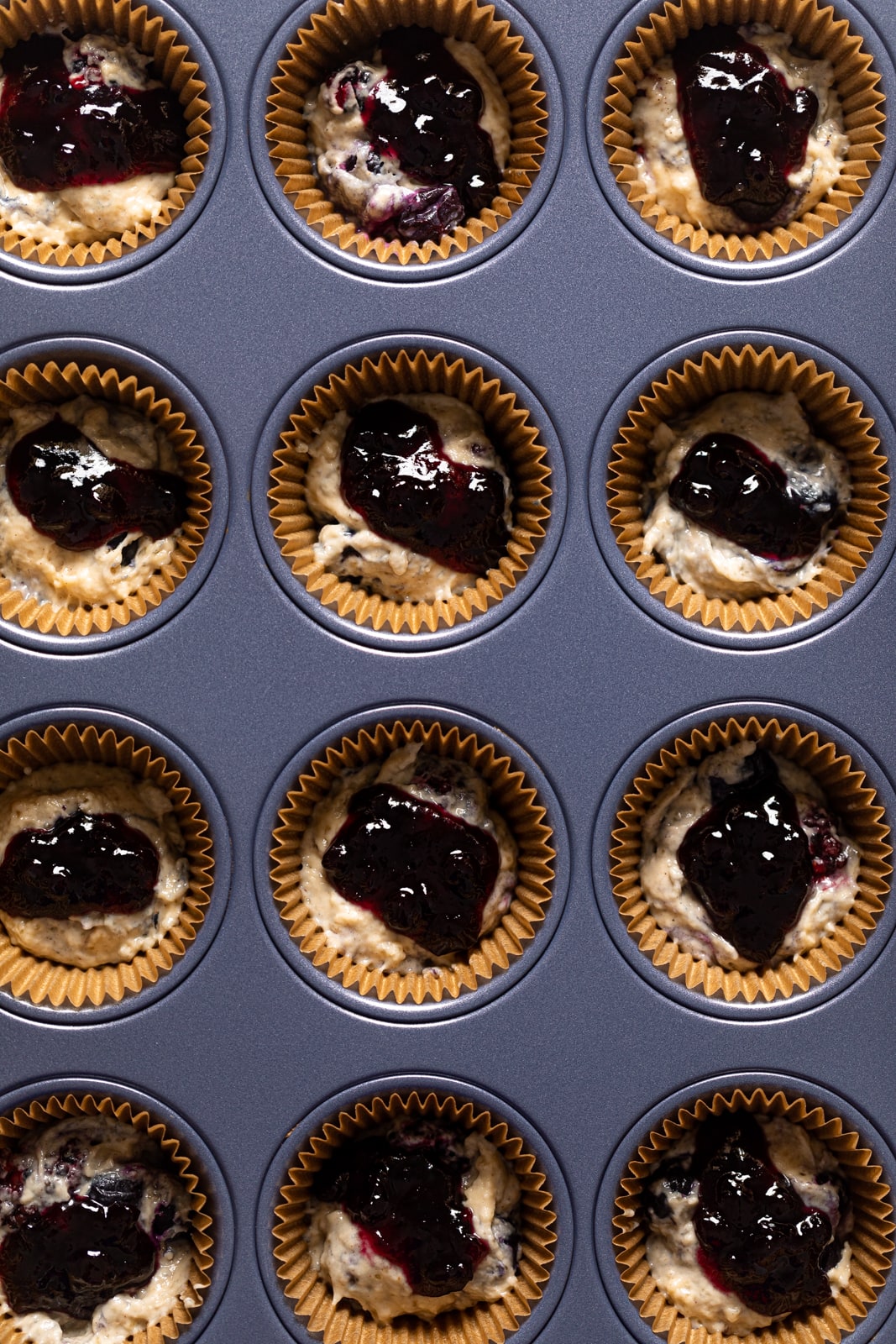 Can I Use Another Plant-Based Milk?
Yes, you can use any dairy-free milk you like to make these Blueberry Blackberry Jam Muffins. Here are some easy recipes to make your own milk that's cheaper and so easy!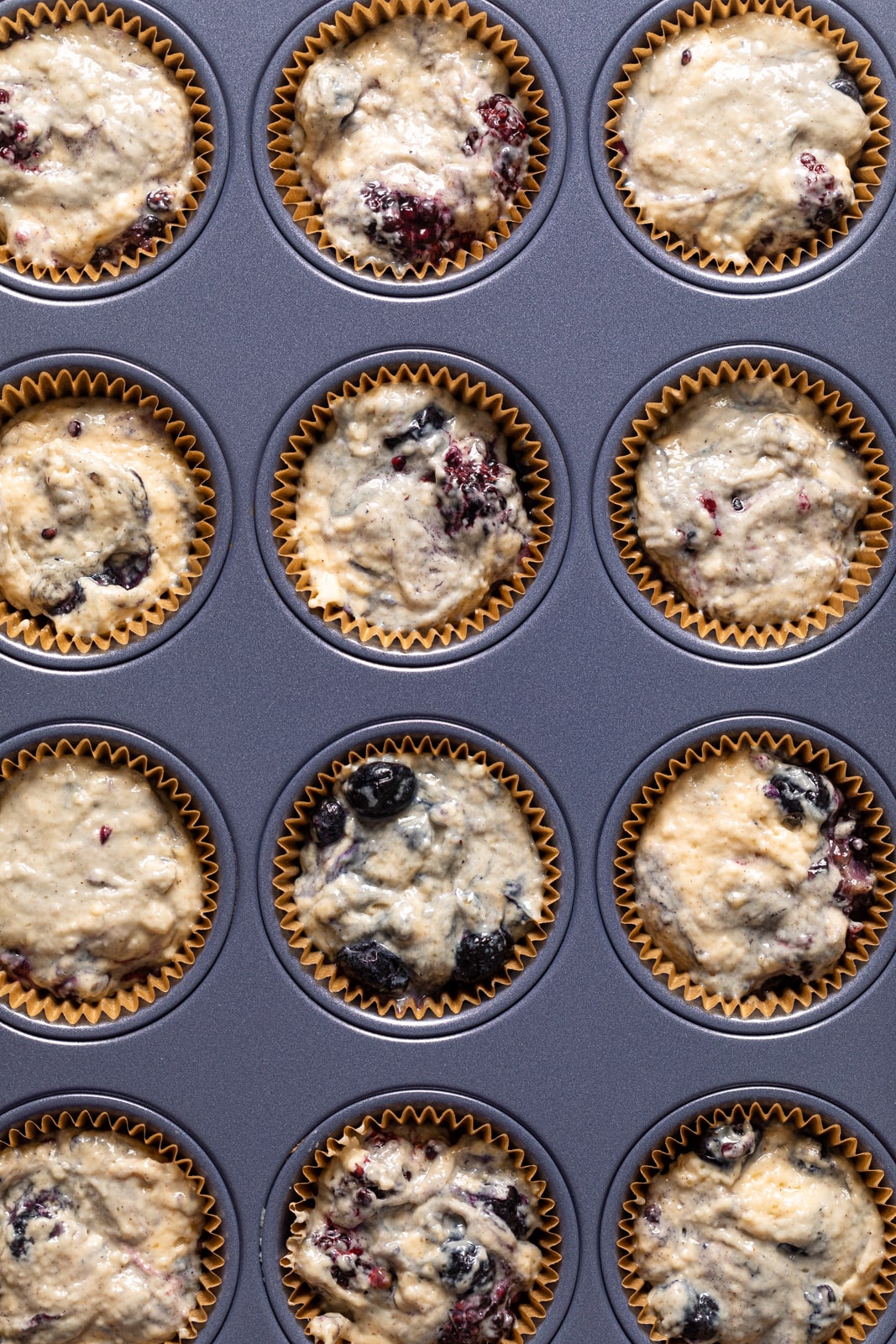 Other Sweeteners for Blueberry Blackberry Jam Muffins
If you'd like to swap out the granulated or liquid sweetener in this recipe, you have options. Start with this guide to The Best Healthy Sugar Alternatives + Substitutes. 
Coconut sugar, date syrup, maple syrup, honey, or bee-free honey are all great options!
Muffin Baking Equipment
Many of us have the necessary equipment to make muffins or cupcakes. In case some of us do not, here is the ultimate list of easy equipment needed to bake the perfect Vegan Muffins which can all be found on my Amazon shop list:
Muffin tin
Paper liners
Ice cream scoop
Mixing bowls
Spatula
Oven timer
Vegan nonstick spray (just in case!)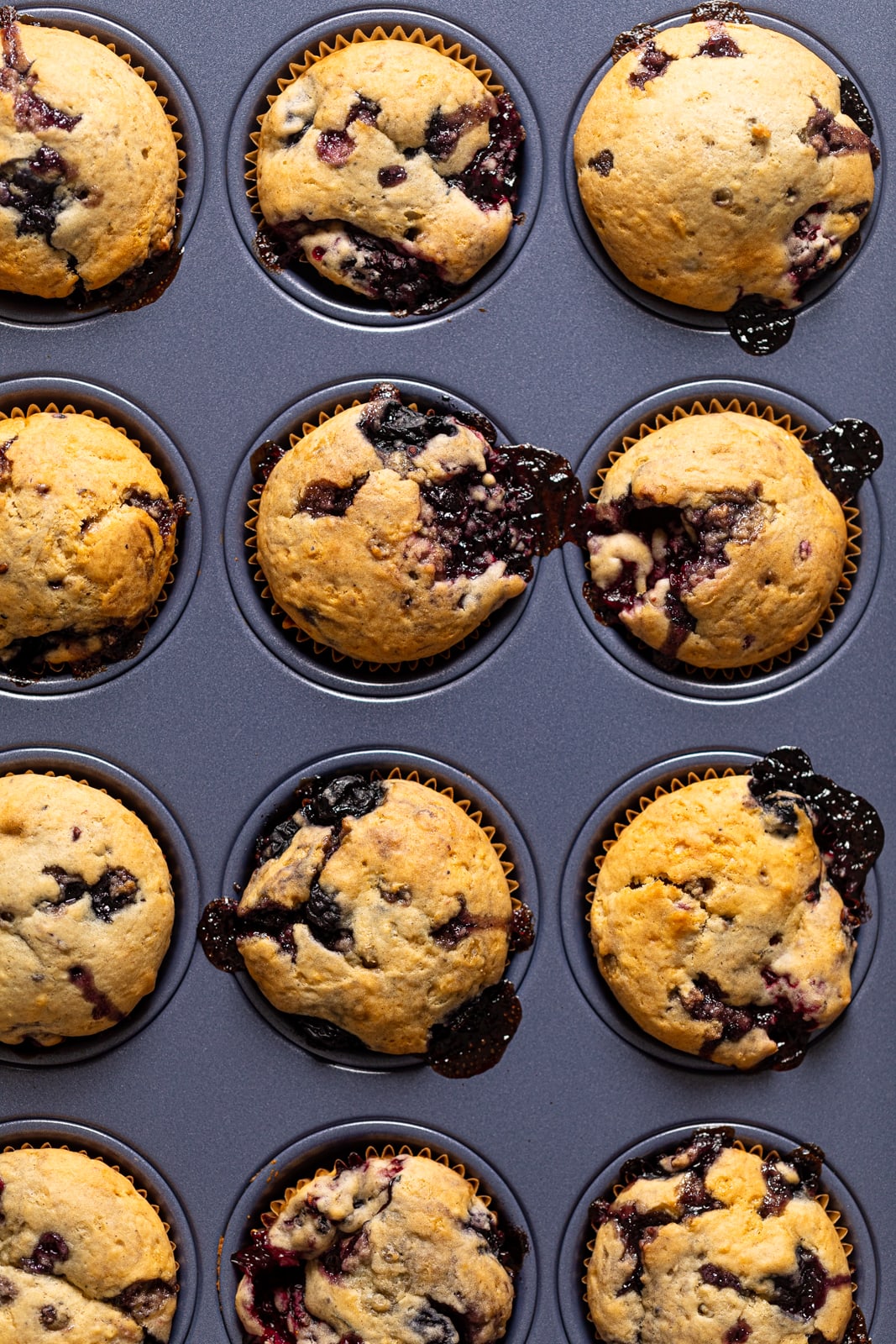 Storage Suggestions
You can store leftover fully cooled blackberry jam muffins at room temperature in an airtight container for up to four days. Or in the freezer for up to two months. The muffins will defrost at room temperature in a few hours or you can pop them in the microwave for 30 seconds or so to enjoy warm.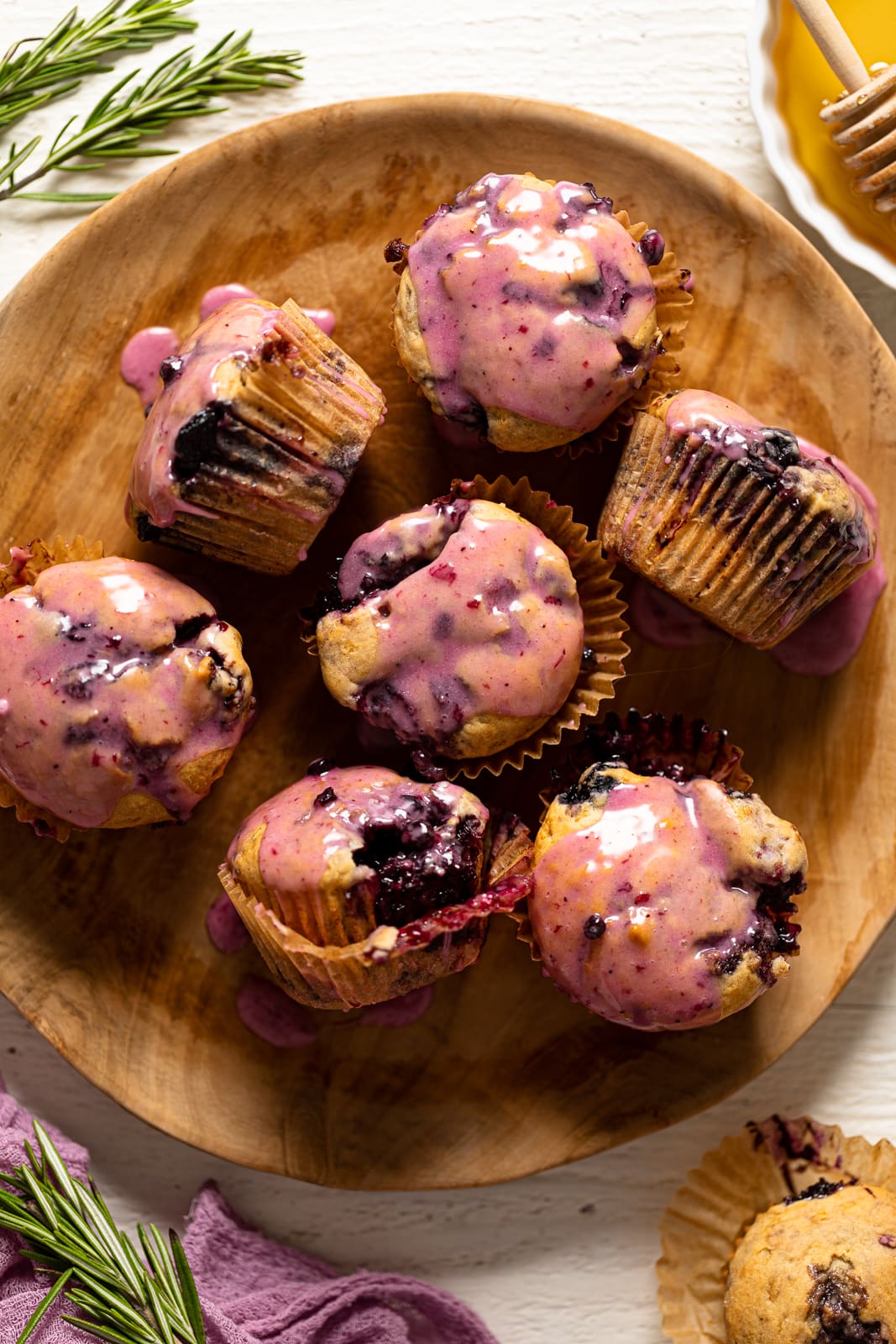 How Many Muffins Does the Recipe Make?
This recipe makes 12 regular-sized blackberry jam muffins. You could also make 8 large muffins or 24 minis!
Feel free to scale the recipe up for a larger batch or cut it in half if you like.
Can I Make these Vegan Blueberry Muffins Gluten-Free?
If you would love to make these muffins gluten-free, then substituting all-purpose flour with Bob's Red Mill 1-to-1 Baking Flour is the easiest option. It's a special blend of gluten-free flours, starches, and xanthan gum, which makes this bread just as soft, fluffy, and airy as the original!
They also have a great All-purpose GF flour that works great as well, however, you would need to add xanthan gum since it's not included. NOTE: If the muffin batter is too 'thin + runny', simply add additional GF flour, ¼ cup at a time. Always, start with reducing milk to ½-¾ cup to start and work your way to 1 cup depending on batter consistency.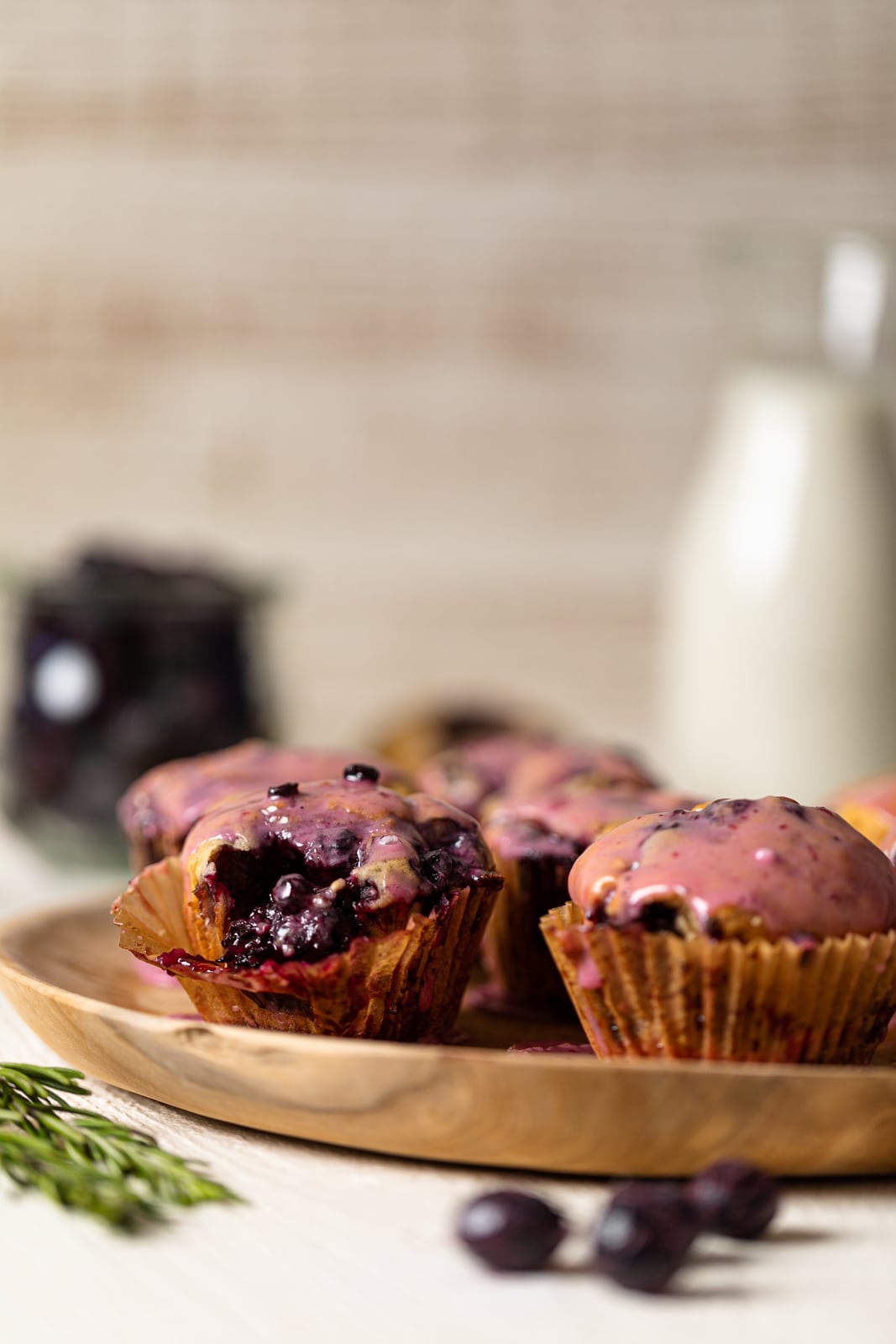 How to Know If Your Baking Powder + Baking Soda are Fresh
Baking is such a science, but more importantly because certain ingredients like your leaveners (aka baking powder + baking soda) are completely fresh so that your muffins (and other baked goods) fully rise and bake through nicely.
Incase you weren't aware, there's an easy to double check both the baking powder and baking soda. Here's what you need:
BAKING SODA HACK:
-Add 1 teaspoon baking soda with ¼ cup vinegar or lemon juice in a bowl and if it's fresh, the mixture should "bubble/fizz". If no bubble/fizz is present, then your baking soda needs to be replaced.
BAKING POWDER:
-Add 1 teaspoon baking powder with ¼ cup Hot tap water in a bowl and if it's fresh, the mixture should "bubble/fizz". If no bubble/fizz is present, then your baking powder needs to be replaced.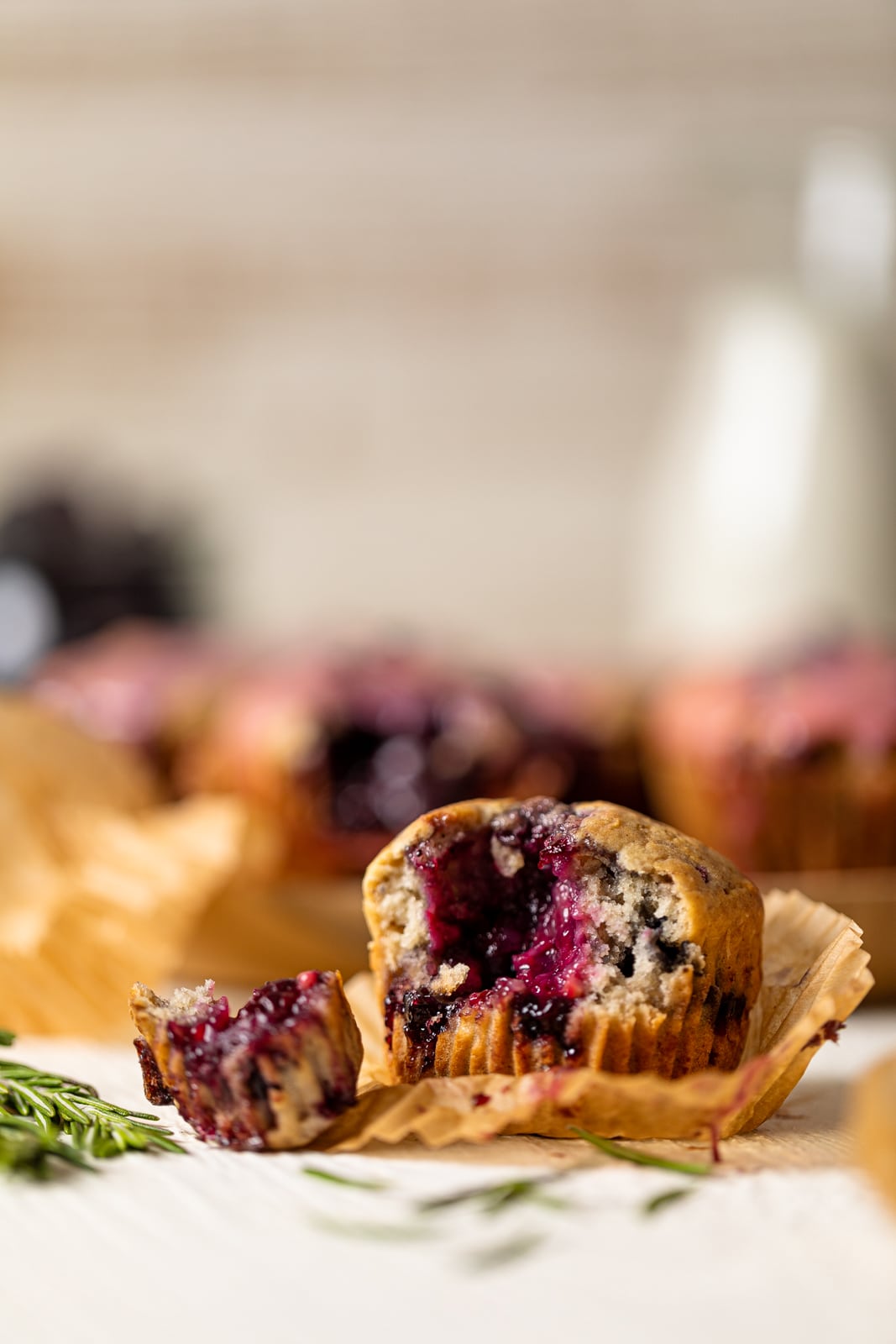 More Vegan Muffin Recipes
MADE OUR RECIPE(S)?
If you tried these Blueberry Blackberry Jam Muffins recipe or any other recipe on my website, please please leave a 🌟 star rating and let me know how you go in the 📝 comments below. I love hearing from you.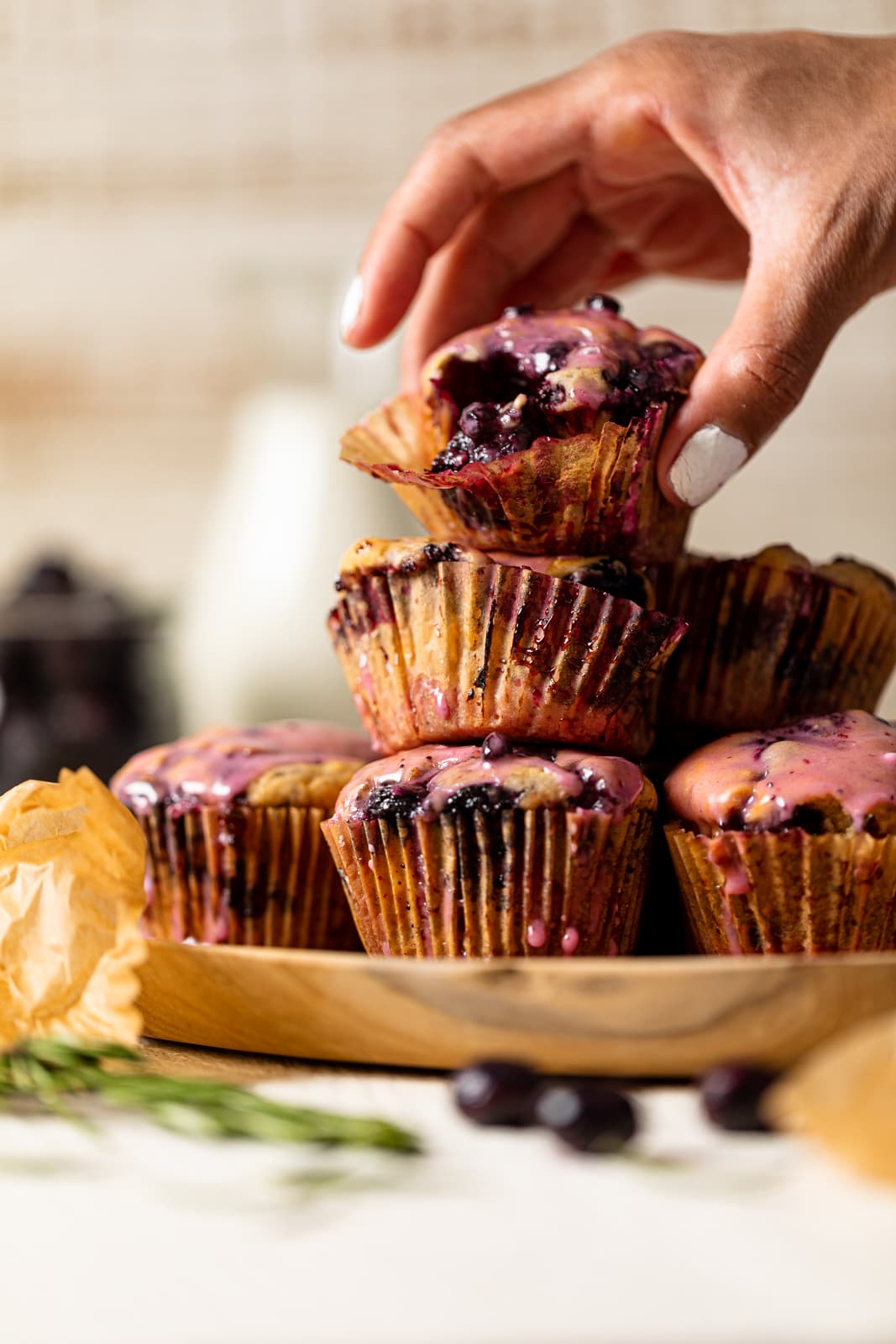 BLUEBERRY GLAZE:
2

cups

organic powdered sugar, sifted

1-2

Tbsps

blueberry preserves

1

teaspoon

freshly-squeezed lemon juice
TO MAKE MUFFINS:
Add the Almond milk and apple cider vinegar together in a small bowl, stirring together until combined and letting it sit for 5 minutes until it becomes "slightly thickened" and activated.

Preheat your oven to 375F. Lightly grease your muffin pan (for larger muffins) or for standard muffins, line the wells with liners.

In a large bowl, add the flour, baking powder, baking soda, sugar, cinnamon, nutmeg, and sea salt and mix together until combined. Add in the milk-ACV mixture, melted butter, vanilla, and Agave, mixing together until combined. NOTE: DO NOT OVER-MIX!

Fold in the fresh blueberries and blackberries.

NOTE: The batter should look moist, but thick where it's 'scoop-able' but not easily poured. If way too thick, add 1-2 Tbsps more milk. If too runny, add more flour, 1 tablespoon at a time.

In the prepared muffin pan, add 1 tablespoon of batter to fill each muffin cavity half way. Then, add 1 tablespoon of blueberry preserves into each cavity atop batter followed by another tablespoon of batter to cover the preserves.

Now, add additional blueberries/blackberries atop the batter (gently pressing them in) if desired and place it in the oven.

Bake muffins for 20 to 24 minutes or until the centers come out clean. Once fully baked through, remove from oven and let the muffins cool in the pan before removing.
TO MAKE THE BLUEBERRY GLAZE:
Whisk together the powdered sugar, blueberry preserve, and lemon juice until smooth and consistency is met. NOTE: For a thicker glaze, add additional powdered sugar (1 tablespoon at a time) until consistency is met. For a desired thinner glaze, add Almond milk (1 tablespoon at a time) until consistency is met.

Once muffins are fully cooled, spoon the prepared blueberry glaze unto each muffin and set them back onto cooling rack so that glaze hardens a bit, about 2-3 minutes.

To serve, enjoy muffins along with your favorite coffee, tea, or a glass of plant-based milk.

Bon Appetit!
STORAGE: Leftovers can be tightly sealed in the refrigerator for up to 5 days. Can be frozen for up to 2 months in a freezer safe bag.
MUFFIN SIZE: This recipe can make 6 Jumbo muffins OR 12 standard muffins, if desired.
OIL: Instead of melted butter, you can also use coconut oil or vegetable oil, if preferred.
SWEETENER: If you choose to opt out of brown sugar, you can always substitute with pure cane sugar, coconut sugar, additional pure maple syrup (which requires less milk), Agave, or Date syrup as well. 
BLUEBERRIES: If using frozen blueberries, be sure to lightly toss them in 1Tbsp of flour or arrowroot starch before adding them to batter. This reduces any excess water from the blueberries and allows bread to cook thoroughly.
Calories:
182
kcal
|
Carbohydrates:
54
g
|
Protein:
3
g
|
Fat:
4
g
|
Saturated Fat:
1
g
|
Polyunsaturated Fat:
1
g
|
Monounsaturated Fat:
2
g
|
Trans Fat:
1
g
|
Sodium:
327
mg
|
Potassium:
68
mg
|
Fiber:
2
g
|
Sugar:
14
g
|
Vitamin A:
33
IU
|
Vitamin C:
5
mg
|
Calcium:
86
mg
|
Iron:
1
mg