This moist and dense Grapefruit Olive Oil Cake with Raspberry Compote is a stunning sweet treat for dessert or an afternoon pick-me-up with elevated flavors.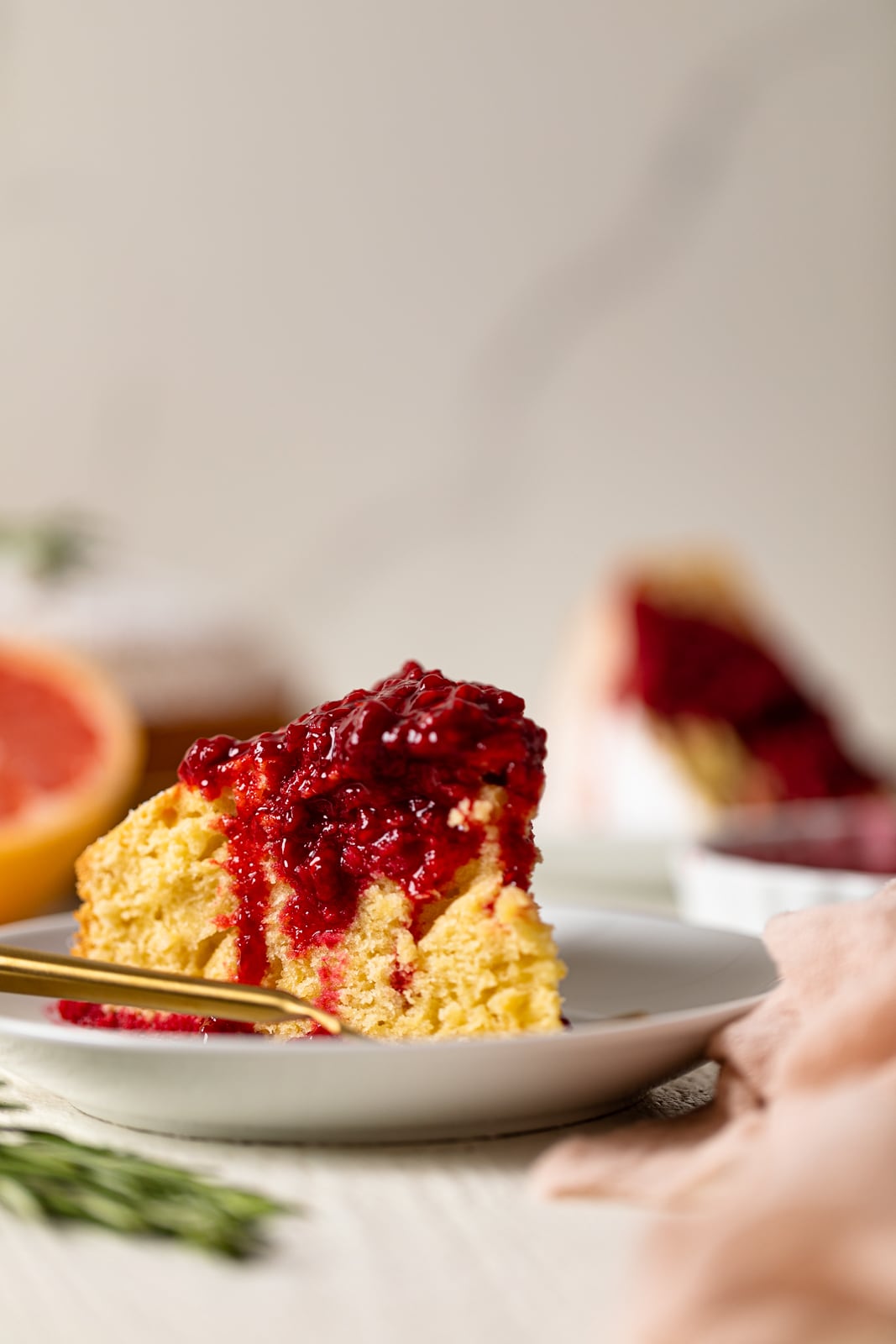 If you're looking for a sophisticated dessert for a celebration that's not overly sweet, look no further. This beautiful compote-topped cake has a grown-up flavor from tart grapefruit and olive oil. The texture is super dense and moist, almost pudding-like. And best of all, you can make the entire thing ahead of time!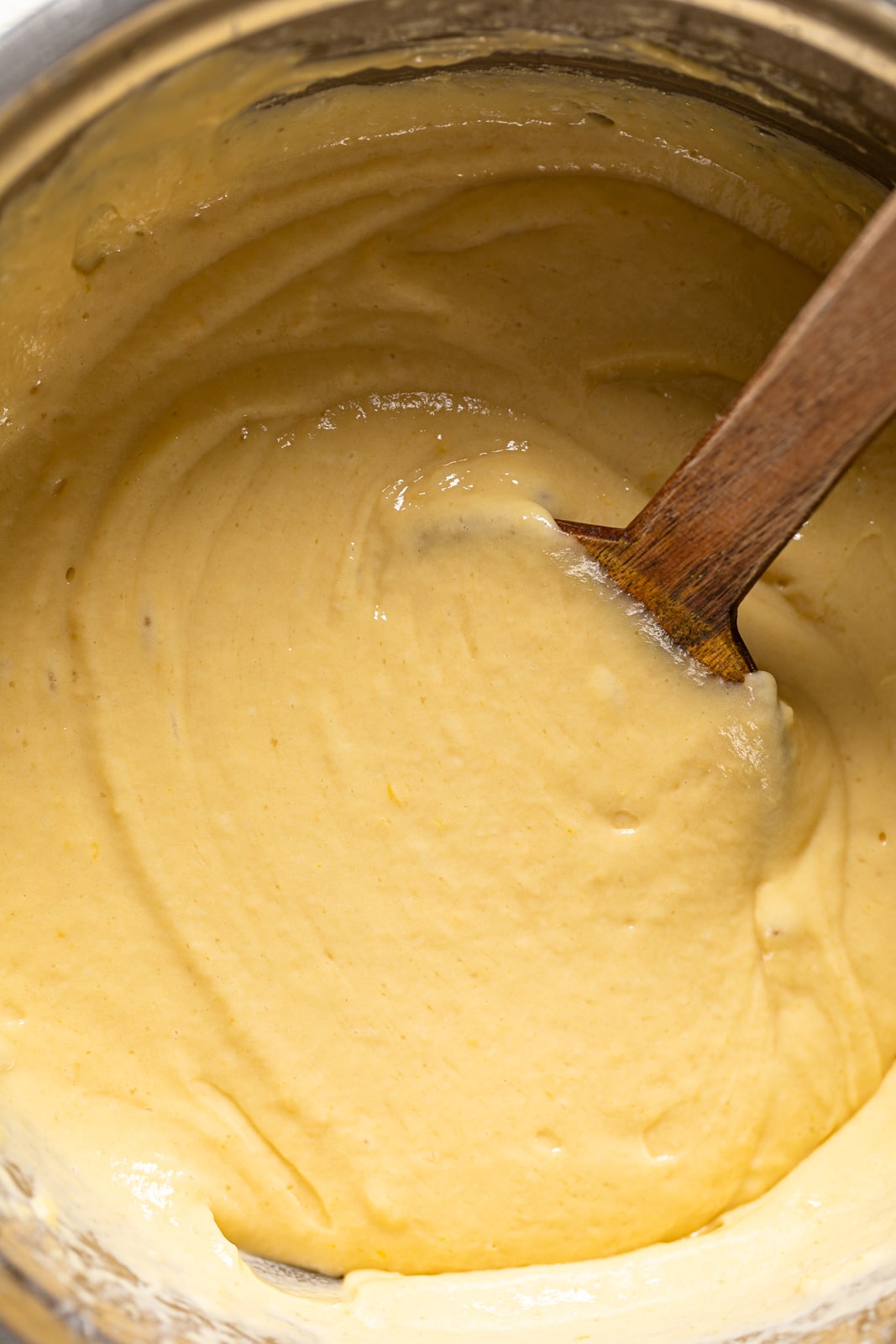 Ingredients for Citrus Olive Oil Cake
Here's what you need to make this grapefruit cake batter:
All-purpose flour. I use organic flour from Bob's Red Mill.
Baking powder for leavening.
Cane sugar. I use organic sugar.
Grapefruit zest adds a strong citrus flavor.
Butter. I recommend unsalted butter for baking.
Olive oil. Choose a nice high-quality oil because you will be able to taste it in the cake!
Eggs. These should be at room temperature so they mix evenly into the batter.
Grapefruit juice. You can squeeze this from juicy, ripe fruit.
Vanilla extract for a bit of warmth.
Buttermilk. You can use dairy-free or regular!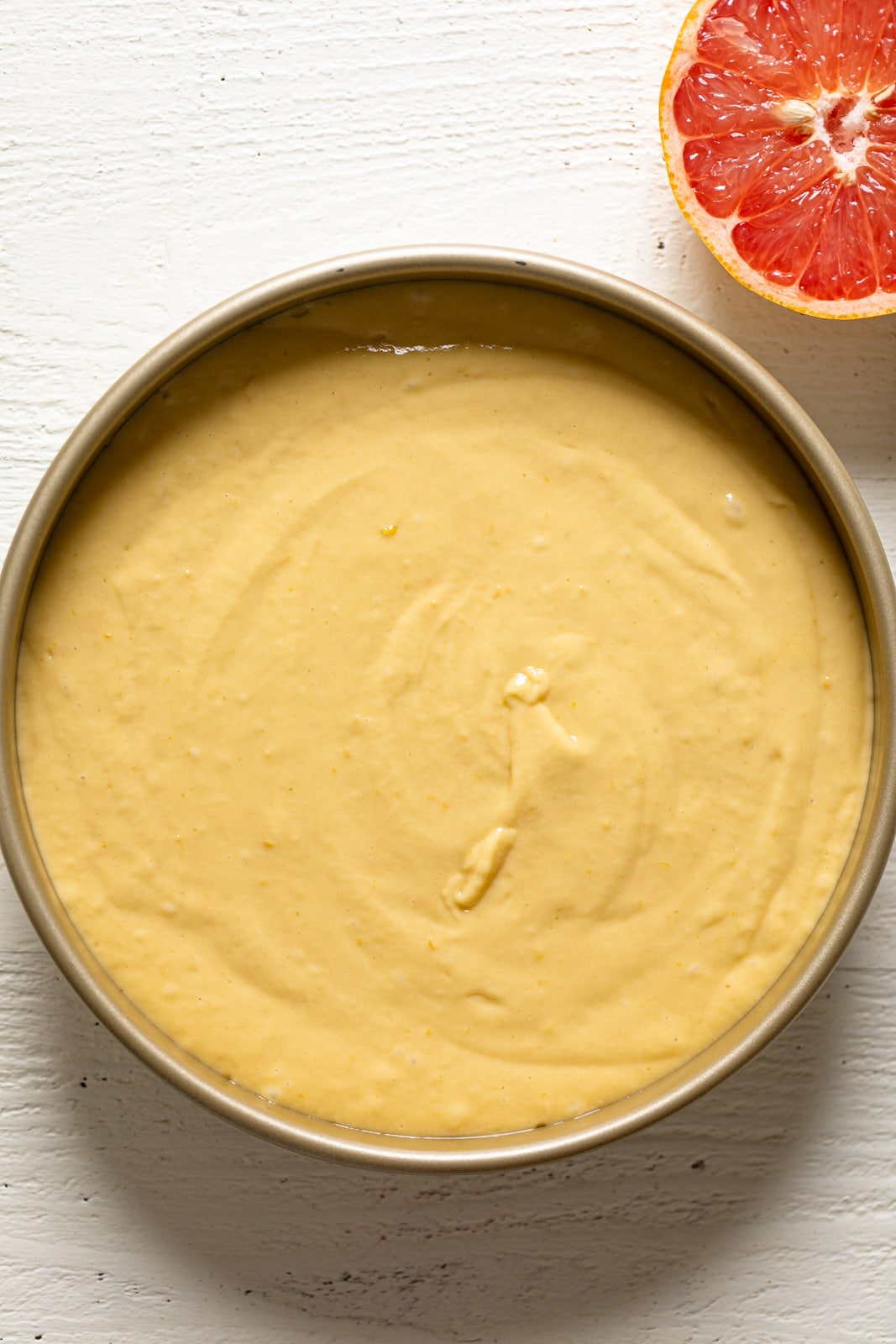 Raspberry Compote
The bright red berry compote you drizzle on top of this cake is truly show-stopping. It's truly stunning and just the right amount of sweet and tart. To make it, you'll need:
Raspberries. fresh and frozen both work.
Sugar. I use organic cane sugar for the compote.
Lemon juice. I highly recommend freshly-squeezed.
Water
Vanilla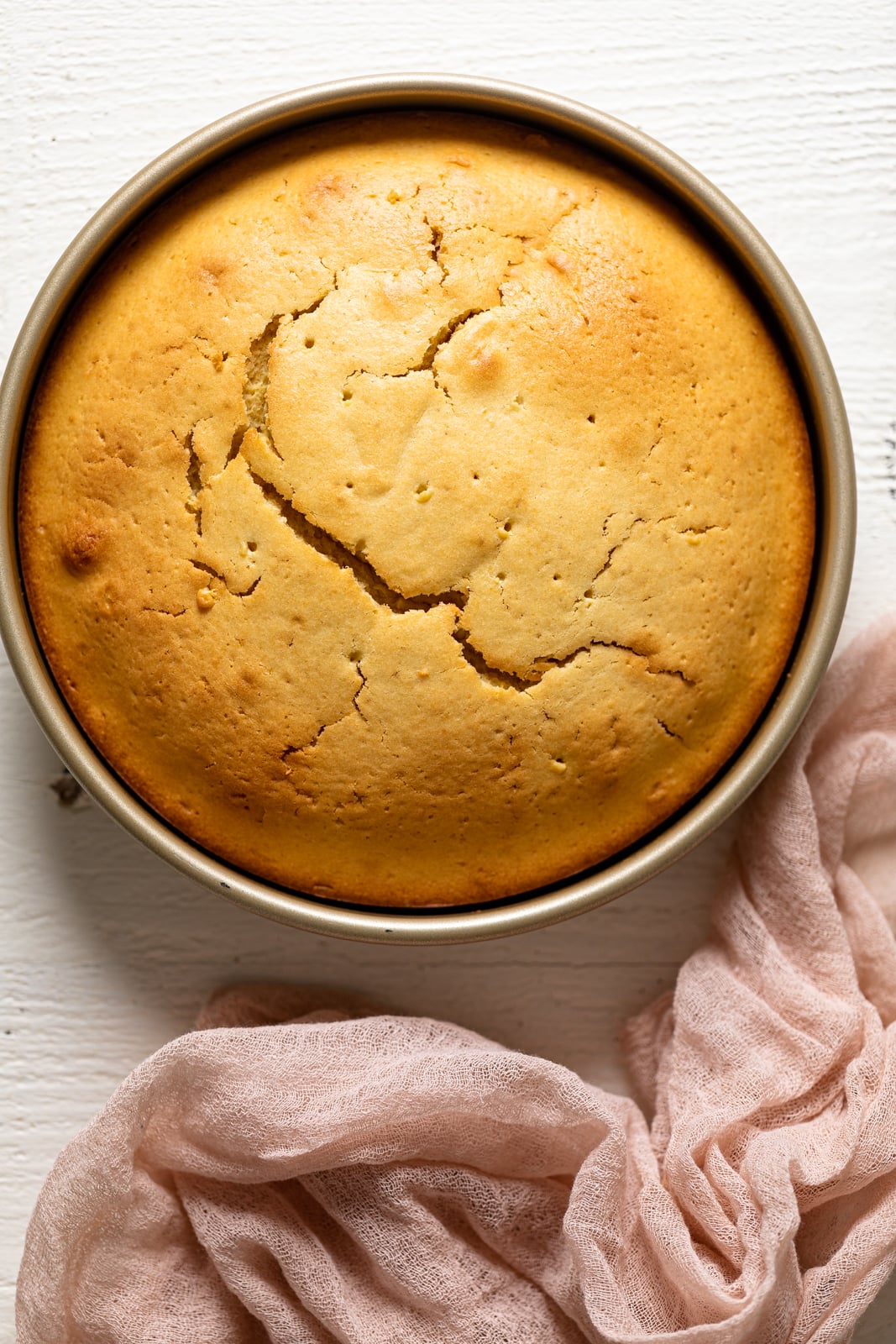 Can I Make Cupcakes?
OF course! Grapefruit olive oil cupcakes make a sophisticated birthday treat. To make cupcakes with this recipe, divide the batter between 30 lined cupcake wells. Bake for 18 to 20 minutes, then let them cool.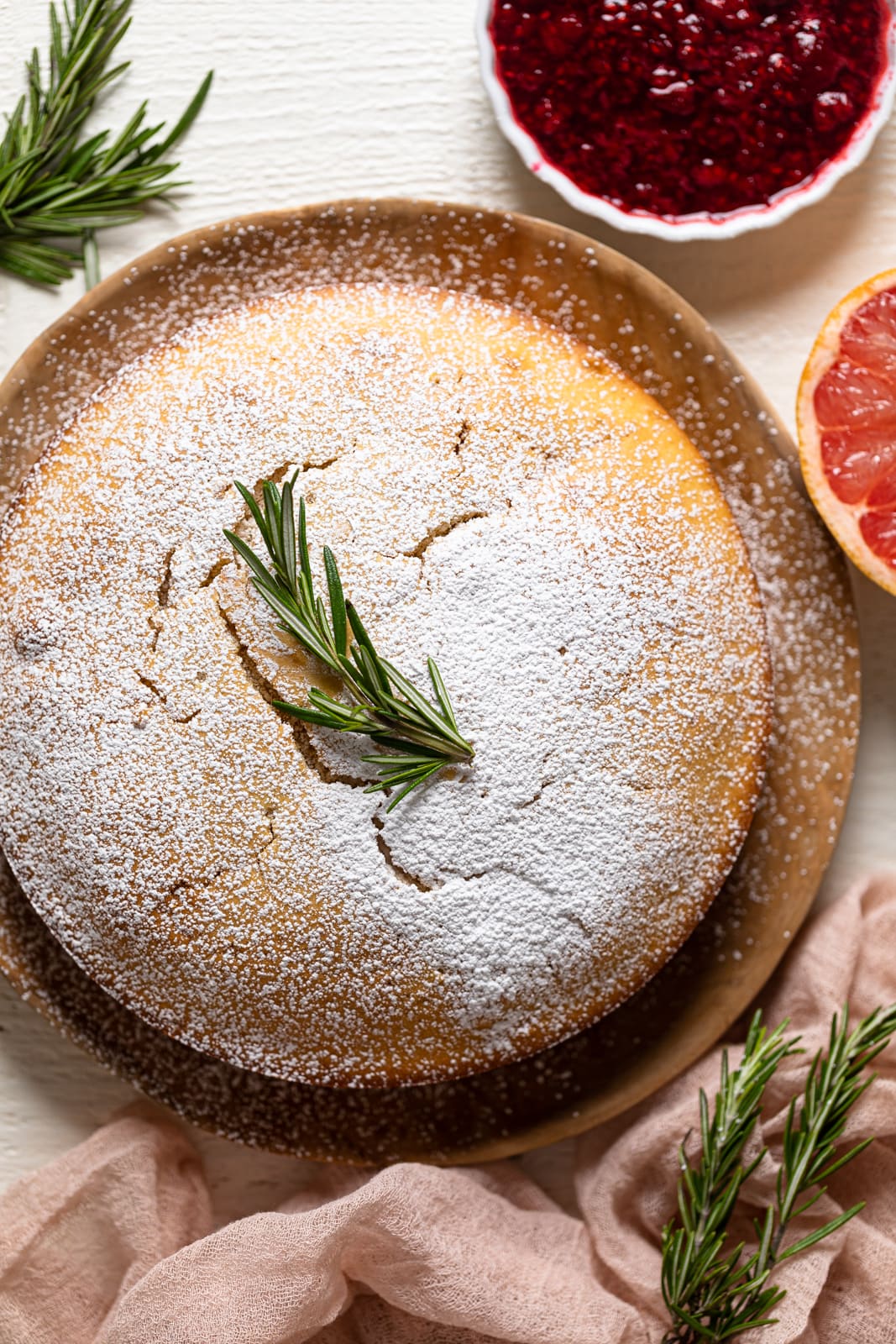 Topping Ideas
The beautiful raspberry compote is truly the only topping you'll need on this not-to-sweet dessert. However, if you like, add a dusting of powdered sugar.
If you want to go over the top to celebrate a special occasion, you could certainly top this cake with Cream Cheese Frosting or Orange-infused Frosting.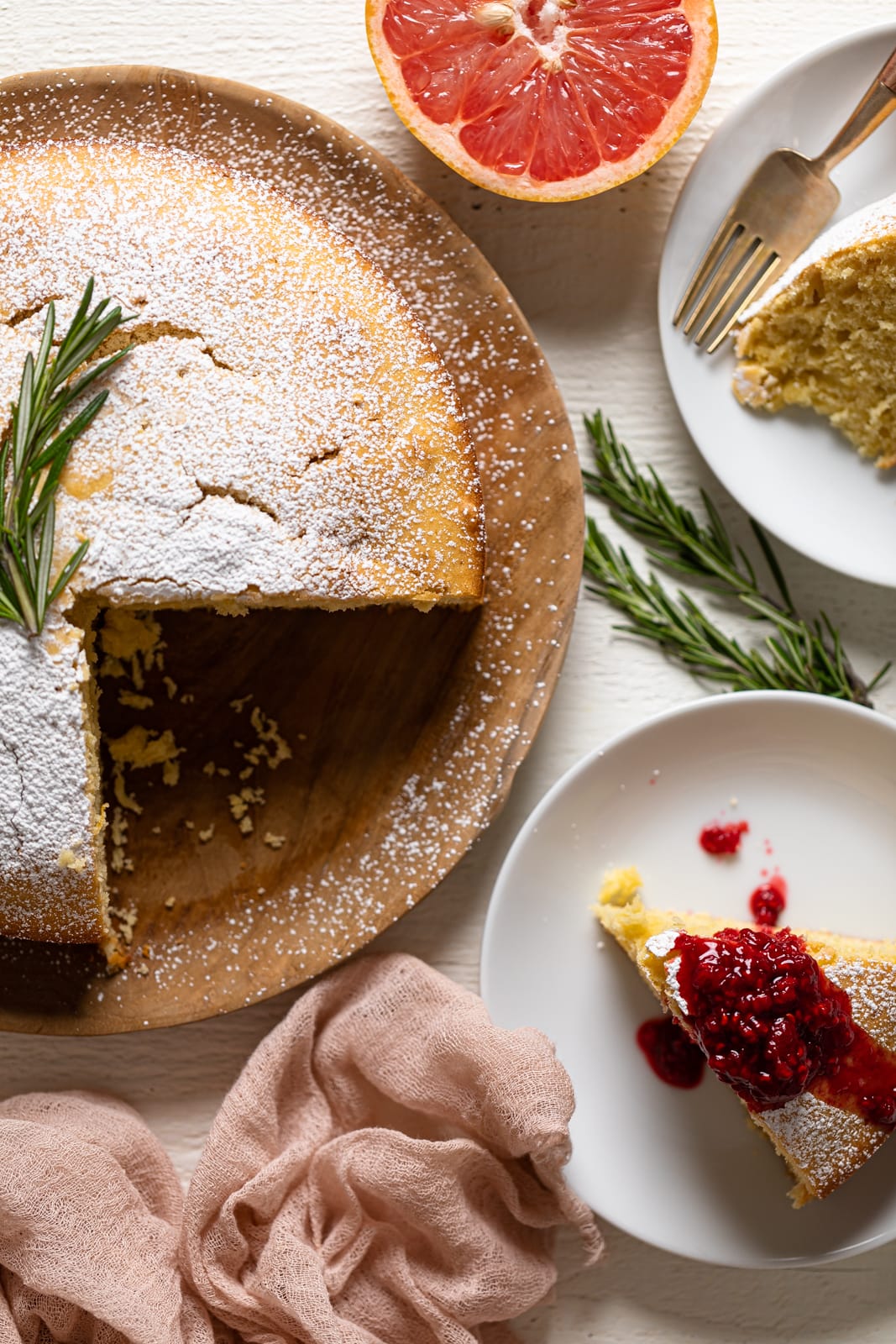 How Long Can I Store the Cake?
You can store this cake after baking and cooling for up to five days. Just make sure it's tightly wrapped in the fridge.
Store the compote in an airtight container in the fridge for up to five days as well.
To serve, let the cake come t room temperature for at least half an hour beforehand.
You can also freeze the cake and compote (separately) for up to six months.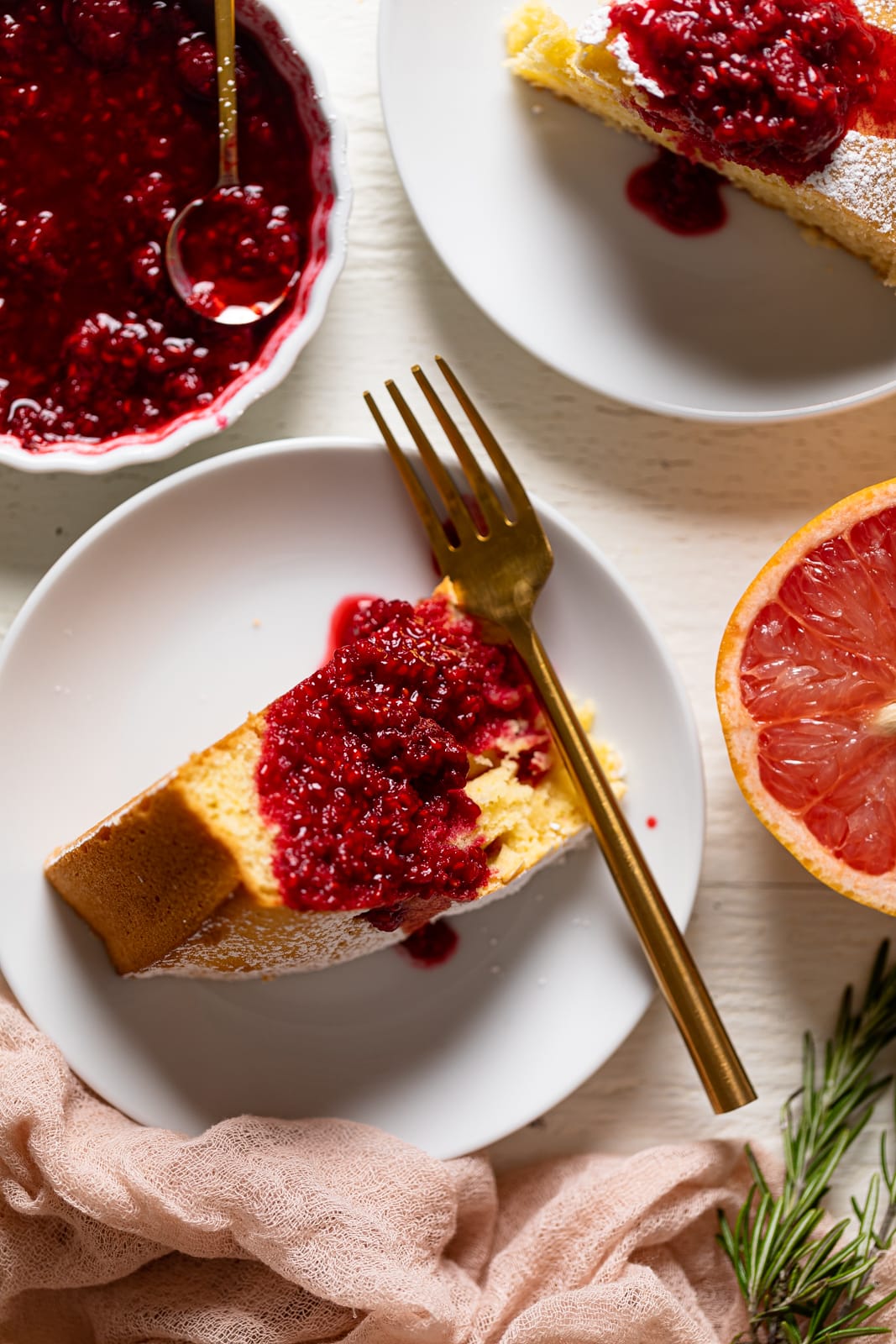 More Delicious Cake Recipes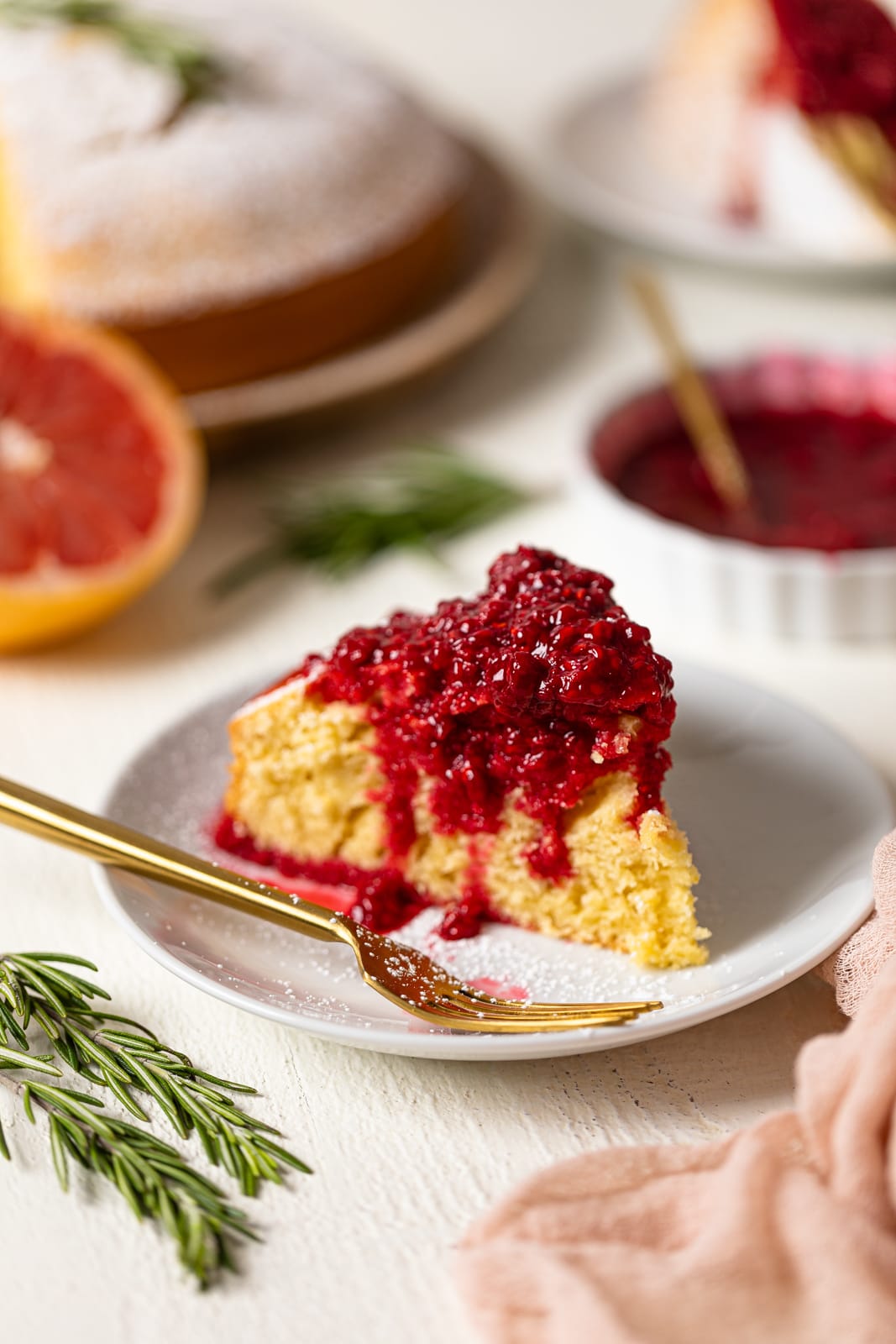 MADE OUR RECIPE(S)?
If you make this Grapefruit Olive Oil Cake with Raspberry Compote, tag @orchidsnsweettea_ on Instagram and hashtag it #orchidsandsweettea
Total Time:
1

hour
15

minutes
CAKE:
2 ½

cups

organic all-purpose flour

1

tablespoon

baking powder

½

teaspoon

sea salt

1 ¼

cup

organic cane sugar

1

tablespoon

grapefruit zest

½

cup

unsalted butter, softened at room temp.

¾

cup

Extra virgin olive oil

3

large

eggs, at room temp.

1 ½

tsps

freshly-squeezed grapefruit juice

1

teaspoon

vanilla extract

1

cup

Buttermilk

(I used a dairy-free version, but you can use regular buttermilk!
SIMPLE RASPBERRY COMPOTE:
2

cups

raspberries, fresh or frozen

½

cup

organic cane sugar

1 ½

tsps

freshly-squeezed lemon juice

¼

cup

filtered water

1

teaspoon

vanilla extract
TO MAKE THE BUTTERMILK:
If making a dairy-free version: In a bowl or measuring cup, add together your favorite plant-based milk (I use unsweetened Almond milk) and 1 teaspoon lemon juice, stirring and allowing it to sit for 5-10 minutes until it thickens. For a regular option, just substitute milk with regular cow's milk or heavy cream.
TO MAKE THE CAKE:
Begin by preheating the oven to 350 degrees Fahrenheit. Lightly grease (w/ butter or spray) and line the bottom with parchment paper of a 9-inch round cake pan.

In a bowl, whisk together the flour, baking powder, grapefruit zest, and sea salt until combined. Set aside.

In a large bowl, add together the sugar and unsalted butter, mixing by using a hand-mixer on medium-high speed, until fluffy and airy, about 2-3 minutes.

Add in the eggs (one at a time), vanilla, grapefruit juice, olive oil, and the 'buttermilk', followed by the dry ingredients, mixing everything together until well combined, smooth, and lump-free, about 2-3 minutes.

Pour batter evenly into prepared pan, spreading everything around for a perfect evenness.

Bake for 55-60 minutes, or until the center of the cake comes out clean when tested with a toothpick or butter knife.

Once done, remove the cake from the oven and let cool for 30 minutes before carefully lifting it from the pan and unto a cooling rack to cool completely, about 1 ½ to 2 hours.
TO MAKE THE RASPBERRY COMPOTE:
In a saucepan, add together all ingredients over medium-high heat, stirring until combined. Once the raspberries become broken down, continue stirring until mixture begins to thicken a bit and the liquids are mostly reduced. Remove from heat. Let it cool.

To serve, sprinkle powdered sugar atop entire cake, slice, top with 1-2 Tbsps of raspberry compote and enjoy!

Bon Appetit!
STORAGE: Keep leftover cake tightly wrapped using plastic wrap and refrigerated for up to 5 days. To store frozen (frosted or unfrosted), simply tightly wrap and cover cake and freeze for up to 2-3 months. To serve, thaw in the refrigerator overnight and bring to room temperature.
GRAPEFRUIT OLIVE OIL CUPCAKES: This recipe yields about 30 cupcakes which will be more cakey and fluffy. Simply bake for 18-20 minutes instead, until centers come out clean.
PLANT-BASED BUTTERMILK: Add 1 cup of Almond milk (or your fave plant-based milk) + 1 tablespoon lemon juice and let sit for 10 minutes, until it slightly thickens.
FLOUR: You can always just use cake flour for this recipe.
MAKE AHEAD: You can always bake this cake the night or day before and let it cool, tightly wrap, and refrigerate until ready to use. The raspberry compote can also be made prior and tightly sealed and stored in the fridge as well. When ready to serve, let cake sit at room temperature for 30 minutes to an hour, add powdered sugar to top, and serve each slice with compote!
Calories:
634
kcal
|
Carbohydrates:
80
g
|
Protein:
8
g
|
Fat:
35
g
|
Saturated Fat:
11
g
|
Polyunsaturated Fat:
3
g
|
Monounsaturated Fat:
19
g
|
Trans Fat:
0.5
g
|
Cholesterol:
104
mg
|
Sodium:
366
mg
|
Potassium:
177
mg
|
Fiber:
3
g
|
Sugar:
47
g
|
Vitamin A:
516
IU
|
Vitamin C:
9
mg
|
Calcium:
152
mg
|
Iron:
3
mg
Grapefruit Olive Oil Cake with Raspberry Compote.