This Blueberry Oatmeal Cake + Cream Cheese Frosting is moist, fluffy, and full of real blueberry flavor thanks to the pops of blueberries in the midst of each layer and homemade blueberry-flavored cream cheese frosting. It's the perfect sweet indulge for the Spring season ahead.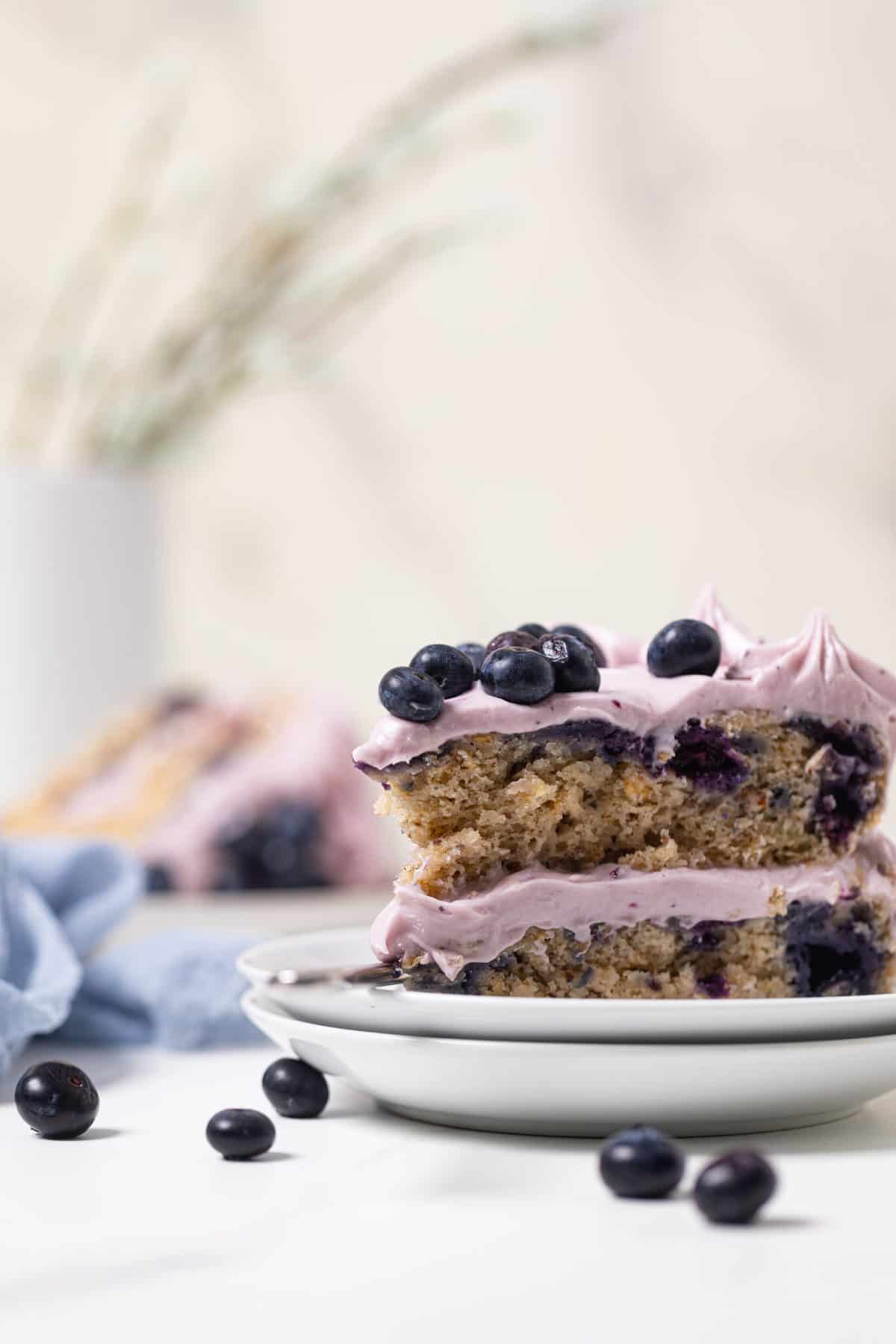 Sponsored Post: This post is sponsored by Bob's Red Mill but the content and opinions expressed are all based on my genuine love for this brand and are my own. Thanks so much for supporting the brands I love.
One of my favorite sweet indulges has to be an extremely fluffy + moist cake. This Blueberry Oatmeal Cake + Cream Cheese Frosting definitely takes the top of the list for me and if I'm honest, it makes for the perfect Spring ready baking to-do recipe. Plus, it's not hard at all to whip together and doesn't require perfection----just deliciousness!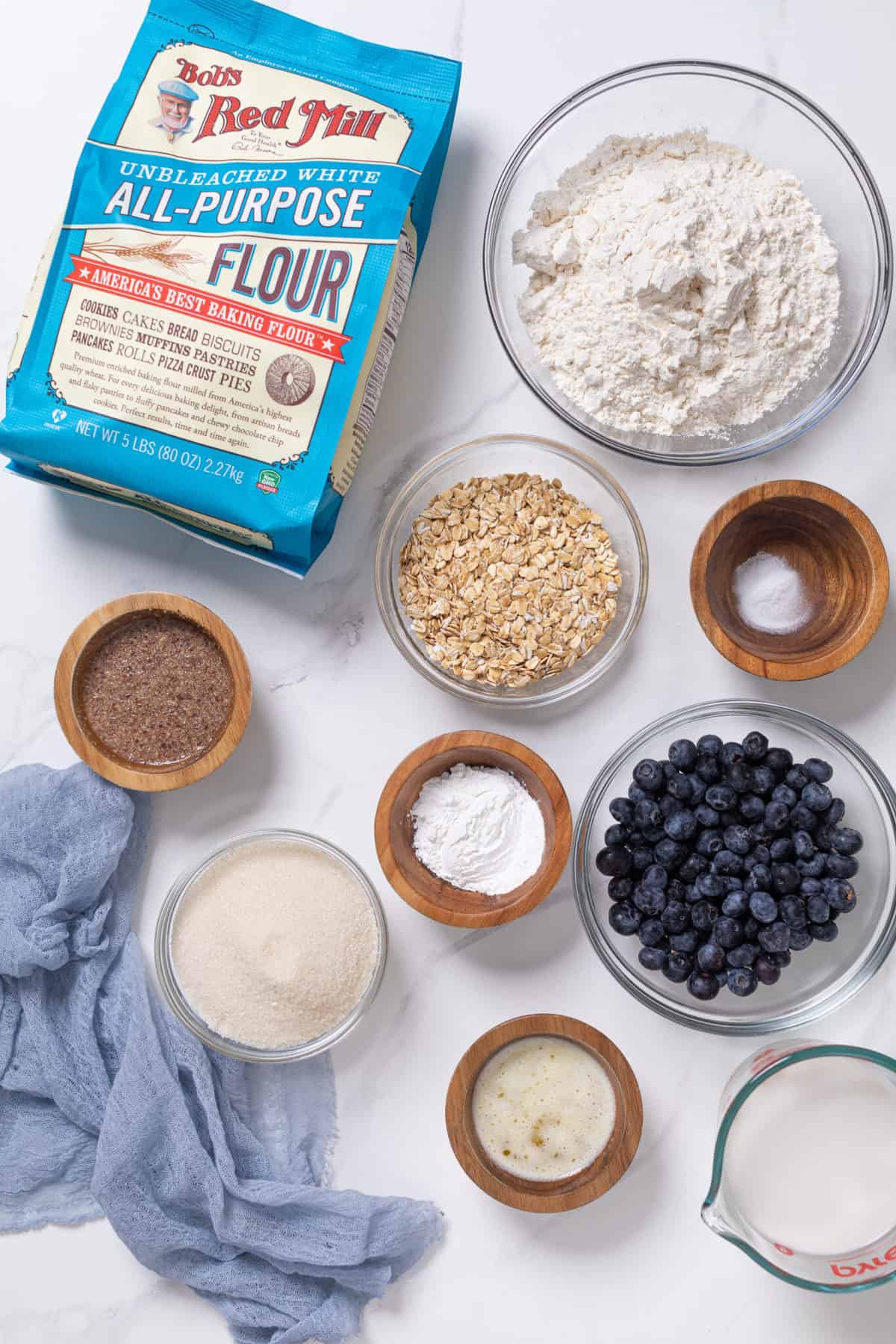 How to Make Blueberry Oatmeal Cake.
This cake as I've mentioned before is super easy to whip together and doesn't require anything special when it comes to ingredients. All you need to whip up this simple blueberry oatmeal cake batter is:
Bob's Red Mill All-purpose flour.
Bob's Red Mill Rolled oats.
Cane sugar.
Baking powder and baking soda.
Ground cinnamon and nutmeg.
Vegan butter. 
Plant-based milk + apple cider vinegar.
'Flax' eggs.
Blueberries.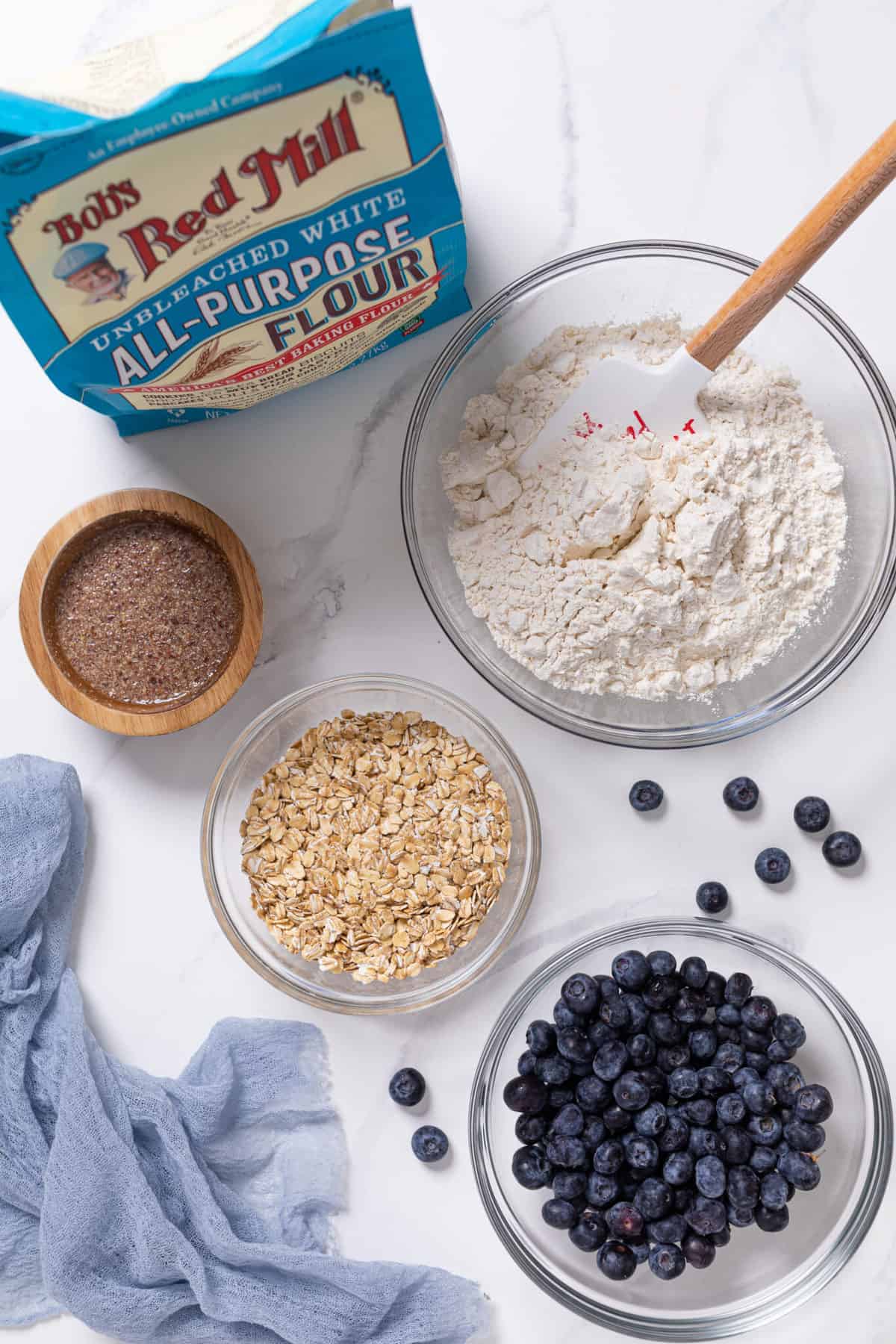 Believe it or not, this blueberry oatmeal cake was inspired by one of my most recent cake creations----Vegan Strawberry Cake with Oatmeal. Much like this strawberry version, I've decided to make a plant-based cake while keeping things ultra flavor with a little dairy from the cream cheese frosting.
4 TIPS FOR MAKING THE PERFECT CAKE.
TIP #1: Another thing that I've learned about baking a cake is having the right tools. As a basic—-you should have a cake stand (preferably one that has a turnstile table), spatulas (big + small), piping bags + tips, correct baking pans and parchment paper, and if you need to get a bit more fancy—Bake Even Cake Strips.
Have no clue what these are? Whelp, you basically soak them in water before wrapping them around your cake pan while baking. These stripes ensures that your cakes don't bake with a funny "dome" or anything. Just flat and even.
Of course, if you don't have these strips, you can simply butter your pan and use liners along with an old trick that I've always done when baking—–add a small pot of water to the oven to keep things moist. Yup. It works EVERY. TIME.
TIP #2: One of the essential ingredient combos for a light, silky cake texture is baking soda and acid ingredient (usually vinegar or buttermilk if the cake calls for it). When acid and baking soda reacts, it creates bubbles and helps to create a nice rise for your baked goods, leaving an airy texture.
In the case of vegan cakes, this is usually done by adding apple cider vinegar to your milk and letting it sit for a few minutes and then later combining it with the dry ingredients (which includes baking soda). Wallah!
TIP #3: One of my latest tricks to a perfect cake has been to ensure that ALL of my dry ingredients are sifted. Trust me, ya'll—-this works!
Making all the dry ingredients fully sifted makes things airy, as you've guessed it and allows everything to combine faster.
TIP #4: Never Over-mix! When creating a cake, it's so important to add the dry ingredients and wet ingredients alternately and as soon as everything is combined very well, THAT'S IT! Over-mixing creates a more dense cake.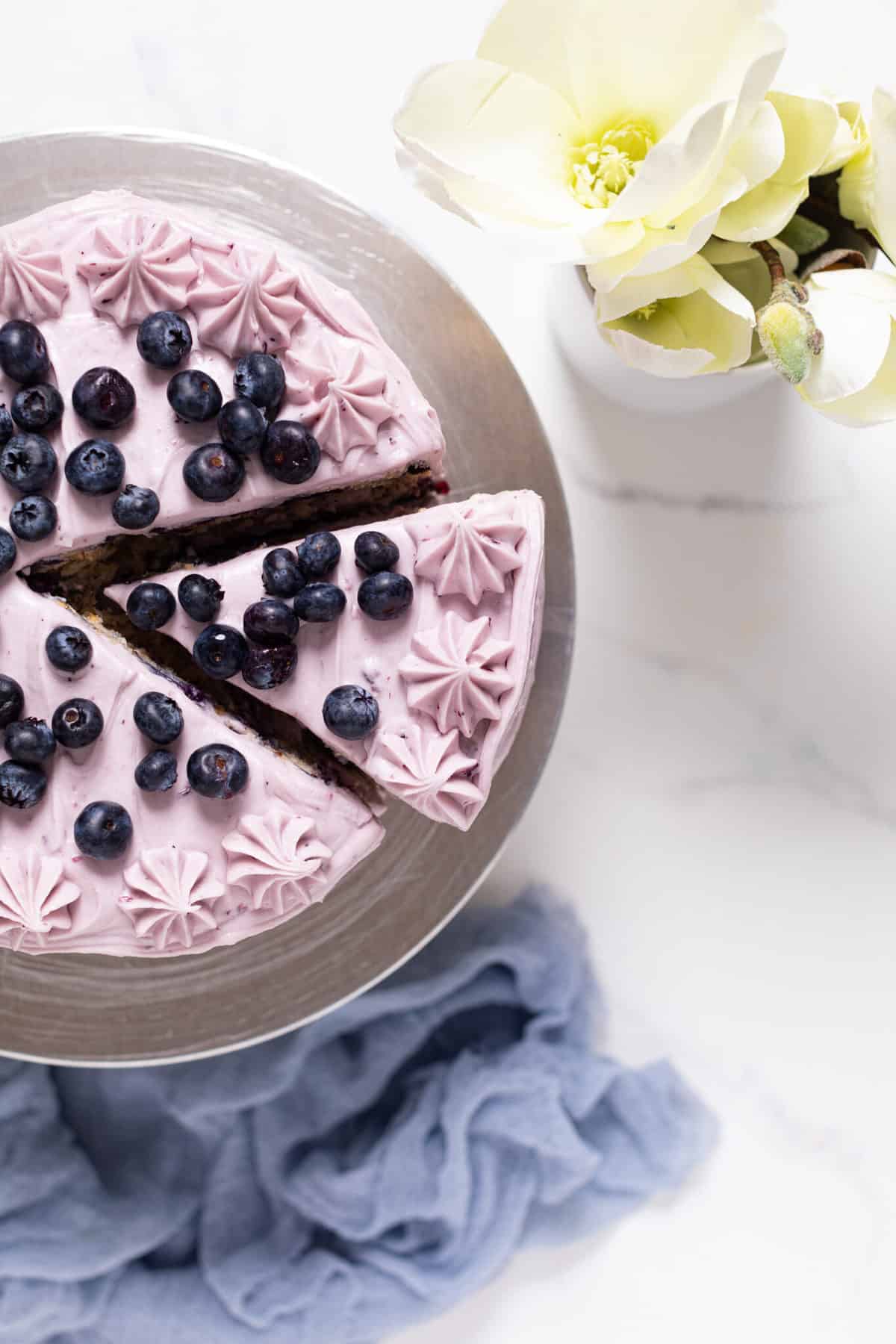 Making Blueberry Cream Cheese Frosting.
While we're on the topic of frosting, let's chat about this blueberry cream cheese frosting for a bit! While the blueberry oat cakes cool, it's time to make a simple, velvety cream cheese buttercream. For an extra twist, I wanted to add color and a beautiful extra pop of blueberries to this frosting---which was achieved by adding a spoon or two of blueberry preserve or jam.
Making frosting with fruit purée or preserve/jam is a great technique that works with any of your favorite juicy fruits. Other berries, including raspberries, blackberries, and strawberries work also.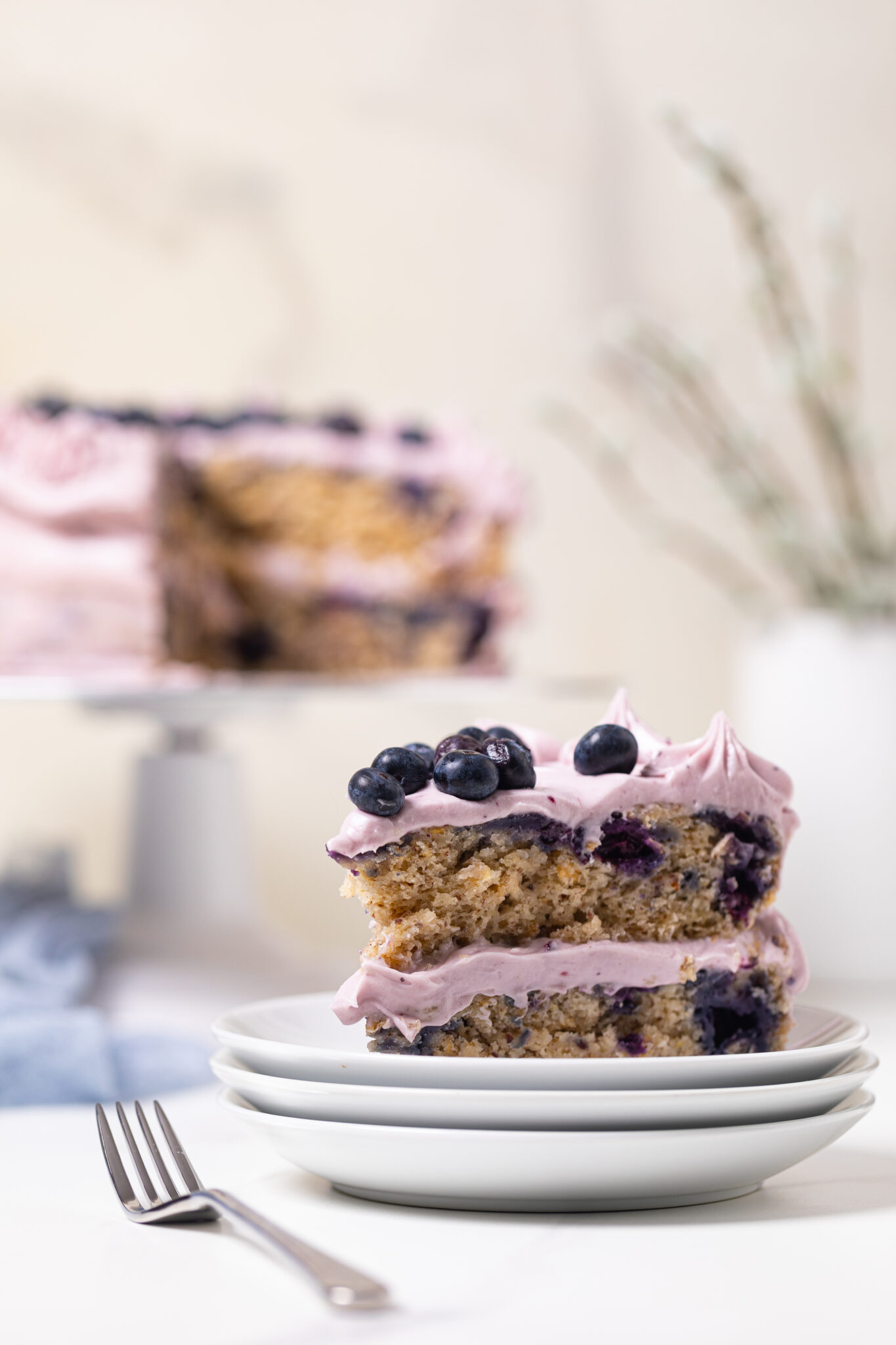 Cake Flour vs. All-Purpose Flour.
Personally, I enjoy homemade foods + sweets for that reason alone, especially when feeding my family. When it comes to the main ingredient of this entire recipe—-the flour, I enjoy using Bob's Red Mill Unbleached White All-Purpose Flour, which is ideal for all kinds of baking, including this one.
In addition, their all-purpose flour includes a touch of malted barley to enhance the rise in yeast breads. Of course, I am an avid user of Bob's Red Mill GF old Fashion Rolled Oats which is used in this cake recipe as well. Regardless of whether you're intentional about making your treats or foods gluten-free, these rolled oats are nicely cut and just as hearty as their regular version.
However, I do occasionally use Super-Fine Cake Flour which adds a nice airiness and fluffiness to your cakes as well.
If you would love to make this cake gluten-free, then substituting all-purpose flour with Bob's Red Mill 1-to-1 Baking Flour is the easiest option. It's a special blend of gluten-free flours, starches, and xanthan gum, which makes these donuts just as soft, fluffy, and airy as the original!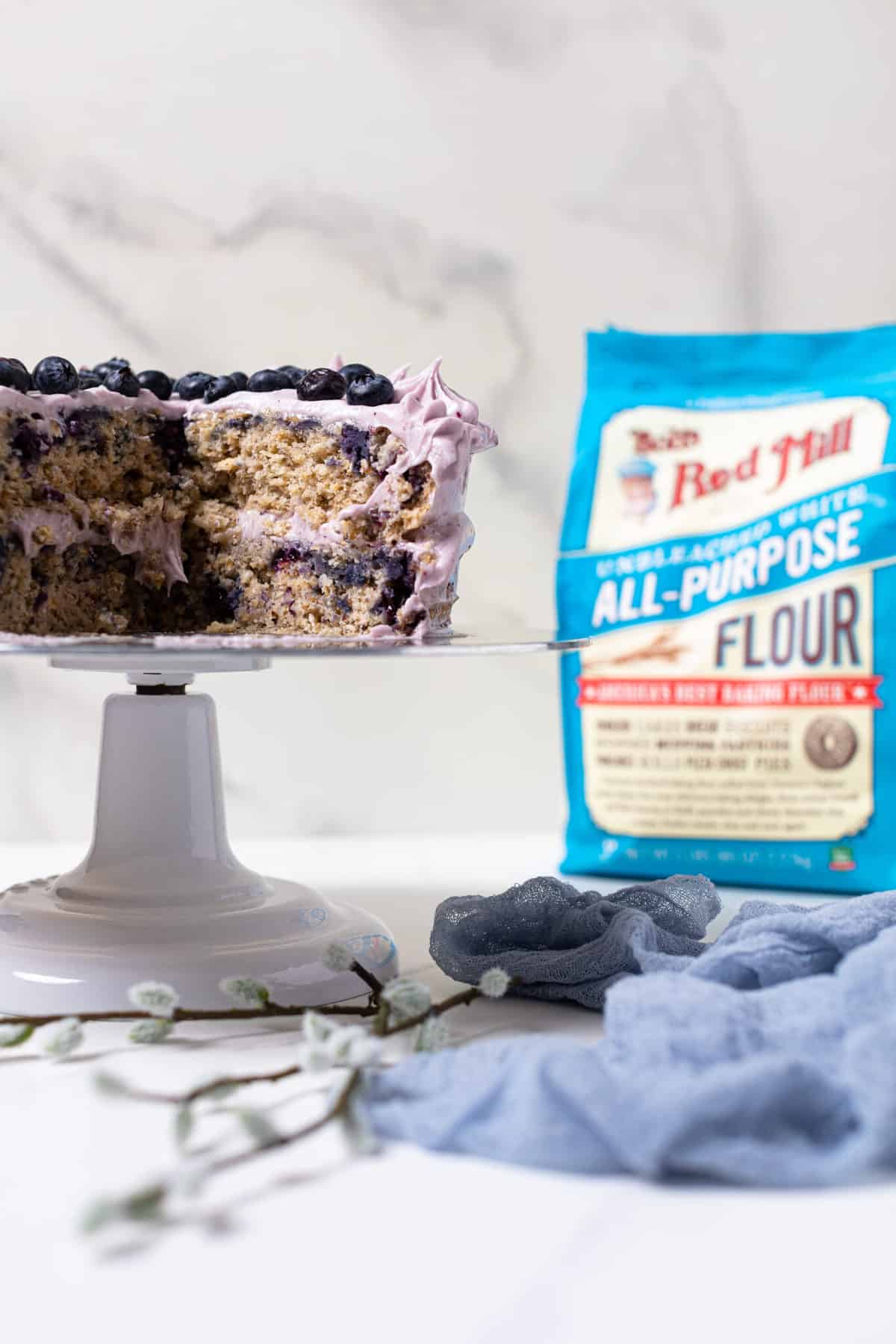 COMMON Q + A'S ABOUT THIS CAKE.
HOW LONG WILL THIS CAKE LAST FOR?
If you don't finish all of your blubbery oatmeal cake, store it for up to four days in the fridge. Keep it in an airtight container to keep the cake from drying out. You can also freeze the cake tightly wrapped in plastic wrap for up to three months. Before serving, defrost the cake on the counter.
WHY ARE THE INGREDIENTS AT ROOM TEMPERATURE?
When it comes to ingredients, especially in baking, it's always best to have cold ingredients at room temperature to ensure that the mixing process is more seamless and even. Please note that microwaving your butter last minute if you forget to leave it out at room temperature isn't recommended. Microwaving often changes the consistency of the butter which doesn't create a nice 'creaminess' when mixed.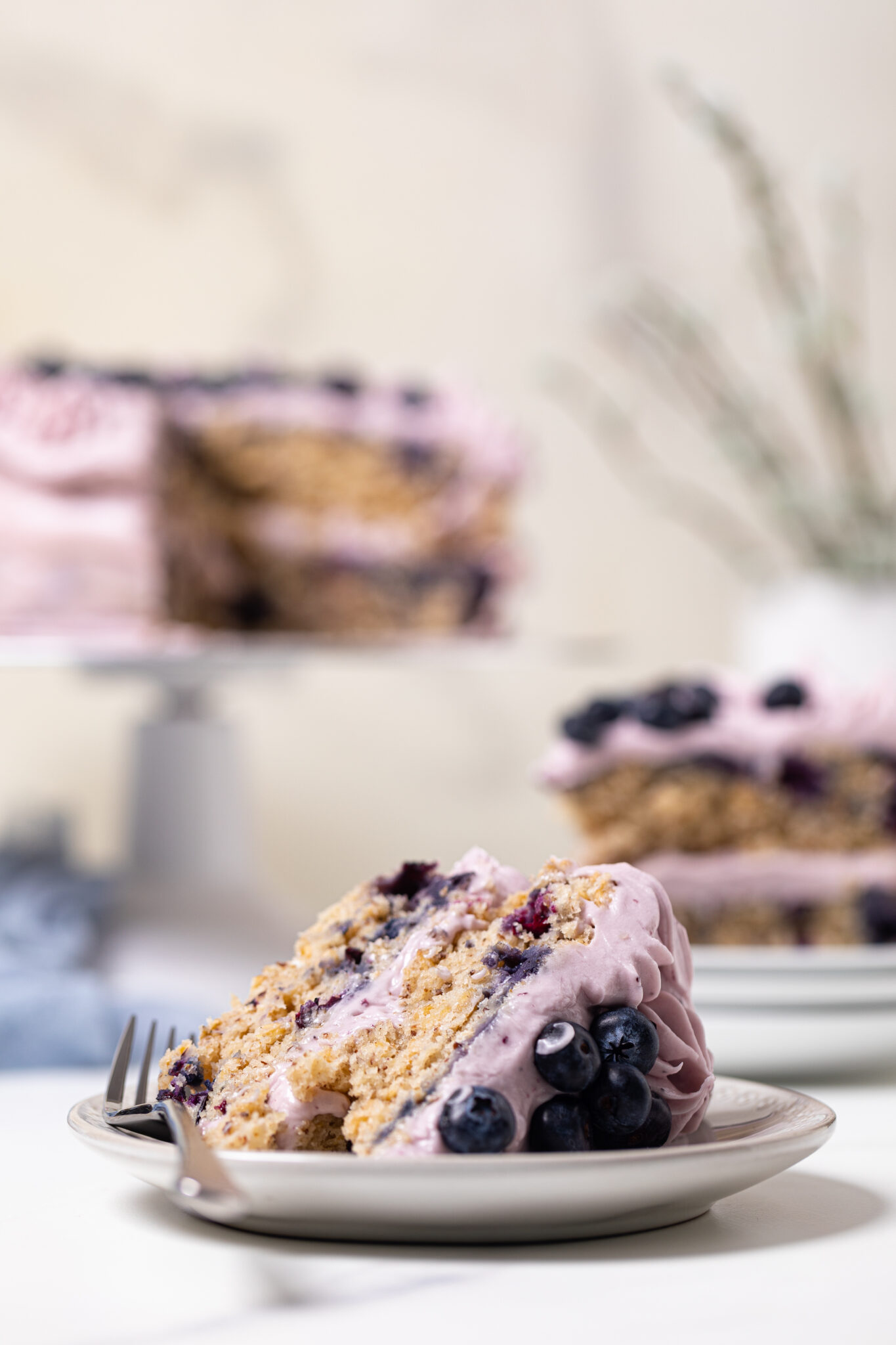 CAN THIS CAKE BE MADE AHEAD?
Absolutely! You can always bake this cake the night or day before and let it cool, tightly wrap, and refrigerate until ready to use. The frosting/buttercream can also be made prior and tightly wrapped and stored in the fridge as well. When ready to serve, let cake sit at room temperature for 30 minutes to an hour, frost, and enjoy!
CAN THIS CAKE BE MADE INTO A 3-LAYER OR CUPCAKES?
Of course! You can always divide the batter into three 6-inch cake pans for a nice small triple layer cake or into cupcake pans. The bake time will be a little less, therefore, keeping your eyes on them is super important. Also, with the cupcakes, you can use the frosting as a filling inside the cupcakes and top with the remaining blueberry cream cheese frosting to get double the 'indulging experience'. Once cupcakes are baked, simply create a hole in the centers, fill them with the frosting and frost them per usual.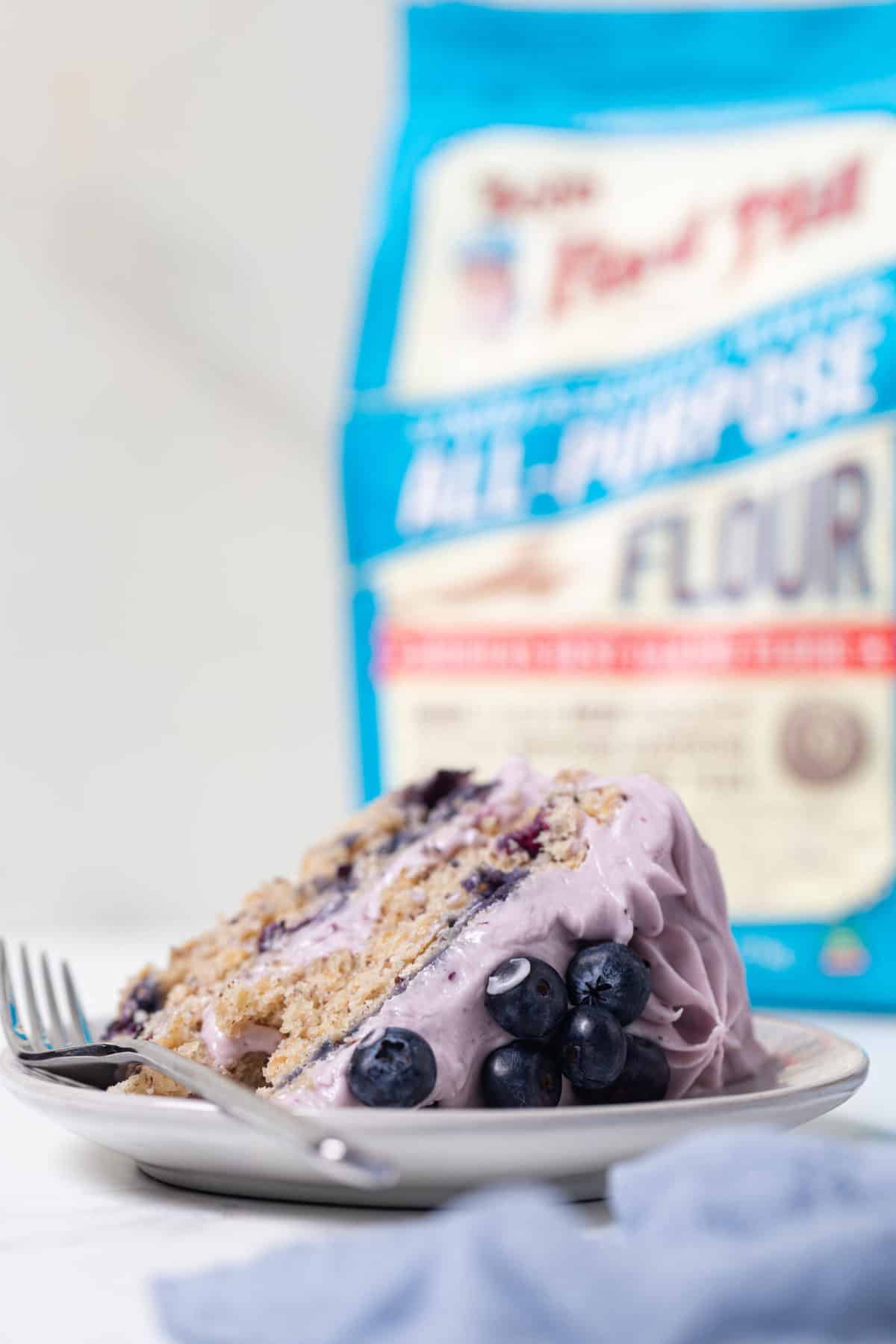 More Blueberry-infused Sweets to Try.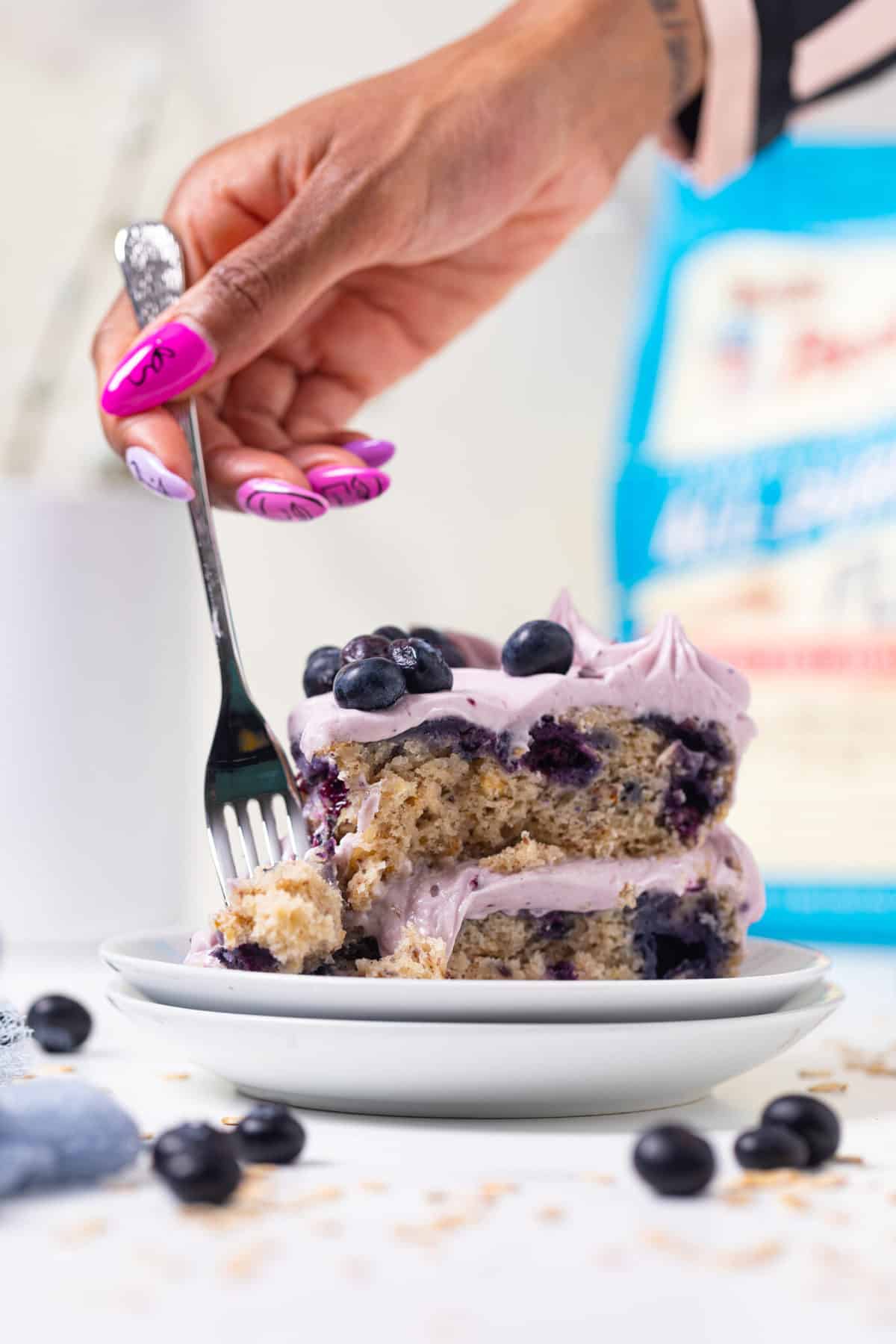 Blueberry Oatmeal Cake:
2 ½

cups

Bob's Red Mill All-purpose Flour 

1

cup

Bob's Red Mill GF Old Fashioned Rolled Oats

1 ½

cups

organic cane sugar

2

tsps

baking powder

1

teaspoon

baking soda

1

teaspoon

ground cinnamon

½

teaspoon

ground nutmeg

1

teaspoon

sea salt, finely ground

⅓

cup

vegan butter, melted 

2 ½

cups

Almond milk (plus, more if needed) + 1 tablespoon apple cider vinegar (ACV) 

3

flax eggs

(3 Tbsps ground flaxseed + 6 Tbsps water!)

2

cups

fresh blueberries
Blueberry Cream Cheese Frosting:
4

oz.

organic cream cheese, softened at room temp.

(That's ½ pack!)

½

cup

unsalted butter, softened at room temp.

1

teaspoon

vanilla extract

4-5

cups

organic powdered sugar, sifted

1

tablespoon

blueberry preserve/jam

1-2

Tbsps

organic heavy cream
Blueberry Oatmeal Cake:
Begin by preheating your oven to 350 degrees Fahrenheit. Lightly grease (with butter) AND line with parchment paper the bottoms of TWO 8-inch cake pans or THREE 6-inch cake pans.

In a small bowl, add the flaxseed meal and water together to a bowl, stirring and letting it set + thicken for 5 minutes; This makes the 'flax eggs'. In a separate bowl, add the milk + ACV together and let sit for 5 minutes until it activates and acts as 'vegan buttermilk'.

In a large bowl, whisk together the flour, oats, sugar, baking powder, baking soda, cinnamon, and nutmeg until combined.

Add in the milk-ACV mixture, melted butter, flax eggs, and mix (using a hand-mixer) until just combined. NOTE: It might not look fully combine and that's OK-------we just need the wet ingredients to be combined together before adding them into the next step.

Add the wet ingredients in with the dry ingredients and stir until full combined. NOTE: If the batter looks extremely thick, add extra milk, 1 tablespoon at a time until it's somewhat pourable but not runny or thin at all. Fold in blueberries.

Divide the batter evenly into each of the cake pan and bake for 20-25 minutes, or until a toothpick or butter knife comes out clean when tested in the centers.

Remove cakes from the oven and let them rest in the pan for 10 minutes or so before removing the cakes and placing them onto a cooling rack to fully cool. NOTE: Let them cool for at least 1-2 hours in a cool place.
Blueberry Cream Cheese Frosting:
Simply combine the cream cheese and butter in the bowl of an electric mixer & beat together on medium-high speed until fluffy. Add powdered sugar, vanilla extract, blueberry preserve and heavy cream, continuing to mix on medium speed until you reach the desired consistency. **Add more milk (1 tablespoon at a time if too thick) or powdered sugar (for more thickness).*
Assembly:
Place the first cake layer on your cake stand and evenly cover the top with buttercream. Now, top with 2nd layer and add remaining buttercream atop cake and spread it over the tops and sides of cake, evenly and thinly.

Once fully frosted, add small little designs of the buttercream using a piping bag + tip or fresh blueberries around the sides and top of cake. Chill for 5 minutes to ensure that buttercream sets.

When ready to serve, remove from the refrigerator. Slice and enjoy!

Bon Appetit!
STORAGE: Keep cake leftovers stored for up to 4 days in the fridge. Keep it in an airtight container to keep the cake from drying out. You can also freeze the cake tightly wrapped in plastic wrap for up to 3 months. Before serving, defrost the cake on the counter.
FLOUR: For an extra fluffy cake, you can always use cake flour instead of all-purpose.
BUTTER: Instead of melted butter, you can use vegetable oil or canola oil.
CUPCAKES: This recipe yields about 30 cupcakes. Simply bake for 18-20 minutes instead, until centers come out clean.
VEGAN: To make this cake entirely vegan, simply omit the unsalted butter and use vegan butter, and substitute the cream cheese and heavy cream in the frosting, with your fave plant-based milk, using about 2-3 Tbsps.
Calories:
369
kcal
|
Carbohydrates:
98
g
|
Protein:
6
g
|
Fat:
15
g
|
Saturated Fat:
6
g
|
Polyunsaturated Fat:
3
g
|
Monounsaturated Fat:
5
g
|
Trans Fat:
1
g
|
Cholesterol:
23
mg
|
Sodium:
532
mg
|
Potassium:
134
mg
|
Fiber:
3
g
|
Sugar:
29
g
|
Vitamin A:
274
IU
|
Vitamin C:
3
mg
|
Calcium:
156
mg
|
Iron:
2
mg