This Banana Coconut Overnight Oats recipe is a healthy way to kick start your mornings and is beautifully creamy and sweet, plus totally vegan and gluten-free. Made with banana, full-fat coconut milk, cinnamon, nutmeg, rolled oats and maple syrup.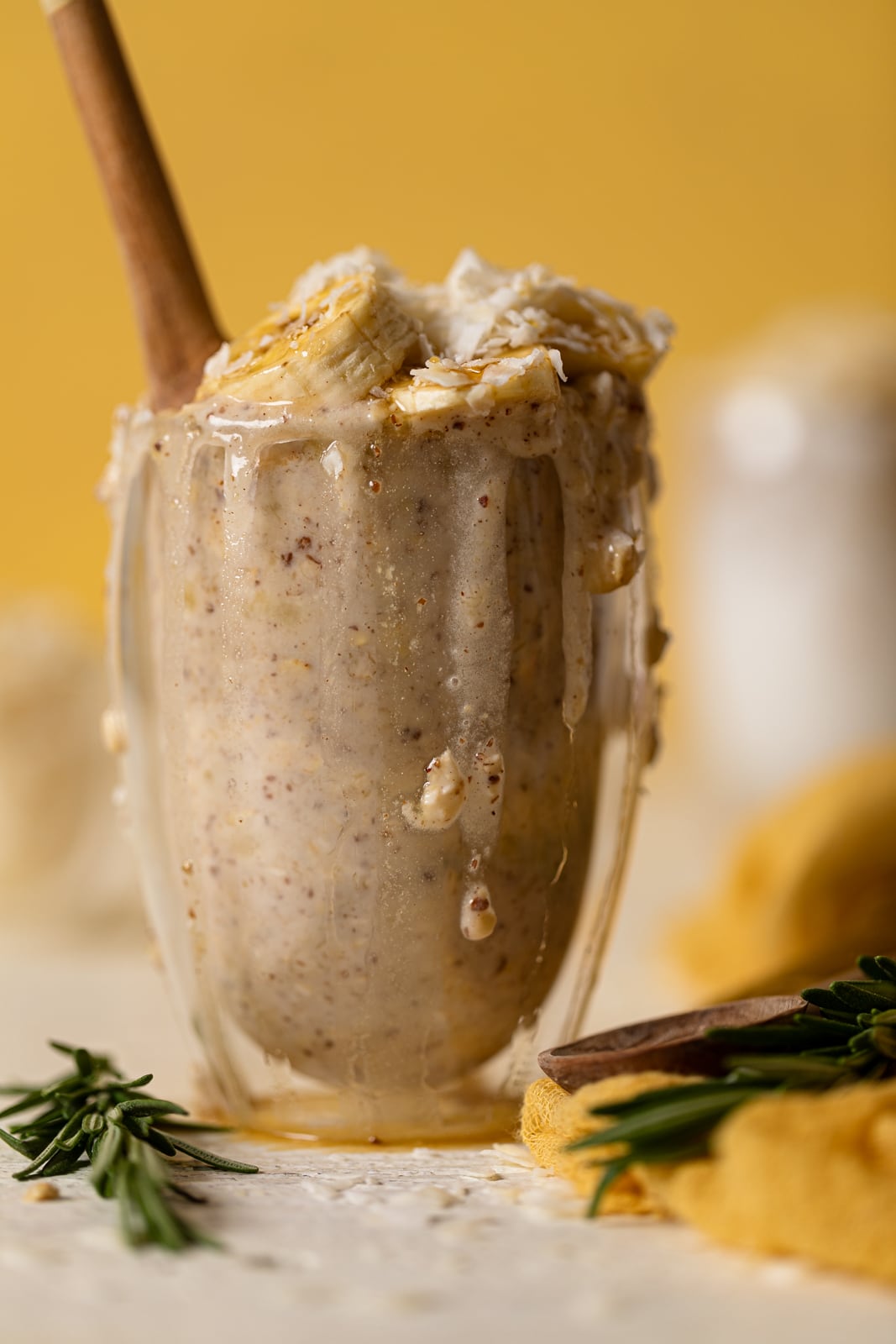 By now, I think that you've guessed that I love overnight oats. Haha. Well, you're correct! This Banana Coconut Overnight Oats recipe is by far one of my newest faves. It's ultra creamy, sweet and fruity, easy to make, only requires a small amount of ingredients, and works perfectly for meal preps and quick whipping together moment.
I've made so many overnight oat variations that I can't even keep up at this point, but one thing's for sure----they never get old, especially this Banana Peanut Butter Overnight Oats, Spiced Carrot Cake Overnight Oats, and Vanilla Overnight Oats + Maple Spiced Pears, which are all staples for many of my readers in the mornings!
When it comes to overnight oats, I even created this How To Make the Best Overnight Oats article so that you can understand the ins and outs of creating a deliciously unique quick breakfast. Thank me later!
How to Make the Best Banana Coconut Overnight Oats
The secret to the creamiest and sweetest overnight oats without tons of added sugar is to use a very ripe banana. It should have some brown spots on the peel and be nice and soft. When you mash it up, the fruit gets even sweeter! Of course, you can always add a healthy sweetener like pure maple syrup or Agave, if you'd like.
Ingredient Subs & Swaps
As you know, I enjoy making my recipes so that you are able to adjust and tweak where your taste buds decide. So, here are some simple ways to mix up the ingredients using what's in your pantry:
Oats. I highly recommend using thick-cut rolled oats, which absorb flavors well but don't turn to total mush overnight. However, if you only have rolled or quick oats, you can still make this recipe with them. Quick oats will become quite soft if left to soak overnight though.
Full-fat coconut milk. I love the creaminess of full-fat coconut milk, however, you can use any dairy-free milk you like along with a few drops of coconut extract.
Flaxseed meal. You can easily make these oats with other nutritious ingredients such as chia seeds, hemp seeds, etc.
Maple syrup. I like this vegan liquid sweeter, but other options like date syrup, coconut sugar or Agave syrup also work.
Cinnamon, and nutmeg. You can also use a pinch of ground allspice for extra spices.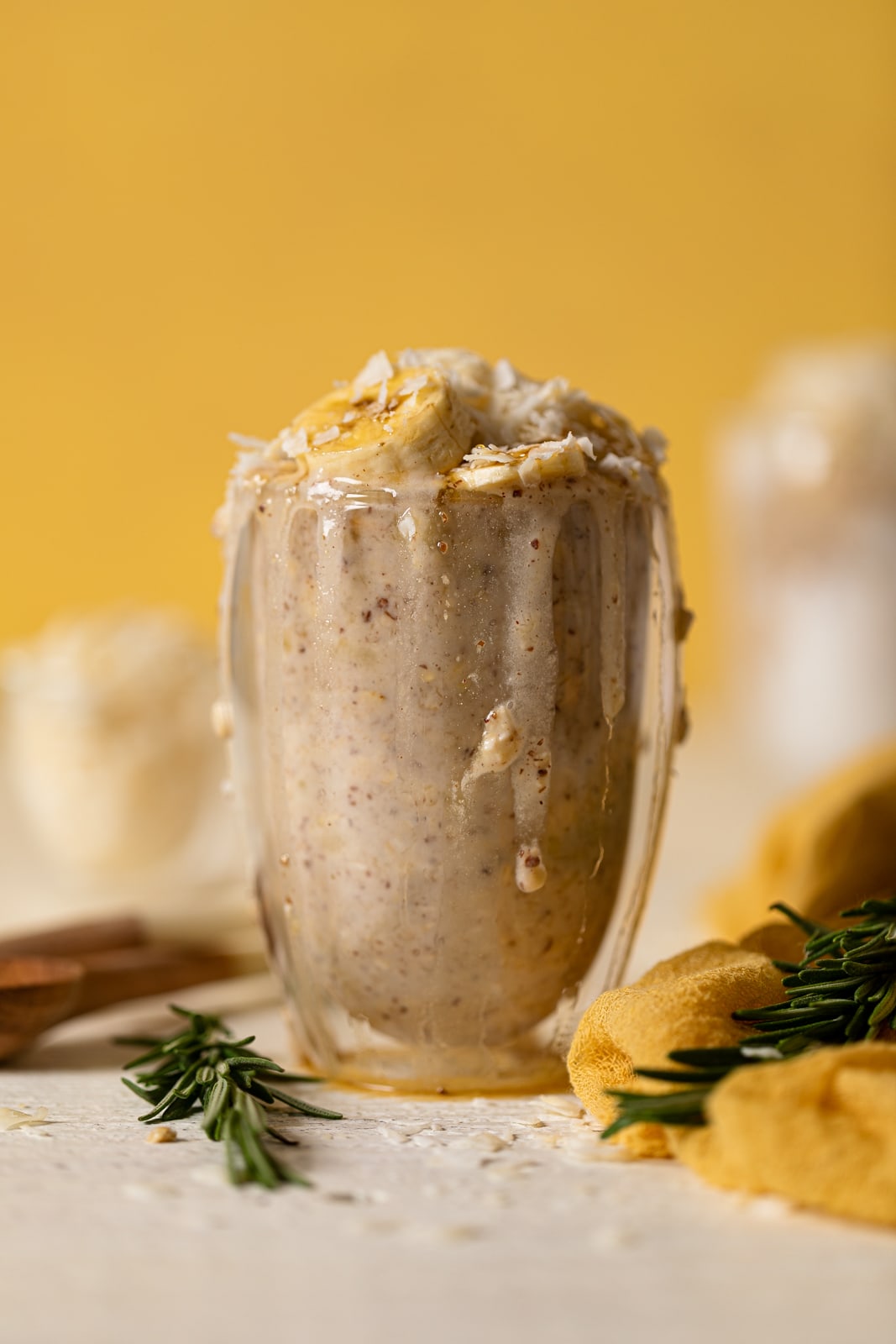 Health Benefits of Overnight Oats
Oatmeal is a healthy breakfast consisting of whole grains, protein, fiber, and antioxidants. Oats are a whole grain that comes in gluten-free varieties, so they are safe for gluten-sensitive folks.
For the most bang for your nutritional buck, be sure to buy gluten-free certified whole rolled oats. The more whole the oats are, the more vitamins and minerals they contain.
Benefits to eating oats include weight loss, reduced risk of cardiovascular disease, and lower blood sugar levels. Regularly eating oats is also linked to lowered cholesterol levels. Whole grains are an essential part of an everyday diet, so don't skip on the oats!
Quality oatmeal is the most important part of creating the best oats, but you also need other healthy ingredients to add to your mix. It doesn't matter what diet or lifestyle you stick to.
Vegans, gluten-sensitive, and other dieters can all enjoy this healthy breakfast. You can make your overnight oats taste like anything! For example, if you love chocolate, adding cocoa powder and maple syrup makes for a healthy, yet sweet oatmeal!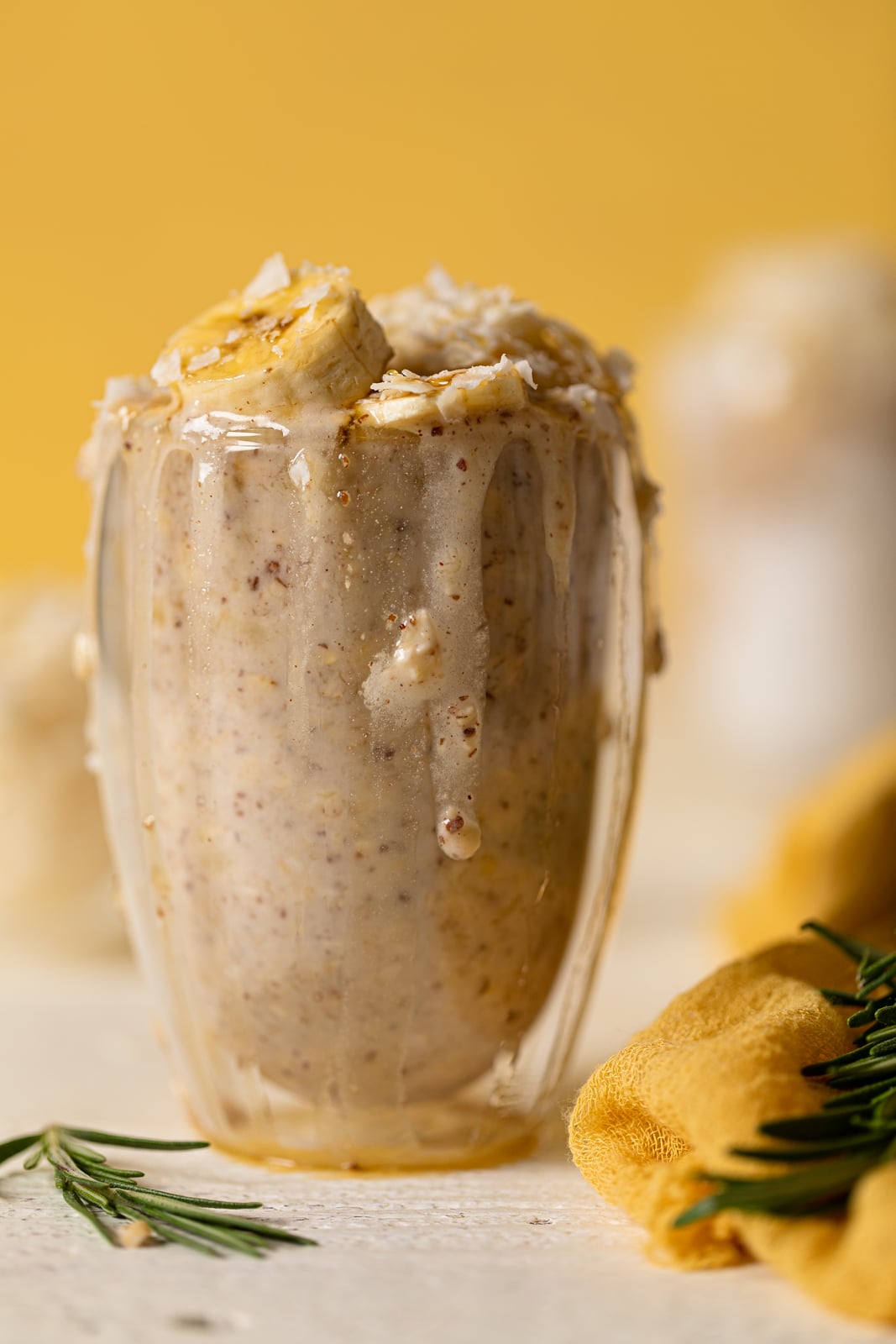 Ingredients in Banana Coconut Overnight Oats
FOR OVERNIGHT OATS:
1 cup organic rolled oats (Use GF-certified, if needed!)
1 medium very ripe banana, mashed
1 ½ cups full-fat coconut milk or cream
1 Tbsp flaxseed meal
2 Tbsps pure maple syrup
1 tsp coconut extract, optional
1 tsp ground cinnamon
½ tsp ground nutmeg
Pinch of sea salt
Health Benefits of Banana
Did you know that bananas are the most consumed fruit in the world? It's because they're naturally sweet and come in a neat package that makes transporting them easy.
And not to mention all of the health benefits they pack, including:
A great source of potassium
High in dietary fiber (great for digestion!)
May help protect against diseases including cancer and heart disease
Can help regulate blood pressure
Contain amino acids that may help preserve memory and provide a mood boost, according to studies.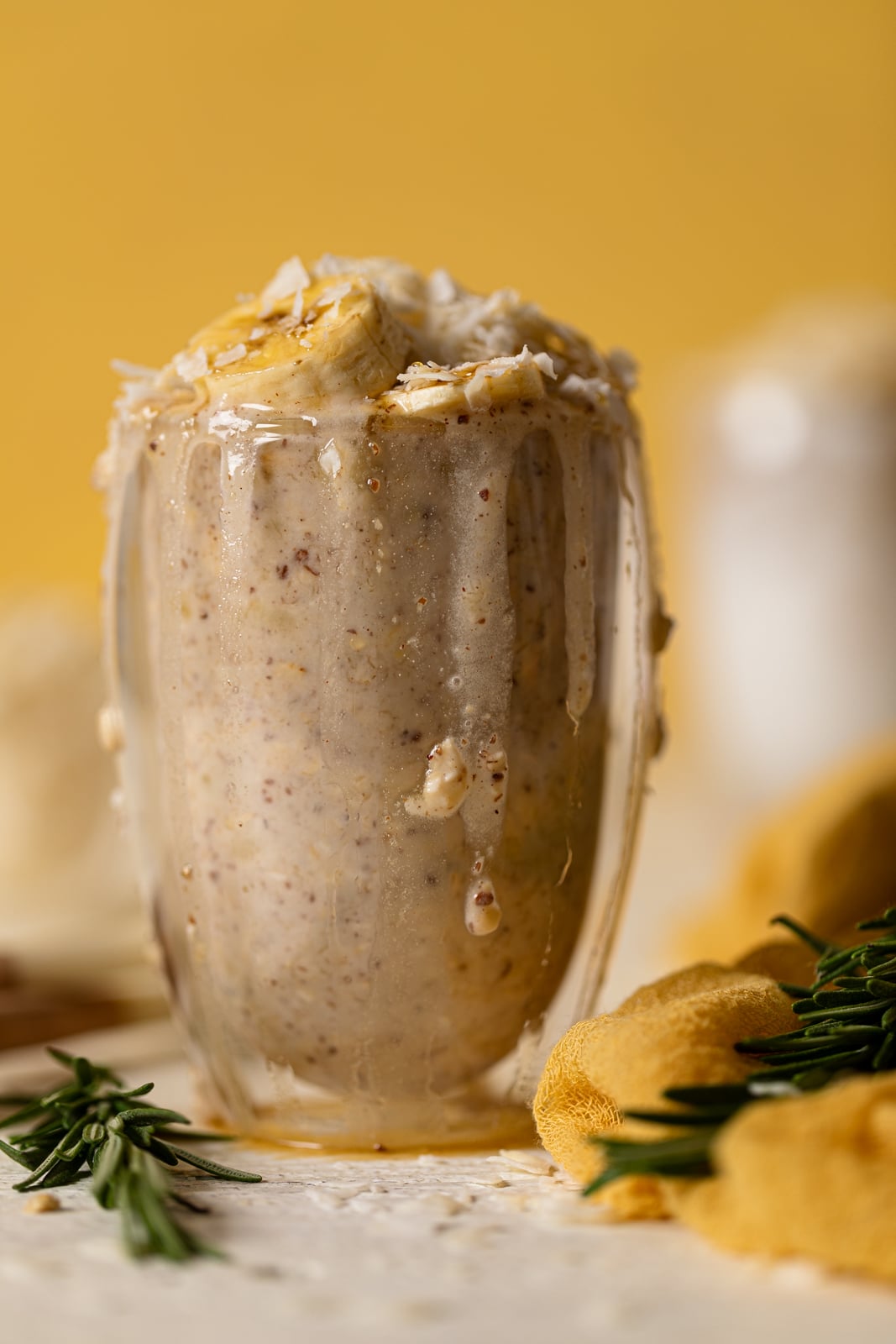 Other Breakfast Recipes You'll Love
Love this overnight oats recipe? Then, you will enjoy some of my other easy recipes to kickstart your morning!
MADE OUR RECIPE(S)?
If you choose to make these Banana Coconut Overnight Oats or any other recipe from us, be sure to tag us on Instagram at #Orchidsandsweettea so that we can share the love, rate, comment below, + share!
OATS:
1

cup

organic rolled oats

(Use GF-certified, if needed!)

1

medium

very ripe banana, mashed

1 ½

cups

full-fat coconut milk or cream

1

tablespoon

flaxseed meal

2

Tbsps

pure maple syrup

1

teaspoon

coconut extract, optional

1

teaspoon

ground cinnamon

½

teaspoon

ground nutmeg

Pinch of

sea salt
TOPPINGS:
Sliced bananas

Shredded coconut flakes
MAKE THE OATS:
Add all ingredients to a medium bowl, stirring until well combined.
REFRIGERATE OVERNIGHT:
Tightly cover bowl with plastic wrap and refrigerate overnight (or at least 8 hours).
ASSEMBLY:
To serve (hot or cold), add oats to a bowl or mason jar and top it with your sliced bananas, coconut flakes, and drizzle of maple syrup, if desired.

Bon Appetit!
STORAGE: Leftovers can be stored in the refrigerator for up to 5 days. Perfect for meal prep for the week!
SWEETENER: Instead of maple syrup, you can simply use Agave syrup or an additional ripe banana (whichever taste is best).
Calories:
1250
kcal
|
Carbohydrates:
123
g
|
Protein:
20
g
|
Fat:
81
g
|
Saturated Fat:
66
g
|
Polyunsaturated Fat:
5
g
|
Monounsaturated Fat:
5
g
|
Sodium:
57
mg
|
Potassium:
1628
mg
|
Fiber:
14
g
|
Sugar:
40
g
|
Vitamin A:
82
IU
|
Vitamin C:
14
mg
|
Calcium:
193
mg
|
Iron:
16
mg