It's taboo to have a slice of carrot cake for breakfast, but now you can with this healthy Spiced Carrot Cake Overnight Oats recipe! My overnight oats take on the flavors of carrot cake without all the sugar and frosting. Rest assured, this is still a sweet, delectable breakfast!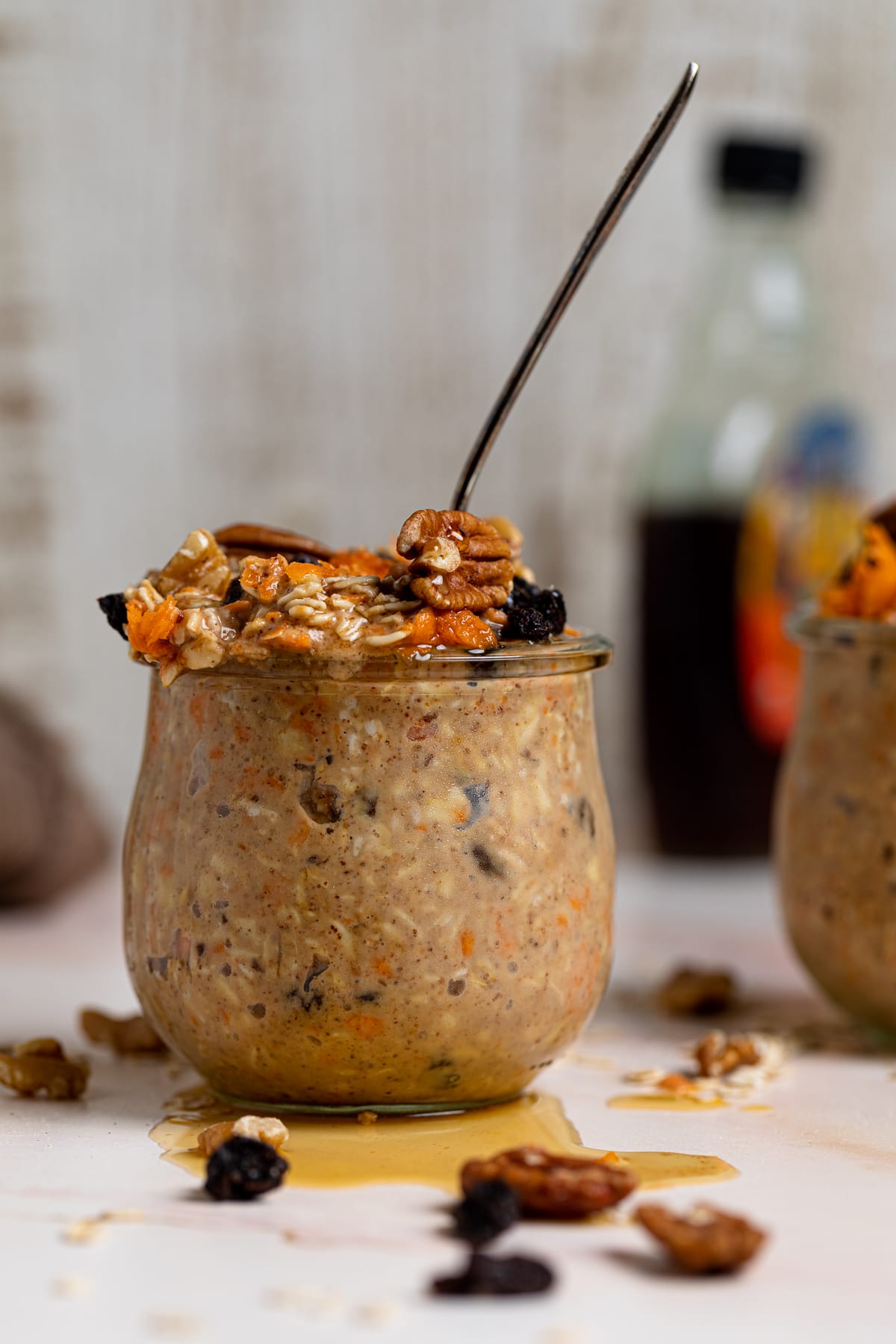 Overnight Oats Week 2021 continues with this outrageous Spiced Carrot Cake Overnight Oats! This healthy breakfast tastes just like a real slice of carrot cake with real shredded carrots and raisins right inside. Instead of being loaded with sugar, these oats are simply sweetened with maple syrup.
Personally, I don't love an overly sweet breakfast because I like to save my sugar servings for dessert later in the day. To fuel your body first thing in the morning, these nutritions overnight oats are the way to go.
Seriously, I am passionate about overnight oats recipes. What other breakfast is make-ahead, vegan-friendly, gluten-free-friendly, low sugar, high protein, and completely customizable?
Only overnight oats, folks! Carrot cake overnight oats are fantastic, but if you like another type of cake, that can also be made into an overnight oats recipe. Who doesn't want to feel like they're eating cake for breakfast while gaining nutritional benefits? It's the best of both worlds!
Health Benefits of Overnight Oats
Inherently, overnight oats are an extremely healthy way to begin the day. My overnight oats always begin with gluten-free certified rolled oats. Rolled oats are a less-processed oat that contains tons of natural fiber and protein among many other nutrients. They are high in antioxidants and also help to lower blood pressure.
Heart-healthy oats have been also proven to reduce the risk of cardiovascular disease when eaten in their whole form. Although they are high in carbs, the nutritional benefits of oats cannot be denied!
Since oats are healthy on their own, I like to add additional healthy ingredients for a nutritional powerhouse at breakfast time. Spiced Carrot Cake Overnight Oats have other healthful ingredients such as real shredded carrots, dried raisins, flaxseed meal, maple syrup, almond milk, and almond butter.
All of these ingredients are also mixed with classic carrot cake warming spices such as cinnamon. Even cinnamon is an anti-inflammatory, so there is nutrition at every corner of this breakfast!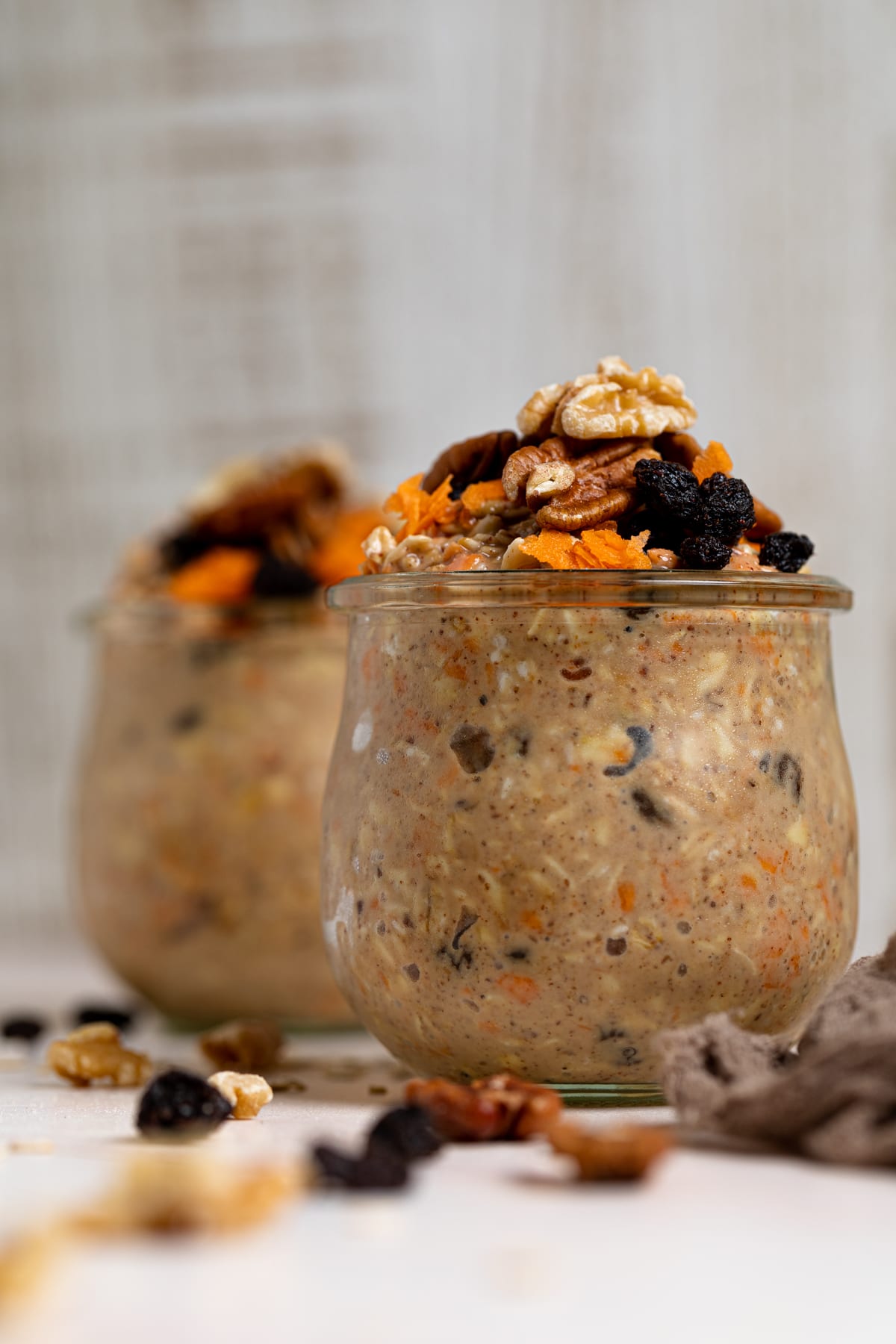 Prepping Your Breakfasts
There isn't an easier breakfast recipe than overnight oats. It takes less than 5 minutes to prep it before bedtime, and you are awoken in the morning to breakfast already made.
If you have kids, it's great to make overnight oats in lidded mason jars so the kiddos can grab breakfast and a spoon on their way to school. Overnight oats can be eaten cold, so there is no need for a microwave. That is unless you prefer your oatmeal hot!
Instead of prepping your oats each evening, you can make one large batch of oats on Sunday evening and portion out your breakfasts for the entire week!
Feel free to change up the flavors and ingredients day-to-day based on what you have in the house. Label the tops of the jars so you know which flavor you are eating on a given day. I find that by doing this, I never get sick of eating oatmeal in the morning since the flavors are varied and customized!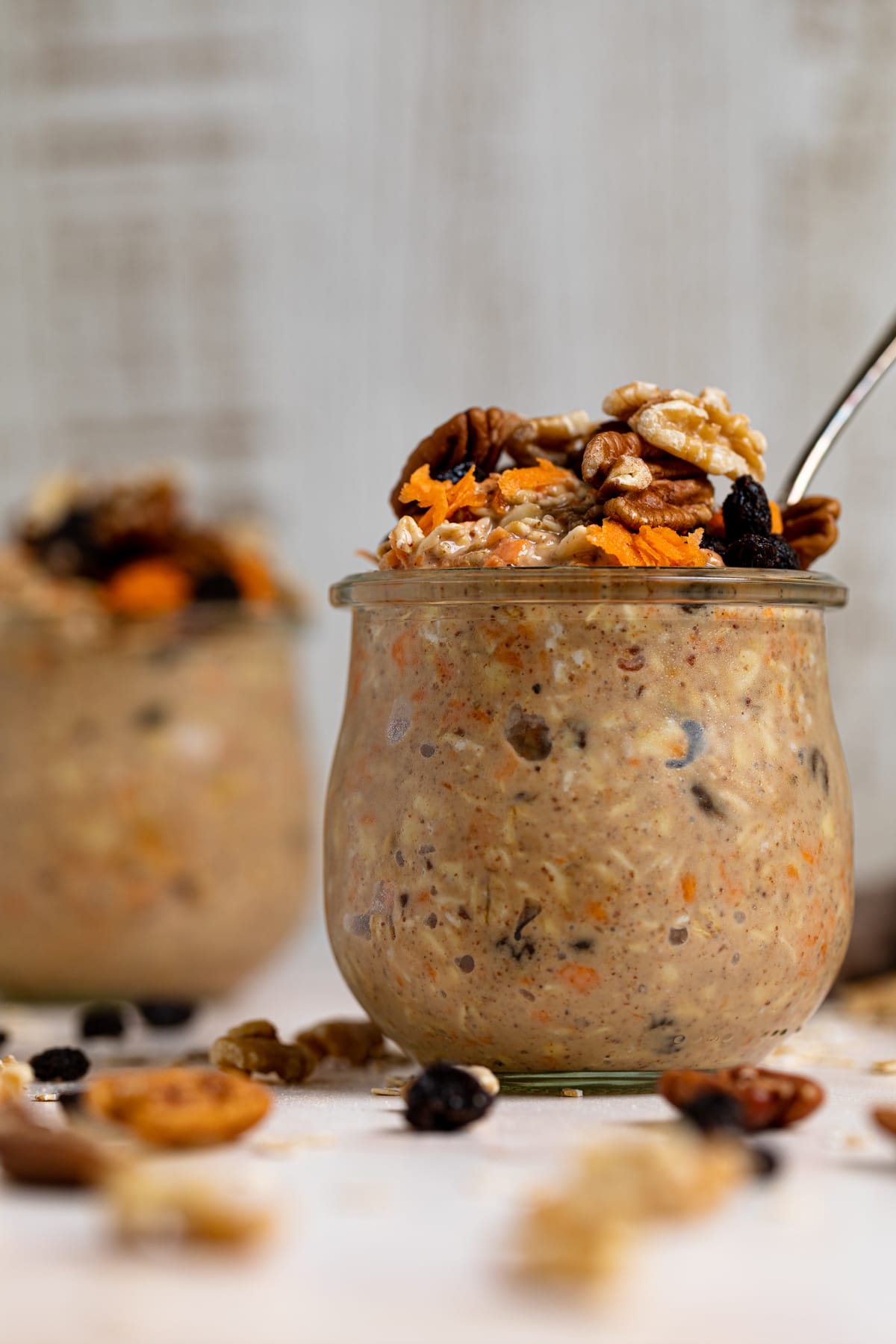 Customizing Your Oats
The options are absolutely endless when making overnight oats. You can start with the base-level ingredients; oats, milk/plant milk, maple syrup. Then comes the fun part!
Take a look in the pantry and see what you have for flavorings. Add nut butter, jam, chocolate chips, nuts, seeds, vanilla, cookie butter, fresh fruit, coconut, spices, or anything else that you might enjoy.
Also, you can add or omit ingredients in this Spiced Carrot Cake Overnight Oats as you see fit. If you are not a fan of raisins, instead add candied pineapple or dried cranberries. Or, you can omit the dried fruit completely. The beauty of these oats is that they are made for personalized taste buds.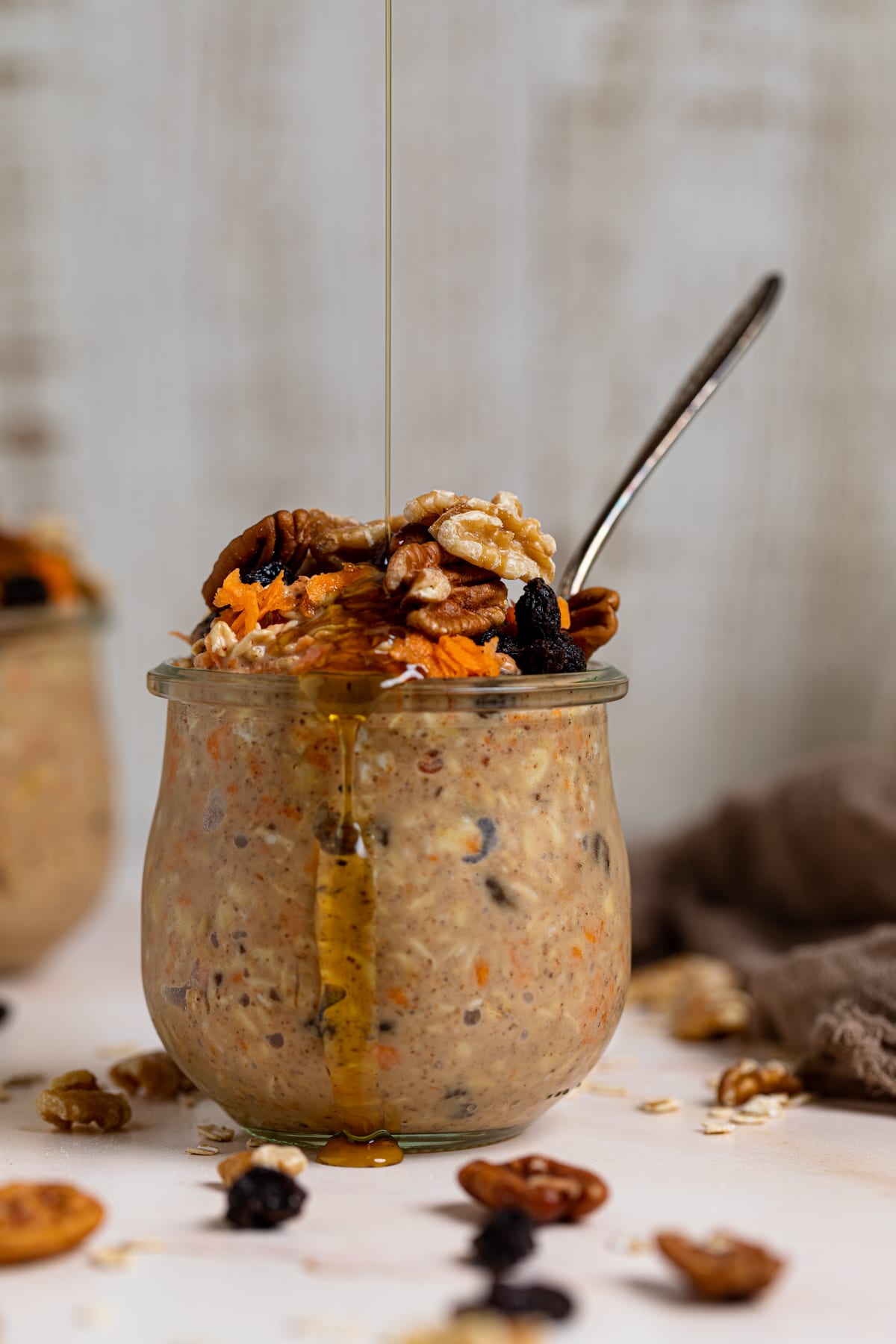 Ingredients in Spiced Carrot Cake Overnight Oats
1 cup thick-cut rolled oats, GF certified
½ cup grated carrots
1 cup almond milk
4 tablespoons almond butter
1 tablespoon flaxseed meal
2 tablespoons pure maple syrup
2 teaspoons vanilla extract
1 teaspoon ground cinnamon
½ teaspoon ground nutmeg
¼ teaspoon ground allspice
⅛ teaspoon ground ginger
A pinch of sea salt
¼ cup dried raisins
Toppings:
Grated carrots
Shelled walnuts, toasted
Halved pecans, toasted
Dried raisins
Pure maple syrup, for drizzle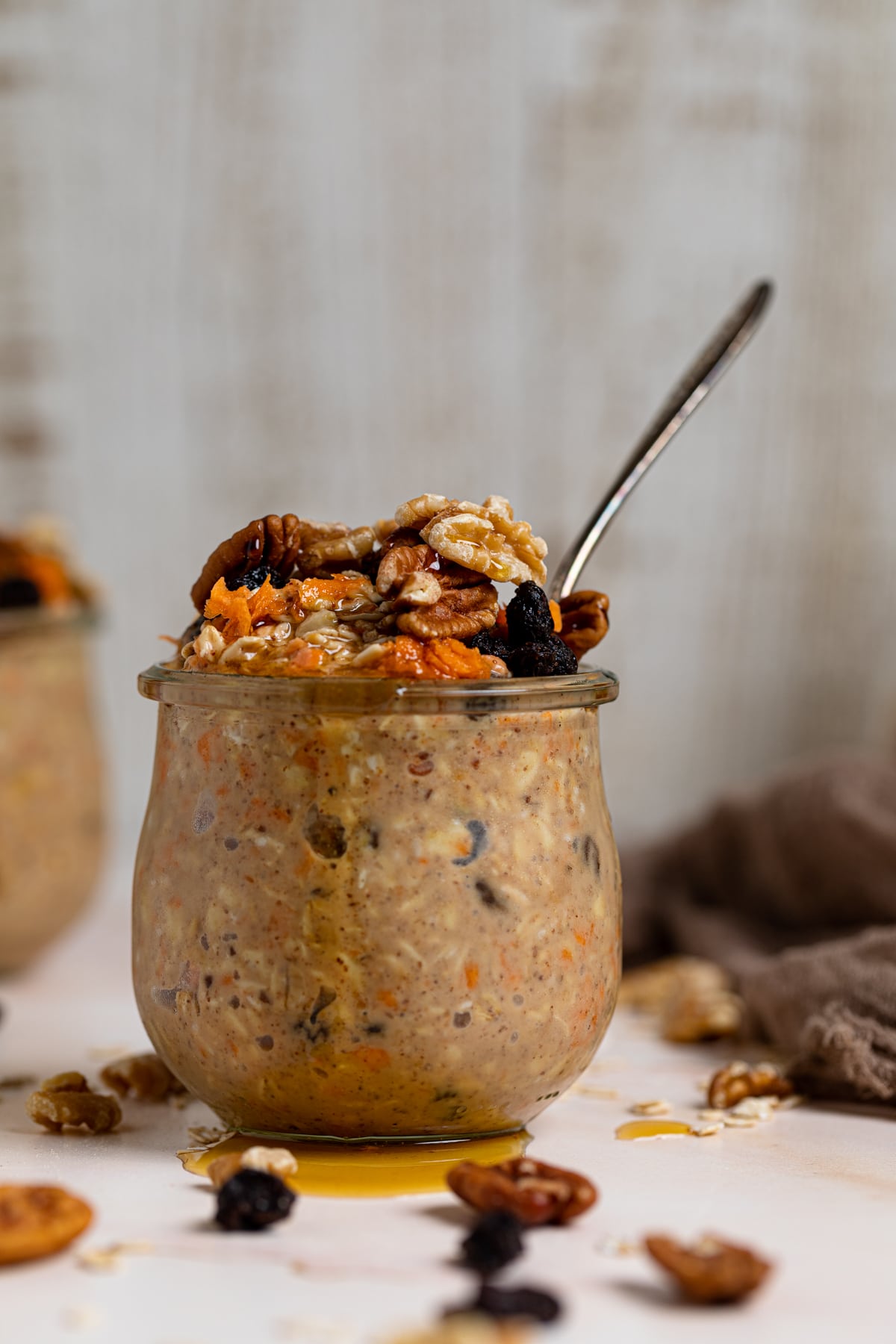 How to Make These Overnight Oats
Add all ingredients to a medium bowl or mason jar, stirring until well combined.
Tightly cover the bowl with plastic wrap or the lid and refrigerate overnight (or at least 8 hours).
To serve (hot or cold), add oats to a bowl or mason jar and top it with your favorite nuts, grated carrots, raisins, and drizzle maple syrup atop, if desired.
Bon Appetit!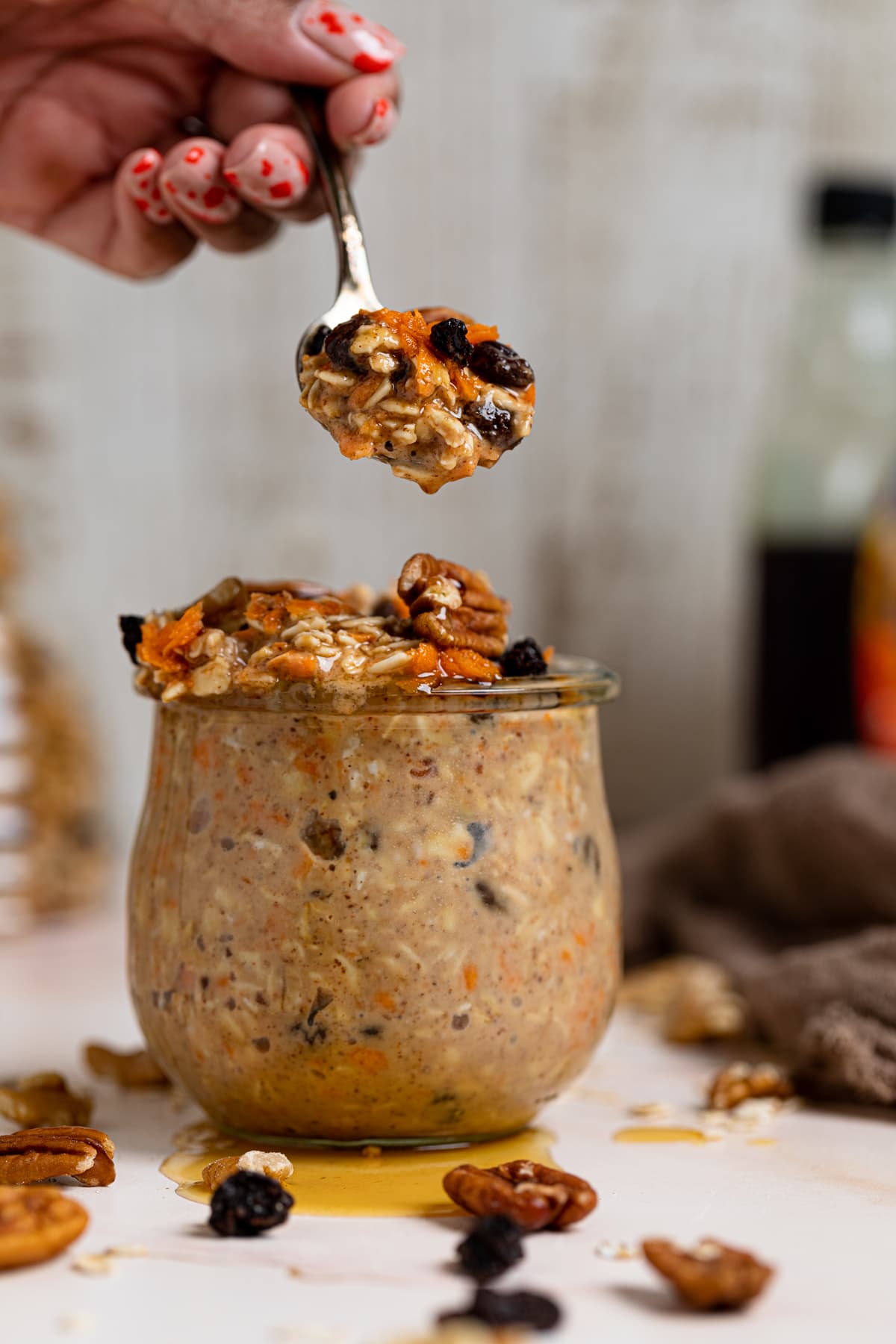 Other Recipes I Love!
Here are some similar recipes to Spiced Carrot Cake Overnight Oats that I absolutely love: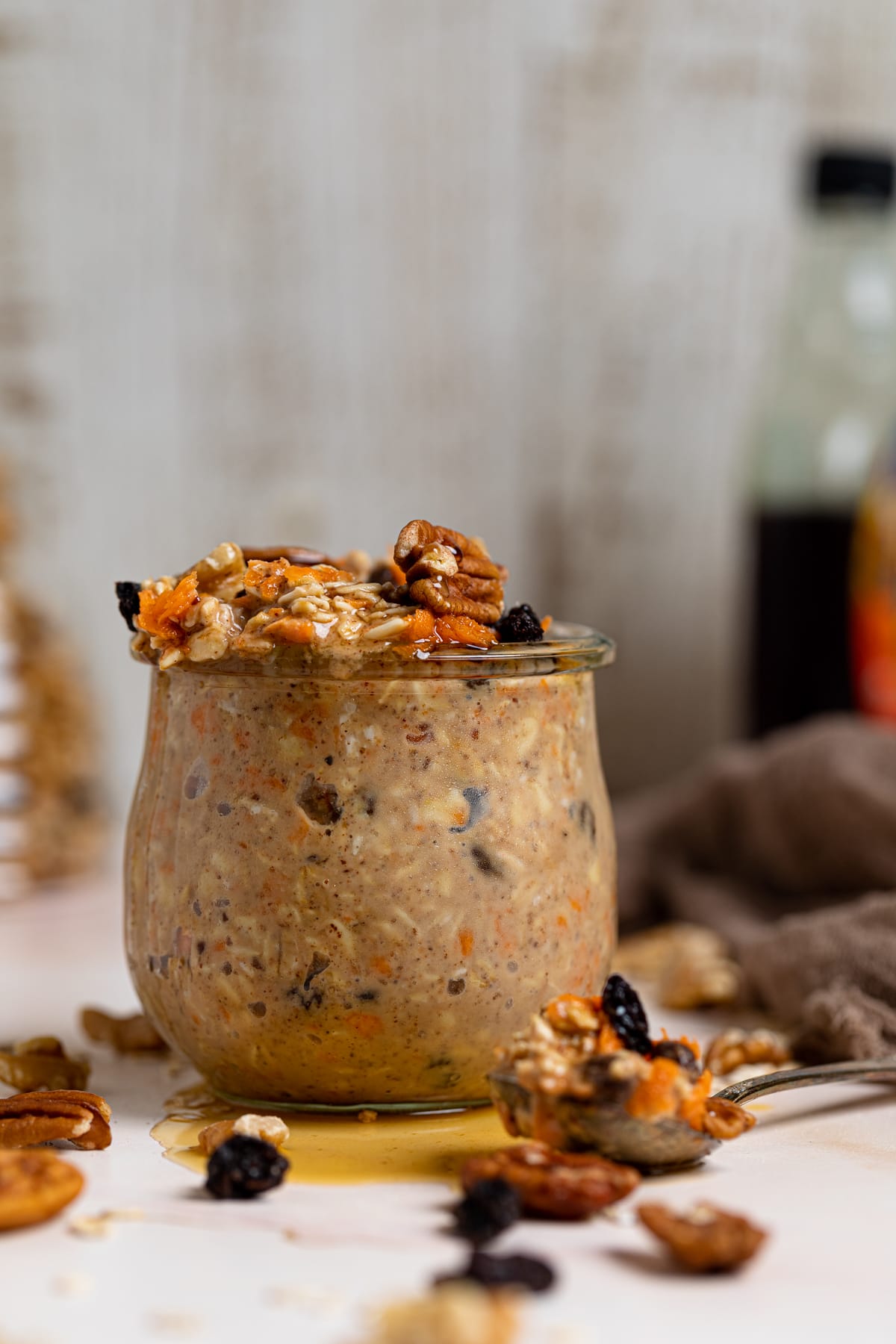 TO MAKE THE OVERNIGHT OATS:
Add all ingredients to a medium bowl, stirring until well combined.

Tightly cover bowl with plastic wrap and refrigerate overnight (or at least 8 hours).

To serve (hot or cold), add oats to a bowl or mason jar and top it with your favorite nuts, grated carrots, raisins, and drizzle maple syrup atop, if desired.

Bon Appetit!
STORAGE: Can be stored in the refrigerator for up to 5 days. Perfect for meal prep for the week!
TOASTED NUTS: Add chopped pecans/walnuts to a baking sheet and toasting them in the oven (400 degrees Fahrenheit) for 5-10 minutes, tossing them halfway to avoid browning on one side.
NUT BUTTER: If preferred, you can always substitute peanut butter with Almond butter, SunButter (perfect for allergy-free needs!), Tahini (Sesame Seed Butter), Hazelnut Butter, etc.
MILK: You can use your favorite plant-based milk, whether Soy, Oat, Coconut, Flax milk, etc.
Calories:
1049
kcal
|
Carbohydrates:
135
g
|
Protein:
28
g
|
Fat:
48
g
|
Saturated Fat:
4
g
|
Polyunsaturated Fat:
14
g
|
Monounsaturated Fat:
24
g
|
Sodium:
396
mg
|
Potassium:
1455
mg
|
Fiber:
23
g
|
Sugar:
32
g
|
Vitamin A:
10702
IU
|
Vitamin C:
6
mg
|
Calcium:
683
mg
|
Iron:
8
mg