Do you love breakfast as much as I do? How about sleeping in? If you are a fan of a speedy breakfast and cherish your shut-eye, overnight oats are the perfect breakfast! Simply assemble the oats earlier on in the week and you have a week's worth of breakfast prepped and ready to go. I will show you my speedy technique of how to make the best overnight oats. The flavor possibilities are endless!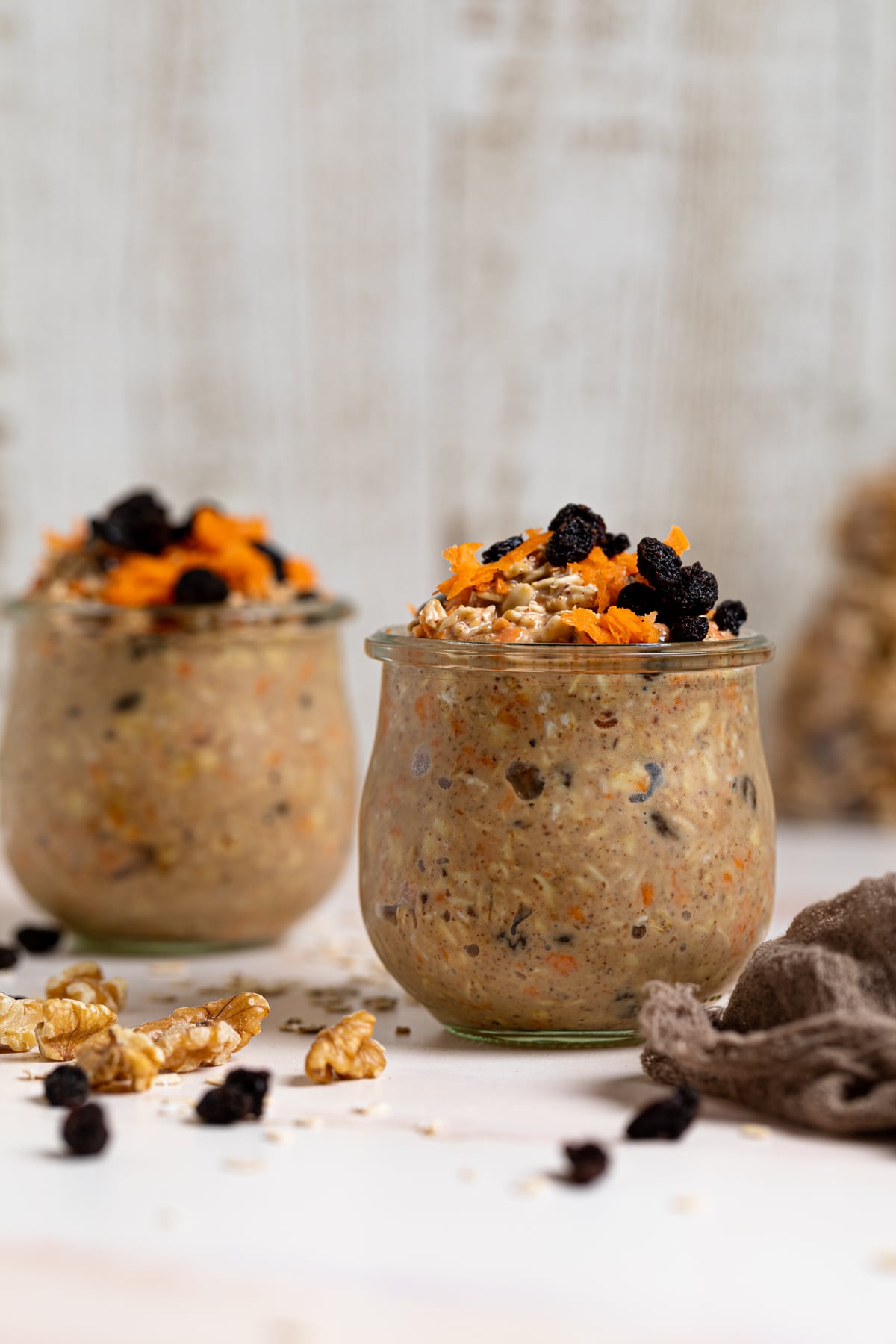 I personally love overnight oats because they offer something for everyone. Oats and seeds are ultra nutritious, so you are getting a healthy breakfast made from whole ingredients.
Oats offer fiber and protein, keeping you full all the way until lunch. Plus, the best overnight oats offer oodles of flavor, from sweet potato pie to carrot cake! With oatmeal, you can have all the flavors of your favorite dessert without all of the sugar and empty carbs.
I love oats so much that I dedicated an entire week in 2021 to this enlightened breakfast. Personally, I have oats for breakfast multiple times per week. I wanted to share all of the love and fuzzy feelings I get when eating a healthful bowl of oatmeal. Hopefully, you all feel similarly when eating some of my favorite oats recipes.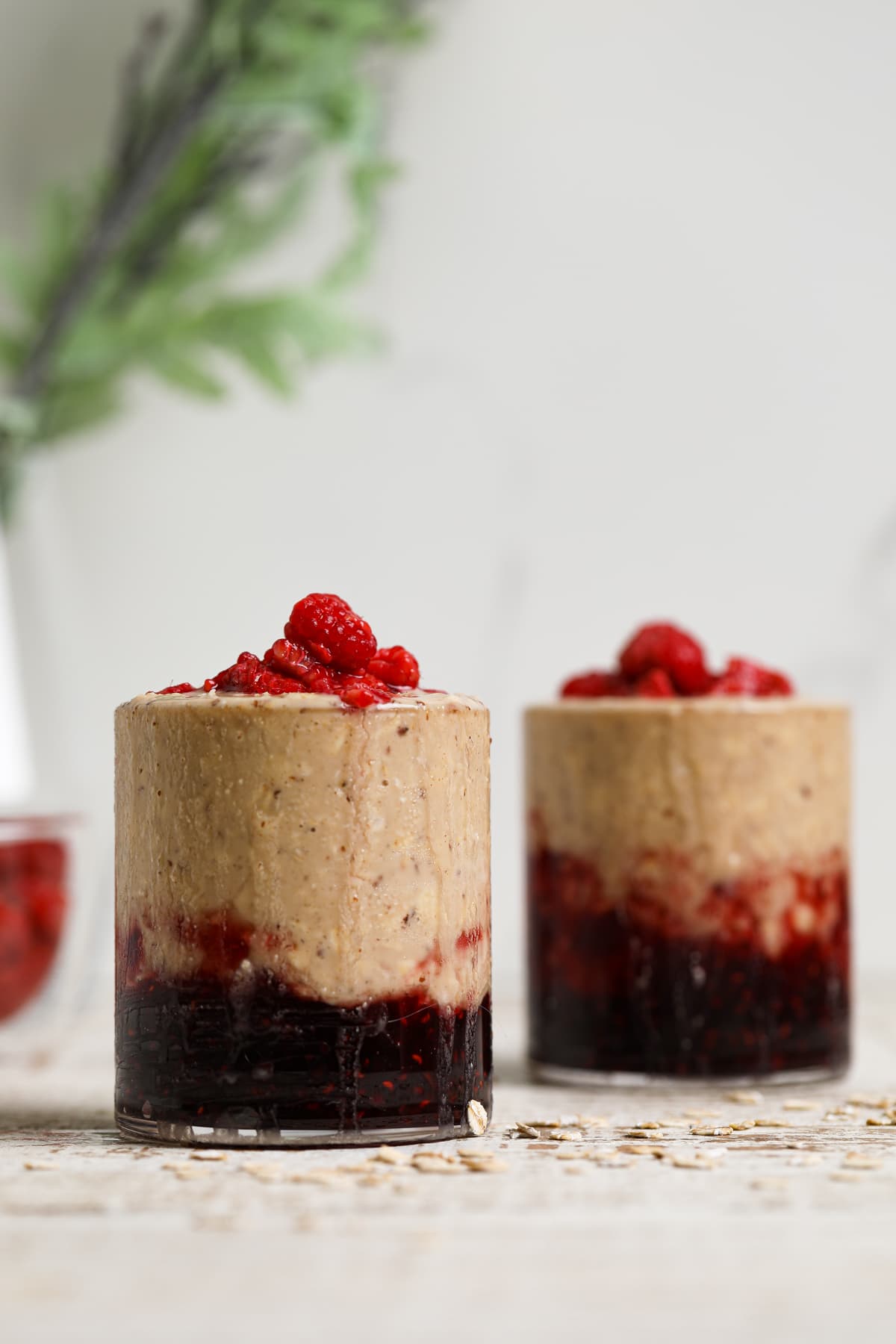 Health Benefits of Overnight Oats
Oatmeal is a healthy breakfast consisting of whole grains, protein, fiber, and antioxidants. Oats are a whole grain that comes in gluten-free varieties, so they are safe for gluten-sensitive folks.
For the most bang for your nutritional buck, be sure to buy gluten-free certified whole rolled oats. The more whole the oats are, the more vitamins and minerals they contain.
Benefits to eating oats include weight loss, reduced risk of cardiovascular disease, and lower blood sugar levels. Regularly eating oats is also linked to lowered cholesterol levels. Whole grains are an essential part of an everyday diet, so don't skip on the oats!
Quality oatmeal is the most important part of creating the best oats, but you also need other healthy ingredients to add to your mix. It doesn't matter what diet or lifestyle you stick to.
Vegans, gluten-sensitive, and other dieters can all enjoy this healthy breakfast. You can make your overnight oats taste like anything! For example, if you love chocolate, adding cocoa powder and maple syrup makes for a healthy, yet sweet oatmeal!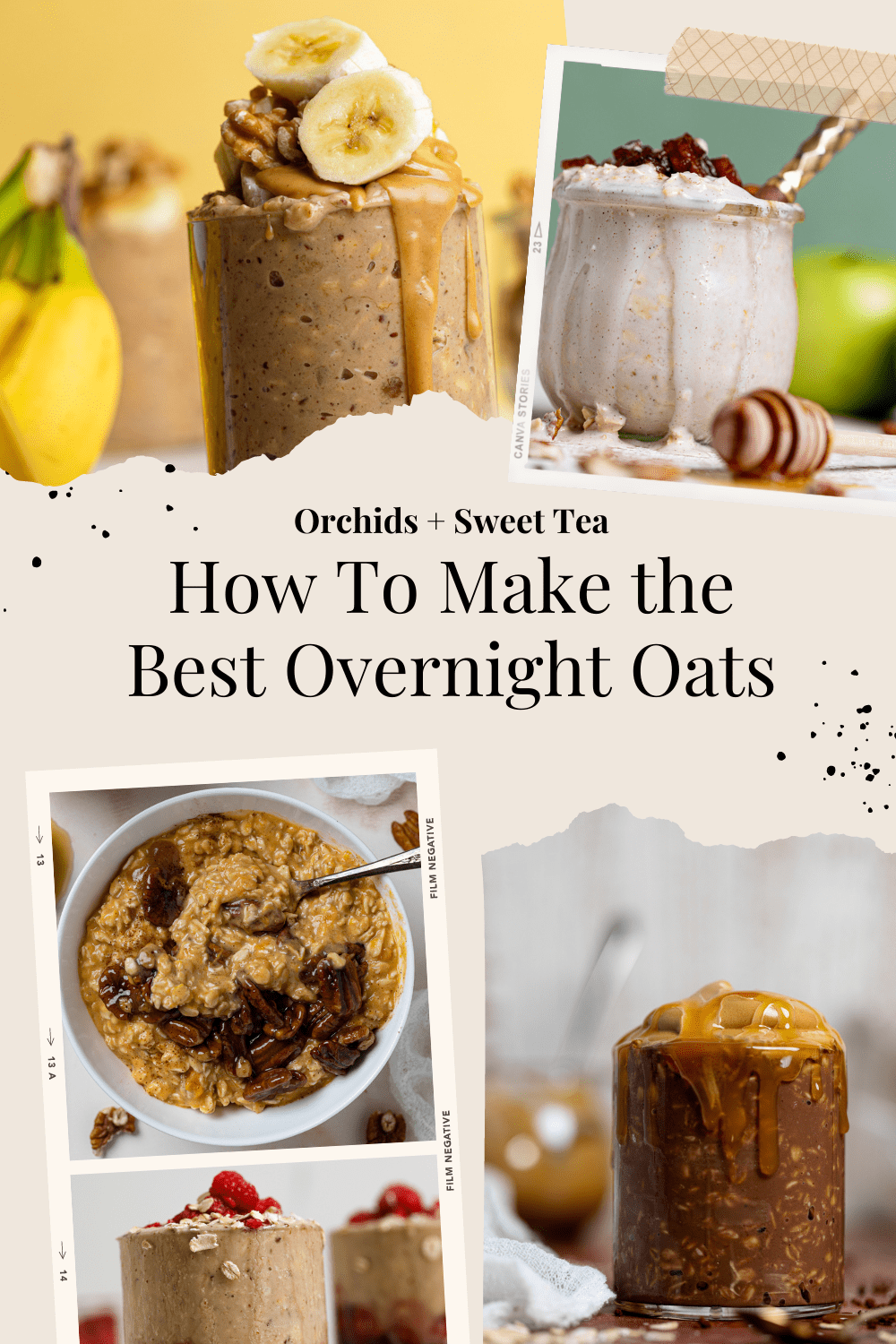 Base Ingredients in the Best Overnight Oats
You only need a few base ingredients to make overnight oats. At its core, this recipe is extremely simple.
You will need:
Oats - I like to use high-quality rolled oats that are GF certified.
Milk - My favorite milk to use is almond milk, but you can use any plant-based or dairy milk that you like.
Seeds - Use flaxseed meal, chia seeds, sunflower seeds, hemp hearts, or any other vitamin-rich seeds that you enjoy.
Sweeteners - Natural sweeteners are best for overnight oats; use agave, maple syrup, honey, or Stevia.
Additional flavors - Keep it simple or add additional ingredients to take your overnight oats to the next level!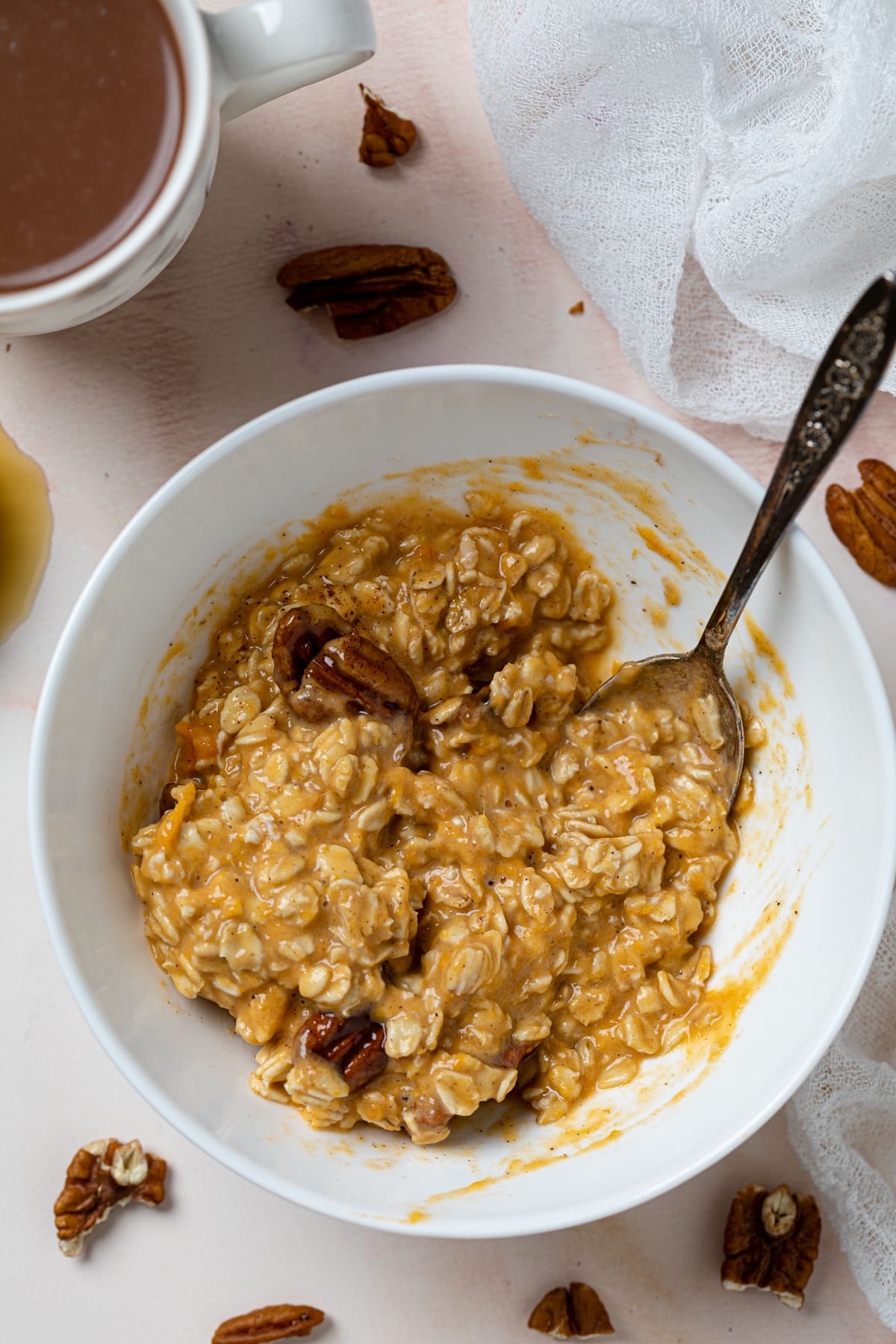 How to Make Overnight Oats
Making overnight oats is so simple! The night before (or the Sunday before your week starts) is when you should assemble your oats. They need at least 8 hours to fully soak in the liquid and become thick, creamy oatmeal.
Here are the steps to make overnight oats:
Add your oats, milk, seeds, and sweeteners into a large bowl. Also, add any additional flavorings you are using, if applicable.
Stir until the mixture is completely incorporated.
Portion into individual mason jars to meal prep for the week. Cover each jar with its lid tightly. You can also refrigerate the mixture directly in the mixing bowl. Cover the bowl with a tight-fitting lid or plastic wrap.
Place the oats in the fridge. Refrigerate overnight or at least 8 hours.
When ready to serve, consume directly out of the mason jar if you are on the go. Otherwise, serve yourself a 1-cup serving. The oats can be eaten hot or cold.
As you can see, there is no active cooking time for making these oats. It only requires a bit of assembly time. The remaining time is resting time for the oats to soften.
My Top 10 Best Overnight Oats Recipes
We can see the many benefits of regularly eating overnight oats, from health to convenience. I have made a range of oats recipes on my site, and here are my absolute favorites.

This rich recipe features coffeehouse flavors of caramel and mocha, topped with the social media-famous whipped coffee! It is the perfect morning pick-me-up all in one.

Chocoholics, this one is for you! These oats receive chocolate in three different ways, all while being creamy, decadent, and healthy enough for breakfast.

Nothing is as nostalgic as a PB&J sandwich. These classic flavors combine for these oats that remind you of childhood!

Adding real carrots and raisins isn't traditional in oatmeal, but this recipe tastes exactly like a slice of carrot cake! The best part is that these oats are topped with a crunchy, nutty topping.

As American as apple pie, these oats feature real apples and tons of pie flavors. You'll feel like you're eating a slice of pie for breakfast!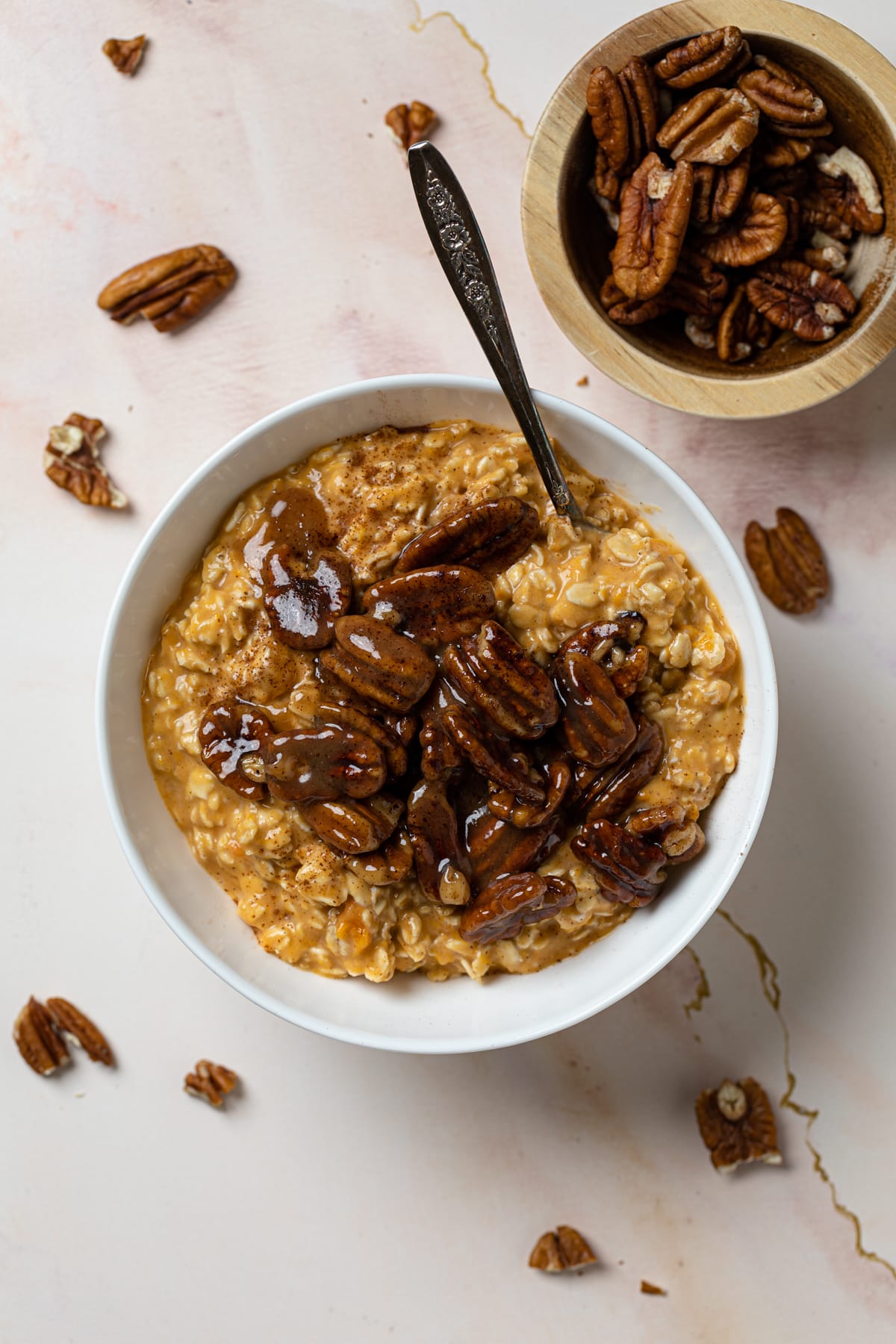 Healthy sweet potatoes absolutely belong in your oatmeal. With a crunchy nutty topping, these oats are sweet potato pie in a bowl.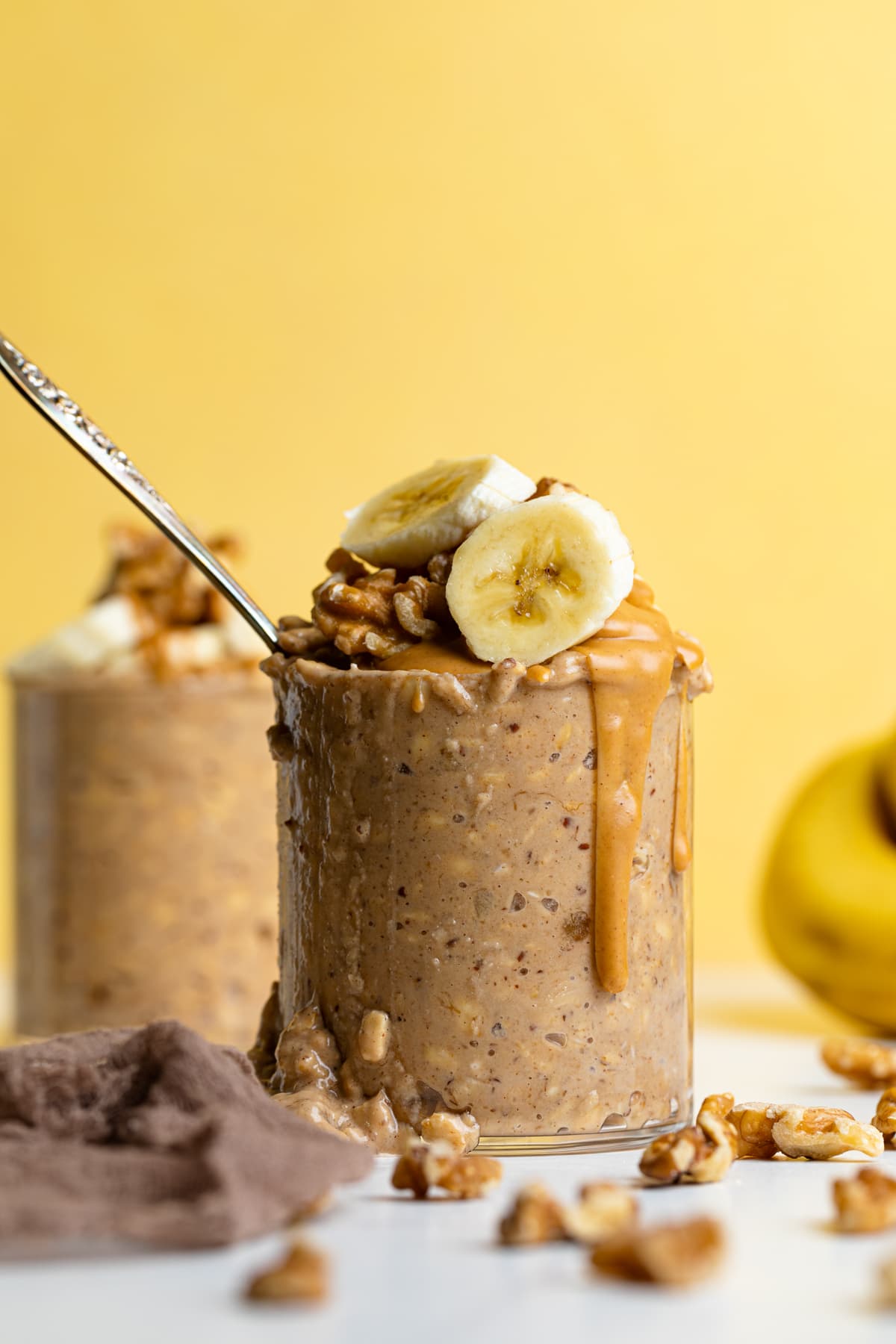 This would be Elvis's favorite! Mashed banana and peanut butter create a delicious, filling, and sweet variety of oats.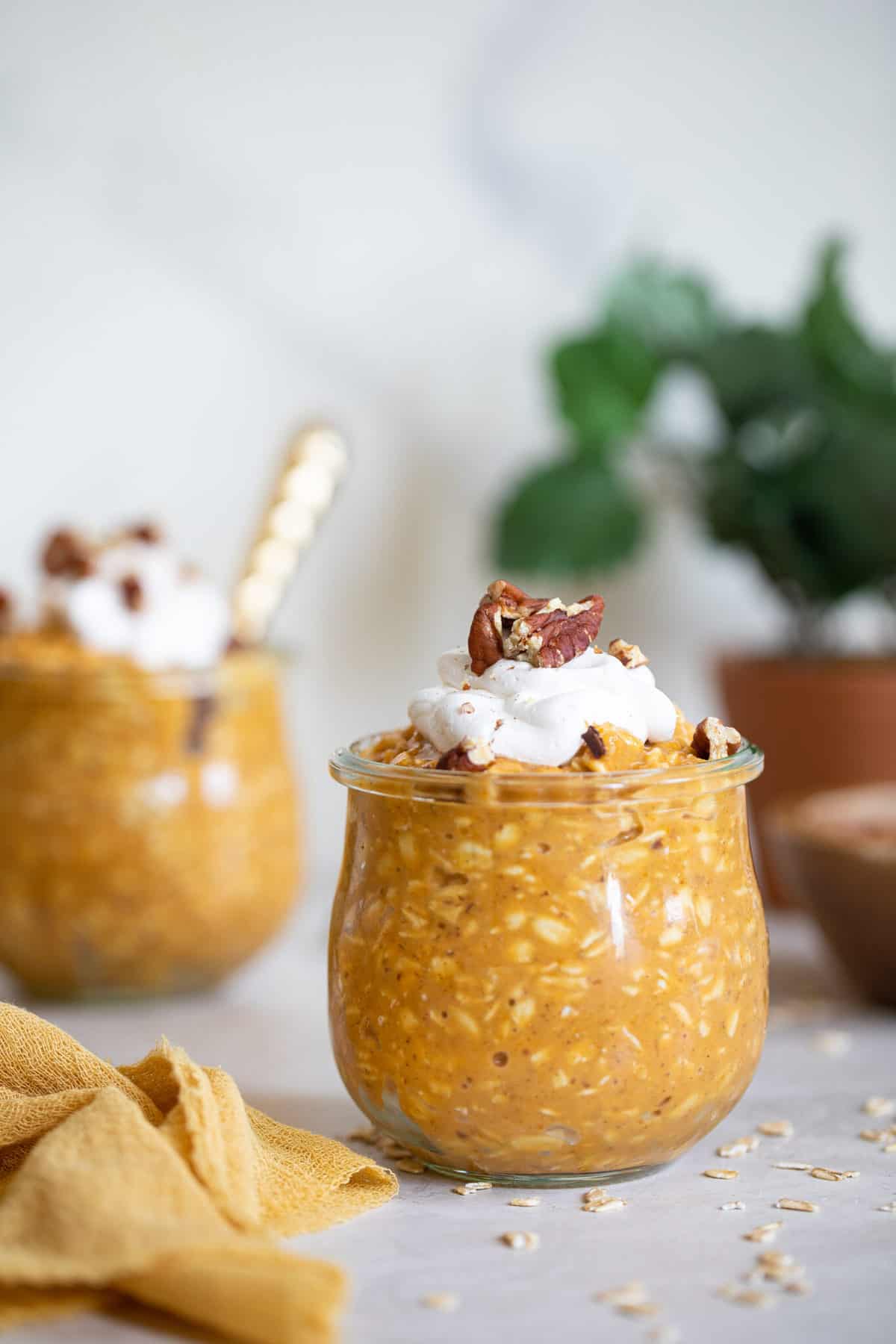 Hello, fall lovers! Treat every day like it's October and make these PSL-inspired oats, made with pure pumpkin.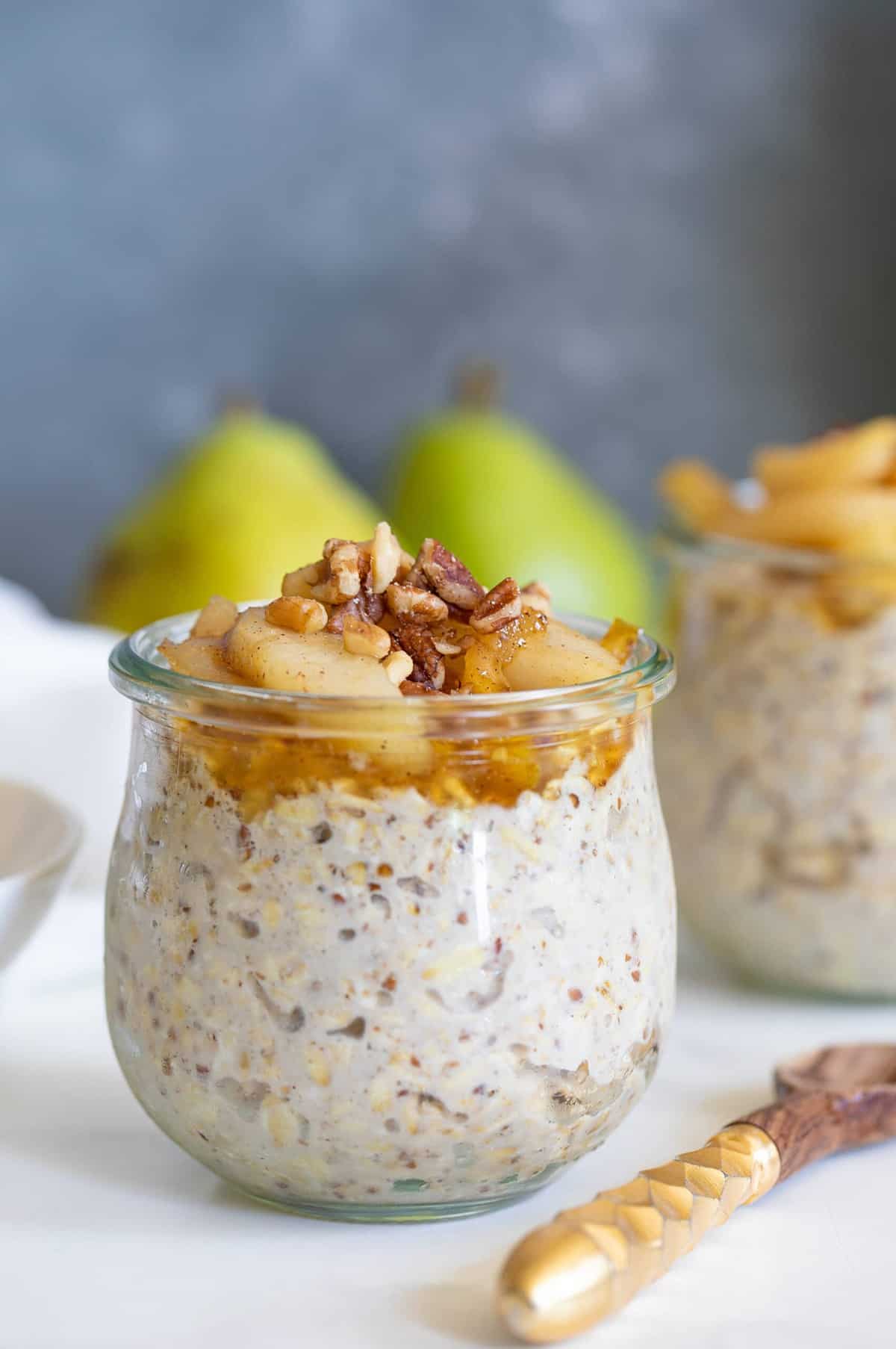 Sometimes simple is best. Give your simple vanilla oats a new twist with these tender Maple-Spiced Pears!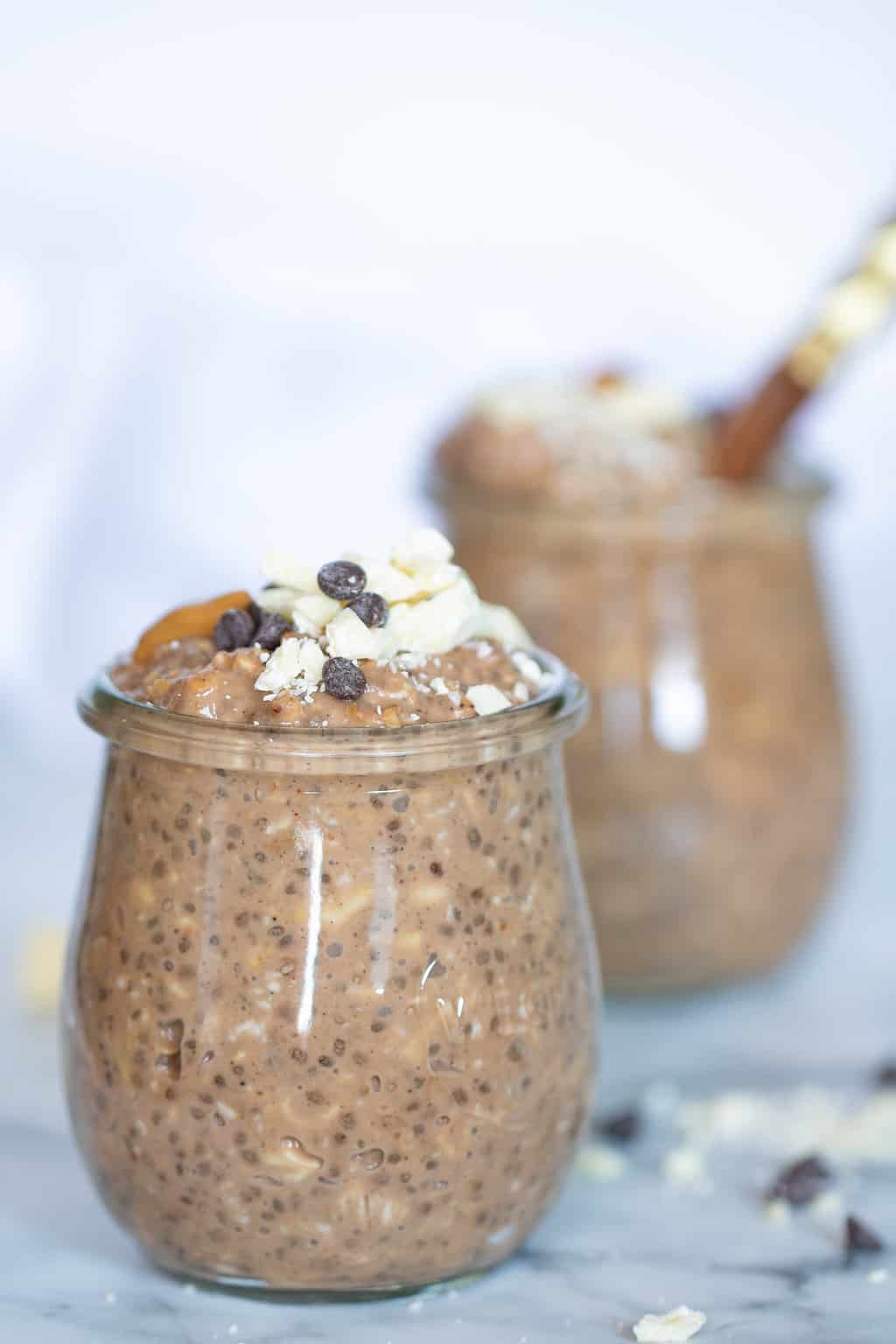 Want the healthiest oats? These oats are packed with superfoods, yet taste as delicious as the dessert-inspired oats.
Other Recipes You'll Love
Since you are a fan of overnight oats, try these other healthy recipes!