Turn things up a notch with The Best Strawberry Shortcake Donuts that the entire family will enjoy! This recipe is the perfect twist on a classic dessert with fresh strawberries, whipped cream, and soft, tender, + airy homemade glazed doughnuts as the base. Dairy-free + vegan options.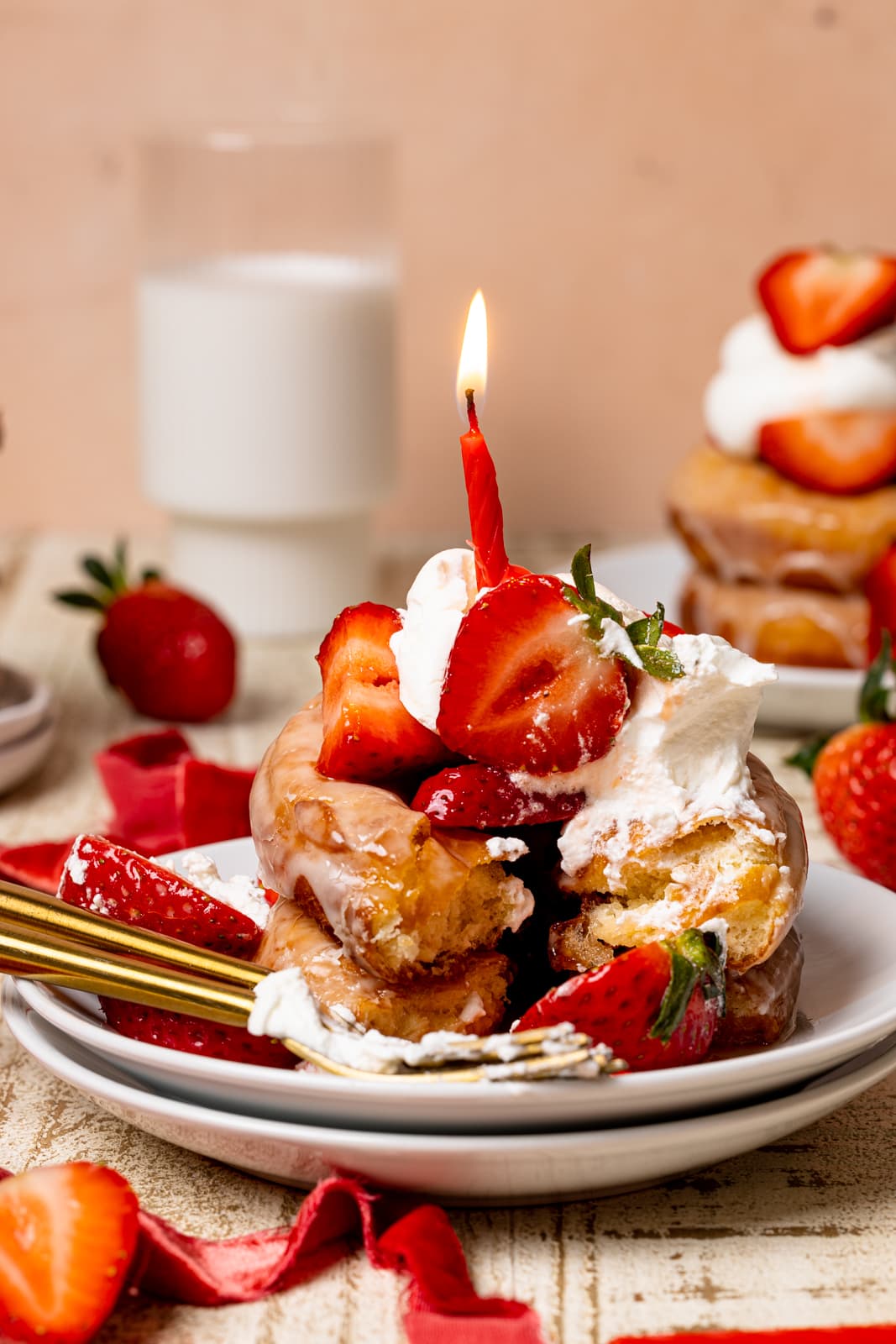 Disclaimer: This post contains affiliate links via Amazon for products that I wholeheartedly love and receive commission from.
Today marks my grandfather's 74th birthday and it's a very special occasion for me. Although he passed away 14 years ago, it still feels like just yesterday sometimes. And in honor of the love that I still hold so dear to my heart, I celebrate him today. He definitely wasn't a cake eater, therefore, these Best Strawberry Shortcake Donuts are the perfect way to ring in his celebration. Plus, his favorite color was red, so this delicious dessert recipe represents him so well. Cheers to another Earthstrong.
When it comes to strawberry shortcake, it's literally one of my favorite things to eat. So much so that I made it one of birthday cakes in the previous years-----definitely recommend this Birthday Strawberry Shortcake Cake or Strawberry Shortcake Ice Cream! Many of my readers fully vouch for this one and I don't blame them. It's seriously that good! And if you're looking for more traditional shortcakes that are plant-based, you'll want to try this Vegan Strawberry Shortcake. They come with the most fluffy, flaky biscuits as a base and the entire recipe is so easy to whip together.
Trust me, this strawberry shortcake cake is sure to become a new family tradition for any special occasion. Plus this shortcake doughnut or donut recipe is perfect to get everyone involved in the baking process and create some sweet memories together!
Jump to:
Why Homemade Glazed Doughnuts?
These sweet treats are simply irresistible. While I usually prefer to bake my doughnuts, these Homemade Glazed Doughnuts are so good that I just had to fry them. Trust me, once you try these fluffy, airy, and vanilla-packed doughnuts/donuts, you won't regret it.
Glazed doughnuts have been my all-time favorite since I was a kid, and they still hold a special place in my heart. The burst of vanilla flavor and the flaky, airy texture are just unbeatable. And the fact that they are so easy to make and perfect for any occasion - breakfast, brunch, or dessert - is just a bonus.
So whether you're craving the best doughnut ever or a healthier version, these easy doughnut recipes are sure to satisfy your sweet tooth.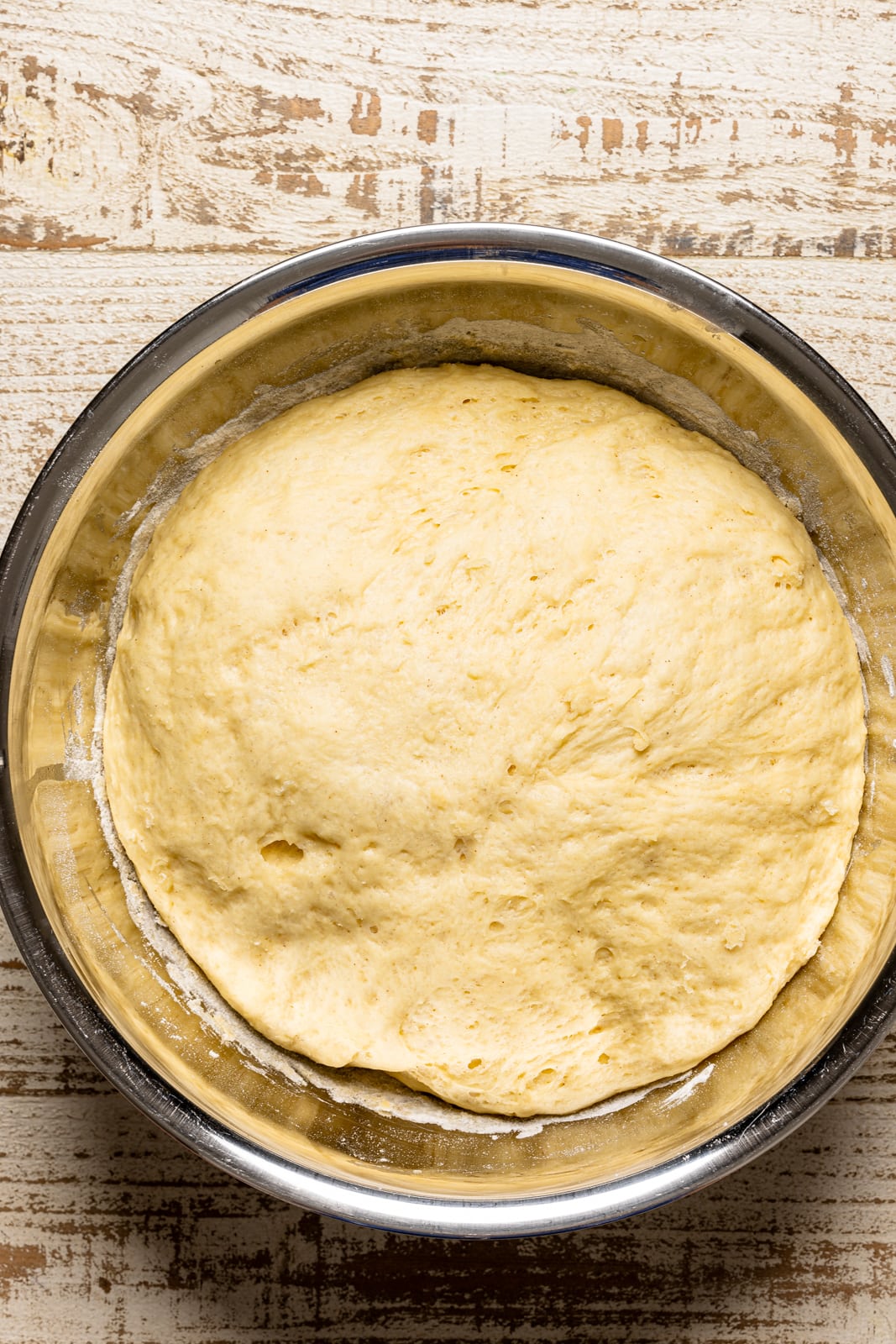 What is a Strawberry Shortcake?
Everyone loves strawberry shortcakes! Traditionally, It has the components of a perfect dessert:
Flaky, buttery shortcake (aka biscuits)
Sweet and saucy strawberry slices
Whipped fresh cream
Basically, strawberry shortcakes are a dessert that usually comes in the form of a crumbly scone-like texture that is topped with whipped cream. While strawberries are a classic choice, in the UK, it is common to have blackberry + clotted cream shortcake and lemon berry shortcake, which has a lemon curd in place of cream.
Ingredients in Strawberry Shortcake Donuts
These strawberry shortcake doughnuts/donuts are super easy to whip together and doesn't require anything special when it comes to ingredients. All you need to whip up this delicious dessert is:
Homemade glazed doughnuts. To make your own homemade doughnuts, see my Homemade Glazed Doughnuts recipe. You can also purchase freshly made doughnuts from your local bakery instead as well.
Strawberries. The use of fresh organic strawberries with the stems cut off makes for a nice burst of fresh flavor. Plus, you need them for your additional topping.
Lemon juice. Use a big, juicy lemon to freshly-squeeze for strawberry topping/compote.
Honey. This is the must-have ingredient to tie everything together and create a nice subtle sweetness to pair with the tartness in the strawberry topping. Of course, you can always use Agave syrup or maple as a vegan alternative.
Whipped cream. Use either store-bought or make your own. For a dairy-free or vegan option----my faves are from So Delicious Dairy-Free or homemade or dairy-free yogurt.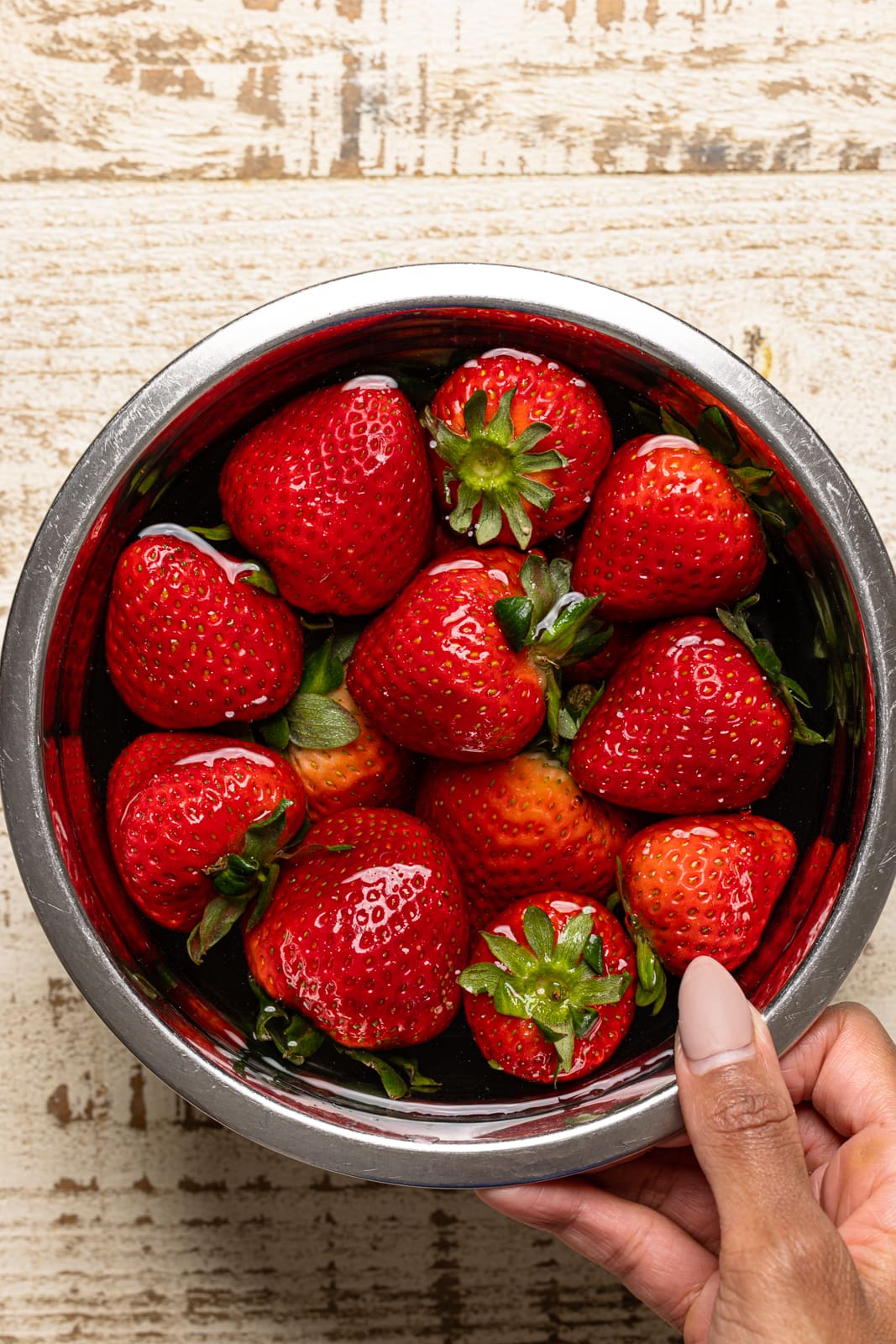 How to Make Strawberry Shortcake Donuts
The base of these strawberry shortcake donuts come with two main components: the donuts themselves and the light vanilla glaze. Let's break down what you need to know to master both.
To start, you activate your yeast by mixing the warm melted butter, milk and a bit of sugar together and letting it sit for a few minutes until it "a foam-like layer is formed atop mixture".
Then you whisk together all dry ingredients, add in the wet ingredients, and stir until combined. Knead the dough for a few minutes until it becomes "elastic-like" and then add it to a greased bowl and let it rise for 1 hour.
Roll out risen dough unto a floured surface, cut out doughnuts, fry them in heated oil, drain, and let slightly cool. Make the glaze, top warm doughnuts with glaze, let it set a bit, and enjoy!
Once doughnuts are made, the rest of the Strawberry Shortcake recipe isn't very hard to make at all. Then, you'll need to make the fresh strawberry topping (You can also make a compote over the stovetop if desired) and then assemble.
Top with the fresh strawberries and whipped cream, + a drizzle of strawberry syrup from the topping mixture, if desired. Wallah!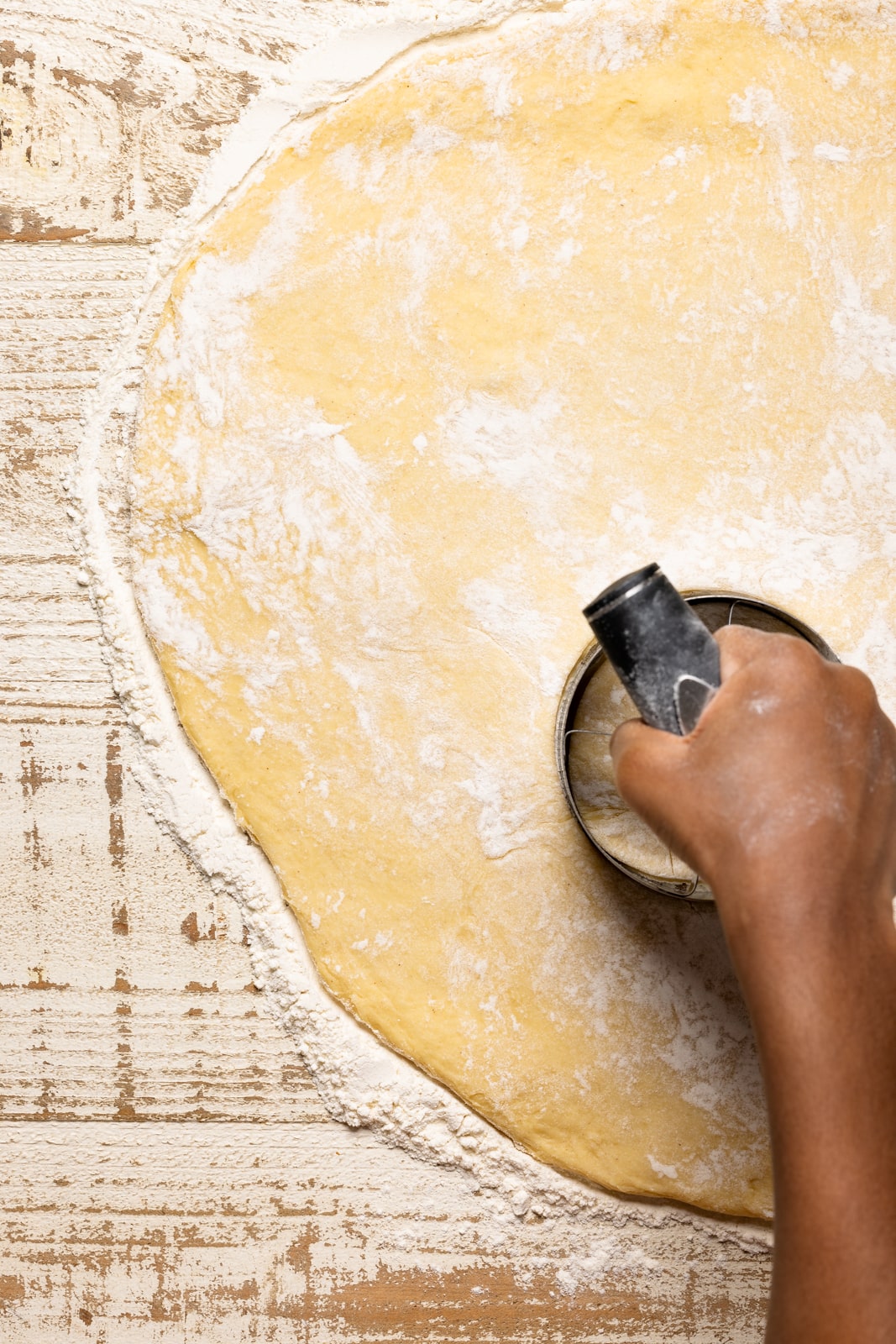 Donut vs Doughnut
Donut vs doughnut - It's the spelling dilemma that has perplexed people for ages. Some say "donut" is easier to spell and faster to say, while others argue "doughnut" is the more proper and sophisticated way to spell it.
At the end of the day, no matter how you spell it, a fresh, warm donut/doughnut is always a welcome treat. So let's just enjoy the deliciousness and leave the spelling debates behind!
Baked vs Fried Doughnuts?
In case you are new to making your own doughnuts or you just didn't really understand the full difference between the two---I wanted to break down the real distinction between a baked doughnut or donut and a fried one. Granted, both types taste absolutely amazing; however, once you've tried both, you'll notice the difference while eating.
Baked Doughnuts: These types of fluffy doughnuts are generally whipped together in a bowl (generally without yeast) and are lighter in texture. They can also be "cakey" depending on the ingredients used.
Fried Doughnuts: These types of fluffy doughnuts are generally denser in texture and have a bit of a crunchiness (on the outside) from being deep-fried. They typically have a sweeter flavor and richer texture.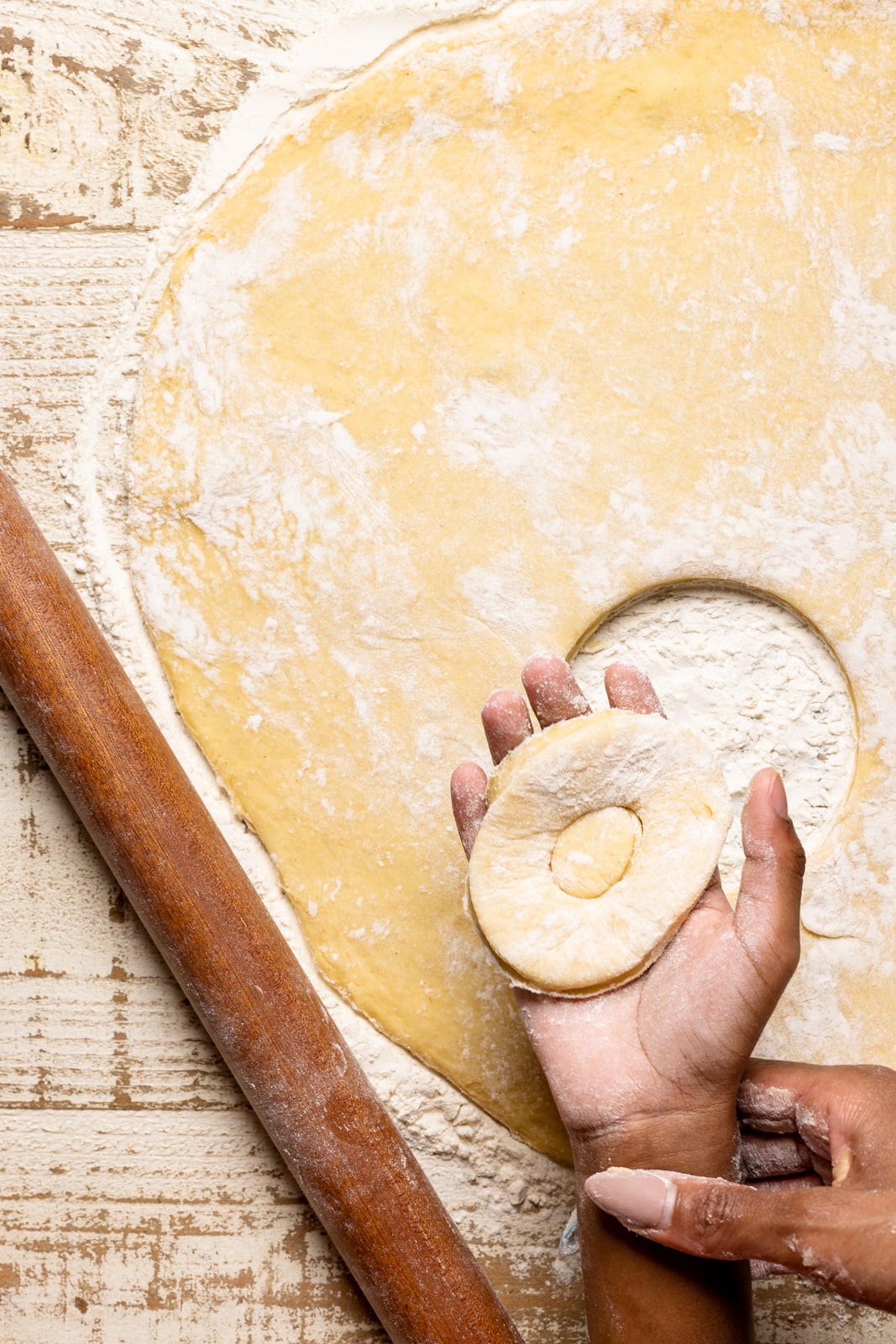 Common Q + A's for the Shortcake Donuts
Do I need an electric mixer for the doughnuts?
Not necessarily! Usually, I make these classic glazed doughnuts via my electric stand-mixer which has the appropriate attachments for the kneading process, however, there are plenty of times with these doughnuts, I have had the pleasure of doing this all by hand and it wasn't difficult.

It just requires a bit more arm work, that's all! Plus, there's nothing that a light drizzle of flour can't help, right?! You'll basically follow all steps for making the dough in a large bowl and once it begins to come together and can form a ball, then you'll begin working the dough in a front-to-back and folding motion a few times until you begin to feel the dough "soften" and become elastic-like. It took me about 5-6 minutes or so total. Not bad!
Can I make these strawberry shortcakes dairy-free or vegan?
Yes, indeed! To make these Homemade Glazed Doughnuts entirely dairy-free or vegan, see the recipe. For these shortcakes, simply substitute whipped cream with coconut whipped cream and honey with maple syrup.
Can I freeze the donuts for longer?
Of course! For longer storage, freeze the donuts (uncoated) in an airtight container for up to three months. To serve, defrost the donuts on the counter for several hours. Add the sugar coating just before serving. 
How many doughnuts do I need to make for these shortcakes?
The original homemade glazed doughnuts recipe makes 14 doughnuts, therefore, for this shortcake recipe, you'll only need 7-8 doughnuts, which means that you'll need to only make ½ the recipe.
Can I use baked donuts instead?
Absolutely! If you'd like to bake donuts, try my Vegan Vanilla Donuts recipe instead.
Can I make these strawberry shortcakes ahead of time?
Yes, for sure! You can make the dough ahead of time and refrigerate it for up to 24 hours before frying. Allow the dough to come to room temperature before frying. Also, you can whip together the fresh strawberry topping and store it in an airtight container in the fridge for up to 2 days.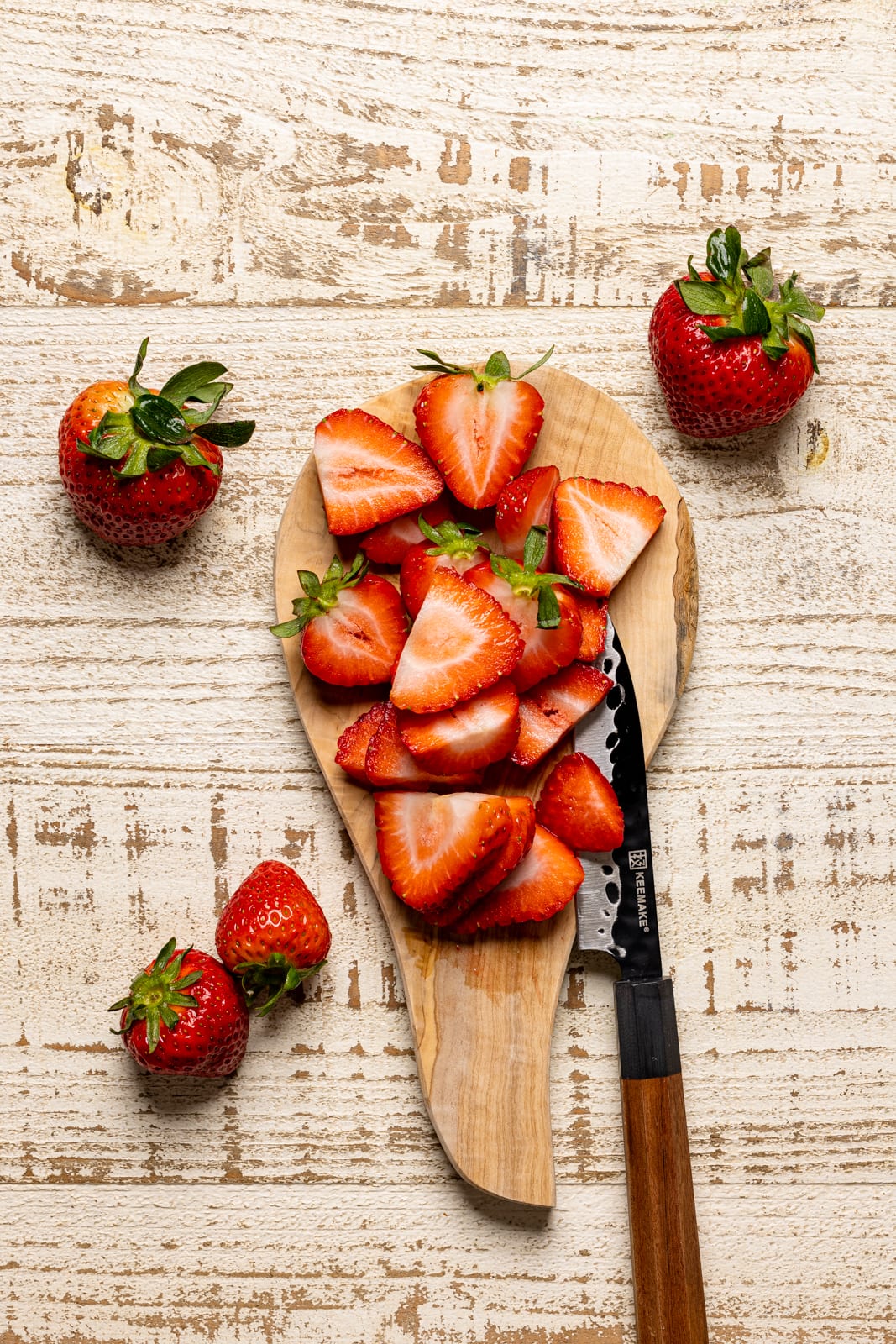 What You'll Love the Most About these Shortcakes:
A really nice twist to traditional strawberry shortcake that is a crowd-pleaser!
They're super fluffy and moist.
Delicious and comforting in every bite.
Melt in your mouth goodness!
Can be made into dairy-free + vegan-friendly options.
Not too sweet, but perfectly sweet at the same time.
Perfect Occasions For this Recipe
These events are a great excuse to eat strawberry shortcake!
Birthdays
Anniversaries
Barbecues
Potlucks
Kids Sleepovers
Holiday Gatherings
Graduations
Baby Showers
Dinner Parties
Actually, any time is a good time for strawberry shortcake, right? Bake away for a little weekday pep-up!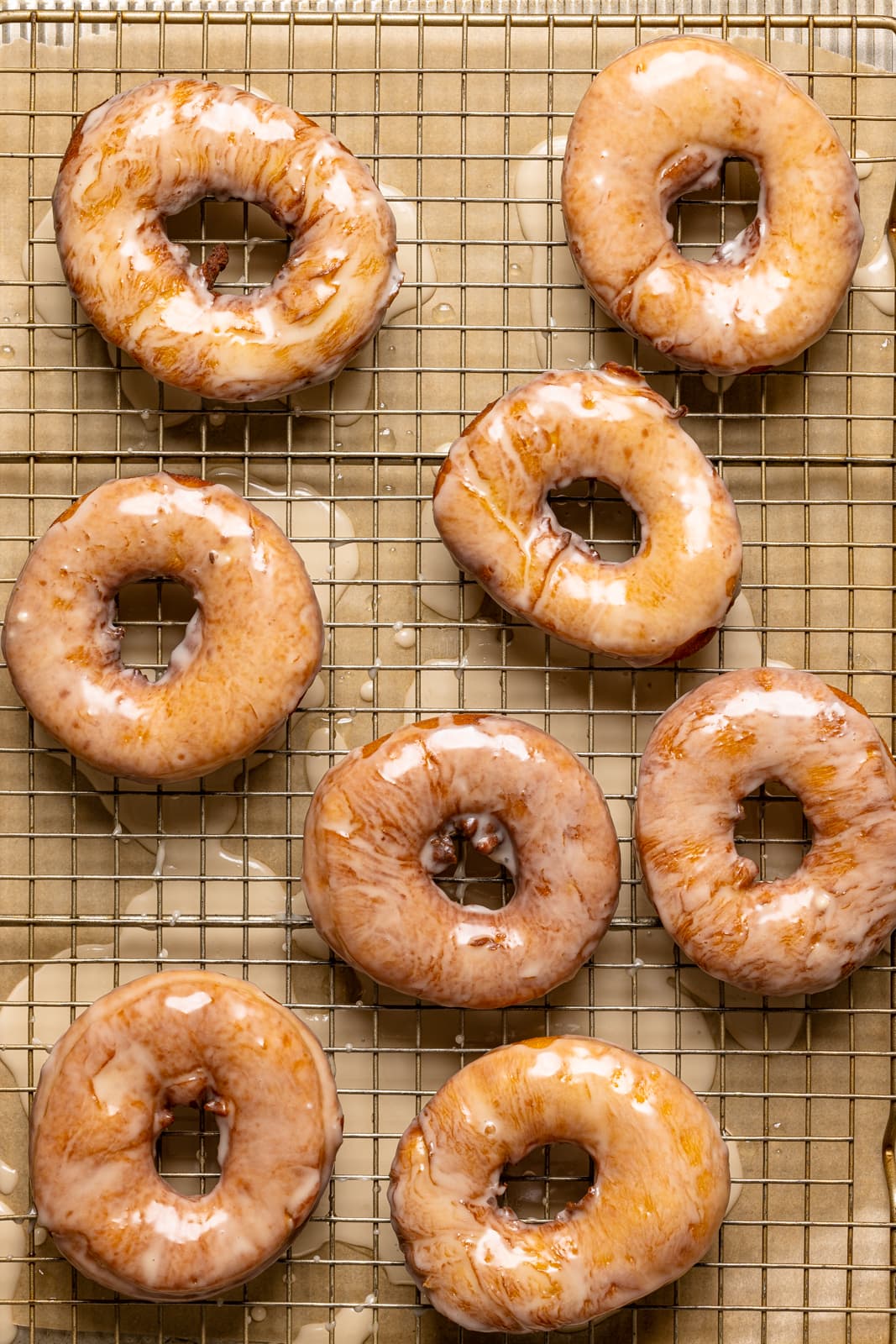 Strawberry Puree/Jam Topping
To switch things up a bit and make a purée or jam topping for your strawberry topping instead, you'll need just four ingredients, plus water:
1-2 cups Strawberries. Fresh or frozen berries both work!
¼ cup Cane or coconut sugar. Either work well to make your fruit puree.
1 teaspoon Lemon juice. This bit of acid helps bring out the natural sweetness in the fruit.
1 teaspoon Vanilla extract. Adds a warming under-note to the bright, fresh berry flavor.
1 tablespoon Arrowroot starch. This is an excellent gluten-free thickener. It doesn't add any flavor but thickens up your purée to the perfect pourable consistency without turning it into jelly.
Make the puree by first combining all of the ingredients in a medium pot on the stove. Then simmer the berries until they break down, about 10 to 12 minutes. Next, add the arrowroot starch, whisk well, and watch as your puree thickens up beautifully. Finally, reduce the mixture for a few more minutes, then let it cool fully.
You can speed up the cooling by placing the puree in a bowl in the fridge. Stir it every few minutes to help it cool evenly.
EQUIPMENT FOR FRYING DONUTS
When it comes to making these classic glazed doughnuts or donuts, you'll only need a few pieces of equipment: Spider Skimmer, Doughnut Cutter, and a few others. If you're a donut fan, I highly recommend adding these to your kitchen toolbox. You'll never have to go out for donuts again, and you can always customize the ingredients, flavors, and decorations of your breakfast pastries!
The easiest way to fry doughnuts can be in a deep dutch oven or a medium-sized frying pan. Whichever you choose, it doesn't matter because either can get the job done.
The last piece of equipment you'll need is a wire cooling rack. Ensure your donuts are fully cooled before glazing them. Waiting for these treats to cool is the hardest part of the whole recipe!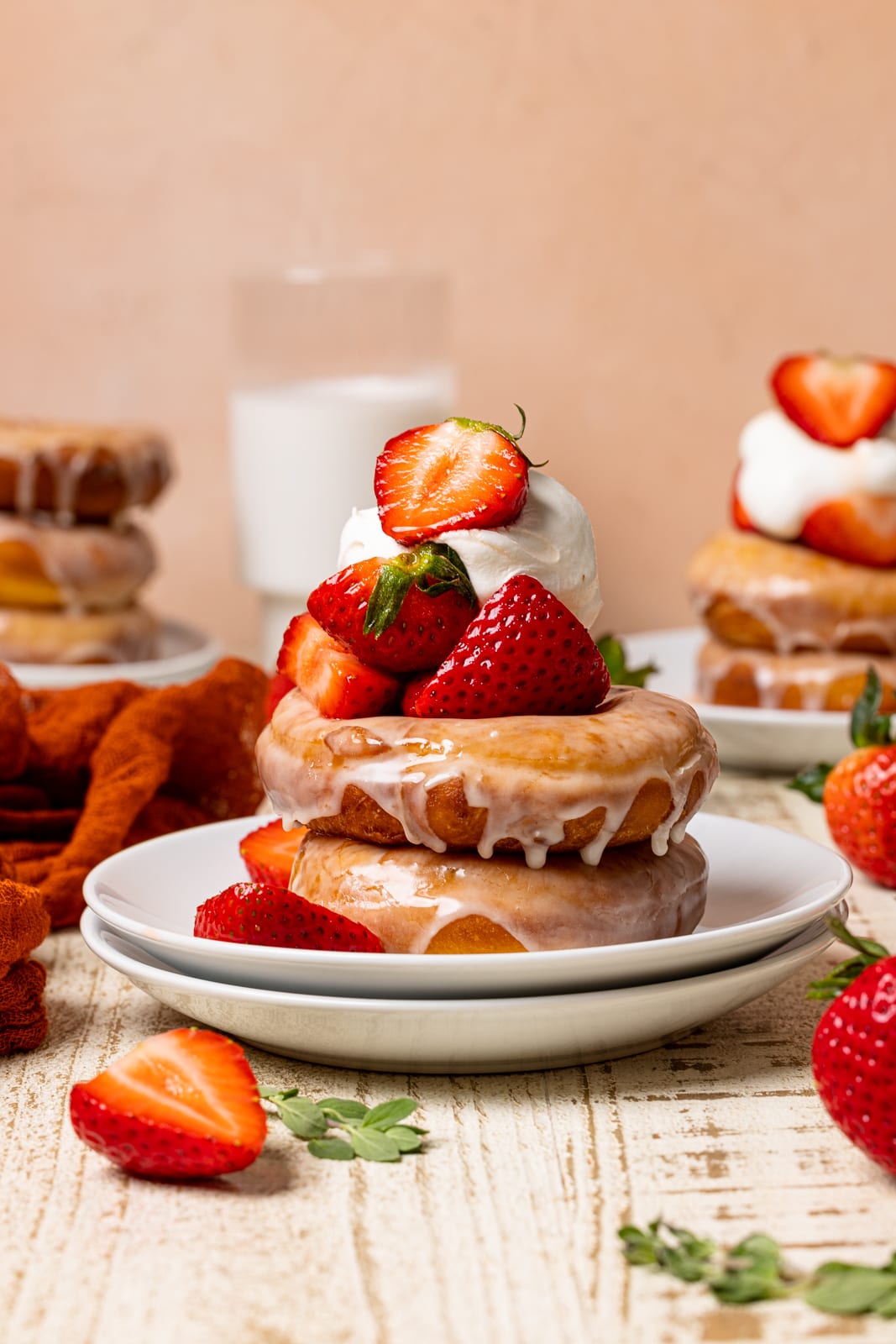 How To Make Homemade Whipped Cream
If you're thinking about keeping things from scratch instead of using Cool Whip for this shortcake recipe, no problem! Whipping together homemade whipped cream is super easy and only requires a mixer to achieve the perfect peeks! Here's what you'll need:
4-3 cups organic heavy cream, VERY COLD
1 tablespoon vanilla extract
Pinch of salt
In the bowl of an electric mixer on medium-high speed, whip the heavy cream, using the whisk attachment for 4-5 minutes, until fluffy peaks begin to form. NOTE: When it begins to thicken after the first 2-3 minutes, gradually add in 1 tablespoon vanilla extract and a pinch of sea salt. Once fully fluffy, remove from mixer bowl and continue recipe.
Absolutely Love Strawberries?
You might think you know everything about strawberries, especially if you've been munching on them since before you could walk. But hold on to your hats, folks, because I've got some juicy info to share with you! I spill the tea on all things Strawberry Season – from the tastiest varieties to the incredible health benefits that'll have you feeling like a superhero.
So if you're ready to add a little sweetness to your life, head on over to my blog post Strawberry Season. Your taste buds (and your body) will thank you.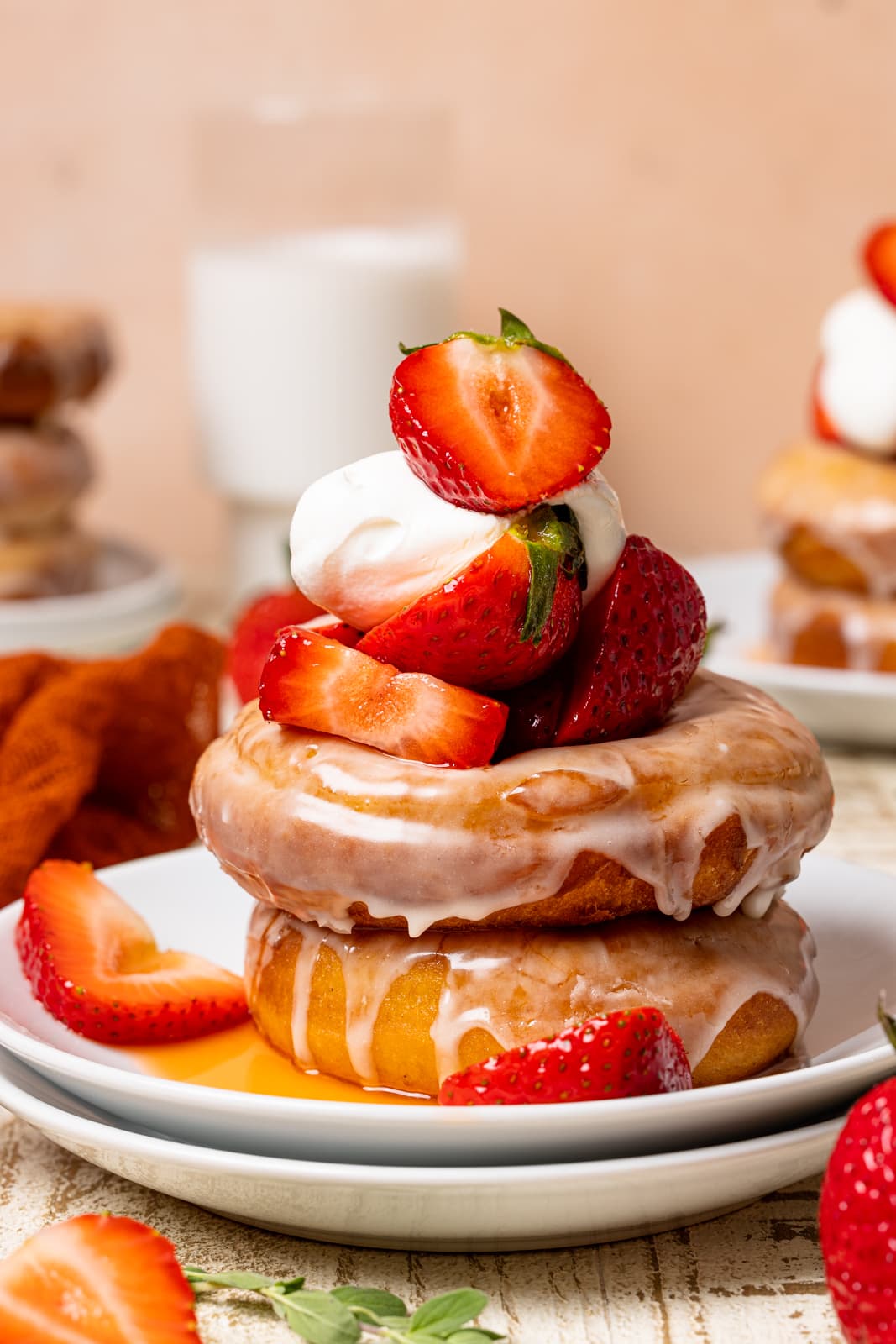 How to Store + Reheat Strawberry Shortcake Donuts
Best when these strawberry shortcakes are consumed within the same day. Leftovers can be stored in a tightly sealed container (separately) and best if placed in the refrigerator for up to 3 days for ultimate freshness. To serve, bring donuts to room temperature or warm (slightly) in the microwave or oven and top with toppings.
More Amazing Summer Ready Dessert Recipes to Try!
Now that you're on a summer baking kick with this strawberry shortcake donuts recipe, give these amazing dessert recipes that your entire family will love a try next:
MADE OUR RECIPE(S)?
If you tried The Best Strawberry Shortcake Donuts or any other recipe on my website, please please leave a 🌟 star rating and let me know how you go in the 📝 comments below. I love hearing from you.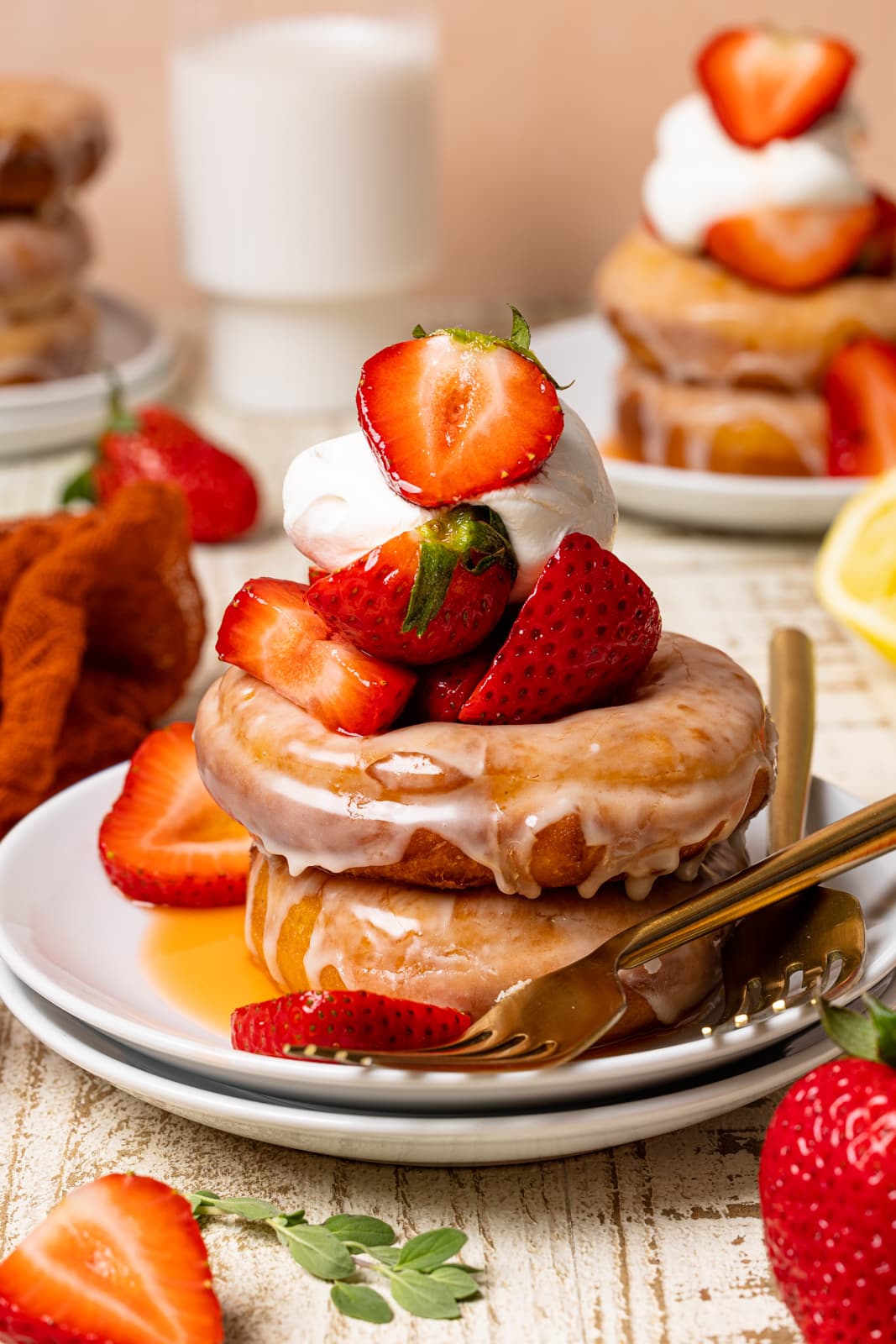 DOUGHNUTS/DONUTS:
1

Homemade Glazed Doughnuts

(Be sure to only make ½ of recipe amount for these shortcakes; See Notes!)
FRESH STRAWBERRY TOPPING:
2-3

cups

 sliced strawberry, stems removed

(You can slice them in halves or diced smaller, based on your preference)

1

lemon, freshly-squeezed

1-2

Tbsps

raw honey

(See Notes!)
OPTIONAL TOPPING:
Whipped cream

(See Post for homemade option)

Sliced almonds

(You can use your fave nuts like pecans, walnuts, etc.)
TO MAKE THE DOUGHNUTS/DONUTS:
TO MAKE THE FRESH STRAWBERRY TOPPING:
In a bowl, add the sliced strawberries, lemon juice, and honey together and stir to combine. Allow everything to sit for 5 minutes or so to make everything infuse together.
ASSEMBLY:
To assemble each shortcake: Stack two glazed donuts atop each other followed by a spoonful of fresh strawberry topping and then whipped cream. For a final touch, I like to add a bit of the strawberry topping "syrup" as a light glaze. Repeat until all "shortcakes" are assembled.

Bon Appetit!
STORAGE: Leftovers can be stored in a tightly sealed container (separately) and best if placed in the refrigerator for up to 3 days for ultimate freshness.
FREEZE (LONGER STORAGE): For longer storage, freeze the donuts (uncoated) in an airtight container for up to three months. To serve, defrost the donuts on the counter for several hours. Add the sugar coating just before serving. 
HOMEMADE GLAZED DOUGHNUTS: The original homemade glazed doughnuts recipe makes 14 doughnuts, therefore, for this shortcake recipe, you'll only need 7-8 doughnuts, which means that you'll need to only make ½ the recipe.
SWEETENER: Instead of honey, you always use pure maple syrup if preferred.
Calories:
12
kcal
|
Carbohydrates:
3
g
|
Protein:
0.2
g
|
Fat:
0.04
g
|
Saturated Fat:
0.01
g
|
Polyunsaturated Fat:
0.01
g
|
Monounsaturated Fat:
0.001
g
|
Sodium:
0.4
mg
|
Potassium:
20
mg
|
Fiber:
0.4
g
|
Sugar:
2
g
|
Vitamin A:
3
IU
|
Vitamin C:
7
mg
|
Calcium:
4
mg
|
Iron:
0.1
mg