This Delicious Peanut Butter Banana Pudding is twist on a Southern-style dessert with a light, creamy texture, banana chunks, crispy vanilla wafers and gooey peanut butter.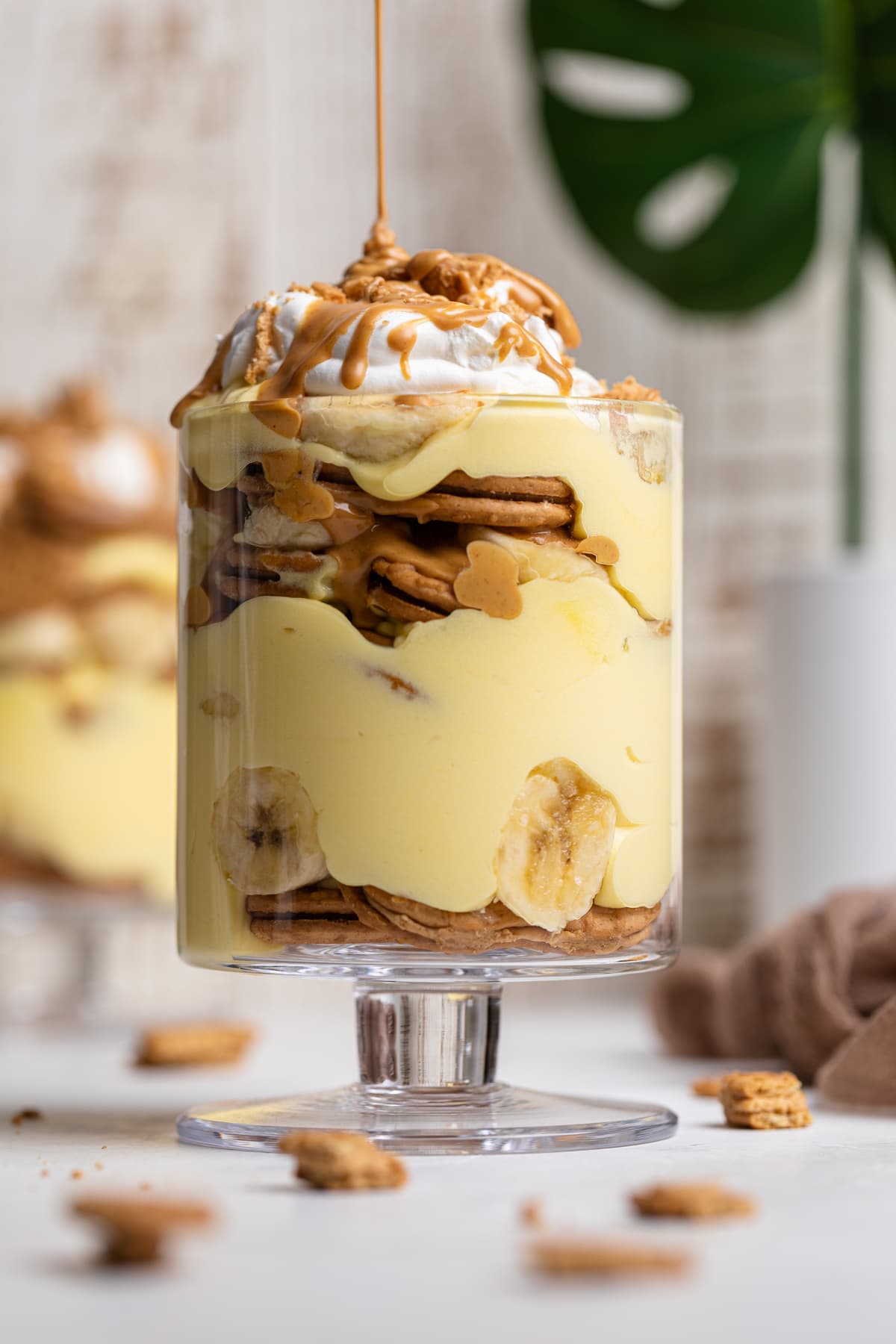 As someone with southern roots, loving banana pudding is in my nature, so I couldn't be more ecstatic to share this Peanut Butter Banana Pudding. And boy do I love it. I can't get enough of the naturally sweet, creamy, whipped texture of this dessert. My Classic Southern Banana Pudding is my go-to dessert for parties. And when I'm feeling fancy, these Banana Pudding Cheesecake Bites always hit the spot.
But I highly recommend trying this Biscoff Banana Pudding with Caramel if you're into cookie butter----so good!
Growing up, it was one of my favorite desserts that my grandmother made. She always served up bowls of pudding right before we binge-watched thriller and horror films. I remember her loading her banana pudding recipe with vanilla wafers and loving every bite of it. Haha. And really nothing has changed since then.
I still enjoy a big bowl of banana pudding, and my little guy has followed in my footsteps. These days, though, I like to put my own twist on my grandma's recipe by adding peanut butter. The result is a beautifully layered dessert that's easy to make and full of creamy, rich and fruity flavors.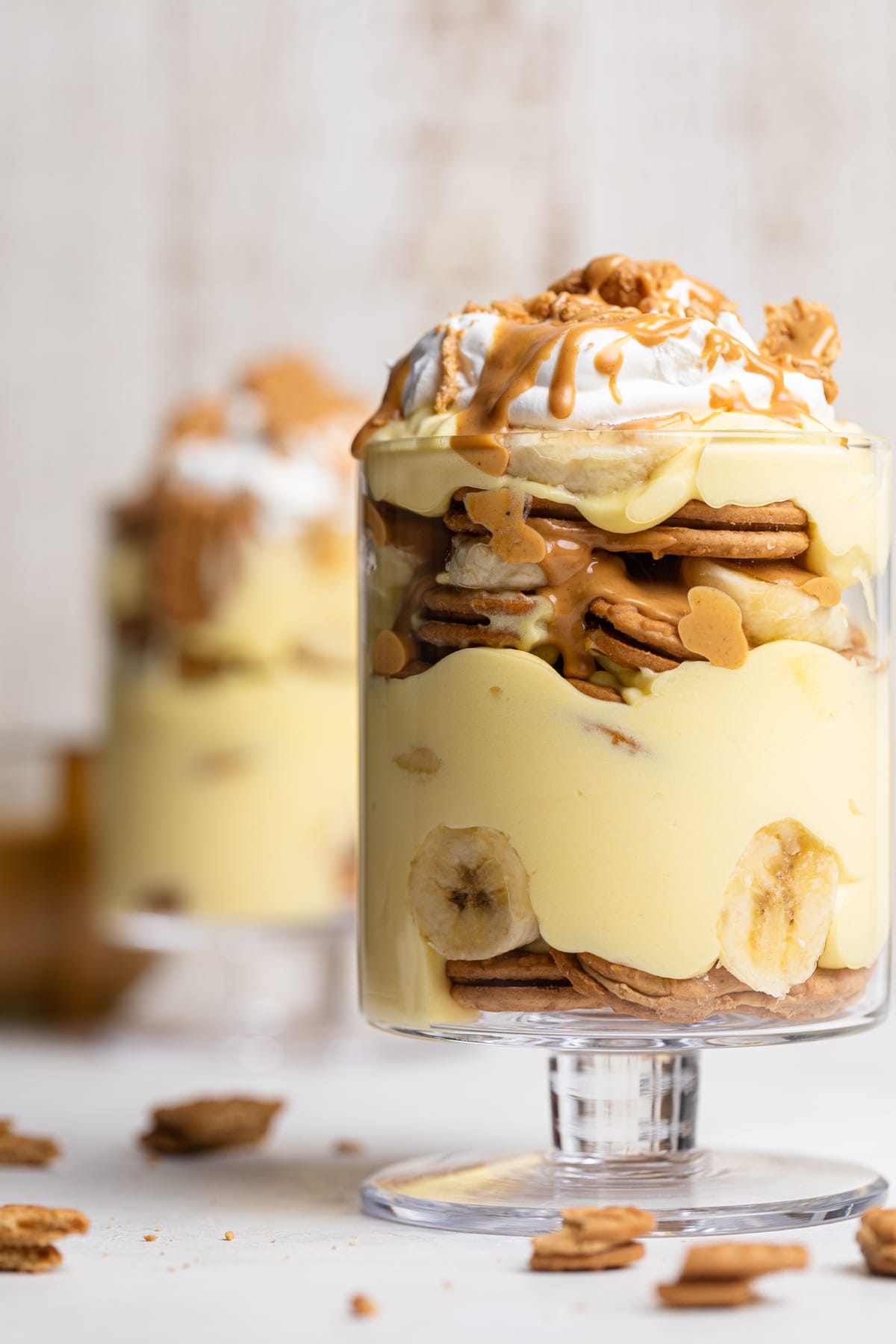 How to Make Peanut Butter Banana Pudding from Scratch?
To make Peanut Butter Banana Pudding entirely from scratch, you'll need to have FOUR components ready:
Whipped cream or meringue (if you're feeling fancy)
Nilla wafers AND peanut butter cookies
First you'll start by making your homemade vanilla pudding over the stovetop and whisking in the butter and vanilla, and then it's on to assembling your banana pudding: starting with a layer of vanilla wafer cookies, followed by peanut butter cookies, banana slices, vanilla pudding, and whipped cream.
Repeat until all ingredients are used, then add crushed cookies at the very top.Then you place plastic wrap atop everything (lightly pressing it in so that the wrap touches the top of the pudding) and place it in the refrigerator to chill. Let everything chill for at least 4 hours, but know that it always tastes even more delicious the next day---once the flavors really "set in".
Ingredients for Vanilla Pudding
To make your own vanilla pudding instead of buying a store-bought version, here's what you'll need:
3 cups milk (whole milk is best)
2-3 Tablespoons cornstarch or arrowroot
1 Tablespoon unsalted butter
1 teaspoon vanilla extract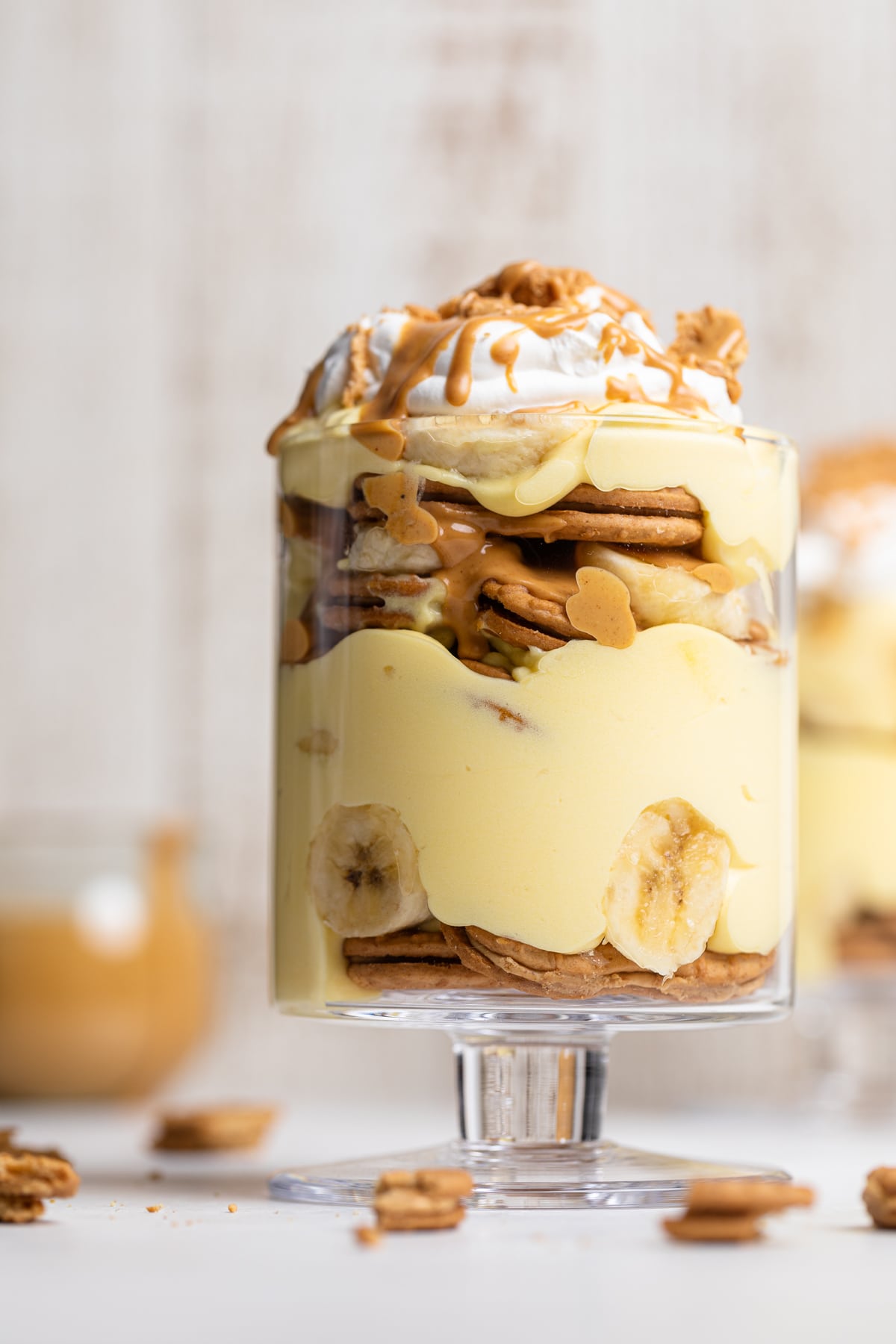 How to Make Peanut Butter Banana Pudding
If you have a little helper at home like me, this is a great no-bake recipe to get them involved in the kitchen. Kids can whip up the banana pudding and help you layer the dessert. The best part about this recipe is that you don' need any special equipment and a boxed pudding mix makes it totally fool-proof.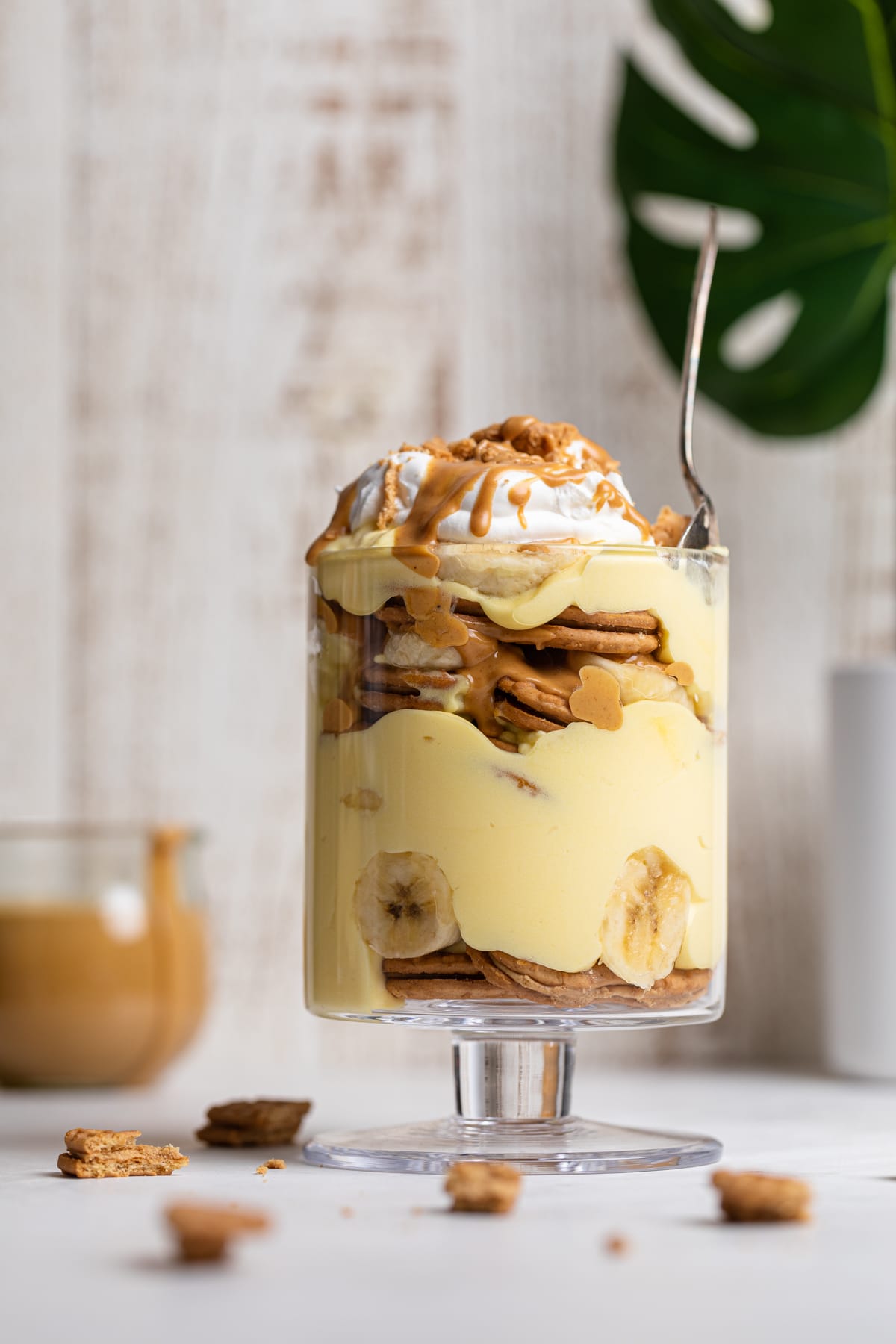 Ingredient Notes
Here's what you need to throw together this 20-minute dessert:
Bananas. You'll need 3-4, depending on the size. Make sure they're soft and ripe for the sweetest flavor. 
Ice cold water. It's important to use cold water to get the right consistency in your pudding.
Sweetened condensed milk. I use low-fat for this pudding. It adds plenty of richness and sweetness with a wonderfully thick texture.
Heavy cream to make whipped cream. You can also use softened Cool Whip.
Vanilla wafers or Nutter Butter sandwich cookies for more peanut flavor.
Vanilla extract. Make sure you're using the real stuff, not imitation!
Vanilla pudding mix for the easiest pudding you'll ever make. 
Peanut butter. Use natural, smooth peanut butter for this pudding. That way you can control the texture and sweetness of your dessert.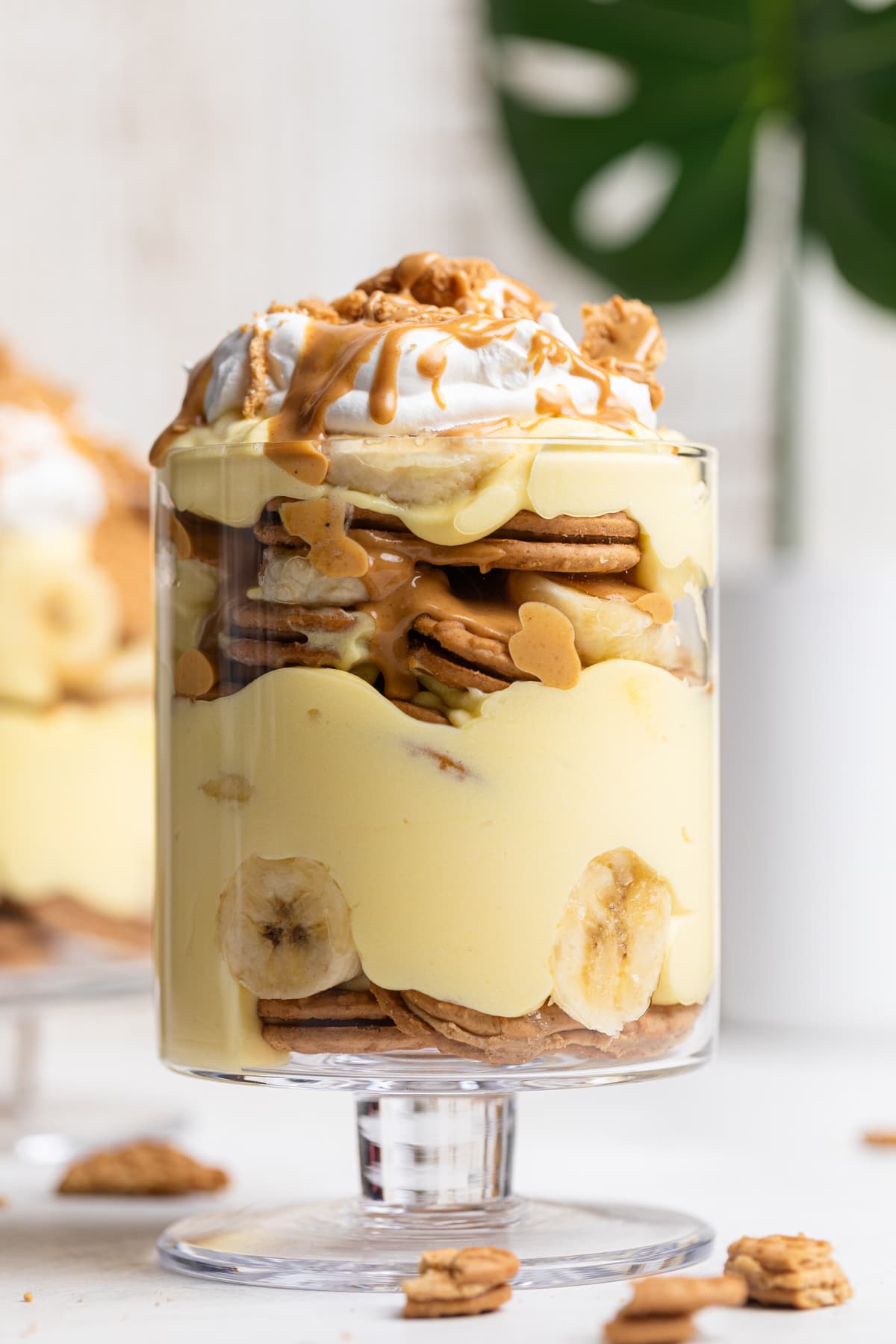 Assembling Layered Butter Banana Pudding 
I recommend serving this pretty dessert in a glass bowl. If you have a trifle bowl with a stand, even better!Once your pudding is made and chilled, you're ready to assemble. Here's how to do it:
Start with a layer of cookies on the bottom. 
Add a layer of sliced bananas. 
Spread on some of the pudding. 
Drizzle with melted peanut butter. 
Repeat!
For garnish on top, add more cookies, plain whipped cream and finally a last drizzle of peanut butter. Then chill the fully assembled dessert for 2 to 4 hours. For the best flavor and texture, chill the dish overnight. 
Why Do I Need To Chill the Pudding?
Chilling is an important step you don't want to skip.As the assembled peanut butter banana pudding chills, the cookies with absorb some of the banana flavor and soften up. Plus the pudding will solidify a bit more so you have a scoop-able, sharable treat. Plus, chilling means that you can use this as a make-ahead dish for entertaining, which always keeps things lower stress. 
Can I Make Single-Serving Puddings?
Yes! If you prefer to make individual servings of dessert, you can layer the cookies, banana slices, peanut butter and pudding in small glass mason jars for a cute and portable dessert.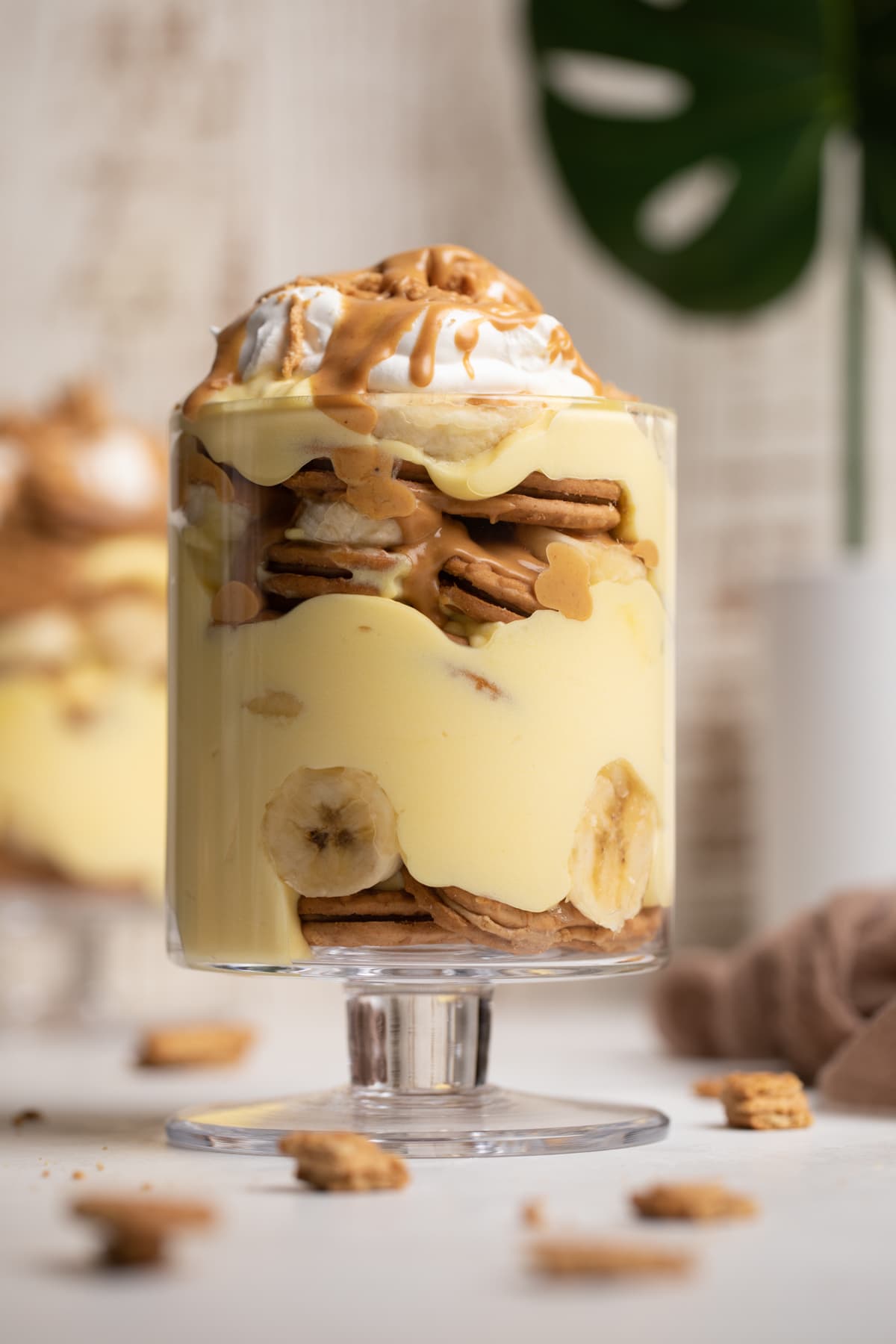 More Peanut Butter Desserts
Vegan Peanut Butter Chocolate Chip Sheet Cake
MADE OUR RECIPE(S)?
If you make this Delicious Peanut Butter Banana Pudding recipe or any other recipe from us, be sure to tag us on Instagram at #Orchidsandsweettea so that we can share the love!
4

ripe

organic bananas, sliced

1

(16 oz.) package

Nutter Butter Peanut Butter Sandwich Cookies

(I used about 10-12 cookies, crushed)

1

(3 oz.) box

vanilla instant pudding mix

(I like to use the Jell-O brand; If using the small standard 1 oz. box, be sure to purchase 3 of those!; SEE NOTES!)

1

(14 oz.) can

sweetened condensed

3-4

cups

VERY COLD filtered water

1

tablespoon

vanilla extract

pinch of

sea salt

4

cups

Whipped Cream, homemade or store-bought

(See Notes!)
TOPPINGS:
1

cup

Natural peanut butter, softened or melted

Crushed Nilla wafer cookies, optional

(See Notes!)

Crushed Nutter Butter Peanut Butter Sandwich Cookies
In the bowl of an electric stand-mixer (using the whisk attachment), mix together the ice cold water (start with 3 cups and work to 4 cups if needed based on the consistency of pudding), vanilla pudding mix, and sweetened condensed milk until thick, about 10 minutes on medium-high speed. NOTE: The mixture should look like pudding. NOTE: If using a hand-mixer instead, you may need an EXTRA BOX of vanilla pudding to ensure that the consistency is creamy and not too 'watery'.

Finally, add in vanilla extract, salt and mix for another minute or so.

Gently fold in the homemade whipped cream (or Cool Whip) into the pudding mixture using a spatula until, well incorporated.

In a trifle bowl (or your favorite dish), layer peanut butter sandwich cookies, vanilla wafers (if using), sliced bananas, melted peanut butter, and pudding mixture; repeat layering until all ingredients have been used.

Garnish top with remaining peanut butter cookies + vanilla wafers (crushed) and Refrigerate for at least 4 hours before serving. Best if chilled overnight.

Bon Appetit!
STORAGE: Keep leftovers tightly sealed and refrigerated. Best if consumed within 3 days.
HOMEMADE WHIPPED CREAM:In the bowl of an electric mixer on medium-high speed, whip the heavy cream (3-4 cups), using the whisk attachment for 4-5 minutes, until fluffy peaks begin to form. **NOTE: When it begins to thicken after the first 2-3 minutes, gradually add in 1 tablespoon vanilla extract and a pinch of sea salt.** Once fully fluffy, remove from mixer bowl and continue recipe. 
PEANUT BUTTER: To melt peanut butter, simply add 1 cup into a small saucepan over medium-high heat, stirring frequently until completely softened, smooth, and easily falls off spatula or whisk.
COOKIES: For an extra kick of delicious flavor, I tried mixing both the Nutter Butter cookies and original Vanilla wafers cookies and it was amazing! I definitely recommend trying if you're open to it!
BOX OF VANILLA PUDDING: I HIGHLY recommend using an electric stand-mixer for making the pudding, however, if you're using a hand-mixer, be sure that the water is EXTREMELY COLD + You may need to add an EXTRA BOX of vanilla pudding so that it forms to a creamy consistency and not 'watery'.
Calories:
584
kcal
|
Carbohydrates:
61
g
|
Protein:
12
g
|
Fat:
33
g
|
Saturated Fat:
10
g
|
Polyunsaturated Fat:
7
g
|
Monounsaturated Fat:
14
g
|
Cholesterol:
23
mg
|
Sodium:
424
mg
|
Potassium:
233
mg
|
Fiber:
2
g
|
Sugar:
32
g
|
Vitamin A:
206
IU
|
Vitamin C:
0.05
mg
|
Calcium:
50
mg
|
Iron:
1
mg