This Refreshing Strawberry Lemonade recipe is a must-try summer refresher with fresh fruit sweetened with a simple flavored syrup. It's a favorite and staple during the warmer months and kids and adults alike approve of the freshly-squeezed lemons fused with fresh strawberries and the fun, creative strawberry ice cubes.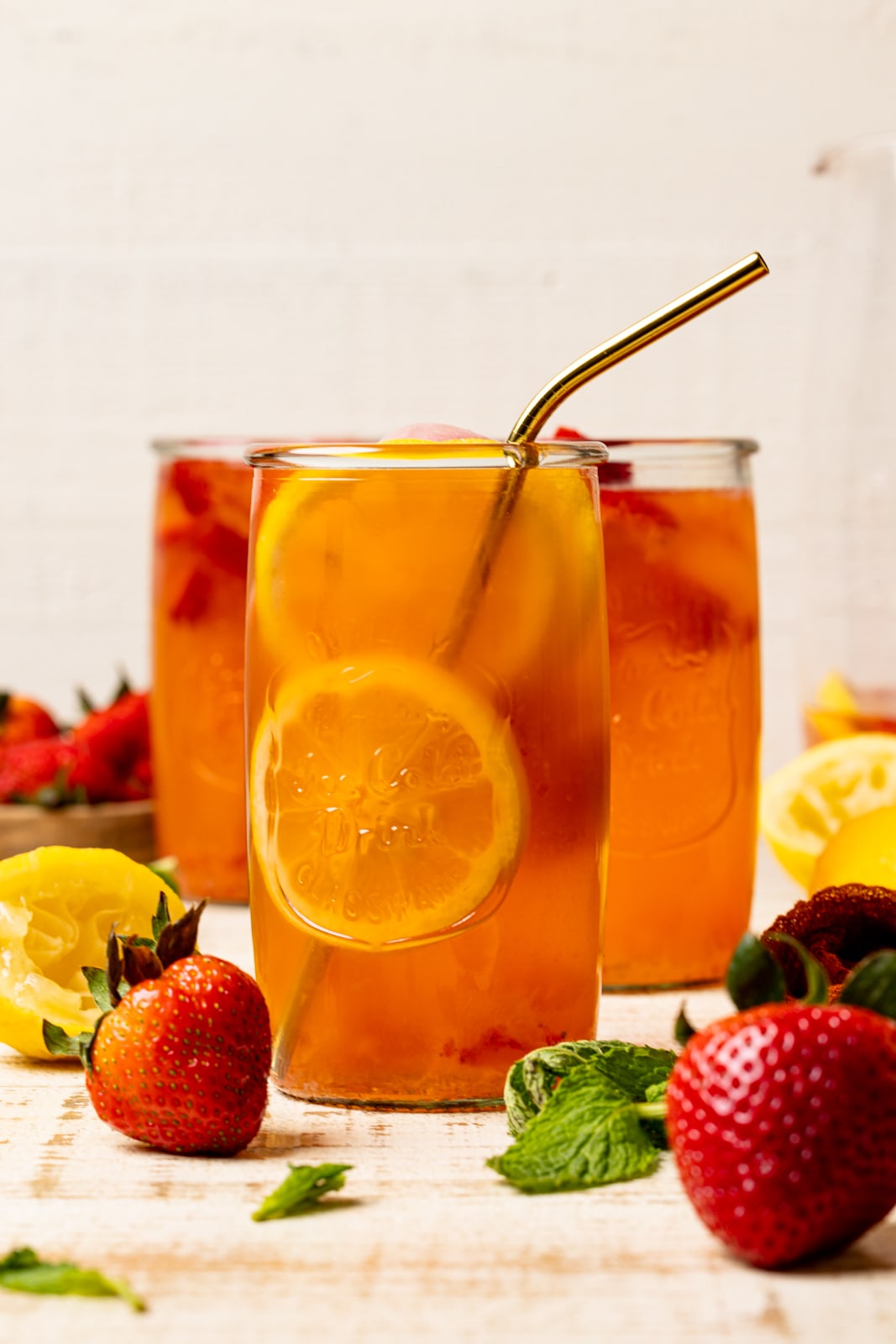 If you're fond of turning seasonal produce into refreshing homemade drinks then this Refreshing Strawberry Lemonade is just the thing you need. It's naturally sweetened and both adult and kid-approved for a summertime sip with fresh fruit and health benefits. Besides, this lemonade features fu, creative ice cubes, which the entire family will love putting together and sipping until the end!
For this lemonade recipe, you only need a handful of ingredients which include water, lemons, fresh strawberries, and sugar. Of course, the sweetener can be substituted for something healthier like maple syrup or honey. But, if you're into refreshing drinks, then you'll be satisfied with my favorite mocktails. From this spicy Jalapeno Lemon-Lime Mocktail to this refreshing Citrus Honey Mint Mocktail to this cooling Frozen Cucumber Watermelon Strawberry Mocktail. Oh and this fruity and rich Anti-Inflammatory Pineapple Citrus Smoothie is the perfect way to kick-start your day.
While I grew up drinking more powdered drinks like crystal light and the Kool-aide brand, I definitely enjoy homemade drinks like this lemonade because it's so easy to make, only uses a handful of ingredients, gives you control over using fresh + healthier ingredients, and it's so refreshing!
What Are the Benefits of Strawberry Lemonade?
Each element of this strawberry lemonade has health benefits that work together greatly. In general, this lemonade's health benefits include:
Aids digestion
Great detox and cleanser for your system.
Cholesterol-lowering benefits.
Promotes optimal health.
Many other benefits.
Jump to: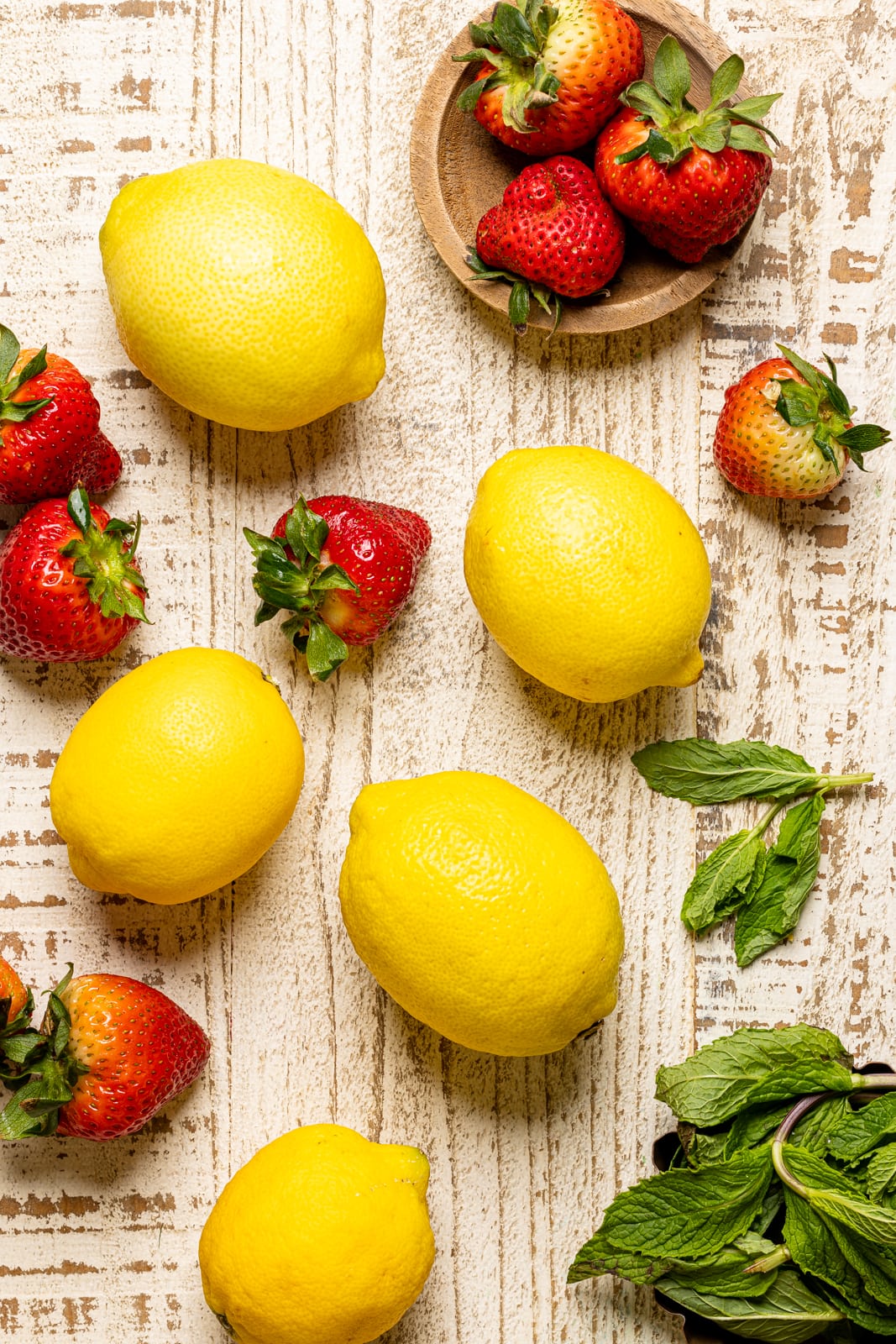 How to Make Strawberry Lemonade
The first thing you need to make for this tasty drink is the strawberry ice cubes. You literally add the strawberries in your favorite ice cube tray, top with water, set it and forget it for a minimum of 3-4 hours (or overnight) until ice cubes are formed.
Then, you whip together the simple syrup with a quick boil and allows it to cool completely before adding it in with the remaining lemonade ingredients and assemble. Serve and enjoy!
Ingredients for Strawberry Lemonade
Here's what you need for this Strawberry Lemonade drink:
Strawberries. The use of fresh organic strawberries with the stems cut off makes for a nice burst of fresh flavor. Choose local if you can, they'll be more flavorful and have more nutrients. Plus, you need them for your ice cubes and simple syrup!
Lemons. Use big, juicy lemons to add a tart pop of flavor. You need about 6-8 or so, plus lemons sliced for garnish.
Sugar. I like to use organic cane sugar for the simple syrup, but you can substitute with raw, organic honey, or maple syrup.
Water. For clearer ice cubes, it's best to use store-bought "pure" water. See post for more info!
Garnish. This creates a nice, fancy experience for your lemonade. I love using strawberry slices, lemon slices, and fresh mint leaves, if desired.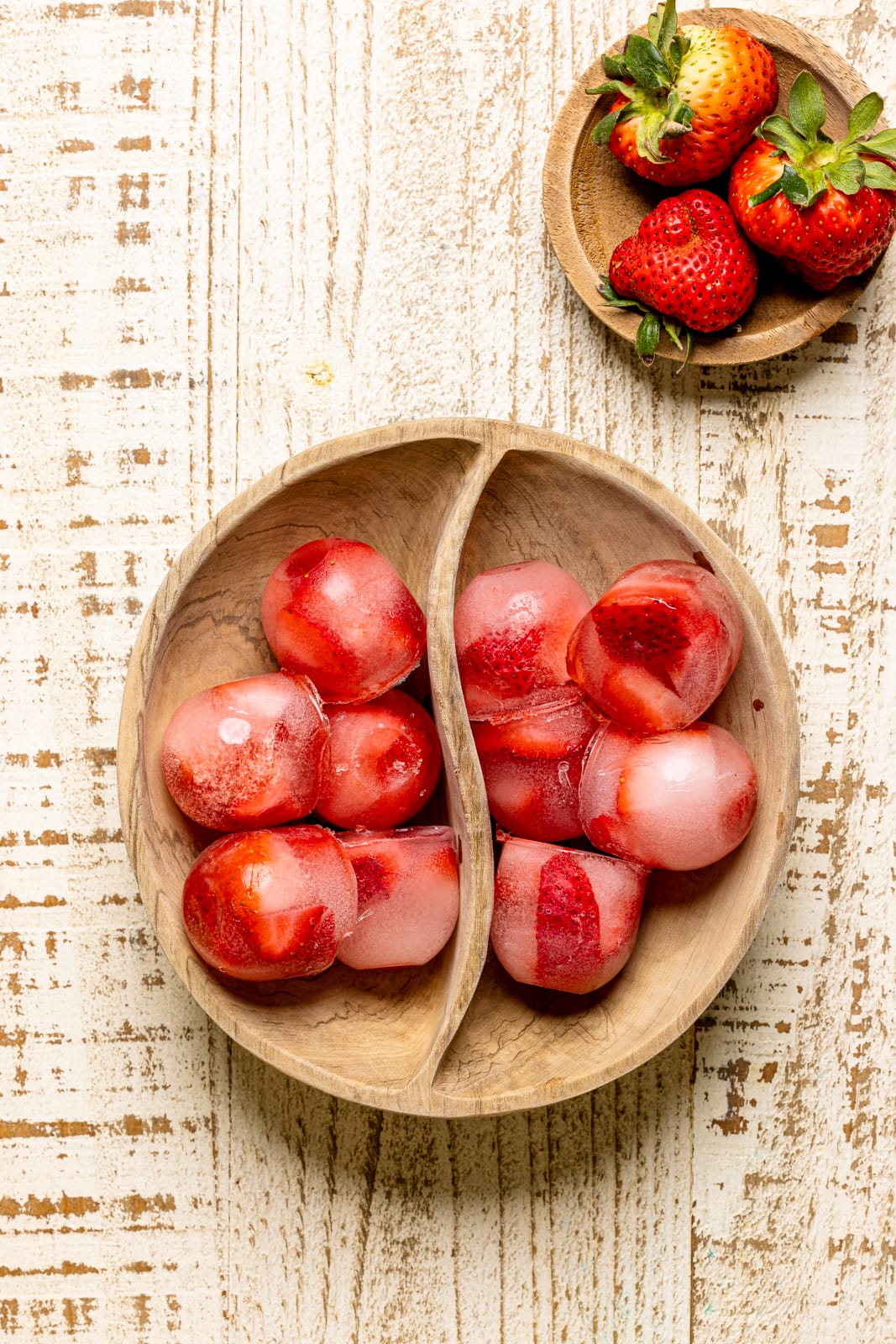 What You'll Love About this Lemonade
It's super easy to make.
Refreshing, delicious, + beautifully sweetened.
Only uses a handful of ingredients.
Perfect addition to your family drink menu this season!
Healthy—-awesome benefits with digestion, immune support, antioxidants, etc.
All NATURAL—including the sweetener!
Bursting with a nice mix of sweet and tart!
How to Make Clear Ice Cubes without a Clear Ice Cube Mold
One of the greatest phenomenons when it comes to ice cubes has been seeing super clear ice cubes from those clear ice cube systems or molds and wanting to try it, but not necessarily wanting to have a huge contraption in my freezer. Haha. Anyone else feel my pain? Whelp, no need to worry----I've done my research and tested it out a bit and have found some solutions to help those of us who don't have any fancy system to making clear ice cubes. Here are a few ways:
Tip #1: It's best to use water that is distilled or super filtered to avoid gasses and dissolved oxygen, which are the two things that cause our ice to "fog up" when frozen.
Tip #2: Boil your water and freeze your water hot. Again, much to my previous point, this removes any dissolved oxygen or gasses. Just be sure to carefully pour the hot water into your ice cube tray or mold-----preferably one made from materials that naturally insulates like silicone. Also, ensure that your tray lays FLAT while freezing.
Tip #3: Slow freeze your ice cubes. This should be done for about 24 hours, which allows any impurities to be forced out of the ice---resulting in much clearer ice.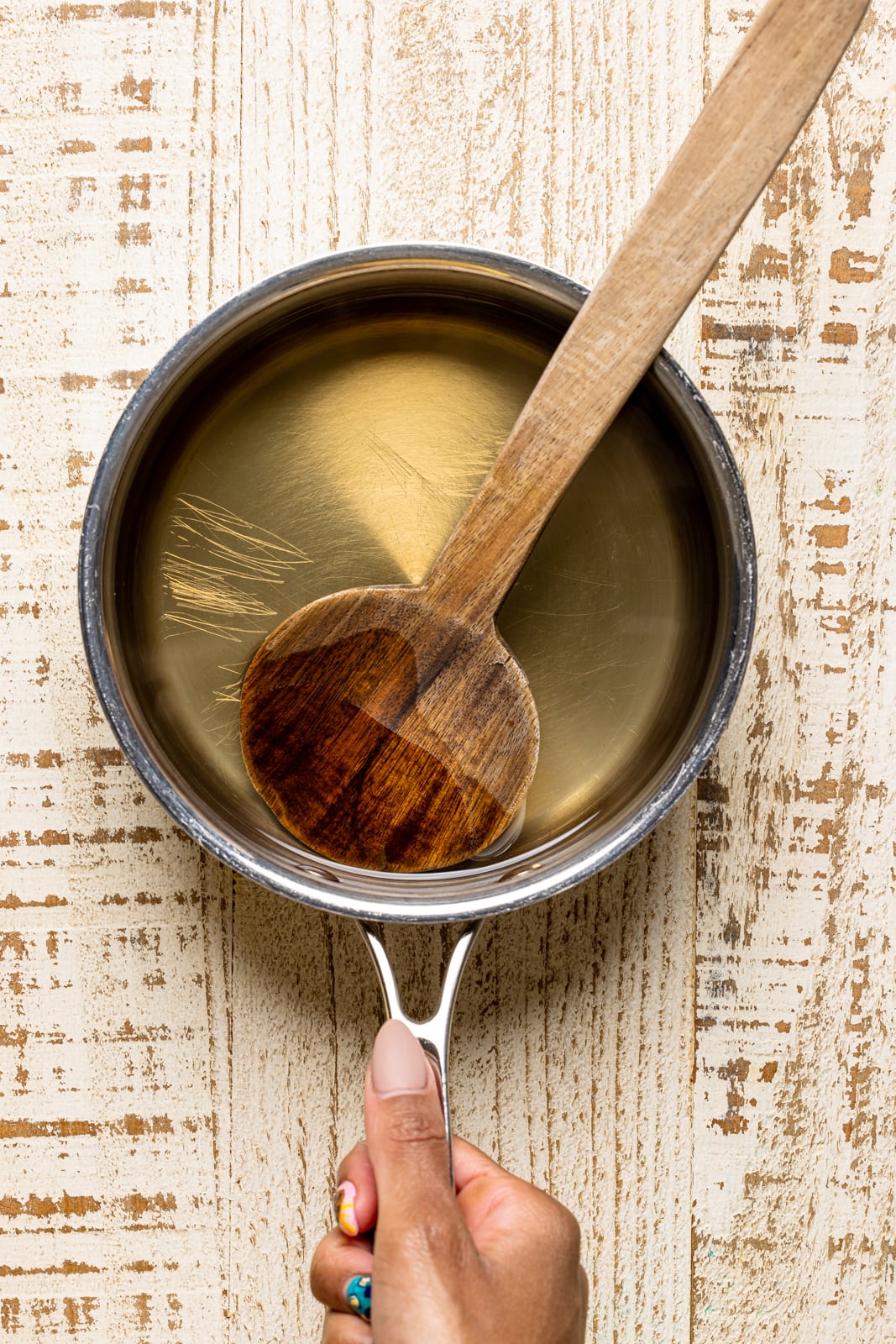 Common Q + A's for this Strawberry Lemonade Recipe
Can you freeze fresh lemonade?
Absolutely! You can freeze the lemon juice concentrate from this recipe and save it to make this homemade lemonade, any time. Simply, mix the cooled simple syrup, strawberries, and fresh squeezed lemon juice, together. Pour into a freezer bag and freeze for up to 5 months.
Is strawberry lemonade just pink lemonade?
Strawberry lemonade is a combination of fresh strawberries, freshly-squeezed lemon juice, and cane sugar. Whereas, pink lemonade is the name given to all kinds of lemonade that's pink. Whether it contains strawberries or not.
Is lemonade good for you?
Lemonade is a great boost to the immune system, 
Is it OK to drink lemonade every day?
In general, too much sugary lemonade could lead to weight gain, potential chronic diseases, and poor dental health. However, in moderation, the benefits of a healthy homemade lemonade that's low in sugars are going to outweigh the negatives.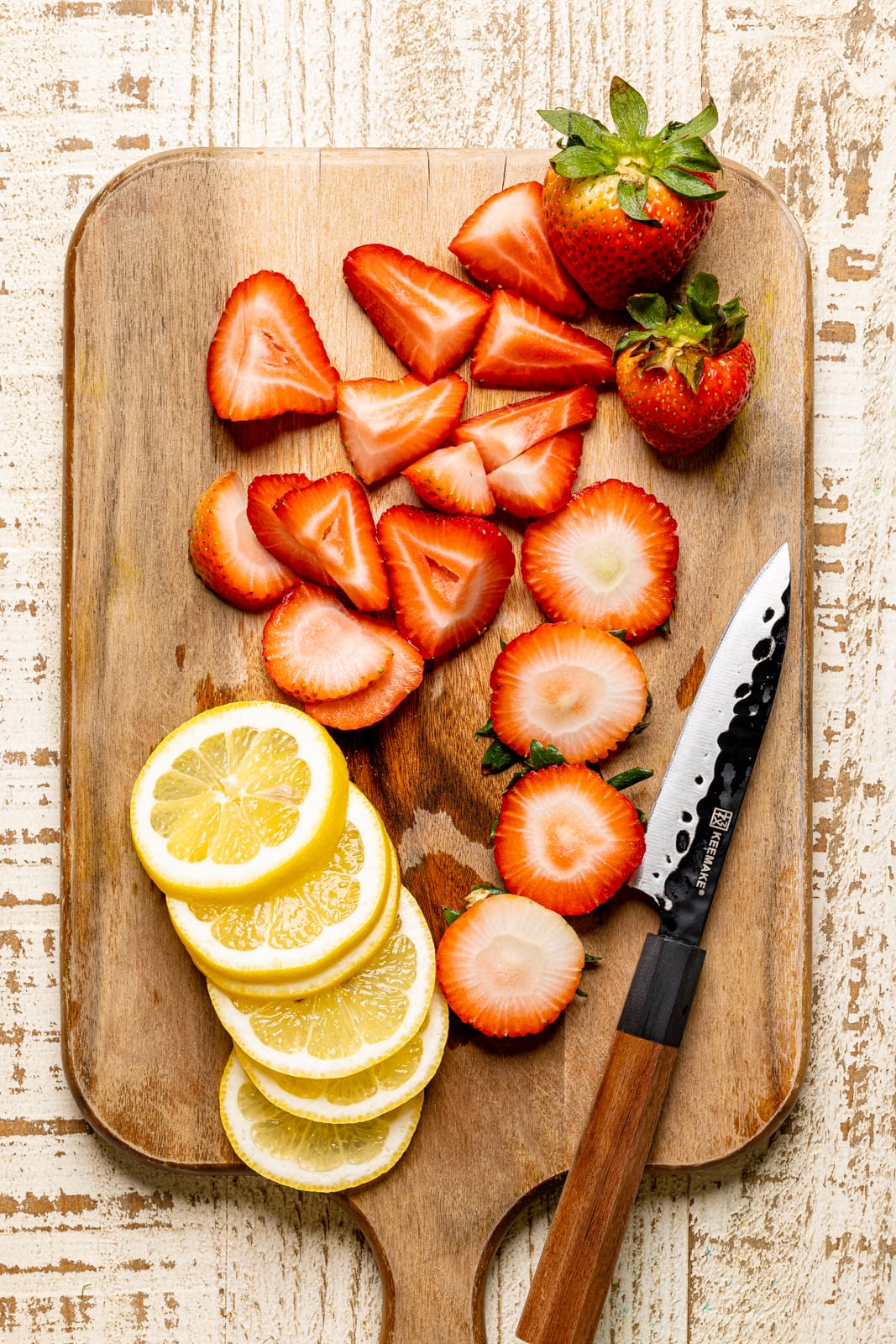 Benefits of Fresh Lemon Juice
The lemons in this drink pack some important health benefits, including:
Vitamin C, for a strong immune system
Citric acid, which can help prevent blood disorders like anemia
Soluble fiber if you include some of the lemon pulp, which helps promote healthy digestion
Health Benefits of Strawberries
It's strawberry season, which means it's time to celebrate! I'll share my all-time favorite strawberry recipes plus the benefits of enjoying strawberries. Known for their plump and juicy flavor, strawberries are a summer staple for good reason. I've always been a big strawberry fan so in honor of strawberry season, I wanted to answer some of the most asked questions about strawberries.
Sweetener Options? Vegan-friendly?
Absolutely! I like to add a bit of natural sweetener to most things that I drink, including this Strawberry Lemonade. Maple syrup is a great option because it's vegan and has antioxidants, much like honey which adds additional nutrients. However, you can try any healthy sweetener substitutions you like.
In fact, this post about The Best Healthy Sugar Alternatives + Substitutes is a great place to start! For example, you can use agave or maple syrup to sweeten your ice cubes in general when using other ingredients.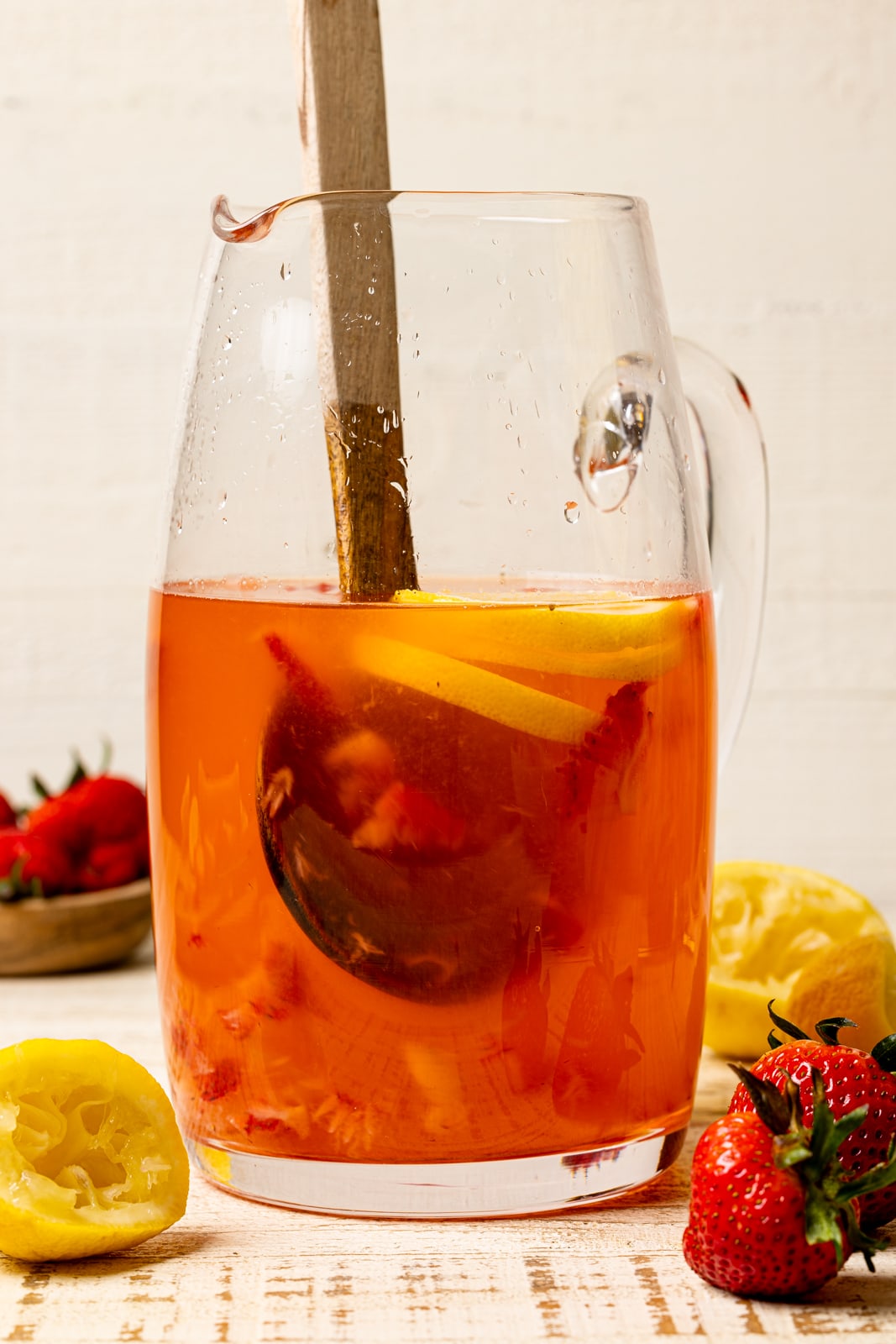 Storage
Keep any leftovers in the refrigerator, tightly covered in your pitcher or in a sealed mason jar. Best if consumed within a few days.
More Amazing Strawberry Recipes
MADE OUR RECIPE(S)?
If you tried this Refreshing Strawberry Lemonade recipe or any other recipe on my website, please please leave a 🌟 star rating and let me know how you go in the 📝 comments below. I love hearing from you.
STRAWBERRY ICE CUBES:
2

cups

filtered water

1

cup

diced strawberries
STRAWBERRY SIMPLE SYRUP:
1 ¼

cup

filtered water

1

cup

diced strawberries

1

cup

organic cane sugar
STRAWBERRY LEMONADE:
5

cups

filtered water, cold

1

cup

freshly-squeezed lemon juice

(That's about 6-8 lemons)

1

cup

strawberry simple syrup, cooled

2

cups

strawberries, stems removed + sliced

Strawberry ice cubes
TO MAKE STRAWBERRY ICE CUBES:
In your favorite ice tray----add the sliced strawberries into each cavity and carefully cover them with water, filling them until all completely full. Repeat until all ice cube cavities are filled. Add the tray(s) to the freezer and freeze for 3-4 hours (or overnight) until ice is formed.
TO MAKE THE STRAWBERRY SIMPLE SYRUP:
In a saucepan over medium-high heat, add together all ingredients (stirring them to combine) and bring to a boil, about 1-2 minutes.

Reduce the heat to low and simmer for another 2-3 minutes or so. Remove from heat and let it cool completely. Discard the strawberries.
TO MAKE THE LEMONADE:
In a pitcher, add the cooled simple syrup, lemon juice, water, and stir together to combine. Add in sliced strawberries and using a large wooden spoon, slightly mull or "crush" strawberries until broken down.

Refrigerate to chill or serve immediately, with strawberry ice cubes.

Sip and Enjoy!
STORAGE: Keep any leftovers in the refrigerator, tightly covered in your pitcher or in a sealed mason jar. Best if consumed within a few days.
Calories:
123
kcal
|
Carbohydrates:
35
g
|
Protein:
1
g
|
Fat:
0.4
g
|
Saturated Fat:
0.03
g
|
Polyunsaturated Fat:
0.2
g
|
Monounsaturated Fat:
0.04
g
|
Sodium:
8
mg
|
Potassium:
197
mg
|
Fiber:
2
g
|
Sugar:
31
g
|
Vitamin A:
14
IU
|
Vitamin C:
72
mg
|
Calcium:
22
mg
|
Iron:
0.4
mg