There is always a good reason to eat cake-- Here is the ultimate roundup of the Best Cake Flavors for Any Occasion! Whether it be for a birthday or dinner party, afternoon tea, or midnight treat, these cakes are the only ones you'll need, because let's be honest, life's too short not to have the perfect cake whenever you want! This lineup of easy cake recipes are guaranteed crowd-pleasers for adults and children alike. Gluten-free + Vegan Options.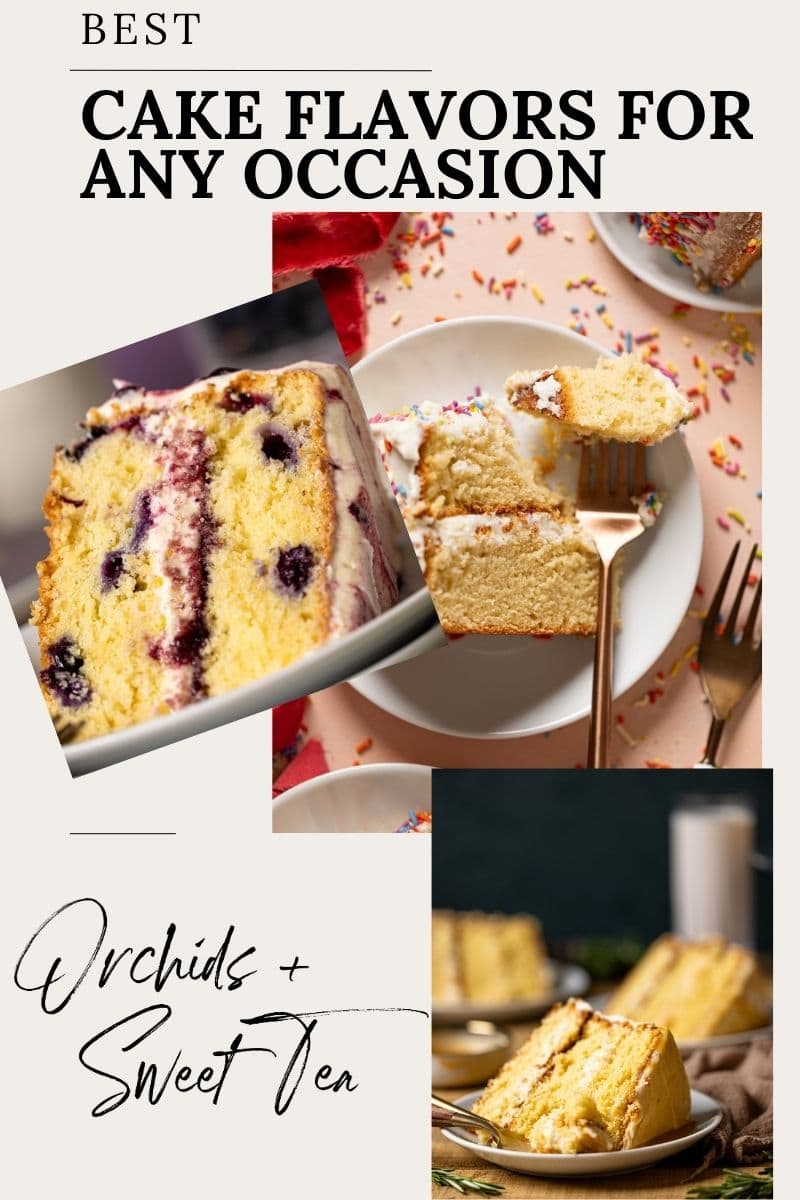 Best Cake Flavors Roundup!
Y'all there is just something special about baking a cake from scratch-- It's no wonder some of Orchid + Sweet Tea's all-time favorite recipes are cakes. Whether you are celebrating, looking for ideas for your next potluck or just want to enjoy a good ol' slice of delicious cake, I know you are going to LOVE this lineup of cake flavors.

From the classics (think moist + fluffy Vanilla Cake and Chocolate Cake) to more unique flavors you've all been loving lately (I'm looking at you Jamaican Pineapple Upside Down Cake) I've got you covered ---Whether you crave the airy delight of sponge or the simplicity of sheet cakes, or the sophistication of bundts, my best cake recipes for all occasions will make you want to embrace the wonderful world of batter, one delicious bite at a time!

Many of the options below have a gluten-free option and some are even completely vegan (with the same mouthwatering taste I promise) Because everyone deserves cake! Happy baking!
Jump to:
25 Best Cake Flavors for Any Occasion
Folks, let me introduce you to 25 Best Cake Flavors for Any Occasion These incredible cakes have been tried and tested by both my family, friends, and me. So, from one cake lover to another, get ready to be smitten!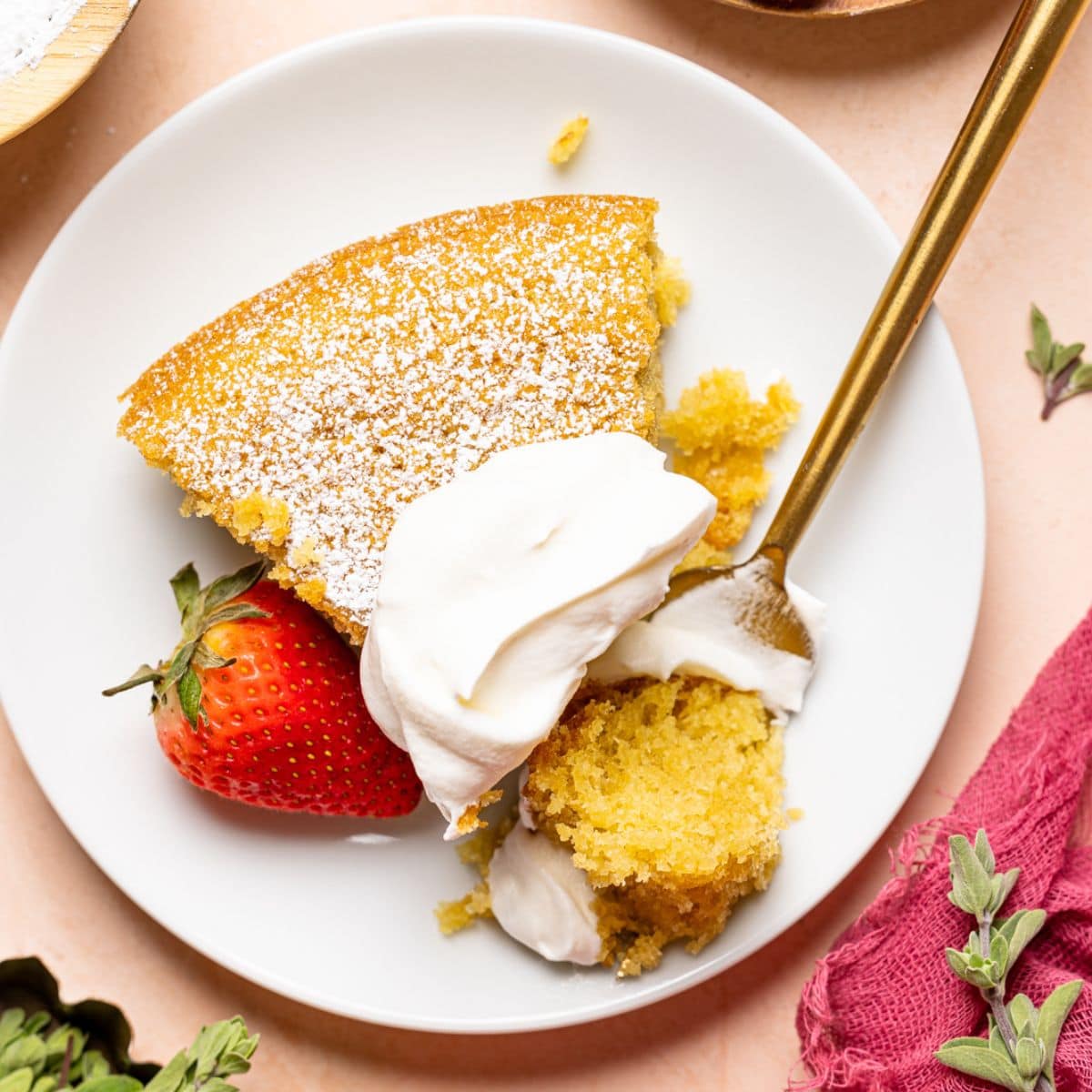 This Olive Oil Cake recipe is a classic favorite for the entire family. It's light, moist, and fluffy and comes with the most airiest texture. It's also well balanced between subtle tartness from the lemon zest and sweet flavors. A definite crowd-pleasing treat for any occasion and it's so easy to whip together in under 1 hour. Vegan option.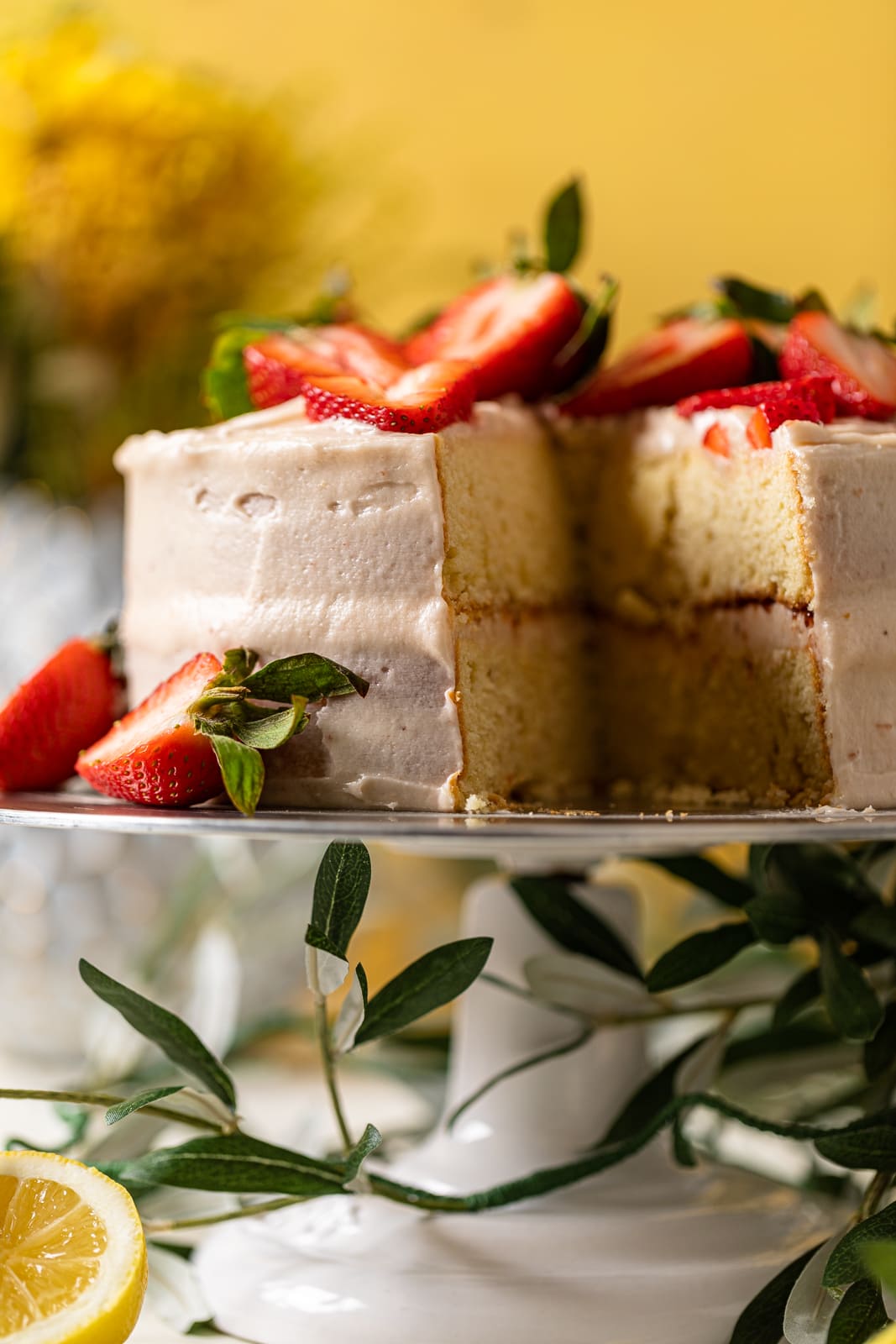 This Strawberry Lemon Layer Cake is dense, moist, and fluffy. It strikes an ideal balance between tart and sweet flavors, as zesty lemon is paired with sweet strawberry buttercream frosting. Not only is it a show-stopper on the table, but it's also a delight for the taste buds. Vegan + Gluten-Free option.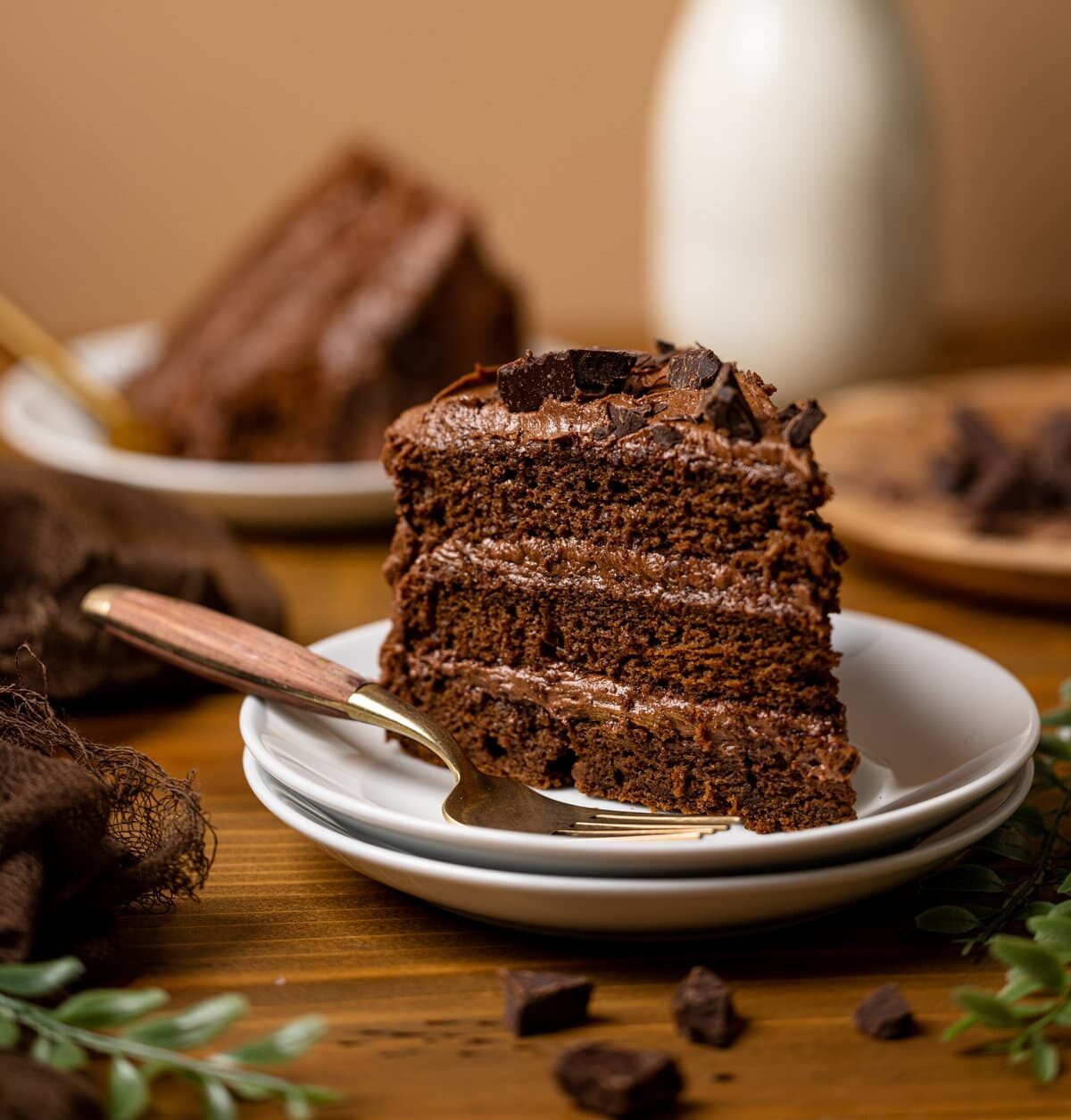 This is the easiest and The Best Vegan Chocolate Cake, made with plant-based pantry-staple ingredients for a dense, rich espresso-spiked chocolate flavor with a secret ingredient----sweet potatoes and topped with light and fluffy chocolate buttercream frosting. Just delicious! Gluten-free, Cake Mix, + Cupcake options.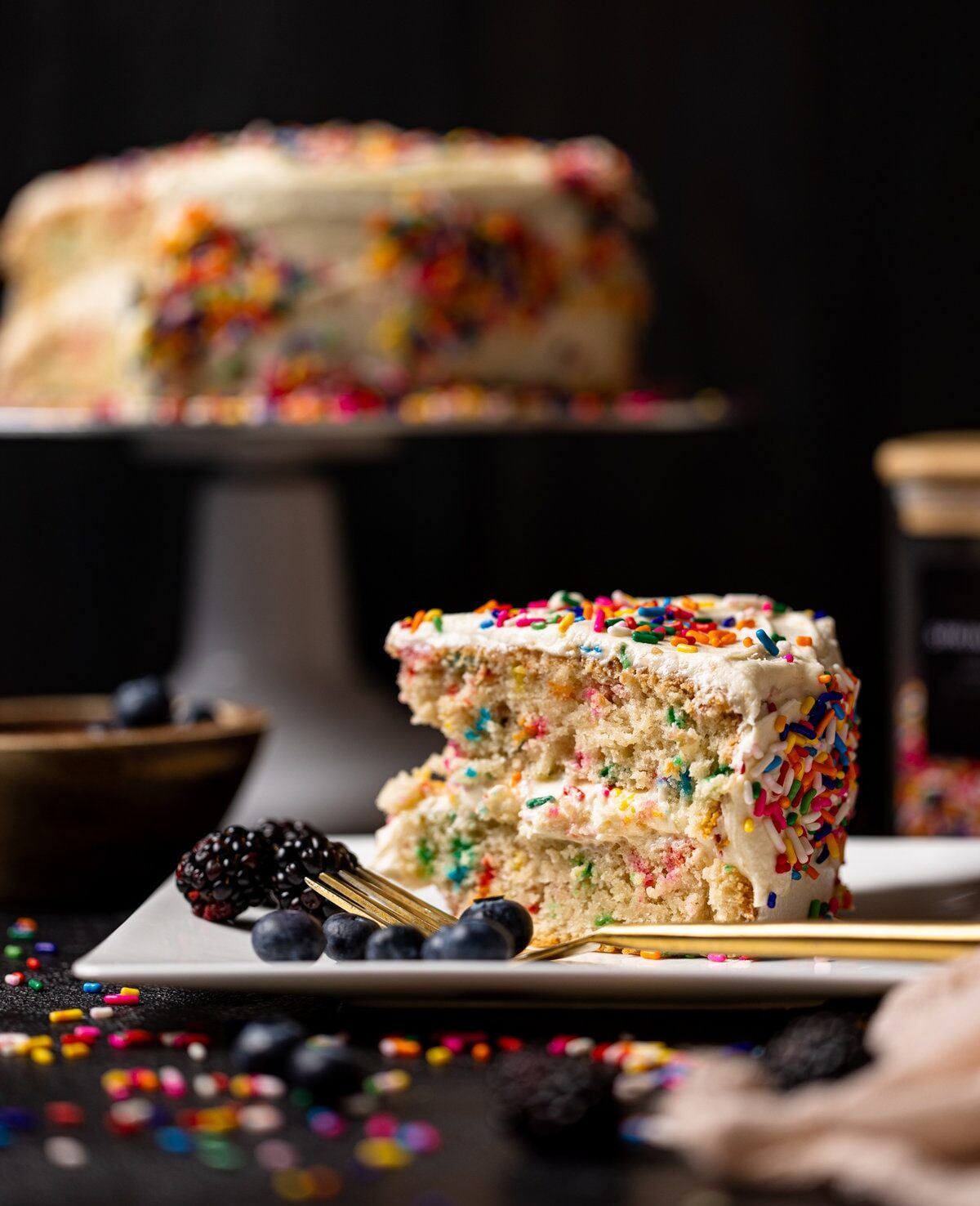 This Vegan Funfetti Cake + Vanilla Buttercream is a healthier option to your classic childhood favorite---funfetti!. Not only is it completely moist and fluffy, but it's also loaded with sweet little rainbow sprinkles that when paired with this airy vegan vanilla buttercream, they all work amazingly together to make the perfect sweet treat. Gluten-Free option.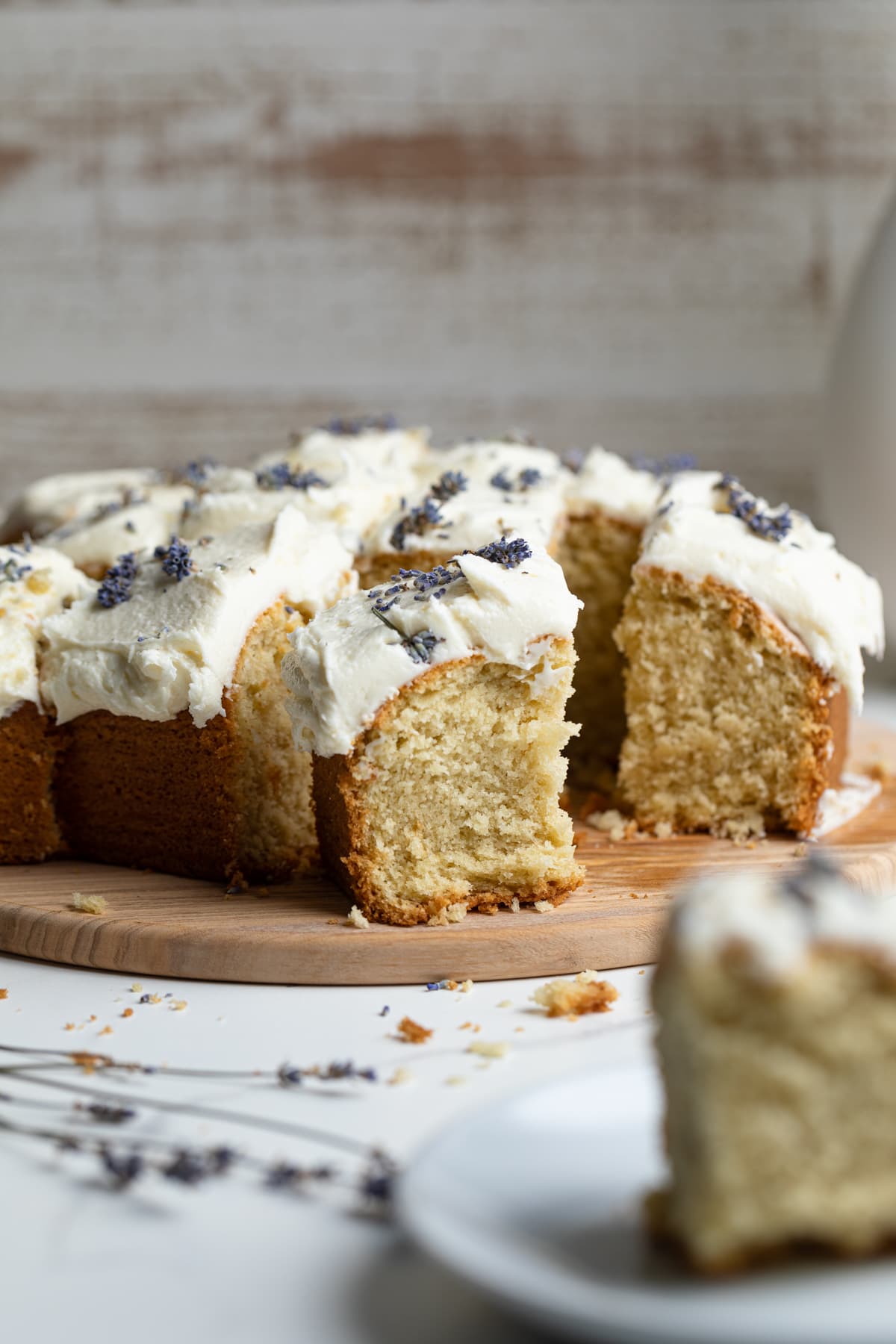 This Honey Lavender Sheet Cake is flavored with chamomile and fresh lavender and makes a delicious treat for celebrations or picnics. Vegan + Gluten-Free options.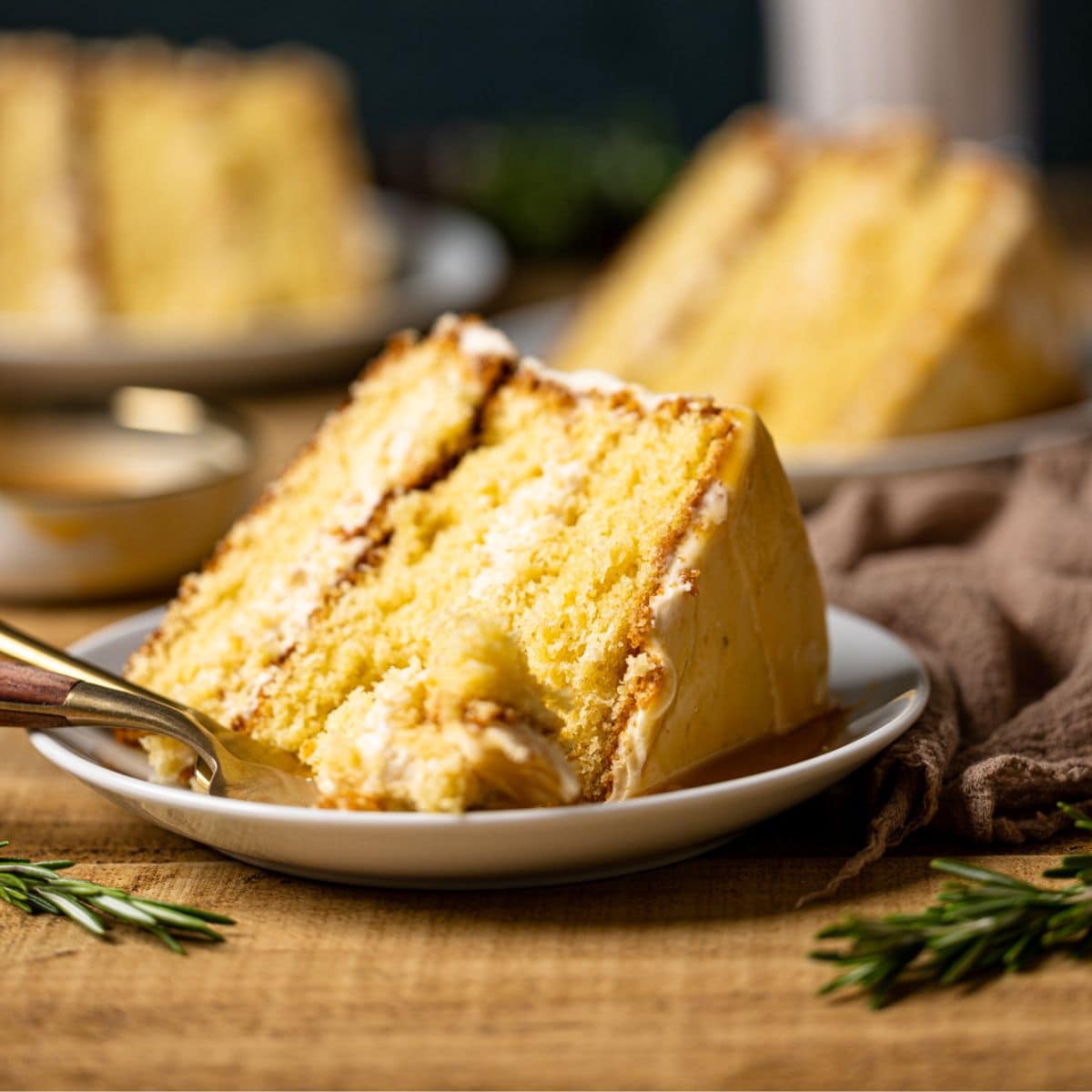 This Best Southern Salted Caramel Cake recipe comes super moist, fluffy, and full of delicious buttery and caramel flavors--- thanks to the salted caramel infused in the cake itself, in between each layer, and drizzled atop the vanilla buttercream. Vegan + Gluten-free options.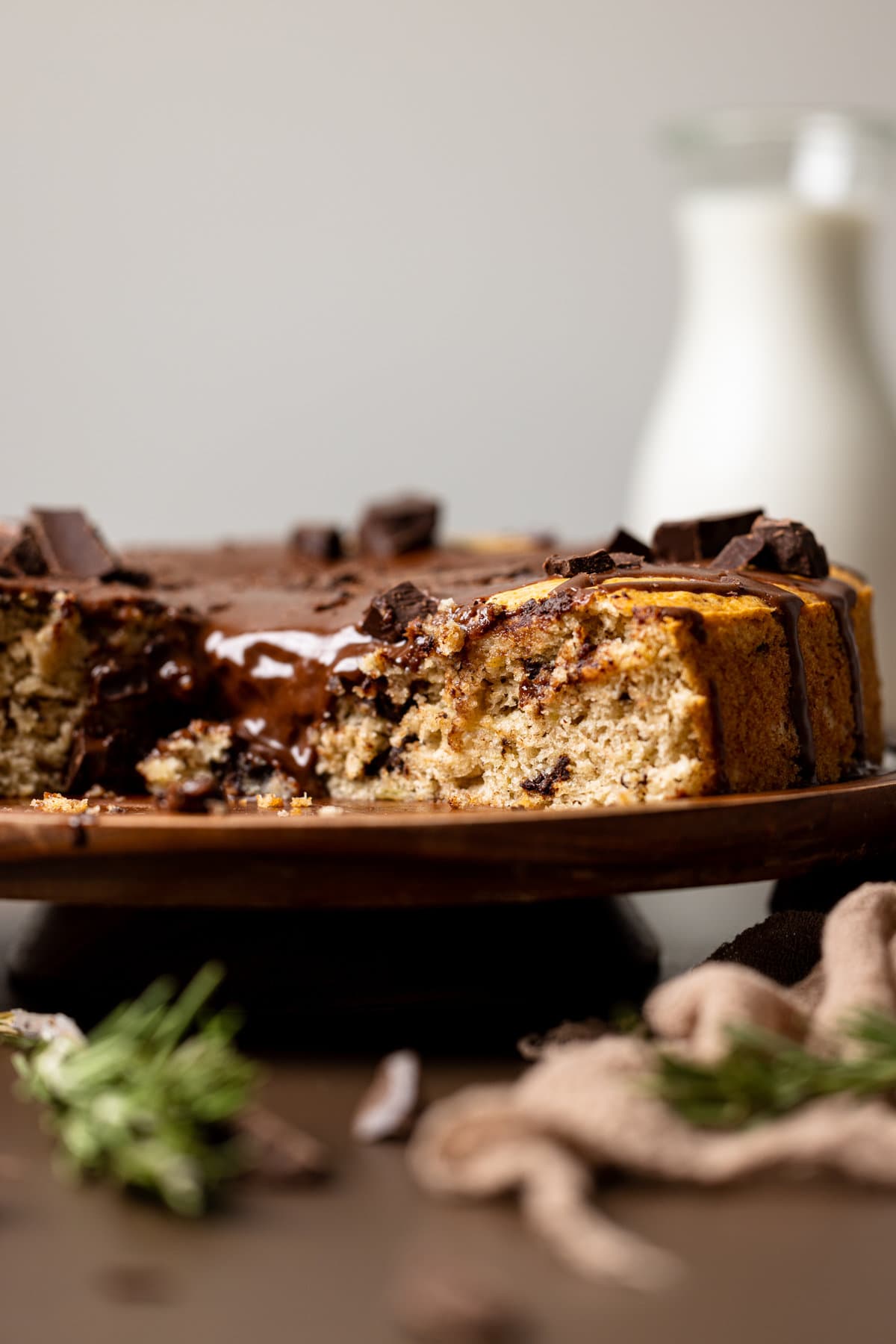 This Vegan Chocolate Chip Banana Cake is the ULTIMATE cake for any occasion or season. Not only is it completely moist + fluffy, but it's based with an airy banana chocolate chip cake that comes topped with a silky chocolate glaze, which creates a rich and decadent flavor profile! Gluten-free option.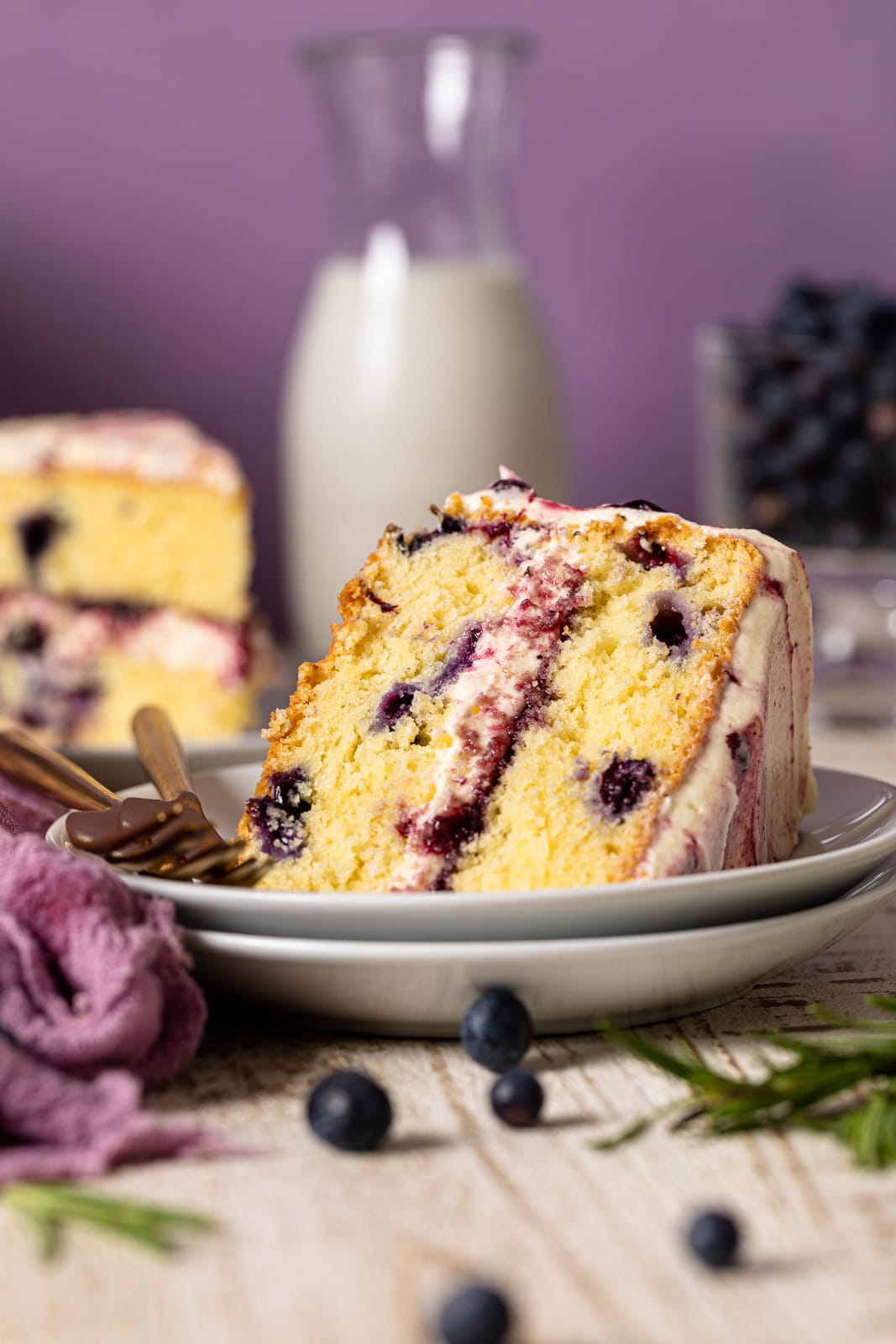 This Lemon Blueberry Olive Oil Cake is dense, moist, and fluffy. It's also well balanced between tart and sweet flavors as zesty lemon and olive oil is paired with sweet hints of blueberries. A definite crowd-pleasing treat for the entire family on any occasion. Vegan option.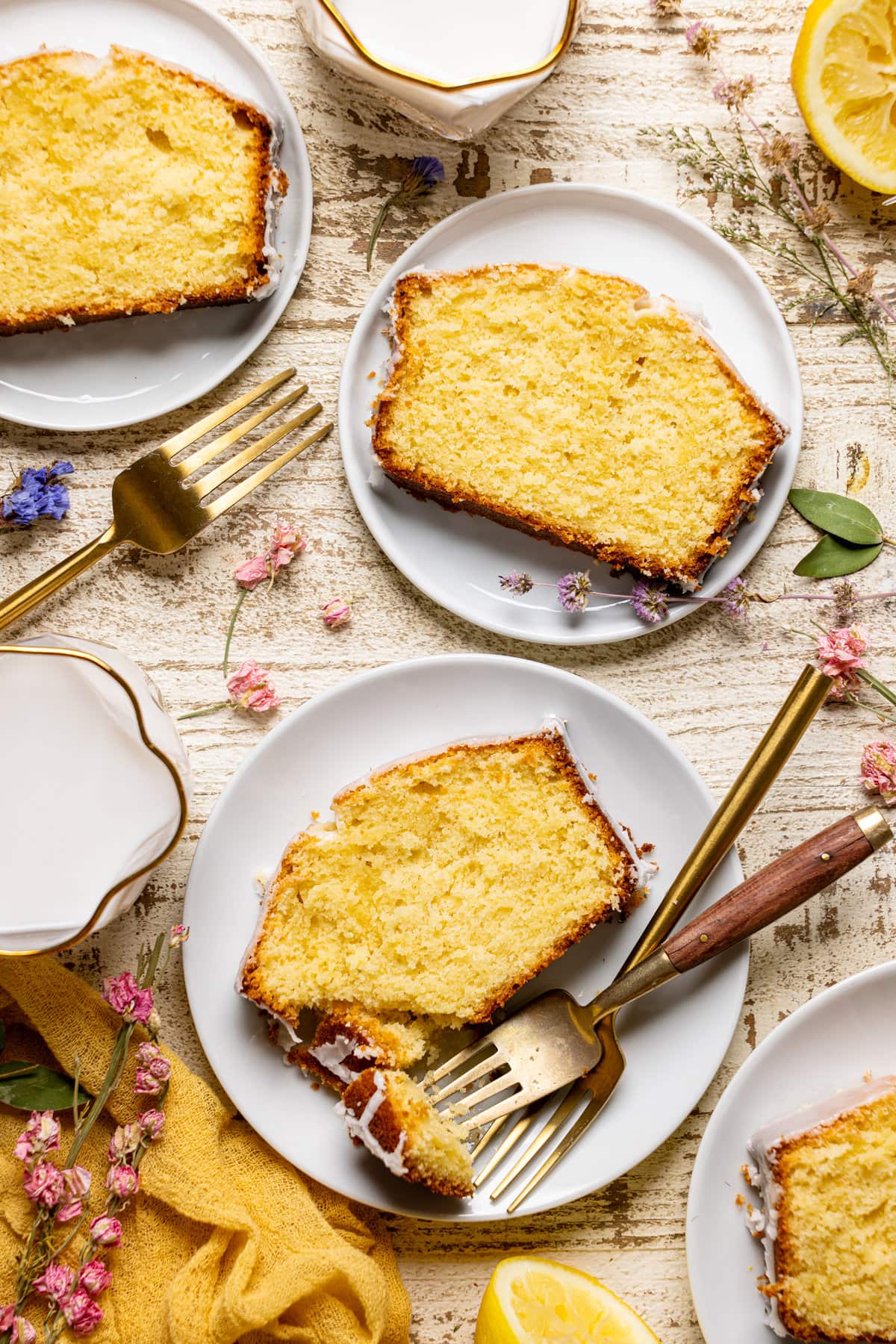 This fluffy Iced Lemon Loaf Pound Cake is a little sunshine in sweet form to share for breakfast, brunch or any time! A true classic dessert! Make ahead + Gluten-Free options.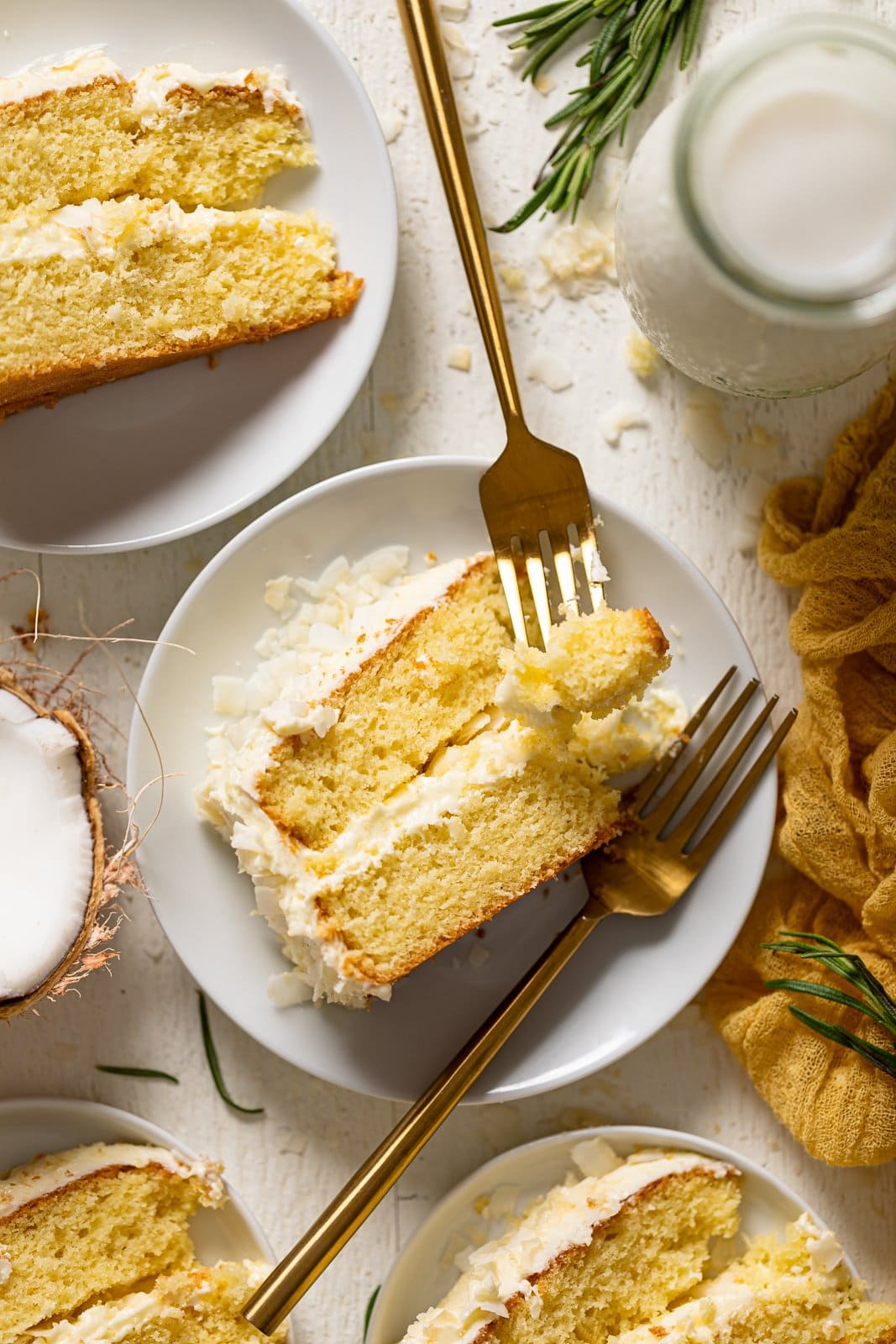 You're in for a real treat with this homemade Lemon Coconut Cake recipe! It's dense, moist, and oh-so-fluffy, layer cake with a perfect blend of zesty lemon and sweet coconut buttercream frosting. Whether it's a special occasion or just a sunny day, this cake is a crowd-pleaser that will make your taste buds sing. Gluten-free + Vegan Option.
Prepare to indulge in a heavenly slice of Orange Olive Oil Bundt Cake! This cake boasts an irresistibly soft and moist texture, thanks to the goodness of rich olive oil, and bursts with the invigorating zest of orange and the tang of freshly squeezed orange juice. Gluten-free + Dairy-free Option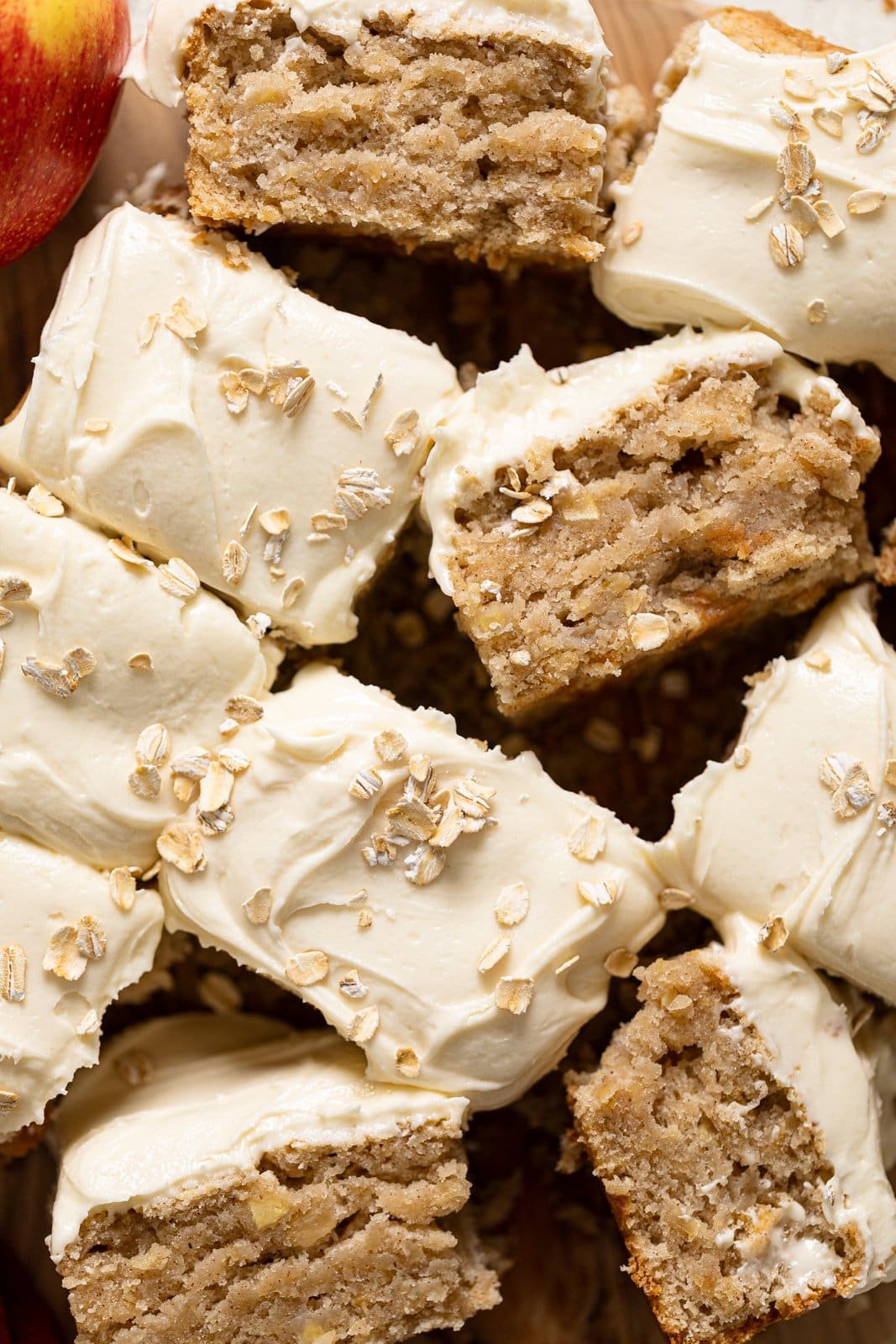 My Vegan Apple Oatmeal Sheet Cake is light, tender, and tastes like Fall spices during any season! To top things off----there's an insanely delicious vegan maple buttercream that pairs perfectly with the bold and warming flavors of this cake! Gluten-free option.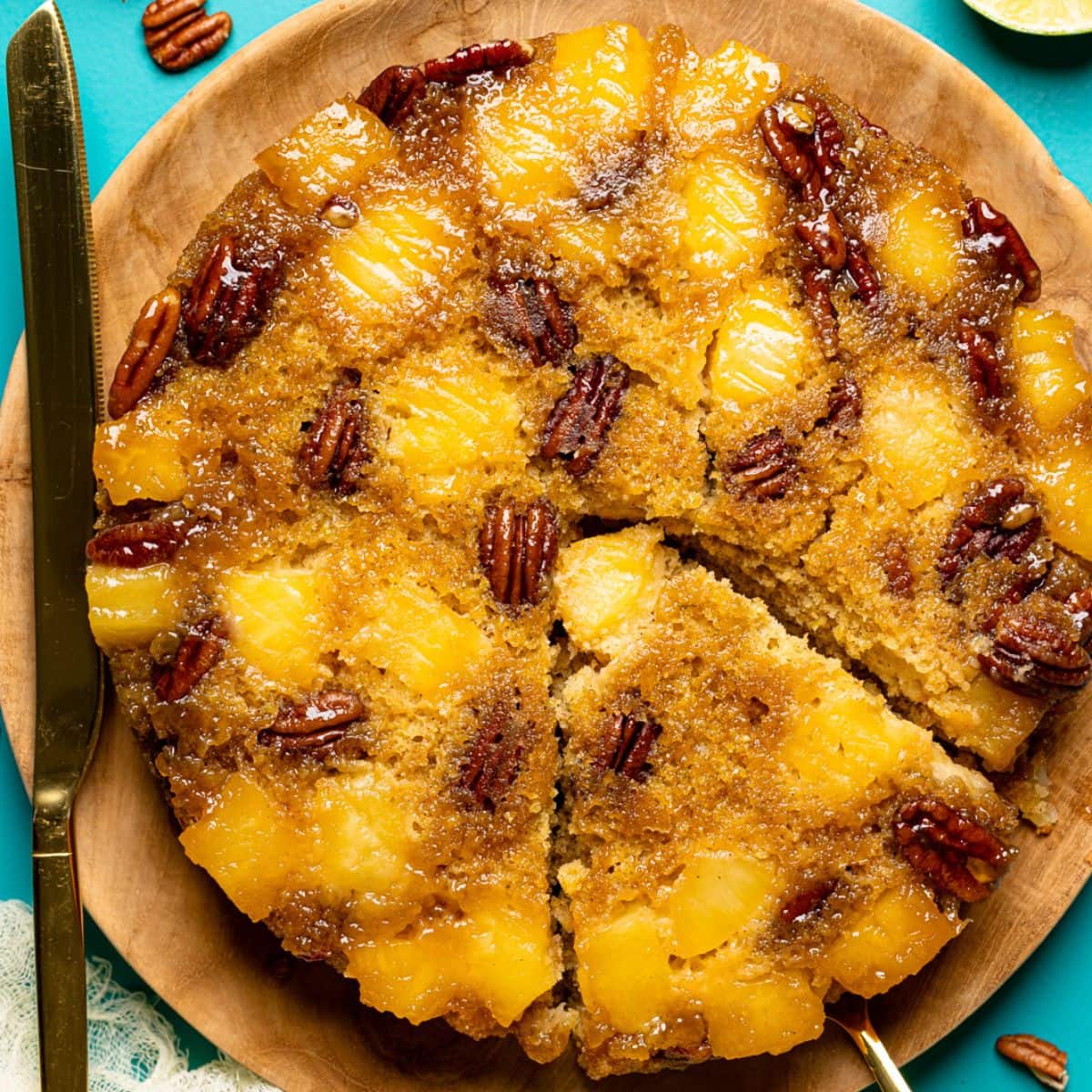 Experience the irresistible flavors of the Caribbean with this Jamaican Pineapple Upside Down Cake recipe! This mouthwatering fruity dessert features a moist and spiced cake base adorned with a crown of caramelized pineapple chunks and toasted pecans. A dreamy fusion of tropical goodness in every bite. Nut-free option.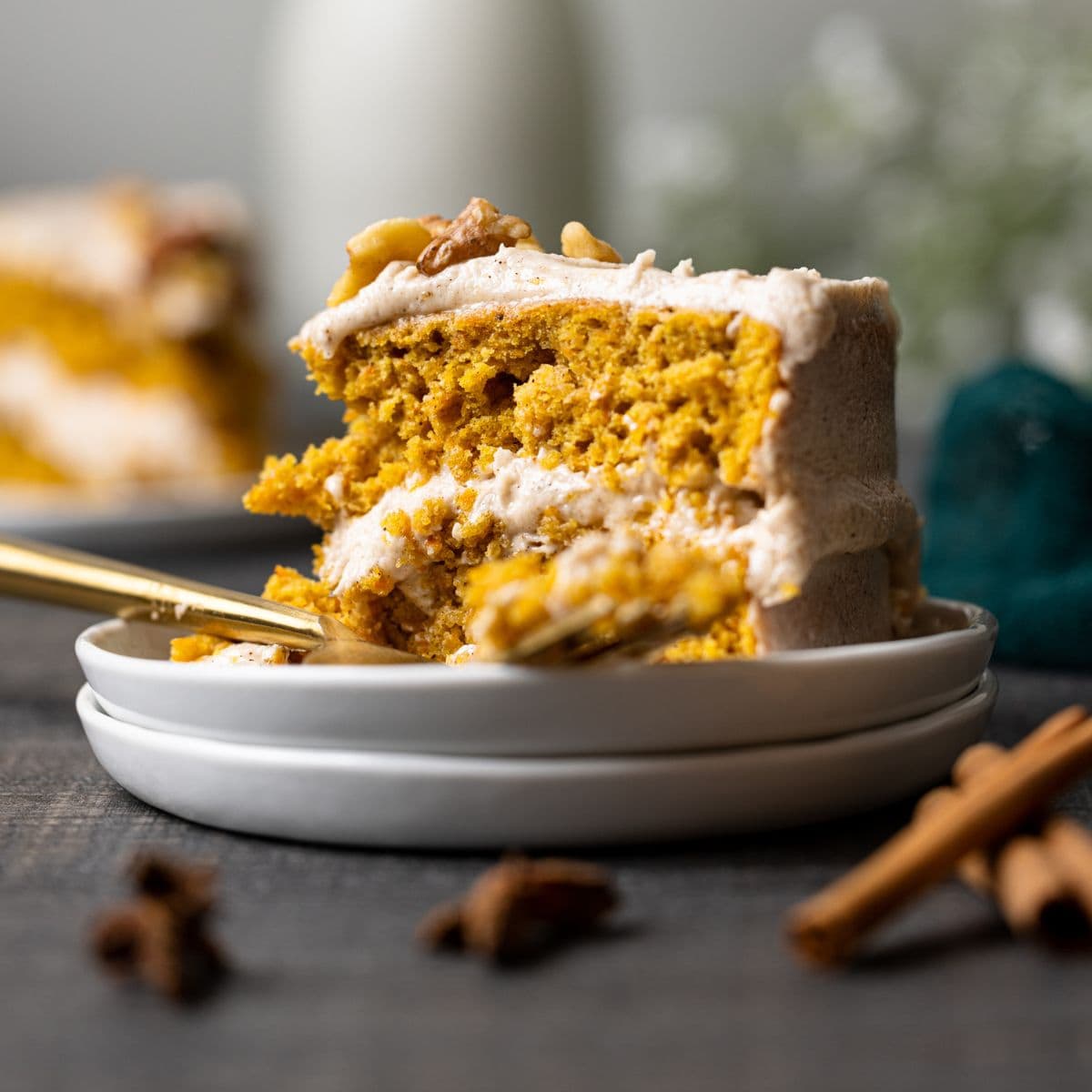 This Dairy-Free Carrot Cake with Chai Buttercream is the best + perfect rendition of traditional carrot cake! Not only is it completely soft + fluffy, but it's utterly delicious! Loaded with carrots and nutty pecan goodness making it rich and dense in flavor + layers of velvety chai-infused buttercream, a magical fall combo! Vegan + Nut-Free options.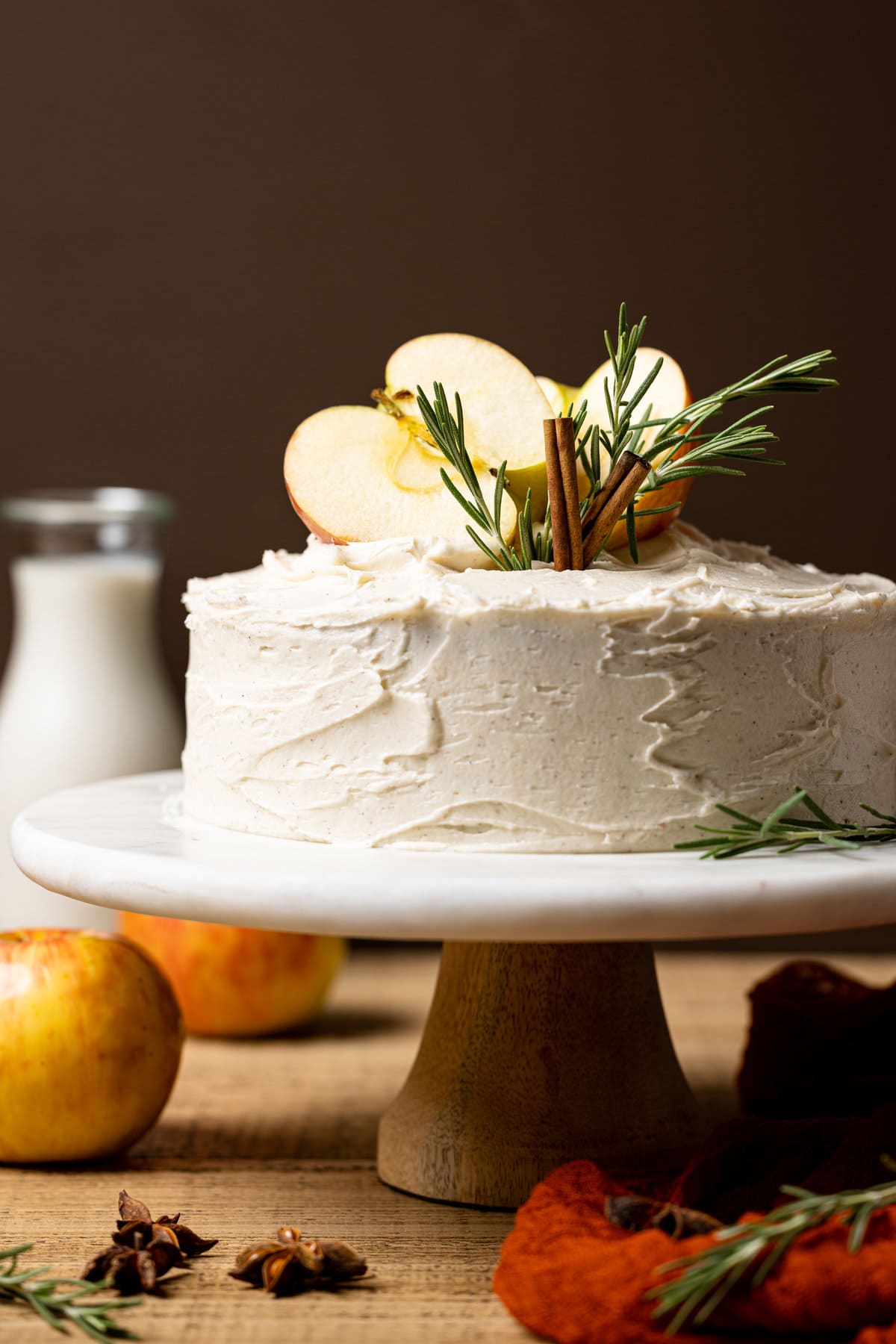 This Apple Cider Cake + Cinnamon Maple Buttercream is super soft, moist, and fluffy. Comes with elevated flavors of the Fall season through the combination of apple cider, warm spices, and a maple-infused buttercream. Dairy-Free, Vegan, + Gluten-Free options.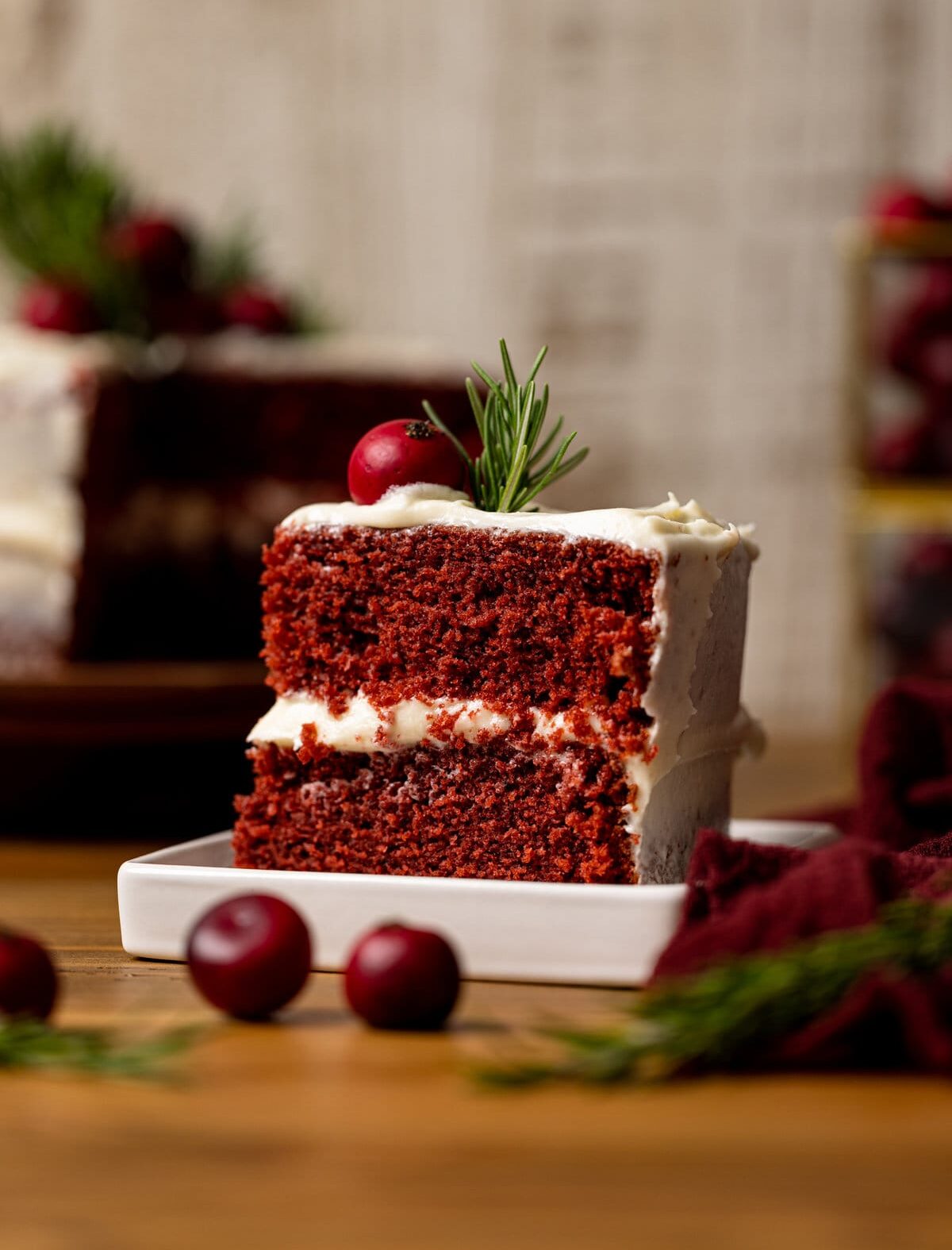 This Decadent Red Velvet Cake with Cream Cheese Frosting is the best + perfect rendition of a true classic recipe! Loaded with a tangy and slightly acidic flavor and a hint of chocolate and velvety-ness in each layer, and topped with a silky cream cheese frosting. Vegan + Cupcake options.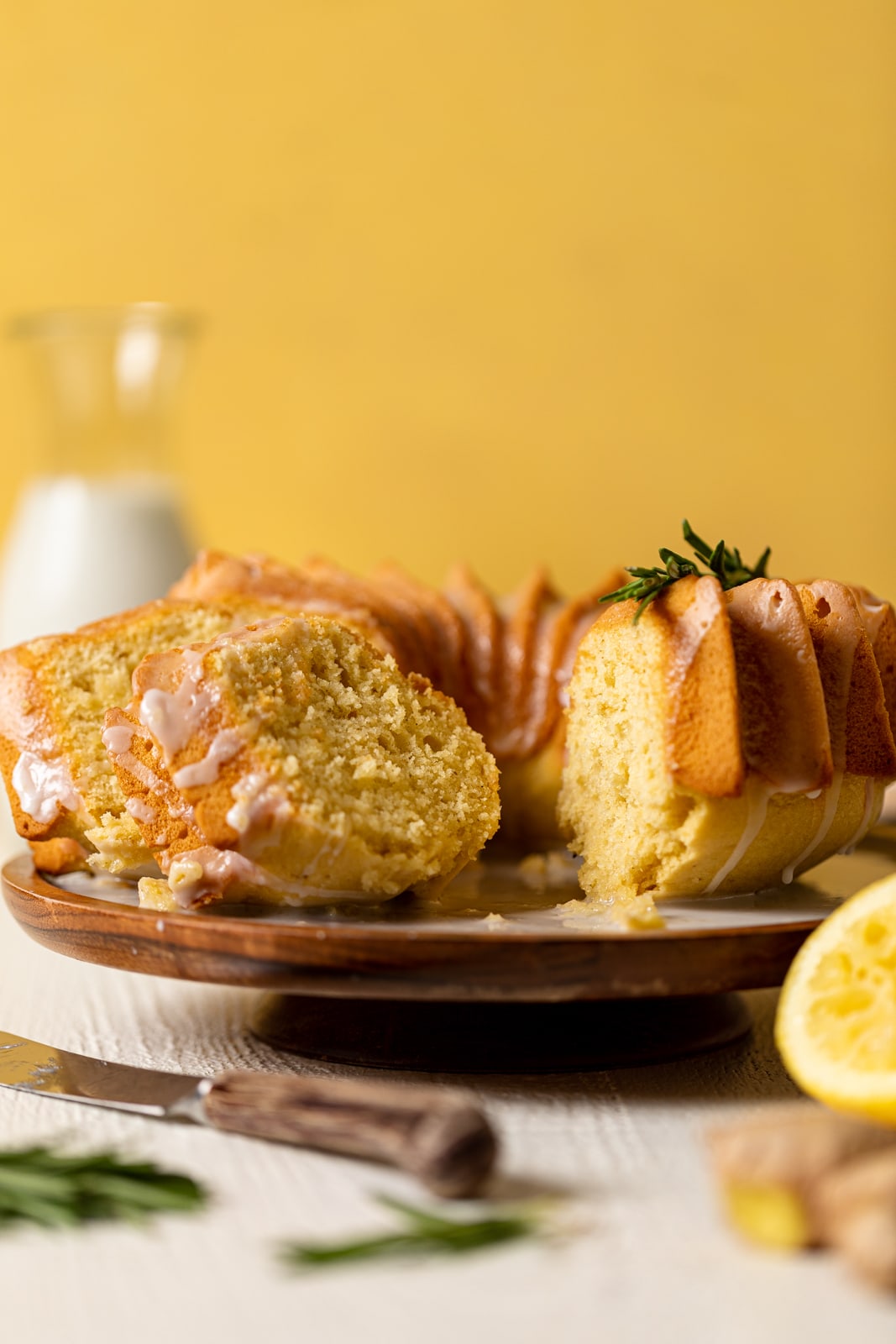 This Lemon Ginger Bundt Cake is seriously divine, with a moist and flavorful crumb that's perfectly balanced with the bright, zesty taste of lemon and the warm, spicy notes of ginger. Plus, the bundt shape makes for a stunning presentation that's sure to impress even the pickiest eaters! Gluten-free + Dairy-free + Vegan option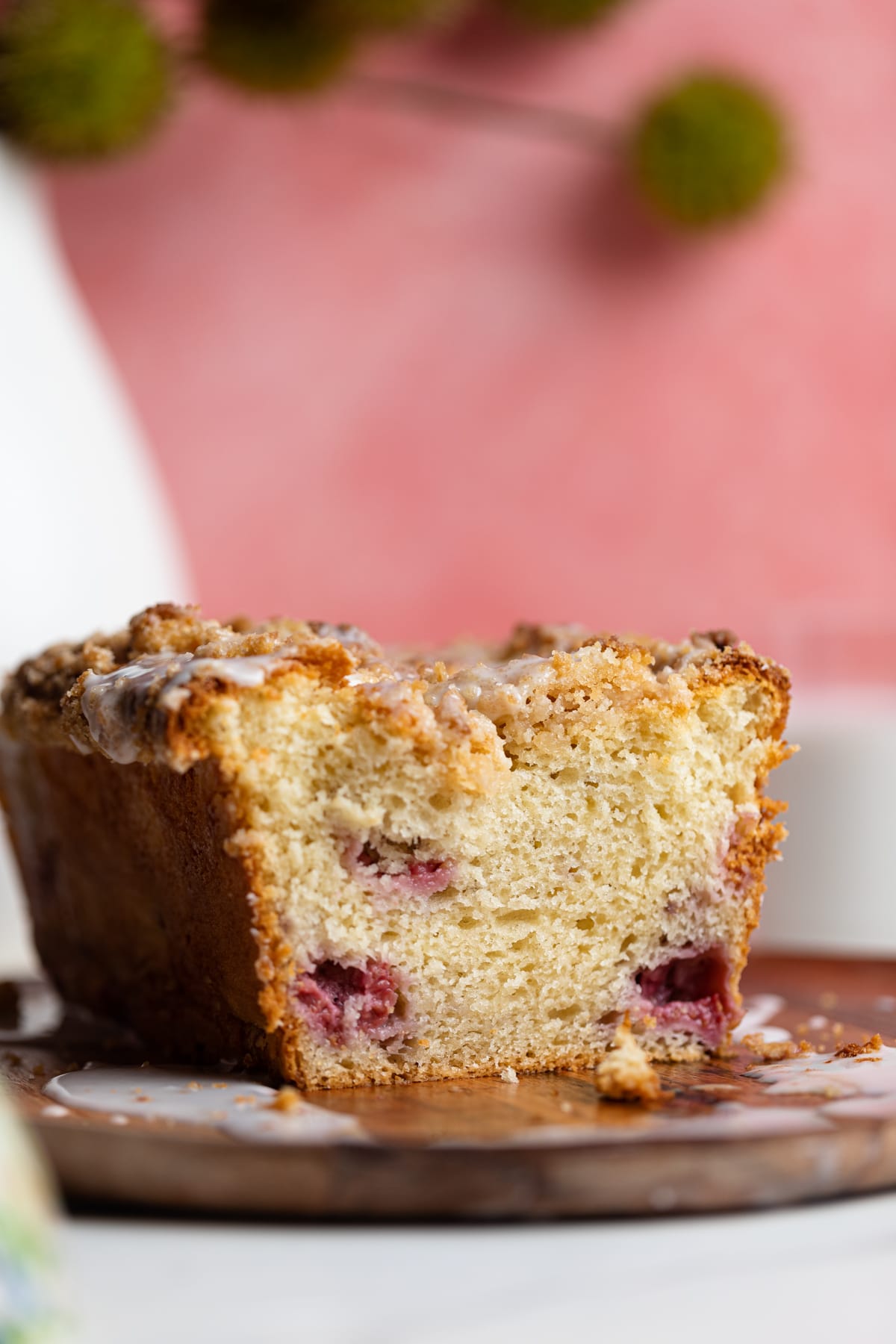 This Lemon Raspberry Coffee Cake recipe is packed with berry and citrus and topped with a subtle lemon glaze. It's perfect with coffee, tea or for breakfast or brunch.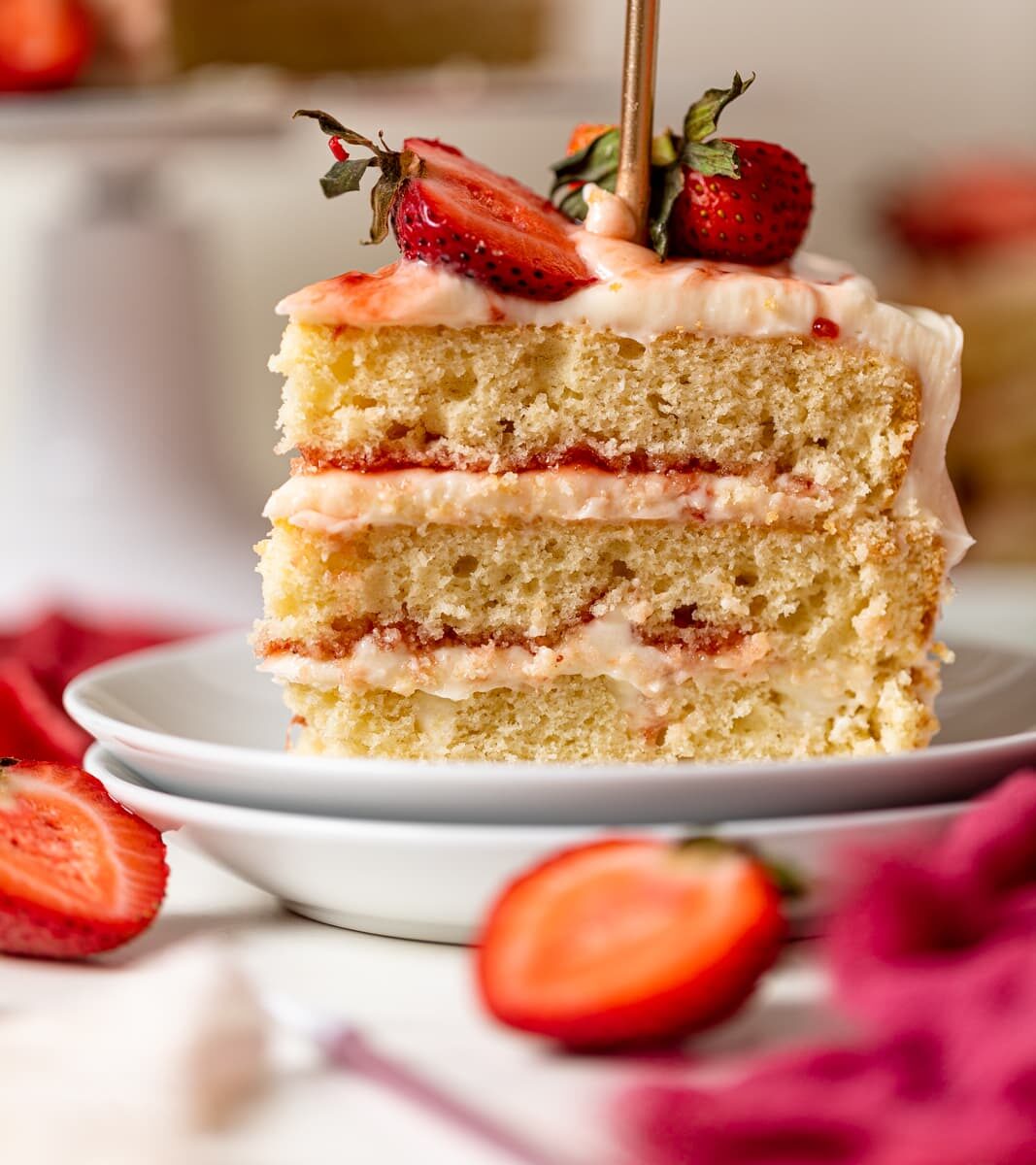 Get ready for the ultimate treat with this scrumptious Birthday Strawberry Shortcake Cake Recipe. With rich vanilla cake layers, velvety cream cheese buttercream, and a sweet strawberry jam filling, this cake is the perfect way to celebrate --birthday or not! Vegan + Gluten-Free options.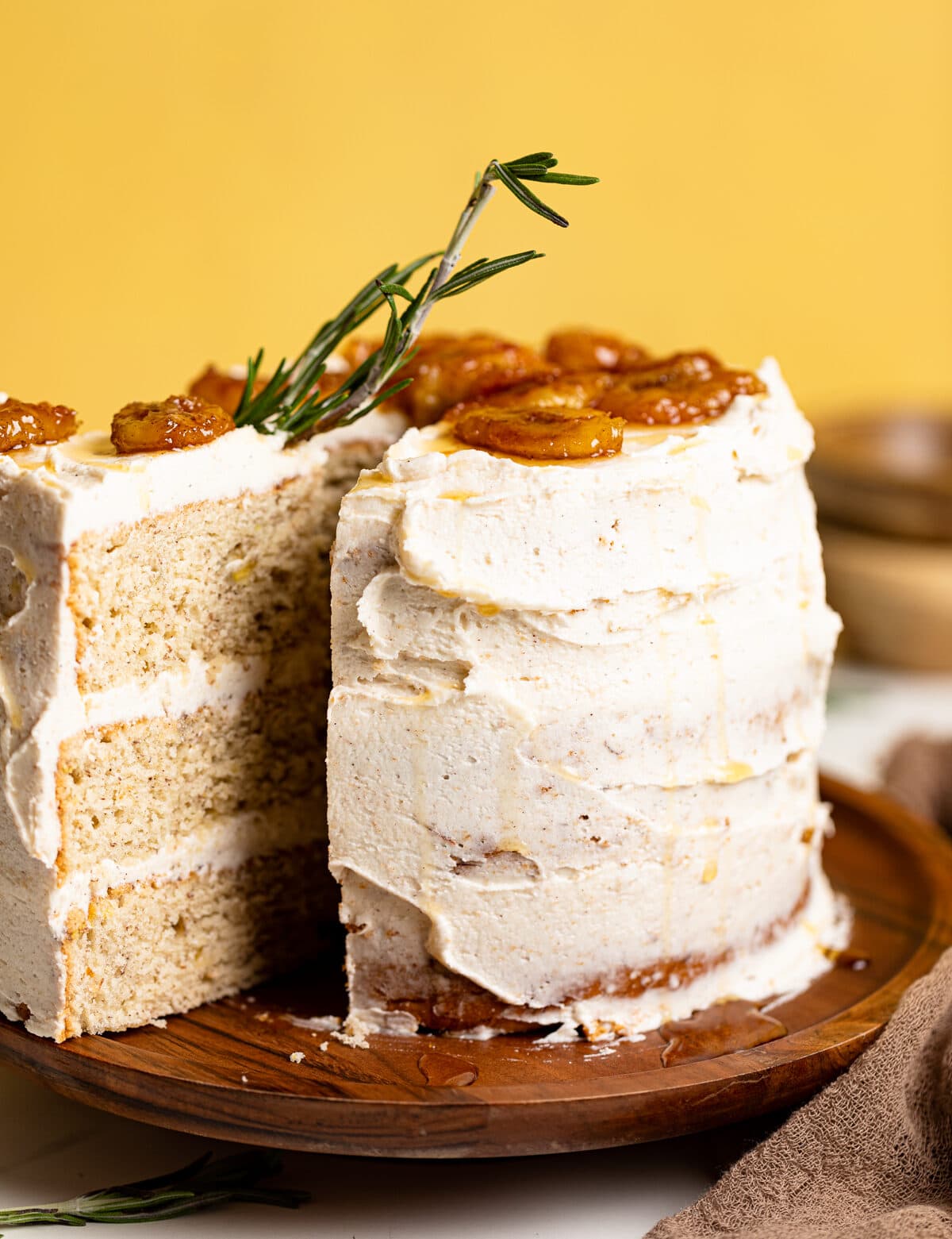 This Vegan Banana Cake with Maple Buttercream is moist and fluffy, rich in nutty, sweet banana flavor and is topped with an airy vegan maple buttercream.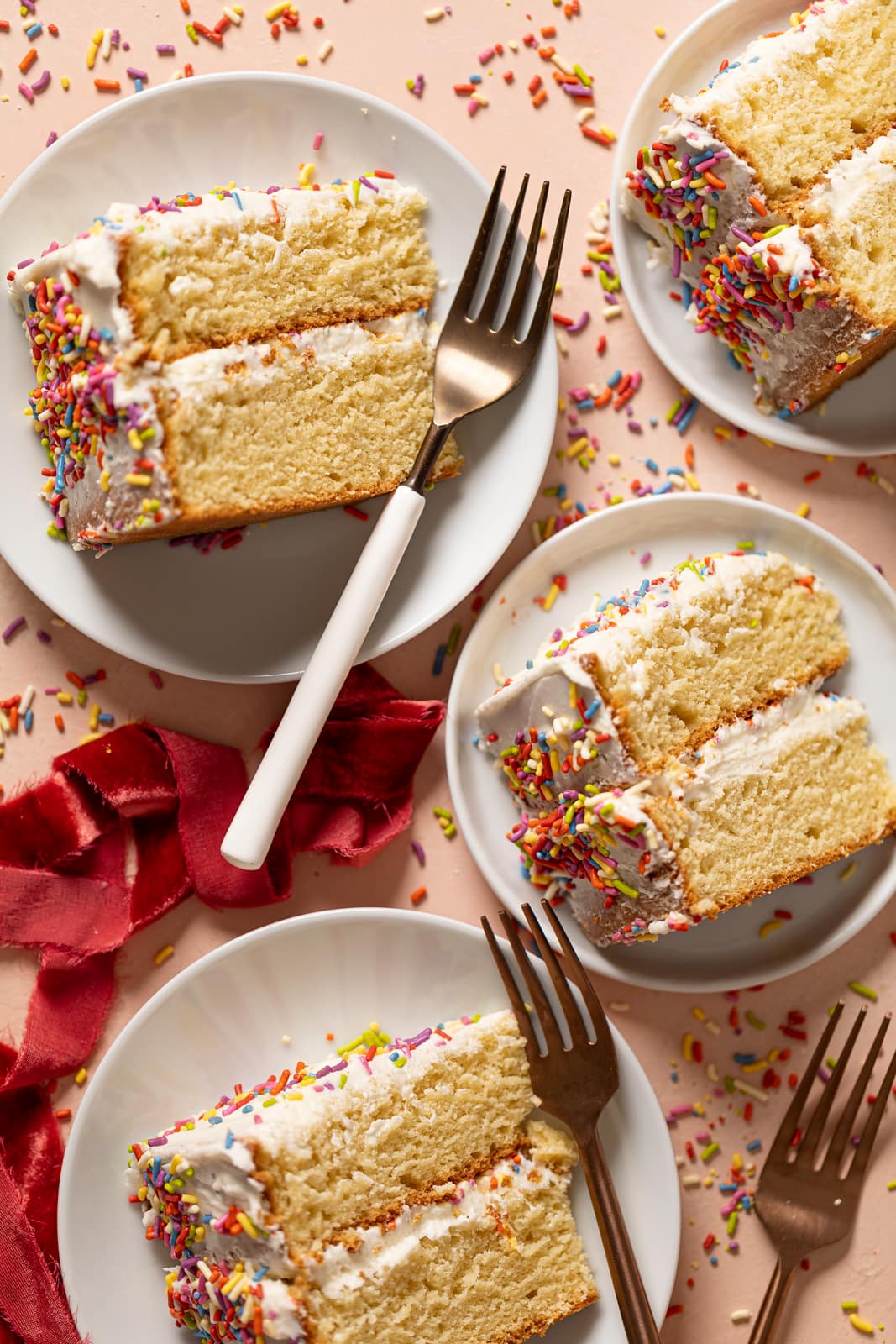 This Vanilla Yogurt Cake is incredibly tangy, dense, and moist. This sensational creation boasts a heavenly blend of vanilla + tangy Greek yogurt. This cake is sure to captivate both your taste buds and your eyes. It's super simple to make, so even newbie bakers can give it a try. It's a flavor combo that'll have your taste buds dancing with joy! Vegan + Gluten-Free options.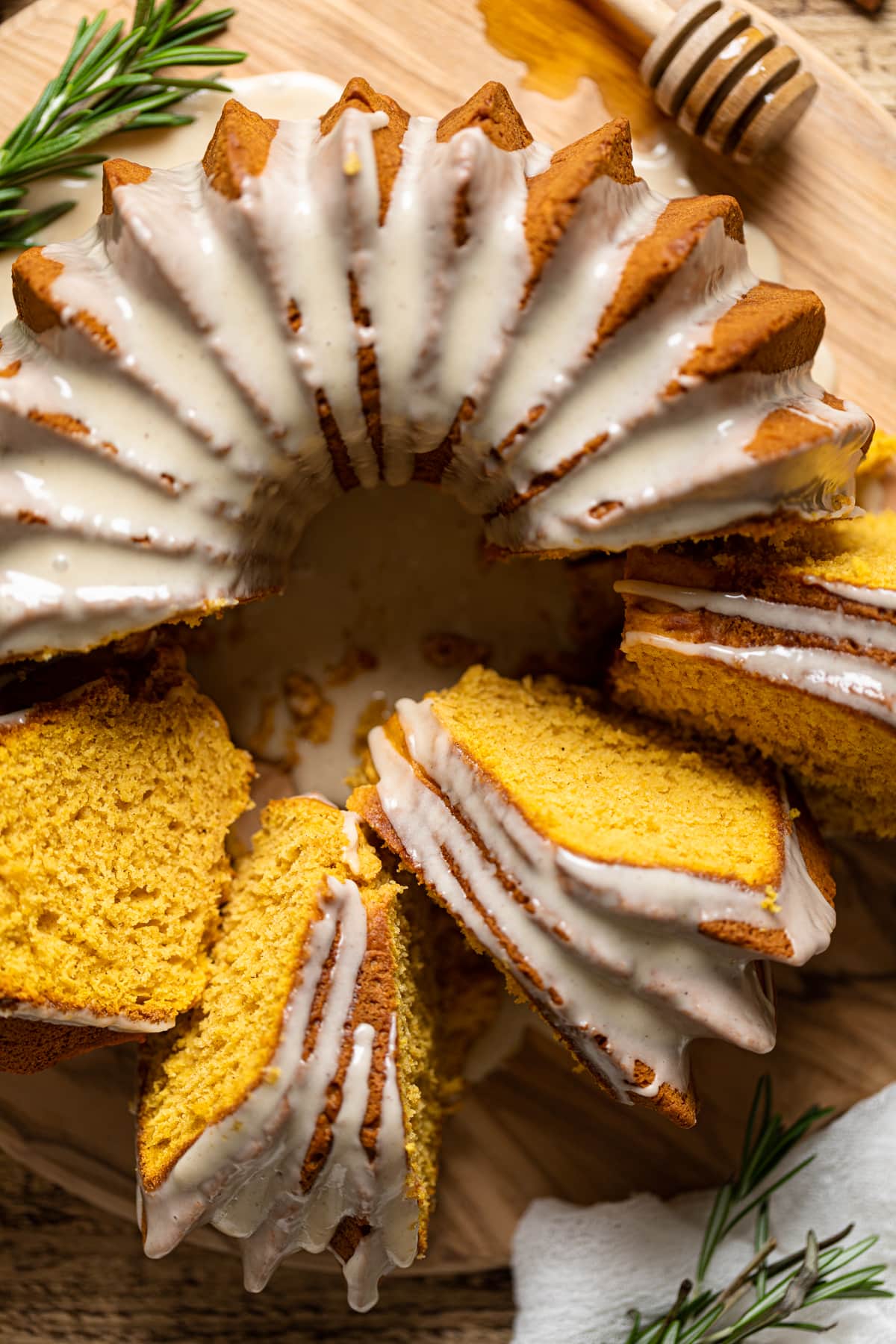 Make a stunning and dense Sweet Potato Bundt Cake with Maple Glaze for breakfast, brunch or dessert and you'll be sure to delight your guests.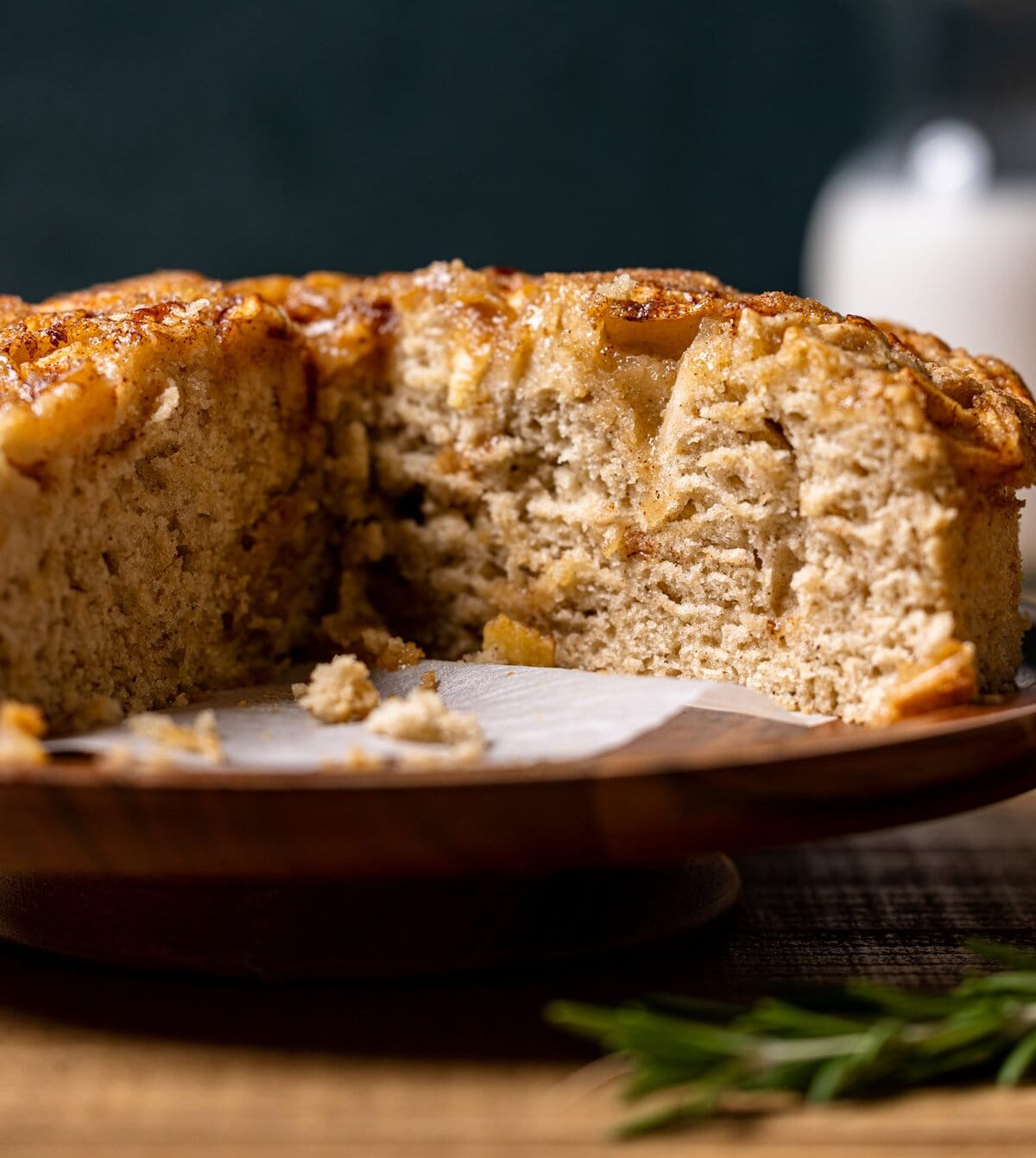 This moist and soft Apple Cinnamon Olive Oil Cake is the best + easy sweet treat for breakfast, brunch, or dessert or an afternoon pick-me-up. Made with a fluffy, dense base and covered with a perfectly sweet + crunchy topping, this cake is sure to be a new family-favorite. Gluten-free option.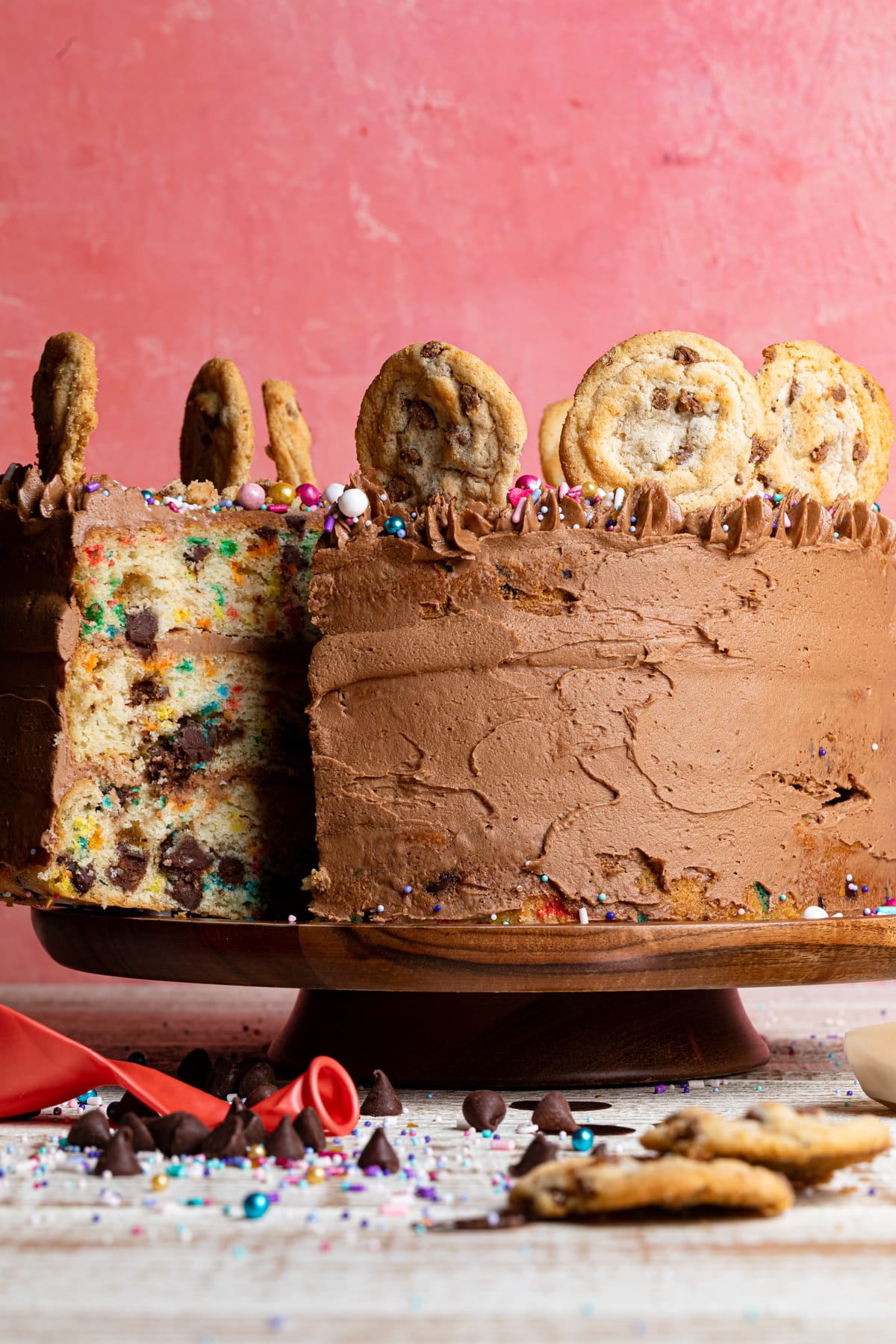 This Confetti Chocolate Chip Cake is moist, fluffy, and full of really bold chocolatey + confetti flavors thanks to the pops of chocolate chips, chocolate buttercream, and sprinkles in the midst of each layer. It's the perfect sweet indulge for every occasion and season. Vegan and Gluten-Free options.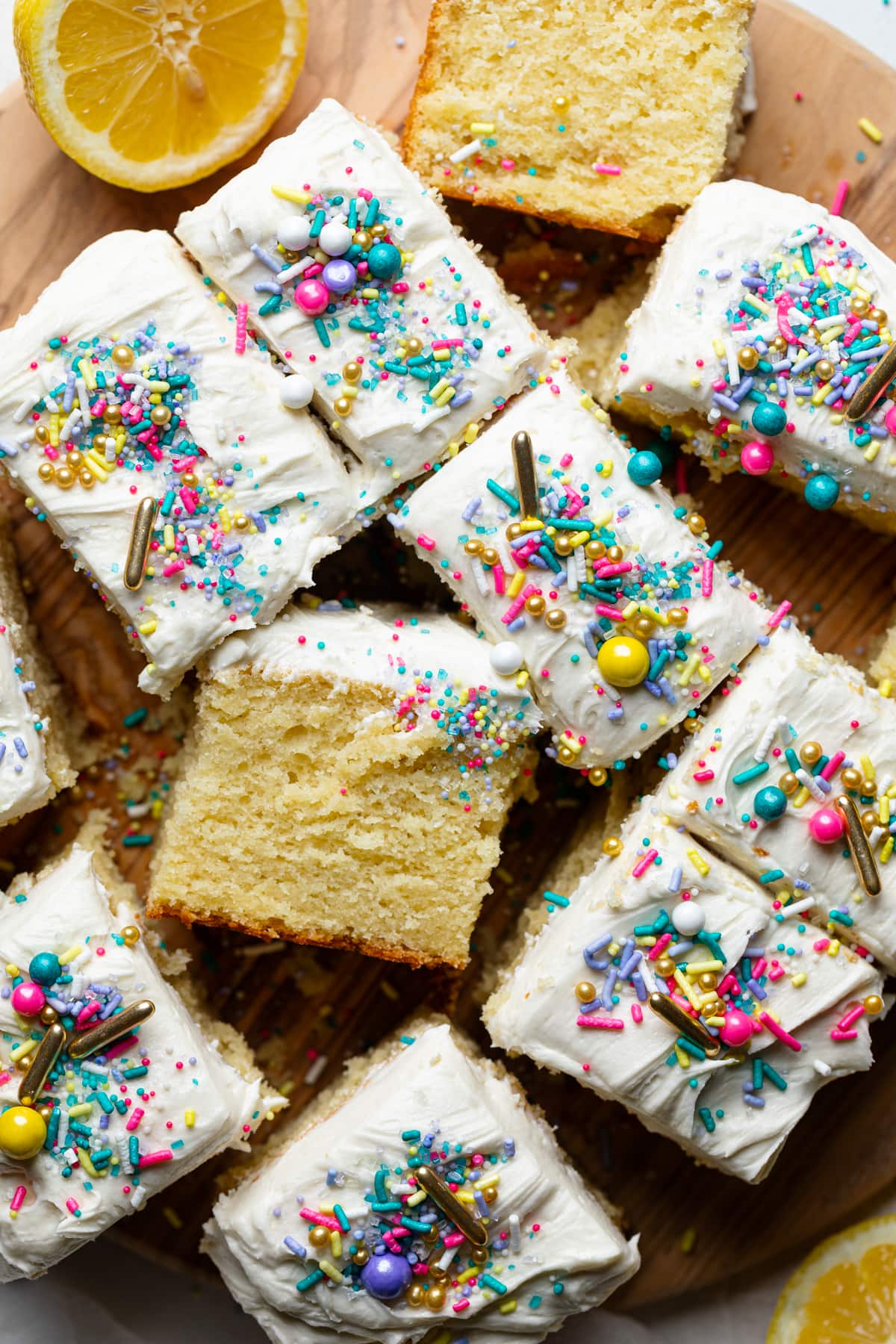 Get ready to add a burst of sunshine to your recipe collection with this one-bowl wonder – the Lemon Birthday Sheet Cake. It's a recipe that's not only a breeze to make but also promises a world of bright and zesty flavors. Whether it's a birthday celebration or just a sweet craving, this cake is your ticket to a slice of lemony bliss. Gluten-free option.
Tips for The Perfect Cake Everytime
TIP #1:
One thing that I've learned about baking delicious cakes is having the right tools. As a basic—-you should have a cake stand (preferably one that has a turnstile table), spatulas (big + small), piping bags + tips, correct baking pans and parchment paper.
TIP #2:
One of the essential ingredient combos for a light, silky cake texture is baking soda/baking powder and acid ingredients (usually apple cider vinegar + plant-based milk for vegan cakes). When acid and baking soda/baking powder react, it creates bubbles and helps to create a nice rise for your baked goods, leaving an airy texture.
TIP #3:
One of my latest tricks to a perfect cake has been to ensure that ALL of my dry ingredients are sifted. Trust me, ya'll—-this works! Making all the dry ingredients fully sifted makes things airy, as you've guessed it, and allows everything to combine faster.
TIP #4:
Never Over-mix! When creating a perfect cake, it's so important to add the dry ingredients and wet ingredients alternately and as soon as everything is combined very well, THAT'S IT! Over-mixing creates a more dense cake.
Cake Flavor Roundup
Well, folks, that's a wrap for my cake recipe roundup! With so many scrumptious options to savor, I hope you'll discover a new cake to bake or rediscover an old favorite. May your kitchen be graced with the heavenly scents of baking goodness, and here's to savoring every delightful bite.
Cake Troubleshooting
Y'all, we've all been there – a stuck cake, a sunken batter, or any other cake mishap. Here are a few common problems and the solutions I've learned over the years.
Why did my cake sink in the middle?
Your cake may have sunk due to overmixing the batter, underbaking, or opening the oven door too early. Ensure you follow the recipe's instructions precisely and avoid opening the oven door until the cake is almost done.
Why is my cake dry?
Dry cakes can result from overbaking or using too much flour. Be sure to measure your ingredients accurately and use a timer to prevent overbaking.
How do I prevent my cake from sticking to the pan?
To prevent sticking, grease and flour your cake pans, or use parchment paper. Let the cake cool for a few minutes before removing it from the pan. If it still sticks, run a knife around the edges to loosen it.
Why did my cake turn out too flat?
Flat cakes may result from expired leavening agents or not using enough leavening agents. Make sure your baking powder or baking soda is fresh and properly measured. Additionally, avoid overmixing the batter.
How do I store leftover cake?
Store leftover cake in an airtight container in the refrigerator for up to several days. You can also freeze it for longer storage. Be sure to wrap it well to prevent freezer burn!
Love Cakes? Try These Cupcake Recipes Next!
MADE OUR RECIPE(S)?
If you tried any of the 25 Best Cake Flavors for Any Occasion from this list or any other recipe on my website, please please leave a 🌟 star rating and let me know how you go in the 📝 comments below or tag me on Instagram @Orchidsnsweettea_. I love hearing from you.