Dig into a slice of pure bliss with our easy 1-Layer Banana Biscoff Cake. This banana cake recipe brings the warmth of your grandma's kitchen to your plate. Ripe bananas lend their natural sweetness, while a medley of comforting spices, including sweet cinnamon, ginger, nutmeg + pure vanilla goodness adds depth and aroma. And to top it all off, the heavenly Biscoff buttercream transforms this cake into a dessert that's truly out of this world. Make-Ahead + Cupcake Option.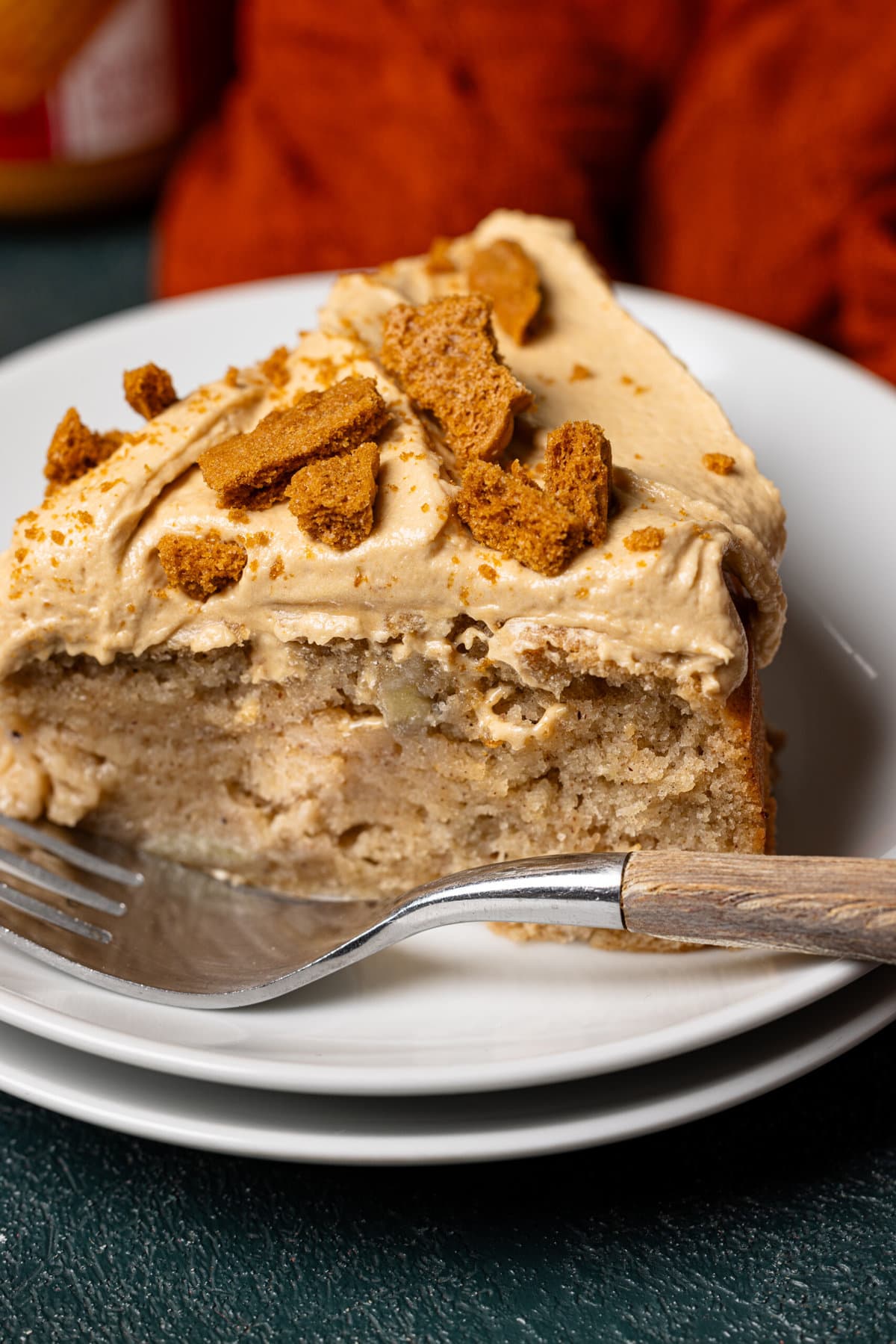 Well, you know, the story of this Banana Biscoff Cake starts with a simple craving and a dash of creativity. I was rummaging through my pantry one day, and there they were – a bunch of ripe bananas and a half jar of Biscoff spread left over after making Bakery-Style Biscoff Cookie Butter Cookies. It was like a match made in dessert heaven, and I couldn't resist the temptation to blend these flavors into a cake. The warm spices, banana's natural sweetness, and the creamy Biscoff spread just seemed destined to come together!
If you're anything like me, and you've got a sweet tooth that leads straight to cakes (or, honestly, just devouring them!), then you're in for a real treat with this banana cake. And if you're on the lookout for another delectable fall-flavored 1-layer cake, be sure to try this 1-Layer Maple Sweet Potato Cake-- While you're there, take a peek at my post on Best Cake Flavors for Any Occasion. It's a cake lover's paradise!
This banana cake is a true masterpiece, hitting that perfect balance of sweetness, fluffiness + pillowy softness. And let's not forget, it's loaded with that irresistible banana flavor and topped off with a drool-worthy sweet Biscoff buttercream. What's even better? This cake is as versatile as it gets. It's the ideal dessert for any occasion, all year round, whether you're hosting a chill backyard barbecue or enjoying a cozy evening in.
Jump to:
What is Biscoff Anyway?
Biscoff, also known as Lotus Biscoff is a brand of spiced shortcrust cookies with a caramelized, slightly sweet flavor. They are popular for their distinctive taste and crisp texture. Biscoff cookies are often used to make a spreadable version known as Biscoff cookie butter or spread, which is smooth and creamy, similar to a nut butter but made from these spiced cookies. It's a delicious treat that can be used in various ways, from spreading on toast to incorporating it into recipes like my Biscoff Banana Pudding with Caramel or Pumpkin Cheesecake with Biscoff Cookies!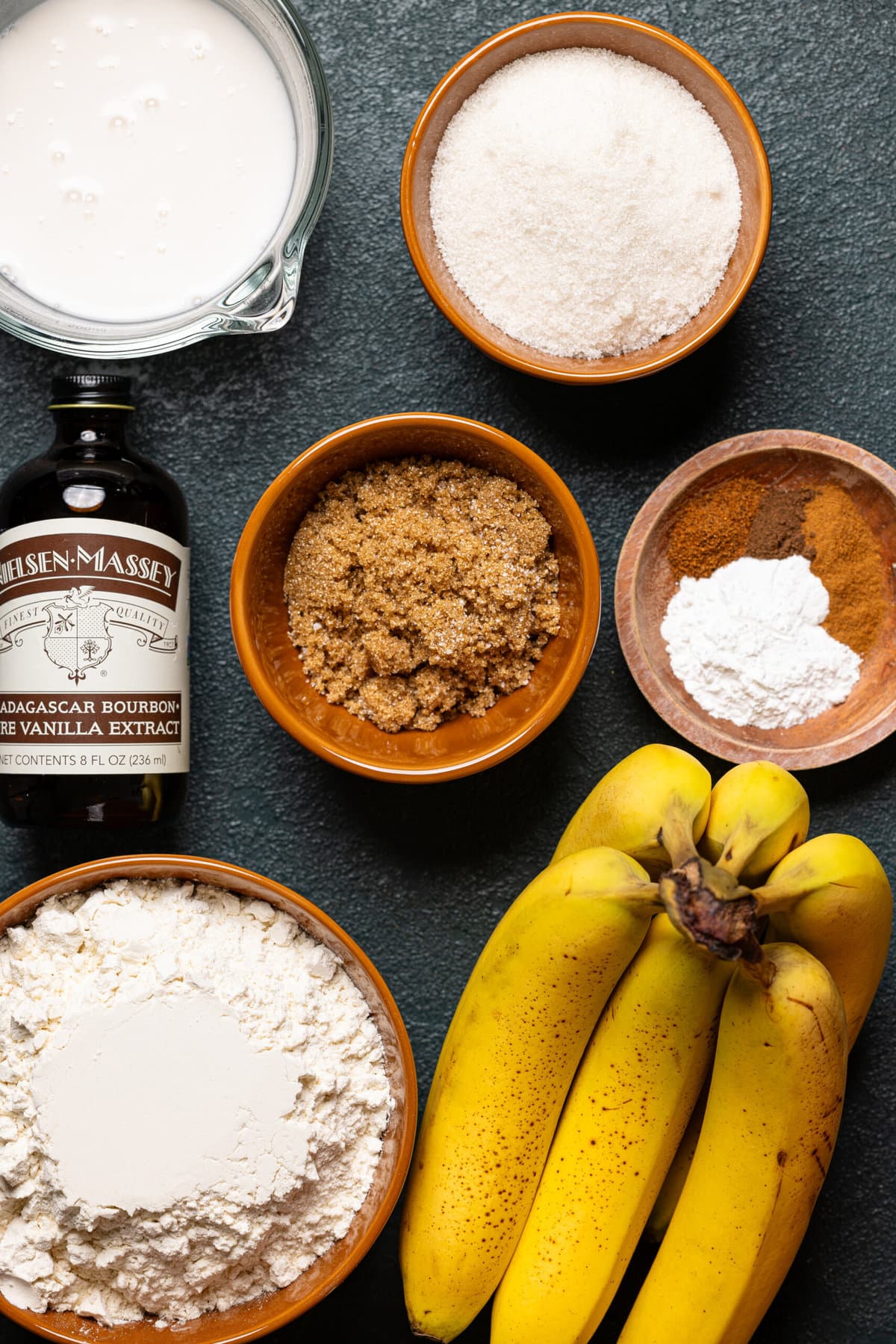 How To Make 1-Layer Banana Biscoff Cake
We kick things off by crafting our very own dairy-free buttermilk-- AKA the secret to infusing this cake with a touch of moisture and tenderness. Then, we mix all the wonderful ingredients together and let the oven work its magic. And here comes the grand finale – the luscious biscoff buttercream to elevate this vegan cake to a whole new level of deliciousness
Ingredients
BANANA CAKE:
Organic All-Purpose Flour. I use organic flour from Bob's Red Mill.
Very ripe bananas, mashed. Infuses the cake with natural banana sweetness and moisture.
Organic Cane Sugar. Adds sweetness and helps with the texture.
Organic brown sugar. Adds a hint of molasses richness and sweetness.
Baking Powder. Acts as a leavening agent to make the cake rise.
Pure Vanilla Extract. I find the brand Nielsen-Massey to be amazing and of such good quality!
Spices. Cinnamon, Nutmeg, Ginger and Allspice create a warming sweet flavor!
Almond milk, at room temp. (You can use whole milk or your favorite plant-based milk): Provides moisture to the cake. Learn how to make your own homemade almond milk!
Sea salt: Enhances the overall flavor by balancing sweetness.
Apple cider vinegar: Acts as an acid to react with the baking powder for leavening.
Organic vegetable oil: Adds moisture and richness to the cake.
BISCOFF BUTTERCREAM:
Organic powdered sugar, sifted: Sweetens and thickens the buttercream.
Biscoff cookie spread, softened: Infuses the buttercream with the irresistible Biscoff flavor.
Unsalted butter, softened at room temp: Provides a creamy and rich texture to the buttercream.
Almond milk.(You can use whole milk or your favorite plant-based milk)Adjusts the consistency of the buttercream.
TOPPING:
Crushed Biscoff cookies: Adds a delightful crunch and extra Biscoff flavor to the cake.
SHOP MY FAVORITE TOOLS FOR BAKING, ESPECIALLY FOR THIS CAKE!
Here, I've curated a list of baking essentials that I use to achieve my favorite baked goods, especially with this 1-Layer Banana Biscoff Cake. Everything from my fave loaf pan, wooden spoons, parchment paper, and more. SEE THEM HERE!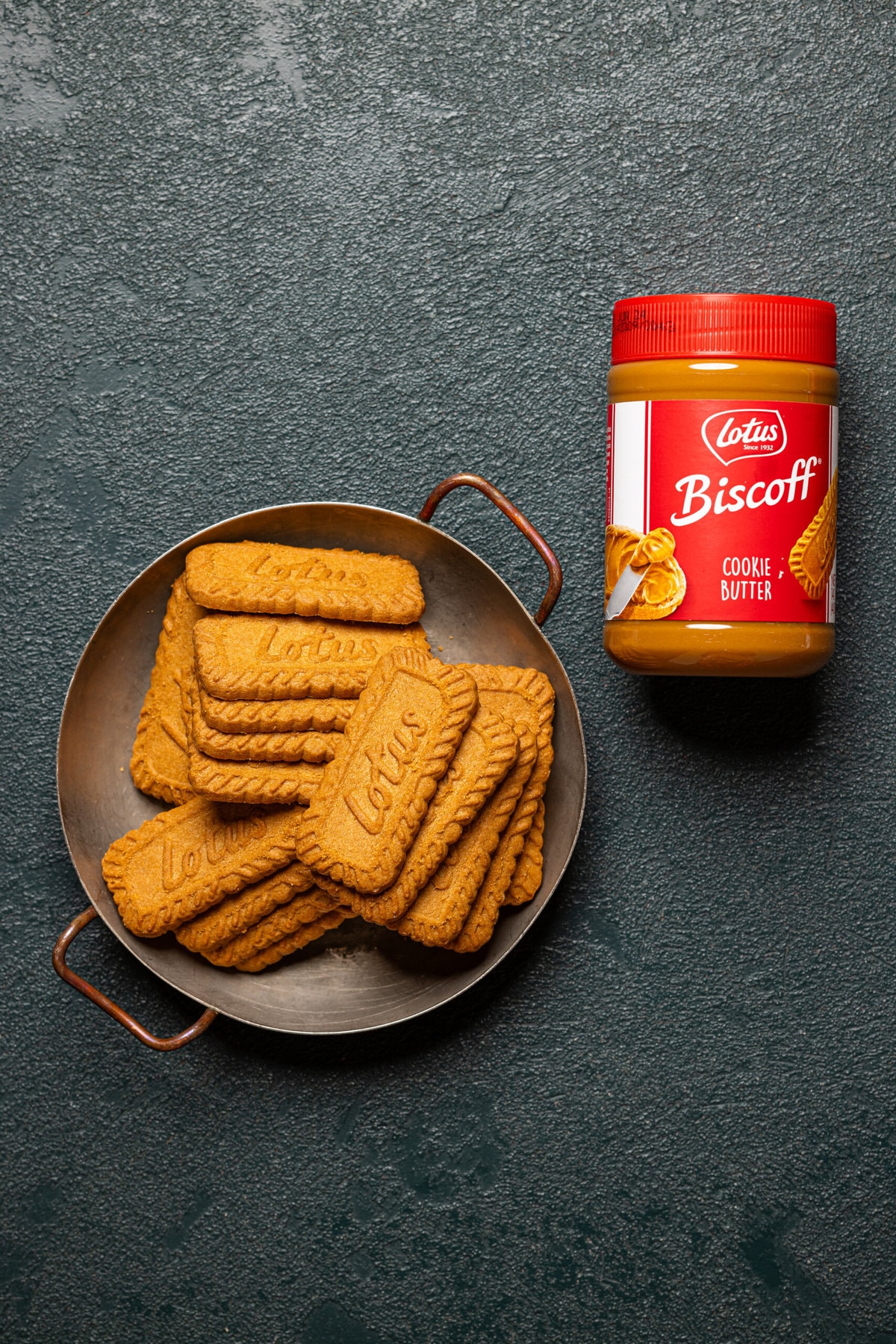 Why You'll Love Banana Biscoff Cake
Warm and comforting with every bite.
It's super fluffy and moist and beautifully textured.
Can be made as a traditional 1 or 2-layer cake, sheet cake, or cupcakes. Your choice!
Makes for the perfect sweet treat for the entire family
That Biscoff buttercream frosting is EVERYTHING.
Perfect Occasions For A Slice Of Biscoff Banana Cake
These events are a great excuse to eat cake!
Birthdays
Anniversaries
Barbecues
Potlucks
Kids Sleepovers
Holiday Gatherings
Graduations
Baby Showers
Dinner Parties
Actually, any time is a good time for cake, right? Bake away for a little weekday pep-up!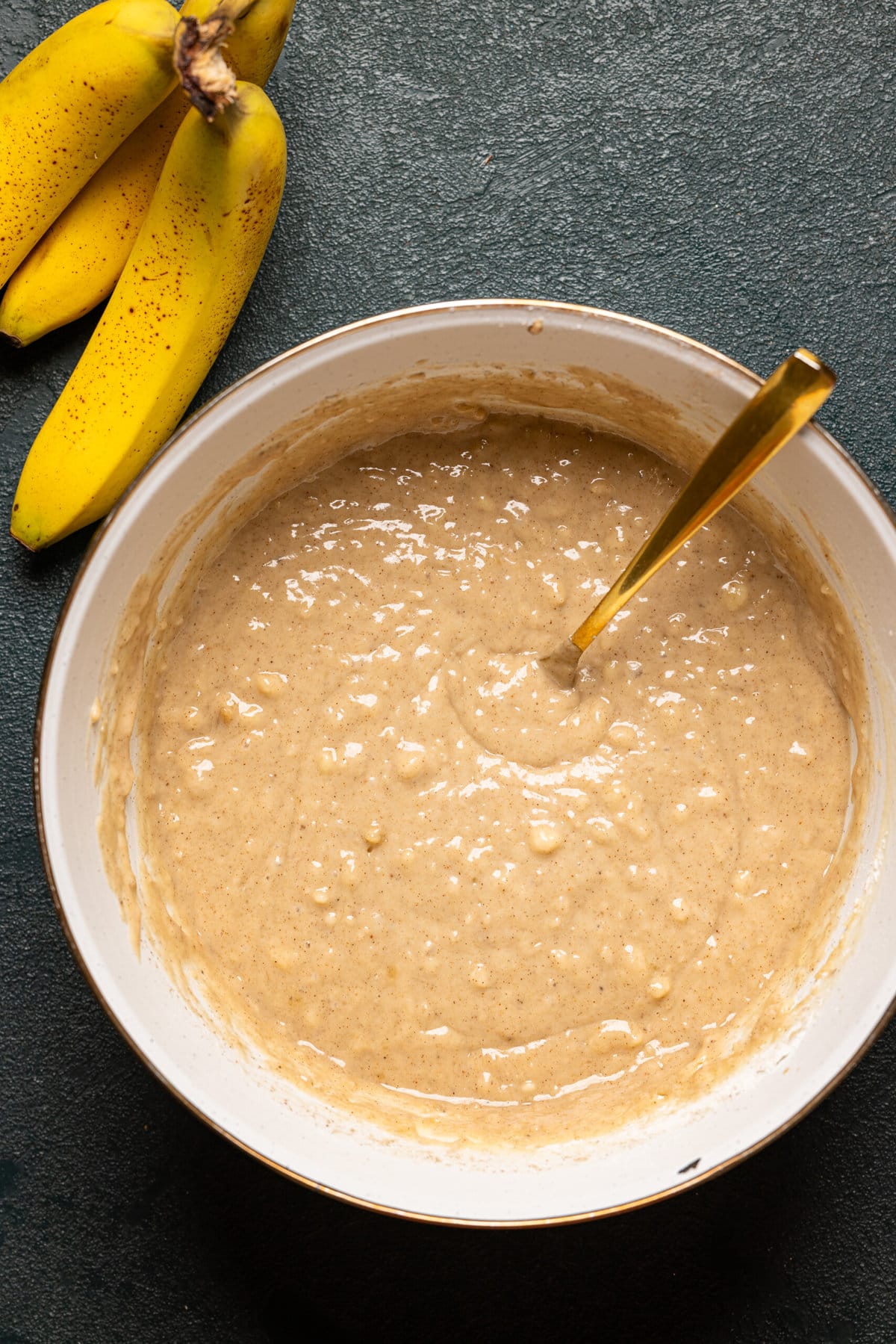 Tips For Making The Perfect Biscoff Banana Cake
TIP #1:
One thing that I've learned about baking a delicious banana cake recipe is having the right tools. As a basic—-you should have a cake stand (preferably one that has a turnstile table), spatulas (big + small), piping bags + tips, correct baking pans and parchment paper.
TIP #2:
One of the essential ingredient combos for a light, silky cake texture is baking soda/baking powder and acid ingredient (usually apple cider vinegar + plant-based milk for vegan cakes). When acid and baking soda/baking powder reacts, it creates bubbles and helps to create a nice rise for your baked goods, leaving an airy texture.
TIP #3:
One of my latest tricks to a perfect banana cake has been to ensure that ALL of my dry ingredients are sifted. Trust me, ya'll—-this works! Making all the dry ingredients fully sifted makes things airy, as you've guessed it and allows everything to combine faster.
TIP #4:
Never Over-mix! When creating a perfect cake, it's so important to add the dry ingredients and wet ingredients alternately and as soon as everything is combined very well, THAT'S IT! Over-mixing creates a more dense cake.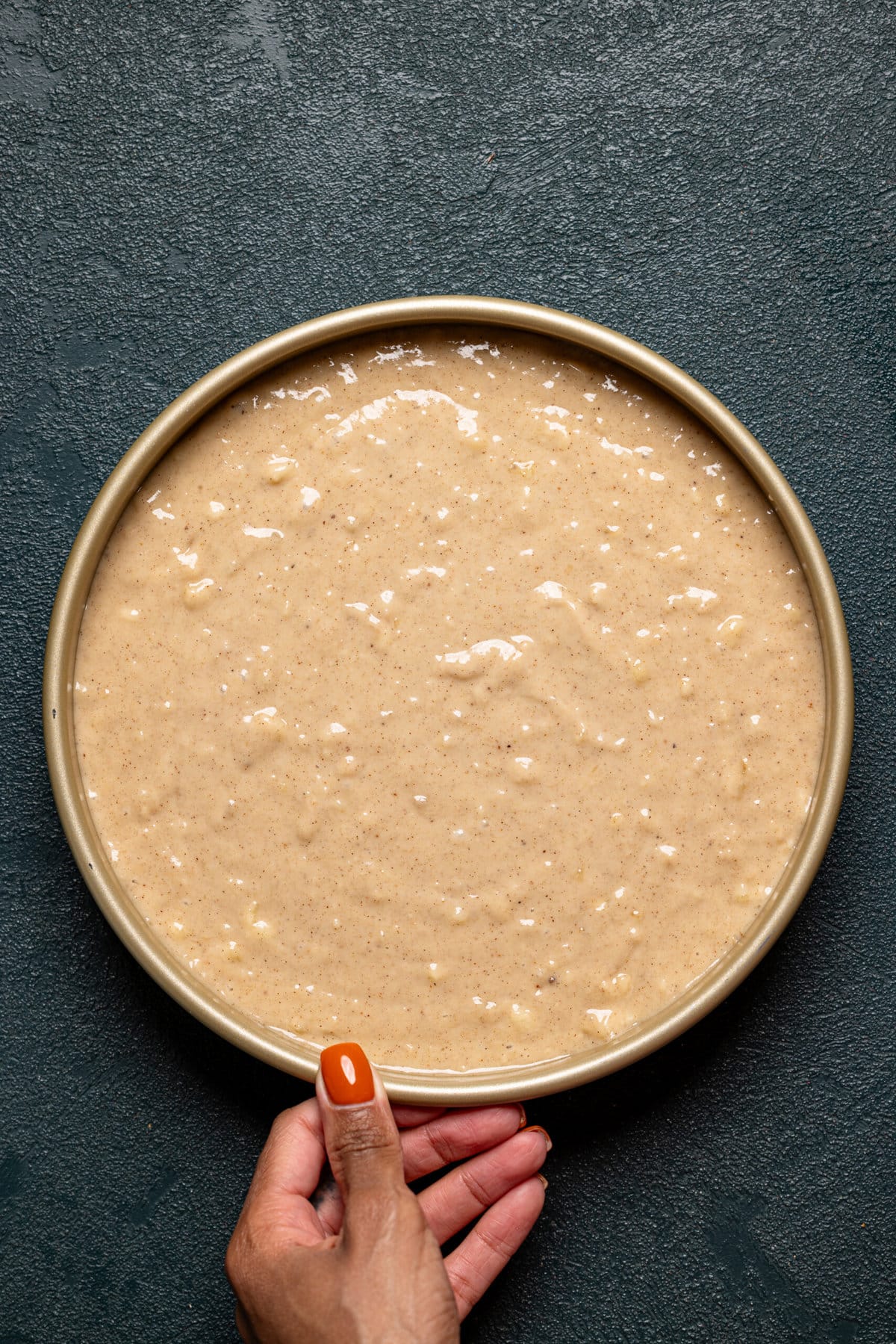 How Ripe Should Bananas Be for Biscoff Banana Cake?
When it comes to making this Biscoff Banana Cake recipe the level of ripeness of your bananas matters. I've made my banana cakes with both types of bananas and to be honest, the VERY ripe bananas have made the BEST cakes.
Very ripe bananas make for a sweeter and more moist cake and the mashing is also a lot easier.
How to Ripen Bananas for This Banana Cake Recipe?
Have you ever had bananas that weren't fully ripe, but you were dying to get baking? Well, I totally understand. I've definitely been there. Luckily, I've come across a few hacks to help you ripen your bananas if you're in a pinch, and here's what you can do:
Keep the banana bunches together to avoid the ripening process from stalling.
Store your bananas in a warm place like near a heater or atop your refrigerator. This helps them to ripen faster.
Using a paper bag, add your bananas inside and fold it over to close it. The gases from inside the bag once shut tight will ripen the bananas within 24-36 hours.
If you're looking to ripe your bananas more quickly for baking purposes then you can do one of the following:
Oven Method: Preheat the oven at 300 degrees Fahrenheit and place bananas (with peels on) unto a baking sheet and let them bake for 15-20 minutes or until skins are black. The bananas at this point should be soft and sweet.
Microwave Method: Poke holes into the peel bananas (all around) and microwave for 30 seconds at a time until the bananas are soft enough.
Want to learn more about ripening bananas? Check out Well + Good article on all things bananas!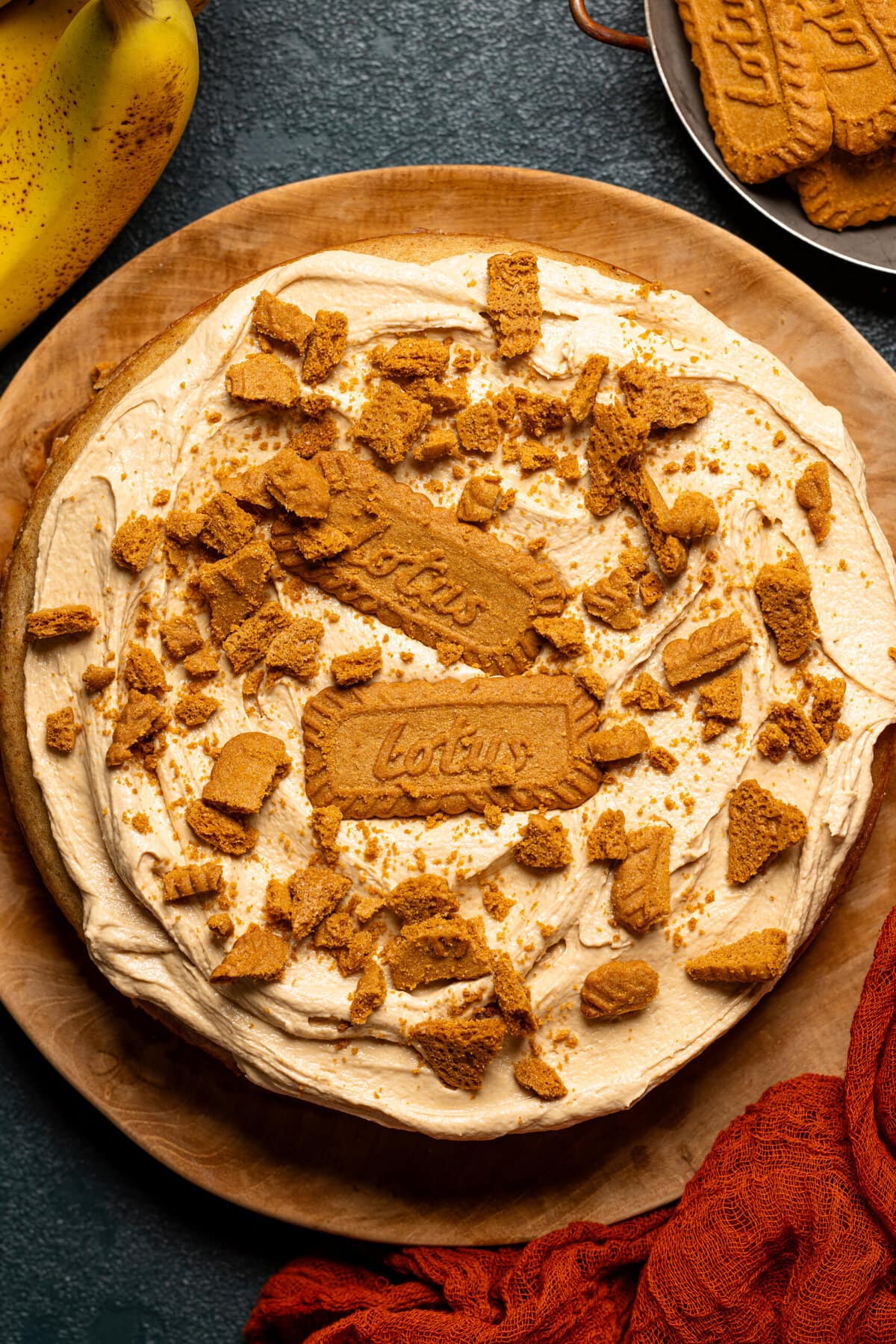 Cake Flour vs. All-Purpose Flour
When it comes to the main ingredient of this entire banana cake recipe—-the flour, I enjoy using Bob's Red Mill Unbleached White All-Purpose Flour, which is ideal for all kinds of baking, including this one.
However, I do occasionally use Super-Fine Cake Flour which adds a nice airiness and fluffiness to your cakes as well.
Why is my Banana Cake Not Moist?
When it comes to a cake's moistness, the ratio of dry ingredients to wet ingredients matters. This is why it's super important to add a high-quality neutral oil (or butter) to your cakes for the perfect moistness. Just remember, that too much milk and not enough flour creates the opposite problem----meaning that your cake will become too wet and may not bake through best or take much longer.
Can I Use Another Plant-Based Milk for Biscoff Banana Cake?
Yes, you can use any milk you like to make this 1 layer banana cake recipe. Here are some easy recipes to make your own milk that are cheaper and so easy to whip up!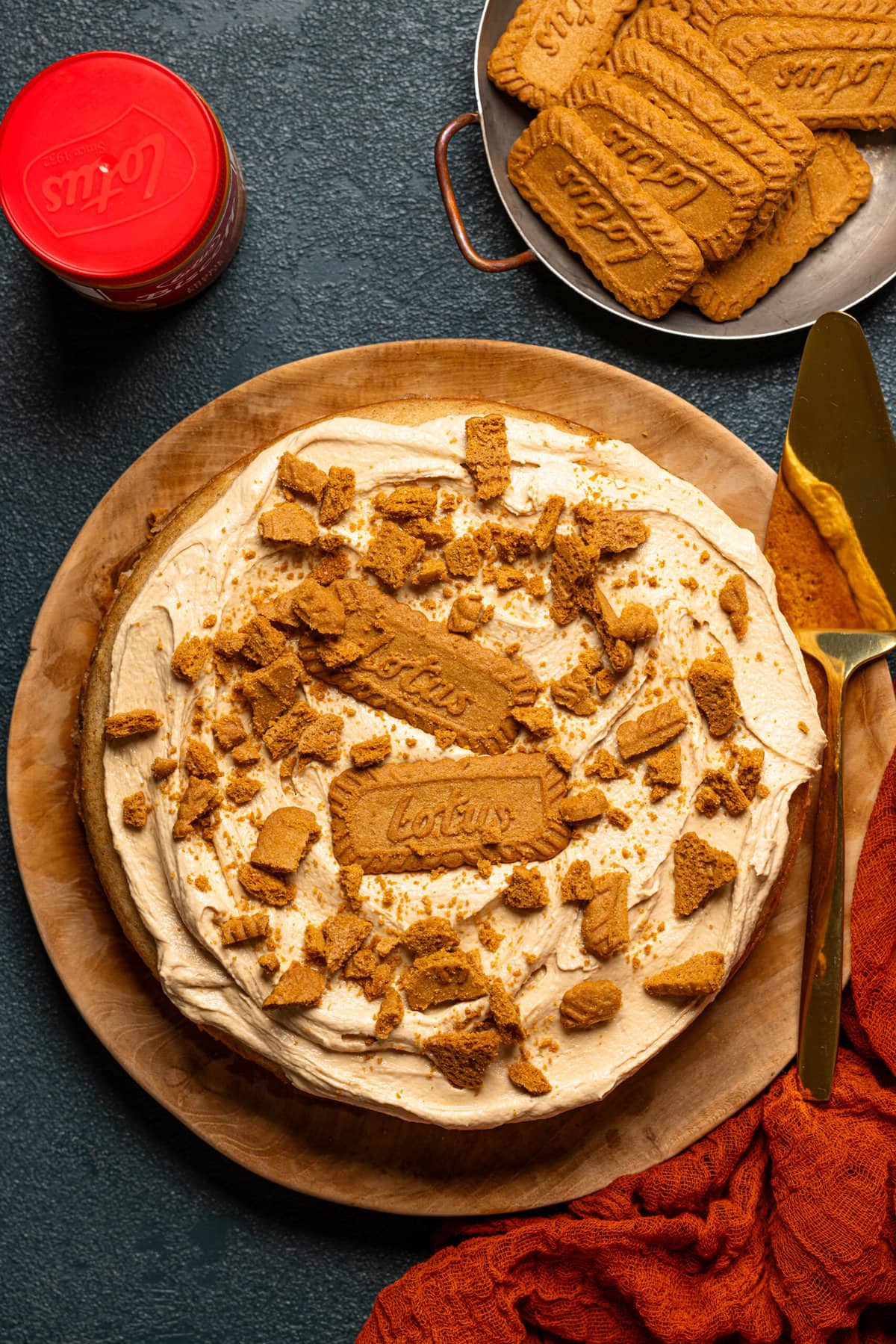 Can I Use This Biscoff Buttercream Frosting for Other Desserts?
This Biscoff Buttercream on top of my Banana Cake is one of my favorite recipes on earth. It is nuts how simple, yet effectively delicious it is.
This buttercream goes perfectly with this banana cake, but it also goes well with any dessert you pair it with. After combining only a handful of ingredients, you get the best frosting ever!
Feel free to pair your frosting with any of these desserts:
Whoopie pies
Macaron
Sandwich cookies
Brownies/blondies
Keep this recipe in your arsenal and pair it with your favorite sweets!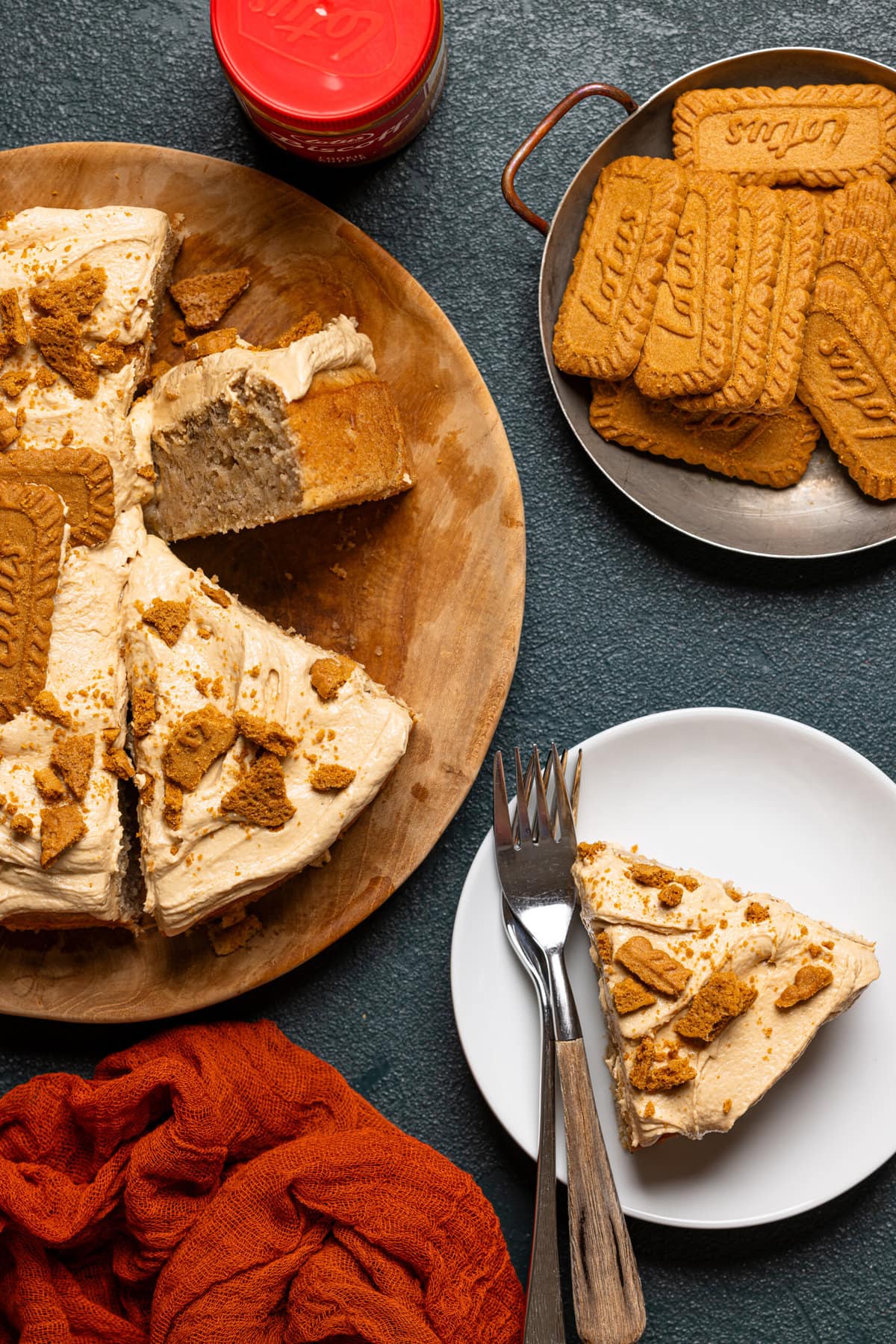 Common Q + A's About this Biscoff Banana Cake
Can this banana cake be made ahead or frozen for longer?
You can always bake this cake the night or day before and let it cool, tightly wrap, and refrigerate until ready to use. When ready to serve, let cake sit at room temperature for 30 minutes to an hour, make your buttercream, add your favorite toppings, and serve each slice! To store frozen (frosted or unfrosted), simply tightly wrap and cover cake and freeze for up to 2-3 months. To serve, thaw in the refrigerator overnight and bring to room temperature.
Can I use Cake Flour instead of All-purpose?
Definitely! In all honesty, I tend to use Cake Flour by itself when I decide not to mix it in with All-Purpose Flour. Using Cake Flour alone makes your cake even more soft, fluffy, and moist! Of course, you can always use All-Purpose Flour solely if you don't have Cake Flour.
Should I let the banana cake batter rest?
No. Because the air escapes pretty quickly after the cake batter is combined and ready to be poured in the pan, it's important not to have it sit there. The leaveners (baking powder + baking soda) will lose their effect and this will cause a shorter, more dense cake.
What makes my cake crumbly?
Whenever your cake turns out dense and too crumbly, it means that not enough liquid was added. Therefore, ensure that the right amount of moisture is added to your cake for the best texture.
How do you avoid over-mixing your cake batter?
Basically, you only need to mix your cake batter until "just combined"---meaning that everything is smooth and you no longer can see the individual ingredients added.
Why did my banana cake not come out of the cake pan clean?
This issue can occur for TWO reasons: the first being that you didn't allow the cake to cool enough before removing it. I always recommend letting it cool for at least 20-30 minutes before removing it and letting it cool completely on a cooling rack. Secondly, the issue could be that the pan wasn't greased well. I like to grease + add cake pan parchment paper to the bottom.
How to best get the middle of this banana cake recipe to bake?
Whenever I'm baking a cake that has added moisture like the use of bananas, etc. I like to prick small holes into the middle of the cake using a toothpick or cake tester midway through the baking to help the heat further penetrate.
Can I turn this 1 layer banana cake recipe into cupcakes?
Absolutely! This recipe yields about 30 cupcakes which will be more cakey and fluffy. Simply bake for 18-20 minutes instead, until centers come out clean. Just use my recipe for chocolate buttercream to frost!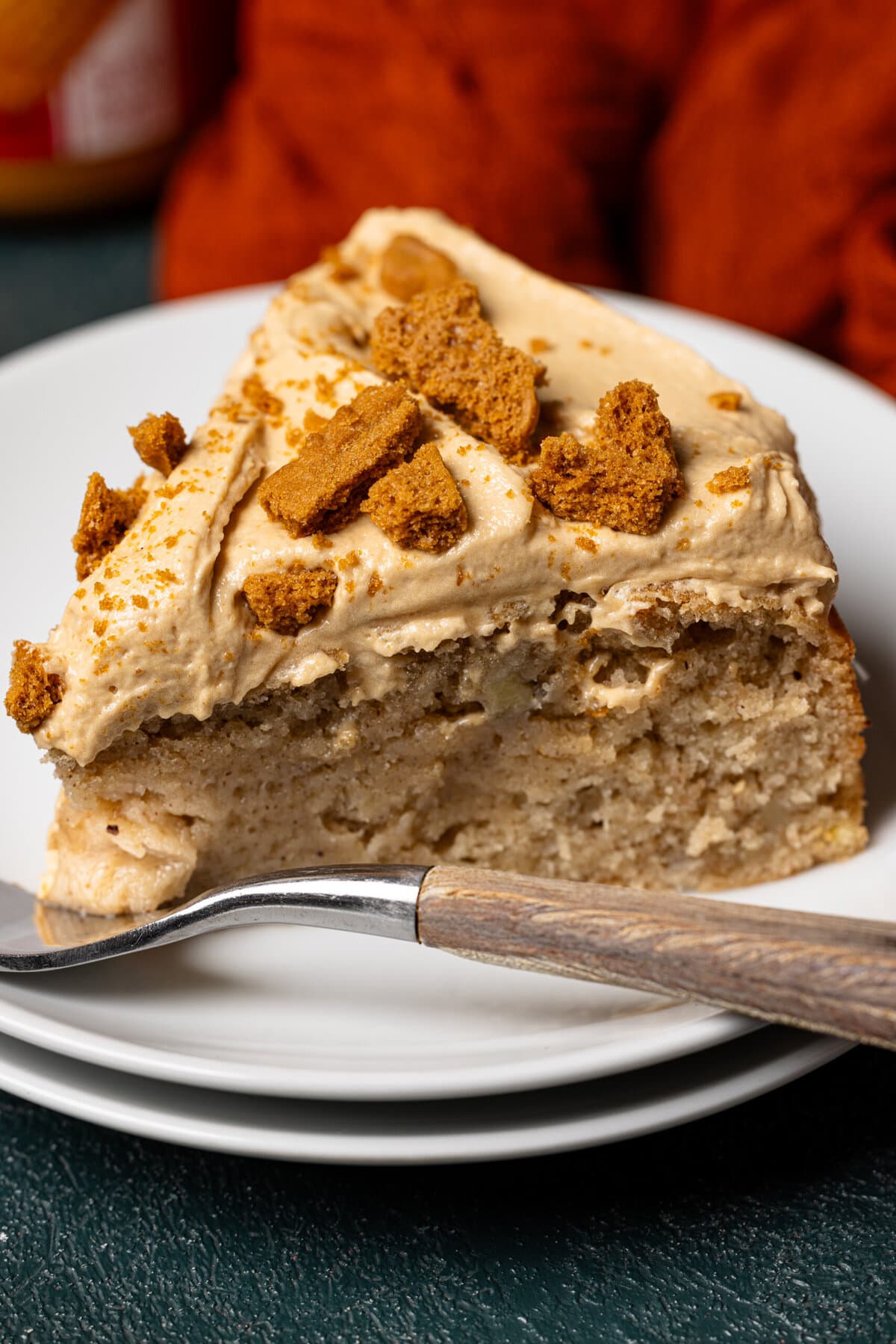 Love Cake? Try These Sweet Creations Next!
MADE OUR RECIPE(S)?
If you tried this 1-Layer Banana Biscoff Cake recipe or any other recipe on my website, please please leave a 🌟 star rating and let me know how you go in the 📝 comments below. And don't forget to tag @orchidsnsweettea_ on Instagram and hashtag it #orchidsandsweettea! I love hearing from you!
Total Time:
1

hour
15

minutes
BANANA CAKE:
3

cups

organic all-purpose flour

2

very ripe

bananas, mashed

1

cup

organic cane sugar

½

cup

organic brown sugar

2

tsps

baking powder

2

tsps

ground cinnamon

1

teaspoon

ground nutmeg

½

teaspoon

ground allspice

Pinch of

ground ginger

½

teaspoon

sea salt

2

tsps

vanilla extract

1 ¼

cups

Almond milk, at room temp.

(You can use whole milk or your fave plant-based milk)

1

tablespoon

apple cider vinegar

½

cup

organic vegetable oil

(See Notes/FAQ)
BISCOFF BUTTERCREAM:
3

cups

organic powdered sugar, sifted

½

cup

Biscoff cookie spread, softened

½

cup

unsalted butter, softened at room temp.

3-4

Tbsps

Almond milk

(You can use whole milk or your fave plant-based milk)
TO MAKE THE DAIRY-FREE 'BUTTERMILK':
In a bowl or measuring cup, add together your favorite plant-based milk (I use unsweetened Almond milk) and the apple cider vinegar, stirring and allowing it to sit for 5-10 minutes until it thickens.
TO MAKE THE CAKE BATTER:
Begin by preheating the oven to 350 degrees Fahrenheit. Lightly grease (w/ butter or spray) and line the bottom with parchment paper of a 9-inch round cake pan. NOTE: For greater ease, you can use a 8 to 9-inch springform pan as well so that you can remove it more easily once baked.

In a bowl, whisk together the flour, baking powder, cinnamon, nutmeg, allspice, ginger, and sea salt until combined. Set aside.

In a large bowl, add together the mashed bananas, both sugars, and oil, mixing by using a hand-mixer on medium-high speed, until combined, about 1-2 minutes.

Add in the vanilla and the 'buttermilk', followed by the dry ingredients, mixing everything together until well combined and smooth, about 2-3 minutes. NOTE: The batter should be thick, but scoop-able. If too dry, add additional milk, 1-2 Tbsps at a time until consistency is met.

Pour/scoop batter into prepared pan, spreading everything around for a perfect evenness.
BAKE THE CAKE:
Bake for 55-60 minutes, or until the center of the cake comes out clean when tested with a toothpick or butter knife.

Once done, remove the cake from the oven and let cool completely (about 1-2 hours) before carefully lifting it from the pan and placing it onto a cooling rack to cool completely. NOTE: To best remove, I recommend gently turning your cake over and "shake" out of pan, flipping it back right side up once on cooling rack.
TO MAKE THE BISCOFF BUTTERCREAM:
Simply beat the softened butter and Biscoff cookie butter together in the bowl of an electric mixer (or using a hand-mixer) on medium-high speed, until smooth. Add in the powdered sugar and milk, continuing to mix on medium-speed until you reach the desired consistency----smooth and fluffy. NOTE: Add more milk (1 tablespoon at a time if too thick) or powdered sugar (for more thickness).
ASSEMBLY:
Using a metal or rubber spatula, top cooled cake with buttercream frosting and evenly spread over the top + sides until fully coated and smooth. Top with crushed Biscoff cookies, if desired. Wallah!

Bon Appetit!
STORAGE: Keep leftover cake tightly wrapped using plastic wrap and refrigerated for up to 5 days. To store frozen (unfrosted), simply tightly wrap and cover cake and freeze for up to 2-3 months. To serve, thaw in the refrigerator overnight and bring to room temperature. Whip together the buttercream, top and enjoy!
CUPCAKES: This recipe yields about 30 cupcakes. Simply bake for 18-20 minutes instead, until centers come out clean.
MAKE AHEAD: You can always bake this cake the night or day before and let it cool, tightly wrap, and refrigerate until ready to use. The buttercream frosting can also be made prior and tightly wrapped and stored in the fridge as well. When ready to serve, let cake sit at room temperature for 30 minutes to an hour, frost, and enjoy!
OIL VS. BUTTER: Instead of butter, you can also use Vegetable or Coconut oil, if preferred.
FLOUR: You can always just use all-purpose or cake flour for this recipe.
Calories:
421
kcal
|
Carbohydrates:
122
g
|
Protein:
5
g
|
Fat:
13
g
|
Saturated Fat:
7
g
|
Polyunsaturated Fat:
1
g
|
Monounsaturated Fat:
3
g
|
Trans Fat:
0.5
g
|
Cholesterol:
31
mg
|
Sodium:
316
mg
|
Potassium:
88
mg
|
Fiber:
2
g
|
Sugar:
39
g
|
Vitamin A:
358
IU
|
Vitamin C:
0.1
mg
|
Calcium:
141
mg
|
Iron:
2
mg