If you love tender and delicious quick breads, you're in for a treat with this Fluffy Cinnamon Crunch Bread recipe! This delightful creation features a moist, soft interior crowned with a crunchy crumb infused with comforting cinnamon + brown sugar. Adding both texture and sweetness to every bite. Whether you're starting your day with breakfast, enjoying a leisurely afternoon tea, or craving a cozy dessert, this simple-to-whip-up bread is bound to win the hearts of everyone in your home! Gluten-free option.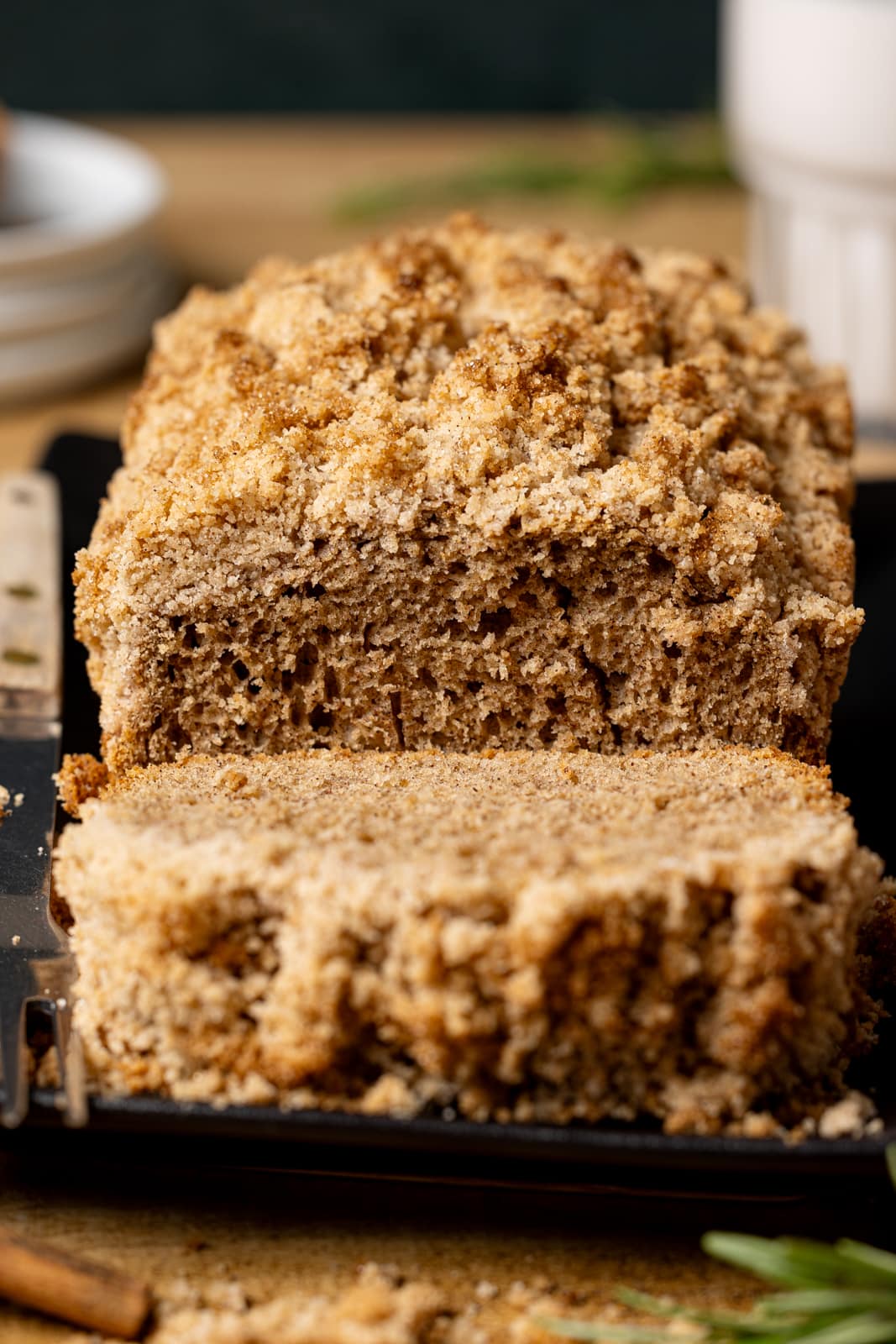 What Makes Fluffy Cinnamon Crunch Bread SO DELICIOUS?
This Fluffy Cinnamon Crunch Bread is like a comforting hug from childhood, instantly transporting me back to those simpler days when cinnamon sugar toast was the ultimate treat. Haha. There's an undeniable, almost magnetic pull to this cinnamon bread that keeps me reaching for another slice. While I've mastered beloved classics like Healthy Banana Bread or Vegan Apple Cinnamon Bread every now and then, I love a little change-- After all, who can resist that satisfying crunch?

I've always loved making quick breads like Vegan Chocolate Bourbon Banana Bread or Cinnamon Maple Peach Bread. There's something about fall that makes me want to bake and share a sweet treat for breakfast. And y'all the crunchy topping, paired with the soft, fluffy bread, creates a heavenly combination that's both nostalgic and indulgent.
Jump to: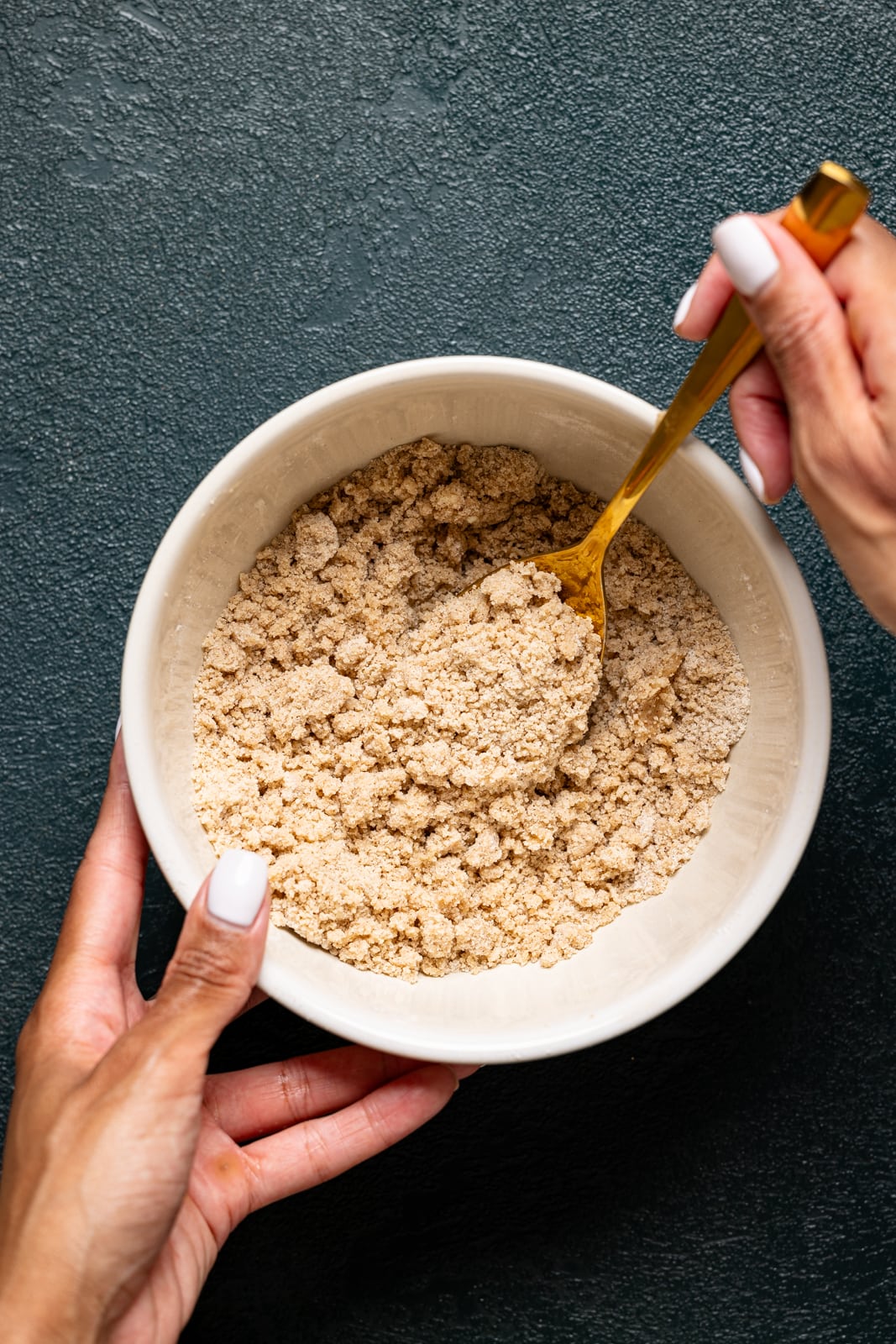 What is a Quick Bread?
Basically, quick breads are cake-like dessert loafs that are quick to make because of the leavener, baking powder used versus yeast for traditional breads. My most popular quick bread recipes are Maple Chocolate Chip Banana Bread, Toasted Coconut Bread and of course Easy Vegan Chocolate Bread --We have a lot of chocolate lovers Haha. Of course, I have to admit that this Fluffy Cinnamon Crunch Bread recipe is perfect for fall baking and a very strong contender to add to your list next!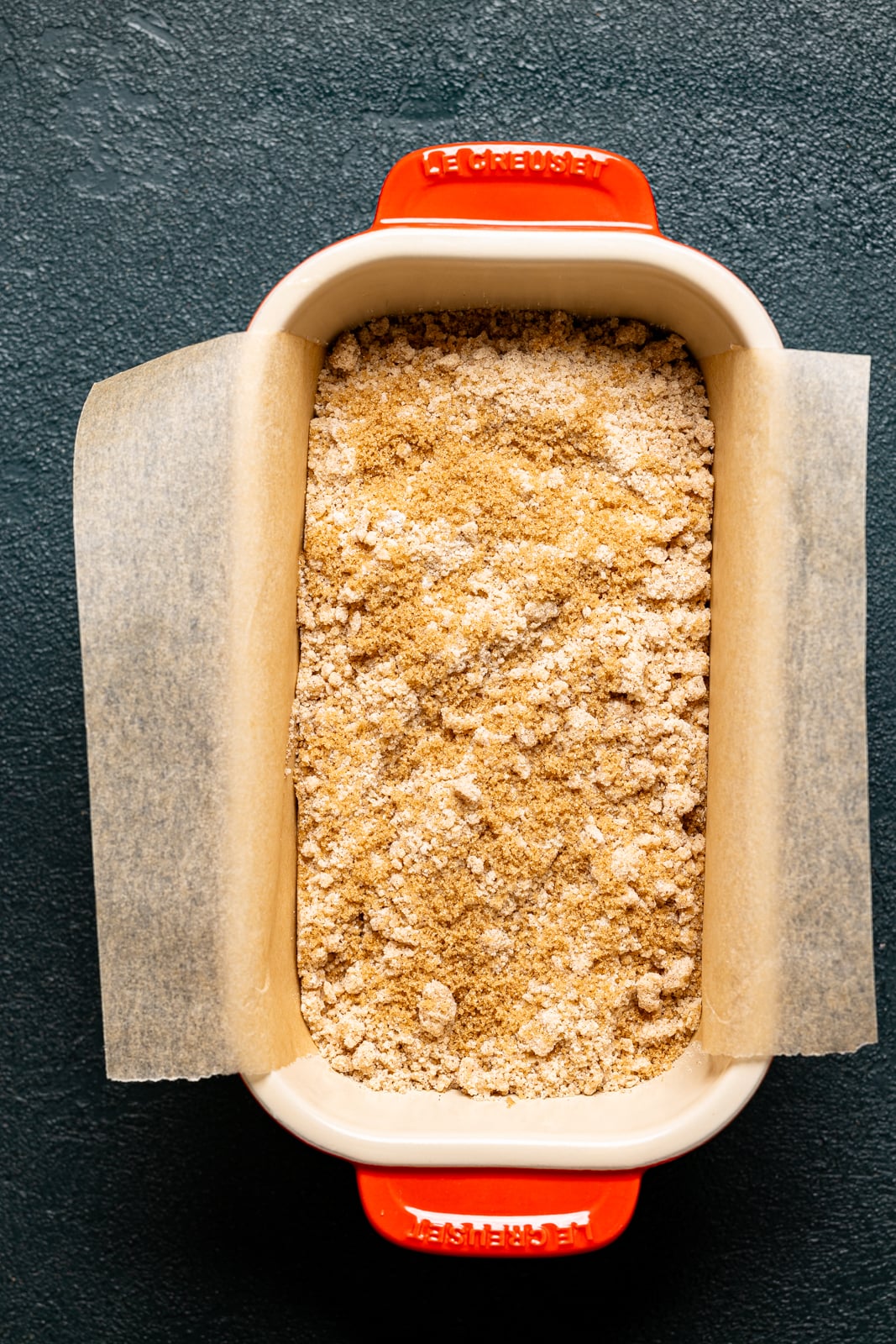 How To Make Fluffy Cinnamon Crunch Bread
This cinnamon bread recipe keeps it beautifully simple, focusing on two main components: crafting the bread itself + whipping up that irresistible crunch topping. The best part? You're probably already stocked up with all the ingredients you need. Here's what you need to know about the ingredients:
Ingredients
CINNAMON BREAD:
Organic All-Purpose Flour: Provides the base for the bread, giving it structure.
Organic Cane Sugar: Adds sweetness to the bread, enhancing its flavor.
Baking Powder: Acts as a leavening agent, making the bread rise and become fluffy.
Ground Cinnamon: Infuses the bread with warm, aromatic flavor.
Ground Nutmeg: Complements the cinnamon, adding depth to the spice profile.
Sea Salt: Enhances the overall flavor by balancing the sweetness.
Organic Eggs: Adds structure and moisture.
Almond Milk: Adds moisture and a subtle nutty flavor; you can use other milk types too (see notes)
Greek Yogurt: Provides moisture and a creamy texture to the bread.
Vegetable Oil: Adds moisture and helps keep the bread tender.
Vanilla Extract: Imparts a delightful vanilla aroma and flavor.
Why Make The Top Crunchy?
Now, let's talk about the game-changer: the crunchy top. It was a spontaneous idea that turned out to be a game-changer, taking this quick bread to a whole new level of deliciousness. The balance of cinnamon's comforting warmth and the satisfying crunch is simply perfect, adding that extra layer of texture without being overly hard--It's the perfect level of crispy, golden goodness.
CRUNCH TOPPING:
Organic All-Purpose Flour: Forms the base for the topping, creating a crispy texture.
Organic Brown Sugar: Adds sweetness and richness to the topping.
Ground Cinnamon: Enhances the topping with more warm, spicy notes.
Unsalted Butter: Incorporates a buttery richness and helps the topping crisp up during baking.
Add the flour, brown sugar, cinnamon, and softened butter into a medium bowl, combining them together using a pastry blender or fork until the mixture is "crumbly-like".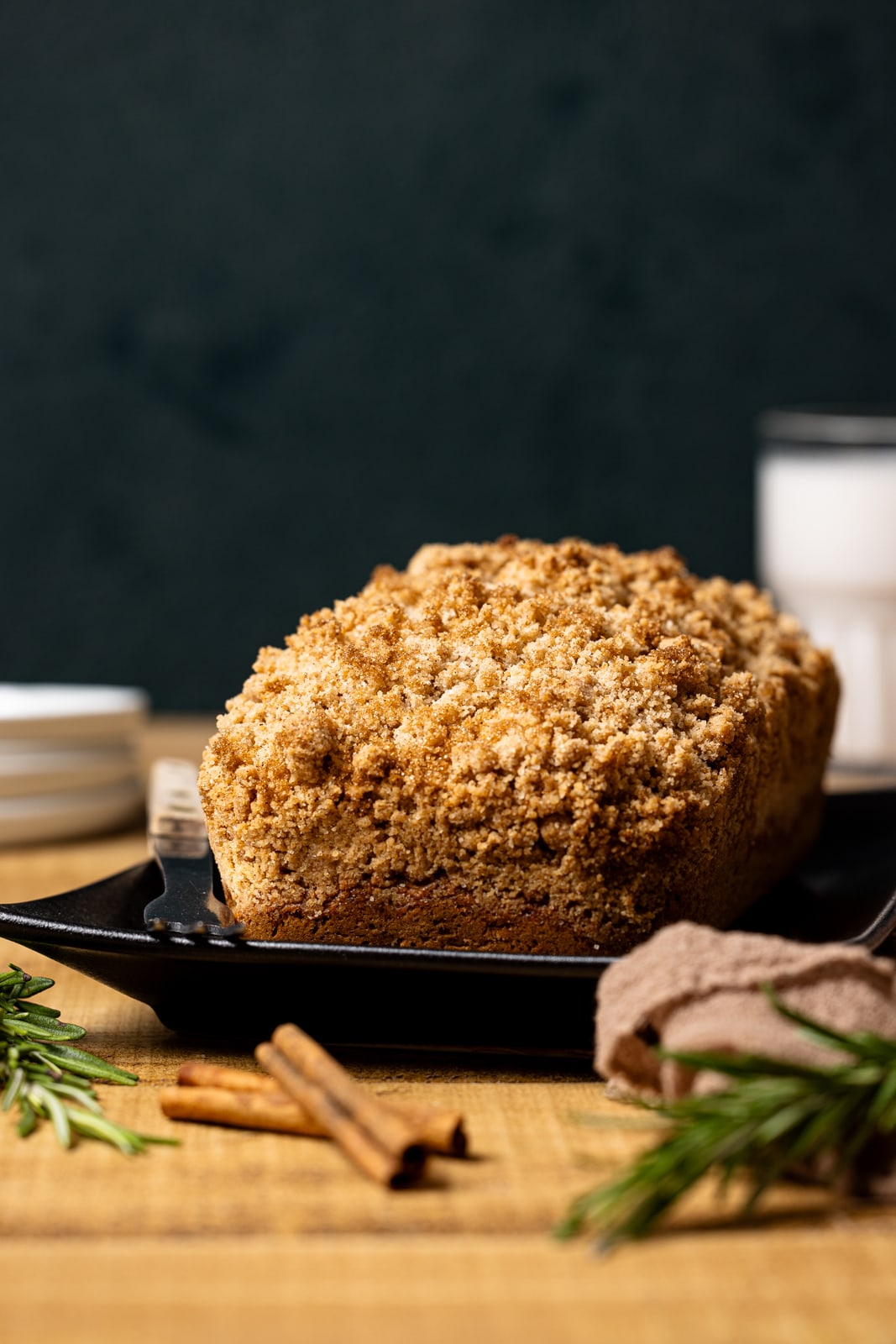 Why You Will LOVE This Fluffy Cinnamon Crunch Bread Recipe
A warm, cinnamon-infused hug for your taste buds.
Irresistible crunch topping for that perfect contrast in texture.
Super easy to make, even if you're not a baking pro.
Perfect for breakfast or as a sweet treat any time of day.
Guaranteed to make your home smell amazing while it bakes!!
Tips For Baking PERFECT Cinnamon Bread
I know that many people have trouble with the amount of time needed to bake quick breads in general or have it fully cook through. Since the batter is a little thick, it can be a bit tricky to ensure that the middle is fully solid and cooked through.
However, after a bit of trial and error with many types of breads, I've found that the following tricks have be full proofed in baking this fluffy cinnamon bread perfectly:
Don't over-mix + check your leaveners are fresh!
Be sure to not over-mix the batter since this will cause the bread to become dense. Ensuring that your leaveners are fresh plays a role in the texture while your bread bakes, which also helps it to bake through more easily.
Consistency is key
Ensure that your batter is the "right" consistency. You want the batter to be "scoopable" which means that it's thick but also easily stirred versus really "liquidy" or super thick where it's hard to manage.
Check the progress
Midway through the baking time, poke small holes (using a toothpick or cake tester) around the tops of the bread to allow for the heat to penetrate through more easily and cook everything evenly. NOTE: I do this twice. Once halfway through the baking time and the second time in the last 10-15 minutes.
Rack placement
Place your bread on the top rack so that it browns but move to a lower rack if it looks too toasty so it doesn't burn since it's in the oven for at least 1 hour.
Let it cool!!
Always always cool your bread in the loaf pan first before removing it to cool completely. This prevents the bread from breaking in any way.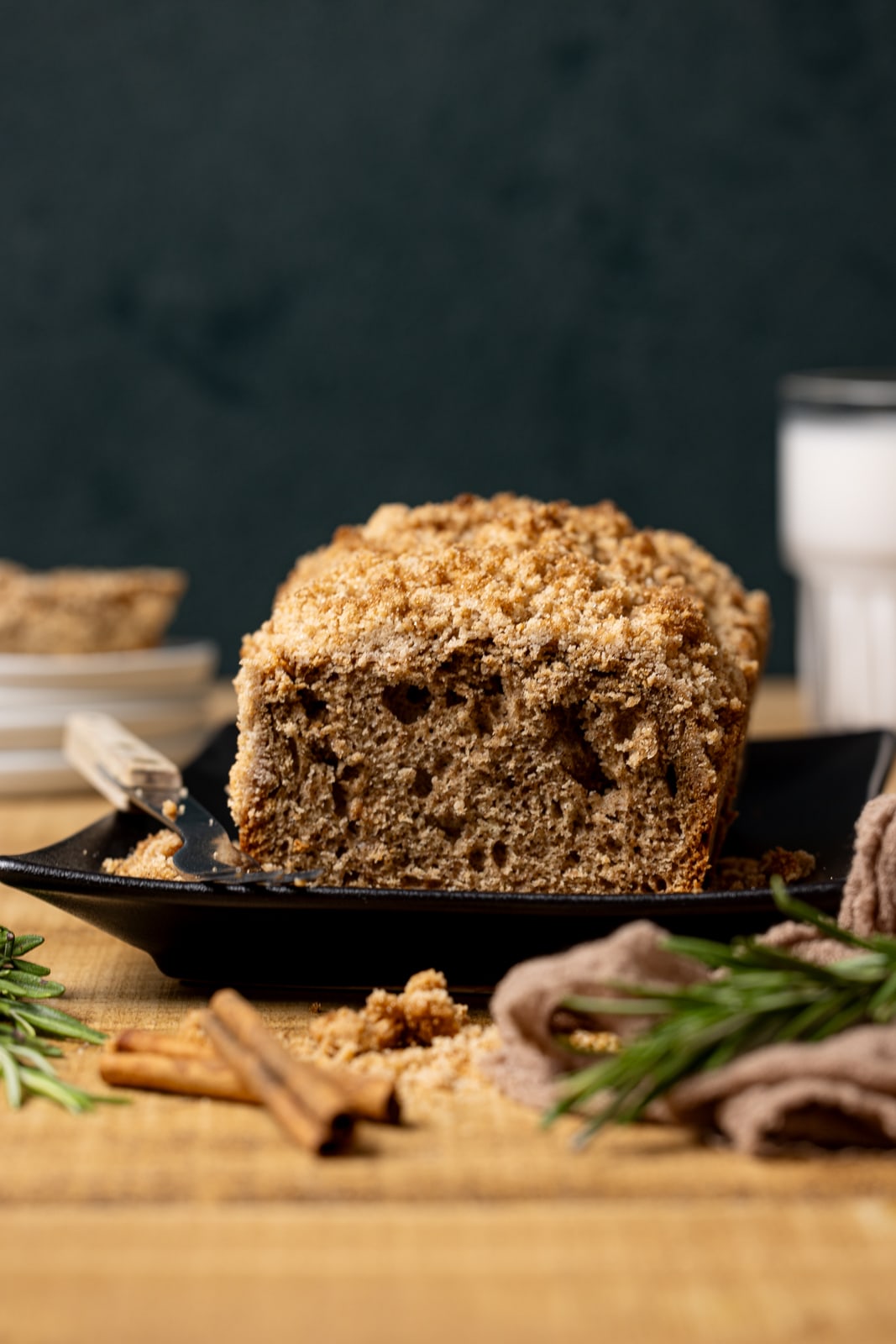 How to Serve Fluffy Cinnamon Crunch Bread
This sweet treat has a place at breakfast, brunch, or tea time. But it doesn't stop there. Here are a few more creative ideas on how to enjoy this Fluffy Cinnamon Crunch Bread:
Warm + fresh: Enjoy a slice while it's still warm from the oven. The slightly crunchy top and soft, moist interior make for a heavenly combination. You can savor it as is or add a pat of butter or a drizzle of maple syrup for extra indulgence.

Toasted + topped: Toast a slice of cinnamon bread to add a delightful crunch to the already delicious crunchy topping. Once toasted, you can spread a layer of your favorite cream cheese, nut butter, or even homemade fruit compote on top for a decadent twist.

Paired with a beverage: Cinnamon quick bread pairs beautifully with a hot or iced coffee like this Vegan Pumpkin Chai Latte, Dalgona Coffee (Whipped Coffee) Vanilla Latte, or Dirty Chai Maple Iced Latte or a breakfast smoothie like this Chocolate Espresso Smoothie or this Cashew Date Morning Smoothie

Ice cream sandwich: Get creative and turn your fluffy cinnamon bread into a delightful ice cream sandwich. Slice the bread, scoop your favorite ice cream like this Caramel Ice Cream or No-Churn Vanilla Ice Cream with Rainbow Sprinkles in the middle, and enjoy a warm + cold creamy treat.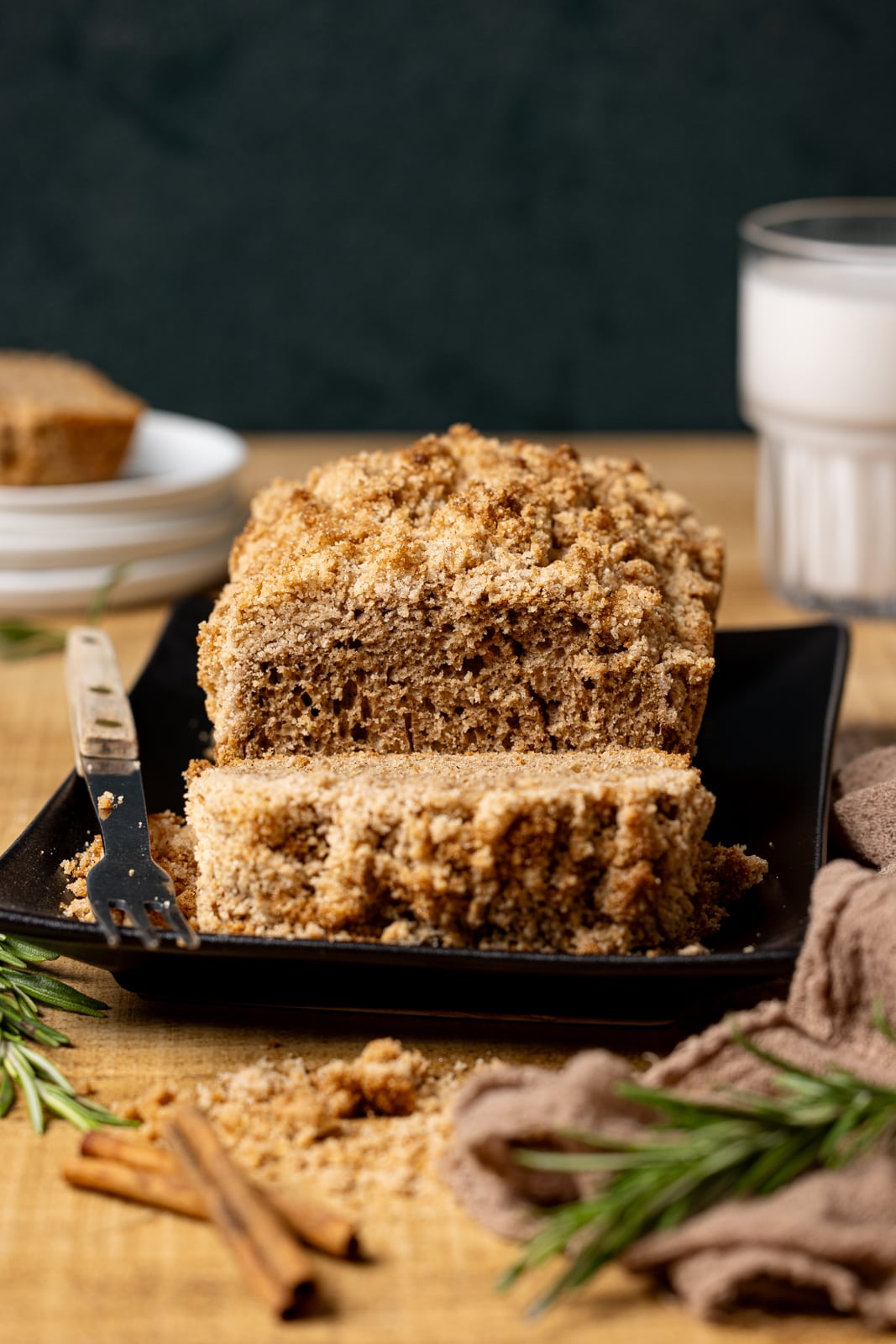 Fluffy Cinnamon Crunch Bread Q + A's
Can I make this quick bread gluten-free?
To make this bread GF, I recommend using a GF Flour Blend (Bob's Red Mills has a great version!). **NOTE: If the bread mixture is too 'thin + runny', simply add additional GF flour, ¼ cup at a time.**
How to store leftover cinnamon quick bread?
Refrigerate leftover bread by tightly wrapping it in foil paper or keeping it fully covered in a cake stand—lasts up to a week. Can also be stored at room temperature for up to 2 days.
Can I freeze this cinnamon quick bread?
Absolutely! You can freeze this cinnamon bread as a whole loaf or in slices for up to 3 months! Simply wrap any leftovers in foil paper or plastic wrap (individually wrapped for slices) and add to a sealable freezer-safe bag and wallah.
Can I use something else besides cane sugar?
Yes! If you choose to opt out of cane sugar, you can always substitute with Agave, raw honey, coconut sugar, maple syrup, or Date syrup as well. Just reduce the amount of milk slightly to ensure that it's not too much liquid. 
Why is my cinnamon bread not moist?
The ratio of dry ingredients to wet ingredients matters. This is why it's super important to add a high-quality neutral oil (or butter) to your bread for the perfect moistness. Just remember that too much milk and not enough flour creates the opposite problem----meaning that your cake will become too wet and may not bake through best or take much longer.
Which is the best flour for bread?
Both bread or all-purpose flour is best for baking normal bread, while self-raising flour is better for 'quick breads'. For this bread recipe, I love mixing both flours together for the best texture and softness.
More Cinnamon Infused Recipes You'll Love
If you enjoyed this delightful Fluffy Cinnamon Crunch Bread, you're in for a treat with these other cinnamon-infused recipes.
MADE OUR RECIPE(S)?
If you tried this Fluffy Cinnamon Crunch Bread recipe or any other recipe on my website, please please leave a 🌟 star rating and let me know how you go in the 📝 comments below. I love hearing from you.
Total Time:
1

hour
15

minutes
CINNAMON BREAD:
2

cups

organic all-purpose flour

½

cup

organic cane sugar

2

tsps

baking powder

2

tsps

ground cinnamon

½

teaspoon

ground nutmeg

½

teaspoon

sea salt

2

large

organic eggs, at room temp.

¼

cup

Almond milk, at room temp.

(You can use whole milk or your fave plant-based milk)

¼

cup

Greek yogurt, unsweetened

⅓

cup

vegetable oil

1

teaspoon

vanilla extract
CRUNCH TOPPING:
½

cup

organic all-purpose flour

½

cup

organic brown sugar

1

teaspoon

ground cinnamon

¼

cup

unsalted butter, softened
TO MAKE THE CINNAMON BREAD:
Preheat your oven to 375 degrees Fahrenheit and lightly grease it using butter or coconut oil and line with parchment paper, leaving a hanging over on the sides for an easy "pull-out".

In a large bowl, combine the eggs, oil, yogurt, vanilla, and milk, whisking them together until combined and smooth.

Next, add in the flour, baking powder, sugar, cinnamon, nutmeg, and sea salt into the wet ingredients, stirring until just combined. NOTE: DO NOT OVER-MIX!

Pour/scoop the batter into the prepared loaf pan and evenly spread it out.
TO MAKE THE CRUNCH TOPPING:
Add the flour, brown sugar, cinnamon, and softened butter into a medium bowl, combining them together using a pastry blender or fork until the mixture is "crumbly-like".
BAKE THE BREAD:
Now, evenly sprinkle the crunch topping atop your bread batter until fully covered and place it in the oven. Bake for 55-60 minutes, or until a toothpick or knife that is inserted in the middle comes out clean. NOTE: Midway, I like to poke VERY SMALL holes all over the bread to allow heat to penetrate through and to ensure it cooks through.

Once done, remove bread from oven and let it cool for 25-30 minutes before gently removing it from loaf pan to cool completely.

Once cooled, slice and enjoy!

Bon Appetit!
STORAGE: Refrigerate leftover bread by tightly wrapping it in foil paper or keeping it fully covered in a cake stand—lasts up to a week. Can also be stored at room temperature for up to 2 days. You can freeze leftovers by wrapping the whole loaf in aluminum foil. Store it in a zip-top bag. Squeeze as much air out as you can without smooshing the bread.
SWEETENER: If you choose to opt out of cane sugar, you can always substitute with organic brown sugar, maple syrup, Agave, or Date syrup as well. NOTE: If using a liquid sweetener, be sure to reduce the milk by half, if needed.
OIL: Instead of vegetable oil, you can also use melted unsalted butter, olive oil, or coconut oil, if preferred.
GLUTEN-FREE VERSION: To make this bread GF, I recommend using a GF Flour Blend (Bob's Red Mills has a great version!). **NOTE: If the bread mixture is too 'thin + runny', simply add additional GF flour, ¼ cup at a time.**
Calories:
391
kcal
|
Carbohydrates:
57
g
|
Protein:
6
g
|
Fat:
17
g
|
Saturated Fat:
6
g
|
Polyunsaturated Fat:
6
g
|
Monounsaturated Fat:
4
g
|
Trans Fat:
0.3
g
|
Cholesterol:
62
mg
|
Sodium:
285
mg
|
Potassium:
88
mg
|
Fiber:
2
g
|
Sugar:
26
g
|
Vitamin A:
248
IU
|
Vitamin C:
0.03
mg
|
Calcium:
102
mg
|
Iron:
2
mg