This Confetti Chocolate Chip Cake is moist, fluffy, and full of really bold chocolatey + confetti flavors thanks to the pops of chocolate chips, chocolate buttercream, and sprinkles in the midst of each layer. It's the perfect sweet indulge for every occasion and season. Vegan and Gluten-Free options.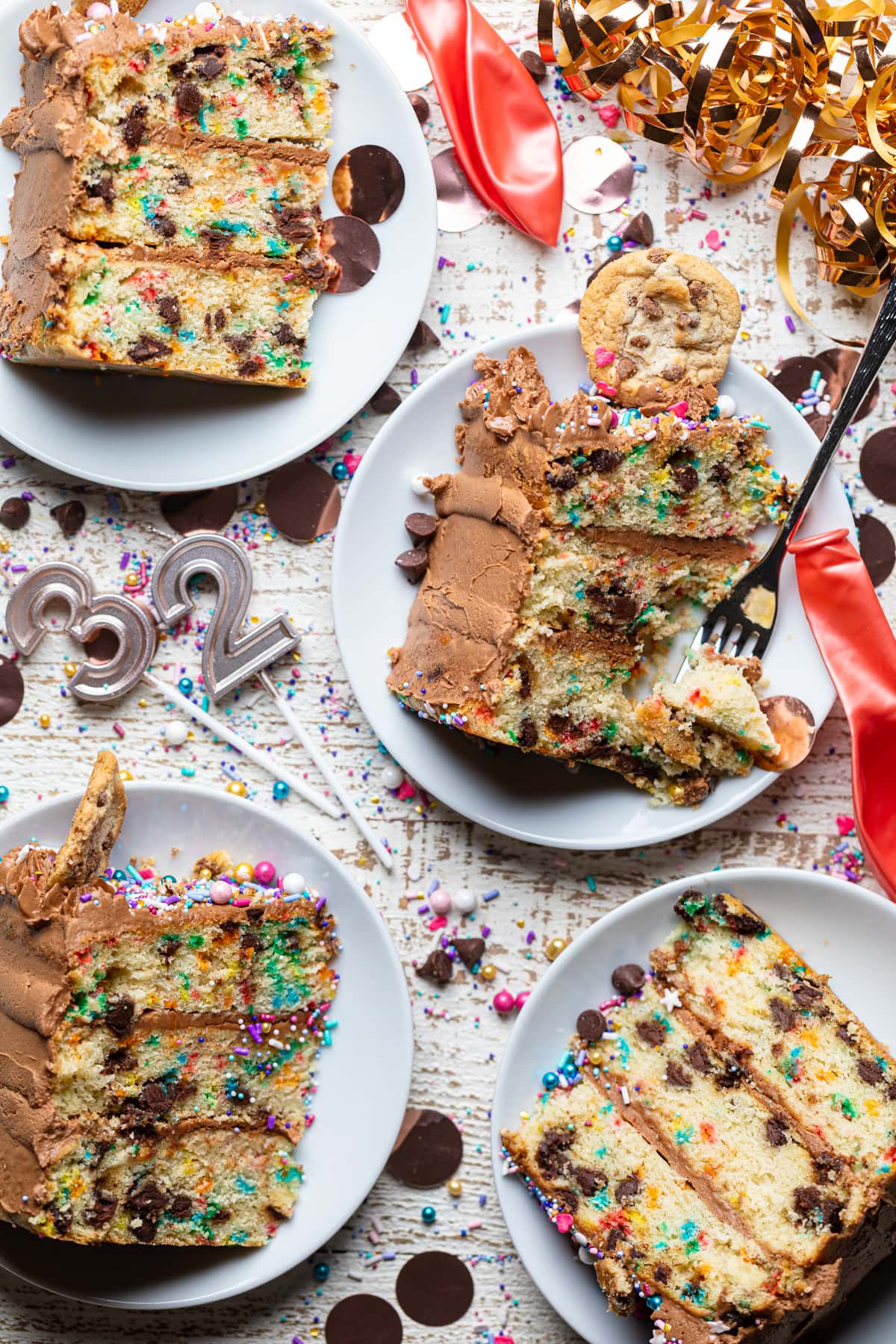 Sponsored Post: This post is sponsored by Bob's Red Mill but the content and opinions expressed are all based on my genuine love for this brand and are my own. Thanks so much for supporting the brands I love.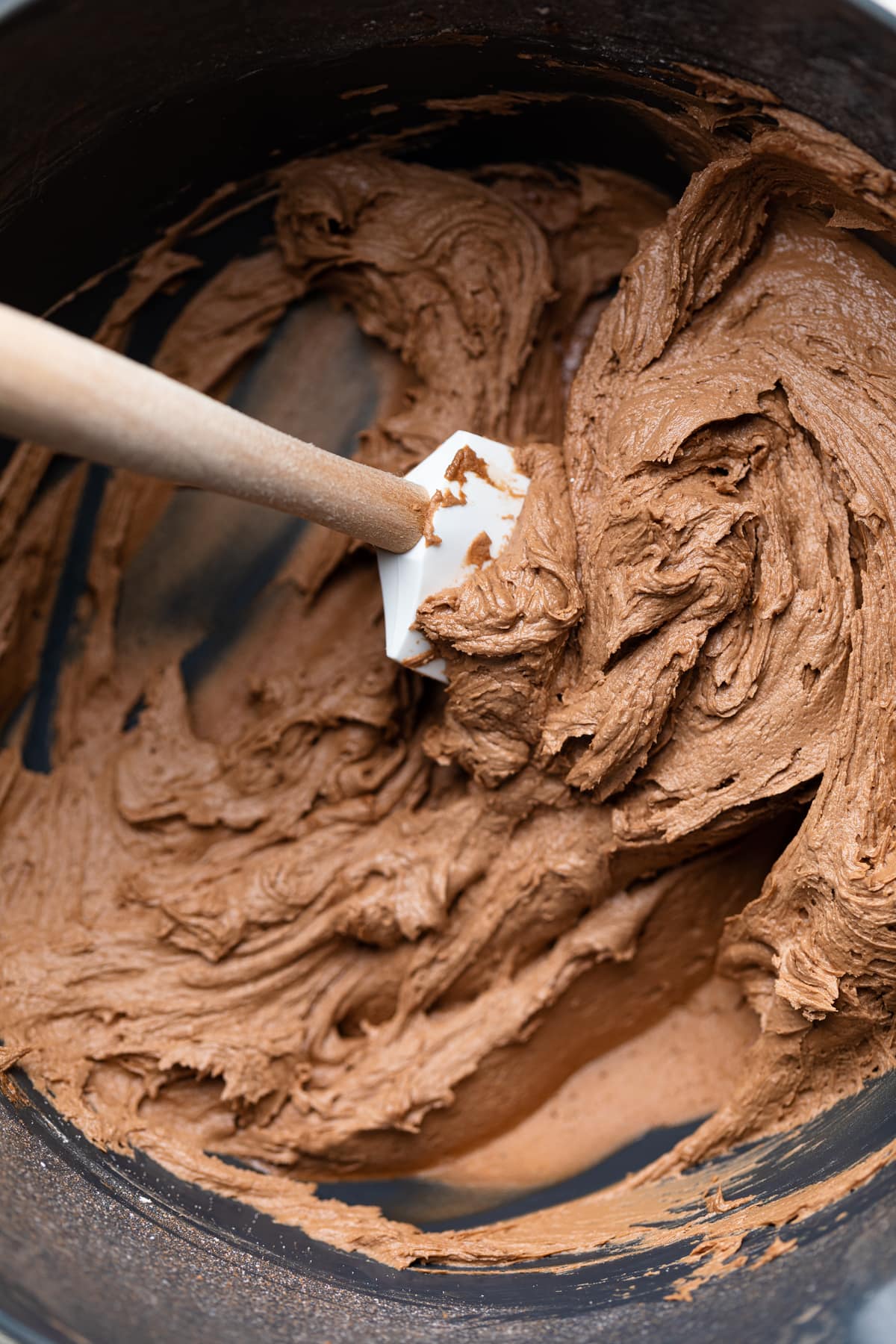 One of my favorite sweet indulges has to be an extremely fluffy + moist cake with layers of flavor like this one. When it comes to this Confetti Chocolate Chip cake, it's very special to me because it's my Birthday cake this year for the big 32. If you've been following Orchids + Sweet Tea for some time, then you've probably seen my previous Birthday cakes--- Vegan Funfetti Cake and Best Strawberry Shortcake Birthday Cake. They're all so good!
Plus, it's not hard at all to whip together and doesn't require perfection—-just deliciousness!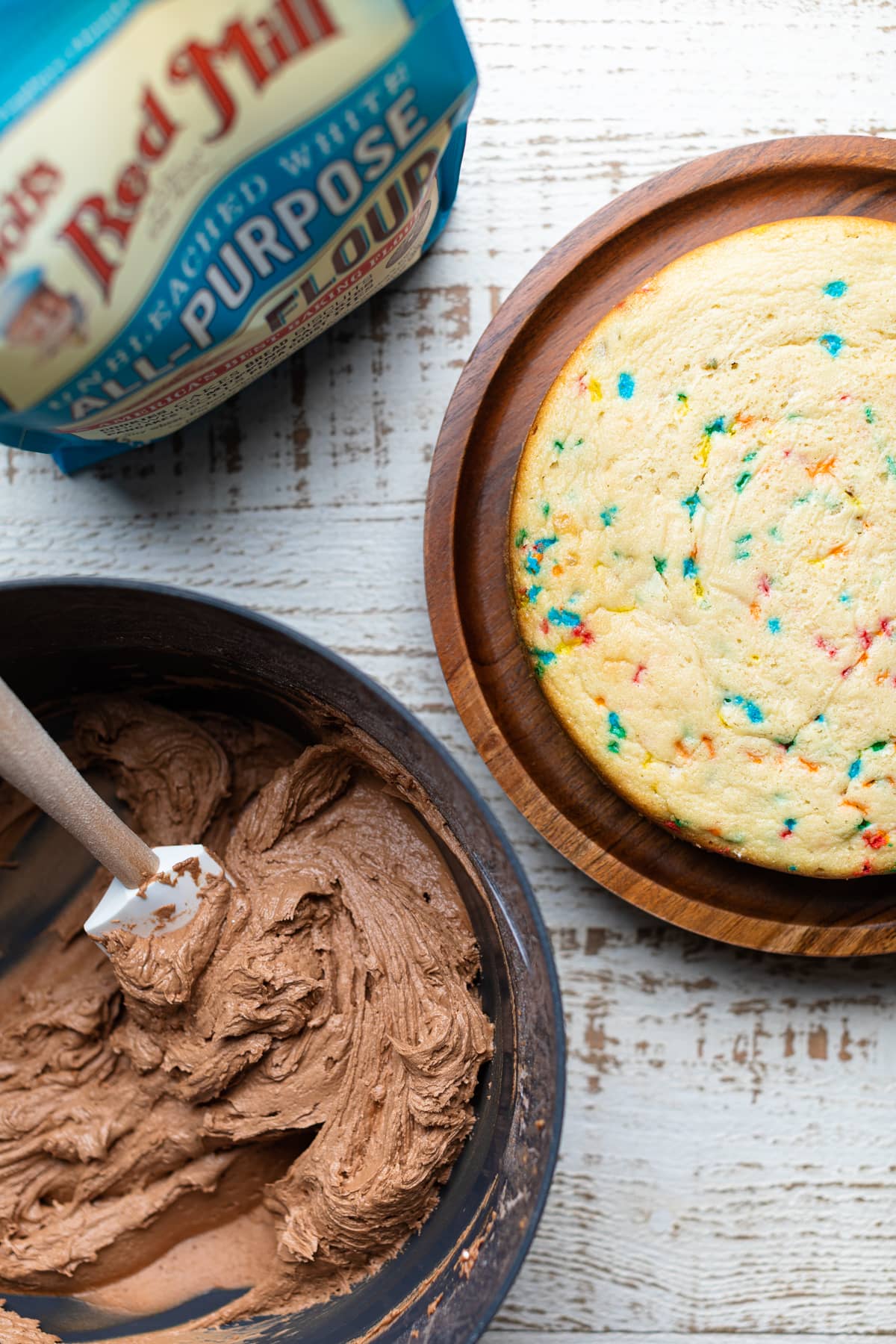 How to Make Confetti Chocolate Chip Cake.
This cake as I've mentioned before is super easy to whip together and doesn't require anything special or difficult when it comes to ingredients. All you need to whip up this simple confetti chocolate chip cake batter is:
Bob's Red Mill All-purpose flour.
Cane sugar.
Baking powder.
Ground cinnamon (Just a pinch).
Vanilla.
Unsalted butter. 
Plant-based milk (You can also use Regular cow's milk)
Eggs.
Chocolate chips.
Rainbow sprinkles.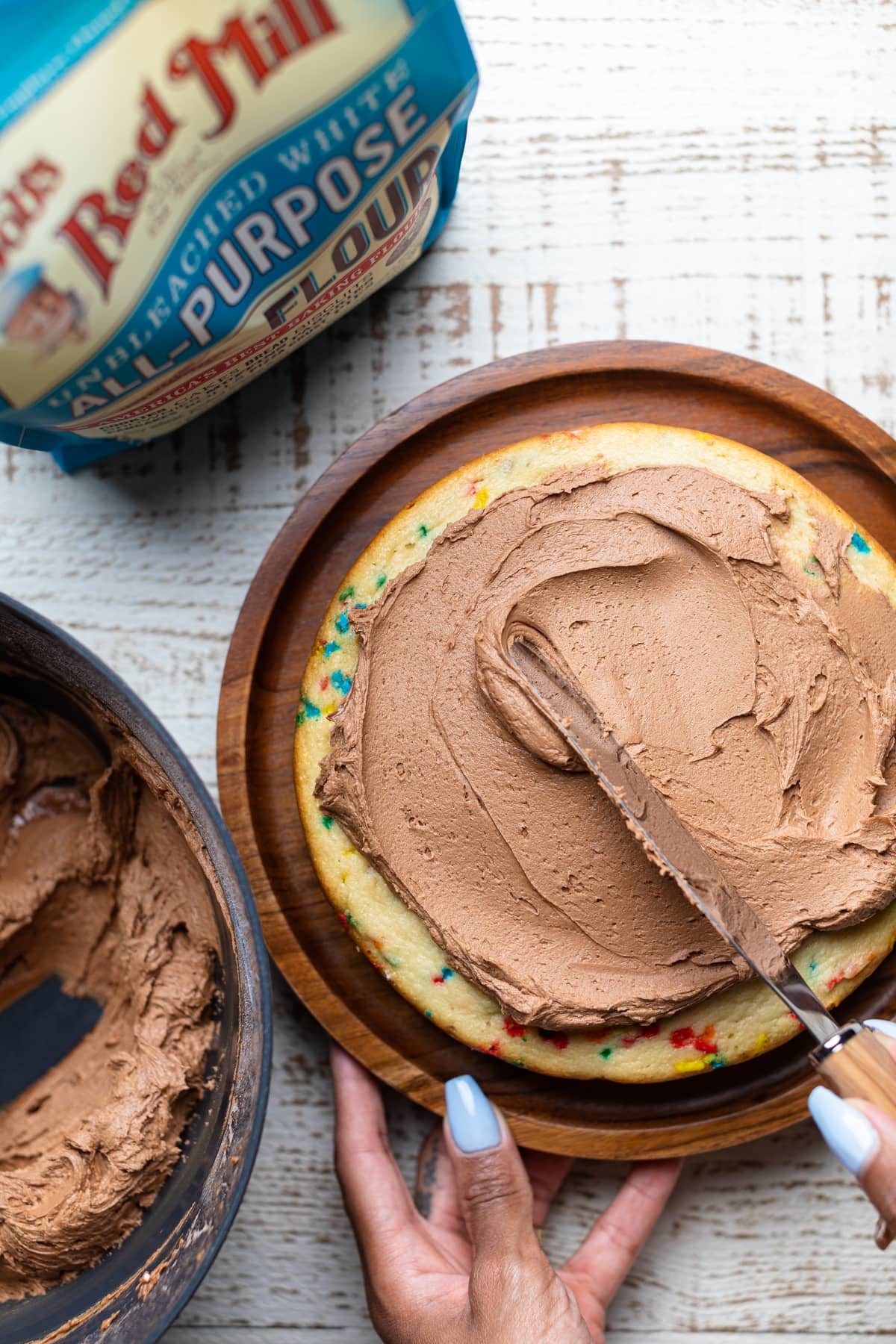 How to Make Whipped Chocolate Buttercream.
4-5 cups organic powdered sugar
⅓ cup unsweetened cocoa powder
1 cup unsalted butter, softened at room temp.
pinch of sea salt
1 teaspoon vanilla extract
¼ cup Almond milk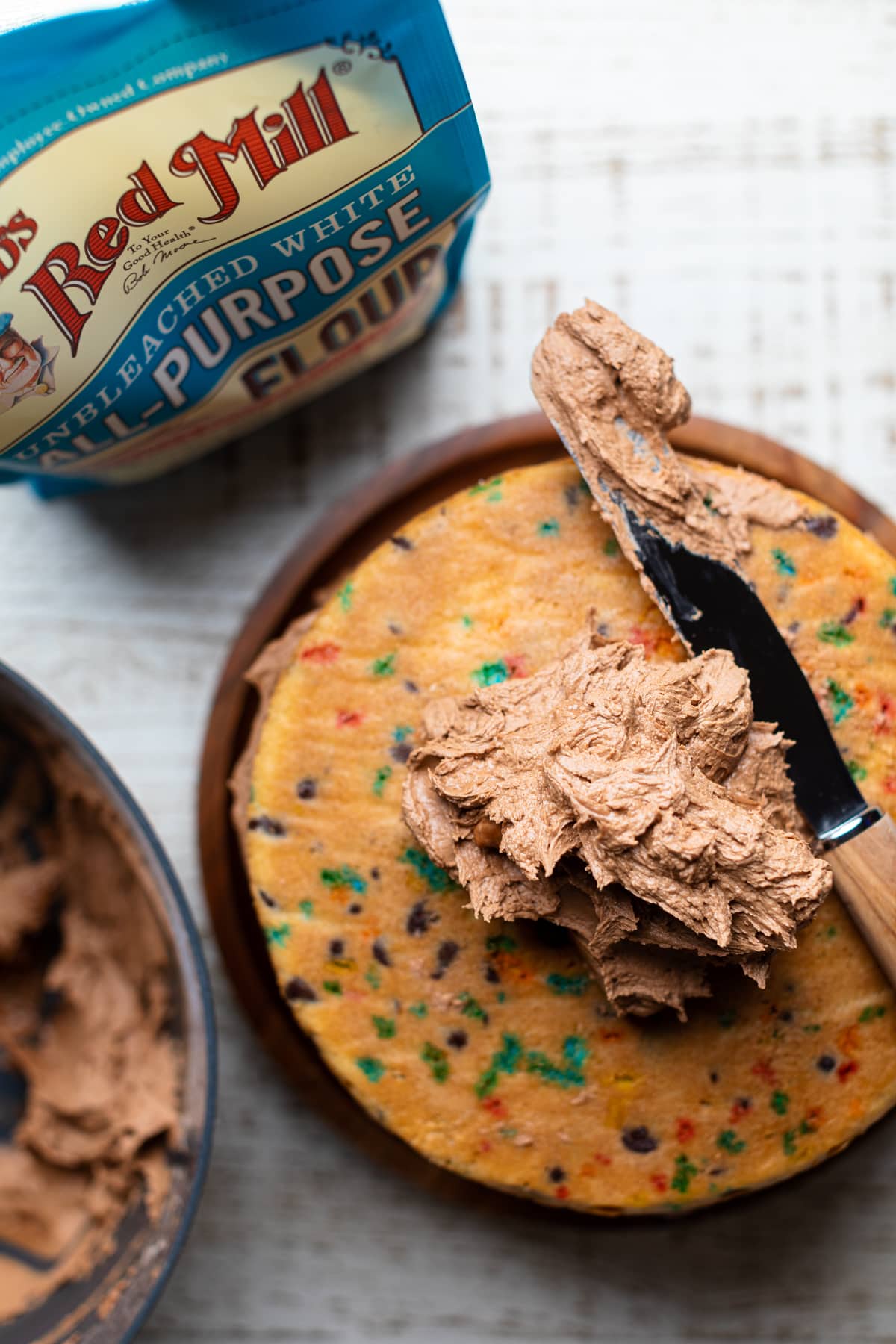 4 Tips For Making the Perfect Cake Every time
TIP #1: Another thing that I've learned about baking a cake is having the right tools. As a basic—-you should have a cake stand (preferably one that has a turnstile table), spatulas (big + small), piping bags + tips, correct baking pans and parchment paper, and if you need to get a bit more fancy—Bake Even Cake Strips.
Have no clue what these are? Whelp, you basically soak them in water before wrapping them around your cake pan while baking. These stripes ensures that your cakes don't bake with a funny "dome" or anything. Just flat and even.
Of course, if you don't have these strips, you can simply butter your pan and use liners along with an old trick that I've always done when baking—–add a small pot of water to the oven to keep things moist. Yup. It works EVERY. TIME.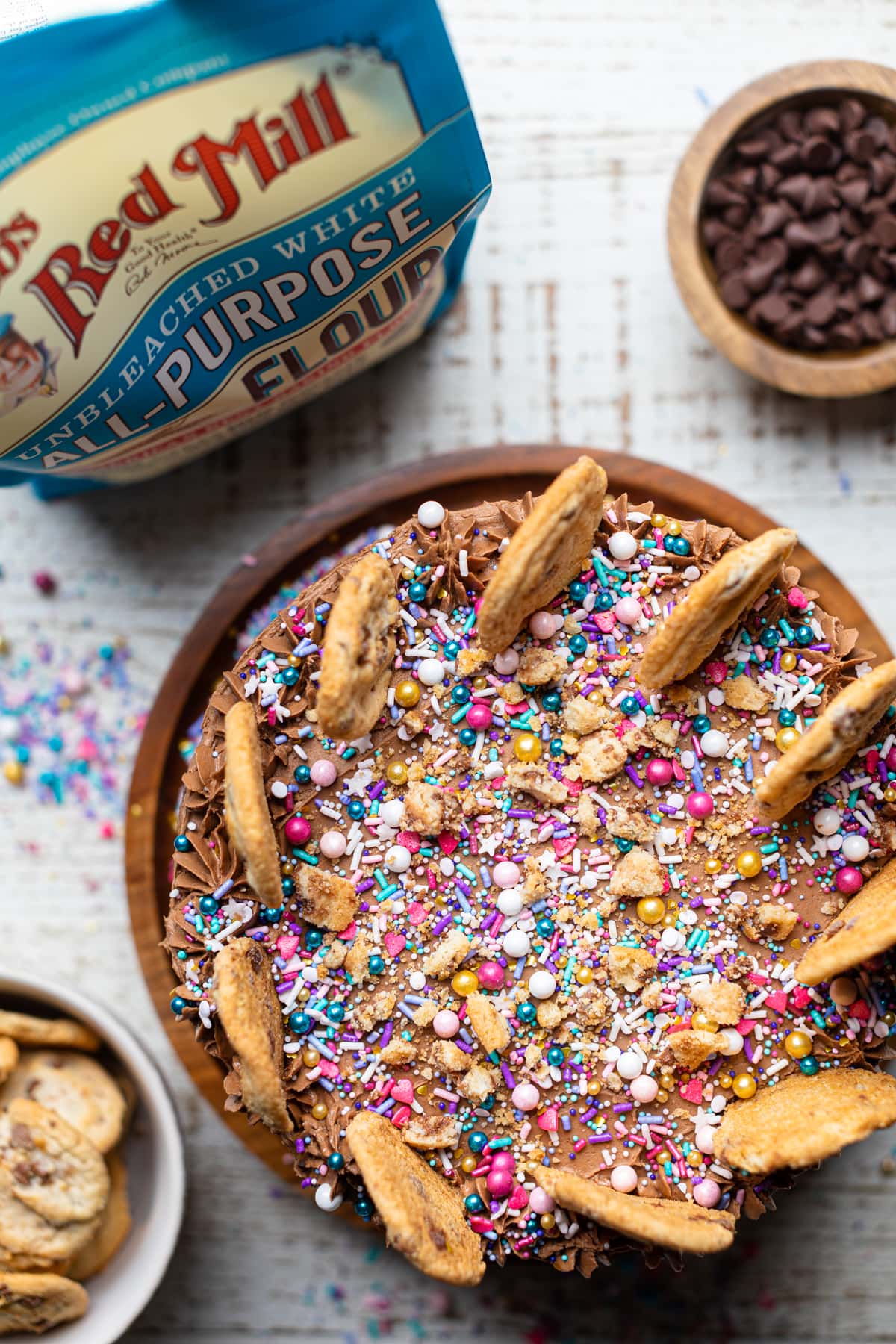 TIP #2: One of the essential ingredient combos for a light, silky cake texture is baking soda and acid ingredient (usually vinegar or buttermilk if the cake calls for it). When acid and baking soda reacts, it creates bubbles and helps to create a nice rise for your baked goods, leaving an airy texture.
In the case of vegan cakes, this is usually done by adding apple cider vinegar to your milk and letting it sit for a few minutes and then later combining it with the dry ingredients (which includes baking soda). Wallah!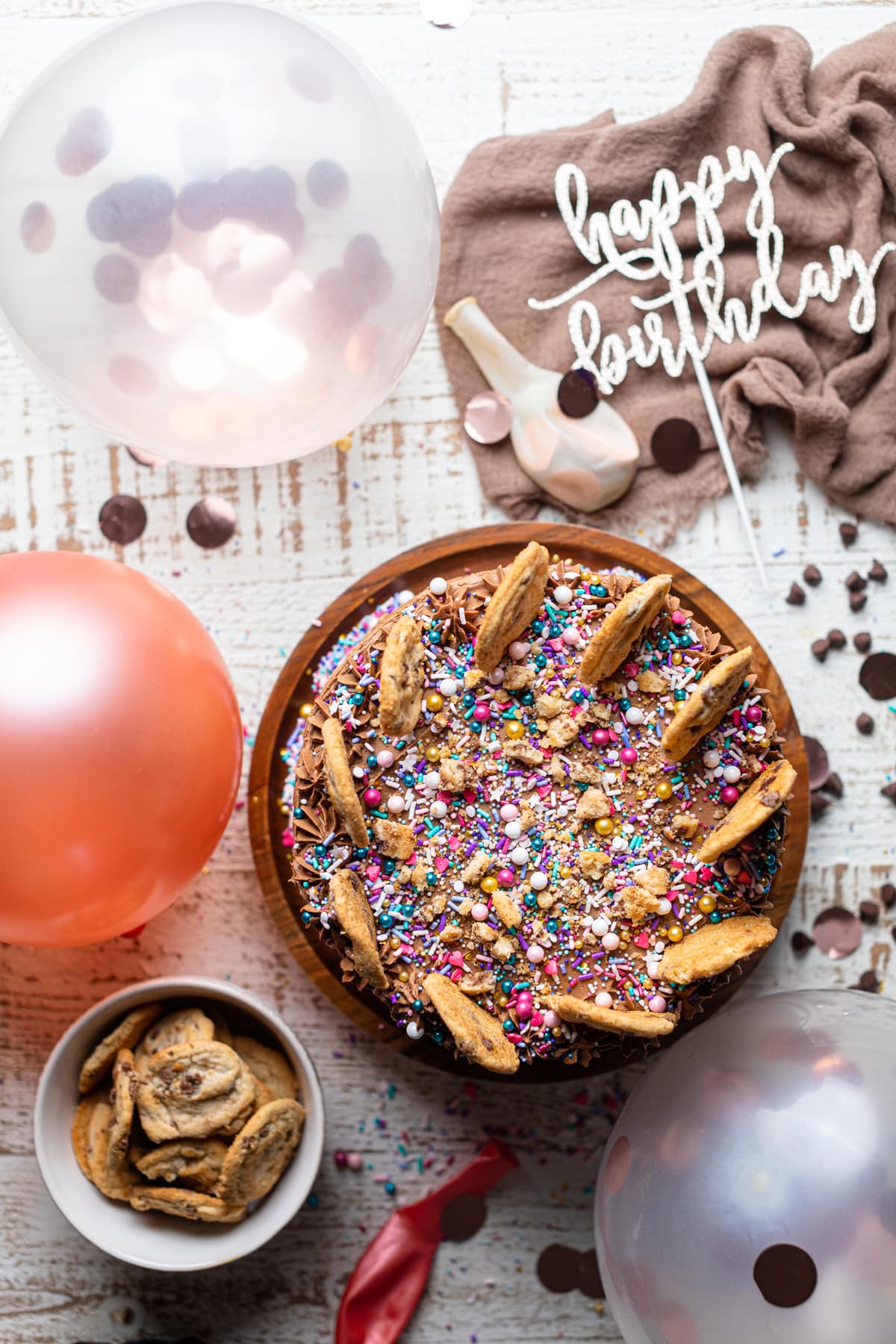 TIP #3: One of my latest tricks to a perfect cake has been to ensure that ALL of my dry ingredients are sifted. Trust me, ya'll—-this works!
Making all the dry ingredients fully sifted makes things airy, as you've guessed it and allows everything to combine faster.
TIP #4: Never Over-mix! When creating a cake, it's so important to add the dry ingredients and wet ingredients alternately and as soon as everything is combined very well, THAT'S IT! Over-mixing creates a more dense cake.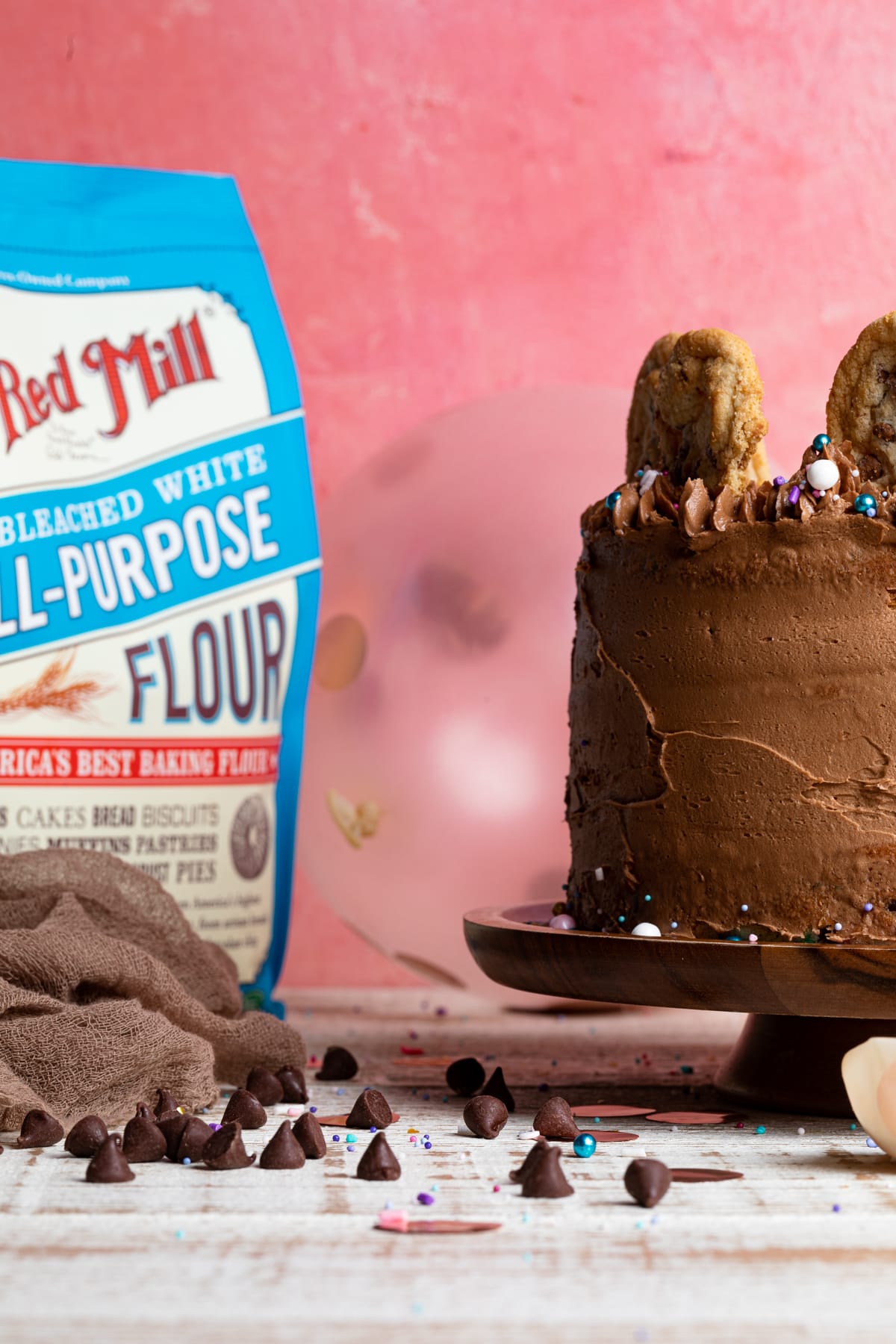 Cake Flour vs. All-Purpose Flour.
With this cake, you can either use all-purpose flour or cake flour, both of which are sold by Bob's Red Mill. When it comes to the main ingredient of this entire recipe—-the flour, I enjoy using Bob's Red Mill Unbleached White All-Purpose Flour, which is ideal for all kinds of baking, including this one. However, I do occasionally use Super-Fine Cake Flour which adds a nice airiness and fluffiness to your cakes as well.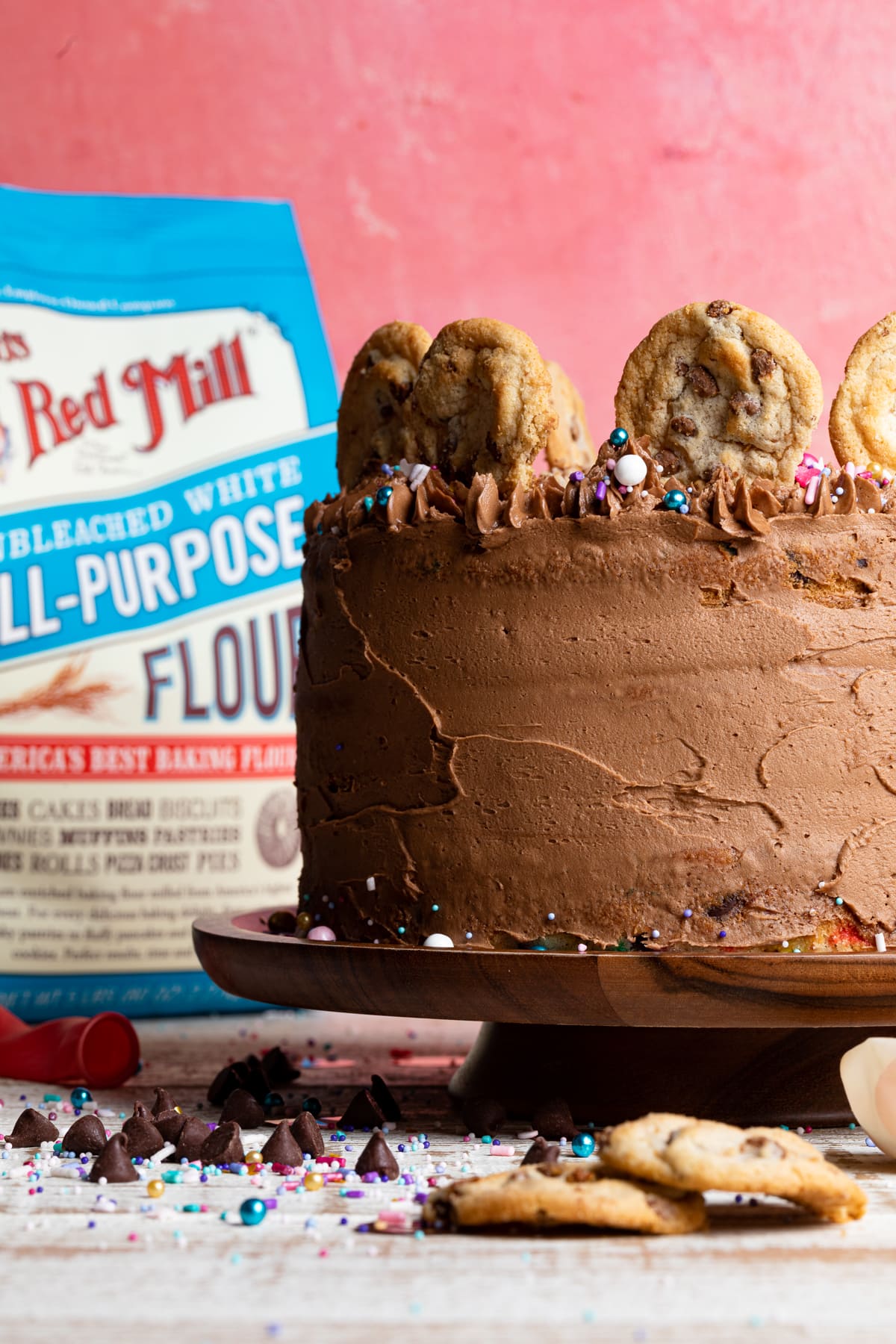 How To Make this Cake Gluten-Free or Vegan
If you would love to make this cake gluten-free, then substituting all-purpose flour with Bob's Red Mill 1-to-1 Baking Flour is the easiest option. It's a special blend of gluten-free flours, starches, and xanthan gum, which makes this cake just as soft, fluffy, and airy as the original!
In addition to the flour, to make this cake vegan, simply remove the eggs and unsalted butter, substituting them with vegan butter (softened at room temp.) and apple cider vinegar (2 Tbsps) mixed in with the milk.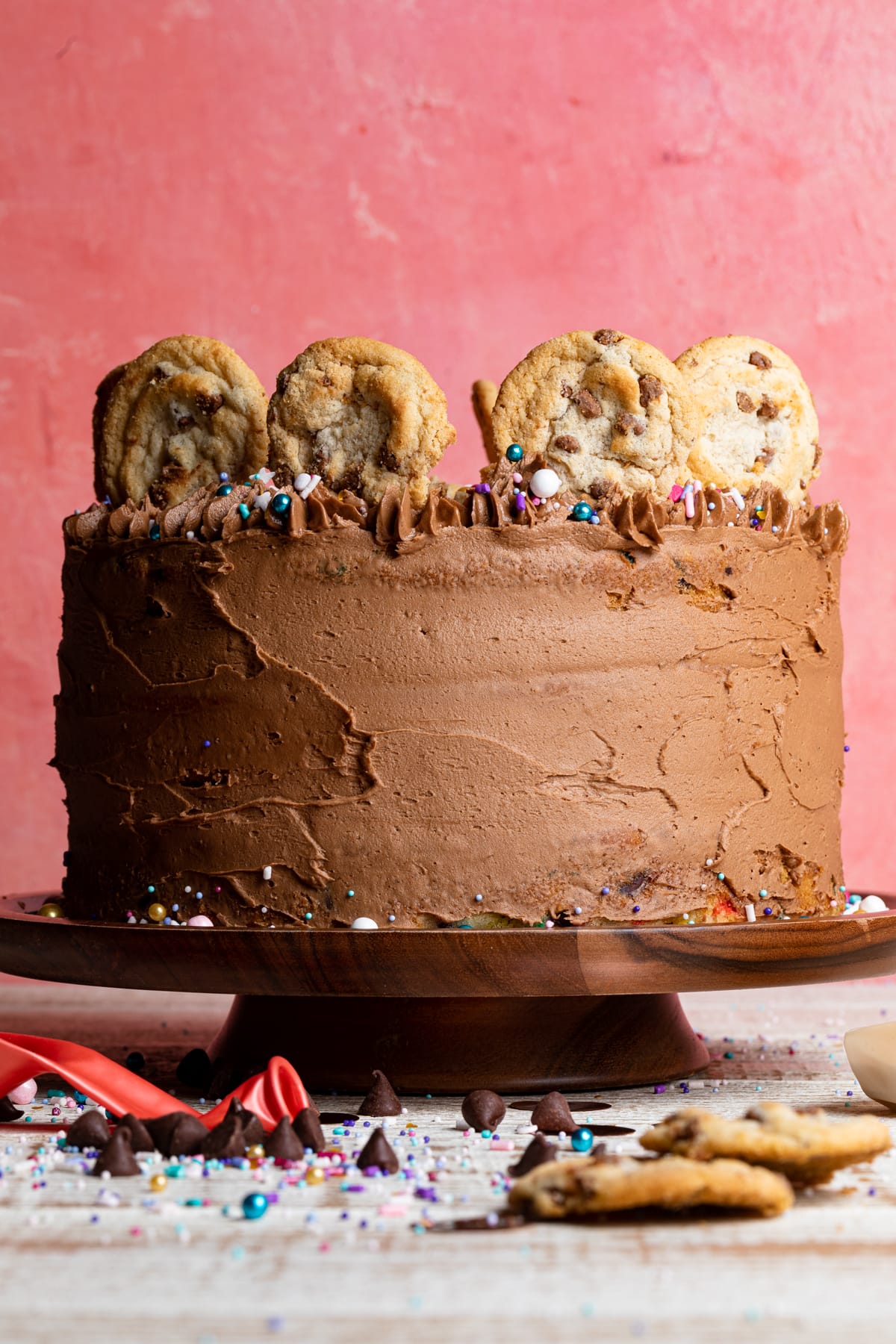 COMMON Q + A'S ABOUT THIS CAKE.
HOW LONG WILL THIS CAKE LAST FOR?
If you don't finish all of your confetti chocolate chip cake, store it for up to four days in the fridge. Keep it in an airtight container to keep the cake from drying out. You can also freeze the cake tightly wrapped in plastic wrap for up to three months. Before serving, defrost the cake on the counter.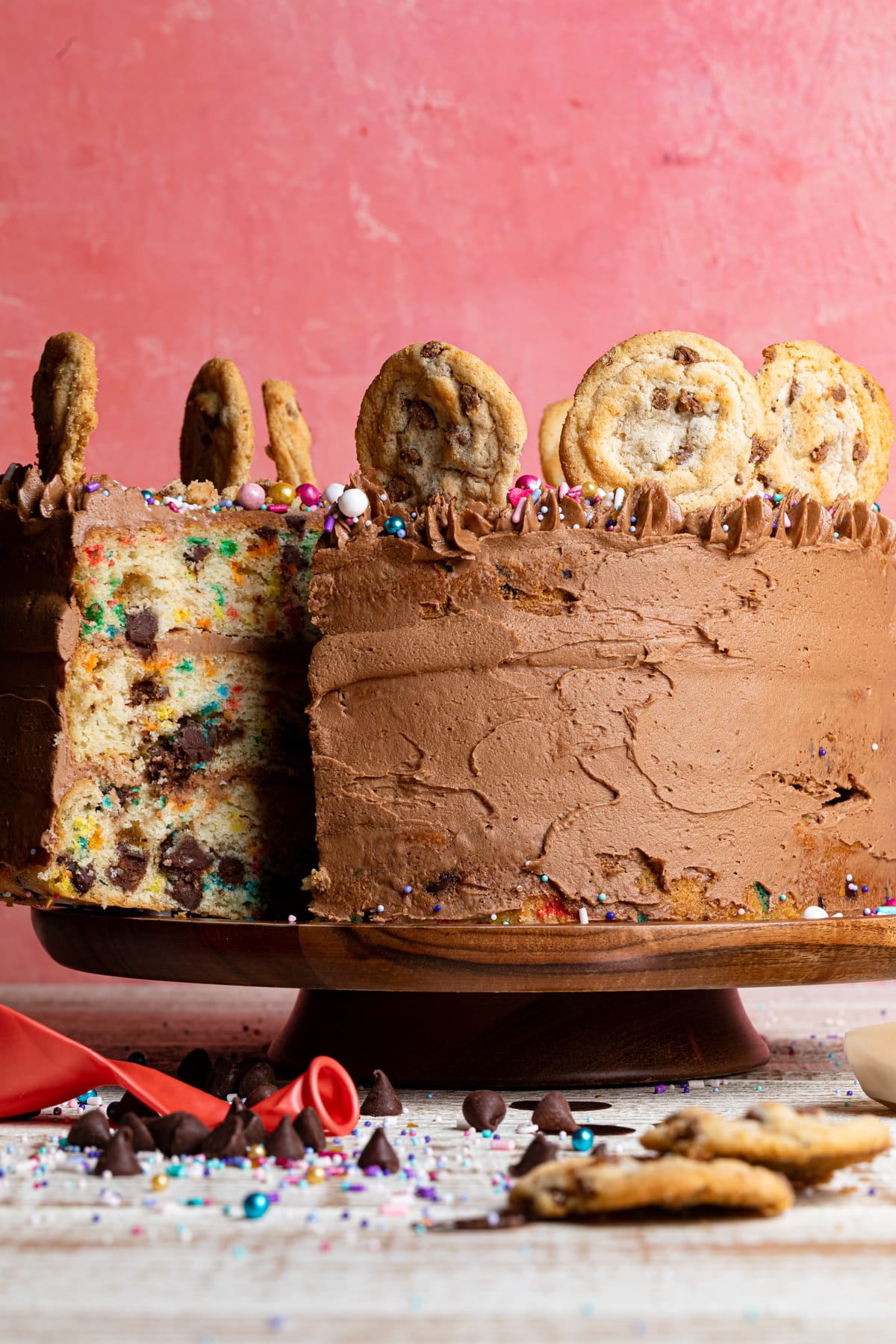 WHY ARE THE INGREDIENTS AT ROOM TEMPERATURE?
When it comes to ingredients, especially in baking, it's always best to have cold ingredients at room temperature to ensure that the mixing process is more seamless and even. Please note that microwaving your butter last minute if you forget to leave it out at room temperature isn't recommended. Microwaving often changes the consistency of the butter which doesn't create a nice 'creaminess' when mixed.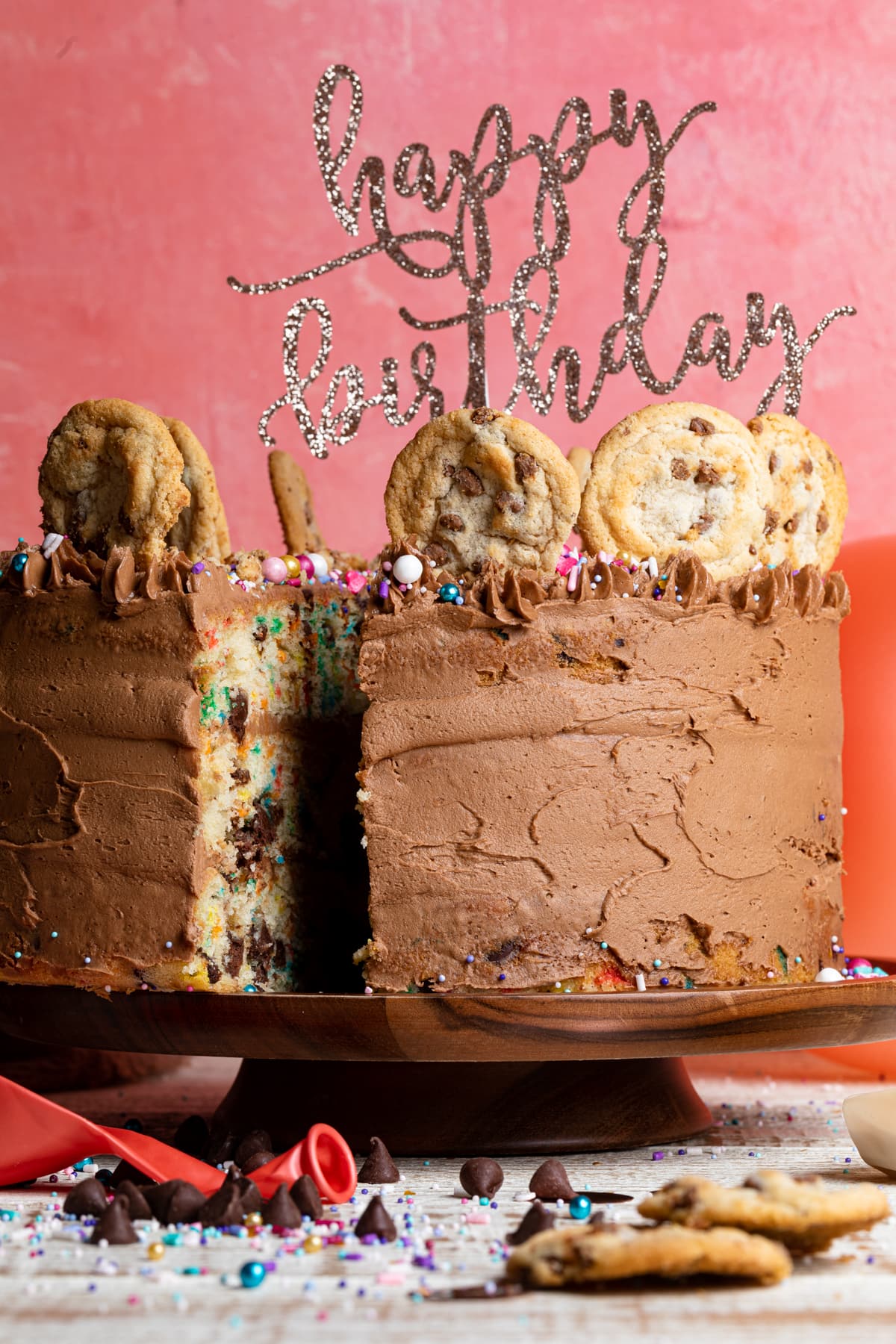 CAN THIS CAKE BE MADE AHEAD?
Absolutely! You can always bake this cake the night or day before and let it cool, tightly wrap, and refrigerate until ready to use. The frosting/buttercream can also be made prior and tightly wrapped and stored in the fridge as well. When ready to serve, let cake sit at room temperature for 30 minutes to an hour, frost, and enjoy!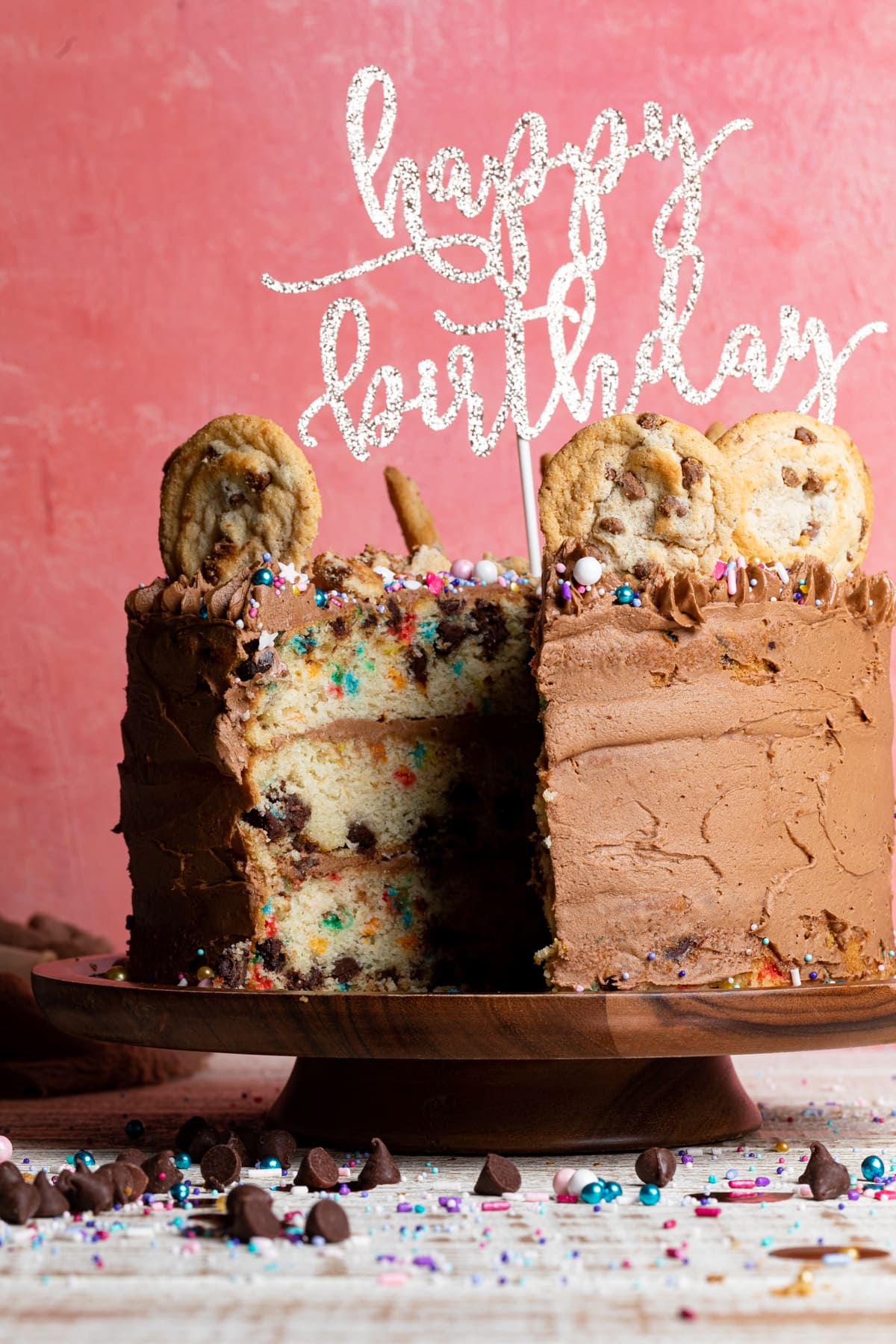 CAN THIS CAKE BE MADE INTO A 2-LAYER?
Of course! You can always divide the batter into two 8-inch cake pans for a nice thick, double layer cake or into cupcake pans. The bake time will be a little less, therefore, keeping your eyes on them is super important.
WHAT ABOUT CUPCAKES?
Also, with the cupcakes (this makes about 2 dozen), you can use the frosting as a filling inside the cupcakes and top with the remaining chocolate frosting to get double the 'indulging experience'. Once cupcakes are baked, simply create a hole in the centers, fill them with the frosting and frost them per usual.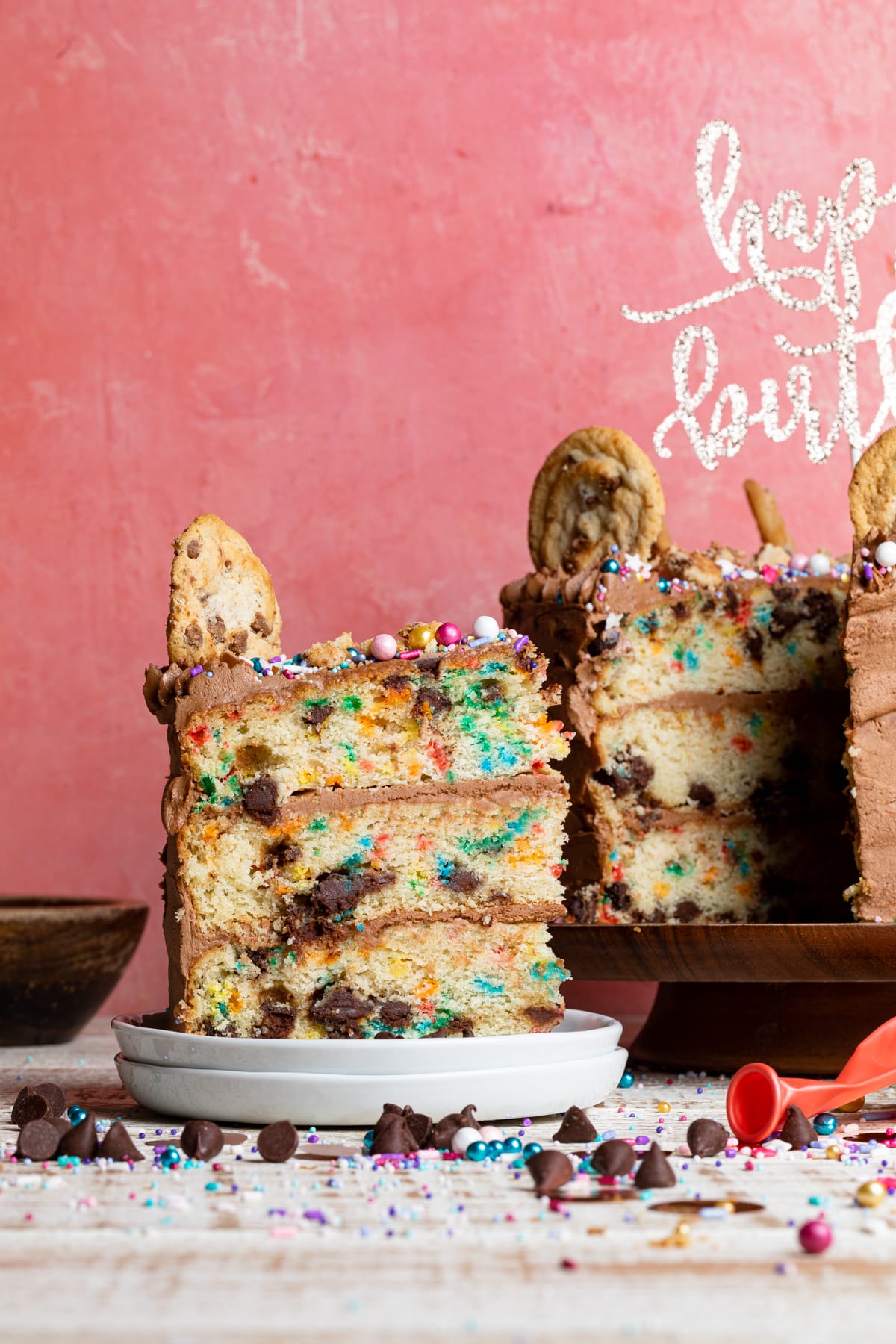 The 3 Main Parts to this Confetti Chocolate Chip Cake
Confetti Chocolate Chip Cake: This part of the cake is the soft, fluffy component that just melts in your mouth. Personally, I chose to create this masterpiece by combining two of my faves---chocolate chips + rainbow sprinkles as a way to truly celebrate with a deep indulge!
Chocolate Buttercream: Initially, I was going to create a nice vanilla buttercream, however, after much thought, I chose to add extra decadence by making it full chocolate. If I'm honest, the boldness of chocolate adds a beautiful touch to the entire cake.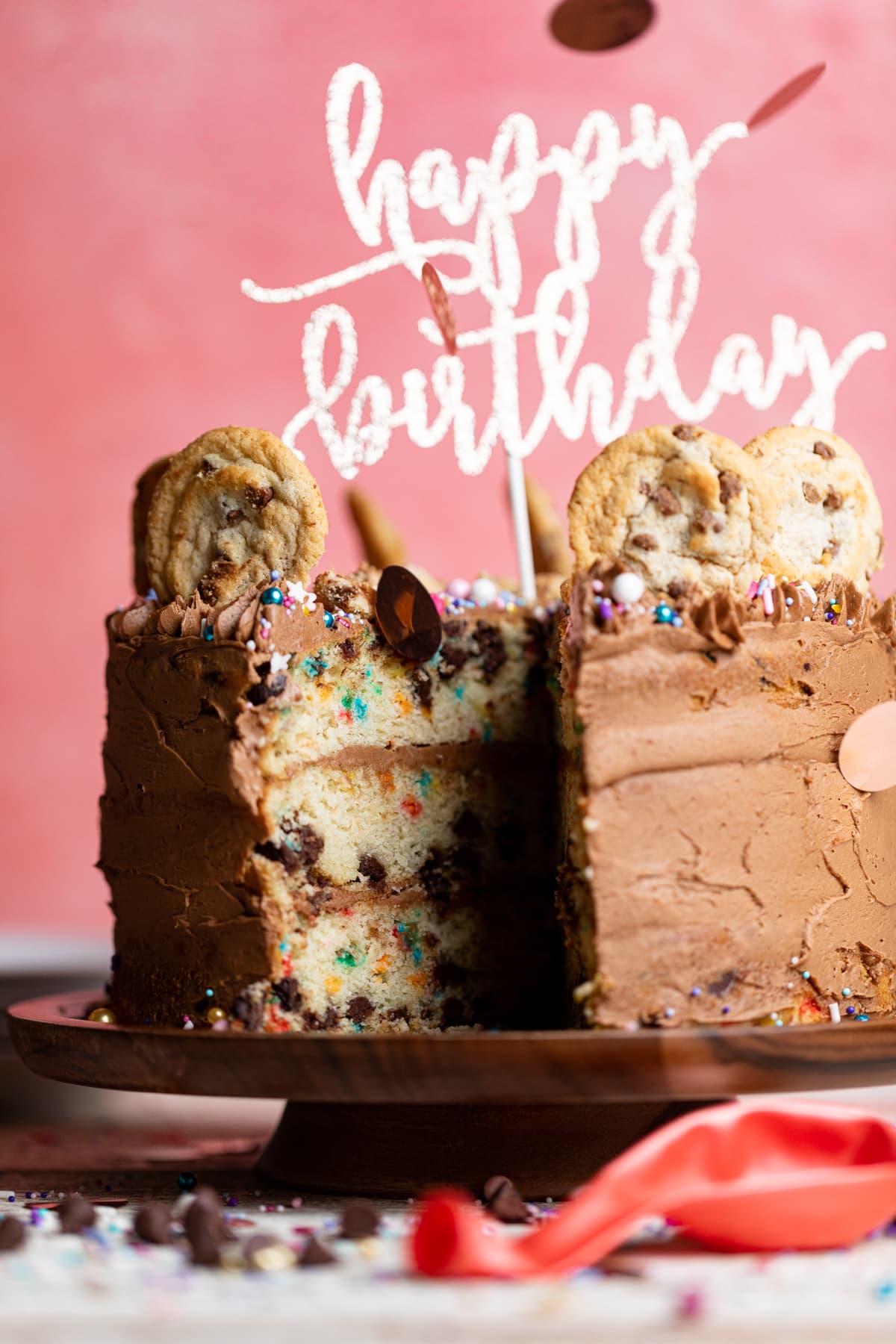 Chocolate Chip Cookies: OK, so this is my other favorite part—-the cookies! Now, you know that I couldn't create an entire chocolate chip experience without actual cookies atop the entire cake.
Rest assured, you can always purchase store-bought chocolate chip cookies if you don't have a batch already made or lack the time. However, if you're loving the idea of making these homemade, check out my Crispy + Chewy Chocolate Chip Cookies (leaving out or including the sprinkles).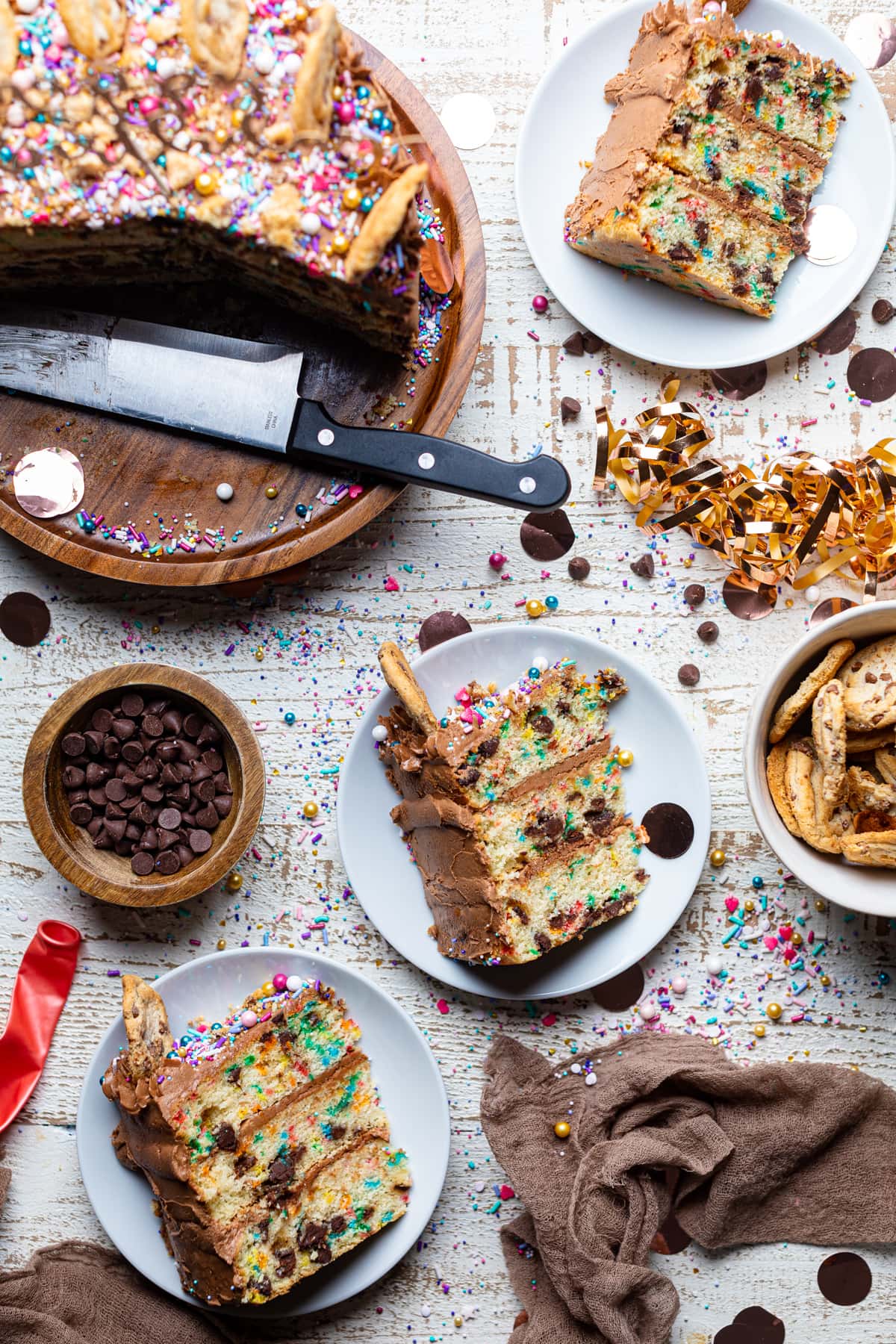 More Amazing Confetti/Funfetti Recipes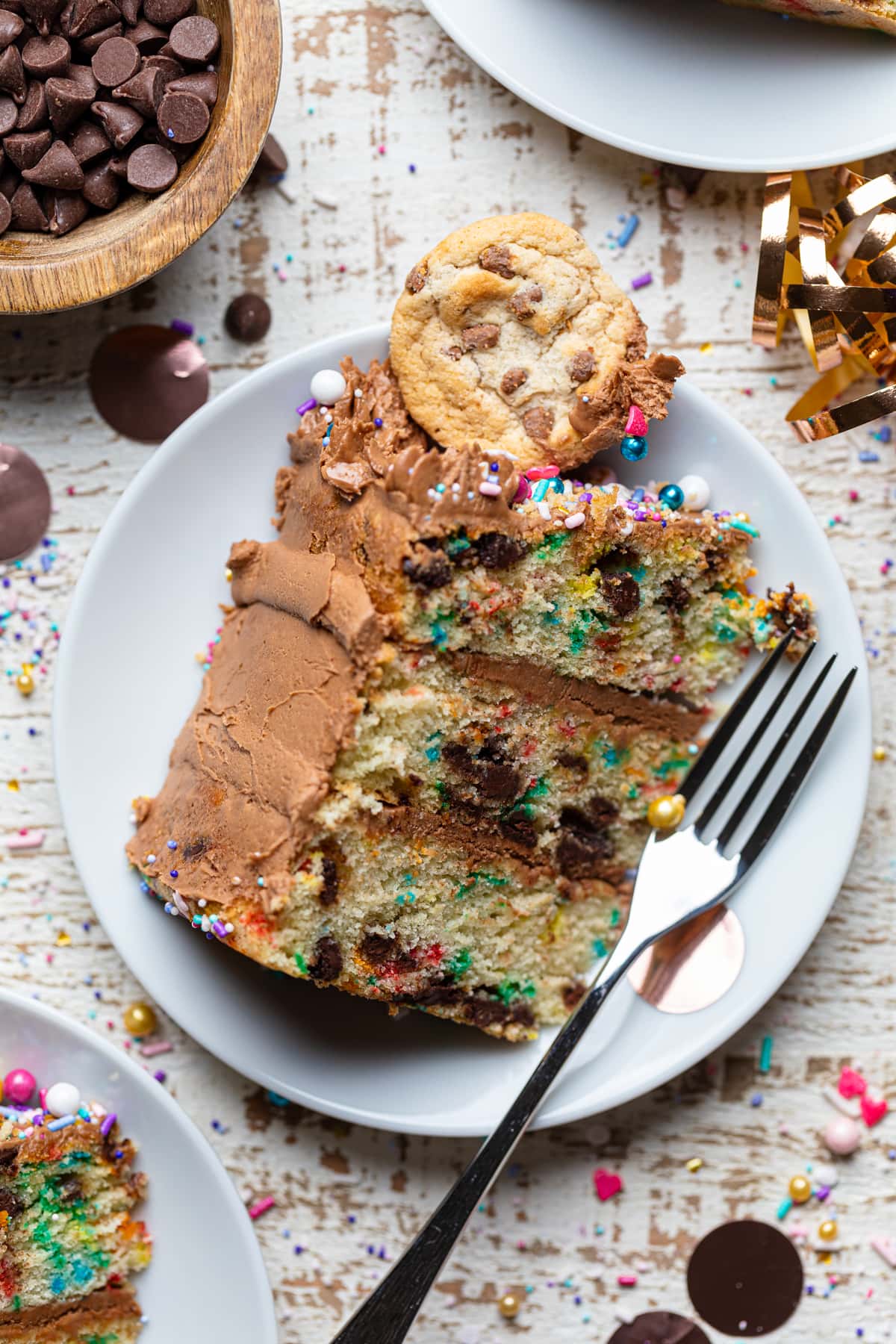 MADE OUR RECIPE(S)?
If you make this Confetti Chocolate Chip Cake or any other recipe from us, be sure to tag us on Instagram at #Orchidsandsweettea so that we can share the love, rate, comment below, + share!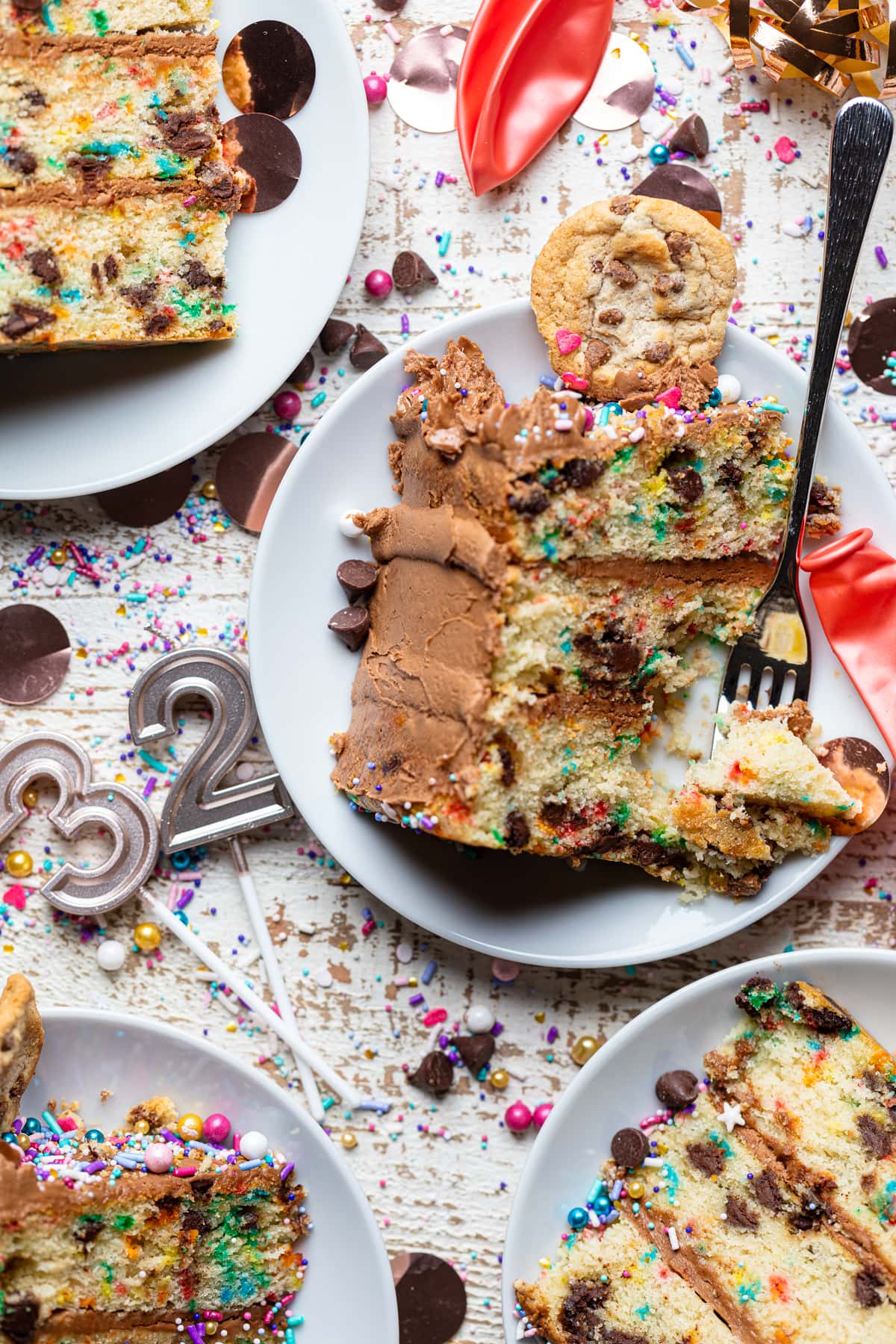 CONFETTI CHOCOLATE CHIP CAKE:
4

cups

Bob's Red Mill All-purpose Flour 

(See Notes!)

1 ½

cups

organic cane sugar

2 ½

tsps

baking powder

pinch of

ground cinnamon

1

teaspoon

finely ground sea salt

1

cup

unsalted butter, softened at room temp.

3

large

eggs, at room temp.

2 ½

cups

Almond milk + more if needed

(You can use your favorite plant-based milk or regular milk)

1

teaspoon

vanilla extract

1

cup

Rainbow sprinkles

1

cup

semi-sweet chocolate chips
CHOCOLATE BUTTERCREAM/FROSTING:
1

cup

unsalted butter, softened at room temp.

5

cups

organic powdered sugar, sifted

½

cup

unsweetened cocoa powder

2

tsps

vanilla extract

¼

teaspoon

finely-ground sea salt

¼

cup

Almond milk

(You can use your favorite plant-based milk or regular milk)
CAKE:
Begin by preheating your oven to 350 degrees Fahrenheit. Lightly grease (with butter) AND line with parchment paper the bottoms of THREE 8-inch cake pans.

In a large bowl, whisk together the flour, baking powder, cinnamon, and salt until combined. Set aside.

In a bowl, add the butter and sugar, beating them together using a hand-mixer (on high-speed), until pale and fluffy, about 2-3 minutes.

Add the eggs (one at a time) followed by the vanilla, mixing until combined. On low-speed, add in the dry ingredients followed by the milk and continue to mix until combined and the batter is smooth, about 3-4 minutes. NOTE: The batter should be thick, yet slowly run off the whisk once lifted.

Fold in the chocolate chips and sprinkles.

Divide the batter evenly into each of the cake pans and bake for 30-35 minutes, or until a toothpick or butter knife comes out clean when tested in the centers.

Remove cakes from the oven and let them rest in the pan for 10 minutes or so before removing the cakes and placing them onto a cooling rack to fully cool. NOTE: Let them cool for at least 1-2 hours in a cool place.
BUTTERCREAM/FROSTING:
Simply beat the butter in the bowl of an electric mixer (or using a hand-mixer) on medium-high speed, until smooth and pale. Add in the powdered sugar, cocoa powder, vanilla, salt, and milk, continuing to mix on medium-speed until you reach the desired consistency----smooth and fluffy. NOTE: Add more milk (1 tablespoon at a time if too thick) or powdered sugar (for more thickness).
ASSEMBLY:
Place the first cake layer on your cake stand and evenly cover the top with buttercream. Now, top with 2nd layer and add more buttercream atop that layer. Finally, top with final layer and top with remaining buttercream, spreading it over the tops and sides of cake, evenly and thinly.

Once fully frosted, add small little designs of the buttercream using a piping bag + tip or chocolate chip cookies and rainbow sprinkles around the sides and top of cake. Chill for 5 minutes to ensure that buttercream sets.

When ready to serve, remove from the refrigerator. Slice and enjoy!

Bon Appetit!
STORAGE: Keep cake leftovers stored for up to 4 days in the fridge. Keep it in an airtight container to keep the cake from drying out. You can also freeze the cake tightly wrapped in plastic wrap for up to 3 months. Before serving, defrost the cake on the counter.
FLOUR: For an extra fluffy cake, you can always use cake flour instead of all-purpose. See post for more!
CUPCAKES: This recipe yields about 30 cupcakes. Simply bake for 18-20 minutes instead, until centers come out clean.
VEGAN: To make this cake entirely vegan, simply omit the unsalted butter and eggs and use vegan butter instead and add 2 Tbsps apple cider vinegar to milk. Also, ensure that chocolate chips and sprinkles are vegan-friendly. Substitute with cacao powder for the frosting.
Calories:
714
kcal
|
Carbohydrates:
135
g
|
Protein:
8
g
|
Fat:
42
g
|
Saturated Fat:
25
g
|
Polyunsaturated Fat:
2
g
|
Monounsaturated Fat:
11
g
|
Trans Fat:
1
g
|
Cholesterol:
129
mg
|
Sodium:
431
mg
|
Potassium:
247
mg
|
Fiber:
4
g
|
Sugar:
45
g
|
Vitamin A:
1024
IU
|
Calcium:
157
mg
|
Iron:
4
mg