No-Bake White Chocolate Energy Bites---No one wants to be caught snack-less when hunger strikes. And if you're a parent, you know the dangers of not having a healthy, reliable snack on hand for little ones. When hanger sets in, you may be all too tempted by the nearest vending machine or convenience store. But don't let unhealthy packaged and processed snacks get the best of you! These healthy no-bake energy bites are the perfect solution to hunger, wherever you are.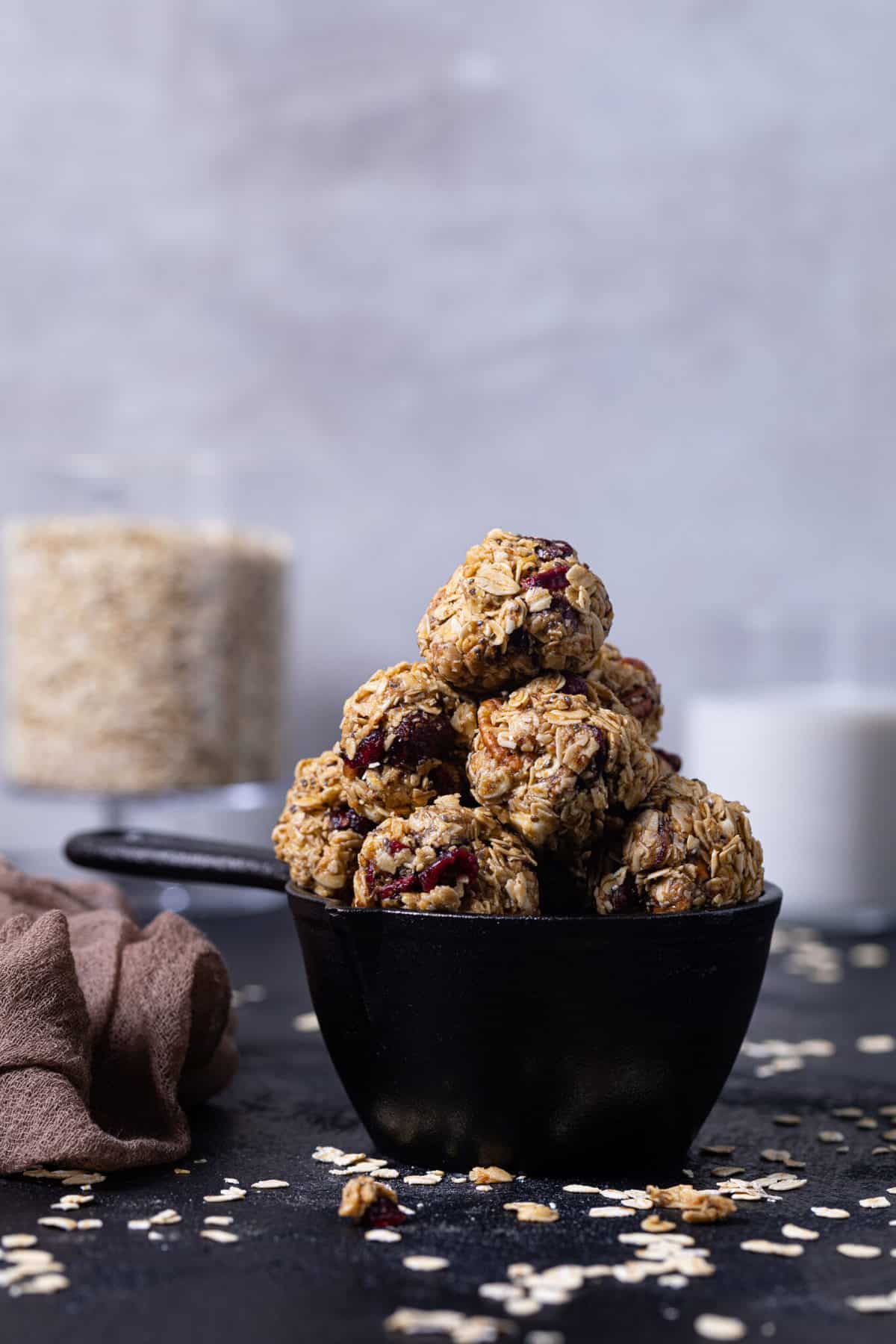 They're made with good-for-you, wholesome ingredients that keep you full and have some superfood health benefits. Fiber, healthy fats, and antioxidants are in every tasty bite thanks to rolled oats, almond butter, chia seeds, and dried cranberries. Plus, a touch of creamy sweetness from white chocolate chips never hurt anyone! This is my new go-to recipe to satisfy sweet cravings in a well-balanced, whole grain snack. I promise that you won't be disappointed with these No-Bake White Chocolate Energy Bites.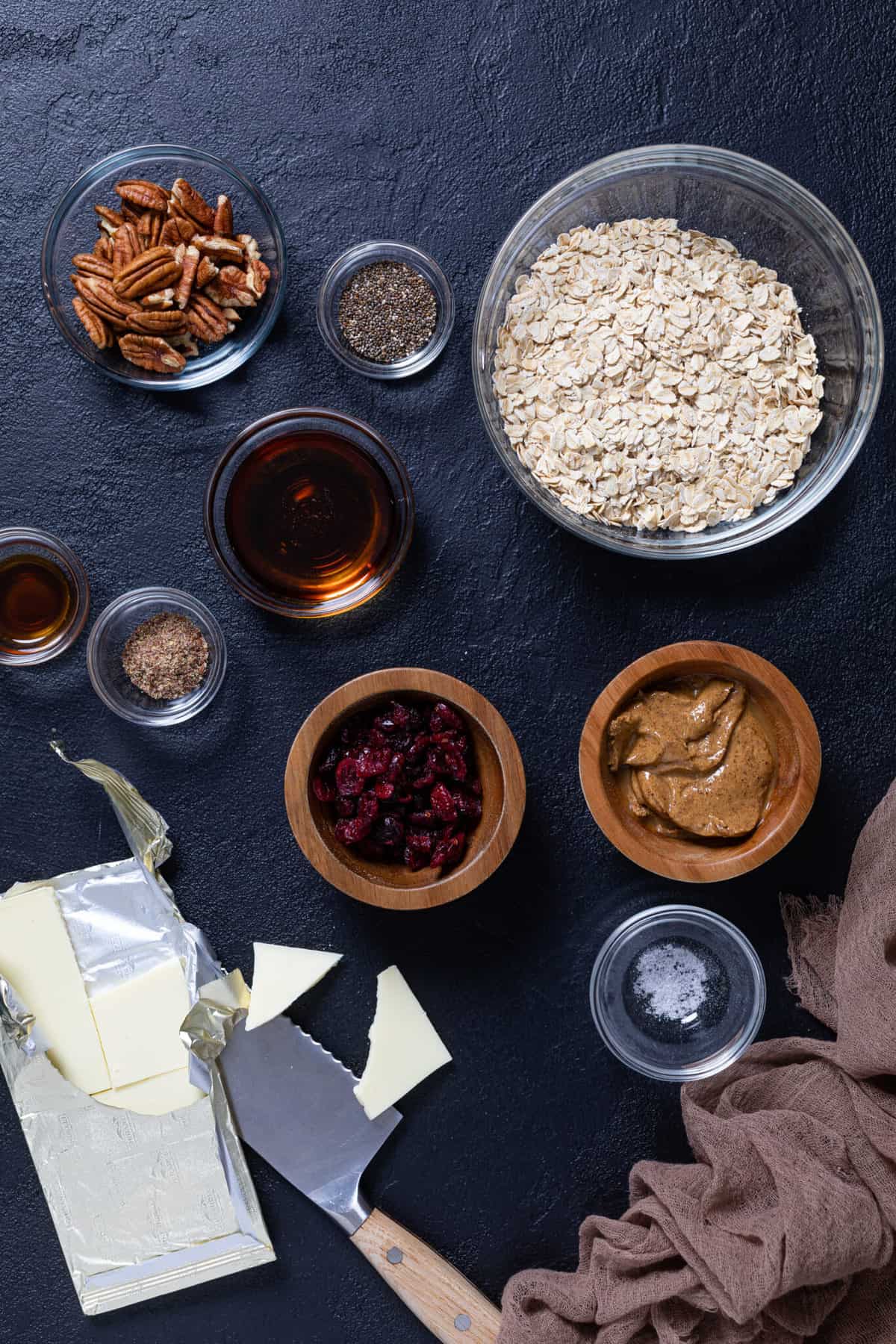 How to Make Healthy Chocolate Energy Bites
If you're a regular baker, you may already have all of the simple ingredients for this recipe at home. Once everything is thrown together in a mixing bowl, there's no need to turn on the oven! Simply pop the bowl into the fridge and half an hour later, shape it into individual bites for packing and snacking.
Ingredients
Here's what you need to make these healthy no-bake energy balls:
Gluten-free rolled oats. These are also sometimes called old-fashioned oats. If you're not avoiding gluten, you can use non-gluten-free oats too! Oats are full of satiating fiber and plant-based protein to keep you full and improve your gut health
Almond butter. This binds the energy bites together and gives them a creamy, moist and cookie-like texture without having to bake them. You can substitute almond butter with peanut, sunflower seed, soynut, pecan, hazelnut, granola butter, or tahini!
Chia seeds. These seeds hydrate while the dough rests in the fridge to help hold the bites together. Plus, organic chia is an excellent source of fiber and heart-healthy omega-3s.
Maple syrup. You can substitute the maple syrup with agave, date syrup or another vegan liquid sweetener. Of course, if you're not vegan, honey will work too. If you do use maple, be sure to choose pure maple syrup, the fake stuff is just processed sugar syrup!
Flaxseed. Flax is a superfood for its high concentration of fiber and healthy fats. It also is a secret ingredient in vegan baking to replace eggs.
Vanilla. Choose pure vanilla to ensure you're getting the best flavor and quality.
White chocolate chips. I use baking chips, but you can also use your favorite white chocolate bar for this recipe. Or, if you prefer dark or milk chocolate, feel free to substitute! Remember that milk chocolate is not vegan though.
Dried cranberries. These sweet-tart dried berries are full of antioxidants and they're the perfect compliment to creamy and sweet white chocolate.
Toasted pecans. Toasting nuts brings out their best nutty flavor. You can also substitute pecans for cashews or walnuts if you prefer.
Instructions
The recipe instructions for this recipe are simple and fun. I recommend making this healthy snack recipe with kids if they're interested in helping in the kitchen!
Once you've toasted and chopped the pecans, you can add all of the ingredients to a mixing bowl and give everything a good stir. A dough-like mixture will form. I like to combine everything with my hands to ensure it's evenly blended. Yes, it's sticky, but it's nothing a little soapy water can't take care of!
When you have a uniform mixture, place it in the fridge to hydrate for 30 minutes. Then, shape the dough into individual bites, return them to the fridge to firm up for a few minutes, and you're done!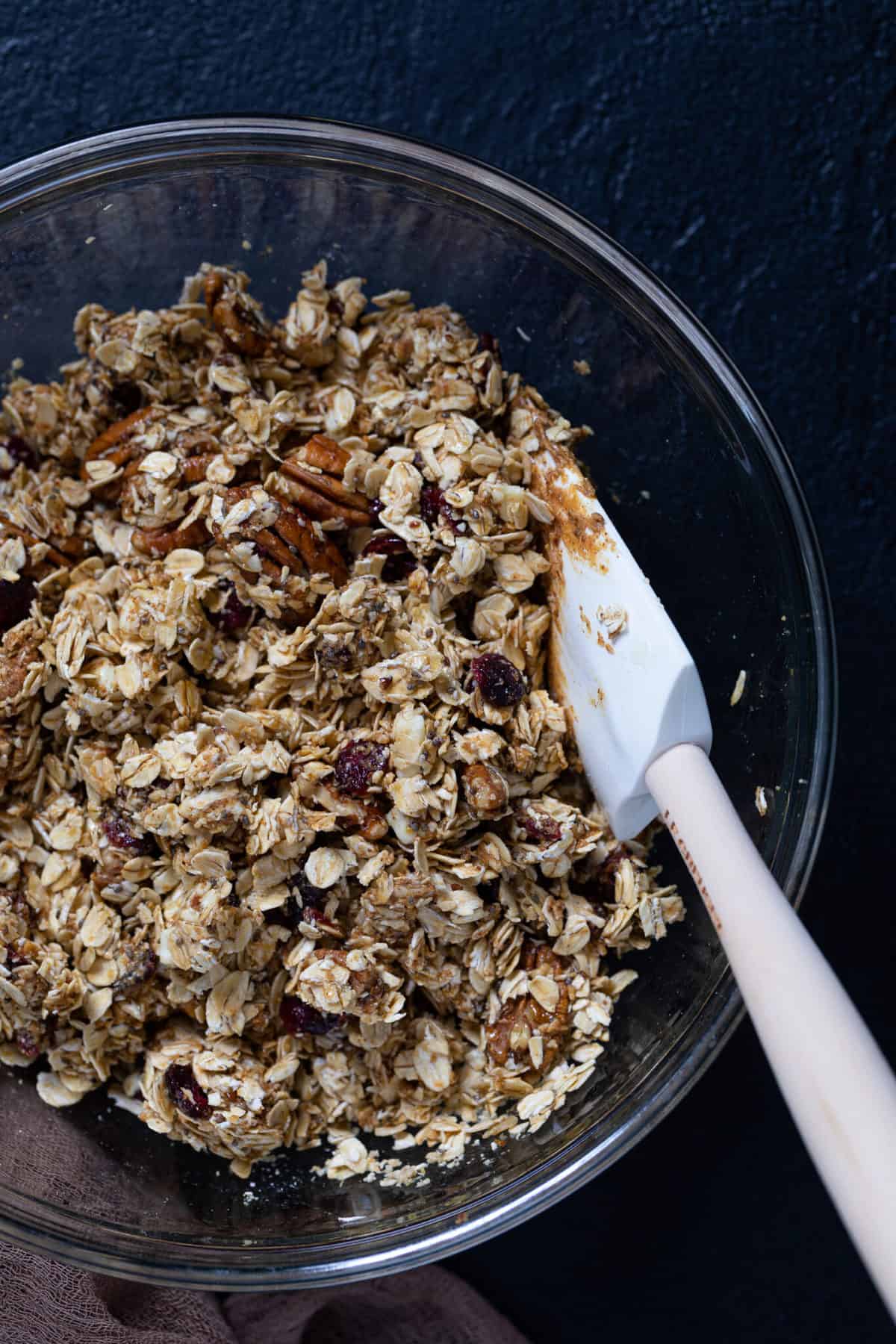 How Long Can I Store Energy Bites?
These chocolate energy bites will stay fresh in an airtight container in the fridge for up to 2 weeks.
For longer storage, keep them in the freezer for up to 3 months. You can eat them frozen or let them thaw a bit on the counter. If you like a soft and chewy texture, you can even warm the white chocolate bites in the microwave for 30 seconds to a minute.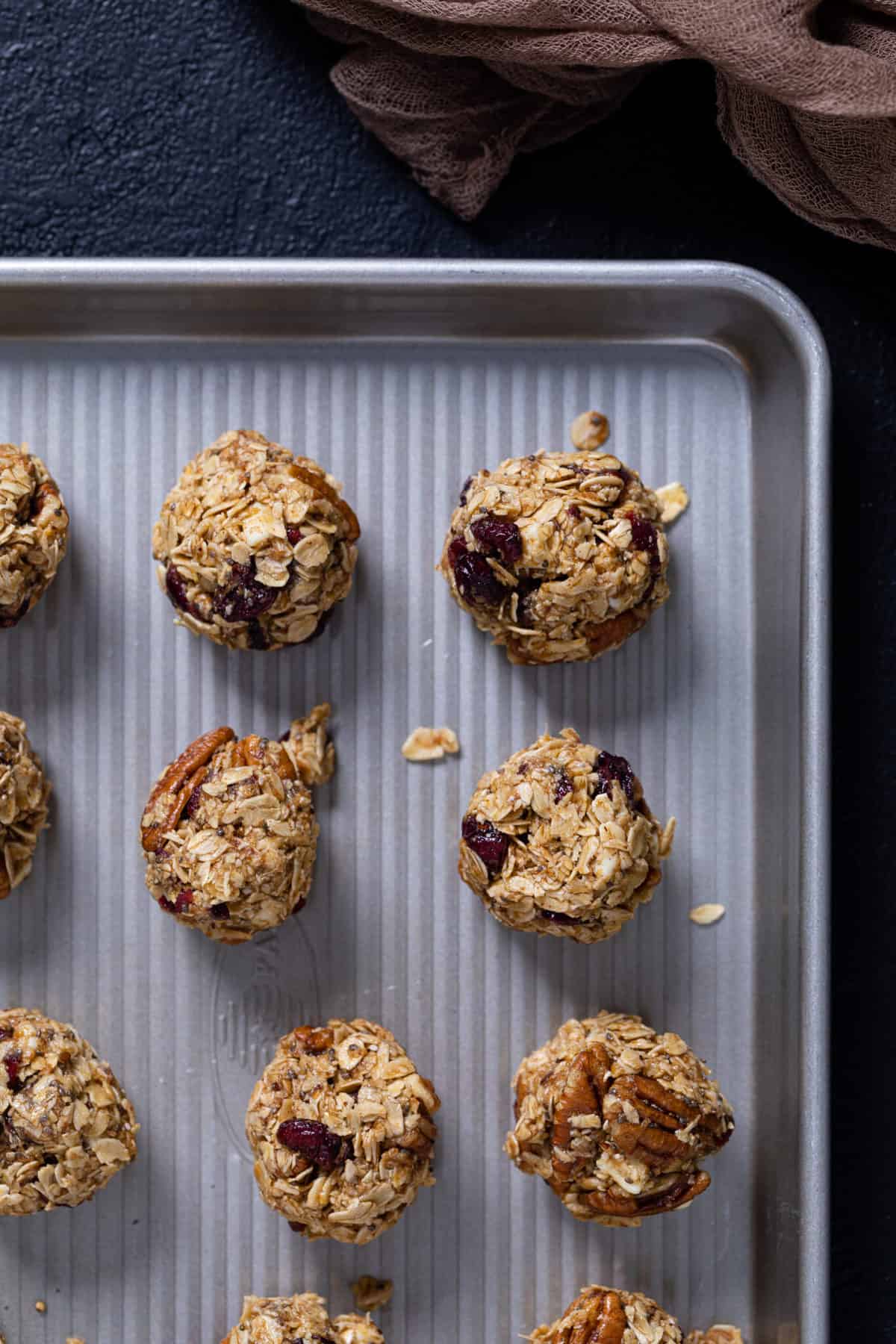 '
Nut-Free No-Bake Chocolate Energy Bites
IF you're looking for an allergy-friendly make-ahead snack that's gluten-free, vegan, and nut-free, you can easily modify this recipe.
To make nut-free energy bites:
Use tahini or sunflower seed butter instead of almond butter
Omit the toasted pecans or substitute with sunflower seeds or more dried cranberries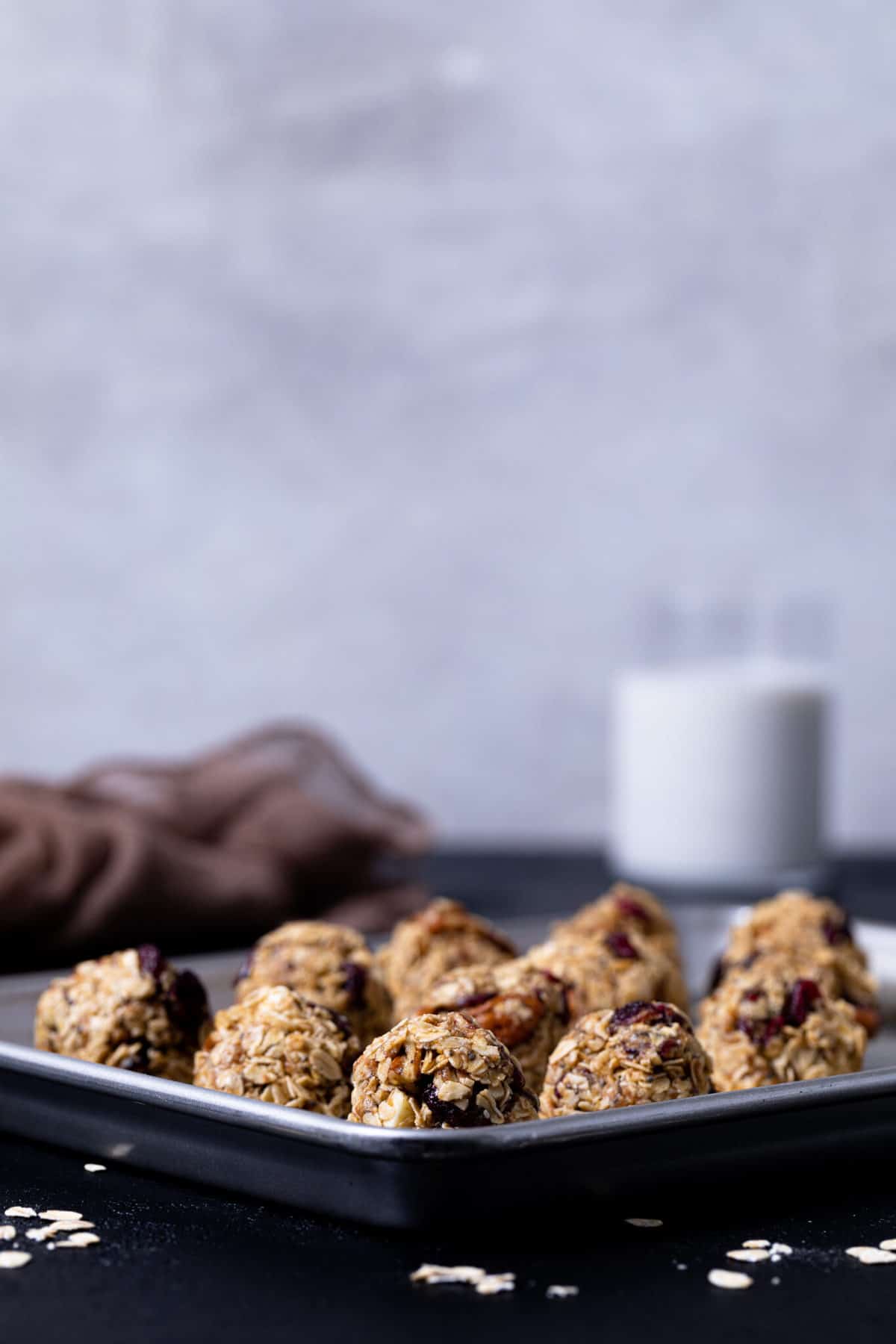 Ingredient Swaps & Additions
Swap dried cranberries for raisins, chopped dates, apricots or another dried fruit
Add coconut flakes
Swap white chocolate chips for dark or milk chocolate
Swap pecans for pistachios, walnuts, cashews or another favorite nut
Add a dash of cinnamon, cardamom or a different warming spice
Use almond extract instead of vanilla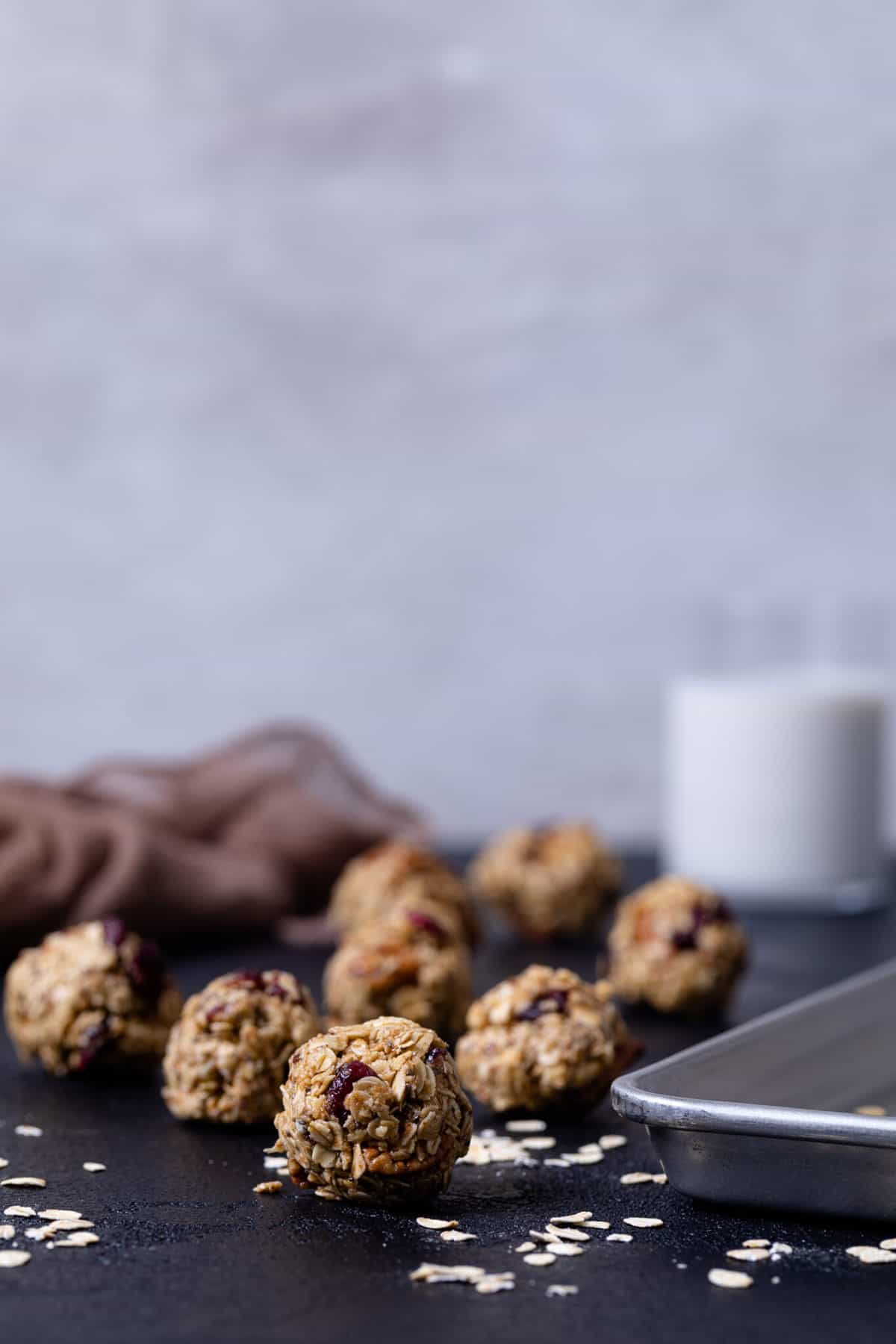 How to Serve
You can serve these oat and almond energy bites for a healthier dessert option to replace sugary cookies. Or, they also make a great afternoon pick-me-up.
If you're in a rush in the morning, you could even grab a few of these make-ahead oat bites from the fridge or freezer and enjoy them on the go for a sweet breakfast with benefits.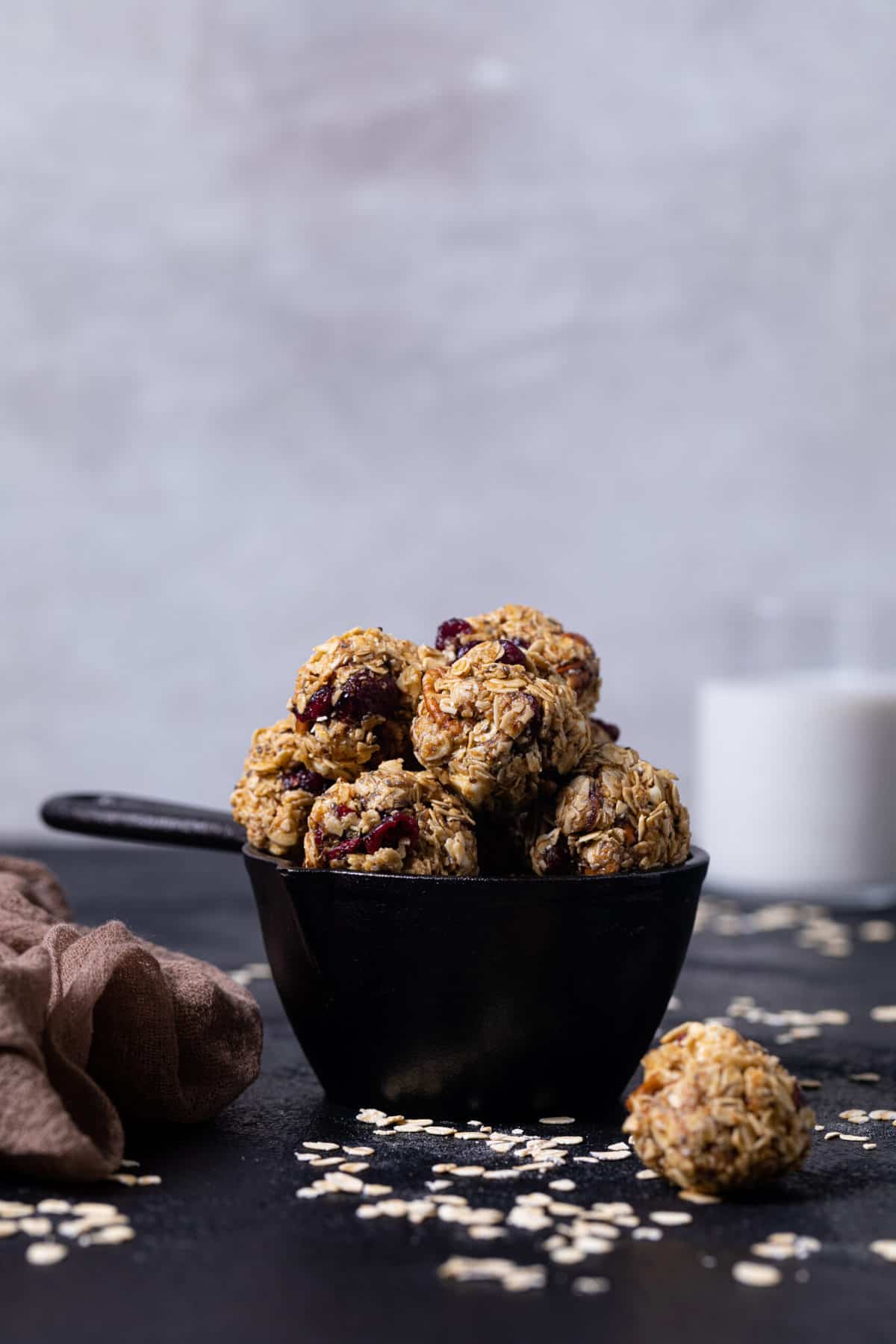 More Healthy Snack Recipe Ideas
MADE OUR RECIPE(S)?
If you choose to make these No-Bake Chocolate Energy Bites or any other recipe from us, be sure to tag us on Instagram at #Orchidsandsweettea so that we can share the love, rate, comment below, + share!
Add all ingredients to large bowl and mix everything together using one or both hands to ensure that all ingredients are well combined.

Immediately, add mixture in bowl to the refrigerator (covered) and chill for 30 minutes.

Once chilled, scoop 1 ½ Tbsps of mixture and using both hands—roll into a small ball. Repeat until all mixture is made. **NOTE: Be sure to add energy bites to a baking sheet lined with parchment paper to ensure that they remain perfectly shaped.**

Now, refrigerate rolled bites again for 5 minutes or so!

Remove from refrigerator and enjoy!

Bon Appetit!
STORAGE: Can be kept refrigerated (covered) for up 2 weeks.
SWEETENER: If you choose to opt out of maple syrup, you can always substitute with Agave, date syrup, or vegan 'Honee' as well.
NUT BUTTER:Instead of using almond butter, you can also substitute with Peanut Butter, Sunflower Seed Butter, Tahini, Soynut Butter, Pecan Butter, Hazelnut Butter, or Granola Butter.
TOASTED PECANS: Add chopped pecans to a baking sheet and toasting them in the oven (400 degrees Fahrenheit) for 5-10 minutes, tossing them halfway to avoid browning on one side.
Calories:
161
kcal
|
Carbohydrates:
21
g
|
Protein:
4
g
|
Fat:
7
g
|
Saturated Fat:
1
g
|
Polyunsaturated Fat:
2
g
|
Monounsaturated Fat:
4
g
|
Trans Fat:
0.001
g
|
Cholesterol:
1
mg
|
Sodium:
6
mg
|
Potassium:
191
mg
|
Fiber:
3
g
|
Sugar:
11
g
|
Vitamin A:
3
IU
|
Vitamin C:
0.1
mg
|
Calcium:
66
mg
|
Iron:
1
mg