Today's recipe is an ode to decadence. Fluffy, tropical-spiced Easy Coconut Cupcakes topped with sweet homemade caramel buttercream and (because why not) more caramel sauce on top. This is a sophisticated dessert recipe for the coconut lover in your life.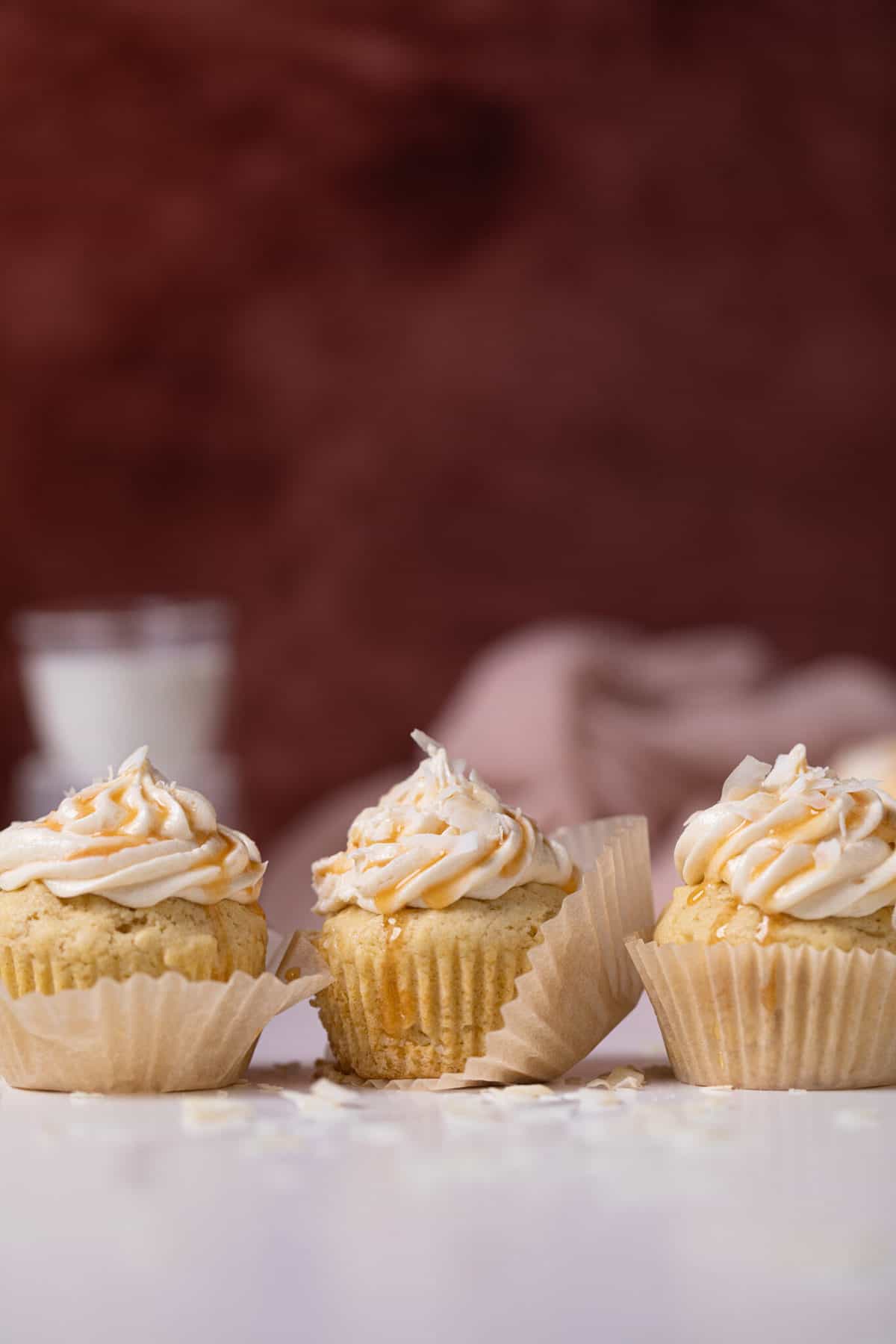 While coconut isn't my favorite flavor, it happens o be one of my husband's all-time faves. He can eat coconut chips right out of the bag So I decided it was time to put his favorite nut to use in a sweet treat that I knew he'd love. So, these Easy Coconut Cupcakes with Caramel Buttercream are paying homage to all of the coconut lovers out there!
And to make it one I love too, I had to add plenty of sweet caramel into the mix! The result is a best-of-both-worlds recipe for the moistest coconut cupcakes with caramel buttercream frosting.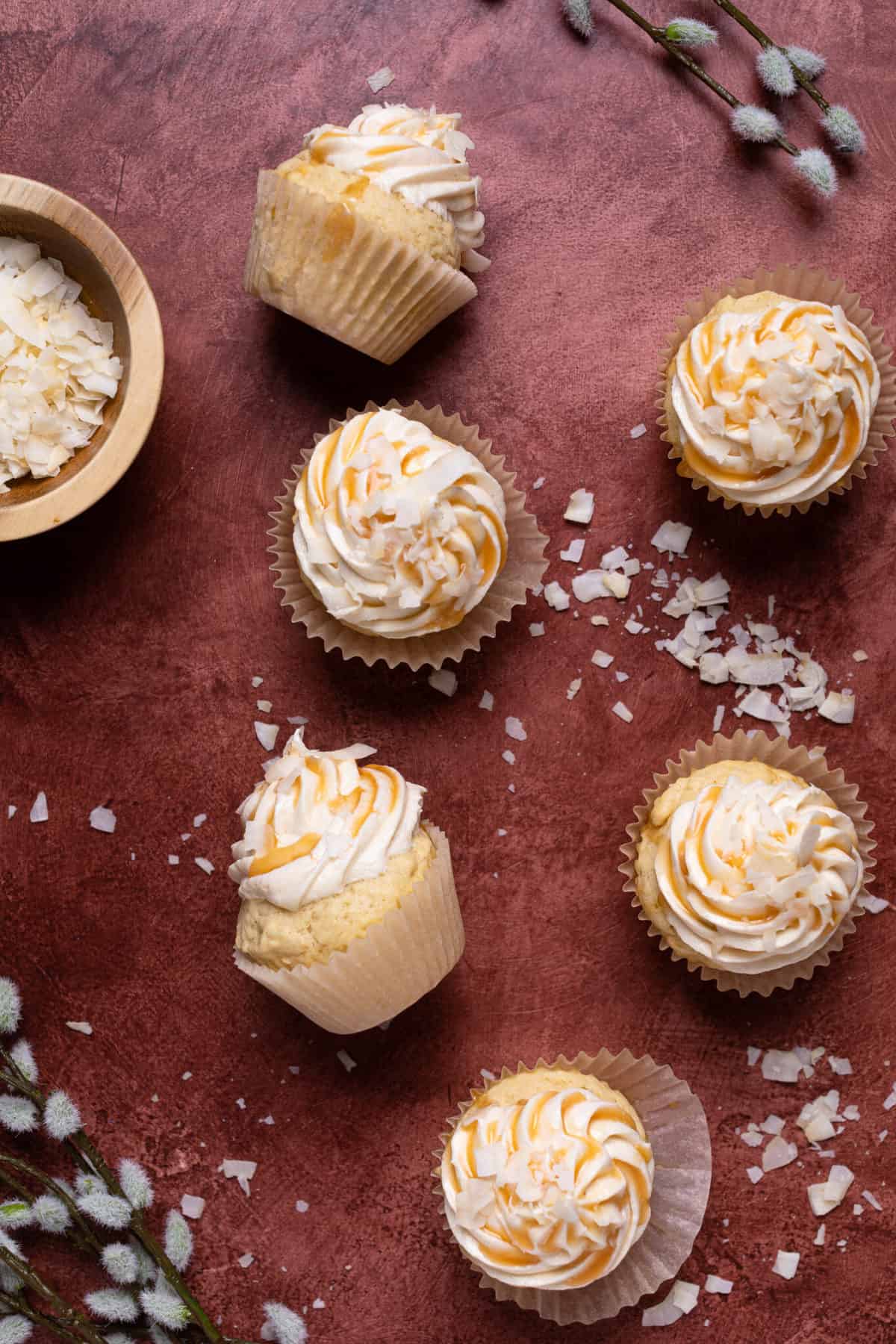 How to Make Coconut Cupcakes
Are you ready for an easy but over-the-top good cupcake recipe? These coconut cupcakes check all of those boxes, and more.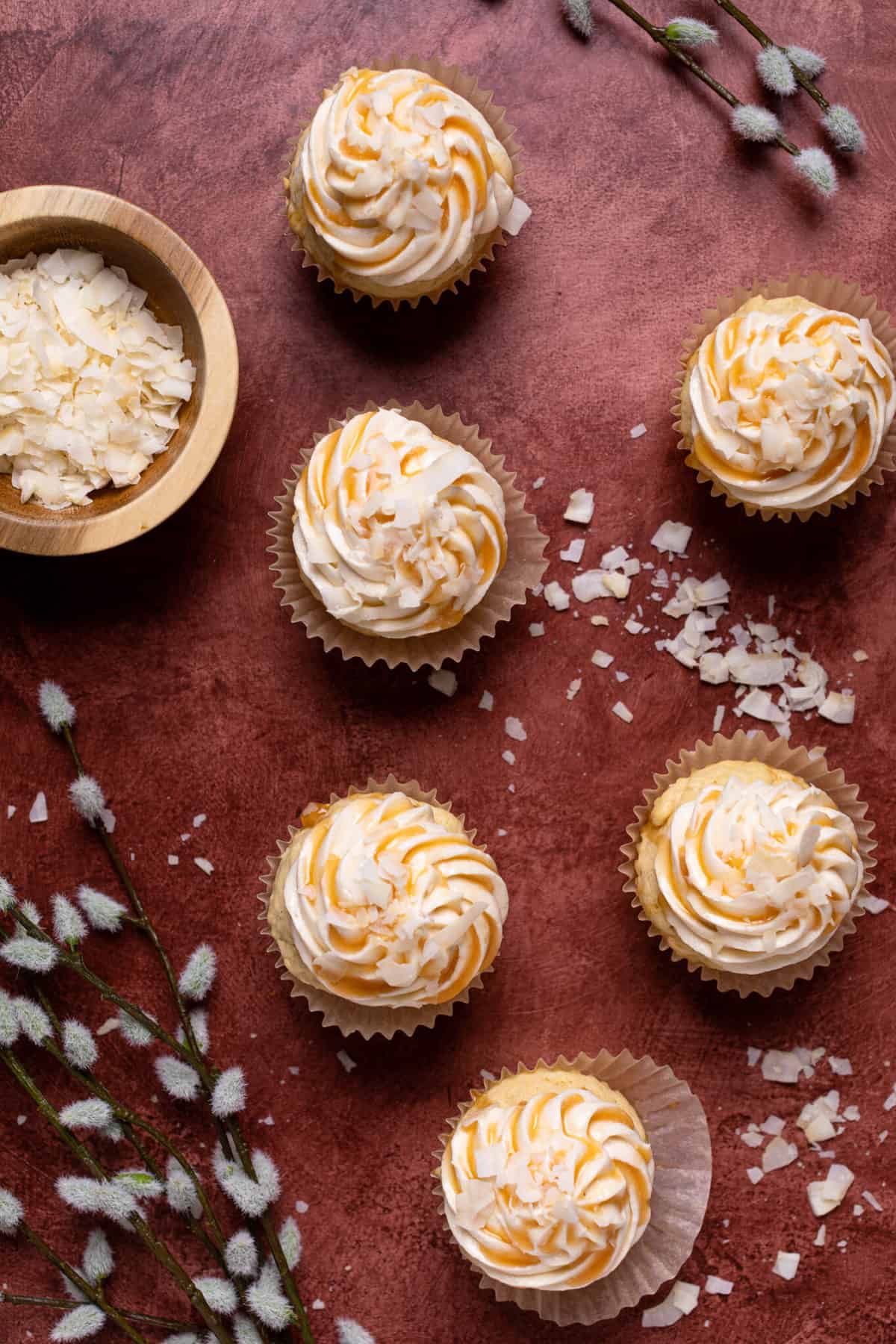 Ingredients
Here's what you need to make them: 
All-purpose flour. I recommend organic flour, like Bob's Red Mill.
Baking powder. This helps the cupcakes rise in the oven. 
Cane sugar. I also like organic sugar in my baking recipes. 
Unsalted butter. Let the butter soften to room temperature before you start mixing it into the cupcake batter.
Eggs. Likewise, the eggs should be a t room temperature so they easily mix into the batter, rather than curdle.
Coconut extract. Look for this in the baking department, it adds fresh tropical flavor to the cupcakes. 
Almond milk. Feel free to use any plant-based, ore even dairy milk. 
Lemon juice. Use freshly-squeezed for the best flavor. This bit of acid helps the baking powder activate in the cupcake batter. 
Coconut flakes. Choose the very finely-shredded coconut so it mixes into the batter easily.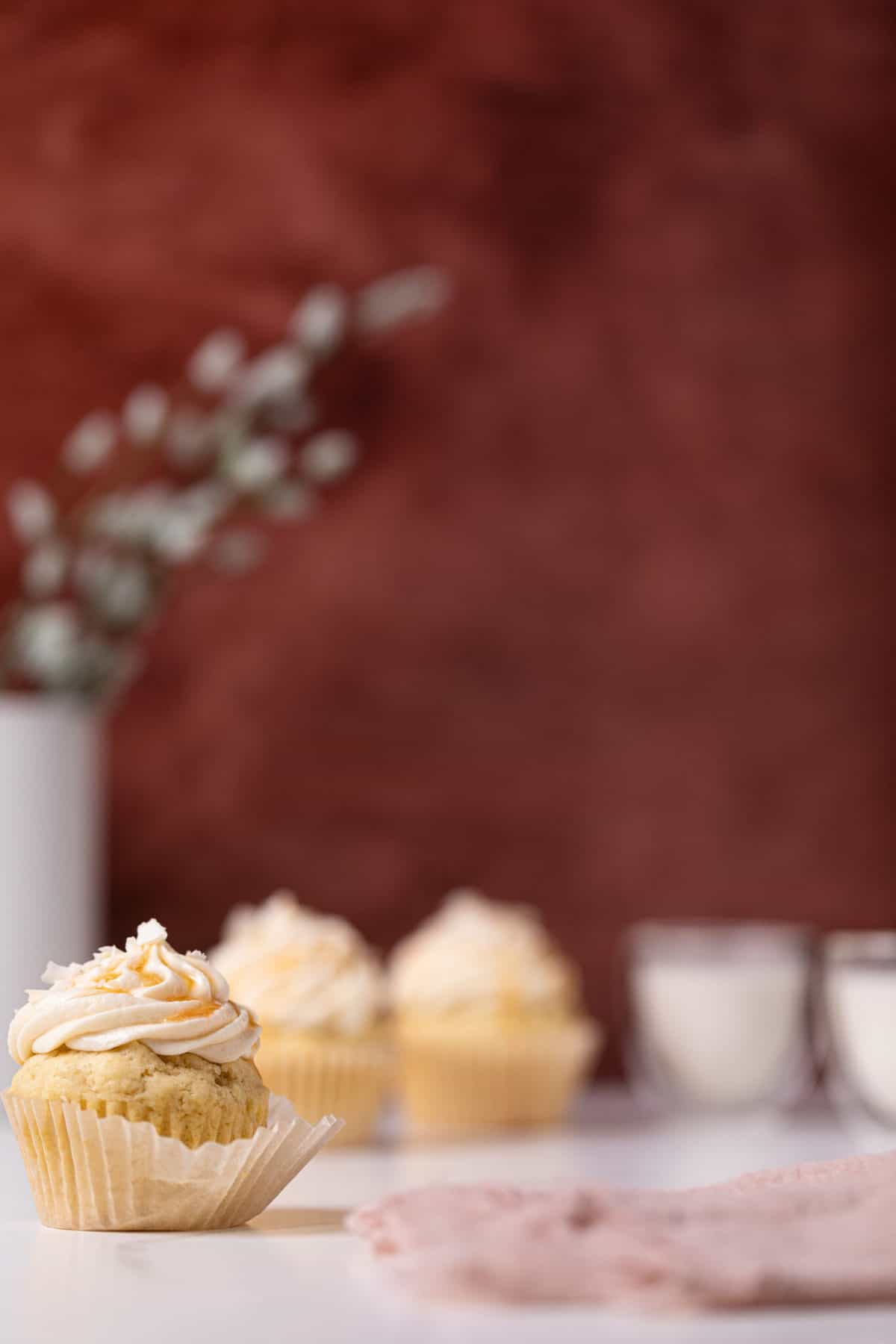 Tips for Making Perfect Cupcakes
This recipe is quick and easy. Simply combine the dry ingredients in one bowl, and the wet ingredients in a mother. Add the two together, and your batter is ready for portioning and baking!
Here are a few tips to keep in mind when you're making coconut (or any flavor) cupcakes at home:
Avoid over-mixing the batter after you combine the wet and dry ingredients. This can cause your cupcakes to become dense and chewy, as it over activates the natural gluten protein in the flour. 
Let the eggs and butter come to room temperature so they smoothly work into the batter. 
Always let your cupcakes cool completely before frosting! Otherwise, that buttercream will slide right off into a messy pool of caramel goo. 
This recipe makes 12 cupcakes, but you can easily scale it up or down to make a double or half batch. 
When frosting cupcakes, I like to use a pastry bag with a star tip to get those beautiful swirls of frosting. However, if you don't have a pastry bag, you can make just as elegant cupcakes with an offset spatula or even a butter knife!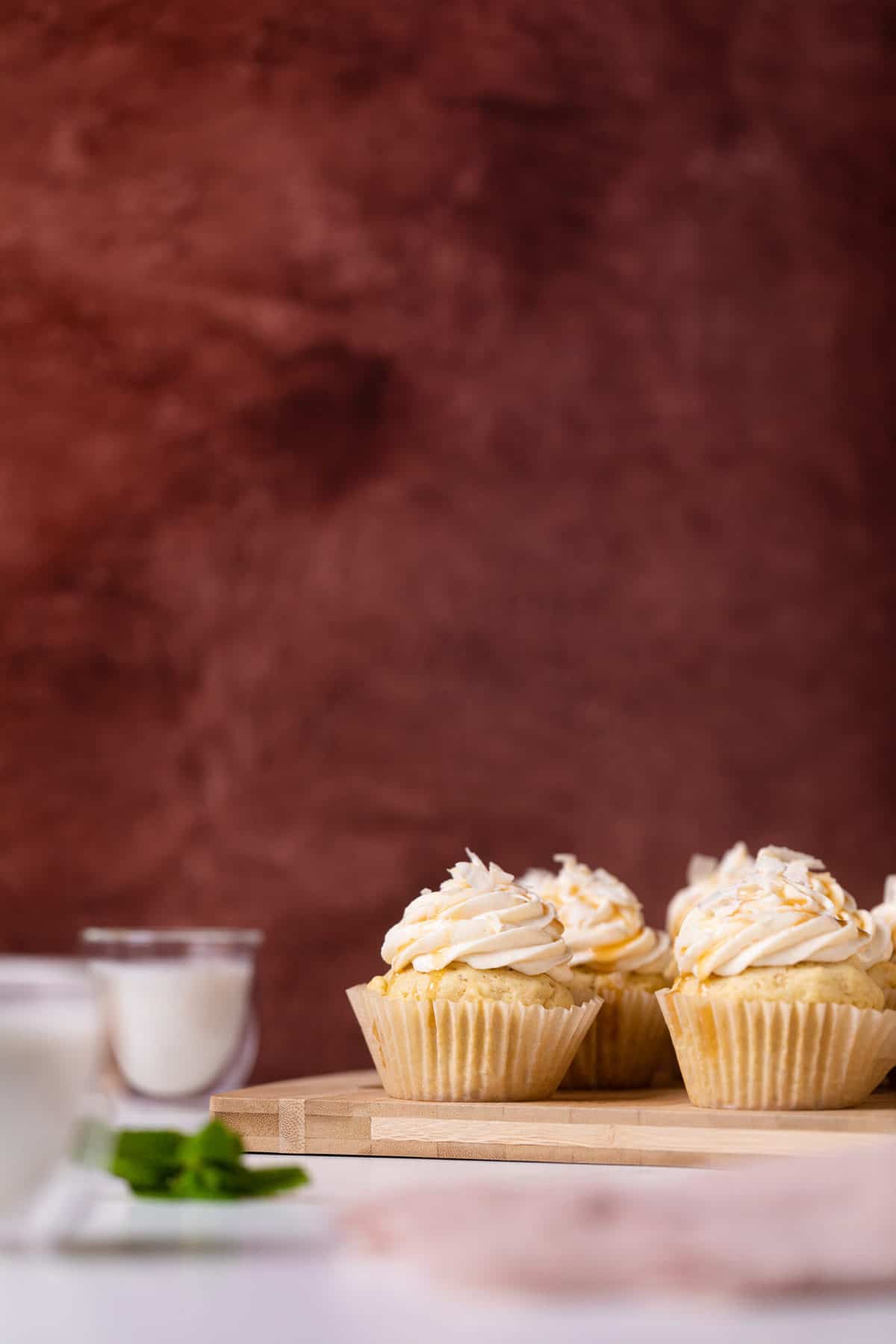 Making Caramel Buttercream Frosting
While your cupcakes cool, it's time to whip up my favorite part of this recipe: the creamy and sweet caramel buttercream!
Here's what you'll need to make this frosting recipe:
Powdered sugar. This is superfine or confectioners sugar. Its powdery texture is better for blending into a fluffy frosting like buttercream.
Unsalted butter. Again, the butter must be softened to room temperature to make a smooth frosting. 
Vanilla. Choose pure vanilla extract for the best flavor. 
Caramel sauce. You can easily make your own (see here for a recipe!) or use store-bought caramel sauce for the frosting. 
Almond milk. Again, feel free to use a different kind of milk in place of almond.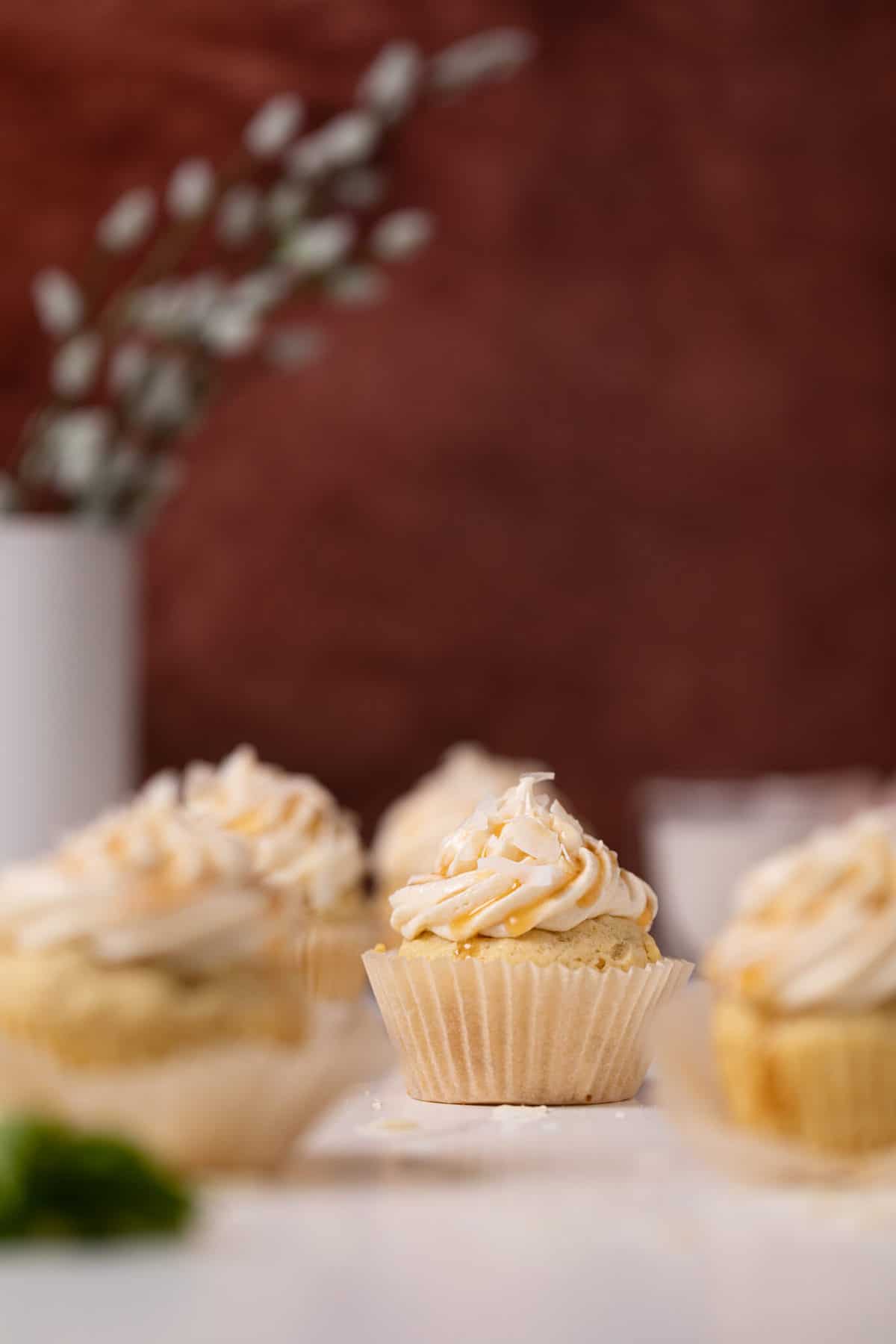 Is Homemade Caramel Sauce Hard To Make?
Nope. Honestly, caramel sauce is super easy and requires minimal ingredients. The only thing that you should keep in mind is that it requires you to be careful with each step so that it turns out exactly as it should. Patience and timing are key.
All you'll need to make caramel sauce yourself is:
Brown sugar
Unsalted butter
Heavy whipping cream
Sea salt (just a pinch)
Once you try making your own caramel sauce, you'll love it! Then you can store it in the fridge and dress up everything from ice cream to cheesecake to brownies with a drizzle of sticky-sweet caramel. 
Leftover caramel sauce can be stored in a tightly sealed mason jar for up to two weeks. When ready to use, simply reheat the sauce in the microwave at 15-second intervals until softened and pourable.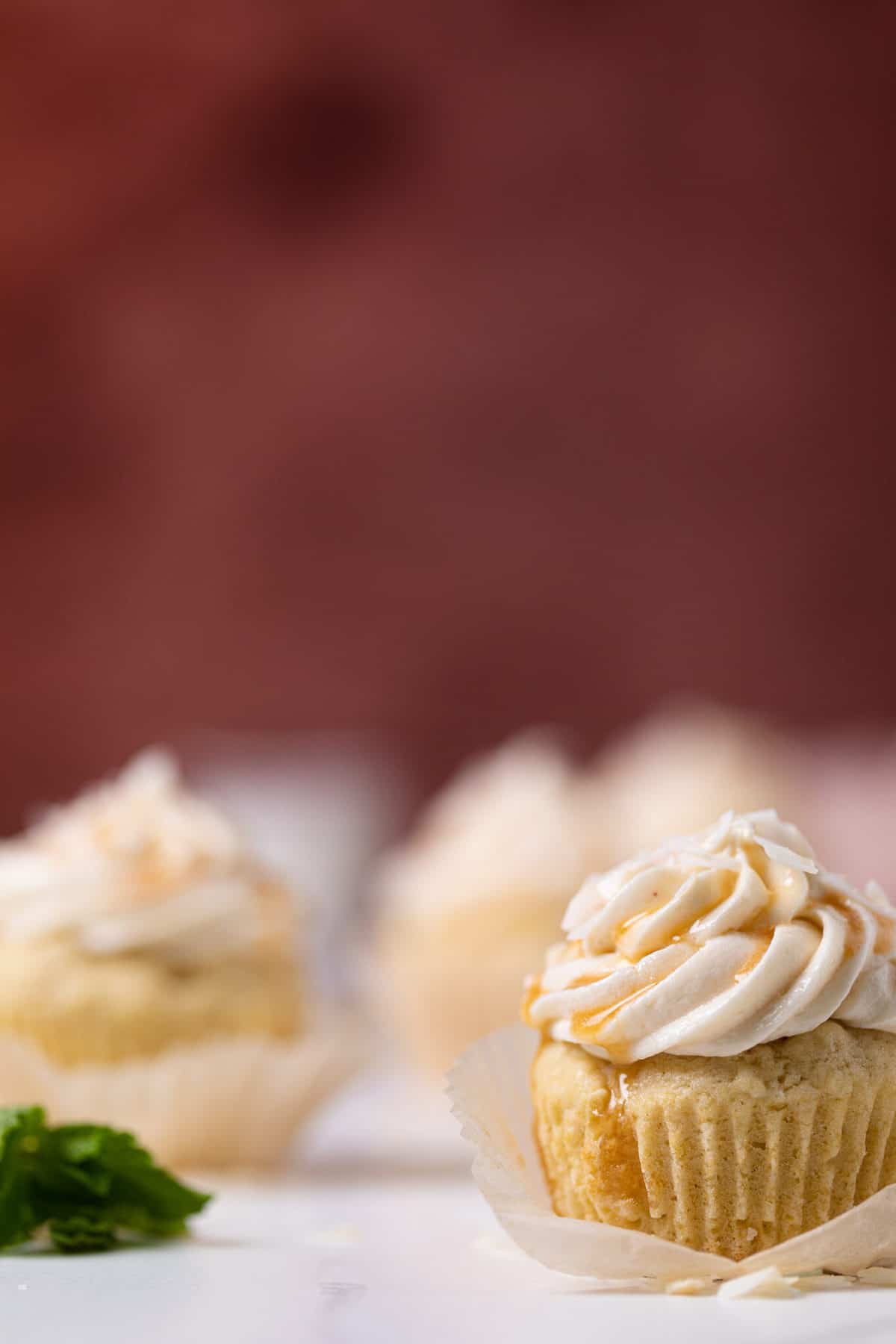 Can I Make Vegan Coconut Cupcakes?
Yes! If you're skipping animal products like the dairy and eggs in this recipe, there are a few simple swaps to make vegan cupcakes that are every bit as delicious:
Substitute the unsalted butter with softened vegan butter and omit the eggs. 
For vegan buttercream frosting:
Use ½ cup softened vegan butter. 
Be sure to check that your caramel sauce is vegan too! Date caramel,  for example, is a great dairy-free option.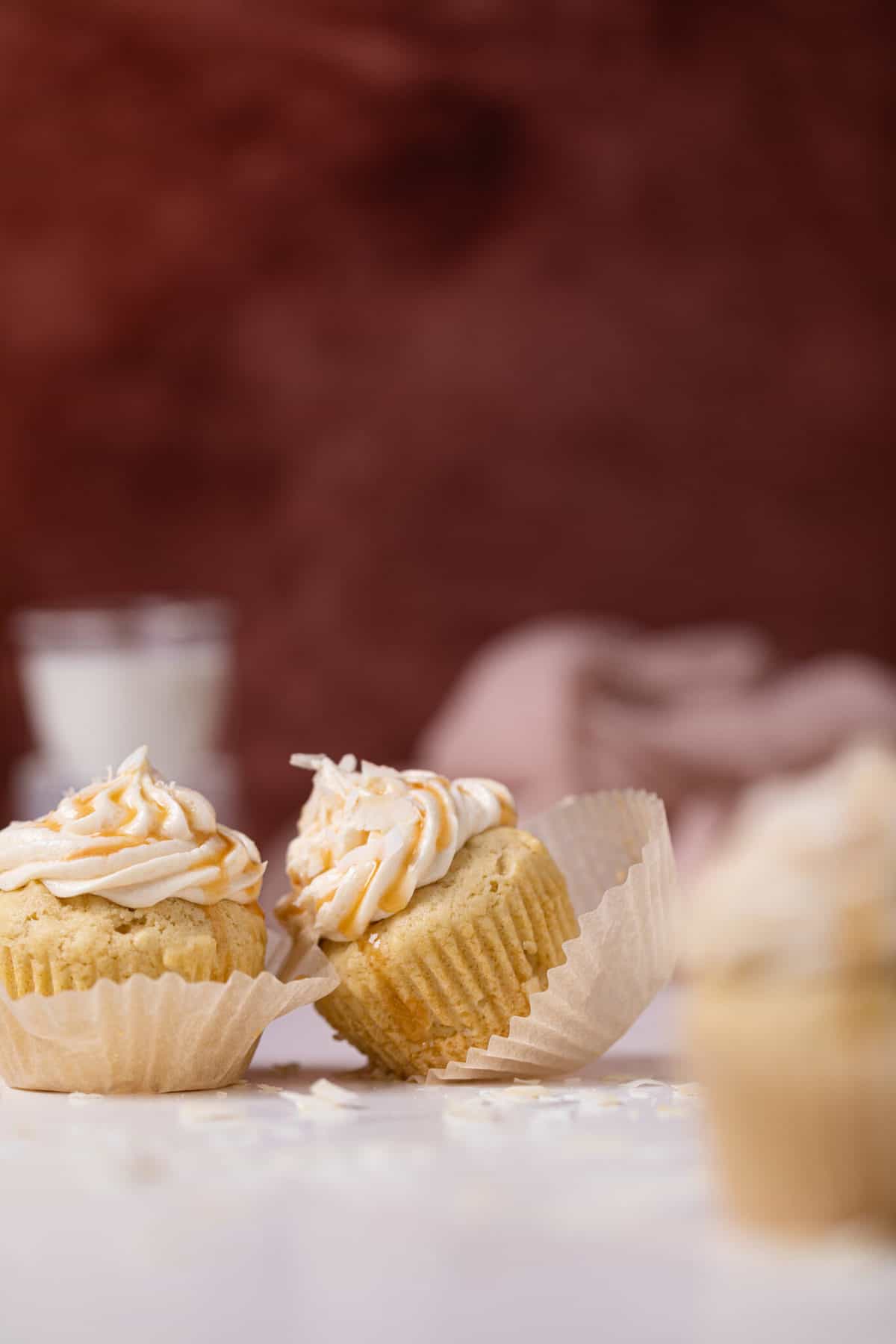 Storing Cupcakes
If you're planning a party or a birthday surprise, you can make these coconut cupcakes with caramel frosting ahead of time. 
Wrap the fully cooled cupcakes and store them in the fridge for up to two days. The frosting can be stored in an airtight container in the fridge as well. 
Before serving, let the cupcakes and frosting sit at room temperature for at least 30 minutes to warm up a bit. Then frost just before serving for the freshest presentation. 
More Caramel-Swirled Treats
Do you love caramel as much as I do? You need to try these recipes next:
This Caramel Apple Spice Cheesecake is the perfect Fall-inspired dessert with every bite. This cheesecake comes completely based with a thick tasty Pecans + Graham Cracker crust, a velvety delicious caramel cheesecake filling and a scrumptious caramelized apple spice glaze on top. Perfect for any day, family gathering, or any special occasion.
These Mini Salted Caramel Apple 'Pie' Galettes are absolutely decadent and bursting with the perfectly coveted salted caramel + apple flavor. Wrapped in a buttery, flaky crust and slight crunch from the brown sugar crumble; these galettes make for a great sweet treat or holiday dessert, not to mention the beauty from their open faces. These are the perfect hand-held pies without a doubt!
These Mini Salted Caramel Apple Streusel Cheesecake Bites are the epitome of the best dessert treat ever! Not only are these little bites the perfect size, but they come packed with flavor that will leave you reminiscing on a nice slice of apple pie with a crunchy, sweet streusel topping. Let's not forget the light homemade salted caramel drizzle that adds an even sweeter + salty taste to these cheesecake bites.
MADE OUR RECIPE(S)?
If you choose to make these Easy Caramel Coconut Cupcakes or any other recipe from us, be sure to tag us on Instagram at #Orchidsandsweettea so that we can share the love!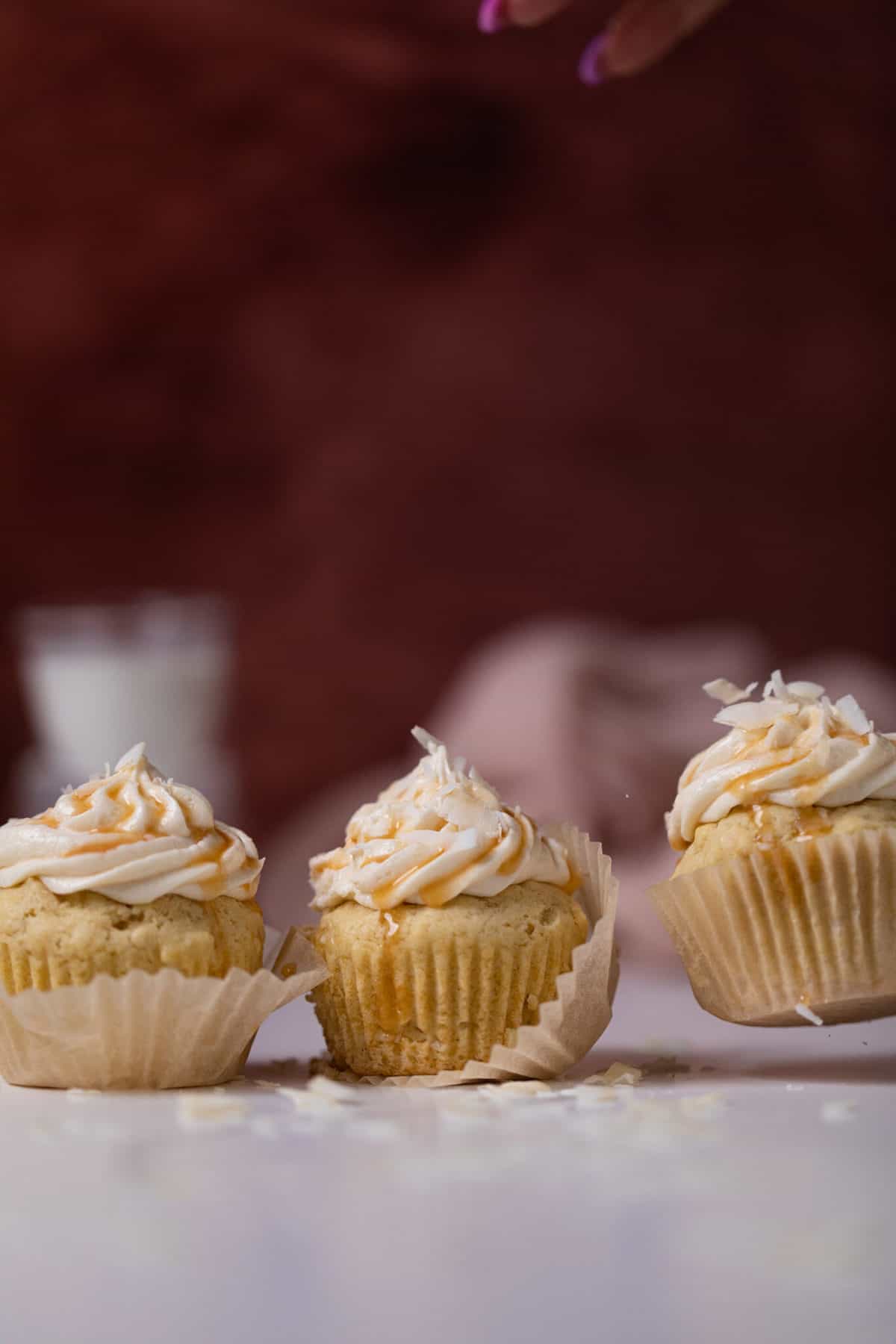 Coconut Cupcakes:
½

cup

organic all-purpose flour

1 ½

teaspoon

baking powder

¾

cup

organic cane sugar 

¼

teaspoon

sea salt

6

Tbsps

unsalted butter, softened at room temp.

2

large

eggs, room temp. 

1

teaspoon

coconut extract

½

cup

almond milk

(You can use your fave plant-based milk)

½

teaspoon

freshly-squeezed lemon juice

½

cup

shredded coconut flakes
Caramel Buttercream:
4-5

cups

organic powdered sugar, sifted

½

cup

unsalted butter, softened at room temp.

1

teaspoon

vanilla extract

4-5

Tbsps

caramel sauce, store-bought or homemade

(See Notes!)

pinch of

sea salt

1

tablespoon

almond milk
Preheat your oven to 400 degrees Fahrenheit and prep your cupcake pan with liners + spray.

In a large bowl, whisk together the flour, baking powder, and sea salt. Set aside.

In the bowl of an electric mixer (using a paddle handle attachment), beat together the butter and sugar on medium-high speed for about 1-2 minutes, until light and fluffy. Scrape down the sides as needed using a rubber spatula.

Add the eggs, milk, and coconut extract, reducing the speed a little at this point.

Now, reduce the speed to low and slowly add in the dry ingredients and mix until incorporated. NO OVER-MIXING!

Finally, fold in the shredded coconut flakes until well combined.

Scoop the batter into each cupcake liner (¾ full) and bake at 400 degrees Fahrenheit for the FIRST 5 minutes. Then reduce temperature to 350 degrees Fahrenheit and continue baking for another 14-17 minutes or until a toothpick comes out clean in the center.

Once done, turn off oven and keep cupcakes inside with the oven door slightly open for about 2 minutes before taking them out.

Remove from oven and Let them cool COMPLETELY before frosting.

Meanwhile, make the caramel buttercream.
For Caramel Buttercream:
In the bowl of an electric mixer, beat the butter on medium-high speed until fluffy and pale. 

Reduce the speed to low and add half the amount of powered sugar and mix until incorporated. Add the vanilla followed by caramel sauce, continuing to beat until it begins to look crumbly and somewhat smooth, about 1-2 minutes.

Now, add in the remaining half of the powdered sugar and continue to mix until fully incorporated and frosting is smooth, another 1-2 minutes. **NOTE: If buttercream is too 'runny', add additional powdered sugar (1 Tbsps at a time); if too thick, add additional milk or heavy cream (1 tablespoon at a time).**

Add buttercream to a piping bag and pipe onto cooled cupcakes and drizzle with caramel sauce and sprinkle with coconut flakes.

Bon Appetit!
STORAGE: Best kept if stored in an air-tight container in the refrigerator for up to 7 days (unfrosted) and 3-4 days when frosted. Also, can be frozen for up to 6 months when unfrosted and thawed.
MAKE AHEAD:You can always bake these cupcakes the night or day before and let them cool, tightly wrap, and refrigerate until ready to use. The buttercream frosting can also be made prior and tightly wrapped and stored in the fridge as well. When ready to serve, let cake sit at room temperature for 30 minutes to an hour, frost, and enjoy!
VEGAN CUPCAKES: To make these vanilla cupcakes vegan, simply omit eggs and use 1 teaspoon of apple cider vinegar along with the milk to create a "buttermilk'.  Also, substitute unsalted butter with vegan butter (partially melted).
VEGAN BUTTERCREAM: To make this buttercream vegan, simply use ½ cup vegan butter (softened at room temp.) instead of unsalted butter. Also, ensure that caramel sauce is vegan-friendly. Follow remaining steps.
OIL: Instead of butter, you can also use Vegetable oil or Coconut oil, if preferred.
HOMEMADE CARAMEL SAUCE: To make your caramel sauce from scratch, check out this recipe!
STORAGE (CARAMEL SAUCE): Leftover caramel sauce can be stored in a tightly sealed mason jar for up to two weeks. When ready to use, simply reheat sauce in the microwave at 15 second intervals until softened and at room temp.
Calories:
232
kcal
|
Carbohydrates:
63
g
|
Protein:
2
g
|
Fat:
17
g
|
Saturated Fat:
11
g
|
Polyunsaturated Fat:
1
g
|
Monounsaturated Fat:
4
g
|
Trans Fat:
1
g
|
Cholesterol:
66
mg
|
Sodium:
154
mg
|
Potassium:
50
mg
|
Fiber:
1
g
|
Sugar:
17
g
|
Vitamin A:
462
IU
|
Vitamin C:
0.2
mg
|
Calcium:
57
mg
|
Iron:
1
mg