When it comes to this Vegan Sweet Potato Pie, it is smooth, velvety, naturally sweetened, full of sweet potato flavor and is housed with a buttery, flaky crust. This recipe is sure to please the crowd during the Holiday season, one slice and bite at a time. Made in just ONE bowl, super easy to make, gluten-free option available.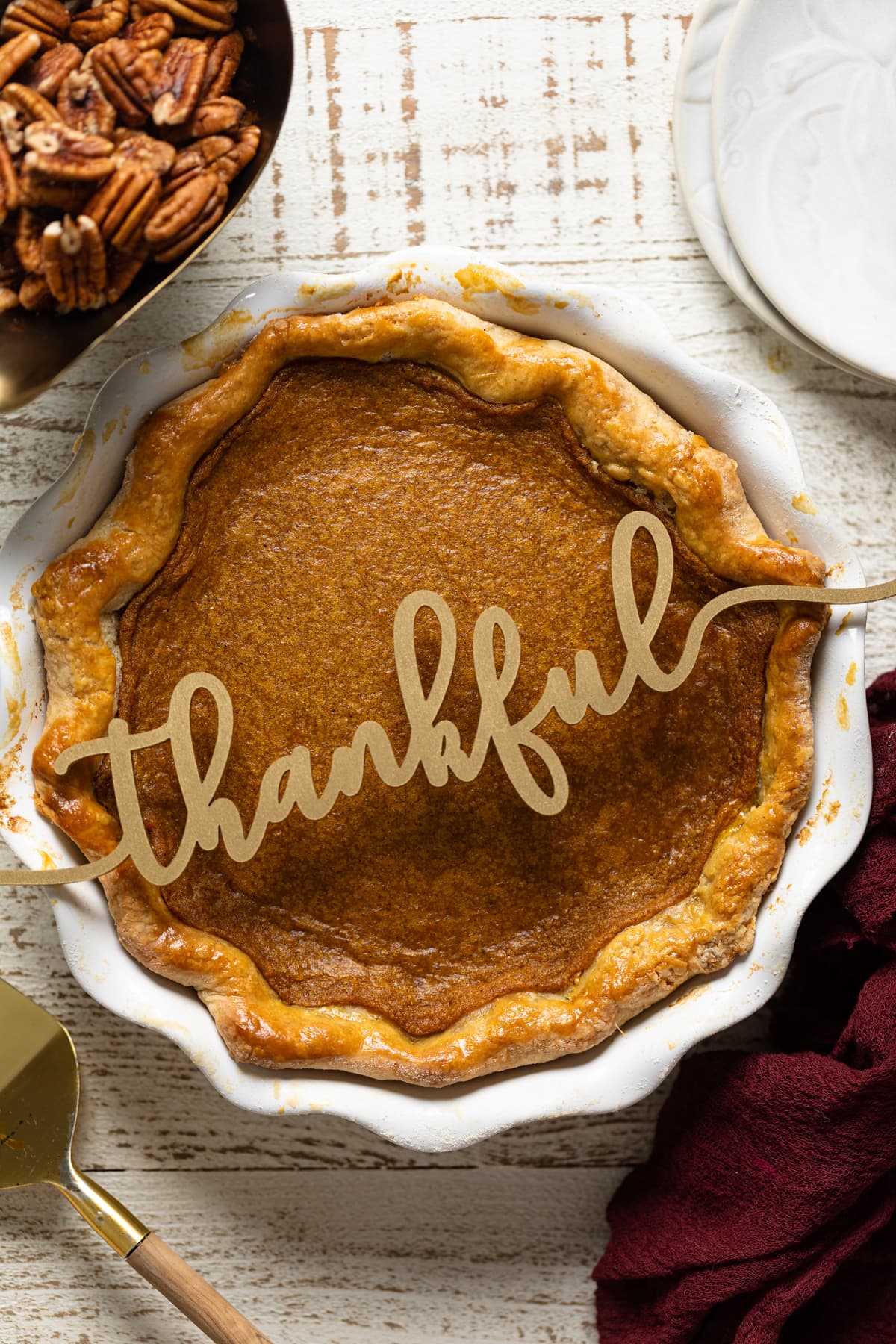 Thanksgiving is all about good food while being surrounded by great people and feeling Thankful for everything that you have. Personally, I've been so thankful for so much this year, despite the challenges and great hardships that I've faced over the years leading up to now.
Yes—it took some work (I'm a huge believer in therapy) to arrive at this destination when it comes to my way of thinking, but it still holds very true and God is still very real. I hope that you can find some peace and gratitude in your life as well.
Recently, I got the most amazing opportunity to join The Kitchn team through partnership in my rendition of a plant-based Thanksgiving via their Thanksgiving Food Fest 2021 and it was such an awesome experience. if you did get a chance to catch my segment—thanks so much for the support and love shown that night.
Whether you are a full-time vegan eater or plant-based eater or you're just looking for a few healthy dishes to mix things up a bit, I wanted to bring you recipes that offer a load of flavor, but were really great plant-based options.
Of course, you can always 'search' my site for great vegan options as well. I definitely recommend trying my Vegan Pumpkin Pie and Vegan Maple Pumpkin Pie to start!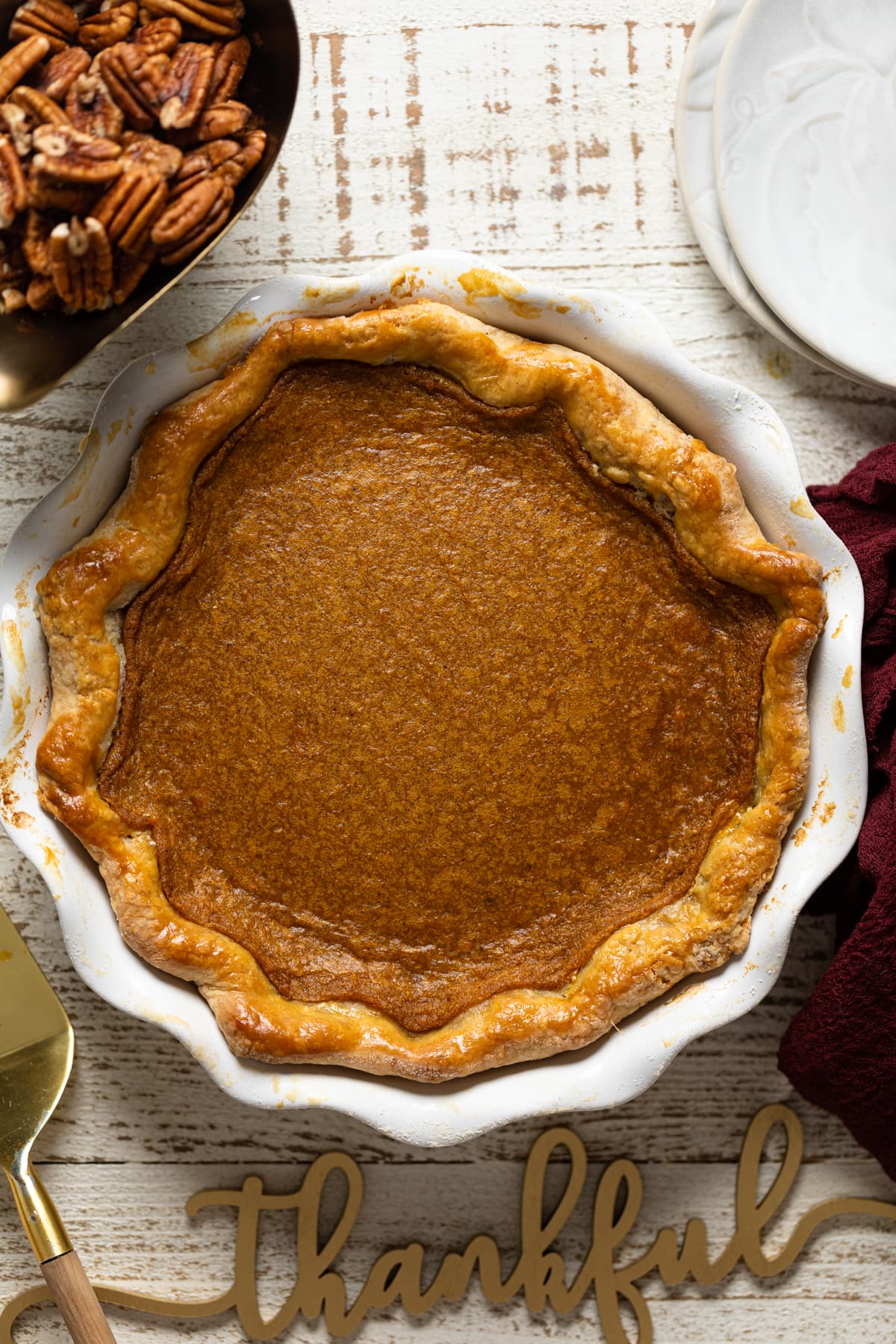 How to Make Vegan Sweet Potato Pie
This recipe took a few tries to get just right because honestly—-anything with a custard is really hard to perfect when using vegan ingredients—-at least that's my opinion. I wanted to make sure the pie tasted as delicious as a great Fall-spice drink with the firm and creamy texture you expect from a custard-filled pie.
More Holiday Pie Recipes
This is the all-time best Vegan Pumpkin Pie, with an orange-infused, buttery, flaky crust and a fluffy pumpkin-spiced filling. Including a gluten-free option!
This Vegan Apple Cranberry Crumble Pie is the best version of pie you'll ever enjoy! Made from the best Fall flavor duo— cranberries + apples, this pie comes based with a delicious, flaky vegan crust (infused with hints of citrus) and topped with a crunchy brown sugar crumble that simply melts in your mouth with every bite.
This Maple Vegan Pumpkin Pie is not too sweet, full of warming spices, and topped with a crumbly pecan and walnut crust. This pie is a perfect holiday baking recipe for Thanksgiving!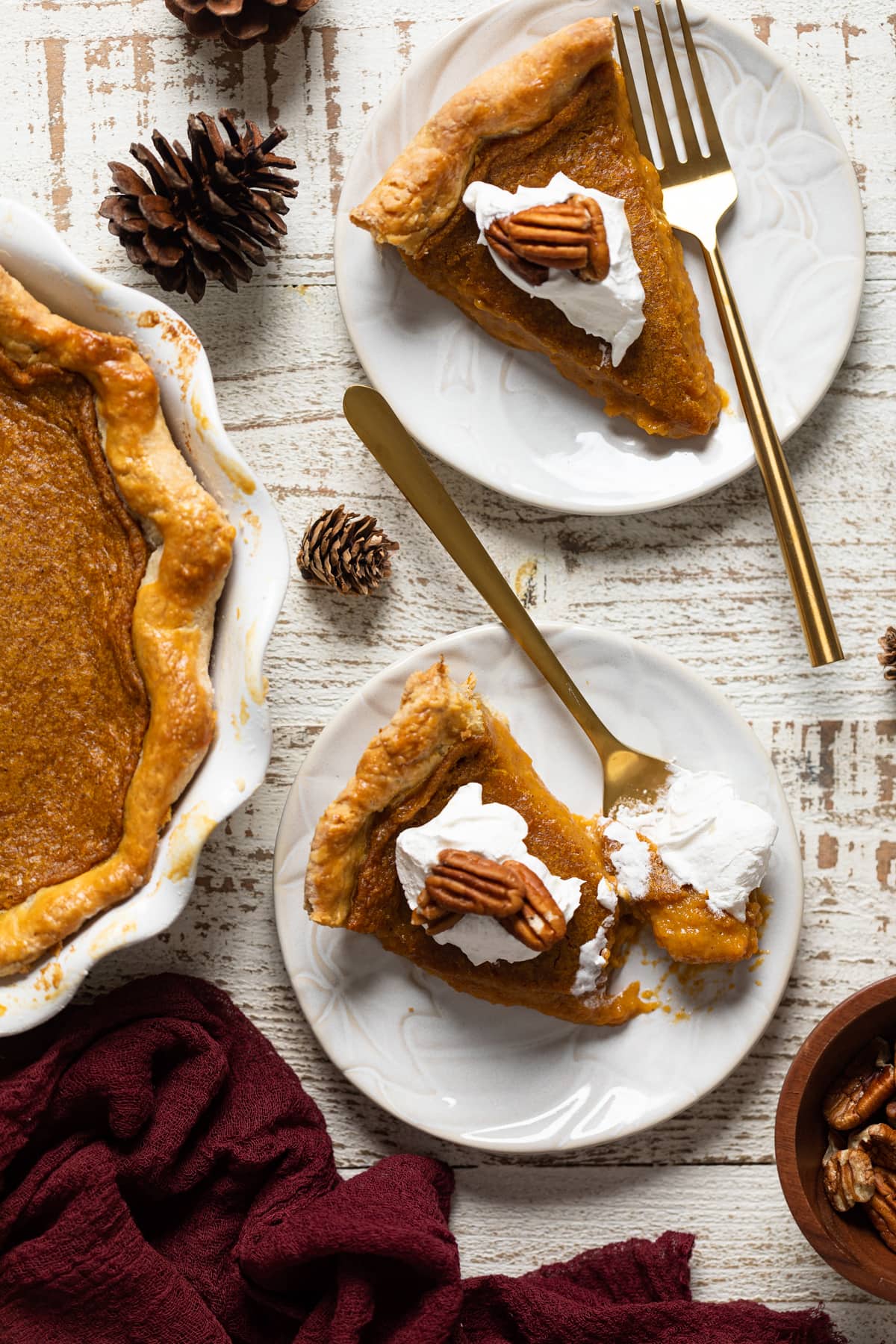 Vegan Pie Crust Ingredients
Here's what you need to make this impressive dairy-free pie crust:
All-purpose flour. I use organic flour from Bob's Red Mill.
Pastry flour. This gives a better flakier texture to your crust.
Cinnamon. For a hint of warmth.
Cane sugar. I use organic to make sure it's vegan.
Vegan butter. Make sure your butter is very cold! This is the key to flaky layers.
Almond milk. You can use water or other dairy-free milk if you like.
Apple cider vinegar. This adds a tangy buttermilk-like flavor without actual buttermilk.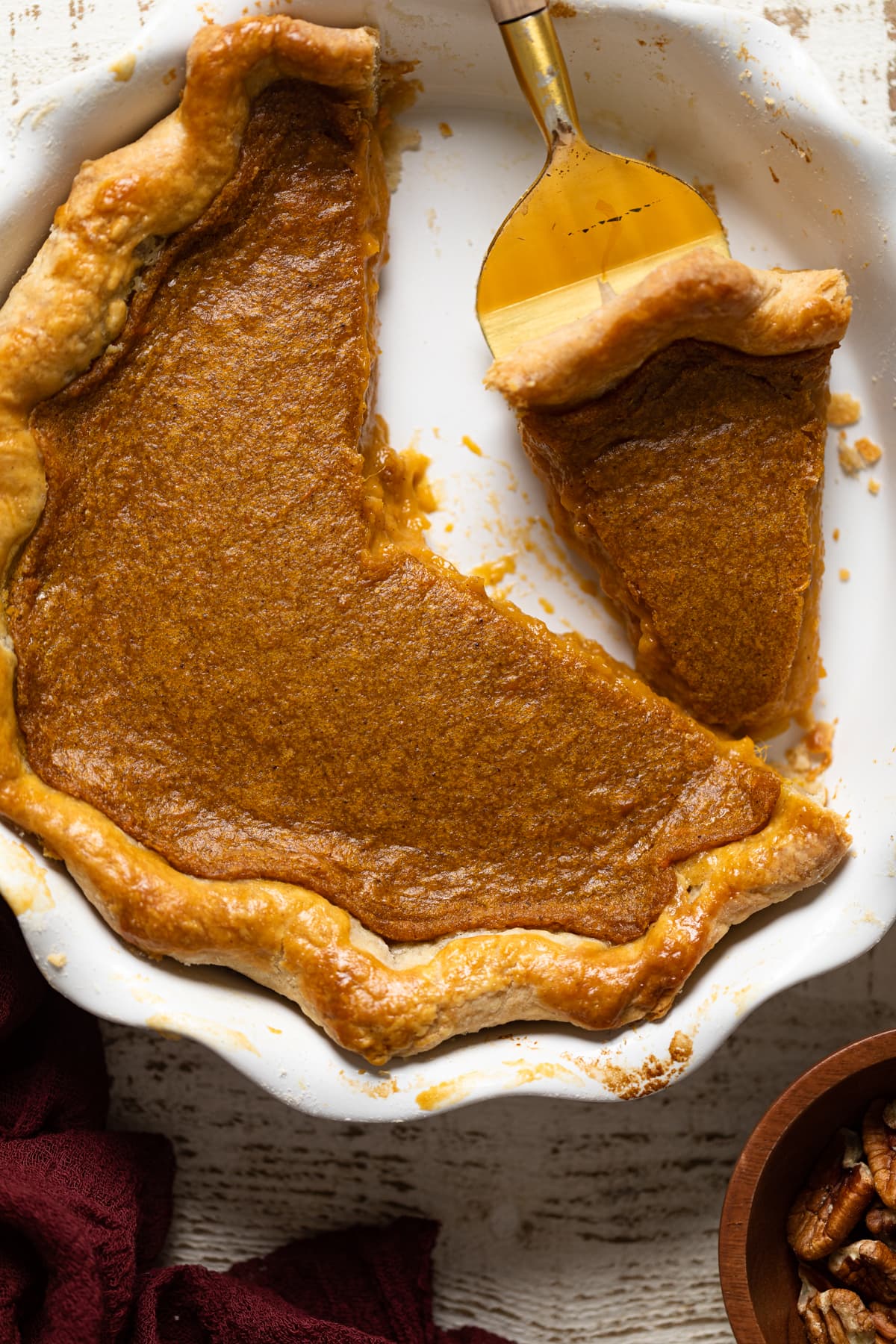 Besides the fact that sweet potatoes taste so good, they are also very healthy for you.
Did You Know: Sweet Potato Health Benefits
They actually contain more fiber than regular potatoes! Who knew? Plus, they are good sources of magnesium, which is what helps aid them in being a great facilitator in digestion.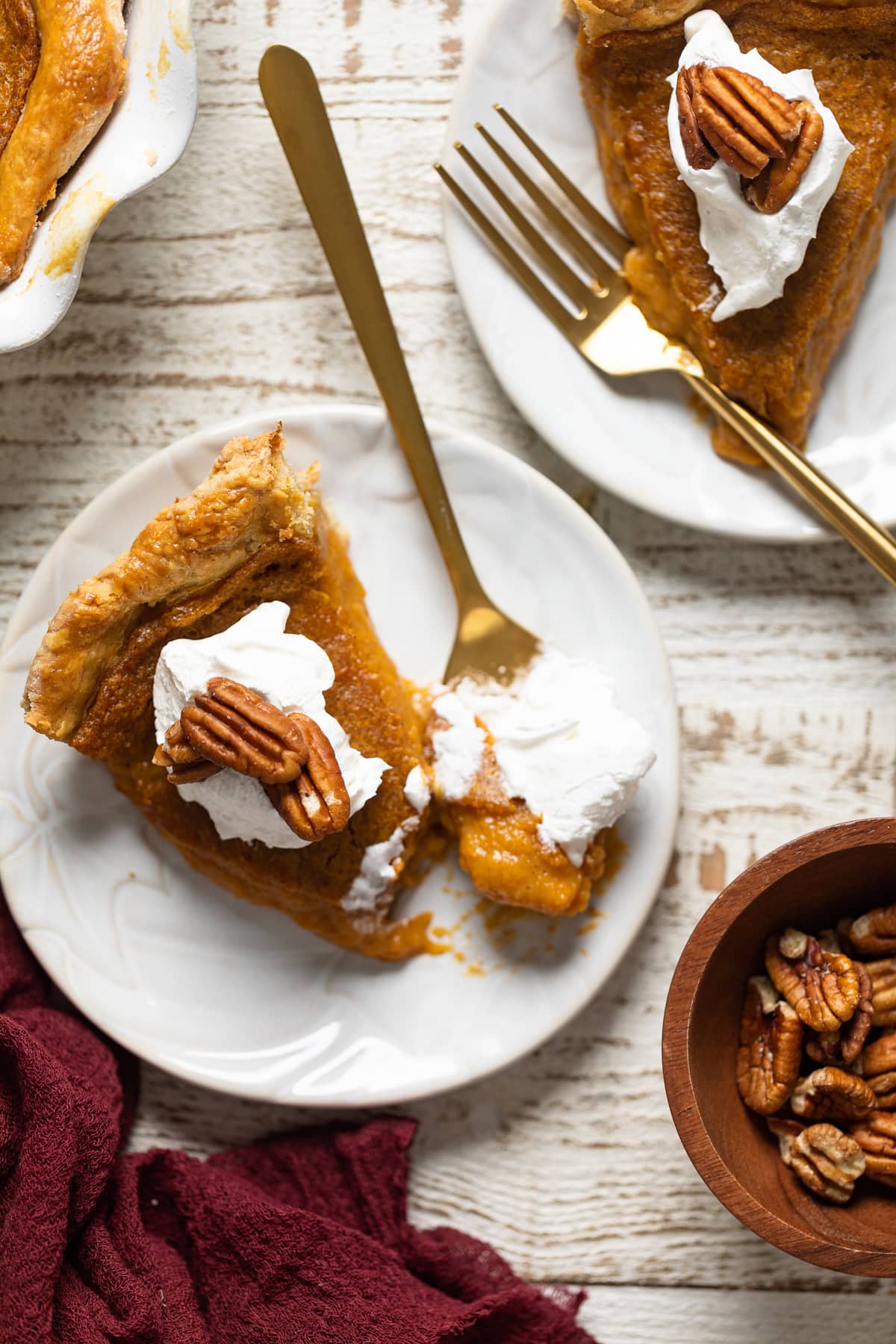 Since they are rich in beta-carotone (a major antioxidant), they are awesome at defending your body from a wide variety of issues. In addition, they contain other great antioxidants which include: Vitamin C and B-complex, iron, and phosphorous.
Yes, that's right! Sweet Potatoes are great at soothing the stomach and intestines. The previous listed vitamins that help to boost your immune system also are great at curing stomach ulcers. Plus, the roughage in sweet potatoes help to combat constipation and acid formation, which both help to reduce the chances of ulcers.
They help to treat inflammations, promote weight gain, treat bronchitis, reduce arthritis pain, and more.
Tips For Making the Flakiest Vegan Pie Crust
The butter is SUPER important. When it comes to the vegan buttery sticks, ensuring that they are COLD and of course from a great brand is key! For Vegan pastry crusts, I generally go for Earth's Best Buttery Sticks, which taste like real unsalted butter.
Adding Shortening works too! Although I tend to use buttery sticks alone, adding shortening or lard adds great wonders as well. All you need is half shortening and half butter.
Fridge time is an important time! Chilling your dough for an hour at a minimum is so imperative to a flaky crust. Even slightly longer makes for a great advantage.
Your flours matter, big time! While different brands of flour hydrate differently (causing a slightly different result), ensuring that you mix in all-purpose flour with pastry flour is also just as important. Believe it or not, pastry flour makes a difference and serves a greater purpose!
SLOWLY pour in water, don't dump it! Gently pouring in the water-ACV mixture is so imperative. I pour 1/4 cup at a time and work the dough with my hands to eyeball how wet or dry everything is.
The dough can be made in advance, too. If making your crust ahead, you can always store it in the refrigerator for up to 2 days. No longer!
Not too Thick or Thin. Ensuring that you roll out a good enough crust is of course a must. Most go by the rule of thumb being 1/8 of an inch thickness or even slightly thicker. This helps your crust to the perfect thickness to carry the weight of your filling without compromising flakiness.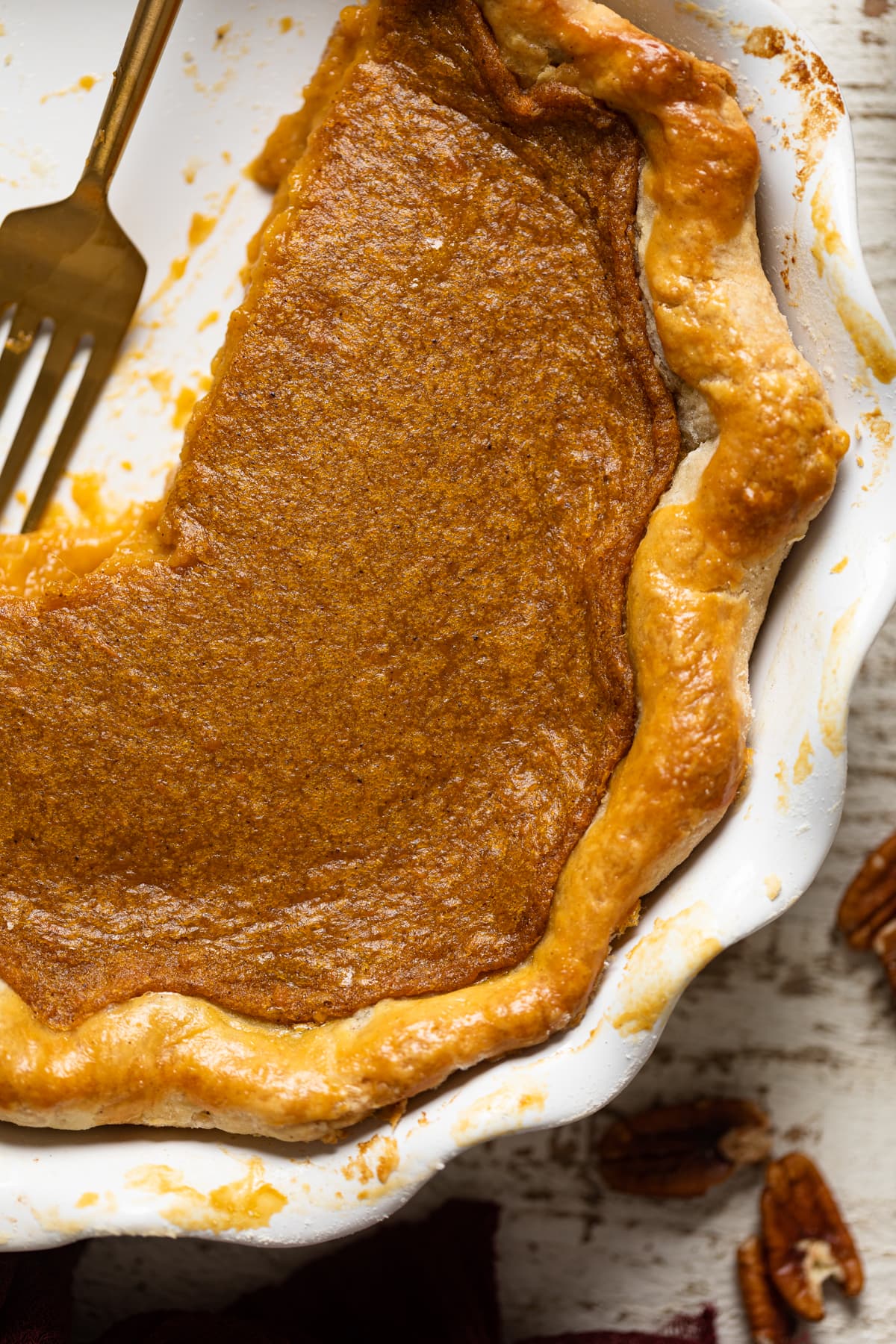 Make-Ahead Sweet Potato Pie
Yes, you can certainly make the pie ahead of time. In act, the sweet potato custard needs time to set up nicely. It's even better if you make the pie the day before. Simply wrap the pie in plastic wrap and keep it in the fridge. A few hours before you plan to serve the pie, place it on the counter and serve at room temperature.
Serving Suggestions
The classic way to serve this sweet potato pie is with a big dollop of whipped cream. To keep things dairy-free, use coconut whipped cream. For a great twist, you can also enjoy a nice scoop of your favorite dairy-free ice cream with toasted pecans as well as.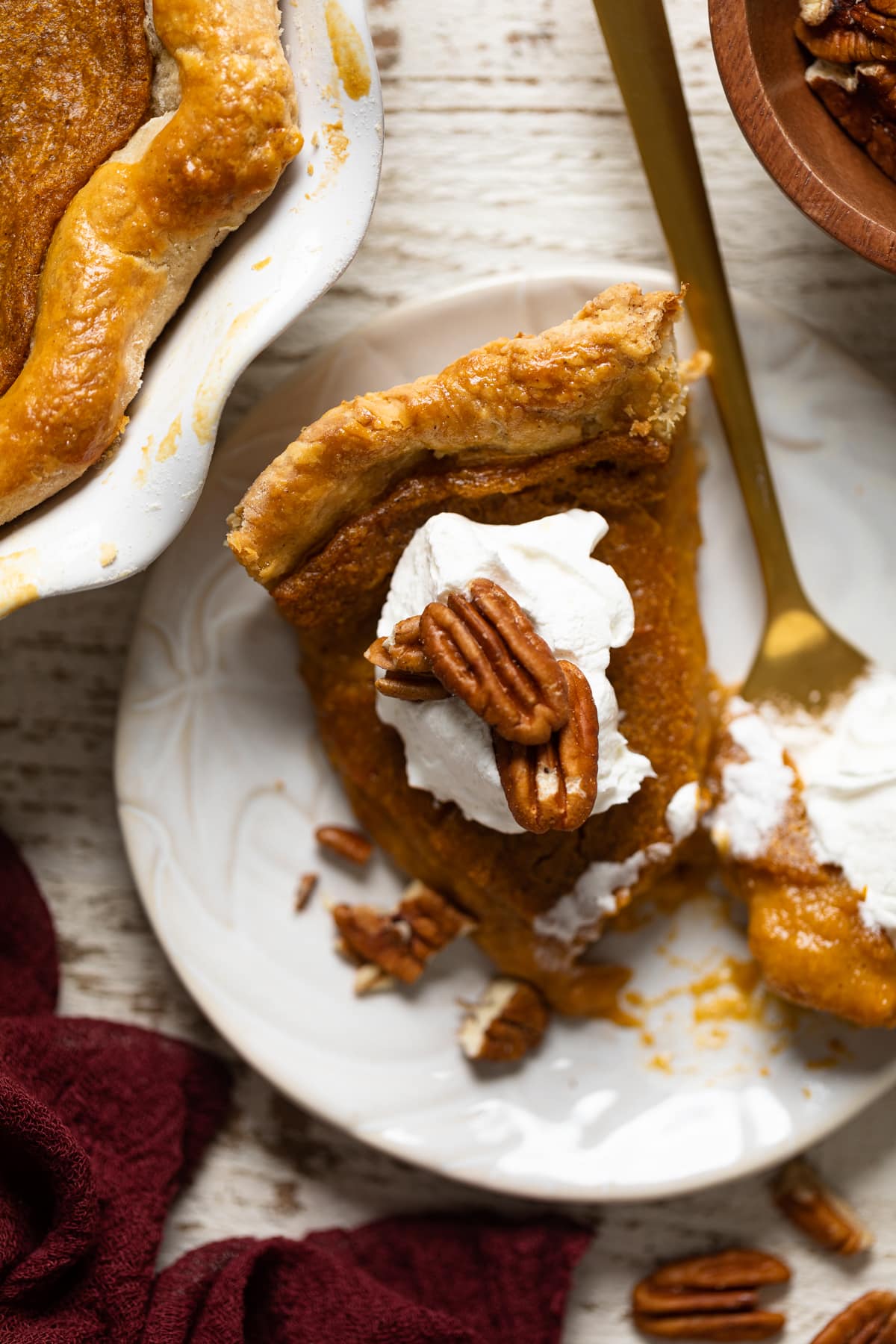 MADE OUR RECIPE(S)?
If you choose to make this Best Vegan Sweet Potato Pie or any other recipe from us, be sure to tag us on Instagram at #Orchidsandsweettea so that we can share the love, rate, comment below, + share!
CRUST:
1

cup

organic all-purpose flour

1/2

cup

organic pastry flour

2

Tbsps

organic cane sugar 

1/2

tsp

ground cinnamon

pinch of

sea salt

1/2

cup

vegan butter, COLD!

1/2

cup

Almond milk + 2 Tbsps, very cold 

(You can also use water, if preferred!)

1

tsp

apple cider vinegar
TO MAKE CRUST:
In a measuring cup, add the milk and apple cider vinegar, stir and set aside.

In a large bowl, add the all-purpose flour, pastry flour, sea salt, cinnamon, and organic pure cane sugar, whisking them all together.

Add the cubed vegan butter sticks (or regular vegan butter) and using a pastry blender, blend butter into dry ingredients until the mixture becomes "peas-like" and crumbly.

Pour the cold apple cider vinegar-milk mixture (slowly) and stir (working it together with one hand) until the dry ingredients are moistened. NOTE: If the ingredients feels a little too dry, add 1 Tbsp of milk at a time, until it's moistened BUT not too wet!

Once you're able to form it into a ball and wrap it in plastic wrap and refrigerate for 1 hour (minimum), up to 1 and a half hours or of course overnight.

In the meantime, make the Pie Filling.
WHIP TOGETHER THE FILLING:
In a medium saucepan on medium-high heat, add the mashed potatoes, brown sugar, and maple syrup, whisking until well combined and sugar has fully dissolved, about 2-3 minutes. Remove from heat and set aside and let cool.

In a large bowl, add the cooled sweet potato mixture along with: coconut cream/milk, vanilla extract, cinnamon, nutmeg, ginger, allspice, sea salt, and arrowroot starch mixture, whisking until combined and smooth. Filling mixture should be thickened at this point.

Preheat the oven to 375 degrees Fahrenheit and lightly grease a standard pie dish with vegan butter.
ASSEMBLY:
Remove dough ball from the refrigerator and place it onto a lightly floured surface. Roll out dough ball using a rolling pin (not making it too thin), about 1/2-inch thick and gently placing it in your pie dish; working it around evenly. Be sure to do any folding or tucking of any excess pie crust.

Pour pie filling mixture over crust and lightly brush the top of pie crust with melted vegan butter.

Bake for 60-65 minutes, until crust becomes golden brown and the center of the filling is only 'slightly jiggly'. NOTE: If the crust begins to get too dark quickly, cover around the pie's crust with foil paper, leaving the middle opened and exposed.

Once done, remove from the the oven and let cool completely, about 30-45 minutes. When cooled, place pie in the refrigerator for at least 4 hours before serving and slicing.

To serve, add Cocowhip! or your favorite dairy-free ice cream atop a slice of sweet potato pie and enjoy!

Bon Appetit!
STORAGE: Keep leftover pie tightly wrapped with heavy duty plastic wrap or foil and refrigerated for 3-4 days. Re-heat each slice when serving
SWEET POTATOES: Preheat oven to 425 degrees Fahrenheit and line a baking sheet with parchment paper or foil. Rinse sweet potatoes (about 2 large ones) and pat dry. Lightly coat potato with Extra Virgin Olive Oil and place in oven, baking for 45 minutes to 1 hour, until tender and juices begin to bubble outside of skin. Remove from oven, let cool for 10-15 minutes and slice in half. Remove sweet potato insides and place in a bowl, mashing it until "pureed". Continue recipe.
FLOUR: If you don't have Pastry Flour available, simply substitute for All-Purpose Flour.
FOOD PROCESSOR FOR CRUST: If using a food processor to incorporate water to flour/butter mixture, ONLY ADD 1/4 cup of water AT A TIME to your dough, keeping it on "pulse" to avoid the dough from breaking down too much and it becoming "watery". With this method, you may not need the entire 1 cup of water.
GLUTEN-FREE VERSION: To make these GF, simply substitute All-Purpose Flour with 2 cups Gluten-Free Flour (Bob's Red Mill has a great one!) and the Pastry Flour with 1/2 cup coconut flour. If your GF Flour doesn't have Xanthan Gum included, add 1tsp in recipe. Also, reduce vegan butter to 1 3/4 sticks instead of 2. Continue all other steps!
ARROWROOT: If you don't have arrowroot starch, feel free to substitute with regular starch or all-purpose flour, which both act as a thickening agent.
COCONUT CREAM: If you don't have Thai Kitchen's Coconut Cream on hand, you can use canned Coconut Milk and refrigerate it overnight so that it thickens into a cream.
Best Vegan Sweet Potato Pie.