If you're anything like me, you have a weakness for donuts (see here and here for exhibits A and B of my obsession)---especially these Vegan Glazed Donut Holes with Sprinkles. I've even been known to put together a killer vegan donut board or two when I'm ready to go all-out with my brunch offerings.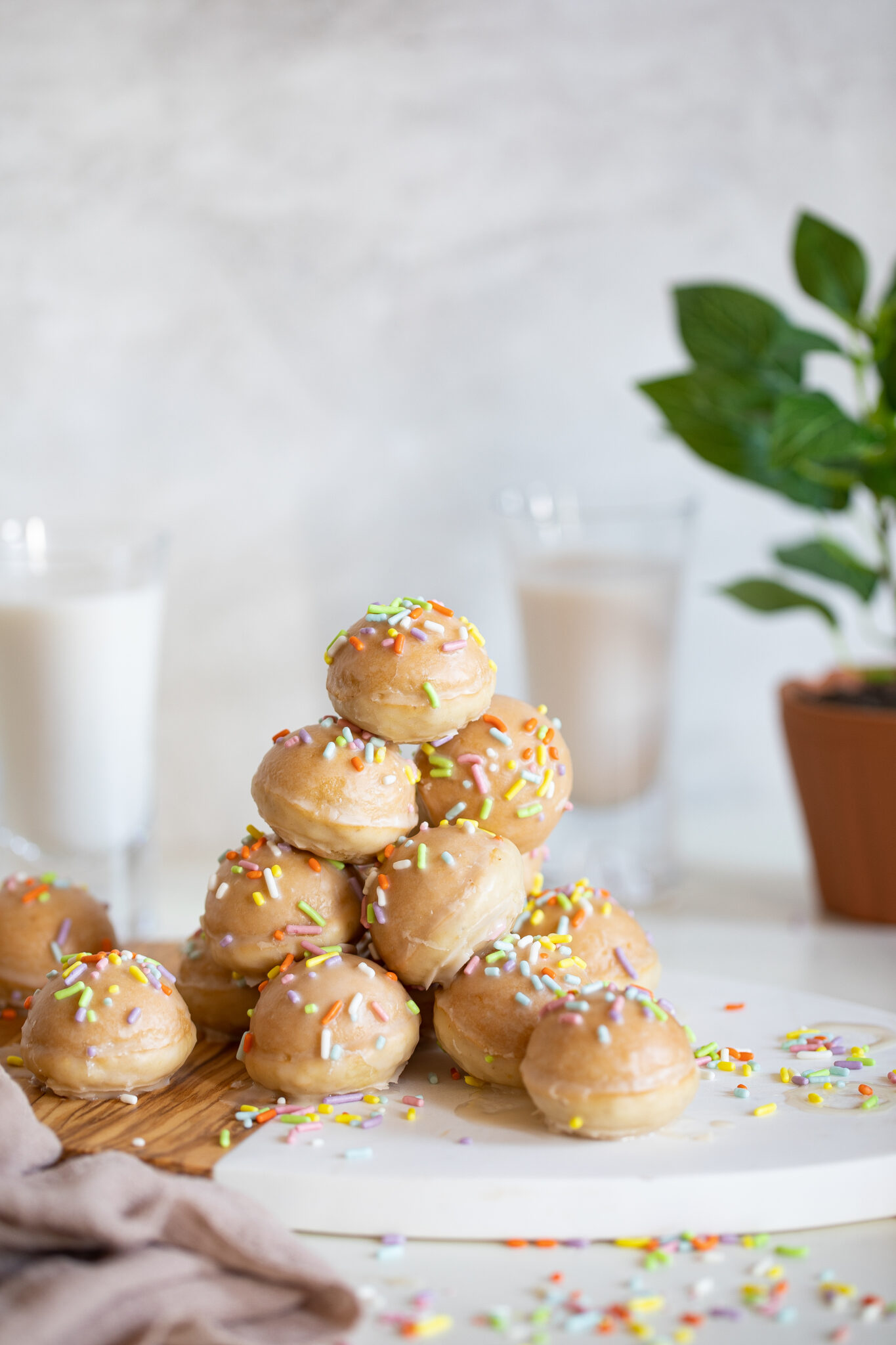 The other sweet I simply can't get enough of? Festive and bring rainbow sprinkles! I love putting them on everything from cupcakes to no-churn ice cream. There's no dessert that doesn't benefit from a sprinkle upgrade! So naturally, I decided to unite two of my favorite treats into one delectable recipe: vanilla glazed donut holes with rainbow sprinkles.
However, there aren't the average donuts that will weigh you down for hours. They're baked, not fried, for starters. And secondly, they're sweetened without refined sugars. These treats also happen to be fully dairy-free, including the stick-sweet glaze. So if you're looking for a healthier version of the breakfast sweet you crave, look no further than these vegan glazed donut holes with sprinkles!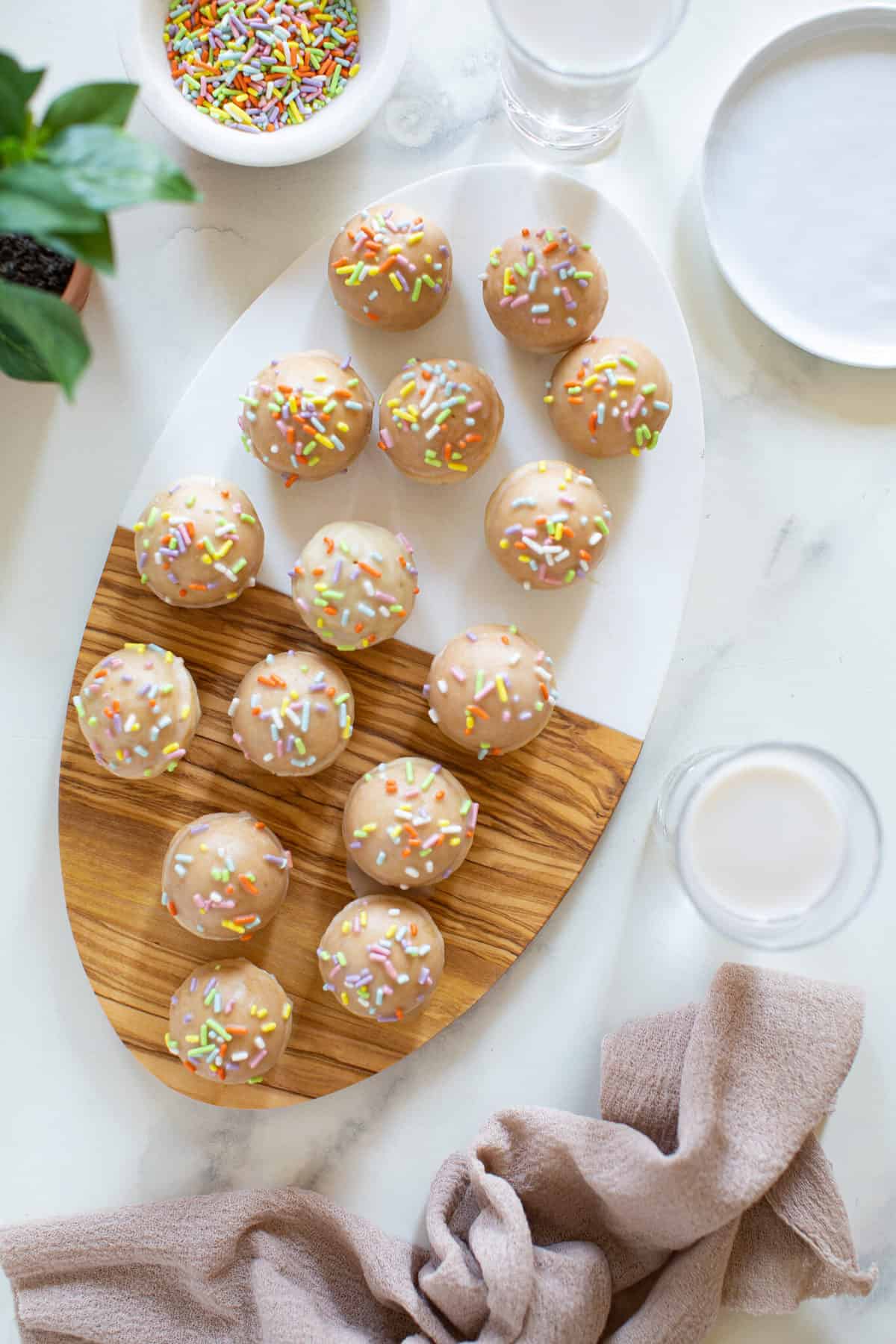 How to Make Vegan Glazed Donut Holes
There are two recipes within here: the donut holes themselves and the vanilla glaze. Let's break down what you need to know to master both.
Ingredients
First, the ingredients. Here's what you need to make the vegan donut batter:
All-purpose flour. I recommend Bob's Red Mill organic flour.
Baking powder and baking soda. Make sure both of these are fresh, not expired. Otherwise, your donut holes may not have the risp, airy texture you're looking for.
Agave syrup. This vegan-friendly sweetener is unrefined. You can also substitute with maple syrup or honey if you're not vegan.
Almond milk. Choose unsweetened. You can also use your fave plant-based milk if it's not almond.
Apple cider vinegar. This adds tang and helps activate the baking powder for the extra rise.
Vegan butter. Instead of vegan butter, you can also substitute with melted coconut oil or vegetable oil.
Vanilla extract. This complements the vanilla glaze dressing every vegan donut hole.
For the simple vanilla donut glaze, gather:
Powdered sugar. Choose organic sugar to ensure it's vegan.
Almond milk. Again, another plant-based milk will work just fine.
Vanilla extract. It wouldn't be a vanilla glaze without this ingredient!
And of course, to top it all off, you'll need vegan-friendly rainbow sprinkles.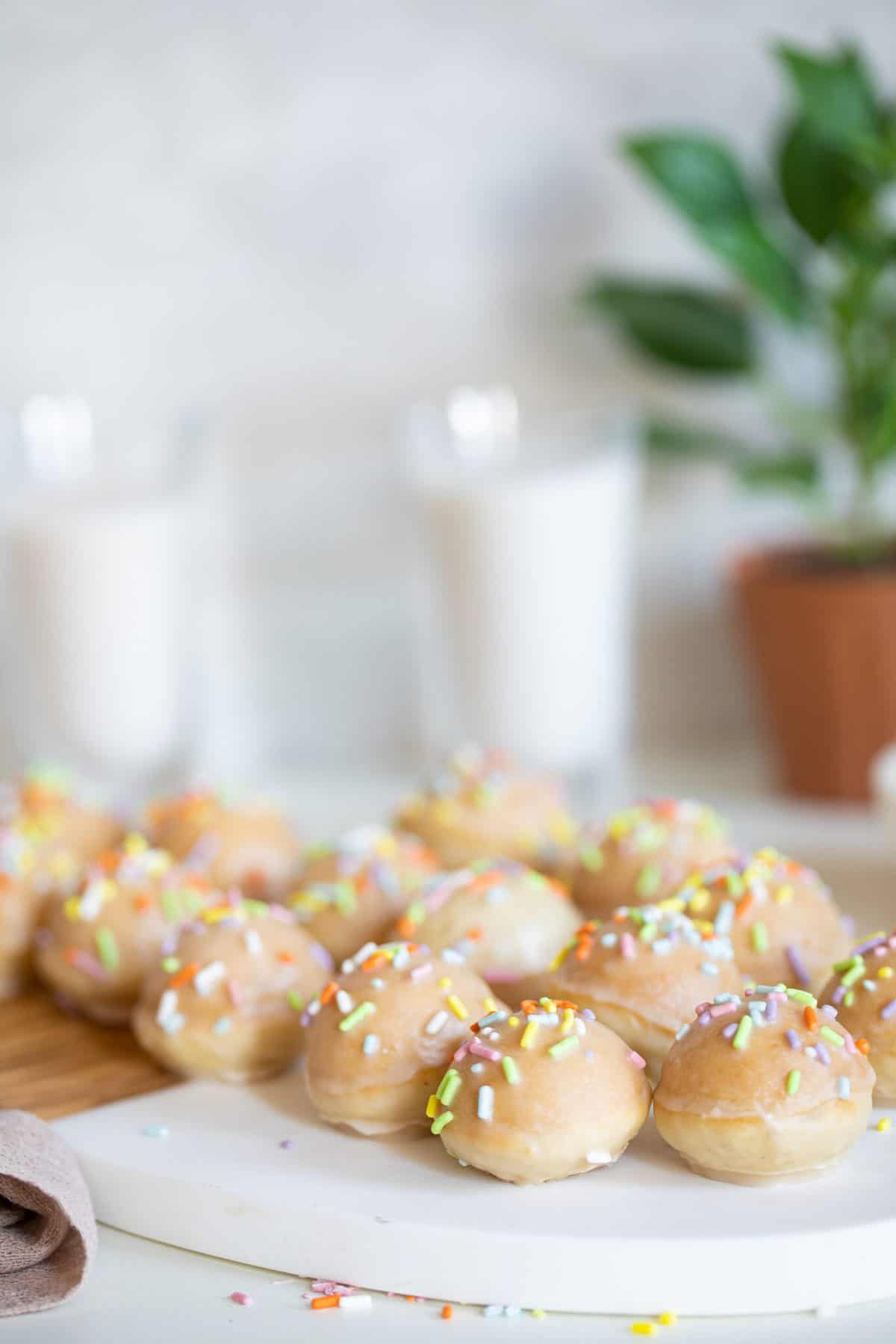 Tips to Make Vegan Donut Holes
When you're ready to start making the donut batter, there are a few things to keep in mind to ensure your donut holes come out perfectly from the very first try.
Because these are oven-baked donuts, you will need a special donut hole pan. It's a very worthwhile investment if you ask me!
Be sure to grease the donut pan well to ensure your holes pop easily out after baking.
The first step to making the donut batter is to make vegan "buttermilk". All this takes is combining plant-based milk with apple cider vinegar. After you let this sit for 2 to 3 minutes, it will develop a slightly tangy flavor like buttermilk to enrich the taste of the donuts.
Then, you'll simply combine the dry ingredients and turn the two ingredient mixtures into a thick, smooth batter.
When filling the donut pan, I like to use a piping bag to makes sure I fill each well in the donut pan evenly. If you don't have a piping bag, you can use a gallon-sized Ziploc bag and snip off the corner. A spoon will also do the trick, but it may be a little messier.
You'll know your donut holes are done baking when a toothpick inserted into the center comes out clean.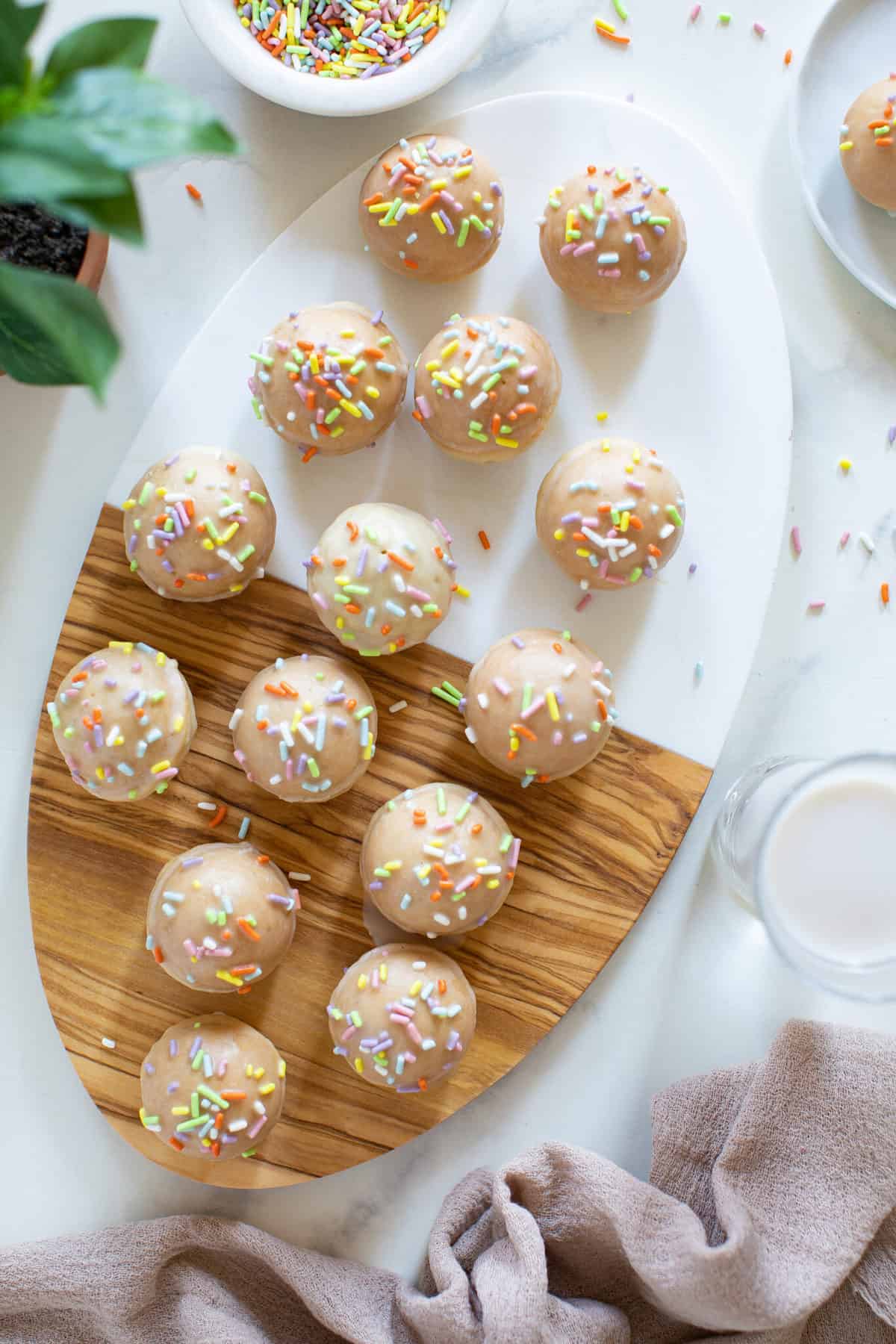 How to Make Vanilla Glaze for Donut Holes
While your donuts cool, make the simple vanilla glaze. Whisk together the powdered sugar, salt, dairy-free milk and vanilla extract. If you prefer a thicker glaze that will really stick to the donuts, add more powdered sugar (1 tablespoon at a time) until you reach the desired consistency. Or, for a thinner, more runny glaze, simply add more milk.
Glazing Instructions
When your donuts are fully cooled and your glaze is nice and smooth, glaze away! The glaze can be fairly sticky, so you may prefer to d this step with two forks. Simply dip each vegan donut hole in the vanilla glaze and swirl to coat. Then place the glazed treat on a wire rack set over a baking sheet (to catch drips) and top with a generous pinch of sprinkles.
Note that the glaze will harden as it cools, so it's best to hit the donuts with sprinkles soon after you glaze them to ensure the decorations adhere.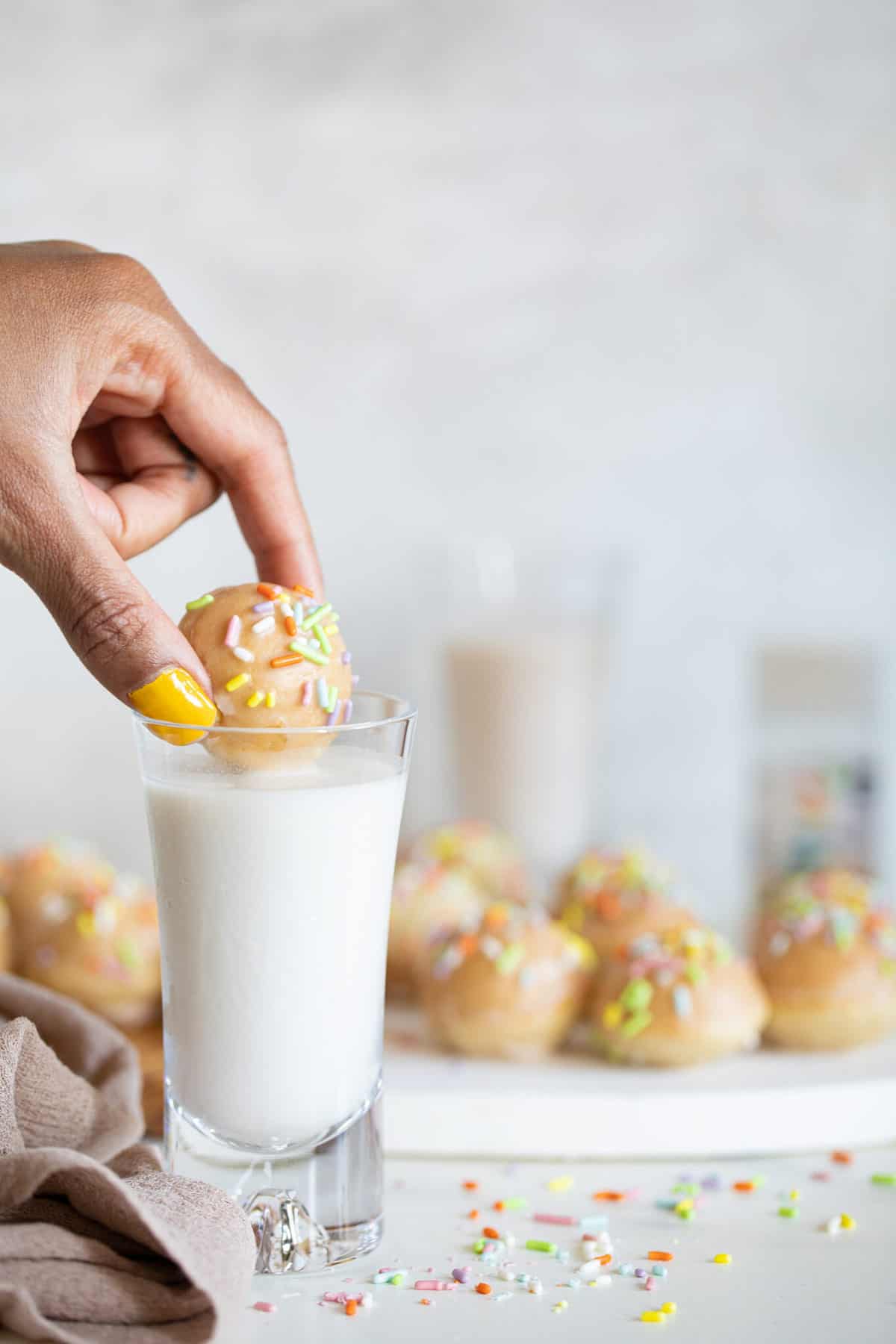 Storing Homemade Donut Holes
Store leftover donut holes in an airtight container in the fridge for up to three days. Really, these are best enjoyed straight away after baking, so don't hold back!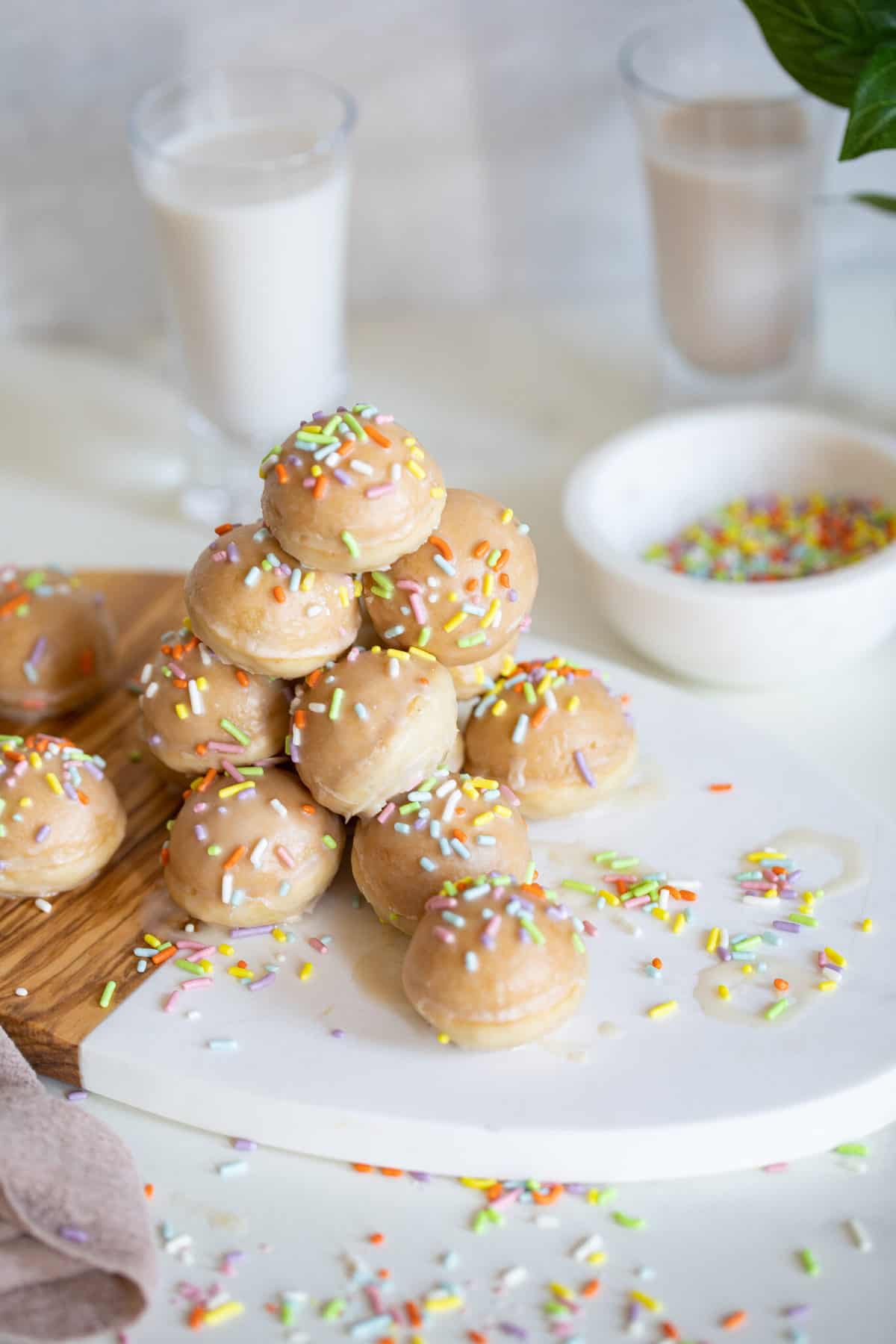 More Homemade Donut Recipes to Try
Once you have a donut pan at home, you can bake up easy and delicious homemade treats any time! Be sure to try these other favorite recipes next:
Mini Dairy-Free Homemade Donut Pops
FOR VANILLA DONUT HOLES:
1 ½

cups

organic all-purpose flour + 2 Tbsps

2

tsps

baking powder

¼

teaspoon

baking soda

¼

teaspoon

sea salt

½

cup

Agave syrup

(You can sub with maple syrup)

1

cup

Almond milk, unsweetened

(You can use your fave plant-based milk!)

1

tablespoon

apple cider vinegar 

3

Tbsps

vegan butter, melted

(See Notes!)

1

teaspoon

vanilla extract
FOR VANILLA GLAZE:
2

cups

organic powdered sugar

1-2

Tbsps

Almond milk, unsweetened

1

teaspoon

vanilla extract

pinch of

sea salt
For Vanilla Donut Holes:
Begin by preheating your oven to 350 degrees Fahrenheit and lightly greasing a 20-cavity donut hole pan.

In a separate bowl, add the milk + apple cider vinegar, whisking together well and letting it sit aside for 2-3 minutes. Then add the melted butter, Agave, vanilla, and whisk everything together.

In a separate bowl, sift together the flour, baking powder, baking soda, and sea salt. Finally, stir in the dry ingredients until just well combined and batter is thick and smooth, about 2-3 minutes.

Spoon the batter into a plastic ziplock bag (or piping bag), cutting the tip and pipping it into prepared donut hole pan. NOTE: Be sure to only fill each cavity ¾ of the way. This ensures that donut holes are perfectly shaped and not too large.

Bake for 10-13 minutes or until toothpick inserted into donut centers come out clean.

Remove from oven and allow them to cool for 5-10 minutes before releasing the donuts from their pan and unto a cooling rack to cool completely.
For Vanilla Glaze:
Whisk together the powdered sugar, salt, Almond milk, and vanilla until smooth and consistency is met. NOTE: For a thicker glaze, add additional powered sugar (1 tablespoon at a time) until consistency is met. For a desired thinner glaze, add additional milk (1 tablespoon at a time) until consistency is met.

Once fully cooled, dip each donut hole into the prepared Vanilla Glaze and set them back onto cooling rack so that glaze hardens a bit. Top with rainbow/festive sprinkles and repeat until all donut holes are glazed and sprinkled.

Bon Appetite!
STORAGE: Can be stored in a tightly sealed container and best if placed in the refrigerator for up to 3 days for ultimate freshness. SWEETENER: If you choose to opt out of Agave syrup, you can always substitute with organic pure cane sugar, coconut sugar, or pure maple syrup instead.  FLOUR: If you want your donuts to be more of a 'cakey' texture, substitute 1 cup of All-purpose flour with Super-Fine Cake Flour.  BUTTER: Instead of vegan butter, you can also substitute with melted coconut oil or vegetable oil.
Calories:
70
kcal
|
Carbohydrates:
24
g
|
Protein:
1
g
|
Fat:
2
g
|
Saturated Fat:
0.3
g
|
Polyunsaturated Fat:
1
g
|
Monounsaturated Fat:
1
g
|
Trans Fat:
0.3
g
|
Sodium:
117
mg
|
Potassium:
12
mg
|
Fiber:
0.3
g
|
Sugar:
4
g
|
Vitamin A:
0.2
IU
|
Vitamin C:
1
mg
|
Calcium:
41
mg
|
Iron:
0.5
mg