This Best Easy Blackened Shrimp Po' Boy recipe is the perfect handheld addition of flavor to your day and summer! Completely packed with bold, spicy cajun flavors, this recipe comes based with a tender buttery brioche roll which is then topped with well-seasoned colossal shrimp, dill pickles, roasted corn, and sliced tomatoes; all of which will leave you having more than a few bites! Completely easy to make, the perfect weeknight meal, completely family-friendly, and ready in under 30 short minutes.All dairy-free ingredients + a gluten-free option.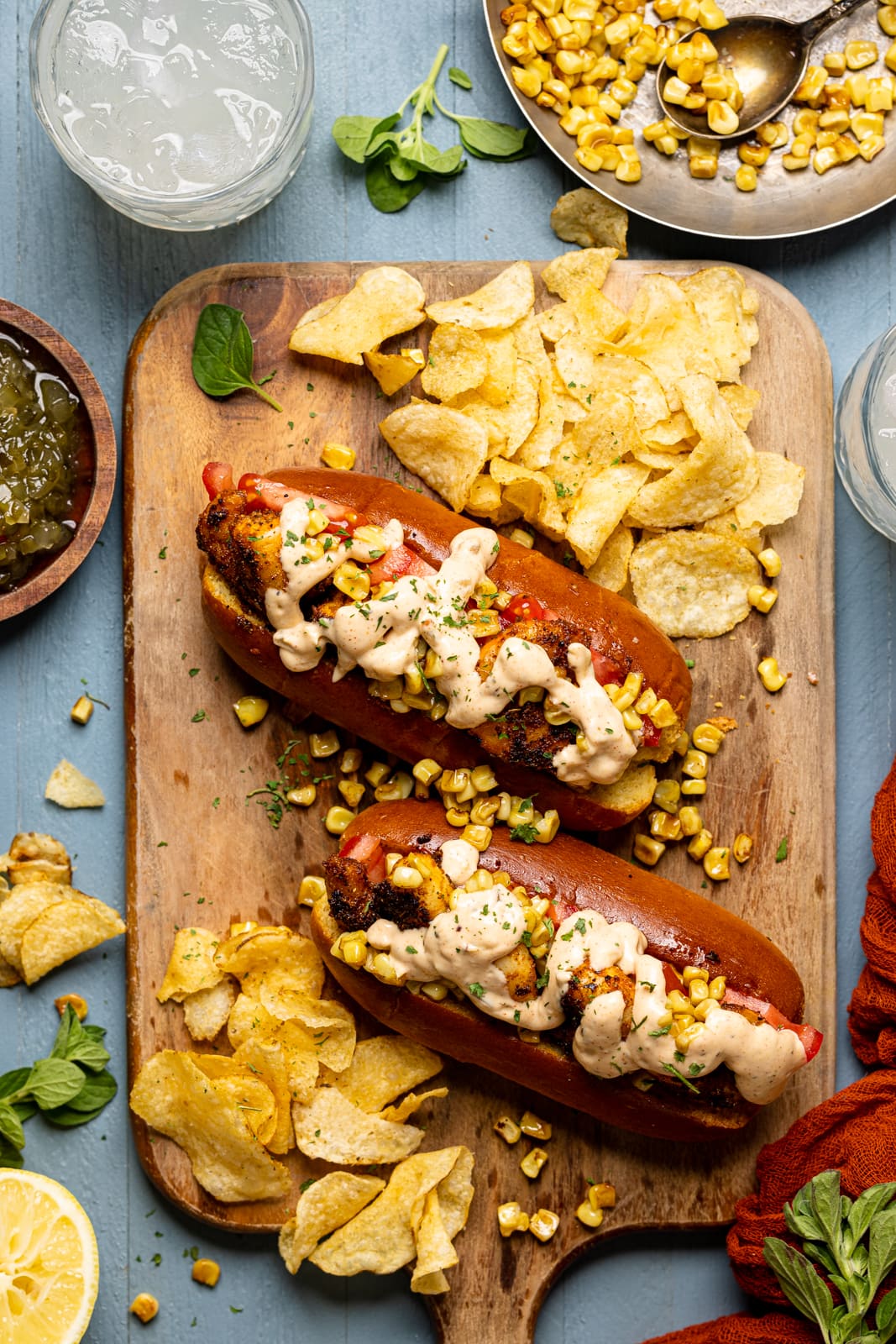 What are the three words that come to mind when you see this Po' Boy recipe I'm sure that you're thinking of Flavor, Flavor, and MORE FLAVOR. Haha. The Best Easy Blackened Shrimp Po' Boy recipe is truly heaven, ya'll. These po' boys come with layer of seasoning, complex textures which adds to every bite, and an epic po' boy sauce that brings everything together! Oh and if you love sandwiches, then this Southern Honey Mustard Chicken Bacon Sandwich is so delish!
For this sandwich recipe, you definitely don't need a reason to make it like a special occasion, holiday, etc. All you truly need is the full availability of these ingredients, a small bit of time, and wallah! It's the perfect easy weeknight dinner at home for the entire family or a nice quick lunch! And if you're truly into blackened seasoning flavors, then you're guaranteed to love this Creamy Blackened Salmon Chowder, Roasted Cauliflower Green Goddess Salad, and Weeknight Broccoli Pesto Gnocchi + Chickpeas. Plus, these Easy Weeknight Blackened Chicken Tacos are on weekly rotation in our house and they're a definite crown-pleaser!
Overall, these blackened shrimp Po' boys are super easy to make, only uses a few staple ingredients, hints of spicy or sweet flavors, includes an ultra creamy sauce, comforting + cozy, and flavorful. Plus, it's dairy-free + with a gluten-free option.
Jump to:
What Makes a Po' Boy Different from a Sandwich?
A Po' Boy is a sandwich that originated from Louisiana and it is considered a Po' Boy when it consists of meat (usually roasted or fried) and served on a crusty french bread. Whereas, a sandwich can be created with almost any type of bread and doesn't have to include meat. Also, sandwiches generally have an array of topping, while a Po' Boy's main attributes are the meat/bread combo which creates a "crispy crust + fluffy center".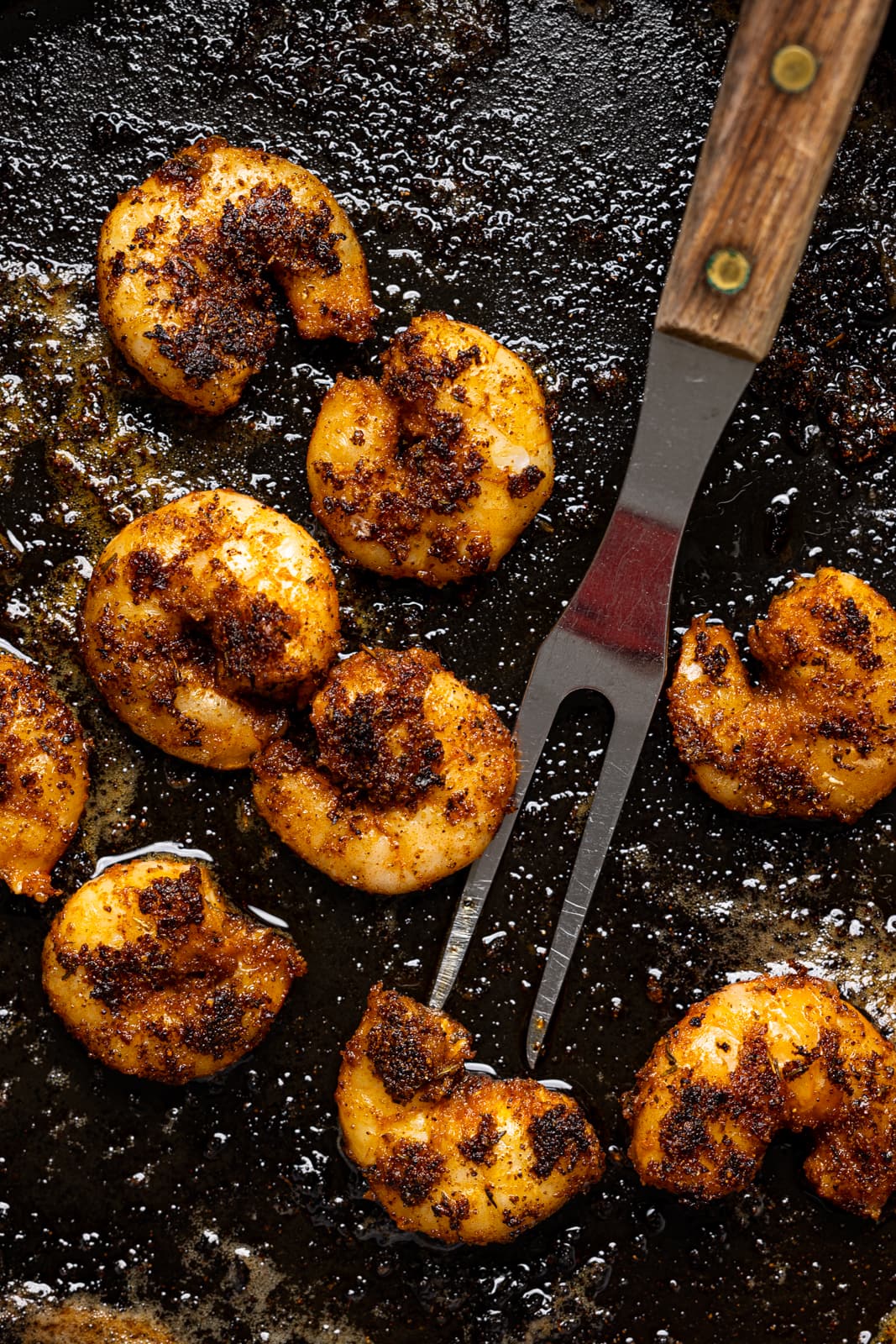 Since it's the Summer and has officially begun grilling season and less heavy cooking, I felt like these Po' Boys could be the perfect family meal to make without compromising flavor.
What is a Po' Boy Sauce Made of?
Plus, the bold flavors of this easy Po' boy sauce is so good, which makes for the perfect tie together of flavors in this sandwich! It's an easy whip together and entirely dairy-free----including ingredients like vegan mayo, mustard powder, cajun or creole seasoning, sweet relish, garlic, Worcestershire sauce, hot sauce (for a little kick), lemon juice, and plant-based milk.
How to Make a Po Boy Sandwich
There are FOUR components to this delicious Po' Boy sandwich: the brioche rolls, blackened shrimp, toppings, and the sauce.
Start by prepping your ingredients: season + cook your shrimp, roast or boil the corn, and slice your tomatoes. You could also roast and season your tomatoes for extra flavor. Then you toast the rolls by spreading softened butter in between them and adding them to the oven for a few minutes. You'll need to whisk together your Po' Boy sauce and set it aside. Then, it's a simple matter of assembling each sandwich to perfection! Wallah!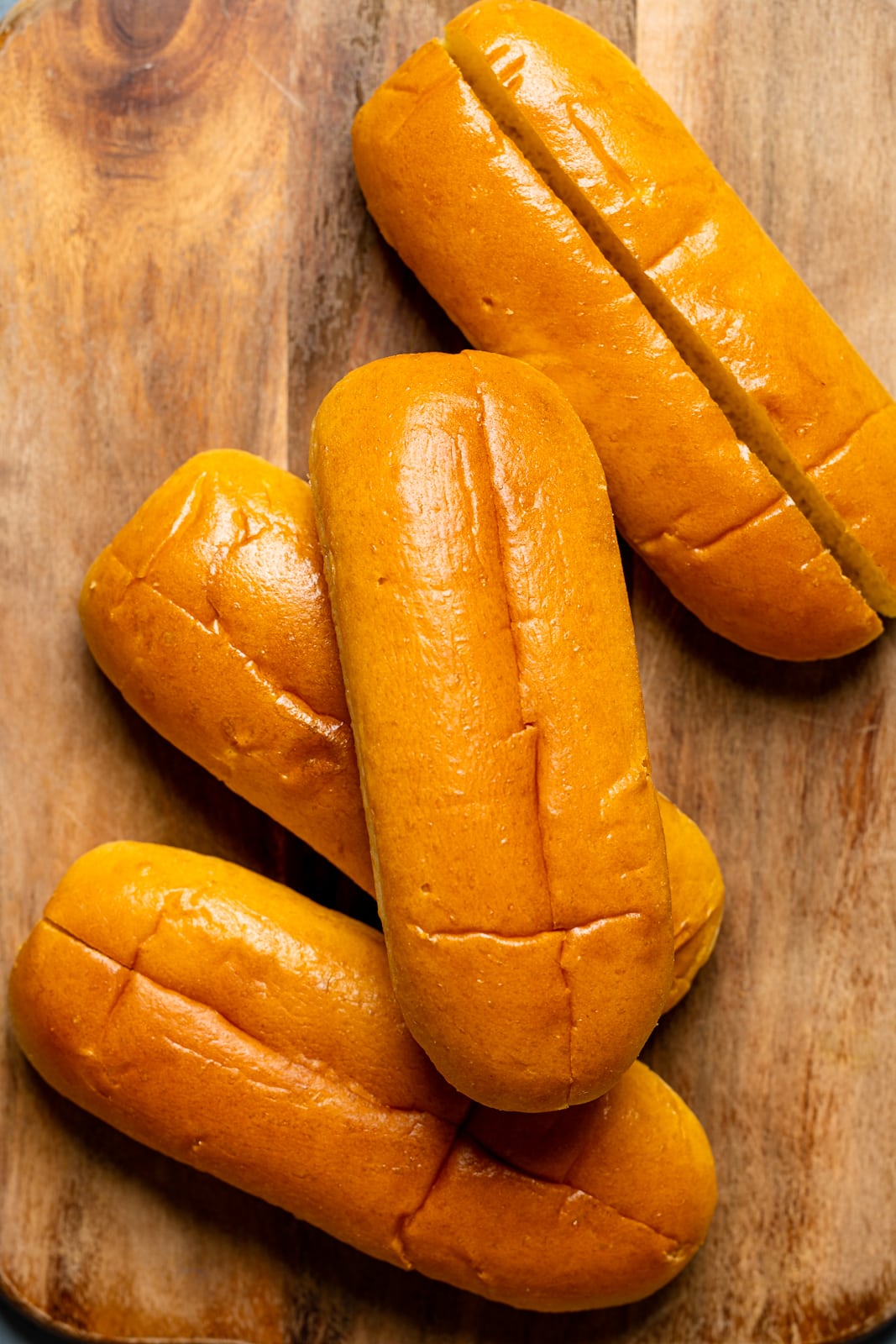 Ingredients for Po' Boy Sandwiches
Here's what you need for this po' boy recipe:
Shrimp. I use jumbo or colossal, which are the biggest and sweetest. It's best to deveined and de-shell these shrimp for the best + easiest bite. Also, I recommend marinading them overnight in the fridge for the boldest flavor.
Bread. I love using brioche rolls for this sandwich or a french sandwich loaf. For a dairy-free option, ensure that you use vegan brioche rolls or bread.
Tomatoes. You can add as many tomatoes as will fit in your sandwich. I use tomato-on-the-vine, but roma, grape, etc. works too! You can also roast them for added flavor!
Blackened seasoning. You can use a store-bought version or make your own blend easily.
Butter. I recommend unsalted. You'll need softened butter to toast your rolls.
Dill pickles. I love adding pickles to my sandwiches but it's totally optional. You can substitute with sweet relish or green olives for a bit of added tanginess and acidity.
Cornmeal. I use cornmeal on the shrimp as a nice coating to create a beautiful crunch on the outside (giving it a "fried effect). You can omit this or substitute with flour, cornstarch, or finely crushed cornflakes.
Garlic. You should use about 2 cloves and mince them.
Hot sauce. You can use hot sauce for a nice kick of extra heat.
Lemon juice. I love using freshly-squeezed lemon juice for a bit of acidity and freshness to the shrimp and sauce.
Corn. I like to use sweet corn either yellow or white and you can use fresh or frozen. Also, you can use corn cobs and cut them into small 1-inch pieces for great texture.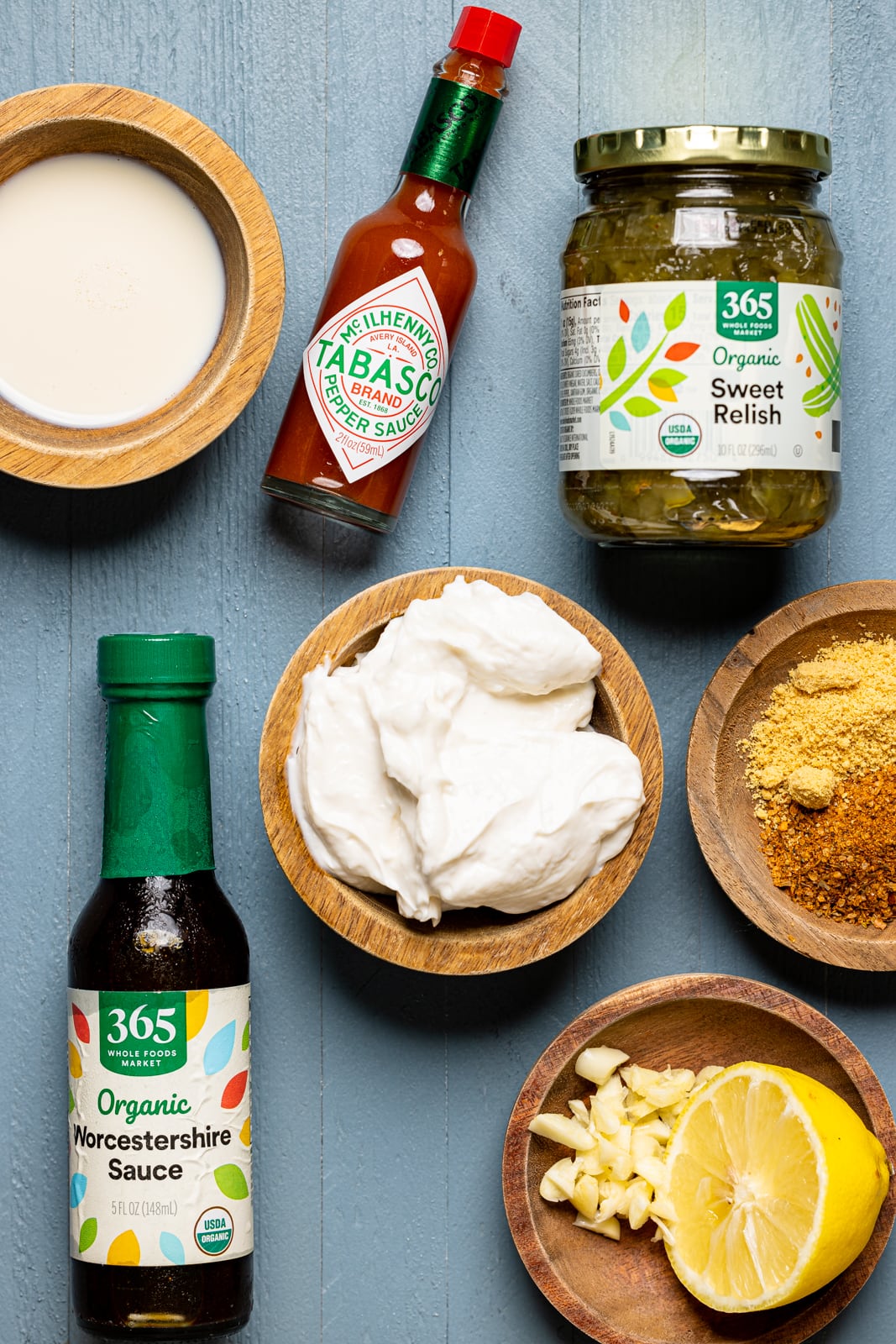 Why You'll Love these Po' Boys
OK, so if you're still not entirely sold on these Shrimp Po' Boy sandwiches, then let me tell you what's so great about them. These sandwiches are:
Super easy to make.
Bold in delicious flavors ----- a nice kick of heat with a savory note and slight sweetness.
Only requires a handful of ingredients.
Has a great gluten-free option and is entirely dairy-free!
The epitome of COMFORT FOOD!
Super thick and fluffy on the outside and tender, juicy on the inside.
Perfect for weeknight meals, weekend lunch, or a family picnic or BBQ.
Did I mention that it's just TOO GOOD TO PASS UP!?
Homemade Blackened Seasoning Blend
Sure, you can find pre-made seasoning blends at the grocery store. But there's nothing like the fresh, customized flavor you get by making your own blend. The herbs and spices in the Blackened spice mix for this recipe are inspired by my love for bold flavor, rather similar to cajun seasoning (except that blackened seasoning isn't as spicy).
You can Store the seasoning blend in an airtight container at room temperature for up to 6 months as you would your regular ones. Use it on anything from simple roasted vegetables to salad dressing to herb oil for dipping bread or other meats/meat alternatives.
What You'll Need:
Smoked paprika
Onion powder
Garlic powder
Dried thyme
Dried oregano
Cayenne pepper
Salt
Black pepper
Brown sugar
NOTE: For the smoked paprika, you'll use about 1 Tbsp, while you'll need ½ teaspoon for the cayenne pepper, and 1 teaspoon for everything else.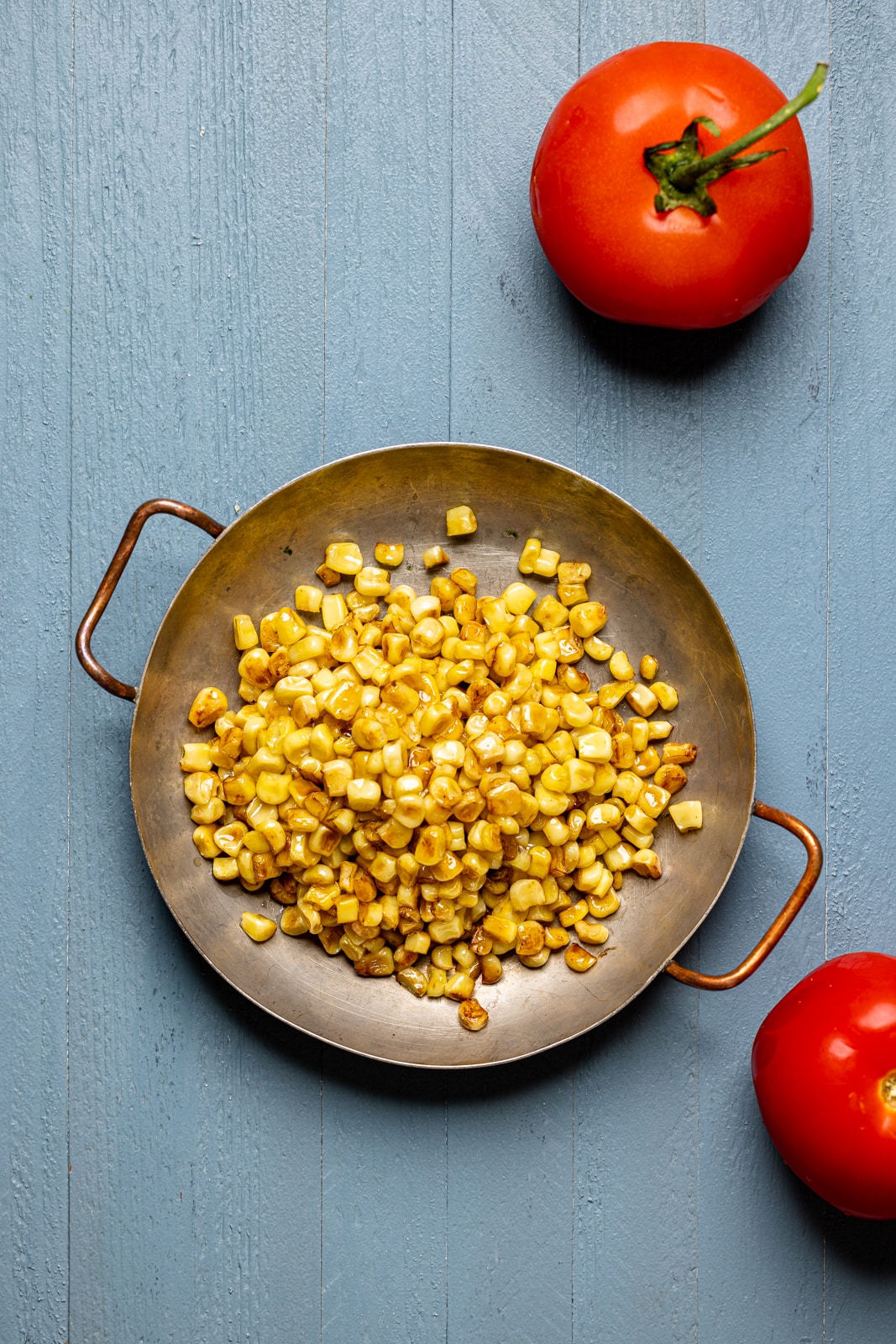 Meal Prepping Ideas
This is a great recipe for meal prep. Simply prepare the shrimp and season it one day prior to making it (without the cornmeal or lemon juice, of course!). Store it in an airtight container in the fridge. You can also roast the corn and whip together the po' boy sauce a day or two before and store in airtight containers in the fridge as well. The day of----prep your remaining ingredients, toast the rolls, and follow cooking instructions to assemble and wallah.
What are Po' Boys Served with?
Like many other sandwiches, I love eating these shrimp po' boys with something light like potato chips or french fries. However, you can mix and match your sides from one of the following options:
Onion rings
Fried pickles
Jalapenos
Boiled crabs or seafood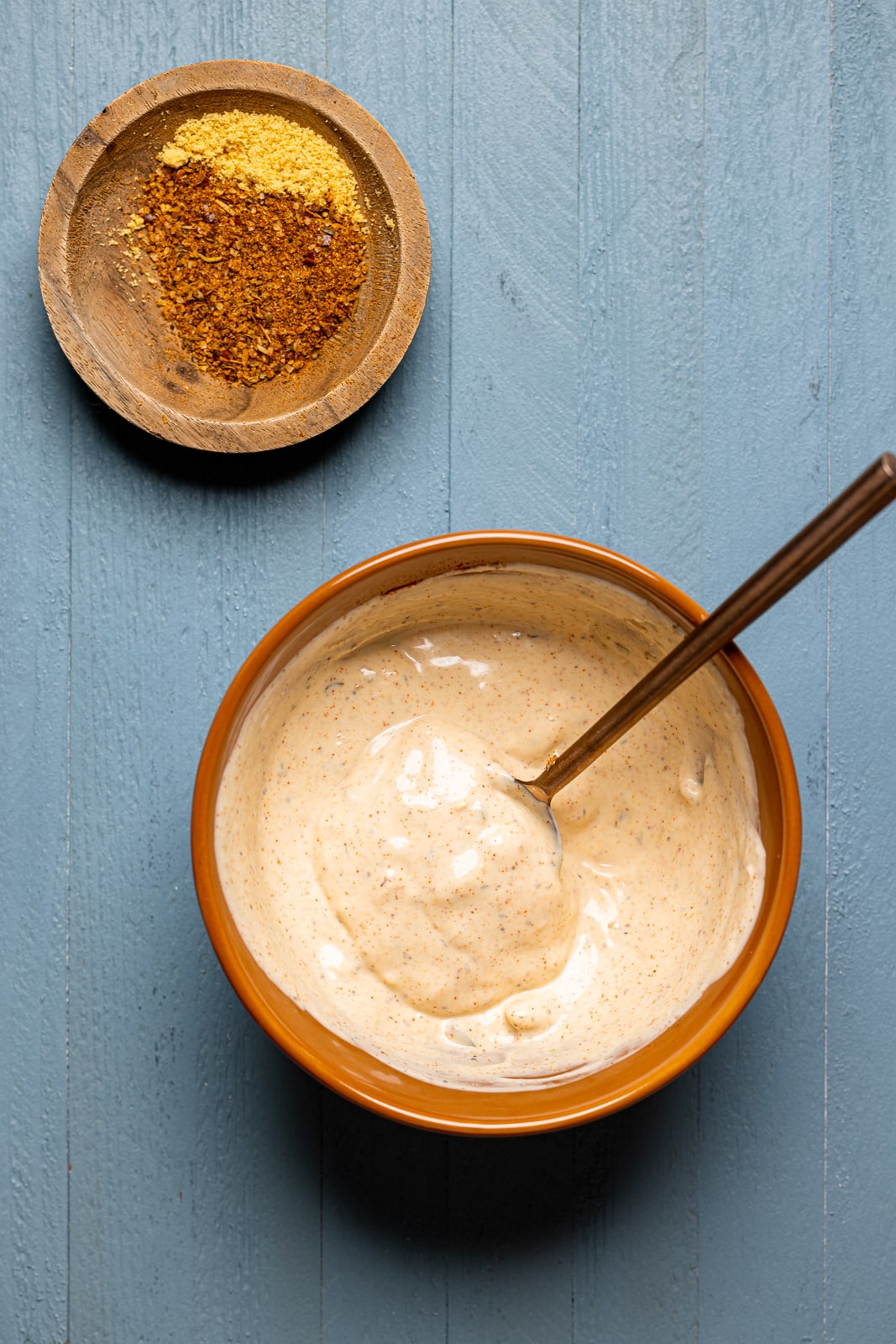 Is it Best to Marinate the Shrimp Overnight?
When it comes to any meat, I love to marinate overnight or at least a few hours prior to cooking it. Personally, I am a love of FLAVOR, therefore, marinating gives my taste buds the ultimate satisfaction of tasting bold flavors in every bite.
This recipe calls for the same process. I definitely recommend marinating your shrimp prior to making this po' boy recipe to ensure that the spicy cajun flavors are fully absorbed and soaked into each bite as well as get that beautiful 'blackened' char look.
TO MARINATE OVERNIGHT: Simply prep your shrimp by rinsing them off with vinegar and/or lemon or lime, patting them dry, and then adding the seasonings. You'll want to save the cornmeal and lemon juice for the moment you're ready to cook your shrimp to avoid making the cornmeal soggy.
Cover everything in a bowl and refrigerate overnight or for at least a few hours and let all the juices do it's "magic".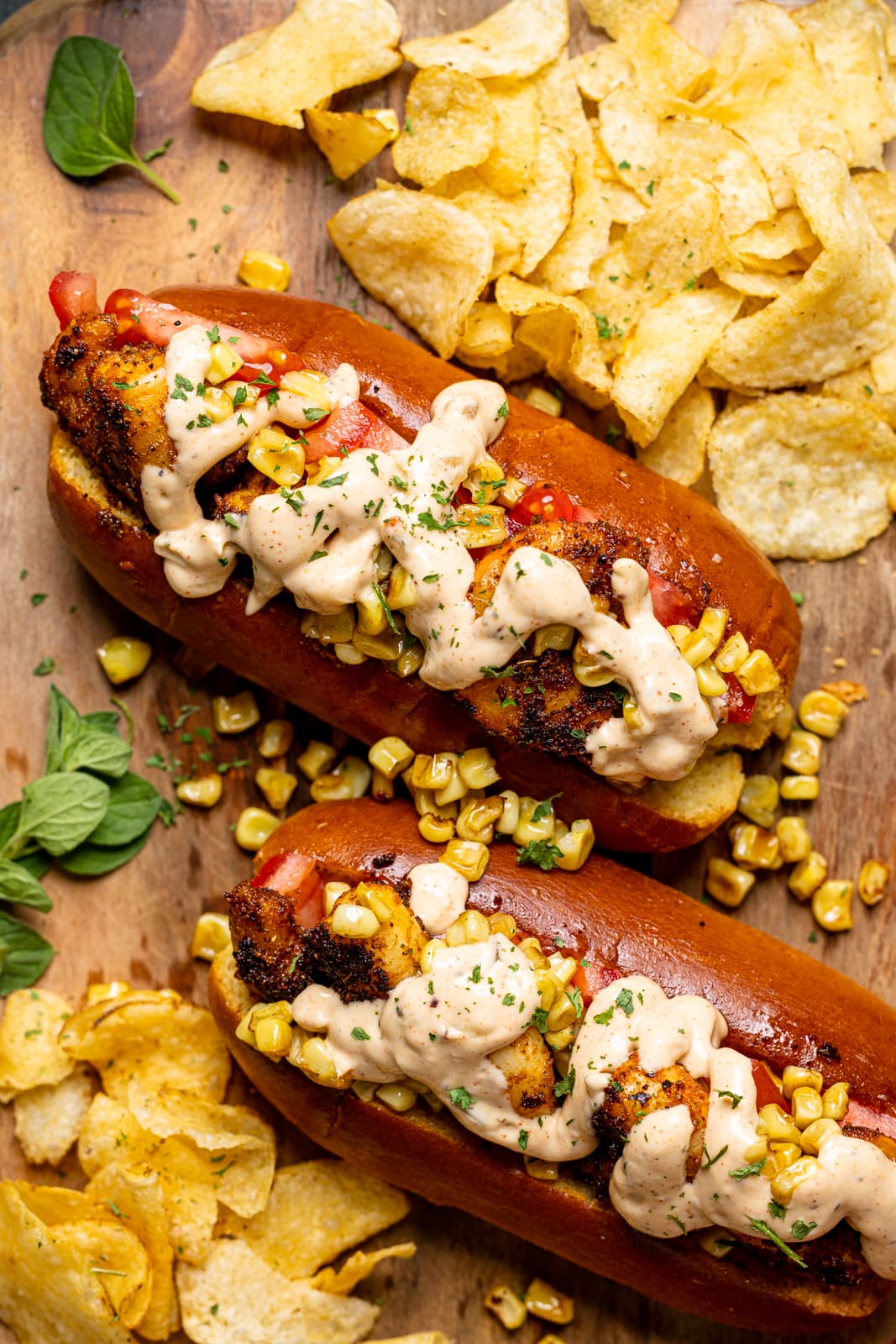 Common Q + A's for these Shrimp Po' Boys!
What meat is in the original Po Boy sandwich?
In the original Po' Boy, it's filled with roast beef on french bread, however, there are now many variations of Po' Boys which includes fried seafood like shrimp, crawfish, fish, oysters, or crab.
What is remoulade sauce made of?
Remoulade Sauce is a classic spicy condiment from Louisiana which is often topped on Po' Boy sandwiches. It starts with a mayonnaise base that's kicked up with Cajun seasoning, whole grain mustard, hot sauce and grated fresh horseradish.
What kind of bread is used in Po' Boys?
Traditionally, a french bread like a baguette is used for Po' Boy sandwiches. However, you can also use brioche buns or rolls like in this recipe.
Why are they called Po' Boys?
Based on history, crusty bread was the easiest and most efficient thing to feed a crowd. Therefore, when a striker came buy to get a sandwich, they would call out, "here comes another poor boy," as the striker approached. That's how this New Orleans classic became known as the "poor boy" and was abridged to "po-boy".
How to store leftovers?
Best if sandwiches are consumed within the same day. However, individual ingredients (shrimp + roasted corn) can be stored separately in air-tight containers in the refrigerator for up to 3 days.
How long does Po' Boy sauce last?
Add leftover sauce to your favorite mason jar or tightly sealed container and refrigerate for 3-4 days for optimal freshness. 
Can I make this Po' Boy gluten-free?
Absolutely! To make this po' boy sandwich gluten-free simply ensure that the bread is GF-friendly as well as the cornmeal.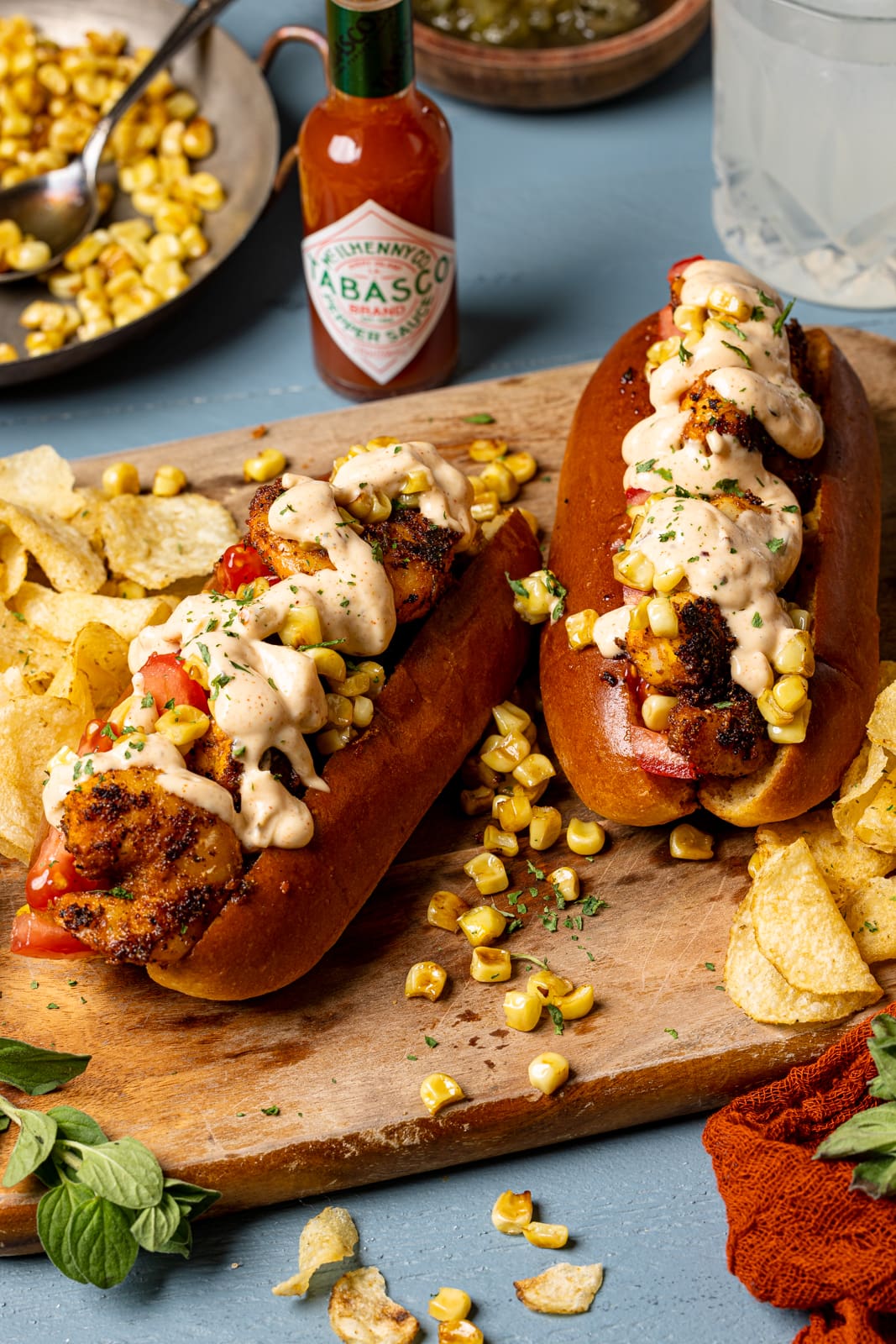 Delicious Shrimp Recipes You're Sure to Love!
If you love these shrimp po' boy sandwiches, then you're sure to love these flavorful shrimp recipes:
MADE OUR RECIPE(S)?
If you tried this Best Easy Blackened Shrimp Po' Boy recipe or any other recipe on my website, please please leave a 🌟 star rating and let me know how you go in the 📝 comments below. I love hearing from you.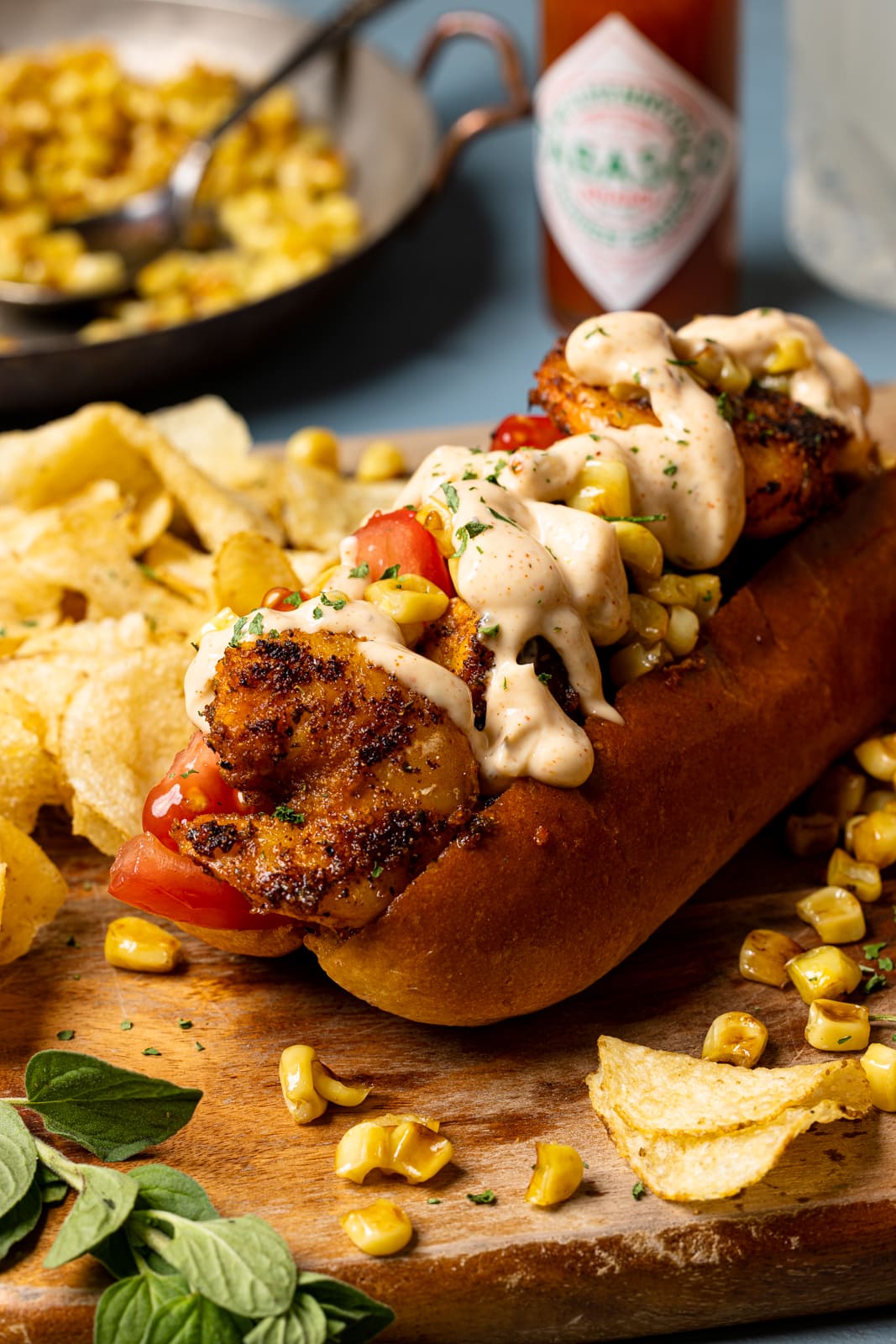 SHRIMP:
2-3

lbs.

wild-caught Jumbo or Colossal shrimp

(Deveined, De-shelled, Marinated Overnight, preferrably)

2

Tbsps

unsalted butter

2

Tbsps

blackened seasoning, homemade or store-bought

2

Tbsps

cornmeal

½

lemon, freshly-squeezed
PO' BOY SAUCE [DAIRY-FREE]:
1

cup

vegan mayonnaise

2

garlic cloves, minced

1

tablespoon

cajun or creole seasoning

1

teaspoon

mustard powder

2

tsps

sweet relish

hot sauce, a few drops

(optional)

1

teaspoon

freshly-squeezed lemon juice

2

Tbsps

Almond milk

(You can use your fave plant-based milk)

splash of Worcestershire sauce
SEASON + COOK THE SHRIMP:
In a bowl, add the shrimp along with the lemon juice, cornmeal and blackening seasoning, mixing everything together until shrimp are coated.

In a medium 10-inch skillet over medium-high heat, add the butter until melted. Add in the shrimp and cook on both sides (about 3-4 minutes), until pink, charred, and cooked through. Once done, remove from skillet and set aside on a plate.
TOAST THE ROLLS:
Preheat your oven to 400 degrees Fahrenheit.

On a baking sheet lined with parchment paper, add your brioche rolls and spread the softened butter on each side on the side. Bake in the oven until the edges are golden and the rolls are crisp. Remove and set aside.
MAKE THE PO' BOY SAUCE:
In a bowl, add the mayo, mustard powder, cajun or creole seasoning, sweet relish, milk, Worcestershire sauce, minced garlic, lemon juice, and hot sauce, and whisk together until combined and smooth.
ASSEMBLE SANDWICHES:
On each roll, add a few slices of tomato, the shrimp, roasted corn, dill pickles, and spoonfuls of po' boy sauce. Repeat until all po' boys are made.

Bon Appetit!
STORAGE: Best if sandwiches are consumed within the same day. However, individual ingredients (shrimp + roasted corn) can be stored separately in air-tight containers in the refrigerator for up to 3 days.
PO' BOY SAUCE (STORAGE): Add leftover sauce to your favorite mason jar or tightly sealed container and refrigerate for 3-4 days for optimal freshness. 
Calories:
825
kcal
|
Carbohydrates:
54
g
|
Protein:
11
g
|
Fat:
62
g
|
Saturated Fat:
19
g
|
Polyunsaturated Fat:
1
g
|
Monounsaturated Fat:
2
g
|
Trans Fat:
0.2
g
|
Cholesterol:
159
mg
|
Sodium:
1417
mg
|
Potassium:
116
mg
|
Fiber:
2
g
|
Sugar:
2
g
|
Vitamin A:
1928
IU
|
Vitamin C:
9
mg
|
Calcium:
103
mg
|
Iron:
2
mg