Looking for an effortless weeknight dinner? Look no further than this irresistible Creamy Shrimp Scampi Pasta. In under 30 minutes, you'll have a delectable meal featuring tender shrimp, flavorful linguine, and a harmonious blend of garlic and tomato. Topped with a generous sprinkle of parmesan and a touch of cajun seasoning, this shrimp pasta is a guaranteed crowd-pleaser. With its quick and easy preparation, it's the perfect choice for a stress-free and delicious weeknight dinner. Gluten-free + Dairy-free Option.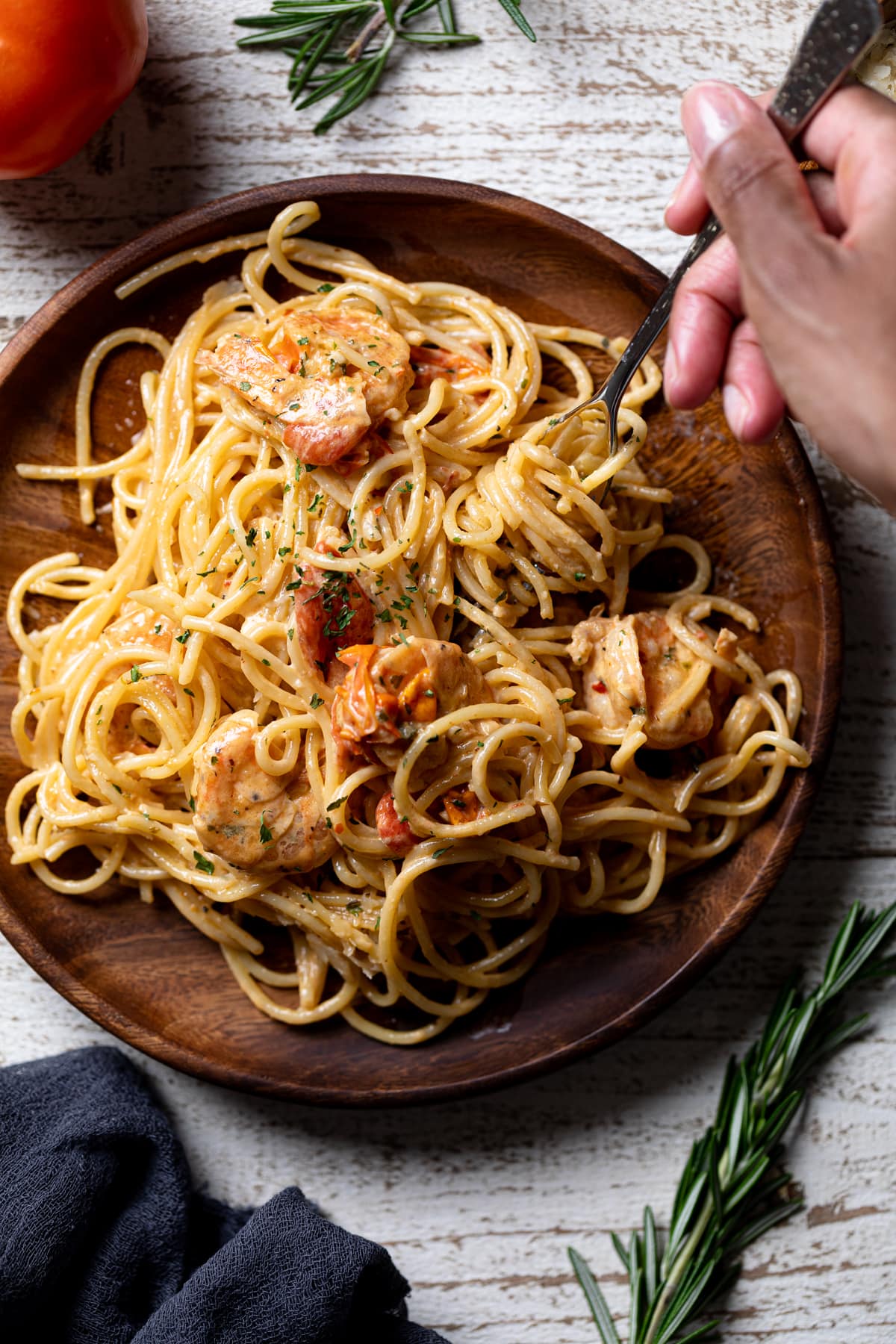 Why I LOVE Creamy Shrimp Scampi Pasta
Pasta holds a special place in my heart, especially when it's paired with the creamy goodness of Shrimp Scampi. This recipe takes the classic dish and elevates it with a luscious, creamy twist that will have you hooked. If you like creamy pasta dishes, check out my Creamy Tuscan Lobster Pasta or this amazing Creamy Lemon Garlic Herb Kale Pasta or Weeknight Creamy Chicken Alfredo

The beauty of this recipe lies in its simplicity. With just a handful of ingredients and a few easy steps, you can create a dish that tastes like it was prepared by a seasoned chef. It's a quick and easy-to-make pasta recipe, making it a perfect option for those busy weeknights when you need a satisfying meal without the fuss. That's exactly why I created the "Weeknight Meals" category, and this Creamy Shrimp Scampi Pasta recipe is the shining star within it. What I love most about this pasta recipe is how it effortlessly combines convenience and deliciousness. Trust me-- this crowd-pleaser won't disappoint.
Jump to: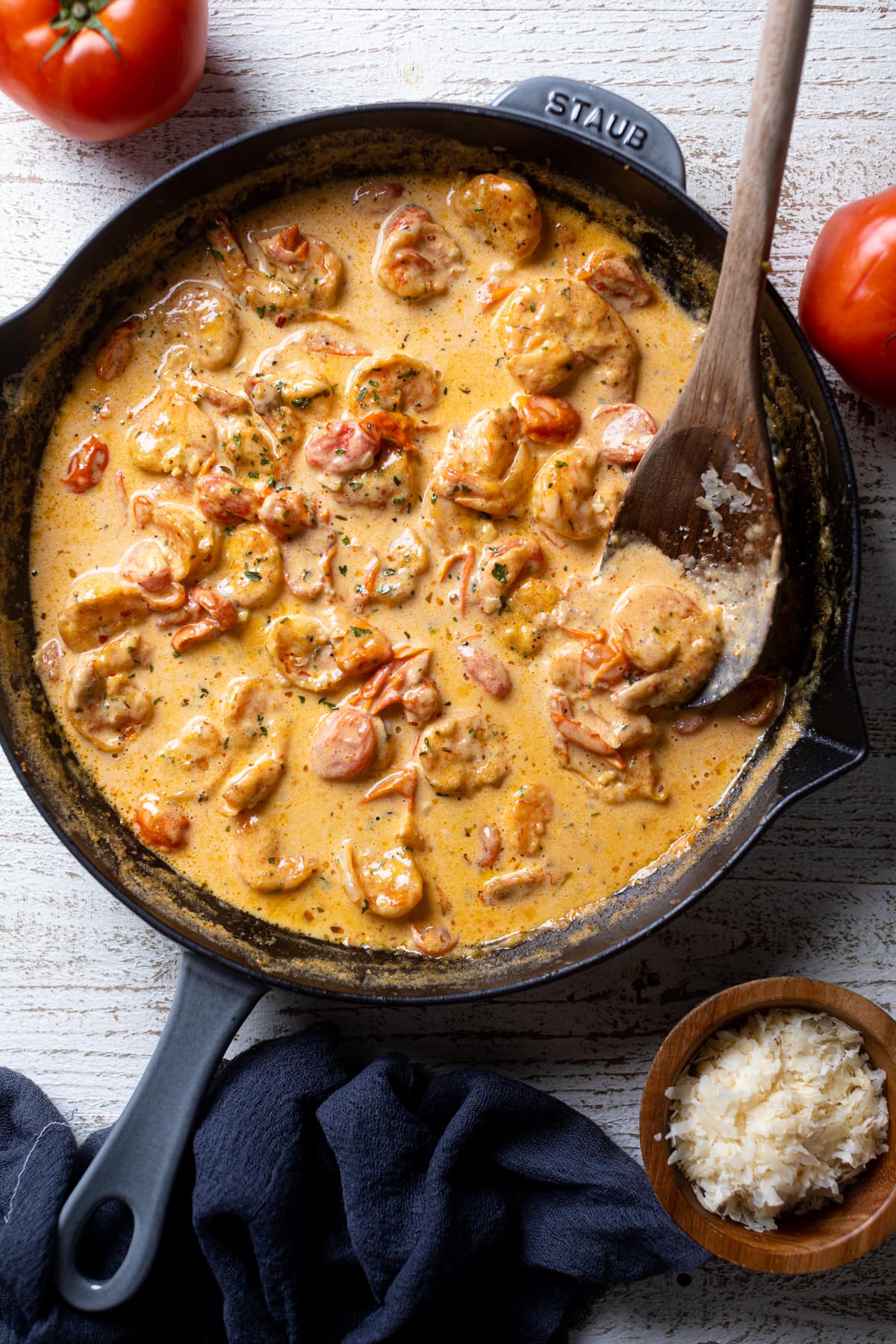 What Is Shrimp Scampi?
Shrimp Scampi gets its name from a playful fusion of Italian and English. "Scampi" is the Italian word for those cute little Mediterranean lobsters, while "shrimp" is their English counterpart. When this dish made its way into Italian-American cuisine, it was like a delicious language mashup. They took the concept of scampi and gave it a shrimplicious twist, and thus, Shrimp Scampi was born-- a dreamy weeknight dinner.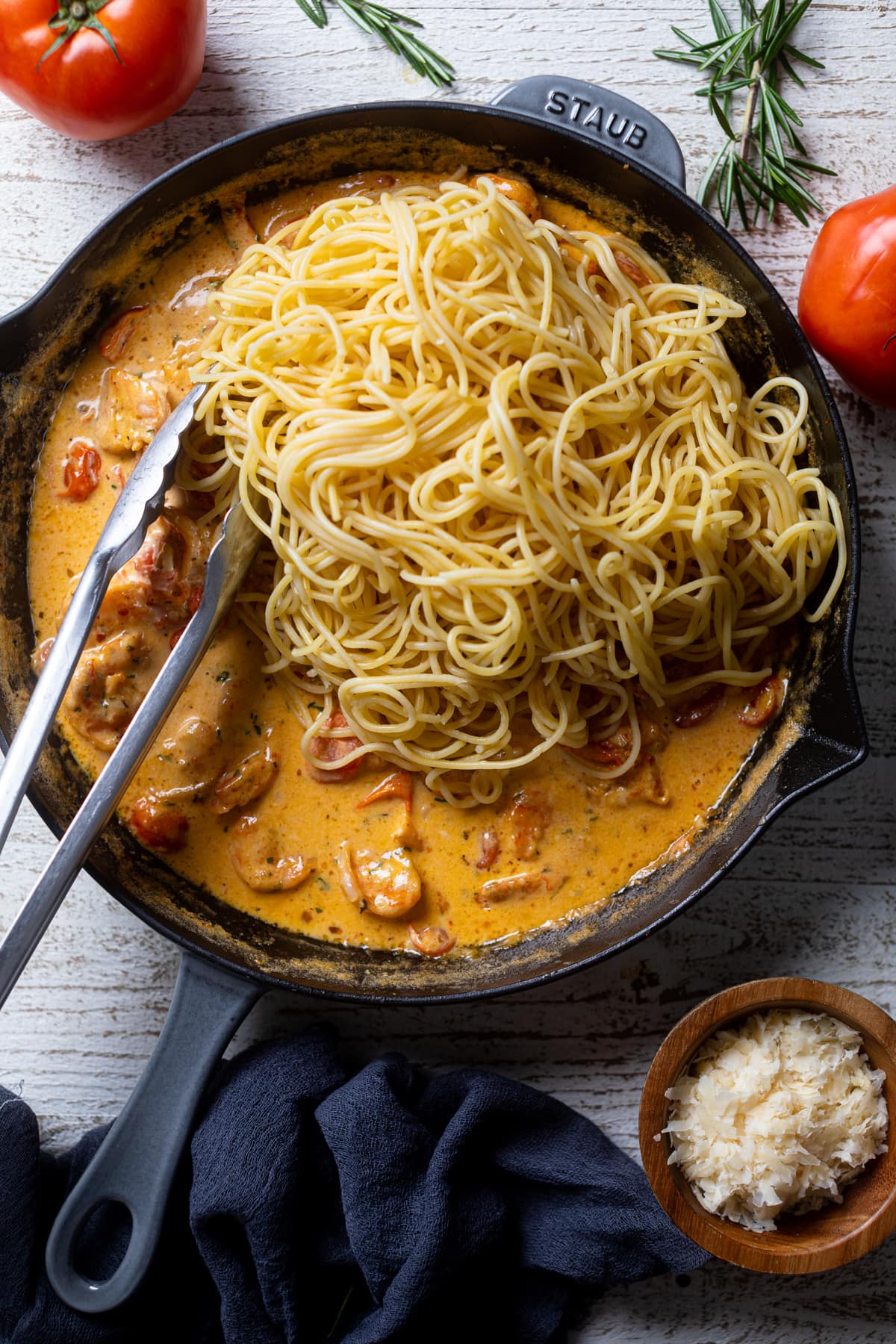 Ingredients For Creamy Shrimp Scampi Pasta
Linguine pasta. You can use any pasta you like. I think the medium, thinness of linguine is perfect for soaking up and holding onto the savory, creamy sauce without it being too thick.
Colossal shrimp. These are the biggest, meatiest shrimp you can find, and I highly recommend using them! Leaving the tail on adds more seafood flavor to your pasta sauce.
The Sauce
Heavy cream. This thickens your sauce and adds a delicious creamy dimension to the dish.
Herb Roasted Tomatoes. This enriches the dish a ton, especially by adding more flavor and bursts of tomato to the sauce.
White wine. You can omit the wine to make this recipe alcohol-free. You may want to substitute it with lemon juice for some acid.
Organic chicken stock. Adds depth and savory notes.
Parmesan cheese. This enriches the dish a ton. You can also use another savory cheese like pecorino romano or ricotta salata.
Cajun seasoning blend. This adds a nice kick of spicy and savory flavor to this dish.
Garlic. Infuses the dish with aromatic deliciousness.
Freshly-squeezed lemon juice. Brightens the flavors with a refreshing twist.
Red pepper flakes. Offers a hint of heat
Sea salt and black pepper. Seasoning that brings out the natural flavors.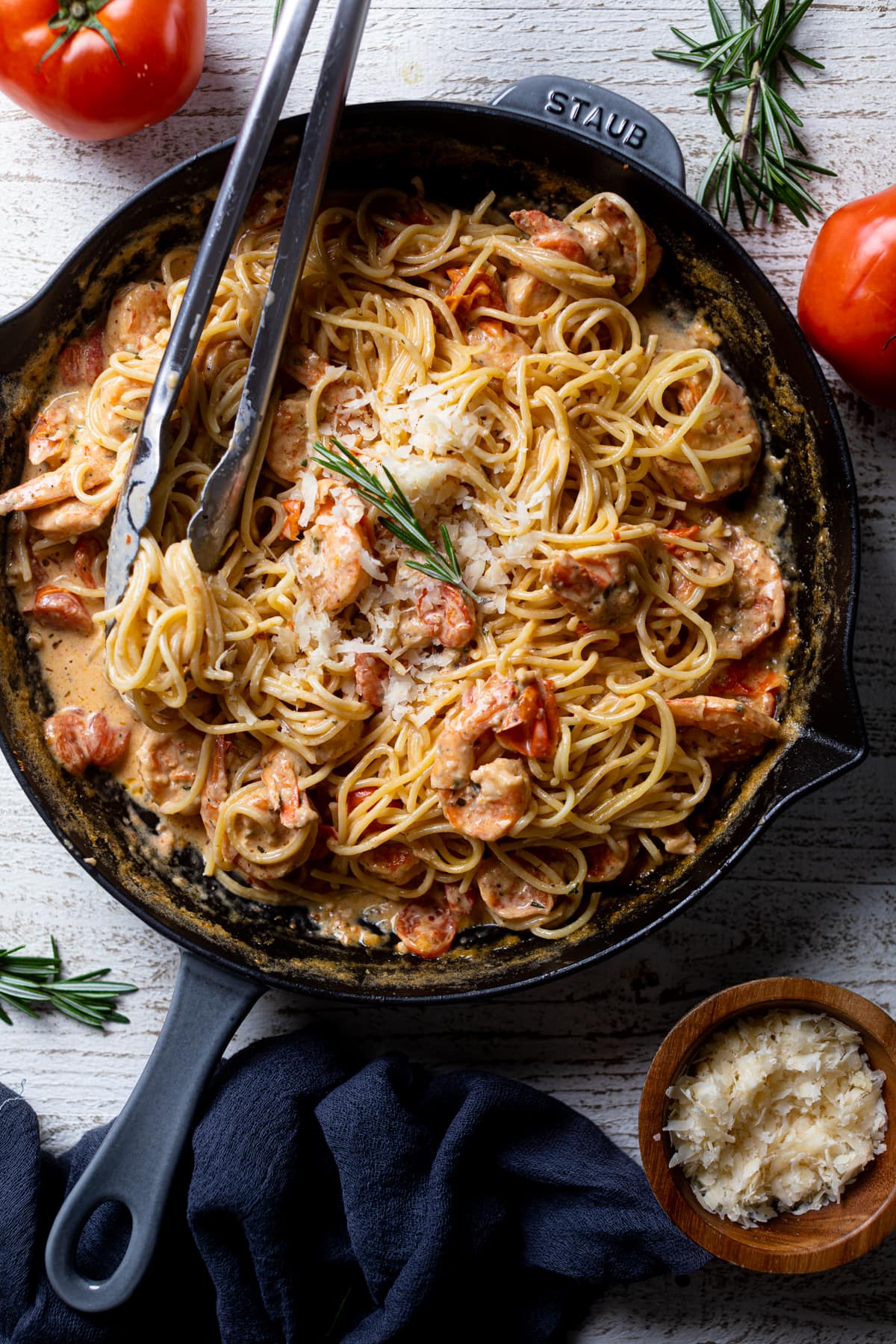 CAJUN SEASONING BLEND
To make your seasoning, combine:
Garlic powder
Italian seasoning
Smoked paprika
Sea salt
Black pepper
Cayenne
Dried thyme
Onion powder
Together, these herbs and spices strike the perfect balance of savory and fresh with a bit of smoky heat.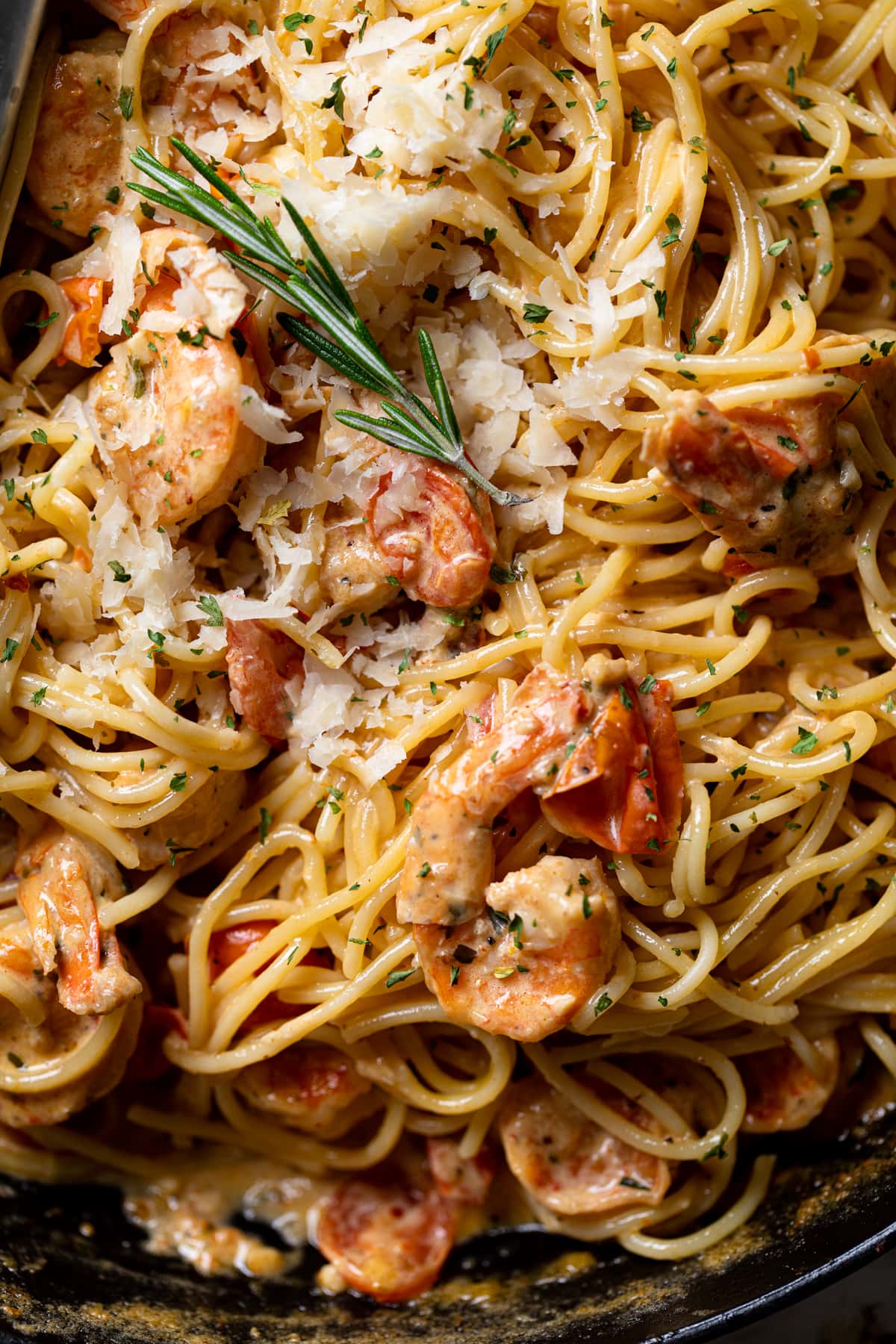 What You'll Love About This Shrimp Scampi
Creamy dreaminess - The sauce is velvety, rich, and oh-so-indulgent.
Quick and easy - Ready in a flash, perfect for those busy nights.
Shrimpliciousness - Plump and juicy shrimp steal the spotlight.
Weeknight winner - A no-fail option for a satisfying weeknight dinner.
Fancy without the fuss: Impress your taste buds without spending hours in the kitchen.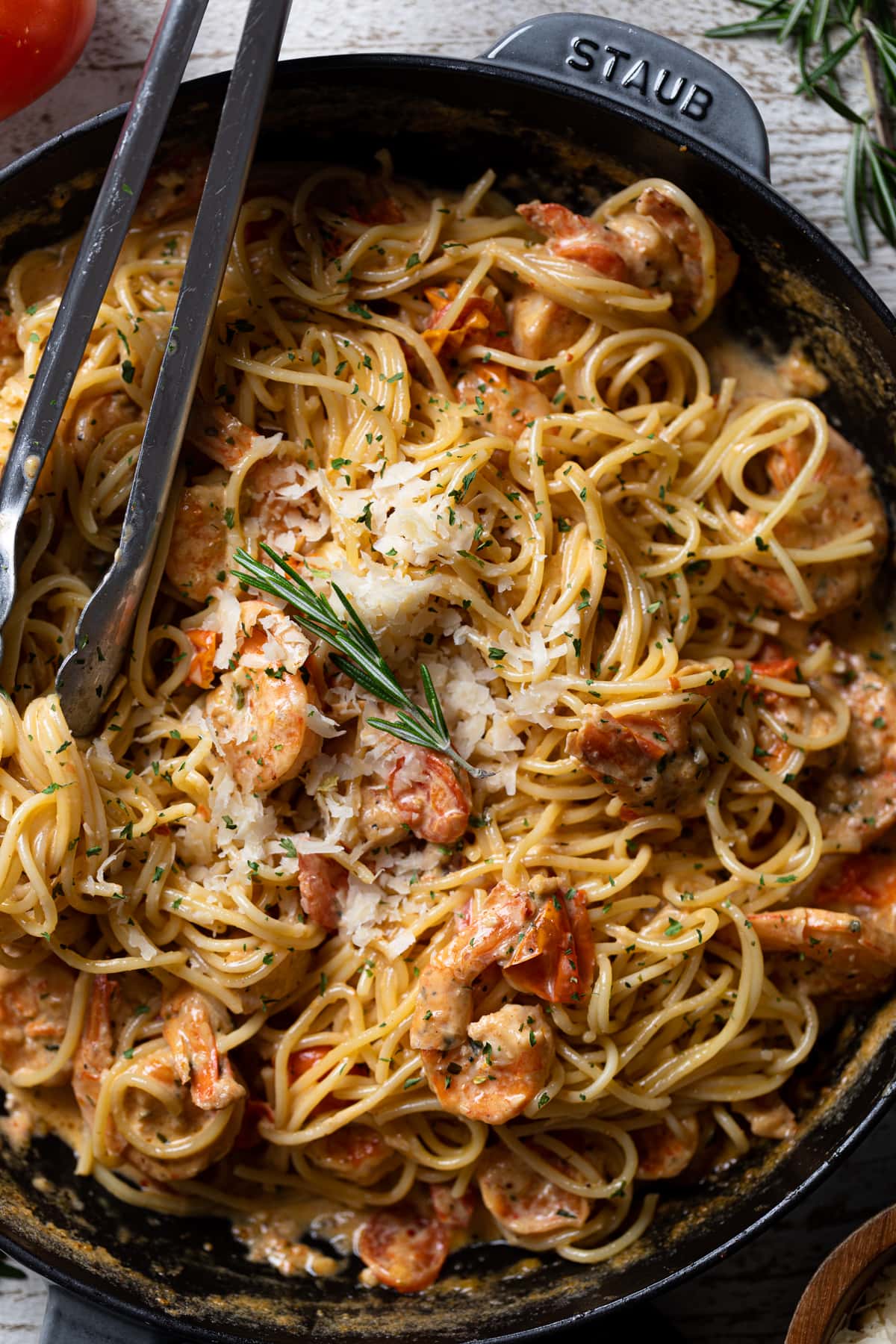 What Type Of Shirmp Is Best?
When selecting shrimp for this recipe, I suggest going for extra large or large shrimp. These sizes strike a balance between being substantial enough to provide a satisfying bite and not too overwhelming.
While it may sound counterintuitive, using frozen and thawed, shrimp can actually be advantageous. Opting for frozen shrimp allows you to have more control over the quality and timing of your meal preparation. It's like having a secret stash of deliciousness in your freezer, ready to be transformed into a scrumptious shrimp scampi whenever you desire an easy weeknight dinner.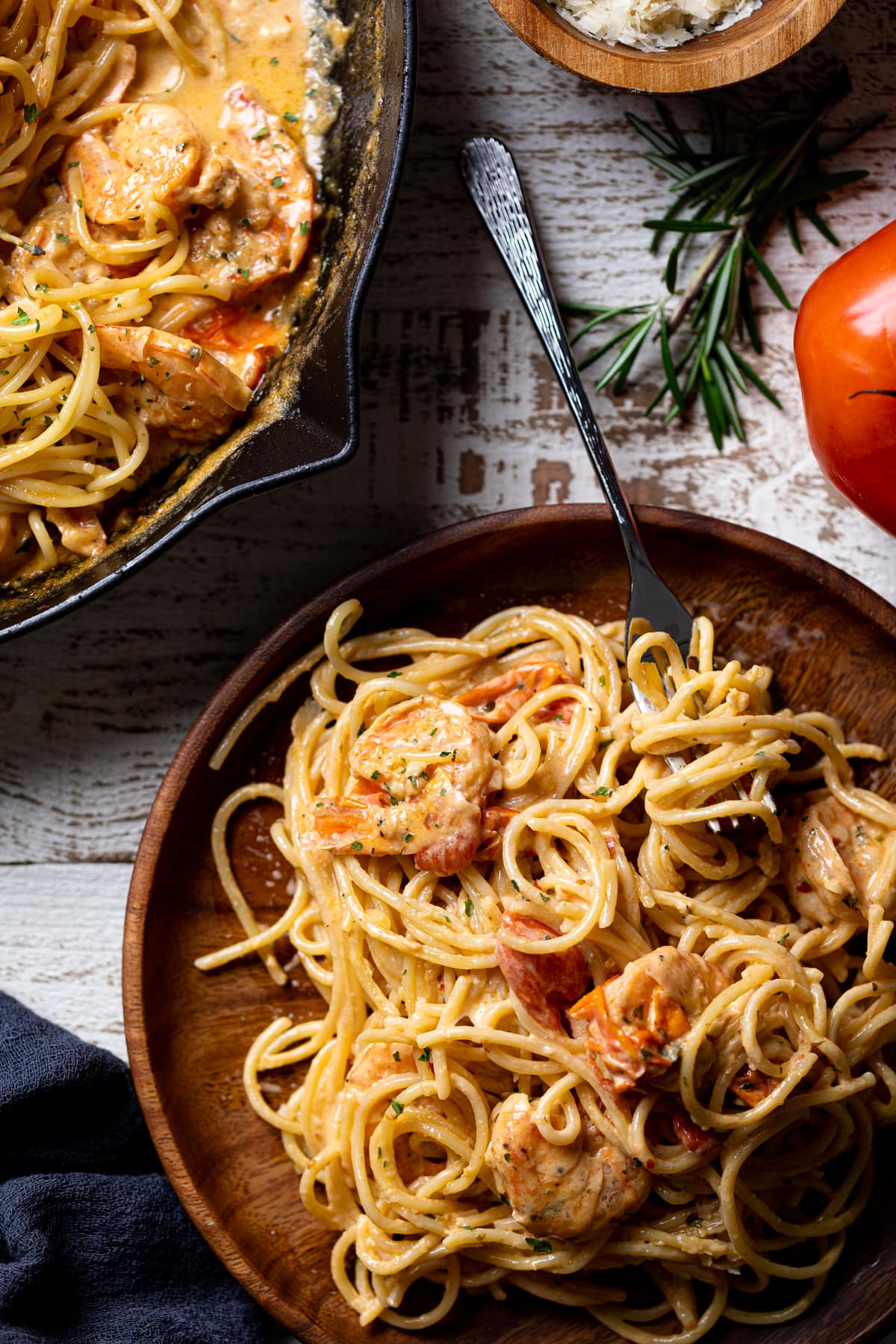 What Can I Serve This Shrimp Scampi Pasta With?
When it comes to serving Shrimp Scampi pasta, the possibilities for delightful pairings are endless. Here are some mouthwatering options to consider-
Garlic bread: Whip up some garlic bread with a crispy exterior and a soft, buttery interior. It's perfect for mopping up the delicious sauce. Try this Cheesy Kale Garlic Bread
Salad: Add a refreshing touch to your meal with a crisp green salad like this Roasted Cauliflower Green Goddess Salad
Roasted vegetables: Roast a medley of colorful vegetables. Like these Spicy Honey Sweet Potato Wedges. The caramelized flavors will complement the creamy shrimp scampi.
Steamed asparagus: Steam some fresh asparagus spears until they're tender yet still slightly crisp. They make a delightful and nutritious side dish.
Lemon wedges: Serve a few lemon wedges on the side. Squeezing fresh lemon juice over the pasta can add a bright and zesty flavor to each bite.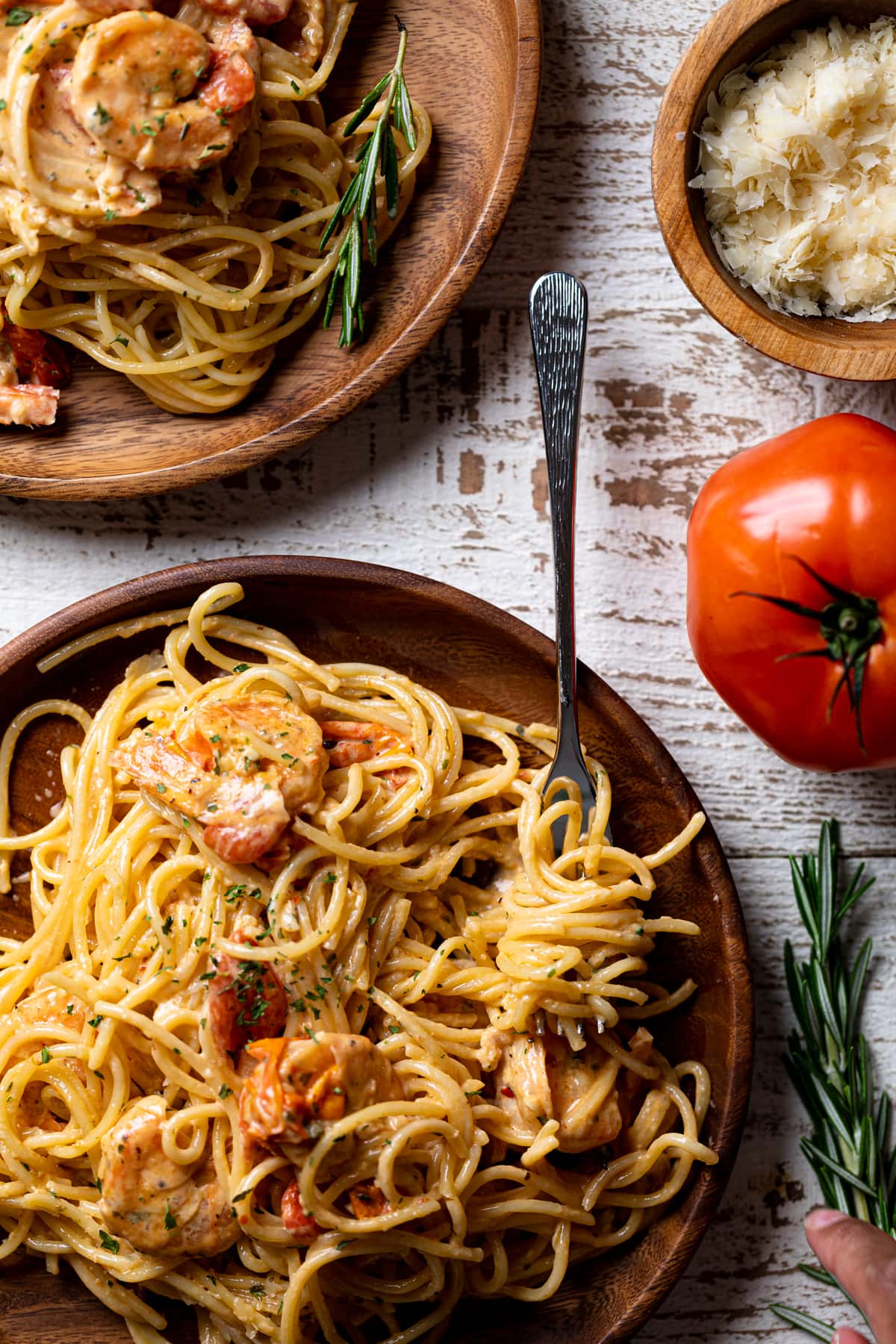 Creamy Shrimp Scampi Pasta Q + A's
What Makes this Dish SO Creamy?
While you might think that most of the creaminess of this pasta just comes from the heavy cream added (from my go-to brand Organic Valley by the way), the truth is that a lot of it actually comes from the parmesan cheese. Yup, that's right. Personally, I love using the full brick of parmesan cheese as opposed to the powdered version.
How To Store Shrimp Scampi?
You can store leftover shrimp scampi pasta in an airtight container for 3 to 4 days. I don't recommend freezing the pasta, as it won't defrost well.
Can I Make This Weeknight Pasta Dairy-free?
Of course! Yes! To make this sauce dairy-free, simply use vegan butter instead of regular butter. Then swap the cream with full-fat coconut milk or coconut cream. And use your favorite dairy-free cheese shred or dairy-free parmesan instead of regular parmesan. Also, stick with veggie stock.
Why Put Lemon Juice In Pasta?
Overall, lemons are a flavor enhancer just like salt but without all the sodium. A fresh squeeze of lemon brings out the acidity of the sauce and enhances the flavor of the pasta, making the entire dish more savory.
Can I Make This Seafood Pasta Gluten-free?
Yes! You can make this pasta dish gluten-free by swapping the pasta with a GF-friendly one and ensuring that the stock being used is GF-friendly as well.
What White Wine is Best in Pasta?
I tend to use a lot of white cooking wine, which is easiest for me. However, I do occasionally add quality white wine to my dishes and I recommend using a dry white wine.
A dry white wine will add the right amount of acidity rather than sweetness, which will better compliment your dish like this Creamy Lemon Garlic Herb Kale Pasta. In general, any of the following dry white wines work great in this dish
Pinot Grigio, Pinot Gris, Sauvignon Blanc, Pinot Blanc, and dry sparkling wines.
More Delicious Pasta Recipes
MADE OUR RECIPE(S)?
If you make this Creamy Shrimp Scampi Pasta or any other recipe from us, be sure to tag us on Instagram at #Orchidsandsweettea so that we can share the love!
PASTA:
1

(16 oz.) package

linguine pasta
SHRIMP:
1

lb.

wild-caught colossal shrimp, deveined

(Season with 1 teaspoon salt + black pepper)

2

Tbsps

unsalted butter + 1 Tbsp, for cooking

1-2

tsps

sea salt + black pepper
SAUCE:
2

Tbsps

Extra virgin olive oil

4

garlic cloves, minced

1

cup

organic heavy cream

¼

cup

organic chicken stock, low-sodium

2

Tbsps

white cooking wine

1

tablespoon

freshly-squeezed juice of lemon

1

teaspoon

cajun seasoning blend

(See Notes for Homemade!)

1

cup

freshly-grated parmesan cheese

Pinch of

red pepper flakes
OTHER:
2

cups

Herb roasted tomatoes
BOIL THE PASTA:
Cook pasta according to packaging. NOTE: Linguine pasta doesn't take a long time to cook, usually 8-10 minutes (however, you should cook at 7-9 minutes or so—'al dente').
SAUTE THE SHRIMP:
In a large 12-inch skillet over medium-high heat, add 2 Tbsps of butter until melted. Add in the shrimp (seasoned w/ salt + pepper) and cook on both sides (about 3-4 minutes), until pink and cook through. Remove from skillet and set shrimp aside on a plate or in a bowl.
MAKE THE SAUCE:
In the same skillet, add the remaining 1 tablespoon of butter and the olive oil and add minced garlic to sauté frequently about 1-2 minutes until fragrant. Add in the cajun seasoning and red pepper flakes and whisk until well combined.

Reduce the heat to medium-low and slowly add in the heavy cream, chicken stock, lemon juice, and white wine, stirring until incorporated. Let it bubble for 1-2 minutes and then add in the grated parmesan, whisking until fully melted and sauce thickens, about 2-3 minutes. Add salt to taste, if needed.

When the pasta is done, drain it and add it to the sauce, stirring until sauce fully coats + sticks to pasta. Toss in the shrimp and roasted tomatoes until fully coated. Remove from heat and serve immediately with your favorite side, if desired.

Bon Appetit!
STORAGE: Any leftovers can be kept in a tightly sealed container and refrigerated for up to 3-4 days.
PASTA: You can use other long pastas like

Pappardelle, Fettuccine, etc. however, I would recommend tossing with tongs to ensure that pasta is fully manageable and fully coated. Otherwise, other pastas such as Penne, Rigatoni, etc. are perfect.

GREENS: To add a bit more flavor to this dish, you can always feel free to add in your favorite greens such as kale, spinach, collards, or asparagus. 
SPICES/HERBS: If desired, you can reduce the amounts slightly. Please know that this recipe is bold in flavor, so feel free to adjust based on your tastebuds.
CAJUN SEASONING (STORAGE): Any leftover cajun seasoning mix can be stored in a ziplock bag for later use or used as garnish. For homemade cajun seasoning, head over to my One-Pot Cajun Pasta recipe.
Calories:
549
kcal
|
Carbohydrates:
14
g
|
Protein:
26
g
|
Fat:
43
g
|
Saturated Fat:
22
g
|
Polyunsaturated Fat:
2
g
|
Monounsaturated Fat:
14
g
|
Trans Fat:
0.2
g
|
Cholesterol:
247
mg
|
Sodium:
1901
mg
|
Potassium:
281
mg
|
Fiber:
1
g
|
Sugar:
5
g
|
Vitamin A:
2237
IU
|
Vitamin C:
5
mg
|
Calcium:
371
mg
|
Iron:
1
mg
Parmesan Garlic Shrimp Scampi with Linguine.