Easy Bruschetta Pasta with Parmesan is a must-try vegetarian spaghetti recipe with a savory, light herby sauce and a rich, sharp cheesy flavor from the freshly grated parmesan. This is the perfect family-friendly meal that fits into your healthier food journey that goes beyond January! A true crowd-pleaser!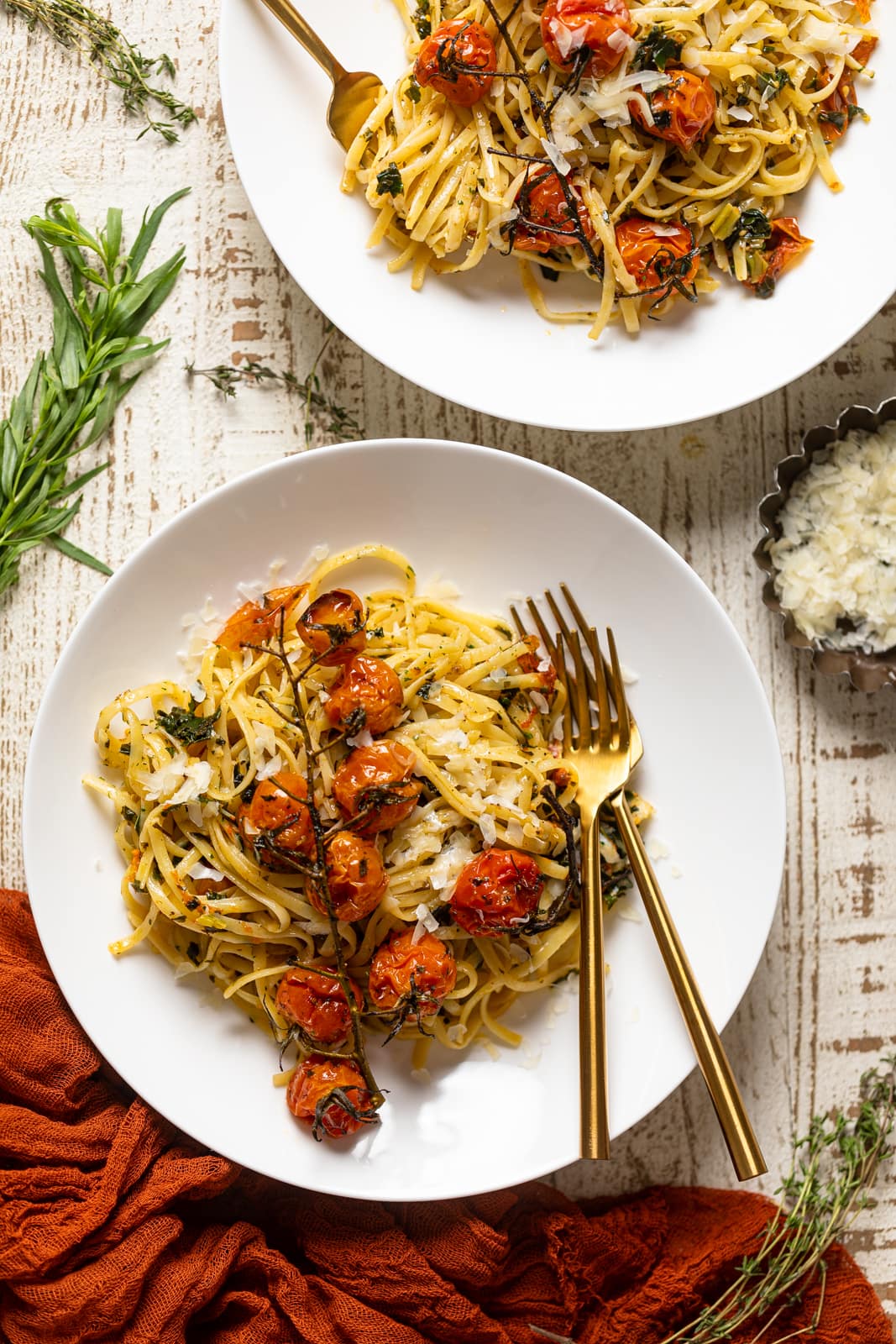 Who doesn't love a skillet pasta recipe, right? I'm literally obsessed with easy weeknight meal options, especially when I've had a long week of work.
Usually, I love whipping up a creamy or veggie-packed sauce in my cast-iron skillet to coat spaghetti, penne, or really any kind of pasta. However, whenever I get the chance to make "lighter" pastas like this one---I'm always thrilled!
Plus, I'm ready to give in to any excuse to use my Herb Roasted Tomatoes for a dish. Haha. Seriously, roasting veggies has become my newest thing and I find that the roasting process really brings out their flavor. I must admit that one of my favorite handheld foods to eat are bruschettas.
I'm definitely the girl who's here for the little toasted breads topped and loaded with fresh tomatoes mixed with garlic and sometimes balsamic vinegar and a bit of cheese to top.
That's heaven in a bite for me. So, in thinking of an easy pasta dish to make---I thought about bruschettas and the vision automatically came to life in my head. And the taste confirms it, ya'll.
By the way, if you're looking for more tomato inspiration, try my Lemon Brown Butter Pasta with Feta, Spicy Cajun Vodka Pasta without Vodka, and Onion, Spinach, Tomato, + Parmesan Quiche next.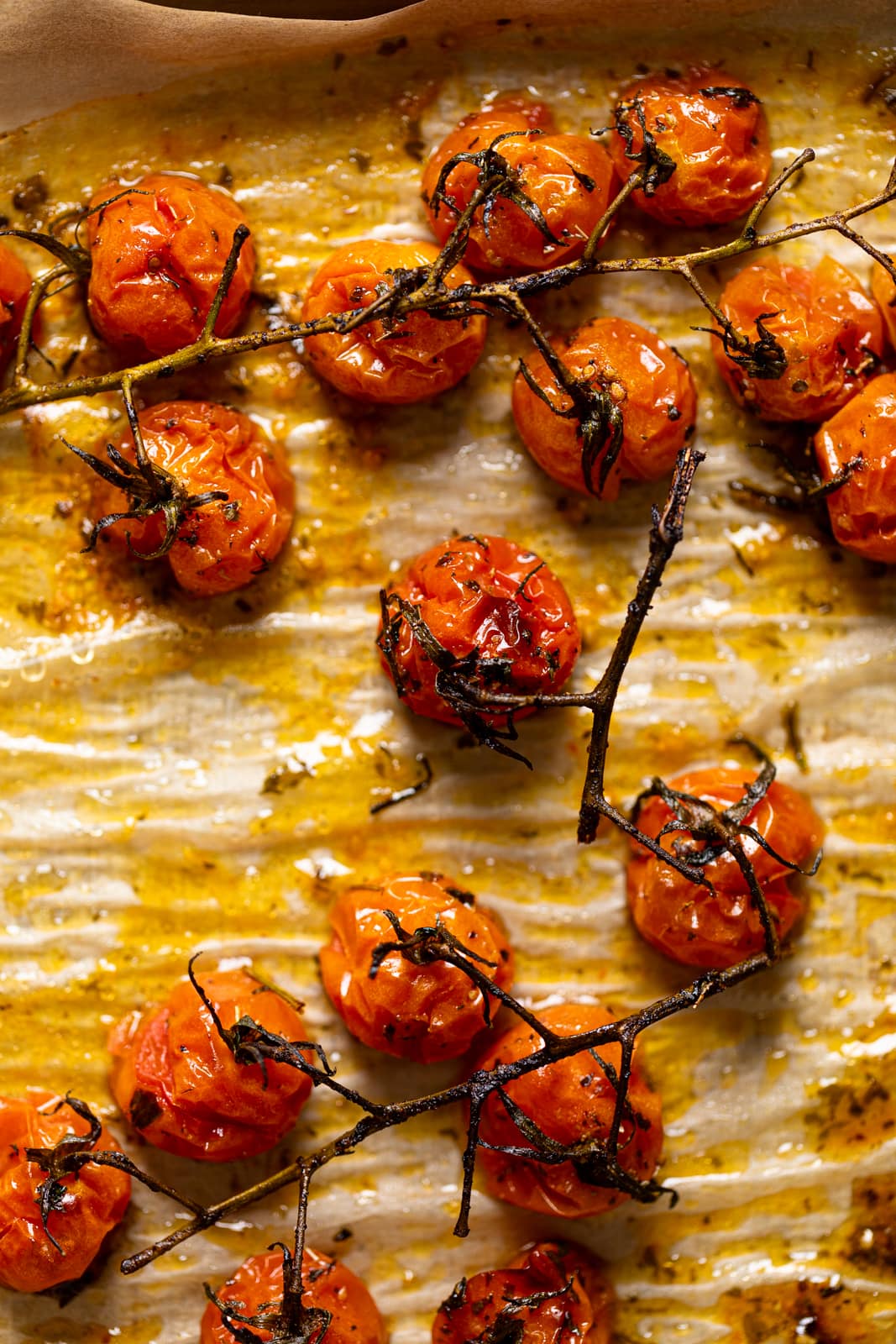 How to Make Bruschetta Pasta with Parmesan
Start making this recipe by roasting your tomatoes. This recipe for herb-roasted tomatoes produces the best-tasting, most concentrated roasted tomatoes. They have a thick, jammy texture that creates a sauce all on their own to coat your spaghetti. Next, cook the spaghetti according to package instructions. And while the pasta cooks, you can make the simple butter, grapeseed oil, and parmesan sauce on the stove.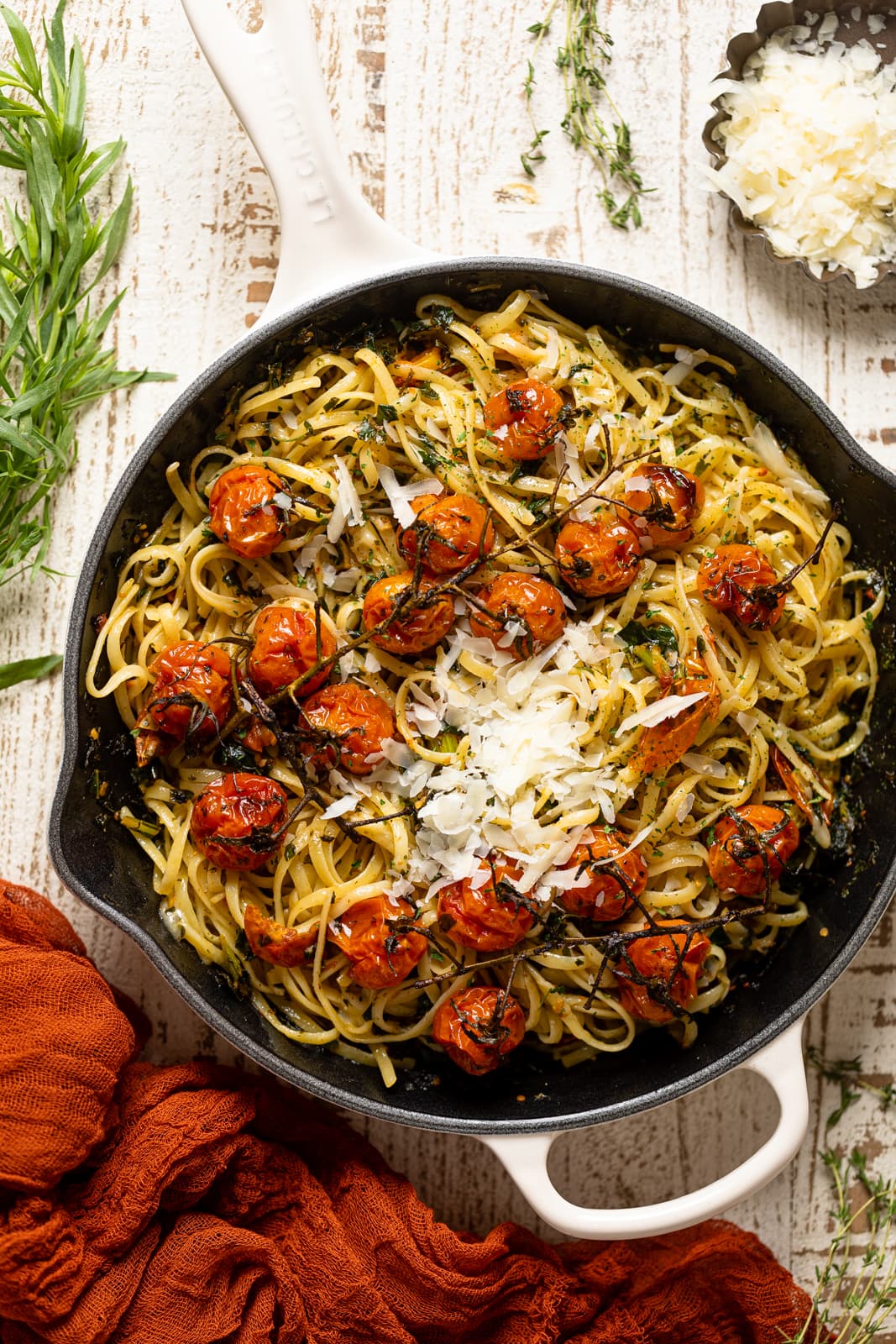 Roasted Tomatoes; a Game-Changer
Tomatoes are usually slow-cooked in a pot to make pasta sauce along with onions, garlic, and herbs. Instead, I like to roast my tomatoes in a hot oven until they blister and become sweet. The heat from the oven caramelizes the outside of the tomato and enhances its natural sugars, much like how caramelized onions become sweet after cooking.
Roasted tomatoes are also better seasoned than their plain tomato counterparts. When you roast the tomatoes, you first toss them in olive oil, salt, and pepper before they bake. That first step adds so much more flavor rather than making a sauce from plain raw tomatoes. Once the tomatoes are charred, it's time to remove them from the oven.
The more charred your tomatoes are, the sweeter they will be. You do still want a little structural integrity to the tomatoes, so bake them until they just start to blister and blacken. The blackened flavor on the outside of the tomato really enhances the Cajun seasoning we will be adding to the sauce.
Choosing Your Perfect Pasta
As I said before, you can use any type of pasta that you like in this recipe. That is what makes this Bruschetta pasta so adaptable! Outside of spaghetti, one of my other favorites to use for this dish is Bucatini pasta which is very similar except for it's slightly thicker than spaghetti with a hole running through it, which is perfect for any kind of sauce.
Choose from any of these pasta varieties for this dish:
Tagliatelle
Orecchiette
Spirals
Tortellini
Angel hair
Bucatini
Shells
Penne
You can also use gluten-free pasta, whole-wheat pasta, or even 'zoodles' for a low-carb option!
Adding Protein
If you want to add some protein to this pasta, you certainly can. My Vegan Meatballs or simple grilled shrimp make great additions. You could also add seared chicken breast.
Storage
You can store leftover bruschetta pasta in an airtight container for 3 to 4 days. I don't recommend freezing the pasta, as it won't defrost well.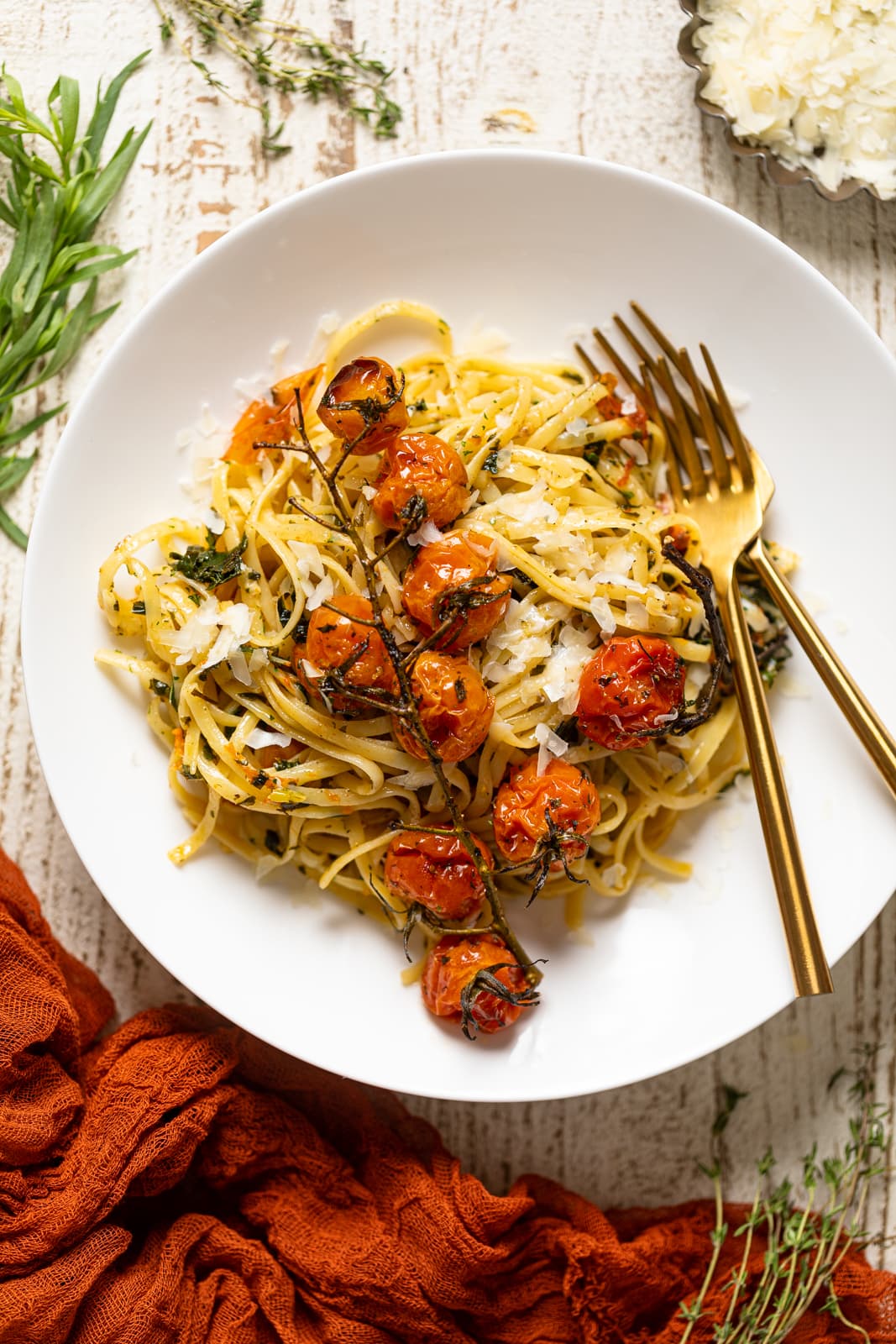 More Favorite Pasta Recipes
Pesto Pasta with Asparagus and Bacon
MADE OUR RECIPE(S)?
If you make this Easy Bruschetta Pasta w/ Parmesan or any other recipe from us, be sure to tag us on Instagram at #Orchidsandsweettea so that we can share the love!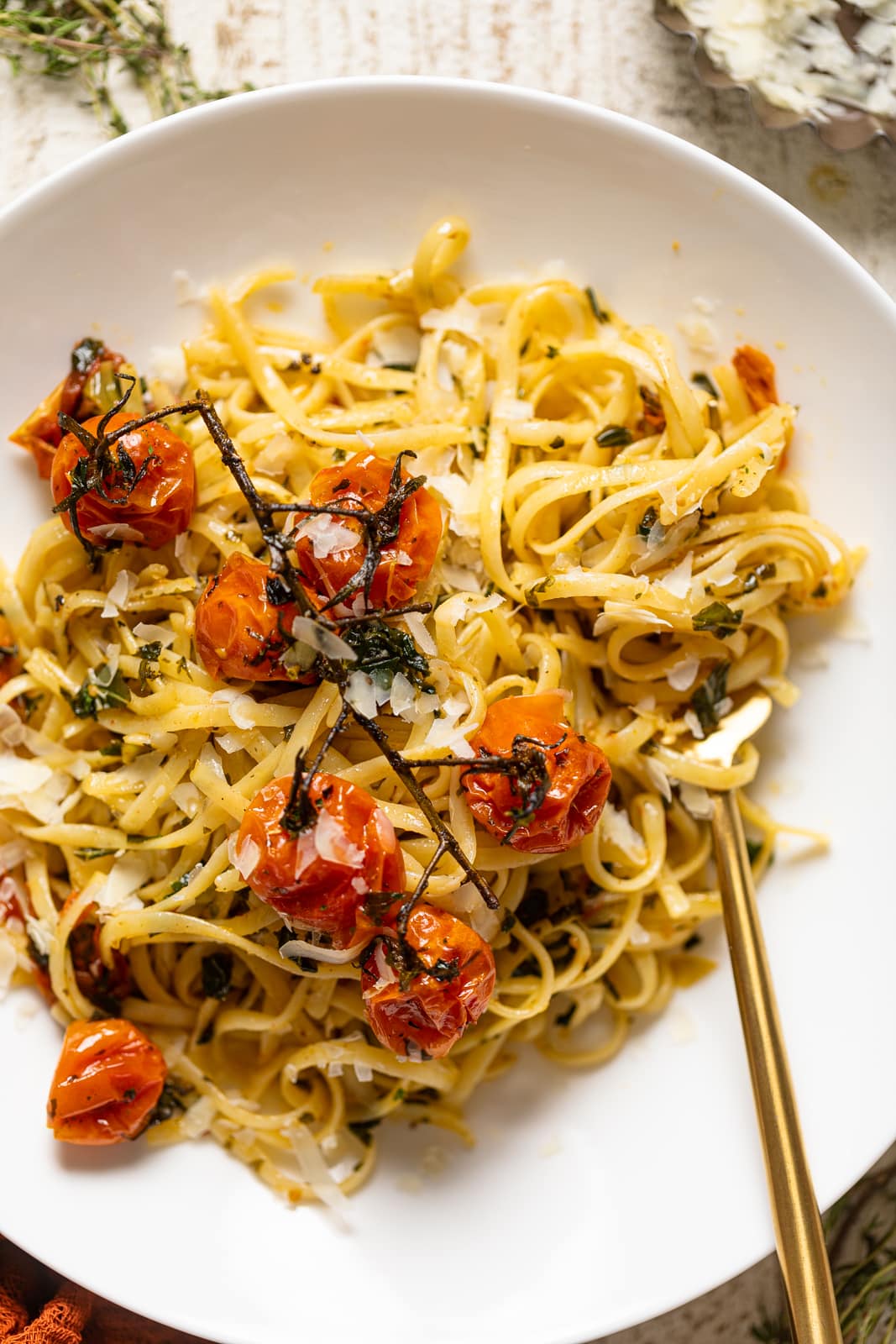 1

(16 oz) pack

organic spaghetti

3

cups

herb roasted tomatoes

2

cups

chopped organic kale

2

garlic cloves, minced

¼

cup

unsalted butter + 1 Tbsp!

¼

cup

Grapeseed oil

(See Notes!)

2

cups

freshly grated parmesan cheese

1

teaspoon

sea salt

1

teaspoon

black pepper

1

teaspoon

dried oregano

½

teaspoon

dried basil
To begin, cook spaghetti according to packaging, drain, and set aside. **TIP: after draining my pasta, I often rinse with cold water to prevent pasta from sticking.**

Be sure to roast your tomatoes at this point. Once done, remove from oven and set aside.

In a medium 10-inch skillet over medium-high heat, add the oil and melt the butter, stirring everything together. Add the minced garlic and sauté until fragrant, about 1-2 minutes.

Reduce the heat to medium-low and toss in half of the roasted tomatoes along with the chopped kale and sauté until the kale begins to wilt and the tomatoes are slightly broken down, about 2-3 minutes.

Add the cooked spaghetti and toss until fully coated, cooking it for 2-3 minutes. Add the grated parmesan and toss a bit more until the cheese has slightly melted. Remove from the heat.

Serve immediately by adding the pasta to a plate or bowl, topping it with the remaining roasted tomatoes, fresh basil or parsley, and additional freshly grated parmesan, if desired.

Bon Appetit!
STORAGE: Any leftovers can be kept in a tightly sealed container and refrigerated for up to 3-4 days.
VEGETABLES: You can also add additional veggies to spruce things up, such as broccolini, asparagus, brussels sprouts, collards, spinach, etc.; You can roast most of them also.
HERB ROASTED TOMATOES: To see the recipe, tap this link.
OIL: Instead of grapeseed oil, you can also use Extra virgin olive oil for this recipe.
PASTA: You can use long pastas like Bucatini,

Pappardelle, Fettuccine, etc. however, I would recommend tossing with tongs to ensure that pasta is fully manageable and fully coated. Otherwise, other pastas such as Penne, Rigatoni, Paccheri, Orecchiette, etc. are perfect.

GLUTEN-FREE: To make this dish gluten-free, simply substitute with gluten-free spaghetti. 
Calories:
915
kcal
|
Carbohydrates:
103
g
|
Protein:
32
g
|
Fat:
41
g
|
Saturated Fat:
17
g
|
Polyunsaturated Fat:
11
g
|
Monounsaturated Fat:
9
g
|
Trans Fat:
0.5
g
|
Cholesterol:
74
mg
|
Sodium:
1783
mg
|
Potassium:
487
mg
|
Fiber:
7
g
|
Sugar:
8
g
|
Vitamin A:
4926
IU
|
Vitamin C:
35
mg
|
Calcium:
629
mg
|
Iron:
4
mg
Easy Bruschetta Pasta with Parmesan