This One-Pot Creamy Lobster and Orzo with lemon, herbs, and parmesan is an elegant, decadent and over-the-top delicious meal that's easier than you think to make and worthy of any celebration.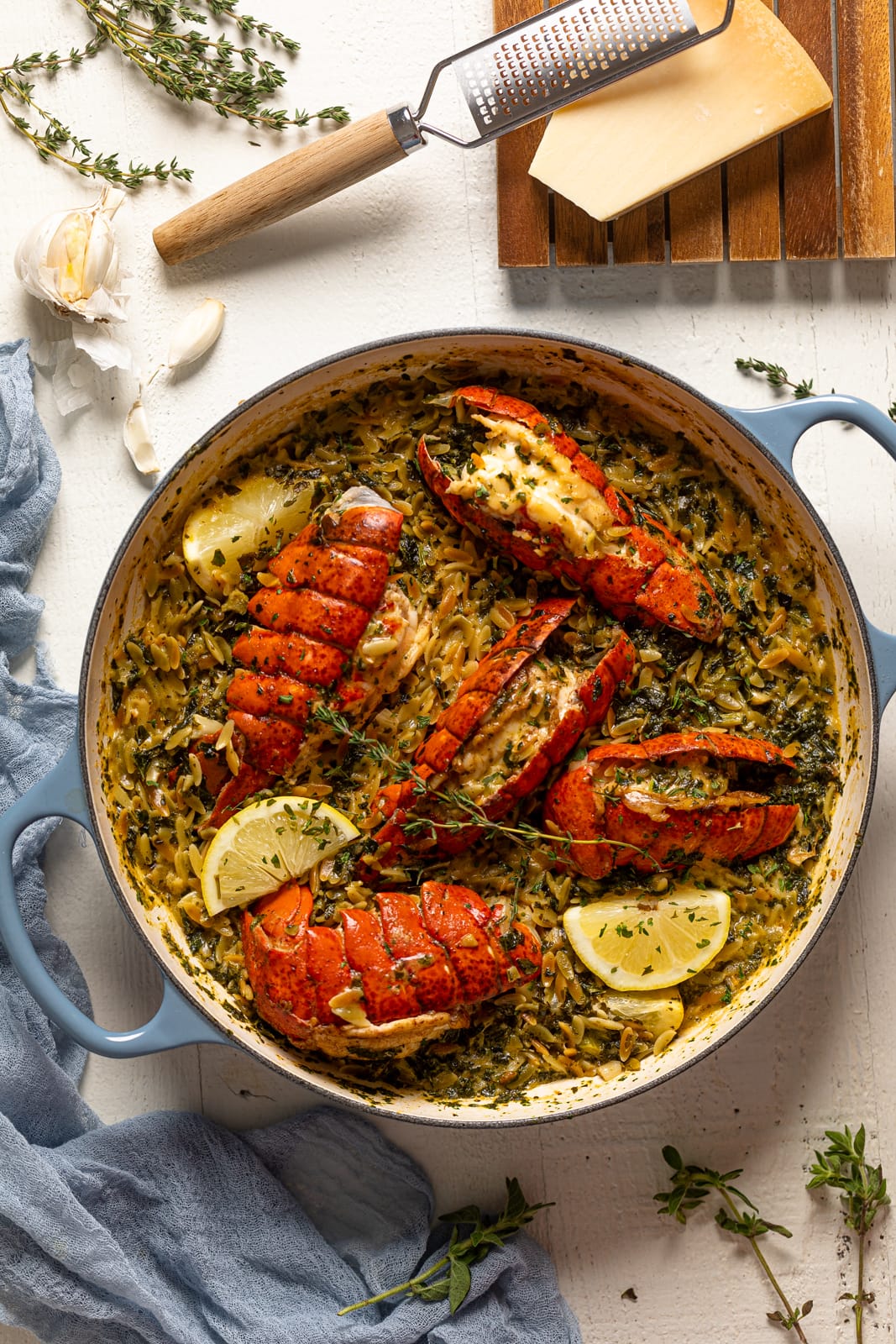 This recipe is ideal for a special occasion. there's something so fancy feeling about lobster. But the truth is that it's faster and easier to cook than many people think. For this creamy orzo dish, you'll use lobster tails, so there are no messy shells or cracking at the table.
It gets its rich, decadent flavor from cream and cheese, with plenty of brightness from lemon juice and dried herbs. You can even mix up the flavors using your favorite seasonings if you like! Try this recipe for your next dinner party or date night, and you'll be sure to impress.
Ingredients for One-Pot Creamy Lobster and Orzo
Here's what you need to make this one-pot lobster recipe:
Lobster tails. You can find these at your local seafood market. If you're using frozen lobster, be sure it's defrosted first.
Garlic. I use a combination of fresh and powdered garlic for this dish.
Butter. I recommend unsalted.
Dried herbs. This creamy lobster is flavored with dried parsley, basil, oregano, smoked paprika.
Chicken stock. You can make your own or use low-sodium store-bought stock.
Cream. Heavy cream enriches your creamy lobster and orzo with the best flavor.
White wine. You can use cooking wine or any bottle that you like.
Lemon juice. Fresh is best!
Parmesan. I recommend using freshly grated parm, not pre-grated, for the best flavor.
Orzo. You can use white orzo or multi-color.
Kale. Be sure to chop your kale into bite-sized pieces. You can also use spinach or chard if you like.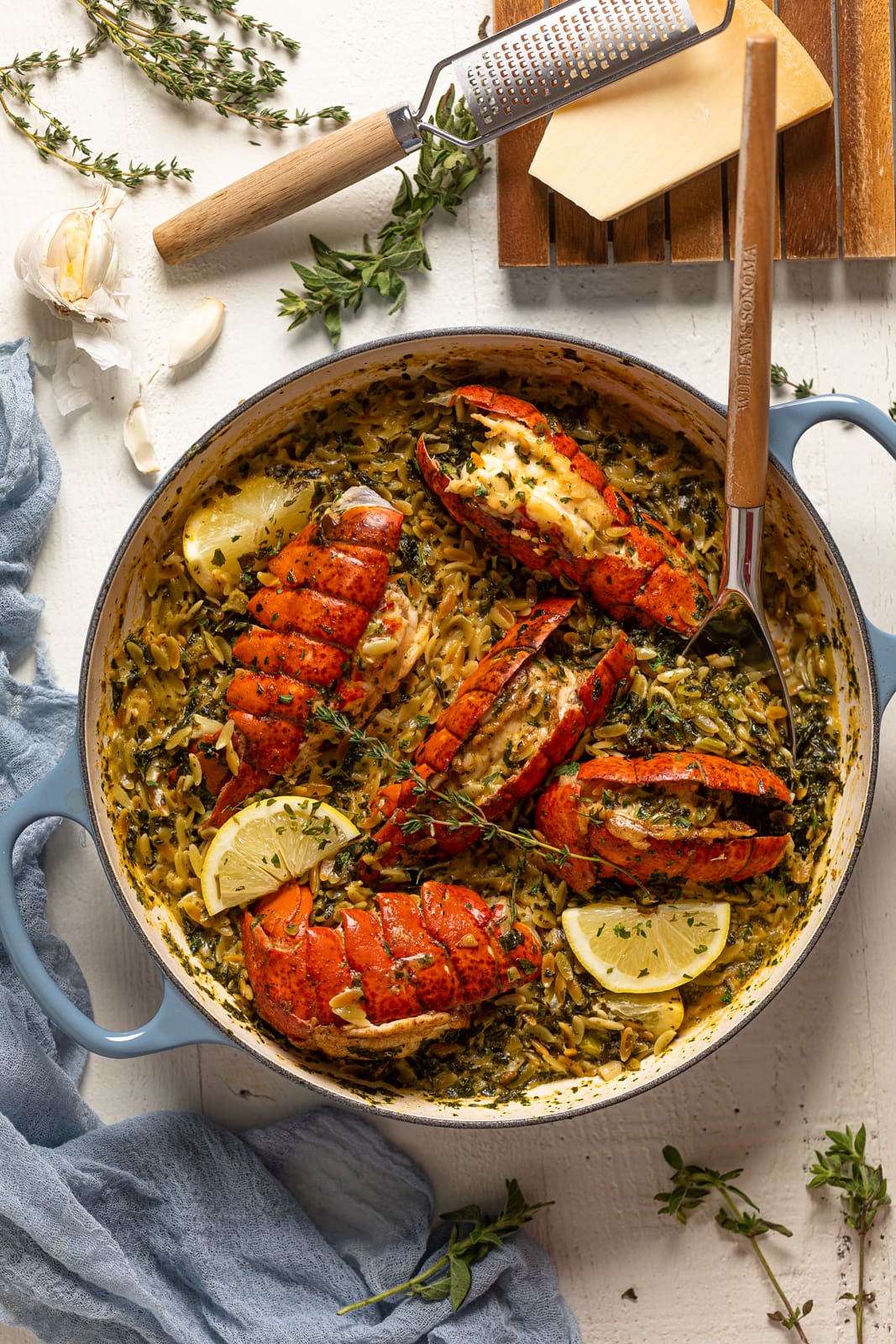 Tips for Making One-Pot Creamy Lobster
Don't be intimidated to cook lobster at home. It's easier than you think! In fact, lobster is easier to cook than fish in some ways because it has a natural barrier, the shell, that protects the tender meat inside from overcooking.
Keep these tips in mind when cooking your lobster and orzo:
Use a lobster cracker to crack open the tails. If you don't have one, you can use a pair of kitchen shears to cut a line up the center of the tails. Then gently pull the meat out of the shells so it rests on top. The meat will remain attached to the shell, but exposed for searing.
This is a very flavorful dish, with lots of seasoning. If you prefer a more mild flavor, you can reduce the amount of spices and herbs.
Orzo is a variety of pasta. If you'd like to make this dish gluten-free, you can substitute orzo with your favorite gluten-free pasta. Cook according to package instructions.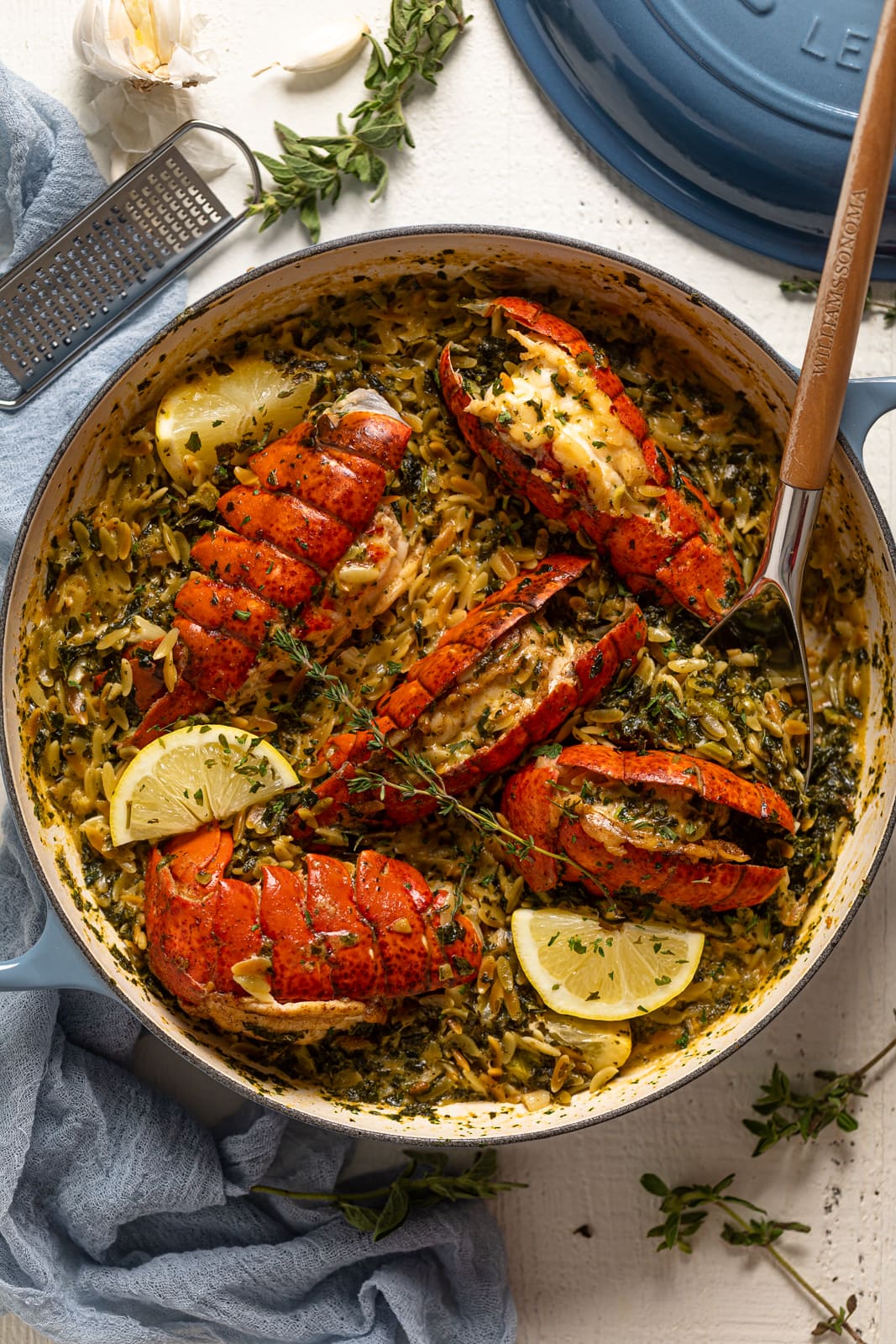 Serving Suggestions
This one-pot dish is a complete meal all in itself. If you'd like to add a side dish or two, I recommend a green salad like Quick + Easy Blood Orange Kale Salad. You can also add a sprinkle of parmesan on top and a slice of fluffy homemade bread on the side.
Storing Leftover One-Pot Creamy Lobster and Orzo
This dish is best when it's hot out of the pot. But if you end up with leftovers, you can store them in an airtight container in the fridge for up to two days. Be careful when reheating to avoid over cooking the lobster. I recommend using the microwave in 30-second intervals, until heated through.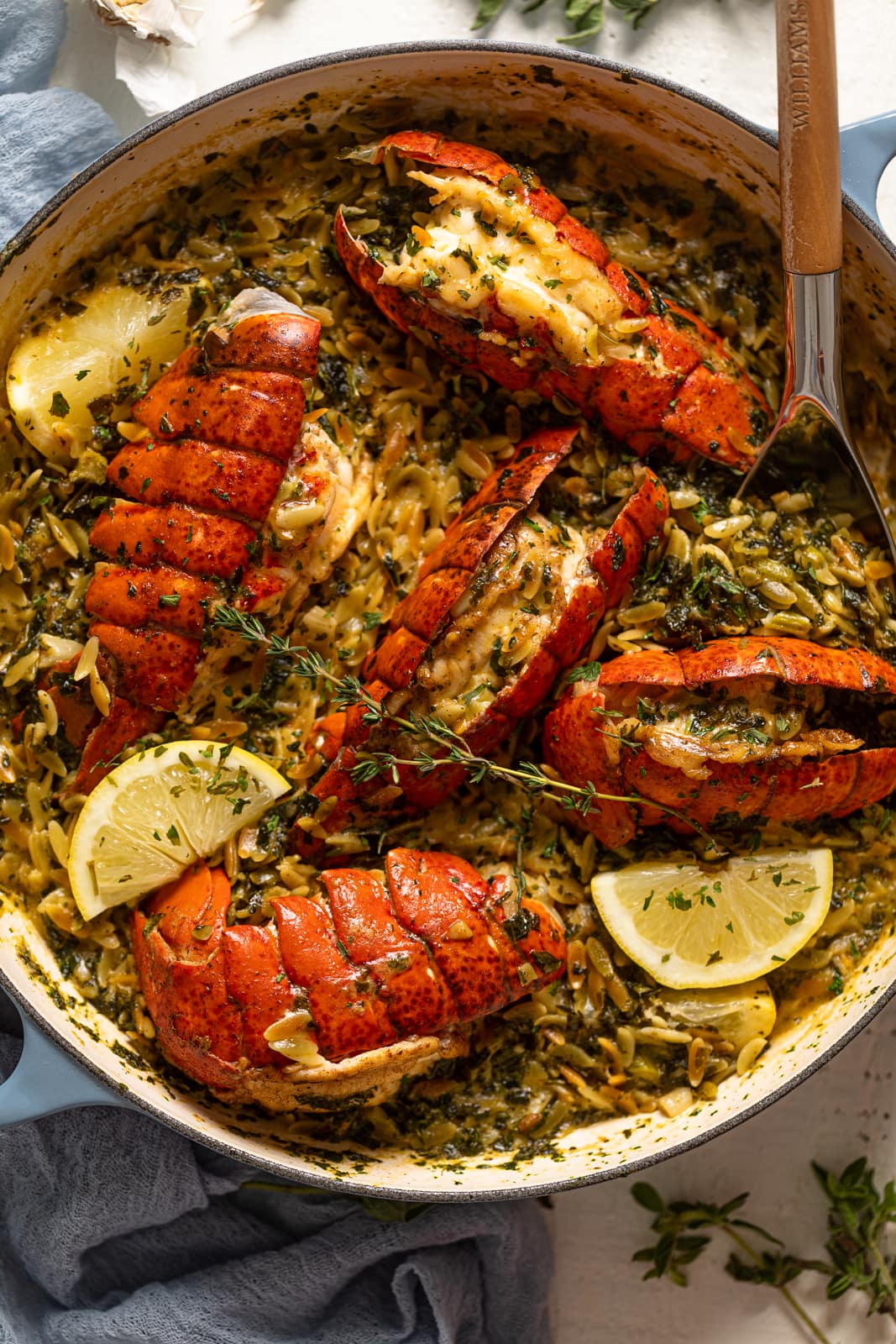 More Delicious Seafood Recipes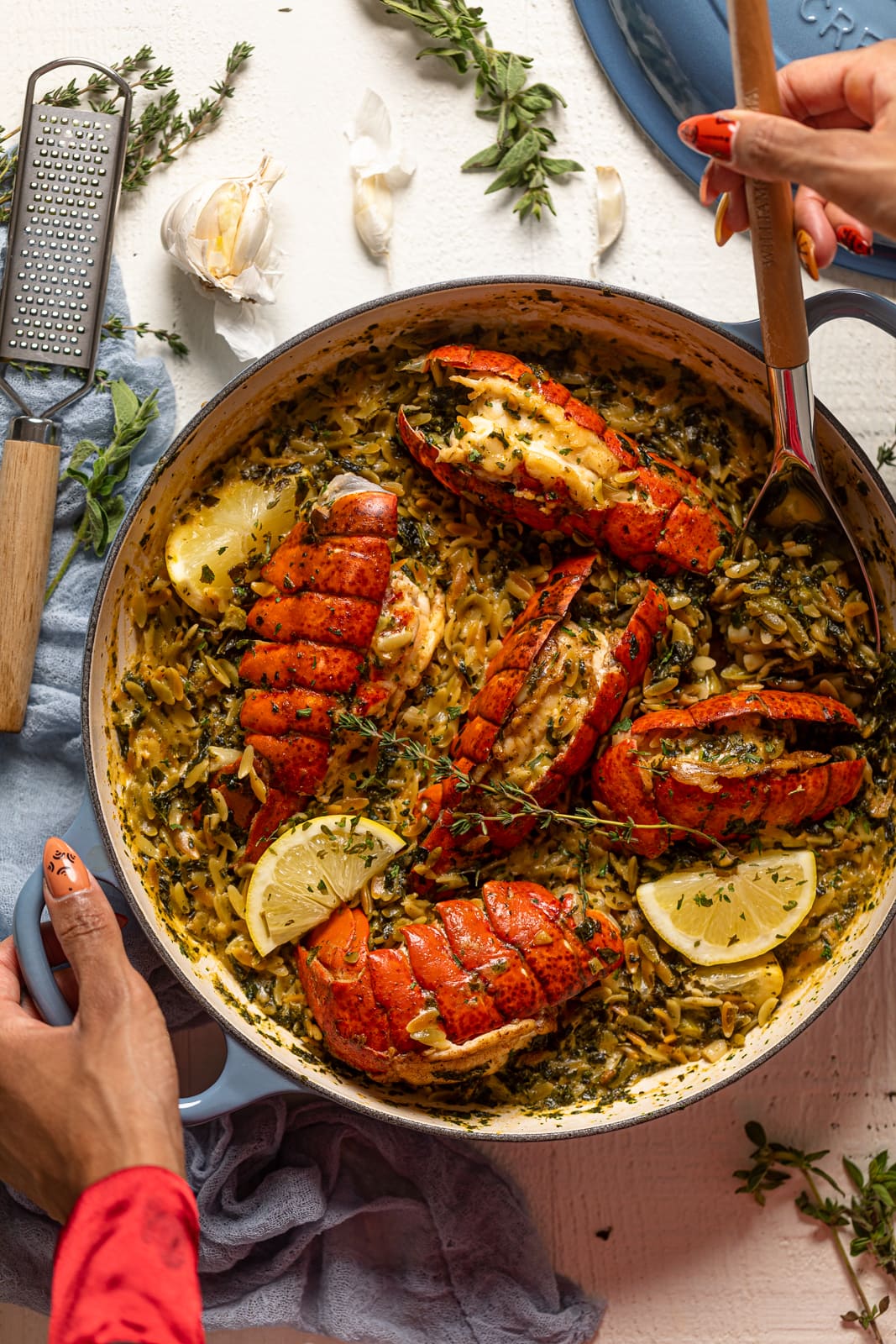 MADE OUR RECIPE(S)?
If you make this Creamy One-Pot Lobster and Orzo recipe, Tag @orchidsnsweettea_ on Instagram and hashtag it #orchidsandsweettea
LOBSTER:
4

(6 oz.)

wild lobster tails

3

garlic cloves, minced

4

Tbsps

unsalted butter
ORZO:
1

cup

orzo, original or multi-color

1

teaspoon

garlic powder

1

teaspoon

dried parsley

1

teaspoon

dried basil

1

teaspoon

dried oregano

1

teaspoon

smoked paprika

1

teaspoon

sea salt

½

teaspoon

black pepper

3

cups

chicken stock, low-sodium

(You can also use seafood stock, if preferred)

1

cup

organic heavy cream

2

Tbsps

white cooking wine

1

tablespoon

freshly-squeezed lemon juice

1

cup

freshly-grated parmesan cheese

2

cups

kale, de-stemmed + roughly chopped
GARNISH:
Lemon wedges

Dried or fresh parsley
PREPARE THE LOBSTER TAILS:
To prep lobster tails, slightly crack shell and remove most of lobster meat outside of shell without completely detaching shell from meat. NOTE: This allows the lobster meat to fully cook through with shell blocking it.
SEAR THE LOBSTER:
In large skillet (12-inch) or braiser over medium-high heat, add the butter until melted. Add the minced garlic, sautéing until fragrant and golden. Add the prepped lobster tails (flesh side downward) and let them sear for 3-4 minutes or until golden and the tails begin to change to a bright "red" color. Remove tails from the pan and place unto a plate.
COOK EVERYTHING TOGETHER:
In the same skillet (or braiser), add the garlic powder, parsley, basil, oregano, smoked paprika, black pepper, and salt, stirring it together with the sautéed garlic. Add the chicken stock, heavy cream, white cooking wine, lemon juice, chopped kale, and parmesan, stirring until combined and everything begins to bubble. Lastly, add the lobster tails back into the pan atop the orzo (slightly nestling them in).

Reduce the heat to medium-low and let everything cook for 10-15 minutes, stirring occasional to ensure that orzo doesn't stick to the bottom. NOTE: If the liquids dry out before the orzo cooks through, add an additional ½ cup of chicken stock (at a time).

Once done, the orzo should slightly swell and become tender and everything should be creamy.

To serve, spoon cooked orzo + lobster unto a plate and garnish with a bit of dried parsley and a lemon wedge, if desired.

Bon Appétit!
STORAGE: Place any leftovers in a tightly sealed container in the refrigerator for up to 1-2 days.
GREENS: If preferred, you can always add greens other than Kale, like Spinach or Collard Greens to soup for more richness.
SPICES/HERBS: If desired, you can reduce the amounts slightly. Please know that this recipe is bold in flavor, so feel free to adjust based on your tastebuds.
Calories:
605
kcal
|
Carbohydrates:
39
g
|
Protein:
19
g
|
Fat:
42
g
|
Saturated Fat:
25
g
|
Polyunsaturated Fat:
2
g
|
Monounsaturated Fat:
11
g
|
Trans Fat:
0.5
g
|
Cholesterol:
120
mg
|
Sodium:
1116
mg
|
Potassium:
516
mg
|
Fiber:
3
g
|
Sugar:
4
g
|
Vitamin A:
5046
IU
|
Vitamin C:
34
mg
|
Calcium:
387
mg
|
Iron:
2
mg
One-Pot Creamy Lobster and Orzo.