Creamy Lobster Bisque at home is a decadent and elevated meal that's surprisingly easy to make at home with plenty of pantry seasonings, creamy and fresh wild lobster tails. Dairy-free + Gluten-free options available.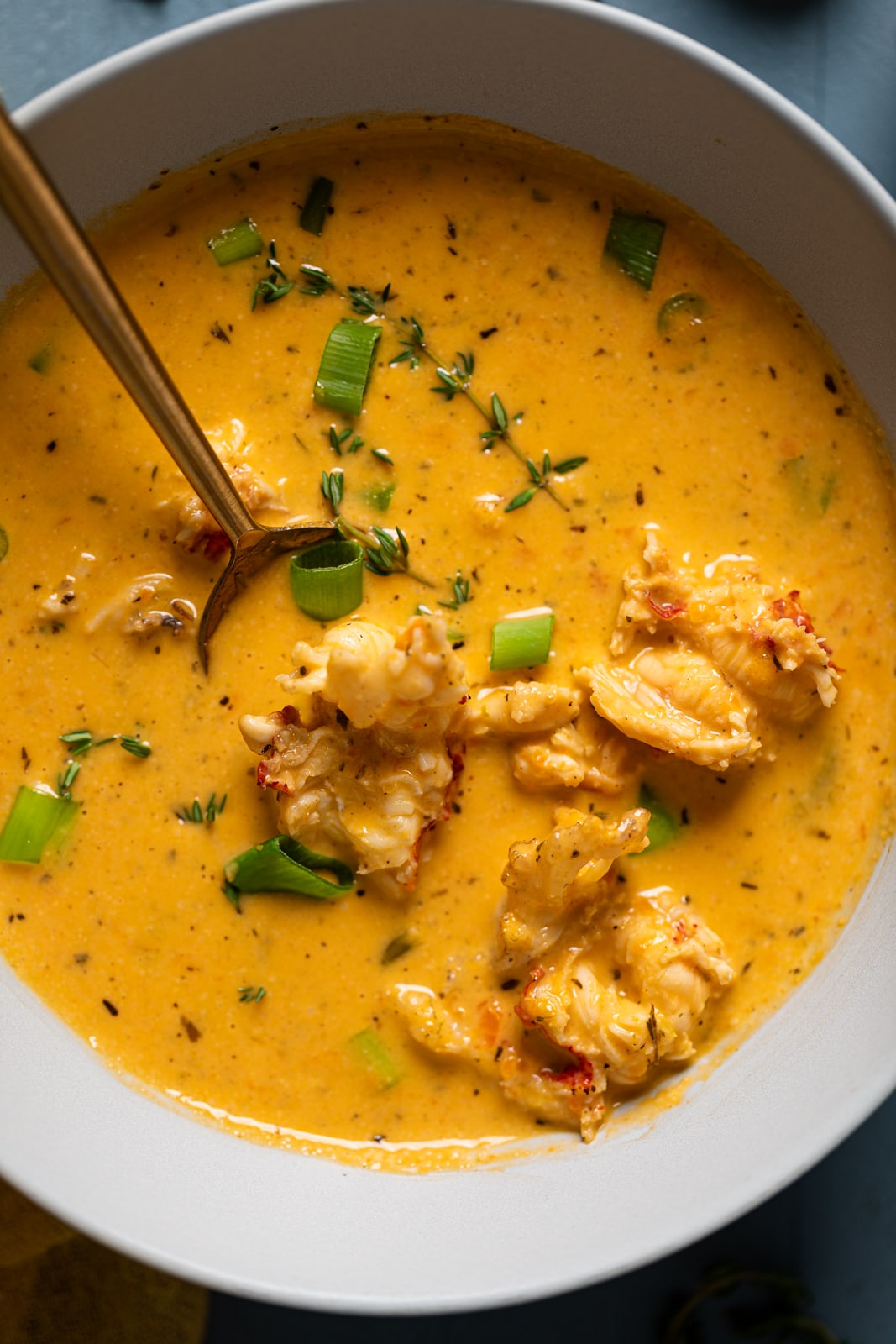 If you've ordered lobster bisque from a restaurant or clam shack before, you've probably fallen in love with the sophisticated flavors, creamy texture and thick, warm body. Now, you can have that same delicious meal right at home with this Creamy Lobster Bisque! With fresh lobster tails and a few key spices and seasonings, it's easier than you think to make creamy and delightful lobster bisque that's even better than a restaurant!
Are you a lobster lover? If so, you'll love this Creamy Tuscan Lobster Pasta, Sheet Pan Garlic Herb Salmon, Lobster, + Veggies, and Jerk Lobster Rolls. SO good!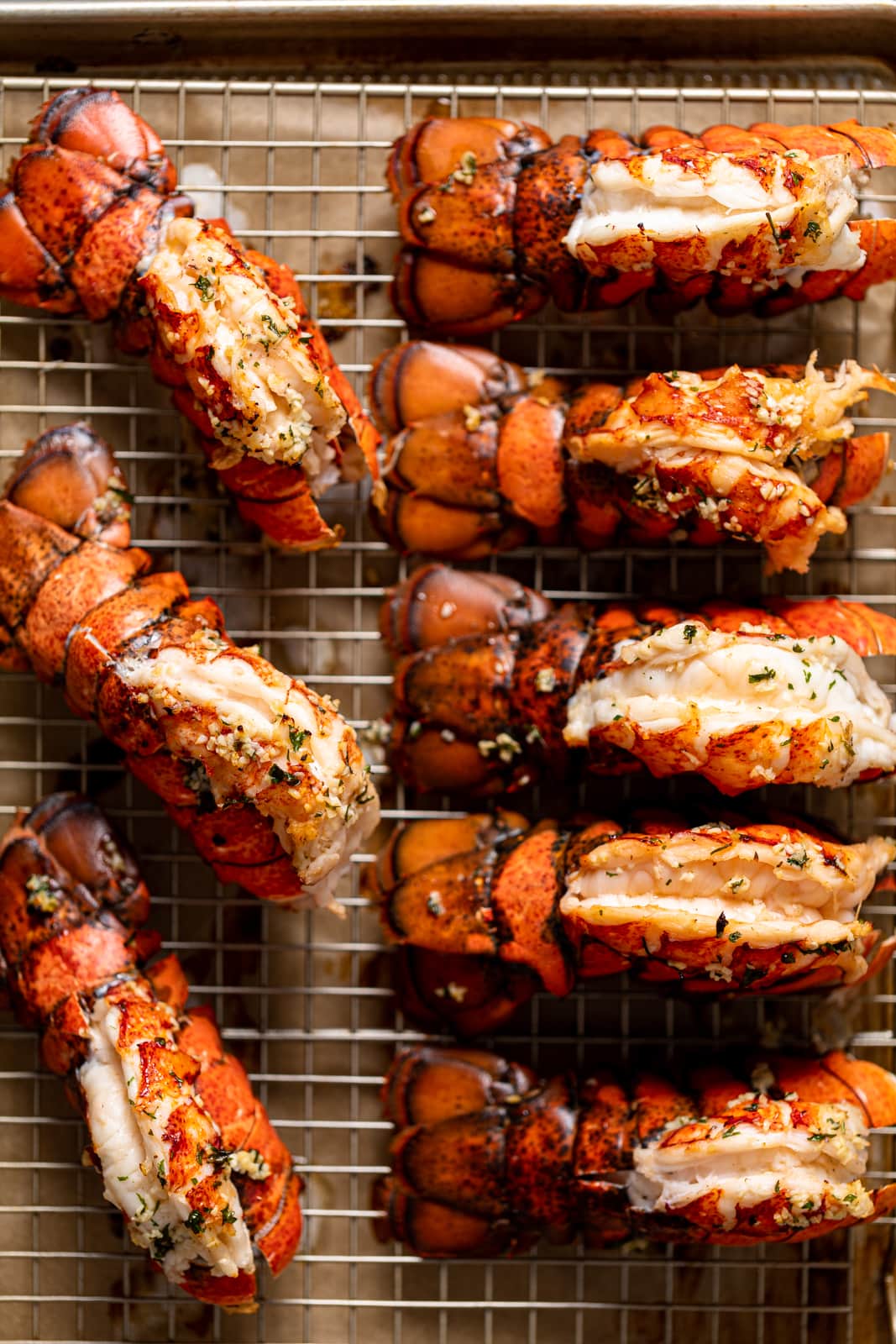 What is Lobster Bisque?
A bisque is a kind of soup made with cream. It tends to be pureed. In this case, the bisque is made with sautéed veggies, seasonings, broth, and fresh lobster. Everything gets cooked together, then blended into a smooth, silky texture. Lobster bisque is a classic New England dish, but you can enjoy it anywhere you can find lobster!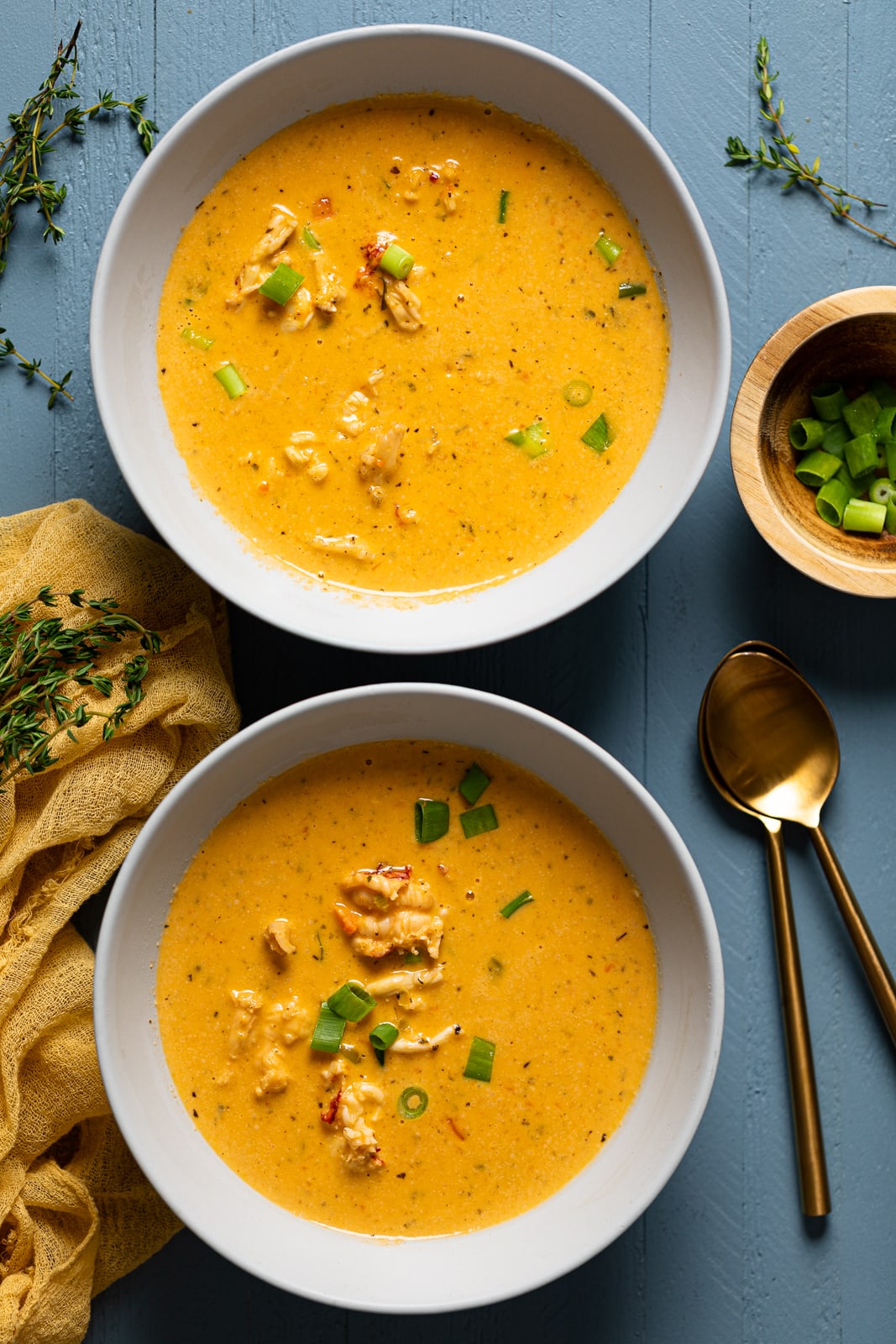 Ingredients for Homemade Lobster Bisque
Here's what you need for this creamy, dreamy lobster bisque recipe:
Wild lobster tails. If yours are fresh, defrost them before starting to make the soup.
Butter. I always use unsalted to better control the flavor of the dish.
Olive oil
Garlic. If you don't have fresh, use ½ teaspoon dried garlic.
Carrots, celery, and green onions for a nice flavor base.
Dried and fresh herbs. This bisque has a strong herby flavor from a blend of bay, fresh thyme, dried parsley, basil, oregano, and smoked paprika.
Tomato paste. A bit of this adds a nice umami depth to the lobster bisque.
All-purpose flour. To thicken up the creamy bisque.
Cream. This soup gets its rich body from organic heavy cream.
Veggie stock. You can also use chicken or seafood stock!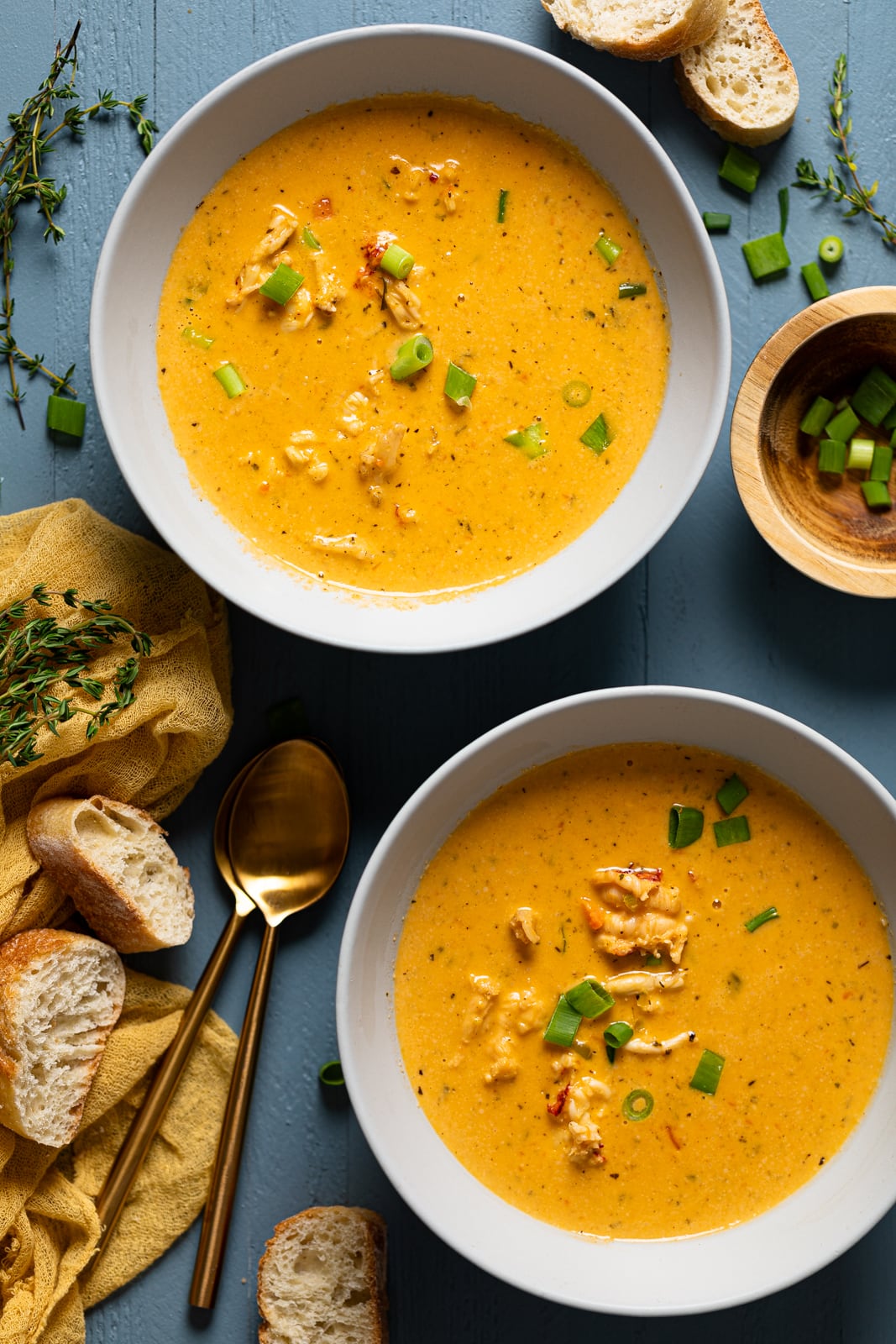 Ingredient Swaps and Substitutions.
If you want to change up this recipe from a traditional creamy bisque, you can add extra veggies or alter the seasonings. For some green, stir in kale, spinach or chard when you ad the lobster meat (after pureeing). Or substitute the green onions with sweet onion or leek. You can also adjust the amount of seasonings if you find the flavors to be too strong.
Can I Make Gluten-Free Bisque?
Yes, to adapt this creamy bisque to gluten-free, simply use gluten-free all-purpose flour instead of the regular flour to thicken the soup.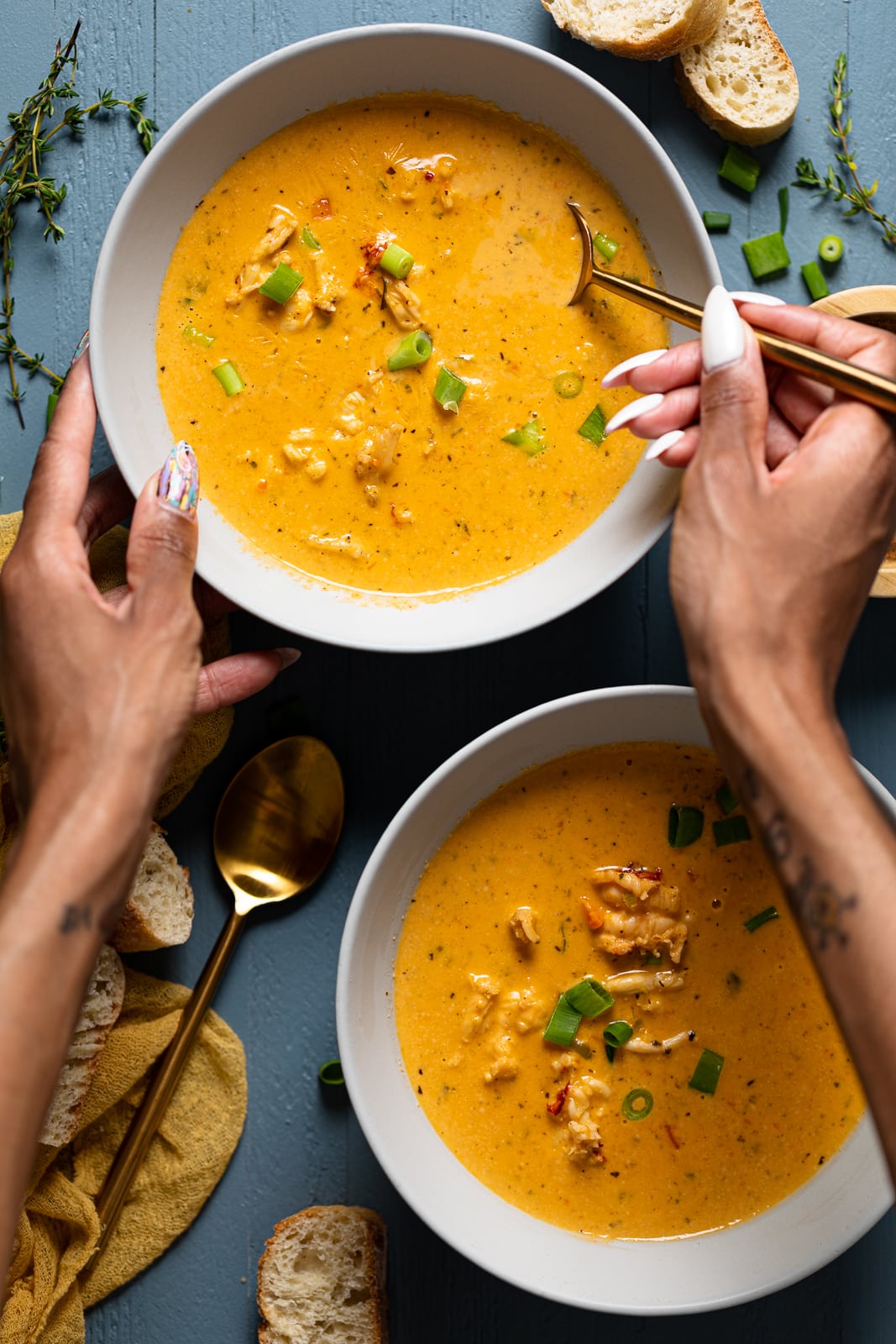 How to Serve Creamy Lobster Bisque
Serve this seafood soup warm. On the side, add oyster crackers or Vegan Everything Bagel Brioche Bread!
Can I Use Pre-Cooked Lobster?
Certainly, if you'd rather skip the step of cooking the lobster tails, you can make this soup with cooked lobster. You'll need about 24 ounces of lobster meat. Simply add it to the soup as directed.
How Long Can I Store Lobster Bisque?
Store this soup in an airtight container for up to three days. You can reheat the sou on the stove or in the microwave to serve.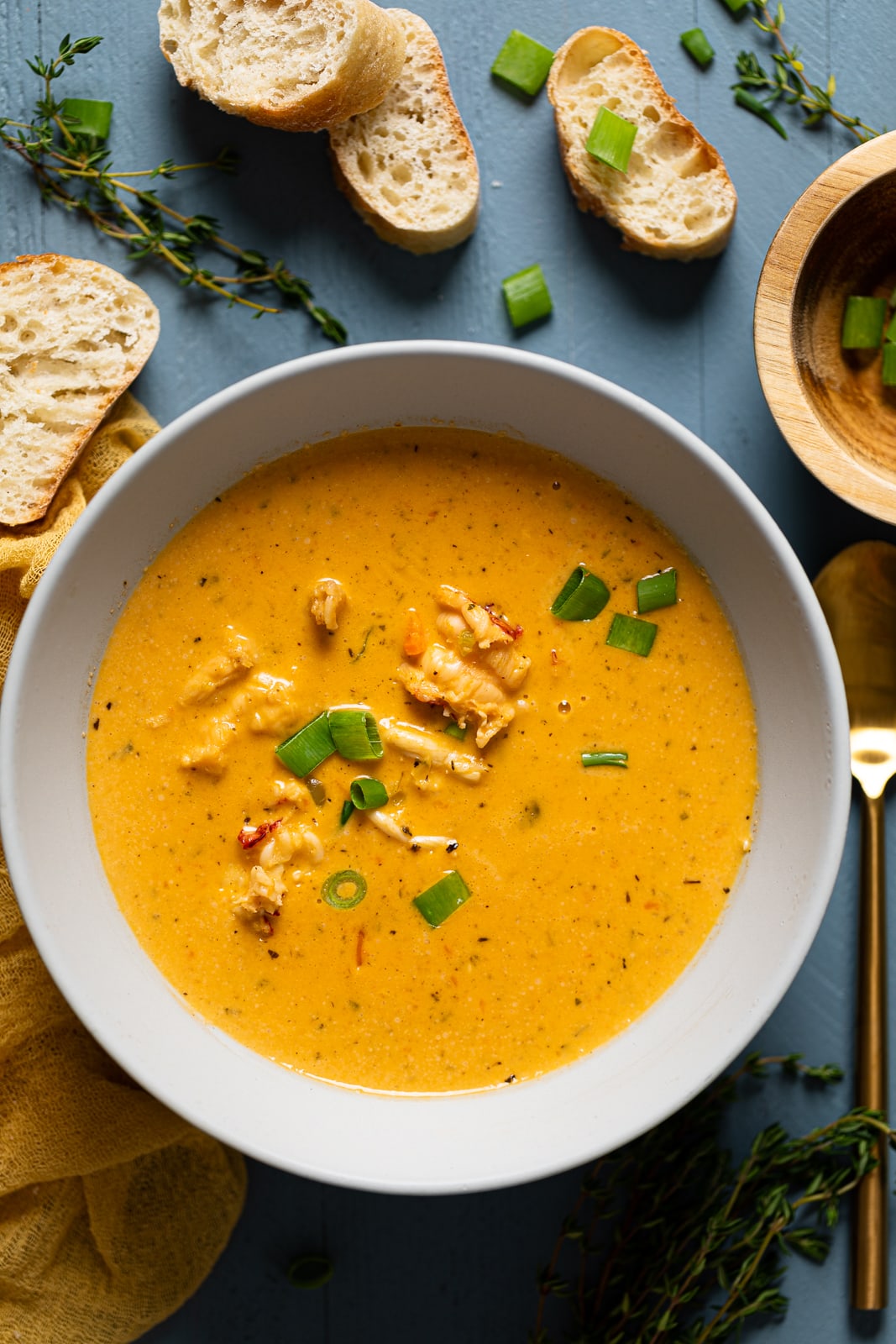 Dairy-Free Lobster Bisque
You can make this s soup completely dairy-free by substituting the heavy cream with coconut cream and the unsalted butter with vegan butter. Choose full-fat coconut milk or cream for the best flavor.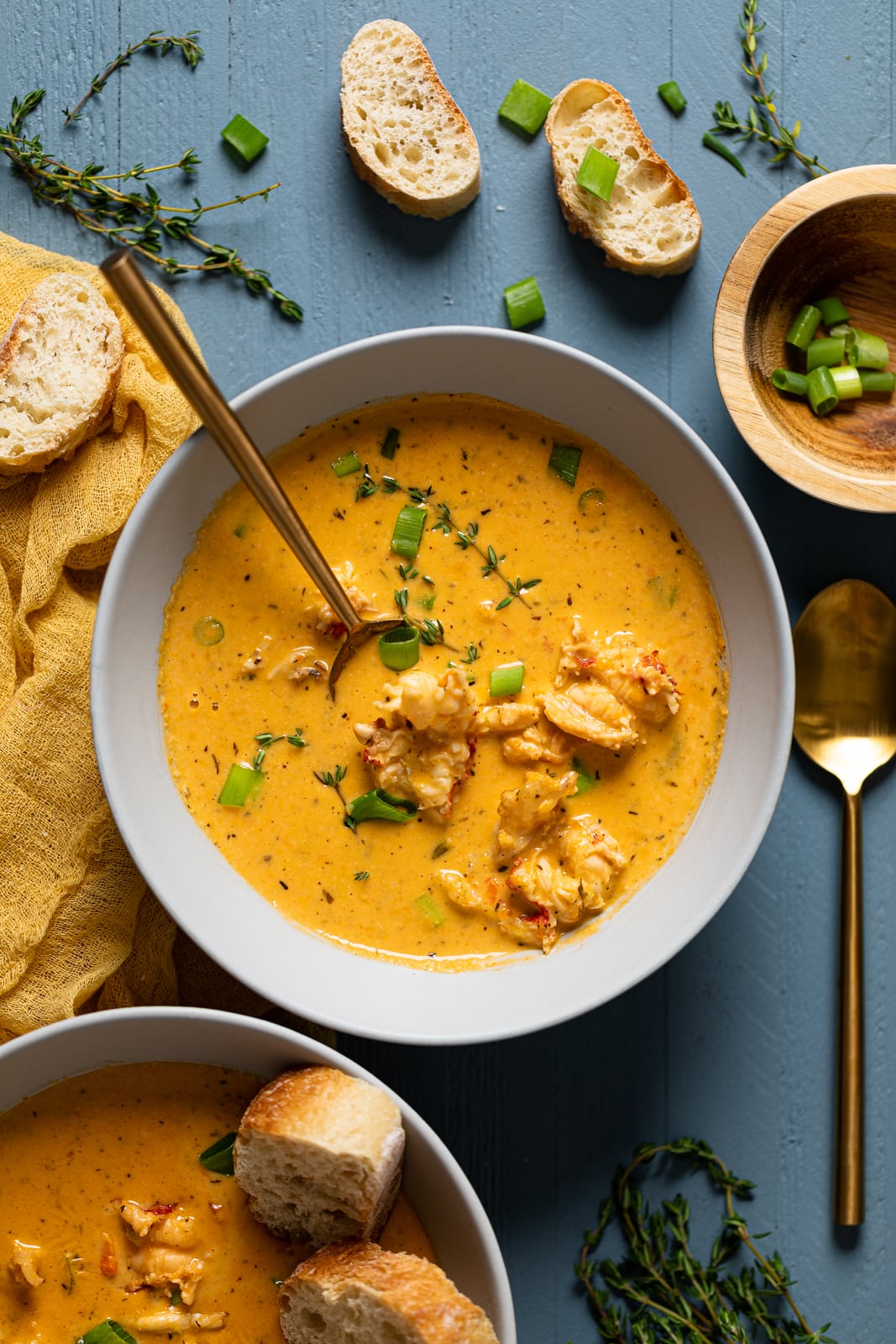 More Delicious Soup Recipes
MADE OUR RECIPE(S)?
If you choose to make this Creamy Lobster Bisque or any other recipe from us, be sure to tag us on Instagram at #Orchidsandsweettea so that we can share the love, rate, comment below, + share!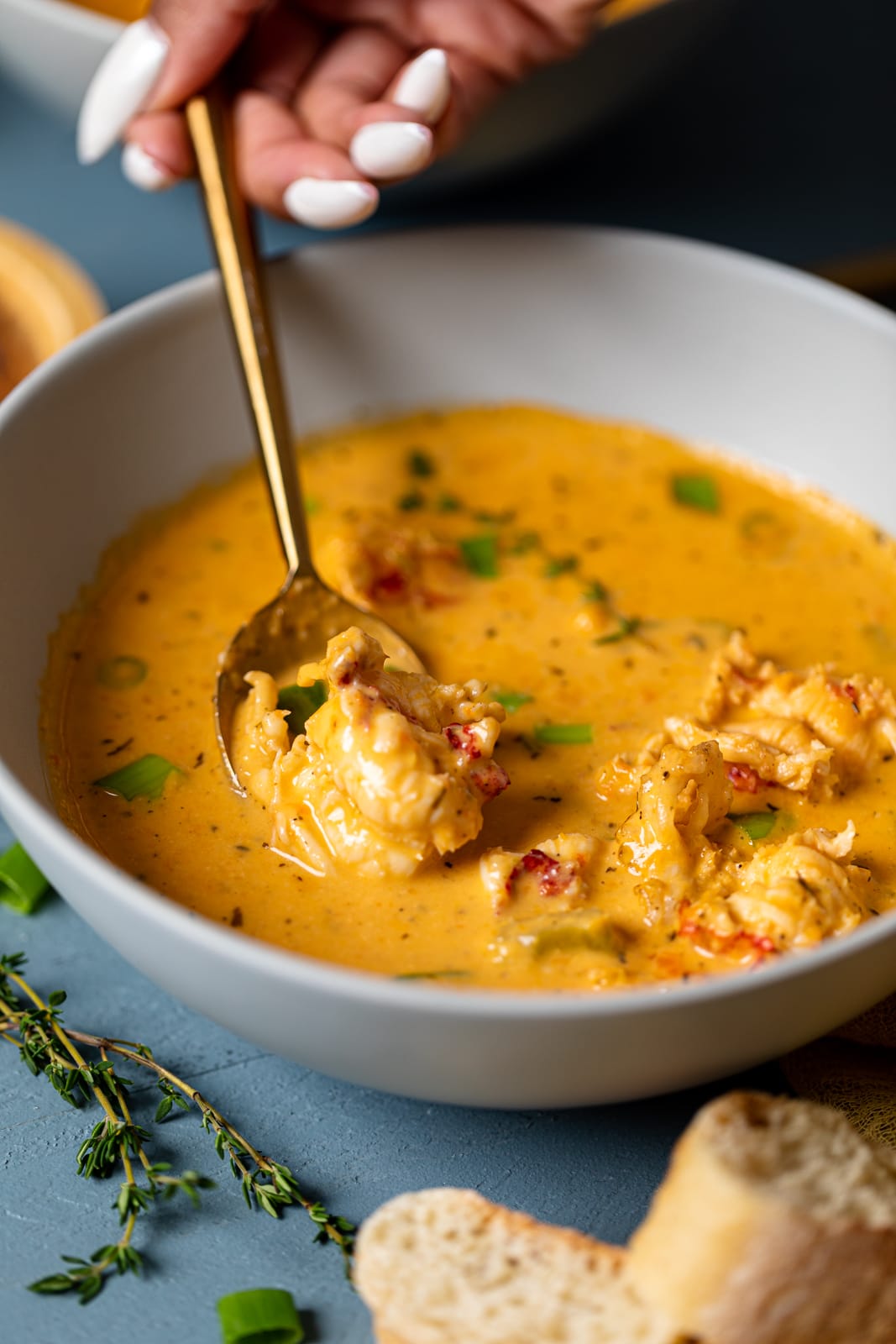 Total Time:
1

hour
10

minutes
4-6

(6 oz.)

wild lobster tails

2

Tbsps

unsalted butter

1

tablespoon

Extra virgin olive oil

4

garlic cloves, minced

2

carrots, peeled + finely chopped

2

stalks

celery, finely chopped

2

green onions, finely chopped

1

bay leaf

1

teaspoon

fresh chopped thyme

1

teaspoon

dried parsley

1

teaspoon

dried basil

1

teaspoon

dried oregano

1

teaspoon

smoked paprika

1

teaspoon

sea salt

½

teaspoon

black pepper

2

Tbsps

tomato paste

3

Tbsps

organic all-purpose flour

¼

cup

white cooking wine

(You can also use actual white wine, if preferred!)

1 ½

cups

organic heavy cream

4 ½

cups

organic veggie stock

(You can also use seafood stock, if preferred!)
PREPARE THE LOBSTER TAILS:
Preheat your oven to 400 degrees Fahrenheit and lightly grease a 10-inch or 12-inch oven-safe skillet.

To prep lobster tails, slightly crack shell and remove most of lobster meat outside of shell without completely detaching shell from meat. NOTE: This allows the lobster meat to fully cook through with shell blocking it.

Add lobster tails to prepped skillet and generously brush tops of lobster meat with 2 Tbsps of melted butter and a few pinches of salt + black pepper and bake them for 10-15 minutes or so.

 Once lobsters are cooked through, remove from oven and let cool slightly before removing the meat entirely from the shells and cutting them into medium-sized chunks or leaving them whole----whichever your prefer. Set aside.
TO MAKE THE SOUP:
In a medium size dutch oven over medium-high heat, add the butter and olive oil. Once heated, add minced roasted garlic and sauté until translucent + fragrant, about 1-2 minutes. Add the chopped green onions, carrots and celery, cooking until tender, about 5-6 minutes. Add the chopped thyme, dried parsley, basil, oregano, smoked paprika, black pepper, and salt, stirring it together with the sautéed veggies. Add in the flour and tomato paste, stirring until combined.

Add in the veggie (or seafood) stock, heavy cream, and cooking white wine, stirring everything together until combined.
BLEND EVERYTHING:
Let everything boil for 1-2 minutes and then reduce heat to low to allow a simmer. Continue to simmer for another 5 minutes. Carefully using a hand-blender----blend the veggies in the soup until fully broken down and until smooth, about 2-3 minutes. NOTE: If you prefer to use a blender, carefully fill it using half of the soup at a time to blend. Then return liquid to the pot.

At this point, the soup should be thickened as it continues to simmer.

Now, add in the lobster meat and bay leaf, stirring until incorporated.

Simmer for another few minutes-------about 4-5 minutes.

Remove from heat and serve immediately into prepared bowl(s) and enjoy with a side of bread or crackers, if desired.

Bon Appétit!
STORAGE: Leftovers can be stored in a tightly sealed container in the refrigerator for 2-3 days, for optimal freshness. To serve, re-heat on the stove top to serve.
COCONUT CREAM: To make this bisque dairy-free, simply substitute heavy cream with canned coconut cream. I love using canned coconut cream from Thai Kitchen, however, you can always use canned coconut milk as well and refrigerate it overnight to cream more creaminess. 
SPICES/HERBS: If desired, you can reduce the amounts slightly. Please know that this recipe is bold in flavor, so feel free to adjust based on your tastebuds.
ADDITIONAL INGREDIENTS: If preferred, you can always add greens or other ingredients to this bisque for an extra kick like Kale, Spinach, Collard Greens, or Corn.
DAIRY-FREE OPTION: You can make this soup completely dairy-free by substituting the heavy cream with coconut cream and the unsalted butter with vegan butter. Choose full-fat coconut milk or cream for the best flavor. 
GLUTEN-FREE OPTION: Yes, to adapt this creamy bisque to gluten-free, simply use gluten-free all-purpose flour instead of the regular flour to thicken the soup. 
Calories:
464
kcal
|
Carbohydrates:
18
g
|
Protein:
5
g
|
Fat:
42
g
|
Saturated Fat:
25
g
|
Polyunsaturated Fat:
2
g
|
Monounsaturated Fat:
12
g
|
Trans Fat:
0.2
g
|
Cholesterol:
117
mg
|
Sodium:
1771
mg
|
Potassium:
396
mg
|
Fiber:
3
g
|
Sugar:
8
g
|
Vitamin A:
7701
IU
|
Vitamin C:
8
mg
|
Calcium:
113
mg
|
Iron:
2
mg